Whether for capturing outdoor nature effects or a music session,  Audio Recorders are portable devices ideal for field recording. These will assist you in registering your ideas by taking the basic studio recording features to the road.
With that said, here is our list of the best audio recorders for field recording for your consideration:
Studio albums are the direct product of the musician's creation and work. Yet, live sessions carry that spontaneous feel, that interaction between musicians and everything that's contributing to the gig, all that vibe that can't be replicated in the studio. So the need to capture sound in high quality outside the studio rooms led to the development of light, easy-to-carry devices that could get the moment on record as and where it happens.
Compiling all the basic features, such as multi-tracks (from two up to six or more tracks as in the Zoom F6 and Sound Devices MixPre-6 II audio recorders), mixing features, and in most cases, built-in mics, all into a single small device, these audio recorders will have all you need to capture sound in hi-fi quality, allowing you to get the most out of your moment, taking the sound back to the studio and then treating it into your DAW.
These are the nine best on-the-road, moment-capturing devices that'll make your field recording sound and feel good as a studio capturing. With a resolution of 24-bit/96 kHz for most of them and up to outstanding 32-bit float/192 kHz as in the MixPre-6 II, you'll have what you need for a high fidelity, true-to-original record.
The 8 Best Audio Recorders For Field Recording 2023
1. Zoom H6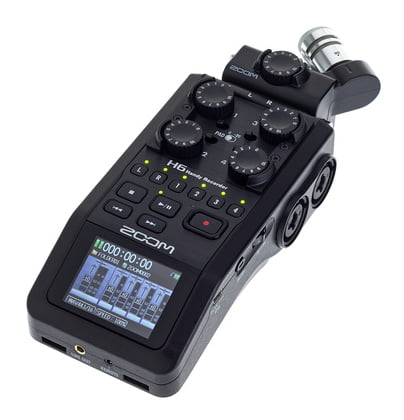 Featuring a variety of recording configurations, basic mixing, and some built-in features such as a tuner and a metronome, the Zoom H6 is a versatile handheld device that provides all you need.
The Zoom F6 can record up to six tracks simultaneously by using each channel as mono. In addition, it features four XLR/TRS Combo inputs and six interchangeable microphone capsules, one mic capsule, two shotgun capsules, two XY capsules, and the EXH-6 input capsule (featuring two XLR/TRS Combo inputs), opening the possibilities of how to configure and capture your recording.
It has a well-distributed intuitive interface with four volume dials, each for one input, with the PAD switches at the center. At the very center of the device, right below the H6 Handy Recorder label, you have the track buttons with their indicators just above and the track control buttons as stop, play/pause, and record (with its indicator as LED that outlines the button), and the rewind and fast-forward navigation buttons below. All that can be monitored with the full-color LCD angled for better viewing.
On the sides at the top, you'll find the mic/line inputs. The menu interaction controls are arranged below the inputs (scroll and menu buttons) and the USB jack on the right side. To the left, you have the SD card slot, the phone jack and volume controls, and the on/hold button, which has two functions, primarily to power on/off the device and also, when activating the hold function, to protect the settings when recording, avoiding accidental touches tampering with the controls.
Key Features:
Sampling Rate
The Zoom H6 features six recording formats, 16-bit and 24-bit bit depths for 44.1kHz, 48.1kHz, and 96kHz sample rates covering ground for many different scenarios and their individual needs. May it be hours of tracking rehearsal sessions where you need less quality in return for a smaller file or capturing an effect to be used as a sample in high-quality 24-bit/96kHz resolution, this device has it covered.
Built-in Inputs
It features 4 XLR/TRS inputs that can be used as four mono for individual tracking or up to two stereo recording tracks, where inputs 1 and 2 are for channel 1 and inputs 3 and 4 are for channel 2. This opens space for many configurations as connecting four different mics in each of its inputs or a stereo mixer to inputs 1 and 2 for a stereo recording and individual mics on inputs 3 and 4 for an audience recording.
Interchangeable Capsules
Adding to its configuration possibilities, this audio recorder features six interchangeable capsules for even more recording versatility. Both SSH-6 and SGH-6 shotgun capsules are perfect for directional center-wise capturing (the first includes a bi-directional mic for recording left and right ambient sounds), the MSH-6 with Mid-Side recording (which allows you to adjust the stereo after the capturing), and the XYH-6 and XYH-5, that will pick up a wider more opened range while still capturing the center.
Full-Color LCD
The LCD will provide you with a full-colored intuitive interface, enabling you to navigate through its files, mixing and editing tools, and monitor the recordings with all essential features like volume and pan sliders, indicators for low cut, compressor/limiter, and phantom power.
Editing Tools
The Zoom H6 has the basic mixing and editing tools, such as Low Cut filter and input Compressor/Limiter, as well as Mixdown, Trim (that works by setting new points for a start and ending of the file), Normalize, and Divide that allows you to split the audio into two tracks. For mixing it, you have the Project Mixing screen, which allows you to work on the Volume, Panning, and Pitch parameters.
Built-in Metronome and Tuner
If you're recording a live musical performance, the Zoom H6 has a built-in Metronome and a Tuner, which are essential to all musicians. This allows you to have these key tools directly on your recorder, enabling you to check the tuning of a connected instrument and add a count in for the recording or as a click for musicians to follow.
SD card and USB Connectivity
The Zoom H6 will work with the following memory cards, an SD card (16Mb to 2GB), an SDHC card (4GB to 32GB), and an SDXC card 64GB to 1TB), granting you enough memory space capacity to record your projects assured they'll be stored accordingly. It also features a USB jack which allows you to copy the files to your computer or use the recorder as an audio interface.
Pros:
Measuring 3.05″x6.01″x1.88″, the H6 is a portable device that weighs only 0,62 lbs with more than twelve hours of continuous, high-quality recording. This, alongside the featured packed operating system and configuration possibilities, makes this audio recorder an excellent, versatile ally on your rig.
It is beautifully designed with a friendly visual interface and intuitive operation, with all its features well distributed. In addition, it has a sturdy construction and can either support camera strap mounts or be directly mounted to cameras with the HS-01 adapter.
Cons: 
The navigation and filing systems could be worked on; up-and-down scrolling has its advantages, such as more precise navigation, although nowadays, with the mobile operating system revolution, a more experience-friendly one could be developed to match its LCD capabilities.
When using the LR mics, overdub is not possible using the same track; you'll need to record using different channels to overdub. In addition, the built-in compressor isn't that great, although it'll work nicely; for high-quality demanding recordings, you might consider treating the sound later on your DAW or using an external compressor.
2. TASCAM

DR-40X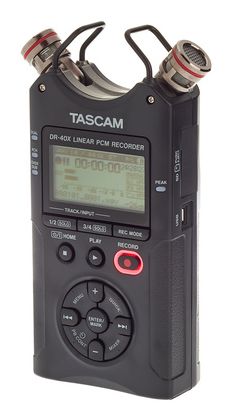 Highly-sensitive built-in condenser mics and sampling rate up to 96kHz, clean design with an easy-to-navigate system, TASCAM DR-40X, make quality recording easy and intuitive.
Being in the audio market since the early seventies, TASCAM is one of the big guys for professional audio equipment. The company has been well-recognized as an innovator in field recording and peripherals since the launch of its DR series in the '00s. It has been a part of audio recording for decades, from movies like Star Wars to the musician and audio engineer Alan Parsons; TASCAM is constantly researching to provide new solutions to make audio recording easier and more intuitive.
The TASCAM DR-40X has two built-in condenser mics and two XLR/TRS Combo inputs, making it possible to simultaneously record up to four tracks or two stereos (mics as channel 1 and XLR/TRS Combo inputs as channel 2). It also features a clean visual with a big circular control with a design somewhat close to a TV's remote with up and down also functioning as plus and minus (for volume or other parameters), left and right working for navigation but also as backward and forward while on track and cancel and confirm when selecting a file for example. It also has a central button labeled ENTER/MARK, where you set or clear marks on the track.
The circle has four more buttons; these are shortcuts where you can jump quickly to screens of interest. The first, to the top left, is labeled MENU and opens the screen. To the right, you find the QUICK button, which opens the shorter, more straightforward version of the menu. Below, to the left, you have the PB CONT button that accesses the playback screen, where you'll have all the controls to play and edit the tracks you recorded. And lastly, you have the MIXER, which opens the mixer screen, allowing you to mix the signal that's being captured.
Key Features:
Sampling Rate
TASCAM DR-40X can record high-quality audio tracks with up to 24-bit/ 96kHz sampling rate while also being possible to select one of the five other recording formats (16-bit/44.1kHz, 24-bit/44.1kHz, 16-bit/48kHz, 24-bit/48kHz, and 16-bit/96kHz) depending on your projects need.
Inputs
It features two XLR/TRS Combo inputs that can work independently as two mono or as one stereo by producing two separate tracks with left and right channels. If running simultaneously with the built-in mics, the DR-40X can either work as four mono tracks or two stereo tracks.
DUAL Mode
The DUAL Mode functions by creating two files from one input, where you can set different input levels to each. This will work with both mono, creating two mono files, and stereo, where two stereo files are created. This comes at hand when first testing to find the "sweet spot" for the best audio capture or when the same audio is going to be used for different purposes and media; this allows you to adjust each to fit the need better and have a backup recording of the same track a different input level in case of clipping on the main track.
Built-in Mics
Two stereo built-in mics condenser mics can either be set for a clear, more focused sound or a wide, opened sound by simply setting the position of the mics (closed and opened). This enables you to capture more of the surrounding environment when the mics are OPEN.
Recording made easy
This audio recorder features the Auto Recording mode, which by stipulating a desired limit input level, the device automatically starts/pauses the recording, creates new files, and sets marks. It can also be connected to the RC-3F footswitch and the RC-10 remote control for operating it with more fluidity midst recording.
Pros:
The TASCAM DR-40X has some highly sensitive mics; combined with the possibility to adjust the mics on both A-B and X-Y positions, it makes an excellent tool for close, tight sample or voice as wide-open ambiance recording.
Having all the main controls arranged in that big circular interface allows you to operate it using only your thumb. Its intuitive operation and clean visual lets you concentrate on what's more important, the sound you're capturing.
Cons: 
It comes in a reasonably resistant yet plastic case with some attention needed when handling and attaching it to a tripod or mic stand. Another issue is that when used as an audio interface, recording is only possible up to 48kHz, not the higher sampling rate of 96kHz, obligating you to record the song on an SD card first to transfer it to your computer then.
3. Sound Devices

MixPre-6 II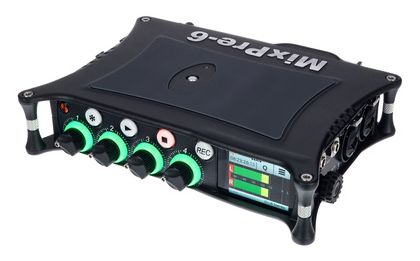 With low noise mic preamps, hi-fi resolution of 32-bit float, and 192kHz sampling rate, it captures top quality, true-to-original sound for a professional recording.
This audio recorder takes hi-fi recording to another level. Besides its outstanding sampling rate, it also features Kashmir low-noise preamps for capturing the most out of its 32-bit float/192kHz sampling rate potential. It has a straightforward interface, with a rack module visual, four Volume knobs with LED indicators circling each, and four buttons, REC, STOP, PLAY, and SHORTCUT buttons, where you can assign functions that are used repeatedly.
The Sound Device MixPro-6 II also features a touch screen on its front panel, allowing for intuitive navigation. You'll find two XLR/TRS Combo inputs on both sides, features like an On switch, two USB inputs (USB-A and USB-C ports), and stereo Out. on the left panel. The right panel features a headphone output and knob (also works for navigating some menus) and an HDMI TC input.
On the back panel, you'll have the battery contacts, the SD card slot, an Allen wrench, and an anti-rotational pin, this tool is magnetically attached to the panel, so it is at your disposal in case you need to mount it on a camera and tripods. On both its upper and lower panels, it features slots where to attach the stand's screw.
Key Features:
Bit depth and Sampling Rate
Featuring a greater variety of sampling rates (44.1kHz, 47.952kHz, 48kHz, 48.048kHz, 96kHz, and 192kHz) and three bit-depth options (16-bit, 24-bit, and 32-bit float), Sound Devices' not playing around with this audio recorder. With the possibility to record up to 32-bit float/192kHz, you'll get rich, deep true-to-original recordings.
Basic and Advanced Modes
The Sound Devices MixPre-6 II has two recording modes, Basic Mode for when you need a quick set-and-go recording, with pre-roll time (it works by picking up audio from before the record was engaged; it'll vary accordingly to the sample rate chosen), REC triggering (setting the HDMI TC timecode triggering), and Record Bells (notification bells for the recording operation).
On Advanced Mode, you'll have a more in-depth approach to the recording parameters configuration. Besides the three features mentioned above, you'll have control over the L/R REC and Gains, bit-depth, sampling rate, and remix (which enables you to mix a recording into a new file).
Touch Screen Display
The 1.6-inch full-color LCD features touch functionality, making navigation through the audio interface's system much easier and more intuitive. Through it, you can visualize the monitoring and the setting configuration for the track recording.
App connectivity
Working for iOS and Android, the Wingman app lets you remotely control the MixPre-6 II. Within the app, you'll be able to monitor the recording on any of its eight channels, navigate through its files, and many more functions.
X-Keys Programmable Keypads
X-Keys include different input devices that can be programmed to execute many of the Sound Device MixPre-6 II functions via its tactile features. This allows you to map a keyboard, for example, accordingly to your needs and design the most intuitive set by enabling you to quickly access functions such as record, play, and pause.
HDMI TC Input
This input allows you to connect the audio recorder to a camera to send it an HDMI timecode, enabling precise synchronization via its timing syncing system. By flagging the beginnings and ends of each shot midst of the recording, you'll have an accurate reference for later when editing it.
Pros:
Its hi-fi recording bit depth and sampling rate allow it to capture pristine, true-to-original sound. It is a featured-packed small, portable device measuring only 1.40″x6.53″x4.65″ and weighing 1.23lbs this is an excellent asset on your road rig. With the app connectivity, the USB keyboard control, and the X-Keys Programmable Keypads, you can see that Sound Devices put on an effort to provide ways that make your recording control easy.
On the system side, Basic and Advanced recording modes enable you to better operate the audio interface accordingly to the project's needs, and the Timecode makes the job a lot easier by flagging the shots for easy synchronization.
Cons: 
The Sound Device MixPre-6 II doesn't have many downsides, but for one, the memory card's maximum storage size is smaller when compared to other field recorders like the Zoom H6, going up to 512GB; that means that depending on the quality demand of the project, and for how long, you might need to carry more than one SD card.
4. Sony

PCM-D10
This handheld audio recorder is built for clear, high signal-to-noise rate transmissions, delivering quality audio with close to no coloring to the recordings.
The engineering behind the Sony PCM-D10 circuitry had in providing crystal-clear transmission for pristine audio capturing their fundamental goal. By separating the digital and analog circuits, they reduced signal interference and improved the signal-to-noise ratio. In addition, the two 3300-uF capacitors will allow you to capture distortion-free audio.
Its interface is a little more intricate, with most features arranged in little buttons through the front panel. Below the screen, you have the basic recording controls (Recording, REC Pause, and Stop) and a T-Mark (track mark) button. In the center, the playback features are arranged circularly, with up adjusting the Speed Control, down setting A-B repeat function, and left/right working as fast reverse and fast forward, respectively.
On each side of the playback controls, you have two buttons (C1 and C2); these are addressable custom keys where you can designate a function to it in tune with the project's needs. The HOME and OPTION buttons are located just below these custom keys, with Home opening a base menu from which you can select from Record, Recorded Files, Music, Bluetooth, Settings, and Back To (which allows you to return to the last screen before opening the Home menu). The OPTION menu will vary accordingly to the function you're working on, presenting you with the parameters available for editing.
Key Features:
Sampling Rate
You can choose one of the ten recording formats that fit best within the project's recording needs. The available settings are 16-bit and 24-bit bit depth for 44.1kHz, 48kHz, 88.2kHz, and 96kHz sampling rates, and 24-bit exclusively for 176.4kHz and 192kHz sampling rates.
Built-in Mics
The Sony PCM-D10 features two unidirectional microphones, and by changing their position (the direction in which they're pointed), you alter the range focus of the sound capture. You can choose between one of the following mic positions; the X-Y position works betters for closer capturing. By directing both mics inwards, you achieve a natural deep stereo recording. By rotating the capsules outwards to the Wide Stereo position, you achieve a more dynamic stereo recording; this is better suited for more open capturing as recording orchestras or big live performances.
XLR/TRS Combo and MIC/LINE Inputs
When selecting the input method, you can either choose between the MIC/LINE or XLR/TRS modes, which leads to being able to only record two tracks simultaneously, the twin XLR/TRS Combo inputs or the stereo built-in mic inputs. Notice that when using the LINE input, the built-in stereo mics are disabled.
REC Remote
This app allows you to control the audio recorder via Bluetooth remotely. There are limitations to the features available for this mode, but you'll be able to start and stop your recording, change its settings, engage Peak Hold, and set marks.
Sound Forge Audio Studio 12
For three decades, Sound Forge's been a reference for professional digital audio editing. With the Audio Studio 12 free download, you'll have all the tools needed to edit your recordings with this top pro-grade editing software producers use worldwide. 
Pros:
The Sony PCM-D10 has its priorities set right, high sampling rate and bit depths, excellent quality built-in mics that you can position accordingly to what object you mean to capture, and quick access menu buttons on its interface to facilitate the operation and workflow. All that in a portable audio recorder with a sturdy road-ready build. One interesting detail is the cover for the REC level dial; it offers protection for the dial itself (a component that sticks out of the recorder's casing) and from accidental operation midst recording.
Its app connectivity and free top-quality Audio Studio 12 sound editor download add to the package by allowing you to easily operate it remotely and treat your recordings with the Sound Forge software.
Cons: 
Although all the PCM-D10's incredible features and specs, it has some limitations you should keep in mind. It can only record two tracks simultaneously, so depending on the project's need, you might need more mics to capture different angles of the scene; therefore, more tracks running simultaneously. Also, it operates with SDXC cards up to 128GB, which obligates you to carry more memory cards on your rig.
5. Zoom

H5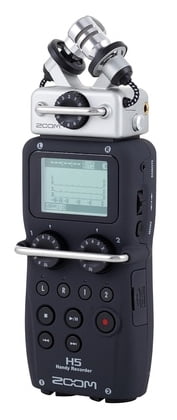 It is built for solid recording quality and an interchangeable mic capsule system, an ingenious feature that adds even more to its versatility.
Zoom is a giant in the music market, either directly at the tone sculpting with their multi-processors and effect pedals, giving voice and expression to many guitar licks worldwide, or by developing professional audio equipment like mixers and recorders to capture all that texture and feel.
The Zoom H5 hand recorder has a simple and intuitive interface that allows easy access to operating tools. Its recording and channel buttons are well arranged at the bottom half of the device. Its REC button has an indicator around it to signal when the device is on and recording. The two central Input volume buttons are protected from accidental operation by a metallic bar, preventing with a simple solution, parameters alteration midst recording.
It shares the same interchangeable mic capsule system as the Zoom H6 model, granting you a variety of mic capsule models for different scenarios. For example, when using X-Y mic capsules like the XYH-5 model (included in the package), the H5 can record up to 4 tracks simultaneously, together with its two XLR/TRS Combo inputs.
Key Features:
Sampling Rate
The H5 features six recording formats, 44.1kHz, 48.1kHz, and 96kHz sample rates with bit depths of 16-bit and 24-bit, having the range and dynamics to cover different scenarios. With the XYH-5 mic, this hand recorder will capture and process your recording with high-resolution sound.
Interchangeable Capsules
Like the Zoom H6 model, the H5 features six interchangeable capsules, adding to its recording versatility potential. The models are two shotgun capsules (SSH-6 and SGH-6), the MSH-6 with Mid-Side technology, and the X-Y to capture a center-wide range, the XYH-6, and the XYH-5 (comes with the H5).
Two Built-in XLR/TRS Combo inputs
It features 2 XLR/TRS Combo inputs that will operate as two mono or one stereo channel with individual tracks. This way, you have some configuration possibilities with this model; you can use the XYH-5 for capturing center audio projection and inputs 1 and 2 for ambiance capturing, for example.
Audio Interface function
Its USB jack allows it to connect this audio recorder to your computer and use it as an audio interface, sending the signal straight to your DAW for tracking. Also, the USB connection will transfer the recorder's files to a computer.
Editing Tools
It features the same Editing tools as the H6; Pitch, Volume, and Panning for mixing; for editing, there are Normalize, Mixdown, Trim, and Divide; as for effects, you have a Compressor and Low Cut. This lets you pre-treat and slice the project directly on your audio recorder, making post-production much easier.
Pros:
This is an incredible device, with so many recording possibilities, from a variety of capsules and a selection of recording formats to the many ways you can set its combination of mic and XLR/TRS Combo inputs; this is a tool with a configuration for every job.
Cons: 
By operating with SD card (16Mb to 2GB) and SDHC card (4GB to 32GB) memory cards, the Zoom H5 kind of set that you'll need some backup cards for when capturing in the field. With other models on the mark working with SDXC of 512GB, the H5's 32GB capacity comes short.
6. TASCAM

Portacapture X8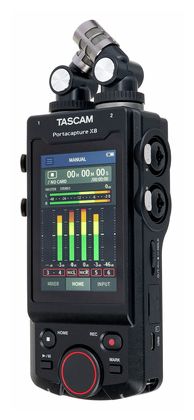 By developing a powerful field recording device with studio-quality recording sampling rate and bit depth, TASCAM exceeds with the Portacapture X8 model.
This audio recorder combines all the best features into one device. Hi-fi sound capturing, an intuitive application format interface, a design that is fluid with the handheld operation, and many possible input configurations make this device one of the best field recorders in the market.
Its interface has a clean, modern design, with a 3.5 inches color touchscreen; it has most of its features controlled by touch. Its app system enables fluid operation, allowing you to access its functions in a mobile-like fashion. The recording and playback functions are arranged at the bottom of the device, with a big Input level dial at the center, Play and Pause at the left, and REC and MARK at the right.
It features two XLR/TRS Combo inputs powered by HDDA mic preamps on each side. These are high-definition preamps developed by TASCAM themselves for brighter, clear sound.
Key Features:
Sampling Rate
As the Sound Devices MixPre-6 II, the TASCAM Portacapture X8 can capture hi-fi up to 192kHz sampling rate with 32-bit float for a professional hi-fi recording. It features many recording formats with different capturing frequency responses and dynamics to cover any need that might appear during your project.
Up to 8 tracks simultaneously
Adding to its application flexibility, it can record up to 8 tracks simultaneously, six tracks, and two mixes. That way, you can choose from many possibilities when configuring your recording set. With that many tracking possibilities and recording formats, it's like taking the studio out to the road.
DUAL Mode
It features the DUAL mode; creating a duplicate track with a different input level allows you to set two input levels to capture different nuances and dynamics of the same recording. It'll work by creating a duplicate track, so when on mono, two tracks are created, and when on the stereo set, four tracks will be created, two different input levels for the L channel and two for the R channel.
Inputs
Its two detachable stereo mics and four XLR/TRS Combo inputs offer many possibilities. It also features a CAMERA/EXT input, which allows you to monitor sound captured by the camera, and a CAMERA/LINE output that can be attenuated up to 30dB to send audio to the camera.
Detachable Mics
The TASCAM Portacapture X8 features two condenser mics, which can be arranged accordingly to your project's needs. For example, you can choose an open Wide Stereo with both mics positioned outwards, or by positioning them inwards (at the X-Y position), you create a 90º angle, with center-wise focus and some ambient sound from the sides.
This audio recorder has a second mic capsule; the TM-200SG is a shotgun mic ideal for direct, center-focused capturing.
Display and Interface
This audio recorder features a color touchscreen of 3.5 inches, giving you quick and intuitive access to all its functionalities. In addition, by enabling you to select the option by touch directly, it simplifies the operation giving you a mobile feel when navigating through its menus.
Recording Apps
It has some pre-defined scene settings that give you a more straightforward task-focused operation of the device by, for example, limiting the inputs that can be assigned for each task. For example, ASMR, MUSIC, and VOICE are all two-channel recording apps and can have inputs 1 and 2 assigned. For PODCAST, you can use inputs one to four, and on the MANUAL app, you can choose from tracks one to six.
Audio Interface function
Adding to the Portacapture X8 features, this audio recorder can be used as an audio interface, sending the captured sound directly to your DAW for tracking through its USB jack. This connection also allows you to copy the files recorded on the device onto your computer.
Pros:
Although it features a touch screen, the essential recording operations in traditional push-buttons give you important tactile feedback when engaging the recording and adding marks to the track; this is critical to a synchronized operation. It also features a metronome and tuner apps adding essential tools for cueing everyone in and checking to tune for a perfect recording.
This is a true hi-fi recording device with studio-grade sampling rate and bit depth, enabling you to capture rich, textured recordings. It is a versatile audio recorder that can even be used as an audio interface.
Cons: 
The TASCAM Portacapture is an outstanding tool with hi-fi recording specs and a touchscreen display that adds a modern, intuitive navigation feel. Although all that top-quality features, its build is fairly simple. Being made of plastic, this device is prone to damage if exposed to impacts.
7. Roland

R-07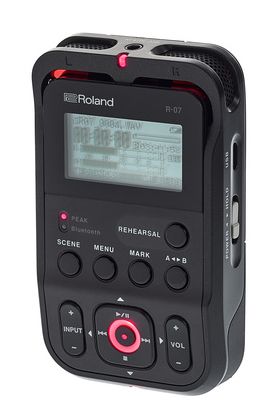 The Roland R-o7 is all about portability and high-resolution recording; this small tool is a powerful handheld audio recorder.
Having helped shape the electronic music sound with analog devices such as the TR-909 Drum Machine and the TB-303 Bass Machine, both widely spread through the house, techno, and trance styles, it set the tone and texture for generations of musicians to come. They are also known for technological pioneering with their releases for electronic drums like the V-Drums VAD series and the FANTOM line of professional synthesizers. As you can expect, high-resolution audio is a fundamental quality of Roland's products.
When they set their teams to develop a new audio recorder that could fit within a pocket and be carried seamlessly through your everyday routine without compromising audio quality, they came out with this ultra-portable device that captures up to 96kHz pro-quality sampling rate to a 24-bit bit depth. So you'll have enough range and dynamics to capture those texture-filled lows and crispy highs.
It features an LCD to navigate through its functions and visualize the parameters you're editing by scrolling using the directional pad at the center bottom, which also controls the recording functions as PLAY/PAUSE as up, STOP as down, and REWIND/FAST-FOWARD as left/right. To each side, you have level adjust buttons; the one to the left sets the input level, and the left button sets the output volume fed to the monitors or built-in speaker.
Key Features:
Recording Formats
The Roland R-07 can capture high-quality sound with 44.1kHz, 48kHz, 88.2kHz, and 96kHz in 24-bit depth. Don't let the small size mislead you; this audio recorder has top-grade Analog-to-Digital and Digital-to-analog audio processing.
TRS 3.5mm Input
It features a stereo miniature phone type input, which results in a small input jack leading to less space demanded when looking for ways to reduce build size without compromising the quality of its recording specs. The Roland R-07 TRS 3.5mm input might not look like much, but it is capable of high-resolution signal transmission.
Scene Modes
Every scenario has its best recording format that's most adequate for the ambient and project. With the Scene mode, you can select from one of the many pre-defined scene settings like Music HiRes, Loud Practice, and Field. You may even set your scene from one of these pre-loaded and save it for later use if finding yourself in the same circumstances.
Dual Recording and Hybrid Limiting
Working by creating a second track with different Input levels for a second low-level track of the same audio. This allows you to cut and replace the clipping section with this backup attenuated version registered below the peak range. The Hybrid Limiting does this automatically, so you can get a clear, clip-free track without compromising quality and dynamics.
Qualcomm® aptX™ Low Latency Bluetooth Technology


One of the tech audio issues we all face eventually is that wireless communication suffers from feedback latency. When the input signal travels from the source to the device and back to the wireless monitor, it results in a delayed sound, making it impractical.


With the Qualcomm® aptX™ Low Latency technology, you can pair the Roland R-07 to a Bluetooth monitor or headphones and hear clear, synchronized audio without compromising sound quality.
Ultra Portable Design
Roland must have achieved an audio tech milestone with this audio recorder; to have designed and manufactured a top-grade ultra-portable audio recorder that measures 2.4″x4.05″x1.02″ and weighs only 0.33 lbs. This is a pocket-friendly pro-quality device.
Pros:
The Qualcomm® aptX™ Low Latency wireless technology is a really cool feature; this audio recorder is in the next-generation new batch of devices that allows low latency connection from the device to your Bluetooth mixing headphones. In addition, it allows remote controlling via mobile device or smartwatch, conveniently putting its base functions controls at your wrist.
The R-07 is an ultra-portable device, it has its limitations, of course, but if you're looking for a device to carry with you for everyday multi-purpose use, this is a great option.
Cons: 
Although it is possible to achieve high-quality audio signal transmission with a TRS 3.5mm input, it may lead to equipment incompatibility, so either you'll have to carry an XLR to TRS adaptor to use it with most audio Mics and Lines or use it with a compatible Plug-In Powered Mic.
Another inconvenience of the R-07 is that its built-in internal mics are disabled when a device is connected to the MIC/LINE AUX Input, making it possible to record using only one channel at a time.
8. Zoom F6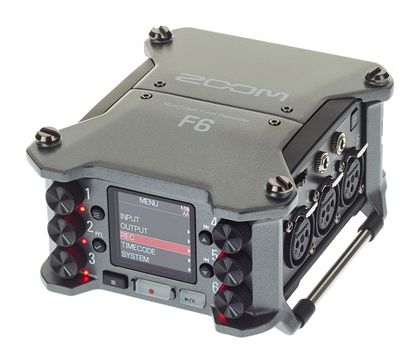 One of their finest creations in audio capturing, the Zoom F6 Multitrack is a feature-packed pro-grade audio recorder that allows you to explore the recording possibilities further.
Zoom has raised the bar again; its F series brought top-quality field recordings with smart "look-ahead" limiters and up to 192kHz/24-bit sampling rate. In addition, its Zoom AutoMix™ and Ambisonics software enable post-mixing and treatment of the recorded audio.
It has a fairly simple interface with a central full-color LCD, STOP, REC, and PLAY/PAUSE buttons right below it, Fast-Forward and Rewind buttons at the display's right side, and to the left, you have the MENU and PFL (Pre-Fader Listen, enabling you to check the input level through your headphone's output.
At both edges of the frontal panel, three Input level knobs control the XLR/TRS Combo inputs arranged on threes at the sides of the F6. At the right panel, you'll also find the headphone output and output level dial as well as a Timecode input. To the left, you'll find a LINE OUT output and a USB-C port for file transferring and using the audio recorder as an interface. The SD card slot is at the back of the F6.
Key Features:
Sampling Rate and Bit Depth
The Zoom Multitrack is a professional field recorder with pro-grade capturing and recording specs. With sampling rates up to 192kHz and 16-bit/24-bit/32-bit float bit depths, it has enough potential for you to test your most daring ideas and capture them in hi-fi resolution.
6 Inputs up to 14 tracks
It features six XLR/TRS Combo inputs that can record six individual tracks and six stereo mixes, one for each input. In addition, it can record up to fourteen tracks simultaneously, providing you with enough inputs to experiment with different settings and rigs in search of the most true-to-original recording.
Look-Ahead Limiters
This an exciting feature with great potential to turn into your biggest ally. The Look-Ahead Limiters are advanced hybrid limiters that read the track's dynamics and jump into action by lowering input gain to prevent it from clipping, therefore acting beforehand to preserve the track's integrity.
iOS Wireless Control
You can remotely control your F6 functions by connecting it to your mobile via the F Control iOS App; within it, you can access mixing/monitoring functions, data transfer, and file management. This app was made to create an even more intuitive space where you have a fluid workflow and can focus on what's essential, your recording.
Ambisonics Audio and Zoom AutoMix™
The Zoom F6 also features an audio mixing and an engineering software designed to get the most out of the field recorder potential. In addition, the Ambisonics Audio software provides precision decoding for A-B; this allows you to capture high-resolution spatial audio and record VR and AR material.
The Zoom AutoMix™ software work by adjusting the input levels o the recording, maintaining focus on the object being recorded, and reducing surrounding sounds.
Build
From recording features and hardware specs to its sturdy build, this is a professional device. With a straightforward design, made to endure the road's harsh conditions and to provide a simple, intuitive interface for easy operation, the Zoom F6, will provide all you need for professional studio recording taken to the field.
Pros:
The Zoom F6 Multitrack is a device well-suited to all scenarios. With amazing pro-grade recording specs, a road-resistant build made to endure the day-to-day handling, and intuitive operating systems displayed through a full-color LCD, this device is definitely one of the top picks of the best audio recorders for field recording.
The Zoom AutoMix™ and Ambisonics Audio software add to the F6, providing a more complete solution for professional, studio-quality audio capturing for hi-fi true-to-original recording.
Cons: 
It doesn't feature built-in mics or include an external mic in the box with the audio recorder; you'll need to acquire a microphone to capture sound or use the LINE connection to plug instruments or mixers. But strong are the chances that if you're interested in purchasing a field recorder like this one, you might already be the owner of some mics or intend to get one that matches the Zoom F6 recording potential.
The F Control App for remotely controlling the functions of the F6 field recorder is only available for the iOS platform; Android users have no available F6 F Control App yet.
Conclusion
When we're talking about recording audio, high sampling rates and bit depths are crucial to capturing the most high-resolution sound possible, and registering those sweet, complex textures is something that only truly dynamic devices can pick up. This list brings you the top 8 audio recorders designed for field operation.
With models from Zoom, TASCAM, Sound Devices, Roland, Sony, and Olympus brands, we covered the main specs and features that make these audio recorders stand out, from pack-featured devices to simple, straightforward devices that focus in provides you the tools for stepping up you recording game and abandon mobile recording for good.
The Zoom F6 Multitrack, the TASCAM Portacapture X8, and the Sound Devices MixPre-6 II have the highest maximum recording format of impressive 32-bit float/192kHz; this enables you to capture hi-fi quality sound, with built-in sound treating tools for a more complete solution and operating autonomy.
For most portable solutions, the Roland R-07 stands out as the smaller, quality audio solution; the Sony PCM-D10 and the TASCAM DR-40X models are also in a pocket-friendly size that enables you to effortlessly carries it with you to capture sudden inspirational references or even high-quality 24-bit bit depth to be used as samples.
The first thing is to define your needs for a field recorder. After analyzing your key points for sound capturing, you can then choose, within one of these top 8 audio recorders for audio recording, the model with the right number of inputs and recording specs that will accompany you for years of project recording.
I currently acts as a session musician, producer, and content creator, with a passion for sharing my knowledge and experience with others in the music community by either directly lending my playing skills to a variety of projects and artists, bringing the unique style to each project or helping other musicians shape their sound and bring their creative visions to life as well as sharing my knowledge and insights by combining skills as a musician and producer to create helpful, engaging content. Read more…