The choirs, along with the piano and the strings, are some of the most complex musical pieces to record because they need to be captured to the smallest detail to obtain the most faithful take possible. For this, we need high-quality microphones to carry out this task. Therefore, the place where we locate the microphones will be decisive.
So in a nutshell, here is our list of the best mis for recording choirs you should consider:
We will take a look at its characteristics, and we will analyze the relationship between quality and price depending on each model.
Things like the room's reverberation, number of voices, number of microphones, or intensity of the sound, will be key to deciding which is the best place to put them. As a general rule, two microphones are used, one close to capturing the voices directly, another far away to capture the ambient sound, to later combine them. But this can vary according to the needs of each recording session.
Condenser-type microphones will be indicated for this task. They have great sensitivity, accuracy, and a flatter response to high frequencies compared to dynamic microphones, which are better suited for live sessions. Everyone has a different way of capturing sounds.
The condenser microphone stores an electrical charge that is measured in capacitance. On the other hand, a dynamic mic works like a speaker in reverse. It has a diaphragm that moves due to the change in sound pressure. Their type of technology makes them require an amount of extra voltage, known as Phantom Power, which is included in consoles and audio interfaces.
Top 10 Mics For Recording Choirs 2023 (Best Rated)
1. Behringer

C-2 (Pair)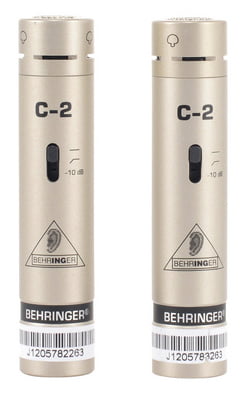 This set of Behringer mics is a great option for choirs and strings. They can be used to capture stereo sound or even near and far simultaneously. It has a small diaphragm for good quality pickup, and they are also very useful for some live sessions thanks to their cardioid construction.
With an almost unbeatable price for a pair of condenser mics, this is also a good option for recording overhead drums or having a second option available in case your main mic fails.
Key Features:
Two Matched Condenser Microphones
These little mics are designed to work perfectly together and manage to complement each other for optimal performance. In addition, its cardioid pickup pattern prevents feedback
Low-Mass Diaphragm
For ultra-wide frequency response and ultimate sound reproduction. This makes them ideal for recording choirs and string instruments in live sessions. They have FET technology, which eliminates distortion at low frequencies. In addition, they have a -10dB attenuator switch to regulate the input if necessary.
Rugged Construction
They are constructed of a die-cast metal body, which makes them strong and resistant. They also include stand adapters, windscreens, tie rod and case, and gold-plated 3-pin XLR connectors for the highest signal integrity.
Pros:
They have the best price on the market, almost a third of what other microphones with similar characteristics come out. In addition, they offer high-quality sound, are versatile, just the right size, and are well built.
The fact that they are a two-piece stereo pair broadens the possibilities of capturing sound, interacting with different environments, and testing different distance configurations to achieve better results.
Cons:
Although they are microphones that fulfill their function without problems, they are of mid-range quality. If you want a more professional sound or intend to use it in studio recordings, invest a little more money and look for other options or brands.
2. Audio-Technica

AT4021
This Cardioid Condenser Microphone, made by Audio-Technica, is another versatile option and can offer good performance when recording choirs, ambient sounds, or acoustic instruments. It has a low-mass diaphragm, a very high sensitivity level, and a flat, natural tone.
It has a high sound pressure level (SPL), so it can also be used to record percussion sets with good results. Audio Technica is one of the leading brands in the development of audio devices, and this microphone model is on par with the other products of this brand.
Key Features:
High SPL Handling
This microphone offers a high sound pressure level and a wide frequency range for its size. What makes it possible for us to work with high-volume sound sources without the signal distorting or losing clarity

High Front-To-Back Rejection Ratio


Its cardioid polar pattern improves the isolation of desired sound sources, which is very useful for live sessions where we only want to amplify a particular voice or instrument. It also allows you to pair it with a second, similar microphone for more depth or to try different approaches

Low Self Noise & Rugged Construction


Thanks to the quality of the materials with which it is built, it has an almost invisible noise level, which makes it much easier to use in the studio when recording voices and subtle sounds. This microphone is made of metal, its structure is strong, and the noise level when handling it is low.

-10dB Attenuator Switch


Ideal for regulating the input when recording high-volume sound sources. This allows us to regulate the gain of the signal easily and comfortably.
Pros:
It is near-ruler-flat from 20-20KHz. Getting those extremes, 15K-20Hz and especially 20-50Hz provides really sweet lows, which is unusual in a cardioid microphone of this range.
Includes a fifteen-year warranty if you register at audio-technica.com within thirty days of product purchase.
Cons:
Its price is high, and although it can offer very high-quality shots, if we are going to use it at home, or quality is not a determining factor in our projects, we can find other similar products at a lower price
3. RODE

M5 (Pair)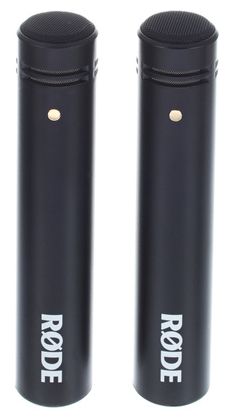 Designed and manufactured in Australia, this pair of combo microphones is a compact, ½" cardioid condenser with low noise and full frequency response. As a result of many years of experience, RØDE has successfully created a high-quality product permanently polarized pencil style.
Ideal for studio and stage recording, the M5s can be matched with similar results to various acoustic instruments, choirs, or anywhere a small-diaphragm condenser microphone is employed, either singly or in stereo.
Key Features:
Small-diaphragm Matched Condenser Microphones
Paired carefully to ensure no more than 1dB variation in sensitivity between microphones, they complement each other for optimum performance and are an excellent choice for recording choirs and using different positioning setups.

Ultra-Low Noise


Its noise threshold is very low, allowing for clear sound recordings, and highlighting the presence of the instruments we put in front of these microphones.

Affordable Alternative


Compared to wildly expensive similar microphones, these fulfill their function perfectly and have the necessary versatility to adapt to different environments and situations, achieving an unbeatable price-quality ratio.

One Piece Sealed Body


The M5s are finished with RØDE's proprietary ceramic coating that offers a matte black finish and includes windshields and RM5 stand mounts
Pros:
They are very versatile, well built, and allow great performance in choirs and live and studio acoustic sessions. For a very reasonable price, we can buy two professional quality microphones, which complement each other very well.
Cons:
They have a good response in high and low frequencies but not so much in the middle frequencies. So its sound lacks a body in some situations.
They do not include a case, which is important for transporting or store for a pair of small microphones without jeopardizing their integrity or even losing them.
4. BeyerDynamic

MC930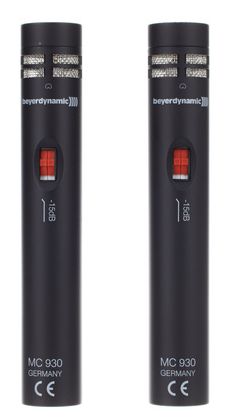 This microphone has a reputation for being an excellent studio mic for acoustic guitars, drum overheads, and choirs. Very flexible to be used in different situations. It has low noise, tight lower frequencies, a sweet mid-range, and effortless highs. Without a doubt, we are talking about a professional quality microphone that can work well alone or in a stereo configuration.
Although it is an expensive microphone, this pair of mics are the best in their price range due to the possibilities it offers. Well-built and durable, this microphone performs excellently in the studio and in live sessions.
Key Features:
Switchable Pre-Attenuation -15 dB
Like many high-quality small-diaphragm microphones, the Beyer Dynamic MC930 features a pre-attenuator that provides excellent performance at high SPLs to regulate gain when facing a loud sound source.
The Switchable Low-Pass filter At 250 Hz
A switchable 6 dB/octave low roll filter at 250 Hz is included to compensate for proximity effects, providing added versatility in finding the best microphone position.
Cardioid Polar Pattern
Due to its cardioid polar pattern, it has high-gain-before feedback and eliminates noise from the rear. As a result, it is a first-class tool for studios and sound contracting systems, where excellent sound and maximum gain-before-feedback are required.
Pros:
Quality and performance results are the strong point of these microphones. Although its price is high, it is in line with what it can offer in terms of performance.
It can be used alone and paired if we have a set of these microphones, one of the best options for capturing choirs and ambient sounds.
Cons:
It does not include a case in its individual version, which is a point against taking into account the value and range of this product.
5. Shure

CVO-BC

This Shure microphone model, specially designed for live performances, offers great comfort and ease of setup due to its dimensions. They are one of the best options for recording choirs since they are discreet, lightweight, provide high sound quality, and a clear response at both low and high frequencies.
It can be used alone or with other microphones to capture a wider range of sound. It is a cardioid type, so it is usually hung, pointing towards the environment we seek to amplify to obtain the best sound projection. As a result, it is almost invisible to the eye.
Key Features:
Cardioid Polar Pattern With A Tailored Response
Tailored frequency response ideal for capturing fast transients above choirs and other ensembles. With the right location, you can achieve excellent takes with very high sound quality and focus where we are most interested in highlighting the sound frequencies.
CommShield Technology
This isolation system protects the signal against radio frequencies, which we want to avoid. In addition, because they are designed for places with a lot of people, using cell phones or electrical devices in the venue can generate interference that will become noise if the microphone is permeable. Thanks to this, CVOs provide a clean and clear signal.
Low-Profile/Rugged Design
Thanks to its size and lightweight, it's comfortable, discreet for live sessions, and easy to set up. In addition, it is usually imperceptible at times. This microphone is made with quality materials typical of Shure products and offers long durability.
Pros:
It is within an unbeatable price range for its facilities and sound quality. Its precise voice pickup and a frequency range between 17Hz – 16000Hz make it ideal for choirs.
Cons:
This microphone uses a lithium battery that must be replaced occasionally for it to function properly. Consider this when using it, and sometimes it can be inconvenient.
6. AKG

CHM 99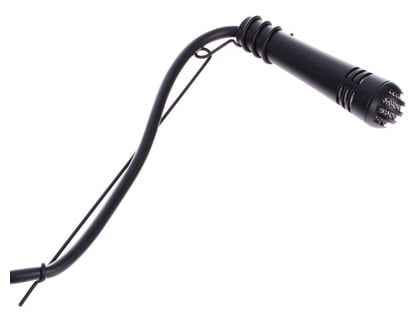 This hanging microphone has a cardioid polar pattern, ideal for recording music, choirs, or theater stages. Includes a 10m cable specially designed to minimize twisting and a spring steel clamp that keeps it steady in the desired direction.
Thanks to its discreet size, this condenser microphone can be used together with others with similar characteristics to achieve greater sound amplitude and different approaches. This allows you to have more control over the frequencies that different environments reflect and the way the voices behave.
Key Features:
Wide Pickup Angle
We can point this microphone in any direction we want. Ideal for choirs and places with good reverberation. Its wide range allows optimal capture when placed in the right place.
Flexible Cable
It is composed of a steel spring that allows easy direction and orientation toward the sound source we want to amplify. In addition, its structure keeps it firmly oriented, allowing you to obtain the best possible sound performance.
Low-Profile
This type of microphone offers an excellent response in terms of sound quality, and its dimensions are ideal, so its placement and setting are very simple. Its 10m long cable makes installation much easier, allowing you to reach key places.

Pros:
It is in a very good price range keeping in mind the quality of the AKG is very high. This makes it one of the best hanging microphone options for recording choirs. Moreover, it has a lot of definitions in its high-frequency range.
Cons:
Despite the excellent conditions it offers, it can sometimes add a bit of noise to the signal, and although it is not something that cannot be solved with equalization, it is something to take into account, especially for live sessions.
7. Samson

C02 (Pair)
This low-mass condenser captures every nuance of a choir or any live performance. This matched pair offers a truly affordable price for its features. Using multiple microphones helps ensure accurate audio capture in greater detail.
They have a cardioid polar pattern and stand out in their frequency response and low-frequency noise. In addition, they include a resistant brass housing that guarantees reliable performance even in the most demanding environments. In addition, they include a rugged brass case ensuring reliable performance in all kinds of environments.
Low-Mass Capsule


These microphones are sold as a pair and have a sensitive low-mass capsule with a cardioid polar pattern that captures a certain area right in front of the mic

. The microphone's polar pattern makes ambient noise not to be picked up, avoids feedback, and focuses on the sound source.

We can achieve different takes from the same sound source by varying the orientation.

High SPL Handling


With an SPL of 134dB, they are suitable for capturing not only vocals but also string instruments and drum sets without distorting the signal. These pencil-style microphones have a frequency range of 50 Hz to 20 kHz.
Carry Case & Shock-Mounted Mic Clips
Includes a high-quality protective hard case, two shock-absorbing clips, and foam protectors for each mic. The materials' quality ensures a solid construction and a properly insulated connection. In addition, its metallic body and its great sensitivity to sounds stand out in these microphones.
Pros:
This Samson set is among the best options concerning price-quality. They are very well built, fully fulfill all the functions they were made for, and thanks to their price, we can buy more than one set for the same value as a mic from other brands without sacrificing recording quality.
The hard case, its foam windscreen, and shock-mounted mic clips are other strong point of this product.
Cons:
They do not include DB attenuators or low-cut filters, which are very practical in some situations. Beyond this, they are still an excellent choice for recording choir.
8. Shure

PGA81
The PGA81 Cardioid Condenser Microphone is a professional quality flat response microphone with a highly durable design and construction. Although this microphone is designed mostly for instruments, thanks to its flat response and the versatility that Shure products have, it is also another excellent option for recording choir both in the studio and lives.
This is a reasonably priced, high sound quality, strong and durable construction microphone option. Updated industrial design with black metallic finish and grille for an unobtrusive visual presence. The PGA81 comes with a swivel adapter carrying pouch.
Key Features:
Cardioid Polar Pattern
Picks up audio from the source while rejecting unwanted noise. It can be pointed close to the sound source or far away to obtain a more ambient sound variant. It can also be combined with similar microphones to obtain greater sound capture.
Flat-Response
This microphone design is ideal for clearly reproducing sound sources in more sensitive environments. It has a sensitivity level of 40 to 18,000 Hz. Its capacity is 129.5 dB SPL, so it can handle high volume levels without distorting.
Affordable Alternative
Compared to wildly expensive similar microphones, this Shure model is a quality option for recording choir and has the necessary versatility to adapt to different environments and situations, achieving a very good price-quality ratio.
Pros:
It is a reasonably priced option, it is comfortable, and it offers high-quality features to be used as a main microphone or even as a second option if necessary.
Cons:
This model does not include a decibel attenuator pad or a hard case. As a result, its low-frequency pickup is less than other products with similar characteristics and price ranges.
9. AKG

C1000S

This small condenser microphone made by AKG stands out for its versatility. This is a product in the $200 range, suitable for live sound and recording applications, as well as ENG/EFP and video productions.
Its gold-sprayed capsule housing makes the microphone extremely resistant to moisture, and as a bonus, if phantom power is not available, this microphone can run on two standard AA batteries for up to 120 hours.
Key Features:
Gold Sputtered Microphone
Both its capsule and its XRL connectors are covered by a gold alloy that protects it from moisture and improves the connection of its elements. Its construction is robust and is designed to last a long time.
AA Battery Option
This is an excellent variant only a few microphones offer if we have a console or audio interface containing integrated phantom power or even amplifiers.
0dB/-10dB Gain Switch & Bass-Cut Switch
To attenuate the gain when necessary. This is always a very useful option when amplifying or recording sound sources with high volume levels. It also includes a switch to cut low frequencies below 80 Hz when we don't want the microphone to pick them up and an on/off switch that is very useful if we use it in an amplifier.
Presence Boost Adapter
It includes three adapters to adjust the polar pattern and the frequency response, offering great adaptability to different environments and greater capture capacity. This is really useful if we plan to use it to record choir.
Pros:
It is one of the most versatile options on the market, not only to record choir but also to record or reproduce any sound source we want. Moreover, it includes many options for attenuation and variation of sound pickup in a robustly built microphone. This makes its price very justified.
Cons:
It's hard to find negatives about this product, but the fact that it doesn't include a hard case could be one.
10. Audio-Technica

PRO 44
This condenser microphone, designed by Audio-Technica, is another discreet option, with a low-profile design for minimum visibility and excellent sound quality for choir recording. It has a half-space unidirectional polar pattern. The PRO 44 is ideal for capturing voices in all kinds of situations without losing clarity.
Its Half-cardioid polar pattern stands out for being highly sensitive, so it doesn't need too much gain to work. With a frequency response of 70-16,000 Hz, it works very well, picking up vocals without being too bright. It's easy to place in a position that covers a good spectrum of sound, and its rugged design and construction make it a durable product.
Key Features:
Fixed-Charged Back Plate Construction
This mic uses the latest low-mass technology in pursuit of superior performance. The load is on the fixed backplate instead of the moving element. The A-T fixed-load "backplate" construction allows using a gold-vaporized diaphragm of just 2 microns thick. This reduces moving mass, improving frequency response and transient response.
Easy To Position
Placing a properly designed miniature unidirectional microphone in the center of a large, flat, and unobstructed surface produces several advantages. Directionality is increased by 3dB, promoting higher gain before feedback and greater suppression of ambient noise. The sensitivity is increased to improve the signal-to-noise ratio, and phase distortion due to sound energy reflected from the boundary itself is eliminated.
Rugged Design
The microphone's condenser element is encased in a rugged housing with a black finish. In addition, it has a non-slip rubber bottom pad that minimizes the mechanical coupling of surface vibrations with the microphone. As a result, the PRO 44 has high sensitivity and matches most mixer, recorder, and amplifier inputs. At the same time, it has a low distortion percentage even in sound fields of up to 114 dB SPL.

Pros:
It is a good microphone option with a balanced sound and is specially designed to capture voices. Very sensitive and capable of supporting high SPL. Its price is according to what it offers.
Cons:
Its low-frequency perception range starts at 70hz, a little below the average for condenser microphones in general. This makes this microphone not work as well for other types of purposes than recording human voices.
It uses a mini XRL cable, which, although included in the product, is more difficult to find if we need to replace it at any time since it is not standard.
Conclusion
Each microphone described in this list offers different advantages and possibilities, and although all of them largely fulfill the function of capturing choir, it is important to analyze beforehand which option will best suit your needs.
Things like the budget that we have, the room in which we will record, the acoustics that it has, the number of microphones that we will use, the number of voices that we will record, or the vocal volume of the singers will be some of the issues that we will have. So consider making the best choice and getting the best performance from our devices.
The combination of different microphones, and the tests that we do, varying settings, positioning, and equalization, will help us find out the best possible configuration for each objective. So, I hope this article is useful for you. Thanks for your time!
Related Readings:
12 Best Mics For Recording Acoustic Guitar 2023
Top 6 Cheap Dynamic Mics For Vocals
6 Best Ribbon Mics 2023 On Any Budget (For Vocals, Drums & Guitars)
7 Best Drum Mic Kits For Recording Live 2023
Are Expensive Mics Worth it? Cheap vs Expensive
Dynamic vs. Condenser vs. Ribbon – Differences & Purposes
Top 12 Microphone Brands 2023 (Condenser, Dynamic & Ribbon)
Why Does My Microphone Pick Up A Loud Buzzing Sound?
The 12 Best Microphones For Field Recording 2023
12 Best Cheap Condenser Microphones 2023
I am a composer, session musician and producer based in Argentina, with more than 20 years of experience in music. I play guitar, bass, keyboards and sax, I was part of different projects and I am familiar with musical genres like rock, pop, soul, reggae, funk, r&b, cumbia and others. Read more..