Looking for a reverb pedal to give your solos some sparkle? Well, we've compiled a list of the best reverb pedals for Metal music.
Reverb is an audio effect designed to make a signal sound like it was recorded in a room with natural acoustic reverberation. You can create reverb effects in a variety of ways, some of which we'll get into below: using springs, plates, BBD circuits, digital circuits, or even just playing around with playback and microphone placement.
After all, waves of mechanical energy travel through space to create sound. Sounds in the air typically range from 25 Hz to 20KHz, which is the range that people can hear. These waves will radiate from their origin. These acoustic waves will eventually reach a surface where they will be partially absorbed and partially reflected. Other than likely, the reflected waves will strike at least one more surface.
Reverb pedals are made to sound like the effects of an actual reverberation unit. They modify the incoming guitar or instrument signal using characteristics like delay and decay to make it sound like an acoustic space has reverberated. The modified signal is added to the original direct signal at the output.
To put it simply, reverb pedals rock. The use of a quality reverb pedal is something nearly every musician can appreciate. This holds regardless of whether it is employed softly to add space and depth to a signal or dramatically to create a sweeping guitar soundscape. This is because reverberation occurs spontaneously in all kinds of acoustic settings. All save the smallest reverb pedals are digital.
We can successfully simulate various reverb effects thanks to digital signal processing (DSP) advancements. Unfortunately, when trying to accomplish this, analog circuits often fail. Pedals could be made with springs or plates, but they have limited usefulness, are bulky, and produce an odd sound.
Having said that, let's examine the options we have in the year 2023.
Top 12 Reverb Pedals For Metal 2023 (Any Budget)
1. Boss RV-500 Reverb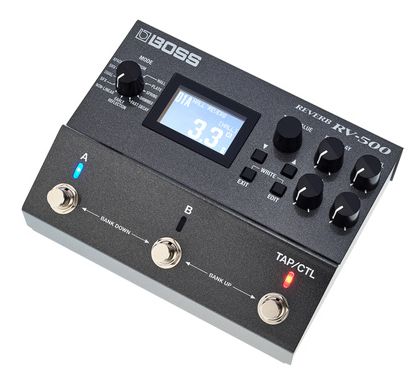 The RV-500 multi-effects pedal from BOSS brings the power and flexibility of the 500 Series to reverb.
The twelve different reverb types included ensuring that sonic explorers would never be at a loss for ideas. Editing these sounds might be a simple process or a vast rabbit hole of possibilities for the tone tweaker.
BOSS has a rich history of highly regarded reverb effects, such as the Modulate mode of the RV-5 and the COSM modeling of the distinctive tones of the Fender spring reverb. The RV-500 stompbox is like having access to an entire sound library at your feet.
Key Features:
Reverb Types
The RV-500 contains 21 high-quality reverb algorithms that you can use to create virtually any ambiance. Each one features an extensive set of tweakable settings, such as EQ, ducking, and other modulation and decay. In addition, they have developed brand-new algorithms for this pedal using BOSS's decades-long experience in cutting-edge reverb design.
Traditional reverbs like room and hall are available, as are more experimental ones like shimmer and non-linear reverbs, and special effects reverbs. There are also brand new implementations of two Roland classics—the Space Echo and the Digital Reverb.
DSP Engine
This pedal can produce various sounds thanks to its robust digital signal processor. To begin, the Dual mode of the pedal gives you access to two separate reverbs simultaneously, each of which may be fed with a full-range input or with divided frequency ranges on each input to create complex, multi-range sounds.
With A/B Simul mode on, you can combine any reverb patches, connecting them in a series or a parallel fashion, and outputting a single signal or two separate ones. Moreover, you may adjust the reverb and delay effects for series or parallel operation on a per-patch basis. Each patch features a digital delay with a full range of controls, including modulation and EQ.
Interface
The RV-500 features a sizable display screen that makes it easy to read the patch number, delay time, and other critical metrics. The extensive editing settings and controls of the unit are also easily accessible.
Adjustments such as pre-delay, high and low EQ, and effect level are all conveniently located on the panel for instant access. In addition, the free Editor may be installed on your PC and connected remotely for editing, patch backup, and more through a USB cable.
Real-Time Control
This pedal allows unprecedented freedom of expression and performance versatility because of its fully programmable switches and robust support for real-time control. The A, B, and TAP buttons allow quick and easy access to the bypass, patch/bank selection, tap tempo, and real-time alterations to the effect's settings in their default configuration.
In addition, three distinct reverb patches, an A/B Simul mode, and other options can be assigned to the switches. The many control options and sophisticated configurations made possible by MIDI expand the range of artistic expression.
Character & Sound:
The RV500 provides versatile studio-quality reverb that you may use in various settings, including recording and live performance. Also, since it's MIDI-compatible, it may be integrated into more extensive MIDI-controlled systems.
Whether you need one or not depends on the type of music you play; if you need a variety of reverb types for different songs and maybe the occasional tape delay effect, it will do the job great; if you need a hint of spring or plate every once in a while, it will do the job but could be considered overkill.
On the other hand, it provides a wealth of potential for producers of electronic dance music (EDM), ambient music, and ambient lounge music. To instantly access a wide variety of high-quality tones enhanced by stereo effects, you only need direct input from an electric or electro-acoustic guitar.
Pros:
The RV-500's 32-bit/96-kilohertz analog-to-digital (AD/DA) converters are superior to anything else in effects pedal form. The sound quality that rivals or exceeds that of the best professional studios is achieved using a sampling rate of 96 kHz and an internal processing architecture that supports 32-bit floating-point numbers.
You can bypass all digital effects and run your dry analog tone straight through the system. For more flexibility, you can choose between true-bypass and buffered-bypass operation.
Cons:
There isn't much to emulate about the spring; nothing natural about their sound. They sound metallic and weird; also, there is no power supply unit or charger.
2. Walrus Audio Fathom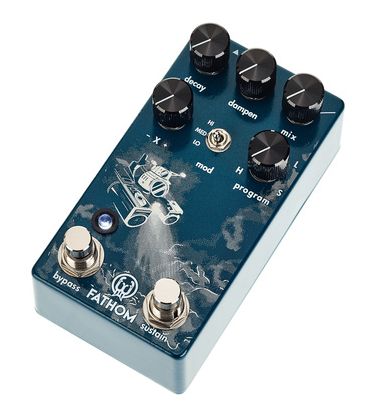 You'll be charmed by the Walrus Audio Fathom reverb pedal, whether you use it to add a touch of subtle ambiance or to submerge your tone in fascinating washes of sound completely.
It's all yours for the taking with four distinct reverb algorithms that allow you to work with anything from intimate spaces to expansive, varied waves of echo. A sustain switch allows you to capture a sonic moment and hold it while you play over it.
When the bypass button is held down, the Fathom reverb may be used as a transient effect, making it ideal for chord stabs and other embellishments. The Walrus Audio Fathom pedal is a flexible reverb that includes a double-octave Sonar reverb effect for a shimmering, contemporary sound.
Key Features:
Four Reverbs
With the Fathom reverb pedal, you may adjust the pre-delay duration for a more or less open and airy sound when using the Hall mode. Plate mode provides a dynamic plate reverb sound with a nuanced midrange and adjustable pre-delay.
Depending on the filter's position, the reverb in Lo-Fi mode might sound either warm and liquidy or bright and thin. In addition, Sonar mode incorporates high and low octaves for shimmer effects, with flexible blending options.
Sustain Switch
Many guitarists favor reverb or delay with lengthy or infinite sustain to flesh out sparse tunes. The sustain switch on the Walrus Audio Fathom reverb pedal facilitates instant access to this method. To pause the reverb as you play over it, step on the sustain switch while the effect is engaged.
Momentary Switching
The bypass footswitch on the Fathom works as advertised, turning the effect on and off with a single footswitch. You can emphasize a specific phrase, chord, or single note with reverb by stepping and holding it into momentary mode. When used with the selectable trails mode, you may add reverberant bursts to your performance without diluting your original tone.
X Knob
In each setting, the X knob functions differently. The X knob, for instance, modifies the pre-delay whether the hall or plate reverb is selected. The x knob adjusts the low end when in lo-fi mode, simulating the sound of an old AM radio.
The octave can be changed using the sonar's x function. In the case of sonar, for instance, the signal can be reverberated at high or low octaves by turning the x knob in either direction. The mod switch can adjust the modulation level from low to high. When used with the X knob, the Fathom Reverb may produce both flowing and ethereal sounds.
Lo-Fi Mode
The lo-fi setting is essentially a reverb with some filtering applied, while the sonar setting reproduces reverb utilizing your guitar's high and low octaves. The sonar mode is the blue box's most extreme option, but with the other controls at your disposal, you can adjust the effect's intensity to make it sound like an organ or synth or utilize it to add subtle texture to your performance.
Character & Sound:
With the help of the mix, decay, and dampen controls, you can obtain some genuinely ethereal tones, and the sustain is the quickest route to some David Gilmour–style licks that go beyond the atmosphere. This pedal might be perfect for you if you're looking for a light and airy sound.
Awe-inspiring soundscapes like those in Explosions in the Sky are within your reach, and so are classic 1960s tones, thanks to the effects you can adjust at the turn of a dial. With the three-position mod switch and the sustain button engaged, the pedal shines. Temporarily activating a reverb effect by pressing and holding the bypass switch in the off position is a terrific way to provide a particularly impressive flourish to a solo.
Pros:
The interface is simple, and you can use the mod toggle to make almost anything feel "off." There aren't many as well-done as the shimmer ("sonar") implementation. With the x and damping controls, you may fine-tune the effect to your liking, making the shimmer extremely flexible. The visuals and construction are both of the highest caliber.
Cons:
This pedal does not come with batteries or an AC adaptor. The user handbook calls for a 9-volt, center-negative DC power supply with 100ma of current. It suggests using an isolated power source (it would be helpful if the vendor included this information at the point of sale).
Because most adapter tips are positive at the center, the "central negative" is an outlier. If you plug this into a standard wall socket, you may hear a buzzing noise, even with a reversible-pin universal converter.
3. tc electronic Hall of Fame 2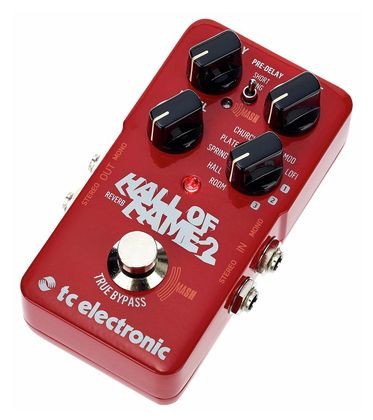 The TC Electronic Hall of Fame Reverberation Pedal is a reverb pedal that fits easily on a pedal board and features multiple reverb settings.
The TC Electronic Hall of Fame 2 reverb pedal features new shimmer reverb algorithms and a novel Mash footswitch for expressive effects, building on the success of the original Hall of Fame, one of the most popular reverb pedals.
You can use the pressure applied to the Mash footswitch like an expression pedal to adjust the reverb's depth and decay time. In addition, if you're a lover of TonePrint effects settings, you'll be happy to know that the Hall of Fame 2 reverb pedal has three TonePrint preset slots. This means you can have three different, uniquely tailored reverb effects at your fingertips.
Key Features:
Algorithms
To produce ethereal, ambient effects, TC's shimmer reverb algorithms transpose the reverb effect up an octave. One of the newer algorithms in the Hall of Fame 2 pedal is a shimmer reverb, which works well with shoegaze, worship, and other ambient styles.
Mash Footswitch
The MASH footswitch may look like any other pedal switch, but it's very advanced. The pad's pressure sensitivity makes it possible to use any of the eleven reverb types as an expression pedal. In addition to the eight preprogrammed reverbs, this pedal has three empty slots with TC Electronic's TonePrint technology (via the USB mentioned above connectivity).
TonePrint Slots
Pedals like the Hall of Fame 2 with the TonePrint feature let you download artist-created presets directly to the pedal via the TonePrint mobile app. The TonePrint editor program also allows you to make your unique verbs. The Hall of Fame 2 pedal lets you simultaneously load up to three TonePrint settings to give you more options while performing.
Controls
Standard controls are featured on the Hall of Fame 2: Decay, Tone, Level, and a rotary switch for selecting the several reverb types. A lot of it is fundamental. However, we find it incredible how much control the MASH footswitch affords. The footswitch functions as a volume pedal for the Plate reverb and as a reverb decay control for the Church reverb, depending on the selected setting.
Acclimating to the MASH may take some time, but once you do, you won't want to be without it. The level of pre-delay can also be adjusted using a simple toggle switch. Short makes your reverbs feel like you're playing close to a wall, while long provides a slightly more distant and ambient tone.
Character & Sound:
The original Hall of Fame's legendary reverb tones were already excellent in their own right, and the HOF 2 raises the bar even higher. All the sounds are rich and complete, and the MASH feature allows you to get sounds out of it that you can't get from any other reverb pedal.
The three TonePrint options also give a great deal of freedom, allowing you to explore many possibilities. Just picture the new Shimmer reverb mixed with a touch of vibrato, flanger, TC's TriChorus, or the Church reverb setting with these added. This is an exceptionally powerful pedal that, thanks to its stereo operation, entire bypass arrangement, and sturdy build, has the potential to be a permanent fixture on your pedalboard.
Pros:
You can get sounds out of the TC Electronic Hall of Fame 2 that aren't possible with a regular reverb pedal. But, most remarkably, it does not cost noticeably more than any other high-quality equipment. Additionally, the new additions to the HOF make it a serious contender as a replacement for the original HOF.
Cons:
Some users have complained that the app's performance could be better because it needs to be fine-tuned. Also, the quality of the jack connectors appears to have declined; some devices appear to wear out fast, and in extreme cases, rust can build up inside the jack and prevent it from being used. Finally, potentially more space between the footswitch and the knobs would have been ideal.
4. Fender Tre-Verb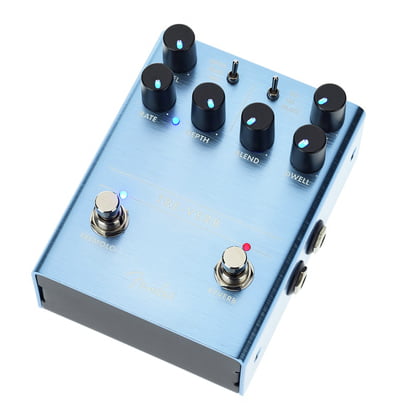 The legendary tone of vintage Fender guitar amplifiers is matched only by their legendary tremolo and reverb circuitry.
Get that classic tone from your guitar amp with the help of the Fender Tre-Verb tremolo and reverb pedal. The Tre-Verb pedal recreates classic '60s guitar tones with the help of Fender spring reverb units from 1962 and 1965 and the best in tremolo effects.
This pedal's dual inputs and outputs make it an excellent choice for multi-amp setups, and it will also appeal to keyboardists wishing to spice up their electric piano tones. Fender's Tre-Verb pedal, housed in a sturdy metal enclosure, maybe the missing piece to your guitar sound's puzzle.
Key Features:
Controls
This pedal looks and feels like any other Fender product. It's immediately apparent that this is a pedal with more than one effect. The pedal's top panel may be split into two halves. Tremolo is on the left, and Reverb has a dedicated set of knobs and buttons on the right. The knob arrangement on both sides is identical. On each end, you'll find three knobs, a toggle switch, and a footswitch.
Homework is a whole different animal. All the controls have LED backlighting, making them easy to use even in low light on stage. On the Tremolo side, things are routinely the same.
There are three distinct tremolo effects available, and you can adjust the Rate and Depth knobs to achieve a wide range of colors. Opto, Biased, and Harmonic are the three types. You can also adjust the tremolo rate with a tap tempo feature.
Backside Switches
There are a handful of cool toggles on the reverse side. The first thing to bring up is a toggle that lets you select the order. It's easy to get the proper order in your chain, whether you're the type of man who puts tremolo before Reverb or the unusual type that puts Reverb first. You may toggle LEDs on and off with a switch located on this side of the pedal.
Connectivity
This is a genuine stereo pedal, as was previously indicated, which means there are two 1/4″ outputs and two 1/4″ inputs. Those who favor systems with multiple amps would appreciate this greatly. A 9V DC adaptor is required to power the pedal and is available for purchase separately. The housing is composed of anodized aluminum, making it lightweight and compact while still being relatively durable.
Character & Sound:
The tone quality of this pedal is undeniably its best feature, as it is reminiscent of some of the most legendary tremolo and reverb effects in electric guitar history. Remember that the sound is slightly different from the original amp built-in devices, as we are talking about circuits that only resemble the original tube designs.
The fact that the sound is fantastic and the closest you can get from a stompbox is, of course, irrelevant. There are several impressive aspects of the tremolo part. First, many tremolo effects are available, making it useful in many contexts.
The Opto tremolo is a standard photoelectric tremolo, so you can expect a pulsating tone when you use it. Fender once referred to the vibrato as "bias tremolo." That's a tried-and-true LFO waveform, familiar to many older Fender amplifiers, that retains its level no matter how far you turn the Depth control.
Pros:
There is a wide variety of uses for the Fender Tre-Verb. You can bet on a large variety of high-quality tones. Getting more flexible Reverb and tremolo pedals sold separately is possible, but you may find another product with such famous effects in a single housing.
This pedal gives you the most real Reverb and tremolo sounds for electric guitar. The best part is that you can use it with any amp and features effects previously only available on antique Fender models. Unfortunately, given the asking price, no additional features are feasible.
Cons:
For the trem function to be fully functional, the depth knob should have nearly twice as much travel as it now does. Unfortunately, despite being an attempt at emulation, it doesn't go quite as far as the original classic circuits. During troubleshooting, users found that the hum persisted even when they removed the pedal from the effect chain but left it hooked to the power source.
5. Source Audio Ventris Dual Reverb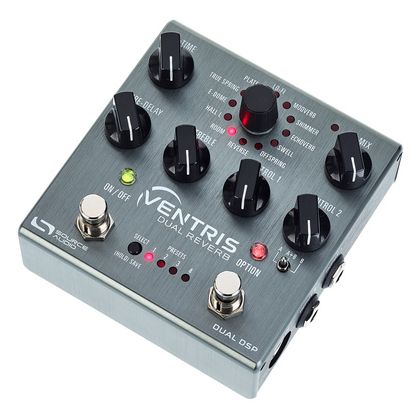 The Source Audio Ventris is your passport to every reverb style your ever-shifting tastes require, from ethereal Shimmer to Bauhaus indie ambient.
There are fourteen fully realized, tunable stereo reverb engines on board, and they may be stacked in pairs with enough tweaking options to satisfy even the most discerning reverb purist. The secret to the Ventris's perfect signal routing is a pair of massive, completely separate 56-bit signal processors.
You can adjust up to three independent controls via an expression pedal input in real-time. Using the free desktop or mobile software Neuro Editor, you can also go deep and store your favorites for quick access.
Key Features:
Neuro Editor
The Ventris Dual Reverb is a fully realized and useable pedal straight out of the box. However, Source Audio's Neuro Editor will be a hit with tone-hunters and audiophiles.
Neuro, downloadable for iOS and Android, grants you access to the pedal's sophisticated 56-bit Sigma DSP, letting you dial in a wide range of settings, from spring length and pre-delay to diffusion and beyond. You can keep up to three of your favorite effects on the Ventris for quick recall without opening the editor again once you've perfected your setup.
Reverb Algorithms
There are 12 reverb "Engines" (Source Audio calls its reverb algorithms) to choose from. These utilize two separate 56-bit signal processors and may be toggled on and off using a rotary switch. Using the editing tools, this can be increased to 14 Engines; you can add additional Engines instead of any of the currently available slots.
Room and Hall, E-Dome, True Spring, Plate, Lo-fi, ModVerb, Shimmer, Echoverb, Swell, and the slightly weird effect Offspring, features a recurring delay set via the pre-delay parameter, are all available as reverbs at the moment. When activated, Shimmer uses the standard technique of raising the reverb tail by an octave to simulate a string pad, but the user can alter this interval in the editor.
Dual Analogue Routing
The pedal includes two analog inputs and outputs, allowing for various stereo routing configurations. For example, you can choose between stereo in/stereo out, mono in/mono out, mono in/mono out, and a dry signal on the other output.
Because of this, it can now transition between multiple reverb settings without interrupting the decay of the currently active reverb setting. Of course, you can use both at once to mix two separate algorithms, but doing so disables the spillover feature (which keeps reverb tails going even after switching presets).
Layout
The pedal's top panel contains all of the controls. The first is an on/off switch, and the second is labeled "Option." The Option knob has two modes of action (tapping and holding) that vary according to the active reverb engine. Each reverb type has default parameters that are useful in real-world situations automatically activated.
The editing software also allows the Option switch to be programmed to activate other features, such as the Hold (reverb freeze) function, or to step between presets.
In addition to the standard Time, Pre-delay, Mix, and Treble controls, there is a rotary Engine selector with LEDs for each position, indicating which reverb algorithm is active for the selected processor. Control 1 and 2 are two additional knobs that let you tweak various settings for the currently selected reverb Engine.
Connectivity
You can supply power via the 9V DC socket, and a mini-USB port allows connection to the included Neuro Desktop Editor software. When the Ventris is plugged into a computer through USB, it acts as a standard, driver-free USB device that does not require any action on the part of the host operating system. In addition, you can plug external controllers into the 3.5mm mini-jack input.
Character & Sound:
The designers went all out to compete with high-priced studio reverbs, which shows in the quality of the reverb on offer. Shimmer sounds beautiful, with no evident pitch-shifting aberrations, and Spring does a great job of capturing the twangy character of the actual thing.
Hippy paradise is achieved by running Shimmer on one processor and Reverse on the other in A+B mode. Room and Hall can be modulated in pitch to give depth, and all the common spaces and plates reproduce realistic sounds. The Mod Reverb effect is a tremolo that you can use on either the wet or dry signal or on both.
Pros:
The Ventris is a satisfying way to create more room and atmosphere during live performances and recording sessions, it handles excellent natural and retro mechanical reverb effects.
The real fun comes from experimenting with different combinations of Ventris' voices and the ease with which you may go on epic journeys of sound design. Sure, it's fun to use Ventris's well-thought-out UI to track down a particular sound, but the absolute joy of creative expression comes from sifting through sounds rapidly and intuitively toward unknown goals.
Cons:
It contains a wide variety of reverb kinds, albeit most aren't practical for use in a musical setting. Something akin to a sound effect. Each reverb type has two separate controls, labeled "control 1" and "control 2," which affect separate reverb-specific settings. The Apple Neuro app is cumbersome and unclear, and for some users, it doesn't allow quickly adjusting parameters, necessitating a computer connection and the usage of the Neuro software.
6. Neunaber Immerse Reverberator Mk II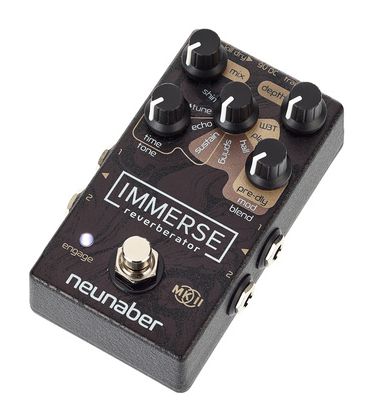 The Neunaber Immerse Reverberator is a portable digital reverb machine with a wide variety of effects, rivaling those of the most expensive professional audio gear.
With the release of the Immerse Reverberator, Neunaber upped the ante dramatically by making available reverb effects in the pedal form at an accessible price. With the advent of the Immerse Reverberator MKII, Neunaber has provided reverb enthusiasts with an upgrade that provides even more of the robust and rich reverb effects they've come to expect.
Key Features:
Shimmer
The shimmering effect, where the pitch of an instrument changes slightly, appears on many new reverbs, and these two examples are particularly lovely implementations of the effect.
While the two products have distinct harmonic textures, they let ghostly, unpredictable trilling high notes break through the ambient cloud. There's more going on here than just reverb with an added shrill octave; both sounds are highly melodious synthesized versions of the originals.
Spring Setting
Neunaber has been cautious not to overdo the effects in the spring setting. Still, the low end of the reverb is now adjustable, allowing you to thin out anything that becomes too boomy while maintaining control over the highs via the tone knob.
Echo And Detune
In the latter two modes, echo and detune, the fifth knob controls the amount of reverb itself; turning it down allows you to utilize the effects without reverb. The first is an extremely pleasant delay, and the second is a heavy chorus with more noticeable wobbling.
Both of these settings sound fantastic, with the appropriate amount of ambiance blended back in, and they show that the Immerse can be used for more than just filling in the gaps. Unfortunately, you cannot combine delay with modulation.
Circuit
There is no true bypass, only two flavors of buffered, so your dry signal will remain analog even as digital processing is performed in the background. Switching off the rear-mounted reverb tails causes the effect to cease immediately upon activating the footswitch rather than gradually fading away; however, the trade-off is a little quieter when the Immerse is bypassed.
Finally, you can use the 'kill dry' button to send only the reverb out, without the dry signal, into a parallel effects loop. However, this may also be excellent for ambient washes of alien weirdness that fade into the ether like the sobs of a thousand lovelorn angels.
Character & Sound:
Shimmer settings provide some pleasant tones. Both the A and B shimmer settings produce synth-like textures that subtly shimmer around your primary tones. These church-like settings sit beside your original signal like a soloist in a Tabernacle choir who is never out of tune.
In addition, the detune mode adds some welcome silliness. For the impact to be noticeable, you'll need to increase the volume immensely. But, once you get the hang of it, you can creatively use the dizzying, pitch-changing effect in your music. The main drawback is that you can't adjust the volume of the pitch change.
Pros:
This lush, thick, warm, and realistic digital reverb would have cost upwards of $4,000 only a few decades ago. But more crucially for those who are not "reverb snobs," the Immerse Reverberator MKII has a very expressive and musical sound.
Indeed, the Plate, Hall, and Spring reverbs are all that you'd expect them to be. The Detune effect creates the most precise, lushest chorused reverb sound, and the Hall, Spring, and Sustain effects have enticingly rich modulation.
Cons:
Since many reverb pedals in their price range already come with presets, this is a splurge. Also, the pedal is already relatively small, but adding a favorites switch like Strymon's would be appreciated. Hopefully, this will be fixed in a future update, as it is a minor complaint.
7. MXR M300 Reverb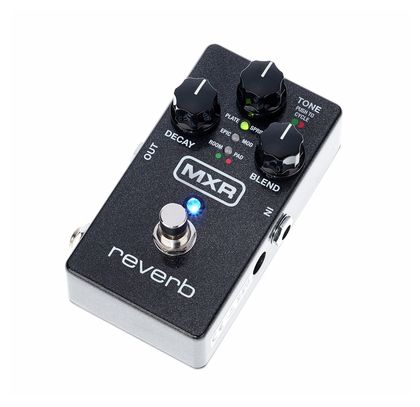 The MXR M300 is a digital audio reverb that can easily change tones and voicings while still sounding rich and full.
Common belief holds that MXR is defunct; this holds some water as an argument. Despite being controlled by Dunlop at the moment, this merger was a welcome opportunity for MXR to get some fresh air. There was an increase in both quality and variety in their styles.
The MXR M300 is one of the company's more outrageous effects pedals. Designed to take on the most cutting-edge digital models on the market, the MXR M300 offers various benefits. It avoids head-on confrontation with its rivals in favor of sneakier, more underhanded strategies.
Key Features:
Controls
The knobs are the standard fare of any vintage Fender Reverb, including decay, tone, and mix settings. The MXR Reverb's tone knob also functions as a push-button voice selector, giving you access to a broader range of effects. When you press the button, one of the three LEDs will light up in either green or red.
Indicated by the color of the lit LED, you can tell which of the six voices you've chosen to use. One word of caution, though: adjusting the tone will require a delicate touch. It's simple to change voices due to the switch's sensitivity inadvertently.
Reverb Styles
Each of the six voices is a well-known variant of a digital reverb currently in widespread use. Emulations of a plate, a spring, and a chamber require little explanation. The plate reverb is given a dose of pitch and phase modulation by using the mod. When many modulated reverbs are combined, the result is epic, like seeing the light bounce off shards of broken mirrors.
Pad, similar to a shimmer reverb, can add content that is an octave up or down. Even if you only use the MXR Reverb occasionally, the spring reverb is impressive enough to warrant a permanent spot.
On the receiving end of gnarly fuzz tones that can make much digital reverb sound like trash, this one rarely reveals its digital origins. Instead, it sits neatly behind a dry signal at low volumes, and at higher volumes, it deftly manages extreme surf tones, especially if you darken the tone.
Expression Pedal Compatible
You can apply an expression pedal to change between 2 distinct settings. Place the expression pedal in the heel-down position and connect it via TRS cable to the Exp jack on the MXR Reverb pedal. Get your foot down on the expressive pedal. Adapt the settings to your needs. You can now toggle the two settings with a rock of the expression pedal.
Trails Bypass
When the effect is turned off, the MXR Reverb pedal's circuitry is entirely bypassed. While this improves your tone outside of the pedal's influence, it has the unintended consequence of shortening your reverb tails. Because of this, MXR designed a switchable Trails Bypass mode that employs a buffered bypass and keeps your reverbs playing even while the pedal is off.
Housing
The M300 follows the tradition of MXR's other ultra-minimal enclosures. A plain black case with an MXR logo will do. True, they are one of the few businesses capable of making this style of design work. Even though it's a computer representation, the quality of the mechanical parts is excellent. This may be a welcome upgrade for those already comfortable with foot switches.
Character & Sound:
The M300's low noise floor is impressive, given that all reverb effects, digital or analog, contribute a little hiss. Compared to the other digital units examined, particularly the spring reverb tank in our valve combo, it is noticeably quieter; this is a promising first step. It doesn't take long to get used to the three LED lights whose colors correspond to the selected voice, making switching reverb types a breeze.
The vintage and ambient reverb communities, where most reverb-loving guitarists reside, are well-represented here. Each of the three modes—plate, spring, and room—records exceptionally well and has a real depth and sense of physical space. The results of using a darker tone option are astonishingly genuine and retro-flavored.
Pros:
MXR's Reverb is not the most extreme, spacey, radical, or hyper-accurate digital Reverb. However, it is helpful if you're a gigging guitarist who needs to switch gears and adapt to different musical situations. It's straightforward, easy to learn, and versatile enough to accommodate extreme nuance with a simple adjustment.
Cons:
It's possible that sure guitarists won't be satisfied with the amount of reverb or the degree to which they may adjust each effect independently. However, if you're not bothered with fine-tuning and want a good-sounding reverb, the M300 is hard to beat.
8. Strymon Big Sky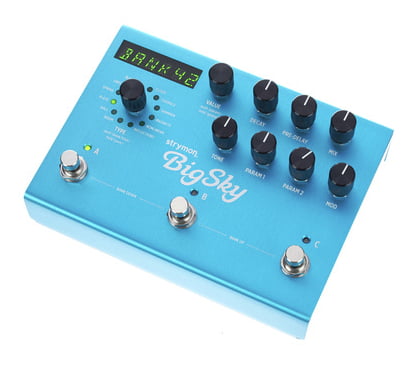 The Strymon Big Sky is a potent reverb generator that offers brave musicians endless options in the studio and onstage.
There are 300 inbuilt preset slots, but the effects can be fine-tuned and made accessible at the flip of a knob. A robust digital signal processor guarantees the greatest possible audio quality. With its immense power, the Strymon BigSky reverb may take the place of multiple reverb pedals at once.
Key Features:
12 Reverb Styles
The BigSky has various built-in reverb effects, from natural spring reverb to the shimmering, ethereal washes of the Strymon pedal. These simulations are based on the most popular reverbs of all time. The DSP engine ensures high-quality audio playback. Strymon also widened the scope of customization options for these noises, letting you create unique textures and tones as you see fit. Presets allow you to store up to 300 unique sound configurations to instantly recall your favorite reverb effects.
Editing
BigSky's aren't merely recreations of classic sounds, either. Even while the unit's sounds are based on several well-known verbs, Strymon included a variety of tone-shaping controls to give you complete freedom in achieving the precise effect you require.
The two knobs labeled "parameters" can be changed to adjust different characteristics for each setting. As for inputs and outputs, the BigSky has plenty on the rear for stereo operation, MIDI control, and with an expression pedal, you get instantaneous manipulation of settings.
Strong I/O
Reverb's sound quality would be worth the price of admission. However, this effective atmosphere maker hides a plethora of additional features. Inputs and also outputs galore may be found around the back, allowing for seamless connection to any system.
Character & Sound:
You would be disappointed if the BigSky seemed normal, given the very academic tone of Strymon's research. However, the preparation paid off, as each of the 12 reverb devices may sound either realistic or spectacular. The adaptability of each machine is a contributing factor; for instance, the spring setting is quite realistic and lets you get very specific with the sound you want by adjusting the number of springs.
In addition, Strymon has generously supplied the BigSky with atmospheric settings that are popular with ambient and post-rock composers. The Shimmer setting's two chromatically-adjustable voices make it ideal for creating absurdly epic sonic landscapes, and how you pitch them is remarkable. The Chorale mode is similar to having a vocal chorus accompany your every note, thanks to the vowel filter applied to its verbs.
Pros:
Everything from commonplace reverb use to exploring alien textures with luxuriant verbs is included. It does it all in signature Strymon fashion, so this reverb pedal will more than satisfy your needs. With 300 different presets available, everyone can discover the perfect one.
The perfectionists have had a blast making, and altering reverbs to get them just right, but there are plenty of great sounding presets available that can be used with almost any genre of music.
Cons:
If you want to replace your 30-year-old reverb unit with something simpler, search elsewhere; the Big Sky isn't it. Simply put, it's for musicians and studio technicians who value perfect ambiance in a live-ready instrument and get giddy at discovering new reverb landscapes that are idyllic or wondrously horrifying as the imagination allows.
Of course, it's pricey, setting you back $480. In reality, it's a steal when you think about how much power it packs and how easily it can be adapted to any live or recording setting.
9. Walrus Audio Slö Multi Texture Reverb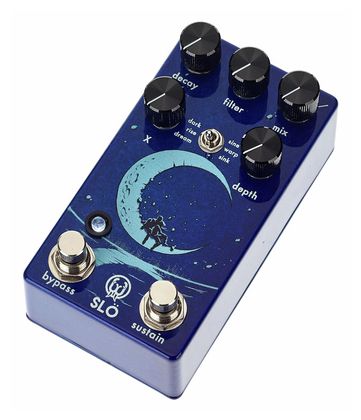 The Walrus Audio Slo Multi-texture Reverb pedal is great if you use reverb more as a sonic texture than as a subtle ambient effect.
Dark, Rise, and Dream are the three reverb modes that together provide a wide variety of effects, from silky and luscious to auto-swells and ethereal octave effects. You can achieve richly animated reverb tails by dialing in some modulation.
With Slo's on-the-fly switching, you may produce a short swell of reverb to emphasize particular notes or phrases, opening up a world of creative possibilities in live performance. The Walrus Audio Slo Multi-texture Reverb pedal is ideal when you want a reverb that paints a sonic landscape without burying your instrument's fundamental tones.
Key Features:
Dark 
You may incorporate the Dark algorithm's sub-octave by turning the X knob; thus, setting it to its minimum and reducing the decay will give you a reasonably typical reverb for general purposes. But that extra octave provides you a lot of room to experiment, whether you want to create a harmonized guitar and bass sound with ambiance or make your reverb-heavy and ominous.
The Filter knob controls how bright or dim the reverb tail is, affecting how well it blends with your sound. Finally, the Decay knob adjusts the duration of the delay tail, allowing for extended ambiances that go on and on.
X Knob
No matter which reverb mode you employ, the X knob on the Slo pedal adjusts a unique setting. The X slider adjusts the volume of the sub-octave signal when the mode is set to Dark. Likewise, the X knob determines how long it takes for the reverb to reach its maximum volume when using the Rise mode. You can also adjust the Dream mode's vibrato intensity via the X knob.
Rise 
With the Rise algorithm, you may adjust the rate at which the reverb builds up to a point where it sounds good with your performance, and it has a longer basic reverb than Dark. In addition, if you press and hold the Sustain footswitch, Dark and Rise decay time will be increased to maximum, creating a cloudlike bed of ambiance.
Switches
The Walrus Audio Slo pedal features dual switching modes. You can turn the reverb on and off with a single push of the Bypass switch, or you can create a short burst of reverb by pressing and holding the switch for a few seconds.
While the reverb is on, pressing the Sustain switch will increase the decay to its maximum, and releasing it will return it to the level specified by the Decay knob. Moreover, you may adjust how quickly the reverb is eliminated by Slo when you press Bypass or how gradually it fades away.
Dream 
When the Dream algorithm is on, a very useable reverb is produced that is evocative of a vast room; however, the primary function of this mode is to use the Sustain footswitch to provide a pad over which the player can perform.
It's a "freeze and holds" feature that preserves the reverb of the last note played when the footswitch is pressed. So, for example, if you play a G chord and then touch the footswitch, a reverb pad in the key of G will play over your playing until you hit the switch again, which will fade out naturally (with trails on).
Character & Sound:
The Slö is an intermediate option, with an air of taking the most engaging 'altered' reverbs from a larger unit and condensing them into a straightforward, workable structure. It's perfect for musicians who wish to incorporate low-frequency ambiance into their signal chain without sacrificing too much circuitry.
The spectrum of sounds is surprisingly broad, from regular reverbs to vastly altered ambiances. The addition of the Sustain footswitch is a brilliant stroke of genius that provides some great and exciting alternatives for live performances.
Pros:
The "dream" concept of this reverb's algorithm is surprisingly flexible, resulting in a pleasant, spacious sound. The pedal also functions as a pseudo-volume swell by bringing the mix up to 100%, and it does a fine job rounding out synths by adding some extra ambiance.
Cons:
This pedal can only be used in mono, limiting your options. The reverb sound of The Spin FV-1 might also be subjective. Some units appear extremely noisy, and the circuits' wiring is sloppy.
10. Boss RV-6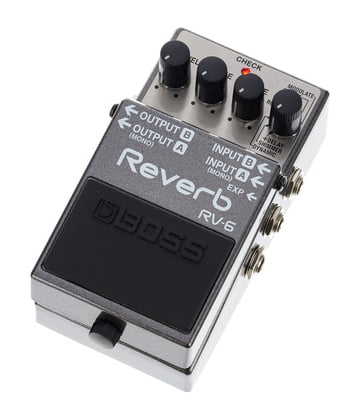 Boss hopes to woo guitar players with the RV-6 reverb pedal, which has improved algorithms and a revamped DSP.
The RV-6 gives you access to eight distinct, highly musical reverb effects, from room and hall algorithms to plate and spring reverb to immersive, modern-sounding textures. In addition, the dynamic mode adapts itself to your playing, providing a rich atmosphere without muddling your Tone. The BOSS RV-6 has an expression pedal input, auto-switching for simple setup, and high-quality analog signal processing.
Key Features:
Controls
You may adjust the intensity of the effect and smooth out any kinks in the chain with the first component of the line, E. Level. The next slider is Tone, which adjusts how much of the higher frequencies in your sound are present; as a result, your Tone will become either lighter or darker.
Also, there's Time, which you can use to adjust the reverberation time. Finally, you can select from +Delay, Room, Dynamic, Shimmer, Plate, Hall, Modulate, and Spring, with the last encoder here, Mode selector.
Modulate
Modulate is unquestionably this kid's trump card. This  setting combines reverberating effects with the smooth sweetness of modulation. There's something unique about how the sounds of this one surround you and refuse to let go. Reverb is made invisible by the shimmer effect. It enhances the sound by an octave and produces novel tonal effects, and all the reverb types sound rich and natural.
Housing
Most of the time, a single 9V battery or an adapter will be sufficient to power your RV-6. It's not recommended to do the former because it's a significant drain on the batteries. Despite how roughly you treat it, this pedal's housing is tough enough to withstand the test of Time. 
Circuit
The digital effect is mixed in, but the guitar's natural qualities are preserved thanks to the analog dry route. Because it has two audio inputs and two outputs, you can use it in stereo mode. This way, your music will have more depth and dimension than you imagined.
To adjust the amount of reverb, you can use an expression pedal with the RV-6. This pedal provides unprecedented flexibility because of its eight distinct reverb effects.
Character & Sound:
The Boss RV-6 is a pedal that, amazingly, generates reverb of the same studio quality found in high-end rack units. Each reverb parameter, be it spring, hall, room, or plate, is fine-tuned to provide a rich and enveloping reverberation. Although reverbs are typically "set it and forget it," the RV-6's additional effect modes, such as shimmer and +Delay, give it unprecedented flexibility.
+Delay features an ideal blend of delay and reverb designed to give your soloing more depth. Delays can be adjusted in duration using the provided timer. Shimmer creates an overtone of high frequency that oscillates in the vast reverb, resulting in an ethereal sound ideal for layering in the background.
One of the notable modes that can produce a warm and luxuriant reverb wrapping around chords and single notes with a hypnotic expanse is dynamic.
Pros:
This pedal has a fantastic stereo sound, a robust boss construction, a five-year guarantee, and the ability to run on a battery if necessary. There are several reverb pedals in this price range, but most are mono. The sounds of the spring and the plate are great.
Cons:
There is rarely much room for the knobs on a Boss pedal because of the enormous footswitch. Because of this, the RV-6's mode selection titles are crammed like sardines, making it difficult to find what you're looking for. In addition, a dim stage makes it difficult to discern what is happening in modes. This is a minor problem, and you may or may not care about it.
11. Electro Harmonix Oceans 11 Reverb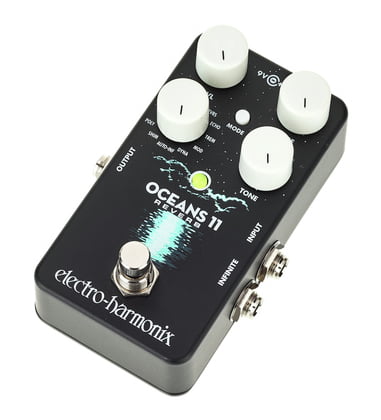 The Electro-Harmonix Oceans 11 reverb pedal has 11 distinct reverb styles and a wealth of "hidden" features.
Traditional reverbs like you may access the effects with the footswitch, as can a new spring reverb algorithm with a deliciously complex and deep sound. There are eleven distinct reverb types, and you can access each differently by toggling the Mode switch. In addition, there is an infinite reverb option on this reverb pedal, making it possible to create freeze-type effects.
Key Features:
Circuit
The eleven reverbs on hand are only sometimes the most impressive aspect of Oceans 11. , but because they're all genuinely uplifting and musical. It's also worth noting that the different reverbs sound different from one another and don't resort to absurdity. In addition, most of this reverb features numerous voices, accessible via the pedal's "mode" button, typically located in the middle of the cluster of controls.
The Oceans 11's "secondary knob mode" provides covert access to even further concealed controls. An innovative dual-purpose footswitch completes the device's feature set by allowing you to engage an infinite reverb loop while dousing everything you play on top of the loop with the reverb you're already using.
Controls
The FX level, duration, and tone parameters on Oceans 11 respond differently depending on the reverb voice you choose. And regardless of the regulated function, each knob has a sizable range, making it simple to get anything from incredibly nuanced tones to highly saturated atmospheres.
While knob-twiddlers will find plenty of reward in Oceans 11's extensive feature set, it can be far more rewarding to explore the pedal's many layers more logically. And the Oceans 11 blended wonderfully with a dry signal, adding luscious dimension without sterility, whether you fed it through the front end or an amplifier's effects loop. Unfortunately, it is a significantly more costly consequence.
Housing and Connectivity
The pedal's reverb may be toggled on or off through a switch behind the pedal's back panel, activated when the bypass switch is flipped. You can turn the bib's reverb tail off with a footswitch, and the pedal features a standard mono input and output line and an infinite jack.
The 9.6V 200mA adaptor, or any standard 9VDC power supply, can run the pedal. The LED may be seen from a great distance; depending on its mode and function, it may flash or remain steady in its current color. You can tweak the echo effect's delay time in any way you choose using either the unit's internal footswitch or an external momentary footswitch plugged into the endless jack.
Effects
The best indicator of the complexity hidden within Oceans 11's small frame is the rotary switch knob located in the lower left corner of the front panel. The eleven available options include hall, spring, plate, reverse, echo, tremolo, modulated, dynamic, auto-infinite, Shimmer, and polyphonic effects.
The mode switch allows you to choose between three separate groups of settings for several of these effects, including tremolo, modulated, and dynamic.
You can also use the mode switch to activate interval or mix edit parameters when using the Poly option and pick tap tempo divisions for the echo mode. In addition to the mode button, the FX level, time (decay), and tone controls offer additional parameters you may access by holding the mode button for about a second.
Character & Sound:
The effects sound fantastic, with a polished, expert performance and a silky, seamless tail. One of the most impressive reverberation sounds you've ever heard comes from the spring reverb, which was inspired by a Fender reverb unit.
Echo combines delay and reverb, whereas tremolo affects dry and wet hall reverb. Polyphonic reverb allows for two predetermined modulations of the reverb tail's pitch, enabling the creation of complex synthetic sounds. Shimmer, meanwhile, is an octave-up long reverb and sustain that results in a synthetic sound.
Pros:
Although the Oceans 11's many modes and capabilities may seem overwhelming initially, the unit's custom settings are quite intuitive. The pedal remembers the last mode the user selected for each reverb type it supports, but you'll need to tweak the pedal's tone, volume, time, and secondary settings to recreate the effects you've previously saved.
Cons:
The fact that they only made it in a small quantity has led many people to complain that they can't get it, even when they can, they get a defective product with an overabundance of harsh, low-quality sounds, appear to be its main drawbacks. In addition, some individuals do not even use the spring setting.
12. Keeley Caverns Delay Reverb V2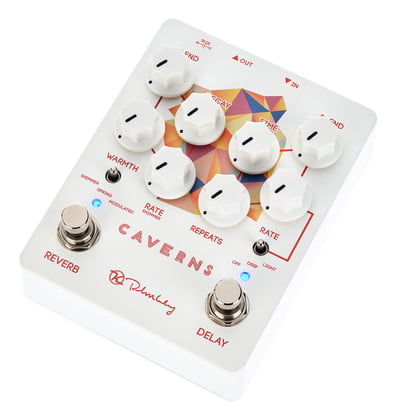 Keeley has released a new version of their famous Caverns pedal with some impressive upgrades.
This pedal, which combines a delay and a reverb, can be used either at the end of your pedalboard's chain or in the effects loop of your amplifier. The elegant atmosphere from a pioneer in the field of boutique sound design.
Keeley Caverns Delay Reverb V2 pedal is excellent for squeezing onto a crowded pedalboard thanks to its compact design and conveniently placed jacks on its top. In addition, it features three distinct reverb modes and a delay based on Keeley's well-known Magnetic Echo pedal.
Key Features:
Reverb
Specifically, there are three reverb palettes from which to pick. The spring mode simulates a traditional spring reverb effect, similar to that used by Blackface, and combines it with an F-style tremolo to provide a classic surf-rock tone.
The reverb tail takes on a more fluid personality in modulation mode, and you can get a lovely choral modulation for a massive, hollow wall of sound. Shimmer is the final set, creating ethereal, experimental ambient sounds by adding an upper octave to the reverb tail.
Delay
Keeley's Magnetic Echo circuit is where the delay part comes from; it's meant to create eerie analog tape delay effects. The Caverns are a great option if you're a fan of legendary units like the Echoplex but want to avoid the inconvenience (or cost) of maintaining such a delicate device.
This pedal's three-position switch allows you to fine-tune your delay sound, much like the reverb side, so it can enhance your tone, whether it's clean or distorted.
Switches
The switches have a satisfying, moderate click without being unduly stiff. If you only have one effect chain or amp, the TRS inputs and outputs will function perfectly, but if you have two, you can easily connect them with a TRS male to dual TS female adaptor connection.
Character & Sound:
Shimmer mode helps mask a roomy Plate reverb when turned down. The octave sounds natural even at maximum volume, free of the synthetic scream and glitches that characterize lower-resolution effects.
If you turn the Rate knob below noon, you'll hear a faint tremolo; it's an unusual effect that should be more prevalent but isn't. Modulation mode is rich and full, with a hint of feedback swoosh; it is distinguishable from modulation on the delay side, so the two together don't turn mushy.
Pros:
The Keeley Caverns V2 is a complementary pair of excellent space-spacing effect engines. The Delay and Reverb settings are versatile enough to see musicians of any genre through an array of set lists, and the pedal costs less than 200 bucks.
It's encouraging to see how successfully the team at Keeley has tackled DSP while maintaining an analog sound and feel, given his background in analog equipment. Keeley Caverns V2 could be the finest option if you need a few nice delay and reverb tones that you can adjust to your liking.
Cons:
Especially under the bright lights of a stage, readability varies from challenging to impossible. The blend's roll-off is too abrupt, and a minimal amount of delay is impossible to achieve. When you turn it down, there's a significant pause before it turns on.
Bonus:
Strymon Nightsky Reverb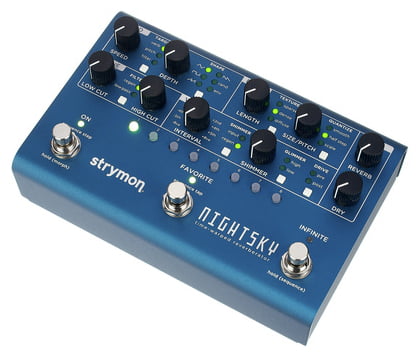 The modulation capabilities of the NightSky make it a great studio companion for soft synths.
Any new pedal that Strymon puts out is bound to be interesting to pedal fans. Its most famous pedals include the TimeLine Delay and the BigSky Reverb pedal, with the latter lending its qualities to this new model. The rear of the NightSky features jacks for both left and proper channels, making it a stereo time-warped reverb device.
Keyboardists, studio musicians, and other artists who aren't guitarists use the BigSky as a reverb quite often. This is why Strymon tailored the NightSky to studio producers down to the line/instrument switch on the unit's rear for adjusting the input level.
Key Features:
Decay
There are two rotary controls and two buttons in the decayed area, allowing you to select from various reverb algorithms. With the first button, you can toggle between three reverb types: sparse, dense, and diffuse. The sparse environment is the most realistically evocative of a real place, thanks to the presence of reflective surfaces.
While the thick reverb is reminiscent of plate reverb, the diffuse reverb is a monster that produces large, artificial reverb swells as the effect develops. Each of these algorithms has a reverb tail, the duration of which can be modified using the decay-length knob.
As the size/pitch knob is turned, the reverb tail's pitch can be altered by up to an octave in either direction, producing near-infinite sustain at complete clockwise rotation.
Shimmer
The NightSky's shimmer function enables additional pitches to be added to the reverb tail and the pitch-shifting that can be done with the size/pitch knob. When used as intended, the octave-up feature of a shimmer effect produces a shimmer's signature brilliant and airy tone. The NightSky provides this when the shimmer control is set to the fully clockwise position.
Other intervals are also available, such as the second, fourth, fifth, and eighth, and critically, the same possibilities are available counterclockwise below the original signal. It is possible to create reverbs that produce two different intervals at once by combining the size/pitch functions.
This sounds great when routed through synth pads and is especially effective on keyboard instruments. The added octaves produce a full sound that you can use to enhance the volume of delicate synth tones.
Modulation
The modulation portion of NightSky is where the music begins to take on an ethereal quality. The pedal's three independent controls give you a lot of sonic leeways. The functions' names are self-explanatory: the speed parameter determines the LFO frequency, and the depth parameter determines the amount of effect that is given to the final function.
Various waveforms are accessible and can match the amplitude and phase of an input signal's envelope. You can easily add squelchy filtered reverb to synth sounds, for instance, by using the envelope-follower setting on the EQ section when the EQ is set to serve as a low-pass filter.
Memory Slots
When not in sequencer mode, the middle footswitch gives you access to the NightSky's 16 onboard memory slots, which are organized into two banks of eight (and 300 through MIDI). Your sequencer settings are among those permanently stored in the memory.
So save your settings, pack up your pedal, and carry your gorgeous reverb sounds to any studio. The NightSky has many extra features, such as a drive gain setting and a low-pass filter resonance peak. Although we understand that the pedal's limited real estate prevents us from labeling these features, we were disappointed that they were not included in the user manual's "fast start" section.
Sequencer
You can program eight distinct pitches from the size/pitch knob into the NightSky's step sequencer, making it stand out from other custom ambiance pedals. Tap tempo (the middle footswitch) automatically triggers the sequencer, whereas step manually changes the pitches.
Step transitions can be made either abruptly higher or lower in pitch. Holding the modulation-shape button while adjusting the mix controls the glide time, a supplementary purpose. The sequencer allows you to play around with octaves and fifths, and you can even set up sequences of chords.
Character & Sound:
A natural wobble adds just enough depth to transform even the most unassuming song into a mystical journey without resorting to blatant modulation or shimmer. The second one uses the grainier "sparse" reverb type and an extra low octave to create a more underground and fluttering effect.
In contrast, the third one takes us in an ultimately another way by applying a highly rhythmic filter, essentially the decay. Continue through the next 16 presets to experiment with increasingly outlandish warping effects while maintaining the ability to place the dry signal as far above the din as you choose.
The critical distinction between "dense" and "diffuse" is the latter's large pre-delay, which makes it a better choice for slow-building swells.
Pros:
Nevertheless, the NightSky is a versatile pedal with features few others offer. It's incredible how rapidly you can create massive textures, and that speed is emblematic of everything users like about pedals: the freedom to experiment and find your sound. In addition, we can value the ease with which the NightSky can be set up and used; thus, its ability to get us down to business when composing music was a top priority.
Cons:
There is little use for the step sequencer. Our sounds don't sit well in mixes because the reverb's pitch shifts in the tail, even when the setting is quite soft and there are a lot of glides. A dedicated loop pedal or DAW will do the job better if you want to create sequences to play over.
Conclusion
These are the greatest choices available in the year 2023. Pedals that know the ins and outs of the essentials for a musician are included in this list, as are more advanced options that allow the musician to go deeper into this wide-open field.
First, a reverb is often crucial in Metal settings. For instance, adding reverb to clean guitar parts can help fill in the gaps in the mix and enhance the instrument's tone. Reverb is essential for solo sections since an epic sound is required. Reverb has a place even in fast-paced riffing because it creates an illusion of proximity, making it sound like the music is coming from behind the listener rather than in front of him.
This set of answers has three distinct flavors. Firstly, the bare-bones aim to provide what is required to achieve the above goals. The Boss RV-6, for instance, has eight reverb effects with simple super controls that efficiently convey the sound.
However, it gives more than just reverb; it also has Delay, the perfect combination of which will add depth to your solos. This effect pedal produces stereo sound and may be used with a drum set, but it's of limited practical use on stage because its controls are hidden from view, and unintentional adjustments are easy to make.
The Walrus Audio Fathom is an indefinitely reverbing four-algorithm reverb pedal. Its airy tone and extremely long sustain make it ideal for imitating the like tones made famous by David Gilmour. The MXR M300 Reverb is remarkable not only because of its capacity to produce tones with a low noise floor but also because it can produce the deep tones essential for metal.
As a second category, we have the complicated pedals, which aim to provide the most intricate reverberation experiences possible. The Strymon Big Sky and the Strymon Nightsky Reverb are in focus here. In addition to being the most expensive, these pedals are also the most sophisticated.
There are 300 internal preset slots and 12 reverb types in the Strymon Big Sky. The maker is well-known on the internet, and the pedal features "academic" tones that make it easy to achieve post-rock and ambient tones.
And last, we have pedals that aren't just PC and phone-controlled but also have additional connectivity options. One example is the Source Audio Ventris Dual Reverb. Thanks to its 56-bit Sigma DSP and Neuro Editor technology, it can be operated from iOS and Android devices to adjust various parameters.
Unfortunately, this feature could be more convenient because it frequently has faults and because controlling the pedal from your phone is extremely tough because you lack fine-grained control over it.
We hope that the breadth of these offerings has shed light on the manufacturers' plans for expanding the market and that you have discovered something suitable to meet your requirements.
Death metal enthusiast here. I am a Romanian musician and producer with over 13 years of experience in the music industry. I've experienced all types of Metal up until now, playing Melodic Death Metal, Brutal Death Metal, and Black Metal with different bands. Learning by doing is my base principle, which is why I've been drawn to sound design from an early age. Read more…