Today's post discusses some the of the best power amps you can find for live sound. The list has a lot of great offerings from the top power amp brands in the industry, including Behringer, Crown, QSC, Yamaha, Peavey, JBL, and Samson. You're you'll find a unit that's just right for your setup.
Choosing the correct power amp for your needs can be a daunting task. There are several things to consider here. Pairing the right amp with the right speakers makes all the difference. If there's even a slight mismatch, you might not get the optimum performance from your speakers.
In the worst-case scenario, you could damage your speakers. So rather than taking a chance and experimenting with different combinations, you'd be better off employing a more scientific approach. A simple rule of thumb is to get an idea of the continuous power rating of your speakers and get an amp that provides 2 times that.
Other things to consider are the impedance of your speakers and the input/output options your setup requires for connectivity. So let's dive deep into some power amps and get familiar with their features.
Top 12 Power Amps for Live Sound
1. Behringer NX4-6000
Behringer is always a good option if you're looking for high-quality products and don't want to spend too much.
The NX4-6000 measures 3.7″ x 9.1″ x 19″ and will take up to 2 rack units of space. For its size, the amp weighs surprisingly less at just 13.4 lbs. The sides feature rack ears, so you can easily mount the unit on your setup using 4 screws and washers.
Although the power amp looks relatively simple, it does the job it's supposed to do. With just the right amount of controls on the front and some additional features hidden from plain sight, the NX4-6000 can be a great addition to your studio/live rig.
Key Features:
Front Panel
The font interface is simple and uncomplicated. The power amp features 4 channels, each of which has corresponding LEDs that help the user see the strength of the signal and if any adjustments need to be made in case a signal is close to clipping. Each channel also has a knob to set the gain level according to the requirements. The front also features large vents to keep the unit adequately ventilated to prevent it from overheating. Also on the front is a power button to switch the unit on.
Inputs Adjustments
While each channel's gain can be set from the front panel, a few modifications can also be done from the back. Labeled "CH A," "CH B," "CH C," and "CH C," each channel offers dual connectivity for quarter-inch and XLR cables. In addition, the power amp offers additional control over the 4 available channels by offering low-frequency amplification, high-frequency amplification, and a blend of both. These come in handy, especially in situations where dual amps are available.

Mode Adjustments & Miscellaneous Components


The channels can also be set to different modes by toggling the aptly labeled "Mode" button, which helps you switch between mono, bridge, and stereo settings. The panel also has two large cooling fans with varying speeds to ensure that the amp remains at a manageable temperature and doesn't heat up. Also on the back are 4 output channels, each of which can be connected to speakers by twist-lock cables. Finally, there's a power input for the detachable three-pin cable and a circuit breaker on the back.
Behringer NX4-6000 Amplifier Unboxing Video
Pros:
This power amp delivers great clarity in its sound delivery. With the availability of four inputs and outputs, you'll rarely find yourself in a situation where you need more I/O ports. Furthermore, the different switchable modes and the ability to choose between low-frequency and high-frequency amplification are always good to have.
Cons:
The internal wiring related to the input channels is where the power amp lacks quality. After a few years of extended use, you may face problems with a channel or two. The fans also get a bit loud if used in a studio setting. Also, the power light could be a little brighter as it is hard to pick in certain lighting.
2. Crown XLI 1500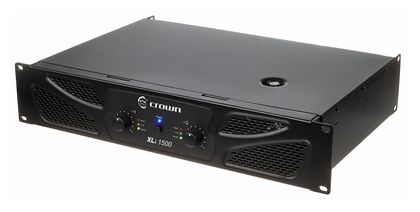 Crown has been manufacturing state-of-the-art power amps for over 6 decades.
The XLI series from Crown includes several models like the XLi 800, XLi 1500, XLi 2500, and XLi 3500 units. At a glance, each power amp looks the same no matter from which angle you examine it. However, the main difference is found under the hood.
While each member of the XLi family is a Class-D amp, there's a slight difference between their power ratings and, of course, the price. The XLi 1500 power amp can be considered the mid-ranged unit that will take two rack spaces on your rig. The overall measurements come to 3.5″ x 12.4″ by 19″ while the device weighs 28 lbs. In addition, whether you're a sound engineer, musician, or DJ, the XLi 1500 can be an ideal choice.
Key Features:
The Look
The power amp has a very futuristic look. The grills on the front make the XLi resemble the front of a sports car. The interface boasts some controls and metering for the dual channel inputs on the back. The center has a power button and a bright electric blue LED that lights up when the button is pressed. The two knobs are responsible for controlling the gain level of each channel, while the helpful colored LEDs show different aspects of the signal's strength. The green light indicates the presence of a signal. The orange light shows that the signal is clipping, whereas when the red light brightens, it means there is an absence of a signal or a fault in the corresponding channel.
Inputs
The inputs and outputs are grouped together on the back panel for ease of use. Each channel offers a balanced XLR connector and an unbalanced RCA port. Moreover, you can choose the sensitivity of both channels between 1.4V and 0.775V through the nearby switch. Furthermore, you'll find an adjustor that sets the mode to stereo, parallel, or bridge, depending on the requirements.
Outputs and Heat Management
You'll find plenty of connectivity options in the output section. Your dual wire speakers can be connected to the unit through twist-lock cables or by attaching the positive/negative ends to the pair of binding post outputs available for each channel. Also, between the inputs and outputs are two heat-dissipating fans that keep the power amp from overheating. Lastly, the XLi 1500 has a power input for the included kettle cable and a button to reset the device.
The King of Pro Audio? Crown XLi 1500 Amp Dyno Test and Review [4K]
Pros:
The back panel has some interesting adjustment options for the input and output channels. The inputs include both XLR and RCA connectors, and you can adjust the sensitivity of each input which is a handy feature. Being such an affordable power amp, the XLi 1500 is worth checking out.
Cons:
If you want more than two channels at your disposal, you may prefer the Behringer unit discussed earlier. Secondly, the design looks great, but the unit is challenging to remove from the rack because there aren't any handles or grips in the front to help you do so.
3. QSC GX5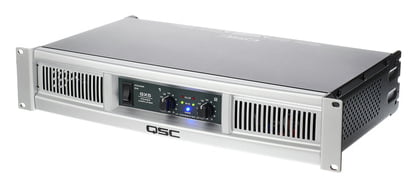 The GX series by QSC is efficient in its performance and is packed with valuable features.
There are three power amps included in the series offered by QSC. Although their wattage and impedance are slightly different, the units look the same. This is because the company's primary focus is to provide the best possible features at a price point that is affordable for all.
GX3 is at the lower end of the product range and offers 300 watts of power handling for each channel at 8 ohms. The flagship GX7 delivers 2 channels with 725 watts each and an impedance of 8 ohms. Finally, the GX5 is QSC's midrange device, which packs 500 watts per channel at 8 ohms.
Key Features:
Crossover and Full Range
The power amp has two channels. Each channel has an unbalance phono input and a quarter-inch jack that supports unbalanced TS or balanced TRS inputs. Also included in the inputs section are balanced XLR inputs. Next to the set of inputs is a crossover/full-range switch. All the inputs in both channels are active when in full range mode, bypassing the crossover mode. In the crossover setting, however, the amp splits the signal to power a subwoofer and a full-range speaker.
Input Controls
The front panel has two gain control knobs to set the level of both channels. When the amp is in crossover mode, the amplification of lower and higher frequencies can be adjusted here. A few metering lights on the front indicate clipping when red and a steady signal when green. Both ends of the front interface have mounting ears with screw holes. Also on the front is the power button pressing which the amp turns on, and the blue power light is lit.
Outputs
The rear panel has a couple of output channels. The layout is the same; both channels have a pair of positive/negative binding posts for speakers with dual wires. The outputs section also has combo ports for Speakon cables and quarter-inch connectivity. The Speakon cables must be twisted till they click to lock them in place. Finally, on the back panel is an AC breaker reset switch. If the breaker is tripped, the reset button comes in handy to revive functionality.
QSC GX5 700 Watt Two Channel Stereo Power Amplifier - QSC GX5
Pros:
The GX5 sounds excellent. The power amp also deviates from the typical combo inputs and offers a wide array of input and output options in each channel, including phono-ins, quarter-inch jacks, XLR connectors, binding posts, and Speakon cable connectivity. As a result, the unit requires no setup and is ready to use right out of the box.
Cons:
The amp works well, is lightweight, and is easy to install. Perhaps the only downside is that the fan on board is noisy, and there's no way around it. However, if you're willing to overlook this flaw, the GX5 can be a good addition to your studio rack.
4. Yamaha PX3
If it's got something to do with producing sound, chances are that Yamaha has a product for it.
The PX3 from Yamaha is an advanced piece of equipment and offers some unique features you may not have seen on other power amps. It is this innovative approach that the company applies on most of its executions that have made Yamaha a well-respected manufacturer of power amps, instruments, and accessories worldwide.
The PX range comes in four different variants: the PX3, PX5, PX8, and the technically superior PX10. Being at the bottom of the supremacy ladder, the PX3 is more affordable than its elder brothers and does a great job of delivering the goods. The control layout is great, and navigation through the modes is straightforward.
Key Features:
The Display
Gracing the unit's center is an easy-to-read display that lets you breeze through the menus effortlessly. The menu button will always take you to the main menu, which you can navigate using a dual-functional knob that scrolls when rotated and selects when pressed. The display is also flanked with buttons labeled A and B that help move the cursor. You can check all kinds of parameters through the display, like volume, balance, gain levels, mute mode, delay, polarity, filter, Eq, and many other features.
Layout of Controls
The display is surrounded by other fun stuff. Firstly, several LEDs help indicate the presence of a normal signal, clipping, and protection circuit mode for each available input. Also, part of the user interface is an LED that alerts if the unit is malfunctioning and a power indicator that lights up when the device is on. Both channels have separate volume knobs, and a USB port on the user interface also helps load speaker presets, back up data, and save operation logs. Finally, apart from the power button, you'll find air intakes on each side that help regulate the internal temperature.
A Look at the Rear
The rear panel is nicely organized. The input section has a pair of balanced TRS ports and an XLR jack for each channel. The output section also offers multiple connectivity options. Speakers can be connected via binding posts, Speakon twist-lock cables, or quarter-inch cables.
Speaker Scenarios
Because of the I/O configuration at the back, the PX3 can be paired with two full-range speakers connected through individual Speakon cables. You could also use a subwoofer and a full-range speaker similarly. Another scenario could include driving a single full-range speaker in bi-amp mode or feeding a stereo signal to a subwoofer.
Yamaha PX Series Power Amplifiers | Professional Audio | Yamaha Music
Pros:
The control layout on the power amp is exceptionally easy, and with the added benefit of a user-friendly display, the experience is further enhanced. You can view different variables on the screen, and adjusting them is a cinch thanks to the sporting buttons and the multipurpose navigational knob. Which so much to offer, the PX3 is surely worth trying.
Cons:
If you're not a fan of display screens and need to scroll through different menus to get to where you want to be, using the PX3 may be a drag. However, you can navigate to the settings and switch to basic mode, which is a lot easier and offers everything on a single layer without the need for deep diving into the menus.
5. JBL Professional CSA2120Z
When talking about speakers or power amps, it doesn't make sense to omit JBL from the list.
Indeed, you're no stranger to the company that has been around for a better part of 7 decades, dishing out excellent quality and pristine sound through a massive portfolio of audio devices and speakers. From your freakishly loud portable Bluetooth speaker to the more significant speaker components you see on stage at Woodstock, you'll be blown away by JBL's performance.
As part of the JBL's rich history, the CSA2120Z is a 2-channel power amplifier with an ultra-compact 1U size measuring 1.75" x 12" x 8.5" and weighing just under 9 lbs. The front panel is clean and keeps things simple without daunting displays and navigational strips.
Key Features:
Front Controls
Thanks to the subtle accent lighting around the knobs and power button, the user interface looks great. When the unit is connected to the power outlet or operating in sleep mode, the light around the power button turns green. However, when the unit is powered on, this light switches to blue. The two gain knobs for each channel also have similar lighting principles. When the signal is present, the lights turn green. However, if there's a risk of clipping, the lights shift to red. In addition, both channels have corresponding potentiometers for bass and treble.
Connectors
JBL does things a bit differently thanks to its out-of-the-box approach. The peculiar-looking inputs at the back of the unit are balanced, 3-pin Euro-block connectors. Other than that, each channel also gets a pair of RCA connectors for stereo connectivity. The unit also has a pair of 5-pin Euro-block outputs and two RJ-45 connectors for pairing the power amp with JBL's control module.
HI-Z & Sleep Modes
The back also has two identical switches in the output section labeled "HI-Z." You can choose between 70V and 100V settings through the switch and select 70 Hz high pass filtering here. Furthermore, you can conveniently enable or disable the sleep mode by flipping the switch to the desired setting.
JBL CSA 2120Z 70 volt amplifier unboxing
Pros:
Having dedicated potentiometers for treble and bass on the front panel is a great feature at your fingertips. The JBL power amp also has high pass filtering options, which you can activate for each output to eliminate unwanted noise in the low-frequency range. As a result, the sound delivery is crystal clear and awe-inspiring.
Cons:
By the look of things, the JBL CSA 2120Z is an impressive unit and can do no wrong. Perhaps it's all a matter of user preference regarding how complex or straightforward an amp's user interface can get. Maybe you prefer a screen for navigating different modes, or you just want an unadulterated, plain, and simple experience.
6. Behringer NX3000D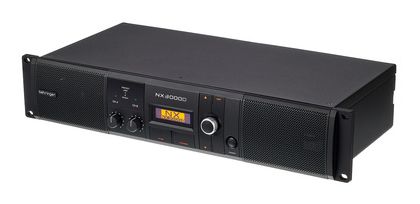 As far as power amplifiers are concerned, Behringer has undoubtedly upped its game.
The NX3000D is a great example of that. Under the hood is Behringer's Class D technology that equips the devices with high-quality sound, portability, lightweight, and excellent sound delivery. In addition, the NX3000D is not power-hungry by any means and works very efficiently.
The onboard limiter technology enhances the unit's reliability and manages the overall temperature efficiently while also providing overload protection, so your amp and speakers function to the best of their abilities. In addition, this offering from Behringer delivers an unfathomable 3000 watts into 4 ohms in bridged mode.
Key Features:
DSP


The "D" in the NX3000D stands for DSP. Packed with 24-bit/96 kHz converters and digital signal processing, the power amp is ready to go as soon as you take it out of the box. You'd never have guessed that this budget amp possesses three types of filters (up to 48dB/octave), 2 dynamic and 8 parametric EQ modes, settings that can be locked, and efficient dynamic processing. You also won't need to connect this device to a PC to navigate its features thanks to the highly detailed display built in.

NX EDIT


If you find yourself connecting the amp to a PC via the helpful USB port, you'll notice how the NX EDIT Remote Control software brings a whole dimension of added control to your fingertips. You can manage your current presets, store new ones and categorize your settings according to to live and studio-based scenarios.
General Specifications
The dual-channel amp measures 3.7″ x 9.1″ x 19″ and takes 2 units of rack space. The interface has gain adjustment controls and LED metering for both XLR/quarter-inch combo jacks on the back. Also found on the back are two Speakon outputs for connecting to full-range speakers and subwoofers in several different combinations.
Pros:
The amp is exceptionally powerful and delivers 3000 watts at 4 ohms, 1500 watts per channel at 2 ohms, and 900 watts per channel into 4 ohms. The sound quality is good, and the front interface is designed to give the amp a look of a much more high-end device. Furthermore, you'll look twice at the price tag to accept how economical the 3000D is.
Cons:
The Behring 3000D is a decent unit that does the job regarding small or medium-sized rigs. However, as your setup grows, you may want to switch to a higher-end device since the amp may give off pops/cracking noises during power-intensive operation.
7. Peavey IPR2 3000
While some musicians may not favor Peavey, it has many products in its portfolio that may pleasantly surprise you.
Being a performing musician, I've played on many Peavey speaker systems on a live stage during my gigging and touring days. The company specializes in not only combo amps, guitars, basses, speakers, and accessories but also deals in pro audio equipment, including mixers, microphones, wireless systems, and of course, power amps.
The IPR2 series is dubbed light and efficient thanks to certain design techniques that considerably reduce the weight and keep Peavey's power amps heavily ventilated to deliver seamless performance. The IPR2 range features multiple products, from the moderately priced 2000 and 3000 units to the flagship 7500 power amp.
Key Features:
User Interface
The Peavey logo on the front interface is dimly lit when the amp is connected to a power socket. Once the unit is switched on, the logo glows at its brightest. The most significant part of the input section is a pair of input-level knobs ranging from -80 dB to 0 dB. Also, present alongside each knob are 5 metering LEDs.
LEDs
When the channel is operating, as usual, the "Active" LED lights up. As soon as a signal of 4 volts or more is fed through, the "Signal" LED illuminates. Next, the "Distortion Detection Technique" (DDT) LED lights up to indicate that the signal is either close to or clipping. Next, if the unit starts to overheat due to some internal or external reason, the "TEMP" LED will light up to indicate it. Finally, the "DC" LED lights up if an anomaly occurs and there's a threat to the speakers. This will result in a system reset to correct this erroneous state.

Display


The backlit display on the front panel is convenient for checking the amp's status and changing different parameters. Adjusting the volume, choosing different modes (Stereo/Mono), delay, limiter, and memory lock are all features that the display helps to adjust. You can also activate crossover and band-pass filtering here. Further, setting the EQ at the desired level is also something you can do via the helpful power amp display.
I/O Layout|
The back panel is relatively simple. The unit has a pair of XLR and quarter-inch combo jacks in each channel. You'll also find quarter-inch THRU/Out jacks for connecting an additional power amp to the unit. On the output side, you'll also find combo connectors that can send out a signal through quarter-inch cables or Speakon twist-lock cables. You'll also find a variable-speed fan on the back that keeps the temperature in check. Finally, on the back is a power input and a breaker that will trip to protect the amp in the event of a power surge.
Peavey IPR 3000's little review.
Pros:
This power amp from Peavey sounds good and works efficiently, so you won't encounter heating issues regardless of how long you intend to use it. The controls and ports on the back are also made from good quality solid parts and will stand the test of time. Finally, the convenient display makes the user experience easy and enjoyable.
Cons:
Perhaps if you're looking for a unit with more power handling, you might gravitate towards some of the higher-end power amps in the series. Also, there is an air of negativity that surrounds Peavey products, although checking the IPR2 3000 may change your mind for the better.
8. Crown XTi 4002
Crown is a company that is known for delivering power amps that are packed with innovative features.
The XTi 4002 measures 3.5″ by 12.25″ by 19″ and takes two rack units of space. The power amp has several grills that keep the core temperature nice and cool. The cooling fan has variable speeds and springs into action depending on what the situation demands.
An amp display is always good as it opens doors to many adjustable features to get your sound the way you want. Each model in the XTi series, be it the 1002, 2002, 4002, or the top-of-the-line XTi 6002, has a backlit display that allows you to do just that.
Key Features:
Capabilities
The internal circuitry is loaded with hidden goodies. The "PeakX Plus" limiters are fully equipped to give you the utmost control over variables like threshold, attack, and release. If you want to make adjustments related to different factors like crossover mode or harmonic frequency, the subharmonic synth section will give you that freedom. In addition, you'll get control software like System Architect and HiQnet Brand Manager to control more aspects of the XTi 4002.
Front Panel
Almost 50% of the front panel is covered with cooling vents that make the interface look futuristic and aid significantly in heat dissipation. The dual-channel 4002 unit has two rotary knobs, one for each channel's gain adjustment. Each knob is also accompanied by LED metering lights. The LEDs indicate a range of statuses, such as when the amp is ready for sound production, when a signal is present, when the signal is near or in the clip zone, or when the amp is overheating. Finally, the button on the far-right powers the unit.
Inputs/Outputs
Each output channel has binding posts that accept bare wires and banana plugs. If that isn't the need of the hour, you can connect your speakers via the Speakon connectors. The first channel is wired for both outputs, so you can use it in a bridge-mono setting or connect stereo speakers to one Speakon connector. The input section includes one XLR input for each channel and a couple of XLR "LINK/OUT" jacks for integrating with another power amp.
Crown XTi4002 DriveCore Power Amplifier - Crown XTi4002
Pros:
The amp gives you two channels to work with and also allows connectivity with other power amps. In addition, the output section on the back is quite comprehensive. Planning to use the XTi 4002 for some demanding applications? Not to worry, you can adjust the fan to full speed to keep the temperature under control.
Cons:
You may notice that the XTi 4002 is a power-hungry amp. Using it in a live setup or at home may cause the unit to suck up as much power as possible to the point where other appliances get affected. This problem surfaces particularly when your subwoofer is connected to it.
9. QSC RMX 1450a
Having discussed the GX5 earlier in the list, the RMX series by QSC is equally impressive.
The power amp has no fancy displays and keeps things simple, as evident from its user interface. Measuring 3.5″ by 15.9″ by 9″, the device will take two units' worth of space on your rack. The variable speed fan keeps air flowing through the internal circuitry from the rear to the front, so the user doesn't encounter any overheating issues.
Classified as a Class AB amp, the RMX 1450 has dual input channels with low-cut filtering capabilities to adjust your sound to an optimal level. Also hidden inside is a powerful limiter that provides adequate protection to your speakers in case a signal spike occurs.
Key Features:
Front Layout
What stands out the most on the user interface of the RMX 1450a is the sharp electric blue light that indicates that the unit is powered on when the power switch next to it is pressed. On both sides of this switch are plenty of air vents that let air flow through the internal wiring. In addition, both channels are blessed with separate gain knobs ranging from -∞ to 32 dB to set the gain level of each channel. Also next to the knobs are a couple of green and red lights that signify when a signal is present and when it is clipping, respectively.
What's on the back?
Behind the unit is the power input for the detachable IEC cable. The breaker section will secure your power amp if a power surge occurs. Both channel outputs have Speakon twist-lock connectors binding posts for your speakers' negative/positive wires. The central binding posts from each channel can be used in bridge mode.
Mode Switches and Inputs
The back panel has a combination of a quarter-inch and XLR jacks for each channel but what's interesting is the modes section. Since the power amp lacks a display and corresponding navigation controls, the modes are managed through micro-switches. The clip limiter and filtering can be toggled here. Parallel inputs can be accessed through this section, which includes bridge and mono-on settings.
A Look at the QSX RMX2450
Pros:
If you're not a fan of complicated displays and have to cycle through multiple sub-menus to get to where you want to be, the RMX 1450a keeps things simple. All the controls are in your face, and you can set several modes directly from the rear panel.
Cons:
Although everything under the hood seems to work well, the external build quality concerns the power amp. You may face problems with the controls after a few instances of rough use. The micro switches may seem complicated to access when the unit is mounted on a rack.
10. Yamaha PX10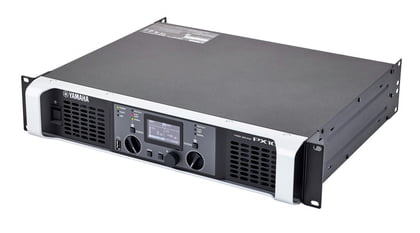 The flagship power amp from the PX has a lot of processing power inside its aesthetically pleasing exterior.
The PX10 fits the bill if you're looking for a dual-input Class D amp that sounds amazing and gives you several modes for speaker configurations and many handy options to manipulate your sound. In addition, the amp has built-in features that help deal with phase issues through delay time adjustments.
The device also comes with a nicely sized display that lets you see the different settings in each menu and allows the user to manipulate parameters through multifunctional knob and button controls. You also get a range of input and output options, so you're ready to go as soon as you take the PX10 out of its box.
Key Features:
Dual Mode
Both channels are independent in dual mode. This allows you to connect two full-range speakers or subwoofers to the amp. Another option would be to connect a speaker and a subwoofer to reap the benefits of both independent channels.
Single Mode
The single mode is configured so that once the input signal gets processed through the first channel, it is split over both channels. You could use a subwoofer or full-range speaker in mono or drive a single full-range speaker in a bi-amp setting here. Finally, a configuration that combines a subwoofer with a full-range speaker would also work well in single mode.
Parallel & Sum Mode
In this mode, the signal is split and allowed to pass through both channels before processing. Two similar full-range or subwoofers could be combined to make use of parallel mode. In addition, the sum mode combines signals from both channels to hook your speakers or subwoofers in any combination discussed thus far.
Interfaces
The front panel is the same as the PX3 unit discussed earlier. Channel LEDs help indicate when a signal is present, clipping or when the unit is running under protection mode. The alert light turns on when the unit is malfunctioning due to any reason. Both channels get separate gain knobs to control the level of whatever is fed through the quarter-inch or XLR jacks on the back. The output section has a pair of binding posts for each channel, Speakon outputs, and a quarter-inch jack if you wish to connect your speakers through TRS cables.
Yamaha PX Commercial Amp DSP Setup | Crutchfield video
Pros:
The PX10 is the most powerful of all the PX series power amps manufactured by Yamaha. Including a display screen on the interface makes switching between different modes and adjustments a breeze. The internal circuitry is cleverly engineered with limiters that protect your speakers and an EQ feature to fine-tune your sound.
Cons:
Some users may argue that even with the wealth of options you get with the PX10, it just doesn't reach the heights of the previously discontinued P7000S unit in terms of sound. Furthermore, the PX10 is much more expensive than most power amps on this list.
11. Behringer A800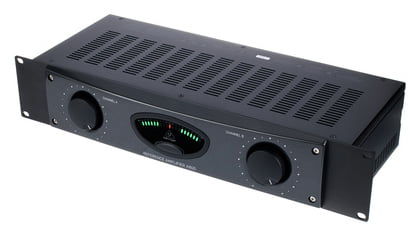 If you're looking for an amp that delivers excellent transparency and clarity in its sound, the A800 is a good option.
Perhaps one of the most affordable power amps in the Behringer product range, the device is a great option to power your passive speakers. Thanks to its convection-based cooling technology, you'll get noiseless operation from your Behringer A800. You get great value for your money by looking at what the amp offers.
Furthermore, the internal wiring protects your speakers and the A800 from thermal overload, so you can be at ease using the amp in a live setting or from the comfort of your home. The user interface seems simple and easy to operate, and the available modes make the unit ideal for any situation involving passive monitoring.
Key Features:
Interface
The unit's center has two horizontal LED strips, one for each channel. These metering strips light up depending on the unit's strength and let the user know when the signal is close to clipping. The metering area is flanked by two large knobs that adjust the gain levels of Channel A and B. You'll also find screw holes on both sides of the unit to mount it to your rack. Measuring 3.7″ by 8.7″ by 19″, the A800 weighs 7.1 lbs and is sized according to two rack spaces.
Input Section & Bridged Mode
The input section is laid out so that each channel has dedicated XLR inputs, a quarter-inch jack, and an RCA connector. Here you'll also find a switch that can toggle between stereo and bridged-mono modes. Looking at the power delivery of the unit, the A800 delivers 400 watts at 4 ohms. However, if you need more power, switching to the bridged-mono setting gives you 800 watts of power, so you get plenty of headroom and crystal-clear sound.
Output Section
Finally, in the output section are two binding post red and black connectors that accommodate banana connectors or bare wires, depending on your speakers. Next to the binding posts are 2 Speakon jacks with a connect and twist mechanism to lock your speaker cables so any inadvertent unplugging can be avoided.
Behringer A800 Amplifier Quick Review
Pros:
Perhaps the most apparent feature of the A800 unit from Behringer is its price. The power amp hardly costs anything, and if you want pin-drop silence while you work, you won't be bothered by any fan noise thanks to the convectional technology the unit uses for heat management. Furthermore, you get plenty of headroom, and your sound remains neutral without any coloration.
Cons:
While the power amp delivers uncolored sound, some of you specialists and audiophiles may prefer an amp that has a distinct sound character and slightly enhances the signal for the better. Also, the interface is a bit too simple, which may be great for some, but if you're a fan of tinkering and finetuning, perhaps something with a display is what you need to go for.
12. Samson Servo 120a
Samson is a world-renowned brand specializing in power amps, wireless systems, mics, mixers, and much more.
The sleekly designed unit measures 1.75″ by 11.75″ by 19″ and, compared to the bulkier power amps on the list, just takes a single rack unit of space. Thanks to Samson's technically sound approach, you can use this handy unit in your studio or on a live stage, as it is very versatile in its features and does what it claims to do.
A testament to this is the good sense of using convectional cooling methods, which takes a cooling fan out of the equation to ensure noiseless operation. Furthermore, As evident by its name, the dual channel Servo 120a delivers 60 watts of power through each channel.
Key Features:
The Layout
The power amp has a perfectly symmetrical front panel. You'll find air vents near both ends next to which are the controls and metering for both available channels. Each channel gets a level knob to control the input level and a strip of LED lights marked "Idle," "Protect," and "Peak" to inform the user about the signal intensity. Of course, you want to stay away from the Peak section to avoid signal clipping. The outputs on the back can be controlled by pressing the relevant "Phones" and "Speaker" buttons. At the dead center of the interface is the power button that switches the unit on.
I/O Options
Starting from the far right, you'll find both input channels. The configuration is such that each channel has a quarter-inch balanced input for TRS cables and an unbalanced input for RCA cable connectivity. Next to the inputs is the mode switch that toggles between "Bridge" and "Stereo" settings. On the back are the dual outputs. Both channels feature red and black (positive and negative) binding posts. The outputs have an impedance of 4 ohms, whereas the impedance can be set to 8 ohms in bridge mode.
The Things the Servo 120a Can Do
The smartly designed Samson Servo 120a does it all. You can use it for near-field monitoring thanks to its ultra-quiet operation. You can hook it to your home theater system and plug in speakers to get more control over your sound. The amp can be as quickly used on stage as a midi rack for monitoring. You could also use it in a corporate or academic setting to address the general public.
WET / DRY / WET Rig - Full Demo - Using the Samson Servo 120a Power Amp
Pros:
No need to worry about the power amp producing annoying fan noise thanks to the use of convectional technology. The unit is compact and concise, with all the necessary I/O options to serve you for years to come, and let's face it, the Servo 120a looks wicked cool. Also, the low-price tag is something that cannot be ignored.
Cons:
Granted that the Servo 120a is quite affordable, there are a few quality-related issues you may encounter. The amp is generally solid, and the build quality of the controls is good too, but the I/O ports get flimsy after some rough usage. However, the unit still offers excellent value for money.
Conclusion
There are lots of power amp brands out there that are competing for your attention which makes things exciting but also a bit confusing. Narrowing it down to the specs your setup requires will take some research. However, here are a few things to keep in mind which will help you make the right choice.
The Crown XTi 4002, Behringer NX3000D, Yamaha PX3 and PX10 modes have user-friendly displays through which many features can be accessed. However, if simplicity is your cup of tea, other power amps will fit the bill as they all possess uncomplicated, easy-to-use interfaces.
The Behringer NX4-6000 is the only unit on the list with 4 input channels. If you have a smaller setup that doesn't require as many channels, you could opt for any of the other options on the list. Finally, if you're just in the market for a beginner-level power amp that covers the basics and doesn't break the bank, the A800 from Behringer wins that race hands down.
The Behringer A800 and Samson's Servo 120a are also great at being completely noiseless, thanks to the convectional technology inside their tough exteriors. So if noisy fans are a concern for you, you can't go wrong with either of these units. Hope you make the right choice.
Readings that you may like: 
Other Recommended Gear:
Top 12 NearField Studio Monitors On Any Budget
Top 10 Midfield Studio Monitors For Home Recording
Best Biggest Studio Monitors (FarField Monitors)
Top 10 Guitar Pickups for Low Tunings 
Top 10 Analog Compressors For Mixing & Mastering (On Any Budget)
Top 12 USB Audio Interfaces Under 150$, 200$, 300$ 400$ (Any Budget)
Top 12 Hardware Equalizers (Analog EQs For Mixing & Mastering)
Top 6 Analog Hardware Limiters 
Top 6 Solid State Bass Amps (On Any Budget)
Top 6 Ribbon Mics On Any Budget (For Vocals, Drums & Guitars)
Top 6 Cheap Dynamic Mics For Vocals Under 50$, 100$, 200$ & 300$
Top 6 Chorus Guitar Pedals (On Any Budget)
6 Best 61-Key MIDI Keyboards (On Any Budget)
9 Best 49-Key MIDI Keyboards Under 100$ & 200$
Top 5 Best 25 Key MIDI Keyboards (On Any Budget)
Top 12 Acoustic Drums (Best Kits/Sets On Any Budget)
Plugin Roundups:
Genre Focused:
Top 10 EDM Plugins  (And 10 Best FREE Plugins For EDM)
Top 10 Plugins For TRAP Beats (And 5 Best FREE Trap Plugins)
20 Best Plugins For Rock Musicians (+ 6 FREE Plugins)
Top 14 Trance Plugins (Uplifting, Tech, Progressive, Vocal, Dream, Hard)
Top 10 GOA & PsyTrance Plugins (Best Psychedelic Trance Tools)
Top 7 Plugins For Dubstep (With 10 Best FREE Effects & Synths)
Top 20 Synthwave Plugins (+ 11 Best FREE Plugins)
Top 15 Plugins For Techno, House, Electro, Tech House, UK Garage
Top 6 Plugins For Latin Music  (And 4 FREE Tools)
Top 12 Plugins For Hip-Hop (+ Best Kontakt Libraries)
Top 7 Plugins For Game & Film Scoring  (+ 6 Best Kontakt Libraries)
Top 10 R&B And Pop Music Plugins & KONTAKT Libraries 
30 Best Free Plugins For DnB, EDM, IDM & Experimental Music 
EQ Plugins
Top 12 Free EQ Plugins For Precise Mixing & Mastering
Top 9 Mid/Side EQ Plugins  For Mixing & Mastering (+ 2 Free Tools)
Top 7 Graphic EQ Plugins  (With 3 Best Free EQs)
Top 7 EQ Plugins For Mastering In | And Best FREE Mastering EQs
Top 6 Passive EQ Plugins (Klevgrand, SPL, UAD, Waves, IK Multimedia)
Top 11 Plugins For Making Metal (Best Guitars, Drums & Effects)
Metering:
Top 5 Audio Metering Plugins (LUFS, RMS, LRA, True Peak)
Top 6 Spectrum Analyzer Plugins  – Spectral Analysis Tools
Top 6 Oscilloscope Plugins To See The Waveforms
Top 5 Key Detection Plugins & Software  (+ Best FREE App)
Kontakt Libraries
20 Best Kontakt Libraries For All Categories (Synths, Drums, Vocals)
Top 7 Drum Libraries For KONTAKT (And 4 Freebies)
Top 7 Trap Music Kontakt Libraries (And Best Lo-Fi Kontakt Library)
Top 7 Metal & Rock Kontakt Libraries (Best Guitars & Drums)
Top 10 Guitar Libraries For Kontakt (Acoustic, Electric, Bass & Freebies)
Top 7 Trailer Scoring Plugins & Kontakt Libraries 
20 Best Free KONTAKT Libraries For Various Instruments
Top 9 Piano Kontakt Sample Libraries  (And 5 Best Free Pianos)
Top 10 Percussion KONTAKT Libraries  (And 3 Freebies)
Top 7 Kontakt Libraries For Horror & Thriller Scoring (No VSTs)
Audio Restoration, Calibration & Utility:
Top 6 Noise Reduction Plugins (And 3 Best Free Tools)
6 Best Audio Restoration Plugins & Software 
Top 7 Phase Alignment Plugins To Fix Your Bass & Drums
Top 10 Room Calibration & Headphones/Speakers Correction Plugins 
Instrument Plugins: 
Top 6 Vocoder Plugins (Effects & Synths + FREE Vocoder)
11 Best Rhodes VST Plugins (AND 5 Free Rhodes Plugins)
Top 12 Randomizer Plugins Including FREE Plugins
Top 6 Kick Drum Plugins (Best Kick Designer Tools)
Top 12 Woodwind Plugins (And KONTAKT Libraries)
Top 10 Double Bass Plugins (Best Upright Basses)
Top 5 Strings VST Plugins (AND 4 Best Free Instruments)
Top 6 Sampler Plugins (And 3 Best FREE Plugins)
Top 6 Classical Guitar Plugins & Kontakt Libraries (And FREE Guitars)
Top 12 Sub Plugins (Best 808 & Bass Tools For Massive Low End)
Top 10 Plugins On PluginBoutique (And 7 Best Free Plugins)
Top 11 Plugins On Plugin Alliance 
Top 7 Acoustic Guitar Plugins (And 4 Best Kontakt Libraries)
9 Best Bass Guitar Plugins (And 2 Best Freebies)
Top 6 Electric Guitar Plugins (Best PAID & FREE Picks)
Top 10 Arpeggiator VST Plugins (Best Synths, MIDI Effects & Tools)
Top 10 Modular Synth Plugins (And 3 Best FREE Plugins)
Top 6 Choir Plugins & Sample Libraries (And 3 Best Free Plugins)
11 Best Percussion & Drum VST Plugins (And FREE Plugins)
Top 8 Piano Plugins (Best Sounding Pianos & 5 FREE Piano Plugins)
Top 6 Organ Plugins Ever Made  (And 3 Best Free Organs)
Top 14 VST Plugins For Beginners (And 9 FREE Plugins)
Top 9 Drum Machine Plugins (And Groovebox Plugins)
4 Best Banjo Plugins (Best Banjo Instruments)
The 5 Best Ukulele Plugins & Kontakt Libraries 
Top 13 Synth Plugins (And 5 Best FREE Synths Plugins)
Top 13 Sequencer Plugins  (Synth, MIDI & Step Sequencers)
The 10 Best Multi-Effect Plugins (And 3 Best Free Plugins)
Top 12 Plugin Bundles For Musicians (Synths, Mixing & Mastering)
Processing & Sound Design:
8 Best Lo-Fi Plugins (PAID & FREE)
Top 11 Plugins For Mixing Vocals  (For Home Studio)
Top 12 Saturation Plugins (Best Mixing & Mastering Tools)
Top 6 Pitch Shifter Plugins (And 3 Best FREE Pitch Shifters)
Top 6 Chorus VST Plugins For Musicians (And 3 FREE Plugins)
Top 6 Limiter Plugins For Precise Mastering & Mixing
The 8 Best Filter Plugins For Precise Cuts & Boosts (+ 5 Free Filters)
6 Best Autotune Plugins To Improve & Enhance Your Vocals
Top 10 Transient Shaper Plugins (VST, AU, AAX)
Top 7 Enhancer Plugins (For Bass, Drums, Vocals & Harmonics)
Top 6 Flanger Plugins (And 5 Best FREE Flanger Emulators)
Top 7 Phaser Plugins (And 3 Best FREE Phasers)
Top 10 Plugins For Mixing Drums (And 3 Best Free Plugins)
Top 7 Bitcrusher Plugins (And 4 Best FREE Bitcrushers + 3 Bonuses)
Top 6 Plugins For Voice-Over & Dialogue Cleaning (Post Production)
Top 10 Stereo Imaging Plugins (Best Old & Modern Picks)
Top 5 Multiband Limiter Plugins 
Top 7 De-Esser Plugins For Better Vocals (And 4 FREE Plugins)
Top 7 Clipper Plugins (Best Limiter Alternatives)
Top 6 Chord Generator Plugins That Inspire Melodies (+ FREE Tools)
7 Best Exciter Plugins For Mixing & Mastering
Top 7 Channel Strip Plugins (And 2 Best Free Plugins)
Top 11 Distortion Plugins (And 4 Top Free Plugins)
Top 5 Comb Filter & Resonator Plugins | Melda, Kilohearts, Tritik
The 7 Best Vibrato VST Plugins | Audec, Audiority, Melda
The 7 Best Tremolo Plugins | Eventide, Melda, SoundToys, Kuassa…
The 7 Best Harmonizer Plugins | Eventide, Melda, Aegean Music
7 Best Sidechain Plugins (VST, AU, AAX) | Xfer, Cableguys..
Top 10 Noise Gate Plugins (And 6 FREE Free Gate Tools)
The 6 Best Ring Modulator VST Plugins | KiloHearts, Melda
7 Best Autopan VST Plugins | CableGuys, Melda, Waves, Soundtoys
The 6 Best Frequency Shifter VST Plugins
Top 11 Granulizer Plugins For Future Sound Design
29 Best Sound Design VST Plugins
Compressor Plugins
Top 11 Free Compressor Plugins (VCA, Vari-Mu, FET, Digital)
Top 7 Multiband Compressor Plugins (And 4 FREE Plugins)
Top 5 Diode-Bridge Compressor Plugins 
Top 6 Mastering Chain Plugins: Complete VST Solutions 
The 7 Best VCA Compressor Plugins (VST, AU, AAX)
Top 11 Mastering Compressor Plugins (And 2 FREE Plugins)
Top 10 Opto Compressor Plugins For Transparent Sound
The 7 Best Vari-Mu Compressor Plugins (And 2 Best FREE Tools)
Reverb & Delay Plugins:
Top 12 Reverb Plugins (And 5 FREE Reverb Plugins)
The 6 Best Spring Reverb VST Plugins | AudioThing, GSi, u-he, Eventide
Top 12 Delay Plugins For Music Production In (VST, AU, AAX)
Top 10 FREE Delay Plugins (VST, AU, AAX)
The 10 Best Convolution Reverb Plugins 
Amps & Preamps:
Top 10 Guitar Amp Plugins (And 5 Best FREE Simulators)
Top 10 Bass Amp Plugins (And 5 Best Free Simulators)
Top 9 Preamp Plugins (For Vocals, Guitars & More!) + Free Preamps
Guitar/Amp Focused:
Can I Put Nylon Strings on a Steel-string Guitar?
Do Electric Guitars Sound Good Unplugged?
Buying Your First Guitar: 2 Things To Know
Are Tube Amps Worth It? (Tube vs Solid-State Amps)
How Often Does A Guitar Need a Setup?
Can I Play Classical Guitar On A Steel-String Guitar?
How often guitar necks need reset?
Can You Play Two Guitars Through One Amp?
Can a 6 String Bass Be Tuned Like A Guitar?
Can I leave My Guitar Tuned Down a Step? Yes, But Is It Safe?
Should I Learn 4, 5 Or 6 String Bass Guitar & Why?
How To Know If your Guitar Amp Is Broken?
How To Fix Distorted Bass Guitar Sound?
Do Fender Guitars Appreciate In Value?
Should You Put Stickers On A Bass Guitar?
How Acoustic And Electric Guitars Are Made?
Is Electric Guitar Too Loud for an Apartment?
Does a Preamp Improve Sound Quality?
If I Learn Acoustic Guitar Can I Play Electric Guitar?
How Many Hours A Day Should You Practice Bass Guitar?
Do I need an AMP/DAC To Run Bookshelf Speakers?
How to Record Electric Guitar Into Logic Pro X?
Do headphones get worse with age?
DAW Related:
Best DAWs For Musicians Available (With FREE DAWs)
What's The Most CPU Efficient DAW? – 5 DAWs Compared
How To Make Music Without Using A DAW?
Pro Tools Guide: How To Use AutoTune & Pitch Correction?
Ableton Review: Is It Worth The Money? (Cons & Pros)
Logic Pro X Review: Is It Worth It? (Cons & Pros)
How To Use Auto-tune & Pitch Correction In Cubase?
How To Fix Ableton Crackling, Crashing & Freezing? Step By Step
Plugin Related:
What Are Audio Plugins? Different Types of Plugins Explained
What Are The Best Tools To Develop VST Plugins & How Are They Made?
Cost of Developing Audio VST Plugin: Several Factors (With Table)
VST, VST, AU and AAX – What's The Difference? Plugin Formats Explained
Complete Guide To Noise Gate – What It Is, What It Does & How To Use It?
How To Clip My Drums? Here Is How & Audio Teasers (Before/After)
Complete Guide To Limiter: How To Use It (+ Best Plugins & Analog Limiters)
Mixing With Reverb: How To Add Life To Your Mixes
Linear Phase vs Minimum Phase EQ – Full Guide
Difference Between LUFS, RMS & True Peak Loudness Meters
How And When To Use Algorithmic And Convolution Reverb In Your Mix?
Difference Between Active EQ, Passive EQ and Dynamic EQ
Headphones & Studio Monitors:
Do headphones get worse with age?
Monitors vs Studio Headphones For Mixing & Mastering
Top 10 Room Calibration & Headphones/Speakers Correction Plugins 
Are Noise-Canceling Headphones Good For Music Production?
Can Headphones Break in Cold Weather?
Why do headphones & cables get sticky?
Can Wearing Headphones Cause Hair Loss?
How Do I know If My Studio Monitor Is Blown?
Side Effects Of Sleeping With Your Headphones On
Do You Need Music Amplifier For Studio Monitors or Studio Headphones?
Do Headphones or Earphones Damage Your Brain?
Can Headphones or Earphones cause Deafness or Toothache?
FarField, MidField & NearField Monitors – Their Uses, Pros & Cons
MIDI & Synths:
Should I Buy A MIDI Keyboard Or Synth? (Are Synths Worth It Anymore?)
Why Is Audio Gear So Expensive? (Especially Synths)
Top 12 Synth Brands – Analog, Digital & Modular Synth Manufacturers
11 Tips How To Choose MIDI Keyboard 
Should I Buy MIDI Controller Or Keyboard? Cons, Pros & Tips
Sultan Zafar is a guitar player from Islamabad, Pakistan. He has been playing music with various mainstream musicians for over 20 years. He is a song writer and music producer. These days he spends his time exploring different music genres and collaborating with fellow musicians on various projects. Read more..