This article will look at some of the best options for potentiometers for your stratocaster or telecaster guitar. 
There are plenty of pots in the market today; unfortunately, they are also considered consumable goods for a guitar player. While they don't wear out like strings, they do corrode and the carbon film underneath these pots eventually runs out, resulting in your guitar not functioning. Often, culprits that cause pots to malfunction include dirt and corrosion.
Pots will always be essential to a guitar player's sound. While you can skip having one on your guitar, adding it can give you tonal varieties from your pickups. You can make a guitar sound mellower or darker with just one twist on your guitar's controls.
To help you understand what would be best for your strat or telecaster, let's consider what to expect when choosing guitar potentiometers.
What are potentiometers?
A potentiometer, or pot, is a variable resistor used to set the resistance value in a circuit. When used in guitars, these pots set the volume or tone of your guitar. Potentiometers come in different values and sizes, which depend on the guitar.
Potentiometers are one of the common consumable parts in a guitar, just next to the string. But unlike strings, you can use pots for longer periods, often lasting years before signs of degradation happen. 
What's the difference between linear and logarithmic pots?
Linear pots have a constant rate when increasing or decreasing. Logarithmic pots, meanwhile, have tonal changes that are not gradual and smooth and may sometimes jump when it reaches a certain point. These pots are often denoted as A (e.g. A500K) for logarithmic and B (e.g. B250K. 
When buying pots for your guitar's controls, A pots are best often used for volume while B is used for tone control. 
Does the potentiometer value matter for your guitar?
As a matter of fact, yes! Using pot values that are higher or lower than what's recommended for your pickups may lead to different tones. For example, using a pot with a value of 500K on a single coil can make your tone harsher and even brittle. Lowering a humbucker's pot value can lead to muddiness in the tone. 
But that doesn't mean you can't switch them up. If that's the sound, you're after, by all means, go for it. Pot values often recommended are used to get the optimal sound from your pickups and guitar. 
Considering that there are over hundreds of guitar potentiometers in the market, here are some of the best pots you can buy for your strat or telecaster. To narrow your choices, this round-up will contain only pots with a resistance value of 250k, which is the default on most Strats and Telecasters today.
Top 12 Guitar Pots For Stratocaster & Telecaster 2023

1.

Fender 250KSplit Shaft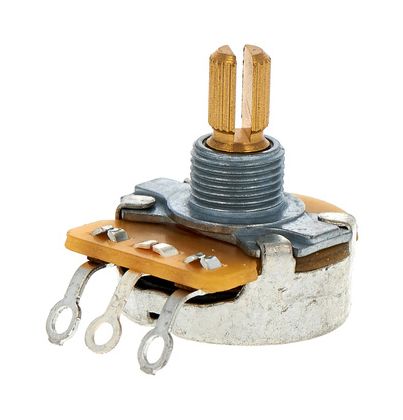 The Fender 250K Split Shaft potentiometer is the perfect way to get the vintage specs on your guitar. Designed as a direct replacement for potentiometers on vintage Fender guitars, you may also use these pots for anyone wishing to recreate a vintage-spec'd instrument.
These pots are sold under the Pure Vintage brand of Fender and may be used as a volume or tone control potentiometer. 
Key Features: 
These potentiometers are popular among vintage Fender owners and enthusiasts looking to cop that vintage feel. 
Split-Shaft
The split-shaft structure on these pots is closer to the vintage specifications Fender set for its early electric guitars and even basses. 
Grooved Shaft 
The grooves on the shaft of these pots make it easier for knobs to cling to them. You don't need to lock the knobs, unlike modern potentiometers.

Volume or Tone Control 

The nice thing about these vintage-spec'd pots is that you may use them for volume or tone control. There's also a free 0.022uf capacitor that you can use to rewire your guitar controls.
Pros: 
These potentiometers are great for vintage guitar collectors restoring guitars or anyone wanting to recreate a vintage guitar. Since these are almost era-specific, they're a good way of keeping your vintage strat or tele close to stock specifications.
Another great thing about these pots is that you can use them for volume or tone control. You don't have to worry about choosing between linear and log potentiometers, which can be confusing.
Cons:  
There aren't many disadvantages to these pots, except that they cost more while having the same features as cheaper potentiometers. You should choose these pots if you're willing to spend more or want something that brings you to vintage specifications. 
2.

AllParts CTS 250K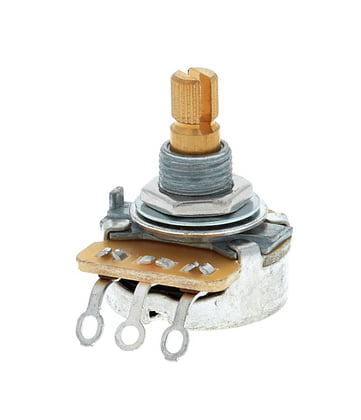 AllParts is one of the biggest guitar and bass parts sellers and is known for producing high-quality components. One of their best-selling parts includes the CTS 250K pots, which are good replacements for any guitar that uses single coil pickups.  
The CTS 250K pot is one of the popular choices for boutique guitar builders in the US.
Key Features: 
The CTS 250K is a straightforward potentiometer that works best with single-coil pickups. 
Knurled Shaft 
These pots have a knurled shaft that allows knobs to cling better without resorting to locking screws. 
Low Tolerance 
CTS 250K pots have low tolerance, which results in more accurate tones and volumes when the pot is at maximum.
Pros: 
The low tolerance features of these pots make your guitar sound a little louder since it tries to come close to the feel of a guitar without any volume knob adding resistance. These pots are also quite affordable, considering the reputation of CTS for durability n the guitar industry. 
Cons:  
Like the Fender Vintage pots, the CTS 250K doesn't offer many features. However, when you compare the AllParts pots to those made by Fender, the former has fewer features for almost the same price.
3. Seymour Duncan Liberator Solderless 250K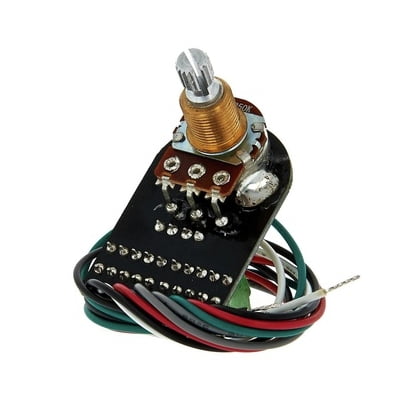 Seymour Duncan is one of the leading pickup manufacturers, and it's no surprise that it would also dwell into making guitar parts, such as the Liberator Solderless pot. After all, these pots are what you need to get your guitar's sound.
The Liberator Solderless was designed for guitar players to quickly swap out components without calling on a qualified guitar tech or dealing with soldering irons. Anyone with a compatible screwdriver can easily connect electronics to these pots as they do not need soldering. 
Key Features: 
Designed to make guitar parts replacement easier, the Liberator Solderless can be used by almost anyone, even with little electronics knowledge. 
Solderless Design 


The solderless design is the key feature of this pot, as guitar players can easily install new components, such as pickups, without having to solder.

Easy to Install 


You won't have a problem integrating this pot into the existing control system of your guitar, as it has labels on the pot that help you identify where each component goes. 

Tools Included 


Each Liberator Solderless comes with a flathead screwdriver that helps you lock the wires into place. 
Pros: 
The main reason you want to use the Liberator pot is its solderless system. You only need a compatible screwdriver and can easily install new components, such as pickups, into your guitar.
Cons: 
While this pot is solderless, it doesn't make your whole system solderless, unlike solderless systems by GFS Pickups. If your guitar still has a pickup selector before the volume pot, you will still need to solder the wires to the selector and clamp the other end to the Liberator pot. 
That said, for a no-frills installation, the Liberator pot works best for single pickup strats and teles. 
4. Dunlop

DSP250K
Many know Dunlop for producing potentiometers for its wah pedals, which other guitar players even use for their non-Crybaby pedals. But they do not just make pots for these pedals with treadle controls, they also make potentiometers for your guitars. 
The Dunlop Super Pot 250K potentiometer is known for its durability, which the Jim Dunlop company subjected to stress tests. According to them, these potentiometers will last a lifetime, performing well after 7 million turns. 
Key Features: 
One thing you will notice about these potentiometers is the red enclosure, which distinguishes them from other pots in the market. While these pots are hidden in your guitar, finding these pots in your store should be easy, given this red enclosure.
Dust and Corrosion Resistant
Pots wear easily because of dust and corrosion, which can affect the sound of your guitar. So Dunlop made the Super Pot dust and corrosion-resistant to ensure smooth performance for years. 
Built to last
The development of these pots included a stress test that subjected them to millions of turns to ensure they would last a lifetime. 
Audio Taper
The Super Pot ensures a smooth movement when the signal increases or decreases during each pot turn.
Pros: 
There are two reasons why you should get this potentiometer. First, you can use it for volume or tone controls. By being compatible with both functions, you don't need to choose between logarithmic or linear potentiometers; order what you need for your guitar.
Another reason to get this potentiometer is its dust resistance. As dust can compromise the quality of your potentiometers, the red enclosure of the Super Pot blocks any form of dust particle from damaging the pots.   
Cons:  
While the price of this potentiometer is proportional to the value it provides, making this potentiometer a no-load pot would add greater value. Even if it means slightly increasing the price to accommodate this feature, it would still be worth your money. 
5.

The Art Of Tone CTS 250K
For those looking for a set of pots to do a total rewire, the Art Of Tone CTS 250K gives you all the components you need, whether you're rewiring a strat or telecaster. You can rewire any single coil pickup guitar with three pots and a 0.047uf orange drop capacitor. 
Not to be confused with prewired harnesses, this potentiometer set does not include wires, jacks, and pickup selectors. 
Key Features:
The Art Of Tone potentiometer set has the essential components you need to replace the pots of your guitar.
Complete Potentiometer Set 


Each purchase of this pot set gives you three potentiometers and an orange drop capacitor to rewire a strat or telecaster.
CTS-made potentiometers
CTS, a leader in guitar electronics, makes each pot in this set. 
Knurled Shaft
You can use any knob with this set, and you won't need knobs with locking screws to secure your controls. 
Pros: 
Since this is a set of potentiometers, the strongest point of this product is that you have everything you need in one purchase. You can figure out which pots you need for tone or volume.
Another plus point is the inclusion of a capacitor. Often, a potentiometer installation for tone control calls for a new capacitor. In this case, you get one included, making it one less purchase to make. 
Cons: 
Art Of Tone should have considered making this a prewired harness because this is a potentiometer kit. Granted that it will cost a little more, making this a prewired harness will make it easier to install for many users and provide better value for money.  
6. Shadow SH124-250 Kill Pot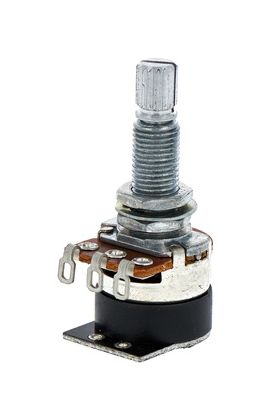 For those looking to emulate the kill switch techniques of Jonny Greenwood or Tom Morello, the Shadow SH124-250 gives your guitar an added kill switch without drilling extra holes. With one push of a button, you can create stutters on your guitar to create tremolo-like effects. 
The Kill Pot comes in variants designed to replace volume or tone controls and is also available for humbucker and active pickup variants.
Key Features: 
The Kill Pot is sold individually, and unlike other pots, you only need one to install in your guitar. 
Kill Switch 


The main feature of the Kill Pot is the built-in kill switch that you can activate by pressing the top. 
Available in Linear and Logarithmic 
The Kill Pot is available in Linear and Logarithmic versions so that you can install it as a volume or tone knob.
Easy to Install
Unlike other kill switches that call for adding an extra hole in your guitar, the Kill Pot attaches where you install your pots. 

Knurled Shaft 

This pot works with knobs that don't need a locking screw to secure it. 
Pros: 
You don't need to add an extra hole to accommodate a kill switch on your guitar. Since the switch is built into the pot, you can easily put a kill switch on vintage guitars and not worry about losing its value. 
Another plus point for this Kill Pot is its variants. For example, you can turn your volume or tone pot into a kill switch, whether you use active or passive pickups. 
Cons: 
If there's anything that Shadow could improve, it would be the addition of a no-load feature. But, even if it costs a little more, it would be money well spent.
7. AllParts Wiring Kit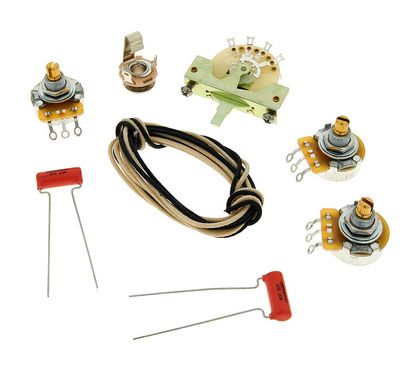 For those who don't want to worry about getting the wrong parts for their guitar, AllParts has wiring kits that you can install on your guitars. These wiring kits are available for strat and telecaster guitars and have everything you need to rewire your electric guitar.
The nice thing about these wiring kits is that they're compatible with vintage specifications. So whether you're trying to restore a guitar or want to build a guitar with vintage specifications, you can't go wrong with these kits. 
Key Features: 
These wiring kits feature all the parts you need to rewire your guitar.
Complete Components
Each wiring kit has pots, a pickup selector, a capacitor, an output jack, and wires that you can use to rewire your guitar. 
High-quality components
These wiring kits use components such as CTS pots, Switchcraft jacks, CRL switches, Sprague capacitors, and cloth wires for high quality and vintage specifications.
Wiring Diagram included
As long as you have basic soldering skills, you won't get lost when installing this kit on your guitar, thanks to the included wiring diagram. 
Pros: 
You don't have to worry about selecting components or ordering the wrong parts with these wiring kits. Everything is included in the package, and you don't need to modify your guitar.
Another plus point for this wiring kit is high quality and vintage spec components. You'll love these wiring kits, especially if you're a small, independent guitar builder who needs quick replacements.
Cons: 
If there's anything that AllParts could improve, they could have made this wiring kit a pre-soldered one to make installation easier. But that said, the unsoldered nature of this wiring kit still has an advantage by being able to cut wires to the exact length you need.
8. Göldo E250P Push-Pull Pot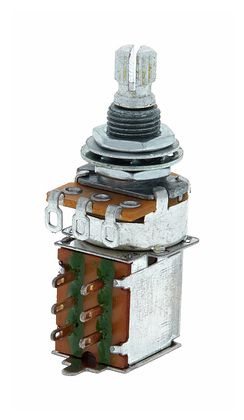 For those who want to add extra tonal possibilities without modifying the guitar's appearance, you can use the Goldo E250P Push-Pull Pot. This pot has a built-in switch that lets you wire an additional switch to activate certain modes. 
The beauty of this push-pull pot is the almost limitless applications you can do with it. While you won't get much out of this on a telecaster, you can use it to activate preamps, bypass the tone knob, or even the volume control to get you a louder sound. 
Key Features: 
The push-pull feature serves as this pot's core, giving you different possibilities. 
Push-pull Switching
The push-pull switching gives you different possibilities. You can replicate Fender's S1 switch for Stratocasters or activate a preamp you installed, among other things. Your imagination and guitar pickups are your only limits with push-pull pots in general.
Knurled Shaft
The knurled shaft on this pot makes it compatible with older guitars that do not use locking screws. 
Smooth Roll
For the price you pay, these pots wipe cleanly when you roll the pot, which makes for a good volume swell.
Pros: 
The best thing about this pot is the built-in push-pull switching, which opens up different possibilities. For example, if you didn't know, bypassing your volume knob gives you more volume than your pot set to full. It's like getting a slight dB boost without adding an active circuit.
If you have a one-channel tube amp, you can set your amp to overdrive, roll off the volume control for a clean tone, then use the push-pull system to bypass the volume pot to give you that needed overdrive, without needing another channel or an overdrive pedal. That's just one of the possibilities you can do with a push-pull system.
Cons: 
Some players have raised issues about the durability of this pot. But the thing is, these pots, like those made by more popular brands, also need maintenance. That means spraying contact cleaners as needed. Another downside to this pot is that it takes a little effort to pull it up, but this difficulty also depends on the knob installed on the potentiometer. 
9. AllParts EP 0283-000 Push-Push Pot 250k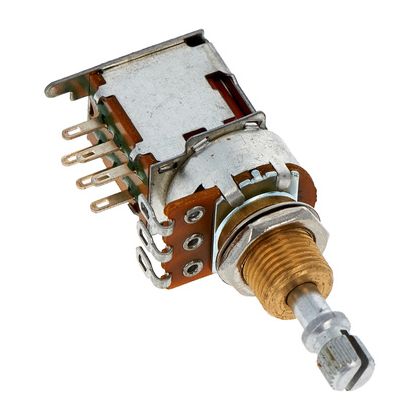 For those who don't want the effort of pulling the switch on Push Pull pots, the AllParts EP Push-Push Pot makes switching effortless. As AllParts make this pot, you know this is a reliable replacement pot that many luthiers have come to rely on. 
Push-push pots conveniently add more sounds to your guitar, just like a push-pull pot. In addition, you don't need to modify the pickguard or body of your guitar, so you get to maintain its market value.
Key Features: 
The push-push switching is an innovative feature. By tapping on the pot, you can easily switch between two modes on this pot, depending on how you wire it.
Easy Switching 
You don't have to put effort into switching between modes on this pot, unlike push-pull pots that take a little more effort.
Knurled Shaft 
This pot can easily fit vintage-spec'd guitars and doesn't require a locking screw to secure the knob on the pot. 
Smooth Roll 
The wipe on this pot is smooth, making them ideal for volume swells using only your pinky finger. 
Pros: 
The push-push system provides convenience when switching. There's less risk of altering your volume or tone settings while being able to quickly change settings at one tap that you can easily sync to the beat of the songs you play.
And like push-pull pots, the built-in switch gives you more tonal possibilities from your guitar. You also get to maintain its original look as there's no need to drill additional holes. 
Cons: 
Perhaps the only issue you'll likely encounter with these pots is maintenance. They need regular cleaning, but they're likely to last long with proper maintenance. 
10. Mojotone Prewired Harness
Check on Thomann (ST-Standard )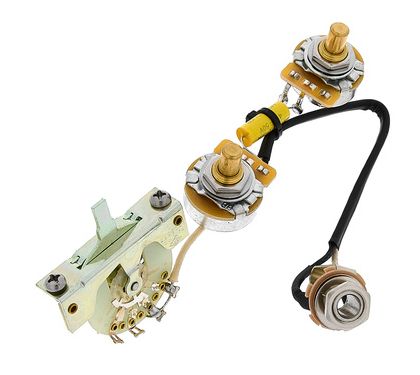 For a complete no-frills installation of pots on your guitar, the Mojotone Prewired Harness gives you the convenience of just soldering a few wires. As guitar electronics repair is essential and a skill that needs to be learned, these prewired harnesses make it much easier for any guitar player to replace the electronics in their guitars. 
All you need to do is solder your pickups to the selector, and this harness is ready to use. 
Key Features: 
Unlike the AllParts Wiring Kit, these prewired harnesses are ready to use and install in your guitar. 
High-quality components
These wiring kits feature CTS pots, oil-filled Vitamin T capacitors, a CRL switch, a Switchcraft jack, and pre-tinned cloth wires to make your guitar vintage spec'd while maintaining high-quality components. 
Treble Bleed Circuit
When you roll off your guitar's volume, you can expect some losses in the high end. However, with the built-in treble bleed circuit, you can roll off your guitar's volume without losing treble. 
Fits most standard Strat and Tele guitars
These will fit like a glove if your guitar uses the standard pot diameter and spacing between components. 
Pros: 
Nothing can beat the convenience of a prewired harness, especially when solderless components are involved. As these prewired harnesses are meant for standard-sized strats and teles, they're ready to use with a few soldering of the pickup and ground wires. 
Another nice thing to note about these prewired harnesses is that they use premium components. So, for example, the paper-in-oil capacitor adds value to the kit and gets you creamy tones from pickups. 
Cons: 
These prewired harnesses come with a steep price compared to the wiring kit that AllParts offers. But considering the parts you get and their convenience, it would seem worth it to some people. 
Another thing to note is that these harnesses are wired for standard strats and telecasters. While there may be some slack regarding the wires, you may have to modify them in case you use them on a non-standard strat or tele. 
11. Fender 250k No-Load Potentiometer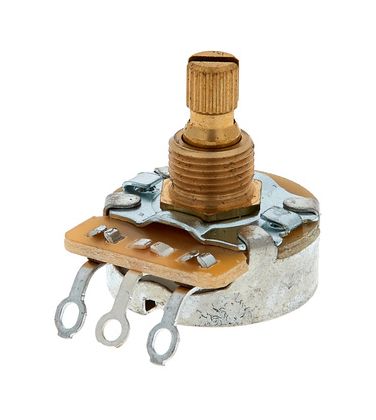 The Fender No-Load Potentiometer gives you the natural sound of your guitar pickups as if there was no tone control on your guitar. For those who don't know yet, the presence of a tone control alters the sound of your guitar, even when set to full. Thus, it won't sound as natural as a guitar without a tone control pot. 
The No-Load potentiometer, however, gives you a true bypass tone when the potentiometer is set to full. As a result, you get to hear the natural characteristics of the guitar and the pickups. 
Key Features: 
At the heart of this potentiometer is the true bypass tone when you set the potentiometer to full. There are also other features worth noting as well with this pot.
Knurled Shaft
These pots work with non-locking knobs and are fit for vintage spec'd guitars.
Smooth roll
While designed primarily for tone control, the no-load pot wipes smoothly to help you get the sound you need. 
Pros: 
The main selling point of this guitar is the no-load or true bypass feature. You don't need to install a switch to bypass the tone control; you only need to move the pot to the maximum. 
While not much of a big deal, this pot is also designed for vintage specs, making them ideal for guitar players looking to maintain the vintage components of their guitars.
Cons:  
The only drawback of the No-Load pot is that it's best used for tone controls. The sweep on this potentiometer was designed for tone control and may not as pleasing when used for volume control. 
12: EVH Custom High Friction 250K Pot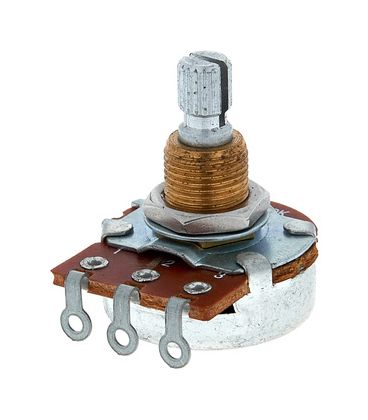 One of the most common problems with Stratocasters is the volume knob placement. When in the zone, the volume knob gets hit by accident, which results in the volume being adjusted. The EVH Custom High Friction pot solves that problem.
The High Friction Pot provides enough movement resistance that prevents you from lowering your guitar's volume by accident while maintaining an easy-to-sweep when you need to do volume swells. 
Key Features: 
The High Friction pot is based on the Bourns pots used by EVH on his guitars but with some modifications. 
Designed for Single Coils 

Even if EVH designed this pot to replace its Wolfgang guitars, they would also work well with strats and teles, as they have a 250k resistance value. 
High Friction 
The High Friction pot doesn't roll off easily when you hit the pot by accident when strumming the guitar, yet it provides a smooth movement when you need to make volume adjustments or swells. 
Knurled Shaft
These pots fit most standard strats and teles knobs, locking and non-locking. 
Pros: 
The best thing about these potentiometers is how they prevent accidental volume roll-offs while maintaining smoothness when adjusting the volume. You can play your strat and not worry about hitting the volume knob by accident. 
Cons: 
This pot only works as a volume control. You can wire it as a tone knob, but you might not get the results you're after. Also, the shaft size might be slightly bigger for some guitars, so they may not be ideal for purists who do not want to alter their guitars to accommodate the pot. 
Bonus:

Musiclily A250K (Push-Pull)
Musiclily offers budget-friendly replacement components, including this push-pull pot for those who want to spend less on guitar parts. Musiclily specializes in decent parts replacement for those unaware, including Wilkinson bridges and pickups. 
The Musiclily Push Pull pot lets you modify your guitar without spending an arm and a leg. If you think the pots from AllParts are unjustifiable, then this should be your choice.
Key Features: 
Despite being cheaper alternatives, surprisingly, these pots are good replicas of the premium parts found in Fenders and Gibson guitars. 
Knurled Shafts 


You can use Musiclily pots as a quick replacement if you need a fix for your next gig. 
Push–Pull System 
You can add more tone varieties to your guitar, such as S1 switching without modifying the body of the guitar. 
Pros: 
One thing worth noting about Musiclily pots, in general, is their sizes that fit many of the standard designs, including those by Fender. While some may require modifications to fit, they are still good replacements. 
Cons: 
You might encounter some durability issues with these pots. At one point, one of the pots I bought from Musiclily had a broken pot terminal. As it was already past the replacement period, I decided to let it slide. But that considered, I still have a relatively high success rate with their parts. 
Conclusion
There are a lot of good options for guitar parts, and given what's listed here, the best pots to consider are the Dunlop Super Pot for its durability, the Mojotone Prewired Harness for the ease of installation, and the Fender pots to get close to your favorite strat or telecaster specs. 
If you feel adventurous, you can try combining different brands and see how they will go. Personally, I'd like to see the Dunlop and Fender No-Load pot on a Telecaster and see how they will fair.
With all things considered, remember that buying good pots or pre-wired kits are good, but just as important is having these parts installed properly, to prevent signal loss. Watch out for those cold solder joints, which are often the culprit of bad electronics on guitars. 
John Narciso is a guitar player and music technology hobbyist. He loves exploring guitar effects processors in pedal and plugin format and free music applications. His music preferences tend to be diverse, listening to genres spanning from metal to alternative rock and a little hip-hop.