Are you on the hunt for delay pedals because you want to start including solos in your metal band? Well, we've compiled a list of the 12 best delay pedals for any budget in 2023.
One delay pedal may add a lot of depth and variety to a guitarist's sound. So it's not surprising to find delay pedals on pedalboards worldwide and in various musical genres.
The audio effect known as delay is created by recording the input signal and then playing it again (often in sync with the original input sound) at a later time. Depending on the delay effect unit, the processed/delayed signal might be heard once or multiple times. In many cases, you can adjust the delay signal in loudness and balance the dry signal. To create more delay, simply feed it into the delay processing circuit.
This acoustic phenomenon is similar to the audio delay effect in that both occur when hearing the initial reflections of a sound after it has bounced off a reflecting surface. Delay occurs naturally in the real world when sound is reflected off of surrounding surfaces. However, the delay is generally difficult to perceive due to the reverberation of the surrounding surroundings.
In a nutshell, here are the best delay pedals for metal music:
1. Electro Harmonix Memory Boy
2. MXR M169 Carbon Copy Analog Delay
3. Boss DM-2W Waza Craft Delay
4. Strymon El Capistan dTape Echo
6. tc electronic Flashback 2 Delay
8. Electro Harmonix Canyon Delay & Looper
12. Source Audio One Series Nemesis Delay
A "delay pedal" is an effect stompbox that captures and plays back the sound it receives. You may play most media again in about a minute. When played quickly, a delay pedal produces a slapback effect, an abrupt, instantaneous echo of the original sound. You can create enormous, more engulfing soundscapes with longer delay times. The fact that delay pedals sound so nice has contributed to their widespread use.
Most musicians would need a good delay pedal to make it. Effects are always intriguing and compelling, whether used subtly to increase the perceived depth of a signal or aggressively to create a sweeping guitar atmosphere. There would be an abundance of delay pedals to choose from, and many of them would come and go throughout the years.
A delay pedal, for the record, is a stompbox delay unit. The player usually controls the ship with their feet. The usual control parameters of a delay effect are the effect level, delay duration, repeats, and feedback.
Let's see the best solutions for a delay pedal in 2023.
Top 12 Delay Pedals For Metal 2023 (Any Budget)
1.

Electro Harmonix Memory Boy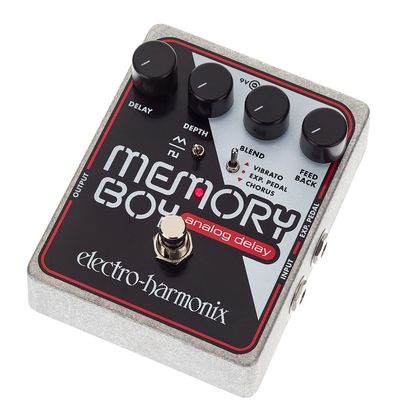 Guitarists and fans of vintage instruments now have access to a compact version of a classic pedal thanks to the Electro-Harmonix Memory Boy.
For decades, you've been treated to the Memory Man defying the rules of physics and time by wrapping riffs in a warm, organic tone that has characterized the ideal analog delay. The Memory Boy carries on this custom while also making it possible for anyone to afford the timeless tones it produces.
Memory Boy, the result of two years of development, is faithful to its roots while using improved analog ICs. Every guitarist should own a Memory Boy since it is reasonably priced, fits easily on a pedalboard, and has a legendary pedigree.
Key Features:
Controls
The four central control knobs on the Memory Boy are the Delay, Depth, Blend, and Feedback. The delay parameter determines how long the effect is delayed, which should be no surprise. A touch of this knob will add a little reverb to your tone, while a complete turn will produce a substantial echo. The Memory Boy has a delay time ranging from 30 milliseconds (ms) to 550 ms, which is okay but could be better.
In addition, it is essential to note that, like with any analog pedal, the amount of delay you can achieve naturally is restricted. This is in contrast to digital delay pedals, which offer theoretically unlimited delay time but don't sound nearly as vintage or natural as analog.
Using the Depth slider, you may set the amount of modulation applied to the entire signal. The more you spin it clockwise, the more modulation there will be; the opposite will be true if you turn it counterclockwise.
Extra Switches
This pedal has two additional switches and four control knobs. The first is an effect toggle that offers the choice between Vibrato, Expression Pedal, and Chorus. As with the Modulation knob, this switch regulates the modulation rate, but it does so much more rapidly and dramatically. Choose Chorus if you want a gentle modulation, Expression Pedal for a moderate amount, and Vibrato for a jarring amount.
To further customize the degree of modulation, you can utilize an expression pedal (similar to a volume pedal but for effect) to manually adjust the modulation amount, allowing you to toggle between Chorus and Vibrato. With your foot in a toe-up posture, there will be minimal lag, but a fully compressed foot will speed things up.
Waveforms
The triangle and square waveforms are the last two possibilities. The square waveform didn't work for me because it sounded too "special" for most types of music. Instead, you must crank the Depth control to engage the triangle or square waveform.
Similar to the effect of a chorus pedal, a triangle provides a continuous and seamless tone. In contrast, when using a square, the music abruptly shifts between two different delay durations, simulating a short pitch shift.
Housing
The Memory Boy's housing will look extremely familiar if you're used to using other pedals by Electro-Harmonix that are the same size. These pedals are durable, so long as you don't throw them against a concrete wall or pour beer, soda, or your favorite beverage on them.
Since it is large and heavy, the pedal will only move about a little if a pedal board is underneath it. Like most other single effects pedals, the Memory Boy requires either a regular 9-volt battery or an ac adaptor (not included). It's important to note that 9-volt batteries will vanish rapidly if this kid keeps using them.
Character & Sound:
Adjusting the modulation is when the fun truly begins. The three-way toggle allows you to select from three different frequencies and two different waveforms (triangle and square mod).
When an expression pedal is connected, you can adjust either the delay time or the modulation rate (the toggle switches change function depending on whether an exp-pedal is plugged in, so be sure to read the manual to know all the possible settings). Then, space noises start to play; using mild mod settings, you will create hot, wavy tape delay effects that you can use on the vocals and keyboard.
Pros:
Those seeking an analog delay, such as the Memory Boy, do so for its natural organic sound, and the features listed above—which will likely never be used—do not detract from the pedal's overall virtues in the same way that the abundance of extra functions in digital delay pedals does. Moreover, compared to its more powerful big brother, the Memory Man, the Electro-Harmonix Memory Boy is valued at its reduced price point.
Cons:
The web documentation needs to be improved in terms of how to set up the expression pedal. Reading up on how to route the equipment you already have with it is where things become complicated. Moreover, the delay still has some strange modulation even when the depth button is set to noon. It sounds further weird when you tilt it to either side; overall, it's useless.
2.

MXR M169 Carbon Copy Analog Delay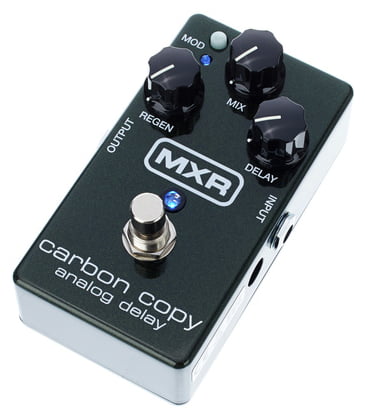 With its all-analog audio route, the MXR Carbon Copy analog delay provides a warm and full delay effect by emulating the behavior of a "bucket brigade."
The Carbon Copy is a delay pedal featuring 610 milliseconds of delay time, a switch for adding modulation, and three knobs for adjusting the dry/wet balance and the number of times the delay plays back. In addition, you can tweak the modulation's width and tempo with two internal trim pots for even more tonal variety. This pedal gives you everything from crisp bathroom slap echoes to epic delays, all with the simple twist of a knob.
Key Features:
Great Delay Time
This may seem modest to those who are familiar with digital delay pedals. Remember, though, that the pedal's analog circuitry limits how long your signal may be stored. One-quarter note at 100 beats per minute equals 610 milliseconds, while the eighth note at 50 beats per minute is the same.
Accordingly, this is the sufficient delay time for most songs. If you need a delay, it rarely exceeds 610ms. However, the tone you want to achieve with your delay pedal and your style will determine this.
Dark Controls
Glow-in-the-dark knobs and buttons are included in the Carbon Copy, a feature that proves novel and handy in low-light situations. These pedals are as durable as they get, housed in the tried-and-true "Phase-90 size" enclosure of original MXR pedals. 
Modulation
To activate the modulation effect, press the "MOD" button, which is located in the upper right corner of the pedal. With this effect, you may give your tone more "body" and depth, which can completely transform how it sounds. The width and the speed of this modulation effect are adjustable via two internal trim pots. Depending on the parameters you choose, this effect can mimic the sound of a chorus.
Controls
The Carbon Copy's delay time can be adjusted using three central knobs. Unless you want to add other effects, that's all you need for delay, making the Carbon Copy incredibly simple. The number of times your delay will playback is controlled by the regen knob.
You are controlling the ratio of liquid to air with the mix knob. If you're unfamiliar with the term, it simply means that you will blend your original guitar sound with the delay signal at a volume you control. Finally, you can adjust the delay time to suit your preferences. You are turning the delay knob delays the first repetition of the signal.
Mod
Setting up the primary delay is a breeze thanks to the three knobs; however, the MOD can be finicky. To adjust the pedal's modulation width and speed, you'll need to unscrew the pedal's back cover.
The trim pots are more easily damaged than the three central knobs, so use caution when adjusting them—because of this, adjusting the pedal's modulation effect requires opening it up. Since you've likely already adjusted the modulation to your preference, this shouldn't be too much of a problem.
Character & Sound:
Many accomplished guitarists rely on the MXR Carbon Copy due to its high quality and popularity. Excellent sound is the primary factor. Even though you shouldn't rush out and buy a pedal just because it says it's analog, this one has excellent sound quality.
Tonally, the delay effect is well-suited by the analog circuitry's alterations. By reducing the amount of high-frequency noise, you may make sure that your primary signal is heard above the repeating one. In addition, the modulation effect can significantly improve your tone; the delayed signal gives a darker, murkier sound.
Pros:
This delay pedal doesn't have as many bells and whistles as others on the market. Because delay is crucial for guitarists, the Carbon Copy makes it possible to use delay without adding other effects like ping-pong, Reverse, etc.
Dunlop, the company that makes pedals under the MXR brand, has a stellar reputation for its products durability. It would take more than just a casual toss of the pedal for any of the three knobs to break. This pedal will survive for years thanks to its sturdy metal design and straightforward controls.
Cons:
You can hardly tell that the modulation button is on. The effect pedal maxes out on the first echo. Classic analog delays could provide a minimum of three echoes before the sound quality began to suffer noticeably. There's also a pointless noise that it makes. It's a bubbly, pulsing sound instead of a vocal lead tone, and it drowns out your instrument. When combined with a pure channel, it's nearly unnoticeable.
3.

Boss DM-2W Waza Craft Delay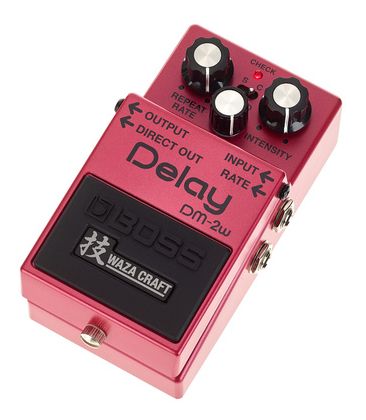 Since its discontinuation in 1984, collectors of vintage effects pedals have sought the seductive bucket brigade sound of the original DM-2 analog delay pedal.
The BOSS Waza Craft DM-2W is more than a reissue; it's a complete rebuild that retains the original's outstanding character while eliminating the clock noise that plagued it in its original form.
Finally, the DM-2W's custom mode extends the unit's maximum delay time from 300 milliseconds to 800 milliseconds while enhancing the repetitions' tonal richness and clarity to create a more contemporary analog delay impression. Furthermore, the DM-2W's two modes make use of two further alterations, namely, the unit's split wet/dry outputs and expression pedal input, which allow for real-time adjustment of the delay period.
Key Features:
Circuit
With the new -2w, you will have a hard time distinguishing between the original and reissue in terms of the warm tone of the repeats and the typical black decay because both used the same original analog signal path. The new DM can handle up to 300 milliseconds of delay time in S mode, just as the older models, and up to 800 milliseconds when the toggle is in the M position—plenty for an analog delay.
Custom Mode
The Delay effect is more distinct and tends toward a sharper tone in C mode; for this purpose was reminiscent of the classic EHX Memory Man, a clearer-sounding analog delay than the DM-2. If you've ever desired a genuine Boss delay that falls somewhere between the dynamics of the classic DM-2 and the clarity of something like a DD-3, the DM-2w in C mode is IT.
Character & Sound:
The DM-2 becomes an integral part of your picking style, providing muddy reverb-like textures, gritty and warm slap back, and, when used in conjunction with another high-quality digital delay, sonic moodiness mixtures that are particularly well-suited to more gloomy and introspective styles of electric guitar.
Sounds very rich and full when turned up to 11. In addition to being useful on snare drums and voices, the sensitivity to input signal strength makes it a versatile tool. More complex attacks result in more repetitions, the same as when playing guitar, while softer attacks result in fewer.
Pros:
This pedal has its share of deep, sometimes very dark tones, in a friendly way, and the delays are of a good and vast quality. Also, the pedal's knobs are super sensitive to settings, offering a wide range of tones.
Cons:
This is not for you if you require a wide variety of delay and tap tempo options. There is not much room for growth at the typical rate. It'd work for slapback, but some prefer the  "custom mode."
4.

Strymon El Capistan dTape Echo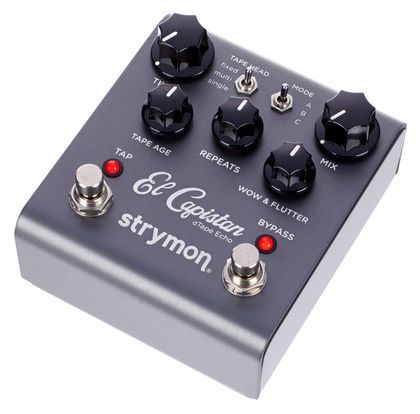 The Strymon El Capitan dTape Echo Pedal is a complex tape delay with many configuration options.
If you're looking for the natural warmth and sonic peculiarities of actual tape delay without the hassle of calibrating and maintaining analog tape technology, go no further than Strymon's El Capistan dTape Echo pedal.
The Strymon dTape algorithms utilize the full capability of a SHARC DSP chip to recreate the sounds of three different types of vintage tape recorders. El Capitan is a versatile tool for any inventive musician thanks to its ten fully adjustable parameters and additional features, such as its integrated spring reverb and sound-on-sound looper.
Key Features:
Machine Emulations
The Strymon El Capistan doesn't strive to imitate any tape delay but rather three different technologies in vintage tape machines. These include a fixed head with variable speed, multiple heads with variable speed, and a sliding head with fixed speed.
Each machine has three modes that allow you to alter delay time ranges, choose which tape heads are active, and engage in sound-on-sound looping. You can tune in classic sounds like Echoplex or Space Echo emulations, or create new analog delay sounds, thanks to the El Capistan's parameter knobs, which are a favorite among tone-tweakers.
Ten Effects Parameters
The Strymon El Capitan is one of the most versatile delay pedals due to its ten conveniently accessible parameter knobs. A wide variety of echo effects and personalities are available at your fingertips, and you can adjust them using the Mix, Time, Repeats, Tape Age, and Wow & Flutter knobs.
In addition, when both footswitches are pressed, an additional set of controls become available. These controls include a luxuriant Spring Reverb, a Boost/Cut, and a /Low-End Contour/Bias/Tape Crinkle. An expression pedal may give you real-time control over any parameter, and a footswitch can help you quickly access your favorite settings.
Switches
At the top of the control panel are Tape Head and Mode buttons. Tape Head toggles the emulated tape head between Fixed head antique studio tape delays, Multi-head simulations of effects like the Roland Space Echo or Watkins Copicat, and Single movable heads simulations of effects like the Maestro Echoplex.
The mode switch lets you select between several setups for each of the three available heads: tap tempo rates for the Fixed head, multiple head combinations for the Multi-head, and tape speed or Echoplex-style sound-on-sound for the Single head. There are so many potential outcomes that it could make a player dizzy.
Housing and Connectivity
Still, Strymon wasn't content with his accomplishments there. Holding down the Bypass and Tap footswitches modifies the function of each knob, creating a whole new menu of parameter adjustments, including low-end contour on delay repeats, simulated tape-bias fluctuations, an internal spring reverb, and even simulated tape crinkle.
You can use the El Capistan with a dual amp setup, record massive stereo guitar recordings, or adjust the delay duration dynamically with a pedal thanks to its stereo outputs and an expression pedal jack.
Character & Sound:
Its tone, responsiveness, and overall feel were often just as musical and organic as its legendary forebear. You can use the El Capitan's Tape Age slider to simulate the graininess of the signal coming back from the Space Echo's tape. However, the El Cap excelled where the Space Echo fell short: providing more clarity along with the inconsistencies and character.
Pros:
Strymon's application and development of DSP are great. Tape delays are one of the only analog animals whose unpredictable, flawed nature is prized for what it adds to the overall experience. You'd be hard-pressed to find another pedal that makes the musical aspects of such flaws as controllable, practical, and expressive as this one does. The uses for this pedal could quickly fill a much longer review.
Cons:
Some users may be irritated by how difficult it is to access the app's extra features, but that's about the only complaint.
5.

Boss DD-500 Digital Delay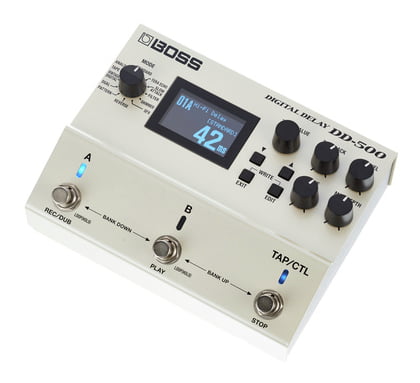 The BOSS DD-500 pedal gives you complete control over twelve unique delay modes, allowing you to express yourself in whatever way you like.
The DD-500's phrase looper allows you to create great layered performances, and its changeable control settings complement its unparalleled real-time expression capabilities. In addition, the DD-500 processes everything in 32 bits, so you can always expect professional-grade outcomes.
Key Features:
Delay Modes
This pedal can create any delay effect you can imagine, thanks to its 12 unique delay modes. With the available knobs, you may quickly modify crucial sound settings and produce high-quality sounds. In addition, each type of delay comes with a plethora of options for fine-tuning the sound, including modulation, ducking, and a semi-parametric equalizer.
Real-Time Control
The DD-500's fully programmable controls allow for unprecedented creativity and adaptability in the studio. The A, B, and TAP/CTL switches provide quick access to two different patches, bypass, bank selection, tap tempo, and more in their factory settings.
You can change their default behavior, for example, to allow you to utilize two delay patches simultaneously for layered delay sounds or to give you access to three separate delay patches at the highest level. You may get creative with the TAP/CTL switch by programming it to do things like Warp or Twist in real-time instead of tapping the pace.
Housing And Connectivity
The DD-500 takes great pleasure in its ability to perform well in both live and studio settings. This is because the pedal gives you a great deal of control. In addition to the pedal's three footswitches, which allow you to cycle through the pedal's effect banks and activate the looper, you can also attach additional switches to regulate tap tempo, hold, and other functions.
Furthermore, when you factor in the ability to regulate the delay time from any external controller, such as your digital audio workstation in the studio, you get precision not available in most other guitar-based delay units.
Character & Sound:
The DD-500's AD/DA processing allows for a wide range of delay settings, each with its character and very musical tones. The DD-500 has excellent digital delay effects, but it also has true-bypass switching to preserve your natural analog guitar sound. The buffered bypass fortifies the analog signal, and the carryover function keeps delay trails from being abruptly severed when the effect is disabled or patched.
Pros:
Editing the DD-500 is a breeze. With delays, you have a lot of leeways to do whatever you choose. Even though most of the stock sounds are underwhelming, customizing the presets is a breeze. These knobs allow fine-grained control over various editable factors, allowing you to dig deep into the editing process if you'd like.
Cons:
Poorly implemented ducking makes the delay effect sound like you should have remembered to press the pedal before playing a phrase, rendering the feature ineffective. Adding a compressor after the delay can improve ducking, but this still needs to be improved. In addition, there is no stereo delay mode, and the pedal is primarily designed for mono use, with stereo added as an afterthought.
6.

tc electronic Flashback 2 Delay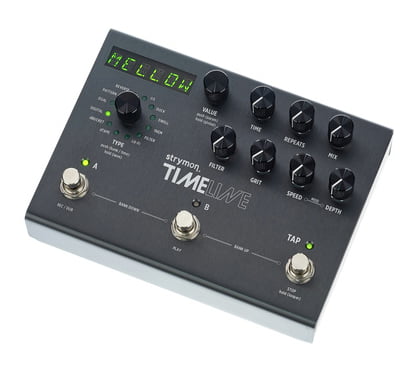 If you need a delay effect and have a pedalboard, go no further than the TC Electronic Flashback 2 delay.
The Flashback 2 has eight unexpected delays and a 40-second looper, making it superior to regular delay pedals, which generally only have a few delay effects. In addition, the new Flashback 2 delay features a new crystal delay, TC's innovative Mash footswitch control, and three memory slots for saving tones from TC's TonePrint Library. If you thought the first TC Electronic Flashback was intense, you haven't seen anything yet.
Key Features:
Tone-Shaping Tools
You can use the Flashback 2 hands-free by connecting an external footswitch and tapping in time. Independent of the delay type, you can choose between three different modes: the eighth note dotted, the eighth note, or both at once.
The Flashback 2's all-analog approach that merges with the affected signal is one of many ways it stands out. Also, the Flashback 2 delay is equipped with TonePrint technology from TC Electronic so that you may download unique delay settings created by some of today's most accomplished guitarists.
Tone Print
Using the TonePrint app, you can download artist-created presets for TonePrint-enabled pedals like the Flashback 2 delay. The TonePrint editing program allows you to make your unique adjustments. For greater versatility on stage, the Flashback 2 pedal allows you to load up to three separate TonePrint presets at once. Select one of the three TonePrints you've already installed whenever you need quick access to your tone.
Mash Footswitch
The Flash 2 pedal's revolutionary MASH footswitch greatly expands its scope for originality. This pressure-sensitive footswitch can be used as an expression pedal in addition to turning on and off the delay effect. Increase the amount of feedback, add modulation to the delay repeats, and more. If you want to get even more creative, you can reassign the MASH footswitch's functions.
Connectivity
There is a TRS jack for the expression pedal and a pair of metal jacks for the stereo input and output. A 9V, 300mA power supply is supplied, and there are also MIDI In and Thru ports, a small USB connection for editing software and firmware updates, and a power input.
A small toggle button on the rear panel lets you choose between buffered and accurate bypass operation, while another provides a "Dry Kill" feature. If you turn off Dry Kill, the dry guitar tone comes through at unity volume, regardless of which delay method you use.
Character & Sound:
Very comparable to the more diminutive Flashback Delay. The pedal provides more delay-type possibilities than previous Flashback Delays. It also features some friendly modulation options and believable emulations of several delay kinds, such as analog, tape, and digital.
Also, the pressure-sensitive Mash control has several applications for musicians interested in creating ambient music. Having six user presets available is also helpful during a performance.
Pros:
The Flashback Delay is great at this price, even if you take it out of the box and utilize only the settings on the top panel. TonePrint's additional patches and fine-tuning options put it in a league of its own, and its low price tag is even more impressive.
Cons:
Many people dislike using the looper function because of how inaccurate it is. Moreover, the TonePrint Editor is not intuitive, does not appear to make fine-grained changes to the sound, and is plagued by several glitches.
7.

Strymon Timeline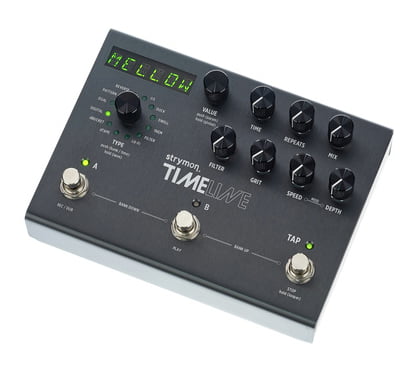 With its rich inspirational delays and straightforward control structure, the Strymon TimeLine may have you packing your priceless antique pedals.
The TimeLine has 12 delay units with knobs and buttons for real-time adjusting and 200 presets ready to go out of the box for quick creativity boosts. Select a delay time, tweak it to your liking, and save it under a new name.
The Filter and Grit knobs allow you to adjust the shape and distortion artifacts of repeats, allowing you to achieve a wide variety of sounds from pristine studio to analog to early digital. In addition, the TimeLine has a built-in stereo looper that can record up to 30 seconds of audio, giving you plenty of room to experiment with delay effects and jam during live performances.
Key Features:
Delay Machines and Presets
The Strymon TimeLine features multiple types of delays, all of which can be used separately. You can get a delay that sounds like an analog bucket brigade pedal or a tape echo machine, or you can get a delay that sounds like a synthesizer, or you can even get a delay that sounds like a transistor being bit-crushed.
However, the TimeLine's 200 factory presets cover a broad spectrum of territory, from blues to metal to experimental, and are ideal for the type of musician who wants to dig in, find a sound, and roll with it.
Looper
The stereo looper on the TimeLine is a handy instrument for live performances. Also, it's an excellent resource for experimenting with different melodies, chord progressions, and delay tones. You can loop a section of your recording up to 30 seconds long and play over it. In addition, the looper on the TimeLine can be placed before or after delay effects in the signal chain.
Controls
According to Strymon, high-quality outboard studio delays inspired their TimeLine pedal, which is why it features a straightforward and efficient control arrangement. Although the gunmetal gray box may appear cluttered compared to other stompbox delays, the massive number of features make it surprisingly simple.
The seven knobs, arranged asymmetrically on the pedal's right side, allow subtle and dramatic adjustments to the delayed signal (grit, filter, modulation rate, and depth.) Extra controls for each effect are accessible via a hidden eighth knob.
The left-hand Type knob lets you choose from one of twelve different delay types; pressing allows you to preserve your current settings. You only need three footswitches to activate two banks of presets, play/record, and set tempos.
Modulations
The Filter delays provide a synchronized low-filter oscillator to be added to the delayed signal in addition to resonance modification, giving the repeats a synth-like touch and a little mid-'70s Jerry Garcia vowel tone. When using the Swell option, your loops will have a volume-effect flourish.
Trem provides an icy throbbing warble, while Reverse, when applied to swooping, Eastern-flavored lines with a more extended delay period and fewer repeats, becomes a platform for trippy, psychedelic leads.
Character & Sound:
A set of well-programmed factories showcases the TimeLine's capabilities presets that can be used in various musical contexts. With a maximum delay period of 2.5 seconds, digital delay machines provide a pure digital delay for all your crystal-clear repeating needs.
You can use the filter and grit knobs to distort the sound quality of repeats, and a little modulation can be added if desired. dBucket and dTape emulate the Brigadier and the El Capistan, respectively, to provide you with a more authentic vintage delay sound at the source.
Pros:
Although the TimeLine shines in concert settings, many musicians will also find it a highly expressive studio tool. Each delay machine may seem practically indefinitely adjustable to fit a musical setting and have deep functionality at the most immediately accessible levels of the unit.
Of course, it's not inexpensive to have all this processing power, but if this Strymon convinces you to get rid of every delay in your collection (save your bar-gig unit), it could be well worth the investment in the long run.
Cons:
Looper is brief and forgetful and is worthless without storage space. You can turn it on and off, and nothing will happen. As a short/no-memory app, Looper uses a lot of room on your device. When it comes to U2, the dual delay doesn't cut it; nobody can get the tone exactly right.
8.

Electro Harmonix Canyon Delay & Looper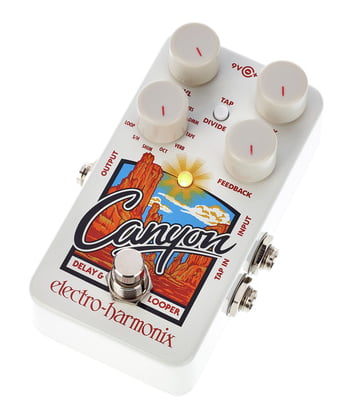 The Deluxe Memory Man from EHX is as much a part of the Edge's identity as his favorite beanie, and the company has a long history of producing high-quality delay pedals.
There's more to the EHX Canyon Delay/Looper than meets the eye. Twelve time-based effects are available, including an analog delay reminiscent of the Deluxe Memory Man, a reverb with many customization options, a 62-second looper, and more.
You can manage them by tapping the beat of the vehicle's internal clock. Like many other EHX pedals, the Canyon's four knobs allow for a wide range of sonic customization thanks to the pedal's internal effect selector, delay, and feedback controls. The EHX Canyon is an excellent choice if you require a lot of low-end power but don't have many places on your pedalboard.
Key Features:
Delay
The EHX Canyon, at its core, is a delay pedal with surprisingly extensive depth, given its compact size. The selector knob allows you to choose between eight distinct delay voices, such as modulated delay, tape-style delay, and even a Shimmer effect.
To tap out the tempo in fractions of a beat, you'll need to use the Tap/Divide button to set the number of subdivisions. In addition, the modulation of the repeating signal, the tape's age, and other advanced editing characteristics are all altered when the button is held down.
Looper
The Canyon pedal's built-in looping effect is powerful enough for rehearsal, songwriting, and live performance. To create, edit, and delete loops, you need only bring up the loop function and use the footswitch. In addition, the maximum loop time is 60 seconds, which is exceptionally long for an effects pedal with many uses.
Reverb
Electro-effects Harmonix's pedal lineup didn't end with delay and a looper. Additionally, a great-sounding reverb setting was stuffed into the device. This mix of dry and wet sounds, enhanced by the unit's built-in delay, is perfect for worship guitarists and other ambient-leaning musicians.
Adding a short delay with low repeats immediately evokes the slap-back tones popular in the 1950s. Forget about the sights and sounds; the Canyon's echo alone is worth the trip.
Modes
Mod and tape are two of the most fundamental modes but can produce excellent results when left alone. Each became a far more flexible version of itself when you used the tap divide button to reveal the secondary controls. Because of the additional controls, you can replicate the original pedal's warm modulation and darker repeats, making the DMM (Deluxe Memory Man) emulation sound fantastic.
Character & Sound:
The shimmer setting could produce huge and impressive sounds using digital reproductions of two Memory Men, a POG 2, and a Soul Preacher compressor. Because of the multidimensional nature of the volume increases, the pedal only had mono action. Song and solo builders will like the sample-and-hold feature, while the reverse and octave delays provide equally spacey textures.
Pros:
Wonderfully ethereal modulated washes, mild to the deep ambiance, and traditional delay textures are all available on the EHX Canyon Delay & Looper pedal. But it also has robust secondary features and a user-friendly pedal. Not only that, but it accomplishes all this while fitting comfortably into a case of the standard size for an EHX Nano. Count this as another triumph for Electro-delay Harmonix's technology.
Cons:
It doesn't mesh well with certain playing styles. First, some may find it to be excessive. Second, it muddled the signal with other pedals, even at the end of the chain where the delay was supposed to be.
9. Empress Effects Echosystem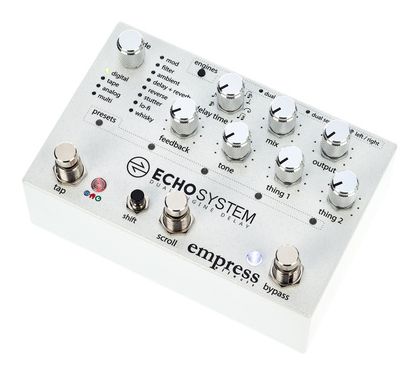 The Echosystem is a delay and echo pedal that shares a similar shape with the Empress reverb that came out in 2016. 
This pedal features 42 distinct delay algorithms, allowing you to achieve new high-fidelity renditions of classic effects, including digital, tape, analog, reverb, and reverse delay (especially when run in stereo). But its strengths lie in the use of various cutting-edge algorithms, from the washed-out and ambient to the modulated and even the experimental.
As if that weren't enough, the Empress Echosystem also boasts a potent Dual Engine that enables you to stack any two delays in parallel, series, or left/right stereo for twice the trouble. As a result, modern musicians have access to an infinite variety of beautifully realized delay possibilities. Moreover, no matter how wild your preferences grow, the Empress stores up to 35 presets, so you can always get back to normal with a single click.
Key Features:
Algorithms
With many customization options hidden away, the Empress Echosystem Delay interface is as streamlined as it is powerful. There are 42 algorithms on board; the 12 visible on the control panel provide a basic palette of conventional and experimental delays, and several have different voicings. Test out some spooky reverse, pulsating modulation, mathematical digital delay, warm dark analog, and saturated tape.
A variety of sub-options allow for creative elaboration on the primary tones, such as the ability to transform the digital mode into a stereo ping-pong effect with deep spatial movement across speakers, select from six adaptable ambient modes to find the ideal wash, or scramble the lo-fi mode into "Digital Death" for rich lo-fi trails that sound like you took them straight from an 8-bit video game.
Dual Engine
Thanks to the Dual Engine feature of the Empress Echosystem Delay, you may combine any two delay algorithms for stunning effects and intriguing nuance. When using Dual Engine, the direction of each delay is under your command. You can achieve unique and immersive interactions by selecting a parallel, series, or stereo left/right routing.
Presets
If your adjustable delay pedal doesn't allow you to save and recall your preferred settings, it's not very useful. Empress Echosystem's delay may save up to 35 different settings, all of which can be accessed with a single click. Using the middle scroll footswitch, you may cycle through five-preset groups; the LED lights will change color when you've moved to a new group, so you'll always know where you are. You may quickly access your desired setting by pressing the left footswitch, and then you can start the race.
It's easy to pick up and use but doesn't rely on any screens that could break down the line. However, the pedal's advanced options allow for further customization if you want to experiment with alternative preset arrangements.
Connectivity
Individually, the Empress Echosystem is top-notch, but the variety of external controls has wowed the pedal experts. Connecting an expression pedal allows for real-time swell effects, remote tempo control via tap tempo footswitch, MIDI control, external audio control, and even voltage control for major tone modifications on the fly.
The three-mode cabinet simulator helps track live performances and dry runs. Standard instrument cable inputs are used for all connections. Finally, the Empress Echosystem Delay is powered by robust firmware that receives regular updates featuring new algorithms and effects.
The Empress Echosystem's built-in SD card slot makes updating the most recent firmware a breeze; download the relevant files and insert them into the slot. You may enjoy the newest features by updating without having to fork up a whole new machine.
Character & Sound:
While learning to use the Echosystem may take some time, the excellent variety of sounds it can produce more than makes up for the learning curve. Filtered and purposefully Lo-Fi sounds sit among beautiful digital delays and precise simulations of tape and BBD devices.
Then there are the wackier ones, such as the pitched delays of Whisky mode and the chopped and stuttering repeats of the other modes. The four ambient modes listed, especially those with reverb and delay combined, may appeal to people seeking expansive, interstellar tones. The only thing lacking is a looper, but that's allegedly coming with a firmware update.
When using dual-mode operation, you can stack and synchronize the two modes for intricate rhythmic repeats, expansive ambient soundscapes, or some truly bizarre things if that's your bag. The sound possibilities are immense when using two separate delays in tandem.
Pros:
The list of possible delays is much longer than you might anticipate. Abusing, tinkering with, and delaying your signal can be done in many creative ways. If you want a pedal that does it all, and more, you should shell out the extra cash for this one. The product's high-quality construction and user guide earn it top marks.
Cons:
Power on/off causes extremely loud pops, potentially damaging the speaker if you mistakenly lose power or toggle it while the amp is still connected. Sometimes the soft breaker may blow after a windup oscillation sound that lasts only a fraction of a second and gets extremely loud and ultrasonic in a few different patterns.
10. Digitech DOD Rubberneck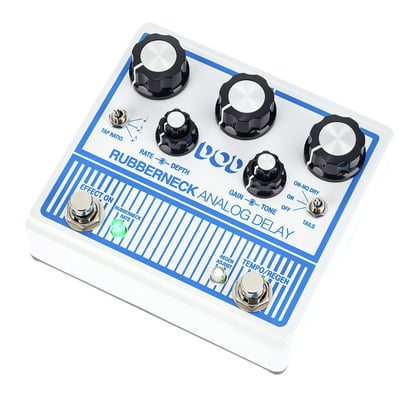 The DOD Rubberneck is a highly flexible analog delay that can go as far out there as you like.
In recent years, the DOD Rubberneck analog delay has gained acclaim for its ability to create a wide range of sounds, from brief rhythmic spacey delays and ambiance to full-on. High praise for its sound, tone quality, and more great customization options than other delays in this price range.
Key Features:
Controls
The Rubber Neck Delay is distinguished by three sizable knobs that allow you to adjust the effect's duration, number of repeats, and volume.
These are highly sensitive yet simple to adjust to the ideal levels during play; for example, we may speed up the oscillations by foot by holding down the tap tempo footswitch, also labeled as "Regen," which allows us to change the tempo of the repeats. With a little trim pot adjacent to the footswitch, we may adjust the Regen feature's activation speed.
Modulation
The modulation control is a dual knob that adjusts the modulation rate and depth, allowing some genuinely unique analog synth-esque sounds to be created by going to extremes with the depth knob.
Gain
The second dual-knob control allows you to adjust the amount of gain and the tone of the delay repeats. When used with the regen feature, you can create some otherworldly tones. The quarter note, dotted eighth note, and straight eighth note subdivisions of the tap tempo are all controlled via the additional toggle switches on either side of the pedal.
Housing
You can use the Digitech FS3X footswitch in conjunction with the pedal's Input and Output to give you even more control over the delay's settings and parameters. Finally, the DOD Rubberneck can be powered by 9VDC, making it compatible with almost any pedal board.
Character & Sound:
One may assume that a pedal called "Rubberneck," because it produces a pitch-sweeping effect, is a simple device capable of merely that one crazy effect. The Rubberneck can produce extreme and nuanced delay effects with equal aplomb. It has a warmth and natural decay that you can only achieve with an analog delay. In contrast, the analog delay's sound quality is excellent.
Pros:
Good sounds and functions are packed into a compact, intuitive pedal with nearly limitless configuration possibilities. Despite this, it is still incredibly user-friendly and intuitive, making it an ideal addition to the pedalboard of any working musician.
Cons:
It has been reported that the pedal has severe functional and design issues. First, they synchronized the tap tempo with a metronome and watched the tap tempo indicator light fluctuate in frequency over time. Some of them do a lot of clipping.
11. Boss DD-8 Digital Delay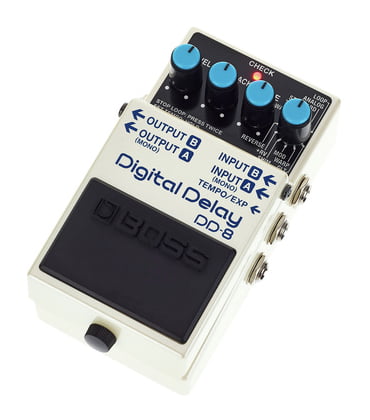 The DD3 from Boss was initially released in 1986 and has stayed in production ever since, and in 2020, they upgraded it with the daring DD8.
Since its initial release of the DM-1 Delay Machine in 1978, BOSS pedals have been universally regarded as among the best in the industry. Their most potent digital delay to date is the BOSS DD-8. Up to ten seconds of delay time and eleven modes, from crystal-clear repeats to glitchy and modulated echoes, are packed into this little delay stompbox.
The BOSS DD-8's 40-second looper makes it an excellent tool for rehearsals, sound checks, and impromptu backing tracks. And with tap tempo, you can easily time your repetitions to music. Of course, you can ignore the effect, but you can still use the delay trails thanks to the carryover switch.
Key Features:
Delays
The BOSS DD-8 Digital Delay is there for you whether you want to add crystal-clear repeats to your leads or soak your playing in vintage-tinged ambient textures. Special effects like shimmer, reverse delays, and modulated echoes are available.
If you wish to merge the best digital accuracy and analog coziness, the BOSS DD-8's Warm setting is perfect. Use the Warp mode to conjure up moving ambient textures, and then switch to the GLT mode to venture into glitchy, intergalactic regions.
Stereo Mode
The BOSS DD-8 Digital Delay has a MASSIVE sound due to its full stereo I/O and three different output modes. Create a Steve Vai-like effect instantly by using the independent option to send a slight delay to Output A and a lengthy delay to A to Output B. You can adjust the panning mode to create a ping-pong delay effect. The expansive stereo setting will add a sense of depth to your performance.
The pedal's innovative I/O capabilities open up a world of possibilities for its use. The independent dry and effect outputs are necessary for wet/dry setups and support a wide variety of mono and stereo connections. You can disable the dry signal for pure delay blending in your amp's parallel effects loop.
Controls
With its many useful new functions, the BOSS DD-8 digital delay allows for a wide range of expressions. With tap tempo, you can match your delay's pace with the push of a pedal. The DD-8's Warp and GLT settings are also accessible via a foot pedal switch. And suppose you want to take your musical expression to the next level.
In that case, you can always add a couple of extra footswitches, such as tap tempo on demand, more precise looper control, and a soaring, echo-laden Twist effect. An expression pedal can be used to continuously adjust the volume, the feedback, the delay time, or all three at once. The 40-second looper with overdub features is great for rehearsal, soundchecks, and improvising live accompaniment.
Wrap and Twist Mode
To create what Boss calls "soaring" echo sounds by creating a sense of rotation, the new Twist feature is available in all delay modes and is activated by an external footswitch. It creates a peculiar spiraling effect that you probably wouldn't use too often but could be fun to utilize once or twice in an evening to catch the audience off guard.
For as long as you have the footswitch depressed, everything you play will be recycled into Warp mode, allowing you to create textures with incredible depth and complexity. In addition, unlike a traditional freeze effect, you may use the buffer's contents as a pad and play on top without adding to the infinitely repeating layer.
Character & Sound:
The pedal operates with the quiet precision and reliability you'd expect from a Boss product. Reverse mode lets you dial in a wet-only sound for those live, backward guitar solos by maxing out the mix settings. To create a smooth, pseudo-string pad effect, the Shimmer effect, which is tuned up by one octave, fades in shortly after the standard delay repeats.
The standard delay setting usually is bright and precise, while the Warm, Tape and Analogue settings provide some depth and organic texture to the sound.
Pros:
The delay modes are very customizable and provide granular control. In addition to its sturdy build, the pedal's Wrap and Twist Mode appear highly intricate and provide high-quality effects.
Cons:
If you had to unplug the pedal, hold down the foot switch for three seconds, and then plug it back in before you could utilize the subdivision tap tempo, this would be highly inconvenient during performances.
12. Source Audio One Series Nemesis Delay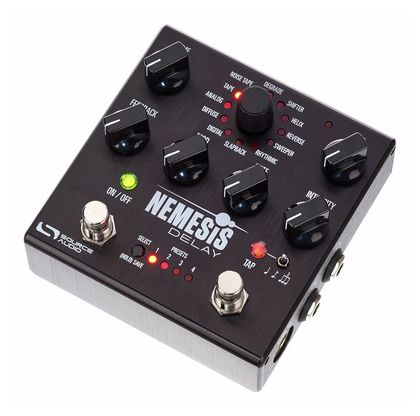 The Nemesis Delay, the newest addition to Source Audio's One-series pedals, represents a significant departure from previous delay processing.
Get lost in the ambiance of analog or tape delays from the past, or go bonkers with pitch shifting, reverse, filter modulation, and rhythmic, multi-tapped delays from the present. With the 24 individual effect engines built into Source Audio's Nemesis Delay, you may get any desired sound.
There are 128 presets available for you to save your favorite sounds. Tap tempo, hold, expression input, and external switching all help make the Nemesis Delay a fully-fledged performance tool. The Nemesis Delay's Neuro Mobile App allows in-depth MIDI editing and broad control.
Key Features:
Delays
If you have the Nemesis Delay, you can create any delay effect imaginably. The unique flutter, warmth, and color that make antique tape and bucket brigade delays so coveted have been meticulously preserved by Source Audio.
In addition, you gain access to an extensive library of high-quality, specialized delay effects that are sure to impress and delight. The Nemesis Delay can produce various effects, from traditional tape echoes to chaotic multi-tap reverse patterns and alien pitch shifting.
Neuro App Compatible
The ability to save and share presets within the Neuro app is one of Nemesis' most appealing features. Perhaps the "social" aspect of this instrument makes it so appealing. However, the idea of a musical collaborator being able to upload specific settings (particularly those produced in the Neuro sound editor) is exciting, especially in the context of the recording.
The Neuro editor can be downloaded quickly and is simple, even on the iPhone's screen. Included are many unique delay engines such as dub, lo-fi vintage, oil can, and warped vinyl, as well as hundreds of tweakable parameters for things like "wow modulation noise," pan settings, and more. It's a potent augmentation to a delay that stands on its own.
Modulations
One of the most straightforward ways to alter a traditional delay sound is by utilizing the modulation settings. Modulations feel like a natural and organic element of the delay tone when used at low levels. For example, within the analog and digital engines, they sound like a soft chorus, which is a good match for the mellow grooves of the '70s and '80s that are typically associated with those sorts of echo.
By modulating the light, the tape modes convincingly mimic the pitch modulation you would have otherwise produced mechanically. But when the modulation knobs are high enough, the delay voices dramatically change. The fans of distorted, futuristic textures will be overjoyed.
Housing
This pedal is housed in a sturdy aluminum enclosure and features stereo inputs and outputs, allowing it to be chained with other pedals in the same series. You can use input 2 to connect a mobile device using the provided TRS eighth-inch to quarter-inch cable.
This input can also be used to daisy-chain data from another Neuro-compatible pedal, provided that a TRS cable is used. The audio passes through the jack's tip so that stereo use is unaffected.
The Nemesis constantly checks its input and output connections, automatically switching to mono or stereo mode as appropriate. However, the routing can be altered from the factory settings using the companion app. You can even use I/O 2 as a feedback loop if you want to.
Character & Sound:
The delay engines provide a wide variety of tones that should satisfy most musical requirements, from faithful recreations of traditional analog delays to cutting-edge digital delays with unique effects like pitch shifting and filtering. There are two types of tape delay and a BBD analogue-delay simulation. Unlike the more polished Tape engine, Noise Tape emphasizes the gritty tones of worn-out tape.
Helix combines reverse delay with an octaver for some ethereal pitch-shifted ambiance drifting like a mist above and around your playing. Diffuse is a delay that integrates well with guitar sound by spreading and softening the impact of the repeated signal.
Also, there is much room for in-game effects customization in real-time. Any number of knobs can be assigned to an expression pedal, and their movement and direction can be predetermined in the settings.
Pros:
At its core, Nemesis is both approachable and potent. Source Audio should be commended for doing such a great job. The main appeal of Nemesis, however, is in the simplicity with which a player can use its more advanced features and unconventional sounds.
In the hands of a top-tier producer or engineer in a state-of-the-art studio, Nemesis can perform precise sound-sculpting duties, or it can shine, serving accurate slapback noises at the grimiest, beer-soaked punkabilly gig.
Cons:
It will not even indicate when you are moving between different presets. The Nemesis's knobs cannot be adjusted while watching the action on your phone. You can view only content created on the phone and sent to Nemesis. Certainly not the other way around.
While the PC has one-way functionality, it also works in reverse. You won't miss the PC version once you've used it on your phone. Instead of dealing with the hassle and restrictions, you can join via your computer.
Bonus:
Keeley Dark Side V2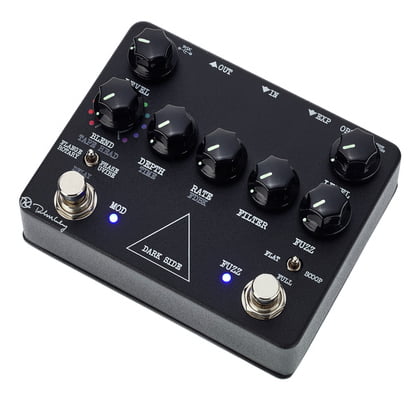 The Keeley Dark Side pedal is ideal for a Floyd-like psychedelic tone, combining stinging fuzz, delay, and colorful modulation effects.
The circuit for the fuzz is based on one from 1977; however, it has been improved to last longer and sound better. Modulation features include Flanger, Rotary Speaker, U-Vibe, and Phaser, in addition to the multi-head tape delay effect's 12 rhythmic delay patterns. Also, you can rearrange the effects on the fly using an Order toggle. Finally, add an expression pedal to your setup for even more extreme effects (not included).
Key Features:
Controls
The pedal's face is covered with knobs, yet each is labeled correctly. In addition to the two primary footswitches, there are several other switches. It's not the most accessible pedal to use, especially in low light, but it's easy enough to figure out how to do what you need to do once you get the hang of it.
Keeping with Keeley's goal of providing the user with all the tools necessary to craft a tone, the user may navigate many controls. As a result, this method may be well received by some audiences while others may not. The performance, though, is impossible to overlook.
Housing
Dark Side Workstation is more crowded than competing multi-effect pedals on the market, at least those of comparable size and shape. Design-wise, it's as basic as it gets: just a black box with a few dials and nothing else. In any case, Keeley's visual flair is different from what they're known for. This effect pedal offers a highly compressed fuzz that sounds surprisingly vintage.
The complex delay follows the modulation cluster, which features a phaser/flanger combination. You can use Dark Side to simulate a rotary speaker effect or a multi-head tape delay, two of the most unusual vintage effects. None of these characteristics is the typical fare you'd find in a building.
Phaser
David Gilmour utilized a phaser similar to the MXR Phase 90 while the band was on the road and in the studio in the mid-1970s when Dark Side was released. As a result, the Keeley Dark Side Workstation Analog Pedal features an unparalleled phaser that can help you get those sounds, and there may not be any other phasers that come close.
Fuzz
This pedal gives you that warm, saturated tone characteristic of classic rock from the '70s and '80s. That's the sound you can get with this analog pedal, and you probably want to get it. Two of the effects, the multi-head tape delay, and the rotary speaker effect, are unparalleled in their ability to recreate the sound of classic rock from the 1970s.
Character & Sound:
The fuzz is the most potent of the effects in terms of sheer performance. Some people think it's excellent, saying it's precisely how a fuzz should sound: clean at the center with a jumbled exterior. Since this pedal provides a wide range of tonal manipulation, you may render even a direct effect like fuzz in various ways.
When you look into modulation and delay, you see a relatively comprehensive set of unusual abilities in modern technology. You could sit and experiment with different parameters for days before hearing any recurring tone forms. Modulation and delay are stunning, even from a strictly conservative vantage point.
Pros:
A Keeley pedal is a safe bet whether you're looking for a versatile boutique pedal at a fair price or a pedal that produces a specific tone. Their Dark Side Workstation offers a singular array of effects and flavors. Yes, there is a cost, but the quality of your experience justifies it.
Cons:

When using fuzz, modulation is amplified to the point that it is unplayable; thus, you're stuck cranking down the volume as far as possible to prevent the distracting jet wash effect. And if you want to use more than two functions simultaneously, you'll need to acquire more than one "dark side." The device may be improved so that more than two functions can be used simultaneously.
Conclusion
The spectrum of possible Delay effects is broad with these choices. Modern options such as the tc electronic Flashback 2 Delay pedal's TonePrint technology, which offers a wide variety of presets that you can control from your phone, and the Source Audio One Series Nemesis Delay's Neuro App, which offers the possibility to control the pedal from your phone, are to the benefit of users. These are good inventions that could work better due to many unmet potentials. There are a lot of issues, and the pedal interface controls should be more refined. Thus they don't seem to benefit users and tend to confuse them.
The Boss DD-8 Digital Delay is, without a doubt, a very involved pedal. Two of its best features are good delay tones and a looper that can record up to 40 seconds. The amount of freedom this pedal grant is enormous, and the "Reverse Mode" is a big hit with listeners. The Strymon Timeline, however, is the undisputed star of this list, far outshining even the most optimistic predictions. The pedal's 30-second looper, Filter mode, and Grit mode are great examples of the pedal's complexity, as are the pedal's 200 premade presets, which are helpful if you're not very interested in generating tones with the pedal but still require a solid sound.
We hope this article has shed some light on the fascinating world of delay and the incredible technological progress that allows us to create ever more "retro" yet great devices.
Death metal enthusiast here. I am a Romanian musician and producer with over 13 years of experience in the music industry. I've experienced all types of Metal up until now, playing Melodic Death Metal, Brutal Death Metal, and Black Metal with different bands. Learning by doing is my base principle, which is why I've been drawn to sound design from an early age. Read more…