If guitar modification is your thing, you'll be thrilled to know that today we're talking about the "Top 12 Guitar Wiring Kits 2023 On Any Budget." So if you've got an ongoing guitar customization project, you'll want to look at some of these useful wiring kits we're discussing in this post.

While many guitar players focus on aesthetics and carry out several modifications to the exterior of their instruments, a lot of customization can be done under the hood to make the guitar unique to your playing style and personality. Our list today talks about wiring kits from world-renowned brands like ToneShaper, Mojo Tone, EMG, and a few lesser-known names like Art of the Tone, Micovay, VBestlife, QFauto, 2T1V, and Saphue.
These wiring kits come in different shapes and sizes. Some kits contain separate components, so the user must solder them together to install them onto the guitar. Other kits are pre-wired, which means that all the pots and selector switches are connected, so you'll just have to patch the pickups with the setup, and you'll be all set. These setups are commonly known as " pre-wired harnesses."
The most convenient of these kits are "solderless harness" kits, which, as the name implies, don't need any form of soldering, and all the connections can be established easily through button mechanisms the connection terminals or through easy-to-install quick wire connections.
So now let's dive in to get an overview of what each kit has to offer.
Top 12 Guitar Wiring Kits 2023 
1.

ToneShaper "Strat" Wiring Kit
If you have an older Fender Stratocaster that you want to make more modern sounding, the ToneShaper kit can do wonders for you.
If you read about the history of the older Strat models from the 1950s, you'll be surprised to know that the internal wiring was done in such a way that there was a master volume and two tone controls. Well, no surprises there, but bear with me. The first tone knob managed the neck pickup, while the second controlled the middle pickup.
Moreover, these models had a 3-way selector switch on them rather than the 5-way variation. But then, in the 1980s, someone realized that maybe the bridge pickup also needed some tone adjustment. So, the second tone knob was paired with the bridge pickup, and a .022µF capacitor was added to provide a gentle tone change rather than an abrupt one.
Key Features:
Components
This particular wiring kit recreates the same wiring found in the more modern post-80s Fender Strats. In the package, you'll find an illustration of all the wiring so you can follow along and get everything done right. On the components side of things, you get 3 250k CTS pots, a five-way selector switch, a Switchcraft quarter-inch jack, a single coil treble bleed kit, a ground lug and screw, and plenty of wiring to make all the necessary connections.
The Process
The process is simple if you follow the wiring diagram to the letter. First and foremost, you'll need to take the strings off and unscrew the pickguard. Next, you might as well cut all the wiring that gets in the way and free the pickguard from the guitar body so you can work on it without stuff getting in the way. The selector switch and pots come off next, so they can be replaced with the new ones from the wiring kit. Finally, it's time to get soldering. All you need to do is make clean soldering connections and follow the instructions from Tone Shaper, and you'll be fine. The treble bleed will go on next to ensure that you get some treble still while the controls are turned down. Once you screw everything back and add the new strings, you will have transformed the sound and controls of your guitar to a much more modern feel. 
Pros:
The wiring kit is designed in such a way that it'll enhance the playing and tonal characteristics of your guitar to make it more modern, like the newer Strat models that were released after the 80s. The kit gives you more control of your bridge pickup, and the treble bleed can have many interesting applications tonally.
Cons: 
You get a ton of different parts and a lot of wiring that goes with it. If you're a soldering expert, you'll get through the process with no problem. But if you're more of a soldering noob, you might need help because the soldering aspect of it is unavoidable. However, stick around, and you'll see some easy-to-install solderless kits on our list today which may suit you more.
2. Mojotone "Strat" Solderless Harness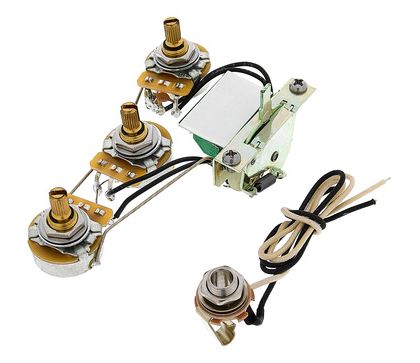 The Solderless Harness by Mojo Tone is truly revolutionary.
Gone are the days when you would take your guitar to a trained professional for every little modification. Instead, it's products like these that make guitar customization fun and extremely manageable. And how does the Mojo Tone achieve all that? Well, by providing a solderless setup.
Are the stock electronics not good enough for you? Are the factory-fitted pickups not delivering that perfect Strat tone you were promised when you purchased the instrument? Well, all you need to do is grab your preferred pickups from the local store, combine them with this solderless setup from Mojo Tone, and you'll be ready to rock in less than an hour. That's how simple it is.
Key Features:
Mojotone Tech Talk - Pre-Wired Wiring Harness Q&A with David Shepherd
Anatomy
The setup includes 3 CTS 250k vintage taper pots for the volume and tone controls. You'll also find a 5-way CRL selector switch integrated into the system. To top it off, a pre-wired mono output jack is thrown into the mix, and you get 2 Vitamin T oil-filled capacitors, the best from Mojo Tone.
Purpose
Why would you need this particular product? Well, it simplifies the customization process. You'll need to strip the ends of the pickup wires and thread them through the connector. Everything is labeled, so you know where the ground wiring goes. You'll also get an easy-to-follow reference diagram that explains all the wiring and what goes where.
Pros:
The setup is such that everything is put together nicely for ease of use. You need to do any soldering, and all the wiring is done. You can simply swap out your guitar's electronics, pop in the solderless harness, and connect it to any set of pickups with ease.
Cons:
Depending on what you prefer, the strength of the solderless harness can also be its weakness. Since most of the work, including the soldering and the wiring, is pretty much covered, if you're someone who likes to put things together yourself, most of the work is done. Other kits in the market give you even more freedom in assembly.
3. EMG Active Pickups Solderless Kit

So, if you want to upgrade your axe by adding some EMGs, this is the kit to do it.
The type of wires in the kit makes connections ever so easily, so there's no need to take that soldering gun out of its holster. EMG offers a variety of wiring kits on its website for different purposes. Depending on the pickup configuration on your guitar, and the volume/tone controls, you can choose the package that best suits you.
You can choose between a selection of push/pull control pots, active and passive pickups, and kits with enough controls to accommodate up to three pickups. So, if you're in the mood to upgrade your favorite instrument, the sky is the limit. And you don't need a fancy electronics diploma to manage the wiring. All you're required to do is put the pieces of the puzzle together.
Key Features:
Solderless wiring kit installation with Monique on EMGtv
Advantages
By upgrading to the solderless system, your guitar will perform and sound much better than the stock system on board. Installing the new system will also open doors for customization. You'll be able to upgrade the instrument by adding any of EMG's active accessories, like active boost or active tone controls. 
Components
First, since the kit is designed for active pickups, you'll find a battery wire. Next, you'll find two volume and two tone pots. The most important part of the kit is the bus which acts as a hub between all the connections. The kit also includes all the quick-connect wires you need to establish connections between the different parts.
General Installation
There's no need to take your guitar to spend extra money to get the installation done. You'll need a Philips head screwdriver, wire cutters, wire strippers, and a hex wrench. The first step involves removing everything from the control cavity while leaving the pickup selector untouched. As the kit doesn't include a selector, you'll be using the stock version, which will work fine with the new components. The relevant pickup selector wires will connect to the different parts of the bus aptly labeled "ground," "neck," "bridge," and "output" for ease of use. Next, you'll need to Velcro the bus to the base of the control cavity, so it stays in place.
Pickups Installation
EMG picks are the easiest pickups to install. You'll find 3 pins below each, which can be connected to the quick-connect wires. The other ends of the pickup wires connect to the volume pots, while the volume pots are wired to the bus. Next, a cable goes between the master tone and the output jack. Finally, the master tone connects to the bus section marked "out." The only thing left now is to connect the battery cable to the power section of the bus, and you're all set.
Pros:
The defining characteristic of solderless EMG kits is their ease of use. It works well without the stock selector switch, so there'll be no added expense to replace it. In addition, the quick connect wires save time and make things much easier than the tedious soldering process, which is not everyone's cup of tea.
Cons: 
The kit is a bit on the expensive side. Also, some pots lack attention to detail, as some users have experienced noise from the volume pots during operation. Furthermore, the length of the wires is just enough without much room for error, so you might find yourself looking for more wiring if you mess up.
4.

ToneShaper Fender "Tele" Wiring Kit
The Telecaster owners would be happy to know that ToneShaper has also released a wiring kit for their instruments.
The Tele wiring kit has the same goal as the Strart kit discussed earlier. The aim is to give your instrument a more modern sound. As you probably know, the classic Tele started off quite differently, and it would take many years for it to evolve and change its approach to keep up with the demands of the modern musician.
The first 17 years of the instrument saw little change in its wiring, components, and tone. The belief was, "if it isn't broken, don't fix it." However, the wiring you see in today's Telecasters dates back to 1967, when Fender introduced the more modern version of the Telecaster. So if you want to upgrade your made-in-Mexico or Squier Tele, this kit could be just what you need.
Key Features:
Parts
The components of the Telecaster kit from ToneShaper are similar to those found in the Strat version, with minor changes. The kit includes 2 CTS 250k pots, one for volume and one for tone. The ground lug and screw are both parts of the kit. You'll also find the Switchcraft mono jack for the quarter-inch guitar cable. In addition, the treble bleed and three-way selector switch are also part of the kit, along with plenty of wiring to work with.
The process
The first few steps involved in the upgrade are similar, regardless of which Telecaster variant you're working with. However, unlike a Strat, where the whole pickguard needs to be pulled apart, you'll need to unscrew the electronics plate for starters. Next, the knobs and selector blade should be swapped with the new ones, and you can cut all the stock wiring to free the unit from the body. Then the soldering work will begin so that you can connect all the necessary wires to establish connections between the different components, including the pickups, knobs, selector switches, the ground lug, and the treble bleed system. Again, the wiring is made simple by following the ToneShaper wire diagram.
Pros:
If you have a little experience with soldering cables to connectors, the helpful guide diagrams will have you get through all the steps instantly. All the necessary components are nicely combined into one single kit for convenience. Furthermore, the kit includes vintage and modern wiring, which gives you more options about which direction you want to go. 
Cons: 
All the components available in the kit can be purchased separately at a slightly lower cost. Furthermore, the pots seem a little scratchy, as some users have had to swap out the controls with some budget alternatives to fix the noise and the gritty feel. Also, if you're jittery about soldering, a solderless harness design could prove more convenient.
5. The Art Of The Tone "Strat" Wiring Kit
Here's the Art of the Tone's take on the wiring kit for Strat-style guitars having an SSS configuration.
Many musicians consider their instruments to be an extension of their personalities. So at a certain point, it's great fun to alter your axe's look to make it appear more you. Another great aspect of guitar customization is modifying the circuitry under the hood to get a sound that is unique to you.
The great thing about the exciting world of guitar modifications is that plenty of brands in the market have their own versions of wiring kits for different instruments. This Strat kit from the Art of Tone has all the components and wiring you need and saves you the trouble of putting together a kit on your own.
Key Features:
The art of tone wiring kit from eBay
Parts
As Strat wiring kits go, the components are more or less similar. This particular kit includes CTS 250k pots from the 450G series. These are audio taper pots with a tolerance of 10%. The switch included in the kit has a 5-way blade to select the neck, middle, and bridge pickup separately and in combination. The kit also features a .047uF/400v capacitor 4 feet of wiring (2 feet white & 2 feet black), giving you plenty of cushion to work with.
Purpose
With basic knowledge of what goes where and tools you commonly find around the house, you can install the kit easily and get more from your instruments. The kit is ideally suited for any guitar that has three single-coil pickups. All you'll need to do as a preliminary step is to measure the control cavities and the height of the switches and pots to ensure that they fit. Then with the soldering pen ready to go and the helpful documentation that comes with the kit, it'll take under an hour for the customization process to be completed.
Pros:
The diagram the kit comes with is very user-friendly and makes everything easy to put together like a puzzle. The selector switch also comes with a screw-on tip which most kits lack. Nevertheless, the kit does what it is supposed to and will help revive your older instruments are improve your lower-end start to make it sound clean and warm.
Cons: 
The company seems to have cut corners on major components to keep the price down. The pots are made cheaply and are quite flimsy to the point that they get bent in some cases when knobs are fitted on top. There are no treble bleed components in the kit, so you'll have to purchase it separately if you want to add it to the upgrading process.
6.

EMG 1-2 Pickup Wiring Kit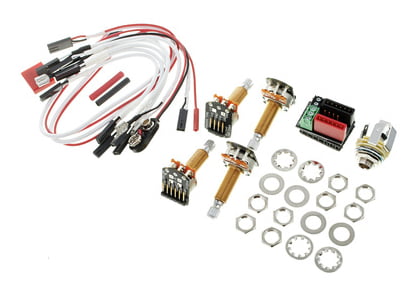 Here's another wiring kit from EMG, which is equally easy to put together but has slightly different specs.
Today's musicians have an undying thirst for constantly upgrading their instruments in a quest to get the optimum tonality from their guitars. Most metalheads can't wrap their heads around a guitar that doesn't have the infamous EMG pickups on board. This kit is specifically designed for such guitar players to make upgrading to EMGs extremely easy.
Today wiring kits come in different shapes. Some have most components patched up together and require minimum installation effort. Others are a bit more complicated as all the parts are separate, and some effort is required to put them together by soldering all the connections or by easy-connect cables that make the process a cinch.
Key Features:
What the kit includes
This kit is quite similar to the EMG wiring kit discussed earlier. The kit includes two volume and two tone pots. So, you have enough components to wire 2 EMGs, or you may upgrade just one of the pickups on your guitar. It all depends on the requirements. The main difference between the two EMG kits is the design of the pots. The shafts on the pots have a length of 19mm, which makes it ideal for guitars with a deeper control cavity. Apart from this change, all the other components are standard. You'll also see all the washers and nuts associated with the pots, 4 connection cables, 3 pickup cables, and an output jack. Lastly, since the package is designed for an active setup, you'll find a battery wire for the 9V battery.
Why buy it?
EMG pickups, while designed with a specific kind of tone and musician in mind, offer ease of use. Not only is it easy to put all the parts together thanks to the easily connected cables, but you'll also make way for future upgrades. In addition, each pickup has a 3-pin connection that connects with the quick-connect cables, so you don't need to be a soldering wiz. This also saves you from the hassle and spending a little extra to seek help from a trained professional. Besides taking the strings and removing the older parts, the process can be completed in under 20 minutes. A good tip before you screw everything back into place is to tap the pickups while the guitar is hooked up to an amp to see if there is a response.
Pros:
One of the biggest pros of EMG parts is how easily the assembly has been made, thanks to creative thinking and innovative engineering. All the connections to setup up the kit are solderless. It's just a matter of following the documentation, and even if you've never done this before, you'll be able to follow the process with relative ease.
Cons: 
Not exactly a con, but an important point to avoid resentment in the future is to carefully open up your guitar and assess which parts it can accommodate. Remember that the same kit also comes with short-shafted 10mm pots. So, if you do your homework before the purchase, you'll know how deep/shallow the control cavities are, which will be the decision easier.
7. Micovay Prewired "LP" Kit

The Micovay kit keeps things simple thanks to its prewired form and easy-to-follow guide diagram.
We've talked about kits that work with Fender Stratocasters and Telecasters. We've also looked at how easy upgrading your guitars with EMGs is. However, there's something very different. This particular kit is perfect for getting your hands on if your next customization process involves a Les Paul guitar. 
The manufacturers of this kit seem to know what they're doing, as most of the wiring is done. So if you own a Les Paul that develops problems over the years, like a faulty selector switch, you can easily swap out the defective parts with components from the kit. Better yet, you could do a complete overhaul and replace everything inside.
Key Features:
Parts
The kit is ideal for Les Paul-style guitars with two humbuckers and pairs of volume and control knobs. In the package, you find four 2t2V 500K control pots, a three-way selector switch with a white tip, and an output jack. The great thing about the wiring is that all the connections between the volume and tone pots, selector switch, and jack have already been connected. So all you need to do is to establish connections with the selector switch and ground them properly over the volume controls.
Process
The pots marked A500k are tone pots, while the ones labeled B500k control the volume. The assembly process is quite simple. First, you'll need to connect the hot wire of the pickup to the central lug on the volume pot. The ground wire of the pickup needs to be soldered onto the top of the potentiometer. To ensure that all the soldering joints are set properly, it's a good practice to add some solder on the back of the pots to resemble a drop of water. That way, the end of the wire will be nicely covered for a secure connection. The second step is the complete opposite of the first one. The ground wire from the other pickup is to be connected to the central lug of the volume pot, whereas the hot wire coming from the pickup needs to be soldered to the top of the potentiometer. You can also ground the bridge wire to any other ground point on the circuit.
Pros:
The wiring kit makes use of a harness that has been prewired to make things easy for the intermediate user. A little soldering is required to get all the connections from the pickups to the volume/tone pots set up, but generally, 80 percent of the work is done. So it won't take long to revive your favorite Les Paul.
Cons: 
Although useful to have, the kit is low quality at best. The pots seem scratchy, and the selector switch has a cheap feel. In addition, the material used in the construction is low end which is why the shafts on the pots may get de-shaped when knobs are pressed over them. Finally, one very basic oversight by the company is the lack of nuts and washers for the pots.
8. Mojo Tone Solderless "LP" Kit (Long Shaft)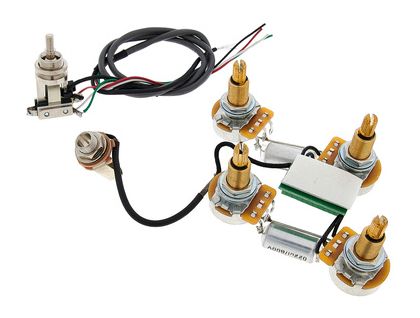 Mojo Tone does a great job with its wiring kits and offers solutions for Les Paul users.
Coming in a harness formation, all the essential components have already been put together, with the exception of the pickup connections. But have no fear. Even those are very easy to do, thanks to the usage of solderless connections along the entirety of the harness.
The wiring harness puts you in the driver's seat and makes you independent. You don't need to go back and forth to determine which parts would be required to upgrade the wiring in your instrument. Perhaps the only calculation needed is determining if the measurement of the long shafts on the pots is suitable for your Les Paul.
Key Features:
No More Soldering Your Les Paul? (Mojotone Solderless Kit Review)
Anatomy
The setup includes four pots, two for volume and two for tone. These are all CTS 500k vintage taper pots that are not too steep or too flat and reside in the sweet spot when tapering off the sound. The package also includes a three-way toggle switch and output jack from Switchcraft. Two Vitamin T oil-filled capacitors of the .022uf variety are attached between the pots. Finally, you can do no wrong if you follow the reference diagram that comes with the circuitry.
Process
Firstly, you'll need to remove the cover of the control cavity and place the harness inside as it is. The brains behind the whole operation are the green-colored terminal, which is clearly labeled, so there's no confusion about what goes where. The terminal offers completely solderless connections, so the hot and ground wires of your pickups can be stripped and inserted into the relevant section by pressing down on the terminal and releasing it to make it grip the wires. It's as simple as that. You'll need the right tools, a wiring diagram, and a little patience, and you'll have your Les Paul's new personality shine through in no time.
Pros:
It doesn't get any simpler than the Mojo Tone Solderless kit. All the main components are put together in a harness, so you'll just need to establish a connection from the pickups to the connection terminal, and you'll be all set. The kit is a time saver and eliminates any margin for error thanks to its user-friendly design and detailed instructions.
Cons: 
While the kit enhances convenience, it's not a perfect fit for every Les Paul. For example, some users may have to widen the holes on the guitar's body to let the pot shafts through. Also, strangely the pots are grounded together with a solid wire, so there's hardly any wiggle room if your Les Paul has a smaller cavity or requires things to be readjusted to size.
9. VBestlife

Guitar Wiring Harness
The VBestlife wiring harness does its job and doesn't cost too much.
The kit can be a good option if you own a low-end guitar that has faulty wiring and you want to replace its internal circuitry to revive it. Boasting a prewired harness-style design, this offering from Vbestlife has all the necessary components to get the job done, and considering that you pay less than 15 dollars for it, what's there to lose?
Although most of the installation is done, you will need a soldering iron to connect the pickups to the harness. The kit is designed to be ideal for usage with guitars with a pair of pickups on board.
Key Features:
Parts
The setup includes a three-way selector switch with a single volume and tone pot to accommodate a guitar with dual pickups. Both the controls have 250k pots with 18mm shafts, so you'll need to measure the insert points on the guitar you're looking to update to ensure that the pots will fit in properly. The setup includes 0.047uf capacitors.
Usage
The product is easy to get your hands on and doesn't cost too much. You could use the who set up as it is or decide to pull it apart and just use a few parts to replace the faults in your instruments. The pickup selector switch is quite sturdy and could be a good upgrade for that old guitar that got you started on your guitar-playing journey.
Pros:
The wiring kit hardly costs anything, so if you have a bunch of instruments that need wiring adjustments, you could surely try the VBestlife wiring harness. Compared to separate components, the harness design is always a welcome change as it minimizes the effort that goes into the installation process.
Cons: 
The downside of these generic guitar harnesses is their subpar construction. Priced at 13 dollars, you'll get what you paid for. If you're looking for a substantial upgrade in the wiring, there are plenty of much better options in the market that can get you there if you decide to pay a little extra for the improved quality.
10. QFauto "LP" Wiring Harness Kit
The QFauto is designed for Les Paul style guitars with two humbuckers.
The design differs slightly from other prewired setups. The kit is split into two halves rather than everything being connected, offering more flexibility during installation. In addition, the pots and pickup selectors can be combined easily, thanks to each section's user-friendly connectors.
The package can come in handy to fix faulty wiring or control components that have stopped performing as they should over extended use. The kit doesn't cost much, so it's good to have a few lying around in your guitar workshop if you need to upgrade or improvise.
Key Features:
Components
This kit includes two tone pots labeled A500k and a couple of B500k volume pots. The setup is ideal for a dual humbucker guitar as it also comes with a three-way selector switch with a black tip. The four pots are wired together, and all the relevant fires culminate into a three-pin male connector which connects to its female counterpart emanating from the three-way selector switch.
Assembly
The pots are already grounded and have all the necessary connections established. Each pot has three lugs. So, once you've removed the old wiring from the instrument, you can add the volume and tone pots cluster into the control chamber and the selector switch into the switch cavity. All that's left to do next is to connect the pickup hot and ground wires with the pots. Unfortunately, the setup doesn't include a solderless connection terminal, so you'll need to solder the wires to make the pickups operational.
Pros:
The wiring seems nicely organized, and the mini three-pin connectors are great for a solid connection between the control cluster and the selector switch. The setup also comes with a wiring diagram to help put it together quickly. The selector comes with a black tip which is a nice touch.
Cons: 
There's very little information about the specifications of this product on online websites that sell it. For starters, there is no way to tell the length of the potentiometer shafts. Secondly, the setup doesn't come with some basic components like an output jack. Also, due to poor quality control, you may end up getting the wrong-sized washers and nuts.
11.

2T1V " Strat" Wiring Harness Kit
This Strat kit works with three single coils or an SSH configuration.
If you're one of those fanatics with a bunch of guitar kits in your workshop and like to build your guitars from the bottom up, this wiring kit could be a good addition to your next project. Easy on the wallet, the 2T1V kit will quickly bring your pickups to life thanks to its simple design and quick installation.
There are several options in these DIY guitar wiring kits, but something like the 2T1V is good to experiment with if you're new to the craft and want some hands-on experience with a lower-end guitar before you move on to something more substantial and expensive.
Key Features:
Components
The kit includes a single B500k unit for volume adjustment and two A500k potentiometers for the tone controls. The pickup selector switch, tipped with a black cap, comes in a rugged chassis with what appears to be 8 connections lugs for hot wires and ground connections. Also included are a couple of capacitors and an output jack for the quarter-inch guitar cable.
Wiring
All the components in the kit come wired together, so there's little left to do. The potentiometers are grounded and connected to the lugs on the selector switch. The switch acts as the main hub and has plenty of connection points for the pickup, ground, and hot wires. The setup is made for passive pickups, so the kit has no battery wire.
Pros:
For the price, the 2T1V kit can be a good purchase. The components are all fitted together with wires, so apart from the soldering of the pickup connections to the selector switch, most of the job is already done. As a result, the kit works well as a quick and budget-friendly upgrade.
Cons: 
The quality of the parts could be better. For example, the selector switch is a bit buggy and may not work on some positions. The pots also tend to be a bit scratchy. Furthermore, the wirework is a bit shoddy, and some of the connections may become loose if you're not careful. 
12. SAPHUE Dual "HB" Wiring Harness
The SAPHUE kit is a decent option if you've got a Les Paul style guitar.
If you have an Epiphone Les Paul Special II or a Les Paul VE, you'll notice that both these budget models come with humbuckers and tone and volume control. Additionally, these guitars offer a three-way selector switch, and since both models are so affordable, there is much room for improvement.
Something like the SAPHUE kit could be ideal for bringing a positive change in such instruments. And what's great is that since this is a harness-style kit, very little needs to be done. The setup is inexpensive and will surely add value to beginner-level guitars that have great potential after a little upgrade.
Key Features:
The process
The installation is pretty similar to the other harness kits. You'll need a soldering iron for pickup connections only. The pots are all grounded and wired as they should be. The single volume and single tone knob are ready to go, and the output jack is wired right into the harness.
Parts
The 500k pots are great for humbucking pickups. Both potentiometers have three labeled lugs, so you know what wiring goes where. The three-way selector is great for selecting both pickups individually and combined. Finally, when installed on the guitar's body, you get all the necessary lugs and washers to hold the pots in place.
Pros:
The overall functionality is good. The wiring in the harness seems like it's properly done, and the connections appear sturdy. For the price, you get a decent kit that will significantly improve the sound and performance of your lower-end Les Paul guitar.
Cons: 
The potentiometers are smaller than the standard size and may not sit well inside the control cavity. You'll need to research to ensure that the kit will work with your guitar. Investing in something that costs a bit more would bring more fruitful results.
Bonuses:
1. Mojo Tone "Tele" Solderless Harness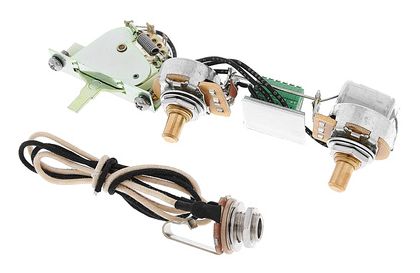 Mojo Tone is one of the top names for solderless harness wiring kits.
We've already covered the prewired Mojo Tone kits for the Stratocaster and the Les Paul. However, the Mojo Tone T has been designed specifically for the Telecaster-style guitar. This is why all the components are arranged on the harness in a straight line, which should connect to your Tele's control strip easily.
The product's overall presentation and packaging look very high-end and aesthetically pleasing. Unlike other harness kits, which claim to have a solderless design but require the pickups to be soldered on, the Mojo Tone circuitry and connections are truly solderless, as you'll see in the anatomy section below.
Key Features:
Worth it? MOJOTONE T Standard Solderless Harness
Anatomy
Everything is very nicely organized in the package. The components link well with each other, and the length of the wire is just enough to keep everything neat looking. First, the CTS 250k tone pot is loaded with a 0.047uf Vitamin T capacitor. The next component is the connection terminal labeled "1," "G," "2," "G," "3," and "G," where 1, 2, and 3 correspond to the neck, bridge, and input jack hot while the "G" represents ground for each of the connections.
Putting it Together
As with all the Mojo Tone kits, the installation is extremely easy. First, you'll need to unscrew the steel plate, remove the guitar's guts, and screw the Mojo circuitry on the steel plate. After that, you'll simply follow the diagram that lays out all the instructions. Finally, the connection terminal will be loaded with all the relevant hot and ground wires from the neck, bridge, and input jack, and you'll be all set to patch everything and enjoy your guitar's new and improved tonal characteristics.
Pros:
There's just the right amount of treble bleeding into the volume control. The knobs feel responsive and have a gentle taper rather than rolling too much off in one go. The ease of installation on these Mojo Tone kits cannot be stressed enough.
Cons: 
The three-way selector switch is a bit stiff, which may or may not suit you. However, the added quality and easy installation come at a price, as the solderless harness kit is 4 to 5 times more expensive than some generic brand kits. Also, if you're looking to upgrade an Affinity series Telecaster, the pots won't go in without modifying the holes on the body.
2. EMG 3 Pickup Conversion Wiring Kit
Here's the third variation of the EMG wiring kit.
Designed for three humbuckers of the passive variety, the bundle includes all the necessary wires, washers, nuts, screws, and controls, so you're all set from the get-go. You can clear that soldering iron from your vicinity as it's just taking up real estate on your workspace. You don't need it around for this installation.
EMG has revolutionized its pickup installation kits to make them so easy to install, as shown in the video. It takes under 10 minutes to put together if the older controls have been cleared out of the body cavities. The second great this is how the kits make it easier to add more EMG-related upgrades in the future.
Key Features:
EMG 3 Pickup Wiring Conversion Kit
Anatomy
Designed specifically for passive operation, the kit doesn't include any battery wires. The hallmark of these EMG kits is the quick solderless connections thanks to the 3 pinpoints on each pickup and the quick cables that are part of the whole shebang. You get two volume and two control pots, an output jack, plenty of easy-to-connect wires, and white and black tips for the three-way selector switch, which is a nice touch.
Assembly
Putting everything together is a cinch. You can remove all the control covers, get rid of the wiring and the older controls, including the pots, the switch, and the input, and just follow the linked tutorial. Within minutes you would've completed the upgrade. Be sure to tap-test the EMGs before the screws are put back in place to ensure everything is responsive and functioning optimally. The main terminal attached to the selector switch is of the utmost importance so be sure you're gentle with all the connections.
Pros:
As far as premium upgrade kits go, the kit edges out its competition in terms of price and user-friendliness. Also, once installed, pickup changes can be as simple as unplugging one and putting another in its place. So even the novice musician can upgrade to EMGs when he has this kit.
Cons: 
Great quality comes with a hefty price tag. Although still not too expensive, it does cost considerably more than some generic circuits. However, that's understandable. Also, check the length of the pot shafts because if you get those wrong, you'll be in trouble.
Conclusion
The world of guitar modifications is extremely exciting. The deeper you dig into it, the more you understand what components and circuitry best suit your needs. Instead of taking your guitar to a professional for every tiny detail, you'll get a greater sense of achievement by doing research, practicing on your own, and managing this technical task by yourself.
The products discussed today are all useful in one way or the other. If you like to build stuff from scratch, the Tone Shaper kits give you the utmost freedom. Someone who is a bit nervous about soldering and wants a kit that requires a basic level of familiarity in this regard can opt for any of the generic pre-wired kits that only require a minimum amount of soldering just to get the pickups going.
Finally, if you want to stay as far away from the soldering iron as possible, the Mojo Tone kits are phenomenally easy to install. For the same reason, you could also pick between any of EMG kits if you've decided to go in that direction. Also, you get helpful guide documents with each kit. Trust me; you've got this. Happy modding!
Readings that you may like: 
Other Recommended Gear:
Top 12 NearField Studio Monitors On Any Budget
Top 10 Midfield Studio Monitors For Home Recording
Best Biggest Studio Monitors (FarField Monitors)
Top 10 Guitar Pickups for Low Tunings 
Top 10 Analog Compressors For Mixing & Mastering (On Any Budget)
Top 12 USB Audio Interfaces Under 150$, 200$, 300$ 400$ (Any Budget)
Top 12 Hardware Equalizers (Analog EQs For Mixing & Mastering)
Top 6 Analog Hardware Limiters 
Top 6 Solid State Bass Amps (On Any Budget)
Top 6 Ribbon Mics On Any Budget (For Vocals, Drums & Guitars)
Top 6 Cheap Dynamic Mics For Vocals Under 50$, 100$, 200$ & 300$
Top 6 Chorus Guitar Pedals (On Any Budget)
6 Best 61-Key MIDI Keyboards (On Any Budget)
9 Best 49-Key MIDI Keyboards Under 100$ & 200$
Top 5 Best 25 Key MIDI Keyboards (On Any Budget)
Top 12 Acoustic Drums (Best Kits/Sets On Any Budget)
Guitar/Amp Focused:
Can I Put Nylon Strings on a Steel-string Guitar?
Do Electric Guitars Sound Good Unplugged?
Buying Your First Guitar: 2 Things To Know
Are Tube Amps Worth It? (Tube vs Solid-State Amps)
How Often Does A Guitar Need a Setup?
Can I Play Classical Guitar On A Steel-String Guitar?
How often guitar necks need reset?
Can You Play Two Guitars Through One Amp?
Can a 6 String Bass Be Tuned Like A Guitar?
Can I leave My Guitar Tuned Down a Step? Yes, But Is It Safe?
Should I Learn 4, 5 Or 6 String Bass Guitar & Why?
How To Know If your Guitar Amp Is Broken?
How To Fix Distorted Bass Guitar Sound?
Do Fender Guitars Appreciate In Value?
Should You Put Stickers On A Bass Guitar?
How Acoustic And Electric Guitars Are Made?
Is Electric Guitar Too Loud for an Apartment?
Does a Preamp Improve Sound Quality?
If I Learn Acoustic Guitar Can I Play Electric Guitar?
How Many Hours A Day Should You Practice Bass Guitar?
Do I need an AMP/DAC To Run Bookshelf Speakers?
How to Record Electric Guitar Into Logic Pro X?
Do headphones get worse with age?
Plugin Roundups:
Genre Focused:
Top 10 EDM Plugins  (And 10 Best FREE Plugins For EDM)
Top 10 Plugins For TRAP Beats (And 5 Best FREE Trap Plugins)
20 Best Plugins For Rock Musicians (+ 6 FREE Plugins)
Top 14 Trance Plugins (Uplifting, Tech, Progressive, Vocal, Dream, Hard)
Top 10 GOA & PsyTrance Plugins (Best Psychedelic Trance Tools)
Top 7 Plugins For Dubstep (With 10 Best FREE Effects & Synths)
Top 20 Synthwave Plugins (+ 11 Best FREE Plugins)
Top 15 Plugins For Techno, House, Electro, Tech House, UK Garage
Top 6 Plugins For Latin Music  (And 4 FREE Tools)
Top 12 Plugins For Hip-Hop (+ Best Kontakt Libraries)
Top 7 Plugins For Game & Film Scoring  (+ 6 Best Kontakt Libraries)
Top 10 R&B And Pop Music Plugins & KONTAKT Libraries 
30 Best Free Plugins For DnB, EDM, IDM & Experimental Music 
EQ Plugins
Top 12 Free EQ Plugins For Precise Mixing & Mastering
Top 9 Mid/Side EQ Plugins  For Mixing & Mastering (+ 2 Free Tools)
Top 7 Graphic EQ Plugins  (With 3 Best Free EQs)
Top 7 EQ Plugins For Mastering In | And Best FREE Mastering EQs
Top 6 Passive EQ Plugins (Klevgrand, SPL, UAD, Waves, IK Multimedia)
Top 11 Plugins For Making Metal (Best Guitars, Drums & Effects)
Metering:
Top 5 Audio Metering Plugins (LUFS, RMS, LRA, True Peak)
Top 6 Spectrum Analyzer Plugins  – Spectral Analysis Tools
Top 6 Oscilloscope Plugins To See The Waveforms
Top 5 Key Detection Plugins & Software  (+ Best FREE App)
Kontakt Libraries
20 Best Kontakt Libraries For All Categories (Synths, Drums, Vocals)
Top 7 Drum Libraries For KONTAKT (And 4 Freebies)
Top 7 Trap Music Kontakt Libraries (And Best Lo-Fi Kontakt Library)
Top 7 Metal & Rock Kontakt Libraries (Best Guitars & Drums)
Top 10 Guitar Libraries For Kontakt (Acoustic, Electric, Bass & Freebies)
Top 7 Trailer Scoring Plugins & Kontakt Libraries 
20 Best Free KONTAKT Libraries For Various Instruments
Top 9 Piano Kontakt Sample Libraries  (And 5 Best Free Pianos)
Top 10 Percussion KONTAKT Libraries  (And 3 Freebies)
Top 7 Kontakt Libraries For Horror & Thriller Scoring (No VSTs)
Audio Restoration, Calibration & Utility:
Top 6 Noise Reduction Plugins (And 3 Best Free Tools)
6 Best Audio Restoration Plugins & Software 
Top 7 Phase Alignment Plugins To Fix Your Bass & Drums
Top 10 Room Calibration & Headphones/Speakers Correction Plugins 
Instrument Plugins: 
Top 6 Vocoder Plugins (Effects & Synths + FREE Vocoder)
11 Best Rhodes VST Plugins (AND 5 Free Rhodes Plugins)
Top 12 Randomizer Plugins Including FREE Plugins
Top 6 Kick Drum Plugins (Best Kick Designer Tools)
Top 12 Woodwind Plugins (And KONTAKT Libraries)
Top 10 Double Bass Plugins (Best Upright Basses)
Top 5 Strings VST Plugins (AND 4 Best Free Instruments)
Top 6 Sampler Plugins (And 3 Best FREE Plugins)
Top 6 Classical Guitar Plugins & Kontakt Libraries (And FREE Guitars)
Top 12 Sub Plugins (Best 808 & Bass Tools For Massive Low End)
Top 10 Plugins On PluginBoutique (And 7 Best Free Plugins)
Top 11 Plugins On Plugin Alliance 
Top 7 Acoustic Guitar Plugins (And 4 Best Kontakt Libraries)
9 Best Bass Guitar Plugins (And 2 Best Freebies)
Top 6 Electric Guitar Plugins (Best PAID & FREE Picks)
Top 10 Arpeggiator VST Plugins (Best Synths, MIDI Effects & Tools)
Top 10 Modular Synth Plugins (And 3 Best FREE Plugins)
Top 6 Choir Plugins & Sample Libraries (And 3 Best Free Plugins)
11 Best Percussion & Drum VST Plugins (And FREE Plugins)
Top 8 Piano Plugins (Best Sounding Pianos & 5 FREE Piano Plugins)
Top 6 Organ Plugins Ever Made  (And 3 Best Free Organs)
Top 14 VST Plugins For Beginners (And 9 FREE Plugins)
Top 9 Drum Machine Plugins (And Groovebox Plugins)
4 Best Banjo Plugins (Best Banjo Instruments)
The 5 Best Ukulele Plugins & Kontakt Libraries 
Top 13 Synth Plugins (And 5 Best FREE Synths Plugins)
Top 13 Sequencer Plugins  (Synth, MIDI & Step Sequencers)
The 10 Best Multi-Effect Plugins (And 3 Best Free Plugins)
Top 12 Plugin Bundles For Musicians (Synths, Mixing & Mastering)
Processing & Sound Design:
8 Best Lo-Fi Plugins (PAID & FREE)
Top 11 Plugins For Mixing Vocals  (For Home Studio)
Top 12 Saturation Plugins (Best Mixing & Mastering Tools)
Top 6 Pitch Shifter Plugins (And 3 Best FREE Pitch Shifters)
Top 6 Chorus VST Plugins For Musicians (And 3 FREE Plugins)
Top 6 Limiter Plugins For Precise Mastering & Mixing
The 8 Best Filter Plugins For Precise Cuts & Boosts (+ 5 Free Filters)
6 Best Autotune Plugins To Improve & Enhance Your Vocals
Top 10 Transient Shaper Plugins (VST, AU, AAX)
Top 7 Enhancer Plugins (For Bass, Drums, Vocals & Harmonics)
Top 6 Flanger Plugins (And 5 Best FREE Flanger Emulators)
Top 7 Phaser Plugins (And 3 Best FREE Phasers)
Top 10 Plugins For Mixing Drums (And 3 Best Free Plugins)
Top 7 Bitcrusher Plugins (And 4 Best FREE Bitcrushers + 3 Bonuses)
Top 6 Plugins For Voice-Over & Dialogue Cleaning (Post Production)
Top 10 Stereo Imaging Plugins (Best Old & Modern Picks)
Top 5 Multiband Limiter Plugins 
Top 7 De-Esser Plugins For Better Vocals (And 4 FREE Plugins)
Top 7 Clipper Plugins (Best Limiter Alternatives)
Top 6 Chord Generator Plugins That Inspire Melodies (+ FREE Tools)
7 Best Exciter Plugins For Mixing & Mastering
Top 7 Channel Strip Plugins (And 2 Best Free Plugins)
Top 11 Distortion Plugins (And 4 Top Free Plugins)
Top 5 Comb Filter & Resonator Plugins | Melda, Kilohearts, Tritik
The 7 Best Vibrato VST Plugins | Audec, Audiority, Melda
The 7 Best Tremolo Plugins | Eventide, Melda, SoundToys, Kuassa…
The 7 Best Harmonizer Plugins | Eventide, Melda, Aegean Music
7 Best Sidechain Plugins (VST, AU, AAX) | Xfer, Cableguys..
Top 10 Noise Gate Plugins (And 6 FREE Free Gate Tools)
The 6 Best Ring Modulator VST Plugins | KiloHearts, Melda
7 Best Autopan VST Plugins | CableGuys, Melda, Waves, Soundtoys
The 6 Best Frequency Shifter VST Plugins
Top 11 Granulizer Plugins For Future Sound Design
29 Best Sound Design VST Plugins
Compressor Plugins
Top 11 Free Compressor Plugins (VCA, Vari-Mu, FET, Digital)
Top 7 Multiband Compressor Plugins (And 4 FREE Plugins)
Top 5 Diode-Bridge Compressor Plugins 
Top 6 Mastering Chain Plugins: Complete VST Solutions 
The 7 Best VCA Compressor Plugins (VST, AU, AAX)
Top 11 Mastering Compressor Plugins (And 2 FREE Plugins)
Top 10 Opto Compressor Plugins For Transparent Sound
The 7 Best Vari-Mu Compressor Plugins (And 2 Best FREE Tools)
Reverb & Delay Plugins:
Top 12 Reverb Plugins (And 5 FREE Reverb Plugins)
The 6 Best Spring Reverb VST Plugins | AudioThing, GSi, u-he, Eventide
Top 12 Delay Plugins For Music Production In (VST, AU, AAX)
Top 10 FREE Delay Plugins (VST, AU, AAX)
The 10 Best Convolution Reverb Plugins 
Amps & Preamps:
Top 10 Guitar Amp Plugins (And 5 Best FREE Simulators)
Top 10 Bass Amp Plugins (And 5 Best Free Simulators)
Top 9 Preamp Plugins (For Vocals, Guitars & More!) + Free Preamps
DAW Related:
Best DAWs For Musicians Available (With FREE DAWs)
What's The Most CPU Efficient DAW? – 5 DAWs Compared
How To Make Music Without Using A DAW?
Pro Tools Guide: How To Use AutoTune & Pitch Correction?
Ableton Review: Is It Worth The Money? (Cons & Pros)
Logic Pro X Review: Is It Worth It? (Cons & Pros)
How To Use Auto-tune & Pitch Correction In Cubase?
How To Fix Ableton Crackling, Crashing & Freezing? Step By Step
Plugin Related:
What Are Audio Plugins? Different Types of Plugins Explained
What Are The Best Tools To Develop VST Plugins & How Are They Made?
Cost of Developing Audio VST Plugin: Several Factors (With Table)
VST, VST, AU and AAX – What's The Difference? Plugin Formats Explained
Complete Guide To Noise Gate – What It Is, What It Does & How To Use It?
How To Clip My Drums? Here Is How & Audio Teasers (Before/After)
Complete Guide To Limiter: How To Use It (+ Best Plugins & Analog Limiters)
Mixing With Reverb: How To Add Life To Your Mixes
Linear Phase vs Minimum Phase EQ – Full Guide
Difference Between LUFS, RMS & True Peak Loudness Meters
How And When To Use Algorithmic And Convolution Reverb In Your Mix?
Difference Between Active EQ, Passive EQ and Dynamic EQ
Headphones & Studio Monitors:
Do headphones get worse with age?
Monitors vs Studio Headphones For Mixing & Mastering
Top 10 Room Calibration & Headphones/Speakers Correction Plugins 
Are Noise-Canceling Headphones Good For Music Production?
Can Headphones Break in Cold Weather?
Why do headphones & cables get sticky?
Can Wearing Headphones Cause Hair Loss?
How Do I know If My Studio Monitor Is Blown?
Side Effects Of Sleeping With Your Headphones On
Do You Need Music Amplifier For Studio Monitors or Studio Headphones?
Do Headphones or Earphones Damage Your Brain?
Can Headphones or Earphones cause Deafness or Toothache?
FarField, MidField & NearField Monitors – Their Uses, Pros & Cons
MIDI & Synths:
Should I Buy A MIDI Keyboard Or Synth? (Are Synths Worth It Anymore?)
Why Is Audio Gear So Expensive? (Especially Synths)
Top 12 Synth Brands – Analog, Digital & Modular Synth Manufacturers
11 Tips How To Choose MIDI Keyboard 
Should I Buy MIDI Controller Or Keyboard? Cons, Pros & Tips
Sultan Zafar is a guitar player from Islamabad, Pakistan. He has been playing music with various mainstream musicians for over 20 years. He is a song writer and music producer. These days he spends his time exploring different music genres and collaborating with fellow musicians on various projects. Read more..