Looking for a new audio interface for your studio? Today we will talk about the Top 11 Audio Interfaces With DSP Available in 2023.
All kinds of high-quality audio recordings are now simpler than ever to accomplish. An audio interface is a must-have when you need to convert high-quality audio into a format that your devices can understand. Without one, you won't be able to record high-quality podcasts, voiceovers, music, or anything else.
They have so many options in terms of appearance and functionality that it can be challenging to choose the best one. We've scoured the industry and put a ton of gear through its paces to bring you this top for each application, whether you're a professional studio, a home recordist, a novice, or a seasoned audio veteran.
In a nutshell, here are our Top 11 Audio Interfaces With DSP Available in 2023:
2. Universal Audio Apollo Twin X
3. Antelope Audio Zen Go Synergy Core
In this top 11 audio interfaces with DSP available in 2023 can find audio interfaces in a wide price range depending on factors like quality and durability, I/O inputs and outputs, DSP capabilities, and converters. We have provided high-end and more affordable interfaces to cater to studios and engineers of all skill levels.
What Is DSP in Audio?
The acronym DSP stands for "digital signal processor," which seems self-explanatory. You can find this innovation in numerous consumer products, including headphones, phones, smart speakers, recording studio equipment, and in-car entertainment systems. It's a fundamental component of today's audio equipment.
Many of you may recognize the term "processor" from your familiarity with computer central processing units (CPUs), which are built to handle various tasks. A (DSP) is a computer processor designed specifically to analyze and manipulate digital signals, such as audio. They are optimized to rapidly perform arithmetic operations like addition and subtraction while consuming as little power as possible.
Different digital signal processor chips are available across a wide price range and feature sets. The spectrum is covered from massive multi-channel processors found in automobiles and high-end recording studio gear to tiny low-power chips used in voice-recognition technology for smart speakers.
They are utilized to execute audio-related algorithms more quickly while utilizing less power than a traditional central processing unit.
Does DSP Affect Sound Quality?
DSP in headphones and interfaces is generally used for peak compression or limiter functionality to reduce or eliminate distortion during loud sections. The audio signal could be considered a sine wave if you like. The sine wave's peak will get distorted if it exceeds a particular value.
To prevent distortion, headphones, and speakers use dynamic compression to reduce the peak and bring the signal down below the distortion threshold. Peak-limiting digital signal processing (DSP) is likelier to kick in at greater listening volumes; this is especially true (or at least more visible) with wireless speakers.
Depending on the track's construction, the intensity of your device's compression, and the volume levels, this can happen numerous times or continually. Dynamic volume control is most commonly triggered by bass frequencies, including deep lows and even low mids.
DSP will often merely lower the volume of the powerful bass frequencies activating it so that the overall volume of the recording stays loud, albeit the specifics vary on the designer and the variable frequency of a particular product.
What To Look For When Buying An DSP-Enabled Audio Interface?
Instead of searching for the interface with the best DSP chip, you should prioritize finding one that can create high-quality audio. Despite their apparent usage, DSP chips are supplementary devices that can't replace high-quality converters and preamps.
However, you may want to see what plugins are available from a specific audio interface vendor, as many libraries are made specifically for those products. If a product's plugin library sounds promising, it can sway your decision.
Let's see what they are the Top 11 Audio Interfaces With DSP Available in 2023.
Top 11 Audio Interfaces With DSP Available in 2023
1. Audient iD44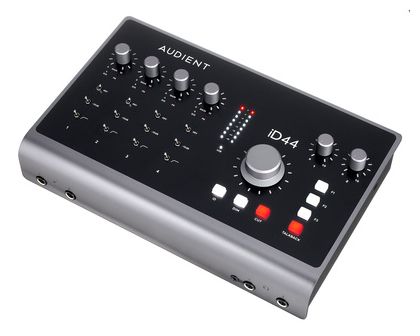 With the iD44, Audient leverages its design experience of over 20 years.
With its four world-famous Audient console mic preamps, industry-leading conversion, ADAT expansion, and more, the Audient iD44 brings the power of an Audient console to your desktop. The preamps of the iD44 have the same discrete circuit architecture as the company's flagship console and the rest of its offerings.
The Audient mic delivers precise reproduction with little noise and distortion and even has a touch of analog warmth for personality. Use your preferred low-output ribbon mic on quiet sources with the 60dB of gain available.
The input stage of a vintage tube amplifier was used as inspiration for the unit's two DI inputs, which add harmonic augmentation. The Audient iD44 is a fantastic audio interface because of its high-performance converter, low-latency DSP mixing, and several connection options.
Key Features:
Housing
The

Audient iD44

is expertly crafted to provide dependable service in the studio and on the road for many years, thanks to its premium quality components, all-metal construction, and hand-finished aluminum knobs. You may use the iD44 with any Mac or PC with a USB port and a USB cable (the iD44 comes with both a conventional USB cable and a USB Type-C cable).
Talkback
The iD44 is a cleverly crafted analog of the console's central control panel, which serves as the console's command hub for communications and monitoring. With the iD44, you can utilize any audio source connected to your computer as a talkback mic, freeing up valuable mic pres and having a good talkback solution.
With the press of a button, the iD44's volume encoder transforms into a virtual scroll wheel, giving you complete control over your digital audio workstation (DAW), plugins, and more.
Monitoring
The iD44's monitor control capabilities are exceptionally versatile, drawing influence from Audient's rich history of analog console design. These features include dedicated talkback, chop, dim buttons, polarity, mono, channel selection, and cue mixing monitoring.
You may attach any monitoring task to one of three customizable buttons, eliminating the need to go through complex software menus. You may easily take charge of your session by assigning the necessary monitoring functions.
Inputs And Outputs


Audient iD44

is equipped with two Optical input/output ports, facilitating a wide variety of connections. Because of its ADAT and S/PDIF compatibility, the iD44 can be expanded to include up to 16 mic pres, making it ideal for recording sessions with several performers or a full band.
Before converting, you may quickly enter your favorite effects' two balanced insert points. When utilized for print-backs or incorporating external line-level analog sources, it gives you direct access to the A/D converters for a clean signal. Whether you need stem processing or a place to start building your voice chain, iD44 has you covered.
AD/DA
The AD/DA converter in the iD44 is tailored to provide an enhanced dynamic range for accurate and natural playback of your recordings. Because of the converters' exceptional fidelity, even the most minor details can be heard, allowing for more informed mixing decisions and, ultimately, higher-quality recordings.
Two JFET direct inputs (DI) with harmonic enhancement are also included in the iD44 to simulate the input stage of a vintage vacuum tube amplifier. You can hear the magic happen as soon as you put in your bass guitar or synthesizer and hit the Record button.
Pros:
Although the iD44 with the iD Mixer software is Audient's most complicated desktop USB audio interface to date, they've struck a good balance between features, usability, and physical footprint once again.
And for its pricing, the iD44 provides excellent value for money, as it sounds fantastic and gives an outstanding audio performance. Although the ID44 was designed with home and project studios in mind, its portability, high-quality mic preamps, direct inputs, and ADAT-format connection should also make it a strong contender among laptop-toting recording enthusiasts and on-the-go musicians.
Cons:
The most annoying source of the clicky sounds from buttons and switches was the vibration of the larger direct dial (with mouse click). Having a button that wasn't entirely silent but was reliable was preferred, but not having either option was manageable.
You can click on a control, like a DAW fader, and then discretely scroll using the larger rotary dial, reducing the need to make any adjustments during tracking. In cases where the iD44 is at eye level, but the desk is low, the slanted control panel is still the best option for readability.
The flat control panel's small switches, obscure legends, bright LED buttons, and meters could be challenging to traverse in low light. Nobody wants to power up an expensive outboard gear with phantom power accidentally.
2. Universal Audio Apollo Twin X Duo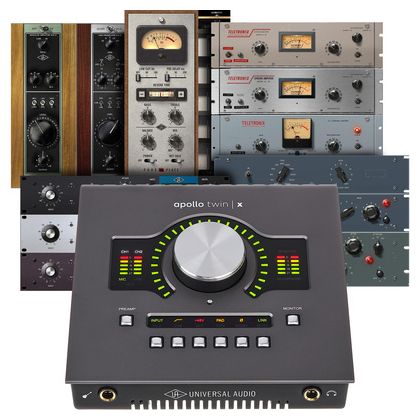 While it offers performance on par with Universal Audio's rackmount Apollo X audio interfaces, the Twin X DUO's simplified desktop style makes it ideal for project studios.
UA's powerful DUO Core processor makes it possible to record and mix with accurate simulations of studio standards. Enjoy premium audio thanks to the Apollo Twin Xs improved, high-end AD/DA converter. Two independent Unison preamps simulate some of the most renowned recording equipment.
Key Features:
Duo Core Processing
Sometimes your computer needs the juice to handle all the plugins you need for your recording session. This is where UA's robust DUO Core CPU with two processing cores comes in. Using this processor, you may mix in your DAW while simultaneously using Neve, Manley, or API channel strips for real-time tracking.
In real-time, you may apply musical limiting to a vocal track, add tube warmth to a guitar, and pump up the drums with a compressor. The experience is virtually identical to owning the device.
Unison Technology
The Unison preamp technology in the Apollo Twin X DUO is in a league of its own compared to other software models and simulations. Unison is a two-way exchange of information between the mic preamp in the Apollo Twin X DUO and a Unison-capable plugin.
The plugin modifies the analog gain structure, impedance, and other aspects of the preamp circuit. The plugin alters the preamp's behavior to that of the target preamp as the gain knob and other physical parameters are adjusted.
Latency
UA was an early adopter of Thunderbolt, a technology that has profoundly impacted the audio production industry in recent years. Thunderbolt's lightning-fast communication delivers reduced latency and more reliability than USB and FireWire.
It can keep up with a PCI Express system's speed and ultra-fast performance. In reality, the Thunderbolt 3 connection allows for the low-latency operation of multi-channel projects with track counts in the hundreds.
You may expand the speed and bandwidth of your studio's I/O and DSP by connecting up to four Apollo interfaces through Thunderbolt. The built-in Thunderbolt 3 connector on the Apollo Twin X DUO is compatible with both Thunderbolt 1 and 2 Macs so you won't need a new computer.
Bundle
UAD Powered Plugins are widely regarded as among the best digital recreations of classic analog audio hardware. The incredible processing power of the UAD platform is what makes these plugins shine. It would be best if you dedicated a lot of processing power to these plugins to achieve the level of detail, color, and personality they provide.
The best part is that audio may be recorded with UAD plugins in real-time with sub-2ms latency on the Apollo Twin X DUO. Five award-winning plugins are included in the premium suite that comes with the purchase of the Apollo Twin X DUO Heritage Edition.
AD/DA
The

Universal Audio Apollo Twin X

's AD/DA conversion improves upon the already impressive sound quality of previous Apollo models. UA engineers tried AD/DA technology when building the new Apollos, finally pairing high-end 24-bit/192 kHz converters with reworked analog circuitry. The result is a 127dB dynamic range signal path that is highly pure.
Luna Compatible
If your computer has a Thunderbolt connection, you may use this audio interface from Universal Audio and the company's free LUNA software. It doesn't matter if you want to record, edit, or mix your music; LUNA can do it all. Further, you can control, track, and overdub everything in real-time from within your DAW, thanks to the interface's seamless hardware/software integration.
Obtain total software management of Apollo's Unison mic preamps by utilizing UAD DSP-accelerated plugins. Digitally, LUNA is the closest thing to an analog process that exists today, and it combines the inspiration of real-time processing with a truly analog sound.
Pros:
The Apollo line of interfaces from Universal Audio fits several requirements for a perfect audio I/O, including good signal pathways and converters, stable and user-friendly software, and capabilities built by people who know what they're doing regarding sound recording.
A few of the most appealing features of Apollo interfaces are their onboard DSP and Unison preamps, which may make your recordings feel as if you captured them with high-end analog hardware. The Universal Audio Apollo Twin X provides a solid starting point for constructing a more complete and powerful Apollo setup, and it's a very inexpensive way to increase your studio's capabilities.
Cons:
It would be great if UAD's boxes came with a built-in midi interface, eliminating the requirement for a separate piece of equipment. It's great news if you have a different device; however, M1 Mac / Big Sur doesn't currently support it.
Regardless of whether you have a license, UAD will install all of the plugins they provide. Add a plugin to your project, and have fun guessing what you're licensed for. There will be a "start demo" button for unlicensed plugins that load. It's necessary to remove them from the plugins folder by hand.
3. Antelope Audio Zen Go Synergy Core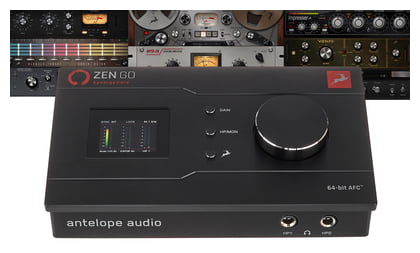 Despite its somewhat lengthy title, the Zen Go Synergy Core is simple, consisting of just two pieces.
The first is a USB audio interface with analog inputs and S/PDIF. The Core component is the processing platform included in many audio interfaces. It is home to the interface's many plugins, which can be anything from modeled classic compressors to guitar amps to Auto-Tune.
Key Features:
Interface
This bus-powered audio interface has a secondary auxiliary USB-C connector in case the host USB bus cannot supply enough current. The unit's LCD panel displays the input meter, the first headphones' volume meter, and crucial clocking source and sampling rate statistics when powered on.
To the right of the screen are three knobs; two regulate the input gain and the volume of your headphones or monitor, respectively. You can use the large stepped knob next to them to set the desired gains or levels and clicking it will toggle between their available settings.
The +48v phantom power has a longer hold time, and there is a switch for selecting the microphone. You may silence the monitor output or the headphones with a quick clock, while a longer hold will lower the volume.
Antelope Switch
A third button, the switch, cooperates with the other two to allow for the loading and saving one of five possible settings. Any channel effects, as well as routing and monitoring, can be set up in this manner.
By holding down one of the top two buttons, you can access many configuration options, including sampling and more. Even if there is much wiggle room regarding the hardware, the user will still want to adjust the finer details in the computer's settings menu.
Mixer
It's worth noting that this mixer only has effects slots for the first four channels, and each can connect to a maximum of eight plugins. You can recall any saved combination at a later time, and when stereo is generated by combining two mono channels, the left channel takes center stage.
An auxiliary effect, accessible from any of the three primary routing windows, originates on this page. You can tweak the quantity of early and late reflections with the parameters of this room reverb. Excellent for helping to track a vocal or acoustic instrument or adding some atmosphere to an otherwise sterile recording or environment.
Loopback
While the second page shows the S/PDIF output, the third routing page displays two rows of eight-level meters labeled To DAW and From DAW. The device's potential as a recording and broadcasting tool is greatly enhanced by the fact that you can feed the top row from any of the sources in the monitoring area, including loopbacks of the two monitoring mixes.
Because of its seeming simplicity, it's difficult to uncover serious problems with the interface's adaptability. If the sound isn't good, it won't matter how good the pictures are.
Circuit
The monitor outputs are crystal clear, and the headphone amps have plenty of juice to power headphones of varied impedances. No discontent is indicated when a ribbon or low-output dynamic mic is plugged in. High-quality conversion and timing are hallmarks of the hardware side of things, and the emulation feature may appeal to those searching for mic mojo.
There is plenty of room to split wet and dry signals across eight USB recording channels. Included effects cover a wide processing spectrum, allowing you to fine-tune recordings, liven up monitoring, and create high-quality, portable broadcast sets without taxing your computer's resources.
Control Panel
The Monitors & Headphones page loads in the control panel, where an eight or 16-channel mixer with faders via a second tab. The preamps, microphone emulations, S/PDIF inputs, and two test oscillators can feed these channels.
In addition to the five hardware-based presets, the GUI provides a sophisticated system for storing and loading full or partial snaps of the configuration (e.g., only the routing, without the effects chains).
Pros:
The high-quality audio output, flexible routing choices, several channels, and user-friendly DSP administration make this interface a great buy. Despite being comparably priced to other high-end interfaces, it offers more features than cheaper alternatives. The hardware is reliable while being light enough to be carried around quickly, and the software is intuitive and needs little manual scanning.
Cons:
When utilized with daw, the device produces distracting crackling and popping noises in the audio, no matter how small the sample size is reduced. You will have issues with plugin installation and recovering from suspension because the driver is too unstable, and support advises you to replace the driver. Disabling Windows features like spatial audio and audio enhancement is required because they conflict with the drivers.
4. Roland Rubix 24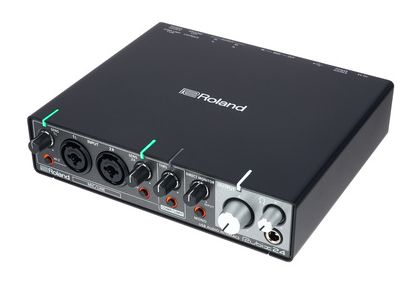 You can take your Rubix 24 audio interface anywhere and record high-quality audio.
This audio interface is designed for mobile devices, offering high-quality sound immediately, thanks to its insulated aluminum chassis and two low-noise preamps.
The sturdy metal casing and the fact that the interface can be powered by a USB bus mean that you can take it wherever you go without worrying about damaging it. You can also use this class-compliant interface to link an iPad. When it comes to interfaces, Rubix 24 is among the best.
Key Features:
Levels
Suppose you ask any experienced engineer or producer. In that case, they will tell you that capturing the greatest possible sound at the source will reduce the time spent editing throughout the mixing process. Adding a little front-end compression to keep your levels even is a simple approach to enhance your incoming audio.
While this would typically call for external compressors, Roland included a pair of 3-mode compressor/limiter circuitry in the interface. If you record live and are concerned about abrupt spikes clipping your levels and destroying your songs, you will welcome these circuits' two moderate compression settings and more aggressive limiters.
Preamps
A pair of microphone preamps and the interface's heavily insulated design work together to combat ambient noise. These passive noise-reduction techniques are fantastic most of the time, but unstable electricity may wreck your day.
In response, Roland installed a system-wide ground-lift switch that disables the power supply's ability to hum. That's a feature audio professionals have probably never seen on an audio interface before, but it's perfect for capturing in-the-moment performances.
Mobility
Although Roland designed this to be a fantastic portable audio interface thanks to its class-compliant USB, sturdy build, and low-noise performance options, it also is a fantastic foundation for, or in addition to, a home recording studio.
Keyboards and more can all be used with a system with MIDI inputs and outputs. The ability to establish a separate monitor mix for recording with selectable headphone output sources is incredibly useful when working with other artists. Last but not least, loopback recording lets you record your computer's output sources. Useful in many contexts, but especially for podcasting.
Connectivity
In addition to the standard four TRS outputs, there are many strange controls around the rear for adjusting the level of compression/limiting, the source for your headphones, the amount of feedback, and the level of ground lift. Useful for real-time online streaming, loopback lets you combine audio from an external source with that of your computer.
As a bonus, the ground lift works with the interface's increased shielding to reduce background noise during noisy live settings. We discovered that activating it resulted in a buzzing noise; thus, you should keep it disabled under normal conditions.
Last but not least, a group of level indicators displays if your signal is good or too high, and each button option around the front flashes a pleasant orange glow when chosen.
The input of condenser microphones can be powered by +48V phantom voltage, with Input knobs for all four inputs and controls for the device's helpful built-in compressors for both sets of outputs. Also, individual monitor controls for each stage of results, a master volume knob, and a headphone jack are all conveniently located on the right side of the unit.
Pros:
Several other devices offer the same thing, but their prices are significantly more than the interface. Additionally, the line of audio interfaces includes several very low-priced devices. While their costs vary from those of the interface itself, they are still within the range of what one would expect to pay for a high-quality, low-cost audio interface in the market today.
By all accounts, Roland has succeeded with Rubix24, as it performs admirably and lives up to the market's expectations. It's a high-quality piece of equipment that many working audio engineers should consider using if they want to record two sources simultaneously.
The company's advertising of the interface touts surprisingly high-quality sound, and the device itself holds up well compared to several devices in the same category. The price tag doesn't compromise the interface's quality, and the gadget performs admirably across the board.
Cons:
It is an extremely noisy interface and makes noise even when no instrument is plugged in. Almost certainly an issue with the manufacturing. After their interactions with Roland's customer support team, we kept hearing similar accounts of satisfied customers.
Inputs have clean compressors, but you can't change the settings. You'll have to listen carefully to hear how the compressor is behaving with the audio you're feeding into it and then tune your input to match that behavior. For someone without prior experience, this will be challenging. Overall mix compression/loudness can be optimized using compressor mode 2 set at the mid threshold.
5. Apogee BOOM 2×2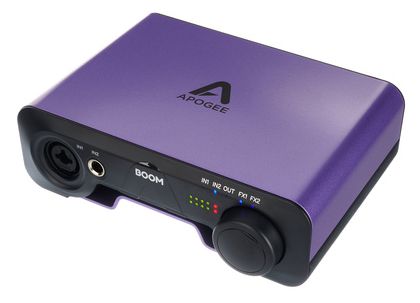 Apogee was first released in 1985, it has become universally recognized as the gold standard for audio conversion.
With this interface's launch, Apogee can now deliver unrivaled conversion quality at an unprecedentedly low price. You may plug in a microphone, instrument, or stereo source to this interface and then use the built-in DSP to apply effects like equalization, compression, and driving.
The input stage is where the interface does all of its work, and there is no lag. The loopback function is hidden away for the live streamers' convenience. The interface is highly portable and sturdy, made with a steel chassis to withstand years of recording on the go.
Key Features:
Housing
For home-based content creation systems, this isn't only a fantastic interface that saves on desk space. It's a game-changer for high-quality audio recording on the go. First and foremost, it includes a steel chassis with rubber feet to ensure stability on any surface.
The interface is incredibly portable for its durability, weighing in at about two pounds and having the same footprint as a hardcover novel. And since it can be powered from any USB port, you won't even have to worry about being near an electrical socket when you want to start recording. Simply connect to your computer and start recording from anywhere in the world.
App
They developed the interface with the maker community in mind. The program for macOS and Windows, or a free app from the App Store, can be installed after the interface has been set up. You can fine-tune all of its features with this app's help. The ECS Channel Strip is made accessible by touch on the iPad, allowing users to adjust effortlessly to their desired atmosphere.
Circuitry
It offers everything a musician, podcaster, streamer, or content creator could ever want to realize their visions. The zero-latency hardware DSP is sure to be a hit with musicians. The amplification from the mic pre makes it simple to record from virtually any microphone.
The ability to record a loop of your voice and play it back before it is broadcasted is a handy feature for streamers. And if you need to hear every detail, you'll be relieved to know that its zero-ohm headphone output will power even the highest-impedance headphones, making it ideal for gamers and audiophiles.
DSP
According to Apogee, the interface is the first of its kind to feature onboard hardware DSP, thanks to the inclusion of the company's Channel Strip. Channel Strip is a zero-latency input processor fine-tuned by a legendary mixer. You may apply these effects to your source with zero latency by using the hardware DSP to adjust the 3-band EQ, compress it somewhat, and then drive it to perfection.
Pros:
Apogee boasts an impressively broad dynamic range and is designed to work with various headphones thanks to its nearly zero-ohm headphone amp. Both the digital-to-analog converter (D/A) and the headphone amplifier (HPA) sound great, with punchy bass and clear highs.  The Boom is an excellent option for people whose primary need is portable playback of reference-level quality.
The user interface could be more transparent with good and bad features. Its playback quality, convenience of use, solid control software, and acoustically pleasant DSP are sure to win over anyone working on headphones with a moderately sensitive microphone.
However, the Boom might not satisfy individuals who prefer dynamic microphones or who desire the flexibility to switch between headphones and professional monitors during a recording session.
Cons:
There is no method to tell what version of the operating system you are using, as well is no "check for updates" feature. Users have reported strange, sudden PC shutdowns when using it, which may be related to the Boom. Instead, you have to manually enter your name and email address on the website, deny any promotional emails, and then you will receive a link.
The subsequent download is time-consuming, and you'll need to execute it to determine which version you're utilizing. It silently reinstalls everything and forces you to reboot without warning.
6. Presonus Revelator io24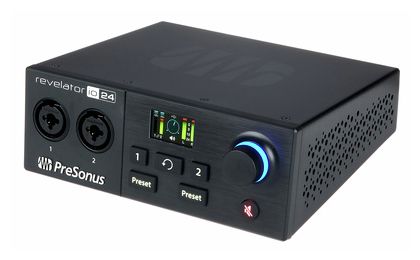 The audio interfaces made by PreSonus are known for their high quality and low pricing.
It's a highly lightweight, bus-powered interface with a lot of muscle. The signal processing DSP in Revelator is the same as that used in high-quality mixers, allowing you to apply effects internally.
Since a sound signal is essential for digital signal processing, this unit is equipped with two pristine XMAX-L microphone preamps and a generous amount of gain staging. MIDI I/O and optional wireless control via smartphone or tablet round out the professional features.
Key Features:
Mixer
The features have been designed with streamers and broadcasters in mind. You can use the digital mixer's alternate virtual inputs and outputs to re-route audio from many applications into a single stereo stream.
In a wide range of streaming uses, the ability to record from a microphone while also listening to audio is beneficial. Given the rise in remote work, web conferences and presentations are becoming increasingly common. This eliminates the need to purchase expensive loopback software.
Converters
When put to use in a studio session, the inbuilt preamps sounded fantastic, and the DA converters wowed us with the clarity of transients in popular music.
Even while the converters' dynamic range specs aren't as impressive as those of some competitors in this price range, the interface still has a lot going for it. Inputs with digital gain matching are uncommon in this price range, but they are ideal for stereo mic setups since they allow the user to balance the levels of both microphones.
DSP
The DSP's high pass filtering stage comes before any others. Next comes the effect, which may or may not include good emulations of vintage analog gear that is more forgiving of the input signals than severe digital processors.
There are no antique preamp or instrument amp emulations, so don't expect the same level of realism as you would with a device from Universal Audio or similar. What is provided, however, is more than adequate for mixing a soundtrack on headphones or via streaming.
The settings panel allows you to designate one of the two inputs to a second speech processor, which you can use to alter your voice in amusing or inventive ways. The user can keep all Fat Channel preferences and access them anytime.
The interface's two primary settings are already programmed and prepared to go when you first turn it on. While we appreciate the convenience of presets for newcomers, we prefer to disable them initially and turn them on as needed.
Housing
It has a robust metal shell and responsive buttons, so it looks great on your desk right out of the box. The little LCD screen is a great new addition, but it's annoyingly placed so that the interface is below your line of sight.
Putting it on a higher shelf, near your monitor speakers, improves performance significantly. To quickly toggle between different settings, push the rotary control. Each of the input buttons marked allows you to independently toggle phantom power, a high pass filter, and gain within the preamp.
Navigation
While the ease of use is great, people discovered that it was too simple to turn phantom power on and off, potentially harming microphones. On the screen for each input, you can see the gain level, the incoming input level, and a reduction in a gain meter that reflects the effects of any compressing or extension in the DSP chain.
Midi
The front panel houses two combo mic/line/instrument jacks, while the back houses the balanced line-outs and a lone headphone jack. Adding a MIDI in/out connection will please those still using older MIDI devices. As for the controls, in addition to the rotary controller and the input selections, there are controls for accessing the DSP settings, going back to the menu, and muting the primary outputs that go.
Pros:
The designers of the Revelator io24 put a lot of consideration into its features. The result is an audio interface with two inputs that stand out from the pack. The digital user interface provides significantly more detail than is customary at this level and can be used independently of the underlying program.
Nonetheless, the excellent program prepares the ground for any use you might have in mind. It excels at meeting the needs of podcasters and live streamers for whom it was intended. It is also a respectable recording interface with enough digital signal processing to make a noticeable difference.
Cons:
The blue band on the encoder is too bright for a low-light studio, and users can't choose all the settings from the front panel. Turning a knob to activate phantom power is another annoyance.
Some crackling was heard while adjusting settings in the Fat Channel, and the voice effects sound absurd because you can't use the vocoder effect or ring modulator as intended. Still, these are small issues compared to the overall flexibility of the hardware and software. This audio interface is fantastic for musicians and streamers alike.
7. MOTU

UltraLite-mk5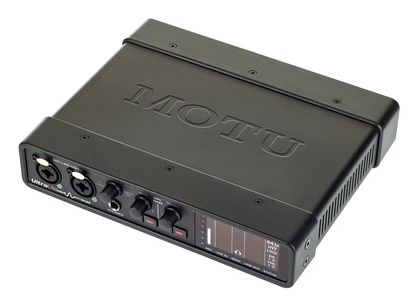 The MOTU UltraLite-mk5, a USB audio interface with 18 inputs and 22 outputs, boasts a stunning round-trip latency of 2.4 milliseconds and a reference-quality D/A.
The UltraLite-mk5's microphone preamps record music with startling clarity, and the generous assortment of inputs and outputs means you can easily connect your preferred external devices. The loopback feature of this high-performance audio interface simplifies podcasting and live to stream.
It is also easy to create professional-quality monitor mixes with the help of the redesigned CueMix 5 software and high-quality onboard digital signal processing (DSP).
Key Features:
Inputs and Outputs
The

MOTU UltraLite-mk5

is a portable half-rack I/O unit that provides access to a total of 40 audio channels. The two mic/line inputs are apparent, and there are six line inputs and ten line outputs in total, making this audio interface a total of 18 inputs and 22 outputs.
In addition to its digital optical I/O and MIDI channels, the UltraLite-mk5 features a headphones output that delivers high-quality audio. As an essential tool for podcasting and live streaming, loopback is also included.
DSP
The internal digital signal processor (DSP) of the UltraLite-mk5 produces high-quality audio with features including an EQ, reverb, and dynamics. In addition to the DSP audio inputs and outputs, this audio interface features a monitor mixer that allows for individual monitoring of each analog output channel.
The MOTU CueMix 5 software is a powerful yet intuitive visual mixer controller. Furthermore, CueMix 5 has been redesigned from the ground up, with eye-catching optical mixing, eq editing, and a handy, interface sure to speed up your workflow.
Latency
Quality sound and reliable functionality are essential whether you're performing live or recording in the studio. Both of these needs are met by the UltraLite-mk5. It has a 125dB dynamic range and -114dB thanks to the reference-quality D/A from ESS Technology.
The 24-bit/96kHz latency round-trip via USB is a big plus. The UltraLite-dependable mk5's performance is supported by PC or Mac and iOS owing to updated drivers.
Pros:
The MOTU UltraLite mk5 is a portable USB interface with top-notch sound quality and surprising versatility in studio, bedroom, and live performance use cases.
This is due to the abundance of inputs and outputs (I/Os), each of which may be independently adjusted in software and, if necessary, subjected to audio processing using DSP FX. It performed consistently and admirably when tested with both macOS and iOS devices.
Cons:
It appears that the MOTU UltraLite-mk5 is a well-engineered interface with only a few noticeable flaws. At 192 kHz sampling, the worst problem is extreme distortion at mid and low frequencies. None of this belongs here. The second issue is less severe and has been fixed for some time in desktop DACs; this is the IMD distortion growing at mid-levels.
8. RME

Babyface Pro FS
The RME Babyface Pro FS is a durable yet easily transportable, bus-powered USB audio interface.
The casing is rugged and lightweight, with a minimalistic appearance and great interface. Two controlled preamps make reference-quality recordings possible, and the studio's many inputs and outputs provide a smooth setup.
The Babyface Pro FS features the same circuit used in RME's reference-quality AD/DA, ensuring precise timing every time. Without lag, the RME engine offers a mixer with 46-bit internal resolution and many effects. Besides its helpful features, this audio interface also boasts accurate onboard metering.
Key Features:
Circuit
The

Babyface Pro FS

has several enhancements over its forerunner, not the least of which is a revamped SteadyClock FS circuit. The S/N ratio of its microphone preamps is upgraded from 114dB to 116.3dB, and that of its line/instrument inputs increases by the same amount.
There was an 8dB boost to the line inputs' quality. They bumped up the headphone output power from 70mW to 90mW, and the total harmonic distortion (THD) was reduced by up to 10dB on both channels.
TotalMix FX's faders may be kept around 0dB instead of at high attenuations by flipping a switch that lowers the interface's output level, increasing the noise ratio for sensitive active monitors and preventing distortion. On the A/D side, there is a reduction in the delay of six samples. Also, the audio interface's power consumption remained unchanged after these upgrades.
Inputs And Outputs
You'll be impressed by the

RME Babyface Pro FS

's raw strength and adaptability the first time you see it. It boasts a sleek, low-profile aluminum housing and extensively manages volume, splits, and gains.
Two digitally controlled mic preamps of reference quality are included, as well as line/instrument inputs, SPDIF/ADAT, a MIDI connector, and two balanced line outputs. Also had is real-time, on-board metering that can determine peak and RMS values. The best part is that the Babyface Pro FS does all this without sacrificing simplicity or style.
SteadyClock
The Babyface Pro FS's sheer power and versatility will blow your mind the first time you see it. Despite its compact aluminum casing, it allows for comprehensive control over volume, splits, and gains. 
Additionally, onboard metering can calculate peak and RMS values in real time. The beauty of the Babyface Pro FS is that it manages to accomplish all of this without compromising either functionality or aesthetics.
Latency
RME's TotalMix FX system is included in the Babyface Pro FS. One DSP chip is responsible for zero-latency effects and processing, while the other handles monitor mixing.
TotalMix FX provides a 288-channel mixer with 46-bit internal resolution and may be used in several ways due to its flexible routing capabilities. There is no need to worry about latency or your computer's processing capacity; you can monitor as many effects and processing as you need.
Pros:
The Babyface Pro FS maintains the same high standards of clarity, purity, and openness in its audio reproduction that we expect from Babyface products. Though only the most discerning listeners can pick out the difference in the signal-to-noise ratio improvements, people experienced no issues whether recording guitar, voice, or synths.
The Babyface Pro FS improves upon a good solution by leaps and bounds. An increased volume in the headphones and a dB switch for the main outputs will be the most apparent changes to the ordinary user. Stability at these latency and audio quality benchmarks has been a point of pride from the start.
While the SteadyClock FS is designed with engineers in mind, the rest of us may rest sure that our recordings and playbacks will be of the highest possible quality. It has great sound quality and consistently performs with minimal latency, all in a sleek and attractive enclosure.
Cons:
The mixer application is dreadful; it is sluggish, awkward, and appears to have been designed for Windows XP. It is absurd that the user cannot activate phantom power through the user interface but must do it from within the application itself.
9. Lewitt Connect 6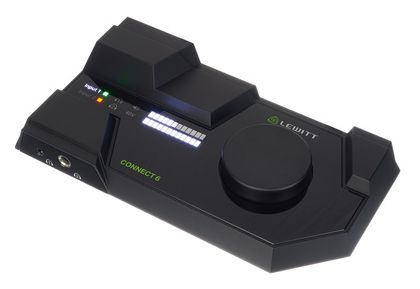 Artists and musicians looking for a versatile yet eminently transportable audio interface will find it incredibly motivating.
The Connect 6 has two high-gain, low-noise microphone preamps, two independent headphone outputs, and many other cool features. Potent hardware-based DSP offers strong routing control, mixing, and effects. You can easily optimize for any source of audio with the help of the Auto Setup feature.
Since you can charge Connect 6 through USB-C, you can take it wherever the action is without worrying about dead batteries. Further, the Control Center software included with this audio interface lets you make two separate audio mixes.
Key Features:
Design
Connect 6's bulky yet thin casing protects the interface's PCB and connector mountings from the elements. It feels solid yet strangely sleeker and far less visually apparent than other desktop interfaces. The sharp edges may not appeal to everyone, but they add to the overall look and feel.
The vast rotary dial is not obstructed by any protruding elements, which may also assist in safeguarding it from accidental knocks and bumps. Together with the LED indicators and metering, this knob makes the entire interface function as an independent mixer, eliminating the requirement for a computer or other host device.
Interface
You will typically use the interface in conjunction with a host device. Mobile devices can use the interface, but the full range of features is only accessible when connected to a computer running the Control Centre software that comes with the package.
You can feed the system's output busses from either two separate mixes you make from the various input channels or any other source you choose. Connecting mic and line-level signals are made possible via a pair of XLR/jack combination ports on the hardware's rear.
Each of these inputs has its own phantom power, high-pass filter, phase-flipping capabilities, and high-quality preamps. Each channel also features many effects thanks to the superb on-board DSP processing. This is the ideal setup for processing speech.
Inputs And Outputs
A stereo mini-jack connection sits next to the mic/line inputs and can be used to link to the auxiliary input. This channel's fixed input gain is insufficient for line-level signals but enough for lower levels, such as those produced by a laptop's headphone jack.
It needs to be clarified how you will put this channel to use. The USB-C port makes it very obvious that the auxiliary input is not meant for usage with mobile devices. To put it another way, the Connect 6 can function as an audio I/O box for mobile devices while allowing for bidirectional audio transmission between a smartphone and the Control Centre mixer.
This effect is that you may utilize your mobile device as a video and/or live streaming device, receive phone calls, and play other audio from your handheld without sacrificing your audio setup or quality.
Control Centre
Three supplemental stereo buses are available within the software's Control Centre. These can be used to incorporate the host computer's audio software's output into your broadcast. Similarly, you can send any output source or mix to a recording or streaming application via a stereo loopback bus.
The remaining Control Centre output channels serve the hardware's primary left and right output jacks. For each bus, you can choose to use either of the two mixes or any of the input sources. Here, a Maximiser process is provided for each blend, providing even more processing options. Because of this, the volume is increased, and a limiter is applied to the mix, but the process can only be controlled by changing the mix level.
Pros:
The Connect 6 system has a straightforward and logical architecture that makes it easy to set up and gives you a wide range of options for customizing your mixes and feeds. This processing already in place is a lifesaver for real-time broadcasting, as it solves the issue of conditioning and safeguarding speech input and output levels without delaying the video.
Nevertheless, the specialized mobile device is their brightest idea here. In addition to being used with a computer, many current interfaces also serve as audio I/O for portable devices like tablets and smartphones. Your mobile device can be far more versatile than it would be if it were treated as merely another input and output channel. This solves several problems associated with content creation.
Cons:
Buyers of this item should install the software control panel, then connect the hardware. This may seem inconsequential, but it isn't. Since it is too modern, older versions of DAWs and software may not be compatible with the interface. In other words, you should hold off for a while longer.
We'd want a stronger headphone amplifier because the headphones' adjustable monitoring volume can be too low depending on the impedance. The volume knob doubles as a source selector, which can destroy recordings or, at the very least, necessitate unnecessary reworking due to its loud pop acoustic and plastic construction.
10. Avid MBOX Studio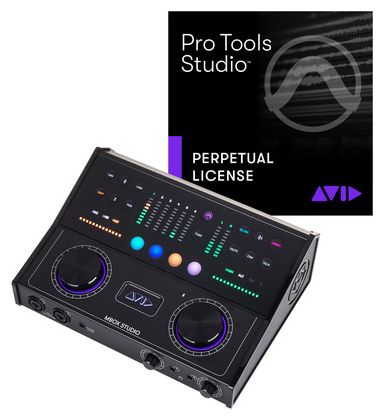 Avid's Mbox Studio is a complete recording, editing, and mixing audio interface.
The high-quality audio, low-latency tracking, loopback mixing, and in-the-moment effects of this desktop USB-C audio interface are only the beginning. There are four high-quality mic preamps in MBOX Studio, and their variable impedance means you may use them with a wide variety of microphones.
You may plug in instruments with varying impedances because of the inclusion of line-level analog, digital, and MIDI I/O. There are two earbud jacks, and the monitor controller has all the bells and whistles, including talkback. Mbox Studio, driven by Pro Tools Studio, provides professional-grade audio for any studio engineer, voice actor, or podcaster.
Key Features:
Monitoring
The

MBOX Studio

 from Avid simplifies the process of establishing reliable monitoring. There are two stereo monitor outputs, each of which may be quickly switched between for use as a reference. Essential monitoring controls, such as Mono, Mute, and Dim, are conveniently located on the top panel. There are also two separate headphone outputs, each with its cue mix control.
Inputs And Outputs
Mbox Studio has enough input and output (I/O) to handle any kind of work. It has four excellent mic preamps with variable Z for various microphones. You can easily plug in your electric guitar or bass thanks to the two instrument inputs that include changeable impedance.
The Mbox studio features stereo Bluetooth I/O, so you can listen to your creations on the go, jam with your iPhone, or hook up your AirPods. In addition to the impedance-matched, hi-Z output and MIDI I/O, you also receive 8 channels of ADAT or two channels of optical S/PDIF and coax S/PDIF and MIDI I/O. Mbox Studio has a lot of inputs and outputs, including two for footswitches and expression pedals.
Workflow
Mbox Studio is prepared to meet the needs of any form of creative endeavor. You may make beats and studio-quality recordings using its preamps, effects, low-latency monitoring, and AD/DA conversion. Separate cue and monitor mixes and simple monitor switching make it easy to record voice-overs and edit audio.
At the same time, guitarist-friendly features let you capture great guitar tones. Mbox Studio's loopback mixing functionality makes it ideal for podcasters to record live audio and prerecorded dialogue. Four customizable buttons for frequently used actions will help you quickly get through tasks.
Pros:
The Avid MBOX Studio gives its consumers an excellent combination of the two options. However, don't let its compact size and user-friendliness fool you into thinking it's weak. A powerful and feature-rich device deserving of its place among the best digital audio workstation (DAW) interfaces.
This one could look unprofessional if you're used to devices with a black-on-black color scheme and one blue LED next to the power button. Don't let it throw you off; the construction and materials are top-notch. Spend less time in your DAW's user interface and more time in the MBox Studio's Control user interface to get the most out of your purchase.
This will require some adjustment time for many people. Included in the purchase of an MBox Studio is a one-year subscription to Avid's Pro Tools Studio and a suite of additional software in addition to the 115+ plug-ins provided by Pro Tools. As long as you're merely upgrading your old MBox or Fasttrack box, you may use the interface with your current version of Pro Tools.
Cons:
Pro Tools controls are rendered inoperable whenever the MBox Control program is running. Avid has said that the Pro Tools capability mapping to the User Action buttons and footswitch inputs would be available soon, even though it is not now accessible.
11. Presonus Revelator io44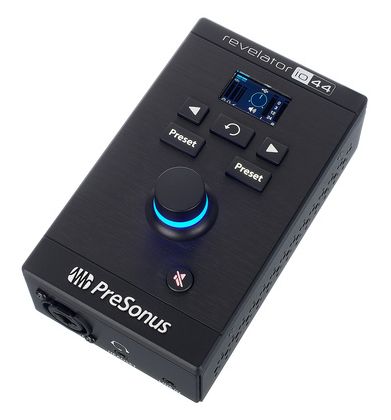 Live streaming and recording are simplified with the help of the PreSonus Revelator io44.
This tiny USB-C audio interface packs a punch in terms of sound quality thanks to its preamp and high-end circuitry. The digital signal processor (DSP) in this interface is identical to that found in their acclaimed mixer.
You'll get access to eight different pre-made effect settings created by industry pros, all fully customizable to help you achieve your desired sound. Live streamers are generally pleased with the output limiter's ability to prevent clipping during broadcasts.
Key Features:
Connectivity
The Revelator io44 may be marketed especially toward live streamers, but you may use it just as effectively in a musical setting. It's great for musicians who are often on the go or have a cramped studio. There is a single mic/instrument combination input, a TRRS headphone input that supports recording from headset mics (useful for gaming and streaming), and a TRS line input for recording telephones.
Effects
The program, available for free on their site, lets you easily tweak these settings and store your preferences as one of six custom presets or one of eight factory defaults.
A good feature that lets those with and without experience with advanced audio processing create recordings that sound polished and professional. An abundance of presets is available for usage in any given circumstance because they may be saved and shared among users.
DSP
High-quality digital signal processing (DSP) effects are preinstalled for real-time processing of incoming data; during testing, they had no discernible impact on recording delay. Your computer will be able to run additional programs, such as plugins, streaming software, or CPU-intensive games, more smoothly, thanks to the inbuilt DSP processing.
Presets
In a matter of seconds, our recording sounded much more polished, and professional thanks to the factory presets, effective signal cleaning, and noise reduction. Using a built-in microphone on a gaming headset with one of the microphone's presets significantly increased the signal's clarity while cutting down on background noise like hums and hisses.
Screen
You can feel several different textures on the gadget. Essential data and navigation of the interface's functions are presented on a compact display. It's operated by turning a single rotary button, which cycles through and lets you adjust various settings.
Two "preset" buttons let you quickly switch between the two available settings. You are giving you the option to access your preferred channel settings with a button quickly.
Loopback
The loopback capability is also a great addition to the interface. All sounds from your computer, such as music or a game, can be recorded channel in the interface and then imported into recording software.
Having separate recordings of each component simplifies post-production tasks like editing and source balancing. In contrast, central monitoring of all audio streams simplifies in-the-moment adjustments to volume levels during live performances like webcasts.
Pros:
An audio interface is a fantastic option for anyone interested in streaming, podcasting, or portability in their recording setup. Those who are often on the go or don't have a large dedicated studio at home will appreciate the compact design and sturdy construction.
Streamers and podcasters who may need a deeper understanding of audio processing can get professional-quality recordings with just a few clicks, thanks to various presets that provide these possibilities. It's also great for more seasoned musicians and producers thanks to its extensive effects and fine-grained editing controls.
Cons:
Unfortunately, the XLR preamp is terrible, yet, this should be no surprise given that PreSonus has shown no signs of wanting to improve its preamps for years. You'll get good performance if you limit the volume to no more than +15 dB. A gate won't help if you need to run it any more than that, as the hiss will be loud enough to be heard even while you're talking.
Plus, it seems to switch to a new gain circuit and now you get RF noise if you need to run it at +30 dB or higher. In addition, 32 ohms is the lowest of the usable impedance values. Headphone amplifiers should have an impedance of less than 1 ohm to be compatible with the widest possible range of headphones, yet all PreSonus's interfaces have a somewhat high impedance.
Bonus:
Apogee Duet 3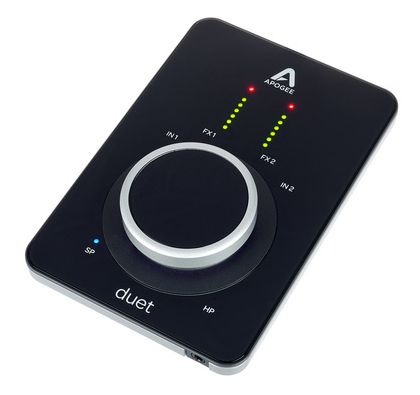 This interface has progressed a long way since the early, packing high-end AD/DA and digital clocking, flawless analog circuit, and hardware DSP.
The onboard hardware DSP, accessible through the Channel Strip plugin, allows for zero-latency sound shaping at the input stage. Besides its simple bus-powered design and aesthetically pleasing curved body topped with scratch-resistant gorilla glass, you'll also like the interface's new breakout cable, which features streamlined connectors and a longer reach. 
Key Features:
Housing
Despite its compact size, the item has a premium look and feel to its construction. The ultrathin design is made possible using a custom cable at the device's interface. Some are okay with the cable, but it detracts from the otherwise clean interface look for others.
This is the only option for a slim device to have full-sized audio jacks. Apogee now offers a dock for the third generation that, for $180, not only keeps the interface from sliding about and raises one end of it but also provides a standard, flat screen with the necessary connectors in a more controllable fashion.
This is a cleaner option, and it's the best choice if you intend to use the interface at your desk rather than on the go.
Connectivity
It can also be powered via a USB connection, with any modern computer being able to provide the juice—a second USB-C port for charging via a high-wattage converter, such as an iPad Pro charger. If you have a first-generation model, you'll need to upgrade the app and firmware on your device so that it can take advantage of this new feature.
This version improves upon the original release in several ways: the headphone output is 5dB louder when utilizing true power. Also, the volume and level are displayed on the LED meters, and the system is compatible with the iPad Pro. At least 15W of power is required to reach the maximum headphone output level.
App
The application is where the interface's preferences are adjusted. You can access a few features by pressing and moving the volume knob, but the app provides many more customization options. You may set the hardware dial to adjust the speakers' volume, the master out, the brightness of the lights, and more, as well as link channels and adjust the pan, the sensitivity, and the levels.
The hardware dial is likewise stepped, providing satisfying clicks as you adjust the setting. The app also provides access to the Channel Strip plugin that the onboard DSP hosts. Utilizing its built-in hardware power supply, you may utilize this effect while recording with zero latency.
You can take advantage of its simple compression, EQ tuning, and many convenient factory settings. It has a professional tone, and you can fine-tune and regulate your recordings as they flow through the interface, so your other hardware isn't taxed. This is especially helpful on devices with limited processing power, like the iPad Pro.
Converters
Two pristine analog preamps with phantom power and +65dB of gain are provided by the unit's bespoke AD/DA converters and analog circuitry. The fact that such a little device can record at a maximum of 192 kilohertz at 24-bit speaks volumes about its design and construction quality. Audio capture was clean, crisp, and reliable, with extremely low noise and distortion, even at maximum record volumes.
Pros:
It's well crafted, and the clarity you can record and playback on your end is astounding. The fact that it can perform all this and power its onboard channel strip with no lag is incredible. They made some design choices to minimize bulk and weight; for example, there aren't many on-body controls, but the backlighting provides clear feedback.
Since it must be linked to Mac or PC to record, much of the routing and configuration must be done through app. As far as hardware interface management interfaces go, this one is easy to use and comprehend. A plethora of interfaces is available, albeit only some provide both inbuilt DSP and bus power. The interface is more costly than the bulk, yet it offers exceptional performance for even the pickiest producer.
Cons:
It would be an ideal solution; however, the Duet 3's level meters are poorly made. You showed only two green LEDs that move up and down on a glossy black glass panel with no numeric scale or other readable visual input to indicate volume level.
When tweaking the input levels, there is zero visual confirmation from the device's LEDs. You must have the Apogee Control program running and be watching the meters on your computer screen while you adjust the device's knobs to get a sense of the input or output levels. You can see the numeric and visual feedback on Duet 2 in the image.
Conclusion
They are the Top 11 Audio Interfaces With DSP Available in 2023. We've included some of the best mix/master, recording, and streaming choices. It's fascinating how businesses have developed to provide cutting-edge answers for everyone everywhere and for any problem.
We don't advise spending much money on an interface to make simple recordings for a demo. Whether you're just starting and need an entry-level interface or a seasoned veteran looking to upgrade, you'll find a reliable partner in this collection.
If you're a musician or plan on streaming online, we hope our Top 11 Audio Interfaces With DSP Available in 2023 has shed some light on the DSP capabilities and ease of integrating various interfaces now available on the market.
Other Audio Interface Topics
Why is My USB Audio Interface Buzzing & Crackling?
How To Fix Audio Interface Crackling, Popping & Buzzing?
Do I Really Need An Audio Interface For Music Production?
Top 10 Best Audio Interface For Film Scoring 
Is Audio Interface Same As Headphone Amp? 
Do I Need To Turn Off Audio Interface When Not in Use?
Top 12 Audio Interfaces For Guitar (On All Budgets)
11 Best Audio Interfaces With Preamp 
Top 11 Audio Interfaces With Loopback 
Top 12 Audio Interfaces for 5.1 &  7.1 Surround
Top 7 Audio Interfaces For Neural DSP Software
Top 10 Audio Interfaces For Recording Vinyl 
Is it Worth Upgrading Audio Interface? Do You Need it & When?
Can You Use DAW Without Audio Interface? 
Top 6 Thunderbolt Audio Interfaces 2023 (For Pro Sound)
Best FireWire Audio Interfaces: 5 Picks For Pro Sound 2023
Amp vs Audio Interface: Which Is Best For Me?
Death metal enthusiast here. I am a Romanian musician and producer with over 13 years of experience in the music industry. I've experienced all types of Metal up until now, playing Melodic Death Metal, Brutal Death Metal, and Black Metal with different bands. Learning by doing is my base principle, which is why I've been drawn to sound design from an early age. Read more…