Today we will talk about the top 12 audio interfaces for 5.1 & 7.1 surround in 2023 because we know how essential an interface is to surround mixing.
These days, capturing any audio at studio quality is a breeze. An audio interface is crucial to record podcasting, dubbing, music, and other content because it allows you to convert high-quality audio into a format your devices can understand.
It might be challenging to narrow down the options when such a vast range of styles and capabilities are available. We've scoured the industry and tried innumerable products to bring you this list of Top 12 Audio Interfaces for 5.1 & 7.1 Surround 2023, whether you're just starting in the world of audio or are a seasoned pro.
In a nutshell, here are the Top 12 Audio Interfaces for 5.1 & 7.1 Surround 2023:
1. Focusrite Scarlett 18i20 (5.1 & 7.1)
2. TASCAM US-16×08 (5.1 & 7.1)
3. Universal Audio Apollo Twin X (5.1)
4. PreSonus Quantum 2626 26×26 Thunderbolt 3 (5.1 & 7.1)
5. iConnectivity mioXL (5.1 & 7.1)
6. MOTU UltraLite-mk5 (5.1 & 7.1)
7. RME Fireface UCX II (5.1 & 7.1)
8. RME Babyface Pro FS (5.1 & 7.1)
9. Universal Audio Apollo x6 (5.1 & 7.1)
10. Focusrite Clarett+ (5.1 & 7.1)
12. Avid MBOX Studio (5.1 & 7.1)
There are two ways in which you can use an audio interface: one is to convert analog signals from a microphone or line-level input into digital for use in a computer, and the other is to convert digital signals from the computer back into analog for use in driving stereo speakers, headphones, or other analog devices.
That's the first level, or ground level, of an interface. All of the interfaces on this list of this Top 12 Audio Interfaces For 5.1 And 7.1 Surround 2023 have advanced monitor control options, many digital audio I/O types, MIDI I/O, and even onboard digital signal processing (DSP) for latency-free monitoring and signal processing.
What is 5.1 surround sound?
A 5.1 surround system is a speaker setup of five speakers and a subwoofer, including left and right front speakers, a center channel speaker, and two surround speakers. The speakers are typically arranged in front of the listening area, while the surroundings are positioned to the sides.
This way, you can have a full-sensory experience in any space you want. This solution is also great if you want to put it up on your own because fewer wires are involved. A 5.1 surround system has less than-ideal setup precision and poorly tuned audio. Also, a 5.1 system doesn't work well in a big room and makes it hard for everyone to hear the audio.
What is 7.1 surround sound?
The 7.1 setup includes the same speakers and components as the 5.1 setups, plus two more for the back channels, and counting just the satellites, this system has seven speakers. You can achieve an enhanced 5.1 arrangement by positioning the extra speakers behind the listener, creating a new sensation.
In this way, your sound will have more dimension, and your conversation and other sonic effects will come across as if a magician created them. A 7.1 system allows you to adjust every aspect of your audio experience. However, there are a couple of things that you could improve.
The most significant drawback is that you cannot use the 7.1 system effectively in less than 350 square feet. The surround sound from the back will overpower the front channels. However, even if you have room for it, 7.1 systems rarely come as a bundle, have less comprehensive online support, and are incompatible with other audio equipment.
What determines if an audio interface can support 5.1 & 7.1 surround formats?
The number of outputs an audio interface has determines whether it can handle 5.1 or 7.1 surround sound. When using a 5.1 or 7.1 surround sound system, an audio interface should control the audio output. You can adjust the settings to get a more polished sound.
Regarding surround sound, not every audio interface is the same. Using a 2-channel interface is out of the question, and it's also likely that most multi-channel interfaces won't include a linked surround level control.
You will need a separate surround monitor control, which can cost more than your interface if you don't have a single volume button that can adjust all of your sound output channels simultaneously. The Universal Audio Apollo x6 is one of many professional audio interfaces that provide surround sound, with up to 7.1 channels of it being possible.
However, there are more options on the market. So we invite you to look at the Top 12 Audio Interfaces for 5.1 & 7.1 Surround 2023 to find the suitable interface for you.
Top 12 Audio Interfaces for 5.1 & 7.1 Surround 2023
1. Focusrite

Scarlett 18i20 (5.1 & 7.1)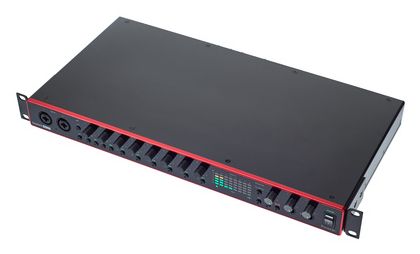 The Scarlett 18i20 from Focusrite, now in its third iteration, packs a lot of punch for a surprisingly low price.
There are a pair of high-quality Focusrite preamps on the front panel and many inputs on the rear. Eight channels of ADAT I/O, MIDI I/O, S/PDIF, and word clock out can be found in the back, along with six extra XLR combo inputs. The Scarlett 18i20 from Focusrite is a high-quality audio interface that offers a wealth of useful functions.
Focusrite Scarlett 18i20 is an excellent foundation for serious project studios that need to develop in the future due to its talkback for communicating, 8-channel LED bar-graph meters, twin headphone outputs with independent volume controls, and speaker switching for dual-monitor setups. Connect it and launch the provided software to get started.
Key Features:
Circuit
The third-generation

Focusrite Scarlett 18i20

 looks much more refined than its predecessors. Scarlett 18i20 has been improved internally to provide superior sound quality, decreased latency, and streamlined operation. The studio-quality sound that you can carry with you at sample rates up to 192kHz. Scarlett mic preamps from Focusrite now feature the company's legendary Air circuit.
Furthermore, the instrument inputs have been upgraded to accommodate the most potent active pickups. To protect your Scarlett 18i20 interface from hazardous power surges, Focusrite wired analog protection circuitry across all inputs and outputs.
Preamps
The eight Focusrite preamps in the Scarlett 18i20 are some of the best in the business. Focusrite's award-winning preamps have been used by professionals in recording studios worldwide for over 25 years. The Focusrite Scarlett 18i20 features transparent, low-noise preamps and low distortion thanks to the company's extensive design expertise.
With the same technology featured in Focusrite's flagship products, you have plenty of headroom for using mics on any source, no matter how loud. Mics that need phantom power are supported, of course. Combine it with the hit-making sound of the Air mode on Focusrite's multi-purpose interface, and you have a recipe for success.
Latency 
If your monitor mix is great, you'll be able to hear things like reverb and delay on a guitar solo, which will help encourage you to play better. The Focusrite Scarlett 18i20 is renowned for its incredibly low latency.
Using native plugin effects for monitoring, you may capture more authentic performances of your components. Using the Direct Monitor circuit to take advantage of low-latency direct input monitoring is as simple as turning on a switch.
Bonus
Ableton Live Lite and a three-month subscription to Avid Pro Tools Artist are just two examples of the great software included with the Focusrite Scarlett 18i20. The Focusrite Red Plugin Suite is bundled as a bonus. Focusrite provides everything you need to get started immediately.
In celebration of their third generation Scarlett, Focusrite partnered with Splice to offer new customers a complimentary three-month Splice Sounds membership. You can find millions of high-quality loops, one-shots, and presets on Splice Sounds, all of which are royalty-free and uploaded daily by your favorite sound designers, artists, and producers.
Pros:
They've done a good job of staying competitive with the updated specs and new features. The new "Air Mode" and the ability to toggle between mono and stereo are nice touches. Still, the second generation is more than capable of meeting your needs unless you have a specific use case. However, if you are a first-time buyer, you should get the third generation instead of the second.
The new third-generation interfaces from Focusrite are great and the actual magic is behind the hood, even though it appears they are merely a nicer version of their old selves at first appearance. The pricing is reasonable and seems to be around the same as its predecessors, despite several apparent enhancements; this will likely keep existing customers happy.
Cons:
The difficulty is that there isn't enough harmonic and tonal variety. We doubt it's feasible to use custom-built preamps instead of factory ones. Aside from being loud, it lacks a punch-in port, which is an essential feature for any do-it-yourself composer, and the AIR option is redundant. You will be highly dissatisfied with the factory default settings if you have a specific idea of the sound you want and are used to devices that can provide it.
2. TASCAM US-16×08 (5.1 & 7.1)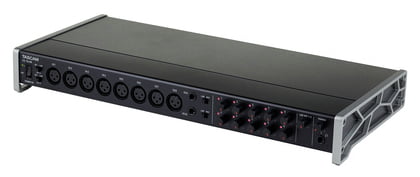 The TASCAM US-16×08 can record 16 microphone or line inputs to a computer, providing high-quality audio and convenient tools for handling lengthy recording sessions.
Eight-line inputs can convert two to instruments' volume for direct guitar or bass recordings also, there are eight balanced line outputs, two of which have a control in the front panel for convenient in-line monitoring.
The DSP Mixer, which allows for low-latency digital mixing, is built inside the US-16×08. You may fine-tune the monitor mixes with the four-band EQ and compression on each channel. The US-16×08 has two modes: interface and stand-alone mic preamp. Drivers for Mac OS X and Windows, as well as USB Class drivers for tablets like the iPad, are included.
Key Features:
Side Panel
New, sophisticated user interfaces are encased in sleek, ergonomic, and contemporary industrial designs. Tascam pioneered the USB audio interface market, and they've combined their know-how with that of the esteemed German firm design box to create a product that's both innovative and practical.
Viewing and working at an angle on a desk is considerably more convenient. You'll need to stoop forward or upward to reach the knobs and switches for the rest of the interfaces. The ergonomically placed controls of the US-16×08 facilitate use.
Driver
Tascam engineers developed a brand new driver architecture just for the US-16×08. You can install the Windows driver software without hooking up the interface by following the on-screen prompts. Mac users may use the interface without the need for a driver installation.
Changing preferences on a device is as easy as installing the control panel. The US-16×08 is equipped with a high-end digital mixer powered by an Analog Devices BlackFin DSP processor, making it ideal for monitoring applications.
There is a low-cut filter, a compressor, and four bands of EQ on each input. It's simple to recall previous mixer settings thanks to the DSP mixer's ability to save up to 10 pictures as scenes. To digitally patch signals to any available output, click the extra tab. The class-compliant driver ensures compatibility with popular tablets like the iPad.
Preamps
The mic preamps on Tascam's proprietary Ultra-HDDA interface are the best-sounding, quietest, and cleanest you'll find in an interface in their price range. Their 56dB gain makes them compatible with dynamic, condenser, or ribbon microphones. The interface's preamps are so high-quality that your songs will sound like records, even though they are far more expensive than similar interfaces.
Pros:
The Tascam 16×08 is a great interface for a home studio that provides a good "bang for the buck." You have been able to generate some outstanding recordings in a short amount of time, especially when coupled with the Presonus Studio software.
Although Inputs 11–16 are designated as "line in only," when combined with a preamp configuration, these channels provide excellent choices for recording keyboards, additional percussion tracks, re-amp settings, and even vocals.
Even if it isn't cutting-edge technology, it was certainly up to satisfy your production requirements. The navigation is fantastic, and it is also relatively easy to understand. The foundational production is going to go pretty well with this setup.
Cons:
The USB drivers frequently result in the blue screen of death for the computer. When you hooked it into the computer and the power was switched on, the computer simply would not function properly. The CPU was idling at roughly 3–6% of its capacity, but it would randomly spike up to 100% every several minutes. After turning off the interface, the issue was no longer present. It just works terribly for Windows.
3.

Universal Audio Apollo Twin X (5.1)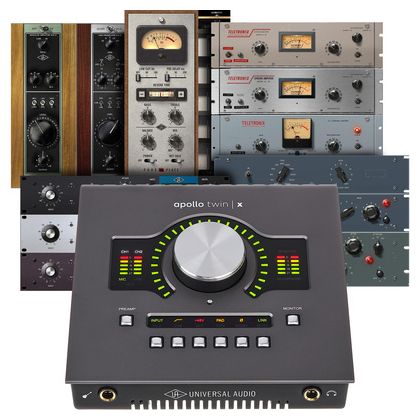 While it offers performance on par with Universal Audio's rackmount Apollo X audio interfaces, the Twin X DUO's simplified desktop style makes it ideal for project studios.
UA's powerful DUO Core processor makes it possible to record and mix with accurate simulations of studio standards. Enjoy premium audio thanks to the Apollo Twin Xs improved, high-end AD/DA converter. Two independent Unison preamps simulate some of the most renowned recording equipment.
Key Features:
Duo Core Processing
Sometimes your computer needs the juice to handle all the plugins you need for your recording session. This is where UA's robust DUO Core CPU with two processing cores comes in. Using this processor, you may mix in your DAW while simultaneously using Neve, Manley, or API channel strips for real-time tracking.
In real-time, you may apply musical limiting to a vocal track, add tube warmth to a guitar, and pump up the drums with a compressor. The experience is virtually identical to owning the device.
Unison Technology
The Unison preamp technology in the Apollo Twin X DUO is in a league of its own compared to other software models and simulations. Unison is a two-way exchange of information between the mic preamp in the Apollo Twin X DUO and a Unison-capable plugin.
The plugin modifies the analog gain structure, impedance, and other aspects of the preamp circuit. The plugin alters the preamp's behavior to that of the target preamp as the gain knob and other physical parameters are adjusted.
Latency
UA was an early adopter of Thunderbolt, a technology that has profoundly impacted the audio production industry in recent years. Thunderbolt's lightning-fast communication delivers reduced latency and more reliability than USB and FireWire.
It can keep up with a PCI Express system's speed and ultra-fast performance. In reality, the Thunderbolt 3 connection allows for the low-latency operation of multi-channel projects with track counts in the hundreds.
You may expand the speed and bandwidth of your studio's I/O and DSP by connecting up to four Apollo interfaces through Thunderbolt. The built-in Thunderbolt 3 connector on the Apollo Twin X DUO is compatible with both Thunderbolt 1 and 2 Macs so you won't need a new computer.
Bundle
UAD Powered Plugins are widely regarded as among the best digital recreations of classic analog audio hardware. The incredible processing power of the UAD platform is what makes these plugins shine. It would be best if you dedicated a lot of processing power to these plugins to achieve the level of detail, color, and personality they provide.
The best part is that audio may be recorded with UAD plugins in real-time with sub-2ms latency on the Apollo Twin X DUO. Five award-winning plugins are included in the premium suite that comes with the purchase of the Apollo Twin X DUO Heritage Edition.
AD/DA
The

Universal Audio Apollo Twin X

's AD/DA conversion improves upon the already impressive sound quality of previous Apollo models. UA engineers tried AD/DA technology when building the new Apollos, finally pairing high-end 24-bit/192 kHz converters with reworked analog circuitry. The result is a 127dB dynamic range signal path that is highly pure.
Luna Compatible
If your computer has a Thunderbolt connection, you may use this audio interface from Universal Audio and the company's free LUNA software. It doesn't matter if you want to record, edit, or mix your music; LUNA can do it all. Further, you can control, track, and overdub everything in real-time from within your DAW, thanks to the interface's seamless hardware/software integration.
Obtain total software management of Apollo's Unison mic preamps by utilizing UAD DSP-accelerated plugins. Digitally, LUNA is the closest thing to an analog process that exists today, and it combines the inspiration of real-time processing with a truly analog sound.
Pros:
The Apollo line of interfaces from Universal Audio fits several requirements for a perfect audio I/O, including good signal pathways and converters, stable and user-friendly software, and capabilities built by people who know what they're doing regarding sound recording.
A few of the most appealing features of Apollo interfaces are their onboard DSP and Unison preamps, which may make your recordings feel as if you captured them with high-end analog hardware. The Universal Audio Apollo Twin X provides a solid starting point for constructing a more complete and powerful Apollo setup, and it's a very inexpensive way to increase your studio's capabilities.
Cons:
It would be great if UAD's boxes came with a built-in midi interface, eliminating the requirement for a separate piece of equipment. It's great news if you have a different device; however, M1 Mac / Big Sur doesn't currently support it.
Regardless of whether you have a license, UAD will install all of the plugins they provide. Add a plugin to your project, and have fun guessing what you're licensed for. There will be a "start demo" button for unlicensed plugins that load. It's necessary to remove them from the plugins folder by hand.
4. PreSonus Quantum 2626 26×26 Thunderbolt 3 (5.1 & 7.1)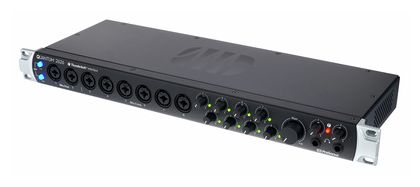 This audio interface has great sound quality, thanks to Thunderbolt 3 technology and eight high-quality XMAX mic preamps.
The converters and perfectly synchronized clocking of this interface allow a staggering 120dB of dynamic range and virtually jitter-free operation. You may add up to 26 more inputs and outputs using PreSonus Quantum 2626's twin ADAT inputs. The Quantum 2626 comes with the DAW PreSonus Studio One Artist and the free Studio Magic Plugin Suite, so you can start recording right now.
Key Features:
Inputs And Outputs
With eight high-quality XMAX preamps, the Quantum 2626 is already off to a beautiful start. The board features two ADAT ports that you may use to connect other devices, allowing you to expand your input/output capabilities to a maximum of 26/26.
A digital audio workstation often has two-line returns, allowing you to connect any additional devices or effects. Input and output for MIDI devices are included in the

 Quantum 2626

, allowing you to connect an older MIDI keyboard or other devices.
Converters
PreSonus's conversion can sound comparable to that of more expensive options while still being affordable. It's clear that PreSonus spared no expense in creating this great audio interface; the 24-bit/192kHz converters included here are on par with anything else available.
To be precise, the audible and spatial dynamic range is 120 dB. The

 Quantum 2626

is a perfect hub for your recording gear, thanks to its high-precision clocking and other features.
Preamps
Class A preamps' quality and adaptability have increased in recent years. You can generate clear, open tones at low gain levels because of the amplifiers' high-voltage rails and solid construction; when the volume is cranked up, the textures and complexity of the approaches become more apparent, and the sound becomes more alive.
DC-coupled inputs and outputs set the Quantum 2626 apart from similar products in its cost range because they can capture a broader frequency spectrum than capacitor-coupled I/O, especially at lower frequencies.
Bundle
The purchase price covers Studio One Artist and all necessary accessories to begin computer-based recording immediately. To top it all off, the Studio Magic plugin suite is included to help you achieve professional results in your recording endeavors.
There are hundreds of dollars worth of added value thanks to the inclusion of plugins that are simulations of vintage pieces of studio equipment from well-known manufacturers in this massive collection. Many other effects are available, such as the Brainworx bx opto compressor for your mix bus, the Lexicon MPX-i Reverb for ambiance, the SPL Attacker Plus for some snarling transients, and so on.
Pros:
The PreSonus Quantum 2626, when used in conjunction with Studio One, is an excellent audio interface for people looking for a straightforward method to monitor eight (or more) microphones while also benefiting from the low-latency functioning of software instruments.
Recording 24 analog inputs at once is feasible with a straightforward extension through the ADAT inputs and 8-way external preamps, making it ideal for tasks like tracking a band's rhythm section. Some may be turned off by the unit's low price and the lack of a dedicated headphone DAC and a preamp and monitoring features, but it's hard to find a better deal. In addition, the supplied software is top-notch. Everyone can find some takeaway from that.
Cons:
When it comes to playing system audio, this interface has volatile drivers; frequent crashing is anticipated at this stage, as is the occasional interruption of the audio. Fortunately, it only appears to do this while not recording. Attempts to contact PreSonus have yielded no fruitful results.
The transmission of sound is blocked. It's only useful as an audio interface if it's hooked up to a computer, at which point it becomes little more than a decorative paperweight. To listen to the signals being sent into the Quantum 2626, you will need to utilize a digital audio workstation (DAW) or other audio application, as there is no audio pass-through. Indeed, not a deal killer, but a minor annoyance if you were planning on jamming on a guitar or bass.
5. iConnectivity mioXL (5.1 & 7.1)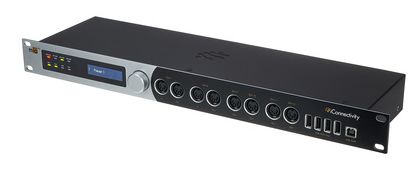 The mioXL MIDI interface from iConnectivity is the company's flagship product, and it will redefine your MIDI studio or live performance setup with its unprecedented power and ease of use.
For many years, musicians and producers of various skill levels were limited to elaborate wiring systems as the only means of connecting their equipment. Thanks to a ground-breaking new technology called mioXL, it's simpler than ever to get massive quantities of MIDI gear up and running with zero fuss.
Their latest MIDI interface, the mioXL, is the most powerful and flexible of its kind. Their power, connection, and performance are unparalleled in their category. With MIDI, you may manage many devices from a single interface. This sturdy and stylish USB-MIDI interface may be connected to any computer in seconds. With Ethernet-MIDI, you may use connections of any length and easily transition between PCs without physically connecting them.
Key Features:
Routing Presets
To help you optimize your sound, mioXL includes several built-in presets. This intuitive and powerful interface allows you to save and load any session easily. Different typesetting possibilities are accessible at will to fit every mood.
You may access them without needing a computer via the front panel's sharp OLED display or rotary encoders. Depending on one's perspective, this may include anything from a lighthearted uppercase to a more somber lowercase. Their latest software release boasts advanced setup options. The original, well-designed workflow makes it easy to access MIDI functions like merging, filtering, and remapping with only a few clicks.
Host Ports
The mioXL's ten onboard USB-MIDI host ports make it a flexible instrument that can be configured to meet various applications. Your live performance or studio recordings will benefit significantly from adding Class-Compliant devices that you may use with your existing instruments and libraries.
The mioXL is a robust yet user-friendly interface that facilitates linking a computer to a wide variety of peripherals. Software like Garage Band and Propellerhead Reason is ideal for those that want adaptability and connection.
Ethernet
If you want even more speed from your wireless network, connect the mioXL to your wireless router or hub/router through the Ethernet connector. MioXL's built-in network connectivity grants full command over any mio-connected gadget.
Easy Connect and AppLink, which can be found in our iOS app store, make pairing Bluetooth for the first time a breeze. With the

iConnectivity mioXL

, you may satisfy your technological wants and demands. The high-quality audio and seamless connections will take your music to new heights.
Interface
You may connect your computer or tablet to the Interface and use it as a networked, eight-in/twelve-out interface and hub for your MIDI devices. It's ideal for those who don't want to tether themselves to a computer only to use the latest music creation tools. It's a fantastic choice for musicians that need to collaborate remotely.
If you're on the other end of the room and need to control another device during a performance or recording, the Ethernet port will give you a range of up to 330 feet. The Interface is a game-changing technology that will forever alter your perception of sound.
For a long time, musicians' on-stage and in-studio output has been constrained by the separation of their many instruments and pieces of equipment. With this innovative interface, you may wirelessly connect your original instrument from your home to an audience of musicians.
Pros:
If you're looking for a great getaway for your next performance, go no further than the mioXL. Its comprehensive capabilities make it an absolute powerhouse, and are loaded with the latest and greatest cutting-edge technology from iConnectivity.
With mioXLTM, it's simpler than ever to get a ton of MIDI devices communicating with one another. There is no reason any group of musicians couldn't work together to create the next great musical masterpiece, whether they are seasoned users or young prodigies, thanks to the influx of connections from various networks worldwide.
The robust, flexible interface links your computer to all your MIDI devices and gives you control over them. It's ideal for busy professionals on the go since it only requires learning one system to address any device and transfer data logically. Its USB-only interface and short cable length make it ideal for usage on stage or in the studio.
Cons:
As much as we'd like to use it with a DAW, this MIDI router shines most in a live setting. Although there are 12 MIDI Outputs and 10 USB Ports advertised, only the first 8 MIDI IN/OUTS and 7 USB Ports will be accessible within your DAW.
USB Outputs 9–12 must be mapped internally to accommodate sound modules. You'll have to go around to locate an explanation and solution video; Auracle, the mapping, and control program, only has a smattering of videos for documentation.
This is an excellent tool for use in a live setting since you can route any source to any destination and save up to 16 different setups, all of which can be accessed and changed without connecting the device to a computer.
6. MOTU

UltraLite-mk5 (5.1 & 7.1)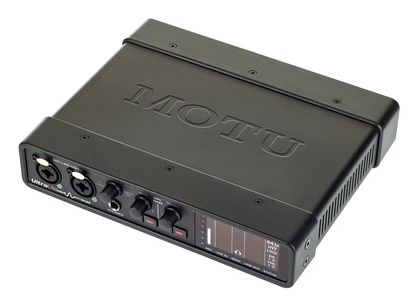 The MOTU UltraLite-mk5, a USB audio interface with 18 inputs and 22 outputs, boasts a stunning round-trip latency of 2.4 milliseconds and a reference-quality D/A.
The UltraLite-mk5's microphone preamps record music with startling clarity, and the generous assortment of inputs and outputs means you can easily connect your preferred external devices. The loopback feature of this high-performance audio interface simplifies podcasting and live to stream.
It is also easy to create professional-quality monitor mixes with the help of the redesigned CueMix 5 software and high-quality onboard digital signal processing (DSP).
Key Features:
Inputs and Outputs
The

MOTU UltraLite-mk5

is a portable half-rack I/O unit that provides access to a total of 40 audio channels. The two mic/line inputs are apparent, and there are six line inputs and ten line outputs in total, making this audio interface a total of 18 inputs and 22 outputs.
In addition to its digital optical I/O and MIDI channels, the UltraLite-mk5 features a headphones output that delivers high-quality audio. As an essential tool for podcasting and live streaming, loopback is also included.
DSP
The internal digital signal processor (DSP) of the UltraLite-mk5 produces high-quality audio with features including an EQ, reverb, and dynamics. In addition to the DSP audio inputs and outputs, this audio interface features a monitor mixer that allows for individual monitoring of each analog output channel.
The MOTU CueMix 5 software is a powerful yet intuitive visual mixer controller. Furthermore, CueMix 5 has been redesigned from the ground up, with eye-catching optical mixing, eq editing, and a handy, interface sure to speed up your workflow.
Latency
Quality sound and reliable functionality are essential whether you're performing live or recording in the studio. Both of these needs are met by the UltraLite-mk5. It has a 125dB dynamic range and -114dB thanks to the reference-quality D/A from ESS Technology. The 24-bit/96kHz latency round-trip via USB is a big plus. The UltraLite-dependable mk5's performance is supported by PC or Mac and iOS owing to updated drivers.
Pros:
The MOTU UltraLite mk5 is a portable USB interface with top-notch sound quality and surprising versatility in studio, bedroom, and live performance use cases. This is due to the abundance of inputs and outputs (I/Os), each of which may be independently adjusted in software and, if necessary, subjected to audio processing using DSP FX. It performed consistently and admirably when tested with both macOS and iOS devices.
Cons:
It appears that the MOTU UltraLite-mk5 is a well-engineered interface with only a few noticeable flaws. At 192 kHz sampling, the worst problem is extreme distortion at mid and low frequencies. None of this belongs here. The second issue is less severe and has been fixed for some time in desktop DACs; this is the IMD distortion growing at mid-levels.
7. RME Fireface UCX II (5.1 & 7.1)
Due to its SteadyClock technology, the Fireface UCX II can produce ultra-stable clocking.
Its DC-coupled outputs allow it to transmit CV/gate voltage control information to modular synthesizers and studio equipment. With TotalMix FX, you can completely control the Fireface UCX II without needing an additional hardware mixer.
You'll have access to various high-quality effects for each channel. Plus, it supports RME's ARC USB remote controller and has extensive onboard metering, a DURec connector for direct recording to a USB flash drive or external hard drive, and more. The Fireface UCX II is a great option if you're looking to improve your studio with a professional-grade audio interface.
Key Features:
Engine


RME Fireface UCX II

comes preloaded with RME's TotalMix FX engine. One DSP chip is responsible for zero-latency effects and processing, while the other handles monitor mixing. With the routing options in TotalMix FX, you may create a mixer with as many as 20 inputs, 20 software playback tracks, and 20 hardware outputs.
Channel effects on the Fireface UCX II include an equalizer, low-cut filter, delay, compression, booster, and auto-level. You can use all the necessary effects and processing power while tracking without worrying about latency or your computer's processing capacity.
Circuit
With an improved analog PLL circuit and referring both Direct Digital Processing, the Fireface UCX II achieves record-low self-jitter, surpassing the already great performance of its predecessor.
Even while operating in PLL mode, the Fireface UCX II achieves levels of self-jitter that are typically only possible in master quartz clock mode. These modernized circuits allow the

 Fireface UCX II

to meet the jitter specifications of a single femtosecond.
Inputs And Outputs
When you first see a Fireface UCX II, you'll be awed by its impressive power and versatility. Its half-rack format is compact yet extensively manipulates volumes, aux sends, and gain structures.
Modular synthesizers and other studio equipment can get control voltage control information through CV/gate voltage thanks to DC-coupled outputs. Also included is real-time onboard metering that can determine peak and RMS values. The best part is that the Fireface UCX II does all this without sacrificing simplicity or aesthetics.
DURec
You may find a DURec port on the RME Fireface UCX II's rear panel. Directly record and playback 40 channels of music to a USB flash drive or external hard disk for up to 2 terabytes using this connector.
The hardware employed by RME boosts performance, allowing you to experience increased dependability even using sluggish or partitioned flash devices. Benefit from a built-in real-time clock to generate timestamped files and use sophisticated playback options.
Low Noise
The rise of headphones can be credited to revitalizing the in-ear monitor (IEM) market. Modern IEMs are a convenient replacement for bulky over-ear headphones and an exciting option at home because of their reference sound quality. The interface also uses sensitive components and operates at very low voltages.
They inadvertently expose even the faintest traces of noise emanating from the player, DAC, or headphone amplifier. They created RME's Extreme Power headphone stage to have the lowest possible background noise, borne out by additional assessments.
When used in conjunction with earphones, it is. Even so, RME wanted to ensure that you would supply the dynamic range during playback, even to the most sensitive IEM/listener configurations. Extreme Power outputs are remarkable but can be dangerous if the user isn't careful, especially if they're using headphones or ear monitors (IEMs).
Pros:
The RME UCX II is hard to beat when comparing functionality, size, and availability. Although the new UCX is more expensive than the Babyface and its predecessor, it is a natural extension of RME's product line and deserves your consideration.
This interface is very cost-effective when compared to the other RME products. Some audio interfaces come with built-in recorders to sweeten the deal, which is helpful for folks who occasionally use their gear without a computer. However, the UCX's strongest aspects are intangible attributes you can't find in a feature comparison or spec sheet.
RME has no competitors supporting older products, an often-overlooked but important quality in the industry. If the UCX is truly a money-saver in the long run, it's worth spending more on it. Similar to how RME's drivers are still the gold standard despite competition from other brands improving in recent years. The interface you receive will be dependable, feature very low latency, and be compatible with the maximum number of host machines.
Cons:
While the Total Mix settings allow for additional RME devices to be connected to the mixing console, at this time, only a 12-channel mic preamp from RME is supported. It would generally be possible to utilize this port to connect your RME device as a second audio input, but that is not the case here.
You should remember this if you have more than one RME device. Configuring aggregate devices with audio midi settings is still possible but involves switching to a different console for each device individually.
8. RME Babyface Pro FS (5.1 & 7.1)

The RME Babyface Pro FS is a durable yet easily transportable, bus-powered USB audio interface.
The casing is rugged and lightweight, with a minimalistic appearance and great interface. Two controlled preamps make reference-quality recordings possible, and the studio's many inputs and outputs provide a smooth setup.
The Babyface Pro FS features the same circuit used in RME's reference-quality AD/DA, ensuring precise timing every time. Without lag, the RME engine offers a mixer with 46-bit internal resolution and many effects. Besides its helpful features, this audio interface also boasts accurate onboard metering.
Key Features:
Circuit
The

Babyface Pro FS

has several enhancements over its forerunner, not the least of which is a revamped SteadyClock FS circuit. The S/N ratio of its microphone preamps is upgraded from 114dB to 116.3dB, and that of its line/instrument inputs increases by the same amount.
There was an 8dB boost to the line inputs' quality. They bumped up the headphone output power from 70mW to 90mW, and the total harmonic distortion (THD) was reduced by up to 10dB on both channels.
TotalMix FX's faders may be kept around 0dB instead of at high attenuations by flipping a switch that lowers the interface's output level, increasing the noise ratio for sensitive active monitors and preventing distortion. On the A/D side, there is a reduction in the delay of six samples. Also, the audio interface's power consumption remained unchanged after these upgrades.
Inputs And Outputs
You'll be impressed by the

RME Babyface Pro FS

's raw strength and adaptability the first time you see it. It boasts a sleek, low-profile aluminum housing and extensively manages volume, splits, and gains.
Two digitally controlled mic preamps of reference quality are included, as well as line/instrument inputs, SPDIF/ADAT, a MIDI connector, and two balanced line outputs. Also had is real-time, on-board metering that can determine peak and RMS values. The best part is that the Babyface Pro FS does all this without sacrificing simplicity or style.
SteadyClock
The Babyface Pro FS's sheer power and versatility will blow your mind the first time you see it. Despite its compact aluminum casing, it allows for comprehensive control over volume, splits, and gains. 
Additionally, onboard metering can calculate peak and RMS values in real-time. The beauty of the Babyface Pro FS is that it manages to accomplish all of this without compromising either functionality or aesthetics.
Latency
RME's TotalMix FX system is included in the Babyface Pro FS. One DSP chip is responsible for zero-latency effects and processing, while the other handles monitor mixing.
TotalMix FX provides a 288-channel mixer with 46-bit internal resolution and may be used in several ways due to its flexible routing capabilities. There is no need to worry about latency or your computer's processing capacity; you can monitor as many effects and processing as you need.
Pros:
The Babyface Pro FS maintains the same high standards of clarity, purity, and openness in its audio reproduction that we expect from Babyface products. Though only the most discerning listeners can pick out the difference in the signal-to-noise ratio improvements, people experienced no issues whether recording guitar, voice, or synths.
The Babyface Pro FS improves upon a good solution by leaps and bounds. An increased volume in the headphones and a dB switch for the main outputs will be the most apparent changes to the ordinary user. Stability at these latency and audio quality benchmarks has been a point of pride from the start.
While the SteadyClock FS is designed with engineers in mind, the rest of us may rest sure that our recordings and playbacks will be of the highest possible quality. It has great sound quality and consistently performs with minimal latency, all in a sleek and attractive enclosure.
Cons:
The mixer application is dreadful; it is sluggish, awkward, and appears to have been designed for Windows XP. It is absurd that the user cannot activate phantom power through the user interface but must do it from within the application itself.
9. Universal Audio Apollo x6 (5.1 & 7.1)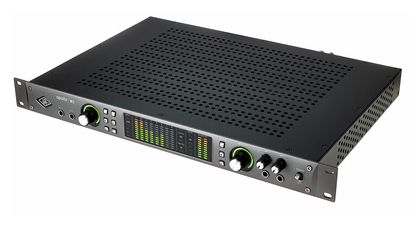 The Universal Audio Apollo x6 should be at the heart of every recording studio if you want to maximize your time there.
The HEXA Core processor in the latest Apollo gives you 50% more processing power than its predecessors, allowing you to record and mix quickly. Also, you can enjoy premium sound thanks to the enhanced high-end AD/DA converter and Dual Crystal clocking of the Apollo x6.
The +24dBu operating mode, built-in talkback, and native 5.1 surround monitoring are all great features for professionals. You may record via simulations of some of the most iconic pieces of gear in the business, thanks to the two Unison preamps at your disposal. In addition, the Apollo x6's ultra-fast Thunderbolt 3 interface provides sub-2ms latency and plenty of room for expansion. 
Key Features:
Hexa Core
Occasionally, your computer may lack the processing power or bandwidth to operate all the plugins you need for your recording session. Here, UA's robust 6-core HEXA Core CPU shines. Compared to its predecessor, this CPU is 50% more powerful. This translates to using channel strips for real-time tracking or mixing with many UAD plugins running in your DAW.
Preamps
The Apollo x6's preamp technology is above typical software capabilities. A Unison-enabled plugin, such as the 610-B, which emulates a legendary tube preamp, may communicate in real-time with the mic preamp in the

 Apollo x6

.
Using the gain control and the physical knobs, you may make the Apollo x6's plugin preamp behave like the desired preamp. Instead of just being filtered to replicate the preamp's character, the Apollo x6's input causes your microphone to react the same way it would to the preamplifier.
5.1 Monitoring
The world over, professional studios have Apollos. Though, there are a few professional-level additions that customers have been begging for. The good news is that Universal Audio has listened to you.  The

Apollo x6

has 5.1 surround monitoring, calibrated and foldable speakers, and more.
This is fantastic news for those who work as sound engineers in music or other industries. In addition, they developed the Apollo x6's selectable +24dBu operation specifically for your analog console and other high-end equipment. The Apollo x6 has all these and more, making it a fantastic focal point for any recording studio.
Latency
UA was an early adopter of Thunderbolt, a technology that has profoundly influenced the audio production industry in recent years. Thunderbolt's lightning-fast communication delivers reduced latency and more reliability than USB and FireWire, and it can keep up with the speed and performance of a PCI Express system.
Through its Thunderbolt 3 connection, the Apollo x6 can run high-track-count projects with a latency of less than 2ms. And if you want even more high-speed I/O and DSP for your studio, you can connect numerous Apollo interfaces through Thunderbolt.
Bundle
UAD Powered Plugins are widely regarded as among the best digital recreations of classic analog audio hardware. It is only possible to achieve these plugins' realism, color, and personality by allocating a significant portion of your processor's resources to them. The best part of using UAD plugins with the Apollo x6 is that it allows you to record audio in real-time with a latency of less than 2ms.
Pros:
If you're committed to your music production job and are thinking about updating your audio gear, you must look into Universal Audio's selection of interfaces. The business has earned its name as a leader in the professional audio industry and a producer of cutting-edge audio I/O equipment.
When considering the enhanced surround sound offering, Apollo X becomes a very appealing audio interfacing bundle. Now is a perfect moment to join the Apollo family if you're intrigued by the UAD concept, as the x6 provides all the I/O most users will ever need at a very reasonable price.
Similarly, UA's DSP-loaded audio interfaces are nearly ideal if you need additional processing power for your mixes or are tired of making sacrifices due to input latency. Although the x6's lack of analog I/O may turn some people off, it is expandable through ADAT and daisy-chaining with other UA gear. However, more Apollo models are available if you want more inputs and outputs.
Cons:
On a PC running Windows 10, you will have terrible playback distortion. Despite all of people's best efforts, you will not solve the issue. It appears that your two choices are to purchase a Mac or exchange the Apollo for an interface compatible with Windows 10. We are at a loss to comprehend how Universal Audio was able to release a product without being aware of this fact.
10. Focusrite Clarett+ (5.1 & 7.1)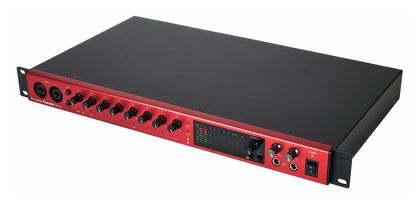 Focusrite's Clarett+ 8Pre is a solid audio interface with 18 inputs and 20 outputs, making it versatile enough to be the backbone of a stationary or studio.
Its eight Clarett+ microphone preamplifiers provide stunning audio, and its USB Type-C interface ensures ultra-fast data transfer with minimal latency. The magic starts as soon as you plug in your microphones thanks to the mic preamps' switchable Air effect, which simulates the openness and clarity of an ISA transformer-based preamp to make your recordings sound more professional.
Key Features:
Mixer
Focusrite Control, a cutting-edge software mixer, is preinstalled on your

Focusrite Clarett+

and streamlines the process of establishing customized monitoring and routing.
Focusrite Control is an easy-to-understand classic mixing workflow that provides quick access to internal hardware controls like volume and mute. The free Focusrite iOS Control software allows users to fine-tune their desktop version's mixes from their iOS device.
Monitoring
The

 Clarett+

8Pre's monitor panel has a 6-segment, multichannel LED meter for monitoring analog and digital input levels and the primary monitor outputs. A volume knob, brightness, and volume toggles are at your disposal when monitoring.
This interface is a great device for tracking and mixing since it has two headphone outputs, an extensive dynamic range, and enough power to offer healthy levels of high-impedance headphones.
Latency
This interface's very low audio latency over USB-C allows you to use your preferred DAW plugins while recording and monitoring in real-time. There is zero necessity for specialized hardware like DSP. You can use any plugin for each recording channel to build the ideal recording chain.
Preamps
The

Focusrite Clarett+

8Pre has mic preamps from Focusrite's exclusive Clarett+ line, which means it has tons of clean gain and almost no background noise.
Focusrite's patented Air function is included in these preamps, giving your recordings fresh air by switching to an analog replica of Focusrite's lauded vintage transformer-based ISA mic pre. Voices with a presence and smooth air may be recorded using the if that's what you're after.
Inputs And Outputs
The Clarett+ 8Pre has an incredible dynamic range thanks to its eight freshly developed mic preamps. The Clarett+ 8Pre's compact 1U size and many connectivity options (including MIDI and ADAT) make it ideal for use in either a permanent recording studio or a portable recording rig.
This interface is a great interface option because of its high-quality sound, cutting-edge round-trip audio latency, and user-friendly design.
Bundle
This

Clarett+

interface has an insert on each channel, so you can always have your preferred rack gear connected and ready to record through. All the interfaces come with the Hitmaker Expansion, a professional-quality software package with powerful mixing plugins and virtual instruments and a versatile insert configuration that allows you to add analog gear to your signal chains as needed.
Pros:
Despite requiring you to switch tabs to access the Air buttons, the interface's straightforwardness is a welcome change. There was no need for the mixing and routing complexities found in products by many other manufacturers; instead, it was ready to go in seconds.
You could manage the foldback mix from an iPad, and the DAW could remain on the computer screen, which was a huge time saver compared to using two monitors. The ability to instantly silence the microphone is also beneficial in online meetings.
Cons:
The minimal monitor controls perform as expected, albeit it's odd that there isn't a button to do summed mono or A-B monitoring between two independent speaker systems. A last criticism is that the preamp gain doesn't go high enough to reliably handle a high-gain microphone like the Shure SM7B without being too loud or lacking in headroom when cranked.
The main difficulties with this interface are mobility and the software control may not be to everyone's liking. Nevertheless, this is a problem that most of their products have, and it does not necessarily hinder the user's ability to engage with it. In addition, a 15W USB-C connection is necessary for bus powering.
11. Audient iD44 (5.1 & 7.1)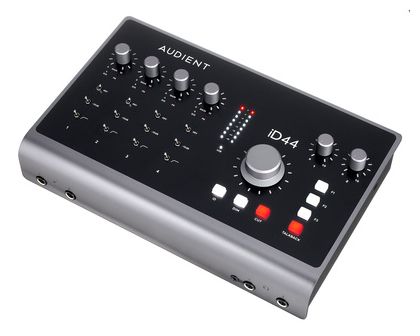 With the iD44, Audient leverages its design experience of over 20 years.
With its four world-famous Audient console mic preamps, industry-leading conversion, ADAT expansion, and more, the Audient iD44 brings the power of an Audient console to your desktop. The preamps of the iD44 have the same discrete circuit architecture as the company's flagship console and the rest of its offerings.
The Audient mic delivers precise reproduction with little noise and distortion and even has a touch of analog warmth for personality. Use your preferred low-output ribbon mic on quiet sources with the 60dB of gain available.
The input stage of a vintage tube amplifier was used as inspiration for the unit's two DI inputs, which add harmonic augmentation. The Audient iD44 is a fantastic audio interface because of its high-performance converter, low-latency DSP mixing, and several connection options.
Key Features:
Housing
The

Audient iD44

is expertly crafted to provide dependable service in the studio and on the road for many years, thanks to its premium quality components, all-metal construction, and hand-finished aluminum knobs. You may use the iD44 with any Mac or PC with a USB port and a USB cable (the iD44 comes with both a conventional USB cable and a USB Type-C cable).
Talkback
The iD44 is a cleverly crafted analog of the console's central control panel, which serves as the console's command hub for communications and monitoring. With the iD44, you can utilize any audio source connected to your computer as a talkback mic, freeing up valuable mic pres and having a good talkback solution.
With the press of a button, the iD44's volume encoder transforms into a virtual scroll wheel, giving you complete control over your digital audio workstation (DAW), plugins, and more.
Monitoring
The iD44's monitor control capabilities are exceptionally versatile, drawing influence from Audient's rich history of analog console design. These features include dedicated talkback, chop, dim buttons, polarity, mono, channel selection, and cue mixing monitoring.
You may attach any monitoring task to one of three customizable buttons, eliminating the need to go through complex software menus. You may easily take charge of your session by assigning the necessary monitoring functions.
Inputs And Outputs


Audient iD44

is equipped with two Optical input/output ports, facilitating a wide variety of connections. Because of its ADAT and S/PDIF compatibility, the iD44 can be expanded to include up to 16 mic pres, making it ideal for recording sessions with several performers or a full band.
Before converting, you may quickly enter your favorite effects' two balanced insert points. When utilized for print-backs or incorporating external line-level analog sources, it gives you direct access to the A/D converters for a clean signal. Whether you need stem processing or a place to start building your voice chain, iD44 has you covered.
AD/DA
The AD/DA converter in the iD44 is tailored to provide an enhanced dynamic range for accurate and natural playback of your recordings. Because of the converters' exceptional fidelity, even the most minor details can be heard, allowing for more informed mixing decisions and, ultimately, higher-quality recordings.
Two JFET direct inputs (DI) with harmonic enhancement are also included in the iD44 to simulate the input stage of a vintage vacuum tube amplifier. You can hear the magic happen as soon as you put in your bass guitar or synthesizer and hit the Record button.
Pros:
Although the iD44 with the iD Mixer software is Audient's most complicated desktop USB audio interface to date, they've struck a good balance between features, usability, and physical footprint once again.
And for its pricing, the iD44 provides excellent value for money, as it sounds fantastic and gives an outstanding audio performance. Although the ID44 was designed with home and project studios in mind, its portability, high-quality mic preamps, direct inputs, and ADAT-format connection should also make it a strong contender among laptop-toting recording enthusiasts and on-the-go musicians.
Cons:
The most annoying source of the clicky sounds from buttons and switches was the vibration of the larger direct dial (with mouse click). Having a button that wasn't entirely silent but was reliable was preferred, but not having either option was manageable.
You can click on a control, like a DAW fader, and then discretely scroll using the larger rotary dial, reducing the need to make any adjustments during tracking. In cases where the iD44 is at eye level, but the desk is low, the slanted control panel is still the best option for readability.
The flat control panel's small switches, obscure legends, bright LED buttons, and meters could be challenging to traverse in low light. Nobody wants to power up an expensive outboard gear with phantom power accidentally.
12. Avid MBOX Studio (5.1 & 7.1)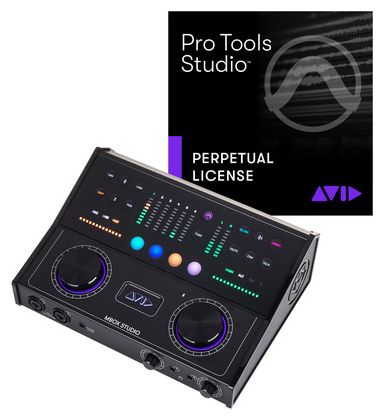 Avid's Mbox Studio is a complete recording, editing, and mixing audio interface.
The high-quality audio, low-latency tracking, loopback mixing, and in-the-moment effects of this desktop USB-C audio interface are only the beginning. There are four high-quality mic preamps in MBOX Studio, and their variable impedance means you may use them with a wide variety of microphones.
You may plug in instruments with varying impedances because of the inclusion of line-level analog, digital, and MIDI I/O. There are two earbud jacks, and the monitor controller has all the bells and whistles, including talkback. Mbox Studio, driven by Pro Tools Studio, provides professional-grade audio for any studio engineer, voice actor, or podcaster.
Key Features:
Monitoring
The

MBOX Studio

 from Avid simplifies the process of establishing reliable monitoring. There are two stereo monitor outputs, each of which may be quickly switched between for use as a reference. Essential monitoring controls, such as Mono, Mute, and Dim, are conveniently located on the top panel. There are also two separate headphone outputs, each with its cue mix control.
Inputs And Outputs
Mbox Studio has enough input and output (I/O) to handle any kind of work. It has four excellent mic preamps with variable Z for various microphones. You can easily plug in your electric guitar or bass thanks to the two instrument inputs that include changeable impedance.
The Mbox studio features stereo Bluetooth I/O, so you can listen to your creations on the go, jam with your iPhone, or hook up your AirPods. In addition to the impedance-matched, hi-Z output and MIDI I/O, you also receive 8 channels of ADAT or two channels of optical S/PDIF and coax S/PDIF and MIDI I/O. Mbox Studio has a lot of inputs and outputs, including two for footswitches and expression pedals.
Workflow
Mbox Studio is prepared to meet the needs of any form of creative endeavor. You may make beats and studio-quality recordings using its preamps, effects, low-latency monitoring, and AD/DA conversion. Separate cue and monitor mixes and simple monitor switching make it easy to record voice-overs and edit audio.
At the same time, guitarist-friendly features let you capture great guitar tones. Mbox Studio's loopback mixing functionality makes it ideal for podcasters to record live audio and prerecorded dialogue. Four customizable buttons for frequently used actions will help you quickly get through tasks.
Pros:
The Avid MBOX Studio gives its consumers an excellent combination of the two options. However, don't let its compact size and user-friendliness fool you into thinking it's weak. A powerful and feature-rich device deserving of its place among the best digital audio workstation (DAW) interfaces.
This one could look unprofessional if you're used to devices with a black-on-black color scheme and one blue LED next to the power button. Don't let it throw you off; the construction and materials are top-notch. Spend less time in your DAW's user interface and more time in the MBox Studio's Control user interface to get the most out of your purchase.
This will require some adjustment time for many people. Included in the purchase of an MBox Studio is a one-year subscription to Avid's Pro Tools Studio and a suite of additional software in addition to the 115+ plug-ins provided by Pro Tools. As long as you're merely upgrading your old MBox or Fasttrack box, you may use the interface with your current version of Pro Tools.
Cons:
Pro Tools controls are rendered inoperable whenever the MBox Control program is running. Avid has said that the Pro Tools capability mapping to the User Action buttons and footswitch inputs would be available soon, even though it is not now accessible.
Bonus:
Apogee Symphony I/O Mk II | SoundGrid

(5.1 & 7.1)

Apogee focused its skills on developing a modern multichannel audio interface, and the result is impressive.
The Apogee Symphony I/O Mk II has the most advanced AD/DA conversion from Apogee, super modular inputs and outputs, and a responsive touchscreen display. Additionally, it provides the most convenient Dolby Atmos monitoring solution currently available. Apogee's Symphony I/O Mk II is a great piece of equipment in your studio if your audio production needs to force you to be on the bleeding edge of technology.
Key Features:
Inputs and Outputs
Whether you're in charge of a home studio, project studio, score stage, or top-tier commercial facility, Symphony I/O offers a setup that will suit your needs. Apogee provides four primary I/O configurations and eight microphone preamps.
And when your requirements evolve, adding extra capacity to your system is a breeze. Your Symphony I/O Mk II system can have up to 32 A/D and D/A converter inputs and outputs thanks to its two module slots.
Software
The widespread support from streaming services and record companies has hastened the adoption of Dolby Atmos and comparable immersive audio codecs. The

Apogee Symphony I/O Mk II

I may be a blessing for those needing an immersive audio monitoring system, but only if you can stomach the hassle of its installation and management.
The Apogee Control Software has intuitive sliders and knobs for fine-tuning your surround sound recordings. For starters, it makes it easier to link together different input and output nodes. There is a limit of three unique Speaker Sets that may be made and toggled between.
The speaker level trim control and the speaker status indicators in different colors make it easy to balance the sound across your speakers. More importantly, Apogee's Control Software enables quick and painless transitions between various monitoring configurations, including stereo, 5.1, Binaural, and Dolby Atmos.
SoundGrig
Apogee's famous audio quality meets cutting-edge DSP-enabled networking in SoundGrid. You can connect shared PCs to other computers in other rooms with an Ethernet cable.
The Waves SoundGrid servers will then provide you with virtually limitless real-time DSP power, significantly improving the performance of your system. Studio, post-production, or live sound rigs may all benefit from the

Apogee Symphony I/O Mk II

because of its compatibility with many different digital audio workstations.
Pros:
Nothing about the Apogee Symphony I/O Mk III will shock you. The good news continues if you own a Symphony I/O or another high-quality converter. The quality of your product is superior to that of prosumer interfaces. It's a remarkable converter, with all its minute customization options, top-tier features, and unfailing uptime.
If you invest in one, you'll immediately notice an improvement in the quality of your recordings, offering your mixes a far better chance of reaching a new pinnacle. Only those who place a high value on conversion quality can afford a converter like the Symphony Mk II due to its exorbitant price and "one-trick-pony" nature. The Symphony I/O Mk II will be perfect for those looking for such a device.
Cons:
There is no such thing as a "prosumer" interface, which is why the Symphony I/O Mk II comes with a price tag that is, shall we say, more on the professional end of the spectrum once it has been outfitted with a few modules. It is pretty hefty and feels most at home in the studio, linked to your outboard gear in a rack. As a result, it is not necessarily intended to be a "grab-and-go" style mobile-friendly interface.
Conclusion
That said, this was the Top 12 Audio Interfaces for 5.1 & 7.1 Surround 2023, where we could see a lot of ways we can mix in surround. Companies are starting to develop massively in this direction, and it's generally quite intimidating at first to find the right interface, whether you want to mix in 5.1 or 7.1, record multichannel drums or even guitars.
Universal Audio was also at the top, with two options you'll see a lot in studios that aim to be serious. Universal Audio Apollo Twin X  is an interface that can play you a 5.1 surround. Its mighty core makes it possible to record real-time vocals with effects like reverb or even auto-tune with no latency.
This interface has Duo Core CPU, and thanks to it, you can record without latency and with over-track effects. The experience is a special one, but they excel only on Mac, which can be a drawback, but the company also seems to improve the Windows version.
The Universal Audio Apollo x6 can deliver 5.1 and even 7.1 surround and is 50% more potent than the Universal Audio Apollo Twin X, thanks to the HEXA core processor. This interface gives you outstanding quality preamps, which can help your mic react to sounds just as it would if you put it into a preamp.
Focusrite hasn't let themselves down either; they've brought out the 3rd generation Focusrite Scarlett 18i20, which offers 5.1 and 7.1 surround. It's an interface that's part of the company's mid-range, very well priced for what it offers, but with their legendary Air circuit to boot.
It benefits from 8 of Focusrite's highest-quality preamps, which aim to provide great headroom for microphones. If we're talking top-of-the-line from them, we must speak of the Focusrite Clarett+. This interface holds the best of Focusrite's components, with more powerful software and the ability to instantly silence the microphone for many situations.
We hope this Top 12 Audio Interfaces for 5.1 & 7.1 Surround 2023 has helped you find the right product for your needs and better understand why they are suitable for surround.
Death metal enthusiast here. I am a Romanian musician and producer with over 13 years of experience in the music industry. I've experienced all types of Metal up until now, playing Melodic Death Metal, Brutal Death Metal, and Black Metal with different bands. Learning by doing is my base principle, which is why I've been drawn to sound design from an early age. Read more…