Don't go any further if you are looking for a tube bass amp to upgrade your setup or take your sound to a more professional level. This article will show you the Top 5 Tube Bass Amps of 2023 on any budget.
For many musicians, tube amplifiers are a kind of "holy grail" because they provide your instrument's warmest, fullest and richest sound. Even though many bass players are pretty satisfied with Solid State amps, tube heads are still popular and are some quality standard.
If you are thinking about buying a tube bass amplifier, this article will be right for you. We will show you different options: both expensive and relatively affordable. In addition, you will be able to see the heads of different wattages, which will be an essential factor for you when choosing your future gear.
Top 5 Tube Bass Amps 2023 for Warmth & Depth (Any Budget)
1. Fender Super Bassman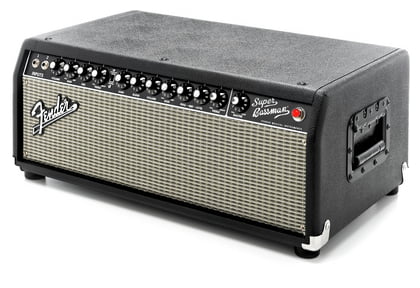 With the Fender Super Bassman, you get everything you need for both punchy clean, and aggressive bass tones.
Fender needs no introduction, as it is one of the most popular musical instruments and equipment brands in the world. Their Bassman series is also very famous because it was introduced in the 50s, and since then, it has received the love and recognition of many musical legends. Not only that, these amps later became the basis for the first guitar high-gain gear.
In 2012, Fender decided to update their Bassman line, and that's how the newer version, the Super Bassman, was created. It is a 300-watt bass amp with as many as ten tubes on board, both pre and power amp sections. It also has two channels and quite extensive tonal shaping possibilities.
Key Features:
Two-Channel Bass Amp


You will have two channels at your disposal –

Vintage

and

Overdrive

. The first one is quite classic and has

only four knobs:

Volume

,

Bass

,

Mid

,

and Treble

.

The second is more advanced with the selection of specific midrange frequencies for cutoff or boost and the option to change the ratio of clean and overdriven signals with the Blend knob

.

Push-Pull Knobs


Some of the knobs on this amplifier have

push-pull functions

. It applies in particular to

Bass

and

Treble

.

You can add more bottom-end or sparkle in the upper frequencies by engaging this

. You will also be able to

mute your head this way on the Master knob

.

XLR Out
You can also easily record the DI signal using the separate XLR Out on the back of the head

. There's even a dedicated

signal level control

,

Pre and Post buttons

,

and Ground and Lift

to reduce unnecessary noise.

By the way, to record silently

,

you'll also have a separate Mute switch for the speakers

.

Automatic Biasing


Another remarkable feature of the Fender Super Bassman is

Automatic Biasing

. You can also find the corresponding panel on the back of the head.

It will show you the status of the lamps and give you three modes of operation

:

Warm

,

Normal

,

and Cold

. So, you don't have to adjust the biasing manually and worry that something will go wrong.

Foot, Tuner, PreAmp, and Pwr Amp


It is several additional inputs and outputs that will help expand the capabilities of your head.

In particular

,

we mean a separate jack for the Footswitch connection

,

allowing you to swap between channels effortlessly

. The amplifier also has

Tuner Output

,

Preamp Output

,

and Power Amp Input

.
Fender Super Bassman Head Demo from Bass Club Chicago
Character & Sound:
The clean bass tone you get from the Vintage channel will be clean and rich. On the other hand, overdrive will help you get a more aggressive and fuzzy sound. A great bonus here is the Blend knob, thanks to which you can adjust the amount to your liking. Overall, this amp is very versatile.
Pros:
The Fender Super Bassman is a full tube, a high-end bass amp with many different features. You can get all kinds of bass tones, both clean and dirty. Plus, there's a whole 300 watts of power, making this head perfect for big gigs. But thanks to XLR Out and the silent recording feature, it's also perfect for studio purposes.
Cons: 
Perhaps the main disadvantages of this head are that it is heavyweight and expensive. To be more specific, it weighs almost 30 kilograms. The price here also bites – it is two and a half thousand dollars. But that's what you have to pay for gear of this level.
2. Ampeg V-4B Bass Head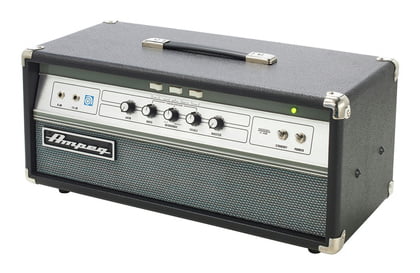 The Ampeg V-4B Bass Head gives you the legendary warm bass sound and versatility.
It's hard to find a bass player who doesn't know the American company Ampeg. It has been around since 1946 and, over time, has become the trademark when it comes to the excellent bass sound. Now let us tell you about the V-4B model, a reissue of the legendary heads that Ampeg produced in the 60s and 70s.
It is a 100-watt tube bass amplifier with an utterly classic look, and it is pretty versatile. Also, unlike its predecessor, this head does not weigh a ton. You'll also find famous vintage rocker switches to help you work on your tone in more detail. So let's look at the features in more detail.
Key Features:
Use Active and Passive Basses


On the left side of the front panel, you will find

two inputs

where you can connect your instrument.

One of them is marked 0 dB

,

which you can use for a passive bass guitar

.

The second one is -15 dB

,

so it will be suitable for a hot signal of active electronics

.

User-Friendly Settings


The front panel settings of this amplifier are pretty simple. You will have

Gain

,

Bass

,

Midrange

,

Treble

,

and Master knobs

.

With Gain

,

you can rock the amp pretty well and have a nice grit

,

which this rig is famous for

.

3 Mid-Range Frequencies


You will find the

rocker switches

at the top of the front panel.

The center one will be the one that allows you to switch between the three midrange spectrums

. Specifically, these are

220

,

800

,

and 300 Hz

.

This way

,

you can cut or boost the desired range

.

Ultra Lo & Ultra Hi
These rocker switches are placed on the sides and allow you to add extra lows or highs

. It is worth noting that, unlike the middle switch, these functions

do not work in conjunction with the Bass and Treble knobs

. Therefore, you will be able to use them separately.

Additional In and Outs


On the rear panel of the V-4B, you will find

Preamp Out

and

Power Amp In

.

Thanks to these jacks

,

you can connect your favorite effect pedals

. In addition, there is a

Slave Out

,

which allows you to connect to another amplifier

. And of course,

Balanced DI Out

is also present here.

Use With Any Cab You Want


The Ampeg V-4B also has as many as five cabinet outputs

. In particular, these are

two

,

each for 2 and 4 ohms and one for 8 ohms

. It will give you plenty of flexibility to use different bass cabinets.

Be sure to read the information underneath the jacks so you can connect everything correctly

.
Ampeg V-4B All Tube 100 watt Classic Bass Amp Head
Character & Sound:
Ampeg V-4B has a warm tube sound. Of course, this is immediately associated with an old-school one. But despite this, thanks to the vast possibilities of EQ, you can get a modern sound as well. Besides, you will have an opportunity to crank Gain and get the legendary grit of the SVT amplifier and not kill small animals in the area. The volume will be lower than in this other Ampeg hit.
Pros:
It's a beautiful tube head that will give you that bass tone. In addition, it is not as heavy as other famous Ampeg amplifiers. It will also surprise you with its extensive tonal capabilities. In general, this head is suitable for both gigs and studio activities.
Cons: 
Some users on the Internet complained about the relatively low quality of the product, despite the rather high price of more than a thousand dollars. Also, note that even though this amplifier is lighter than other models, it is still quite heavy – 18.6 kg.
3. Orange AD200B Mk3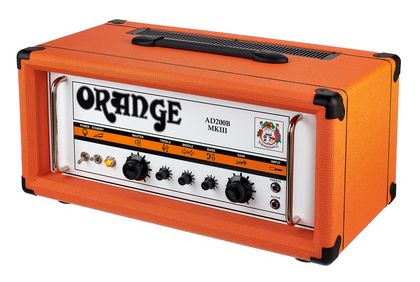 The Orange AD200B Mk3 will give you extraordinary simplicity and a unique sound character.
The British company Orange has been one of the leading manufacturers of guitar and bass amplifiers for over 50 years. So what can we say when such legends as Black Sabbath, Led Zeppelin, Slipknot, and many others are their users. It was made possible by their gear's huge and fuzzy sound, which became unique.
The AD200B Mk3 is the only all-tube bass amplifier from Orange. You get a total of 200 watts of power with ECC83 and 1x ECC81 preamp tubes and four 6550 power amp tubes loaded here. Overall, the amp is straightforward and can give you superb sound quality. Let's break it down in more detail.
Key Features:
Simplistic Set of Settings


Many musicians don't like to bother with a lot of settings. And that's exactly what the AD200B Mk3 is about.

In addition to the power and standby switches

,

you get only five knobs

,

including Master

,

Treble

,

Middle

,

Bass

,

and Gain

. So what else do you need here, right?

Active and Passive Inputs
As with many other amplifiers

,

you will have the ability to connect bass guitars here

,

both with passive and active electronics

. The two inputs on the right side of the front panel allow you to do this.

Slave Output


You will find this jack on the back of the head.

Initially

,

this feature will help you connect your amp to another power amp and get even more power

. For example, this may be useful for gigs in large venues.

Connection To 8 And 4 Ohm Cabs


This head has quite a few options for connecting different cabinets.

In particular

,

there are three speaker outputs on the rear panel

. So you can use

one 4 ohm cabinet

,

one 8 ohm cabinet

,

and two 8 ohm cabinets

.

Legendary Orange Look


You have to agree that the Orange AD200B Mk3 looks gorgeous. First of all

,

it has a matching color

,

and secondly

,

you get an excellent design of the settings icons

,

which have also become a trademark of this brand

. By the way, this model can also be found in black.
Orange AD200B Bass Amp Review | GEAR GODS
Character & Sound:
As you know, Orange is often associated with a fuzzy sound. But the AD200B Mk3 can be pretty versatile. On the one hand, you'll get a crystal-clear sound that will perfectly convey the characteristics of your instrument. But, on the other hand, by turning up the Gain, you'll get the legendary grit for which the company is famous. In addition, the EQ deserves special attention, which is extraordinarily musical and responsive.
Pros:
The Orange AD200B Mk3 is an all-tube bass amp with a minimum of settings and excellent sound. It is remarkably "honest" because it captures the finest detail of your instrument. In addition to this clarity, it can also provide a tremendous aggressive sound ideal for rock music.
Cons: 
This head is quite heavy and weighs 24 kg, but this is quite common for tube amplifiers. Other than that, it has no FX Loop and DI Out. And, of course, another disadvantage can be considered a high price, which is approximately $1700.
4. Ampeg SVT Classic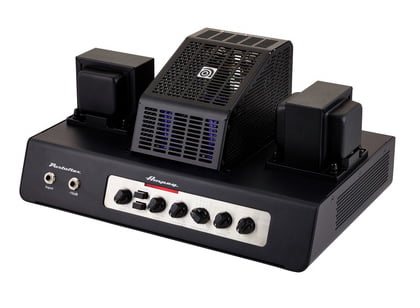 A true classic that has been on an incurable number of popular albums is the Ampeg SVT CL.
The Ampeg SVT CL bass head is probably one of the most popular. The fact is that it has been around almost forever – since the early 1970s. It was loved by many bassists worldwide, among them quite famous names like Sting, Krist Novoselic, Cliff Williams, Robert Trujillo, and many others.
It is a 300-watt bass head with as many as six 6550 Power amp tubes. As for the preamp section, there are two 12AX7s as well as 12AX7s and two 12AU7 Driver tubes. As for the sound, you will find all the usual features that Ampeg is famous for. We'll talk about them below.
Key Features:
3-Band EQ and Frequency Switch


If you already have an Ampeg amplifier, you won't have a hard time figuring out the settings for this one. Everything is the same here –

3-Band EQ of Bass

,

Midrange

,

and Treble and a separate knob for midrange selection

.

You'll have to decide what range you want and cut up to 20 dB or boost up to 10 dB

.

Ultra Hi/Lo


Another notable feature that you can find in many Ampeg amplifiers is the

Ultra Hi and Ultra Lo functions

. These two separate buttons help you add extra high and low frequencies.

Ultra Hi provides an enhancement of 9 dB at 8 kHz

,

and Ultra Lo

–

2 dB at 40 Hz and minus 10 dB cut at 500 Hz

. 

Two Separate Inputs


As for the inputs, you will also have two separate jacks here, which are

0 dB

and

-15 dB

.

As you already know

,

the first one is suitable for instruments with passive electronics

,

and the second one will be appropriate for active ones

.

Many Additional Inputs and Outputs
On the back of Ampeg SVT CL

,

you will find Transformer Balanced Out in the form of XLR

,

thanks to which you can record DI signal

. There is also a

Preamp Out

and

Power Amp In

. And, of course,

Slave Out

,

which helps you to connect to another amplifier

,

PA system

,

or mixer

.

Impedance Selector


You'll be able to switch the head impedance setting based on what kind of cabinet you have. It will be possible due to a dedicated Impedance Selector with 2 and 4-ohm options

. By the way, regarding the speaker outputs, there are

two jacks and one Speakon

.
Character & Sound:
It's hard to underestimate the sound of the Ampeg SVT CL. In short, this head is designed to give the most powerful warm tube bass tone. You can get both a clean sound and add more aggressive grit. Once you hear the sound of this amp, you'll know right away that you've heard it on a vast number of albums.
Pros:
It is a legendary piece of gear that will give you a high-quality sound. The 300-watt power is enough to perform in large venues. Also, the SVT CL will be a good workhorse in the studio. There are quite a lot of different features here, both in terms of tonal shaping and technical ones.
Cons: 
The two main cons of the Ampeg SVT CL are that this head is heavy and expensive. As for the weight, it is 36.3 kg. And the price is about 1700 dollars. But believe us, it's all justified by the excellent quality.
5. Ampeg PF-50T Bass Head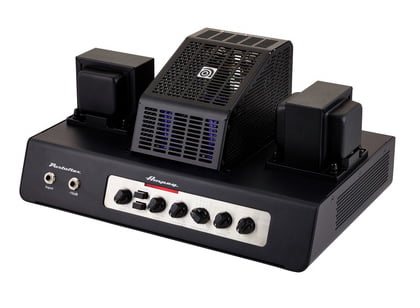 Portable enough but fully tube and with a signature sound is the PF-50T bass head from Ampeg.
You will immediately recognize this Ampeg bass head by its rather unconventional appearance. That's because it's a model of the famous Portaflex series, known since the 60s. The thing about them is that they can be mounted in a cabinet, which makes them easy to transport.
The Ampeg PF-50T was released in 2015, so this head retained the essence of its predecessors but got a new and modern look. Here is 50 watts of power with two 12AX7 Preamp tubes, two 6L6 power amp tubes, and one 12AU7 in the power section. You also get an advanced equalizer and rare features for the tube bass amp.
Key Features:
Boost Highs and Lows


The

Ultra Hi and Lo functions

, already familiar to Ampeg users, will be at your disposal.

Thanks to it

,

you will be able to boost low and high frequencies

. It will come in handy when you add some beef or sparkle to your bass tone.

EQ With The Frequency Selector
As for the EQ

,

you get the standard Bass

,

Midrange

,

and Treble knobs

.

But the main trick here is that you can choose which midrange frequencies to cut or boost

. A separate Frequency knob with five positions, which varies between

200

and

3000 hertz

, will help with that.

-15 dB Cut


Another helpful feature is the presence of

two separate inputs

.

The first will be standard and suitable for a passive bass guitar

,

and the second for an active one

. The latter has a

-15 decibel pad

.

Bias Control


If you decide to change the tubes in your head, the

Bias Control feature

will help you.

It allows you to adjust how much electricity you send to the tubes

.

A green light will indicate success

. Be sure to read the more detailed instructions on how to do this.

Two Outs For Recording


A great feature is that you will have

two outputs for the DI tracking

.

One is a Preamp Out and has a Post and Pre-EQ function

.

The second is the Transformer Balanced Line Out

. So, in essence, one will be clean, and the other will be dirtier, like from a cab.

Can Be Used Without A Cab


Another feature of the PF-50T is that you can use it without a cabinet

,

which is quite rare for tube bass heads

. Before that, make sure the impedance setting on the rear panel is

switched to 8 ohms

and send a signal into an audio interface or console at ease.
Review Demo - Ampeg PF-50T
Character & Sound:
The sound character of the PF-50T is quite round and rich, which is typical for other Ampeg tube bass amps. But, on the other hand, it is pretty transparent. Anyway, you will have enough possibilities to get your sound thanks to the features of EQ. A little trick will give you a chance even to get a little more grit. To do this, plug the active bass into the standard input.
Pros:
Unlike many other tube amplifiers, this head is relatively light and weighs only 8.8 kg. Plus, its dimensions are pretty compact. As for the power, it is enough for small to medium-sized gigs. The price is also worth mentioning because it is relatively affordable for this kind of gear and more than $800.
Cons: 
This head does not have an FX Loop. Also, its power is not enough for big gigs. For more nuances, check out the online reviews.
Verdict
As you can see, the choice of tube bass heads is not limited, and you still have pretty different options, both in price and power. So, at the end of this post, we decided to give you some tips to make your decision easy.
If you're dreaming of a tube amp for your bass guitar but are limited on a budget, number 5 on our list might be a good option – the Ampeg PF-50T. In addition, this amplifier is also relatively light in weight, which will also be easy to transport. 
On the other hand, if you have enough money and want to get top-end bass gear of high wattage – we can advise you to pay attention to #1 Fender Super Bassman and #4 Ampeg SVT CL. With these amplifiers, you can safely play big venues. But keep in mind that they have a hefty weight.
More mid-priced options would be the number 2 Ampeg V-4B and the number 3 Orange AD200B Mk3. By the way, you also get the signature grit sound that this brand is known for with the last one.
Don't forget to go to your local musical instrument store and listen to the heads in person. You should feel the sound to see if you like it. We are sure that if you decide to buy a tube bass amp, you will not regret it. Have a good choice!
Ilarion Ivanenko is a remote mixing and mastering engineer from Ukraine, a musician with more than 15 years of experience. Specializes in rock, metal, progressive and the other genres. He can't imagine his life without music, as it is the biggest passion in his life