Today we look at the Top 7 Stage Digital Pianos With Weighted Keys in 2023. Our list talks about the flagship instruments offered by the leading brands in the stage keyboard category, including Nord, Roland, Yamaha, Kawai, Korg, and Casio.
It is always fun to see a rundown of these keyboards' features and functions and how they stack up against similar instruments released by the competition. While some features may be common among most stage pianos, each company strives to provide something unique which would set them apart from the other.
When it comes to key beds, you get to see some exciting characteristics like graded keys, adjustable velocity sensitivity, after-touch, ivory touch, weighted feel, and more thrown into the mix. You'll also see how some extremely powerful and versatile sound engines and effects modules housed in these 88 keyed instruments are designed to provide the best possible tonal abilities for any situation.
It all comes to the skill level, preferences, and how much the modern keyboard player might be willing to spend to get the ultimate all-in-one stage keyboard for his gigging needs. So now let's dive deep into the world of stage pianos with weighted keys and share with you what goodies each of these top-of-the-line instruments has hidden in their rugged and powerful chassis.
Top 7 Stage Digital Pianos With Weighted Keys 2023
1. Nord Stage 3 88 Stage Keyboard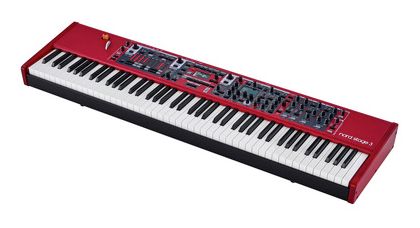 The Nord Stage 3 is Nord's largest and most feature-rich keyboard.
Nord is a company based in Sweden with a small but dedicated workforce that ensures its users get the best possible quality and value from their instruments. Each keyboard gets dedicated attention and is made by hand, followed by a rigorous quality control process.
Nord's stage series comes in three variants which include the smallest sized Stage 3 Compact, the mid-ranged Stage 3 HP76, and the Stage 3 88, which is placed at the highest end of the quality and price spectrum. The features are generally the same; however, all three offer different key beds.
Key Features:
Appearance and Connectivity


The Stage 3 88 has hammer action keys that are fully weighted and have an after-touch feature. The unit measures 50.7" x 13" x 4.7" and weighs 19 kg. The back panel has an audio input and 4 audio output ports. There is a quarter-inch port for the headphones and a type B USB port for computer connectivity along with a midi in and midi out/thru port. The Stage 3 88 has 5 inputs for connecting sustain, control, organ swell, rotor, and program change pedals.
Piano Section
The piano section has five different classifications to pick from, including electric piano, upright piano, grand piano, clavinet/harpsichord, digital piano, and layer. You get to see octave shift and pitch control functions here, as well as the zone feature, to assign different piano sounds to certain zones on the keyboard. In addition, soft release and string resonance give the user total control over the piano's response. There is also a section-specific EQ here.
Synth Section
The synth section is backed by Nord's A1 Synth engine. The section is detailed and offers a wide array of oscillator manipulations which, when paired with intuitive analog models, produce some impressive results. The simulations in the synth section include guitars, choirs, brass, strings, and some vintage Chamberlin and Mellotron sounds, among others. The section also lets you adjust and apply arpeggiation, vibrato, and legato functions.
Organ Section
5 different organs can be selected through the organ section. The categories include 2 transistor organs, 2 pipe organs, and a B3/tone wheel organ. The section has its own octave shift buttons, vibrato and chorus controls, and a percussion area to control volume, decay, and harmonics. Two bank buttons open doors for layering sounds and assign zones on the key bed.

Effects Section


The effects section has a couple of effect subsections. Effects 1 has parameters like ring modulation, tremolo, auto pan, and 3 variations of the wah effect. In addition, Effects 2, has a flanger, vibe, a couple of chorus variations, and 2 different phase effects. You also have comprehensive delay and amp simulation controls with a powerful 3-band EQ. Compression and reverb parameters can also be adjusted here.
Pros:
The three separate engines from Nord's lineage provide unlimited tonal possibilities to the keyboard enthusiast. There is something for every kind of piano, organ, and synth player on this unit. The effects section is powerful and detailed yet easy to use and apply. Tone changes are seamless and a breeze to execute on the go.
Cons: 
The Stage 3 line focuses all its muscle power on live performances, which is not a bad thing, but the unit is slightly less suitable for the studio music producer in you. In addition, the Stage 3 88 is extremely expensive and will put a big dent in your savings. Considering the price tag, the unit could've improved navigation by introducing a user-friendly touch screen display. 
2. Roland RD-2000 Stage Piano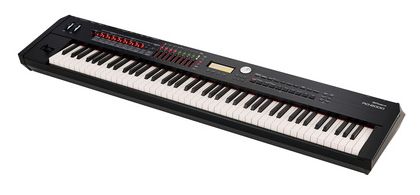 The RD-2000 is Roland's flagship stage piano.
Roland has engineered its RD-2000, keeping the target audience in mind. The stage piano gets its sounds from two state-of-the-art engines that allow a wide range of tonal possibilities for the stage player and the music producer. In addition, the strongly built RD-2000 features keys made from premium materials that offer the same response and feel as an acoustic grand piano.
Regarding connectivity, the back panel has a huge variety of inputs and outputs for any setup so that you can hook your RD-2000 with mixers and sound modules. The control panel is classified into different categories so you can instantly find what you're looking for. The display on the unit is descriptive and user-friendly, giving all the necessary details through a quick look.
Key Features:
First Impression
Roland's RD-2000 Stage Piano has 88 PHA 50 weighted hammer action keys. The keys are progressive and vary in sensitivity as you move up the key bed, just like the keys of an actual grand piano. RD-2000's keys are made of high-quality wood and plastic. The unit has a solid aluminum body and weighs 22 kg. The dimensions of the RD-2000 are 55.6" x 14.5" x 5.56".
Input/Output
The back panel has a multitude of input/output options. In terms of midi, there is midi in, midi out, and a midi/thru port. On the back, you also find a couple of type A USB ports and one type B port. The audio ports include one aux-in, 2 XLR ports, 2 main balanced, and 2 sub-out ports. You also get a quarter-inch jack for the headphones. The back also has 3 pedal inputs to connect Roland's RPU-3 unit or the DP10 damper pedal that comes with the RD-2000.
Sound Engines 
The RD-2000 has two powerful sound engines under the hood. The V-Piano Technology engine provides some rich and extremely detailed grand piano sounds that'll tickle the fancy of any piano maestro. The Supernatural engine takes care of anything else with a vast library of over 1,100 electric piano sounds and classic effects to manage a wide range of genres.
Control Layout
The controls are interspersed on the top panel, starting with 2 mod wheels that can be customized as required. The unit also has a pitch/mod lever which cannot be modified and will behave differently with different tones. The modulation section has separate knobs to control type, depth, rate, and feedback. The RD-2000 also has a tremolo section to control the effect's type, depth, and rate. The piano also has an Amp simulator to add distortion to the selected sounds. A value knob combined with cursor buttons navigates through the display to select different functions and adjust them. The RD-2000 also has a one-touch piano button that immediately reverts to a good piano sound. You also get some sound selection buttons to choose sounds offered by the two sound engines.
Zones and Scenes
The key bed can be split into zones, and different sounds can be applied to each zone. The RD-2000 also has the option of implementing up to eight different layers of sound at any given time. The scene recall feature can take a snapshot of the current settings and recall the settings by just pressing a button. As many as 100 different scenes can be saved on the RD-2000.
Pros:
The two sound engines on board will keep you busy with all the tones you could possibly want. The RD-2000 has 8 knobs and 9 sliders to give you all the adjustments up front for quick access during performances. The keys feel good, and the all-aluminum chassis gives a premium feel.
Cons: 
The display is small and lacks clear visibility if looked at from an angle. The placement of the transpose button could be more convenient on the control panel as it requires stopping your right hand and reaching for it, which can be awkward while playing melodies. In addition, some units have a problem where a few notes may randomly sound higher than the rest.
3. Yamaha CP88 88-key Stage Piano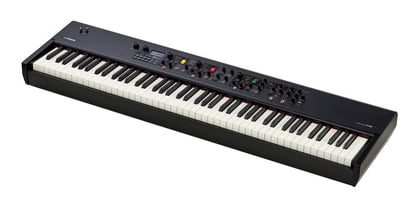 CP series from Yamaha includes a 73-key version and the larger CP88.
Yamaha, a major player in the piano/keyboard industry, has pushed the envelope with its version of the 88-key stage piano. While the lower-end CP73 has plastic keys, Yamaha goes all out on the CP88 in terms of the material used to make the keys to provide a more authentic feel for its users.
While the CP88 is loaded with some fun features, it has managed to organize its sounds into categories to promote ease of usage among all levels of players. Each section also boasts a variety of section-specific effects to help you get close to your idea of the perfect sound.
Key Features:
Appearance
The CP88 from Yamaha has 88 keys with a graded key bed, so the keys feel slightly heavier on the bottom of the key bed than on the higher notes. The CP88 showcases keys that are made of natural wood. The unit weighs around 18.6 kg and has dimensions of 51.1" x 14.3" x 5.5".

Input/Output


On the back of the Yamaha CP88, you'll find 2 right/left audio inputs, 2 XLR outputs, and a couple of right/left audio outputs. The USB connectivity on the unit includes a type B and a type A port. You can use the relevant USB port to connect a USB drive to save your effects and settings. You'll also find midi in/out ports as the CP88 has 4 zones that allow it to connect with midi devices for sending midi signals and program change messages. Sounds from external midi devices can be layers and split into different sections on the keyboard. The piano also provides an FC3A pedal that can be plugged into one of the two pedal inputs on the back of the CP88.
Common Controls
The Yamaha CP88 has a very organized control panel with controls categorized under three distinct sections. All sections can be turned on or off. Some controls are common for each section. Such controls include a knob to select the main instruments in the category and a colored rocker to choose different variations from the instrument menu. You will also find octave buttons here, along with a split button to decide the responsibilities of your left and right hands. Common controls also include volume and tone knobs. Each section can be turned on and off individually through a switch.
Piano Section
The piano section has 4 categories: Grand Piano, Upright Piano, CP, and Layered Piano. A colored rocker can be used to select the variations of each sound. You can also apply effects to your piano sounds like compressor, distortion, drive, chorus, and damper resonance. This gives you access to the possibility of unlimited acoustic piano variations.
E Piano Section
The electric piano section also has 4 categories labeled RD (tine pianos), WR (reed piano), CLV (plucked instruments), and DX (modeled after Yamaha's DX line). Once again, the colored rocker in this section can be used to cycle through and select different e-piano variants. This section has a rich array of effects. Here you can apply 2 different types of chorus, 3 different phasers, flanger, tremolo, modulation, and compression effects. You also get touch and pedal wah effects in the effects library, so there are many options to experiment with to get the sound you want.
Sub Section
The sub-section also has 4 categories. You can choose between pads/strings, organs, chromatic percussions, and a category called others. This section offers effects like chorus, flanger, distortion, rotary, and tremolo. Using the sub-section in combination with others, like the piano section, can yield some fascinating results through layering.
Global Effects
There is also a section that has global settings for delay and reverb. Finally, an EQ section also comes in handy when attempting to cut through during a live performance. Although these are global controls, you can set varying intensities of each effect to different sections on the control panel of the CP88.
Pros:
The three different engines provide very rich, professional-grade sounds. Each section's effects help you get creative and dial in just the right sounds for the occasion. Sections can be toggled on/off and can be used in combination with each other.
Cons: 
The organ section is not as good as some piano and electric piano sounds on offer. The damper resonance in the piano section is only slightly noticeable and needs a bit more impact. The instrument could benefit further from having virtual resonance modeling.
4. Kawai MP11SE 88-key Professional Stage Piano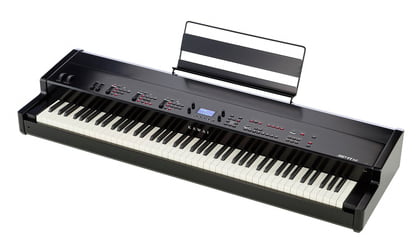 MP11SE 88 is the flagship offering from Kawai, where the SE stands for special edition.
It is also thought that the SE in the MP11SE could mean Shigeru Edition, as Kawai's top-of-the-line grand piano goes by that name, and the MP11SE seems to mimic most physical and tonal characteristics of the said Shigeru Kawai EX Concert Grand.
This keyboard weighs a whopping 34 kg and has dimensions of 54.5" x 17.7" x 7.4". The MP11SE has 2 audio inputs, 2 quarter-inch outputs, and 2 XLR outputs. There is one midi in/out pair and a Midi/Thru port. The instrument comes with a GFP-3 (3 in 1) pedal, which can be plugged into one of the 2-quarter-inch ports in the back.
Key Features:
The Keys


The MP11SE has 88 fully weighted keys with a graded hammer response. The keys have escapement qualities which give the played note more sustain as the hammer moves away from the key to let it resonate. The MP11SE also boasts tri-sensor keys, so there is a better response when the same note is played quickly. The ivory touch of the key isn't effected by perspiration of the fingers and gives more control to the player. There are several key sensitivity options, such as light, normal, high, fixed, and custom.
General Controls
The MP11SE has a decent-sized display that is surrounded by 4 knobs that are used to control different parameters that are on the screen. In addition, 4 function buttons below the screen can access the piano, e-piano, or sub-sections for adjustments. The INT/MIDI button toggles between the internal sections of the MP11SE 88 or the 4 midi zones the instrument offers. The midi zones can also be selected through dedicated buttons in the separate midi section. A recorder section allows you to record, play, stop, rewind/forward, and loop your compositions.
Piano Section
The piano section has its own on/off button. A key range button decides which range of keys the piano sound will be applied on. The options here are upper and lower zones indicated by helpful LEDs. The piano has 4 categories: Concert, Pop, Jazz, Upright/Mono. There are 3 numbered buttons in the section that allow you to explore sounds from each of these 4 categories. You also find a fader to control the volume of the section. Dedicated effects and reverb buttons can be used to modify the tones in this section further.
E-Piano Section
The electric piano also has its own on/off button and is laid out similarly to the piano sections. The 4 categories you get here are Tine, Reed, Modern, and E.Grand/Clavi. Each category has variations that three numbered buttons can access. A key range button sets the range of the selected electric piano sound on either the upper or lower key ranges. In this section, there are two effects buttons, a single button for reverb and an amp button that lets the user apply amp simulations. The volume fader controls the volume of the electric piano section.
Sub Section
The common buttons in the sub-section include an on/off button, a volume fader, and the key range option. Much like the piano section, there are also effects and reverb buttons here. The four categories to choose from in the sub-section include Strings, Pads, Harpsi/Mallet, and Bass. The sub-section offers more variety as more variations in each category can be cycled through with the 4 numbered buttons available here.
Pros:
The package includes a 3-in-1 pedal. Special attention has been given to the keys as the MP11SE offers a collection of the most sought features in a single package. The response is good, and so is the material used to manufacture the keys to give it that grand piano feel.
Cons: 
Kawai's MP11SE is extremely heavy and will require you and your buddy to lug it to where it needs to go. In addition, although the instrument provides 3 comprehensive sections for sounds, the sound quality falls short compared to other keyboards in this price range.
5. Korg D1 88-key Stage Piano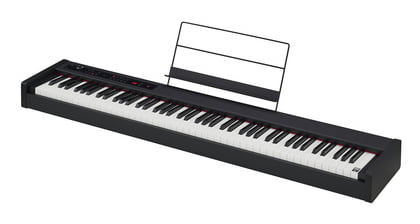 The Korg D1 88 is very modestly priced compared to others on this list. 
Having said that, it seems that Korg has designed the D1 88 with simplicity and ease in mind. There are no complex joy sticks or knobs to go through menus and find what you're looking for, as the keyboard provides everything up front with one-touch buttons for all major functions.
The one thing the Korg D1 does right, however, is the key bed. The D1 uses the famous RHC-3 key bed manufactured in Japan. This is the same keyboard that can be found on the top-of-the-line Korg Kronos, an instrument known for high-quality key response and feel.
Key Features:
Appearance
The Korg D1 88 key comes with "real" weighted hammer keys. It also delivers a graded action on the key bed, meaning that the keys get lighter as you move towards the higher notes. The are 4 presets that can be chosen to select the sensitivity of the keys which are: light, normal, heavy, stable, and steady. The D1 weighs only 16 kg and measures 52.24" x 10.35" x 5.04".  

Input/Output Options


The Korg D1 88 has a couple of quarter-inch audio outputs on the back panel. In addition, there is a quarter-inch headphone port for silent playing. In addition, one pedal input can be used to connect the sustain pedal that is included. Finally, there is one midi input and one midi output as well.
Controls
The control panel is quite simple on Korg's D1 88. Starting from the left, a power button switches the unit on. A volume knob controls the volume of the unit and the headphones. A piano song button triggers demo songs, and a transpose button can be used to change the key of any song. The function menu gives access to more adjustable parameters like temperament or pitch. The touch button on D1's control panel can set the touch sensitivity of the keys from the available presets. A separate metronome button is also available to help you stay in time while playing.
Sounds
The Korg D1 88 has dedicated buttons to choose different instruments from the sound bank. There are 2 variations of pianos, e-pianos and organs. Other sounds include harpsichord/clavinet, vibes/guitars, strings, and choir. Three banks or variations for each of these instruments give you 30 different sounds. Korg D1's tone library sounds are decent and can be tweaked further with some of the effects on board.
Effects
The Korg D1 88 has a few one-touch buttons that can enhance the sound of the selected instrument. For example, a brilliance button can add more brightness to the chosen tone. A dedicated reverb button can easily add some ambiance to the instrument. There is also the option of adding a chorus effect. Pressing each effect buttons turns the back-light on to indicate that the effect is activated.
Pros:
The Korg D1 88 is quite economical. Korg has managed to equip the D1 with the RHC-3 keyboard, which is a remarkable feature to have at this price point. The unit is sleek and quite light compared to the keyboards discussed thus far, which adds to its portability. The controls are nicely laid out and everything is on the surface and within reach.
Cons: 
Some of the buttons on the control panel are flimsy and may lose functionality after extensive use. Normally, keyboards at this price point are targeted towards beginners, so more often than not, they include onboard speakers. However, this one does not. Also, a USB port on the back would be a good addition.
6. Casio Privia PX-5S 88-key Stage Piano
The Casio Privia PX-5S is powered by the Morphing Air Sound engine.
Packed with a decent range of features and tons of sounds, the Casio Privia PX-5S is a good option for keyboard players of different skill levels. You also get enough effects like chorus, delays, resonance, and reverbs to create the right sound for the occasion. The PX-5S also offers a 4-band EQ.
The unit is surprisingly light even though the build quality looks sturdy and impressive. Casio has done a great job in keeping the power consumption on the unit low enough for it to be powered by 8 AA batteries. As a result, the power should last through any gig below 3 hours long. 
Key Features:
First Impression
There are 88 scaled hammer action keys on the Casio Privia PX-5S. Scaled hammer action means that there is a 3rd sensor on board that triggers an additional note before a key is released. Of course, this is quite subtle and difficult to notice. The sensitivity of the keys can be set according to three presets or turned off completely. The keyboard weighs a mere 11 kg and measures 52.05" x 11.26" x 5.31". 
Connectivity
Casio Privia PX-5S's back panel has a stereo mini jack input to connect an iPad or other portable devices. You also see a pair of outputs for headphones but without a separate level adjustment. A pair of TS input and output ports can also be seen along with a midi input and midi out/thru ports. Furthermore, there is an option to connect two pedals on the back of the Casio Privia PX-5S. Lastly, the connectivity section also has a USB type B port.
Controls
The PX-5S has pitch bend and modulation wheels. Next to the wheel controls, there are 4 knobs and 5 faders, all of which can be mapped to change the parameters on the unit itself or to control external midi devices. You can record, stop, play, pause, rewind/forward your compositions, and change the tempo through the tap tempo button. One hundred stage setups or scenes can be saved on the Privia PX-5S to save time and increase efficiency in the workflow.
Tones
The PX-5S has 720 slots for tone storage. 370 of these are presets, while the remaining 350 slots can be used to store user-created tones. The instrument sounds are categorized as follows: Piano, Electric Piano, Organ, Strings/Brass, Guitar/Bass, Synth/Various, Drums, and Hex Layer. Each of these categories has its variations, which can be selected with the help of input number input buttons.
Arpeggiator
A separate arpeggiator button triggers arpeggiation. The arpeggiator has different types, for instance, arpeggiation based on the notes in the chord being played or arpeggiation that adds extra notes to the played chord. There are 100 arpeggiator-type presets on the unit. Arpeggios can also be edited according to user preference and saved for a quick recall when needed.
Pros:
The Piano sounds on the Privia PX-5S are rich and detailed. The knobs and faders come in handy to make changes to the selected tone in real-time, which can be useful, especially during a live performance. In addition, the Casio Privia PX-5S has low power requirements and can be run on batteries for three straight hours.
Cons: 
The Casio Privia PX-5S lacks after-touch capabilities. The display is on the smaller side, as a bigger screen would help display important parameters more clearly. The organ sounds seem a bit mechanical and may fail to impress the organ players out there. Some features like transposing or enabling zones require button combinations which may be annoying for some.
7. Dexibell VIVO S7 Pro 88-key Digital Piano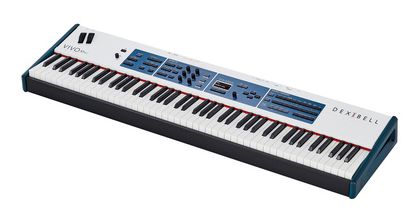 The Dexibell VIVO S7 Pro comes in two variants.
One lacks speakers, while a slightly more expensive version has built-in speakers. Other than that, the rest of the features are exactly the same. The VIVO S7 offers a state-of-the-art Fatar key bed with a strong fan following due to its great performance.
The control panel on the unit is nicely presented with relevant buttons and knobs arranged in 4 different categories to give quick access and avoid clutter. In addition, the tone wheels seem solid, which is a characteristic that can also be seen in the overall build of the Dexibell VIVO S7 Pro.
Key Features:
Appearance
The VIVO S7 Pro has 88 ivory touch keys that have triple contact. The key bed graded hammer action and the keys are touch sensitive. 7 presets can be used to set the sensitivity of the keys on the S7 Pro. The instrument weighs almost 18 kg and measures 50" x 13.93" x 5.03".
Input/Output Options
The back panel has one aux-in audio input and 2 XLR outputs. The S7 Pro also has 2 R, L/Mono outputs. A headphone output is provided for silent play, and the unit allows 4 pedal inputs. The VIVO S7 comes with a damper pedal. USB ports include a type A and a type B port. In terms of midi connectivity, there are midi in and midi out/thru options.
Controls
There are two customizable wheel controls on the control panel, which are set to control pitch and modulation effects by default. A master volume knob and a power button are next to the wheel controls. A built-in equalizer offers low gain, middle, middle gain, and high gain settings to adapt the sound to a live setup or the acoustics of a room. A reverb section allows changing and applying reverb settings to the selected sounds. The keyboard also has octave change and transpose capabilities. In addition, a player section allows you to record, play and pause your composition. Finally, there are 4 zone buttons to control external midi devices. The VIVO S7 also has split keyboard and layering features.
Chord Enhancer & Chord Freeze
The VIVO S7 Pro has two unique chord buttons to provide some interesting dimensions to your playing. The chord enhancer button adds extra notes to harmonize with the chords being played till the function remains active. On the other hand, the chord freeze feature memorizes a complex chord being played at a certain time and then replays it with the same intensity when a note within the chord is played.
Tones 
The tones section has 9 categories to choose from. These categories include piano, electric piano, plucked percussive, organ, strings, pad choir, brass synth, guitar bass, and user. Press any tone button shows different variations offered in each category on the display. A row of nine corresponding buttons can be used to select the required tone. In addition, you can use the favorite tone features to instantly recall the most used tone.
Pros:
The chord enhancer and chord freeze modes have some interesting applications when playing live or in a studio. The pianos, pads, and strings sound great and have great depth and dynamics. The are 7 different velocity settings to choose from to set the keys just the way you want them to be. The wheel controls have a professional response and feel great.
Cons: 
While the VIVO S7 delivers strongly in the piano section, some of the guitar and brass sounds could be improved. Also, at this price point, the keyboard could have benefited from having a slightly bigger screen to display more information and eliminate having to scroll through parameters.
Conclusion
While these 7 instruments aim to be the best keyboards for your stage performances, they all have their strengths and weaknesses. So ultimately, you have to ask yourself about the specifications you're looking for and the features you can live without.
The Nord Stage 3 88 offers 3 separate sound engines to give you all the piano, organs, and synth sounds you can think of but not without setting you back thousands of dollars, being the most expensive instrument on the list. The Roland RD-2000 is no slouch in the sound engines department either and offers some rich and dynamic tones. Want the feel of the Shigeru Concert Grand? The Kawai MP111SE is just what you need.
The battery-powered Casio Privia is next on the affordability list and offers good portability along with some impressive sounding pianos. Speaking of impressive sounds, the Yamaha CP88, with its powerful effects and Dexibell VIVI S7 offering some unique chord features, do an equally good job at a similar price range.
Perhaps something more basic and economical would be right up your alley if you're a beginner keyboardist, like the Kord D1 88, which provides a pretty decent Japanese key bed at a fraction of the price. Visit your nearest keyboard store to get a hands-on feel of each of these to get an even better idea of what suits you the most.
Readings that you may like: 
Other Recommended Gear:
Top 12 NearField Studio Monitors On Any Budget
Top 10 Midfield Studio Monitors For Home Recording
Best Biggest Studio Monitors (FarField Monitors)
Top 10 Guitar Pickups for Low Tunings 
Top 10 Analog Compressors For Mixing & Mastering (On Any Budget)
Top 12 USB Audio Interfaces Under 150$, 200$, 300$ 400$ (Any Budget)
Top 12 Hardware Equalizers (Analog EQs For Mixing & Mastering)
Top 6 Analog Hardware Limiters 
Top 6 Solid State Bass Amps (On Any Budget)
Top 6 Ribbon Mics On Any Budget (For Vocals, Drums & Guitars)
Top 6 Cheap Dynamic Mics For Vocals Under 50$, 100$, 200$ & 300$
Top 6 Chorus Guitar Pedals (On Any Budget)
6 Best 61-Key MIDI Keyboards (On Any Budget)
9 Best 49-Key MIDI Keyboards Under 100$ & 200$
Top 5 Best 25 Key MIDI Keyboards (On Any Budget)
Top 12 Acoustic Drums (Best Kits/Sets On Any Budget)
Plugin Roundups:
Genre Focused:
Top 10 EDM Plugins  (And 10 Best FREE Plugins For EDM)
Top 10 Plugins For TRAP Beats (And 5 Best FREE Trap Plugins)
20 Best Plugins For Rock Musicians (+ 6 FREE Plugins)
Top 14 Trance Plugins (Uplifting, Tech, Progressive, Vocal, Dream, Hard)
Top 10 GOA & PsyTrance Plugins (Best Psychedelic Trance Tools)
Top 7 Plugins For Dubstep (With 10 Best FREE Effects & Synths)
Top 20 Synthwave Plugins (+ 11 Best FREE Plugins)
Top 15 Plugins For Techno, House, Electro, Tech House, UK Garage
Top 6 Plugins For Latin Music  (And 4 FREE Tools)
Top 12 Plugins For Hip-Hop (+ Best Kontakt Libraries)
Top 7 Plugins For Game & Film Scoring  (+ 6 Best Kontakt Libraries)
Top 10 R&B And Pop Music Plugins & KONTAKT Libraries 
30 Best Free Plugins For DnB, EDM, IDM & Experimental Music 
EQ Plugins
Top 12 Free EQ Plugins For Precise Mixing & Mastering
Top 9 Mid/Side EQ Plugins  For Mixing & Mastering (+ 2 Free Tools)
Top 7 Graphic EQ Plugins  (With 3 Best Free EQs)
Top 7 EQ Plugins For Mastering In | And Best FREE Mastering EQs
Top 6 Passive EQ Plugins (Klevgrand, SPL, UAD, Waves, IK Multimedia)
Top 11 Plugins For Making Metal (Best Guitars, Drums & Effects)
Metering:
Top 5 Audio Metering Plugins (LUFS, RMS, LRA, True Peak)
Top 6 Spectrum Analyzer Plugins  – Spectral Analysis Tools
Top 6 Oscilloscope Plugins To See The Waveforms
Top 5 Key Detection Plugins & Software  (+ Best FREE App)
Kontakt Libraries
20 Best Kontakt Libraries For All Categories (Synths, Drums, Vocals)
Top 7 Drum Libraries For KONTAKT (And 4 Freebies)
Top 7 Trap Music Kontakt Libraries (And Best Lo-Fi Kontakt Library)
Top 7 Metal & Rock Kontakt Libraries (Best Guitars & Drums)
Top 10 Guitar Libraries For Kontakt (Acoustic, Electric, Bass & Freebies)
Top 7 Trailer Scoring Plugins & Kontakt Libraries 
20 Best Free KONTAKT Libraries For Various Instruments
Top 9 Piano Kontakt Sample Libraries  (And 5 Best Free Pianos)
Top 10 Percussion KONTAKT Libraries  (And 3 Freebies)
Top 7 Kontakt Libraries For Horror & Thriller Scoring (No VSTs)
Audio Restoration, Calibration & Utility:
Top 6 Noise Reduction Plugins (And 3 Best Free Tools)
6 Best Audio Restoration Plugins & Software 
Top 7 Phase Alignment Plugins To Fix Your Bass & Drums
Top 10 Room Calibration & Headphones/Speakers Correction Plugins 
Instrument Plugins: 
Top 6 Vocoder Plugins (Effects & Synths + FREE Vocoder)
11 Best Rhodes VST Plugins (AND 5 Free Rhodes Plugins)
Top 12 Randomizer Plugins Including FREE Plugins
Top 6 Kick Drum Plugins (Best Kick Designer Tools)
Top 12 Woodwind Plugins (And KONTAKT Libraries)
Top 10 Double Bass Plugins (Best Upright Basses)
Top 5 Strings VST Plugins (AND 4 Best Free Instruments)
Top 6 Sampler Plugins (And 3 Best FREE Plugins)
Top 6 Classical Guitar Plugins & Kontakt Libraries (And FREE Guitars)
Top 12 Sub Plugins (Best 808 & Bass Tools For Massive Low End)
Top 10 Plugins On PluginBoutique (And 7 Best Free Plugins)
Top 11 Plugins On Plugin Alliance 
Top 7 Acoustic Guitar Plugins (And 4 Best Kontakt Libraries)
9 Best Bass Guitar Plugins (And 2 Best Freebies)
Top 6 Electric Guitar Plugins (Best PAID & FREE Picks)
Top 10 Arpeggiator VST Plugins (Best Synths, MIDI Effects & Tools)
Top 10 Modular Synth Plugins (And 3 Best FREE Plugins)
Top 6 Choir Plugins & Sample Libraries (And 3 Best Free Plugins)
11 Best Percussion & Drum VST Plugins (And FREE Plugins)
Top 8 Piano Plugins (Best Sounding Pianos & 5 FREE Piano Plugins)
Top 6 Organ Plugins Ever Made  (And 3 Best Free Organs)
Top 14 VST Plugins For Beginners (And 9 FREE Plugins)
Top 9 Drum Machine Plugins (And Groovebox Plugins)
4 Best Banjo Plugins (Best Banjo Instruments)
The 5 Best Ukulele Plugins & Kontakt Libraries 
Top 13 Synth Plugins (And 5 Best FREE Synths Plugins)
Top 13 Sequencer Plugins  (Synth, MIDI & Step Sequencers)
The 10 Best Multi-Effect Plugins (And 3 Best Free Plugins)
Top 12 Plugin Bundles For Musicians (Synths, Mixing & Mastering)
Processing & Sound Design:
8 Best Lo-Fi Plugins (PAID & FREE)
Top 11 Plugins For Mixing Vocals  (For Home Studio)
Top 12 Saturation Plugins (Best Mixing & Mastering Tools)
Top 6 Pitch Shifter Plugins (And 3 Best FREE Pitch Shifters)
Top 6 Chorus VST Plugins For Musicians (And 3 FREE Plugins)
Top 6 Limiter Plugins For Precise Mastering & Mixing
The 8 Best Filter Plugins For Precise Cuts & Boosts (+ 5 Free Filters)
6 Best Autotune Plugins To Improve & Enhance Your Vocals
Top 10 Transient Shaper Plugins (VST, AU, AAX)
Top 7 Enhancer Plugins (For Bass, Drums, Vocals & Harmonics)
Top 6 Flanger Plugins (And 5 Best FREE Flanger Emulators)
Top 7 Phaser Plugins (And 3 Best FREE Phasers)
Top 10 Plugins For Mixing Drums (And 3 Best Free Plugins)
Top 7 Bitcrusher Plugins (And 4 Best FREE Bitcrushers + 3 Bonuses)
Top 6 Plugins For Voice-Over & Dialogue Cleaning (Post Production)
Top 10 Stereo Imaging Plugins (Best Old & Modern Picks)
Top 5 Multiband Limiter Plugins 
Top 7 De-Esser Plugins For Better Vocals (And 4 FREE Plugins)
Top 7 Clipper Plugins (Best Limiter Alternatives)
Top 6 Chord Generator Plugins That Inspire Melodies (+ FREE Tools)
7 Best Exciter Plugins For Mixing & Mastering
Top 7 Channel Strip Plugins (And 2 Best Free Plugins)
Top 11 Distortion Plugins (And 4 Top Free Plugins)
Top 5 Comb Filter & Resonator Plugins | Melda, Kilohearts, Tritik
The 7 Best Vibrato VST Plugins | Audec, Audiority, Melda
The 7 Best Tremolo Plugins | Eventide, Melda, SoundToys, Kuassa…
The 7 Best Harmonizer Plugins | Eventide, Melda, Aegean Music
7 Best Sidechain Plugins (VST, AU, AAX) | Xfer, Cableguys..
Top 10 Noise Gate Plugins (And 6 FREE Free Gate Tools)
The 6 Best Ring Modulator VST Plugins | KiloHearts, Melda
7 Best Autopan VST Plugins | CableGuys, Melda, Waves, Soundtoys
The 6 Best Frequency Shifter VST Plugins
Top 11 Granulizer Plugins For Future Sound Design
29 Best Sound Design VST Plugins
Compressor Plugins
Top 11 Free Compressor Plugins (VCA, Vari-Mu, FET, Digital)
Top 7 Multiband Compressor Plugins (And 4 FREE Plugins)
Top 5 Diode-Bridge Compressor Plugins 
Top 6 Mastering Chain Plugins: Complete VST Solutions 
The 7 Best VCA Compressor Plugins (VST, AU, AAX)
Top 11 Mastering Compressor Plugins (And 2 FREE Plugins)
Top 10 Opto Compressor Plugins For Transparent Sound
The 7 Best Vari-Mu Compressor Plugins (And 2 Best FREE Tools)
Reverb & Delay Plugins:
Top 12 Reverb Plugins (And 5 FREE Reverb Plugins)
The 6 Best Spring Reverb VST Plugins | AudioThing, GSi, u-he, Eventide
Top 12 Delay Plugins For Music Production In (VST, AU, AAX)
Top 10 FREE Delay Plugins (VST, AU, AAX)
The 10 Best Convolution Reverb Plugins 
Amps & Preamps:
Top 10 Guitar Amp Plugins (And 5 Best FREE Simulators)
Top 10 Bass Amp Plugins (And 5 Best Free Simulators)
Top 9 Preamp Plugins (For Vocals, Guitars & More!) + Free Preamps
Guitar/Amp Focused:
Can I Put Nylon Strings on a Steel-string Guitar?
Do Electric Guitars Sound Good Unplugged?
Buying Your First Guitar: 2 Things To Know
Are Tube Amps Worth It? (Tube vs Solid-State Amps)
How Often Does A Guitar Need a Setup?
Can I Play Classical Guitar On A Steel-String Guitar?
How often guitar necks need reset?
Can You Play Two Guitars Through One Amp?
Can a 6 String Bass Be Tuned Like A Guitar?
Can I leave My Guitar Tuned Down a Step? Yes, But Is It Safe?
Should I Learn 4, 5 Or 6 String Bass Guitar & Why?
How To Know If your Guitar Amp Is Broken?
How To Fix Distorted Bass Guitar Sound?
Do Fender Guitars Appreciate In Value?
Should You Put Stickers On A Bass Guitar?
How Acoustic And Electric Guitars Are Made?
Is Electric Guitar Too Loud for an Apartment?
Does a Preamp Improve Sound Quality?
If I Learn Acoustic Guitar Can I Play Electric Guitar?
How Many Hours A Day Should You Practice Bass Guitar?
Do I need an AMP/DAC To Run Bookshelf Speakers?
How to Record Electric Guitar Into Logic Pro X?
Do headphones get worse with age?
DAW Related:
Best DAWs For Musicians Available (With FREE DAWs)
What's The Most CPU Efficient DAW? – 5 DAWs Compared
How To Make Music Without Using A DAW?
Pro Tools Guide: How To Use AutoTune & Pitch Correction?
Ableton Review: Is It Worth The Money? (Cons & Pros)
Logic Pro X Review: Is It Worth It? (Cons & Pros)
How To Use Auto-tune & Pitch Correction In Cubase?
How To Fix Ableton Crackling, Crashing & Freezing? Step By Step
Plugin Related:
What Are Audio Plugins? Different Types of Plugins Explained
What Are The Best Tools To Develop VST Plugins & How Are They Made?
Cost of Developing Audio VST Plugin: Several Factors (With Table)
VST, VST, AU and AAX – What's The Difference? Plugin Formats Explained
Complete Guide To Noise Gate – What It Is, What It Does & How To Use It?
How To Clip My Drums? Here Is How & Audio Teasers (Before/After)
Complete Guide To Limiter: How To Use It (+ Best Plugins & Analog Limiters)
Mixing With Reverb: How To Add Life To Your Mixes
Linear Phase vs Minimum Phase EQ – Full Guide
Difference Between LUFS, RMS & True Peak Loudness Meters
How And When To Use Algorithmic And Convolution Reverb In Your Mix?
Difference Between Active EQ, Passive EQ and Dynamic EQ
Headphones & Studio Monitors:
Do headphones get worse with age?
Monitors vs Studio Headphones For Mixing & Mastering
Top 10 Room Calibration & Headphones/Speakers Correction Plugins 
Are Noise-Canceling Headphones Good For Music Production?
Can Headphones Break in Cold Weather?
Why do headphones & cables get sticky?
Can Wearing Headphones Cause Hair Loss?
How Do I know If My Studio Monitor Is Blown?
Side Effects Of Sleeping With Your Headphones On
Do You Need Music Amplifier For Studio Monitors or Studio Headphones?
Do Headphones or Earphones Damage Your Brain?
Can Headphones or Earphones cause Deafness or Toothache?
FarField, MidField & NearField Monitors – Their Uses, Pros & Cons
MIDI & Synths:
Should I Buy A MIDI Keyboard Or Synth? (Are Synths Worth It Anymore?)
Why Is Audio Gear So Expensive? (Especially Synths)
Top 12 Synth Brands – Analog, Digital & Modular Synth Manufacturers
11 Tips How To Choose MIDI Keyboard 
Should I Buy MIDI Controller Or Keyboard? Cons, Pros & Tips
Sultan Zafar is a guitar player from Islamabad, Pakistan. He has been playing music with various mainstream musicians for over 20 years. He is a song writer and music producer. These days he spends his time exploring different music genres and collaborating with fellow musicians on various projects. Read more..