In this article, we will review the top 10 midfield studio monitors perfect for larger spaces and a wider bandwidth available in 2023.
If you are looking to upgrade your studio by having a larger space, you need to consider your monitoring system. And that is where midfield studio monitors come in. They are designed for larger spaces, covering a wider range of frequency spectrum while avoiding detrimental space reflection with the help of driver arrangements. 
In a nutshell, here is our selection of the best midfield monitors for 2023:
What Are MidField Studio Monitors?

 
Midfield studio monitors are speakers that need to be positioned at least six feet away from the listener. They offer louder sound, better bass extension, and a larger monitoring sweet spot. However, they are also susceptible to acoustical cancellations and resonance.
So, good room design and acoustic treatment become crucial when you are using midfield studio monitors.
What Is A True Flat Frequency Response?
A frequency response that stays the same throughout the spectrum between a range of frequencies is called flat. However, since a theoretically flat response is physically impossible, we allow a specific amount of play that usually ranges between 3 dB to 24 dB.
In our article and most other cases, a true flat response is a flat response within a value of 3 dB.
If you'd like to learn more about monitor speakers, especially in comparison to headphones, have a look at this article. I talk about various kinds of monitor speakers, their pros and cons, and outline some tips regarding their use. If you are ready to find out the best midfield monitors, let's dive into our list.
Top 10 Midfield Studio Monitors 2023 For Home Recording
1. KS Digital C88-Reference
The KS digital C88 Reference is a three-way monitoring speaker boasting neutral tonality and correctly timed reproduction.
People have been blown away by the level of sonic detail it can reproduce. And although it's an interchangeable near-field and midfield studio monitor, I was pleasantly surprised at the deep and precise low end of up to 32 Hz it can offer via its 8" bass woofer, not to mention that it provides up to 22 kHz Hz of high frequencies. Each of the three drivers is individually powered by calibrated Class D amplifiers. 
The speaker's working distance is around 6 ft, but you can place it as close as 3 ft and as far as 8 ft away from you with little dispersion changes.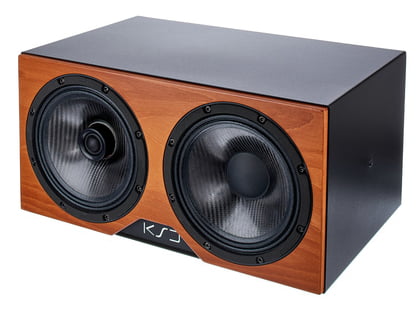 Key Features:
Carbon Fiber Woofers


The C88 features 

two carbon fiber-built woofers, one for low frequencies and one for mid frequencies, each powered by a 180W amplifier

.

And while there is a small amount of background noise, the self-noise of these amplifiers disappears as soon as you input an audio signal. So, overall, I would say that the monitor speaker is excellent for any kind of professional use in any genre.

Precise


If you have been using midfield studio monitors for a while, you are undoubtedly familiar with the benefits of having

coaxial speakers

.

They provide a refined sweet spot and reduces room reflections. Furthermore, since it is usable as a near-field monitoring system, you can also expect accurate performance at low levels. 

Calibration


While the speaker itself does not provide many features when it comes to room calibration and sound adjustments,

you can acquire an optional remote control that allows you to access the user EQs and other parameters like delay

.

Similarly, you can also use the remote control for volume control and so on. Although, unless you are sure about what you are doing, I wouldn't suggest using it.
Character & Sound:
Even though when it comes to midfield studio monitors, the C88 is relatively low priced, its sound exceeds expectations. KS Digital uses a patented FIRTEC technology to achieve an ultra-flat sound. And each speaker is handcrafted and calibrated to the finest detail.
Out of the two woofers, the midrange one houses a fabric-dome tweeter on it. An 80W amplifier powers this 1" tweeter. The reason for this arrangement is to provide a coaxial sound. Also, you will hear more detail in the bass frequencies thanks to the bass port on the rear of this speaker.
Pros:
Overall, I praise this speaker's extremely balanced sound and ultra-wide frequency bandwidth. Furthermore, its bass reproduction is so comprehensive that you can skip using a subwoofer. It also provides an optional detailed calibration remote if you require one. And finally, it undeniably provides a lot of value for your money. 
Cons:
One of the few disadvantages that I can think of is that if KS Digital had used a bigger bass driver, we could have gotten an even deeper bass. However, that isn't to say that the bass is inadequate, especially at this price range. And it only features an XLR input. So, if you are an RCA user, you'll have to use an adapter or change your cables. 
2. Neumann KH 420
Neumann is probably the most famous microphone manufacturer, and their reputation applies to their midfield studio monitors. 
The Neumann KH420 is an extraordinarily accurate and open midfield monitor speaker with deep, controlled bass, a clean midrange, and silky smooth, detailed high end with an elegant gray paint finish. Each speaker weighs a whopping 35 kilograms, and the cabinet has two triangular bass ports. The speaker has extremely low distortion making it pleasant-sounding even in high listening volumes: a feature indispensable for main monitors. 
Aesthetically, I like the clean look of the KH420. And the design also helps reduce vertical dispersion, making the speaker suitable for a wider variety of spaces. Not to mention that it has a wealth of customization features on the rear panel to suit your needs even better.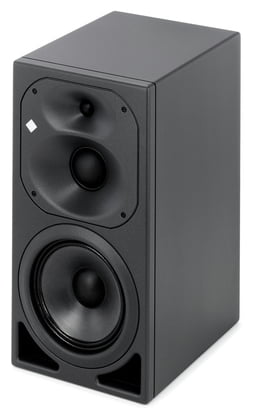 Key Features:
Wide Bandwidth
The sizable 10" bass woofer along with a 3" midrange and 1" tweeter provides a bandwidth that goes as low as 26 Hz. The bass woofer is powered by a 330W Class AB amplifier, whereas the other two drivers are each powered by a 140W amplifier. You can easily expect them to perform perfectly anywhere from 5 to 9 ft from your position.

 

Controls
While it already has a highly optimized cabinet for sonic reproduction, Neumann goes further by adding 4-position acoustical controls that let you adjust the bass, low-mid, and treble. And finally, it also has a single parametric EQ with three frequency ranges for even more flexibility. Of course, if you have no need for it, you can bypass it as well.

 

Designed For Performance
Neumann designed the KH420 speaker to avoid distortion and unwanted resonance despite the ported cabinet design. And it features a balanced XLR input source with a feature to prevent ground loops. And finally, its sophisticated heat-sinking system, loudness protection, and overheat protection features ensure longevity.

 
Character & Sound:
The 2010 model KH410 was a beautifully open and accurate monitor speaker, and this one's no different. In fact, it adds to the previous design by extending the low-end further and improving the internal components. The speaker has a clean, distortion-free performance that sounds effortless, playing any kind of sound at any reasonable level. And with a maximum sound pressure of up to 122.4 dB, it handles quite a lot. 
Pros:
There can be nothing but praise for its ultra-clean and flat performance and unbelievably wide bandwidth. Furthermore, its design ensures low vertical dispersion and a wider sweet spot. If you require more controls, the KH420 obliges by providing acoustic controls and a single band EQ on the rear panel. 
Cons:
The biggest issue with this monitor speaker is probably its price, which is justified when you analyze the market. And I'd have loved to see a built-in delay control, which is instead provided optionally as a "DIM 1" control. It handles from as little as 0.1ms to 400ms of delay. 
3. Focal Trio11 Be
Focal needs no introduction when it comes to monitoring speakers, and this speaker is their flagship monitoring system. 
The Trio11 Be is an interchangeable midfield and near-field 3-way speaker that also has exclusive optimization features I've seen together in a few monitors before. The design looks brilliant with a classy red coat on the side, and it features a horizontal bass port at the bottom a couple of ports for the midrange speaker on the front panel. 
The monitor speaker has a flat bandwidth of 30 Hz to 40 kHz. And on the back panel of the speaker, you will find a balanced XLR input, a –10 dBV/+4 dBu sensitivity control, and an automatic Standby mode. Next, you will also find some controls for adjusting the sound.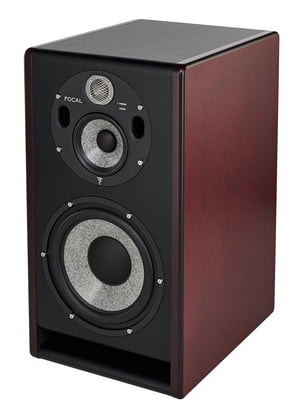 Key Features:
Focus Mode
The Focus Mode essentially turns off the bass woofer to make the monitor act as a 2-way speaker, and so its bandwidth decreases to 90 Hz to 20 kHz. I found this extremely clever because it allows you to perceive sound as you would expect to hear in a studio and in a commercial speaker such as that of a TV or car. Furthermore, you will also find a Focus input and output on the back that allows you to connect a footswitch (not included) for tactile control of the Focus Mode and also connect two monitors.

 

3-Band EQ
The monitor features a 3-band equalizer on the rear panel that allows you to control the bass, mid-bass, and treble settings for optimal acoustical integration. While the frequencies are fixed, each EQ band will enable you to adjust up to 3 dB positively or negatively.
Multi Orientation
The circular panel that houses the midrange driver and the tweeter on the front of the speaker can rotate through 360° in 90° increments. This function allows you to use the monitor speaker in either a vertical or horizontal position based on your room acoustics.

 
Character & Sound:
This monitor speaker will elevate your listening experience with a highly accurate and versatile sound, whether you are making hip-hop, rock, or orchestral scores. The 10" woofer ascertains deep and controlled bass, while the beryllium tweeter delivers crisp high frequencies. Similarly, the midrange woofer sounds warm and isn't fatiguing at all. The highs might sound too bright for your taste if you aren't used to it, but you could always adjust it using the high-frequency shelving EQ on the back panel. 
The Focus Mode lets you listen to the contrasting difference between studio monitors and general speakers with merely a click of a button. It feels like owning two pairs of speakers. Then again, I must say that it does feel like paying for the same too! 
FOCAL TRIO 11 REVIEW - Streaky.com
Pros:
As with most Focal speakers, the sound and build quality are impressive. I loved the rotating baffle for the midrange driver and tweeter to get both vertical and horizontal placement options. Furthermore, the tri-amplifiers totaling a whopping 550W per speaker are fully adequate for both near-field and midfield monitoring. And finally, the Focus Mode and the 3-Band EQ are both quite useful. 
Cons:
Unless you are serious about music production, the hefty price tag is off-putting. However, it does make up for it by providing a true flat bandwidth that goes down to 30 Hz, which is rarely found.
4. Dynaudio Core 59
Dynaudio's move to use modern loudspeaker testing based on impulse responses has paid off through this new 3-way monitor speaker with an accurate sonic representation of your mixes. 
The Core 59 houses a 9" bass woofer, 5" midrange driver, and a 1" tweeter. It has a frequency bandwidth of 36 Hz to 31 kHz (±6 dB). The most impressive feature about this speaker is its amplification power – each of the two main drivers has a dedicated Class D 500W amplifier, and the tweeter has a 150W amplifier, totaling 1,150W. You can tell that it will work perfectly at any decent distance from the user. 
On the back of the cabinet, you will find the amplifier and its large heatsink. And you will also find the XLR connector, AES3 digital input and output, and some controls.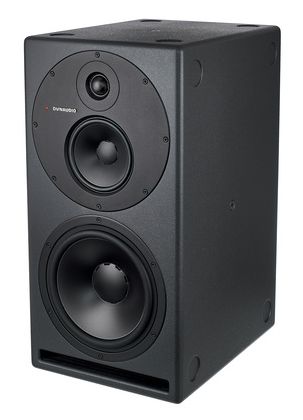 Key Features:
DSP
Instead of providing a full-featured EQ on the speaker's back, Dynaudio provides a simple tilt EQ that switches between Bright, Neutral, and Dark. However, it features interesting Position settings that compensate for boundary-related positioning issues. The Position settings include vertical positioning adjustments (if you use a desk instead of a stand) and rear positioning (if you have the speaker next to a wall/corner).

 

Orbit Baffle
As with the Focal Trio11 Be, the Core 59 also features a rotating baffle/panel for the midrange driver and tweeter. It lets you position the monitor speaker vertically or horizontally depending on your room requirements and taste. Keep in mind that you need to unscrew the baffle before you can rotate it.
Headroom
As I've mentioned, the robust amplification of this monitor speaker gives you a lot of power to spare. And that means less distortion and artifacts even at loud listening volumes. Furthermore, you can adjust the maximum sound pressure level from 88 dB to 112 dB (@ 1 m) as well as the input sensitivity (0, +4, +28, +24 dBu) depending on your audio console.

 
Character & Sound:
Thanks to the modern testing and development process, the Core 59 is highly accurate and provides a solid monitoring experience. You can hear minute details in your mixes even at a low listening level. And if you turn the volume up, it doesn't impart any artifact because of a lack of amplification power. Further, vocals sound brilliant thanks to the relatively large 5" midrange driver. I would suggest its use primarily for rock, classical, jazz, and other similar genres. 
Pros:
For the audio quality the midfield studio monitor offers, it's reasonably priced. It reveals minuscule details in audio, and you can use it for long periods without ear fatigue. Similarly, the horizontal sound dispersion is large enough to create an expansive sweet spot for the listener. 
Cons:
While it's fabulous overall, it's disappointing to see a bandwidth of 36 Hz to 31 kHz (± 6dB). To compare, if you measure it in a flat scale (± 3 dB) as with other speakers, the bandwidth is 42 Hz to 27 kHz. 
5. Adam S3H
Based on their notorious S3A studio monitors, Adam Audio establishes an innovation benchmark with this 3-way speaker featuring custom-built drivers. 
Adam Audio is perhaps best known for its custom tweeter. They took the classic ribbon tweeter and applied their modification that was named the "extended accelerating ribbon technology" or X-ART, creating a powerful yet smooth and distortion-free high-frequency reproduction. And the S3H bears the same technology.
However, they have been just as creative with their bass drivers as well. The S3H features two 7" low-frequency woofers with a 4" midrange driver and a 2" X-ART tweeter in the middle, making the design a midranger shy of being the D'Appolito design.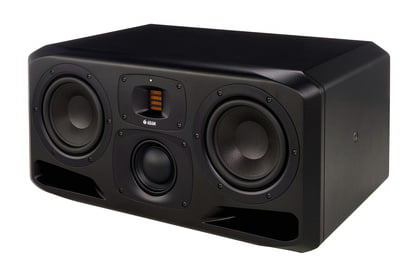 Key Features:
Decently Powered
The dual bass woofers are powered by a 500W amplifier, whereas the midrange driver is by a 300W and the tweeter by a 50W amplifier. When used in a pair, they can create over 126 dB SPL of loudness, which is undoubtedly loud enough for use as main monitors. And the distortion is extremely low as well.

 

Control
The back of the cabinet allows you to select several presets for sound adjustments. However, it doesn't feature any knobs or dials for you to adjust. Instead, it provides a single selector-switch-plus-knob and a USB connection that you can connect to your computer. It lets you adjust the 6-band EQ, high-self and low-shelf compensation EQ, and delay.
Pleasing
Thanks to the 'HexaCone' material woofers and the X-ART tweeter, the sound is clean, punchy, and features full bass. It produces warm mid-tones and silky-smooth highs all the way up to 50 kHz. But it still discloses every bit of sonic detail in your mix without any issue.

 
Character & Sound:
While it may not be the loudest speaker on the market, it still provides plenty of loudness for general music production, at which this monitor is targeted. The dual bass woofers give calm bass reproduction without strange vibrations. Overall, it sounds perfectly flat and transparent. 
However, if you happen to dislike the default sound, you can easily adjust the sound, create up to 5 presets on your computer, and apply them on your S3H. The DSP system is honestly genius.
The ADAM Audio S3H. Made in Berlin.
Pros:
If you produce pop and dance music, the clear high-end the S3H makes is undeniably one of the best among midfield studio monitors. Furthermore, it's great to see modern software-operated DSP instead of only the limited onboard controller as is typical. And finally, the unfatiguing sound itself is praiseworthy. 
Cons:
As midfield studio monitors are often used in large spaces, the speaker is just loud enough to be okay, and the same goes for the 32 Hz to 50 kHz (-20 dB) bandwidth, which translates to a true-flat response of around 43 Hz to >30 kHz. However, neither of them is a dealbreaker if you intend to use the speaker for general music production. So, if the price seems right, the S3H is brilliant without a doubt.
6. EVE Audio SC307
Although relatively lesser-known, this monitor speaker sharing a design similar to Adam Audio's models has a strong presence among the bigger leagues. 
At the front of the speaker cabinet, you will find a bass woofer, a bass-midrange woofer, and a tweeter. Both the woofers are 6.5" in size, but contrary to most designs, one of them is limited up to 300 Hz, whereas the other goes up to 3,000 Hz overlapping the other's bass. Hence, you are essentially getting the bass frequencies from two drivers simultaneously. 
Furthermore, it features a large rear rectangular port for smooth yet efficient bass reproduction. So, unsurprisingly, you can expect distortion-free and effortless bass from this monitor. And as for high frequencies, the SC307 utilizes a familiar ribbon tweeter.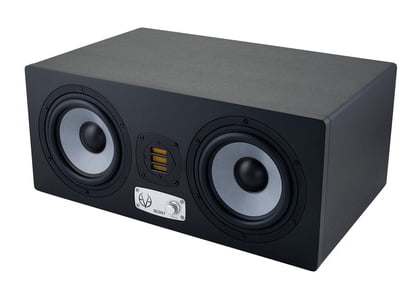 Key Features:
DSP Controls
Instead of having to connect your speaker to your computer or use an onboard control panel, the SC307 provides a single knob that doubles as a selector button on the front panel of the speaker. It lets you adjust the volume and filter settings. However, it can get a little confusing to use until you have memorized the commands.

 

Tri-Amplification
Each driver in the speaker has a separate amplifier. The two woofers have 100W amplifiers, whereas the tweeter has a 50W amplifier. The maximum level of output (in pair) it can produce is 114 dB SPL. Based on the amplification power, the SC307 is suited for both near-field and midfield monitoring.

 

Performance
While most speakers offer a standard XLR input alone, the SC307 provides an unbalanced RCA input as well. Furthermore, a switch on the back panel allows you to select which woofer on the front produces the bass and which makes the midrange.

 
Character & Sound:
The SC307 sounds exceptionally detailed, smooth, and clear, with every setting set to the default flat. Despite the large port, the bass is tight and punchy, making it perfectly suitable for music genres like hip-hop and EDM. Furthermore, the open midrange and precise top-end leave pretty much nothing in your mix to escape from your scrutiny. 
And of course, if you want it to sound different, the DSP filters include a high shelf, low-shelf, and a "desk" low-frequency boosting or high-pass filtering. If you work long hours, I must emphasize how smooth and fatigue-free the speaker sounds. 
Why did we choose the EVE Audio SC307?
Pros:
The SC307 is surprisingly low cost compared to the competition. So, if this is your first time purchasing midfield studio monitors, I recommend you demo this one out as soon as possible. It has an excellent sound definition, clarity, and customization features, not to mention the easy controls on the speaker's front panel. And it's not ear-tiring at all. 
Cons:
The most significant issue with this speaker is the bandwidth of 40 Hz to 21 kHz. While the top end is excellent, the low end may not be perfect for all use cases. 
7. Adam S3V
The S3V is the only fully vertical 3-way monitor speaker on our list, and it features all the familiar touches of Adam Audio and more. 
As with other Adam Audio speakers, the S3V also utilizes the proprietary X-ART folded-ribbon tweeter, and it boasts a 4" midrange driver that sounds undeniably open and versatile. It has a 9" woofer made of Hexacone material that produces tight and ultra-precise low end, extending to the nether regions of the frequency spectrum. 
On the back of the cabinet, you will find a balanced XLR input as well as an AES3 digital input and output. This speaker also provides controls similar to other Adam Audio speakers with a single knob doubling as a selector switch and value adjuster.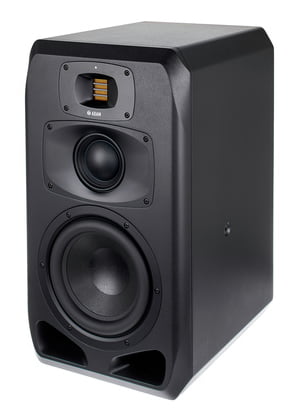 Key Features:
High Power
The bass woofer is powered by an impressive 500W Class D amplifier, ensuring plenty of headroom and distortion-free performance. Similarly, the midrange driver and the tweeter are powered by a 300W Class D and a 50W A/B amplifier, respectively.  The amplifiers total 850W of power per speaker.
Vertical
If you intend to save space by getting a pair of studio monitors that sit vertically or they simply fit your room acoustics better, the S3V is a choice well worth considering. Furthermore, you can also use it as a near-field monitor as well – the option comes in handy if you don't have a speaker stand as of now.

 

USB Connection
Alongside the XLR and the digital inputs we just talked about, the S3V also features a USB port that lets you connect your computer to your speaker directly. If you don't fancy using the built-in button/knob to adjust the sound, you can use a software controller via the USB connection instead. I love this feature as it lets you sit in the sweet spot as you adjust the EQ.

 
Character & Sound:
The speaker has a bandwidth of 32 Hz to 50 kHz (-20 dB), and according to the provided frequency response data, the true flat bandwidth is around 42 Hz to >30 kHz. It offers solid stereo imaging with an expansive sweet spot. Furthermore, it effortlessly presents just about every detail in audio, from reverb tails to minute compressor artifacts. I would recommend it, especially for general music production.
The ADAM Audio S3V Monitors
Pros:
Adam Audio's sonic quality is always an advantage. The low frequencies sound super accurate and tight, the mid frequencies are open and detailed, and the top end sounds smooth and silky. The software controller for the DSP also lets you adjust the sound from the comfort of your seat. And finally, the vertical position ensures fewer reflections from your desk.
Cons:
I can't fault this speaker other than the fact that it may be a little too pricey for many people, especially since its frequency bandwidth is mostly average. However, it makes up for it by being genuinely versatile. 
8. Dynaudio LYD-48 Black
This bombastic-looking 3-way studio monitor ensures fabulous results and confident mixing decisions. 
The first thing that stood out to me when looking at the Dynaudio LYD 48 is its size; it is actually around the same size as a standard 8" near-field monitor speaker. The LYD 48 features three drivers, including an 8" bass woofer, 4" midrange woofer, and a 1.1" soft-dome tweeter. There is a vertical bass port at the side of the rear panel. 
Speaking of the rear panel, you will also find familiar Dynaudio audio configurations along with an automatic Standby Mode, which helps save power and the life of the monitor. The panel also houses two 50W amplifiers for the smaller drivers and a 100W amplifier for the bass driver.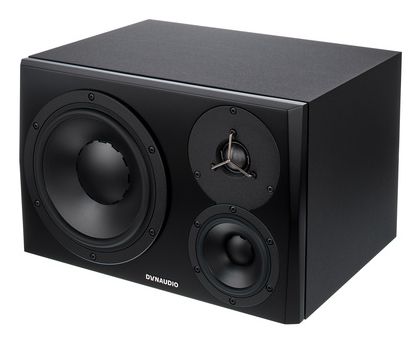 Key Features:
Modest
As I've mentioned, the LYD 48 is relatively small in size, and it's also somewhat on the lower end of the spectrum when it comes to distortion-free loudness among midfield monitor speakers. So, I found it a better fit for homes studios or compact commercial studios. It provides both a large stereo field and just enough power to avoid room reflections.

 

Connectivity
The speaker features a standard balanced XLR and an unbalanced RCA connector on the rear panel. Some audio interfaces used in home studios come with only an RCA connector, and it's nice to see this smaller-sized speaker equipped to handle such limitations.

 

Sound Adjustments
As with other Dynaudio products, you can adjust several things via the control panel on the back of the speaker. There is ± 6 dB sensitivity control, a Bass Extension (a high-pass), and a tilt EQ that lets you select between Bright, Neutral, and Dark modes. Finally, there's also a Position setting that lets you choose between Wall and Free, where the first is appropriate if your speaker is situated close (within 20") to a wall.

 
Character & Sound:
Careful designing and manufacturing with meticulous attention to detail make this speaker one of the best for offering transparent sound. At the optimal listening position of less than 6.5 ft. away from the speaker, the bass comes out clean and punchy, and the midrange driver and tweeter reproduce transients flawlessly. And with the Bass Extension setting on the rear panel set at –10 Hz, you can get a bandwidth of up to 40 Hz to 21 kHz (-6 dB).
Dynaudio LYD 48 Review | MONEY SAVING for PROFESSIONALS
Pros:
When it comes to sonic clarity and transparency, the LYD 48 is undoubtedly a winner. It reveals detailed audio performance and plugin nuances, however busy the mix is. Furthermore, the smooth highs ensure you will have no problem working with it for a long time. And finally, the small size and merely 12 KG weight of the speaker makes it a perfect choice for home studios and smaller spaces. 
Cons:
When I consider the LYD 48's reasonable pricing, any nitpicking seems unfair. However, if you require highly powerful midfield studio monitors with extensive bandwidth, you should look elsewhere.
9. HEDD Type 20 MK2
Although it has relatively small-sized drivers, HEDD Type 20 has managed to surpass the performance of many bigger and seemingly better midfield studio monitors.
The Type 20 studio monitor looks brilliant, with its satin white or black finish and a clean face design. It features a 7″ bass woofer, a 4″ midrange driver, and a ribbon tweeter. Now, let's face it, most of us are eager to know the bass response when we are trying out a studio monitor, and that's where this one excels. It's not only weighty but also detailed.
Of course, it's not just the bass that sounds well — the midrange is spatially open, and the treble is smooth yet precise. Other than the sound, there are technological features that set this model ahead of the crowd too. The back panel features a balanced XLR input alongside an AES digital in and through (out).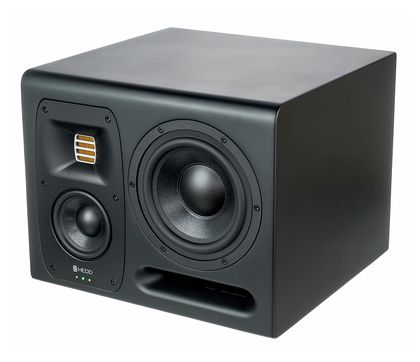 Key Features:
CoP Technology
The CoP technology means Closed-or-Ported. And it's exactly what it sounds like; you can plug the port using a literal cork provided by the manufacturer. Furthermore, to ensure that the sound remains natural, it features a filter on the back panel that lets you switch between Ported and Closed modes.
Lineariser
The Lineariser is a filter stage that ensures the phase of your speakers is perfectly in sync with one another so that no phase cancellation occurs. It essentially adds 10ms of delay on all of your speakers to ensure phase correction. This feature is handy if you are working with surround sound, where phase cancellation is most prone.
Controls
On the back of the speaker cabinet, you will find a volume control, a low and high shelving filter, low-cut, input sensitivity, and desk filter. The input sensitivity control ranges between 0, -4, -10, and +4 dB. Similarly, the desk filter essentially lowers 180Hz by either 1, 2, or 4 dB. And finally, the low-cut filter has 32 Hz, 26 Hz, and 80 Hz options, where the last is for when you add a subwoofer.
Character & Sound:
Each driver of Type 20 is powered by a 300W amplifier, leaving enough headroom for absolutely no distortion in any frequency. Despite the somewhat small drivers, it has a true flat bandwidth of 32 Hz to 40 kHz. And if you enable the bass extended mode in the low-cut filter, the low end drops to an impressive 26 Hz. It sounds lively enough not to sound fatiguing but still as uncolored as you could wish for.
HEDD TYPE 20 MK2 Review - Are these the future of all new monitors?
Pros:
The low-frequency reproduction of this studio monitor is truly awesome, and the same reliability remains throughout the spectrum. You can hear minuscule changes in a compressor or the panning with just as much accuracy. And the CoP technology lets you choose between ported and unported sound as you wish. Personally, I preferred the ported mode most of the time for the extra bass, but the closed mode is excellent when you need transient accuracy.
Cons:
As with most midfield studio monitors, the only issue is the hefty price. Although, relatively speaking, it's pretty reasonable in this price range.
10.

EVE audio SC3070
Aptly considered the SC307's bigger brother, the SC3070 adds to the model with better stereo imaging, deeper low end, and overall tonal clarity.
SC3070 incorporates a 6.5″ bass woofer, a 4″ midrange driver, and a 1″ 'RS3' ribbon tweeter on the front panel. And on the back, you will find a vertical bass port. As with the SC307, it also features both a balanced XLR and an unbalanced RCA input. Similarly, it features sonic controls to compensate acoustic environment using an internal DSP chip.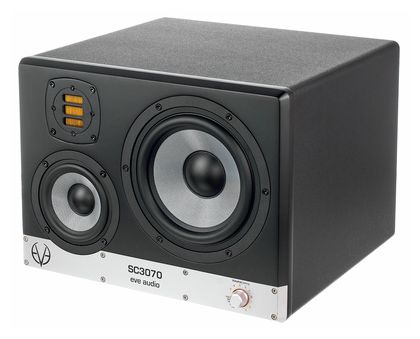 Key Features:
Front Panel Controls
As with the SC307, the SC3070 also features a DSP controller knob on the speaker's front panel. You can press the knob to switch between volume, low shelf, mid, and high shelf EQ. An LED ring surrounding the knob displays all the information and the selected values.
More Controls
The speaker also features a desk filter that lets you boost 80 Hz by 3 dB and cut 160 Hz by 5 dB. Furthermore, on the back panel, you will find filter and level lock switches that render the controller on the front ineffective. And lastly, you can select a maximum input between +7 dBu and +22 dBu, depending on your console or interface.
SilverCone
The bass and midrange drivers are the proprietary SilverCone drivers, which work with a copper-cap magnet system. They are built to eliminate distortion in any loudness level. Similarly, the honeycomb-structured 

fiberglass 

material on the woofers provides better tonal response and longevity.
Character & Sound:
The speaker features three amplifiers, one for each driver. The bass woofer is powered by a 185W amplifier, the midrange driver by 100W, and the tweeter by a 50W amplifier. It has a true flat frequency response of 35 Hz to 21 kHz, which is highly impressive. Furthermore, it has a maximum loudness of 110 dB SPL at a 1m distance (when used in pairs), which is just fine for midfield monitoring.
The loudness and amplifier headroom also ensure a distortion-free performance. Similarly, I found both the bass and the midrange drivers extremely accurate and transient-responsive. It's particularly apparent when you experiment with compressors. The highs are smooth. So, ear fatigue is pretty much nonexistent.
EVE Audio SC3070 - Big sound for a small speaker
Pros:
The most significant advantage this studio monitor has over the rest is the value for money. It has an impressive frequency response, decent loudness level, and excellent audio performance. Furthermore, it sounds smooth and natural with no stress in your ears. The ample amplification power and well-designed drivers also ensure distortion-free sound.
Cons:
In this case, I couldn't find any objective disadvantage at all. Subjectively, I find the DSP controller knob on the front panel mildly tedious, but it passes once you get used to it.
Conclusion
Selecting a studio monitor of any kind should always be based on personal choice. Each person has a different preference, so no amount of description can override the experience of listening to the sound. Hence, I suggest going out to the marketplaces where you can have a demo of midfield studio monitors.
In addition, a midfield studio monitor works almost the same way as a center channel speaker in that apart from having the best, there's a need for proper setup.  You need to take into consideration factors such as your room design and positioning for the best audio experience. On top of that, always make sure to read the provided manual and guide for the best set up including the best working distance and controls. 
Getting the best out of your midfield studio monitor requires more than just the overall quality. You'll need to patiently fine-tune your monitor to match your preferred sound output.
However, I hope this list gave you an idea of what you can expect and talk about when you look for your pair. Furthermore, you can also rely on the information to help you create a shortlist of all the monitors you wish to give a try. You should also consider your studio's space when you are selecting.
For example, if your space is relatively small and you will be placing the speakers close to the wall, perhaps the studio monitor that sounded good at the store won't sound as well at your home. In such cases, look for a choice like Dynaudio midfield studio monitors that feature adjustments for such issues.
Other Studio Monitor Topics:
Can You Use Studio Monitors as Regular Speakers?
Best NearField Monitors: 12 Picks For More Clarity
Top 10 Studio Monitors For Untreated Room
How Do I know If My Studio Monitor Is Blown? (How To Fix & Avoid That)
Are Studio Monitors Worth It In The Untreated Room? – 7 Tips
Top 10 Studio Monitor Brands In The World 
Best Biggest Studio Monitors (FarField Monitors)
Is Playing Music Loud Bad For Studio Monitors?
FarField, MidField & NearField Monitors – Their Uses, Pros & Cons
K. M. Joshi is a multi-award-winning composer and sound designer, specializing in film, game, and TV audio. He enjoys making cinematic music, rock, blues, and electronica. Read more..