Access Virus Ti2 Keyboard

(Analog Modeling Synth With Unique Bass)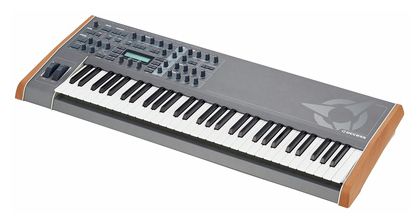 Access Virus Ti2 keyboard is known for its versatile and unique bass sounds and its high-quality & analog low-end.   
It's a wavetable synth with a distinctive characteristic sound and great capabilities, so you can load up some great wavetables that are specifically for bass from different genres. That gives you the flexibility to create some fresh & unique bass sounds, and also basslines of almost any genre and style.
Key Features:
Powerful effects section
In addition to a bunch of time-based effects like phaser, chorus, flanger, and frequency-based effects like Ring Modulation, ring shifter, and EQ, the Ti2 lets you add studio-quality effects like Tap Delay, frequency shifter, and distortion effects for harmonic enhancement.
Specifically, the distortion, ring modulation, and ring shifter effects allow you to create some dirty and gritty basslines.
Analog Nature
In addition, there are new "character" effects, which lets you adjust the timbral characteristics of sounds using Analog Boost, Bass enhancer, Lead enhancer, Vintage 1/2/3, and Stereo widening, resulting in huge earth-shaking bass sounds. In total, there are 129 parallel effects that you could choose from.
Virus control plug-in for more control
You can enhance the control over Virus Ti2 using its plug-in version in your preferred DAW, in which you can also access a wider range of presets that you could also sort, edit and search. You can also use the dedicated remote mode to turn this keyboard into a universal remote control for VST/AU plug-ins.
Efficient sound design capabilities
The Ti2 contains three LFOs (with 64 different waveshapes) and two ADSTR envelopes. It also has two fully independent filters (High pass, low pass, band pass) and a MoniMoog cascade filter-inspired Analog Filter. In addition to that, it also contains a 2-dimensional mod matrix.
Sound Sources
Further, there are three main oscillators and one sub-oscillator available per voice, in which you can access Wavetable oscillators and HyperSaw oscillators, capable of using up to 9 sawtooths. That results in some fat and solid bass sonics, especially using the hyper saw and sub oscillators.
Character & Sound
The color in the sound is added primarily by the hypersaw and wavetable synthesis, along with a wide variety of effects that this machine offers, which is perfect for creating 80s synth-pop music. A lot of renowned acts like Madona, Nine Inch Nails, Stevie Wonder, Tiesto, Armin Van Buuren, etc., have used this synth and its presets in a lot of hit songs because of its massive and anthemic bass, lead and sub sounds, which cut through the mix with a lot of punch and impact.
It is equally capable of creating ambient soundscapes with its long ADSRs, which translates into creating lush sounds. With that, Virus has developed a trademark sound.
Access Virus TI2 FM Bass Sound / Sound Design
Pros:
The Ti2 is a very reliable and heavy-duty piece of gear, made for the rigors of touring due to its high build quality which is usable even in temperature changes and dust and is rock-solid. Built on the virus synth engine, it has a unique flavor, which is hard to emulate by any other synthesizer.
It uses the best of both software and hardware worlds and also comes as a plug-in that we can use inside our DAW. It can also be used as a soundcard, hence the name TI, which stands for total integration. We can control the plug-in synth via the hardware synth, and can Ti2 can also act like a MIDI device and record musical information from it.
It's a 61 keys velocity-sensitive keyboard with good quality knobs, buttons, and solid construction. In addition, it has 6 Analog outputs of 6.3 mm jack, and 2 Analog inputs of 24 bit of bit depth. 
Cons: 
It is not the best device for creating heavy and hard-hitting percussive sounds, which makes this a not-so-versatile instrument because of its one-of-a-kind sonic scape. Also, many of its customers and users have complained about bugs and software issues.
Moog One

(Analog Synth)
Moog launched its first polyphonic Moog synthesizer in thirty years, called Moog One.
It's a tri-timbral analog synth with great capabilities in terms of the richness & punch of the sound, and a state-of-the-art design, and is capable of generating fat and punchy bass sounds. Physically, it's a large machine that requires a lot of space.
The front panel features single-function knobs like oscillators, filters, envelopes, and LFOs together by module. We can also add digital effects to our sounds, but for the purists and the fans of analog sounds, we also have the option to bypass the digital effects, if we want it to be 100% analog.
Packed with up to 48 voices, digital synth effects, a 20-slot modulation matrix, various input/output and control options, an arpeggiator, and a 64-step polyphonic sequencer, this is a highly ambitious piece of equipment. However, the central control section with a large screen to search and browse presets and its laid-out knobs & buttons make the workflow easier.
The analog circuits of Moog are known for their richness, harmonic nature, and natural quality basslines, due to which Moog has been one of the primary instruments of artists/bands like George Harrison, Beastie Boys, The Doors, etc. Moog One is also widely used in programming groovy basslines for West Coast/G-Funk, club genres, and various other styles.
This synthesizer carries that nature of sound, along with its elaborate programming capabilities, and polyphonic & multitimbral character, which gives you a good combination of classic analog sound and modern tech to manipulate and shape the sound. 
Key Features:
Cutting-edge Sound Design Capabilities
Moog one comes in 8- and 16-voice versions and three Voltage Controlled Oscillators (VCOs), that is, up to 48 voices at once, and also packs two independent analog filters- Variable State filter and Moog Ladder filter, giving the perfect analog texture of fatness to design bass sounds.
Rich Waveforms & Premium Modulation Options
The 3 oscillators could output a user-defined blend of triangle/saw and square/pulse oscillators, giving it a harmonically rich texture. To that, digital modulations like Ring Modulation, Frequency Modulation, Hard Sync, etc., can be applied for grittier bass.
There's an option to add a dual-source noise (pink, white, red, purple, etc.) generator with its own envelope shaper, which can give you a sound with full-spectrum and transient capabilities. 
Ease of Creation
With more than 73 knobs and 144 buttons, and 61 keys, the Moog synthesizer is designed to spark creativity. It's a great technology due to its innovative bass design and ease of use. You can save tens of thousands of presets and can also recall a time-stamped snapshot of a preset using an LCD center panel, in which you can browse and control different presets and settings.
Analog-Digital features
You can also use digital effects on your synths and master output, for example, the eventide reverb (Room, Shimmer, Hall, Blackhole, and Plate) and other high-quality effects of distortion, compression, etc., for versatile bass sound design.
Modulations
The four LFOs, and three DAHDSR Envelope Generators

can be applied in series or parallel to each voice, to further add sonic depth and movement to your basslines. 

Easy connectivity
There are 2 x 1/4″ stereo headphone outputs, 1 x ¼" external audio input (line-level), 4 x ¼" hardware inserts (TRS), 1 XLR + ¼" TRS combo external audio input, 9 assignable CV/GATE I/O (5-in/4-out), a LAN port, and USB drive support for saving and backing up system settings and presets.
Moog ONE - Simple Bass Tutorial - Part 1
Sound Design with the Moog One!
Pros:
The tone generators, filters, and modulators in this machine are high quality and the best you would find. On top of that, it's tri-timbral, which essentially makes it a three-in-one synthesizer, along with which its interface is intuitive and well-thought-out, with very few hidden features. You can do a lot more than create basslines with the synthesizer.
It has a great sound design workflow and the ease of applying modulations, filters, and effects make it stand out. The Moog one is a reliable gadget with a rich & vast sonic universe, owing to its classic Moog circuitry, which gives this machine a sweet, warm, and unique analog low end & overall tonality.
Film & Music studios, sound designers, and engineers who are looking for a machine with uncompromising abilities, who do not have any constraints on the budget, and who have a good know-how of how analog synthesis works are the ideal customers for the Moog One.
Cons: 
Priced at $8,999, many bedroom music producers cannot afford to buy such an expensive machine. However, it's only designed for premium music and film studios. Apart from being pricy, this is a heavy machine and weighs about 45 lbs, making it quite challenging to carry around.
The Moog One is also huge in size, with an area of 7 x 42 square inches. Lastly, it's complex and not easy to use and it could take a while to get used to its workflow, especially for beginner sound designers & music producers. Unfortunately, it's ahead of its time and may not be the best product-market-fit.
Waldorf Quantum

(Hybrid – Analog/Digital)
Replaced with Quantum MK 2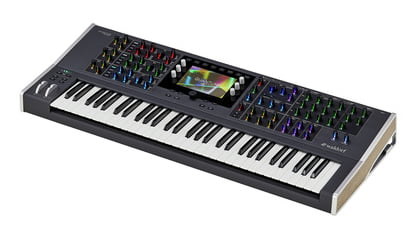 The quantum by Waldorf is a bi-timbral polyphonic (8 voices) synthesizer with high-quality stereo oscillators that can route through two sets of filters, multiple LFOs, and envelopes. We can do layering and splitting of the sounds with a flexible allotment of voices in oscillators.
It's a futuristic hybrid synthesizer of both digital and analog characteristics, which is based on four synthesis programming; on top of that, you can do complex modulations and apply effects. This instrument has been elegantly, uniquely, and efficiently designed by Axel Hartmann, with great simplification and ease of use.
Key Features:
Signal Flow
Apart from the three oscillators per voice, dual analog and single digital filters are available per voice. Therefore, modulation can be easily performed and applied using six envelopes and six LFOs (each with Sine / Triangle / Square / Sawtooth Down /Sawtooth Up / Sample & Hold). Lastly, the signal flow is flexible and could route anywhere between the oscillator, filter, digital, former, amplifier, etc. You can connect up to five different effects units and use its extensive modulation matrix and compressor.
Multi-synthesis algorithm
Four algorithms are available for synthesis: wavetable synthesis, waveform synthesis, granular synthesis, and sampling/resonator. Wavetable synthesis gives you a lot of flexibility in changing the core waveform of the sound. You can experiment with the timbre of a sound using the granular synthesis algorithm, its time scaling options, and playing around with the sample's phase, speed, and volume. Resonator synthesis is based on manipulating your samples using cross-coupled filters.
High-functioning performance tools
Many tools like a pitch-modulation wheel, modulation pad, sequencer, arpeggiator, etc., are available for real-time performance and modulations of sounds. In addition, there are functions like glide, hold, chord, mono, and unison available for better shaping your sounds, along with 61 velocity-sensitive piano keys, microtonal pitch configuration, and an oscilloscope.
Character & Sound:
The sounds are wide, warm, and huge-sounding due to multiple laying of voices, stereophony, ear-candy wavetables, and multiple effects. It's a great synth for creating all types of sonics, ranging from plucky danceable sounds to warm, spread-out, and lush ambient sounds to groovy arpeggios and time-sequenced tunes. In addition, the granular synth allows you to create futuristic and digital experimental music, like eight-bit music. It's also great for creating pads and atmospheric sounds.
Waldorf Quantum Hybrid Synthesizer
Pros:
The Quantum is a versatile digital synthesizer that store up to 10,000 patches, which could quickly recall using the Favourites list. Furthermore, Wavetables, samples, and presets can be exported and loaded using an SD Card. Hence, the sound design aspect of this synth is flexible because of the availability of different synthesis methods.
Visually it's a stunning instrument with a touch screen display for controlling it. The knobs are high quality, the touch screen is smooth, and the overall design is intuitive and simple.
Cons: 
The overall sound is not as analog as one would like. Hence, it's not a one-in-all synthesizer, and you may need more tools in your arsenal to cover the analog spectrum of sounds. Another huge con is that the filters are monophonic while the oscillator is stereo, which means that once the waveform passes through the filter, a mono filter is applied. One cannot connect a USB to it to load up patches, wavetables, and other data.
Conclusion
This article should help you narrow down your choice. As we can see, all of the keyboards strive to help with functionality and help you in various ways. Each of them has implemented its features. You can pick a model that fulfills your musical needs and fits your budget. Determining your needs and doing your research will go a long way.
MIDI keyboards, for sure, will improve your workflow. But, depending on your production style, you'll have to ensure which features will enhance your workflow. For example, if you like to make beats for sure, you will need the pads.
In addition, software integration with the keyboard is essential as it can save you time mapping your preferred DAW. These keyboards have basic functions such as pitch bend, modulation wheel, octave key, and sustain jack.

Some of the keyboards are more focused on the live performance realm. It's important to understand that each of them has its limitations. The best advice would be to head over to the local store and check how it feels under your hands.
Check our related readings as they can also help you with the choice even more.
Readings that you may like: 
Other Recommended Gear:
Top 12 NearField Studio Monitors On Any Budget
Top 10 Midfield Studio Monitors For Home Recording
Best Biggest Studio Monitors (FarField Monitors)
Top 10 Guitar Pickups for Low Tunings 
Top 10 Analog Compressors For Mixing & Mastering (On Any Budget)
Top 12 USB Audio Interfaces Under 150$, 200$, 300$ 400$ (Any Budget)
Top 12 Hardware Equalizers (Analog EQs For Mixing & Mastering)
Top 6 Analog Hardware Limiters 
Top 6 Solid State Bass Amps (On Any Budget)
Top 6 Ribbon Mics On Any Budget (For Vocals, Drums & Guitars)
Top 6 Cheap Dynamic Mics For Vocals Under 50$, 100$, 200$ & 300$
Top 6 Chorus Guitar Pedals (On Any Budget)
6 Best 61-Key MIDI Keyboards (On Any Budget)
9 Best 49-Key MIDI Keyboards Under 100$ & 200$
Top 5 Best 25 Key MIDI Keyboards (On Any Budget)
Top 12 Acoustic Drums (Best Kits/Sets On Any Budget)
Plugin Roundups:
Genre Focused:
Top 10 EDM Plugins  (And 10 Best FREE Plugins For EDM)
Top 10 Plugins For TRAP Beats (And 5 Best FREE Trap Plugins)
20 Best Plugins For Rock Musicians (+ 6 FREE Plugins)
Top 14 Trance Plugins (Uplifting, Tech, Progressive, Vocal, Dream, Hard)
Top 10 GOA & PsyTrance Plugins (Best Psychedelic Trance Tools)
Top 7 Plugins For Dubstep (With 10 Best FREE Effects & Synths)
Top 20 Synthwave Plugins (+ 11 Best FREE Plugins)
Top 15 Plugins For Techno, House, Electro, Tech House, UK Garage
Top 6 Plugins For Latin Music  (And 4 FREE Tools)
Top 12 Plugins For Hip-Hop (+ Best Kontakt Libraries)
Top 7 Plugins For Game & Film Scoring  (+ 6 Best Kontakt Libraries)
Top 10 R&B And Pop Music Plugins & KONTAKT Libraries 
30 Best Free Plugins For DnB, EDM, IDM & Experimental Music 
EQ Plugins
Top 12 Free EQ Plugins For Precise Mixing & Mastering
Top 9 Mid/Side EQ Plugins  For Mixing & Mastering (+ 2 Free Tools)
Top 7 Graphic EQ Plugins  (With 3 Best Free EQs)
Top 7 EQ Plugins For Mastering In | And Best FREE Mastering EQs
Top 6 Passive EQ Plugins (Klevgrand, SPL, UAD, Waves, IK Multimedia)
Top 11 Plugins For Making Metal (Best Guitars, Drums & Effects)
Metering:
Top 5 Audio Metering Plugins (LUFS, RMS, LRA, True Peak)
Top 6 Spectrum Analyzer Plugins  – Spectral Analysis Tools
Top 6 Oscilloscope Plugins To See The Waveforms
Top 5 Key Detection Plugins & Software  (+ Best FREE App)
Kontakt Libraries
20 Best Kontakt Libraries For All Categories (Synths, Drums, Vocals)
Top 7 Drum Libraries For KONTAKT (And 4 Freebies)
Top 7 Trap Music Kontakt Libraries (And Best Lo-Fi Kontakt Library)
Top 7 Metal & Rock Kontakt Libraries (Best Guitars & Drums)
Top 10 Guitar Libraries For Kontakt (Acoustic, Electric, Bass & Freebies)
Top 7 Trailer Scoring Plugins & Kontakt Libraries 
20 Best Free KONTAKT Libraries For Various Instruments
Top 9 Piano Kontakt Sample Libraries  (And 5 Best Free Pianos)
Top 10 Percussion KONTAKT Libraries  (And 3 Freebies)
Top 7 Kontakt Libraries For Horror & Thriller Scoring (No VSTs)
Audio Restoration, Calibration & Utility:
Top 6 Noise Reduction Plugins (And 3 Best Free Tools)
6 Best Audio Restoration Plugins & Software 
Top 7 Phase Alignment Plugins To Fix Your Bass & Drums
Top 10 Room Calibration & Headphones/Speakers Correction Plugins 
Instrument Plugins: 
Top 6 Vocoder Plugins (Effects & Synths + FREE Vocoder)
11 Best Rhodes VST Plugins (AND 5 Free Rhodes Plugins)
Top 12 Randomizer Plugins Including FREE Plugins
Top 6 Kick Drum Plugins (Best Kick Designer Tools)
Top 12 Woodwind Plugins (And KONTAKT Libraries)
Top 10 Double Bass Plugins (Best Upright Basses)
Top 5 Strings VST Plugins (AND 4 Best Free Instruments)
Top 6 Sampler Plugins (And 3 Best FREE Plugins)
Top 6 Classical Guitar Plugins & Kontakt Libraries (And FREE Guitars)
Top 12 Sub Plugins (Best 808 & Bass Tools For Massive Low End)
Top 10 Plugins On PluginBoutique (And 7 Best Free Plugins)
Top 11 Plugins On Plugin Alliance 
Top 7 Acoustic Guitar Plugins (And 4 Best Kontakt Libraries)
9 Best Bass Guitar Plugins (And 2 Best Freebies)
Top 6 Electric Guitar Plugins (Best PAID & FREE Picks)
Top 10 Arpeggiator VST Plugins (Best Synths, MIDI Effects & Tools)
Top 10 Modular Synth Plugins (And 3 Best FREE Plugins)
Top 6 Choir Plugins & Sample Libraries (And 3 Best Free Plugins)
11 Best Percussion & Drum VST Plugins (And FREE Plugins)
Top 8 Piano Plugins (Best Sounding Pianos & 5 FREE Piano Plugins)
Top 6 Organ Plugins Ever Made  (And 3 Best Free Organs)
Top 14 VST Plugins For Beginners (And 9 FREE Plugins)
Top 9 Drum Machine Plugins (And Groovebox Plugins)
4 Best Banjo Plugins (Best Banjo Instruments)
The 5 Best Ukulele Plugins & Kontakt Libraries 
Top 13 Synth Plugins (And 5 Best FREE Synths Plugins)
Top 13 Sequencer Plugins  (Synth, MIDI & Step Sequencers)
The 10 Best Multi-Effect Plugins (And 3 Best Free Plugins)
Top 12 Plugin Bundles For Musicians (Synths, Mixing & Mastering)
Processing & Sound Design:
8 Best Lo-Fi Plugins (PAID & FREE)
Top 11 Plugins For Mixing Vocals  (For Home Studio)
Top 12 Saturation Plugins (Best Mixing & Mastering Tools)
Top 6 Pitch Shifter Plugins (And 3 Best FREE Pitch Shifters)
Top 6 Chorus VST Plugins For Musicians (And 3 FREE Plugins)
Top 6 Limiter Plugins For Precise Mastering & Mixing
The 8 Best Filter Plugins For Precise Cuts & Boosts (+ 5 Free Filters)
6 Best Autotune Plugins To Improve & Enhance Your Vocals
Top 10 Transient Shaper Plugins (VST, AU, AAX)
Top 7 Enhancer Plugins (For Bass, Drums, Vocals & Harmonics)
Top 6 Flanger Plugins (And 5 Best FREE Flanger Emulators)
Top 7 Phaser Plugins (And 3 Best FREE Phasers)
Top 10 Plugins For Mixing Drums (And 3 Best Free Plugins)
Top 7 Bitcrusher Plugins (And 4 Best FREE Bitcrushers + 3 Bonuses)
Top 6 Plugins For Voice-Over & Dialogue Cleaning (Post Production)
Top 10 Stereo Imaging Plugins (Best Old & Modern Picks)
Top 5 Multiband Limiter Plugins 
Top 7 De-Esser Plugins For Better Vocals (And 4 FREE Plugins)
Top 7 Clipper Plugins (Best Limiter Alternatives)
Top 6 Chord Generator Plugins That Inspire Melodies (+ FREE Tools)
7 Best Exciter Plugins For Mixing & Mastering
Top 7 Channel Strip Plugins (And 2 Best Free Plugins)
Top 11 Distortion Plugins (And 4 Top Free Plugins)
Top 5 Comb Filter & Resonator Plugins | Melda, Kilohearts, Tritik
The 7 Best Vibrato VST Plugins | Audec, Audiority, Melda
The 7 Best Tremolo Plugins | Eventide, Melda, SoundToys, Kuassa…
The 7 Best Harmonizer Plugins | Eventide, Melda, Aegean Music
7 Best Sidechain Plugins (VST, AU, AAX) | Xfer, Cableguys..
Top 10 Noise Gate Plugins (And 6 FREE Free Gate Tools)
The 6 Best Ring Modulator VST Plugins | KiloHearts, Melda
7 Best Autopan VST Plugins | CableGuys, Melda, Waves, Soundtoys
The 6 Best Frequency Shifter VST Plugins
Top 11 Granulizer Plugins For Future Sound Design
29 Best Sound Design VST Plugins
Compressor Plugins
Top 11 Free Compressor Plugins (VCA, Vari-Mu, FET, Digital)
Top 7 Multiband Compressor Plugins (And 4 FREE Plugins)
Top 5 Diode-Bridge Compressor Plugins 
Top 6 Mastering Chain Plugins: Complete VST Solutions 
The 7 Best VCA Compressor Plugins (VST, AU, AAX)
Top 11 Mastering Compressor Plugins (And 2 FREE Plugins)
Top 10 Opto Compressor Plugins For Transparent Sound
The 7 Best Vari-Mu Compressor Plugins (And 2 Best FREE Tools)
Reverb & Delay Plugins:
Top 12 Reverb Plugins (And 5 FREE Reverb Plugins)
The 6 Best Spring Reverb VST Plugins | AudioThing, GSi, u-he, Eventide
Top 12 Delay Plugins For Music Production In (VST, AU, AAX)
Top 10 FREE Delay Plugins (VST, AU, AAX)
The 10 Best Convolution Reverb Plugins 
Amps & Preamps:
Top 10 Guitar Amp Plugins (And 5 Best FREE Simulators)
Top 10 Bass Amp Plugins (And 5 Best Free Simulators)
Top 9 Preamp Plugins (For Vocals, Guitars & More!) + Free Preamps
Guitar/Amp Focused:
Can I Put Nylon Strings on a Steel-string Guitar?
Do Electric Guitars Sound Good Unplugged?
Buying Your First Guitar: 2 Things To Know
Are Tube Amps Worth It? (Tube vs Solid-State Amps)
How Often Does A Guitar Need a Setup?
Can I Play Classical Guitar On A Steel-String Guitar?
How often guitar necks need reset?
Can You Play Two Guitars Through One Amp?
Can a 6 String Bass Be Tuned Like A Guitar?
Can I leave My Guitar Tuned Down a Step? Yes, But Is It Safe?
Should I Learn 4, 5 Or 6 String Bass Guitar & Why?
How To Know If your Guitar Amp Is Broken?
How To Fix Distorted Bass Guitar Sound?
Do Fender Guitars Appreciate In Value?
Should You Put Stickers On A Bass Guitar?
How Acoustic And Electric Guitars Are Made?
Is Electric Guitar Too Loud for an Apartment?
Does a Preamp Improve Sound Quality?
If I Learn Acoustic Guitar Can I Play Electric Guitar?
How Many Hours A Day Should You Practice Bass Guitar?
Do I need an AMP/DAC To Run Bookshelf Speakers?
How to Record Electric Guitar Into Logic Pro X?
Do headphones get worse with age?
DAW Related:
Best DAWs For Musicians Available (With FREE DAWs)
What's The Most CPU Efficient DAW? – 5 DAWs Compared
How To Make Music Without Using A DAW?
Pro Tools Guide: How To Use AutoTune & Pitch Correction?
Ableton Review: Is It Worth The Money? (Cons & Pros)
Logic Pro X Review: Is It Worth It? (Cons & Pros)
How To Use Auto-tune & Pitch Correction In Cubase?
How To Fix Ableton Crackling, Crashing & Freezing? Step By Step
Plugin Related:
What Are Audio Plugins? Different Types of Plugins Explained
What Are The Best Tools To Develop VST Plugins & How Are They Made?
Cost of Developing Audio VST Plugin: Several Factors (With Table)
VST, VST, AU and AAX – What's The Difference? Plugin Formats Explained
Complete Guide To Noise Gate – What It Is, What It Does & How To Use It?
How To Clip My Drums? Here Is How & Audio Teasers (Before/After)
Complete Guide To Limiter: How To Use It (+ Best Plugins & Analog Limiters)
Mixing With Reverb: How To Add Life To Your Mixes
Linear Phase vs Minimum Phase EQ – Full Guide
Difference Between LUFS, RMS & True Peak Loudness Meters
How And When To Use Algorithmic And Convolution Reverb In Your Mix?
Difference Between Active EQ, Passive EQ and Dynamic EQ
Headphones & Studio Monitors:
Do headphones get worse with age?
Monitors vs Studio Headphones For Mixing & Mastering
Top 10 Room Calibration & Headphones/Speakers Correction Plugins 
Are Noise-Canceling Headphones Good For Music Production?
Can Headphones Break in Cold Weather?
Why do headphones & cables get sticky?
Can Wearing Headphones Cause Hair Loss?
How Do I know If My Studio Monitor Is Blown?
Side Effects Of Sleeping With Your Headphones On
Do You Need Music Amplifier For Studio Monitors or Studio Headphones?
Do Headphones or Earphones Damage Your Brain?
Can Headphones or Earphones cause Deafness or Toothache?
FarField, MidField & NearField Monitors – Their Uses, Pros & Cons
MIDI & Synths:
Should I Buy A MIDI Keyboard Or Synth? (Are Synths Worth It Anymore?)
Why Is Audio Gear So Expensive? (Especially Synths)
Top 12 Synth Brands – Analog, Digital & Modular Synth Manufacturers
11 Tips How To Choose MIDI Keyboard 
Shaurya Bhatia, is an Indian Music Producer, Composer, Rapper & Performer, who goes by the stage name MC SNUB, and is also 1/2 of the Indian pop music duo, called "babyface". A certified Audio Engineer & Music Producer, and a practicing musician & rapper for more than 6 years, Shaurya has worked on projects of various genres and has also been a teaching faculty at Spin Gurus DJ Academy.