Top 6 Moog Analog Hardware Synths 2023
1. One
Moog launched its first polyphonic Moog synthesizer in thirty years, called Moog One.
It's a tri-timbral analog synth with great capabilities in terms of the richness & punch of the sound, and a state-of-the-art design, and is capable of generating fat and punchy bass sounds. Physically, it's a large machine that requires a lot of space.
The front panel features single-function knobs like oscillators, filters, envelopes, and LFOs together by module. We can also add digital effects to our sounds, but for the purists and the fans of analog sounds, we also have the option to bypass the digital effects, if we want it to be 100% analog.
Packed with up to 48 voices, digital synth effects, a 20-slot modulation matrix, various input/output and control options, an arpeggiator, and a 64-step polyphonic sequencer, this is a highly ambitious piece of equipment. However, the central control section with a large screen to search and browse presets and its laid-out knobs & buttons make the workflow easier.
The analog circuits of Moog are known for their richness, harmonic nature, and natural quality basslines, due to which Moog has been one of the primary instruments of artists/bands like George Harrison, Beastie Boys, The Doors, etc. Moog One is also widely used in programming groovy basslines for West Coast/G-Funk, club genres, and various other styles.
This synthesizer carries that nature of sound, along with its elaborate programming capabilities, and polyphonic & multitimbral character, which gives you a good combination of classic analog sound and modern tech to manipulate and shape the sound. 
Key Features:
Cutting-edge Sound Design Capabilities
Moog one comes in 8- and 16-voice versions and three Voltage Controlled Oscillators (VCOs), that is, up to 48 voices at once, and also packs two independent analog filters- Variable State filter and Moog Ladder filter, giving the perfect analog texture of fatness to design bass sounds.
Rich Waveforms & Premium Modulation Options
The 3 oscillators could output a user-defined blend of triangle/saw and square/pulse oscillators, giving it a harmonically rich texture. To that, digital modulations like Ring Modulation, Frequency Modulation, Hard Sync, etc., can be applied for grittier bass.
There's an option to add a dual-source noise (pink, white, red, purple, etc.) generator with its own envelope shaper, which can give you a sound with full-spectrum and transient capabilities. 
Ease of Creation
With more than 73 knobs and 144 buttons, and 61 keys, the Moog synthesizer is designed to spark creativity. It's a great technology due to its innovative bass design and ease of use. You can save tens of thousands of presets and can also recall a time-stamped snapshot of a preset using an LCD center panel, in which you can browse and control different presets and settings.
Analog-Digital features
You can also use digital effects on your synths and master output, for example, the eventide reverb (Room, Shimmer, Hall, Blackhole, and Plate) and other high-quality effects of distortion, compression, etc., for versatile bass sound design.
Modulations
The four LFOs, and three DAHDSR Envelope Generators

can be applied in series or parallel to each voice, to further add sonic depth and movement to your basslines. 

Easy connectivity
There are 2 x 1/4″ stereo headphone outputs, 1 x ¼" external audio input (line-level), 4 x ¼" hardware inserts (TRS), 1 XLR + ¼" TRS combo external audio input, 9 assignable CV/GATE I/O (5-in/4-out), a LAN port, and USB drive support for saving and backing up system settings and presets.
Sound Design with the Moog One!
Pros:
The tone generators, filters, and modulators in this machine are high quality and the best you would find. On top of that, it's tri-timbral, which essentially makes it a three-in-one synthesizer, along with which its interface is intuitive and well-thought-out, with very few hidden features. You can do a lot more than create basslines with the synthesizer.
It has a great sound design workflow and the ease of applying modulations, filters, and effects make it stand out. The Moog one is a reliable gadget with a rich & vast sonic universe, owing to its classic Moog circuitry, which gives this machine a sweet, warm, and unique analog low end & overall tonality.
Film & Music studios, sound designers, and engineers who are looking for a machine with uncompromising abilities, who do not have any constraints on the budget, and who have a good know-how of how analog synthesis works are the ideal customers for the Moog One.
Cons: 
Priced at $8,999, many bedroom music producers cannot afford to buy such an expensive machine. However, it's only designed for premium music and film studios. Apart from being pricy, this is a heavy machine and weighs about 45 lbs, making it quite challenging to carry around.
The Moog One is also huge in size, with an area of 7 x 42 square inches. Lastly, it's complex and not easy to use and it could take a while to get used to its workflow, especially for beginner sound designers & music producers. Unfortunately, it's ahead of its time and may not be the best product-market-fit.
2. Matriarch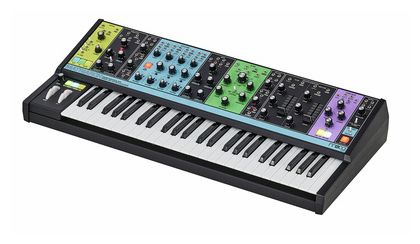 The Matriarch is the fourth installment in Moog's line of semi-modular synthesizers. Following the Grandmother, the Matriarch adds more functionality, keeps the colorful, pastel paint job, and provides the staple Moog tone many have come to love.
Moog's Matriarch is a 4-note paraphonic, semi-modular synthesizer with Eurorack support. It offers four VCOs, Moog's ladder filter, two EGs, a stereo delay, an arpeggiator, and a powerful sequencer. Additionally, you can seamlessly modulate various parameters using the synth's 90 patch points.
Key Features:
Four Oscillators




Up to 4 oscillators create a rich and diverse range of sounds. Each oscillator can be set to play within 4-octave ranges. To design your sound, 

you can switch between four waveforms for each oscillator

: triangle, sawtooth, square, or a narrow pulse wave. In addition, you can set the synth to play monophonically, duophonically, or paraphonically.

Classic Moog Filter




The filter is 

based on the classic Moog 904A module

. However, it offers more than just pure low-pass filtering like its inspiration. There are three selectable filters: series LP/HP, Stereo LP/LP, and Parallel HP/LP. The first creates a band-pass filter, the second a stereo signal path, and the third a notch filter.

Two ADSR Envelope Generators




You are offered full envelope customization of the filter and the amplitude through the two envelope generators. The EGs 

can control the attack, decay, sustain, and release

 to sculpt your sounds exactly how you want.

Stereo Delay




You can use a built-in stereo or ping-pong delay to add vibrancy and depth to your synthesized tones. The stereo delay module is based on the 

Moog 500 Series Analog Delay 

but offers shorter 

delay times ranging from 35 msec to 780 msec

. However, if synced with a clock, you can use the time dial to alter the delay times within divisions or multiplications of the tempo to create ambiently trippy arrangements.

Sequencer


The Matriarch's arpeggiator is precisely the same as the Moog Grandmother's. However, the sequencer has been expanded upon. You will be able to store up to 12 sequences. 

Each sequence can contain 256 steps or 1024 notes

 (Each step comprises four notes).
Moog MATRIARCH: Review, full tutorial and patch ideas
Overall, the interface is highly intuitive, and you will have an ocean of deep, warm, and smooth sounds to lose yourself. The analog tones are exquisite and don't require much external modulation to shine.
However, once you use the patch bay to connect external modules, the tonal options increase exponentially. If you want to hear some of the possible sounds created by a Moog, you can find sound samples here on Moog's Soundcloud page. 
Pros:
The optional oscillator sync function can thicken the sound substantially to create a sonic bulldozer that can stand up well in a mix. Couple the sync function with the option to switch to two or four-note paraphony, and you have a versatile synth that can excel in many situations.
Moog does offer a dark version with an all-black paint job if you aren't a fan of the pastel-colored interface.
Cons: 
Much like the DFAM, you will be unable to save presets. The only workaround at the moment would be to take photos of the parameters and refer back to them when you need to recreate a sound.
Otherwise, Moog has printable blank patch sheets you can use to record any setups you've come up with. One of the more annoying cons you will come across is an issue with the internal clock swaying out of time when syncing the delay to the arpeggiator/sequencer. 
3. Subharmonicon
Moog has stepped into the arcane world of complex rhythms with the Subharmonicon. These rhythm-focused synthesizers reward exploration and provide plenty of inspiration along the way. Read on if you are looking for a unique chord or percussion-focused synth.
Moog's Subharmonicon delivers spellbinding polyrhythmic and subharmonic tones all within a compact, Moog vertical tiered rack and Eurorack compatible casing. In addition, it offers a healthy amount of modular patch points and a tremendous amount of character that is great for accompanying a variety of synthesis setups.
Key Features:
Six Oscillators




Up to six oscillators build the tones generated. 

Two oscillators form the basis of the tones, while up to four sub-oscillators add depth and harmony.

 The main oscillators have a four-octave range—from middle C to C at the 8th octave—and are accompanied by two sub-oscillators each. Lastly, you will be able to set each oscillator to output one of three waveforms: a square wave, a sawtooth wave, and a pulse wave accompanied by sawtooth waves.

Interval Quantization




The oscillators share a quantization control. You can use the quantization parameter to automatically set the frequency of the oscillators to the intervals of a scale. The four quantization settings are 

Chromatic Equal Temperament

, 

Diatonic Equal Temperament

, 

Chromatic Just Intonation

, and 

Diatonic Just Intonation.

 

Chromatic quantization limits the interval to eight steps, and chromatic limits the interval to twelve steps.

Two 4-Step Sequencers




Each core oscillator is hardwired to its own four-step sequencer

, i.e., oscillator one is connected to sequencer one and vice versa, and provides the basis for which you can create your rhythms. The dial for each step controls the pitch of the step. You can set the octave range for each pitch control to within a range of 5, 2, or 1 octave above and below the initial pitch.

Four Polyrhythm Controls


The polyrhythm features take the set tempo and divide it by a specified value between 1 and 16. Then, the rhythm generator layers the divided rhythm over the chosen sequencer to create a complex polyrhythm. You will be able to lay four separate rhythms over either sequences 1, 2, or both.
Moog SUBHARMONICON Full Tutorial with 9 patch ideas and pairings // New version reviewed
Since Moog makes them, you can expect the iconic smooth Moog tone, but they also offer snappy percussive sound, atmospheric soundscapes, and punchy rhythm arrangements. You can find short recordings of the Subharmonicon in action on Moog's Soundcloud page.
Pros:
Since they use an analog audio engine, the sequences sway and drift organically with each cycle. As a result, no two playthroughs will sound the same, which gives the Subharmonicon an authentic characteristic.
In addition, the clock generator can receive and output a clock signal to sync external hardware.
Cons: 
They do come with a steep learning curve, so you will need to take the time to view tutorials and flip through the manual a few times before you can summon the mystifying rhythms contained within.
Unfortunately, you won't be able to save presets, so if you come across any fantastic tones while exploring, you will either need to use Moog's Patch Sheets or take a photo of the interface for future reference.
4. Grandmother
The Grandmother has received more than a few remarks because of its name and color scheme. However, Moog offers a great vintage-Moog-inspired sound with tremendous functionality and a rewarding experimental experience.
Moog's Grandmother is a monophonic, semi-modular synthesizer with a built-in keyboard, sequencer, and arpeggiator. It offers all you need for a standalone synth and can easily integrate into a Eurorack system.
Key Features:
Two Oscillators




You 

can use two oscillators to sculpt your tones

, and each oscillator can output one of four standard synth waveforms: a triangle, sawtooth, square, or pulse wave. In addition, you can adjust the pitch of each oscillator within a four-octave range.

Classic Moog Filter




The Grandmother uses Moog's 24dB/oct ladder filter to remove frequencies above the cutoff point. In addition, you can use keyboard tracking to 

adjust the cutoff point automaticall

y based on the note being played.

ADSR Envelope Generator




You will have complete control over how your sound unfolds. The envelope generator can independently adjust the sound's attack, decay, sustain, and release times. In addition, 

the envelope generator has three patch points available

 for you to modulate the envelope of your sound.

Adjustable LFO




The modulation section houses a low-frequency oscillator to provide adjustable modulation to three areas. You can adjust the modulation depth for the oscillator's pitch, the filter's cutoff frequency, and the pulse width for each oscillator's square or pulse wave. Also, 

the LFO can output as a sine, sawtooth, ramp, or square wave.

Arpeggiator




Using the arpeggiator, 

you can loop melodic lines by playing on the 32-note keyboard

. You can adjust the tempo of these lines to play within a range of 20 to 280 bpm. In addition, you will be able to set the arp to play arpeggios in the order the notes were played, forward then backward, or at random.

Sequencer




The sequencer can store up to 256 steps per sequence. In addition, 

each step is made up of four notes.

 Aside from the number of steps, you can store three separate sequences to recall later. Like the arpeggiator, you can control the order the sequence is played back in.

Built-In Spring Reverb Tank




They feature a spring reverb effect created by 

a tank built into the synth.

 Unlike most built-in effects, which merely emulate the sound, you will be able to mix in an authentic spring reverb tone to add depth and space to your designed sounds.
Unlocking Grandmother's Secrets: Review, ideas and tips for Moog's latest semi modular synth
Moog's Grandmother excels at capturing a vintage analog synthesizer tone that you can use to create smooth, biting, or funky lead tones, thick, growling bass grooves, driving kicks, and immersive ambient sounds.
Pros:
You'll get a synth with a lot of character, a durable build, and great functionality, both with or without an accompanying modular setup. If you dislike the pastel-colored interface, Moog does offer an all-black alternative.
Cons: 
You won't be able to save presets of the brilliant sounds you've sculpted, which is unfortunate considering the wide range of tones you can create. And the power connector, located at the back of the device, is flimsy enough to disconnect accidentally with the slightest touch.
5. DFAM (Drummer From Another Mother)
The Drummer From Another Mother follows on from the Mother-32 and compliments its predecessor wondrously! And adds to their list of eccentric product names.
The DFAM is a monophonic, semi-modular synthesizer specializing in percussive and rhythmic tones. It integrates seamlessly with other synthesizers and support installation into a Eurorack system.
Key Features:
Two VCOs, A Noise Generator, & An External Audio Input




You will have access to 

four different sound sources for creating your percussive soundscapes

: two voltage-controlled oscillators, a white noise generator, and an external audio source. Each voltage-controlled oscillator can output either a harmonically rich square wave or a biting triangle wave, and you can adjust the octave for each oscillator within a ten-octave range.

Two-Way VCF




The VCF can filter the sound by 24dB per octave using either a high-pass or a low-pass filter that attenuates the sound. Also, the resonance control will allow you to emphasize the filter's cutoff point to 

create punchy bass tones to sharp percussive tones that cut like a hot knife through butter.

 The timber of the filtering is controlled using a single dial. The Filter EG dial lets you control how dynamic and aggressive vs. how tame and dull the envelope modulation sounds.

8-Step Sequencer




The percussive and rhythmic sounds can be arranged using a basic 8-step sequencer. The sequencer offers six controls, two of which are step specific: Tempo, run/stop, trigger, advance, pitch, and velocity. The overall tempo can be adjusted using the tempo dial; otherwise, 

if the pitch/velocity output is patched to the tempo input, you can adjust the timing of each step individually.

 And lastly, you will be able to manipulate the individual steps using the pitch and velocity dials.

Modular Patch Bay: 15 Inputs & 9 Outputs




You can 

expand on the sounds and features using the 24 patch points available.

All parameters of the DFAM can be routed for external modulation or to modulate various parameters within the synth. And it does support integration into a Eurorack setup.
A love letter to the Moog DFAM (that also explains it)
The various sounds available are tailored to percussive and rhythmic sounds but can also be shaped to play drawn-out atmospheric tones. If you are curious about the tones available, you can find recorded sound samples on Moog's SoundCloud page here.
Pros:
The interface is painless to navigate since the controls are clearly marked and flow intuitively across the face of the synth. The patch bay may not offer a wide variety of options, but it does expand upon the already great tone exponentially. 
Cons: 
Unfortunately, the Drummer From Another Mother does not allow you to save sequences or presets for recall later, but Moog does have printable patch sheets that you can download from their website should you want to make a record of any sounds you discover.
6. Subsequent 37
Subsequent 37 by Moog is a 37-key analog synthesizer with a re-tuned multidrive circuit and great power. 
It features a 3 octaves, long velocity sensitive keyboard in an analog/digital hybrid model with an analog signal path and digital controls. It also has a well-built physical structure made of steel and wood, and its duophonic mode makes it great for performance. 
Key Features:
Duo mode
The Sub 37's duo mode allows you to play the oscillators separately or together, so both of them can play a different note simultaneously. So, for example, you can hold a bass note, play a lead over it, and play in different harmonic intervals.
Get handy
You get immense hands-on control of the device with 37 after-touch playable keys, 40 tweakable knobs, and 74 switches waiting to be manipulated and played with. Diving into menus is not an option when you get such command over your synthesizer.
Multidrive circuit
The detuned multidrive circuit gives you enhanced gain and higher dynamic range to blast more aggressive, dirtier, and grittier analog-sounding basslines. It also gives you more headroom to enhance the signal, for example, by boosting its harmonic processing.
Versatile & Easy Synth Engine
You get 256 presets to get started with in sixteen different banks of sixteen patches, covering various types of sounds. In addition, it features the famous smooth Moog filter with resonance, MultiDrive, and selectable slope controls. On top of that, there are two modulation buses and a DAHDSR envelope with sync.
Overall it's a great synthesizer for creating bass sounds of various kinds, whether you want something funky, something plucky, something smooth, or even aggressive. From creating 80s-style bass to wobbly bass to Reese bass to portamento bass, you can do it all.
Moog Subsequent 37 Sweetwater Bonus Banks — Daniel Fisher
Pros
The synth's versatility and ease of use, given its silky smooth interface, compact size, and velocity-sensitive keys with aftertouch, make it great for studio and live purposes. It's great for all genres and styles of bass. 
Cons
The arpeggios, sequencers, and modulation controls are not as intuitive and require some menu diving. Secondly, it's expensive, given the features it offers are not significantly enough different from the Sub-37. Further, it's too difficult to navigate menus with just three buttons, and the lack of CV/Gate inputs makes its connectivity questionable. Overall, it could be less buggy and cleaner. 
7. Moog Sub Phatty
Sub Phatty by Moog is a sound design tool and a bass instrument known for its aggressive sound and punch.
It has a dark and gritty sound engine based on the classic analog Moog circuits. In addition, it features two octaves of full-size keys and 31 knobs that give you immense hands-on control over the device.
Key Features:
Sound engine
It features two variable wave shape oscillators, a pink noise generator, and a sub oscillator for maximum range coverage. The multidirectional circuit by Moog adds warmth at lesser mix levels and delivers a high-distortion effect at higher levels. Lastly, it has modulation, filter, and envelope control windows to add more movement & depth to the sound.
Free software editor
There are 51 hidden parameters in the editor/librarian software version that you can tweak and get greater hands-on control over your sounds. You can also tweak, manage, and share presets using that.

Analog sound


The circuitry and sound are 100% analog and can be polyphonic and monophonic. The keys are semi-weighted, and pitch bend & mod wheel controls are also present. Further, the live arpeggiator lets you create interesting motion and groovy bass lines.
The synth almost always sounds overloaded, even at very minimal settings, as it is designed to be aggressive and hard-hitting. It sounds overdriven naturally but can get even more fierce when the multi-drive feature is activated. On top of it, the sub-bass on it can drive your system crazy!
Moog Sub Phatty Analog Synthesizer Demo
Pros:
It has a powerful PWM, and you can choose the initial waveform from triangle to sawtooth, and the low pass filter has various slopes. Overall, its high-quality build and material seem clunky, rugged, and durable. It also runs on Mac and windows without problems and has good connectivity.
Cons:
Many of its parameters are latent in shift modes and hidden functions, which is frustrating and non-intuitional. It's hard to play it as a solo instrument due to its small size. Apart from that, it lacks aftertouch, has only one LFO for modulations, and doesn't have a separate control for headphones level. Lastly, cheaper alternates are available in the market, and it also lacks sufficient memory for presets.
8. Moog Mother-32
The well-known Mother-32 started Moog's line of semi-modular synthesizers. The pint-sized synth is not only an awesome standalone analog synth but offers versatile modulation options and Eurorack support, making them a small-yet-mighty addition to anyone's arsenal.
Moog's Mother-32 is a monophonic desktop semi-modular synthesizer. It offers one VCO, a bipolar filter, two modulation sources, an AD envelope with sustain switch, and a 32-patch point patch bay.
Key Features:
A Voltage Controlled Oscillator




The oscillator has a 

one-octave frequency range

 that can emit a sawtooth or a pulse wave. The pulse wave does have a dedicated pulse width dial. In addition to the internal oscillator tone, you can mix a white noise generator or external audio source with the VCO's tone.

Hi-Pass & Low-Pass Filter


The Mother-32 has a standard Moog high-pass and low-pass ladder filter that 

attenuates frequencies by 24dB per octave

. The filter includes resonance control that self oscillates at high settings creating a sine wave. In addition, filter parameters can be modulated using the LFO to create a trippy wobble effect. Otherwise, the EG can modulate the filter to create a one-shot warping effect.

AD Envelope Generator




The envelope generator controls the attack and decay of the amplitude by default but, as mentioned, can be patched to modulate the filter. 

A sustain switch accompanies the attack and delay dials.

 The switch controls whether the envelope will pass through each stage as soon as the attack segment has passed or if the note will sustain while a key or keys are pressed.  

32-Step Sequencer




A 1 octave/13-note keyboard is used to create sequences. Despite only being 1 octave,

 you can transpose the octave within a range of 8 octaves

. In addition to transposing octaves, you can transpose sequences to a different root note while retaining the interval relationship. And lastly, you can make your sequences more musical using a swing parameter and input accents.
Moog Mother-32 Semi-Modular Synthesizer | Reverb Demo Video
Despite the seemingly limited tonal options available, based on the controls offered, the tones you will be able to create can be rich and complex, sharp enough to cut through a mix, and deep and smooth enough to lay a bed for the rest of your music to lie on.  
Pros:
They offer an exceptional tone and many features for semi-modular synths at this price point. Despite only having one oscillator, the range and depth of tones you can create make up for it. In addition, since they are semi-modular, if you want another oscillator, you can purchase an external module and connect it to the M-32 using the patch bay.
Cons: 
The small interface is cluttered with dials, making it fiddly when adjusting parameters. Adding to the interface woes, there is a slight learning curve with navigating it, so you should flip through the manual and familiarize yourself with all the controls and sections.
9. Moog Minitaur
The Miniataur is a compact analog bass machine that can also integrate with your DAW.
It's the latest addition to the Taurus family of analog bass by Moog and is great for performing live and using it in a studio by integrating it with a computer. Unfortunately, it doesn't have a dedicated keyboard, so it needs an external MIDI keyboard player to use as a LIVE instrument. However, it's a great tool for creating huge, upfront, and analog bass sounds.
Key Features:
Sound engine
Miniature starts with two VCOs which can be mixed in different proportions to create the sound, which you can switch between square wave and saw waveforms. Then, there's a filter section, an ADSR envelope section, and an LFO modulation section to shape the sound further. Finally, its polyphony is another feature that needs to be highlighted.
Software control
The free software accessible with the Miniataur allows you to access various hidden parameters and store & recall 128 presets. Further, the DAW integration allows you to access a new possibility of sonic shaping & control. You can control every onboard control via MIDI.
Huge sound in a small package
The bass device can fit into your backpack, it's so small, yet it sounds massive. You can easily integrate it into a keyboard stack, DJ rig, or studio room. It's also extremely light, which makes it highly portable and easy to use.

Connectivity


The backside of the device includes a headphone Jack, a quarter-inch plug, an audio Jack out, external audio input, and 4 CV inputs. In addition, there are USB type B and MIDI connectivity available.
Despite being a monophonic synth, it sounds powerful and is great for designing and composing bass lines that stand out and shake the room, stage, club, or wherever it is you're playing. Its fat analog oscillators with square & saw textures make it cut through and translate through every sound system.
GREEN VALLEY 2022 - Moog Minitaur Analog Bass Monosynth Performance
Pros:
Some features are not available on the main panel and can only be accessed using the editor or shift functions. Apart from that, the instrument is quite versatile, as it can produce a wide range of bass sounds and can also be used to create fat and upfront lead sounds. In addition, the DAW and VST/AU compatibility expands its horizons and makes it an even more attractive instrument.
Cons:
It lacks a keyboard and hence can't be used as a performance instrument, and it could have expanded to more than being just a bass instrument, as it has great functionality. Without the MIDI CCs and editor, you can't use the device to its fullest.
Bonus:
Moog Model 10 (Modular Synth)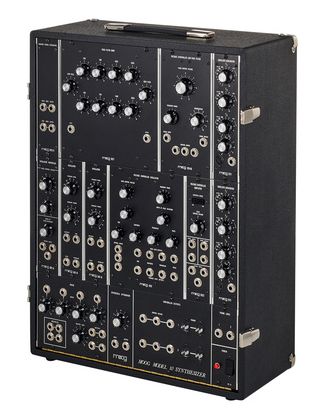 Introduced by Dr. Robert Moog in the 1970s, the Moog Model 10 is built to impress.
Packed with more than ten analog modules, the Moog Model is built like a tank thanks to its rugged wooden exterior and easy-grip handle that makes it easy to carry and take with you while touring around the world.
The ancestor of the Moog Model 15, the Model 10 is equipped with the perfect blend of vintage-style modules, classic sounds, and modern ingenuity. Known for its depth, detail, innovative circuitry, and timbral capabilities, the Mood Model 10 will not let you down.
Key Features:
Fixed Filter Bank
The Moog Model 10 features a Fixed Filter Bank similar to the one found on the Behringer System 55. In addition, the interface has 8 frequency knobs starting from 250Hz to 2800Hz, each of which offers a range of 0 to 10. You'll also find dedicated knobs for "Low Pass" and "High Pass" filtering and a single input and output.
Random Signal Generator & Voltage Controlled Low Pass Filter
Next to the Filter Bank is the Random Signal Generator, capable of producing white and pink noise through paired outputs. The Voltage Controlled Low Pass Filter has a "Fixed Control Voltage" knob which is used in combination with the three-way "Frequency Range" switch. Here you can set the cutoff frequency from low, mid, and high-frequency ranges. Finally, the "Regeneration" knob is used for resonance adjustments and ranges from 0 to 10. controls the resonance. The section has a "Sig" input/output and three summed output ports.
Envelope Generator
The Moog Model 10 has two Envelope Generators on board. The layout is user-friendly, as there are dedicated knobs for attack, decay, release, and sustain. While the sustain knob has values ranging from 0 to 10, the other three attenuators are time-based and offer a range of 2 milliseconds to 10 seconds.
Voltage Controlled Amplifier
The Voltage Controlled Amplifier offers two modes, including linear and exponential. The only other control you find on the interface is a "Fixed Control Voltage" knob ranging from 0 – 6, which controls values based on the selected mode. The module has three controlled inputs, two signal inputs, and a pair of signal outputs.
Voltage Controlled Oscillator
The Voltage Controlled Oscillator section has attenuators and corresponding outputs to shape sine, sawtooth, pulse, and triangular waveforms. However, interestingly you'll find four fixed and four variable level outputs for each wave shape. You can also control parameters like the pulse wave's width, frequency range, and fixed voltage through dedicated controls on the interface.
Oscillators & Oscillator Controller
The Moog Model 10 also has a pair of Oscillators with identical controls. The layout includes 4 waveform shape options in the form of pulse, triangular, sawtooth, and sine. On the control side, the module has a knob to set the frequency range and a similar knob to select the corner frequencies. Next to the Oscillators is the Oscillator Controller with a fixed control voltage section to manually control the voltage and a dedicated pulse to adjust the width of the pulse waveform. The module also has 3 controlled inputs that can be used simultaneously.
Mixer
The Moog Model 10 has a four-channel mixer with 4 input jacks and 4 attenuators. Also on the module is a master gain knob and a pair of negative and positive outputs. Furthermore, you'll also find a cluster of 4 output ports in the "Multiples" section.
Moog Model 10 Modular Synth Deep Dive — Daniel Fisher
Pros:
The Moog Model 10 combines several very useful modules to tickle the fancy of many a Modular Synth junkie. The modular synth seems a bit daunting to understand and may take some time to get used to, but once you're familiar with the controls, you'll come up with patterns, drones, and beats in no time.
Cons: 
The Moog Model 10 comes with a jaw-droppingly hefty price tag which will make you want to look around for other options that seem to offer similar features without denting those savings. Perhaps something like the Behringer System 55 could be worth checking out, as it has a similar layout and comes at a fraction of the price.
Shaurya Bhatia, is an Indian Music Producer, Composer, Rapper & Performer, who goes by the stage name MC SNUB, and is also 1/2 of the Indian pop music duo, called "babyface". A certified Audio Engineer & Music Producer, and a practicing musician & rapper for more than 6 years, Shaurya has worked on projects of various genres and has also been a teaching faculty at Spin Gurus DJ Academy.