If you have a passion for progressive heavy music and decide to buy a guitar head, go no further. This article will show you the top 6 guitar amps for prog metal.
Choosing a guitar amp is a very subjective thing. It all depends on your personal preferences for guitar tone production. There are budget options, as well as fairly expensive. But all of them are relevant. In this article, we tried to collect units, which in our humble opinion, will work well, both for heavy riffs and melodic passages.
Top 6 Guitar Amplifiers For Progressive Metal 2023
1. Engl Fireball 100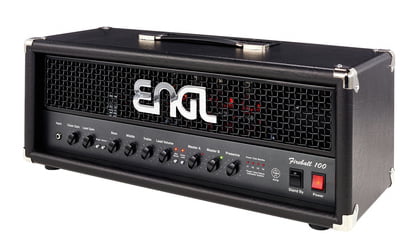 A German take on an American-type tube amplifier is the Engl Fireball 100 E635.
German manufacturers have long had a positive reputation in terms of guitar gear. And one such company is Engl, which was founded back in 1985. They have created quite a few models of legendary guitar amplifiers, including Fireball. Famous Engl equipment owners are Ritchie Blackmore, Paul Stanley, Glenn Tipton, Mick Box, and Stuart Smith.
As for the Engl Fireball 100, this model has been available since 2009. It is a two-channel high-gain guitar amplifier loaded with 6l6 power amp tubes, ideal for modern guitarists. It will give you a crystal-clear and pleasant clean guitar tone, as well as distortion, which by its type of sound can be classified as "American." It is what makes it a good option for prog metal.
Key Features:
Two-Channel Amp
All in all

,

you will have two channels

–

one Clean and one Lead

. Each has separate Gain and Master Volume knobs, which are labeled A for Clean channel and B for Lead. So you can push this beast loud.

Make It Bright or Add More Buttom


The amp has two options called

Bright

and

Buttom

.

You can add brightness to your guitar tone if it seems too dark to you with the first one

.

The second is responsible for extra low-end

,

which can also be useful in some cases

. You can use both options for both Clean and Lead channels.

Add Some Bite Via Mid Boost
There is also a magic option called Mid Boost

. You will find this button next to the switch between Clean and Lead channels.

Your guitar tone will get more bite in the midrange when you turn it on

,

making it more punchy

.

Passive EQ and Presence Control


On the whole, the settings on the amplifier's front panel are quite minimalistic and easy to understand.

You will have a Passive EQ with Bass

,

Middle

,

and Treble knobs here

.

Also, you will be able to shape your tone more with the Presence control

,

which acts as a kind of Low-Pass Filter

.

Power Tube Monitor


Another useful feature of the Engl Fireball 100 is the special

Power Tube Monitor

.

These are four indicators that will alert you about power tube failures

. It's a pretty good feature to know if all is well with your amplifier.

Built-In Noise Gate


A nice bonus of this amp is the built-in Noise Gate

. You will find it on the rear panel.

Thanks to it

,

you can filter out unnecessary noise and not spend money on a separate pedal for it

.
Sounds like the breath of god: ENGL Fireball 100
Character & Sound:
The Engl Fireball 100 E635 Clean Channel has a pretty crisp and pleasant sound. However, you can make it hotter with overdrive if you twist the Lead Gain knob. As for Lead, it can be dark and powerful, perfect for heavy music. All these things combine to make this amp great for prog metal because you will have a nice clean tone and massive distortion.
Summary:
Engl Fireball 100 E635 is a first-class guitar tube amplifier with rather simple settings but at the same time a variety in guitar tones. With it, you can achieve a clean sound and growling, which will be suitable for metal, including progressive. It is also worth noting that this amplifier is in the medium price range and costs a little over a thousand dollars.
2. Bugera 6262 Infinium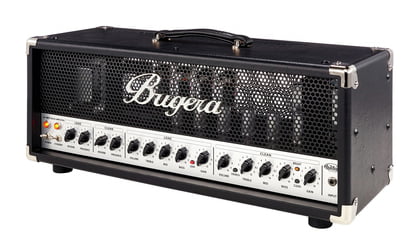 If you're on a budget and need a good enough metal amp, the Bugera 6262 Infinium can be your best option.
Bugera has long established itself as one of the best producers of budget guitar equipment. That's because these guys create clones of famous classic amplifiers that are made in China with some inexpensive elements reflected in the price. Still, despite that, Bugera can surprise you.
The 6262 Infinium is a copy of the Peavey 5150 and 6506+ amplifiers that have been used to make more than one legendary metal album. This model quite well repeats their tonal features and may even be better in some ways, especially if we are talking about a clean tone. It is a two-channel 120-watt amplifier with 6l6 tubes in the power amp section. Let's take a closer look at its features.
Key Features:
Use Clean or Lead


You will have a choice between

Clear and Lead channels

.

Both have two separate settings with EQ

,

Presence

,

and Reverb controls

. All in all, they are pretty minimalistic, so you won't have to worry much about how to get the guitar tone you want.

Crunch & Bright Options For the Clean Channel


In the Clean channel settings section, you will have two additional options for sharpening your guitar tone.

Press the Bright button if you want a more expressive sound

.

You will also see the Crunch switch

,

which will give you a more overdriven clean tone

.

Valve Life Monitoring
On the back of the amplifier

,

you will see indicators that tell you what state your power amp section tubes are in

. This way you will know if there are any problems and which you need to replace.

Switchable Impedance


As you know, different guitar cabinets have different impedances.

On the back panel of the Bugera 6262 Infinium

,

there is a switch between 16

,

8

,

and 4 ohms

.

It makes the amplifier suitable for any speaker

.

Separate Preamp Out
The creators of this amplifier have also provided you with the ability to send the preamp signal to another separate power amp

. So you can experiment with other flavors of amplification if you have any.

Ability to Switch to EL34's


This head has four 6l6 tubes

by default.

The good news is that you can swap them out for EL34s

,

which can provide a different flavor to your guitar tone

. There's even an option to combine both types here.
Budget 5150 II With All The Tone? Bugera 6262 Infinium
Character & Sound:
Of course, you won't get a complete copy of the Peavey sound with this amp. But still, they are very similar. Your high-gain distortion will have some emphasis on the midrange, which is what this amp category is known for. You will also get a pretty crisp, clean tone.
Summary:
The Bugera 6262 Infinium is a great amplifier for its money. Of course, it is not the level of "made in the United States" guitar gear. But still, for this price, the amplifier sounds simply mind-blowing. Still, some users complain about the poor quality of the materials, but it is not strange. It also has non-branded tubes, but you can always change them for better-quality ones.
3. Hughes&Kettner GrandMeister Deluxe 40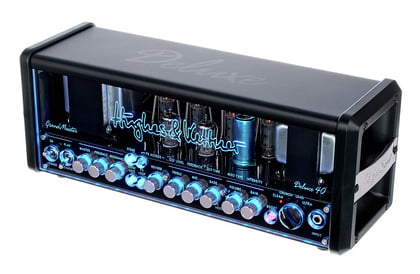 A great amp with many packed features is the Hughes & Kettner GrandMeister Deluxe 40.
Hughes & Kettner is another German manufacturer of guitar gear known for the excellent sound quality of its products. Now we take a look at their GrandMeister Deluxe 40 amplifier model, which at first glance may seem like a "lunch box." But in fact, this head is much more powerful due to the variety of sound and the huge number of available features.
It is a 40-watt guitar amp with three 12AX7 tubes in the preamp section and four EL84s in the power amp. It has four channels, built-in effects, noise gate, attenuator, and cabinet emulation, making it very easy to play at home. Overall, despite this model coming out in 2016, it is still relevant and in demand for modern guitarists. Let's analyze its features in more detail.
Key Features:
Four Channels Of Voicing
You get four channels here

:

Clean

,

Crunch

,

Lead

,

and Ultra

,

making this head very versatile

. Change between them thanks to the separate switch on the right side of the front panel.

Separate Boost Button


If you want to add more "meat" to your guitar tone or make your distortion tighter, you don't need to use an external overdrive pedal.

The amp has a built-in Boost feature to make your sound more punchy

.

By the way

,

this button works differently for each channel

.

FX Access


The wonderful thing about this head is that you also get built-in effects such as

Reverb

,

Delay

,

Phaser

,

Tremolo

,

and Chorus

.

You need to press the FX Access button

,

and your Treble

,

Mid

,

and Bass knobs will work as effects controls

. In addition,

Volume will act as Mod Type and Gain as Intensity

.

Usable Noise Gate


Another cool feature is that you will have a

built-in Noise Gate

.

You'll see a power button on the front of the amplifier and the intensity setting on the back

. In that case, you'll have the ability to adjust it from

Hard

to

Soft

.

DI Out & Cab Emulation


You can run this head even without a cabinet.

Use the DI Out on the rear panel and plug it directly into your audio interface

. Thanks to the red box, you'll have control over the

Cabinet Emulation with options like Vint and Mod

,

Small and Large

,

Line and Mic

,

On and Off

.

Power Soak Function
If you choose the option of using this amplifier with a cabinet

,

you will be able to play it normally at room volume

. It is thanks to the built-in

Power Soak feature

.

Here you can switch from 40 watts to 20 watts

,

5 watts

,

or even 1 watt

.

Foot Switch & Remote Control


A separate footswitch can control all amp's operations

. Although, it's not a fact that you won't need to buy one separately.

In addition

,

you will also be able to control the head with the app on your iPad

,

which can also be a very handy thing

.
Hughes & Kettner Grandmeister Deluxe 40 - Full Demo
Character & Sound:
The GrandMeister Deluxe 40 gives you an ample variety of guitar tones. Thanks to the Boost function, you can use Clean or make it a little edgy. Switching channels forward will give you a more aggressive and compressed sound. The last mode, Ultra, can safely become the basis of your prog metal tone.
Summary:
The Hughes & Kettner GrandMeister Deluxe 40 is an extremely versatile tube guitar amp that will surprise you with its features. It has everything you need to use it with a cabinet and straight into an audio interface. Still, since 2016 the field of cabinet impulses has evolved extraordinarily, so we do not recommend completely relying on the emulations that this head offers.
4. EVH 5150 III EL34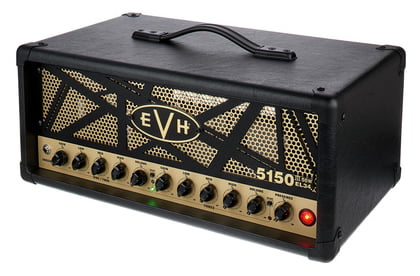 Thanks to its focused and tight distortion, the EVH 5150 III 50 W EL34 may become your favorite amp.
Many fans know about the legendary Peavey 5150 amplifiers and their contributions to metal music. Now, it's one of the "industry standards" as far as the modern guitar metal tone is concerned. The 5150s have gone through quite a long evolution of their sound, and the EVH 5150 III 50 W EL34 is just one of those points.
It is a 50-watt tube high gain amplifier loaded with two EL34s and seven 12AX7s. You'll have three channels, which means you'll have a pretty wide variety of guitar tone choices. What's notable is that the clean channel here is quite a bit better than its original "ancestor." Let's talk about all this in some detail.
Key Features:
Green, Blue and Red Channels
You will have a Green channel of clean tone and a Blue channel

,

which will give you a crunch

. They share the same EQ (head size is not very big). However, there is still the ability to adjust Gain and Volume separately.

The last Red channel will give you an aggressive high-gain tone and has separate settings

.

Presence & Resonance Controls
The amplifier has one Presence control for all channels

,

which acts as a low-pass filter

. In addition, you will have a separate

Resonance knob

located on the back of the head.

It is responsible for adjusting the amount of low-end in your guitar tone

.

Separate Preamp Out


If you want to add more power to your amplifier, you can use a separate

Preamp Out

.

It will allow you to reroute the signal from the preamp to a different power amp

,

which may be more powerful than the one in your head

by default.

Use Any Cabinet You Want


EVH 5150 III 50 W EL34 can switch resistance modes

.

For example

,

there are options like 4

,

8

,

and 16 ohms

,

which means you can use it with just about any cabinet you like and not be limited

.
EVH 5150 III 50W EL34 - Demo
Character & Sound:
You get a fairly crystal clean channel, as well as a biting, British-style crunch. As for the high-gain, its sound is dense, massive, focused, and tight. The amp takes the low tunings well and sounds great even without a separate overdrive pedal. That, in our opinion, is what makes it a great option for prog metal.
Summary:
The EVH 5150 III 50 W EL34 is a growling, 50-watt monster that will be a great instrument for the modern metal guitarist. It's small enough, but even so, it's sure can piss off your neighbors. As for the drawbacks, the power switch and standby are on the back panel, making it not very convenient to get to them.
5. Orange Dark Terror Head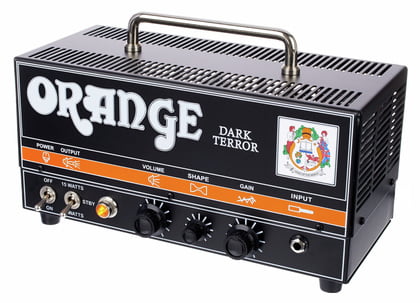 The Orange Dark Terror Head is a little lunch box that will surprise you with its juicy high gain tone.
Orange is one of the world's top guitar gear manufacturers and has been on the market for over 50 years. Among such famous fans of this equipment are Jim Root and VMan from Slipknot, Brent Hinds from Mastodon, Brian Welch from Korn, Andreas Kisser from Sepultura, etc. The Orange product line is quite extensive, but now we will talk about one compact yet powerful amp.
Orange Dark Terror is a single-channel all-tube guitar amplifier with 15 or 7 watts of power. It has as minimalistic a set of settings as possible, but that doesn't mean you will be limited in your guitar tone. These few controls can give you quite a wide variety of sound, from crystal clear to crazy high gain distortion.
Key Features:
Single Shape Control


This single control, called

Shape

, will be your equalizer.

Turning it to the right will give you a scooped sound with accents on the tops and bottoms

.

The opposite position will provide you with a more pronounced midrange

. It turns out that you can get both a modern and a vintage sound here.

Pretty Sensitive Gain


You will also have one

Gain knob

, which gives you a wide variety of sounds.

In the leftmost position

,

you will have a clean tone

,

and the more you turn it up

,

the more overdrive

,

and then the amp will add distortion

. For example, you get a full-fledged metal tone at noon.

Use 15 or 7 Watts


Another nice feature of Orange Dark Terror is switching its power

from 15 watts to 7 watts

and vice versa.

Fifteen watts should be enough to rehearse with your drummer

.

As for 7

,

this mode will reduce your signal by 4 decibels

. The amp may still be loud, but you will get more headroom.

Volume Control as Tonal Shaping


You can also use the

Volume knob

as another tone shaping tool.

The more you crank it to the max in this amp

,

the more you get a glassy boutique and vintage sound

. That is, of course, if you and your neighbors can handle the extraordinary volume.

FX Loop


Orange Dark Terror has an FX Loop

section on the rear panel.

It means that you can connect effect pedals to the head between the preamp and the power amp

. It is a feature you don't often see in amplifiers of similar size.
Orange Dark Terror - IN THE ROOM
Character & Sound:
Despite its small size and only one channel, Orange Dark Terror is quite a versatile amplifier. You can get both a wonderful clean tone and aggressive distortion. As for the latter, the character of its sound is quite dense, juicy, and with good fizz, which will cut through well in the mix.
Summary:
If you're looking for a lunchbox-format amplifier but with high gain sound capabilities, the Orange Dark Terror Head may be a great fit for you. This amp can easily pump 4×12 cabinets and is good for studio work and gigging in small venues. Yes, there is only one channel, and you won't find the usual EQ and presence knob here. But still, this amp will give you a lot of different guitar tones.
6. Marshall JCM 800

2203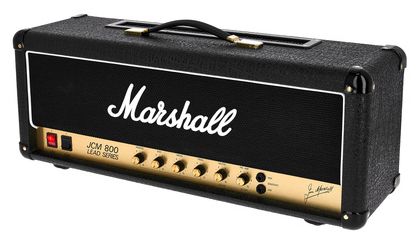 Marshall JCM 800 Reissue 2203 can give you classic rock sound and aggressive high gain.
In the life of almost every famous guitarist, there was a period when he played Marshall. It is one of the most popular brands for guitar equipment. You may ask, why include in the list of amplifiers for prog metal the one that is most associated with the '80s? That's because this one really can chug. And secondly, why not?
The Marshall JCM 800 Reissue 2203 is a 100-watt, all-tube guitar amp with only one channel, but let this not mislead you – there are two inputs with different sensitivity. It is loaded with three ECC83 preamps and four EL34 power amp tubes. You also get EQ, Presence, FX Loop, and an authentic, recognizable design.
Key Features:
High and Low Sensitivity Inputs


On the right side of the front panel, you will see two separate

High and Low Sensitivity inputs

.

Plugging in Low will give you less gain and a clean guitar tone, while High will provide you with the most meaningful high gain for metal

.

Preamp Volume


This knob will act as the gain.

It lets you control how much overdrive and distortion to add to your signal

,

as well as whether it is compressed or more dynamic

.

3-Band EQ & Presence


The rest of the settings here are pretty straightforward.

You will have a 3-Band EQ with Bass

,

Middle

,

and Treble controls

.

In addition

,

you will be able to sharpen your guitar tone in more detail thanks to the Presence knob

.

Ability to Use FX Loop
The FX Loop section is located on the rear panel of the amplifier

.

In addition

,

there is a Bypass and Level switch from -10 to +4 decibels

. The old versions of the JCM 800 did not have this feature, but with the Reissue 2203, you can safely use effect pedals.

Output and Watt Selection


Also

,

on the back panel

,

you'll see a resistance switch for using different cabinets

– it's

4

,

8

,

and 16 ohms

. Next to it, you'll have another one to adjust the voltages and plug into the right outlet with

110

,

220

,

and 230-volt options

.
MARSHALL JCM800 2203 - Metal
Character & Sound:
The sound of this amp is pure rock 'n' roll. It is somewhat raw, typical of the JCM 800 series. Nevertheless, you get a biting rock tone and massive high gain distortion. It will be even more aggressive when you use a boost overdrive pedal.
Summary:
The Marshall JCM 800 Reissue 2203 may be a good option for those who want that brand's signature sound. This single-channel amplifier provides you with two inputs, thanks to which you can get both less overdriven sound and really heavy sound. The amp has a pretty piercing sound and can be a great option for prog metal.
Solid State Amps vs Tube Amps: Which Are Better For Prog Metal?
We'll take the liberty of saying that a great option for prog metal would be tube amplifiers. All because of their dynamic, rich sound and overtones. But that doesn't mean you shouldn't consider solid state gear, especially if they're better suited to your price point. Most importantly, in the end, it's all about your taste.
Let's try to figure out what would be better for prog metal? On the one hand, you need a massive and juicy distortion for the wall of sound, and on the other hand, prog metal is not without a clean and crunchy guitar tone. So, it would be best if you had multiple channels or versatility of setup to get it all at once.
Main Differences Between Tube and Solid State Amps
A tube guitar amps are always associated with something better and higher quality. And there is a reason for that, as such gear is created with more expensive components. As for the sound, the tubes allow the distortion to be richer and more dynamic because it is made with soft clipping, which adds even harmonics. It allows the tone to be more musical.
Solid state amplifiers give us a sound with odd harmonics associated with hard clipping. More often than not, the guitar tone of such gear is more compressed and gives the impression of being "up against the ceiling." The main advantage of a solid state is that it is not so expensive because the technology does not imply significant investments.
However, solid state amps can give a very aggressive sound, ideal for any subgenre of metal. Remember, this does not mean that tube amplifiers are good and solid state is bad. It all depends on the personal preference of the musician and how they shape the guitar tone.
Related Readings:
Are Tube Amps Worth It? (Tube vs Solid-State Amps)
Top 11 Plugins For Making Metal (Best Guitars, Drums & Effects)
Top 10 Guitar Amp Plugins 2021 (And 5 Best FREE Simulators)
Amp vs Audio Interface: Which Is Best For Me? (Quality & Difference)
What is Prog Metal Music?
Prog metal (short for progressive metal) is a broad genre of music that involves a combination of progressive rock and heavy metal. It is expressed in the heavy, massive sound on the one hand and the use of experimental, unconventional harmonies and chord progressions.
This genre formed more in the late 1980s in the United States. Some of the most famous bands with commercial success include Dream Theater, Queensrÿche, Symphony X, Tool, and others. In general, prog metal influenced other genres, as some famous musicians started to reciprocate its elements.
The most famous subgenre of prog metal is Djent, which originated with the band Meshuggah in the late 80s and became very popular in the early 2000s thanks to such bands as Animals as Leaders, Tesseract, and Periphery. Its characteristic elements are syncopated, high-attack, and palm-muted riffs.
Verdict
As you can see, there are enough guitar amps that can be quite good for prog metal. And this is not a complete list because we didn't look at the used market. In conclusion, let us give you some tips on choosing your gear.
First, get ahead of the budget. If you have a limited one, perhaps the number 2 in our list Bugera 6262 Infinium and 5 Orange Dark Terror are not bad options. If you can afford more expensive gear, we recommend looking at #1 Engl Fireball 100 E635 and #4 Evh 5150 III 50 W EL34. Well, for those who want the most features, #3 Hughes & Kettner GrandMeister Deluxe 40 might come in handy.
The most important thing is to decide on the sound you like. Try to research what guitar amps were in your favorite albums. Watch videos, listen and try to figure out what you want. Also, be sure to listen to the sound of the amplifiers live, for example, at your local music store. It is the only way to get a good idea of what you like.
Also, remember that the cabinet you play has a very important role in the guitar tone. It is it that forms the final frequency spectrum of the signal. So if you don't like the sound of a particular amp, try listening to it on other speakers first.
Discover new opportunities, be creative, and listen carefully to your tone. Good luck with your music!
Metal Related Topics:
Top 20 Metal Drums VST Plugins 2023 (VST, Kontakt, AU, AAX)
Top 7 Metal & Rock Kontakt Libraries 2023 (Best Guitars & Drums)
Can You Play Metal on Stratocaster? Answered
Is Ableton Live Good for Rock and Metal Bands? Answered
Is FL Studio Good For Making Rock & Metal?
Top 11 Plugins For Making Metal 2023 (Guitars, Drums & Effects)
Mixing Metal & Rock Drums: Tips For Room, Kick, Snare & More
Is Metallica considered Thrash, Death or Heavy Metal?
Top 17 Metal Electric Guitars 2023 (Black, Death, Stoner & Thrash)
Top 7 Bass Guitars For Stoner, Doom & Sludge Metal 2023
Top 12 Pedals For Metallica Tone 2023
Top 10 EQ Pedals For Metal 2023 (Any Budget)
12 Best Wah Pedals For Metal 2023 Update
13 Best Distortion Pedals For Metal 2023 (All Budgets)
Top 12 Delay Pedals For Metal 2023 (Any Budget)
12 Best Fuzz Pedals For Metal (Doom, Sludge, Stoner & Death)
Top 12 Reverb Pedals For Metal 2023 (Any Budget)
12 Best Combo Amps For Metal 2023
Top 8 Boost Pedals For Metal 2023 (For All Subgenres)
Top 8 Bass Guitar Strings For Metal 2023
Ilarion Ivanenko is a remote mixing and mastering engineer from Ukraine, a musician with more than 15 years of experience. Specializes in rock, metal, progressive and the other genres. He can't imagine his life without music, as it is the biggest passion in his life