Today we're talking about the best pedal board power supplies. Rather than using a power extension board to connect all your pedals with individual power adapters and finding yourself tangled in a web of wires, you can easily prevent the clutter by opting for a pedal board power supply.
An effects pedal is an extremely important part of a guitar player's life. With technology advancing at a breakneck pace, now and then, you come across a very uniquely executed pedal that gets you ever so close to that sound you've been after. Overdrives, distortions, octavers, flangers, compressors, reverbs, delays, the sky is the limit, and we guitarists want them all.
A large collection of pedals means you need substantial power to run them. Depending on the number of pedals on your precious pedalboard, you'll need a decent power supply with enough outputs to power each device with room for expansion in the future. Surely, you'll need a power supply that does all this safely and possesses isolated outputs to eliminate the possibility of unwanted ground noise and line interference.
Our post today covers all the bases and talks about 20 different power supplies from brands like Friedman, Fender, Eventide, ENGL, Strymon, Mooer, Harley Benton, Truetone, Walrus, Cioks, T-Rex, Joyo, Palmer, Voodoo Lab, MXR, Rockboard, Artec, Falken, and Gator.
Do pedals come with power supply?
Unfortunately, effects pedals do not come with their own power supply. Generally, most pedals run on 9V, so any generic power adapter with a negative polarity will do the job. However, some pedals may require a much higher voltage to run, so you'll need a 12V or 18V adapter, depending on the requirements mentioned on the back of the pedal.
Do pedals need a power supply?
The pedals on your pedal board will need power to run. Since most pedals have similar voltage requirements, it's much easier to get a power supply that can power all your pedals simultaneously. Most power supplies also come with a wide range of power cables, so everything is ready to go right out of the box.
Top 20 PedalBoard Power Supplies 2023 (Best Rated)
1. Friedman Power Grid 10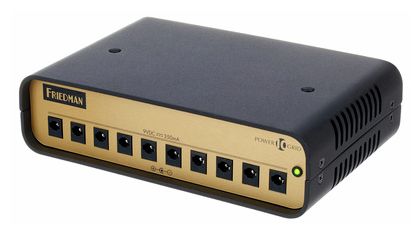 With 25 years of modifying and repairing amps and accessories, Dave Friedman is the brains behind the Friedman Power Grid 10.
Dave has an impressive portfolio and has worked closely with guitar virtuosos like the late great Eddie Van Halen and Steve Stevens, helping them achieve their signature sound. However, what sets him apart is his undying thirst to provide touring musicians with high-quality products and instruments that stand the test of time.
Combining immense research capabilities with creativity and innovative prowess, Dave has delivered some of the best amplification solutions, instruments, pedals, and accessories for the live musician of today under the "Friedman" name. The Power Grid 10 is a no-fuss, easy-to-use, state-of-the-art product that will bring your pedal boards to life.
Key Features:
Appearance
This diminutive product measuring 1.75″ by 6.75″ by 4.5″ inches and weighing 1.5 lbs, is the ideal unit to power the effects units on your pedalboard. On the front panel, you'll find ten evenly spaced 9V power output jacks, each of which offers 350mA of power for your pedals. The back includes a three-pin port for the cable that powers the unit. What's great about the Power Grid 10 is that the built-in circuitry can function anywhere in the world and accommodate 100 – 240 volts without needing a bulky power brick/adapter.
Capabilities
A unique feature of the Power Grid 10 is that while most electric devices create interference when placed in the vicinity of effects units, Dave Friedman has designed this product in a way that this problem is eliminated. You can put the power unit on top of your pedal board and place some of your pedals on it to act as a raiser, and there'll still be no interference or hum. Furthermore, 90% percent of all guitar pedals can usually be powered with 9V. However, if there's a pedal in your arsenal that take more than 9V to run, there's no need to worry, as two of the outputs on the Power Grid 10 can generate 18V of power.
Extra Goodies
If you're wondering where to get enough power cables with an adequate length to connect your pedals to the Power Grid 10, you just need to dig a little deep into the box. The package includes 10 20-inch power cables, 2 reversed polarity cables, and an 18V power cable to fulfill the need for the more power-hungry effects pedal.
Installation
The unit comes with a pair of screw holes on top, which line up perfectly with the Tour Pro series 1520, 1525, and 1530 boards from the Friedman line. The Power Grid 10 is also compatible with most nonproprietary pedalboards and gets nicely concealed underneath due to its small size.
Friedman Power Grid 10 - Official Demo
Pros:
The unit's ability to work anywhere in the world makes it a popular choice for touring musicians. Ideally suited for Friedman pedalboards, the Power Grid 10 is equally suited for generic boards and can power 10 effects pedals simultaneously with ease. What's more, you'll even be able to power a couple of 18V pedals through the device.
Cons: 
When split cables are used for additional power pedals, the voltage seems to drop, which makes the pedals malfunction. While having ten power outputs at your disposal gives you more room to grow in the future, if it is not the need of the hour, you could choose a more economical unit for your smaller setup.
2. Fender Engine Room LVL5 Power Supply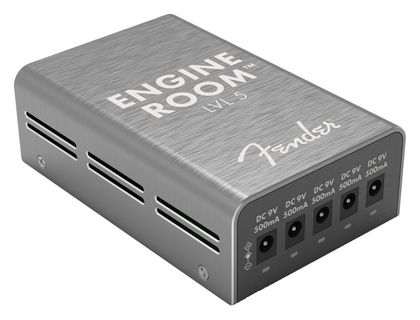 The "Fender' name is highly respected when discussing musical instruments and accessories.
To name a few, the Fender Stratocaster and Telecaster models have an instant recall among musicians worldwide, and when you know that a brand is backed by the likes of Jimi Hendrix, Eric Clapton, David Gilmour and many more, you know that it delivers the goods in terms of quality and sound. However, the brand is not just limited to instruments.
Fender's amplifiers are some of the most versatile products of their kind. Being a proud owner of the multi-tasking Fender Mustang amp and a Fender Strat myself, I can tell you that I'm blown away by what they have to offer. Not only that, but the brand also offers a wide array of effects pedals and other related accessories like pedalboards and power supplies which is where the Fender Engine comes in.
Key Features:
Usage
The great thing about this Fender power unit is that, like the Friedman Power Grid, it doesn't matter what voltage is available. The device can be powered with anything from 100V – 240V, so you can take it along wherever you travel. You can power 5 effects pedals through the LVL5 power supply, but that's not all. If you have the relevant splitter cables, you can split each output into two and connect a couple of effects pedals as long as their combined requirement is less than or equal to 500mA. You could also pair to ports to power a single 18V unit should the need arise.
Contents of the Box
In the box, you'll find all the cables you need and more to get the most out of this power brick. The package includes a kettle cable to power the unit itself. You'll also find two 24-inch and four 18-inch-long power cables and a couple of reverse polarity cables. Another unique addition to the package is a 2.1mm barrel cable with a 9V battery connector at the other end for powering older pedals which could only run on 9V batteries.
Fender Engine Room LVL 5 power supply unboxing & overview
Pros:
Here's a nicely built quality unit that does the job. You get five 500mA outputs which can be split to enhance the power supply's ability further. The unit works on any voltage value, so you can easily take it along on your travels. The helpful LED under each output changes color to indicate the status of each port.
Cons: 
This Fender unit doesn't seem to have an apparent flaw; however, your decision to purchase it will depend on the size of your pedalboard, as there's a limit to what only five available output ports can do. If there are more pedals in your collection, you would be better off investing in something with more power outlets.
3. Eventide PowerMAX V2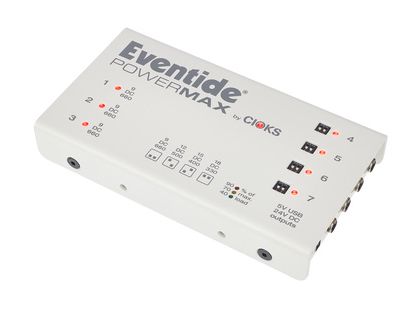 The first glimpse of the PowerMAX V2 will remind you of the old VHS video cassettes from the olden days.
This power supply is unique in its design, and the innovative placement of key power points on the interface makes it very compact and easy to use with a pedal board. The unit can easily power its proprietary pedals or any other effects unit you may own, regardless of its power consumption, as we'll see in the coming section.
Looks can be deceiving as this simple-looking device is anything but simple. Not only do you get a ton of options built into the unit, but there's plenty of room for expansion. And because of its sleek construction, you can easily tuck in the power supply under your pedal board as if it wasn't even there.
Key Features:
Dimensions & Fixed Inputs
You'll be astonished that the PowerMAX V2 measures just 1 by 6.3 by 3.46 inches and weighs a mere 1.1 lbs. On the left of the unit is the main power jack for the kettle cable that powers the unit. Next to it are 3 fixed 9V power ports, each of which delivers a whopping 660mA.
Variable Inputs
On the opposite side of the unit are 4 variable power outputs. Now here's where things get interesting. Each output is capable of delivering 9V (660mA), 12V (500mA), 18V (400mA), or 18V (330mA), depending on the requirement. You can set the voltage by adjusting the corresponding micro buttons for each output.
Expansion & Cables
A unique feature of the PowerMAX V2 is that it can be connected to Eventide's PoweMINI device, which works as a standalone power supply and can also be converted to an expansion pack for the more high-end version. The MINI unit offers 4 additional outputs, two of which are fixed at 9V, while outlets three and four work on the same principle of variable voltage (9V, 12V, 15V, 18V) as seen on the MAX unit. Also on the power supply unit is a USB port to hook up your phone so your battery gets charged as you jam on stage. Included in the box are thirteen flex cables to connect different types of pedals. These include splitter and reverse polarity cables as well for ease of use.
Eventide PowerMax V2 (based on Cioks DC7 | Unboxing and Quick test
Pros:
The PowerMAX V2 power supply offers a connection for 7 pedals simultaneously. Apart from the 3 9V outlets, the unit offers 4 variable voltage ports, which can be adjusted easily to activate 12V, 15V, and 18V capabilities. The circuitry under the hood can run on anything between the 90V & 265V range so that you can take it anywhere. The addition of the USB port is great for charging your phone.
Cons: 
You won't see any standard power cables in the box, which is odd. Although you get plenty of cables, you'll be fine even if you lose a few. In addition, it would've been nice to have a dedicated power switch to turn the unit on or off.
4. Engl Power Tap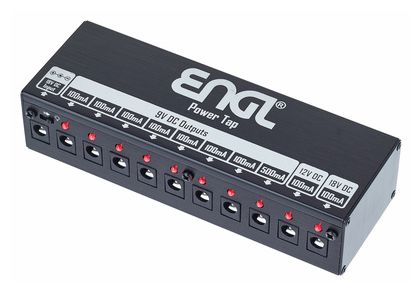 This minuscule offering from ENGL is a force to be reckoned with and handles the responsibility of powering your pedalboard with ease.
Endorsed by infamous guitar players like Marty Friedman, Paul Stanley, Steve Morse, and a plethora of other musicians, the ENGL is a big name among the legends of the industry.
However, the company has something for everyone thanks to ENGL's high-quality amp heads, cabinets, rackmount units, pedals, footswitches, and power supplies.
Key Features:
Capabilities
Don't be fooled by the ENGL Power Tap's small size, as this tiny unit is packed with features. While the layout may look simple, the power supply is cleverly designed and offers a wide range of options, making the unit an ideal choice for running a few pedals at home or powering your pedalboard when you're on a grand stage playing live. 
Outputs
The layout of the power supply is categorized into different sections. Starting from the left, there's an 18V input to power the unit. Under the 9V section are 7 outputs capable of dishing out 100mA each. The 8th 9V port delivers 500mA, so you can use a splitter cable to juice multiple 9V pedals, which is great. Lastly, you'll find single 12V and 18V outlets on the far right, which can deliver 100mA.
Size & Connectivity
The Power Tap is as small as it is versatile. Sized at just 5.9 by 2.1 by 1.33, the device weighs only 1.3 lbs. As with most power supplies, you'll find a network of wires in the box. The package includes a reverse polarity cable, one 2.1mm to 3.5mm jack adapter cable, ten 2.1mm to 2.1mm power cables, and an 18V power supply to juice up the ENGL power tap. Furthermore, all outputs have adequate protection against short-circuiting.
Pros:
Everything is upfront on this unit. With 10 different outlets, there'll rarely be a situation the ENGL power tap can't handle. There are no fancy button combinations to activate different voltages through an outlet. Instead, all ports are clearly labeled, and you get several dedicated voltage options to fulfill your needs. The power supply hardly takes up any space on your pedal board.
Cons: 
While the power supply strives to give several output options for multiple pedal connectivity, some basics have been overlooked. Firstly, the outlets lack adequate isolation, so you're bound to hear plenty of noise and interference. Secondly, this tiny device is a bit flimsy and may start to fall apart after some rough use.
5. Strymon Zuma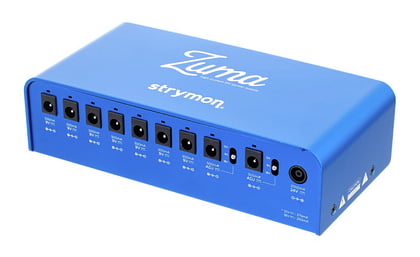 Strymon's Ojai and Zuma power supplies are immensely popular due to their amazing quality and compact size.
As power supplies got, the Strymon website claims that the Zuma is the most powerful and advanced unit in terms of its capabilities and the technology used inside its powerful blue exterior.
Although this is a hell of a claim, in many ways, the device does live up to the hype, as you'll realize once you get through this section. Going to great lengths to keep each outlet noise-free, the think tanks at Strymon have equipped the Zuma with dual-isolation circuitry to minimize interference.
Key Features:
Appearance
The compactly designed Strymon Zuma has dimensions of 6.8 by 3.3 by 1.8 inches. Weighing just over 1.20 lbs, the power supply isn't very bulky and fits under your pedal board nicely. There is a single power port for the flat pin detachable cable, which can power the unit. The Zuma can be operated worldwide and manage a voltage range of 100V to 240V. The front panel is laden with power outlets and is where all the magic happens.
Outputs & Connectivity
There are seven 9V, 500mA ports on the front of the unit, each with corresponding LEDs showing the outlet's status. The next two power outputs are adjustable, and each has a switch control to choose between 12V (275mA), 9V (500mA), and 18V (250mA). The package has everything you need including a total of nine 2.1mm power cables of different lengths with straight to right angle connectors and an IEC cable for powering the Zuma itself.
Expansion
The last port on the Strymon Zuma is marked "25V OUT." This output allows you to connect to multiple Strymon's Ojai units. Each Ojai power supply offers an additional three 9V and two adjustable outlets. Using the "24V" In and "24VTHRU" ports on the Ojai, you can connect up to 6 units with the Strymon Zuma, allowing you to power 39 pedals at once. You probably won't ever need to run so many pedals in one go, but the options if there if needed.
Strymon Zuma power supply unboxing!
Pros:
The Strymon Zuma is a great choice if you've got around 5 or 6 pedals and need a smaller unit that does the job and doesn't take up too much space on your pedal board. Also, if you're looking for some room to expand in the future, no other power supply on the list can beat the Zuma in that aspect. Furthermore, you get switchable ports to run those greedy for power pedals.
Cons: 
An important feature that most power supplies lack is an on/off switch which the Strymon Zuma doesn't have either. In addition, some of the cables that the power supply comes with may wiggle due to weak contact points. Also, your Key9 and EHV pedals may not be compatible with the unit.
6. Mooer Macro Power S8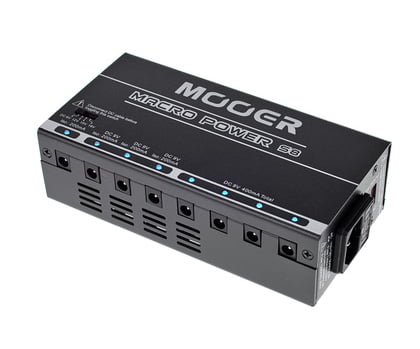 Started by four passionate musician friends, the Mooer company has grown since its inception in 2010.
With time the brand from Shenzen, China, has perfected and delivered micro pedals, effects units, audio interfaces, preamps, amps, Wah pedals, and tons of guitar accessories.
Mooer also has impressive products in its power supply range, including the Macro Power S12 that has 12 different outputs and the more modest S8 unit which can power 8 pedals at a time.
Key Features:
Appearance


The brick-sized power supply is bulky and measures 6.5 by 3.26 by 2 inches, weighing around 2.5 lbs. Nevertheless, the unit can be used anywhere in the world. All you need to do is open the fuse box and ensure the right fuse is in place. The device comes installed with the 115V variant, although the fuse compartment stores a 230V version as well.
Outputs
You get a total of 8 power outputs on the Macro Power S8. The interface is such that the four 9V, 400mA (total) power outputs are grouped in one section. This is where more power-intensive pedals can be connected. The next section has three 9V outputs operating on 200mA each. Finally, the last 200mA port on the unit offers adjustable voltages, which can be set using the nearby switch. The options include 9V, 12V, 15V and 18V. 
Accessories
Included in the box is an AC adapter to power the unit. Also included are four 24-inch and four 18-inch power cables for your pedals. You also get a polarity reverse cable to deal with those pesky pedals that don't accept negative polarity like most effects units. Finally, the box includes the power supply and Velcro tape to keep it fixed on/under your pedal board.
Pros:
You can tell by its weight that some high-end transformers and capacitors are on board, which will give you the most pristine and noiseless sound. If you compare the S8 power supply with products having similar capabilities, the Mooer power supply outshines them in terms of its lower price.
Cons: 
If you have more than one pedal that requires variable power and needs to be used simultaneously, something to note here is that the S8 only has one variable voltage port. Also, the unit is a bit chunky and will stick out like a sore thumb on your pedalboard unless you can hide it underneath.
7.

Harley Benton 

PowerPlant ISO-2 Pro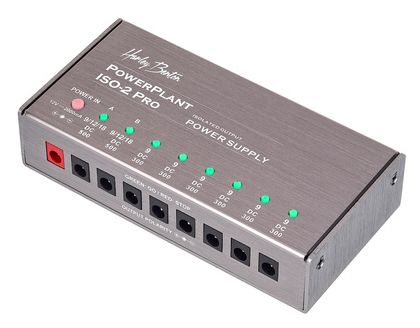 The house brand from Thomann has been increasing its product line by delving into many previously unchartered territories.
Famous for decent quality, highly affordable musical instruments, Harley Benton has been tickling the fancy of many beginners and intermediate musicians the world over.
With a portfolio of over 1500 products, including electric guitars, basses, acoustics, classical guitars, amplifiers, speaker systems, pedals, and power supplies, Harley Benton has quickly become a force to be reckoned with.
Key Features:
Capabilities
Compared to its predecessor, the ISO-1, the new and improved PowerPlant ISC-2 Pro takes things a step further. While the older model offered fixed 9V outlets, the ISO-2 brings some variable voltage wizardly into the mix while still staying compact in size and manageable in terms of price. Built like a tank, the device is made of metal.
Outlets
The power supply measures only 2.8 x 5.5 x 1.2 inches and weighs a minuscule 0.4 lbs. Starting from the far left, the ISO-2 Pro has a 12V, 200mA input to power the unit. The power supply can provide enough juice for 8 pedals simultaneously. There is a section of 9V outlets, each of which can manage 500mA. You'll also find two variable voltage 500mA outputs labeled "A" and "B." The voltage can be easily selected between 18V, 12V, and 9V through the corresponding "A" and "B" switches on the back of the unit. The circuitry inside has decent isolation, so the power supply is relatively quiet, apart from the expected noise when an overdrive pedal is connected.
Connectivity
The package includes eight 2.1mm connector cables to power your pedals and a voltage doubler cable which you may use to power an 18V pedal by connecting to a couple of 9V outputs, for instance. Furthermore, each power output has an LED, which will turn red to indicate if it is overloaded. The company has also taken adequate measures to ensure that the inner mechanism protects your pedals from short-circuiting.
Gear review: Harley Benton Power Plant ISO-2 PRO (the awesome one)
Pros:
The ISO-2 improves on the shortcomings of its predecessor and provides multiple variable voltage outputs apart from the standard 9V options. The unit is very compact and strongly built to serve you for many years. The outputs have a good deal of isolation and are surprisingly quiet.
Cons: 
While the variable outlets are labeled "500mA", some of the more demanding pedals from Boss and Digitech don't seem to work, although they should work in theory. Also, beware of the sharp edges, as the construction of the power supply lacks attention to detail.
8. Truetone 1 SPOT PRO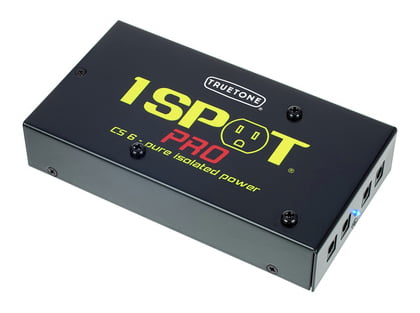 The 1 SPOT Pro series includes the CS7 and CS12 models, which employ switching power technology.
What's great about this technology is that you can use these devices anywhere in the world as they automatically convert according to the power outlet you plug them in. This saves you from the trouble of carrying around bulky power convertors.
Unfortunately, while this is very convenient, the technology tends to get very noisy and hinders in producing low noise output when used with guitar pedals. Fortunately, Truetone has found a way to fix that.
Key Features:
Switching Power
Through some innovative thinking and 3 years of undying efforts, the folks at Truetone have succeeded in developing a version of the switching power technology that is not only noiseless but compact, too, so your power supply remains small enough to be hidden under your pedal board nicely.
Capabilities
The CS12 model from Truetone has 12 outputs in total. On the far left are two 18Vdc outputs with 100mA each. Next, you'll find five variable voltage 100mA outputs with micro switches under the unit to select between 9Vdc and 12Vdc. Also, there are a couple of 9Vdc 250mA outputs and a pair of 9Vdc 500mA outlets on the unit. Finally, the outlet on the far right has 9V AC 800mA capabilities and is marked red to caution the user, as plugging in a conventional 9Vdc pedal into this port will surely fry it.
Cables
All the cables that come with the Truetone CS12 are color coded depending on the cable length for ease of use. In the box, you'll find a wide array of cables starting with four 18-inch and three 12-inch cables. The package also includes two 26-inch and two 22-inch cables and a special 9VAC cable. The ends that plug into the power supply are straight, while the opposite ends have right-angle connectors.
Does your pedalboard really need a power brick like the 1 SPOT Pro?
Pros:
The CS12 does all the basics right. The circuitry is low noise, and the unit has switchable power so that you can use it anywhere in the world without fear of an explosion. There are plenty of variable and fixed outputs, so the chances of feeling the need to expand are very slim. The color-coded cables are a very user-friendly feature.
Cons: 
Not everyone has 18V pedals in their collection, so if the two 18V fixed outputs could be converted to 9V, that would be of much greater use to most guitar players. While the power supply itself is nicely built, some of the cables are subpar and faulty straight from the box.
9. Walrus Audio Aetos
Walrus Audio is known for making some unique and multifunctional power supplies to power guitar pedals.
Surely you have come across a few effects pedals from the company in our previous posts. Their pedal catalog includes pedals for delay/reverb, EQ, compression, overdrive, fuzz, distortion, modulation, octaves, and so much more. For us guitar players, pedals are of the utmost importance. The more, the merrier.
That's where power supplies come in. The Aetos keeps things simple and complex at the same time. The interface has all the necessary outputs you'll need at home or on stage, and the complex technology inside its solid exterior ensures that everything functions optimally so you can rock on freely.
Key Features:
Outputs
There is a total of eight 9V outputs on the front panel. Six of these are 100mA outlets, while the remaining two are 300mA ports. On the side of the unit is a 120VAC in port to power the unit through a detachable kettle cable and a 120VAC out that can power anything from your cellphone to rope lights and even other power supplies.
Connectivity
The Aetos comes with eight 2.1mm barrel cables and a couple of Line 6 style red/black cables. Inside the Aetos power supply is a custom transformer that promises noise and hum-free power delivery, so your pedal board is free from unwanted sounds.
Walrus Audio AETOS - Isolated Power Supply Review
Pros:
The power supply is extremely compact and won't take up too much space on or under your pedal board. For its size, it has a lot of outputs to power your pedals, and if you have 8 or fewer pedals that you mostly use, this is the unit for you. The 120VAC out port is a good feature if you want to power any portable devices or other power supplies.
Cons: 
The options on the output side are a bit limited. Sure, if you have eight 9V pedals, you're all set, but what if you require variable outputs to power something heavier? Well, you're out of luck, as the Aetos doesn't have dedicated outputs that do that. Also, some mounting hardware would be a welcome addition to the overall package.
10. Cioks DC7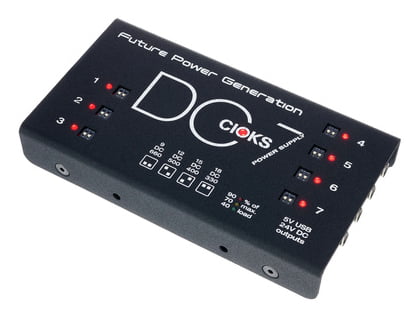 The Ciosk DC7 looks very similar to the Eventide PowerMAX V2 because of its layout and features.
Being the very first unit by Cioks to have switchable power technology, the DC7 can be plugged into any power socket around the globe without flipping any switches or using a power converter.
Not only that, but the technology makes the DC7 much more efficient and powerful. Compared to the DC10, which dishes out 16 watts, the DC7 has 48 watts of power.
Key Features:
Appearance
When you look at it for the first time, it's easy to dismiss this tiny power unit as something that would stack up against other units in the price range, but you would be wrong. Built with dimensions of 1 inch by 6.3 inches by 3.5 inches, this tiny unit has all the power and outputs you'll need to feed your pedalboard.
Outputs
The unit has an input port where the kettle cable connects to power the DC7. The device has 7 power outlets but what's amazing is how the company managed to load such a small unit with so many variable power ports. With the help of corresponding microswitch combinations labeled on the interface, each output can be set between 9V 660mA, 12V 500mA, 15V 400mA, and 18V 330mA. What's more, is that the power supply also has a USB port to power a tablet or smartphone. Lastly, there's a 24V output that can be connected to any other compatible power supply to add further isolated outputs to the DC7 unit.
Connectivity & Metering
Inside the DC7 is a power meter with helpful LEDs that light up on the top to indicate when the load is at or around 40%, 70%, and 90%. So, if you find that most of the time, all three lights are on, it may be time to reduce the load or switch to another power supply. The package includes 12 flex cables with different colors according to different lengths & polarities. One of the twelve cables is a 3-way daisy chain cable.
CIOKS DC7 power supply - introduction
Pros:
Every single output on the DC7 power supply has variable adjustments. It'll be hard to find such a compact unit that offers 48 watts of power to juice 7 pedals and mobile devices and has room to expand through a 24V output. With switchable technology, the power supply can be used in any country.
Cons: 
If you want to use more than 7 pedals at once, you won't be able to do so with a single DC7 unit on hand. Ciosk has a patent pending "Grip" bracket that provides a drill-free way to mount the unit to most pedal boards, which would be a nice inclusion to the package.
11. T-Rex Fuel Tank Chameleon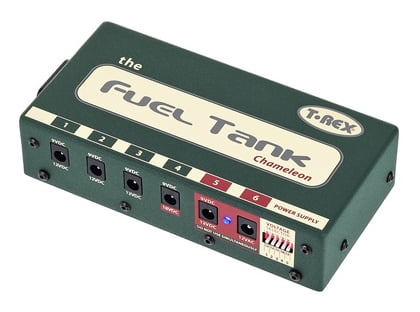 If you're a fan of T-Rex pedals, then it's only fitting that you power them with the Fuel Tank Chameleon.
T-Rex offers a wide range of versatile pedals for effects like distortion, dual distortion, overdrive, tap delay, studio delay, reverb, octaves, and much more. Their effects pedals are what made the Danish company world famous.
However, since their inception in 1996, the owners have also ventured into other cool stuff, like pedalboards and power supplies. The Fuel Tank Chameleon is one such power supply that can power pedals with different needs.

Key Features:
Which pedals?
Since most pedals from the company operate on 12V rather than the more conventional 9V, you'll find plenty of outlets on the power supply to run them. The unit is equally capable of powering pedals with lower power consumption. It's a good thing that the outputs can be easily customized as needed.
Capabilities
The brick-like Fuel Tank Chameleon has 6 outputs, of which 5 can be used simultaneously. The first three ports have a variable voltage of 9V & 12V. The fourth one can be switched between 9V and 18V. The fifth and sixth outputs can only be used one at a time. Output six is switchable between 9V to 12V, and the final output provides 12VAC power. Choosing the voltage on each variable output can be done by adjusting the micro switches in the "Voltage Selector" section.
Connectivity and Voltage Switching
The power supply doesn't have power switching technology but does come with a voltage switch at the back. You'll have to unscrew the section to access the switch, which toggles between 115V and 230V. You'll find 7 power cables of different lengths and connectors in the box. The breakup is such that you get five 2.1mm connector cables, one 2.1mm to 2.5mm connector cable for the 12VAC output, and one 2.1mm to 3.5mm jack cable. Also included in the package is an IEC cable to power the Fuel Tank.
T Rex Fuel Tank Chameleon PSU Guitar Pedal Power Supply
Pros:
Since most T-Rex pedals have a specific demand for power, it's good that the power supply offers the option of modifying each output as required. You'll also be able to power 9V pedals through the unit. Furthermore, since the outputs are isolated, you can also pair two 9V outputs to power an 18V pedal.
Cons: 
Judging by its size and bulk, you expect the power supply to do more than it actually does. However, you get just 6 outputs on the unit, and while five of them are variable, you cannot use all six at once. Surely if you have more pedals, you should go for another power supply more suited to your needs.
12. Joyo JP-05 Power Bank Supply 5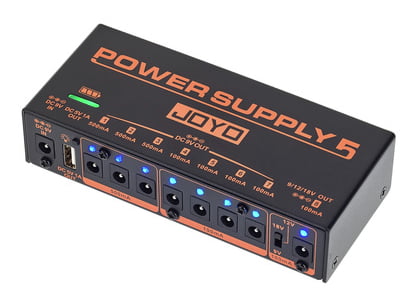 Here's a power supply that brings a lot of cool features to your pedalboard.
With years of experience in manufacturing effects pedals, amplifiers, guitar accessories, and power supplies, the Joyo brand has become a household name for many musicians around the planet.
Joyo offers a wide variety of power supplies depending on the size of your setup, including the JMP-01, JP-02, JP-04, JP-05, and the flagship JP-07 units. The JMP-01 is the smallest of the power supplies and can be charged. The JP-05 is suitable for mid-sized setups.

Key Features:
Chargeable Unit
Pertinent to mention here is that there's one thing that the JP-05 is capable of, which no other unit on today's list can do. As the name suggests, the unit can be charged to run as a power bank. So, if you lose or break your charger on gig day, and the power supply is adequately charged, you can perform on stage wirelessly by using the stored charge.
Outputs
This Joyo unit is capable of powering eighte effects pedals in one go. The outputs are categorized into sections according to their common characteristics. The first three are 9V ports with 500mA capabilities. The next four ports also offer 9V but deliver 100mA. The final section has a variable power outlet which can be set to 9V, 12V, or 18V by toggling the nearby switch. You'll also get 100mA through this output.
Connectivity
The unit has a 9V input to power and charge the Joyo Power Supply 5. Next to the power input is a very handy USB port that can help charge a mobile device or even your wireless guitar system. There's also a small button next to the USB port, which can activate the bright electric blue lights for each output to check the status. Included in the box is a 9V power supply for the JP-05, so you won't have to purchase it separately. You'll also find 8 power cables with straight and right-angle connectors for each available output. Finally, you'll also find a polarity reversed cable in case you have a pedal that requires a center-positive setting.
The MOST affordable & RECHARGEABLE!! power brick for your pedalboard -Joyo JP-05 Power Supply 5
Pros:
You can charge your JP-05 and use it as a wireless unit anywhere on stage, which is immensely convenient. The unit has a dedicated on/off switch, which is always good. Furthermore, you have plenty of fixed outputs and a variable outlet for a small to the medium-sized pedalboard. Finally, the absence of an IEC power input keeps things nicely compact.
Cons: 
If you have more than 8 pedals on hand, you'll need to invest in something more advance. Also, the JP-05 only comes with one variable output, so if you're using more than one T-Rex pedal or any pedal that requires 12V, for instance, you'll find the power supply very limited compared to what's required.
13. Strymon Ojai 5 Power Supply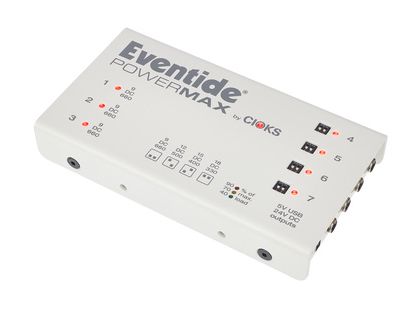 The midnight blue Strymon Ojai 5 power supply looks great and does its job well.
What's more, this versatile unit can be used as a stand-alone unit for smaller pedal boards or as an expansion option to add more outputs to the larger and more capable Strymon Zuma power supply discussed earlier in the list.
This rugged aluminum beast in blue measures 1.3″ by 3.2″ by 2.3″ and weighs just 0.3 pounds. Looking at its minuscule size, an untrained eye may mistake it for a micro effects pedal. So, you can easily Velcro it to any side of your board, and the Ojai unit will stay put and quietly do its job. The dual isolated outputs ensure no AC line noise or ground hum issues.
Key Features:
Front & Rear Panel
On the front of this tiny but robust pedal are five 9V outputs giving you 500mA per output. Each port also has its own status LED that lights up accordingly to show if the output is functioning properly or if there's a malfunction. The back of the unit has a "24V Thru" port with which you can connect the Ojai to a Zuma unit or multiple Ojai power supplies for expansion purposes.
Expansion
Like other Strymon devices, the Ojai has a 24V Thru port with which you can connect to other proprietary power supplies to form a chain. A dedicated port for expansion is great as it doesn't reduce any of the available outputs and adds additional outputs depending on the power supply you link to the original unit.
Cables
The unit can be powered by the "24V IN" port at the back. This can be done by using the power brick that comes with the unit. The power supply also possesses power switching technology which enables you to plug it in where in the world you go. Also, in the box along with the Ojai are 5 power cables with long-form jacks at one and right-angled ones on the other.
Pros:
The power supply is tiny and can be tucked nicely on or under your board. The box includes all the cables you need to plug in 5 pedals simultaneously, and the power-switching features let you take the unit along during your travels. In addition, the device's capabilities can be easily enhanced by adding more units through the 24V Thru port.
Cons: 
Although the power supply is quite compact, it comes with a bulky power brick that is almost the size of the Ojai unit, if not bigger, which, quite frankly, defeats the purpose of it being so small. Of course, you can combine the Ojai with other Strymon units to get more outputs, but getting a power supply with more outputs in the first place would prove much cheaper.
14. Palmer PWT 08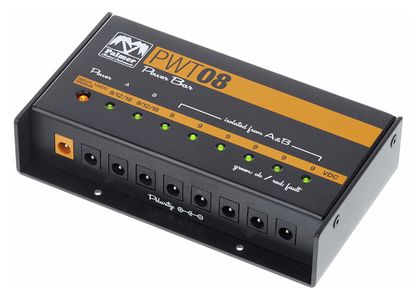 The German manufacturer by the name of Palmer understands the needs of the modern musician.
Operating out of Frankfurt, Germany, Palmer has been around for decades. The focus has been on manufacturing event technology, including stage equipment, stands, lighting, hardware, accessories, and audio equipment.
So no wonder you'll also find many innovative products under the Palmar name for the guitar players of today. The Palmer PWT 08 is one such product that helps power your standard and power intensive pedals with ease.
Key Features:
Capabilities
The far left of the unit has a 12V 2000mA power input to juice the PWT-08. The first two outputs are marked "A" and "B" and have variable voltage capabilities. You can switch between 9V, 12V, and 18V from the corresponding "A" and "B" switches on the back of the unit. Each of these settings delivers 500mA. Next to the switchable ports are six fixed 9V outputs with a capacity of 150mA each. Every output has an LED which lights up in green to show a normal status and turns red if the connected pedal has the wrong polarity or is faulty. The power supply goes into self-protection mode and will reset in a couple of settings once the fault is removed.
Connections
The box includes 8 DC cables with 2.1 x 5.5 mm connectors for the available outputs. You'll also find a merge cable in the package, which can combine outputs to deliver 21V, 24V, 30V, or even 36V. This gives you additional options to run more demanding pedals.
Good for?
The PWT series from Palmer includes the smaller PWT 04 unit, the mid-range PWT 08 offering, and the higher-end PWT 12, which comes with all the bells and whistles. If you have a mid-sized pedal board, the PWT 08 can be an ideal choice as it is loaded with plenty of fixed and variable outputs to cater to your pedals' needs.

Pros:
There is good isolation, and the unit controls noise quite well. The inclusion of the merge cable opens doors to some powerful output combinations to drive even the most power-hungry pedals. The power supply goes into a self-protection setting if a fault is noted, which protects the rest of your setup from getting affected.
Cons: 
For many setups, eight outputs are plenty and will serve the purpose just right. However, if you're a musician who likes to have the bulk of his collection on the pedal board for a live event, something with more output options would be more beneficial. You can merge outputs to generate more power, but that also reduces the number of available outputs.
15. Voodoo Lab Pedal Power 2 Plus
The power supply from Voodoo Lab has a lot of magic going on under its powerful metallic hood.
Being Voodoo Lab's bestselling unit in the power supply category, the device measures 6 inches by 3.4 inches by 1.75 inches and weighs 2 lbs. The power supply is strongly built and has a feature called "SAG" that you may not have seen on any other power supplies thus far.
The circuitry inside Pedal Power 2 ensures that all the outputs are isolated. This means that your pedals won't be interfering with each other, and there's little to no chance that you'll hear any ground hum, buzzing, or interference of any sort giving you a whisper-quiet pedalboard to work with.
Key Features:
Outputs & SAG Feature
On the front panel are 8 power outputs with different capabilities. The first four are 9V 100mA outputs. The fifth and sixth outputs are also 9V but with a capacity of 250mA. Finally, outputs seven and eight deliver 100mA. Underneath the unit are 8 dip switches which can be flipped to equip the corresponding output with 12V capabilities. The first four outputs mimic the old Boss ACA adapter, while outputs five and six are ideal for powering some heavier Strymon or Eventide pedals.
SAG Feature
Those with highly sensitive and trained ears may have picked up on a strange phenomenon. Some pedals operating on a 9V battery sound even better as the battery gets depleted. This is where the "SAG" feature comes in. The last two outputs on the Pedal Power 2 each have a knob that can vary the port's voltage between 4V and 9V to mimic the sound of a pedal with a dying battery. But that's not all.
Connectivity
The front panel lacks an output for any AC pedals you may have. But there is a way around that. The back of the unit has an IEC output with which you can connect an extension and plug your AC pedals. Also, next to this is a power input for the Pedal Power 2. The box includes six 18-inch right-angle cables, two 24-inch cables with straight and right-angle ends, and a red polarity reverse cable in case you're working with + polarity pedals. Finally, a kettle cable to power the unit is also included.
Voodoo Lab Pedal Power 2 Plus | Reverb Demo Video
Pros:
By the look of things, Voodoo Lab has done a good job in thinking of all conceivable combinations when designing the Pedal Power 2 power supply. You get eight 9V outputs that can be switched to 12V. You can attach an extension to the unit to power your AC pedals, and you can even mimic those dying battery sounds thanks to the SAG feature.
Cons: 
The people at Voodoo lab seem to have overlooked a feature that most of today's power supplies ensure to include. As long as you're in the realms of 120VAC, you'll be all set. But as soon as you go touring a country that doesn't offer the voltage, your power supply would be nothing more than a paperweight.
16. MXR DC Brick M 237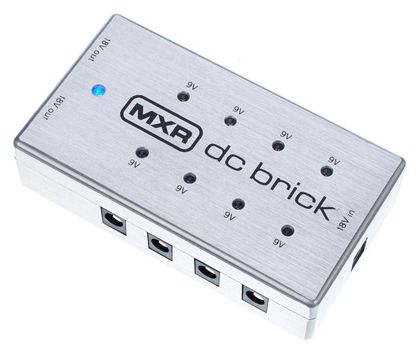 Ever since its inception in 1972, the MXR company has manufactured a versatile array of effects pedals.
The company was acquired in 1987 by Jim Dunlop, which is why all their pedals are available on the Dunlop website. Specializing in effects such as phase, chorus, compression, overdrive, octaves, tremolo, fuzz, and so much more, the MXR line still includes the older MXR pedals before Dunlop took over.
And what better way to power your MXR collection pedals than with MXR's own M 237 DC brick? The M 237 is a non-isolated power supply which should be kept in mind when mixing analog and digital pedals.
Key Features:
Dimensions
Measuring just 1 inch by 4.25 inch by 2.3 inches, the tiny device will settle nicely on your board without needing any pedal rearrangement. Other power supplies from MXR include the ISO-Brick and the Mini ISO-Brick, which have different capabilities.
Capabilities
The power supply offers eight fixed 9V outputs, which can be accessed from either side of the device. These eight outputs can handle 150mA each or a total of 1200mA, so you can mix and match the pedals on these ports as long as the total requirement stays within 1200mA. There are also a couple of 18V outputs on the brick with a capacity of 400mA each and 800mA combined.
Connectivity
The device itself can be powered through the 18V 2000mA input port. The M 237 has a power supply for this purpose and has several 2 and 3-pin adapters to accommodate different sockets. You'll find 10 power cables for the 10 available outputs on the power supply. Each cable has a right-angle connector and a straight one at the other end.
Pros:
The M 237 power brick keeps things simple. You get eight 9V and two 18V outputs to run 10 pedals simultaneously. There aren't any variable outputs, but you can use splitter cables to combine outputs and run your more power-intensive pedals. All outlets are lined with helpful LEDs that light up in red if there is a malfunction and troubleshooting is required.
Cons: 
Being a budget power supply, you're going to run into a problem when using the DC Brick. The outputs are not isolated and will be using a common ground connection. This can lead to unwanted electrical noises like hum and buzz. Furthermore, you cannot use the power supply to run positive polarity pedals.
17. Rockboard ISO Power Block V16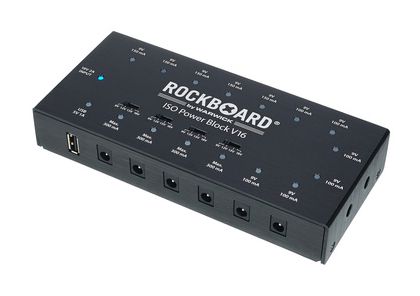 Rockboard, the sub-brand of Warwick, is a company that specializes in all kinds of tools for modern pedalboards.
The company manufactures products like pedalboards, power supplies, wireless systems, quick mounts, cables, and many other accessories to cater to the needs of guitar and bass players today. Regarding power supplies, Rockboard offers the smaller ISO Power Block V6 and the more advanced ISO Power Block V16.
The V6 is designed for more modest setups and can accommodate five fixed 9V and a single 18V output. Of course, you can expand its capabilities by patching multiple V6 units together. However, its older brother, the V16, is much more powerful and brings multiple variable outputs to the fore. Compared to what it can do, the unit gives you great value for the money spent.
Key Features:
Capabilities
On the V16 power block, you'll find a whopping eleven fixed 9V outputs. Five of these have a capacity of 150mA, and the remaining six can deliver 100mA. If that's not enough, the power supply includes 4 variable outputs with switches that can toggle between 9V, 12V, 15V, and 18V. Each of these offers 300mA. Finally, the brick has a USB output to power mobile devices, tablets, or your wireless guitar systems and an 18V input to power the unit itself. With all that's been packed into the V16 unit, it doesn't take much space, measuring around 7 inches by 3.1 inches by 1.2 inches and weighing just 400 grams.
Connectivity
The box includes 16 power cables to power as many pedals at a time. You'll also find two Y cables to double the voltage or the current to accommodate those tricky power-intensive pedals in your collection. The package also includes an 18V 2000mA power supply to power the Block V16. The power supply can be paired with exchangeable adapters for usage all over the world.
Pros:
You probably don't want to use more than 16 pedals at a time in a home-based or live-performance setting. The power block V16 is a gifted power supply that shouldn't need any expansion requirements thanks to the mind-boggling amounts of outputs it offers. Furthermore, these are highly filtered, isolated outlets, so there'll be no noise.
Cons: 
Not to cut short the capabilities of the V16 power block, but if you have a smaller setup that includes 6 to 8 pedals, you could be better off with a smaller unit that takes less room and isn't too heavy on your wallet.
18. Artec Power Brick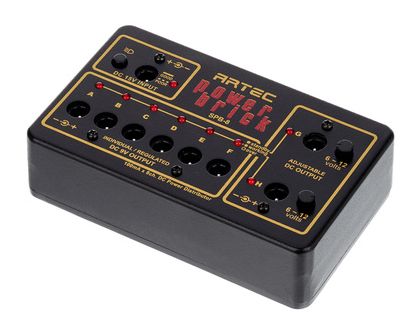 The lesser-known Artec Sound is a Korean company that has been making waves in guitar accessories.
Being around for just a few years, the company already has an impressive catalog and manufactures products like acoustic preamps, electric and bass pickups, guitar electronics, effects pedals, amplifiers, and other accessories, including power supplies like the Artec Power Brick.
The device is made of metal through and through and is somewhat compact, measuring just 4.5 inches by 2.8 inches by 1.3 inches. Designed in black and neon yellow, the power supply looks great on your pedalboard and has 3 electric blue LEDs to illuminate your board under dim stage lights.
Key Features:
Outlets
Unlike conventional-looking power supplies, the power brick has all its pedal outputs on the top of the unit. Labeled from A to F, the compact power supply has six 9V 100mA ports. Above the 9V section is a 15V input with a capacity of 1000mA to power the unit.
Variable Outputs
Finally, categorized under the "Adjustable DC Output" section are two variable outputs that work on the same principle as the "SAG" outputs on the Voodoo Lab unit. These outputs labeled "G" and "H" have adjustable knobs to vary the voltage between 6V and 12V. So, if you're after that drained battery sound that you normally don't find on most power supplies, the Artec Power Brick is equipped to do just that.
Connection Cables and LEDs
Nothing too fancy is happening on the cabling front, as you'll get eight power cables with right-angle connectors at both ends for each of the outputs on the power supply and a 15V power adapter to plug into the input section. Each output is supported by an LED, which indicates its status. The pair of LEDs in the variable voltage section dim and brighten according to the set voltage value. The three LEDs on the side of the unit can be activated by pressing the button next to the input.
Pros:
The Artec Power Brick is very light and compact, so it'll easily make space on your board. Apart from the six standard 9V outputs, you get two variable ports with knobs to adjust the voltage range manually for delivering those low battery effect variations.
Cons: 
The Power Brick is great for smaller setups that include eight pedals. However, if you want to use more pedals in one go, you might want to look elsewhere. 
19. Falken 1 Mega Power Bank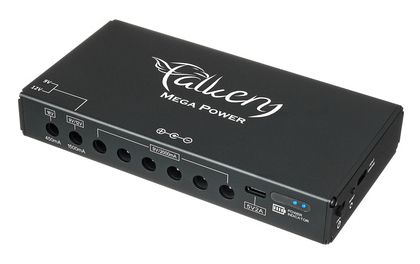 The company named Falken has equipped this power bank with a very rare feature.
Very few pedalboard power supplies in the market act as a power bank and offer the added benefit of wireless connectivity. As the name implies, the Falken 1 Mega Power Bank is one such unit that will let you power your pedals and move the pedal around a live stage without a network of cables getting in the way.
And it's not like you'll need to charge it after a couple of hours, as this deceptively small-sized 5.5″ x 2.7″ x 0.8″ device goes a long way after a single charge. Also, weighing just 0.7 pounds, your pedalboard won't have to accommodate any extra weight as you can tuck it under the board as if it isn't there.
Key Features:
Front Panel
The ports on the front panel are nicely organized. First and foremost is the variable 18V/24V output with 450mA capabilities. There's no dedicated switch to toggle between the two, so the unit automatically adjusts to the pedal's power demand. Next is the 12V output with a capacity of 1000mA, which is very handy. Finally, there are eight non-variable 9V ports with a collective capability of 2000mA.
Side Panel
On the side of the Falken unit is a dedicated on/off switch to power the unit. Next is the reset button, which can restart the unit if a fault occurs due to a malfunctioning pedal or electric fluctuation. Finally, you'll find a 12V input that charges the Falken 1 Mega Power Bank. The "Power Indicator" LED strip at the top of the unit lights up to indicate the amount of charging left in the unit. When all 4 lights are on, the charging is full. When fully charged, the Power Bank has a battery life of 16 hours which may vary depending on the pedals connected to it.
Cables
For each of the ten ports on the front panel, you get a 20-inch 5.5 x 2.1mm angled cable. Also in the box are a couple of reverse polarity cables to manage pedals that run on positive polarity. Finally, the package includes one barrel connector to a USB cable and a 40-inch 5.5 x 2.1mm cable.
Pros:
Being able to charge your pedalboard's power supply is an outstanding feature. Not only can you freely move your board on stage, but you can easily hook the power supply to your pedals while on your tour bus and can let your creativity loose. The power bank gives you eight 9V outputs, one 12V output, and a variable 18V/24V outlet, so you have plenty of variety.
Cons: 
Although generally quite silent, if you're looking to power analog and digital pedals at the same time, you might encounter some noise, especially when using the Falken 1 Mega Power Bank with overdrive pedals.
20. Gator G-BUS-8 Multi Power Supply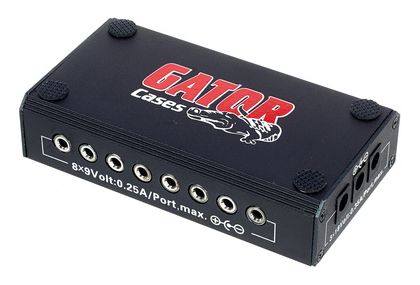 Surely, you've purchased one or two cases for your guitars, drums, and other accessories with the "Gator" logo on them.
When a company has won many awards at platforms like Winter NAMM 2020/2021 and Music & Sound Award 2021 and achieved a long list of other accolades over the years, they can deliver the goods.
If you're looking for a decent power supply for your pedal board, you can choose from several options, including the Power-5 (five isolated outputs), Power-8 (eight isolated outputs), Power-12 (twelve isolated outputs), and G-BUS-8 (11 outputs) models.
Key Features:
Appearance and Capabilities
The power supply looks relatively simple in its all-black design with the red "Gator" logo on it but is capable of wonderful things. The front panel has eight fixed 9V outputs with a capacity of 250mA each. On the side, you'll find three 18V outlets, each of which can deliver 350mA. Finally, there's an 18V input to power the Gator G-BUS-8.
Cables
Also, in the box are nine 24-inch-long cables for the available output. The cables seem to have right-angle connectors on both ends. As the power supply doesn't have an IEC port to connect the kettle cable you usually see on most supplies, you get a proprietary power adapter that connects to the side of the G-BUS-8 to power it on.
Pros:
The power supply is very compact. You get eight 9V and three 18V, which should be enough for medium to large-sized pedal boards. The G-BUS-8 keeps things nice and organized on your pedalboard and doesn't take up much space.
Cons: 
Be prepared to face noise issues when plugging analog and digital pedals together. The outputs seem to lack adequate isolation, which gives way to hum, which isn't too loud but is definitely noticeable.
Conclusion
Surely, now you know the ins and outs of the pedal board power supplies discussed here. When deciding which one suits you the most, make sure it satisfies all the checkboxes. The questions you need to ask are: How many pedals do I need to run simultaneously? What is the power requirement of each pedal? How much space do I have on/under my board to accommodate the power supply? How much am I willing to spend?
If you're looking for a small power supply with just enough outputs to power up to 5 pedals, the Strymon Ojai and Fender Engine Room would be good choices. You even have room for expansion on the Ojai unit. If you want to take things a step further with something more suitable for power 6 to 7 pedals, the T-Rex Fuel Tank Chameleon, Eventide Power Max 2, and Ciosk DC 7 will fulfill your requirements.
The Mooer Macro Power S8, Harley Benton Power Plant ISO-2 Pro, Walrus Audio Aetos, Palmer PWT 08, Voodoo Lab Pedal Power 2 Plus, Joyo JP-05, and Artec Power Brick all have enough outputs to power 8 effects pedal. However, if that isn't your cup of tea, getting any of the Strymon Zuma, Friedman Power Grid, ENGL Power Tap, MXP DC Brick M 237, or the Falken 1 Mega Power Bank will enable you to power 9/10 pedals in one go.
Finally, if you want to dominate the world and be dubbed the king of pedals, the Gator G-BUS-8, Truetone 1 Spot Pro, or Rockboard ISO Power Block V-16 will enable you to do so beyond your wildest dreams.
The Joyo JP-05 Power Bank and Falken 1 Mega Power Bank are both power banks, which means you can charge them and use them wirelessly to power your pedals on stage. Remember, an organized pedalboard streamlines your workflow and enhances your experience, whether playing on stage or at home.
Readings that you may also like: 
Other Recommended Gear:
Top 12 NearField Studio Monitors On Any Budget
Top 10 Midfield Studio Monitors For Home Recording
Best Biggest Studio Monitors (FarField Monitors)
Top 10 Guitar Pickups for Low Tunings 
Top 10 Analog Compressors For Mixing & Mastering (On Any Budget)
Top 12 USB Audio Interfaces Under 150$, 200$, 300$ 400$ (Any Budget)
Top 12 Hardware Equalizers (Analog EQs For Mixing & Mastering)
Top 6 Analog Hardware Limiters 
Top 6 Solid State Bass Amps (On Any Budget)
Top 6 Ribbon Mics On Any Budget (For Vocals, Drums & Guitars)
Top 6 Cheap Dynamic Mics For Vocals Under 50$, 100$, 200$ & 300$
Top 6 Chorus Guitar Pedals (On Any Budget)
6 Best 61-Key MIDI Keyboards (On Any Budget)
9 Best 49-Key MIDI Keyboards Under 100$ & 200$
Top 5 Best 25 Key MIDI Keyboards (On Any Budget)
Top 12 Acoustic Drums (Best Kits/Sets On Any Budget)
Guitar/Amp Focused:
Can I Put Nylon Strings on a Steel-string Guitar?
Do Electric Guitars Sound Good Unplugged?
Buying Your First Guitar: 2 Things To Know
Are Tube Amps Worth It? (Tube vs Solid-State Amps)
How Often Does A Guitar Need a Setup?
Can I Play Classical Guitar On A Steel-String Guitar?
How often guitar necks need reset?
Can You Play Two Guitars Through One Amp?
Can a 6 String Bass Be Tuned Like A Guitar?
Can I leave My Guitar Tuned Down a Step? Yes, But Is It Safe?
Should I Learn 4, 5 Or 6 String Bass Guitar & Why?
How To Know If your Guitar Amp Is Broken?
How To Fix Distorted Bass Guitar Sound?
Do Fender Guitars Appreciate In Value?
Should You Put Stickers On A Bass Guitar?
How Acoustic And Electric Guitars Are Made?
Is Electric Guitar Too Loud for an Apartment?
Does a Preamp Improve Sound Quality?
If I Learn Acoustic Guitar Can I Play Electric Guitar?
How Many Hours A Day Should You Practice Bass Guitar?
Do I need an AMP/DAC To Run Bookshelf Speakers?
How to Record Electric Guitar Into Logic Pro X?
Do headphones get worse with age?
Plugin Roundups:
Genre Focused:
Top 10 EDM Plugins  (And 10 Best FREE Plugins For EDM)
Top 10 Plugins For TRAP Beats (And 5 Best FREE Trap Plugins)
20 Best Plugins For Rock Musicians (+ 6 FREE Plugins)
Top 14 Trance Plugins (Uplifting, Tech, Progressive, Vocal, Dream, Hard)
Top 10 GOA & PsyTrance Plugins (Best Psychedelic Trance Tools)
Top 7 Plugins For Dubstep (With 10 Best FREE Effects & Synths)
Top 20 Synthwave Plugins (+ 11 Best FREE Plugins)
Top 15 Plugins For Techno, House, Electro, Tech House, UK Garage
Top 6 Plugins For Latin Music  (And 4 FREE Tools)
Top 12 Plugins For Hip-Hop (+ Best Kontakt Libraries)
Top 7 Plugins For Game & Film Scoring  (+ 6 Best Kontakt Libraries)
Top 10 R&B And Pop Music Plugins & KONTAKT Libraries 
30 Best Free Plugins For DnB, EDM, IDM & Experimental Music 
EQ Plugins
Top 12 Free EQ Plugins For Precise Mixing & Mastering
Top 9 Mid/Side EQ Plugins  For Mixing & Mastering (+ 2 Free Tools)
Top 7 Graphic EQ Plugins  (With 3 Best Free EQs)
Top 7 EQ Plugins For Mastering In | And Best FREE Mastering EQs
Top 6 Passive EQ Plugins (Klevgrand, SPL, UAD, Waves, IK Multimedia)
Top 11 Plugins For Making Metal (Best Guitars, Drums & Effects)
Metering:
Top 5 Audio Metering Plugins (LUFS, RMS, LRA, True Peak)
Top 6 Spectrum Analyzer Plugins  – Spectral Analysis Tools
Top 6 Oscilloscope Plugins To See The Waveforms
Top 5 Key Detection Plugins & Software  (+ Best FREE App)
Kontakt Libraries
20 Best Kontakt Libraries For All Categories (Synths, Drums, Vocals)
Top 7 Drum Libraries For KONTAKT (And 4 Freebies)
Top 7 Trap Music Kontakt Libraries (And Best Lo-Fi Kontakt Library)
Top 7 Metal & Rock Kontakt Libraries (Best Guitars & Drums)
Top 10 Guitar Libraries For Kontakt (Acoustic, Electric, Bass & Freebies)
Top 7 Trailer Scoring Plugins & Kontakt Libraries 
20 Best Free KONTAKT Libraries For Various Instruments
Top 9 Piano Kontakt Sample Libraries  (And 5 Best Free Pianos)
Top 10 Percussion KONTAKT Libraries  (And 3 Freebies)
Top 7 Kontakt Libraries For Horror & Thriller Scoring (No VSTs)
Audio Restoration, Calibration & Utility:
Top 6 Noise Reduction Plugins (And 3 Best Free Tools)
6 Best Audio Restoration Plugins & Software 
Top 7 Phase Alignment Plugins To Fix Your Bass & Drums
Top 10 Room Calibration & Headphones/Speakers Correction Plugins 
Instrument Plugins: 
Top 6 Vocoder Plugins (Effects & Synths + FREE Vocoder)
11 Best Rhodes VST Plugins (AND 5 Free Rhodes Plugins)
Top 12 Randomizer Plugins Including FREE Plugins
Top 6 Kick Drum Plugins (Best Kick Designer Tools)
Top 12 Woodwind Plugins (And KONTAKT Libraries)
Top 10 Double Bass Plugins (Best Upright Basses)
Top 5 Strings VST Plugins (AND 4 Best Free Instruments)
Top 6 Sampler Plugins (And 3 Best FREE Plugins)
Top 6 Classical Guitar Plugins & Kontakt Libraries (And FREE Guitars)
Top 12 Sub Plugins (Best 808 & Bass Tools For Massive Low End)
Top 10 Plugins On PluginBoutique (And 7 Best Free Plugins)
Top 11 Plugins On Plugin Alliance 
Top 7 Acoustic Guitar Plugins (And 4 Best Kontakt Libraries)
9 Best Bass Guitar Plugins (And 2 Best Freebies)
Top 6 Electric Guitar Plugins (Best PAID & FREE Picks)
Top 10 Arpeggiator VST Plugins (Best Synths, MIDI Effects & Tools)
Top 10 Modular Synth Plugins (And 3 Best FREE Plugins)
Top 6 Choir Plugins & Sample Libraries (And 3 Best Free Plugins)
11 Best Percussion & Drum VST Plugins (And FREE Plugins)
Top 8 Piano Plugins (Best Sounding Pianos & 5 FREE Piano Plugins)
Top 6 Organ Plugins Ever Made  (And 3 Best Free Organs)
Top 14 VST Plugins For Beginners (And 9 FREE Plugins)
Top 9 Drum Machine Plugins (And Groovebox Plugins)
4 Best Banjo Plugins (Best Banjo Instruments)
The 5 Best Ukulele Plugins & Kontakt Libraries 
Top 13 Synth Plugins (And 5 Best FREE Synths Plugins)
Top 13 Sequencer Plugins  (Synth, MIDI & Step Sequencers)
The 10 Best Multi-Effect Plugins (And 3 Best Free Plugins)
Top 12 Plugin Bundles For Musicians (Synths, Mixing & Mastering)
Processing & Sound Design:
8 Best Lo-Fi Plugins (PAID & FREE)
Top 11 Plugins For Mixing Vocals  (For Home Studio)
Top 12 Saturation Plugins (Best Mixing & Mastering Tools)
Top 6 Pitch Shifter Plugins (And 3 Best FREE Pitch Shifters)
Top 6 Chorus VST Plugins For Musicians (And 3 FREE Plugins)
Top 6 Limiter Plugins For Precise Mastering & Mixing
The 8 Best Filter Plugins For Precise Cuts & Boosts (+ 5 Free Filters)
6 Best Autotune Plugins To Improve & Enhance Your Vocals
Top 10 Transient Shaper Plugins (VST, AU, AAX)
Top 7 Enhancer Plugins (For Bass, Drums, Vocals & Harmonics)
Top 6 Flanger Plugins (And 5 Best FREE Flanger Emulators)
Top 7 Phaser Plugins (And 3 Best FREE Phasers)
Top 10 Plugins For Mixing Drums (And 3 Best Free Plugins)
Top 7 Bitcrusher Plugins (And 4 Best FREE Bitcrushers + 3 Bonuses)
Top 6 Plugins For Voice-Over & Dialogue Cleaning (Post Production)
Top 10 Stereo Imaging Plugins (Best Old & Modern Picks)
Top 5 Multiband Limiter Plugins 
Top 7 De-Esser Plugins For Better Vocals (And 4 FREE Plugins)
Top 7 Clipper Plugins (Best Limiter Alternatives)
Top 6 Chord Generator Plugins That Inspire Melodies (+ FREE Tools)
7 Best Exciter Plugins For Mixing & Mastering
Top 7 Channel Strip Plugins (And 2 Best Free Plugins)
Top 11 Distortion Plugins (And 4 Top Free Plugins)
Top 5 Comb Filter & Resonator Plugins | Melda, Kilohearts, Tritik
The 7 Best Vibrato VST Plugins | Audec, Audiority, Melda
The 7 Best Tremolo Plugins | Eventide, Melda, SoundToys, Kuassa…
The 7 Best Harmonizer Plugins | Eventide, Melda, Aegean Music
7 Best Sidechain Plugins (VST, AU, AAX) | Xfer, Cableguys..
Top 10 Noise Gate Plugins (And 6 FREE Free Gate Tools)
The 6 Best Ring Modulator VST Plugins | KiloHearts, Melda
7 Best Autopan VST Plugins | CableGuys, Melda, Waves, Soundtoys
The 6 Best Frequency Shifter VST Plugins
Top 11 Granulizer Plugins For Future Sound Design
29 Best Sound Design VST Plugins
Compressor Plugins
Top 11 Free Compressor Plugins (VCA, Vari-Mu, FET, Digital)
Top 7 Multiband Compressor Plugins (And 4 FREE Plugins)
Top 5 Diode-Bridge Compressor Plugins 
Top 6 Mastering Chain Plugins: Complete VST Solutions 
The 7 Best VCA Compressor Plugins (VST, AU, AAX)
Top 11 Mastering Compressor Plugins (And 2 FREE Plugins)
Top 10 Opto Compressor Plugins For Transparent Sound
The 7 Best Vari-Mu Compressor Plugins (And 2 Best FREE Tools)
Reverb & Delay Plugins:
Top 12 Reverb Plugins (And 5 FREE Reverb Plugins)
The 6 Best Spring Reverb VST Plugins | AudioThing, GSi, u-he, Eventide
Top 12 Delay Plugins For Music Production In (VST, AU, AAX)
Top 10 FREE Delay Plugins (VST, AU, AAX)
The 10 Best Convolution Reverb Plugins 
Amps & Preamps:
Top 10 Guitar Amp Plugins (And 5 Best FREE Simulators)
Top 10 Bass Amp Plugins (And 5 Best Free Simulators)
Top 9 Preamp Plugins (For Vocals, Guitars & More!) + Free Preamps
DAW Related:
Best DAWs For Musicians Available (With FREE DAWs)
What's The Most CPU Efficient DAW? – 5 DAWs Compared
How To Make Music Without Using A DAW?
Pro Tools Guide: How To Use AutoTune & Pitch Correction?
Ableton Review: Is It Worth The Money? (Cons & Pros)
Logic Pro X Review: Is It Worth It? (Cons & Pros)
How To Use Auto-tune & Pitch Correction In Cubase?
How To Fix Ableton Crackling, Crashing & Freezing? Step By Step
Plugin Related:
What Are Audio Plugins? Different Types of Plugins Explained
What Are The Best Tools To Develop VST Plugins & How Are They Made?
Cost of Developing Audio VST Plugin: Several Factors (With Table)
VST, VST, AU and AAX – What's The Difference? Plugin Formats Explained
Complete Guide To Noise Gate – What It Is, What It Does & How To Use It?
How To Clip My Drums? Here Is How & Audio Teasers (Before/After)
Complete Guide To Limiter: How To Use It (+ Best Plugins & Analog Limiters)
Mixing With Reverb: How To Add Life To Your Mixes
Linear Phase vs Minimum Phase EQ – Full Guide
Difference Between LUFS, RMS & True Peak Loudness Meters
How And When To Use Algorithmic And Convolution Reverb In Your Mix?
Difference Between Active EQ, Passive EQ and Dynamic EQ
Headphones & Studio Monitors:
Do headphones get worse with age?
Monitors vs Studio Headphones For Mixing & Mastering
Top 10 Room Calibration & Headphones/Speakers Correction Plugins 
Are Noise-Canceling Headphones Good For Music Production?
Can Headphones Break in Cold Weather?
Why do headphones & cables get sticky?
Can Wearing Headphones Cause Hair Loss?
How Do I know If My Studio Monitor Is Blown?
Side Effects Of Sleeping With Your Headphones On
Do You Need Music Amplifier For Studio Monitors or Studio Headphones?
Do Headphones or Earphones Damage Your Brain?
Can Headphones or Earphones cause Deafness or Toothache?
FarField, MidField & NearField Monitors – Their Uses, Pros & Cons
MIDI & Synths:
Should I Buy A MIDI Keyboard Or Synth? (Are Synths Worth It Anymore?)
Why Is Audio Gear So Expensive? (Especially Synths)
Top 12 Synth Brands – Analog, Digital & Modular Synth Manufacturers
11 Tips How To Choose MIDI Keyboard 
Should I Buy MIDI Controller Or Keyboard? Cons, Pros & Tips
Sultan Zafar is a guitar player from Islamabad, Pakistan. He has been playing music with various mainstream musicians for over 20 years. He is a song writer and music producer. These days he spends his time exploring different music genres and collaborating with fellow musicians on various projects. Read more..