Are you new to the guitar world, looking for a customized signal chain, or just looking for fresh ideas to round out your current setup?
Modern guitarists have it quite easy to tell you the truth, thanks to the abundance of high-quality instruments and equipment at our disposal. Nowadays, with the rise of digital modeling amps and guitar pedals, in particular, it's simpler than ever to dial in our superior sound, and some musicians even eschew bulky valve amps in favor of these portable alternatives. They can be used in various situations, are more dependable, and can be taken anywhere.
This movement includes preamp pedals. These stompboxes are regarded as competitive alternatives to traditional amplifiers due to their ability to faithfully reproduce their powerful sounds at a lower cost and smaller footprint.
The "preamp" is the initial stage of an amplifier, coming before the "power amp" and "effects loop" (if it has one). Therefore, your instrument will interact with the preamp before the amplifier is proper. To put it simply, a guitar preamp raises the "line level" output signal from your instrument so that it is more audible and dynamically consistent.
More importantly, though, a preamp is what gives an amplifier its signature tone. Preamp stages in valve amplifiers often make use of 12AX7 tubes, and they also incorporate the same "treble," "mid," and "bass" EQ settings that are typically located on the amp's front panel.
Due to the high gain specification of the 12AX7 tubes used in current amplifiers, the preamp portions of these devices are intentionally engineered to distort. As a result, they are more resistant to crushing and shattering than standard tubes.
Top 20 Guitar Preamp Pedals 2023
1.

Boss AD-2 Acoustic Preamp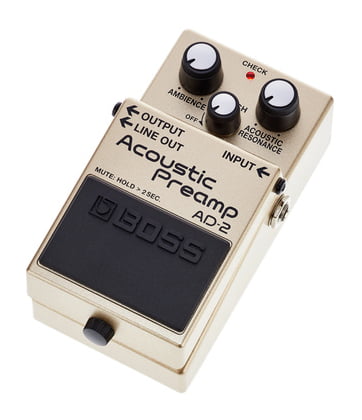 The AD-2 came out at the end of 2016 and is one of the most compact acoustic guitar preamps you can buy.
When playing live or in the studio, the BOSS AD-2 Acoustic Preamp Pedal makes it simple to achieve warm, organic tones from your acoustic-electric instrument's pickup.
Adjusting the Acoustic Resonance knob adds depth and richness to your sound that most pickup systems can't match. You can adjust the reverb and the feedback with the Ambiance and Notch knobs, respectively. In addition, the AD-2 has line-level and instrument-level outputs, allowing you to use it with any amplifier.
Key Features:
Tonal Balance
Many acoustic-electric pickup systems have a startling tone and abrupt response, but this Preamp Pedal smooths them out. Turning the Acoustic Resonance knob activates digital processing that matches the unamplified acoustic guitar's response to the input sound. Resonance is not simply a basic pre-programmed EQ; as BOSS puts it, you can adjust several settings inside the AD-2 to produce the right sound balance for each style, from delicate fingerpicking to aggressive strumming.
Feedback Buster
When it comes to acoustic-electric performances, we all know that feedback control is crucial. In creating the AD-2, BOSS took this very seriously considered. On the pedal's front is a Notch button, which is as straightforward to operate as the pedal's resonance function. If feedback arises, adjust the Notch knob until it fades, making it a simple and effective feature.
Depth and Dimension
Including ambient sounds and a sense of space in the instrument's tone is also crucial. Like any other feature of the pedal, adjusting it requires nothing more than a dial turn. Direct connecting can often result in a dull, monotonous sound, but by turning the Ambiance knob, you can add studio-quality reverb to your input. Also, the reverb was carefully voiced not to distort the sound.
Connectivity
The AD-2 from BOSS is a strong acoustic preamp pedal since it can be plugged directly into an acoustic amp on stage or a computer for recording. The processed signal may be sent to an instrument amplifier through the instrument-level output, just like with any other effects pedal. Another option is to use the 1/4″ TRS line-level output to send your signal directly to the board.
Character & Sound:
The bypassed sound is just what you'd hope for from a good active DI box: clean, unaltered, and accurate to your instrument's natural tone. But, as I've expected with Boss acoustic pedals, the sound is instantly altered when pressing the pedal to engage the active circuit, even with the knobs turned completely counterclockwise. A fair bit of compression and maybe some EQ has been applied, resulting in a bigger sound.
Pros:
The compact size is advantageous, making it easy to transport in gig bags or guitar cases. However, if you're looking for a piece of equipment that will last for years and years and never let you down, go no further than the Boss AD-2.
Cons:
This pedal severely lacks stereo output, in my opinion. I get that the pedal's compact size is to blame for its lack of stereo output, but the AD-2's balanced/unbalanced output options should help you make up for it.
There is also the minor issue that this pedal does not have a way to prevent battery drain when it is not in use. This means that you might run out of juice overnight, which would be a major problem if you were on your way to a new concert. We suggest you bring a supply of 9V batteries if you plan on using them in this manner.
2.

Ampeg Classic Analog Bass Preamp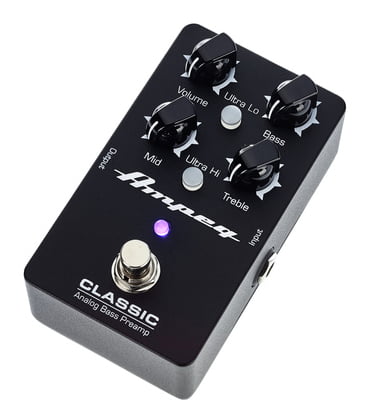 Ampeg is legendary in the history of bass amplifiers because of the company's unwavering commitment to developing new products for our instrument.
The 'Amplified Peg,' an upright bass pickup created by Michael Hull and introduced in 1946, is whence the firm gets its name. Although Ampeg eventually expanded to include guitar amplifiers and effects, his focus was always on the bass guitar. There is so much bass equipment out there now that it's easy for new players like myself to forget that Fender and Ampeg were the only two major brands of legitimate amps back when the bass was at its peak.
This concept is used in the Ampeg circuit of the traditional analog bass preamp, which allows for greater sonic customization via a mid-range filter. Additionally, it features the ULTRA-LO and ULTRA HI controls that were first introduced on the SVT head with tubes.
Key Features:
Circuitry
In a compact and affordable pedal, the Classic Analog Bass Preamp faithfully reproduces the sound of the original circuit. In addition, the EQ circuits appear to be properly expressed, with the familiar smooth but effective curves characteristic of Ampeg preamps.
The ULTRA LO does the same thing to the mids, which is expected given that the circuit's primary function has always been to suppress the mids rather than the lows. By itself, the pedal's non-EQ circuit reduces both the lows and the highs, therefore, it's best used in conjunction with the equalizer.

Design


The Classic Analog Bass Preamp delivers a solid construction as a cost-effective preamp. The metal body gives the impression that it is durable, and the control layout is straightforward. A primary circuit board filled with surface-mounted components was exposed after you opened the case.
Although Ampeg's polymer shaft, jacks, and filter knobs won't last as long as its metal equivalents, they're usually for instruments in this price range and should hold up OK under normal playing conditions. The traditional footswitch had a solid feel and clicked with assurance, however, there was a little pop when activated.
Controls
The Ampeg Classic's controls are identical to those on other Ampeg amps. You may adjust the volume and the normal Bass, Mid, and High EQ bands to fine-tune the sound. The Ampeg Classic, like the amplifiers, includes an Ultra-Hi and Ultra-Lo button that lets you instantly emphasize either the high or low frequencies.
Character & Sound:
The pedal's sound may be shaped to your desire with the frequency control knobs, which give you a great deal of versatility. For example, the pedal may be set to its most simplistic mode, in which it only adds subtle alterations to the bass sound, or it can be used to change the bass's character significantly.
If you're looking for that gritty preamp sound, you must turn up the volume. It worked wonderfully in our tests, and it's a nice way to give your bass a bit extra without venturing into the overload zone.
Pros:
It's good that the pedal is usually silent when you're not playing, and since the circuit is a complete bypass, you won't have to worry about your tone being affected while the pedal is off.
Cons:
The Ultra Lo and Ultra Hi knobs are unresponsive to adjustments and seldom change the volume level. In my opinion, we could get by without them, but it's still nice to have them.
3. Darkglass Harmonic Booster Clean Bass Preamp Pedal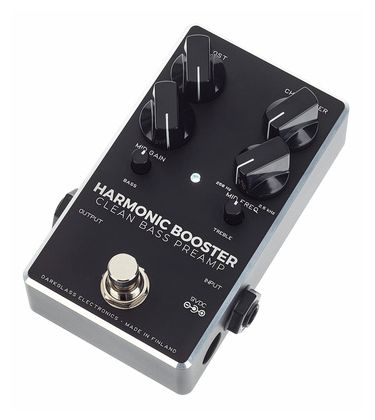 The Darkglass Harmonic Booster maintains the same sleek, modern, and stealthy aesthetic as the rest of their pedal lineup.
High-gain distortion and fuzz stompboxes from Darkglass Electronics are legendary. However, Darkglass's initial pedal design, the Harmonic Booster, was introduced before the company began to succeed with the revolutionary Microtubes technology employed in many of its current offerings.
The Darkglass Harmonic Booster is a clean preamp with many tone-shaping possibilities thanks to its 'Bass' and 'Treble knobs and, most importantly, a tunable parametric midrange. In conjunction with the "Character" control, which allows you to decide how much the EQ circuitry impacts your sound at the base, this versatile active EQ section delivers desk-level mixing precision, allowing you to locate the sweet spot.
Key Features:
Tone Shape
The Character knob allows full control over the one-of-a-kind tone-shaping engine, from modest to dramatic augmentation, while leaving the signal entirely flat. The new 3-band active EQ includes a semi-parametric mid knob in addition to the bass and treble controls.
Attack And Presence
As a result, they created a clean preamp that boosts attack and presence while shaping the mids for a particularly punchy and aggressive sound; nowadays, vintage specimens of this design are highly sought after because of their scarcity. Over the previous decade, Darkglass Electronics has learned some new techniques, which have resulted in some refinements to the original blueprint.
Distortion
Mastering harmonics and filtering control are essential in designing the ideal bass distortion since it allows you to shape the distortion's character and feel to your taste. Darkglass's overdrive technique was founded on discovering that harmonic excitation circuits, when applied to a clean signal at lower gain levels, may generate astounding effects.
Character & Sound:
Getting the right tone with this is simple. The equalization gives you a wide range of customization options, the character knob warms up or fattens your sound to suit your tone, and the genuine bypass eliminates any noise from the signal chain. Those who don't want their sound distorted too much but still want to amplify their bass solos might use it as an overdrive pedal.
Pros:
Excellent preamp pedal that may be used to provide a wide variety of clean sounds. When used in conjunction with an overdrive, fuzz, or distortion pedal after the Harmonic Booster, it may give the signal more crunch and grit.
Cons:
I experienced some trouble with its jack inputs; after leaving the pedal in the studio for a week, I found removing the cable from the pedal hard. I'm crossing my fingers that the inputs won't be as problematic with the next version.
4. Diezel VH4-2 (Preamp/Overdrive)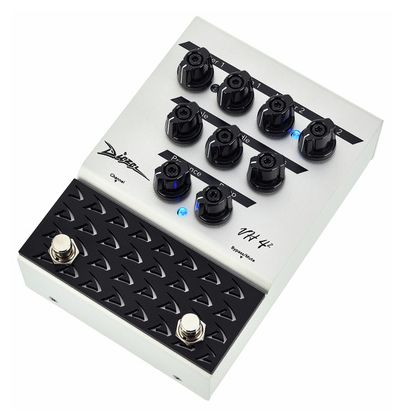 The original Diezel VH4 Preamp/Overdrive Pedal, which debuted in 1994, was an immediate hit among metal guitarists since it was based on the Mega channel of the company's VH4 high-gain tube amp. However, the German manufacturer has just released the VH4-2, a new pedal version with two independent channels of the same circuit housed in a single enclosure. Although the remaining parameters are shared between the two channels, the volume of channel 2 is somewhat greater at equal settings due to its own Master and Gain knob.
Key Features:
Controls
The Deep (resonance) knob is key to the unique sound of the VH4-2 pedal. The Deep knob, active at the pedal's final output stage, lets you adjust the low-end punch of your tone in a manner that standard EQ and tone settings can't. To avoid having your signal become too harsh while cutting through a dense mix, the Presence knob may be adjusted to get the desired degree of bite.
Construction
The metal frame is both lightweight and strong. Sound quality is improved over an integrated circuit by using discrete circuitry. Along with this, the supplied universal 12-volt power supply ensures reliable operation no matter where you are in the globe. The VH4-2 pedal is like having an additional amp on the go since it has the Mega channel in a compact stompbox.
Depth Control
The Diezel distortion, which employs a feedback loop to better low-frequency distortion, is crucial since depth control is critical. When dialed in properly, it's incredibly satiating in its depth, density, and richness. When you dial in the Boss Metal Zone for the first time, this is an exciting moment—until you realize that some folks have messed up the setup and aren't experiencing the full effect.
Preamp or Stompbox feature
The Diezel VH4-2 is more than simply another distortion pedal; it provides a variety of approaches to achieving classic rock sounds. Input the VH4-2 directly into the front of your amp for great results if you want to utilize pedals for your mud. On the other hand, the pedal may be used as a preamp by connecting it to the "To Power Amp In" connector on the rear.
Character & Sound:
Amazingly low distortion sound that is so natural that you can't even know it's coming from a pedal, along with a sensational feel that allows you to play without stopping for hours on end while savoring every moment.
Pros:
Its construction is rock-solid and has a massive sound suitable for metal and beyond. It may be used as a preamp or a distortion pedal, with both functions being present.
Cons:
Equalization, presence, and resonance are all shared parameters between the two channels. A voice setting is something that would have been helpful for me.
5. Mooer Preamp Model X2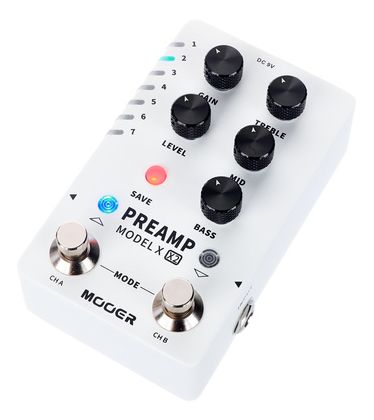 The brand-new Mooer Model X2 is a pedalboard-friendly digital preamp with two input channels.
Because of its capacity to play Kemper-like captures, the Mooer Model X2 preamp is a strong contender. In addition, Mooer's free GE Labs iOS software allows you to record effects pedals, amplifiers, cabinets, or a combination of all three. Even if you've never utilized capture technology, the Mooer GE Labs app is awesome. Complete with complimentary amps, cabinets, and effects, it's a must-have for any guitarist.
Accessing user-created defaults is free of charge, and you will never have to pay for the software if you're fine with making your patches on the fly, however, doing so would be a great way to support its continued development.
Key Features:
Connectivity
The USB-C connector on the Mooer Preamp X2 allows you to connect the device to a computer, change the settings, charge the infrared remote, or power the Mooer Capture. However, you'll need to use the provided power cord, as the pedal can't be powered by the USB-C connection alone.
Capture Mode
To record an amplifier and cabinet setup, you'll need a microphone, an audio interface, wires, and maybe earplugs due to the high volume of the procedure. Unfortunately, the Mooer Preamp X2 cannot record its own audio, but it can play back recordings made with another device or obtained via the Mooer website. There are hundreds of free grabs, but the quality varies widely, and browsing the Mooer site for captures and presets is frustrating.
Presets
Mooer Preamp X2 is not only equipped with pickups but also a full suite of amp tones, 14 presets with 28 distinct amp tones emulating the most popular guitar amps such as Fenders, Marshalls, Mesas, Friedmans, Vox, etc. In addition, you can quickly choose between two tones with your toes, as each set has its A and B channel.
Character & Sound:
Using the command input of my trusted Mesa Boogie F-50 combo, I examined the profile-capturing functionality. While the overall volume level was lower than I had hoped, the capture turned out better because I didn't spend too much time utilizing the built-in tools to improve it.
You can tweak the capture's volume and other settings in real-time, so I'm confident that my next attempt will yield an even better representation of the original. I can hear no difference between using the pedal or the iPad app to listen back to the capture.
Pros:
The integrated amplification tones are rather usable. They aren't as intricate or textured as a Helix or Fractal amp model, but they're not terrible for the price. The tones were decent from both, especially for the modest cost of the pedal.
Cons:
The signal pipeline includes cabinets and IR emitters everywhere. Channel A cannot support a 1×12 cabin IR, while channel B supports a 4×12 cabin IR. As a result, you can't record both an amp model and a whole signal chain with the same preset, as the Cab IR. will be applied wrongly during the former.
The signal chain has two possible final links: an optional cab/IR capture or just a cab and an IR. Besides the volume knob, the amplifier is the only means of adjusting the volume and tone. Moreover, beneficial effects like reverb are missing.
6. MXR Bass Preamp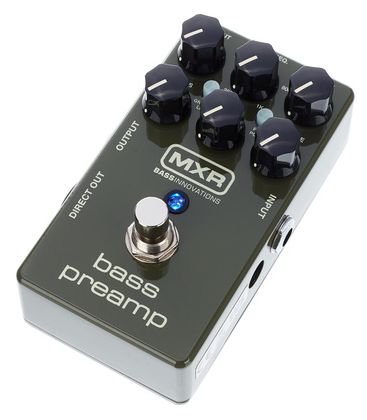 A lot is going on beneath the hood of the MXR Bass Preamp, a versatile preamp pedal designed specifically for bass players.
Delivering clean tone without taking up unnecessary pedal board real estate, the MXR Bass Preamp combines a perfect bass preamp with a studio-quality direct output in a box roughly the size of Phase 90.
You may use it to give a passive bass a new sound, enhance the sound of any amplifier, or add flavor to a song. Likewise, you may set it up to your liking and transmit it to your home stereo system through the direct-out jack before or after adjusting the equalization.
Key Features:
Controls
The bass preamp has a 3-band EQ section with a midrange sweep for extensive tonal customization. It also has independent INPUT and OUTPUT volume controls. Thanks to their innovative Constant Headroom technology, your signal will always come through crystal clear and with plenty of headroom, and the EQ portion of the bass preamp will only be active in the bass guitar and keyboard channels. In addition, a GROUND LIFT switch is included on the bass preamp to combat ground loop noise.
Factory Presets
The bass preamp is default set to active Direct Out and a 1/4-inch buffered bypass. Two internal switches allow players to switch to genuine 14″ output bypass mode, turning off both the direct and buffered 14″ output.
Character & Sound:
The lows and highs are articulated well, with a richness that doesn't muddy the tone and no harshness in the highs. The bass player may adjust the volume within this frequency band with the help of the midrange and midrange settings, which are intuitive unless you're a midrange enthusiast.
Pros:
A useful and adaptable preamp that helps your bass sound its best. The input knob allows for a substantial boost, and a touch of the bass control kicks off an instant rebirth of tone.
Cons:
The ground lift and pre/post switches may be out of reach for certain players.
7. Benson preamp
One of the most well-known amplifier brands of the 21st century has released a gain stage that can accommodate various musical styles.
Chris Benson's boutique amplifiers are the company's claim to fame. This amplifier's preamp is a FET version of the tube preamp found in the Chimera amplifier series. According to what I've read, the preamp opens things up even when it's in neutral mode, acting similarly to a unison boost but with a more subtle adjustment.
Key Features:
FET Transistors
The vacuum tubes in the amplifier are swapped out with FET transistors in the preamp pedal. The built-in gain may be used to provide anything from a subtle boost to full-on driving grit without sounding overly excessive. When activated, it enters the fuzz zone, which provides a lot of sustain to the guitar sound.
Controls
The EQ section of other pedals typically has a larger influence on the gain you make than the preamp's treble and bass knobs. For instance, adjusting the bass and treble controls may get a fuzz tone. Inverting the EQ settings I described makes it sound like tube amp distortion rather than fuzziness. Each knob seems to contribute significantly to the final sound, perhaps more so than in the few high-end gain stages we've evaluated.
High-Gain Sounds
High-gain sound is Sickened in the best possible manner. The bass is cranked up too high, and the overall sound quality is poor; this is especially noticeable when trying to tune chords. The EQ may be turned down to mitigate the discomfort, but turning out all the lights produces an exciting, exploding sound.
Character & Sound:
This pedal has an extremely wide gain range, from a barely perceptible boost all the way up to some seriously tasty distortion and fuzz. What sets it apart is that it does not only add a layer of harsh amplification to your music. Instead, it's responsive thanks to an amplifier, and it reacts to touch and ignition attacks.
Pros:
A major selling point is that such a vast range of sounds can be accessed with the push of only four buttons that aren't confusing. Plus, it stands out from the crowd since it doesn't mimic the tones of other gain pedals.
Cons:
Because of its size and the location of its jack inputs on the top of the pedal, it might be hard to fit onto a pedalboard.
8.

Dunlop Echoplex Preamp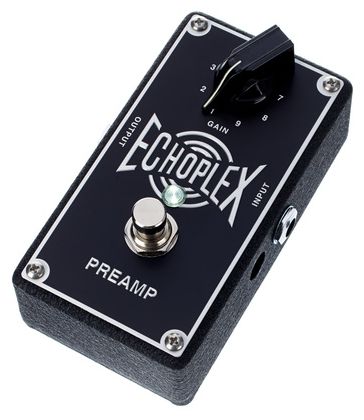 This Echoplex preamp in the form of a stompbox may boost dynamics and add natural-sounding dirt to your performance.
After years of owning the Echoplex brand, Dunlop has finally released a device worthy of the Echoplex name: the EP101 Echoplex Preamplifier. In retrospect, I suppose every guitarist wishes they had bought something a bit more… tape. But Dunlop uses every tool in his arsenal.
There is a growing market for "tone conditioning" pedals, as Dunlop smartly dubs its offering, which only alters the sound in little ways to emulate the EP-3 preamp circuit. Dunlop focused their efforts on creating the EP101 Echoplex preamp pedal on, making it the first and, perhaps, best-sounding solid-state Echoplex.
Key Features:
One Knob, Many Uses
You might be curious about the quality of the amplified signal if you saw a pedal with a single knob and a range of "up to 11 dB." Specifically, the middle will be enhanced, the highs will shimmer, and the bass will be subtle. These characteristics are quite true to the original EP-3 and should be recognized as such by EP-3 sound purists.
Character & Sound:
Surprising adaptability. Drive it for a one-of-a-kind, feathery feel, or follow its original design and place it in front of your preferred delay for absolutely great tone, or just run it as is for an accurate rendition of the iconic always-on "special sauce" sound.
Pros:
It's cheap, but it's just a simple pedal with one knob and a pretty particular sound. In other words, fans will be happy, but those expecting a more generic boost should keep in mind that this was intended to strike a particularly emotional chord.
Cons:
Limited in volume due to low amp output. In other words, you may use this pedal only in your own studio or during practice sessions.
9.

NuX Stageman (Floor Acoustic Preamp and DI Pedal)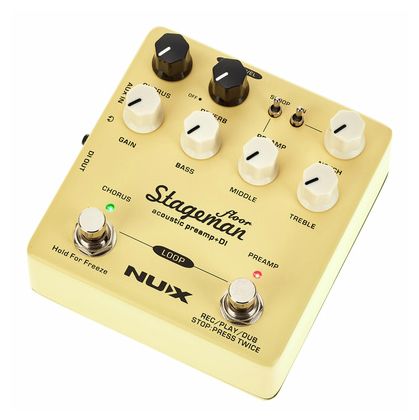 The Stageman Floor was designed after the NUX Stageman AC-50 acoustic amplifier's preamplifier circuit.
The vintage-looking cream-colored shell conceals a profusion of buttons and rocker switches. The bottom row of knobs consists of the standard gain and EQ parameters. In every case, the action moves up to the top row. Hiding in the upper left corner are the reverb and chorus knobs, while the notch and scoop controls may be found on the right.
Key Features:
Equalization
In all frequency ranges, the three-band equalizer sounded great. When I cranked up the bass, the lows got deeper and stronger instantaneously, while the mids and highs made my guitar sing and glitter. The EQ never sounded too harsh or overwhelming, even when turned all the way up, and the ones that resulted were surprisingly useful.
Effects
The chorus is delightfully airy, providing a pleasant double harmony in the softer registers. All three of these variables—rate, speed, and depth—are adjusted concurrently as you move the knob. The maximum setting still yielded a good tone, a sentiment shared with the EQ knob.
The reverb effect was only passable, but when combined with the chorus, an entirely new depth of tone is formed. You may retain a ringing chord forever by holding down the footswitch that initiates the chorus, which also functions as a freeze control.
Looper
A simple looper with a 60-second recording time and limitless overdubs may be found on the other footswitch. Both footswitches have to be stepped on at the same time to turn the feature on or off. In spite of the fact that it does exactly what it's supposed to, a specialized looper pedal is still preferable for live performance.
Character & Sound:
It provides a natural DI sound that doesn't mess with the natural tone of an acoustic guitar. This multi-effects pedal is a one-stop shop for all your musical needs.
Pros:
This pedal's many input and output options provide a wide variety of creative avenues for its application.
Cons:
Although I believe it to be good to discover a solution by which everything we need for a live rig or a studio session is merged in a package as small as feasible and at hand, I feel that this pedal does not excel exactly because it has many functions, but none of them excel.
10. FLAMMA FS06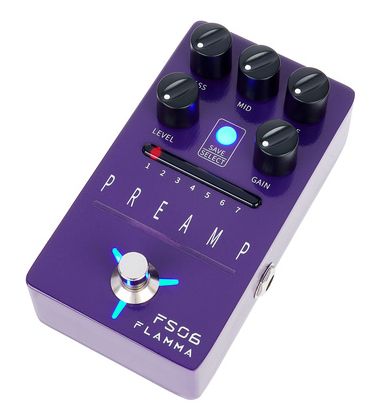 The FLAMMA FS06 Preamp is a low-cost pedal that offers seven different preamp tones.
This pedal might be useful if you want access to various guitar tones for practicing at home, playing live, or recording. The sound quality is decent, it has two channels and several amp simulations. Most significantly, it's a great amp for individuals who are just starting or who don't have a lot of money to spend.
Key Features:
Cabinet Simulation
If you wish to connect the FS06's output straight to a mixer or PA, the pedal's cabinet emulation may be turned off. If you wish to use the amp tone pedal, this might be helpful for both recording and live performances. It would help if you pressed the Save/Select button simultaneously and the footswitch to start the cabinet simulation.
Footswitch Options
There are two modes of operation for the foot switch. The first is the most obvious: flip the switch in order to activate or deactivate the preamp effect and press the footswitch. As an alternative, the footswitch may be used to toggle between the two channels of each preamp. Depress the footswitch for two seconds to go through its various settings. Indicating a mode switch, the foot switch's LED will flash a few times rapidly.
Controls
To anyone who has experimented with guitar amp tones, this will come as second nature. Like with most guitar amps, you have control over bass, midrange, and treble with a trio of EQ knobs. Both the volume and gain controls function as you would expect from a standard guitar amplifier.
Character & Sound:
In this respect, the FS06 surpassed my expectations. To be honest, I wasn't expecting much from the preamp versions, given the pedal's pricing. There's no denying they're faithful recreations of legendary guitar amps like the Fender Blues Deluxe, Marshall Plexi, and Mesa Boogie MARK V.
Pros:
It's convenient since it includes a wide variety of guitar tones, several different preamp types, and dual channels for each preamp model. Since the pedal provides satisfactory performance at a reasonable cost, the simulation cabinet is also a solid buy.
Cons:
Unfortunately, this pedal does not support battery operation; instead, it calls for a 300mA power source, which is not provided.
11. MXR Bass D.I.+ (Preamp/Distortion)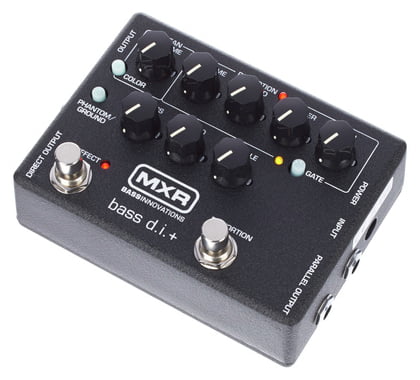 As a direct connection to a PA system is never 100% reliable, having your own DI box is always a good idea.
The M-80 is encased in a sturdy metal box with solid knobs and a three-band equalizer; the instructions don't specify the EQ bands' center points, but whatever they are, they get the job done across a wide frequency spectrum.
Key Features:
Level Control
During normal playback, the tape may be played in bypass mode, but the EQ/boost can be turned up for more intense moments, such as solos. The M-80 doesn't stop there; it also has a "color" switch for a low, rumbling tone.
Gated Distortion
A second sturdy button on the right allows you to toggle this feature. The distortion pedal incorporates the color switch mechanically, ensuring that your distorted sound retains a substantial bass response. The clean volume is likewise disabled, but the EQ is preserved.
Character & Sound:
The distortion is rather strong, especially at the low gain setting; there is no pleasant crunch or overdrive to be found here. It's almost a shame that this option is only active distortion enabled; I'd want to be able to dial down the upstream fuzz because the gate is so good at cutting down on noise and never accidentally cutting the sustain.
Pros:
This pedal doesn't need a lot of practice to get the hang of due to how straightforward it is. All the options mentioned above are readily accessible, and the interface is so natural that it may even be used in everyday life.
Cons:
It is difficult to use if you wish to drive the bass signal a little. When you reach level 2 of distortion, the quantity that the pedal provides may be excessive for certain purposes. It did not apply to me, but it is essential to note.
12. Palmer Pocket Amp MK 2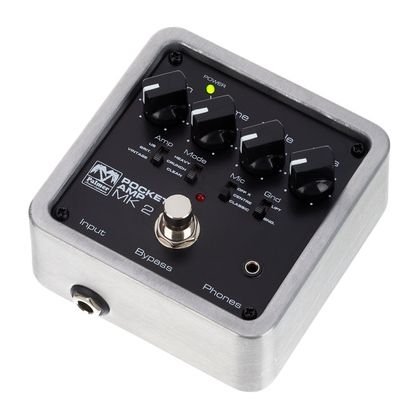 Palmer Pocket Amp MK2 Guitar Preamp is a small amplifier that can make a wide range of official tube amp sounds.
Palmer's Pocket Amp is an attempt to make electric guitar playing possible without the use of an amplification system or a microphone. Built-in a small yet sturdy aluminum chassis, it truly is pocketable. Similar to the controls of an actual amplifier, these four knobs are labeled Drive, Level, Treble, and Bass.
Key Features:
Drive
To activate or deactivate the virtual amplifier, use the sole "Drive" toggle. I can't suggest this footswitch for usage on stage unless you're willing to keep it permanently on, as it was fairly weak and incredibly inconsistent on the review unit, working sometimes but not at others. That's my one and only significant complaint, though, and in the more sedate studio environment, it's not a deal-breaker by any means.
Amp Models
This unit is fairly solid, with three different amp "models" ('Tweed,' "Brit," and "US") that each provides their own unique flavor of distortion. For example, the tones of a tweed guitar may be described as clean to mild breakup, a Brit one as clean to hard-rock distortion, and an American one as hard-rock to high gain. After selecting a baseline model, you may get close to the sounds of the other models by tweaking the Drive, and EQ controls to simulate the distortion levels of those models.
The Mode
The mode selector controls not just the distortion level but also the instrument's overall tone. Bass and treble settings provide a good amount of adjustment range, except when the treble is turned up past two o'clock, noise becomes audible. The Mic button can be used in several ways: A cardioid condenser's sound may be approximated by the "Classic" setting, while the "Centre" setting looks like an SM57 is practically touching the grid (complete with proximity effect), and the "Off X" setting sounds somewhat less harsh.
Connectivity
As well as the standard guitar input, there is a stereo 3.5mm jack input for use with iPods and other similar devices. There are three different outputs: a quarter-inch jack, a 3.5mm headphone connector, and an XLR. The first enables users with an amplification device, the second for discreet rehearsal, and the third connects to a microphone. A 9-volt battery or 9-volt DC power supply is used to generate electricity.
Character & Sound:
Dynamically, the MK 2 is rich in harmonics and note detail, like a tube amp, but the dirt or distortion quality, especially on contemporary British and American models, shines out (both offer clean tones).
Pros:
Adjusting the gain and switching between modes and microphones produces noticeably varied tones, and the overall quality of the sound is rather high. Each amp has a Gain knob that may be used to add grit to the sound, but you can also choose from three other tonal profiles (Clean, Crunch, and Heavy) for a personalized experience.
Cons:
The lack of a footswitch may be a significant hindrance in terms of its live integration; hence, the goal was unquestionably to keep it as a pocket amp for in-home or in-studio rehearsals.
13. LR Baggs Venue DI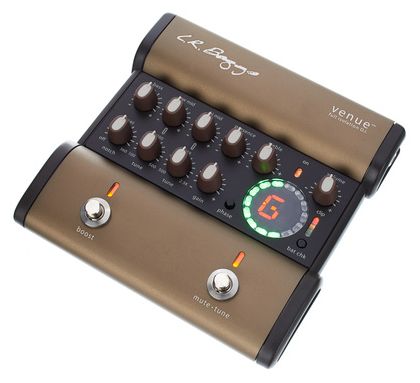 Simple and effective, the L.R. Baggs Venue DI allows you to perform live without compromising sound quality.
More than 25 years ago, L.R. Baggs began manufacturing pickups and preamps for acoustic guitars. Today, the company is widely recognized for its award-winning acoustic reference amplifier. For guitarists looking for a portable, flexible, high-quality preamp/DI with in-line EQ, Baggs' Para Acoustic DI has quickly become a top pick.
In response to customer demand, the business has released the Venue, an improved direct box with enhanced EQ, chromatic tuner, footswitch-operated volume boost feature, and audio transformer-coupled output that avoids ground loops and provides perfect isolation.
Key Features:
Interface
The bronze and dark chocolate brown rounded surfaces of the Venue, enclosed in a cloth-covered, zipped carrying box, complement the vintage aesthetic of Baggs' acoustic reference amplifier. Baggs claims the Venue employs "bomber construction, it certainly seems sturdy, with a satisfyingly solid feel underpinning its smooth contours. The area is around 8 square inches, which is enormous for a floor pedal, but Baggs needs the extra room for all the advanced functions he's included in the pedal.
Two Footswitches
To disable the Venue output and activate the Chromatic Tuner, use the switch on the right. The signal may be amplified by up to 9 decibels with the help of the gain control over on the left. The Venue's gain may be changed using a little knob on the device's rear, which also features a send/return effect, a ground pickup. One side of the unit features a 1/4-inch inlet and unbalanced outlets, while the other features 1/4-inch inlets and outlets on opposite sides.
Tuner
The volume feature on the Venue's huge circle tuner makes tuning incognito, even on a dark stage or in high lighting. The tuner has an unusual presenting style that may take some getting accustomed to. When you're in tune, every light in the circle will be on; when you're not, the absence of light will produce a bit of a "negative space" impression. A baritone guitar tuned to A was no match for the tuner, but it worked fine with other instruments.
Character & Sound:
This is a tonal lifesaver if you regularly connect to PA systems and want the option of total command over your sound. The clean boost and feedback control are incredible, and when paired with the EQ, Gain, and Volume settings, this pedal has the potential to become a staple in the studios of acoustic musicians everywhere.
Pros:
There is a send and return effect, as well as a floor and elevator, on the pedal. In the "lift" position of the switch, the transformer-coupled DI offers complete isolation through the DI output, as stated in the user handbook.
Cons:
My one complaint is that the tuner may be sluggish and even freeze up at times. When you're trying to keep the energy up during a set, that's unacceptable.
14. Catalinbread Epoch Boost (Preamp/Buffer)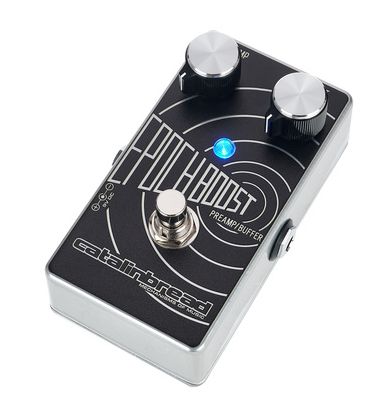 New Catalinbread Epoch Boost is a "pocket" replica of an old-school tone secret.
It's not uncommon for the simplest circuits to have the most noticeable results in enhancing a guitar's sound. One iconic model that can be carried in your pocket is the Catalinbread Epoch Boost. The "main" EP-3 preamp circuit from a Maestro Echoplex EP-3 has been recreated.
Even though there isn't any reverberation happening at this location, the old tape delay unit's preamp is on display. Many guitarists, including the legendary Eddie Van Halen, have praised this preamp for its quality sound. However, it's only an aesthetic enhancement universally sought after in the pursuit of tonal accuracy.
Key Features:
Two Knobs
Solution The Epoch Boost's two buttons, PREAMP and BOOST, indicate its simplicity and ease of use. The pedal uses New Old Stock (NOS) Orange Drop capacitors and a simple, straightforward output mixer to emulate the sound of the original vintage Maestro Echoplex EP-3. The straightforward design of this circuit should make it easy to get impressive tonal results.
Modern Capabilities
To save on volume, the system voltage was reduced to 22 volts. To make this pedal more adaptable to current situations, Catalinbread also included a switchable hi-Z input buffer. When off, the Boost knob produces traditional EP-3 tones, but its maximum 20dB of boost, which Catalinbread calls "clear," is useful for more modern music. We can only hope that the updated circuit won't compromise the desirable sound quality of this classic effect pedal.
Character & Sound:
Catalinbread's Epoch Increase has not just novel electronics but also an internal voltage boost to 22 volts, much like genuine EP-3 drives. This ensures improved volume and definition, while also providing thickness to the amp's sound and that distinctive Echoplex "sheen."
Pros:
Since it makes use of high-quality parts in its circuit, I think it's priced extremely fairly.
Cons:
I would have appreciated it if there were some built-in EQ options, but we're looking for something as simple and straightforward as possible with as few options as possible.
15. JHS Colour Box V2 Preamp Pedal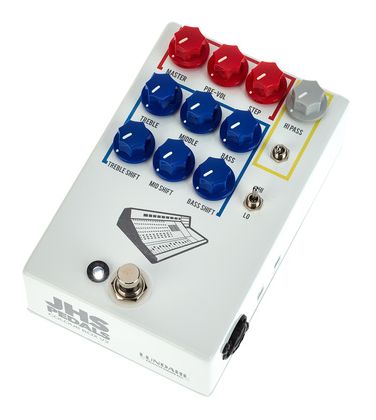 A classic Neve circuit served as inspiration for the JHS Color Box preamp stompbox.
JHS's analog color box was inspired by the Neve 1073, widely regarded as the best preamp ever made. In addition to the 1/4″ XLR and balanced jacks, it also features four bands of equalization. You may either hold it up to it or record with it directly. The Lundahl power transformer inside is a contemporary, self-assembled circuit board and branded component.
Key Features:
EQ
There is a wide-range high-pass filter for low-cut and three fixed bands. Filters are excellent at reducing harsh highs and enhancing low-end content. However, keep in mind that you only have a small portion of the functionality of a full-fledged input channel on a mixing board.
Amp Kicker
As a bonus, the Color Box can power a guitar amplifier. You might be thinking, "Why would guitarists want to use this pedal if they already have a perfectly good amp?" However, one of the fascinating ways to utilize this pedal is to enhance, condition, and shape the signal before the amplifier.
Rotary Gain
Five different levels of gain, are selectable through a rotary gain switch. At higher volumes, you get a corrosive, all-frequency distortion reminiscent of "Revolution. At maximum, the pump and swallow effects become chaotic.
Character & Sound:
The Color Box's rich highs and meaty lows convincingly mimic those of a Neve preamp. There is a ton of wiggle space and a lot of volumes. Be forewarned, though; this pedal's gain is more than enough to blow the speakers off your amp. Your infrequent use of the highest volume levels is to be expected.
Pros:
Tons of fresh and original tonalities. Monster-level things up could seem excessive to some, but in my opinion, they're quite manageable. Both an amplifier and a microphone can be powered via the two jacks.
Cons:
It can only be used with an 18V adaptor. Additionally, the mids are difficult to adjust and sound a touch muddy. At $400, it's not exactly cheap, but it's a choice.
16. LR Baggs Session DI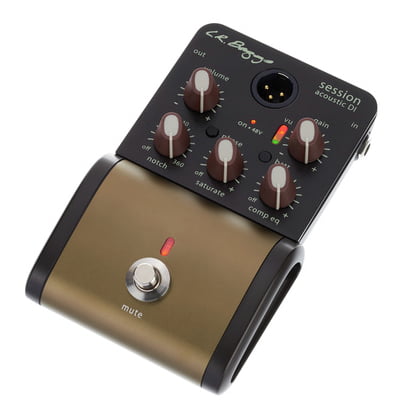 The Session DI's casing is made of steel and aluminum, giving the impression that it would last a long time.
Session Acoustic DI is including a four-band EQ, notch filter, phase shifter, integrated tuner with a huge LED display, movable mute and boost controls, an effects loop, various connectors, and XLR connection options.
The Acoustic DI is bronze/brown metal covered like its counterpart, however, it has a much smaller footprint. The robust metal on/off switch (no bypass) is located in the slightly curved lower half, and the power input is on the right side.
Key Features:
Comp EQ
The Comp EQ, meanwhile, has three highly targeted compression bands to control frequently occurring frequencies; these low, mid, and high-frequency compressors are essentially 'touch-sensitive' EQs that react in real-time to your dynamics; the more you apply pressure, the more it compresses, and visa versa.
Gain
Increasing the signal's strength and loudness using this knob allows its individual parts to cut through the rest of the music with more clarity. Together with the VU meter, this is the best way to prevent distortion. Using the VU meter, you can see how much juice your batteries have remaining if you hit the Batt Check button. The next control is volume, which determines the overall volume of the output.
Phase Switch
The phase switch flips the signal's polarity, letting you pick the one with a great feedback response. You may try to resist this negative feedback by using the Notch slider. Instead, the analog warmth and clarity of Saturated will permeate into your sound and enrich it in surprising ways.
Analog Saturation
Helps to bring out the inherent features of the original sound while also minimizing any artificial effects. For example, the pickup signal on some acoustic guitars might sound flat and synthetic, thus this is an absolute must. This function will efficiently stop it from happening, vastly improving the quality of your performance.
Character & Sound:
Depending on the dynamics of your picking and the strength of your strumming, this feature will reply in like. The overdriven features will give your guitar a one-of-a-kind personality and vibe. Even though the pedal isn't particularly thick, you'll notice an instant fattening and tone improvement as you switch on these two features.
Pros:
There's an excellent comp EQ built into this pedal that could be enough to convince you to buy it. When switched on from the off position, the change is barely perceptible, but the decay gradually builds, and the assault is mellowed both positive developments.
Cons:
This has a major drawback in that it lacks a bypass button. Sometimes you may even feel like the price is too much for the features provided.
17. JHS The Clover Preamp Pedal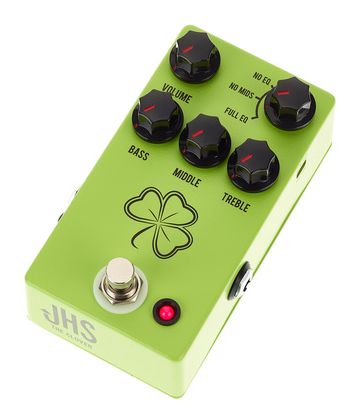 The Clover is an EQ Boost Preamp and true tone shaper based on the famous and hard-to-find Boss FA-1 FET preamp.
Some smaller firms have attempted over the past decade to provide this circuit in a more user-friendly style, but JHS Pedals (which has provided relocation and modification services for antique units) is the first to do so on a moderate to large scale. A firm specializing in special effects completely dominates the circuit, offering a product that sounds identical to the original preamp but has more features to appeal to a wider audience.
The JHS Clover has a Flat/Lo Cut switch that allows for a 3dB decrease in the lower frequencies in addition to the conventional FA-1 volume, treble, and bass knob settings. The FA-1 is expanded with this unit, which features an on/off switch, a midrange control, an XLR output for bass instruments, and a rotary switch with three settings for adjusting the equalization.
Key Features:
Volume Knob
The volume knob provides an impressive 24+dB of gain, making the Clover more than capable of overdriving a dirty amp (or pedal) and able to become incredibly loud in front of a clean, high-power amp with plenty of headroom. The mids and highs sound particularly pleasant at unity gain, and the sound's first onslaught has a little more clarity and punch.
Three-Position Rotary EQ Knob
This Clover's three-way EQ knob is the big reveal and the main draw for buyers. The pedal is innovative not only because of the Middle control, which allows guitarists greater control over the frequencies they perceive and are inspired by but also because of the other two settings: Full EQ and No Mid and No EQ. For example, similar but distinct Tubescreamer tones may be achieved by inputting the Middle control of a full EQ (albeit with a wider overall frequency range).
Controls
The Treble, Middle, and Bass control allow for a boost or decrease in the frequencies to make subtle yet effective alterations to the overall EQ spectrum. This establishes the general tone and makes any gain device after the Clover behaves more like an overdrive. The audio debris that gets translated badly when amplified too loudly can be cleaned up to some extent by using the Lo cut switch, which introduces a cut at 212Hz.
Character & Sound:
The JHS Pedals Clover is, first and foremost, a transparent, light-boost preamp designed to either mellow out a harsh tone or push a distorted amplifier to its limits.
Pros:
Clover by JHS Pedals may serve as a unity gain buffer or a Baxandall EQ for pristine amplification. These "transparent" (an overused phrase for any program) ones are quite installation-specific. The Clover is especially useful for long signal chains, weak pickups, and failing amp preamps.
Cons:
Even though overdrive pedals are awesome, you'll need something to follow your preamp beam if you want to get a truly big overdrive.
18. Tech 21 Geddy Lee DI-2112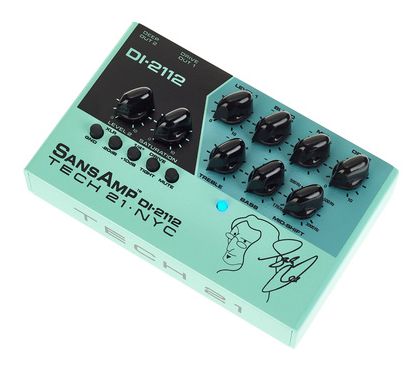 SIGNATURE OF TECH 21 GEDDY LEE DI-2112 SANSAMP's expanded capabilities are made possible by its parallel preamping.
It would be an understatement to call Geddy Lee's bass sound distinctive. To identify him, it only takes one note from his Rickenbacker 4001 or his 1972 J-bass. With Tech 21, Geddy's enigmatic tone is much more accessible; the DI-2112 preamp allows bassists of various genres to benefit from his tone.
It has a diverse array of tones available via its Drive preamp section, and its Deep preamp section boosts the bass for a full, rounded tone with saturation that varies between sand and tube-like compression. The Tech 21 Geddy Lee Signature SansAmp offers a wide variety of tones thanks to its two-band semi-parametric EQ with Mid-Shift, which was designed according to Geddy's exact specifications.
Key Features:
Controls
In this section, the EQ curve has been tailored to Geddy Lee's personal preferences, although the volume and saturation may still be customized to the listener's individual preferences. It's essentially two sets of signals, deep and drives, that are sending and receiving information simultaneously. Mute, a low option, a +10db boost for the 1/4″ outputs, a -20db pad for the XLRs, and a ground pickup switch are all handled by a compact bank of buttons. The gadget transmits a signal when the blue LED lights up and pulses while playing.
Drive and Saturation
The Drive preamp is modeled after the flexible RPM SansAmp, allowing for a wide variety of tonal expressions. For example, with the Deep preamp, your sound will be deep and meaty. At lower levels, the saturation is clear, whereas, at higher levels, it adds harmonics and tube-like compression. Each portion may be used alone, or both can be mixed externally between two amplifiers and a mixing board.
Usability
The DI-2112's compact design makes it ideal for placement atop your rig, on your studio workstation, or a pedal board. The interface is based on a standard Tech 21 design. Once you've decided which of the DI-2112's many configuration choices to use, and if you're familiar with connecting the unit's two outputs to a mixer or two amplifiers, setting up the preamp is a breeze.
Parallel Preamping
Two analog SansAmp circuits run in parallel in the Geddy Lee Signature GED-2112 SansAmp Rack Unit. You may get anything from sharp midrange tones to thick low-end boom right here. Each preamp section also has its dedicated output, so you can mix and match tones for a deep, layered bass sound in your mixer or digital audio workstation. The small SansAmp DI-2112 "YYZ" pedal takes this idea one step further by adapting the aforementioned architectural framework to facilitate the merging of the two signal channels.
Character & Sound:
The DI-2112 is capable of producing both the classic 70s and 80s progressive rock bass sound and some clean, low-noise bass tones. I dialed in this tone by focusing on the midrange with a parametric EQ pedal set to roughly 40% volume and using very little push.
Pros:
Its large range of connector choices and excellent EQ range make it extremely adaptable, and that's before we even get to the amp's ability to produce a wide variety of tones.
Cons:
Assuming you're set on a battery-operated pedal, you'll need two 9V batteries for that variant. And a bypass switch would have been nice, though I realize it might not be necessary for everyone.
19. Trace Elliot Transit A Acoustic Pre-amp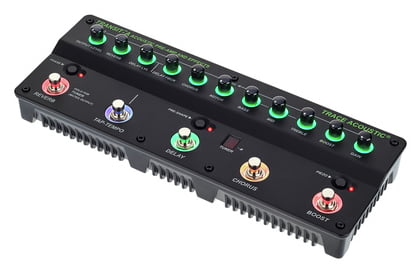 Trace Elliot incorporated several acoustically favorable effects into his all-encompassing acoustic preamp.
While Trace Elliot deserves a lot of credit for her contributions to the acoustic guitar, she is more widely recognized for her innovative bass amplifiers. Therefore, we have great expectations that the business's Transit-A preamp and effects units would condense all of that knowledge into one extremely handy package because the company can claim to have built the first dedicated acoustic guitar amp many years ago.
The Transit-A is an obviously well-made and thoughtfully organized piece of machinery with many useful features. Here, even the most ardent technophobe need not fear. Instead, user confidence is increased, especially in low-light situations, thanks to thoughtful labels and supportive, rather than distracting, control illumination.
Key Features:
Ideal for many situations
It can be challenging for acoustic guitarists to get a consistent sound while performing live, as they are typically at the mercy of the house system at a given location. The UK-based amplifier manufacturer Trace, recently acquired by American company Peavey, designed the Transit-A with this problem in mind. A tiny device (12.3 inches wide by 4.5 inches deep by 2.3 inches high) weighing around 2.5 pounds, it includes everything an acoustic guitarist needs before plugging into a PA system.
Great for any acoustic pickup
The Transit-A may be used with virtually any acoustic pickup system. To compensate for a guitar's lack of an internal preamp, the unit's piezo button gives a 10dB boost; a pre-shape knob increases the lows and highs while decreasing the mids, making low-cost pickups sound more organic.
EQ section
The EQ features a well-selected frequency range, a pre-shape (useful if you play many instruments), some nice extras like a volume switch (excellent for soloing), and a notch filter (useful for fast-eliminating feedback). In addition, the equalization tools are complete and rather simple to employ.
Character & Sound:
Acoustic musicians like uncomplicated solutions, and this is one of those devices that fits that bill. It's ideal for usage in a live setting, with the player having full command over the DI unit's EQ and effects. Its compact size makes it convenient for travel, and TE provides a nylon pouch for safekeeping.
Pros:
The EQ range is great for use with a preamp, and it's extremely handy overall. One thing that should be noted is how user-friendly the design is.
Cons:
This pedals built-in effects are of poorer quality, and its digital origins are immediately noticeable even with minimal use.
20. Gallien-Krueger PLEX
The Gallien-Krueger Plex Preamp is a fantastic tool for recording and practicing.
Modern musicians may find the versatility they want in the Plex preamplifier thanks to its innovative use of cutting-edge technology and 47 years of experience in amplifier design. Each GK product is built around a 4-band "Variable Q" active EQ and contour circuit, revolutionizing bass sound.
On top of this solid base, PLEX provides a wealth of filter settings to mold your instruments' individual tones further. In addition, the foot-switchable Compressor and Overdrive will help your performance fit in with the rest of the band or stand out from the crowd, while the Chromatic Tuner will ensure everything is in tune.
Key Features:
Connectivity
In terms of connection and applications, Plex is like a swiss army knife for bass pedals. Features include an effects loop, USB recording out, direct out, headphones out, and auxiliary inputs. It may function as a standalone device for practicing and recording, or it can take its place as the stalwart between your bass and amp, allowing you to fine-tune the sound. It may also be used as a USB re-amplifier, with the signal being re-routed from the DAW through the Plex and then to the amplifier.
Voicing Options
When activated by a user's finger, the PLEX's many buttons perform various tasks that go much beyond the capabilities of conventional volume and tone controls. When a button is pressed, the active choice is indicated by a blue indicator light, and its current level is displayed on the screen. For example, to access the adjustable bass boost, press the bass/bump button, and to isolate the mids for the final slap tone, press the low-mid/contour button until you hear the perfect notch.
Four-Band EQ
The Gallien-Krueger voice choices, which instantly diminish a specific feature of your signal, along with the Plex's four-band EQ, allow you a great deal of creative leeway when it comes to shaping your sound. Each EQ knob has so much wiggle room that you'll probably never need to turn it all the way up or down. Furthermore, the "Gain" and "Volume" knobs each have a minor overdrive circuit to provide some crunch to the sound.
Character & Sound:
The crunch or overdrive it adds to the tone is pleasing, both from the perspective of the control and the quality of the overdrive. During a live performance, the combination of the compressor and the overdrive allows you to narrow the soundstage, and when you want to break out into a solo, it gives you more than enough volume to do so.
Pros:
When it comes to technology, my answer will always be a "yes." I appreciate the USB connection to my computer and the convenient auxiliary and phone inputs.
Cons:
After doing some research and consulting with several friends, I've concluded that this pedal's tuner and knobs suffer significant wear and tear over time. In addition, the display is located in an area where the foot may easily reach it, which is a drawback, in my opinion, because it will likely contribute to the early failure of the pedal.
Extra:
1. Darkglass Microtubes B7K Ultra V2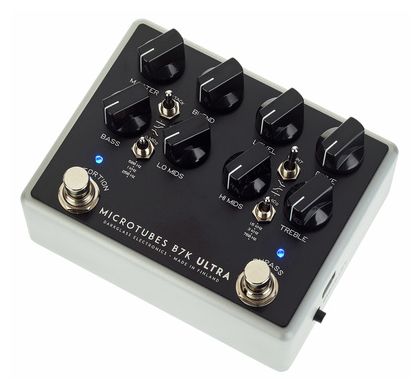 Featuring a broad drive and a powerful EQ section, the Darkglass Microtubes B7K Ultra is a powerful bassist's box.
The Ultra continues Darkglass's minimalist design tradition with its silver and black exterior and bright blue LEDs. It's also worth noting that the B7K Ultra is reliable. The solid chassis gave the impression that it could easily take the rigors of the road, and all the buttons and switches seemed solid and worked efficiently. Although I needed a Torx screwdriver to remove the motherboard, the interior was neat and well-organized.
Key Features:
EQ
The equalization was remarkably spotless. I used robust, non-muddy lows and smooth, crystal-clear highs in my performances. And the middle range has been tuned to the sweet spot of bass instruments' tonal spectrum. There was plenty of wiggle area on the Ultra to reduce or increase the desired frequencies.
Additional features
The B7K Ultra has a balanced direct output, a ground pickup, and individual switches for activating a distortion pedal and bypassing the amp's natural gain structure. The parallel output of the original B7K is missing from the Ultra variant. However, the many improvements make up for this.
Circuit
Darkglass's saturation circuit has been lauded by players for its versatile sound. The BK7 Ultra is unique in that, in addition to the standard level, drive, and mix settings, it also features an attack and grunt toggle. These three-position knobs let you raise, reduce, or keep the amount of saturation at bay for the low (grunt) and high (attack) frequencies, respectively.
Character & Sound:
Turning the Drive up to four and turning up the attack and grunt settings created a powerful sound that would please even the most die-hard of Meshuggah fans.
Pros:
The expanded controls provide users more leeway to experiment with tonal sculpting and add their own unique flair to the experience. The Microtubes B7K Ultra is an excellent choice whether you're a distortion purist in search of new flavors or a gigging musician in need of a compact, ultra-clean preamp.
Cons:
Not the most user-friendly arrangement for the switches and costs a pretty penny. It takes time to tweak the Drive and the volume.
2. Orange Burst Caline (Preamp/Overdrive)
Key Features:
Character & Sound:
Pros:
Cons:
Conclusion
This pedal collection is rather extensive. You can choose from many options depending on how much you can spend. Our recommendation is broad and not genre-specific, so your mileage may vary if you buy a pedal before you try it out.
Darkglass is worth checking out if you like metal or any other genre that benefits from powerful, clear distortion. I still use their pedals now, and I don't always need a cabinet, which is great for playing a live show in a tiny setting.
The Mooer Preamp Model X2, similar to the capturing mode made by Kemper but with more features and a smoother transition into the digital age, was another favorite of mine. But if you're set on remaining in the realm of pure analog, the Tech 21 Geddy Lee DI-2112 is a great instrument for live solutions because of its flexible routing options.
Death metal enthusiast here. I am a Romanian musician and producer with over 13 years of experience in the music industry. I've experienced all types of Metal up until now, playing Melodic Death Metal, Brutal Death Metal, and Black Metal with different bands. Learning by doing is my base principle, which is why I've been drawn to sound design from an early age. Read more…