In this post today, we'll be looking at the 12 best 88-key MIDI keyboards available in 2022 for musicians. We'll show you their features and help you select which is best.
Here they are:
2. Native Instruments Komplete Kontrol S88 MK2
4. Arturia KeyLab Essential 88
So it's gotten now to the point where you're ready to put the smaller keyboard controllers aside and pick up something with a few more octaves to enhance your overall skills and performances.
If you're here, chances are you have been looking into keyboards and are serious about your music and not just wanting something to carry around but a solid addition to your growing studio setup. We'll cover some good ground in this list, whatever your reasons are. So let's hop in!
Top 12 Best 88-Key MIDI Keyboards 2022 
1. Arturia KeyLab 88 MkII
Arturia has left a noticeable footprint with this MkII, and it could arguably be one of the best full-sized keyboards out there.
The KeyLab 88 MkII is a heavyweight in its class of keyboards, and this is for its solid design, versatility in use (i.e., in the studio or live on stage), and incredible features.
Having a Fatar hammer-action keybed is highly notable, as are all the performance features that it's packed with and software to take your production to new levels.
Key Features:
16 RGB Performance Pads
Velocity-sensitive pads have different uses, such as being able to trigger samples within your DAW, you can play chords on software or hardware instruments, and can send MIDI data. The pads are also pressure-sensitive, meaning that they have polyphonic aftertouch. Within each mode, each pad can have a different setting.
9 Encoders And Faders
Encoders are endless (they can turn continuously without a start or finish point) and have multiple functionalities. For example, in Analog Lab, the encoders will affect a range of parameters like cutoff, resonance, LFO amount, etc. At the same time, the faders control envelope parameters like attack, decay, sustain, and release. In DAW mode, encoders alter the panning in the mixer, while the faders alter the volume. While in User Mode, both encoders and faders send several types of MIDI data.
Transport And DAW Commands / User Section
Transport controls consist of Rewind, Fast-forward, Stop, Play/Pause, Record, and Loop and is always available as global controls in all three modes (Analog Lab, DAW, and User). The DAW Commands/User section control various track controls in your DAW like Solo, Mute, Record, Read, Write, and global controls consisting of Save, In, Out, Metronome, and Undo. Therefore, the Mk II gives you direct access to the most frequently used commands in your DAW.
Preset Browser And Display
Having buttons to switch between Analog Lab, DAW, or User Mode, this section is also used to select presets in Analog Lab (vintage keyboard collection software included). Navigate through menus along with the category, preset, left, and right buttons, and the encoder in the center. The two-line display shows you parameters and preset information adjusted and selected.
Rear Panel Inputs
Behind the keyboard, you will find Pitch/Gate/Mod1/Mod2 outputs (to send control voltages and triggers to a modular synthesis system). In addition, MIDI In/Out (the MIDI input also serves as a MIDI/USB converter for your DAW). Aux 1/2/3 pedal inputs are also found (you can use the Aux inputs with a continuously variable pedal/footswitch to control any assignable MIDI CC number). Expression and Sustain pedal inputs, 9-12V DC power input, USB connection, and CV In.
Included Software And Additions
Some excellent software is included with this KeyLab 88 MkII, such as Ableton Live lite, Analog Lab V, Piano V, Wurli V, and Vox Continental V (the latter two offer more classic and retro sounds). In addition, you will receive an adapter that prevents ground loops (an unwanted current that makes a low-frequency hum in your audio signal, which is possible in connections involving computers, CV/Gate connections, and audio devices). And also a laptop stand and an iPad/sheet music stand.
Pros:
It has to be mentioned the fact that this keyboard has weighted hammer-action keys, making it especially preferable for piano players who are into working on synth controllers, and the keys have aftertouch as well.
Exceptionally sturdy build, with an aluminum frame and wooden side panels. It is also feature-rich for the producer's creative workflow.
Cons: 
There is very little that this keyboard lacks, but to offer improvement tips, I would say that the LCD is relatively tiny concerning its size and features. And the price is more on the steep end, so it's not for those who want a keyboard on a budget. But it is worth it as a long-term investment.
2. Native Instruments Komplete Kontrol S88 MK2
The giant smart keyboard controller in the Native Instruments S-series it's not just the greatest in its size but also its integration.
Once you have the Komplete Kontrol S88 MkII, it will quickly become the centerpiece of your studio setup. And this is for various reasons, such as its hammer-action keyboard combined with its complete visual feedback and its added controllers.
Highly intuitive, especially with the Komplete Kontrol software, you get high-quality expression with the pitch and mod wheels and all these other features we will look into.
Key Features & Specs:
Advanced Control Section
By having eight buttons, two screens, and eight knobs, the control section allows for highly integrated parameter adjustments. The buttons and knobs adapt their assignment to the mode that's been selected. These high-quality knobs are endless in rotation and touch-sensitive; therefore, you can tap them. The displays are pretty large and give you information about the product shown or mode selected and show the functions and parameters assigned to the buttons and knobs.
Perform, Edit, And Transport Sections
The first of the buttons you will find on the top of the keyboard is the Perform and Edit section. Here you will be able to edit and control the Smart Play features such as scale and arpeggiator features. The buttons here include Shift, Scale, Arp, Undo, Quantize, and Auto (for activating/deactivating automation). Below is the Transport section, which has Loop, Metro, Tempo, Play, Record, and Stop buttons that control the transport of supported hosts when Komplete Kontrol is used as a plug-in.
Preset, Page, And Arrange Buttons
Another attribute that allows you to skip preset files (previous or next) of the loaded product is shown in the dual display. The page buttons (left and right) allow you to skip to the next parameter page to let you remap the knobs and displays, giving you more control at your fingertips. Beside the left display are the arrange buttons that let you skip between different arrangement views and modes, and here are the Scene, Pattern, Track, Key Mode, and Clear buttons to achieve this.
Pro Keybed And Keylight
The keys, of excellent quality, have a professional, fully weighted hammer action and are made by Fatar and offer such a realistic feel when playing. Above every key, you will notice an LED light, and the lights reflect the smart play functions by the lights switching on and off to indicate to you which keys are active and which are not. The light guide also shows the settings of the loaded instrument and helps to show mappings.
Navigate And Mode Sections
On the right, beside the display, you have access to the navigation and mode buttons to browse the Komplete Kontrol library and navigate with the 4-D encoder. What makes this encoder so special is that it can move in four directions, can rotate endlessly, and also can be pressed down to select options. In addition to the library, you also have access to functions like the mixer and MIDI mode. Here you have Browser, Plug-in, Mixer, Instance, MIDI, and Setup buttons.
Transpose, Fixed Velocity, And Touch Strip
The Fixed Vel (TS Mode) button sets the note velocity for all keys to having a 127 fixed value throughout the keyboard. Octave down and up will transpose the keybed in octave increments, and when holding Shift, one of the Octave buttons will transpose the keys down or up by one semi-tone. Below the pitch and mod wheels, you will see an LED-lit touch strip. Via the MIDI Learn function of the loaded instrument, you can assign parameters to it.
Pros:
The two high-resolution color displays are incredible, as you can navigate presets, modify sounds, and view the notes recorded when you play in record mode on the keyboard. Also, the software you get includes Komplete Select (which includes Massive and Monark).
Cons: 
There are no drum pads on this keyboard, which would be a great addition. However, the NKS (Native Kontrol Standard) library integration is mainly designed for this and other NI keyboards. So, as a result, its minimalist design works perfectly for the Native Instruments software.
3. Alesis Q88 MK2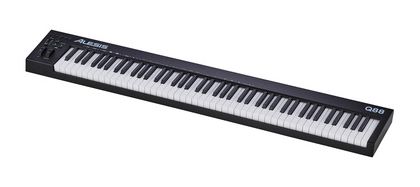 Alesis has been around for over 30 years and has made so many studio electronics for professional use; and also has this home use controller in the Q series.
With its 88 keys, it is described as a no-nonsense keyboard and is mainly made for you to plug and play to get straight into what you need to do in your music. The MIDI controller has full-sized and velocity-sensitive keys and gives you a synth action when playing.
So when an idea strikes, grab your laptop, connect and compose in moments.
Key Features & Specs:
Volume Slider
This slider controls the overall volume of the notes played on the keyboard and is also assignable to different effects and parameters such as pan, chorus, reverb, attack, etc. An added feature to a keyboard with limited controls, this slider will ensure you can at least adjust one parameter in your performance. Has the markings on the sides for you to identify how much you have incrementally adjusted it.
Advanced Button
You have access to all advanced functions with this button. Here the keyboard goes into Edit mode, whereby the keys are used for selecting functions and entering data, such as transposing, selecting MIDI channels, etc., and thus gives you more out of the keyboard.
Directional Buttons And Transport
Above the volume slider, you will find the directional buttons, which consist of left, right, up, and down, as well as a center button for confirming selections. With these, you can use the MIDI, Mackie Control (a mixer and control surface), or HUI (Human User Interface) protocols to control functions in supported software. The transport buttons consist of Stop, Play, and Record.
Rear Panel
The rear panel is not too elaborate in its connections. Still, it gives you just what you need, such as a 9V DC In for a power adapter (sold separately), a USB port, and MIDI OUT to connect to a MIDI IN of an external sound module or synthesizer. You will also find inputs for a sustain pedal and an expression pedal. There is an On/Off switch as well as a Kensington lock.
Pros:
The keybed is lighter and softer than most for playing drums or other instruments besides the piano. The entire keyboard itself is light and plug and play, and also, the design is not too wide, even though it is long (as it should be for 88 keys). It is also very affordable.
Cons: 
It lacks numerous features. It is almost too simple, especially for the producer who uses pads, knobs, and faders for their music-making. However, for its price, you wouldn't expect it to have all these extra add-ons. But it all boils down to your preferences.
4. Arturia KeyLab Essential 88
A highly effective and essential part of your studio is what makes Arturia keyboards get the producers' approval. 
The Essential 88 has been designed to make the technical side of controlling your settings as easy as possible. As a result, this keyboard has to be one of the best in terms of quality, features, and affordability ratio, and making music is more of a fun process when you use this.
The pads, faders, knobs, keys, and Analog Lab software mean you have a performance conglomerate at your fingertips.
Key Features & Specs:
8 Performance Pads
These velocity-sensitive and pressure-sensitive (aftertouch) pads give you options to perform drum and percussive elements and trigger-loaded samples within your DAW, giving you more creative freedom. And you are also able to maneuver in the map mode of the keyboard between Analog Lab 2 and DAW functions or the templates made in User mode. In addition, the Pads are color-lit as well, signifying different functions.
DAW Command Center
This section which is located just right of the pads, lets various functions of your audio recording software be controlled like common commands Save, Punch (enables "punch-in" style recording in your DAW), Undo, and Metro (toggles metronome on/off). In the same section below is the transport section, which has controls for Loop, Rewind, Fast-forward, Stop, Play/Pause, and Record.
Preset Browser And Display
You can easily access Analog Lab 2, select presets, navigate menus, and display parameters and preset information in this section. The large clickable encoder helps you find the sound in Analog Lab 2. The Cat/Char button lets you use the encoder to select the type (category), characteristic, and instrument you're looking for. The two-line display shows what parameters are changed.
Chord Mode
When you want to make your melodies fuller and more affluent, you can use this mode. Press and hold the Chord button, press your chord notes on the keyboard (maximum up to ten notes), and release. Now you can play the chord with one note anywhere on the keyboard; you will transpose the chord. It will add extra thickness and depth to your music.
9 Encoders, 9 Faders, And Part Control Section
Endless encoders control software instrument parameters and channel pan within the DAW, same for the faders, and would control channel volume within DAW. As for the part control section, you can toggle between two parts within Analog Lab's multi-mode. They also allow you to shift between tracks in DAW mode.
Pros:
The strong and sturdy casing makes it a rugged keyboard, and it is relatively light, weighing in at about 8.5kg, considering the frame into which it is built. The pads have an excellent velocity response, and endless encoders and faders work well for you to get your automation done nicely. For its quality and selection of features, the price you will pay is a good deal.
Cons: 
The preset browser section is only available to use within the Arturia software and cannot be used outside of this for the most part. The velocity sensitivity also is not entirely ideal if you are more of a pianist.
Although you can adjust it, it will not meet that expectation. However, it does the trick for synth action and playing other sounds on it. There's no Power on/off switch, and when it's not used for a while, the lights will flash in a vegas style.
5. Nektar Impact LX88+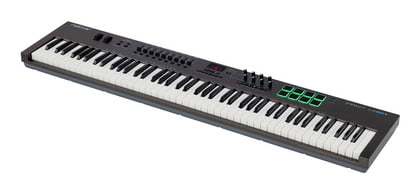 Nektar is a company that focuses a lot on making keyboards and controllers, and here we have one of their top selections for beatmakers.
A keyboard that does a lot of the technical work for you to concentrate on bringing out the best of your music. The LX88+ is loaded with some cool features like knobs, faders, transpose buttons, and pads, and not to mention that you can also connect it to your iPad with a separate Apple connector.
In addition, it is big yet light, meaning that you can set it up anywhere where space allows you to fit it, not having to worry about if it's too heavy.
Key Features & Specs:
9 Faders And LED Buttons
The faders have the functions of adjusting the parameters of attack, decay, sustain, and release from 1-8, while fader 9 controls the volume as their default. But the faders are also MIDI assignable, and the LED illuminated buttons. Having so many faders and buttons at your fingertips gives you more control of the parameters "on the fly."

Functionality Buttons


Beneath the display, you will find the Mixer, Instrument, and Preset buttons, which toggle between these modes. And there are the primary function buttons to change track and patches in DAWs supported by nectar DAW Integration. Finally, when Shift/Mute button is held down, you have access to secondary functions like Mute, Snapshot, Null, Pad Learn, and Setup.
8 Pots/Knobs And Transport Control
Pots are arranged in two rows of four and are also MIDI-assignable, giving you much more functionality. Their default parameter settings are Osc Tune, Osc Level, Osc Mod 1 & 2, Cutoff, Resonance, Env Amt, and LFO. Below these, you will find the transport controls, including the buttons for Loop, Rewind, Fast-forward, Stop, Play, and Record (which also have secondary functions).
8 Pads And Clip & Scene
These backlit pads are velocity-sensitive and can be used to play drums and/or percussive beats and melody parts. In addition, you can load samples and use used as regular MIDI buttons. They have four velocity curve options and three fixed velocity options between which you can choose. The Clip and Scene buttons allow you to toggle between the clips and scenes for the corresponding DAWs.
Layer And Split Functionality
With this feature, you can split the keyboard into sections to control different MIDI parameters. The LX88+ can send MIDI notes on a layer and split zone, providing a combination of three zones to send data on a different MIDI channel. This feature is convenient if you have a multitimbral sound module, numerous synthesizers, or work on a multitimbral software instrument on your DAW.
Pros:
The fader controls are a gem for when you play sounds that you prefer to do dynamics or expression controls, such as orchestral sounds, which prevents you from buying a separate fader control.
The keys have good touch sensitivity, especially for a combination of piano and synth play. And with the transport and control buttons, it is easy to produce with minimum mouse use.
Cons: 
Although the LED display shows you the edit settings and parameters, it is still only 3-character and 7-segment in its display function. Also, the fact that it is 88 keys means that you would probably want to buy it as someone who knows their way around a piano or keyboard, so more weighty keys might be more suitable.
And the black keys generally have a different velocity sensitivity than the white keys.
6. Icon iKeyboard 8X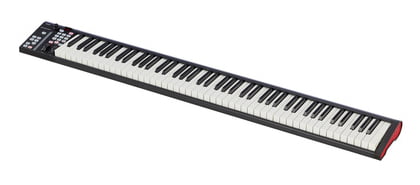 Icon Pro Audio makes a vast range of electronics, such as control surfaces to studio monitors, and this keyboard is one into which we'll be looking.
Icon has different models in their iKeyboard range. The largest of these is this 88-key 8X model, which has semi-weighted keys and an exceptional transport and mixer track section, the pitch bend and modulation wheels, a jogger/encoder, and an exciting touch strip that spans almost the entire width of the keyboard.
It is easy to fit on your workspace as it is not too wide and filled with too many buttons, pads, and/or functions.
Key Features & Specs:
Backlit LED Touch Fader
This feature is unique, as it is a touch fader that works in real-time with your DAW. The primary purpose of this is to synchronize automatically with the different channel values when you switch between channels. So, for instance, you are in the mixer on your DAW, and you would press the Channel buttons (to shift through individual tracks), or you would press the Bank buttons (to shift tracks in increments of eight), and the touch fader will give you the option to change volume values.
Encoder And LED Display
Being clickable and having endless rotation, this encoder is a real help when going through different parameters and selecting your desired options, such as adjusting a channel's pan, send level, or plug-in parameters. It has eleven segment LEDs surrounding it for you to see its rotating position and its current value. The display is a 3-segment LED screen that monitors parameters changed and current values.
Illuminated Channel Buttons
On the left of the touch fader, you will find the channel buttons, which make working in the DAW's mixer more seamless than having to use the mouse. It consists of the Master button (which lets you jump straight to the master channel), Channel left/right, Bank left/right, Mute, Solo, and Rec-enable buttons. Mixing your levels and having control of individual channels is now at your fingertips.
Octave, Transpose, And Transport
You can shift octaves up and down and transpose keys up and down (in one semi-tone increments) by pressing the Trans button and pressing octave up or down. Above you will see the transport section, which consists of Rewind, Fast Forward, Loop, Stop, Play, and Record controls. When you control these functions on the keyboard, the production process feels more tactile and smoother.
Sturdy Casing And Concise Rear Panel
It is light compared to other keyboards of the 88-key range, weighing 14.57 lbs/6.61 kg, yet it has a robust metal casing giving it extra protection. The rear panel consists of a 5-pin MIDI OUT, sustain, and expression pedal TRS connectors, USB port, 7v DC IN (for power supply, sold separately), and a power switch. There is also a Kensington lock on the side.
Pros:
You can use the encoder for panning and jogging the start point when the jog button is pressed. You can change velocity curves instantly on iMap software instead of navigating your way through the buttons to do this, which alleviates time and pressure.
The touch strip is unique and saves a lot of space for your keyboard. Also, the price is reasonable for what you get out of it.
Cons: 
Keys are somewhat between semi-weighted and synth-action, making them have a particular feel that you would need to adjust to. Also, all the controls are on the far left instead of being in the center of the keyboard.
You would need to spend some time playing around on the keyboard to get used to its layout and the feel of the keys, but it will boil down to preference once you do.
7. Doepfer PK88 GH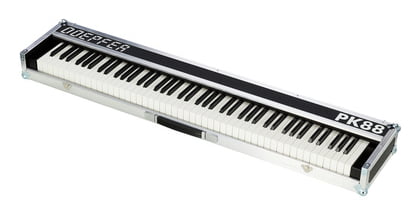 The previous version of the Doepfer PK88 had 2 MIDI outputs, and in 2009 they equipped this keyboard with a USB interface.
Unique in its simplicity and appearance, however, the PK88 is not limited in quality. It is primarily used with expanders and software synthesizers, specifically for sound generators with piano sounds. And this is due to its hammer-weighted keys. It also has a protective flight case as its enclosure.
Key Features & Specs:
Hammer Action Keys
The 88 keys have hammer mechanics from the first A-note to the last C-note. There are actual hammers in the mechanism raised when a key is struck and falls back down from the weight it consists of when the key is released. This improved touch and resistance of the keys make for a more realistic playing experience.
Flight Case Attached
The keyboard is built into a metal casing, a flight case, which will offer more than sufficient protection for the well-crafted keybed. The black flight case is removable and has a handle built in the front, making it easier to carry around for the pianist that is on the move.
Simplistic MIDI Feature
This keyboard's MIDI Note messages range from 21 to 108 (because of 88 keys) with a velocity consisting of 127 steps. It transmits MIDI note events with velocity on MIDI channel 1. When you connect a double footswitch, which is used to transmit Sustain and Soft Pedal (uses MIDI controller #64 and #67). The foot controller is used for Volume (MIDI controller #7). These foot controllers are sold separately.
Rear Panel Connections
Behind the casing, you will find some ports which consist of 9V DC XLR pin output (power supply sold separately) and a USB port to connect to your computer. A MIDI OUT (must be connected to the MIDI IN of a sound generation unit with a suitable MIDI cable), footswitch (Sustain and Soft Pedal), and foot controller connection inputs.
Pros:
The high-quality hammer action keyboard is probably one of the essential features of the PK88. The keys have freely swinging hammers and give you real piano-style action for the mobile pianist who needs a quality keyboard when moving around to gigs.
Cons: 
The MIDI functions are very limited to the absolute essentials; however, it was undoubtedly designed this way. Probably for the player to focus more on the deliberation of piano playing and not be swayed by other things. But for its high price, a few more additions wouldn't hurt.
8. M-Audio Keystation 88 MK3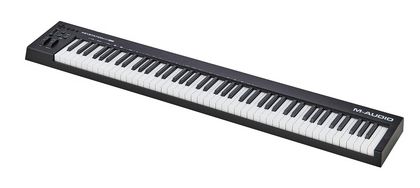 After building their legacy over the years, M-Audio's keyboards have helped numerous bedroom producers excel in their craft.
It has been designed for you to have quick and easy, seamless plug-and-play functionality with your audio recording software.
If you are beginning to play and would like to learn to play more oversized octave keyboards, or you are reasonably seasoned and need a controller to capture ideas, this will add value. Having its pitch and mod wheels and an additional volume fader, you can stretch out your creativity.
Key Features & Specs:
Lightweight with Semi-weighted Keys
The keyboard's 88 keys are full-sized and semi-weighted, meaning that a certain amount of weight is added to each key to give it the spring back after being hit, but not too much as it is still lightweight and able to be moved around easily should you need to. But for a keyboard of this size, chances are you wouldn't be moving around with it often. However, it is light enough not to be a burden on most desks.
Edit, Transport, and DAW Buttons
There are three plastic buttons above the pitch and mod wheels, octaves down and up, and the advanced button. The octave buttons serve to change octaves but can also be assigned to control MIDI functions. The advanced button takes you into edit mode. Above these are the directional (DAW) buttons and the Stop, Play, and Record transport buttons made of a rubber material.
Rear Side Connections
There are a few connectors you can use on the back to power the keyboard, such as the 9V DC IN (for optional power adapter) and USB port. There is a MIDI OUT (which allows you to connect to an external MIDI device), sustain pedal, and expression pedal inputs (for ¼" TRS pedals to insert). In addition, there is a Kensington lock and power On/Off switch.
Software Suite Bundle
What is significant is the software that you have access to upon purchase. These include Ableton Live Lite, MPC Beats software, MPC Beats Producer Kits expansion, F9 Instruments, Trap Soul & LoFi Beats pack, Soulful Drums Collection, and LoFi Producer Collection. In addition, you also get AIR Music's Mini Grand and Velvet, TubeSynth, Electric, and Bassline. And not only that, but you also get 60 free lessons with the Melodics app, and you can learn piano with Skoove.
Pros:
It is compatible to play with your iPad using the Apple Lightning to USB Camera Connection Kit, thus giving you more freedom in mobility. Good for you if you need to have many octave ranges. It is light in its weight also and very budget-friendly; probably one of the most affordable 88-keys around.
Cons: 
Keys are slightly noisy, and since they are light and semi-weighted, they're not suitable for you if you play piano frequently. It also lacks many features that would be better additions for more dynamic and creative beat-making, but you get for what you pay.
9. Kawai VPC1
Being acoustic piano makers, Kawai has brought somewhat of a game-changer into the digital space for pianists.
With the VPC1, you will get the natural feeling of being at a grand piano with its design, layout, and ultra-realistic touch.
With incredible key action for realism that you cannot find on other MIDI keyboards and straightforward connectivity, you get to take the acoustic piano experience into your DAW or other MIDI devices.
Key Features & Specs:
Wooden Hammer Action Keys
VPC1's 88 keys are all wooden with unique Ivory Touch key surfaces. The hammer quality is exceptional, using RM3 Grand II action with Let-Off and Triple Sensor. Let-Off is the simulation that recreates the subtle 'notch' felt when a grand piano's keys are pressed. Triple Sensor improves repetition speed and responsiveness. To get a visual and audio understanding, click here.
Rear Side Connections
Here you will find a 12V DC IN (with the included power adapter), 2 Pedal jack inputs for the soft pedal, and the other for the damper (Kawai has included their grand piano pedal controller). MIDI In and OUT connectors are used to connect the VPC1 to external MIDI devices to send and receive data. In addition, there is also a USB port to connect to your computer.
Touch Curve Presets
The color of the power button will show the status of the VPC1. For example, the LED button will be red for preset 1, orange for preset 2, etc. The preset modes are selected by holding the power button and pressing one of the highest black keys (C#7 – A#7) to select a mode. The touch curves are from a selection of virtual pianos provided as factory presets, such as Ivory, Pianoteq, Galaxy, and Alicia's Keys.
Package Contents
Upon purchasing the keyboard, you will barely lack anything being a piano enthusiast, as it includes a USB cable and the power adapter to play as a standalone with MIDI devices. The Kawai F-30 foot pedal (with three weighted pedals) and a music rack/rest for holding your sheet music. There is also a download link for the VPC Editor software.
Pros:
It has an elegant design and is a work of art in its presentation. The wooden keys are impressive because they give you that authentic piano feel instead of the more common plastic keys out there and the hammer mechanism. In addition, the keys are quiet when playing.
Cons: 
The three-foot pedal that comes with it has slippery metal pedals that your foot slides off easily when resting on it. If they put rubber on the ends, it could solve this. However, it is also really heavy, at around 65 lbs/29.5 kg, and it is more on the high end in the price for those who are just into MIDI keyboards.
10. Swissonic ControlKey 88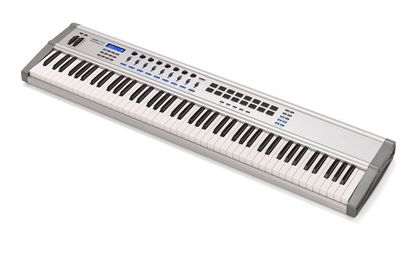 Swissonic, having been around since 1998, supplies various musical products from studio monitors to streaming equipment.
An 88-key semi-weighted MIDI keyboard with aftertouch also has features like pads, faders, encoders, and additional features. There is a lot you can do with this keyboard, and for its affordable price, you can invest in it as an addition to your studio if you're on a tight budget and need all the bells and whistles with an 88-key.
Key Features & Specs:
16 Trigger Pads
Pads are velocity-sensitive with aftertouch and have different functionalities, yet are initially assigned to drum/percussion sounds, and you can load your samples to them. Hit and hold down the pad for aftertouch intensity when it's activated. Also, with 'Bank,' you can switch between the two corresponding banks.
8 Rotary Encoders
Endless rotation encoders/knobs have a value range of 0-127 and increase in value when turned clockwise and decrease when turned anticlockwise. The encoders are MIDI-assignable, and each has an LED that is lit when the encoder is at 12 o'clock (center position) and rotates around when it's turned. And also, when they are turned, the corresponding values are shown on the keyboard's display.
9 Faders And Solo/Mute
Eight faders (S1-S8) correspond to eight Solo/Mute buttons underneath. The ninth fader is by default for the master channel and has Track left/right buttons above (to shift between active channels) and Bank left/right buttons below (shifts eight channels left or right). The fader values are also shown in the display (0-127), and there is an LED chain for the faders.
Display And Menu Section
The ControlKey shows the parameters set and adjusted here with a two-line backlit display. The Menu section includes the Scene button (which activates scene mode), Menu (for Edit mode), Page left/right (for all modes, to navigate between the parameters and functions available), Patch left/right (sends program change commands). In addition, the value left/right buttons (adjusts or selects options in Edit and Scene modes), Channel left/right, Exit, and Enter.
Transport And Function Buttons
Consisting of Back, Forward, Stop, Play, and Record, Swissonic has summed up the transport controls. On the right of the pads, you have access to the function buttons such as Bank left/right (switches between preset banks and trigger pads) and Vel Curve left/right (adjusts the touch sensitivity of all trigger pads). 8 Levels (toggles pad touch sensitivity through various fixed values), Full Level (maximum touch sensitivity value 127), Hold, Roll, A Touch, and Mode buttons.
Pros:
The casing is made of aluminum, giving you that peace of mind of its sturdiness, and it is not flimsy. The keys have an aftertouch as well.
It's great that there are added features like pads, faders, and knobs on here because for its more affordable price, one would not expect to have so many features for an 88-key MIDI keyboard.
Cons: 
The buttons are plastic and have a click sound whenever pressing them. The encoders also have a click when rotating them, with some resistance between each click (this is not so bad.
However, some would prefer the smooth turning knobs). There are also too many buttons dedicated to pad velocity sensitivity; they could have used some of the buttons to include other features.
11. M-Audio Hammer 88
With offices in the US, Canada, UK, Germany, France, and Japan, M-Audio has a worldwide intent for all their electronics and pro keyboards.
A USB-powered and class-compliant supreme keyboard gives you the enriching piano feel when you play it because of its weighted keys and robust and sleek design.
Ideal for anyone skilled in piano to someone who wants to learn to play a real acoustic piano. Get to play some expressive and dynamic pieces of music on the Hammer 88 and see what makes it so worthy.
Key Features & Specs:
Elegant And Professional Keyboard
The weighted hammer-mechanism keyboard is also velocity-sensitive and is the primary method of sending Note On/Off and velocity data when you perform on it. The keybed is well designed with the red lining at the back of the keys, and it can also be split or layered, giving you the option to control multiple sounds simultaneously.
Master Volume Fader
The function primarily sends standard messages to control the volume of the keyboard notes played. And can also be assigned to different effects such as pan, attack, reverb, chorus, release, etc., when you use the Hammer 88 Editor application, which you can download from their website. In addition, the fader is fully assignable to CC, aftertouch, and pitch bend messages, making it a handy little feature.
Superb Pitch & Mod Wheels And +/- Buttons
The pitch bend and modulation wheels' look, feel, and quality are pretty impressive, making articulating the pitch in performances give light to your expressive changes. Of course, you can change the modulation intensity of effects like vibrato or tremolo, but it is also possible to assign these wheels to an array of MIDI messages. +/-buttons, you can assign different functions like a program, CC, and MMC messages. By default, they control octave/transpose up and down functions.
Rear Panel And Music Sheet Stand
You have the expression pedal input, a ¼" FS2 input (this input accepts a soft pedal like the M-Audio SP-2, sold separately, which softens the notes), and there is also a sustain pedal input (accepts a momentary contact foot pedal to sustain notes). In addition, it has a MIDI OUT port, USB port, and a 9V DC IN for an optional power supply. Upon purchase, you also get a sleek and sturdy M-Audio music sheet stand.
Software Range Included
A wide range of software is included with this keyboard, such as Ableton Live Lite, MPC Beats, 80 Effect Plug-ins from AIR, Mini Grand, DB-33 Tonewheel Organ, Velvet, Eight-Eight Ensemble, AiR TubeSynth, AIR Electric, AIR Bassline, Hammer 88 Preset Editor, and also a three-month subscription with Skoove (interactive online piano lessons).
Pros:
It is built well with a top metal panel. It is compact for its size because there are no unnecessary things in the layout except the pitch and mod wheels, which have a rubber-like surface for good grip. You can also connect it to an iPad with separate Apple Lighting to USB Camera Kit. It is also an excellent price for a hammer-action keyboard.
Cons: 
It is slightly sluggish when playing bass and repeated notes like drums or trumpets in fast succession, and that is due to the weighted hammer action (because it is designed more for the pianist). But overall not much to say negative about this keyboard.
12. Nektar Impact GXP88
It is always good when a music electronics company offers a series in a particular collection, and in this case, we have the largest of Nektar's GXP series.
Nektar has made its Impact GXP series with 49, 61, and 88 keys. The keys are semi-weighted, meaning that you can have reasonable response control on various plug-in instruments like drums, synths, or bass.
Having your standard pitch and mod wheels, you can also use the transport and key repeat functions to maximize your performance.
Key Features & Specs:
7 Transport Buttons
The keyboard has a transport section with seven DAW integration or MIDI-assignable buttons. These are Click, Rewind, Fast-forward, Loop, Stop, Play, and Record, which enhance your workflow allowing you to use your mouse less. In addition, using the Shift button, they now have secondary functions such as Track left/right, Patch left/right, Undo, etc.
14 RGB LED Buttons
For MIDI control, note repeat, and Nektarine software features, these LED buttons include repeat functions (rate from ¼ – 1/64), sync, tempo, accent velocity, accent interval, and swing (moves every second note closer to the following note, resulting in a shuffle rhythm). They can also be assigned to send MIDI messages. In Nektarine mode, all buttons are dedicated to Nektarine controls.

Potentiometer And Push Encoder


The MIDI-assignable potentiometer on the left of the keyboard has absolute values from the first point to the last (i.e., it is not endless rotation) and is by default assigned for volume control. In addition, it can be assigned MIDI CC messages, and you have the setup button right beside it. Finally, the push encoder, located more toward the center of the keyboard, is used for note repeat tempo control and Nektarine features.

Semi-Weighted Velocity-Sensitive Keys


A feature that allows this keyboard to be lighter in weight is that the 88 full-sized keys are half-weighted. As a result, it is relatively easy to move compared to other keyboards of the same size. Also to mention, the keys are velocity-sensitive and have aftertouch functionality, which allows for additional articulation control and creates some interesting effects on the tonal quality.
Rear Panel Layout
As with most of the other keyboards in this category, the Impact GXP has an expression pedal input, a footswitch pedal input (1/4" TRS jack for sustain), MIDI Output jack. USB connector, 9V DC IN for external power supply (sold separately), ON/Off switch, and lastly, you also have a Kensington lock.
Software Included
You will receive licenses for Steinberg's Cubase LE music production software (which comes with Halion Sonic SE and includes 180 instrument presets), Retrologue 2 VST synthesizer, and the Nektarine plug-in allows for you to get sharp integration with the hardware and the DAW. Nektarine is a plug-in host that serves as library control software and can work standalone on OSX and Windows.
Pros:
An iPad is compatible with a separate Apple Lightning to USB Camera Connection Kit. It has excellent semi-weight action on the keys, and glissando is seamless. It is compact, not too wide for an 88-key. The key repeat function is effortless to use. Simply pressing a button to activate it and select your speeds can quickly enhance your production.
Cons: 
Although the repeat buttons are suitable in their simplicity, they could have used the space for some other exciting features to add on to, such as some encoders, for example, to give the beatmaker more to work with. Nevertheless, it is not too bad, and you'll gain more than anything from its price.
Conclusion
There is a particular niche of producers, composers, and beatmakers who would prefer to use 88-key controller keyboards, and for this, you would have your reasons for needing the extra octaves. It all comes down to what you want to achieve from your music.
Whether you are a skilled pianist, semi-pro, or are still in the early learning stage and would like to get used to learning to play on a vast keyboard to enhance your skills, then you should find something suitable for your needs with some of these recommendations.
If you are a pianist or skilled keyboardist and have the budget to spend, we would recommend one of the hammer action keyboards to get that actual piano performance and feel without spending the extra money that it would cost to purchase a piano.
And on the other side of the spectrum, you could be a composer or producer more into creating multi-instrumental style music. Then it would be better for your needs to get a semi-weighted keyboard with all the added features to bring out the best in your abilities and overall enjoy the production process.
Other MIDI Topics:
11 Best Ableton-Friendly MIDI Controllers 
Top 11 MIDI Keyboards/Controllers For FL Studio 
Best MIDI Keyboard/Controller For NI Kontakt 
12 Best Websites For Samples, Presets, Loops & MIDI 
4 Best MIDI Controllers With Weighted Keys 
Best Mini/Small MIDI Keyboards: 12 Picks To Save Space 
Top 12 MIDI Controllers With Semi-Weighted Keys (All Sizes)
How To Connect MIDI keyboard To Ableton Live – Step By Step
Best 73-Key MIDI Keyboards Available  For Full Control
5 Best 37-Key MIDI Keyboard Controllers  (On Any Budget)
9 Best Cheap 49-Key MIDI Keyboards  (Under 200$)
The 6 Best 61-Key MIDI Keyboards (On Any Budget)
Top 5 Best 25 Key MIDI Keyboards (On Any Budget)
Should I Buy A MIDI Keyboard Or Synth? (Are Synths Worth It Anymore?)
Should I Buy MIDI Controller Or Keyboard? Cons, Pros & Tips
11 Tips How To Choose MIDI Keyboard 
Chris Maiken is a producer, DJ, and sound engineer based in South Africa. He has experience in producing various electronic genres and specializes in house music.