Today's post is dedicated to the health of your acoustic instruments and talks about the "Top 11 Guitar Humidifiers on Any Budget 2023." So now you may think, what's the worst that could happen to an acoustic guitar due to lack of humidity? Simply put, too much or too little humidity can be fatal. 
That said, here is our list of some the best humidifiers for guitar you should consider:
1. D'Addario GH Humidifying System
5. Oasis HH Combo OH-30 Humidifier / Hygrometer
6. Herco Guardfather Humidifier HE360
9. Kyser Lifeguard Acoustic Guitar Humidifier
Since any acoustic guitar is predominantly made of wood, efforts must be taken to maintain a certain environment around your instrument to prolong its life. For example, if the guitar isn't properly humidified, the wood used in its construction will shrink. If left unchecked, this could lead to cracking, which can be irreparable damage to such an instrument.
But not to worry, we'll be discussing a list of humidifying options from leading brands like D'Addario, Taylor, Martin, Grover, Gerco, Oasis, Guitto, MusicNomad, and Kyser. You can use these as stand-alone options or pair them with hygrometers to assess the conditions and take the necessary precautions accordingly.
You'll also be happy to know that we have a few hybrid options on the list, which take care of the lack of humidity and let you monitor and set a suitable replenishing schedule.
Top 11 Guitar Humidifiers on Any Budget 2023 (Best Rated)
1. D'Addario GH Humidifying System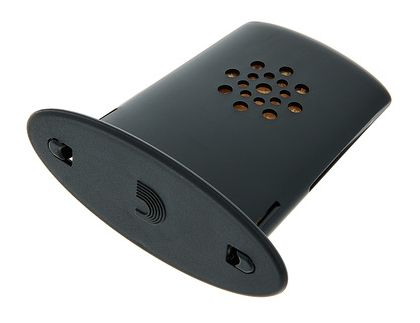 When it comes to guitar accessories, D'Addario has been delivering state-of-the-art products since the early 70s
The brand specializes in accessories that every guitar player can make use of, including straps, quarter-inch cables, kapos, tuners, humidifiers, and care and maintenance products like polishes, microfiber cloths, string-changing tools, and guitar supports.
The GH series of humidifiers from D'Addario offers a regular guitar humidifier and a pro version. Both models are somewhat similar in design, although the pro version uses slightly better materials. However, the sponges of both variants set them apart from each other.
Key Features:
Design
The humidifier has a T-shaped plastic exterior made of two parts. The body has a flat and elongated hollow chamber which is capped off by a flat lid that extends beyond the edge of the casing on both sides. The lid clips onto the body of the sponge casing and can be detached by squeezing the plastic mechanism on the top. The D'Addario GH Humidifier makes use of an open cell sponge which is placed inside the chamber.

The chamber has a perforated design to release moisture within and around the instrument.

Usage
The product has a simple mechanism. All you need to do is wet the sponge adequately

under some tap water and squeeze it, to

remove access water

from it, so it doesn't drip onto your instrument. All you'll need to do next is to

place the humidifier between the D and G strings so that it hangs within the sound hole.
Pros:
The D'Addario GH Humidifying system is easy to use and takes two simple steps to set up. The sponge works well in keeping the tonewood of your guitar moist, preventing any de-shaping and cracking as the humidity keeps the surface of the wood nice and healthy.
Cons: 
Although the humidifier does a decent job of doing what it's supposed to, you'll need to keep checking it depending on your guitar's condition and the environment in which the guitar is kept. However, the D'Addario GH Humidifier pro would be a better alternative if it has an upgraded sponge that holds ten times the water and thus takes longer to dry out.
2. D'Addario PW-HPK-01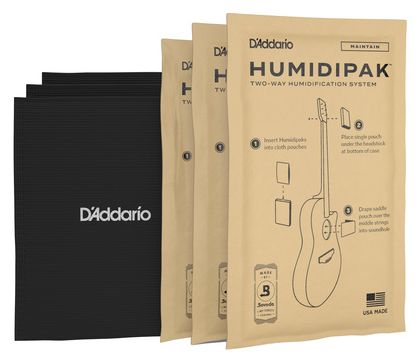 D'Addario has a unique approach when it comes to humidifiers.  
The company offers a variety of different humidifying systems, each of which is designed differently and has different applications and advantages. Coming at very affordable prices, these humidifiers are simple to use and capable of extending the life of your instrument.
The "Humidipak" technology from D'Addario is special. The usage is slightly easier and much different from some of the sponge humidifiers you may be familiar with. In addition, D'Addario claims that the Humidipak system is able to keep the instrument between 45% & 55% relative humidity.
Key Features:
What's in the box
The D'Addario Humidipak comes with a dual, saddle-style sound hole pouch and a single pouch for the headstock. Also included in the box are three humidity packs. The usage is quite simple. The saddle pouch is loaded with two humidity packs (one in each pocket) and draped over the D and G strings. The third humidity pack is inserted inside the single pouch and placed below the headstock in your guitar case.
What it does
Too much or a lack of humidity can be dangerous for acoustic instruments. The Humidity packs by D'Addario are designed to intelligently provide humidity and moisture to instruments with depleted humidity levels and remove excess moisture if your guitar is already in a humid environment. This way, your acoustic guitars will remain adequately humid around the ideal 45% relative humidity mark. Furthermore, you don't need to fill the humidipaks with water which can be messy and put the instrument at risk of getting dripped on if not done correctly.
Pros:
D'Addario's Humidipak is much more reliable than sponge humidifiers because it has a two-way system. As a result, it controls elevated humidity levels and enhances the humidity of the instrument's wood where required, maintaining a 45% relative humidity level. Also, the Humidipak has a longer life and doesn't need to be refilled frequently.
Cons: 
The humidifying system although easy on the pocket, is much more expensive than standard sponge humidifiers. In addition, while more long-lasting, the Humidipaks become a lingering expense as you have to replace them with new ones after 4 to 6 months. A sponge humidifier is much easier in this regard as it can be refilled with water easily with no added expense.
3. Taylor Guitar Humidifier
URL=https://www.thomann.de/gb/taylor_guitar_humidifier.htm]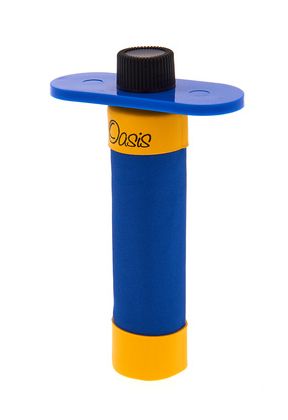 [/URL]
Taylor specializes in acoustic instruments, which surely makes them an authority when it comes to humidifiers.
Taylor's humidifier has a very innovative internal mechanism for ensuring that your instrument gets the humidity it needs to serve you for years to come. Labeled "Oasis," the product has a sleek design and works with almost any acoustic guitar.
The Oasis isn't your ordinary run-of-the-mill humidifier, as it employs smart technology that reduces maintenance compared to regular sponge humidifiers and lets the user know when the internal chamber of the humidifier needs to be refilled.
Key Features:
Appearance & Design
The humidifier by Taylor looks like a syringe at first glance. Ironically it also comes with a syringe which will be discussed in the usage section. The Oasis humidifier consists of a long tub-like container with a screw-on cap on it. It also comes with a stabilizing bar that is placed by unscrewing the top of the tube container, placing the bar on top, and then screwing the cap over it. The container holds humigel crystals inside it, which absorb water.
Usage
The device needs some preparation before it can be attached to the instrument. Firstly, you'll need to fill the tub container with water. This can be done easily with the help of the needleless syringe that comes in the package. However, when filling the Oasis for the first time, you'll need to put three syringes full of water in it. This may seem impossible as the container itself is almost the size of a single syringe. However, here is where the humigel crystals come in. Each crystal is about the size of a grain of sand but is capable of holding 500 times its weight in water. Once loaded with water, the crystals will form a gel and gently release moisture while preventing the water from dripping. To attach it to the guitar, you can simply let it slide between the middle strings, where the stabilizing bar will keep it in place and prevent it from falling through and touching the guitar's surface.
Maintenance
Furthermore, the Oasis humidifier system has a unique way of letting the user know when it needs maintenance. The Oasis's container will shrivel up to indicate that its internal water supply needs to be replenished. So after, every 10 days, the humidifier will need one syringe full of water to keep it going.
Pros:
The humidifier's design is nice and compact and easily slides through without putting too much tension on the strings. The humigel crystals will keep the water safely in to protect your guitar from any unintentional dripping. Finally, the Oasis humidifier system eliminates guesswork by collapsing its form to indicate that more water needs to be added.
Cons: 
The product from Taylor does a decent job but does require that you ensure the water supply is kept under check. Since it has a collapsible mechanism to indicate water shortage, if due attention is not given, the membrane inside can collapse and cause damage to the humidifier and attached to the instrument.
4. Grover Humidifier 7960
Check on Amazon (2 pack bundle)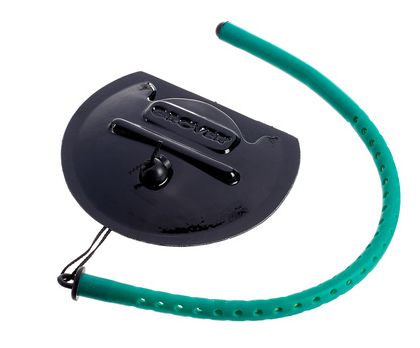 The Grover Humidifier 7960 looks very different from the humidifiers we've seen.
But as long as it does the job, who are we to complain, right? The product comes under a couple of different names, including Grover Humidifier 7960 and Dampit Guitar Humidifier, both of which are more or less the same thing and function in the same way.
You can also find the Grover Humidifier 7960 in a value-added 2-pack bundle which is great if you have a couple of guitars that you want to humidify simultaneously. Unfortunately, although it does what it's supposed to, some aspects of the design are a bit awkward.
Key Features:
Appearance
The design has two components. First, the package includes a sound hole cover and an elongated tube. The tube can be attached to the cover with the help of a string. In addition, the tube is surrounded by small holes and houses a long sponge inside it. The package also includes a card that indicates the level of humidity.
Usage
The usage is very simple. First, the tube needs to be detached from the sound hole cover. Second, it needs to be dipped into a container with water and gently squeezed to let air bubbles escape so that water can enter the sponge. Next, the tube needs to be squeezed to let the excess water drip out and then dried with a piece of cloth so that it is nice and dry when inserted through the sound hole. Finally, the tube is attached to the cover and gently descended inside the sound chamber, resting on the guitar's base while the cover sits on top of the sound hole.
Pros:
The humidifying device is easy to set up and easy to use. It also comes with a humidity indicator to give the user an idea of when to replenish the internal sponge. In addition, the cover does a good job of keeping the rubber tube within reach. Otherwise, it would go deeper into the sound hole and be difficult to retrieve.
Cons: 
The humidity indicator card isn't very accurate, and there's no way to gauge when the apparatus requires refilling. Also, the humidifier's sponge tube rests at the bottom of the sound chamber and comes in direct contact with the wood, which would make many guitarists uncomfortable. The Humidifier 7960 is a bit messy and impractical in its use.
5. Oasis HH Combo OH-30 Humidifier / Hygrometer
Here's the second Oasis humidifier on today's list, the first being the basic "humigel" model.
The Oasis HH Combo OH-30 is a more traditional-looking sponge humidifier but packs a few advanced features, making it worth the extra money. Not only that, but the external form of the product is also made of hard plastic, which makes it last longer.
In addition, there are a few other hidden goodies the Oasis HH Combo OH-30 ensures. For instance, the high-quality sponge inside the casing is a water hoarder and may last up to as many as 20 days before it needs to be filled with water again.
Key Features:
Design
The Oasis HH Combo OH-30 Humidifier has a solid construction and is made of hard plastic. The flat elongate body has a star-shaped pattern on both sides with four open slits to let the moisture out from within. The Humidifier holds a super absorbent, drip-resistant polyvinyl acetate sponge, capable of holding 10 to 12 times its dry weight in water or 40 ccs.
Hygrometer
The OH-30 has a multipurpose lid unlike any of the humidifiers we've talked about thus far. Gone are the days when you would need a separate device to show you the humidity level in and around your guitar, as the lid has a built-in hygrometer. The lid takes a CR2032 battery and shows the percentage humidity on its digital display and the ongoing temperature. You'll also find controls to switch the display on/off and change the temperature units.
Usage
The product's usage is much similar to any other sponge humidifier. However, since this humidifier holds a high-end sponge, it needs extra care when soaking. It may take up to 10 minutes for the polyvinyl acetate sponge to absorb water up to its full potential. First, you'll need to check the surface of the sponge evenly to ensure that there are no hard spots, in which case it'll be ready to be inserted into the sponge case after a gentle squeeze to avoid dripping. Once the sponge is loaded into the casing, the plastic clips on the sides of the case can be squeezed inwards to let the lid snap in place. To remove the lid, the same step needs to be followed.
Pros:
The humidifier from Oasis uses a high-quality drip-resistant polyvinyl acetate sponge that is highly absorbent, so the inner surface of your guitar remains dry and undamaged. In addition, the humidifier has a built-in thermometer and hygrometer, so you can decide in an instant if the sponge needs to be replenished, helping you stay on top of things.
Cons: 
The quality of the Oasis product isn't the best. For example, the battery compartment may loosen over time. Also, the contact points for the batteries tend to get affected over the years, which means you may have to adjust them now and then for the thermometer and hygrometer to work seamlessly. Finally, if you're not careful, you can end up splashing the digital lid with water which may wreck it.
6. Herco Guardfather Humidifier HE360
Herco has labeled their Guardfather humidifier the "complete care system."
This tiny tub-like product from Herco works quite differently, as you cannot categorize it as a sponge humidifier. However, it must do its job well, as the company claims it's ideal for humidifying guitars and other wooden instruments like violins, cellos, and clarinets.
The HE360 has its positives and negatives and has received mixed reactions from users worldwide. Having said that, it's priced below 5 dollars, so there's no harm in getting a couple and testing them out with different instruments to see if it works for you. So what's there to lose?
Key Features:
Appearance
This Herco product comes in unconventional packaging as humidifiers go, and you might mistake it for a skin care product. Nonetheless, it performs well and has multiple applications. Encased inside the small container is not a sponge but a form of clay that holds moisture and releases it like a sponge. The lid snaps shut but has a few holes on top for moisture release.
Usage
To use the Herco complete care system, you'll need to pop it in a container for 5 minutes to let it soak up all the water it can. Once done, you'll need to close the lid and let all the unwanted water out through the holes on the top. The last step is to wipe it clean and throw it in your guitar case.
Pros:
Because the Guardfather has clay inside instead of a sponge, it holds water for a longer period and keeps releasing it slowly for the best results. For this reason, the HE360 is such a low-maintenance product that you only need to replenish it with water a couple of times during a month, which reduces the hassle if you have multiple instruments.
Cons: 
The process of preparing the clay is a bit messy. Unlike a sponge, you cannot wring it to let the excess water out, so you'll need to carefully dry out the product before putting it near an acoustic instrument to avoid any potential problems. Also, there isn't much of a clear indication of when more water should be added to the humidifier.
7. Martin Guitar Humidifier
The Martin Guitar Humidifier is similar in design to the Dampit/Grover humidifier discussed earlier.
An important thing to take note of is the fact that this Guitar Humidifier is made by RDM and doesn't have a mention of the "Martin" name on its packaging, although it does show a Martin acoustic guitar on it may confuse people into believing that the device is from the acoustic guitar manufacturer which is untrue.
Having said that, if you're looking for an affordable solution that humidifies your beloved acoustic guitar and gives it a longer life, the SDM humidifier could be the way to go. The product is as simple as it looks and does the job well.
Key Features:
Design
The elongated tube design is made of non-allergic and non-vinyl material. It measures 13 ¼ inches in length and has a half an inch diameter. You'll see two rows of holes on both sides of the tube. The tube is sturdy and doesn't bend easily when suspended. A sponge inside covers the whole length of the tube with no spaces or gaps on either side. The tube is sealed off from one side with a rounded piece of plastic. The other side has a slightly flattened piece of plastic with a groove for attaching it to the instrument.
Usage
The SDM humidifier's usage is similar to the Grover product. First, you'll be dipping the tube in water so let the internal sponge soak it in. Next, you'll lightly squeeze the extra water out, so it doesn't dip onto your instrument. Finally, you'll need to dry the humidifier and insert it into the sound hole of your instrument, keeping it in place by pushing the cap down till the middle two strings get stuck in the groove.
Pros:
The product is extremely easy to use. In just a few steps, your guitar receives the humidity it needs to prevent the wood from getting damaged. If you've got multiple instruments, something as cheap as the SDM humidifier is a perfect choice, as it does what it's supposed to and doesn't cost anything to replenish.
Cons: 
The lengthy form will be in contact with the instrument's wood, which is not ideal, especially if the guitar is encased on a flat surface. Also, if you haven't gotten rid of the excess liquid, the water will form a puddle on the base of the guitar. Finally, there's no obvious way to tell when the sponge needs to be soaked with water again.
8. Daddario GHP Humidifier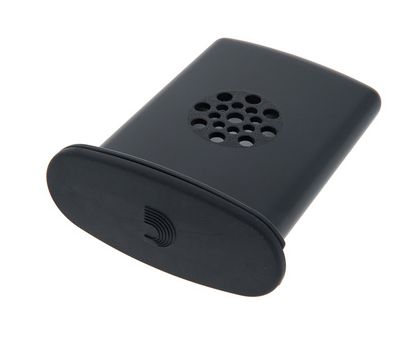 Here's another model from the GH series of humidifiers offered by D'Addario.
The series includes a standard and a "GHP" or "Pro" model, which offer the user control over the humidity of your acoustic instruments. The D'Addario GHP is a higher-end model with a few extra features compared to the standard version.
By and large, both are sponge-based humidifiers, so they work exactly the same way. An added advantage of the compact design is that both humidifiers are suspended mid-air within the sound hole and don't come in contact with the instrument.  
Key Features:
Design
The humidifier is made of sturdy, thick plastic. The sponge case has a perforated pattern on both sides for slow moisture release into the guitar's internal chamber. The Pro version also comes with a snug pressure-fit lid wider than the case, so the humidifier stays in place and doesn't fall through when used. However, the humidifier system's most important feature is the sponge hidden inside. Made of upgraded materials compared to the standard version, the Pro model comes with a sponge that can soak in ten times more water.
Usage
The process of using the GHP humidifier is a simple one. First, you'll need to take the snug-fit lid off to access the sponge inside. Next, the sponge must be soaked in water for a few minutes to avoid any dry patches. Then, once inspected properly, you'll need to drain the extra water to ensure that the sponge is dry enough not to drip but still adequately wet for the instrument to get proper humidification. Finally, you'll need to insert the sponge back into the case and pop the lid on. The humidifier will then be dropped over the D and G strings, where it stays suspended and does its job.
Pros:
The GH Pro humidifier uses a sponge that holds ten times more water than a regular sponge, so you won't have to replenish the moisture as frequently as you may have with the lower-end model. The sponge also seals the water inside, not allowing it to drip on the instrument. The overall design doesn't touch the instrument, so you'll be at ease when using the GHP humidifier.
Cons: 
You'll be paying almost double for the GHP version compared to the standard humidifier. Some users may not think that the better-quality sponge is incentive enough to pay the extra money for the "Pro" version. Although the GHP doesn't break the bank by any stretch of the imagination, if you have multiple instruments to cover, it'll all add up.
9. Kyser Lifeguard Acoustic Guitar Humidifier
Kyser Lifeguard Acoustic Guitar Humidifier has a unique design compared to the rest.   
Thus far, we've seen some humidifiers that go between the strings and are suspended in mid-air inside the sound hole as they gently release moisture into the instrument. Other products have an elongated tube-like design and rest inside the guitar's body with one end attached to the strings.
Kyser has a much different approach than both of these designs. The aptly named Lifeguard humidifier extends the instrument's life by covering the sound hold completely and locking moisture inside. Also, due to its compressed design, it can be used in different situations.
Key Features:
Design
Designed like a flat disk, Kyser's humidifier is made of two components. A rubberized exterior and a sponge inside. The sponge casing is soft and bendable so that the sponge can be properly squeezed to drain the water out. The easy-to-bend design also comes in handy when the Lifeguard humidifier is placed on the guitar to humidify it. In addition, the top of the product has 6 holes for soaking the sponge and letting excess water out.
Usage
First, you'll need to insert it into a bowl of water with the sponge side down for a few minutes so that the sponge is filled to its maximum capacity. Then you'll need to bend the exterior enough so that the sponge is damp but not dripping wet. Finally, you'll need a towel to remove all the moisture on the surface carefully so there's no chance of any leakage inside the instrument. For the insertion, the humidifier needs to be slid below the strings onto the sound hole. The edges of the sound hole should be fixed between the grooves of the humidifier for an almost airtight seal. The Keyser Lifeguard humidifier is ideal for sound holes between 3 3/4 and 4 1/8 inches.  
Pros:
The uniquely designed Kyser Lifeguard humidifier is easy to use in any situation as it attaches to the sound hole and stays in place regardless of if the guitar is in the case or hanging on a wall hanger. Also, since the humidifier forms a tight seal, it locks the moisture inside the sound chamber, letting the wood reap its benefits.
Cons: 
Because of the way the humidifier is inserted into the sound hole, the Kyser Lifeguard may cause significant damage to the guitar with time. Also, since the humidifier is placed in the guitar's sound hole upside down, you have no idea if it has dripped onto the bottom of the instrument during installation. In addition, its impractical design makes it difficult to monitor the inside with a hygrometer.
10. Guitto GHD-01
The multipurpose Guitto GHD-01 humidifier has a lot of good things going for it. 
This particular product gives you the best of both worlds. It is a good source of humidity for your acoustic guitars, but you don't need to invest in a hygrometer as the GHD-01 has one built in. Also included in the package is an easy-to-use apparatus that helps fill the sponge with water.
The GHD series from Guitto also has an alternate model, which has the same combination of a humidifier and hygrometer but attaches to the instrument a bit differently. It has two extensions on either side, connecting to the sound hole's edges while the sponge is suspended through the strings into the sound chamber.
Key Features:
Design
The most distinct feature of this humidifier from Guitto is its aesthetically pleasing gold analog hygrometer. Made of good quality plastic, the GHD-01 has a number of strips on both sides to ensure that it lets enough moisture out to sufficiently humidify any instrument it is used with. The case doesn't open and holds a high-quality sponge inside.
Hygrometer
The hygrometer has a sharp needle that moves between 0% to 100% to indicate what action needs to be taken and when. If the needle points towards anything below 40%, you'll need to add water to the sponge. Anything above the 70% mark means that the instrument is too humid. The ideal range is between 40% to 70% and is marked "Normal" on the scale.
Usage
The GHD-01 has two openings flanking the analog hygrometer from which water can be squirted to dampen the sponge. Accompanying the humidifier is a small plastic squirt tube used for this purpose. However, you must ensure that you don't put too much water in, as you cannot open the case and wring out the sponge. Once the sponge is dampened, the Guitto GHD-01 has a clamp that gently slides over the edge of the sound hole on either side of the strings.
Pros:
This particular offering from Guitto will save you the trouble and hassle of buying a separate hygrometer, as it already has one integrated with it. Furthermore, because of its design, the humidifier puts no stress on the guitar strings and gently slides onto the edge of the sound hole without putting too much stress on the guitar's body. Finally, considering what it offers, the GHD-01 is very economically priced.
Cons: 
The product has some design flaws. Firstly, the sponge case cannot be opened, so if you add extra water to the humidifier by mistake, you'll either have to wait for it to dry out or poke it through the openings to let the additional water out. In addition, it would have been helpful if the squirt bottle had some sort of indication to help add just the right amount of water in the first place.
11. MusicNomad MN300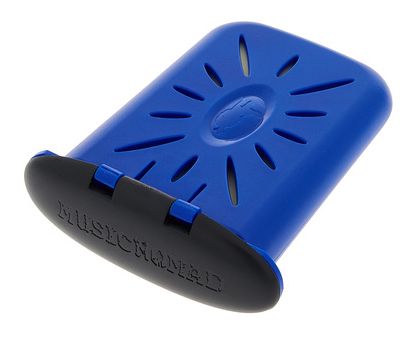 The MusicNomad MN300 is a no-fuss, no-mess product for your humidifying needs.
Being a sponge humidifier, the general design of all such products is very similar, and so are the usage instructions. However, the MN300 humidifier is not to be taken lightly, as it does a good job of providing enough moisture to keep the insides and surroundings of your instrument healthy.
The humidifier will give the best results when attached to an instrument enclosed in a hard case. That way, the inside moisture can be maintained more efficiently. But then, you must conduct a routine check to ensure that the sponge is damp enough to do its job.
Key Features:
Appearance & Design
The MN300 comes in a blue plastic case with a hinged lid that closes with a click. Both sides of the sponge case have openings to let the moisture out. The good thing about the sponge used by MusicNomad is that it has a smooth design without large/open pores, preventing water from dripping. Also, when the sponge is dry, it weighs a mere 4 grams but once filled, it can weigh more than 40 grams which is astonishingly ten times the dry weight. So, it has more storage capacity compared to regular kitchen sponges.
Usage
The inside of the lid has written instructions on how to get the sponge wet enough for the instrument you'll be using it with. The proper way to use the sponge is to keep it soaked in water for about 5 minutes. First, you'll need to inspect it to see if all the sponge parts are evenly soft, indicating that it is full of water and ready to go. Then, after a gentle squeeze, you'll need to insert the sponge back, close the lid and slide it through the strings to let it dangle through the sound hole.
Pros:
Sponge filters are one of the easiest humidifiers to use, and the MN300 is no different. The high-end sponge can hold ten times its weight in water and ensures that it doesn't drip on the insides of your instrument. For this reason, the MN300 requires maintenance less often compared to a regular sponge.
Cons: 
Generally, such humidifiers come with a thick exterior to accommodate the sponge that can soak enough water to provide humidity to your instrument. For this reason, the MN300 creates unwanted tension when slid through the strings. Also, if distilled water is not readily available, be prepared to tackle mold issues after a while. 
Verdict
While each humidifying solution has its positives and negatives, at the end of the day, it all comes down to what the user prefers. Variables like the level of humidity in the environment, the condition of your instrument, level of maintenance, ease of usage, and cost all play vital roles in narrowing down the best option for you.
I would personally go for something that needs less upkeep and is a complete solution for controlling and monitoring humidity. The Guitto GHD-01 and Oasis OH-30 are excellent choices as they have built-in hygrometers to give a reading of the level of humidity they are producing. And, of course, if you're looking for a product that has dual capabilities and regulates the humidity regardless of the surrounding climate, then the D'Addario PW-HPK is the only product that fits the bill.
Readings that you may like: 
Other Recommended Gear:
Top 12 NearField Studio Monitors On Any Budget
Top 10 Midfield Studio Monitors For Home Recording
Best Biggest Studio Monitors (FarField Monitors)
Top 10 Guitar Pickups for Low Tunings 
Top 10 Analog Compressors For Mixing & Mastering (On Any Budget)
Top 12 USB Audio Interfaces Under 150$, 200$, 300$ 400$ (Any Budget)
Top 12 Hardware Equalizers (Analog EQs For Mixing & Mastering)
Top 6 Analog Hardware Limiters 
Top 6 Solid State Bass Amps (On Any Budget)
Top 6 Ribbon Mics On Any Budget (For Vocals, Drums & Guitars)
Top 6 Cheap Dynamic Mics For Vocals Under 50$, 100$, 200$ & 300$
Top 6 Chorus Guitar Pedals (On Any Budget)
6 Best 61-Key MIDI Keyboards (On Any Budget)
9 Best 49-Key MIDI Keyboards Under 100$ & 200$
Top 5 Best 25 Key MIDI Keyboards (On Any Budget)
Top 12 Acoustic Drums (Best Kits/Sets On Any Budget)
Guitar/Amp Focused:
Can I Put Nylon Strings on a Steel-string Guitar?
Do Electric Guitars Sound Good Unplugged?
Buying Your First Guitar: 2 Things To Know
Are Tube Amps Worth It? (Tube vs Solid-State Amps)
How Often Does A Guitar Need a Setup?
Can I Play Classical Guitar On A Steel-String Guitar?
How often guitar necks need reset?
Can You Play Two Guitars Through One Amp?
Can a 6 String Bass Be Tuned Like A Guitar?
Can I leave My Guitar Tuned Down a Step? Yes, But Is It Safe?
Should I Learn 4, 5 Or 6 String Bass Guitar & Why?
How To Know If your Guitar Amp Is Broken?
How To Fix Distorted Bass Guitar Sound?
Do Fender Guitars Appreciate In Value?
Should You Put Stickers On A Bass Guitar?
How Acoustic And Electric Guitars Are Made?
Is Electric Guitar Too Loud for an Apartment?
Does a Preamp Improve Sound Quality?
If I Learn Acoustic Guitar Can I Play Electric Guitar?
How Many Hours A Day Should You Practice Bass Guitar?
Do I need an AMP/DAC To Run Bookshelf Speakers?
How to Record Electric Guitar Into Logic Pro X?
Do headphones get worse with age?
Plugin Roundups:
Genre Focused:
Top 10 EDM Plugins  (And 10 Best FREE Plugins For EDM)
Top 10 Plugins For TRAP Beats (And 5 Best FREE Trap Plugins)
20 Best Plugins For Rock Musicians (+ 6 FREE Plugins)
Top 14 Trance Plugins (Uplifting, Tech, Progressive, Vocal, Dream, Hard)
Top 10 GOA & PsyTrance Plugins (Best Psychedelic Trance Tools)
Top 7 Plugins For Dubstep (With 10 Best FREE Effects & Synths)
Top 20 Synthwave Plugins (+ 11 Best FREE Plugins)
Top 15 Plugins For Techno, House, Electro, Tech House, UK Garage
Top 6 Plugins For Latin Music  (And 4 FREE Tools)
Top 12 Plugins For Hip-Hop (+ Best Kontakt Libraries)
Top 7 Plugins For Game & Film Scoring  (+ 6 Best Kontakt Libraries)
Top 10 R&B And Pop Music Plugins & KONTAKT Libraries 
30 Best Free Plugins For DnB, EDM, IDM & Experimental Music 
EQ Plugins
Top 12 Free EQ Plugins For Precise Mixing & Mastering
Top 9 Mid/Side EQ Plugins  For Mixing & Mastering (+ 2 Free Tools)
Top 7 Graphic EQ Plugins  (With 3 Best Free EQs)
Top 7 EQ Plugins For Mastering In | And Best FREE Mastering EQs
Top 6 Passive EQ Plugins (Klevgrand, SPL, UAD, Waves, IK Multimedia)
Top 11 Plugins For Making Metal (Best Guitars, Drums & Effects)
Metering:
Top 5 Audio Metering Plugins (LUFS, RMS, LRA, True Peak)
Top 6 Spectrum Analyzer Plugins  – Spectral Analysis Tools
Top 6 Oscilloscope Plugins To See The Waveforms
Top 5 Key Detection Plugins & Software  (+ Best FREE App)
Kontakt Libraries
20 Best Kontakt Libraries For All Categories (Synths, Drums, Vocals)
Top 7 Drum Libraries For KONTAKT (And 4 Freebies)
Top 7 Trap Music Kontakt Libraries (And Best Lo-Fi Kontakt Library)
Top 7 Metal & Rock Kontakt Libraries (Best Guitars & Drums)
Top 10 Guitar Libraries For Kontakt (Acoustic, Electric, Bass & Freebies)
Top 7 Trailer Scoring Plugins & Kontakt Libraries 
20 Best Free KONTAKT Libraries For Various Instruments
Top 9 Piano Kontakt Sample Libraries  (And 5 Best Free Pianos)
Top 10 Percussion KONTAKT Libraries  (And 3 Freebies)
Top 7 Kontakt Libraries For Horror & Thriller Scoring (No VSTs)
Audio Restoration, Calibration & Utility:
Top 6 Noise Reduction Plugins (And 3 Best Free Tools)
6 Best Audio Restoration Plugins & Software 
Top 7 Phase Alignment Plugins To Fix Your Bass & Drums
Top 10 Room Calibration & Headphones/Speakers Correction Plugins 
Instrument Plugins: 
Top 6 Vocoder Plugins (Effects & Synths + FREE Vocoder)
11 Best Rhodes VST Plugins (AND 5 Free Rhodes Plugins)
Top 12 Randomizer Plugins Including FREE Plugins
Top 6 Kick Drum Plugins (Best Kick Designer Tools)
Top 12 Woodwind Plugins (And KONTAKT Libraries)
Top 10 Double Bass Plugins (Best Upright Basses)
Top 5 Strings VST Plugins (AND 4 Best Free Instruments)
Top 6 Sampler Plugins (And 3 Best FREE Plugins)
Top 6 Classical Guitar Plugins & Kontakt Libraries (And FREE Guitars)
Top 12 Sub Plugins (Best 808 & Bass Tools For Massive Low End)
Top 10 Plugins On PluginBoutique (And 7 Best Free Plugins)
Top 11 Plugins On Plugin Alliance 
Top 7 Acoustic Guitar Plugins (And 4 Best Kontakt Libraries)
9 Best Bass Guitar Plugins (And 2 Best Freebies)
Top 6 Electric Guitar Plugins (Best PAID & FREE Picks)
Top 10 Arpeggiator VST Plugins (Best Synths, MIDI Effects & Tools)
Top 10 Modular Synth Plugins (And 3 Best FREE Plugins)
Top 6 Choir Plugins & Sample Libraries (And 3 Best Free Plugins)
11 Best Percussion & Drum VST Plugins (And FREE Plugins)
Top 8 Piano Plugins (Best Sounding Pianos & 5 FREE Piano Plugins)
Top 6 Organ Plugins Ever Made  (And 3 Best Free Organs)
Top 14 VST Plugins For Beginners (And 9 FREE Plugins)
Top 9 Drum Machine Plugins (And Groovebox Plugins)
4 Best Banjo Plugins (Best Banjo Instruments)
The 5 Best Ukulele Plugins & Kontakt Libraries 
Top 13 Synth Plugins (And 5 Best FREE Synths Plugins)
Top 13 Sequencer Plugins  (Synth, MIDI & Step Sequencers)
The 10 Best Multi-Effect Plugins (And 3 Best Free Plugins)
Top 12 Plugin Bundles For Musicians (Synths, Mixing & Mastering)
Processing & Sound Design:
8 Best Lo-Fi Plugins (PAID & FREE)
Top 11 Plugins For Mixing Vocals  (For Home Studio)
Top 12 Saturation Plugins (Best Mixing & Mastering Tools)
Top 6 Pitch Shifter Plugins (And 3 Best FREE Pitch Shifters)
Top 6 Chorus VST Plugins For Musicians (And 3 FREE Plugins)
Top 6 Limiter Plugins For Precise Mastering & Mixing
The 8 Best Filter Plugins For Precise Cuts & Boosts (+ 5 Free Filters)
6 Best Autotune Plugins To Improve & Enhance Your Vocals
Top 10 Transient Shaper Plugins (VST, AU, AAX)
Top 7 Enhancer Plugins (For Bass, Drums, Vocals & Harmonics)
Top 6 Flanger Plugins (And 5 Best FREE Flanger Emulators)
Top 7 Phaser Plugins (And 3 Best FREE Phasers)
Top 10 Plugins For Mixing Drums (And 3 Best Free Plugins)
Top 7 Bitcrusher Plugins (And 4 Best FREE Bitcrushers + 3 Bonuses)
Top 6 Plugins For Voice-Over & Dialogue Cleaning (Post Production)
Top 10 Stereo Imaging Plugins (Best Old & Modern Picks)
Top 5 Multiband Limiter Plugins 
Top 7 De-Esser Plugins For Better Vocals (And 4 FREE Plugins)
Top 7 Clipper Plugins (Best Limiter Alternatives)
Top 6 Chord Generator Plugins That Inspire Melodies (+ FREE Tools)
7 Best Exciter Plugins For Mixing & Mastering
Top 7 Channel Strip Plugins (And 2 Best Free Plugins)
Top 11 Distortion Plugins (And 4 Top Free Plugins)
Top 5 Comb Filter & Resonator Plugins | Melda, Kilohearts, Tritik
The 7 Best Vibrato VST Plugins | Audec, Audiority, Melda
The 7 Best Tremolo Plugins | Eventide, Melda, SoundToys, Kuassa…
The 7 Best Harmonizer Plugins | Eventide, Melda, Aegean Music
7 Best Sidechain Plugins (VST, AU, AAX) | Xfer, Cableguys..
Top 10 Noise Gate Plugins (And 6 FREE Free Gate Tools)
The 6 Best Ring Modulator VST Plugins | KiloHearts, Melda
7 Best Autopan VST Plugins | CableGuys, Melda, Waves, Soundtoys
The 6 Best Frequency Shifter VST Plugins
Top 11 Granulizer Plugins For Future Sound Design
29 Best Sound Design VST Plugins
Compressor Plugins
Top 11 Free Compressor Plugins (VCA, Vari-Mu, FET, Digital)
Top 7 Multiband Compressor Plugins (And 4 FREE Plugins)
Top 5 Diode-Bridge Compressor Plugins 
Top 6 Mastering Chain Plugins: Complete VST Solutions 
The 7 Best VCA Compressor Plugins (VST, AU, AAX)
Top 11 Mastering Compressor Plugins (And 2 FREE Plugins)
Top 10 Opto Compressor Plugins For Transparent Sound
The 7 Best Vari-Mu Compressor Plugins (And 2 Best FREE Tools)
Reverb & Delay Plugins:
Top 12 Reverb Plugins (And 5 FREE Reverb Plugins)
The 6 Best Spring Reverb VST Plugins | AudioThing, GSi, u-he, Eventide
Top 12 Delay Plugins For Music Production In (VST, AU, AAX)
Top 10 FREE Delay Plugins (VST, AU, AAX)
The 10 Best Convolution Reverb Plugins 
Amps & Preamps:
Top 10 Guitar Amp Plugins (And 5 Best FREE Simulators)
Top 10 Bass Amp Plugins (And 5 Best Free Simulators)
Top 9 Preamp Plugins (For Vocals, Guitars & More!) + Free Preamps
DAW Related:
Best DAWs For Musicians Available (With FREE DAWs)
What's The Most CPU Efficient DAW? – 5 DAWs Compared
How To Make Music Without Using A DAW?
Pro Tools Guide: How To Use AutoTune & Pitch Correction?
Ableton Review: Is It Worth The Money? (Cons & Pros)
Logic Pro X Review: Is It Worth It? (Cons & Pros)
How To Use Auto-tune & Pitch Correction In Cubase?
How To Fix Ableton Crackling, Crashing & Freezing? Step By Step
Plugin Related:
What Are Audio Plugins? Different Types of Plugins Explained
What Are The Best Tools To Develop VST Plugins & How Are They Made?
Cost of Developing Audio VST Plugin: Several Factors (With Table)
VST, VST, AU and AAX – What's The Difference? Plugin Formats Explained
Complete Guide To Noise Gate – What It Is, What It Does & How To Use It?
How To Clip My Drums? Here Is How & Audio Teasers (Before/After)
Complete Guide To Limiter: How To Use It (+ Best Plugins & Analog Limiters)
Mixing With Reverb: How To Add Life To Your Mixes
Linear Phase vs Minimum Phase EQ – Full Guide
Difference Between LUFS, RMS & True Peak Loudness Meters
How And When To Use Algorithmic And Convolution Reverb In Your Mix?
Difference Between Active EQ, Passive EQ and Dynamic EQ
Headphones & Studio Monitors:
Do headphones get worse with age?
Monitors vs Studio Headphones For Mixing & Mastering
Top 10 Room Calibration & Headphones/Speakers Correction Plugins 
Are Noise-Canceling Headphones Good For Music Production?
Can Headphones Break in Cold Weather?
Why do headphones & cables get sticky?
Can Wearing Headphones Cause Hair Loss?
How Do I know If My Studio Monitor Is Blown?
Side Effects Of Sleeping With Your Headphones On
Do You Need Music Amplifier For Studio Monitors or Studio Headphones?
Do Headphones or Earphones Damage Your Brain?
Can Headphones or Earphones cause Deafness or Toothache?
FarField, MidField & NearField Monitors – Their Uses, Pros & Cons
MIDI & Synths:
Should I Buy A MIDI Keyboard Or Synth? (Are Synths Worth It Anymore?)
Why Is Audio Gear So Expensive? (Especially Synths)
Top 12 Synth Brands – Analog, Digital & Modular Synth Manufacturers
11 Tips How To Choose MIDI Keyboard 
Should I Buy MIDI Controller Or Keyboard? Cons, Pros & Tips
Sultan Zafar is a guitar player from Islamabad, Pakistan. He has been playing music with various mainstream musicians for over 20 years. He is a song writer and music producer. These days he spends his time exploring different music genres and collaborating with fellow musicians on various projects. Read more..