Are you looking for an audio interface for film production? Today we will talk about the Top 10 Best Audio Interface For Film Scoring 2023.
Selecting a high-quality audio interface is a key step for any filmmaker. If you plan on making music on a Mac or PC computer, an audio interface is likely something you'll want to have. An excellent audio interface will let you record high-quality audio on your PC and connect to additional instruments and studio equipment.
Commonly, an Audio Interface is a USB-connected unit. You can use each input and output on the box with your DAW or other film software. This will greatly improve the performance of the system's audio output quality. The improved performance, higher-quality outputs, and more tangible level knobs will transform your studio, even if you do all your film production on a computer.
In a nutshell, here are the Top 10 Best Audio Interface For Film Scoring 2023:
All of the items on this Top 10 Best Audio Interface For Film Scoring 2023 are great choices for film scoring. One can pick from many audio interfaces, each with its unique set of ports and other bells and whistles. Many of them come in multiple variants, each with its own set of input and output options. You must select the one that provides the appropriate inputs and outputs for your needs.
What Makes An Interface Great For Film Scoring?
The most important way to differentiate a standard audio interface from one for film scoring is the number of inputs and outputs and the type of connectivity. A film-scoring-ready audio interface gives you 18 inputs and outputs surround mix your audio (5.1 & 7.1).
Mic inputs, Hi-Z inputs, and Line Level outputs are what you need if you plan to record voices for your film or mix everything for that purpose. An audio interface can provide as few as a pair of inputs or as many as dozens of digital and analog jacks for a full recording studio's worth of equipment.
Here you will find some tips for choosing an audio interface for film scoring:
The Quality Of The Preamp
The quality of mic preamps is one of the most notable aspects that differentiates an audio interface with a lower price point from an audio interface with a higher price point. These days, even the most basic audio interfaces come equipped with incredible microphone preamps for the price.
There are undeniable advantages to using the preamps that are included with high-quality audio interfaces. The higher the mic preamp quality, the more gain it will typically produce. This can be beneficial if you are utilizing a microphone that demands a significant amount of gain.
Mic preamps of lower quality tend to have a great deal more background noise than preamps found in higher-priced audio interfaces. You will be able to lower the sound intensity floor of your recording with the assistance of microphone preamps of a higher quality.
You will also learn that certain microphone preamps are intended to be highly transparent, whereas other microphone preamps are coveted for the distinctive color they impart to the sound. Investing a little bit more money to acquire a set of microphone preamps that are well-known for the distinctive sound they produce is worthwhile.
Inputs And Outputs
Most audio interfaces will include a selection of input options, the most common of which are XLR and 1/4″ jack inputs. In most cases, the output connectors will consist of XLRs, jacks, or a combination of the two. On more expensive models, you might find optical, RCA, or SPDIF cables instead.
The ability of the computer to communicate with other MIDI devices, such as synthesizers or drum machines, is made possible by the availability of MIDI I/O on many interfaces. This implies that you can, for instance, create a MIDI pattern in your digital audio workstation and then have to feed it back out into a synth.
It is common to encounter audio interfaces that include phantom power. This enables you to make use of condenser microphones, the operation of which is normally dependent on an external power supply. The interface will send a very low current into the microphone, enabling it to function.
When connecting to your computer, the most common alternatives will be USB or Thunderbolt; however, some systems support PCI and Firewire. If your computer supports it, a USB-C connection is the one we recommend going for because it ensures the highest possible speed for data transfer.
DSP
The capability of an audio interface to process audio is another component that contributes to your choice. The sophisticated onboard processing that UAD audio interfaces provide helps reduce the computing power your computer has, which is one of the reasons why these interfaces are so desirable. Most interfaces, including those manufactured by UAD, come bundled with a collection of paid plugins.
The Type of Connection
Both the decision you make and the interface cost will be impacted by the sort of connection you choose with. Choose an interface with USB or a Thunderbolt connection if you want to keep things as straightforward as possible. If you require an interface that can accept internet audio signals over AVB or Dante, one that connects via Ethernet is a good option.
Drivers
The internal computer and the external unit must establish a strong connection, just like any other computer hardware. This is done through drivers; in the case of audio, this will typically mean using ASIO. Users of Macs have it simply because their computers are designed to be compatible with almost every audio interface on the market without producing any issues.
Users of Windows may need to put in a little bit more effort; however, most manufacturers provide a specific driver for their interface, which you can download from the manufacturers' websites. Keeping a look out for updated drivers is a good idea because they can boost performance and minimize the likelihood of issues occurring when capturing or playing back content.
Workflow
Utilizing an audio interface provides you with several genuine benefits concerning your recording workflow, in addition to the aural and physical advantages already mentioned. At a fundamental level, having separate knobs or crossfaders to manually control volume levels delivers a considerably more tactile experience than using a mouse or trackpad.
If you've never done multi-track recording before because you lacked the opportunity or the means to do so, you'll find that it completely changes the dynamic of your work.
Let's see which are the Top 10 Best Audio Interface For Film Scoring 2023.
Top 10 Best Audio Interface For Film Scoring 2023

1. Behringer U-Phoria UMC1820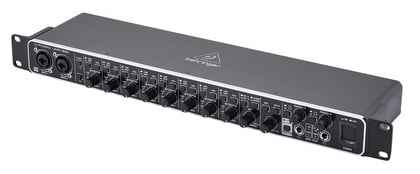 This interface has a USB port to receive data from 18 different inputs and deliver it via 20 outputs.
You may use it in various recording and editing environments because of its ADAT interface and S/PDIF inputs. Each of the eight XLR inputs is powered by a +48 volt phantom current, and the device's two front-panel buttons can activate all eight channels at once.
Samples are taken at 96 kilohertz, and the highest resolution is 24 bits. When held, the interface provides a pleasant sense of heaviness. You can't even detect a tremor there. Feeling safe and secure is comforting. The rotary controls and buttons up front give off an air of solid construction.
It would have been easier to tell which of the many similar pushbuttons had been pressed if each had been given a varied edge color. When compared to a dark background, this is not readily obvious.
Key Features:
Inputs
To process analog signals, including those coming from a mic or a line, the mixer features eight jack/XLR combo inputs. The audio interface can be rack-mounted.
The initial two of its eight channels are conveniently situated on the front panel, so you may instantly mute two signals before entering the rack's rear. You can find the following six input jacks on the rear panel. The latter has a Hi-Z connection on the corresponding jack socket, making it possible to plug in an electric guitar or bass directly.
Digital Routing
The back is where you'll find all the digital inputs, Toslink, S/PDIF, and ADAT are all supported, as are inputs and outputs. The corresponding switch that flips between the two modes is on the left side of the white-framed front panel.
Therefore, only four channels are available through the ADAT interface, half of what there was before. To deliver a signal, two channels are required, which is a consequence of the technology that divides sample rates.
Surround Compatible
As is customary, integrating with DAWs is a breeze. The audio driver allows you to assign descriptive names to the various connections. The two outputs' volumes can be adjusted independently or together using the master volume control on the front panel.
Once you've configured the front-panel routing, the same pair will be accessible on the headphone outputs simultaneously. To send separate audio to each set of headphones, switching the signals from outputs 3 and 4 to the respective headphone jacks is sufficient.
Staying in stereo will keep you safe from harm. If you want to use the interface in a surround setup with multi-channel monitors, you'll need to be able to skillfully route signals and keep outputs 3 and 4 available at all times.
Outputs
Each of the ten analog jack outputs has volume control, brightness adjustment, and a mute button. The extra eight outputs can provide up to 7.1 format output in a DAW.
If you establish two analog outputs as primary outs, you can concurrently feed a stereo monitoring and an additional surround monitor. Ten high-quality analog outputs are provided for hardware insertion and other purposes; two can be used as direct outs under separate control.
Midi
Internal MIDI interfaces need to meet expectations. MIDI is like the audio in movies and television shows; nobody notices it while it's present, but when it's absent, everyone begins freaking out. You should pay particular attention to the MIDI LEDs, which help to show the existence and flow of MIDI. This simple but nice addition would have saved me a lot of time-solving similar, more expensive goods.
Pros:
This USB audio interface is a deal if you're looking for one. The search for a cheap audio interface without sacrificing quality is over. This is also the place to go if you want to expand your current setup by an additional eight preamps via ADAT.
The Behringer has a promising future due to their excellent preamps and savvy monitoring. Given the abundance of functionality available for the absurdly low price of merely 200 Euros, it's tough not to adore the UI. On the other hand, the minor details, such as the MIDI activity LEDs and the clearly labeled connectors, could be a lot of fun in actual use.
Cons:
It is impossible to deploy direct computer-controlled surveillance on anyone who refuses to comply. In DAW, this control is labeled as such and is unavailable except in the monitoring section of the front panel.
To use the headphones, you must either send analog inputs in real-time or not at all. Before these signals even enter the driver's mixer, the preamp gain determines their volume level, making adjustments to that volume level impossible.
One important limitation is that you can only route digital inputs to headphones through the DAW. If a closer look at the zero-latency mix is required, then there are better choices than this approach. The quick-and-dirty recording setup is as follows: microphone in, one track set to record, headphones in Phones A, monitors in mono, and the turntable set to the left.
2. M-Audio AIR 192|14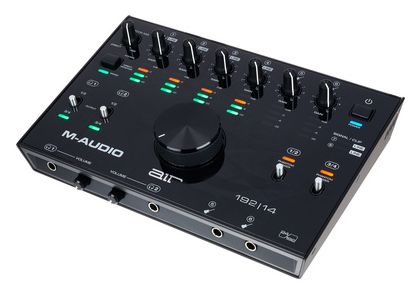 The eight channels of audio are delivered to your session by the A/D converters and extensive I/O on M-Audio's interface.
Aside from the two TRS and two inputs for directly routing keyboards and guitars into your song or score, you also get known as low noise Crystal preamps for powering studio mics to stage dynamics. You may connect controllers and drum pads to your plugins using the MIDI in and out ports.
The interface's superiority over competing products is due to USB-lightning-fast C's round-trip speed. The USB/Direct balance knob prepares you for time-critical monitoring, and the dedicated TRS speaker outs and dual separate headphones outs make it easy to listen back in a pinch.
Key Features:
Great Converters
The A/D converters are of the highest quality, allowing audio reproduction at the highest possible resolution. Analog-to-digital converters (often abbreviated as A/D converters) transform analog signals like audio into digital ones.
A microcontroller may then read it and use it as needed. First, the system takes a sample of the signal, then quantifies that sample to determine the signal's resolution, and finally reads the digital data. The ability to produce high-quality sound is essential for all of these. You can easily adjust the signal gain with the VU LEDs included.
Connectivity Options
This interface's combination of line and instrument inputs brings the total number of recording channels to around eight. Of the eight inputs, six include gain controls and LED meters for monitoring input volume; the other two have only indicator lights for detecting a signal or a clip.
Inputs of an audio interface are tailored to improve the quality of your Instruments when it is plugged in. Instruments like the piano, bass, and guitar all benefit from their clear signals. There are a variety of outputs available, including stereo with a straight mono switch, headphones, and auxiliary. There is a stereo toggle and a USB mix knob for the monitors and headphone outputs.
Monitor Mix Control
The monitor mix knob lets you adjust the volume of the inputs you're monitoring. It allows you to hear yourself when performing or recording clearly. This is also called a foldback, a headphone mix, or a venue mix. To control the volume of your monitor system independently of the volume you're mixing at, you should use the monitor out.
It has +48V phantom power over its four channels, allowing you to record voice with instruments like guitar, bass, or drums. A huge metal volume knob occupies the middle of the screen with a rubberized diamond pattern. Adjust the volume of your studio monitors or tinker with your mix with this knob.
Software And Effects
The included software in the interface is all you need to make high-quality audio recordings. It also includes effect plugins, a loop library, and a variety of virtual instruments. Included with the 20 effect plugins are various virtual instruments and drum kits.
Pros:
The importance of rising audio sampling rates is highlighted; 24-bit means a high-quality recording, making this a great format for downloading high-quality music. You can also track it from the comfort of your home computer.
The latency is modest, coming in at just 2.59 milliseconds at most. A delay of 2.59 milliseconds between the time an audio signal is generated and the time it reaches the listener's ears is considered low latency. Thanks to the high-speed USB and USB-C ports, you can connect to your devices quickly and easily. It improves the quality of an audio recording because of its transparent preamps and converters.
Cons:
You can fix all the problems individuals experience with it by switching to a different method. Microphone input levels are way too low, and the pots appear to have a nonlinear effect. Inputs for microphones share uniform physical properties.
Before the input indications have rotated about 15% of the way, the mic level is not shown. The software's level indications suggest this is the case, yet the problem may stem from the limited displays for each input. Nevertheless, once everything is set up, a respectable recording is possible.
3. Presonus Studio 1824c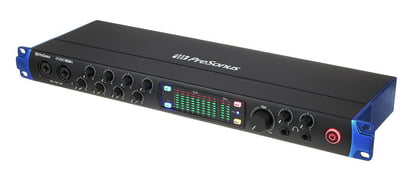 These XMAX preamps and 18 simultaneous inputs make this interface ideal for project studios tracking entire bands.
Its 18 outputs allow for more varied monitoring and incorporation of external impacts. Additionally, MIDI I/O is provided for your piano controller, making it easy to use software instruments. Enjoy seamless connectivity between your control room DAWS and the DSP-based monitoring mixer for latency-free monitoring.
The interface has everything a beginner needs to start recording right away. As an upgrade for an existing interface needing more I/O or more capabilities, the interface will always be there if you have been recording for some time.
Key Features:
XMAX Mic Preamps
The XMAX mic preamps and high-resolution converters give it a sound quality that exceeds its asking price. Most low-cost preamps operate between 10 and 18 volts, but the power rails of professional preamps require 30 volts.
The increased voltage allows for greater volume and a fuller sound. You'll be pleased with the results you get from the interface, whether you're using a direct guitar or bass recording method or your preferred studio microphone.
Software
Studio One and the rest of the software and hardware necessary to begin recording on a computer are included in your purchase. The plugin suite is also included, so your recordings can reach new heights.
There are hundreds of dollars worth of extra value thanks to the inclusion of plugins that are simulations of vintage pieces of studio equipment from well-known manufacturers in this massive collection. You may add reverb, a compressor, and more to the mix bus. As a bonus, these plugins work with any DAW because they are universally accessible.
Wireless Control
The UC Surface software allows for wireless operation thanks to Mac, Windows, iPad, and Android versions. You can access the most frequently adjusted settings from anywhere in your studio. It's ideal for sessions in which you're playing and engineering simultaneously.
Connectivity
Its extensive connectivity features MIDI both in and out, which would be unusual for an interface taking up only a single rack unit of space. Eight mic/line inputs are provided through XLR combo jacks; two are on the front left panel, while the remaining six are on the back.
We're fans of this layout since it prevents me from fumbling around for a snake every time inspiration calls, and you need to fast patch a microphone in. All the outputs are TRS, with eight separate line outs and two monitor outs.
There are also digital audio formats (ADAT and S/PDIF) available. They use what they call their "renowned" XMAX Class A preamps for the microphones, and they do a fantastic job of capturing sound, being completely neutral in tone, and providing enough gain before distortion.
Front-panel gain control for each pre eliminates the need to go through settings to adjust the input level. Conversion is also impressive for the price, with features that compete with interfaces costing four times as much.
Pros:
If you use it regularly, you won't have any problems with the user interface. The construction is solid, the sound is fantastic, and the user interface is highly adaptable. The great DAW and plugins are, of course, included with all hardware. Everything you need to set up a professional recording studio is right here. And get this: the price tag for this high-end, fully-loaded audio interface is a cool $500.
Cons:
The sole drawback is that the "C" in the 1824C model number could be misunderstood. Because of this, the vast majority of consumers will mistakenly believe that they are using a USB 3.0 device, while in fact, they are not. The only thing C about the device is the tiny USB connector that connects it to your host computer at USB 2.0 speeds.
There is a problem with the right channel's TRS main output connection. If multiple TRS cables are tried without success, shining a flashlight into the jack will reveal that the connector isn't in the correct position compared to the rest of the jacks. There will be intermittent pops and clicks adjusting the master volume because of the poor right channel connection.
4. Focusrite Scarlett 18i20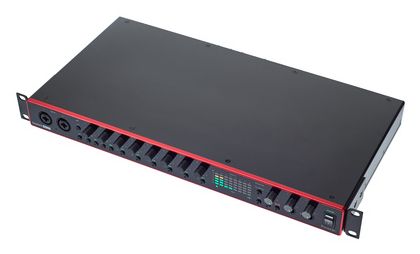 The Scarlett 18i20 from Focusrite, now in its third iteration, packs a lot of punch for a surprisingly low price.
There are a pair of high-quality Focusrite preamps on the front panel and many inputs on the rear. Eight channels of ADAT I/O, MIDI I/O, S/PDIF, and word clock out can be found in the back, along with six extra XLR combo inputs. The Scarlett 18i20 from Focusrite is a high-quality audio interface that offers a wealth of useful functions.
Focusrite Scarlett 18i20 is an excellent foundation for serious project studios that need to develop in the future due to its talkback for communicating, 8-channel LED bar-graph meters, twin headphone outputs with independent volume controls, and speaker switching for dual-monitor setups. Connect it and launch the provided software to get started.
Key Features:
Under The Hood
The third-generation

Focusrite Scarlett 18i20

 looks much more refined than its predecessors. Scarlett 18i20 has been improved internally to provide superior sound quality, decreased latency, and streamlined operation. The studio-quality sound that you can carry with you at sample rates up to 192kHz. Scarlett mic preamps from Focusrite now feature the company's legendary Air circuit.
Furthermore, the instrument inputs have been upgraded to accommodate the most potent active pickups. To protect your Scarlett 18i20 interface from hazardous power surges, Focusrite wired analog protection circuitry across all inputs and outputs.
Preamps
The eight Focusrite preamps in the Scarlett 18i20 are some of the best in the business. Focusrite's award-winning preamps have been used by professionals in recording studios worldwide for over 25 years. The Focusrite Scarlett 18i20 features transparent, low-noise preamps and low distortion thanks to the company's extensive design expertise.
With the same technology featured in Focusrite's flagship products, you have plenty of headroom for using mics on any source, no matter how loud. Mics that need phantom power are supported, of course. Combine it with the hit-making sound of the Air mode on Focusrite's multi-purpose interface, and you have a recipe for success.
Low Latency 
If your monitor mix is great, you'll be able to hear things like reverb and delay on a guitar solo, which will help encourage you to play better. The Focusrite Scarlett 18i20 is renowned for its incredibly low latency.
Using native plugin effects for monitoring, you may capture more authentic performances of your components. Using the Direct Monitor circuit to take advantage of low-latency direct input monitoring is as simple as turning on a switch.
Great Bundle
Ableton Live Lite and a three-month subscription to Avid Pro Tools Artist are just two examples of the great software included with the Focusrite Scarlett 18i20. The Focusrite Red Plugin Suite is bundled as a bonus. Focusrite provides everything you need to get started immediately.
In celebration of their third generation Scarlett, Focusrite partnered with Splice to offer new customers a complimentary three-month Splice Sounds membership. You can find millions of high-quality loops, one-shots, and presets on Splice Sounds, all of which are royalty-free and uploaded daily by your favorite sound designers, artists, and producers.
Pros:
They've done a good job of staying competitive with the updated specs and new features. The new "Air Mode" and the ability to toggle between mono and stereo are nice touches. Still, the second generation is more than capable of meeting your needs unless you have a specific use case. However, if you are a first-time buyer, you should get the third generation instead of the second.
The new third-generation interfaces from Focusrite are great and the actual magic is behind the hood, even though it appears they are merely a nicer version of their old selves at first appearance. The pricing is reasonable and seems to be around the same as its predecessors, despite several apparent enhancements; this will likely keep existing customers happy.
Cons:
The difficulty is that there isn't enough harmonic and tonal variety. We doubt it's feasible to use custom-built preamps instead of factory ones. Aside from being loud, it lacks a punch-in port, which is an essential feature for any do-it-yourself composer, and the AIR option is redundant.
You will be highly dissatisfied with the factory default settings if you have a specific idea of the sound you want and are used to devices that can provide it.
5. RME Fireface 802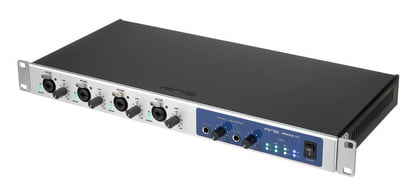 The RME Fireface 802 is a great foundation for your studio because it comes with four high-quality preamps and a great remote.
The interface has reference-class converters, balanced signal lines, integrated instrument inputs, and ultra-clean microphone preamps, allowing for recording any source in stunning fidelity. With its many digital inputs and outputs, you will easily connect your studio equipment to the rest of your setup.
Speaking of convenience, the interface is completely compatible with the add-on Advanced Remote Control, allowing latency-free, DSP-driven monitor and effects to be accessed directly from the desktop.
Key Features:
Inputs And Outputs
Eight balanced TRS analog inputs and outputs are the initial step, followed by two separate headphone outputs and four XLR/DI combination preamps on the front panel. If you need to be aware of them, location recording pros employ low-distortion, totally symmetrical mic pres to record large orchestras and other crucial applications.
Amazing AD/DA converter with stutter suppression deliver high-resolution audio with an unprecedented dynamic range, guaranteeing that every nuance makes it to and from your digital audio workstation in perfect condition. Moreover, the interface offers 18 channels of digital I/O on optical and connections in addition to its already generous two analog I/O.
Latency Free Effects
It's great to have converters with low latency, but for truly precise monitoring, you need a method that introduces as little delay as possible. Their solution was adding their fantastic TotalMix mixer to the UI, which you will undoubtedly find useful.
In front of your DAW and possibly even your PC, this high-end signal routing tool lets you set up mixes that eliminate virtually all delay while recording. This eliminates the need for plugins; thus, they offer a variety of effects that may be used for tracking and monitoring as part of the DSP's integrated processing.
Additionally, the interface's onboard routing, effects, and processing can be managed from a computer or iPad, making it simple to create intricate configurations for any use case.
Bundle
It comes with a premium plugin suite that is sure to inspire you. It features a guitar amp simulator developed by a former product designer for a particular iconic British amplifier manufacturer, making it extremely versatile. It sounds like a top-tier analog mastering system and offers the classic optical-style compression sound with a simple user interface.
Crossing Channels
The outputs include effects return fader, and the inputs have single effects sent for reverb and delay. Therefore, you can keep the main monitor mix dry while adding reverb to either headphone mix. Both effects receive equal power from the transmitter and can be used independently or in tandem.
Since there is only one "auxiliary send," a certain amount of compromise is required when adjusting the balance between them. But it's still a great method to transmit a dry signal to the DAW while giving a voice some 'confidence' reverb or delay.
There is no need to use your computer for signal or effects processing because the interface's DSP handles everything for you. The trim mode allows you to modify the volume of all the routed signals of a channel at once, and there are four groups for the solo, mute, and fader controls.
Total Mix
With a MIDI controller compatible with TotalMix, such as the Mackie Control, you can access most of the program's features from afar. And it works with Open Sound Control and various remotes. The hardware input, software output, and hardware output can all be adjusted independently using the three groups of faders provided.
It is possible to send signals in any direction and combination throughout the system. For example, to provide zero-latency monitoring, you can send a hardware input signal directly to any number of hardware outputs. Easily configure several monitor mixes by adjusting the volume and panning for each output.
Pros:
It gets high marks for sound quality, and the user interface is unquestionably a step up over entry-level and semi-pro interface. However, to make the most of its computational capabilities, the user must be willing to deal with an additional layer of complexity.
Although the variety of capabilities is impressive, many will be unnecessary for those that mix in DAWS. The user interface may need to be more attractive to some due to its dark and crowded appearance. A lot of information is packed into this manual, and finding what you need is challenging.
They do what they say they will and provide all the necessary information. Once you've got the hang of it, the software is a highly versatile instrument that can be used for anything from monitoring during recording to mixing off a DAW to serving as a virtual mixer during live performances.
Cons:
The ins and outs arise when you attempt to link more advanced concepts, such as the influence of third parties. Although many individuals extol the virtues of TotalMixFX's adaptability, the truth is that only some have a week to devote to practicing before a client visits the studio in case anything goes wrong.
The signal doesn't come out where you'd like it to, the opposite could also happen, with an erroneous signal being received when none should be. To locate the source of the problem, enter TotalMixFX and systematically inspect each channel strip for open connections or other potential causes of the problem.
6. Arturia MiniFuse 4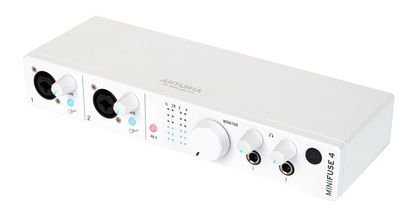 The MiniFuse 4 by Arturia is a tiny desktop USB audio interface perfect for home studios and portable recording rigs.
The interface has two professional-quality mic/line/instrument preamps and two line/instrument inputs and can handle sample rates of up to 192kHz. This simple interface has four line outputs for powering two sets of production speakers or sending sounds to outboard gear, as well as two front-panel headphone jacks with individual volume controls.
Many users like the inclusion of standard 5-pin MIDI DIN I/O connections to connect vintage keyboards and drum machines. There's also a handy USB-A hub for connecting multiple USB-A devices, such as a MIDI interface, to a single port, reducing the amount of clutter in the studio.
The maximum current throughput for each port is 250 mA. The digital stereo loopback channel is a great feature for content creators since it lets you listen to and record your computer's audio while simultaneously using the interface's inputs.
Key Features:
Connectivity
A pair of XLR/jack combination inputs are conveniently placed on the front panel. These inputs go into a set of preamps that interface in this price range and are remarkably transparent and distortion-free across the audio spectrum.
The signal from the line output is just as clear and undistorted. Both sets of line outputs are physically connected to the two headphone outputs. In other words, the first headphone jack transmits the same signal as line outputs 1 and 2, while the second transmit the blend of outputs 3 and 4. The headphone amps feature distinct level settings on the device's front panel and are powerful when high.
Loopback Capable
It has three stereo input buses: a loopback bus and two output buses that can stream audio from your DAW or other software. Each line output pair and the loopback bus can have its unique blend of internal and input signals, done through the Control Center app.
All USB-C connectors can act as USB hubs, connecting to the host computer and providing two additional USB-A ports. Besides being a high-quality input for your computer, it also has auxiliary inputs for things like keyboards and digital audio workstation (DAW) controllers.
Sturdy Housing
Arturia includes a five-year guarantee on all interfaces because they're made well. The metal housing is sturdy, and the rotary controls are responsive and easy to turn. Black and white color schemes are also available.
The unit's backlit buttons and knobs improve the aesthetic value of both color schemes. The input-gain dials' blue backlights show that a signal is there, while their red glow indicates that the signal is too strong for the preamp.
Bundle
Arturia's Analog Lab Intro, five plugins from the company's FX Collection, and a three-month subscription to the royalty-free Splice sample library are all included in the interface's thoughtful software package.
The interface faces stiff competition, but the company kept the price down by prioritizing sound and construction quality above flashy extras. This audio interface is compelling for its diminutive size.
Pros:
Including a sound card is a fantastic bonus. They aren't revolutionary or groundbreaking, but they meet expectations regarding quality, features, and price. They don't have monitoring software, but they do have an internal loopback, which is necessary for podcasting and live streaming so that you may record the output of one program and feed it into another.
Though the cases are made of plastic and seem flimsy, the USB host connection for your MIDI controller is a welcome addition and makes up for the boxes' lack of weight. The drivers' performance allows you to apply such software effects while recording with little to no difficulty, thus increasing the value of these interfaces.
Cons:
Because there aren't any included instructions, the first thing to mention is that you need to look for the device's handbook online and then follow those.
Even though You followed all the steps to create an account and download the necessary software, it turns out that when you plug in the 48v phantom power source, the resulting recording has a disturbing hiss. We have confirmed that the microphone is not defective by testing it with several devices; it usually functions in every respect.
7. Universal Audio Apollo x8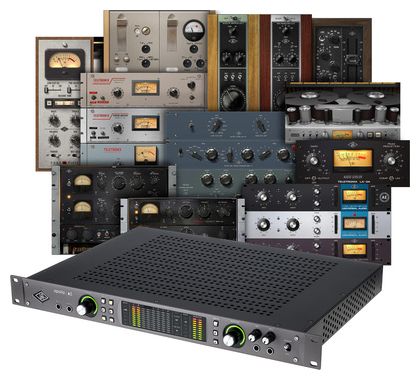 The Universal Audio Apollo x8 should be at the heart of every recording studio if you want to maximize your time there.
The powerful UA 6-core HEXA Core CPU allows you to record and mix with 50% more processing capacity than prior Apollos. Benefit from the interface's Dual Crystal clocking and enhanced elite-class AD/DA conversion for superior audio quality.
Experts will love the built-in talkback, configurable +24dBu operation, and native 7.1 surround monitoring. Thanks to four Unison preamps, you may record using simulations of some of the most renowned pieces of gear in the business.
Apart from that, the interface's ultra-fast Thunderbolt 3 connectivity provides sub-2ms latency and plenty of room for expansion. It includes the Real-time Analog Classics Plus bundle, which contains authentic emulations of old analog hardware and a premium suite of ten award-winning plugin titles.
Finally, the interface is UA LUNA software compatible, providing a fully integrated capturing, processing, and mixing environment with all interface parameters controllable via software.
Key Features:
Powerful CPU Integrated
Suppose your machine doesn't have enough RAM or disk space to execute a plugin; the powerful 6-core CPU in UA is perfect for this task. This processor is 50% faster than its predecessor. This paves the way for using multiple plugins during the mixing process or using channel strips during real-time tracking.
Great Converters
The sound quality of Apollos is enhanced by the AD/DA conversion. UA engineers experimented with state-of-the-art AD/DA technology for the new model, ultimately settling on a combination of high-end converters and revised analog circuitry.
Due to this, the signal path has a very high-quality dynamic range. In addition, the low-jitter environment provided by Dual Crystal clocking allows for clear, artifact-free recording and vivid stereo images. If you put in the effort, you'll discover that this interface's AD/DA converter can compete audibly with any high-end standalone device.
Surround Compatible
Studios all across the world utilize this interface regularly. Users, however, have been clamoring for certain specialized upgrades. The good news is that the company has been paying attention. The 7.1 surround sound monitoring can be adjusted and folded down in the interface.
This is wonderful news for the people who work on the soundtracks and scores of your favorite games, movies, and websites. The analog console and other high-end gear you own will work with the interface thanks to its flexible operation. All these features make it a strong contender for star billing in any recording studio.
Preamp Technology
The preamp technology is so cutting edge that it defies easy analogy to simpler computer simulation methods. Unison involves two components, a microphone preamp, and an appropriate plugin, talking to each other in unison.~
The plugin alters many preamp circuit settings, such as impedance and analog gain design. The plugin adjusts the preamp's behavior to be consistent with the target preamp when the gain knob and other physical controls adjust.
Rather than being filtered to mimic its original personality, the microphone now reacts to the input the same way as it would with the "modeled" preamplifier. Shocking the recording industry, UAD plugins successfully imitated analog processing while eliminating cumbersome racks of hardware.
The same holds for mic inputs; with this innovation, you won't have to invest in a large rack of separate hardware preamps to achieve a variety of tones.
No More Latency
Since Thunderbolt is one of the most influential technologies to influence audio production in recent years, UA's embrace of it was revolutionary. Lightning-fast Thunderbolt connectivity offers lower latency and better dependability than USB or FireWire.
Its speed and ultra-fast efficiency are on par with a PCI Express system. You may run multi-track projects with hundreds of tracks with minimal latency thanks to the Thunderbolt 3 connection. In addition, networking can take place via many different channels. A new Mac and an adapter are optional to use the two built-in Thunderbolt 3 connections, as they are backward-compatible with earlier versions of the technology.
Bundle
Most audio professionals agree that UAD Powered Plugins are among the most accurate simulations of vintage audio processing hardware. The platform's remarkable processing power is responsible for the excellent sound quality of these plugins.
If you wish to attain the same realism, color, and personality level these plugins provide, you will need far more processing power than is currently available. Its sub-2ms latency makes it perfect for live, plugin-based audio recording.
Pros:
The user interface is fantastic and deserving of much acclaim. You get a lot of bang for your buck ($2,500) with all the included software and plugins and the high-quality hardware it boasts. There are better options, but if you're a professional recordist and need an audio interface with lots of inputs and outputs and built-in DSP, this one's a strong contender.
Cons:
The ALT button's ability to aggregate a stereo signal into mono results in an increased output level, which is our main gripe with the Apollo x8. Because of this, comparing mixes in stereo and mono using A/B testing is a huge pain.
A tier Mono switch would greatly improve this audio interface, and we are curious if it's a feature you can update via the software. The interface's overall solidity of construction is a positive first impression.
The one weak point of the Universal Audio device is the Preamp and Monitor knobs; we're not sure what the company thought when they made that decision. Even though this may not be a deal breaker for some, it does reduce the interface's overall tactile appeal.
8. Avid Pro Tools | Carbon
Avid's latest iteration of their popular Pro Tools line of audio interfaces is the Avid Pro Tools | Carbon.
It set a new benchmark for software and hardware integration. It was made to help artists, engineers, and composers spend less time fussing over technology and much more time being creative during the recording and mixing process.
Combining native CPU with acceleration enables unprecedented plug-in utilization and latency-free real-time monitoring. You can stream music with a 32-bit float precision and almost no latency, thanks to the AVB connection between this interface and your computer.
Key Features:
Circuitry
Pro Tools has been the go-to choice for recording and mixing studios for many years. It's easy to see why; both the console-style interface and timeline-based editing windows are well-liked features.
The best results can be achieved because of its hybrid engine, which supports native CPU and DSP processing simultaneously while recording and mixdown. Moreover, you may utilize its built-in functionality, like zero-latency monitoring, without installing any other control software.
DSP Cores
The capabilities of one's computer might occasionally limit in-the-box composing and recording. However, adding eight HDX DSP cores strengthens the capability of your systems. More plug-ins, both native and non-native, will be available for use. This interface offers a full production environment for unrestrained creation, with plug-ins from Avid's Complete collection, virtual instruments, NI, and a plethora of hardware emulations.
Converters And Preamps
Sound quality through this interface is top-notch. Four great A/D converters are used per channel to deliver crystal-clear sound with a wide dynamic range that allows for accurate recording of both soft and loud sounds with no distortion.
Eight brand-new preamps, engineered for maximum openness and fidelity, represent the pinnacle of the brand's output to date. Additionally, four of the eight preamps feature a variable impedance control, allowing optimal gain staging from any input. It has eight preamps, which may be skipped for the smallest signal chain, making it ideal for engineers and producers working with other devices.
A Lot Of Connectivity Options
It provides the adaptability necessary for every recording environment, whether a home studio or a major production house. His eight excellent preamps can easily track soloists, large ensembles, and overdubs.
However, 16 channels of digital I/O are provided via ADAT for expansion purposes, such as playing with a larger ensemble or using a drum set with several microphones. Its versatility makes it a good fit for hybrid studio setups, and can grow with your business if need be.
Pros:
Producers may get professional sound at a reasonable price with this interface. Its AVB implementation can link up to your PC without significantly increasing latency. You'll be able to use other programs, like those for mixing or mastering, on the songs and still achieve great results.
The one exception is that this interface can only connect via USB, so if you need network access outside those constraints, you'll need to buy other equipment. Firewire cards are also used even though they are not included in the package but should operate just as well.
Cons:
A drawback is that it does not have a SPDIF; if you do not gate your Talkback channel, the talkback mic will have a lot of background noise. The noise made by the unit's fan is almost inaudible. To even hear it, you must put your ear right near it, so storing it on your desk has not been a problem. A further drawback is that the cost is relatively high considering the included features.
9. Focusrite Clarett+ 8Pre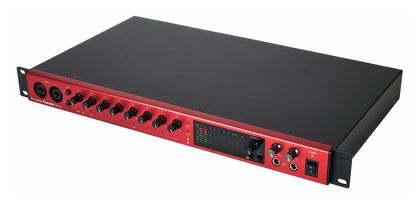 Focusrite's Clarett+ 8Pre is a solid audio interface with 18 inputs and 20 outputs, making it versatile enough to be the backbone of a stationary or studio.
Its eight Clarett+ microphone preamplifiers provide stunning audio, and its USB Type-C interface ensures ultra-fast data transfer with minimal latency. The magic starts as soon as you plug in your microphones thanks to the mic preamps' switchable Air effect, which simulates the openness and clarity of an ISA transformer-based preamp to make your recordings sound more professional.
Key Features:
Mixer
Focusrite Control, a cutting-edge software mixer, is preinstalled on your

Focusrite Clarett+

and streamlines the process of establishing customized monitoring and routing.
Focusrite Control is an easy-to-understand classic mixing workflow that provides quick access to internal hardware controls like volume and mute. The free Focusrite iOS Control software allows users to fine-tune their desktop version's mixes from their iOS device.
Monitoring
The

 Clarett+

8Pre's monitor panel has a 6-segment, multichannel LED meter for monitoring analog and digital input levels and the primary monitor outputs. A volume knob, brightness, and volume toggles are at your disposal when monitoring.
This interface is a great device for tracking and mixing since it has two headphone outputs, an extensive dynamic range, and enough power to offer healthy levels of high-impedance headphones.
Latency
This interface's very low audio latency over USB-C allows you to use your preferred DAW plugins while recording and monitoring in real-time. There is zero necessity for specialized hardware like DSP. You can use any plugin for each recording channel to build the ideal recording chain.
Preamps
The

Focusrite Clarett+

8Pre has mic preamps from Focusrite's exclusive Clarett+ line, which means it has tons of clean gain and almost no background noise.
Focusrite's patented Air function is included in these preamps, giving your recordings fresh air by switching to an analog replica of Focusrite's lauded vintage transformer-based ISA mic pre. Voices with a presence and smooth air may be recorded using the if that's what you're after.
Inputs And Outputs
The Clarett+ 8Pre has an incredible dynamic range thanks to its eight freshly developed mic preamps. The Clarett+ 8Pre's compact 1U size and many connectivity options (including MIDI and ADAT) make it ideal for use in either a permanent recording studio or a portable recording rig.
This interface is a great interface option because of its high-quality sound, cutting-edge round-trip audio latency, and user-friendly design.
Bundle
This

Clarett+

interface has an insert on each channel, so you can always have your preferred rack gear connected and ready to record through. All the interfaces come with the Hitmaker Expansion, a professional-quality software package with powerful mixing plugins and virtual instruments and a versatile insert configuration that allows you to add analog gear to your signal chains as needed.
Pros:
Despite requiring you to switch tabs to access the Air buttons, the interface's straightforwardness is a welcome change. There was no need for the mixing and routing complexities found in products by many other manufacturers; instead, it was ready to go in seconds.
You could manage the foldback mix from an iPad, and the DAW could remain on the computer screen, which was a huge time saver compared to using two monitors. The ability to instantly silence the microphone is also beneficial in online meetings.
Cons:
The minimal monitor controls perform as expected, albeit it's odd that there isn't a button to do summed mono or A-B monitoring between two independent speaker systems. A last criticism is that the preamp gain doesn't go high enough to reliably handle a high-gain microphone like the Shure SM7B without being too loud or lacking in headroom when cranked.
The main difficulties with this interface are mobility and the software control may not be to everyone's liking. Nevertheless, this is a problem that most of their products have, and it does not necessarily hinder the user's ability to engage with it. In addition, a 15W USB-C connection is necessary for bus powering.
10. Prism Sound Lyra 2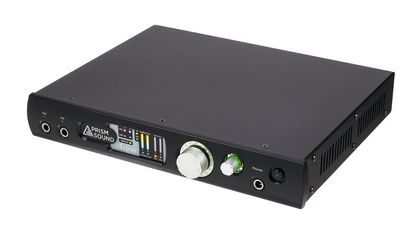 The Lyra 2 by Prism Sounds is an improved small USB audio interface with ultra-stable clocking.
The interface is great for vocal performances and overdubs, with just the perfect amount of flexibility and connection for tiny project studios or on-the-go producers that are fidelity purists. An easy-to-use software interface allows you to access complex settings, such as adding more channels using optical input.
In terms of digital audio quality, the interface enjoys an unrivaled reputation amongst connoisseurs. The audio interface by Prism Sound is unrivaled in terms of both sound quality and portability.
Key Features:
Reference
With its focus on manufacturing audio industry test and measurement equipment, it quickly rose to the forefront of digital audio technology. Equipment like it has raised the bar for pure, uncolored sound thanks to decades of engineering research into the challenges of digital clocking. The most faithful aural depiction is provided by your interface, whether you're using it for music production, forensic investigation, or something else.
Mic Preamps Technology
The two Class A mic preamps live up to the system's stellar reputation for sound quality by capturing recordings in breathtaking clarity and depth. On the other hand, these preamps are anything but sterile. They were created to expose every element of the instrumental and vocal performances and the studio's acoustics.
The integrated control panel software allows you to choose from various settings for the preamps, such as the 48V phantom power and 20dB pad, as well as the input type that immediately targets variables on the jack utilized.
Verifile Technology Compatible
Verifile is a proprietary technology created by Prism Sound that can verify the integrity of audio streams or recorded files. Audio storage and forensic analysis are examples of mission-critical processes that cannot tolerate even imperceptible clicks, pops, and dropouts.
The OS is frequently to blame, as it sometimes pauses audio processes to complete other operations, even if you've optimized your OS for audio performance. The IT system can take a series of audio samples and match them to the original, allowing you to spot even the smallest error.
It can be used in several different contexts, including as a standalone tool for verifying the authenticity of sound recordings, as a plug-in inside your DAW, and even as a background process within an ingesting system to examine multiple files in real time when recording.
Soft Limiter For Digital Clipping
You'll enjoy the gentle limiter when dealing with live sound or broadcasts with no do-overs. When activated, the Overkiller avoids digital clipping without introducing any unwelcome sound distortions or diminishing the overall quality of the recording. Indicators on the input channels make it simple to see high or low signal levels that could cause problems.
Pros:
In terms of technical performance, Pro Lyra is on par with Orpheus, albeit smaller, more portable, and less expensive than Orpheus, while still retaining a wide range of professional capabilities and configuration options. Because of the rapid evolution of computer interface standards, having USB 2 compatibility is also an excellent way to safeguard your investment for the long term.
Although their converters, clocking, and analog circuits continue to serve as industry benchmarks, they face stiff competition in the little interface market. Other companies can now match or even exceed their audio performance. Everything going through the interface, from its physical build to the sound quality, reeks of high quality and sophistication.
The stereo image is expansive in-depth, and incredibly clear on a microscopic level. The microphone preamps are discreet and clean, with a pleasingly robust low sound that we associate with high-quality products. The interface is highly desirable for uses where only a few analog inputs and outputs are required.
Cons:
You will need to get used to the fact that any of the knobs does not regulate the preamp gain; rather, it is managed entirely through the software. It can be awesome or annoying, depending on what you're doing. When you use the onboard preamps, opening up the software to adjust the input gain with speed can be cumbersome if you often run your outboard gear through the line input. However, if this is not the case, it does not matter.
Bonus:
MOTU UltraLite-mk5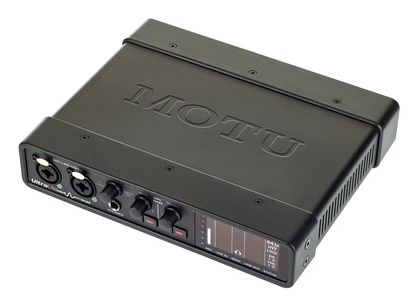 The MOTU UltraLite-mk5, a USB audio interface with 18 inputs and 22 outputs, boasts a stunning round-trip latency of 2.4 milliseconds and a reference-quality D/A.
The UltraLite-mk5's microphone preamps record music with startling clarity, and the generous assortment of inputs and outputs means you can easily connect your preferred external devices. The loopback feature of this high-performance audio interface simplifies podcasting and live to stream.
It is also easy to create professional-quality monitor mixes with the help of the redesigned CueMix 5 software and high-quality onboard digital signal processing (DSP).
Key Features:
Inputs and Outputs
The

MOTU UltraLite-mk5

is a portable half-rack I/O unit that provides access to a total of 40 audio channels. The two mic/line inputs are apparent, and there are six line inputs and ten line outputs in total, making this audio interface a total of 18 inputs and 22 outputs.
In addition to its digital optical I/O and MIDI channels, the UltraLite-mk5 features a headphones output that delivers high-quality audio. As an essential tool for podcasting and live streaming, loopback is also included.
DSP
The internal digital signal processor (DSP) of the UltraLite-mk5 produces high-quality audio with features including an EQ, reverb, and dynamics. In addition to the DSP audio inputs and outputs, this audio interface features a monitor mixer that allows for individual monitoring of each analog output channel.
The MOTU CueMix 5 software is a powerful yet intuitive visual mixer controller. Furthermore, CueMix 5 has been redesigned from the ground up, with eye-catching optical mixing, eq editing, and a handy, interface sure to speed up your workflow.
Latency
Quality sound and reliable functionality are essential whether you're performing live or recording in the studio. Both of these needs are met by the UltraLite-mk5. It has a 125dB dynamic range and -114dB thanks to the reference-quality D/A from ESS Technology.
The 24-bit/96kHz latency round-trip via USB is a big plus. The UltraLite-dependable mk5's performance is supported by PC or Mac and iOS owing to updated drivers.
Pros:
The MOTU UltraLite mk5 is a portable USB interface with top-notch sound quality and surprising versatility in studio, bedroom, and live performance use cases.
This is due to the abundance of inputs and outputs (I/Os), each of which may be independently adjusted in software and, if necessary, subjected to audio processing using DSP FX. It performed consistently and admirably when tested with both macOS and iOS devices.
Cons:
It appears that the MOTU UltraLite-mk5 is a well-engineered interface with only a few noticeable flaws. At 192 kHz sampling, the worst problem is extreme distortion at mid and low frequencies. None of this belongs here. The second issue is less severe and has been fixed for some time in desktop DACs; this is the IMD distortion growing at mid-levels.
Conclusion
These are the Top 10 Best Audio Interface For Film Scoring 2023. It revealed that each interface has its own strengths, particularly in film score and audio recording. Whether a complete novice or a seasoned pro, you will find these a welcome addition to your toolkit because of how user-friendly and intuitive they have become, thanks to technological advancements.
In this list, we can find high-priced solutions from well-known brands and inexpensive options from up-and-coming ones. The Universal Audio Apollo x8's steep price tag can be off-putting if you're just starting. This interface boasts superior connectivity to its competitors, a power supply that is 50% more powerful than its smaller relatives, and outstanding preamps. The interface's support for surround monitoring is more than adequate for film scoring. Its price is heavily influenced by its features, yet it remains one of the better choices available.
The Avid team has satisfied its users by delivering a simple yet effective solution. They've introduced a game-changing interface to the market. The software we're discussing, Avid Pro Tools | Carbon, is a tool for musicians, sound designers, and composers that uses cutting-edge technology to inspire originality. It has many connectivity choices, but the fact that adding them to AVB doesn't raise latency is the most satisfying.
Regarding any metric, Prism Sound Lyra 2 is the undisputed champion. This interface features great technology in its miniature preamps, but what makes it truly worthwhile is the inclusion of Verifile. You can check the reliability of recorded or streaming audio with this technique. It enhances audio quality, whether used independently or as a plug-in for your DAW.
With this Top 10 Best Audio Interface For Film Scoring 2023, we hope to shed light on your greatest film scoring possibilities. We know it can be challenging to keep up with the ever-changing offerings of different firms, but we hope this list will help you make an informed decision.
Death metal enthusiast here. I am a Romanian musician and producer with over 13 years of experience in the music industry. I've experienced all types of Metal up until now, playing Melodic Death Metal, Brutal Death Metal, and Black Metal with different bands. Learning by doing is my base principle, which is why I've been drawn to sound design from an early age. Read more…