Today we plan to talk about the "11 Best 4×12 Guitar Cabinets from 2023." Electric guitar players will never be at peace until they have a huge guitar arsenal, multiple pedals for every possible effect, and enough amplification to share their talent with the neighborhood.
Amps come in different types, shapes, and sizes. There are combo amps where the amp head or control panel that has all the knobs to shape your tone is integrated with the speaker in a single unit. These amps are a popular choice for beginner guitar players as they are affordable, don't take up too much space, and get the job done.
However, as your talent and audience grow, you'll need a decent cabinet paired with an external amp head to reach the last row of music fans when playing live. This larger setup suits connoisseurs who like to control every aspect of their sound. You can try out different amp head/cabinet combinations to get the sound you're after.
This combination also allows you to pair equipment from different brands. So, for instance, if you heard that an Orange amp head has been getting great reviews, you could pair it with your Marshall cabinet rather than having to buy a separate Orange cab unit as well. So, when it comes to experimentation, the sky is the limit.
11 Best 4×12 Guitar Cabinets In 2023
1. Marshall

ORI412A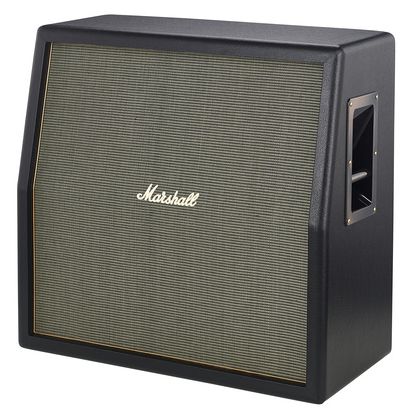 Marshall is a household name for amps and cabinets, especially if you're a Les Paul player.
With 15 years of experience under its belt, the infamous Marshall company strives to pay attention to the needs of the modern guitar player. As a result, each cabinet gets special attention in terms of the quality of the chassis, the material used for construction, and of course, the most essential ingredient, the speaker inside.
The Origin series from Marshall includes two distinctly designed units, the ORI412A and the ORI412B. While both units have the same characteristics under the hood, their appearance sets them apart. Nonetheless, both are compatible with the ORIGIN20H and other Origin amps in the Marshall line.
Key Features:
Construction & Design
Here's a uniquely designed cabinet with an angled design, unlike the more conventional-looking flat front design, which you may be used to seeing. The unit measures 29.5″ by 29.9″ by 14.1″ and weighs 68.1 lbs. It's good that the sides have recessed handles so the unit can be moved around easily when required. The exterior is lined with Tolex, which is a durable vinyl that is found on most amplifiers. In addition, the ORI412A employs a closed-back design to give it its distinct tone.
Interior
When it comes to the configuration of the speakers inside the rugged exterior, you get a 4 x 12″ configuration. To further elaborate, there are four twelve-inch Celestion C12E-60 speakers inside. Each one has 16Ω of impedance and delivers 60W of power to dish out a combined power of 240W.
Character & Sound
Every amp has its own sound signature. Over the years, Marshall speakers have become world-renowned for their warm sound and expressive behavior. The ORI412A pays homage to the vintage sound that the classic Origin series has been known for. The sound is nice and thick in the bass register, with great articulation in the mids, which makes the cabinet ideal for guitars and vocals. In addition, the cabinet's cleverly designed form factor gives it more projection and a profound tone.
Pros:
The sound characteristics are impressive, as you get a great representation of the middle range and a warm, punchy bass. Combining this cabinet with a decent Les Paul will surely turn some heads. In addition, the angled design delivers a more open sound with exceptional projection.
Cons: 
Some of the newer models from Marshall have switchable technology that allows you to convert from Mono to Stereo, which the ORI412A lacks. Also, there are no casters on the cabinet, so you'll have to purchase them separately and install them yourself to make the cabinet more mobile if you plan to move it often.
2.

Friedman 412 Vintage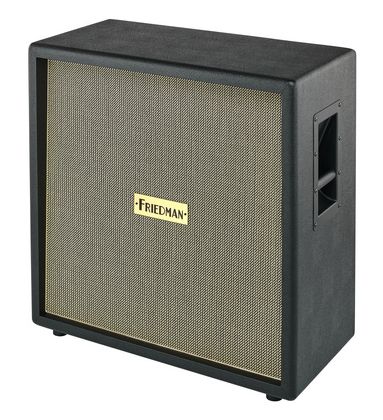 The brainchild of the famous Mr. Dave Friedman, the brand has an impressive portfolio.
The Friedman name is bound to appear when discussing high-end combo amps, amp heads, monitors, and cabinets. Having 25 years' worth of experience, the man behind the brand has had the opportunity to work with the leading names of the music industry and has had a hand in shaping their sound.
It is this experience, understanding, and an undying thirst to deliver the best that the Friedman has been able to woo guitar players worldwide by delivering top-of-the-line cabinets like the 212 Vertical Slant, 112 Vintage, Runt 112, PT112, the signature Steve Stevens Cab and the 412 Vintage Cabinet discussed here.
Key Features:
Speakers
Most of you may be used to seeing four of the same kind of speakers in a cabinet, but this is where Friedman's ingenuity comes in. Behind the grille are two different pairs of speakers that give the 412 Vintage its distinct sound. The cabinet's top slot is fitted with two Celestion G12M-25 Greenback speakers with an impedance of 16Ω. The bottom row has a couple of Celestion Vintage 30 speakers. Both speakers have their own sound characteristics and provide more variety and range. The 4 speakers combine to deliver 100 watts.
Construction
The cabinet uses large pieces of Baltic birch put together by tongue and groove joints giving the exterior a road-ready solid construction. The back of the cabinet is fully sealed, so all the tonal goodness is forced through the salt and pepper cloth grille on the front where the Friedman logo plate resides. As cabinets go, the 412 Vintage is on the heavier side and weighs 86 lbs. while measuring 30″ by 30″ by 14″. The base has 4 solid rubber feet to keep the unit an inch off the ground.
Character & Sound
Speaking of the sound delivery, the speakers seem to focus their technical prowess on delivering a detailed mid-range and a quelled high-end, so you get just the right amount of punch when playing chords and a lot of girth when playing solos. From the Celestion 30s, you can expect complexity and detail in the presentation of overtones, adequately bright treble range, and wonderfully warm low-end. The richness in the mid-range compliments the tones emanating from the G12M-25 painting, an elaborate sound canvas that your music listeners will get lost in.
Pros:
Using two sets of speakers with different tonal abilities brings a whole new dimension and diversity to your sound. You get an amazing enhancement in the mid-range, with just the right combination of warmth and brightness at the respective ends. The 12-gauge wiring under the hood ensures you get pristine sound from your 412 Vintage cabinet.
Cons: 
It's hard to spot a chink in the armor of the immensely versatile Friedman 412 Vintage cabinet. However, looking at the steep price tag, you may have second thoughts, considering the Marshall Cabinet discussed earlier is a decent unit and comes at half the price.
3. Diezel

412 FV Front Loaded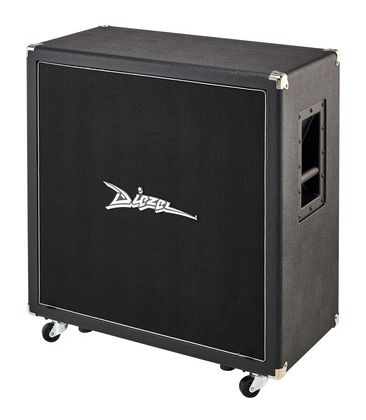 The Diezel brand specializes in all things sound and delivers impeccable amplification technology.
Endorsed by Metallica's lead man James Hetfield, Korn, Slipknot, Staind, Wes Borland, and many others, Diezel undoubtedly delivers the goods when talking about build quality, choice of speakers, technological acumen, and tonal excellence.
The 412 FV Front Loaded Cabinet by Diezel is a great example of all this. The company provides its users with a complete solution from amp heads to cabinets to footswitches, so you don't need to look elsewhere to put together your preferred live or studio setup.
Key Features:
Construction
To keep the resonance to a minimum, the closed-back 412 FV uses 18mm of African Okoume to construct the exterior that holds the speakers. The sides have recessed handles, and the corners are covered with metal to protect the chassis from inevitable bumps during transportation. The cabinet has a "front-loaded" design. For those of you who are not familiar with the term, allow me to elaborate. Inside the cabinet is a wooden board referred to as the "baffle" with cutout holes for the placement of the speakers. In a front-loaded cabinet, the speakers are loaded into the cutouts and mounted on the front of the baffle. However, the speakers are installed from the back in a rear-loaded cabinet. The unit measures 29.75″ x 29″ x 14.25″ and weighs an astonishing 100 lbs.
Speakers & Internal Circuitry
Like most front-loaded cabinets, the front grille can be removed to reveal 4 Celestion Vintage 30 speakers. An additional feature of the Diezel 412 FV is its switchable technology. With a switch flip, the unit converts from stereo to mono. So, the impedance is 16Ω during mono operations and 8Ω in stereo. The combined power of the speakers comes to 240 watts.
Character & Sound
An interesting claim about Celestion Vintage 30s is that they're twice as loud at the same power level as other speakers. So, it's good that the 412 FV has 4 on board. Also, the front-loaded cabinets seem to have a subtle variation in sound compared to the rear-loaded counterparts. So, if you're a metal player and want that "chugging" distortion while covering Metallica songs to melt your audiences' faces, this is the cabinet for you. The mids are nice and chunky, the lows are profound, and the top end is just the right kind of bright.
Pros:
If you're a fan of the sound that Celestion Vintage 30s delivers, you can't go wrong with the Diezel 412. The front design has the added advantage of ease of access if the speakers need attention. Furthermore, the cabinet has switchable technology, so you can easily choose between mono or stereo. The sound you get is punchy and detailed.
Cons: 
The 412 FV is another cabinet that is a little on the expensive side. But if you crave the tonal abilities of the Vintage 30s and have the money to spare, then the hefty price tag shouldn't be a deterring factor. Also, the unit is quite heavy, but the detachable casters will help you move it around.
4. Orange

PPC412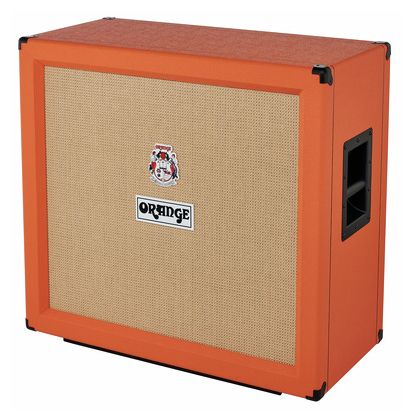 Here's a cabinet that can be spotted from a mile away, thanks to its distinctive orange color and black corners.
Since its inception in 1968, Orange has been noticing the trends and preferences among modern musicians and strives to manufacture amplification solutions that evolve to stay current. His approach has made Orange cabinets, and amp heads the preferred choice for acclaimed musicians, including Jim Root, Mastodon, Isiah Mitchell, Marcus King, and many others.
The Orange brand has successfully carved out a following among mainstream guitar players and aspiring musicians. The beautifully crafted PPC412 is the epitome of quality and has been gracing several studios and live stages with its presence for decades.
Key Features:
Internal Anatomy
Installed onto the baffle are 4 Celestion Vintage 30 speakers, which are immensely popular among cabinet manufacturers today. Each Vintage 30 has 60 watts of power, so you get 240 watts total and an impedance of 16Ω. The back has two quarter-inch jacks to connect an amp and pair the PPC412 with an additional 16Ω cabinet.
Appearance
Weighing just over 100 lbs, the Orange PPC412 measures 30.71″ by 29.13″ by 14.57″. Flanked by recessed handles on the sides, the cabinet features skid runners at the bottom instead of casters or rubber feet. The front exhibits a hard woven paper grille cloth between the classic picture frame look, while the back is closed off to focus all the sound delivery towards the front of the unit. The construction is solid since the cabinet uses highly dense 188mm Baltic birch for the exterior. The PPC412 comes in black and the trademark bright orange.
Character & Sound
If you're craving that classic British sound resonating around many music arenas for years, this is the cabinet you need. The Vintage 30s do a great job is delivering punchy tones that shine through the mix. You'll get a great representation of the lower-end, crisp highs and roaring mids. Your overdriven tones will vibrate the insides of your chest with a chuggy yet detailed sound. The clean tones sound very delicate, with a great blend of warmth and brightness.
Pros:
All in all, the four Celestion Vintage 30 speakers inside the solidly built chassis sound great and focus on a full spectrum sound delivery. The bass, mids, and treble are all there with great clarity, and none overpowers the other. So if you plan to pair your Orange amp head with a suitable cabinet, pairing it with the PPC 412 is a no-brainer.
Cons: 
While the 13-ply, 18mm birch construction is incredibly durable and long-lasting, it adds considerable weight to the cabinet. As a result, moving the 412 around will be a two-person job, at least. Also, no casters on the bottom, so you should consider getting a cart if you plan to move it around for gigs.
5. Messa Boogie

Rectifier Traditional Straight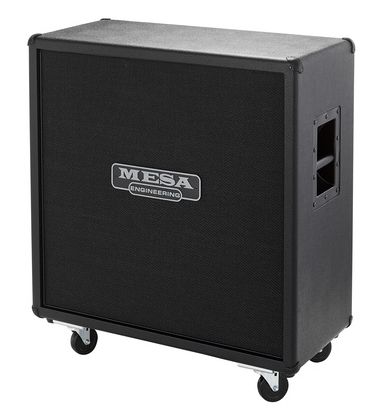 Being operating since 1969, Mesa Engineering knows a thing or two about amp heads and cabinets for electric and base players.
The Rectifier series from Messa Boogie has many variations in size, design, and speaker configuration. Some smaller models include the 1×12 Mini Rectifier 19, 2×12 Compact Rectifier, 2×12 Vertical Rectifier, 1×12 Rectifier Cabinet, and much more.
The bigger and pricier models from the range include the 4×12 Rectifier Traditional, the 4×12 Rectifier Standard, and the flagship 4×12 Road King Rectifier cabinet. You can choose the slanted or straight design variations among the models.
Key Features:
Construction
The cabinet's frame is made from marine-grade birch and lined with black Taurus vinyl giving it a premium look and strong construction. The unit has a classic upright design, with the front featuring a twisted jute grille. The base is loaded with casters which can be removed if moving the cabinet frequently is not required. The package includes a slipcover that protects your cabinet's exterior from dust.

Speakers


In the Messa Boogie cabinet are four Celestion Vintage 30 speakers with a combined 240 watts of power. The internal wiring is done so you can easily switch between mono or stereo operation. The Vintage 30s have an impedance of 8Ω during mono operation and 4Ω in stereo. The closed-back cabinet also has an output to connect other cabinets with similar resistance.
Character & Sound
The voicing in the mid-range is exceptional. The overall sound is detailed and clear, which makes it ideal for rhythm work and lead solos. Another factor that affects the sound is the size of the cabinet, which is slightly smaller than the "Rectifier" series cabinets. This means that you get an enhanced mid-range with tightness in the projects, so you can hear everything you play right through the mix.
Pros:
The Messa Boogie cabinet is great for the Celestion vintage 30 fans. The cabinet delivers great sound across the whole frequency spectrum and offers mono and stereo modes depending on the requirement. The casters on the base can be easily installed for movement on stage or within your home studio. Furthermore, the inclusion of the slipcover is always a welcome feature.
Cons: 
While the Celestion Vintage 30s sound phenomenal, preference in sound is subjective for many musicians. Maybe you've already tried them and want more variation in your sound. Perhaps another cabinet with something else under the hood could be a worthy alternative.
6.

ENGL E412VS PRO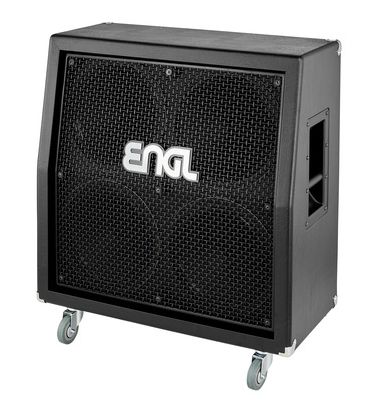 Since its inception in 1984, this German manufacturer has gained immense popularity.
There are many reasons behind their widespread acceptance in the realm of high-end amplification. Their innovative strategies, in-depth research, and technologically advanced product manufacturing have set them apart from the competition.
ENGL has a vast portfolio specializing in accessories, combo amps, amp heads, rackmount units, and cabinets. The "E" series includes several cabinet models in different shapes, sizes, and sound signatures. The E412VS Pro is a more budget-friendly offering that will ease the switchover from the combo amp to the exciting world of amp heads and cabinets.
Key Features:
Speakers
You'll find four increasingly popular 60-watt (240 watts combined) Celestion Vintage 30 speakers behind the metallic mesh-like grille. In addition, the E412VS has a couple of quarter-inch ports on the back, which make it equally capable of stereo operation. In stereo mode, the speakers switch to 2×120 watts with an impedance of 2×16Ω.
Character & Sound
The angled front interface improves the sound projection and delivers a more open response. The closed back pushes out all the tonal goodness through the metallic grille. The Celestion Vintage 30s do the rest. As a result, you get a solid bass and silky smooth highs, and the mids show a lot of girth and definition. So whether you like a hard-hitting, thumping distortion or a mellow clean tone with exceptional clarity, the versatile E412VS Pro needs to be part of your setup.
Appearance
You'll find two variations of the E412VS Pro in your local music instruments/accessories store. The model comes in both straight and angled versions. The slanted variant has casters for easy movement, whereas the straight model has a flat base with no wheels. Apart from these differences, all the components inside are the same. Made from 14-ply Siberian birch, the unit weighs 114 lbs. The cabinet's measurements are 29.5″ x 29.5″ x 14″.
Pros:
The slant in the external chassis and the handcrafted metallic grille on the front make the cabinet more open sounding. In addition, the inclusion of casters under the heavy frame makes the E412VS road worthy. Finally, few can compete with the sound characteristics of the gifted Vintage 30s, which are equally capable of handling stereo and mono operation.
Cons: 
There aren't any cons here. However, you must ask yourself if you prefer a straight or slanted cabinet. Both have their distinct sound. Some might argue that the slanted design is better for hearing yourself playing on stage, which is why most monitors tend to be shaped that way too. On the other hand, the straighter design has a more focused projection in one direction. Take your pick.
7. Bogner

412ST
Another company that specializes in high-end boutique custom amps goes by the name Bogner.
Created by Reinhold Bogner in 1989, the Bogner brand has been around long enough to understand the needs of mainstream musicians and aspiring guitar players worldwide. Back in the day, when the company was building one-off custom amps, their customers included Allan Holdsworth, Steve Stevens, and someone who we know as Eddie Van Halen.
The 412ST is a product of years of research, hard work, and technical innovation. As a result, the cabinet from Bogner has an aesthetically pleasing design. The slightly tilted grille on the otherwise flat front provides a load of resonance and, as Bogner likes to describe it, "3D note projection."
Key Features:
Appearance
The straight-faced Bogner cabinet looks great. The body is made of solid birch with a patterned black finish. On the other hand, the grille is light brown and provides great contrast compared to the sides and back. The base has four heavy-duty casters installed, and the sides have metallic handles to help move the unit easily when needed. The wheels are detachable, so the cabinet also has four rubber feet to put the unit directly on the ground. Weighing 92 lbs., the cabinet measures 29.75″ by 29.75″ by 14″ in size.
Celestion Vintage 30s
Inside the ever so slightly angled front are four 12-inch Vintage 30 speakers. Unfortunately, the Bogner cabinet doesn't have switchable modes, so the speakers provide a power handling of 240 watts with 16Ω of impedance in the only available mono mode.
Character & Sound
Most of you are now familiar with the Vintage 30's sound profile. The speakers are extremely responsive and react well to aggressive pick attacks and the subtle nuances of finger-style clean tones. The bass sounds woody and packs a punch; the mids are thick and full-bodied. Finally, the highs are nicely controlled. The closed-back and straight form project the sound emphatically in one direction to make use of all its juicy goodness.
Pros:
The Bogner 412ST stays true to its lineage and provides a quality build paired with impressive tones emanating from the rich and versatile Vintage 30s. Compatible with most amp heads, the cabinet truly shines when hooked to a Bogner amp head.
Cons: 
You might think of the Bogner 412ST as another cabinet that uses four 12-inch Celestial Vintage 30 speakers, but the build and construction material has a big say regarding sound. So, you may want to try it out for yourself. However, a stereo setting would be a good addition at this price.
8. Marshall

1960A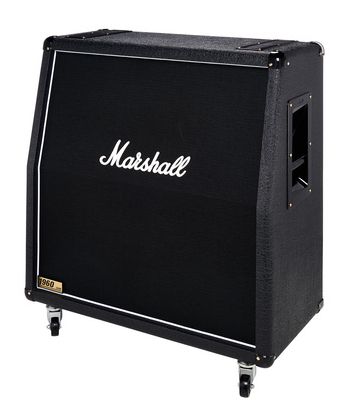 Here's another great cabinet from the Marshall Family built to impress.
The 1960 series features multiple versions. You can choose between the 1969A/B, 1960AV, 1960AX, 1960TV, and 1960AHW models. Each of these models uses different speakers and has a unique sound compared to the others. However, when buying a cabinet with the "Marshall" name, you can be reasonably sure you're getting your money's worth.
The 1960A is the angled variation where the upper two speakers have a slight tilt to vary the sound projection. The 1960B is a more conventional-looking cabinet with a flatter front design. There's a subtle difference in the sound delivery, so it all comes down to user preference.
Key Features:
Speakers
You may have noticed that the bulk of the cabinets discussed here is inclined towards using the Celestion vintage 30s in their respective cabinets. However, the Marshall 1960A avoids jumping on the bandwagon. Instead, installed in the unit are four Celestion G12T-75 speakers with a collective power handling of a whopping 300 watts, more than any cabinet talked about thus far. But that's not all. The 1960A also uses switchable technology to choose 16Ω or 4Ω of impedance in mono mode and 8Ω in stereo with 150 watts per side.
Character & Sound
The Celestion G12T-75 brings something new to the table. The sound characteristics are especially suited for guitarists who frequently use effects like chorus, flanger, verb, or delay. This is because the speakers emit sound with great clarity, so the effects don't meddle with the actual tone to make things muddy. If you want a cabinet with high-fidelity sound which ensures that the amp head is heard the way it intends to be heard, this is the cab for you. The highs are bright, and the lows are warm and profound.
Appearance
The cabinet features an angled frame made of birch wood and is layered with elephant grain vinyl in black. The closed-back cabinet has a black cloth grille that is nicely separated from the sides with white piping. The grille also sports the "Marshall" logo and the model's name in gold on the bottom left. The base has four casters that allow easy movement when this 80.25 lbs. unit needs to be moved. The overall dimensions come to 32.68″ by 29.92″ by 14.17″.
Pros:
The usage of Celestion G12T-75 is a good change of pace from the overused Vintage 30s most cabinets come installed with these days. The speakers are immensely powerful and can handle any amp head from the Marshall range. In addition, the cabinet offers stereos and mono modes. Finally, having casters on the base make the cabinet road ready for tours and live shows.
Cons: 
The cabinet offers great bang for the buck, being a quality unit that does what it does. Perhaps the only thing that could persuade you to knock the 1960A off your shopping list would be if you preferred the sound of the Vintage 30s, G12 M Greenbacks, or other varieties of speakers Marshall offers in their other 1960 models. The straight or tilted form factor could also be a deciding factor for you.
9. Harley Benton G412A Celestion V30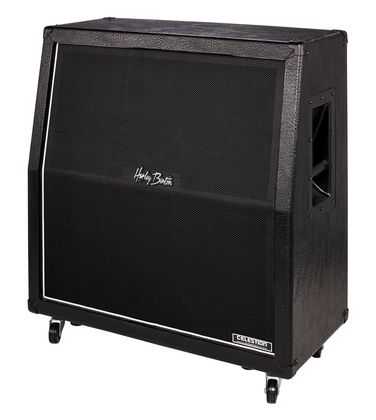 The house brand of Thomann music is back with its own take on an amp cabinet.
The features some of these Harley Benton products offer, paired with the substantially lower price, are enough to put some of the higher-end brands to shame. Many of you may dismiss this cabinet, thinking that the low price is directly proportional to the quality of the product, but if you stick around, you may be surprised.
The cabinet has been carefully designed to cater to the rock guitarist or heavy metal player in you. The unit has a titled form which is carefully angled to provide better projection and let you hear yourself more clearly when on stage with other instruments playing in the background.
Key Features:
Construction
This slanting cabinet is made of plywood with a thickness of 16mm. The base is fitted with smooth rolling casters, which makes it easy to lug around the unit's 86 lbs. presence. The back is closed off, and the sides have helpful handles that aid in positioning the unit. The front has a black cloth grille that exhibits the "Harley Benton" logo and mentions the speakers on the bottom right. The grille is lined with white piping, which adds a nice touch to the overall look. The frame is layered with black Tolex, which keeps the design nice and simple.
Speakers
The G412A uses four Celestion Vintage 30 speakers with a power handling of 280 watts. Being a budget model, you would expect the cabinet to possess only mono capabilities. However, you'd be wrong, as the G412A offers a stereo mode with an impedance of 8Ω and a mono setting with 4Ω to 16Ω of resistance.
Character & Sound
The cabinet has good sound projection and is a bit brighter in the higher register but not to the point where things start to get shrill. The bass is also decent and has good depth to it. The mids seem to have good clarity. You can use the cabinet for any music genre and style of playing. The cleans will sound articulate, and the distorted tones will be exceptionally hard-hitting.
Pros:
The biggest pro for anything that Harley Benton manufactures is how dirt cheap it may be. The cabinet is by far the lowest-priced unit on the list. Judging by the price, the cab performs quite well, as the Vintage 30s have their own unique characteristics and sound great regardless of the external housing.
Cons: 
Being an inexpensive cabinet, the G412A does lack quality in some areas. For example, the Tolex is very thinly layered and may peel off after some rough handling. The grille also looks subpar upon close inspection. However, getting a cabinet with 4 Vintage 30 speakers at this price point may drive you to overlook the cons.
10. Line 6

Spider V 412MII
The Line 6 Spider V is a great way to start if you want to move on from your smaller combo amp.
The company has a great selection of products ranging from amps, guitars, interfaces, effects pedals, multi-effects units, wireless systems, and much more. Being a guitarist, I still have my first Line 6 Pod XT Live unit, which has been my go-to effects processor for tons of gigs thanks to its solid construction and impressive capabilities.
Contrary to the air of negativity surrounding Line 6 amps, I bet you won't be disappointed if you give the 412MII a chance. This cabinet has been carefully designed to go with the Spider V 240HC MKII head to get the optimal performance out of both units. And when you like the affordable price tag, you'll be more inclined towards giving the cabinet this serious thought.
Key Features:
Appearance
The cabinet looks rather nice and offers a slanted design for the top row of speakers. The sides are fitted with handle grips, and the base 4 rubber feet keep the cabinet an inch off the ground. The frame is made of plywood to manage the weight, so the unit only weighs 79.3 lbs. The exterior is lined with black Tolex with rubber corners to protect the cabinet when transported. As for the dimensions, the unit measures 28″ by 27″ by 11.5″.
Speakers
Inside the cabinet are four custom Celestion speakers. The Line 6 cabinet even leaves the Marshall 1960A behind with its unprecedented 320-watt power handling, but that's not all. If you plan to use it in a stereo formation, you have that option too. You get 8Ω of impedance in stereo mode and 4Ω in mono.
Character & Sound
The cabinet has a closed-back design, making the sound punchy with a lot of chunk in the lower frequency range. The angled design adds great projection so you can hear yourself through the mix as you play. The clean sound is well-articulated, and the cabinet does dish out overdriven tones with a lot of girth. So chug away at those heavy metal rhythms and let your chest feel the thump. The custom Celestions are a good choice as they are equally suited for all kinds of music.
Pros:
First and foremost, the cabinet is extremely affordable. If you're looking for 4 Celestion speakers in a cabinet that offers 320 watts of power on a budget, few can compete with the Line 6 412MKII. What's more, you get both stereo and mono modes which some of the more expensive units strangely lack.
Cons: 
Perhaps making a side-by-side comparison may reveal how some Line 6 amps lack in sound delivery compared to more expensive units. However, getting 4 Celestion speakers and two modes of operation is pretty decent for the price you pay. Also, the cabinet could benefit from casters to transport it more freely.
11. EVH 5150 IIIS EL34
Anything with the initials "EVH" will excite the rock/metal guitar player in you.
Owned by Fender, the EVH line was designed to suit the needs of Eddie Van Halen himself. The sub-brand includes guitars, amp heads, cabinets, and loads of accessories designed to capture the essence of the Van Halen guitar tones.
The EVH 5150 follows the same vein in paying tribute to one of the most creative guitar maestros of all time. He may not have invented the fret-tapping technique, but he damn sure perfected it. If you have the infamous signature EVH Wolfgang model in your collection, what better way to recreate that legendary sound than to pair it with an EVH cabinet?
Key Features:
Speakers
Inside this solidly crafted EVH cabinet are four 12-inch EVH Celestion speakers that are backloaded onto the baffle. The total wattage of the speakers is 100 watts, and the total impedance comes to 16Ω. Unfortunately, you'll only find a quarter-inch jack on the back of the unit, as the cabinet doesn't have mono-to-stereo switching capabilities.
Character & Sound
The pine used in the frame's construction not only enhances the cabinet's durability but also adds a new dimension to the unit's sound. The highs get great clarity, and the bass is exceptionally profound. The 4 Celestion G12EVH speakers get you as close to Eddie's sound as possible. The girthy distorted tones are gut-wrenching, and your pinch harmonics get all the sustain they need. If clarity is what you crave, even with the gain cranked up to the high heavens, the EVH cabinet is the unit for you.
Design
The cabinet features a flat form factor with a cloth grille that has the iconic "EVH" logo on it and the model number on the bottom right corner. The cabinet has a 7-ply solid birch pine frame with textured black Vinyl covering. The base has four removable casters. You can pop them on when you're on tour or take them off in your home studio. The cabinet weighs 88 lbs. and measures 30″ by 30″ by 14″ in size.
Pros:
Eddie has legions of musicians that follow his guitar-playing techniques. Combining the cabinet with any amp from the 5150 series will mirror that Van Halen sound you've been after for ages. The setup is more suited for distorted solos, which were Eddie's forte back in the day.
Cons: 
There's only one quarter-inch jack on the back, so the cabinet doesn't offer a stereo mode. Furthermore, other cabinets on our list include speakers with more power handling than the EVH 5150. However, if 100 watts is good enough for your setup and you're dying to play some "eruption" note for note, this cabinet is your ultimate solution.
Bonus:
Soldano 412 Classic Slant
Soldano has a widespread name in the custom guitar amps and cabinets niche.
Known for its highly customizable products, the brand gives music enthusiasts the utmost control over their cabinets. Their website allows you to choose between Tolex color, the finish of the grille on the front as well as the choice of speakers inside.
With so many options, you can make a Soldano cabinet unique to suit your personality and tonal preferences. However, each custom order takes about 10 days to get ready as each unit is handcrafted. The Soldano Classic Slant is another great cab unit that employs four 12-inch speakers.
Key Features:
Speakers
You get four 12-inch Celestion Vintage 30 speakers on this unit, each of which can manage 60 watts of power individually and 240 watts collectively. Unfortunately, the impedance in mono mode comes to 8Ω, and since the Soldano cabinet lacks stereo operation, you'll only find a quarter-inch jack on the back of the unit.
Build
The cabinet sports a closed-back design, while the upper row of speakers is slanted. The overall frame is made of Baltic birch plywood. Plywood is sometimes used to construct cabinets to keep the weight down. Although not as strong as solid wood, plywood still has enough strength to manage the rough handling of a road-worthy unit. The sides have solid metal handles, and the base can be fitted with 3-inch detachable casters. The black cloth grille sports the "Soldano" logo on it. The unit measures 28″ by 14″ by 29″ and weighs 87 pounds.
Character & Sound
Due to its articulated mid-range, crystal clear higher-end, and compact lower register, the Soldano 412 has become popular among today's guitarists thanks to the four Celestion Vintage 30s on board. Something like a Fender Telecaster could make good use of the bright but clear high-end. Likewise, the tight bass response would do justice to the tonal profile of a Gibson Les Paul. But, by and large, the Soldano cabinet doesn't restrict itself to a certain type of instrument or genre of music.
Pros:
The slanted front gives the cabinet a more open sound with better projections. The Celestion Vintage 30s sound good in any situation regardless of the music you play, and the high-grade casters make transportation a cinch.
Cons: 
There's no stereo mode, so you might want to think about a cabinet that has dual modes if that is something you prefer in your setup. The Celestion Vintage 30s are great but are so commonly used that if you're not a fan of the sound or just want something different, perhaps the Marshall 1969A would be worth checking out.
Conclusion
So we've discussed some worthy options offered by the top brands in the industry today, including Marshall, Friedman, Diezel, Orange, Mesa Boogie, ENGL, Bogner, Harley Benton, Line 6, EVH, and Soldano. Surely, now you understand the ins and outs of the cabinets offered by these companies and are ready to purchase your new unit.

As you may have noticed, several factors can come into play when deciding on which cabinet to get. Starting from the build, some cabinets are straight-faced, like the Friedman 412 Vintage, Diezel 412, Orange PPC 412, Mesa Boogie Rectifier, Bogner 412ST, and EVH 5150 IIIS. Others like the Marshall ORI412, ENGL E412, Marshal 1960A, Harley Benton G412, Line 6 Spider V412, and Soldano 412 Classic have an angled front. You'll find a subtle difference in sound when you compare the two. It all depends on what works for you in this case.
The material used in the construction of the cabinet has an impact on the sound too. The choice of wood used to construct the cabinet's frame also makes a significant difference. For instance, how the wood resonates and how much sound is being reflected varies between solid wood and plywood cabinets. The thickness of the Tolex matters too.
Finally, the speakers installed inside are the most important aspect of any cabinet. You can pick between the Celestion C12E-60s, Vintage 30s, 912M25s, G12-T75, and G12 EVH speakers, to name a few. You could also explore the exciting world of custom cabinets, where the manufacturer allows you to decide every little detail, like the cabinet's color, the material being used, and which speakers to install.
Readings that you may like: 
Other Recommended Gear:
Top 12 NearField Studio Monitors On Any Budget
Top 10 Midfield Studio Monitors For Home Recording
Best Biggest Studio Monitors (FarField Monitors)
Top 10 Guitar Pickups for Low Tunings 
Top 10 Analog Compressors For Mixing & Mastering (On Any Budget)
Top 12 USB Audio Interfaces Under 150$, 200$, 300$ 400$ (Any Budget)
Top 12 Hardware Equalizers (Analog EQs For Mixing & Mastering)
Top 6 Analog Hardware Limiters 
Top 6 Solid State Bass Amps (On Any Budget)
Top 6 Ribbon Mics On Any Budget (For Vocals, Drums & Guitars)
Top 6 Cheap Dynamic Mics For Vocals Under 50$, 100$, 200$ & 300$
Top 6 Chorus Guitar Pedals (On Any Budget)
6 Best 61-Key MIDI Keyboards (On Any Budget)
9 Best 49-Key MIDI Keyboards Under 100$ & 200$
Top 5 Best 25 Key MIDI Keyboards (On Any Budget)
Top 12 Acoustic Drums (Best Kits/Sets On Any Budget)
Plugin Roundups:
Genre Focused:
Top 10 EDM Plugins  (And 10 Best FREE Plugins For EDM)
Top 10 Plugins For TRAP Beats (And 5 Best FREE Trap Plugins)
20 Best Plugins For Rock Musicians (+ 6 FREE Plugins)
Top 14 Trance Plugins (Uplifting, Tech, Progressive, Vocal, Dream, Hard)
Top 10 GOA & PsyTrance Plugins (Best Psychedelic Trance Tools)
Top 7 Plugins For Dubstep (With 10 Best FREE Effects & Synths)
Top 20 Synthwave Plugins (+ 11 Best FREE Plugins)
Top 15 Plugins For Techno, House, Electro, Tech House, UK Garage
Top 6 Plugins For Latin Music  (And 4 FREE Tools)
Top 12 Plugins For Hip-Hop (+ Best Kontakt Libraries)
Top 7 Plugins For Game & Film Scoring  (+ 6 Best Kontakt Libraries)
Top 10 R&B And Pop Music Plugins & KONTAKT Libraries 
30 Best Free Plugins For DnB, EDM, IDM & Experimental Music 
EQ Plugins
Top 12 Free EQ Plugins For Precise Mixing & Mastering
Top 9 Mid/Side EQ Plugins  For Mixing & Mastering (+ 2 Free Tools)
Top 7 Graphic EQ Plugins  (With 3 Best Free EQs)
Top 7 EQ Plugins For Mastering In | And Best FREE Mastering EQs
Top 6 Passive EQ Plugins (Klevgrand, SPL, UAD, Waves, IK Multimedia)
Top 11 Plugins For Making Metal (Best Guitars, Drums & Effects)
Metering:
Top 5 Audio Metering Plugins (LUFS, RMS, LRA, True Peak)
Top 6 Spectrum Analyzer Plugins  – Spectral Analysis Tools
Top 6 Oscilloscope Plugins To See The Waveforms
Top 5 Key Detection Plugins & Software  (+ Best FREE App)
Kontakt Libraries
20 Best Kontakt Libraries For All Categories (Synths, Drums, Vocals)
Top 7 Drum Libraries For KONTAKT (And 4 Freebies)
Top 7 Trap Music Kontakt Libraries (And Best Lo-Fi Kontakt Library)
Top 7 Metal & Rock Kontakt Libraries (Best Guitars & Drums)
Top 10 Guitar Libraries For Kontakt (Acoustic, Electric, Bass & Freebies)
Top 7 Trailer Scoring Plugins & Kontakt Libraries 
20 Best Free KONTAKT Libraries For Various Instruments
Top 9 Piano Kontakt Sample Libraries  (And 5 Best Free Pianos)
Top 10 Percussion KONTAKT Libraries  (And 3 Freebies)
Top 7 Kontakt Libraries For Horror & Thriller Scoring (No VSTs)
Audio Restoration, Calibration & Utility:
Top 6 Noise Reduction Plugins (And 3 Best Free Tools)
6 Best Audio Restoration Plugins & Software 
Top 7 Phase Alignment Plugins To Fix Your Bass & Drums
Top 10 Room Calibration & Headphones/Speakers Correction Plugins 
Instrument Plugins: 
Top 6 Vocoder Plugins (Effects & Synths + FREE Vocoder)
11 Best Rhodes VST Plugins (AND 5 Free Rhodes Plugins)
Top 12 Randomizer Plugins Including FREE Plugins
Top 6 Kick Drum Plugins (Best Kick Designer Tools)
Top 12 Woodwind Plugins (And KONTAKT Libraries)
Top 10 Double Bass Plugins (Best Upright Basses)
Top 5 Strings VST Plugins (AND 4 Best Free Instruments)
Top 6 Sampler Plugins (And 3 Best FREE Plugins)
Top 6 Classical Guitar Plugins & Kontakt Libraries (And FREE Guitars)
Top 12 Sub Plugins (Best 808 & Bass Tools For Massive Low End)
Top 10 Plugins On PluginBoutique (And 7 Best Free Plugins)
Top 11 Plugins On Plugin Alliance 
Top 7 Acoustic Guitar Plugins (And 4 Best Kontakt Libraries)
9 Best Bass Guitar Plugins (And 2 Best Freebies)
Top 6 Electric Guitar Plugins (Best PAID & FREE Picks)
Top 10 Arpeggiator VST Plugins (Best Synths, MIDI Effects & Tools)
Top 10 Modular Synth Plugins (And 3 Best FREE Plugins)
Top 6 Choir Plugins & Sample Libraries (And 3 Best Free Plugins)
11 Best Percussion & Drum VST Plugins (And FREE Plugins)
Top 8 Piano Plugins (Best Sounding Pianos & 5 FREE Piano Plugins)
Top 6 Organ Plugins Ever Made  (And 3 Best Free Organs)
Top 14 VST Plugins For Beginners (And 9 FREE Plugins)
Top 9 Drum Machine Plugins (And Groovebox Plugins)
4 Best Banjo Plugins (Best Banjo Instruments)
The 5 Best Ukulele Plugins & Kontakt Libraries 
Top 13 Synth Plugins (And 5 Best FREE Synths Plugins)
Top 13 Sequencer Plugins  (Synth, MIDI & Step Sequencers)
The 10 Best Multi-Effect Plugins (And 3 Best Free Plugins)
Top 12 Plugin Bundles For Musicians (Synths, Mixing & Mastering)
Processing & Sound Design:
8 Best Lo-Fi Plugins (PAID & FREE)
Top 11 Plugins For Mixing Vocals  (For Home Studio)
Top 12 Saturation Plugins (Best Mixing & Mastering Tools)
Top 6 Pitch Shifter Plugins (And 3 Best FREE Pitch Shifters)
Top 6 Chorus VST Plugins For Musicians (And 3 FREE Plugins)
Top 6 Limiter Plugins For Precise Mastering & Mixing
The 8 Best Filter Plugins For Precise Cuts & Boosts (+ 5 Free Filters)
6 Best Autotune Plugins To Improve & Enhance Your Vocals
Top 10 Transient Shaper Plugins (VST, AU, AAX)
Top 7 Enhancer Plugins (For Bass, Drums, Vocals & Harmonics)
Top 6 Flanger Plugins (And 5 Best FREE Flanger Emulators)
Top 7 Phaser Plugins (And 3 Best FREE Phasers)
Top 10 Plugins For Mixing Drums (And 3 Best Free Plugins)
Top 7 Bitcrusher Plugins (And 4 Best FREE Bitcrushers + 3 Bonuses)
Top 6 Plugins For Voice-Over & Dialogue Cleaning (Post Production)
Top 10 Stereo Imaging Plugins (Best Old & Modern Picks)
Top 5 Multiband Limiter Plugins 
Top 7 De-Esser Plugins For Better Vocals (And 4 FREE Plugins)
Top 7 Clipper Plugins (Best Limiter Alternatives)
Top 6 Chord Generator Plugins That Inspire Melodies (+ FREE Tools)
7 Best Exciter Plugins For Mixing & Mastering
Top 7 Channel Strip Plugins (And 2 Best Free Plugins)
Top 11 Distortion Plugins (And 4 Top Free Plugins)
Top 5 Comb Filter & Resonator Plugins | Melda, Kilohearts, Tritik
The 7 Best Vibrato VST Plugins | Audec, Audiority, Melda
The 7 Best Tremolo Plugins | Eventide, Melda, SoundToys, Kuassa…
The 7 Best Harmonizer Plugins | Eventide, Melda, Aegean Music
7 Best Sidechain Plugins (VST, AU, AAX) | Xfer, Cableguys..
Top 10 Noise Gate Plugins (And 6 FREE Free Gate Tools)
The 6 Best Ring Modulator VST Plugins | KiloHearts, Melda
7 Best Autopan VST Plugins | CableGuys, Melda, Waves, Soundtoys
The 6 Best Frequency Shifter VST Plugins
Top 11 Granulizer Plugins For Future Sound Design
29 Best Sound Design VST Plugins
Compressor Plugins
Top 11 Free Compressor Plugins (VCA, Vari-Mu, FET, Digital)
Top 7 Multiband Compressor Plugins (And 4 FREE Plugins)
Top 5 Diode-Bridge Compressor Plugins 
Top 6 Mastering Chain Plugins: Complete VST Solutions 
The 7 Best VCA Compressor Plugins (VST, AU, AAX)
Top 11 Mastering Compressor Plugins (And 2 FREE Plugins)
Top 10 Opto Compressor Plugins For Transparent Sound
The 7 Best Vari-Mu Compressor Plugins (And 2 Best FREE Tools)
Reverb & Delay Plugins:
Top 12 Reverb Plugins (And 5 FREE Reverb Plugins)
The 6 Best Spring Reverb VST Plugins | AudioThing, GSi, u-he, Eventide
Top 12 Delay Plugins For Music Production In (VST, AU, AAX)
Top 10 FREE Delay Plugins (VST, AU, AAX)
The 10 Best Convolution Reverb Plugins 
Amps & Preamps:
Top 10 Guitar Amp Plugins (And 5 Best FREE Simulators)
Top 10 Bass Amp Plugins (And 5 Best Free Simulators)
Top 9 Preamp Plugins (For Vocals, Guitars & More!) + Free Preamps
Guitar/Amp Focused:
Can I Put Nylon Strings on a Steel-string Guitar?
Do Electric Guitars Sound Good Unplugged?
Buying Your First Guitar: 2 Things To Know
Are Tube Amps Worth It? (Tube vs Solid-State Amps)
How Often Does A Guitar Need a Setup?
Can I Play Classical Guitar On A Steel-String Guitar?
How often guitar necks need reset?
Can You Play Two Guitars Through One Amp?
Can a 6 String Bass Be Tuned Like A Guitar?
Can I leave My Guitar Tuned Down a Step? Yes, But Is It Safe?
Should I Learn 4, 5 Or 6 String Bass Guitar & Why?
How To Know If your Guitar Amp Is Broken?
How To Fix Distorted Bass Guitar Sound?
Do Fender Guitars Appreciate In Value?
Should You Put Stickers On A Bass Guitar?
How Acoustic And Electric Guitars Are Made?
Is Electric Guitar Too Loud for an Apartment?
Does a Preamp Improve Sound Quality?
If I Learn Acoustic Guitar Can I Play Electric Guitar?
How Many Hours A Day Should You Practice Bass Guitar?
Do I need an AMP/DAC To Run Bookshelf Speakers?
How to Record Electric Guitar Into Logic Pro X?
Do headphones get worse with age?
DAW Related:
Best DAWs For Musicians Available (With FREE DAWs)
What's The Most CPU Efficient DAW? – 5 DAWs Compared
How To Make Music Without Using A DAW?
Pro Tools Guide: How To Use AutoTune & Pitch Correction?
Ableton Review: Is It Worth The Money? (Cons & Pros)
Logic Pro X Review: Is It Worth It? (Cons & Pros)
How To Use Auto-tune & Pitch Correction In Cubase?
How To Fix Ableton Crackling, Crashing & Freezing? Step By Step
Plugin Related:
What Are Audio Plugins? Different Types of Plugins Explained
What Are The Best Tools To Develop VST Plugins & How Are They Made?
Cost of Developing Audio VST Plugin: Several Factors (With Table)
VST, VST, AU and AAX – What's The Difference? Plugin Formats Explained
Complete Guide To Noise Gate – What It Is, What It Does & How To Use It?
How To Clip My Drums? Here Is How & Audio Teasers (Before/After)
Complete Guide To Limiter: How To Use It (+ Best Plugins & Analog Limiters)
Mixing With Reverb: How To Add Life To Your Mixes
Linear Phase vs Minimum Phase EQ – Full Guide
Difference Between LUFS, RMS & True Peak Loudness Meters
How And When To Use Algorithmic And Convolution Reverb In Your Mix?
Difference Between Active EQ, Passive EQ and Dynamic EQ
Headphones & Studio Monitors:
Do headphones get worse with age?
Monitors vs Studio Headphones For Mixing & Mastering
Top 10 Room Calibration & Headphones/Speakers Correction Plugins 
Are Noise-Canceling Headphones Good For Music Production?
Can Headphones Break in Cold Weather?
Why do headphones & cables get sticky?
Can Wearing Headphones Cause Hair Loss?
How Do I know If My Studio Monitor Is Blown?
Side Effects Of Sleeping With Your Headphones On
Do You Need Music Amplifier For Studio Monitors or Studio Headphones?
Do Headphones or Earphones Damage Your Brain?
Can Headphones or Earphones cause Deafness or Toothache?
FarField, MidField & NearField Monitors – Their Uses, Pros & Cons
MIDI & Synths:
Should I Buy A MIDI Keyboard Or Synth? (Are Synths Worth It Anymore?)
Why Is Audio Gear So Expensive? (Especially Synths)
Top 12 Synth Brands – Analog, Digital & Modular Synth Manufacturers
11 Tips How To Choose MIDI Keyboard 
Should I Buy MIDI Controller Or Keyboard? Cons, Pros & Tips
Sultan Zafar is a guitar player from Islamabad, Pakistan. He has been playing music with various mainstream musicians for over 20 years. He is a song writer and music producer. These days he spends his time exploring different music genres and collaborating with fellow musicians on various projects. Read more..