Today we're going to unravel that mystery and discuss the top 12 pedals great for Fender Stratocaster in 2023.
Although novice guitarists know they need one, they may need to realize why they need a guitar pedal. They hope to one day perform like the best guitarists in the world and attempt to replicate their style of music. When you hear some guitarists perform, you wonder how they get the sounds they do. 
To achieve a specific tone for a song or solo, guitarists frequently seek advice from one another on how to achieve it. Everyone primarily performs in one musical subgenre, each with a distinctive sound. If you want to be heard better while soloing with the band, this could be one of the many reasons you'd want to invest in a new guitar pedal.
In a nutshell, here are the Top 12 Guitar Pedals Great For Stratocaster 2023:
3. Dunlop Cry Baby Standard Wah GCB95
5. Tc Electronic Hall of Fame 2
6. Strymon TimeLine Multidimensional Delay
7. MXR Smart Gate Noise Gate M135
8. Fender PinWheel Rotary Speaker Emulator
12. MXR Script Dyna Comp Compressor CSP102SL
13. Fender Tre-Verb Digital Reverb/Tremolo
There are various situations where a guitarist would benefit from using an effects pedal; regardless of their skill level, most guitarists have at least one or two pedals at their disposal. To discover uncharted territory for your music, you should experiment with various sounds from time to time.
What to look for if you're buying a pedal for your Strat?
When purchasing a pedal for your Strat, the first thing to consider should be to observe the pickup you have on your guitar. Strats usually have single coil dosages. For example, if you buy a distortion pedal, you need to be careful not to buy one that alters the tone very drastically.
Different guitar pickups can affect the tone of a pedal in either direction. While most pedals are compatible with humbuckers and P90s, a single-coil pickup is ideal for some.
Let's take a look at the most compatible pedals for a Stratocaster for the year 2023
Top 12 Guitar Pedals Great For Stratocaster 2023
1. Behringer Super Fuzz SF300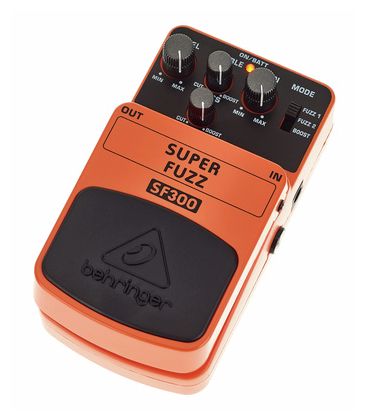 The SF300 is a great option for beginner and intermediate guitarists who wish to experiment with effects by creating their pedal board.
The Super Fuzz is also ideal for someone who has been playing for a while, regularly plays at shows, and knows that the price and performance of an effect matter far more than the name of the company making it. It's easy to see why this Behringer pedal is so popular: it has all the bells and whistles of pricier models but costs a fraction of the price.
Key Features:
Housing
Like the rest of Behringer's pedal collection, the SF300 Super Fuzz has a plastic chassis. The orange paint job on this particular model is eye-catching, and people were pleasantly surprised to find that its construction was quite solid. You could buy six or more of these for the price of one Boss FZ-2, even if it were to break.
Power
A 9V battery or the optional Behringer PSU-SB DC power supply may power this pedal. They put the battery through its paces in tests, and it passed with flying colors.
Behringer does not specify battery life for their products; however, people found that everything worked perfectly even after 8 hours of operation. A battery life indication LED is also included, so you won't have to discover during a performance that you need to switch batteries.
Controls
The Level knob, also known as Output or Volume, is typically used to adjust the degree of distortion applied to your signal. As it is turned up, the guitar's tone becomes less pure and more overdriven. Turning up the gain will assist in getting a distorted, fuzzy, and heavy sound.
Treble and Bass allow you to control how loud high and low tones are. It's the standard equalization control; increasing the Treble will boost high frequencies, and increasing the Bass will do the same for low ones.
Modes
You can find a classic Hendrix-like fuzz tone in Fuzz 1 of this pedal's three fuzz settings. Beginning the evaluation with the Bass and treble active EQ settings at midday gave us a sense of the overall tone. Fuzz 2 is our go-to for everything from a '90s Seattle sound to a full-on doom metal tone, so look no further if you're in the market for a current, grungy fuzz.
Rather than focusing on the midrange, the pedal is designed to emphasize the low and high ends of the frequency spectrum. This volume is perfect if you're playing rhythm in a band because it doesn't drown out the lead instrument.
With the third function, "level booster," we could make the amp break up nicely at low volumes (perfect for the bedroom) and provide a tremendous crunch when turned to eleven.
Character & Sound:
Some guitarists start with one of these super fuzz pedals but go to more extreme, high-tech options. Suppose you don't have a professional budget but still want to experiment with different sounds without taking a substantial financial risk.
In that case, the SF300 Super Fuzz pedal may be your constant companion from the beginning level to professional configurations. This pedal is highly versatile and easy to use thanks to its three super fuzz settings. By adjusting the Trebble and Bass, the effect is almost identical to a high-quality EHS Big Muff fuzz pedal. This boost mode's ability to imitate an overdrive effect is a fantastic added feature.
Pros:
This pedal is designed for beginners and intermediate guitarists, giving them a natural sound they can use to hone their skills in practice and on stage. Like any good tool, it will get you curious about the limits and possibilities of distortion pedals. That's fine with you? Then it would help if you bought this right now.
Cons:
The use of plastic for housing has been criticized for diminishing durability, but it dramatically reduces the price. This is a silly complaint, as we should take care of all our instruments equally regardless of their composition, it's sturdy enough to be used as a tour bus walking stick.
Even though its housing is made of plastic rather than metal, like most pedals, it performs well. Lastly, some guitarists may discover that this traditional style turns them off. You should go elsewhere if you're more into modern sounds.
2. Fender Pugilist Distortion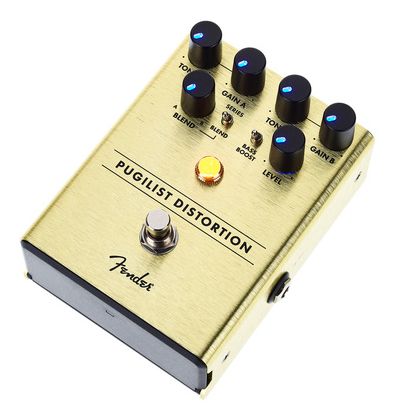 Fender's Duel Pugilist Distortion is a powerful overdrive with powerful punch harmonics.
With a left hook and a right cross, the Fender Duel Pugilist Distortion gives you two independent channels and a wide variety of tonal shaping and blending controls to get down and dirty. This golden chest of tones is a first for Fender, a company that has struggled to find its footing in the stompbox market but now has arrived with the needs of the modern guitarist squarely in mind.
Key Features:
Two Channels
The Duel Pugilist Distortion offers two independent channels so that you can tailor the distortion to your tastes. Each distortion channel's volume, tone, and gain controls are separate. There are countless possible combinations of the two sounds thanks to the mode switch's three notches, which may be adjusted using the blend and EQ controls.
Controls
With the Pugilist, you may adjust each channel's volume and tone. The gain knob determines how distorted your sound will be, while the tone control modifies the amp's overall output. The music becomes fuller and warmer at lower volumes, whereas, at higher volumes, it becomes distorted and harsh.
The blend knob, though, is the Pugilist's most innovative addition. Turning this knob into the mixing position blends the two signals, making it easy to find the optimal drive in any situation.
A switch also lets people stack the two drives in parallel for an even more aggressive tone — while this removes the blending knobs, you may still tweak each circuit via the independent tone and gain knobs. The Pugilist also provides an overall level knob for adjusting the volume of your signal and a bass boost button for producing thicker, louder tones.
Mute Mode
There are three distinct ways to configure how the pedals interact with one another, and the mode switch is the pedal's beating heart. When muted, Distortion A takes control while Distortion B acts as a mask. Although our tinkering with this setting yields a few useful ones, it is the least exciting of the available choices.
Series Mode
Set the switch to series to stack the individual distortion sounds like several pedalboard distortion units. When this setting is activated, the guitar's tone can go from creamy overdrive to high gain, sounding almost like fuzz. In this mode, it's best to use Distortion A as your foundational tone and Distortion B as an additional dose of dirt.
Bypass Mode
Finally, the bypass setting provides another fantastic array of tonal tinkering choices, including a blend knob for combining the two distinct distortions. The best way to acquire precise note clarity is to blend a strongly distorted tone with a cleaner one or vice versa. The guitar tones come through with a refreshing clarity when doing the latter since the dry output is activated on the other channel.
Character & Sound:
This pedal emphasizes the pick and dynamics, especially when the gain isn't totally turned down, making it ideal for players seeking an extra level of throaty, punchy drive. Channel B, meanwhile, provides a more distorted and aggressive tone, perfect for hard rock and metal.
You can achieve virtually any effect using the technique and gain controls for each channel in conjunction with the blend control. The Pugilist's strengths lie in its ability to produce a robust medium gain tone, but it can also produce smooth low gain tones and blazing high distortion.
This pedal has apparent articulation, even at loud volumes; the sound saturates nicely, but the individual notes retain their purity and precision. Compared to milder distortions that turn your signal into sludge when turned up, this one is fresh air.
Pros:
The Fender Pugilist is an innovative new design by the long-standing California company. The two-channel design is unique, and the sounds are exceptional, particularly for the low price. Players of all skill levels will love the instrument's adaptability, quality construction, and extra performance enhancements. Try the Pugilist if you're a guitarist in need of a versatile and entertaining distortion.
Cons:
When the gain is turned down, it falls short. Distortion at low gain levels is similar to an unfavorably clipped clean tone, but not in a positive way. No matter how often you try a different series and blend settings combination, it just doesn't seem to work. As soon as you crank the gain, that disappears, leaving you with a fantastic sound.
3. Dunlop Cry Baby Standard Wah GCB95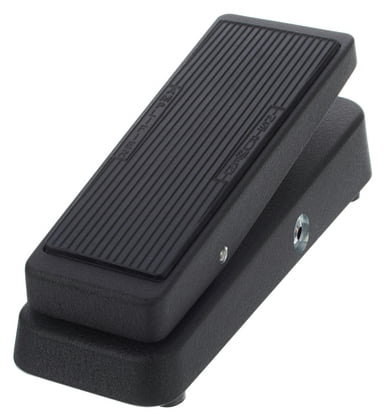 More than fifty years ago, the CryBaby GCB-95 pioneered the wah-wah effect.
The GCB95 is a refined update on the classic Dunlop Cry Baby, featuring the same sweet, dynamic character as the original but with a more pronounced wah effect and a sharper high end. Because of the upgraded components, it runs more quietly and lasts much longer.
An inductor, a coil of insulated wire that functions like a guitar pickup, is essential to the operation of a wah pedal. Since it is vital to the wah's variable filter circuit, its tone greatly affects how the wah sounds.
Key Features:
Housing
A robust rack and gear mechanism in the Cry Baby rotates a unique potentiometer to adjust the filter frequency. With this mechanical setup, you can count on a quick response and no slippage.
Most "pots" feature a logarithmic taper, where the resistance value varies dramatically at one end, or a linear taper, where the change is constant for each degree of rotation. However, an S-curve responding Beckman HotPotz II potentiometer is employed in the Cry Baby. This makes the foot pedal feel more natural by shifting the value more in the middle and less at either end.
Connectivity
The bypass switch on this pedal is a massive upgrade over its predecessors. It can run on either a 9-volt battery or a regular AC adapter. In addition, its ten by-four by 2.5-inch steel casing is as sturdy as a battleship.
The GCB95's setup procedure is foolproof. The only connections are a pair of quarter-inch jacks for input and output. You can turn the bypass on and off by depressing the pedal entirely; also, there are no other knobs or dials to play.
Size
The Cry Baby wah pedal's size places it squarely in the middle of the spectrum, making it an ideal choice for guitarists who want a versatile pedal that is neither too big nor too small. Compared to other wah pedals, the Cry Baby's size makes it evident that it has become a standard. It's perfect in every manner, and the pedal's layout makes it work well with many of today's pedal boards.
Character & Sound:
Each wah pedal produces a distinct sound, which can be challenging to put into words.  The wah sound produced by this pedal is similar to vintage records. It's a versatile wah tone that's probably the most prevalent you'll hear. This sound is ideal for almost any musical style or genre.
There are a plethora of CryBaby offshoots available if you're looking for something with frequency and tone character tweaking options. If you want your favorite guitarist's tone, Dunlop has a wide selection of wah pedals under this brand name.
Pros:
There are several reasons why this is an excellent pedal. The first thing you'll notice is that it has the legendary CryBaby tone that's been used by so many great guitarists. More than that, it may be used by anyone who has prior experience.
The lack of a tone knob shouldn't be a problem because the factory sound is excellent. Last but not least, it's well-made, so you needn't worry about shattering or ruining it. The cost, at long last, is revealed. This wah pedal has a famous name but is surprisingly cheap. Furthermore, its worth will stay high, so you won't be out too much cash even if you dislike it.
Cons:
A power supply for DC use is not included. Due to the port being set back within the harness, not all universal adapters will be suitable. If you want to use this immediately after opening the box, you'll need to ensure you have the appropriate adaptor. It also takes a lot of pressure to press the pedal down.
4. Ibanez TS9 Tube Screamer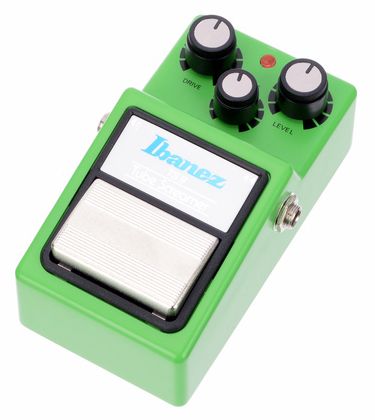 The Ibanez TS9 Tube Screamer is arguably the most well-known effects pedal ever made.
Since its introduction as the TS808 in the late '70s, numerous musicians' performances have been enhanced using Tube Screamers. Many iterations, including the now-iconic Ibanez TS9 Tube Screamer, have followed.
The Tube Screamer, like many overdrive pedals, is meant to add a bit of grit and crunch to your sound. The TS9, unlike other overdrive pedals, is designed to enhance your existing guitar tone rather than replace it. The TS9 is an easy-to-use effects pedal with three knobs: Drive, Tone, and Volume.
Key Features:
Controls
The Tube Screamer's ease of use is one of its many strengths. The three simple knobs (drive, level, and tone) make it easy for any musician to get a good sound out of it. Use the drive dial to find crunchy, bouncing rhythm textures, or blast it for a little extra boost to get you through that big solo. For an added "always on" bite and texture, many players park the drive low but leave the pedal on.
The level slider is like a global volume knob. After all that, you can adjust the tone to change the overall tone of your sound. Leaving it below noon provides a more level, balanced EQ palette, while dimming the knob highlights the TS9's midrange assault and snarl, thereby functioning as a highlighter for the Tube Screamer's particular tone.
Clean Boost
Turning the volume on an overdrive pedal can generate some excellent clean boosts, but none can compare to the sound of an Ibanez TS9 Tube Screamer. TS9 still offers a slight overdrive at zero, with the tone unchanged from a clean boost-like circuit. Once engaged, this pedal consistently adds grit to your clean sound on demand.
Circuit
The TS-9's potentiometers are attached to the circuit board using insulated copper-stranded wire, just like the old-school pedals. Potentiometers in many mass-produced pedal effects today are either hardwired to the circuit boards or connected to them through thin ribbon cables resembling those used in personal computers.
These alternatives are viable ways to reduce production costs, but they complicate maintenance and replacement in the long run. The fact is, the TS-9 reissue was wired the "old school" way. In addition to its wiring, the TS-9 demo unit's solder connections and the input/output connectors were both of high quality.
Character & Sound:
If you're a guitarist thinking about picking one up, know that it will give a lot of character to your tone and that it's the furthest thing from transparent distortion and drive pedals that are now trendy. When you turn up the TS9 reissue's tone and drive controls, it produces a strong roar that turns into a hard-edged distortion.
There is an abundance of crunchy, quick rhythm textures and bright, powerful solo sounds. This device also produces excellent edge-of-breakup tones at lower volume settings, making it well-suited for blues and mellower rock.
Many players may also utilize this as a clean boost, with the gain decreasing to the bottom. It adds a pleasingly gritty edge to otherwise plain clean signals. When the volume is turned up, the sound becomes distorted and reminiscent of feedback (something hard rock and metal players will appreciate).
Pros:
It's easy to see why this classic pedal is so beloved. The list of celebrities who have used it over the years speaks volumes about its quality. The pricing of the TS9 Tube Screamer is the most shocking aspect. To sum up the pros and drawbacks, this price is a steal. You can go right with this pedal; it will enhance your tone and provide you with various controls, all without breaking the bank.
Cons:
It is not a true bypass. It removes tone from your signal when it is disengaged, also known as when it is turned off. Some people may argue that it is not significant enough to matter, but if it is significant enough to be noticed, it is substantial enough to matter.
5. Tc Electronic Hall of Fame 2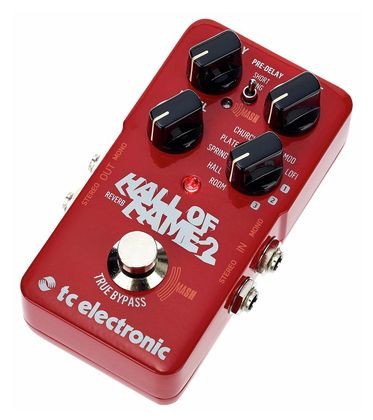 TC Electronic's Hall of Fame 2 is an improvement over the already remarkable original Hall of Fame.
It's a great tool for expressing yourself musically, with new shimmer reverb algorithms and a one-of-a-kind Mash footswitch. In addition to activating and deactivating the reverb effect, the Mash footswitch may be used as an expression pedal to control the volume of the reverb.
Consider, too, that you are a fan of the TonePrint effects menu. You'll be pleased to know that the Hall of Fame 2 reverb pedal offers three TonePrint preset slots, each of which can be used to store a distinct custom reverb design.
Key Features:
Controls
The Hall of Fame 2 has everything you need, including four knobs for selecting different reverbs.  When people see how much you can manipulate things with the MASH footswitch, they're blown away.
The footswitch adjusts the volume in the Plate reverb and alters the length of time the reverb stays on in the Church reverb. It may take some time to become used to the MASH, but once you do, you won't want to live without it. The potential for addiction is extremely high.
Housing And Connectivity
The HOF 2 is, like the original Hall of Fame, a 9V-powered, standard-sized foot pedal housed in a metal casing. It has a mono mode, a stereo mode, an LED indicator, two input jacks, two output jacks, and USB connectivity.
There are some nice extras, but it's a standard reverb pedal. The MASH footswitch and the new Shimmer reverb algorithm are the HOF 2's crowning features, elevating it to a new level of greatness.
Hidden Switches
These adjustments are accessible via two DIP switches behind the pedal's back cover. If you want to use the Hall of Fame during a more subdued portion of your set, you can do so without worrying about making an unpleasant click when activating the switch. Some people need to hear the click (indicating that the pedal is engaged), but this is easily solved by adding a bright red LED light.
Bypass
With its adjusted headroom, switchable True Bypass/Buffered Bypass, and Kill-Dry on/off, this pedal ensures complete tonal preservation with no audible degradation. Your treasured dry sound is always sent through the pedal unaltered in all its pure analog splendor thanks to an Analog-Dry-Through, which works whether the pedal is on or off.
Tone Print
Utilizing Tone Print, you can activate a personal, customized preset. In addition to the ten presets described above, TC Electronic also provides software for customizing the Hall of Fame pedal's reverb sound to your liking. In addition to factory presets, TC Electronic delivers a wide variety of artist-created presets from players like Steve Vai.
Character & Sound:
Any one of these reverb types would work wonderfully as a stand-alone device. That you can get all of these functions in a single pedal without compromising convenience is a huge plus.
The spring function nails the old-school silver face tone, making it ideal for rockabilly, blues, and vintage kinds of playing, while the church setting will make your ambient, clean leads sound as if they were summoned inside the greatest cathedral possible.
More experimental tones may be found under the mod and lofi settings, while the plate, hall, and room reverb will help you get that polished, professional studio sound. Each operation also sounds great on its own. This collection of reverbs ranges from subtle and luscious to heavily affected atmosphere, covering many tonal possibilities.
Pros:
This pedal provides an insane variety of sounds in a compact (MXR size) pedal that doesn't break the bank. Every type of reverb that has ever been used in a commercial recording is included.
Players searching for a reverb pedal to take them into an experimental or incredibly spacey zone may want to look elsewhere, as the Hall of Fame mostly nails the standards, despite the Tone Print option allowing for some pretty detailed customization.
Cons:
Using the pedal with a nine-volt battery consumes it within 10 minutes, which somewhat destroys its function. Also, the footswitch seems to break down quite quickly, and very often you cannot repair this problem under warranty. But the biggest drawback is that it is not a true bypass; this pedal is very noisy when you include it in the signal chain, even if it is on or off.
6. Strymon TimeLine Multidimensional Delay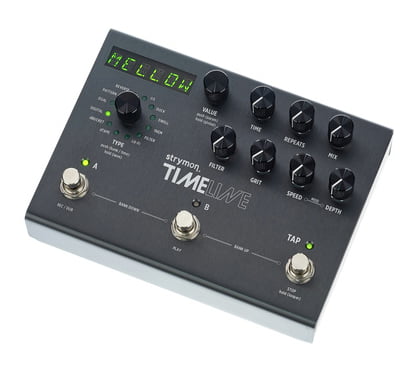 The TimeLine was motivated by professional-quality outboard delays, and the pedal's simple and effective control arrangement reflects this.
Most guitarists familiar with Strymon have become accustomed to the company consistently surprising them. The Blue SkyReverberator and the El Capistantape-delay emulator created by a group of pedal enthusiasts in Southern California have been featured favorably on these pages over the past few years.
Their newest product, the TimeLine delay, is just as impressive as its predecessors in sound manipulation. Any studio enthusiast, whether amateur or professional, should give TimeLine their full attention.
Key Features:
Footswitches
The three footswitches on the TimeLine are used for tapping out the tempo and switching between the two banks of presets (A and B). You can switch between banks by simultaneously stomping on two footswitches (A/B for the next bank down, B/tap for the next bank up) and then selecting a preset with either the A or B footswitch. You can quickly access all banks and presets by turning the value knob.
Delay Time
The repeat volume and tone controls are located below the top row of knobs, while the top row controls the delay time, the number of repeats, and the dry/wet mix. You may usually adjust the repeat's EQ curve (filter), add distortion (grit), and vary speed and depth with a delay pedal. The dTape, dBucket, and filter machines have dials for adjusting various settings.
dTape and dBucket
The machines' control knobs have different functions. For example, the dTape mode's Filter knob emulates tape wear, while the Speed knob mimics varied degrees of tape crinkle. By depressing the Value knob, you'll gain access to a wide range of other performance-editing options.
The Ice mode's Interval control allows for the modification of repeating pitch intervals between one octave down and two octaves up, with any gap from a major third to a minor seventh possible in between.
Controls
Strymon claims that high-quality outboard studio delays inspired its TimeLine pedal and that its simplified and effective control scheme is the result. While the gunmetal gray box's many capabilities may make it seem complicated at first glance, they make it easier to use than similar stompbox delays.
Located on the pedal's right side, the seven knobs allow for fine and coarse tuning of the delayed signal. A secret eighth knob provides access to additional adjustments for each effect. Choose from 12 distinct delay types using the left-hand Type knob, and lock in place with a single press. Three footswitches may access two banks of presets, play/record, and tempo controls.
Character & Sound:
The TimeLine's built-in tools for creating sound are impressive enough, but you can enhance them with one more layer. When operating in mono, the unit's extra input and output jacks provide access to its feedback loop, allowing you to insert additional effects that you will apply to all repeats.
You can control timeLine sounds in real time; an expression pedal can be plugged in and programmed to manipulate any number of knobs manually. Furthermore, MIDI allows for control over knob and parameter values, patch selection via program change messages, and delay time synchronization via a MIDI clock.
Pros:
This is the one for you if you're a musician or producer who wants a complex delay. This pedal copes well with live as well as studio situations, and besides the fact that the sound improvises these two contexts, the fact that it is made of quality materials is a big plus, especially for the price it offers. Surely this pedal will make you abandon any delay solution you've had until you get in touch with it.
Cons:
A few problems with some units, but they are minor issues that you can fix under warranty. But the biggest drawback is that it's not for everyone. Such a pedal requires extensive knowledge of the effects world, and it certainly won't help a beginner to own such a pedal.
7. MXR Smart Gate Noise Gate M135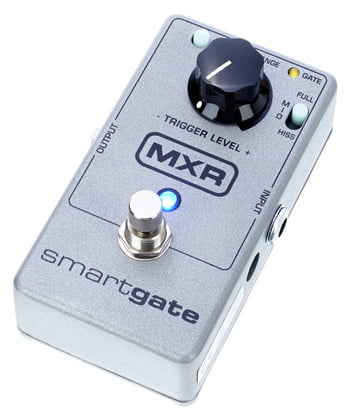 Since it has an intelligent gate speed, the M135 Smart Gate transmits every nuance of your playing.
The M135 Smart Gate has a gradual reaction time, ensuring that your chord sustain is never abruptly cut off. The M135 Smart Gate springs into action at the first sign of fast palm-muted anger, enhancing your playing with stunning clarity. And with three different modes of operation, you can find the optimal sound for your rig.
Key Features:
Special Switch
Plus, when things get truly out of hand, and the volume of the noise becomes intolerable, you can flip the unique switch. In this way, you may polish your performance to perfection by editing out any unnecessary elements.
It's important to remember that the specifics of how you adjust this pedal will vary according to the instrument you're using. It's essential to keep in mind the differences between single-coil and humbucker pickups before getting to work.
Housing
MXR M-135 If there are any quirks in your chain that Smart Gate can't handle, you may always use the unit's built-in bypass. Sturdy housing is a must for a pedal that saves lives, and this one certainly has one. The design is ideally suited to the effect, with a grey body that imparts a sense of security. This one is often powered by a single 9V battery with an adapter, allowing for convenient battery and power swapping on the fly. Straightforward at its core, Smart Gate nonetheless affords you greater agency than its contemporaries.
Controls
There are three distinct kinds of regulation at play here. There are multiple modes in which this machine can operate, and their proper operation depends on the others. In this situation, the central control is Trigger Level. It provides this information to determine how sensitive the noise threshold should be to exclude all unwanted tones.
It also has a toggle switch that lets you choose between Hiss, Mid, and Full volume settings. One is best for instruments and sources that generate high-frequency hiss, another is best for removing excessive mid-range boost (hiss will also do the task with that one), and the third is best for low-input sources with some hum or noise in the low frequencies.
It has a standard footswitch that you can use to activate or deactivate Smart Gate. Indicator lights integrated into the pedal's controls reveal the precise settings you've made.
Character & Sound:
The M-135 Smart Gate has no audible effects that we can talk about. However, you can emphasize its potential significance with relative ease. Using this guy's excellent tracking, you can reduce background noise and keep all the harmonic richness of your original or modified sounds intact.
These extra features make this noise a helpful gate in various applications. There is no performance difference between the three settings, though it is important to remember that hiss removal may change the recording's overall tone.
Besides that, this pedal is the unbeatable solution to your insurmountable problems. You will learn how it reacts to your instrument, playing techniques, and the rest of the chain. And once you do, you'll have a great resource.
Pros:
The MXR M135 Smart Gate is one of the more unusual designs for a noise gate. Even in signal chains that aren't ideal for noise gate pedals, this one will get done thanks to its deceptively simple design. The pricing strategy adopted by MXR is reasonable in light of the features included and is within the norm for this type of product. The bottom line is that you ought to try this pedal out, especially if you are open to other options.
Cons:
This is not a gate pedal; rather, it is a suppressor, and its use will harm your sound. Furthermore, there is no way to use it effectively to reduce or eliminate noise without drastically altering your tone. It does not effectively muffle outside noise, and even when the gate is "open," the high frequencies of the instrument's sound are muffled.
8. Fender PinWheel Rotary Speaker Emulator
Fender's Pinwheel rotary speaker emulation pedal is where you should stamp your foot.
With three distinct rotary speaker voices, including Fender's exclusive Vibratone effect, you may create sounds that will leave your listeners in awe. You can make the perfect look with slow and fast speeds. Built-in overdrive allows for a more nuanced sound.
The pedal's Sensitivity knob allows the modulation rate to be adjusted in response to your playing dynamics. Because of the unique design of the Fender circuit, this pedal produces sounds that you can't replicate. The Pinwheel is essential to your arsenal of sound design tools due to its lush, profound, and whirling characteristics.
Key Features:
Housing
The Fender Pinwheel is a guitar pedal that emulates a rotary speaker. You may use it with both guitar and keyboard thanks to a little button on the pedal's rear that toggles between guitar and keyboard tones. A green anodized aluminum enclosure protects the Pinwheel. There are jacks on both sides of the pedal for input and output.
You can feed The Pinwheel stereo signals or operate it in mono thanks to its dual-mono (left) and stereo (right) inputs, yet, as with any rotary speaker simulation, the results are more striking when played in stereo. There is a jack for an expression pedal or a remote switch on the input side.
The back of the pedal is a toggle switch that determines the functionality of this jack. You can adjust the modulation rate with an expression pedal via the TRS connection, and the pedal's fast/slow speed toggling can be triggered via an external switch. If you want to use the pedal in mono, plug it into the left I/O jacks on the back of the unit.
Modes
Two of the Pinwheel's Modes mimic the Leslie speaker sound, and you can select between them with a little toggle button on top. A styrofoam drum, identical to Fender's single rotor, spins in front of a fixed speaker cabinet to imitate the Vibratone's sound.
LED light-up pointer indicators sit atop the Pinwheel's separate control knobs, just like Fender's other recent pedals. They can be turned off with a button behind the pedal, although many would flip it because of their usefulness.
Controls
The Pinwheel has seven knobs, which is a lot for a pedal, but you shouldn't be worried about it because each one serves a purpose, and the interface is well thought out. The Drive control simulates the saturation of a tube amplifier.
It does a good job of imparting grain to the sound, a quality crucial to a rotating speaker cabinet powered by a simple tube power amplifier. Increasing the volume produces a fuller, more resonant tone. The virtual power amp's tone may also be adjusted with the Tone knob, which, as one might imagine, provides deeper tones when turned down and brighter tones when turned up.
Your instrument's dry signal can have the Drive signal added to it in varying amounts, which can be adjusted with the Level knob. Rarely found on other rotary speaker simulators is a control called "SENS" (sensitivity).
Rather than manually hitting the speed footswitch, You can adjust the pedal's modulation speed in response to the intensity of your playing. To adjust how much pressure must be applied before the speed changes, turn the SENS knob.
Character & Sound:
If you're looking for a great pedal, go no further than the Pinwheel. It's great to have a choice among the three sounding and helpful Modes, but the "best" Mode will ultimately depend on the listener.
When plugged into a stereo amplifier arrangement, the Vibratone single-rotor emulation shines since it differs from the more popular Leslie emulations. Similarly, the drive isn't meant to replace your go-to dirt pedal, but it does come close to simulating the grit and drive of a tube amp's speaker cabinet when it's being strained to its limits while spinning.
Pros:
The Pinwheel may not be as good as being physically close to a rotating speaker cabinet, but it comes very close, plus it's much easier to move around than a huge, heavy one. Finally, Fender's The Pinwheel is a superb addition to the company's extensive and imaginative pedal portfolio. Check out a Pinwheel at your local Fender dealer and see whether you're as impressed as we are.
Cons:
This pedal cannot run on a battery. This is not exactly a complaint but a warning, as the pedal's power needs would quickly deplete batteries. You'll need a power supply capable of delivering 310 mA of 9V DC to run the Pinwheel, so don't assume that a standard power adapter for a Boss or Ibanez pedal will do the trick. This effect's on/off indicator, a green gem lamp, shines with impressive intensity.
9. Boss CP-1X Compressor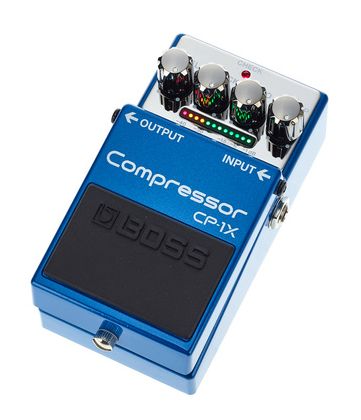 The BOSS CP-1X Compressor is a state-of-the-art addition to the company's legendary family of compression effects pedals.
Using a comprehensive frequency analysis, the CP-1X Compressor provides musically-sounding dynamic control. The pedal's integrated 18-volt circuitry guarantees it can handle the volume of a wide variety of guitars and tunings. In addition, a gain reduction indication provides visual clues to assist in fine-tuning compression. Regarding BOSS compressors, the CP-1X might be the greatest one available.
Key Features:
Layout
Numerous pedalboards all around the world have used BOSS compression pedals. The CP series of compression stomp boxes are legendary due to its crystal-clear sound, user-friendliness, and rugged build. The CP-1X is the most advanced version of these renowned pedals to date.
Despite its impressive power, this Compressor retains its more well-known siblings' classic four-knob control layout, transparent performance, and sturdy construction.
Power
In a high-quality compression circuit, headroom is crucial, to prevent this, BOSS built a voltage pump into the CP-1X. So, even while you may use the regular (and included) BOSS 9-volt power adapter or 9V battery to power the device, you'll still get the muscle to deal with guitars that other compressors may have trouble with.
The 18-volt internal electronics of the pedal are compatible with any guitar, including those with active pickups, extended range, and acoustic-electric.
Processing
The digital Multi-Dimensional Processing of the CP-1X sets it apart from the other compressors made by BOSS. This clever layout rapidly evaluates the various components of your guitar's output and applies the effect selectively to each, tailoring its sound to your playing style for optimal musicality. Consequently, the CP-1X retains its stealthiness in every environment.
LED
This LED meter, fashioned like a bar graph, displays the compression level in real-time by revealing, in dB, the level of signal attenuation. This indicator is helpful since it provides a quick snapshot of how your signal responds to your selected parameters. The time it takes for the compressed signal to return to its unaltered state can be easily monitored, and the finer tuning of the effect is made much simpler.
Character & Sound:
What stands out about this pedal is how much compression you can apply before the sound becomes artificial. At its highest setting, the effect emulates the ultra-smooth sustain of pedal steel. Still, at its lowest stage, it only enhances the instrument's natural tone, making it suitable for blues and rock.
You can achieve bluesy tones by placing the effect in front of an amp or pedal on the verge of breaking up. The CP-1X is also helpful for amplified acoustic guitars, adding depth and dimension without altering the instrument's fundamental tone.
Pros:
In a nutshell, it's a BOSS pedal, and if you've never used one before, you only need to know that it's a beautiful size and that the connections are pretty clearly set out. The control knobs are safely hidden beneath the control plate's recess. The internal spring structure of the Footswitch makes it incredibly simple and smooth to activate, whether you're wearing shoes or not. It's simple to get to the battery compartment.
Cons:
It does a poor job of softening the guitar's harshness. This pedal gives the signal from a Stratocaster played through a Fender amp an unpleasant high-frequency edge. When you ease off the pedal, the problem disappears. No amount of tweaking with the amp's tone knobs will help.
10. Boss VB-2W Vibrato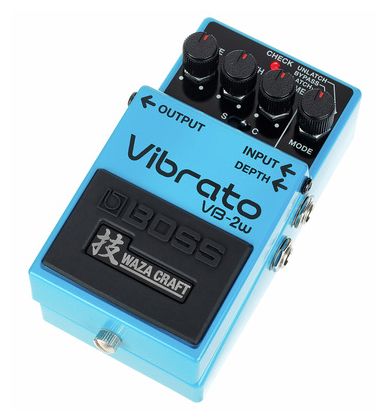 The much-beloved, briefly-used Boss pitch wobbler is back and better than ever.
VB-2W vibrato pedal replicates the original VB-2's signature sound, which has made it one of the most sought-after vintage BOSS pedals on the secondary market. The all-analog bucket brigade circuitry preserves the original warble, and you can access a different filter wave by switching to Custom Mode.
Featuring innovative upgrades such as Latch mode and an expression pedal input, this pedal goes where the precursor could only dream of going. The fact that this pedal makes one of the most sought-after classic tones available to everyone guarantees its rapid sales.
Key Features:
Housing
This pedal is part of a unique collection of Boss Vintage pedals, and it uses only analog signal processing. This has the practical result of delivering analog pitch shifting, which is much more organic and accurate than its digital counterpart.
As one might expect from such a sophisticated system, the Boss VB-2W Vibrato includes many customization options. We'll go through the buffered bypass, the many modes of operation (including the custom mode) that use a somewhat unusual filter, and more. In all honesty, you probably wouldn't know it was a Boss pedal if there wasn't a branding.
Controls
The controls of the Boss VB-2W Vibrato are a throwback to earlier Boss designs. A little switch is positioned conveniently beneath the four knobs on the top. All the same, the controls are ordinary fare. Like most vibrato pedals, this one features three controls: rate, depth, and rise, plus a mode choice knob.
To toggle between Latch, Bypass, and Unlatch, use this function. The switch above allows you to select a Custom and Standard vibrato setting. The expression pedal input on the Boss VB-2W Vibrato allows for depth adjustment. This is a standard feature on other high-end vibrato pedals, so it's great to see Boss include it here.
Modes
The Rate knob modifies the modulation rate, while the Depth knob allows the user to set the intensity of the warble or wobble. This modest function, available only in Unilatch mode, controls how long it takes for the vibrato effect to build up to the maximum depth setting.
In Latch mode, the switch behaves similarly to a conventional on/off switch, cycling between the two states whenever the switch is activated. When the vibrato effect is not active, the signal chain will bypass the chip responsible for creating the effect, leaving the original signal unaltered. When in unlatch mode, the result is only active when the pedal is depressed and held down.
Circuit
The BBD circuit in the Boss gives the modulations a lovely, liquid—even vaporous—fade as the waves diminish in volume, setting it apart from digital pedals influenced by the VB-2. The harmonic balance and character of the modulations are likewise highly appealing, with a preference for mellow, contoured low-mid tones that, surprisingly, do not considerably dilute the dynamics.
At higher speeds and intensities, the VB-2W's modulation pulses may obscure picking detail. Still, at lower rates and powers, it can be an attractive possibility to the standard old sweeping Uni-Vibe-and-fuzz leads.
Character & Sound:
This pedal excels at producing powerful sounds and adding an expression pedal to the Waza model dramatically increases the instrument's versatility. In live settings, the capacity to switch between subtle modulation washes and frenzied pulsating movement can give the impression of many or multi-tracked guitars.
The unlatch you can also utilize the feature to simulate vibrato arm flourishes or even stranger, irregular texture shifts. The VB-2w's two functions make it a textualist's paradise combined with the pedal's range.
Pros:
The Boss VB-2W Vibrato is an unusual effect pedal for the company. Nonetheless, they have proven that they can still produce a masterpiece in the realm of guitar effects pedals despite targeting the mass market. This analog vibrato is undeniably one of the market's most sophisticated and powerful models. This may put a strain on your finances, but it is money well spent.
Cons:
They could slow the rate down a little more, and unfortunately, this pedal does not allow an expression pedal to adjust the pedal rate. That it comes at such a premium cost may be a turnoff to some buyers.
11. Friedman Buxom Boost
The Friedman Buxom Boost is a pedal that will give your sound more personality and a brighter tone.
The Friedman Buxom Boost is a top-tier boost pedal because of its clear, sparkling sound, which allows your playing's nuance and your instrument's individuality to shine through.
It comes with a solid 3-band EQ for customizing the sound to your setup and an EQ Bypass button for skipping the tone stack altogether. If the bass lacks the requisite punch, turn the Buxom Boost's Tight knob. Before buying a different boost pedal, try the Friedman Buxom Boost.
Key Features:
Controls
This boost pedal allows you to effortlessly adjust the midrange, highs, and lows of the signal it produces to suit your playing style with its onboard Mid, Treble, and Bass knobs. If you want to keep the pedal's raw tone, you can flip a switch to disable the 3-band EQ portion. It's great that there's an EQ section now. The Buxom Boost's built-in equalization controls simplify finding your ideal pedal settings, which can change frequently.
Circuit
The Buxom Boost is a robust pedal that serves as a tonal foundation for the rest of your pedalboard, and it was designed to provide maximum tonal freedom. You may adjust this pedal's output for every situation thanks to the pedal's five rotary settings. Buxom has implemented high-quality internal circuitry to provide the purest boost possible, free from noise and signal attenuation.
Character & Sound:
The Friedman Buxom Boost deserves a spot on your pedalboard if you want a severe tone upgrade. Like the amplifier head it's named for, this pedal drives a clean signal to maximize your sound.
Whether you need more volume to push your amplifier's front end into thick harmonic overdrive, the boost knob is your man. Whether you're looking for a specific tone that you can dial in with the pedal's active controls or achieve complete transparency with the pedal's EQ switch, you'll find everything you need there. 
Pros:
A wide range of sounds can be achieved using Freidman's Buxom Boost. With its built-in 3-band equalizer, this pedal can act as a volume booster and an EQ in your signal chain.
Cons:
Some units seem to break down quite quickly, but these problems are particular and can be solved under warranty. Not much to say in this section; the pedal is excellent.
12. MXR Script Dyna Comp Compressor CSP102SL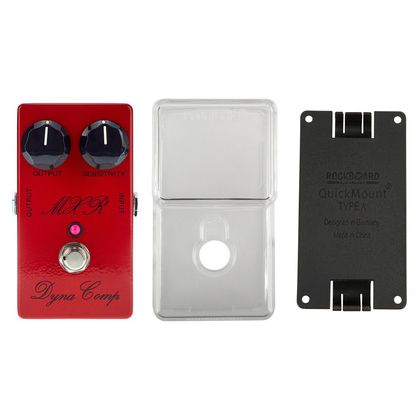 This pedal has been at the top of the stompbox compressor food chain for over 30 years, and with good reason.
We've all heard that distinctive Dyna Comp tone on many recordings spanning genres from chick-pickin' country to rock and metal. Guitarists in the studio have used them to cut through the mix since they first introduced them; Pete Townsend used one in the 1980s and 1990s to amplify his solos. The MXR Custom Shop edition is Dunlop's attempt to recreate the 1976 script logo for Dyna Comp.
Key Features:
Circuit
Down to the component configuration, silkscreening, and hand-wired harness, this pedal replicates the original 1976 model. Where it matters, though, is in the original IC, which rumor has provided quieter operation, more transparent sound, and improved dynamic range. These ICs last been manufactured in the 1980s, but MXR managed to track down a supply to make this small batch of pedals.
Housing
Some modern comforts might not have existed when they produced the original piece, and it's essential to keep that in mind while faithfully trying to recreate historical electronics.
As with the original Dyna Comp, the reissue doesn't feature a status LED, AC adapter input, or bypass switching. Even though most pedals of the time lacked these features, people managed well without them. The Custom Shop rendition is a dead-on copy that retains the original's sound and aesthetic details.
Controls
Like its forerunner, the regular, the Script Dyna Comp has two buttons. Adjusting the sensitivity and this pedal's output will increase your guitar's volume. In essence, this controls the threshold at which the compressor kicks in and the compression ratio, increasing it results in a more compressed signal.
Character & Sound:
The Dyna Comp is an effect for electric guitars that dampens out the higher notes while boosting the lower ones. The sound that is fuller, richer in harmonics, and more prominent in a mix can be achieved by reducing the peak levels and amplifying the loudness of softer notes.
Country guitarists increase the sensitivity of their guitars to get their distinctive "grabby" tone. Furthermore, the device handles some of the work for you, so you don't have to apply as much force to get notes to pop out, significantly reducing the complexity of playing. It's a pedal that'll get you hooked, and its design makes it nearly impossible to make a nasty noise.
Pros:
The '76 Vintage MXR Dyna Comp is a great tone-boosting pedal that requires nothing in the way of setup and can be purchased for a fair price. The sheer pleasure of using it ensures that it will join my collection of handy tricks. And because there are limited numbers of the pedal, it would be a good idea to get one up while you can. Do it; you won't be sorry.
Cons:
This pedal is not for you if you need modern abilities, for example, true bypass, AC adapter, or LED.
Bonus:
Fender Tre-Verb Digital Reverb/Tremolo
The legendary tone of vintage Fender guitar amplifiers is matched only by their legendary tremolo and reverb circuitry.
Get that classic tone from your guitar amp with the help of the Fender Tre-Verb tremolo and reverb pedal. The Tre-Verb pedal recreates classic '60s guitar tones with the help of Fender spring reverb units from 1962 and 1965 and the best in tremolo effects.
This pedal's dual inputs and outputs make it an excellent choice for multi-amp setups, and it will also appeal to keyboardists wishing to spice up their electric piano tones. Fender's Tre-Verb pedal, housed in a sturdy metal enclosure, may be the missing piece to your guitar sound's puzzle.
Key Features:
Controls
This pedal looks and feels like any other Fender product. It's immediately apparent that this is a pedal with more than one effect. The pedal's top panel may be split into two halves. Tremolo is on the left, and Reverb has a dedicated set of knobs and buttons on the right. The knob arrangement on both sides is identical. On each end, you'll find three knobs, a toggle switch, and a footswitch.
Homework is a whole different animal. All the controls have LED backlighting, making them easy to use even in low light on stage. On the Tremolo side, things are routinely the same.
There are three distinct tremolo effects available, and you can adjust the Rate and Depth knobs to achieve a wide range of colors. Opto, Biased, and Harmonic are the three types. You can also adjust the tremolo rate with a tap tempo feature.
Backside Switches
There are a handful of cool toggles on the reverse side. The first thing to bring up is a toggle that lets you select the order. It's easy to get the proper order in your chain, whether you're the type of man who puts tremolo before Reverb or the unusual type that puts Reverb first. You may toggle LEDs on and off with a switch located on this side of the pedal.
Connectivity
This is a genuine stereo pedal, as was previously indicated, which means there are two 1/4″ outputs and two 1/4″ inputs. Those who favor systems with multiple amps would appreciate this greatly. A 9V DC adaptor is required to power the pedal and is available for purchase separately. The housing is composed of anodized aluminum, making it lightweight and compact while still being relatively durable.
Character & Sound:
The tone quality of this pedal is undeniably its best feature, as it is reminiscent of some of the most legendary tremolo and reverb effects in electric guitar history. Remember that the sound is slightly different from the original amp built-in devices.
The fact that the sound is fantastic and the closest you can get from a stompbox is, of course, irrelevant. There are several impressive aspects of the tremolo part. First, many tremolo effects are available, making it useful in many contexts.
The Opto tremolo is a standard photoelectric tremolo, so you can expect a pulsating tone when you use it. Fender once referred to the vibrato as "bias tremolo." That's a tried-and-true LFO waveform, familiar to many older Fender amplifiers, that retains its level no matter how far you turn the Depth control.
Pros:
There is a wide variety of uses for the Fender Tre-Verb. You can bet on a large variety of high-quality tones. Getting more flexible Reverb and tremolo pedals sold separately is possible, but you may find another product with such famous effects in a single housing.
This pedal gives you the most real Reverb and tremolo sounds for electric guitar. The best part is that you can use it with any amp and features effects previously only available on antique Fender models. Unfortunately, given the asking price, no additional features are feasible.
Cons:
For the trem function to be fully functional, the depth knob should have nearly twice as much travel as it now does. Unfortunately, despite being an attempt at emulation, it doesn't go quite as far as the original classic circuits. During troubleshooting, users found that the hum persisted even when they removed the pedal from the effect chain but left it hooked to the power source.
Conclusion
These are the Top 12 Guitar Pedals Great For Stratocaster you can use when it comes to a guitar as expensive as the Stratocaster. These solutions are reasonable because they don't drastically alter the iconic tone of the guitar; on the contrary, they are solutions that add to that tone.
For starters, we must necessarily talk about a Wah pedal when it comes to a signal chain because who doesn't want to reproduce Hendrix's famous tone at least once? The Dunlop Cry Baby Standard Wah GCB95 is a standard Dunlop pedal, among their most popular solutions; it has an authentic circuit that reproduces vintage tones you can't fail to hear.
After that, we have to talk about the Ibanez TS9 Tube Screamer, an icon in overdrive. This pedal is very sensitive to settings, so don't worry; it won't distort your tone unpleasantly if you don't want it to, mainly since it features a clean boost, which gives a good grit to your clean tone.
Lastly, we should talk about delay and reverb. Well, in this top, we've introduced two modern solutions, which perfectly fit any need. We're talking about the Strymon TimeLine Multidimensional Delay and the Tc Electronic Hall of Fame 2. Strymon is a company that offers academic solutions to musicians who understand the concepts of reverb, delay, and more. The TimeLine certainly delivers impressive sound if you know how to use it.
We hope this Top 12 Guitar Pedals Great For Stratocaster 2023 has helped you find the right pedals for your Stratocaster, and even if you don't have a Strat, these solutions apply to any guitar with single-coil pickups.
Related Readings:
The 12 Best Tuner Pedals For Bass & Guitar 2023
Top 7 Ring Modulator Pedals For Bass & Guitar 2023
The 13 Best Fuzz Pedals For Bass 2023 (All Budgets)
13 Best Overdrive Pedals For Bass 2023 (All Budgets)
The 11 Best Wah Pedals For Bass 2023
The 13 Chorus Pedals For Bass 2023 For All Budgets
11 Best Autotune & Pitch Correction Pedals 2023
The 13 Best Phaser Pedals for Bass 2023
13 Best Distortion Pedals For Metal 2023 (All Budgets)
Top 6 Overdrive Pedals For Worship Guitar 2023
Can I Use Guitar Pedals For Bass? Is it okay?
Top 12 Pedals For Metallica Tone 2023
Top 12 Mini/Small Guitar Volume Pedals 2023
Top 11 Reverb Pedals For Synths 2023 From Top Brands
Top 12 Harmonizer Pedals For Vocals 2023
Top 9 Best Glitch & Stutter Pedals 2023
Top 13 Vibrato Pedals For Bass 2023 (On All Budgets)
Top 7 Available Arpeggiator Guitar Pedals 2023
13 Best Compressor Pedals For Bass 2023
Top 12 Pedals for Princeton Reverb 2023
20 Best VST Pedal Plugins 2023 (Chorus, Distortion,Reverb,Delay)
12 Best Mini/Small Compressor Pedals 2023 (All Budgets)
Top 12 Guitar Pedals Great For Telecaster 2023
11 Best Effect Pedals For Jazzmaster Guitar 2023
Top 12 Delay Pedals For Vocals 2023 From Top Brands
Top 12 Effect Pedals Great For Les Paul Guitar 2023
20 Best Pedals for Guitar Solos 2023 (Boost, Delay & More)
Top 12 Reverb Pedals For Vocals 2023 From Top Brands
8 Best Pedals For Rickenbacker Bass 2023
Top 12 Multi FX Pedals For Acoustic Guitar 2022
6 Best Noise Reduction Pedals Available in 2023
Top 12 Plate Reverb Guitar Pedals 2023
Top 14 Rotary Pedals & Leslie Sims 2023 (Best Rated)
Top 10 Pedals For Techno, House, DnB & EDM Music
Top 11 Pitch Shifter Pedals 2023 For All Budgets
How To Use Guitar Pedals In Logic? Answered
Top 7 BitCrusher Guitar Pedals Available 2023
Top 12 Delay Pedals For Metal 2023 (Any Budget)
Top 12 Reverb Pedals For Metal 2023 (Any Budget)
Cheap VS Expensive Guitar Pedals: Main Difference, Pros & Cons
The 11 Best Ambient Guitar Pedals 2023
Top 8 Boost Pedals For Metal 2023 (For All Subgenres)
Top 10 EQ Pedals For Metal 2023 (Any Budget)
12 Best Wah Pedals For Metal 2023 Update
Top 12 Spring Reverb Guitar Pedals Available in 2023
Top 20 Guitar Preamp Pedals 2022 (Best Rated)
Top 11 Hardware Vocoders 2023 (Best Synths & Pedals)
12 Best Fuzz Pedals For Metal (Doom, Sludge, Stoner & Death)
Best Lo-Fi Guitar Effect Pedals 2023 For Unique Tone
Can I Run Vocals Through The Guitar Pedals? Answered
4 Best Analog Saturation Pedals 2023 (Tone Shapers & Tape Saturators)
Top 4 Limiter Pedals 2023 You Can Get (Best Guitar Limiter Pedals)
Top 2 Best Guitar Sidechain Compression Effect Pedals 2023
Top 6 Modulation Plugins 2023 (Flanger, Phaser, Chorus…)
Top 6 Chorus VST Plugins 2023 For Musicians (And 3 FREE Plugins)
Top 7 Phaser Plugins 2023 (And 3 Best FREE Phasers)
Best Flanger Plugins: 6 Picks To Emulate Your Sound 2023
The 7 Best Tremolo VST Plugins 2023 | Eventide, SoundToys..
The 7 Best Vibrato VST Plugins
Top 9 Leslie & Rotary Speaker Plugins 2023
Death metal enthusiast here. I am a Romanian musician and producer with over 13 years of experience in the music industry. I've experienced all types of Metal up until now, playing Melodic Death Metal, Brutal Death Metal, and Black Metal with different bands. Learning by doing is my base principle, which is why I've been drawn to sound design from an early age. Read more…