Are you looking for harmonizer pedals for your voice or instrument? Today we'll talk about the Top 12 Harmonizer Pedals For Vocals (Stage & Studio) In 2023.
We're aware that singers/musicians can be extremely picky about how their voices are recorded. This is especially true for a solo performer who doesn't have the luxury of hiding behind a lead guitar part. Singers can enhance their live performances with the help of voice effects pedals.
Vocal harmonizer pedals are fantastic for live performers who want to add harmonious vocals with a perfect pitch with the main vocal. If your band has no backup vocalists or some band members can't carry a tune, then one of these pedals might be just what you need.
In a nutshell, here are the Top 12 Harmonizer Pedals For Vocals (Stage & Studio) In 2023:
We have thoroughly investigated the latest solutions to include in this Top 12 Harmonizer Pedals For Vocals (Stage & Studio) In 2023. Our selection of voice harmonizer pedals allows for a wide range of customization regarding the user's general vocal tone. Several pedals depicted work with the singer's auxiliary instruments (guitar, keyboard) to track the chords being played and adjust for any key changes.
Let's see the Top 12 Harmonizer Pedals For Vocals (Stage & Studio) In 2023.
Related Readings: 
Top 12 Delay Pedals For Metal 2023 (Any Budget)
Top 12 Plate Reverb Guitar Pedals 2023
Top 12 Reverb Pedals For Metal 2023 (Any Budget)
Top 10 EQ Pedals For Metal 2023 (Any Budget)
Top 8 Boost Pedals For Metal 2023 (For All Subgenres)
Top 20 Guitar Preamp Pedals 2022 (Best Rated)
Top 12 Harmonizer Pedals For Vocals (Stage & Studio) In 2023
1. TC-Helicon Harmony Singer 2
The Harmony Singer 2 from TC Electronics is an instrument-controlled vocal harmony and reverb pedal with up to eight distinct harmonization settings.
You can quickly switch between three distinct reverb settings with a single knob, and the Adaptive Tone button provides a factory-set combination for studio-quality sound on the go. Vocalists in the spotlight appreciate how the pedal's optimum gain control takes the guesswork out of sound check, freeing them to focus on delivering a powerful performance.
This multifunctional harmonizer is also made with the traveling artist in mind, as a standard 9-volt adapter and batteries power it.
Key Features:
Reverb Types
The pedal has three different reverb settings to accommodate various musical styles and sonic needs, from a delicate echo to a massive, spacey decay. You can adjust all three with a single knob during a show or between numbers. With a single smooth turn of the dial, you can access three fantastic reverbs without dealing with any knobs.
Preset Switch
The Adaptive Tone Knob is a universal preset that improves the power and clarity of your vocals through a combination of effects. You can fool your listeners into believing you recorded in a professional studio by pressing the tone knob.
Controls
Pedal's greatness lies in its user-friendly interface. There are three dials on the upper panel for adjusting the instrument's reverb, delay, and harmony. The four distinct voice types have a far and near setting on the harmony knob.
This harmonizer has a range of two voices above or below the input signal, with all other possible combinations also being accessible. There are four distinct variations of the Reverb effect available to you.
Finally, a Mic Gain knob is located on the left side of the amplifier, providing the user with even greater versatility. It is simple to find the optimal configuration for your requirements. Seeing as each option is distinct, you'll receive constructive criticism whenever you change.
Housing And Connectivity
One of the most well-known harmonizer manufacturers is TC-Helicon. When you glance at the pedal, it's easy to see why. Despite its small size, this pedal's frame is extremely rigid, making it suitable for both on-stage and off-stage use.
All the settings are on the pedal's top, but the input and output jacks are on their sides and front. The instrument input and thru are on the left and right sides. Mic input and XLR output are conveniently located on the front of the unit.
Intriguingly, it also includes a USB connection in that area. The pedal can be easily updated by connecting it to a computer and downloading any available software patches. The pedal has a lot of cool functions without being cluttered.
Character & Sound:
After connecting this harmonizer to your setup and giving it a spin, you will likely be impressed with the outcomes. The tone's color was the first thing that grabbed our attention. It has a natural, gentle quality sets it apart from robotic-sounding harmonizers.
Although the Close option can sometimes be overbearing, it has its uses. In contrast to its more obvious counterpart, the Far option is just as effective in all situations. You can play at a reduced volume and still get great tracking from the pedal.
Your only task is to face the speaker while you perform. It has difficulty keeping up with the action when the microphone signal is weak. However, the pedal seems to respond instantly to the music you're performing, giving the impression that much of its performance is automated.
Pros:
They have made another fantastic bundle for music fans who want more depth. Besides being functionally and precisely designed, the pedal is also incredibly user-friendly. There are a few oddities, but they hardly detract from the overall experience.
Cons:
There appears to be a problem with some of these products, and it appears that there are some other people who are having the same problem that people had. It works well at first, but your voice develops a "chipmunk" quality after a while, rendering it unusable in live performance settings.
2. Boss VE-2 Vocal Harmonist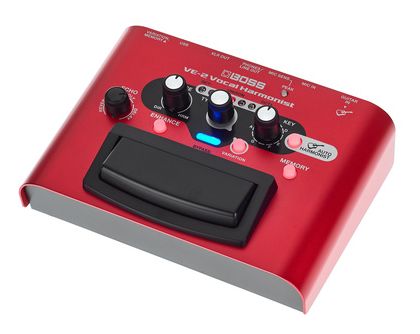 The Boss VE-2's interface is well thought out and clearly set out, making it a breeze to use.
You don't need to spend a fortune or tote around a pedalboard-sized device to achieve the vocal processing you desire; the BOSS VE-2 Vocal Harmonist effects processor is proof of that. With this portable tool, you can create professional-quality music without any prior experience with recording equipment or musical theory; all you need to do is press a button, and the effects will be applied automatically.
If you plug in a guitar, the VE-2 takes on a new level of impressiveness, adapting its harmony to the chords you play. The VE-2 can be powered by four AA batteries, making it highly portable, and the unit's USB interface allows you to bring your preferred vocal effects into the studio.
Key Features:
Harmony Generator
Plugging in your guitar and letting it analyze the chords you're playing allows this pedal to shine as an automatic harmony generator truly. Using the VE-2's key-tracking feature in conjunction with the automatic harmony recognition will enable you to build harmonies that fit your music and track your voice.
You can pick from a wide range of harmonies, including 12 different kinds of 1- or 2-voice harmony, each with its variant. Therefore, the BOSS VE-2 will provide you with the ideal chord progressions regardless of your performance style.
Controls
The BOSS VE-2 Vocal Harmonist does much more than provide harmony to your vocals. It already has various amazing effects and processors built-in means it's simple to give your live vocals a studio-quality polish. A single knob on the effects section allows you to adjust the amount of reverb, delay, or both.
Using the VE-2's Enhance feature, you may add a professional sheen to your vocals for a more polished final product. If you press it again, you'll activate an automatic pitch correction feature that helps you sing in tune even when the volume is up. You can't hear yourself very well, but it makes your automatic harmonies more consistent.
Housing
The VE-2 Vocal Harmonist was made to be as adaptable as feasible. To begin, the VE-2 requires only four AA batteries to operate and may be used to give steady phantom power to any condenser microphone.
With the three easily accessible buttons, you can save and recall your preferred settings, and the auxiliary input allows you to play along with backing tracks. You can take all the VE-2 has to offer into the studio because of its USB connectivity, making it an audio interface.
Character & Sound:
Harmonies may be generated when singing along with the VE-2, with a pitch that automatically follows the chords performed on a guitar, a preset key, or some mixture of the two. Using any of these three settings, you may create lovely harmonies in any key without any prior experience with instruments or music theory.
Pros:
Including interface options for adjusting the musical key settings and the auto harmony feature for singers/songwriters who want to use external instruments is a genius decision on Boss's part. This makes it a versatile pedal used by singers or instrumentalists looking for a harmonizer, reverb, or delay with on-the-fly key recognition via an instrument input/thru.
Cons:
Neither the delay nor the reverb sounds well, even at their lowest settings. It's challenging to balance a "natural" sound and a full one. If you utilize the Enhance button with pitch correction, the result will sound artificial and processed, and you'll have to switch to the Enhance option without pitch correction, which is slightly better but still subpar.
3. Eventide H9 Max Harmonizer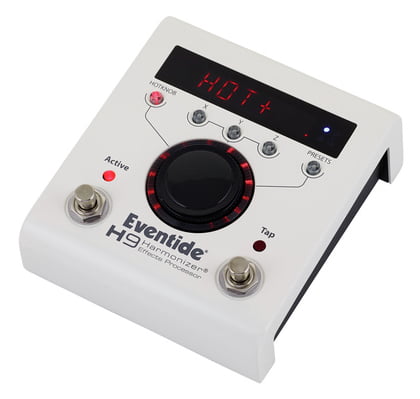 Since the early 1970s, Eventide has been synonymous with quality and professionalism in virtually every studio worldwide.
By their well-known naming traditions, they gave the little digital box the name "H9." In essence, this collection represents the culmination of the exquisite algorithms in various effect pedal series. The pedal's external look hasn't changed, but it has undergone minor internal upgrades. There are currently three variations of the pedal to choose from. The H9 Max comes factory-loaded with all of the available algorithms.
Key Features:
Housing
Adding a pedal to your arsenal des takes up almost a little area on your pedal board, maybe a third of the total. Its glossy white chassis looks like it would become dinged up quickly under everyday use, but the opposite is true. And this pedal is no featherweight, either; at over two pounds, it's quite hefty. The chassis is metal, while the knobs are high-grade plastic.
LED
The large LED readout is easily seen because of the clever contrast that makes the red alphanumeric characters stand out against the black background. As an added convenience, the rightmost corner of the display screen houses four tiny LED indicators.
The titles of many of the presets have been shortened to only letters and numbers, making it difficult to tell them apart at times. There is a row of five discrete push switches labeled Hotknob and Presets beneath the LED readout screen, and when you press them, they light up as flashily as Rudolf's nose.
Encoder Knob
A huge, black jog/shuttle wheel (sometimes known as an "Encoder Knob") is located just a little below the center. While it may look like this dial is flat with the above chassis, it protrudes outwards somewhat.
There are bright red LEDs surrounding the Encoder Knob; these lights only come on while you're adjusting parameters and show you how much of a change you're making to the algorithm. Finally, a pair of sturdy, old-school stomp-box-style switches for bypassing, engaging, and incrementing presets are there, which we guitarists will recognize immediately.
Power
In addition to using the included wall wart AC adapter, you may also power the pedal with a special 9v line from any high-quality power supply that can consistently supply 500 mA.
To rephrase, you can't use a regular power supply with a negative center to power it up because you forgot your polarity laws. After powering on, the device automatically restores the last saved setting stored in its digital blueprint. This is a great feature if you've made changes and should have saved them.
Control App
Adjusting the pedal presets locally is feasible, although doing so can be a tedious process. There's also a comprehensive user guide for you to peruse. Reading the manual, you can learn how to use the H9's preset adjustments and other settings.
The truth is that there are many procedures to learn (or consult) before attempting such activities. You must use the Control app to access all of the available settings and editing options on the device itself. Simple steps can get you started, but you'll need access to the internet to authorize the device and link it to your account.
No matter what system you use to install the program, you'll have the same experience using it from any supported device. That app is well crafted, and people appreciate how nicely it works with the hardware. The first four kinds of digital signal processing are taken straight from Eventide's lauded Factor line of digital stomp boxes.
Tuner
You can use the Control App or the pedal itself to access the pedal's chromatic tuner, which is convenient and incredibly sensitive. The tuner is fantastic, and we recommend it above more budget-friendly portable options. The LED display is large enough to make reading the note and its intonation value a snap.
The one drawback to this function is activating the tuner requires pressing and holding both footswitches for a few seconds rather than only touching one. This isn't a problem in a home or studio context, but it cannot be very pleasant in a live performance.
Character & Sound:
Pressing the 'Presets' button, which stays lit as you scroll through the pedal's presets, allows you to cycle through all the available settings swiftly. If you've found the perfect present after some trial and error, you can assign it by tapping the right footswitch.
The pedal's preset indicator will then turn off and function as usual. When you push the right footswitch, marked with the word "Tap," the number of presets increases by one. One tap on the huge black encoder knob will take you back through the presets.
Forward incrementing mode is the default, and it only takes a second tap on the Encoder to return to it. Don't be afraid to tap the Encoder with your toe during a live performance; despite its plastic construction, it doesn't seem in the least bit fragile. 
The only minor gripe with this fundamental feature is that it does not provide any visual cue to indicate which way the user is currently taking a step. The digital readout screen flashes with preset numbers as you move through them. Press the 'Active' footswitch on the left to trigger the flashing mode.
Also, the left footswitch is set up as a True Bypass button by default. Whenever the footswitch is engaged, a big, brilliant red LED light appears directly above it. A cluster of teeny, extremely bright Mini LED indicators sits off to the right of the main LED display.
While tiny, they provide quick visual feedback on whether the onboard Bluetooth receiver is operational, whether or not there is an input signal, and whether or not the input level is clipping. A simple push of the X, Y, and Z buttons simultaneously will turn off Bluetooth.
Pros:
The potential for development is a great feature of these pedals. To update your Eventide pedal with the latest algorithms as they become available, download them via the Control app. If you get an idea, you can put it to use immediately, thanks to the pedal's extraordinary adaptability and processing capacity.
It's incredible what this tiny device is capable of. The pedal is a fantastic method to receive Eventide's professional effects at an absurdly low price per effect if you're after the best of the best.
Cons:
It's more complex than we'd want to transfer preset lists and other user-defined settings between devices. For example, if you've made a set of presets or a list on your computer, you'll need to transfer them to the pedal and then back to your phone.
It would be really useful if users could access their cloud storage for lists and settings. In their current form, custom presets necessitate the maintenance of separate lists and subsequent transfer via the pedal between computer and phone.
4. Digitech Vocalist Live Harmony
This pedal improves shows by allowing users to add two vocal harmonies to their voice with simple guitar and microphone input.
DigiTech's patented musIQ technology automatically translates the guitar chords you perform into the harmonically correct accompaniment. Don't worry if the song you're playing is complex. You won't fall over this smart pedal accidentally. A guitar tuner, a phrase repeater for use in sound checks, and a vocal phrase looper with unlimited overdubs are just a few of the amazing features that come standard on this pedal.
Key Features:
Advanced Pitch Detection
It's amazing to hear the harmonics develop as you hold a note while the guitar player improvises around you. To figure out which notes to use and how they pertain to what you're singing and playing on the guitar, it employs state-of-the-art double-effect technology and musIQ advanced pitch detection.
Remarkable virtual backup vocalists have been created. It's safe to assume that after using Vocalist Live Harmony in a live or studio setting, you'll never want to go back to performing without it, as this is the experience of many performing artists.
Looper
The pedal features an integrated vocal phrase looper that syncs with your live set and generates harmonics on the fly. You can capture a phrase for up to 70 seconds and add as many overdubs as you like.
With today's cutting-edge double-effect technology and smart ducking, you can record your speech twice with professional results. Utilize these robust tools to construct intricate vocal arrangements, and then add up to two automatically produced harmonies from Live Harmony for a truly impressive vocal performance.
Effects
The pedal is loaded with cutting-edge technology designed to improve and streamline your live performances. The sophisticated 12-filter feedback suppression and onboard Gold Channel global effects of Live Harmony will have your vocals sounding as polished as a professional recording. There is a built-in guitar tuner, a Preset arrangement tool, and a Sound Check Phrase Repeater for rapidly dialing in your vocal effects before a show.
Connectivity
A mic input volume can be adjusted with the Input Gain knob, and there's a convenient dual XLR stereo jack input for such mic, Guitar In, and Guitar inputs on the back panel.
The input for a footswitch is included, as well as Left and Right male XLR outputs, a Line Out/Headphone exit, a Ground Lift button for handling earthing issues, and a USB port for the Preset Management Program, which lets you store, organize, and share your settings on a computer.
Gold Channel
The Gold Channel is a global effect that applies to all settings modeled after a channel strip. Its impacts are wide-ranging and far-reaching. As an additional performance-friendly feature, the Set List button enables you to organize your presets into easily editable set lists.
Rotary Knobs
The three silver rotary knobs control the pedal, Voice 1, and Voice 2 (volume), while the fourth lets you choose the key/scale for your virtual backup singers. As previously stated, the presets are excellent, covering virtually every studio vocal effect imaginable and a few more, and can be accessed by turning the large black rotary knob.
To fine-tune and preview your vocal sound and effects before actually singing into the microphone, you can press the Soundcheck button to capture a loop without any effects.
Character & Sound:
It is an excellent tool for live performers and will be especially appreciated by single singers/guitarists. The job is tough because there is no downtime; nothing happens if you stop playing for even a second. As a result, anything that improves the musician's experience and makes for a more polished performance and sound is highly prized.
The ability to alter a song's pitch has existed for quite some time; in the 1980s, similar devices sold for the equivalent of a mid-range car. Naturally, there has been a lot of refinement over the years, resulting in a corresponding decrease in the outlay needed to access these effects.
Since the human voice is much more nuanced and complicated than a guitar or keyboard signal, as its name implies, it is best adapted to live applications.
Pros:
Digitech has created a piece of gear jammed with features that a performer can use on stage. The interface is uncomplicated, straightforward, and obvious, and the price makes it accessible to all but the most ragtag of street performers.
Cons:
You may accidentally touch the up and down buttons while using them on stage. Therefore, if you enjoy the harmony and effects you are currently using and accidentally press the up or down buttons, you will lose the great setting you were getting ready for.
5. TC-Helicon Critical Mass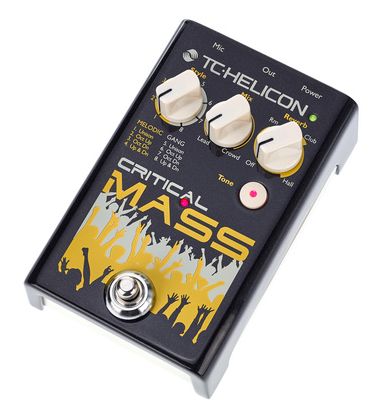 This pedal will dynamically polish your vocal sound to a great quality sheen, giving it a more professional appearance.
With a simple turn of the straightforward Style and Mix settings, you can bring the octave vocal backing in Melodic and Gang styles much closer to the unison vocal backing they originally had. Both of these designs allow for this possibility.
There are three uniquely constructed reverb types, each with a mixed control completely independent. In addition, effects will be automatically added during the production of Adjustable Tone. If you want your single performance to have the massive sound of performers even though you're the only one singing, check out this one.
Key Features:
Reverb
The application of reverberation as a form of vocal effect is something that is done routinely in virtually all recording facilities as well as live performance environments all over the world. Because of the pedal's lush reverbs, your voice will have the ambiance of a professional recording studio.
This reverb can range from small, intimate locations to large, exquisitely tuned performance venues. If you use this pedal, you can be certain that the production of your voice sound will be as polished and professional as it deserves to be in a studio setting.
Adaptive Tone
During your performance, the Adaptive Tone technology will make real-time adjustments to the equalization and modulation of your sound. Because of the real-time adjustments made to the effects, the tonal quality of your speaking will consistently be at its highest possible level.
If you have this handy pedal, you won't need a mega-buck microphone or a celebrity engineer because it will make you sound incredible. It will do all the work for you. If you feel your delivery could occasionally benefit from some assistance, this is your winning entry.
Gang Vocals
If you want huge choruses, and a subtle mix of vocal accompaniment to flesh out your voice, the pedal is an excellent stompbox solution that you can use for any circumstance. Your solo vocalist and songwriter performance can go from being in a small room to a large concert venue in the blink of an eye with the simple tap of your toe.
Because of the powerful Style control, which allows you to choose between Harmonic and Gang-style performances and many other options, you have full control over the live music you produce.
Power
Since you are a singer, first and foremost, it is unlikely that you are required to dive headfirst into technology at this point as part of the duties associated with your work. As a result, it modifies the amplification on your microphone to the optimal setting automatically, allowing you to concentrate on delivering the best possible performance every time.
The pedal allows you to use plug-in power from the additional 9 V adaptor or battery power when you're only doing a short performance or house power isn't easily accessible. You can utilize both of these electricity sources at the same time.
Character & Sound:
The reverbs are nice and warm and contribute significantly to my live singing. The gang vocals are fairly impressive, giving the impression that a large group of people is singing along with you. The effects do a fantastic job of simulating other sounds singing harmoniously with the main singer.
Because the digital reverb is also very effective on its own, you need to be careful to either use it by itself or set the reverb on the PA to the level you want and turn off the reverb on the pedal. Due to the additional mic cables, it is now a comprehensive system between the microphone and the PA Mixer.
Pros:
Your singing warrants extra consideration every time, regardless of whether you're performing at a dingy dive bar or a huge music festival. Your voice is always impressive. You will always be able to sound your best with the help of the tools provided to you by the pedal.
These tools include automatic pitch correction, great reverb, and voice doubling. It will elevate your artistic abilities to the next level with the help of a deceptively straightforward stompbox, even though it houses all of these features.
Cons:
The tone switch is essentially pointless. The sound engineers despise it because it causes the signal to become extremely hot as it enters the soundboard; therefore, you should do yourself a favor and forget that the button even exists, and you'll be fine.
6. Electro-Harmonix Voice Box Vocal Harmony Machine/Vocoder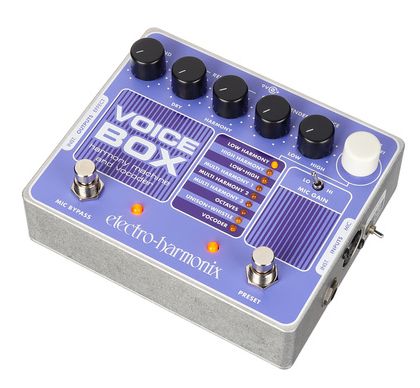 The Electro-Harmonix Voice Box is a convenient tool for producing numerous vocal harmonies and other vocal effects.
You can use the pedal with a guitar or piano to create two- and four-part vocal harmonies. You can adjust the amount of echo, the gender of the formants, and the ability to mix effects. Using a special footswitch, you can access nine different settings, and there's also a mic bypass option.
Key Features:
Controls
With Electro-Harmonix pedals, you've seen one kind of effect and heard it all. The only noticeable difference is the new graphic style at the top. The foot switches are now near the pedal's base, but the primary row of knobs remains at the top.
The LEDs in the center of its user interface serve as an indicator of the current harmony mode. Furthermore, a mic gain button makes it simple to match up your equipment.
The microphone can be muted or selected from available settings using the two-foot switches at the device's base. Everything is designated, making it a breeze to use. Gaining competence with the controls and getting begun could take as little as half an hour.
Effects Section
There are seven distinct harmonies to choose from: octaves, low harmonies, high harmonies, a blend of the two, and three variations on the "Multi harmony" voicing, which combines multiple voices in various ways. The whistle is another fun choice, but the vocoder is the real show-stopper.
There was a lot of anticipation for this one, and it was the deciding factor for many people to purchase the pump. You'd need two configurations, one for the vocoder and the other for everything else, because most vocoders on the market are expensive, include a keyboard and a subpar microphone, and let you do just that to vocode.
Voice Mix
An effect's Vocal Mix allows you to customize the resulting harmony by adjusting the upper- to lower-register voice ratio. Turning the knob down in low mode disables all but the lowest possible voice. If you turn it up, it will only broadcast the loudest voice option.
That is, unless you're in Harmony modes, in which case the maximum setting will leave only the whistle, the minimum setting will leave only the unison, and the medium setting will give you an even mix of both.
Connectivity
You can use any standard XLR microphone cord with no changes to the sound quality. In addition, you can (and should) plug in a harmonizing device like a piano or guitar. It would be best to plug it into an electrical outlet; cells won't suffice.
The converter is included, so there's no need to worry. When you're all set up and ready to go, you can tweak your microphone's amplification by setting its sensitivity anywhere from very low to very high.
Housing
The pedal's design is what draws in customers first and foremost. It has a frame that fits neatly on a pedal board, making it more convenient than many harmonizer pedals. For this purpose, only the question of where to put the I/O ports presents any difficulty.
Instead of having ports on the rear panel, they are located on the sides. If your pedals are near together, this could cause a problem. If we break it down into features, we're talking about a wide range of harmonies—8 of them, to be precise.
It has a vocoder and echo already installed. Generally, it's not too complicated. Nonetheless, the business prioritized the underlying functionality. Taking this pedal on stage is risk-free due to the pedal's rugged chassis.
Character & Sound:
There is a great deal of leeway in the final sound design thanks to the knobs, and you can make out every word plainly and precisely. In our testing, we encountered some shakiness and inconsistency in the harmony generation, but we could produce functional outcomes with enough practice.
While the generated tones were spot-on, the box had trouble recognizing tempo shifts from major to minor and other jazzy inflections. When using the harmony modes, the box works best when the singer sings in tune and at a consistent volume.
If this isn't the case, we recommend using a compressor or taking some singing classes first. You should route a high-bite/attack instrument through the voice box for optimal tracking. One of the most impressive features is the wide variety of harmonizing options available.
There is a discernable difference between each one. The settings cover a wide range of natural to synthetic effects, despite the lack of fancy OLED screens and other gimmicks. The power it possesses is formidable. Plus, it's a lot of joy to play around with. Those with a wide variety of devices might profit greatly from this type of device.
Pros:
Overall, it's a great vocoder and a highly effective, if occasionally annoying, harmony creation device. Having perfectly in-tune singing and good vocal/instrument levels moving into the harmony processor is essential. Also, using a compressor between the mic and the voice box would be best.
Cons:
There is no choice to assign a scale to the harmony in this voice processor, so don't expect it to produce perfect harmonies. The voice processor does, however, have some nice features. However, the accuracy improves slightly when an instrument is plugged into it and used in conjunction.
If there isn't an instrument to provide the sounds as a point of reference, the octave harmonies can hold their own, but other intervals are more difficult. It's not a complete loss because the sound is quite musical, and there are a lot of choices to tweak and adjust to fit your requirements perfectly.
7. Boss VE-20 Vocal Performer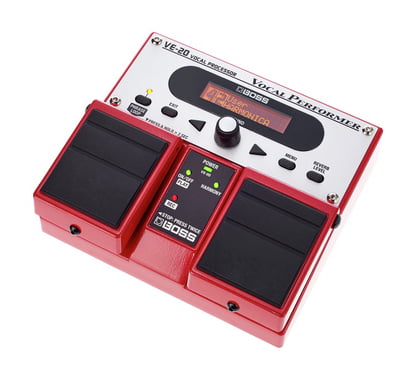 The Vocal Effects Processor from Boss, Model VE-20, features an onboard looper and many other effects.
This pedal combines numerous types of units, making it harder and harder to identify a single, ideal component. As a result, you can expect a 50 percent reduction in expenses and increased simplicity throughout the process.
Some vocal processors are 'pure,' meaning they can only handle the signal from your microphone. The Boss VE-20 was designed with singers in mind, including all the tools necessary to perfect your vocal performance. It may lack a guitar input, but it's very flexible. On top of that, it has all the excellent characteristics of Boss that fans appreciate.
Key Features:
Controls
Unlike most effects pedals, the Boss VE-20 is designed specifically for bass guitar. There are several knobs and buttons on the device, but you must do all the fine-tuning through the menu. This is not unexpected, considering that most vocal processors and multi-effects devices adhere to a typical architecture.
Exit allows you to go back to a previous screen or undo an action, and Phrase Loop activates the matching feature; thus, these controls are often self-explanatory. To change preferences, use the left and right mouse buttons.
To enter the menu or modify the currently shown parameter, press the Sound button, which also opens the LCD screen's menu. The machine's on/off switch doubles as the phrase looper's trigger, while the second footswitch triggers Harmony or any other effect you choose. 
Looper
VE-20 contains a looper that can record for up to 38 seconds. For some, especially those who use it for certain sections of their song, that may be all they need. Since this pedal doesn't let you save looped phrases in the memory slots, you may only find it helpful in limited circumstances. You won't need to change the key because this dog can do it automatically based on your singing.
Special Effects
The harmonies highlight the VE-20, but BOSS has also included various voice effects so that you can imitate anything from a robot to Cher to a tinny radio. You can achieve that overused Auto-Tune sound; there is an "electric" setting in the pitch correction FX block.
Other effects are flanger, chorus, radio, strobe with a tremolo effect, a preamp with an Eq, and a distortion; this, in combination with an octave-down harmony, should appeal to death metal vocalists.
Character & Sound:
When you plug in the Boss VE-20 and start exploring its features, you'll quickly realize its value again. Almost all of the factory presets sound authentic enough to be used professionally. Both "Ordinary" and "Special effects" are great since they complement your singing nicely without adding any phony tones.
Of course, no matter how hard you try, there are those that won't sound natural, so use them with caution. Also, VE-20 has a soft, harsh, robot, and electric pitch correction options. A soothing effect is barely noticeable, a powerful effect drastically modifies your pitch, and robots and electronics put those unnatural aspects to the fore.
Since this pedal won't add coloration until you specifically apply it, you may say its sound quality is exceptionally transparent. This puppy does a fantastic job tracking your vocals; its key changes are always spot on. Looper expands the usefulness and reach of the original utility.
Pros:
Overall, the Boss VE-20 is a fantastic vocal processor for individuals who aren't searching for something overly sophisticated. Its adaptability will benefit your performance regardless of your preferred vocal technique. Whatever kind of voice you have, from a strange, otherworldly one to a standard female one, this pedal will enhance it.
Cons:
Unfortunately, this pedal doesn't have a guitar input, which can be a problem, especially for vocalists who want to play guitar and vocals simultaneously. It was also great to have the ability to save Loops; it helped musicians quite a bit.
8. Roland VT-4 Voice Transformer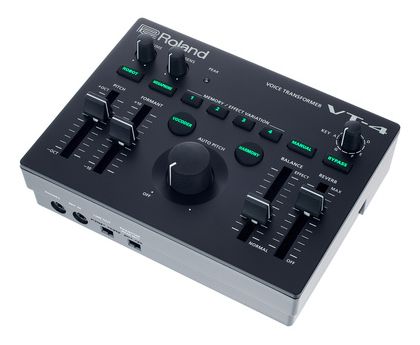 The Roland VT4 can recreate any vocoder sound, from '70s classics to the hyper-pitch-corrected pop singers of the past decade.
This voice effects processor makes creating your distinctive vocal sound simple, with no need to delve into the menus for adjustments ranging from fine polishing to out-and-out mangling. And many high-quality 24-bit/192kHz effects are available.
The VT-4 is surprisingly portable due to its small size and long battery life. They couldn't believe how much high-quality functionality Roland had crammed into such a little package. The VT-4 is the only device you need if you want professional-quality vocal effects.
Key Features:
Housing
Although it's narrow (16 cm), this pedal packs a serious punch. Don't let its small size fool you; this unit has been thoughtfully designed, down to the placement of its knobs and sliders. 
The VT-4 uses the same ingenious method used by other Roland products that a USB input can power: it can be converted into an audio interface. Also included are the usual jacks for mono and stereo playback. For condenser microphones, the VT-4 can supply phantom power and is powered by four AA batteries. The VT-4 is ingenious because of how much it can perform on just four AA batteries.
Effects
The VT-4's stated goal is to supply a wide range of voice effects that change noticeably based on the chosen element and interact with one another. The Robot effect is a good place to start because, as expected, it makes your voice seem metallic. Still, using the MIDI ports on the back of the unit, you may control the pitch using a MIDI keyboard.
Vocoder
Compared to the usual Robot patches, the vocoder effects are more harmonious. These are pleasant to the ear, make logical sense, and serve their intended purpose admirably. The lack of configuration options means you must make do with the predefined patches, one of which emulates the pedal's monophonic behavior in its default setting.
Using a MIDI keyboard, you can alter the pitch, but if you're unsure of your talents, you may always resort to the built-in pitch correction tool. You can get all the autotune you need if you put a big pot in the middle of the panel. As a result, you'll be able to counter any pitches you receive quickly.
Effects
There are four alternatives "patches" available for the vocal effects. If you've listened to many albums with a vocoder sound and find a patch that sounds a little like the original, it can be hard to resist the temptation to create a cover version.
The following EQ effect, the megaphone, is a powerful one. Since it is both practical and realistic, you might use it in a real-world situation. If you've tried to use a megaphone into a mike on stage and been subjected to feedback hell, this may be a blessing.
Formant Control
Particularly useful in Harmony mode, when you may make a male vocal to sound like there are female behind it, the Formant control is a great tool for changing the vocal's tonal construction.
There are two more faders on the right for adjusting the wet/dry mix of the vocal effect and another fader for adjusting the amount of effect. Even though there isn't a ton of customization here, the options given are good enough for practical use and easy whole understand, making them ideal for production environments.
Character & Sound:
There's no justification for the VT4's level of enjoyment. The pitch correction was quick and effective during testing. The Robot and Vocoder modes make for a fun vocal processor when combined with the other effects.
The VT4 is technically a vocoder thanks to its support for MIDI for pitch and the possibility to utilize your vocoder carrier via the USB 2 interface; with eight versions of each effect, you'll be able to experiment with new sounds for quite some time. The Voice Transformer family of products has developed from a direct impact into a powerful and adaptable vocal toolkit.
Pros:
The VT-4 was designed to operate primarily with voices, although it does well when used as a modulating signal for other sources, such as percussion. However, it might be worth it if you create intriguing and unusual vocal sounds or sounds geared toward the hard-tuned hues of R 'n' B.
It's adaptable enough to fulfill the needs of touring bands and recording artists who employ special effects. It's high-quality hardware with a wide variety of flexible speech options. At this price, the MIDI- and pitch-controllable material is a no-brainer if you know you'll enjoy vocoding and effects.
Cons:
The auto-tune feature only goes so far. Even though there is a MIDI input, the device cannot dynamically adjust the key you have specified.
Unfortunately, unlike most auto-tune plugins, including the EHX Vocoder pedal of comparable price, the MIDI input only allows you to adjust the vocoder's pitch, and it is not vital on-the-fly. And the harmonizer is the same. A note's harmony doesn't change depending on the chord it's sung over.
9. Zoom V3 Vocal Processor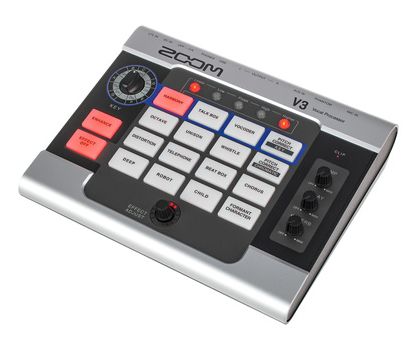 Content creators can use the Zoom V3 voice processing pedal to enhance their recordings.
It has a ton of handy effects that everyone can utilize, such as harmony and pitch correction. In-built effects such as compression, delay, and reverb are at your disposal, and you may adjust each parameter separately. A dedicated expression pedal input is included to enable instantaneous effect fine-tuning.
If your recordings have a tinny or unclear quality, the Enhance feature can help. If you want to streamline your recording process and record directly into your DAW or streaming client, the V3 also serves as a USB 2.0 audio interface.
Key Features:
Housing
The new Zoom V3 continues Zoom's tradition of providing inexpensive, high-quality effects to content makers. It is ideal for both virtual and live performances, and its small size, durability, and user-friendliness make it ideal for vocalists. When streaming video games, recording podcasts, or making videos for YouTube, you can also use the V3 to change the creator's voice.
Effects
The V3's many creative capabilities, including the Doubler, Synth Effects, Pitch Correction, and the ability to adjust an effect's parameters at the turn of a knob, provide users a great deal of leeway when it comes to sculpting their sounds.
Artists now have access to a potent Harmonizer that enables them to construct 3-part harmonies in real time, in both major and minor keys. Well-known effects such as compression, delay, and reverb from Zoom can each be adjusted independently.
Pre-Amp
The V3's high-quality pre-amp will let you give your best performance. However, the Enhance feature will improve the quality of any microphone instantly.
The interface is straightforward, and the buttons and dials are all labeled adequately for a painless and immediately understandable experience. The V3 is small, lightweight, and can be mounted in various ways, making it ideal for transport to and use in any location.
Connectivity
Numerous inputs and outputs are available on the rear panel, including an XLR mic input for condenser and dynamic microphones, a TRS input, a headphone jack, and a controller input for an additional footswitch or expression pedal that you may buy separately for easy hands-free control.
The V3 can be used as a dedicated two-input, two-output USB 2.0 audio interface when connected to a computer through its micro-USB connection. The V3 can run off the AA batteries or the 9V power adaptor. It is also compatible with the optional microphone, built to reduce background noise so the public can hear your speech.
Character & Sound:
It's a bit challenging for someone unfamiliar with music theory, but don't worry. Unless you are performing a cappella piece, refrain from using chromatic pitch correction. It will automatically tune the entire song if you sign with a backing track.
Instead, it would help if you tried to locate the song's original key. The song's key can be determined by the letter you dial on ZV3's key circle; if it's a primary key, such as A major, use a capital. After you've done that, select Enhance to give your voice greater volume and Pitch Correct Key to correct your pitch.
The higher you set the effect to adjust, the more robotic your voice will sound. Turn it down from the total volume (100) until you get the desired tone. The reverb is also reasonably practical; however, it would be "great" to have a few more reverb settings to choose from.
However, this may be asking too much for the price being asked. The good news is that you can confidently hand this off to a lead singer and go on. Singers who use voice pedals with more features may find them cumbersome when they need a quick turnaround.
Pros:
As for the V3, it's a breeze to operate; you just have to select an effect and tweak the settings until you're happy with the result. It's easy to use and fine-tune the auto-tune function.
Although it does not have the most professional sound, a separate download is available for those who wish to fake it with an overused sound that is all too common today. In sum, this package provides everything required to record songs or play in front of a crowd of thousands.
Cons:
A great deal of restriction exists. There are merely a pair of 1/4-inch jacks for signal output. The ability to modify the harmony is extremely limited, and even when using the proper key, it often sounds like the wrong interval.
It contains appropriate independent reverb, delay, and compression in addition to the 'unison,' 'pitch correct chromatic,' and 'deep' that are particularly helpful for a Bruno Mars song. After less than 20 hours of use, the device began randomly shutting off.
10. Headrush Looperboard
The HeadRush Looperboard is arguably the most sophisticated looping device available and is designed to excel in live performance and recording studios.
In the heat of a live performance, you can use this device to create dynamic loops; afterward, when you're ready to layer and mix, you can import the multitrack audio into your DAW. The high-resolution touchscreen display gives instantaneous visual input and allows you to manage up to four stereo loops with your fingertips.
Customizable loops with their dedicated switches allow for instant music development and the creation of multitrack mixes. The internal effects processor has useful presets for various instruments and voices.
Key Features:
Connectivity
The four combination XLR/1/4-inch inputs allow you to record onto four stereo loop tracks. The looper's inputs cover a broad range of instruments, from guitars and basses to keyboards, and the included phantom power makes it suitable for use with vocals as well.
You can connect four instruments in mono or build up stereo looping with its four inputs. You can also import aural recordings into the looping process. Two XLR outputs and two additional outputs are provided. You can set up four individual mono outputs or go for complete stereo output, just as you did with the inputs.
With the XLR outputs going to an audio interface, you can record a live performance, and the stereo outputs going to a pair of amplifiers, you have a lot of choices for how to use this device.
Storage
The Looperboard has no time restrictions regarding looping and backing tracks. As long as you stay within the 8-hour mark, your playback duration will be limited only by the amount of space available on the device's internal storage.
Plug in an external recording device like a USB flash drive or Secure Digital (SD) card to increase the playback time until you reach your desired duration or if you need more space. That's a lot of leeways if you want to make long circles.
Looping Features
Unlike simple loopers that replicate your playing, this one lets you tweak and perfect the sound of your looped music. Modeler functions include stereo mixing, panning, and quantizing to keep sequences in time. Avoid endlessly redoing circles because of small imperfections. In addition, you can adjust the tempo of any imported loops instantly.
Customisable Footswitches
Naturally, it also places a lot of power on your feet, relieving the need to stoop constantly. There are 12 footswitches with illuminating RGB indicators that you can use to operate the usual repeating features and a wide variety of others.
The footswitches allow you to adjust the loop duration and other settings. The upper four start/stop footswitches are also programmable, allowing you to access the features you use most often quickly.
Effects
It includes a set of high-quality effects that you can apply to any instrument right out of the box. Reverbs, delays, and even unconventional effects like Slicer and Pumper are all available in the Looperboard. Vocal harmonization and tuning effects let you quickly adjust the pitch of your voice to sound more in tune with other vocalists.
Design
If you want to play guitar with the correct feeling, this design is something to look forward to because it is flawless and unparalleled in terms of efficiency. With this one, you can experience the best of both worlds: a smooth ride and a stylish look.
The design element not only guarantees the highest standards of beauty but also guarantees the greatest possible efficiency. For maximum practicality and efficacy, that's the single finest option available. It is planned to have all the connections and cable ports on the reverse side, which will be concealed from view.
Neither your instruments nor their cables will be visible, and you won't have any issues with organization. And to top it all off, it will come with some excellent bonuses, such as color-coded switches that will help you get the most out of it.
Character & Sound:
The convenience is undeniable, and you can use a built-in USB audio interface and expert tools; this is the ideal setup to meet your various requirements. Because of its versatility, you can take this to any performance where you will play the guitar and use it to play music of many different genres.
And with the proper looping effects, you won't have to worry about a thing while you enjoy the best EDM experience, which is something anyone would want from their guitar playing and looping experience. More than 300 pre-loaded drum and percussion patterns on the looperboard provide instant inspiration.
Pros:
This is a high-quality commercial Loop Station, and its price reflects its high quality. The big touchscreen is a great feature, as we have not seen one this size on any other looper. We also appreciated the four separate tracks per loop and the accompanying physical inputs that came with them. The device's twelve footswitches allow it to be operated while upright, making it ideal for use in performances.
The tracks' timeline view is very useful, and we hope to see it implemented on future devices by rivals. Overall, it's worth the price for guitarists who want a Loop Station to serve as the hub of their rig and are prepared to shell out a hefty sum. If you don't need that many footswitches or if you plan on using external MIDI devices regardless, you can ignore this section.
Cons:
Sometimes, the device's lack of use can be a deal breaker for those who need it. Many users persevered for a month or more in an attempt to master the UX but ultimately gave up because they found the interface too cumbersome.
They discovered that even though there were 12 buttons on the pedal, they still had to tap things numerous times or bend over to touch the touch screen. During one night of use, the pedal failed, erasing all of the user's progress. We initially assumed it was just a faulty device, but further investigation revealed that others had had similar problems since using the internet.
11. Boss VE-500 Vocal Performer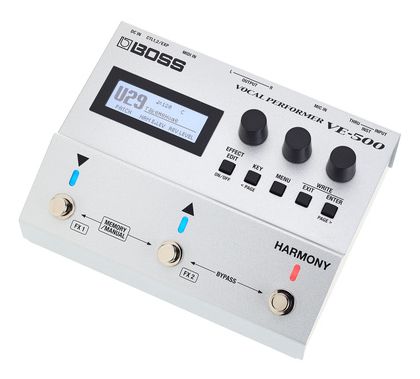 The newest version of Boss's 500 lines of rack-mounted computers is a good example.
With a simple but effective looper that permits one minute of mono recording, this app aims to provide a full suite of vocal processing tools. It can construct harmonies in up to three parts using a particular scale, the chords from a guitar or other instrument, or even just 30 seconds of stereo.
Key Features:
Housing And Connectivity
It has three footswitches and is contained in a compact aluminum enclosure. It has a stereo XLR output with a ground-lift switch and a matched XLR mic input with adjustable phantom power. The pedal has an external adapter, but it can be powered by any high-quality pedalboard power source that provides at least enough amperage.
The instrument input is a quarter-inch socket, and the Thru signal goes through a separate jack to the amplifier. Those with space on their pedalboard can connect an external switch to the port and gain even more control over the device.
A USB port enables access to a computer to update, transfer audio, and run the free editor. The vocoder can use its five-pin MIDI In interface to power an internal multi-waveform oscillator that serves as the carrier source. The vocoder's MIDI Out port allows for remote management of its settings.
Front Panel Controls
Even though there aren't many controls on the front panel, you can quickly and easily access and modify all of the important parameters thanks to the intuitive tree-like organization of the UI. The monochrome, backlit LCD allows for data editing and name changes and can store up to 90 individual presets.
Although the menus are basic, the software editor's tabbed pages for accessing different control areas and system settings make serious editing much easier. The first two footswitches let you toggle between settings or turn on/off entire effect banks.
The harmonizing function is activated when switches 2 and 3 are pressed together, the device is turned off, and switch three is pressed alone. Switch configurations can be stored independently for each fix.
Effects Section
It allows you to use two more Reverb blocks in sequence or in parallel to add basic delay, echo, and hi/lo filtering to your setup in addition to the preexisting reverb effects. Depending on how the effects blocks are wired together, there are several configurations of the main vocal path and the harmony vocals.
You can combine the main effects blocks in some ways, including a series arrangement, a parallel arrangement, or a routing arrangement. The first two are devoted to character analysis, while the third performs a parallel combination of blocks and then sends that result into a series combination of blocks.
Chord Detector
In Auto mode, the instrument's input is sent to a harmonic detector portion, which is processed to generate harmonies. You have the option of basing the harmonics on a fixed scale, on the instrument input, or both.
The instrument input serves only as a source for the vocoder and does not feed into the amplifier's signal chain in any other manner. The XLRs and USB audio output are combined in a converter where the user can adjust the volume of each signal before sending the combined signal to either.
FX Blocks
Access to the same broad range of modulation effects, as well as some less obvious ones, is provided by each of the four primary FX Blocks. The voice is split into three frequency ranges, creating a tempo-sensitive stepper effect in Isolator.
It's worth noting that the rotary effect occurs with rise and decline times that are modulable across slow and rapid speeds. The second input of a ring modulator is an adjustable frequency oscillator, which can be used to create a broad range of synthetic and ethereal tones. The pause function stretches a short audio sample into a full song or soundscape.
Character & Sound:
The usual array of reverbs and delays are here, covering pretty much any vocal treatment you could want, even if you want to imagine you're in a huge cathedral with a chorus. All of the "trick" sounds work as promised. However, it is recommended that you use them sparingly, as hearing a complete song sung by a ring manipulation or radio voice could become tiresome.
The harmony section can sound just as fine in scale mode as it does when recording the chords played by the instrument input, provided that the melody doesn't take any unexpected turns. Additionally, you can directly adjust the harmonic interval for each note if a specific interval is desired. MIDI input from instruments like a piano or sequencer can also trigger the harmonies.
The outcomes of a guitar input or a MIDI input are visually and sonically identical. This is to be anticipated since the guitar signal is being processed to create a sawtooth/square synth sound or to increase the signal's harmonic content.
With its clear diction and three separate personas, the vocoder performs as one would expect a high-quality vocoder in such a context. Mic allows you to sing without giving any additional information and create vocoder-styled sound effects in addition to the octave function.
In the pitch-correction section of this cutting-edge vocal processor, you have your pick of four different strengths, spanning from "natural" to "hard tune" robotic. A key-specific and a chromatic correction are possible, with Natural yielding a particularly pleasing, tight, and discreet result.
Pros:
When used in a live setting, the pedal facilitates quick access to the necessary effects for each performance. When a rhythm guitar or piano is plugged into the pedal's instrument input, beautiful harmonies appear apparently out of nowhere.
Basic effects are standard equipment in any recording facility. However, the pedal's usefulness increases dramatically if you're in the market for a vocoder or other similarly out-there voice effects. It can generate harmony and has great double-tracking emulations, both of which are useful. There's a lot to like about this instrument, and it only costs as much as a few plug-ins combined.
Cons:
While the reverb is fantastic, the compression is extremely baffling, and the instructions provide zero guidance on how to use it. There is no attack/release mode, ratio control, or other advanced settings, just a simple 0-100 dial.
Also, there's an effect dubbed "enhance," which can be adjusted from 0 to max but whose purpose is only described as "increasing the clarity," whatever that means. And if the de-esser did its job, it would be fantastic.
12. Zoom V6-SP Vocal Effects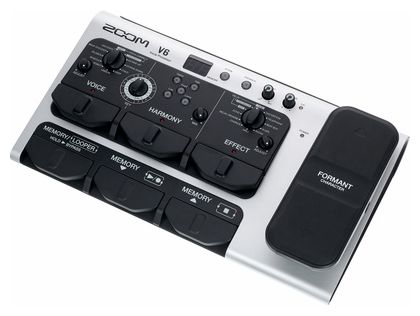 If you're looking for a great reverb pedal for your vocals, go no further than the Zoom V6-SP.
The device's three components are labeled "Voice," "Harmony," and "Effects," and they each perform distinct purposes. The footswitches provide instant access to the 40 preloaded patches, 100 user memory spots, and looping capability while performing live.
As a result, you can easily add harmonies throughout the verse, an octave effect during the chorus, and an echo effect during the bridge without having to go on your hands and knees. And if you still need more nuance in your performance, the Zoom V6-SP comes with a Formant Shift pedal that allows you to make instantaneous adjustments to your vocal character.
Key Features:
Patches
In addition to the 40 factory patches, there are 100 user slots for storing your creations. The SGV-6 microphone, included in the package, is meant to prevent feedback from leaking into your vocal effects from the stage's other instruments.
The three multi-function footswitches also handle the memory patch selection and the extensive looper section, which can record up to 3:00 audio. Compression and EQ/sibilance enhancement are incorporated, respectively.
Connectivity
A USB port allows you to use it as an audio interface in your DAW; an XLR output lets you connect to a mixing console, and a control pedal input lets you add an extra expression pedal that you can assign to effects settings. There's also a headphone out with volume control. The V6 operates on the provided AC adapter or four AA batteries for about three and a half hours.
Expression Pedal Compatible
What sets the V6 apart from other vocal processors is its built-in expression pedal, which you can use with any formant effects without affecting the pitch. This allows you to incorporate the effects you're using as an integral part of your performance rather than just using them as an afterthought. There are many innovative potentials when considering the V6's three primary components and their capabilities.
Effects
The Voice section is displayed initially, beginning at the lower left. Basic sound characteristics, including chromatic and diatonic pitch, timbre (through octave shifts, pitch modulation, and vocoder effects), and volume (via volume and reverb) can all be tweaked here.
The Harmony part comes next and features basic buttons for altering the pitch of the harmonies, exactly like the Voice section's key selection knob. The text concludes with an Effects section whereby conventional effects like delays, reverbs, and chorus sit alongside out-of-the-ordinary effects such as Distortion, Beat Box, and Telephone.
Character & Sound:
This is not a product for singers who need EQ, compressor, and ambiance but for those who want to add excitement and dynamics to their complete vocal texture by creatively using these effects. It was built for live performances, and in the hands of a talented singer, it may become an extraordinary instrument for expression.
Unfortunately, you can only use the expression pedal for formant effects, so you'll need to use a different pedal if you want to, for example, fade in an echo or change the volume of a harmony. If you're into sound exploration, you'll have a blast with this feature-packed creative hub.
Pros:
The logical layout of its components, the quality of its construction, and the simplicity and obviousness of its interface all won me over right away. Great quality sound, a wide variety of effects, compatibility with a USB interface for use with an iPad, Mac, or PC, and an in-built expression pedal: a great addition.
Cons:
While the harmonies are nice, this track's effects are too wacky to be used in a professional setting. Karaoke or a hilarious DJ could have some fun with that, but a professional vocalist should steer clear. The voice effects are also exaggerated to a ludicrous degree.
The formant pedal makes it tough to sound like you're not high on helium or a demon. It would have been fantastic if the pedal could have been a slider for the effect's intensity.
What is Harmonizer Pedal, And What Does It Do?
When you plug the harmonizer pedal into your signal chain, it makes an exact copy of the incoming signal, allowing you to add harmony to your melodies. The pedal's pitch playback function allows the new signal to be heard compared to the initial input.
The two melodies fuse into a seamless harmony when the old pitch is played simultaneously with the new one. The output signal is sent out at the same moment, ensuring that there will be no timing discrepancies. Due to the proximity of the two paired impulses, the guitar's presence is enhanced, resulting in a fuller tone and a refreshingly new shading to your compositions.
The harmonizer pedal works by recording the incoming signal and then playing it back at a different pitch while simultaneously playing the original signal. You can adjust the pitch of your music by an octave up or down with more complex pedals.
It will preserve your unique style while fusing any harmony you desire from the tunes. They can mask the original sound and change the frequency to a higher or lower key. In recent years, "harmonizer pedals" have evolved into a specific category of pitch-shifting pedals. But the pedal is more advanced because it can detect your pitch and playback perfect thirds, fifths, and more within your scale.
How Are Harmonizer Pedals Used With Vocals?
This effect can adjust a singer's vocal pitch and timbre in real time. It can generate harmony sections and give the impression that the performer is singing in a different key. Using the pedal to experiment with various noises is a great way to pass the time.
A vocal harmonizer starts by taking a sample of the input signal and then produces numerous duplicates of the sound, each with a unique time stretch and pitch. It will merge the freshly added audio clips into a single output once the harmonizer recognizes them as separate entities to be processed.
A vocal harmonizer made of electronic components can be purchased for anywhere between one hundred and one thousand dollars.
What To Look For When Buying An Harmonizer Pedal For Vocals?
When selecting a vocal harmonizer pedal, the complexity of the layout is the first thing you need to consider. This is because, besides requiring a great deal of knowledge, a vocal harmonizer pedal with plenty of controls may not be helpful during performances.
Vocal harmonizers are a type of sound that blends multiple voices into one. Intelligent harmonizers can figure out the song's key and add the harmonics without the singer having to do anything. Most systems also come with a footswitch that allows you to toggle the harmonizer on and off while you perform.
Some versions are portable and can be set on a table, making it simpler to make adjustments during a performance; however, you'll need to do so with your hands in between songs. A harmonizer's key can be adjusted by strumming chords on a piano or instrument.
After deciding on a chord, the harmonizer can generate the appropriate sounds. This technique is known as intelligent or auto-harmonization; however, it is still important to play in tune so that the pedal can produce a harmonious sound.
Controls
Wet/dry settings are a great addition to any product. You can adjust the volume of the effect relative to the raw transmission of your voice using these controls; without them, the effect might overpower your voice. In this context, "wet" alludes to the altered signal, while "raw" indicates the original signal. You can find a way to adjust how much-wet signal you're adding to the dry input.
Layout
Vocal harmonizer pedals can be overbearing due to the many sounds they can produce. Rather than purchasing a pedal with features you will never use, it may be wise to locate one appropriate for your skill level.
Many voice processors come equipped with preprogrammed settings to make things easy for novices. Voice harmonizers could be included in a multi-effects pedal as an additional option. Vocalists on a tighter budget searching for a single device with multiple effects may appreciate these choices. Multi-effect versions are convenient and serviceable but typically need more dedicated effects pedals.
Range
You can find other vocal harmonizer effects by doing a web search. The power to "gender shift" your girl is among the most sought-after. If you're a guy and you want to sound like a girl when singing harmonics, you'll have to make them sound feminine. For this, a pedal with a wide variety of harmonics is required. Listen to how many octaves the pedal can raise or lower your voice to determine its capabilities.
Extra benefits
Pick a pedal emphasizing harmony before looking for fancy effects like looping, reverb, or delay. Otherwise, the pedal's primary ability will be playing chords rather than playing at all. It could be self-evident that this is the case. However, even if you purchase a voice processor with a harmonizing add-on, you may need something else.
Conclusion
Everyone is aware of how awesome it is to have some voices present, in addition to effects that complement the expressiveness of the soloist. Among these Top 12 Harmonizer Pedals For Vocals (Stage & Studio) In 2023 we had some pedals that performed exceptionally well.
You should be aware that most of them provide the same level of quality and the same amount of control when it comes to singing. This is true even though some originate more from the instrumental realm.
Additionally, today we discussed the TC-Helicon Harmony Singer 2. A pedal with multiple functions that, in addition to the harmonizer effect, provides three different reverbs and an adaptive tone with some quick settings that you can use to learn the pedal.
Vocalists who perform in public appreciate that the pedal's optimal gain control removes the element of chance from the sound check process. They successfully produced a pedal with an accurate design but still simple to operate.
Whether you play as a vocalist or an instrumentalist, the Eventide H9 Max Harmonizer is the pedal you should have in your arsenal. It includes the well-known encoder dial, which occupies considerable real estate in its user interface.
This knob gives you influence over several different parameters. If you want to check the pitch of your voice or help your bandmate get in tune, it also has a very sensitive tuner, which is very visible thanks to the large and bright display.
When we were thinking of the best Top 12 Harmonizer Pedals For Vocals (Stage & Studio) In 2023, we considered all of the requirements that a soloist might have regarding this effect. As a result, you will most likely find yourself using one of these pedals.