Do you want your solos to cut through the mix in a live setting, and, consequently, you've been looking at boost pedals? In this article, we'll look at the Top 8 Boost Pedals For Metal 2023.
A boost pedal is an effects pedal that boosts the volume of your guitar's signal. Boost pedals have the least noticeable impact on your instrument's tone. Booster preamp stages were developed to increase the guitar signal's volume before it enters the amplifier, but they do not add any additional effects.
The goal of a boost pedal is solely to amplify the signal; therefore, it does not affect the guitar's frequency range or tone. By and large, the goal of employing a boost pedal is to generate an immaculately pure and transparent sound, with the addition of only a slight but audible boost in volume.
Even though this is theorized to be the difference a boost pedal produces, in practice, many boost pedals accentuate the treble. To get more out of your tube amp, use a boost pedal in conjunction with it but be prepared for some distortion.
If you want your boost pedal to have no effect on your amp's tone but merely increase the volume, you should make subtle changes to the preamp. Of course, any guitar with a boost pedal attached will sound different, but the higher-end pedals will subtly alter the tone.
We hope you understand why these pedals are required in live settings and beyond, so we'll cover the best solutions for 2023 below.
Top 8 Boost Pedals For Metal 2023 (For All Subgenres)
1. tc electronic Spark Mini Booster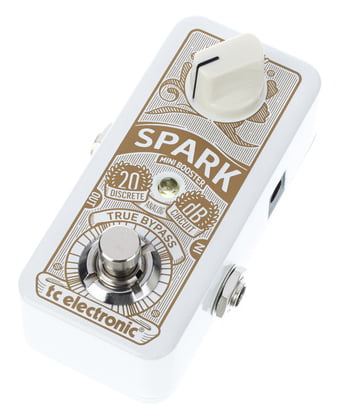 TC-Electronic's booster pedal, the Spark Mini, packs all the power of the company's original Spark Booster into a pedalboard-friendly package.
The primary distinction between a mass-produced effects pedal and its boutique counterpart is the focus on providing a more nuanced and high-quality playing experience with hand-selected components. When working with effects like boost, it can be challenging to introduce that novel element into a straightforward layout.
The TC Electronic Spark Mini Booster is a pedal with additional features in places where you wouldn't normally expect to see them, in addition to the superb core performance you'd expect from a solid booster pedal.
Key Features:
Circuit
The discrete analog circuitry of the Spark Mini prevents any alteration or destruction of your sound. Plus, it has a simple bypass footswitch that you may use in either of two ways. First, you can use it conventionally by pressing it once to activate the effect and again to turn it off. A PrimeTime setting also requires a longer stomp and hold before the effect is released.
Controls
The control element of a pedal like this one is so basic that it's often unnecessary to examine it individually. Simply put, there is very little (or nothing) to discuss. The TC Electronic Spark is very similar to that. In the original, there are four encoders and a toggle, but there is only one knob here.
It's called Level, and it lets you add a certain number of decibels to the volume of your audio. In other words, you can slowly spin it, observe its effects, and build upon them. When your wiggle room is limited, every little progress is worth celebrating.
Knob
There is only one control on this booster, much like most others. The knob controls the amount of amplification. Then there's the footswitch, which has a nifty special feature. There's not just the regular switching mode but also something called PrimeTime switching. If you press the button and hold it down, the effect will turn on, but it will only last as long as you keep it depressed.
Character & Sound:
The SPARK MINI BOOSTER by tc electronic is an analog volume booster that adds subtle, unobtrusive loudness. Its complete 20-decibel boost with no timbre coloring makes it among the best booster pedals on the market.
The most apparent application for a boost pedal is to enhance your solos, but you can also use it in tandem with other effects to create even more dramatic results. For example, try pushing your amp to get a broader, warmer overdrive sound. Alternatively, you might step on a compressor footswitch to amplify the sound.
Pros:
The Primetime switching function is, without a doubt, the largest benefit of this pedal, more so than the sound it produces. In addition, this pedal's neutral tonal character and space-saving layout make it a versatile addition to any setup.
Cons:
The only drawback is that a battery can't power it because the pedal is too small. However, when installed in a pedalboard, a battery is not required. In addition, the pedal is missing some functions found on the original Spark, but trust me when I say it gets the job done just as effectively.
2. Xotic EP Booster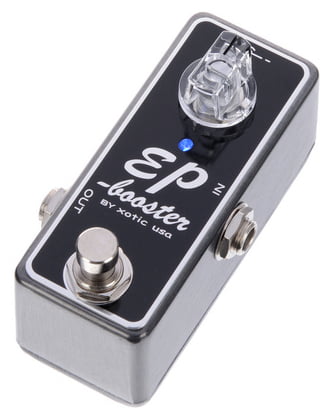 To create a tone-improving boost in a compact package, Xotic adapted the Echoplex EP-3 circuit for use in their EP Booster.
Prosound Communications Inc. creates the booster known as the Xotic EP Booster (Xotic Guitars and Effects). You can amplify a guitar's signal with the simple twist of a knob, and this device has a similarly minimalist design. The boost strength and EQ shape may both be adjusted with the flip of a switch on this pedal.
It's considered to be a top booster for the year 2023. The Xotic EP Booster is built to last and can add up to 20 dB of pure, unaltered volume to your sound system. In addition, this booster creates a multi-dimensional sound with variable high and low frequencies.
Key Features:
DIP EQ Switches
Once the back panel is removed, the unit's treble and bass settings are accessible via two tiny DIP switches in the top right corner. The high-frequency range can be boosted or flattened with the flick of a switch, while you can expand the low-frequency range with the other.
Controls
The Gain knob that is so characteristic of effect pedals like the Xotic EP Booster is included. Its purpose needs little explanation. Increasing the volume by turning clockwise. The pedal wouldn't be particularly fascinating if it weren't for the two remote controls. Both Bass Boost and Bright are at your disposal. While the Bright boosts the signal's highs, the Bass Booster improves its low-frequency responsiveness.
FET Preamp Circuit
The EP-3 Echoplex was a popular echo processing machine in the 1970s, and of the original, Echoplex inspired its basic FET preamp circuit. As a result, this little tool can produce gains of up to 20dB.
9V Battery Compatible
A 9V battery can power this pedal, but if you want to plug it in, the EP Booster is dual-voltage capable, allowing you to choose between 9V and 18V for significantly more gain and sonic versatility. Even if your charger doesn't put out 18 volts, the Xotic Voltage Doubler can help you attain the same result.
Character & Sound:
Using the bright setting to bring a guitar with a lower tone to the fore and crank up the bass to give those single coil pups some much-needed weight. With a good tube amplifier, this pedal can accomplish miracles. With even a little boost, the entire signal becomes noticeably louder.
Pros:
More than just a booster, the Xotic EP Booster is a tone shaper that brings forward all the ear-pleasing frequencies. Its portability and simplicity make it a top pick, but I wish the bass and high-end internal controls were placed on the front panel for easier access.
Also, it would be great if they came with convenient button controls. So, the EP Booster is a great addition to any player's armory because of its portability and ability to be set and forgotten.
Cons:
It might muddy your sound a little bit more at the bottom end, but it won't be too obvious and can easily fix in the EQ. There is also a significant gap between 18V and 9V, which is a minor downside. However, using it at 18V unlocks its full potential, so if you're curious about its worth, you'll have to shell out a little more cash.
3. Fender Engager Boost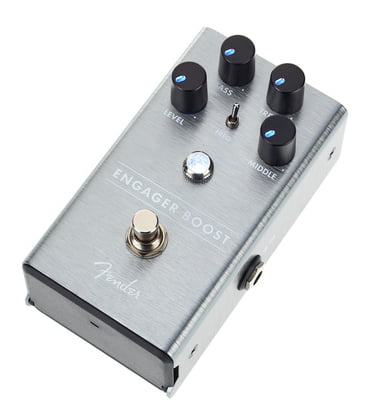 The Engager Boost provides up to 20 dB of clean boost and three bands of EQ to fine-tune that boost to your specific needs.
There will be times when you want to turn up the volume. The Engager Boost is the best clean boost pedal for adding volume and fatness to your tone. The Frequency knob is great for fine-tuning your tone, while the integrated 3-band EQ helps you cut through a dense mix. The Engager Boost is ideal for feeding a stronger signal into a tube amplifier's preamp. This pedal has a true bypass and a buffered bypass mode, so you can use it with any setup.
Key Features:
Eq
The Engager Boost is equipped with a simple EQ setting that allows for personalized tone shaping and selective signal lowering and raising (Bass, Treble, or Mids). But first, you should know how the Level knob interacts with the other EQ controls. Either the pedals' Level or your amp's Level will need to be raised to retain parity or to slightly enhance the total signal if you opt to cut some bass and mids, for example.
Construction
The shape of the Engager Boost is well suited to its purpose; its brushed silver body provides a blank slate upon which to create your sound. In addition, this pedal was constructed to survive the rigors of constant playing and touring, featuring a hard-anodized aluminum body and a white Fender amp jewel light.
Controls
From its unity gain starting position up to the full 20dB, the Level knob provides a smooth boost that is more than enough to nudge the valves of a clean amp into overdrive. When you add equalization, you'll have a lot of room to play about with different exciting frequencies.
Both the Treble and Bass controls affect the right frequencies, with the Treble knob boosting the highs in a very pleasant way. The Middle control's ability to switch between two distinct frequency ranges—one throaty and the other more like an amp's presence knob—can be very useful for cutting through a dense mix.
Led Knobs
Metal footswitches and adorable miniature jewel lights are also standard. You'll appreciate the LED-backlit controls if you've ever had trouble seeing them on a dark stage. If you're concerned about battery life due to all the discussion of LEDs, you can switch them off when you're not utilizing an external power source. Users who operate without an external power source will also benefit from a red warning LED on the battery compartment door.
Character & Sound:
Fender's Engager offers a clean boost with up to 20dB of gain and flexible EQ controls. In addition, players can choose between 900Hz and 500Hz with the frequency toggle switch and adjust the selected frequency's volume with the center knob.
Pros:
You can use the Engager with any system, and it will function well. It can be used as a classic volume booster, an EQ sculpting pedal, or even to increase the gain of an already overdriven amplifier. The Engager is the epitome of elegance in its uncomplicated design.
Cons:
The LED functions of the pedal require a lot of power; therefore, using it with a 9V cell would drain the juice quickly.
4. Mooer Pure Boost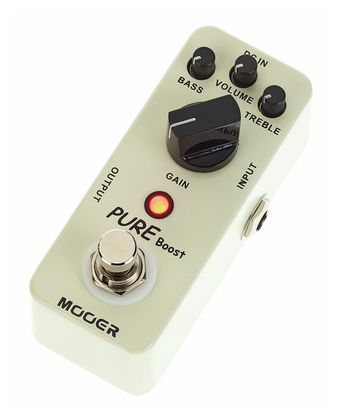 Including two EQ knobs, the compact Mooer Pure Boost enhances versatility.
When you use the Mooer Pure Boost, you will amplify your signal without losing its natural tone. The Pure Boost is a transparent boost pedal like the Xotic RC Boost, but it also features an EQ with Bass and Treble settings. Warming up your sound before feeding it into your OD pedal or amp is accomplished through the gain control.
Key Features:
Eq


You can truly shape those boost tones and choose how you want them to break through the mix of your band with the help of Pure Boost's two-band EQ, which allows you to cut or boost the bass and treble frequencies by +/- 15dB.
Gain Circuit
Moore Pure Boost provides a vast array of features at a very low cost. Along with the 20dB of clean boost, you also receive an extra gain circuit to give your amplified tone a little more edge.
Character & Sound:
It doesn't mean it'll scream; it sounds gritty and crunchy at full strength. However, the amp sounds as clear and articulate at lower gain settings as if you had invested in a valve amplifier. Unfortunately, the transistor amp will distort the pristine sound of your guitar if you crank up the volume and whack the strings hard, producing a sound that is more akin to a nasty crunch.
Pros:
You may use this excellent translucent boost as a solo effect by inserting it after the final fx. It has a clean, transparent sound that you may push further with the addition of some roughness, and the bass and treble eq controls are a wonderful touch. It's well made, as are all mooer pedals. Thanks to the metal housing, it is robust, suitable for the road, and has a true bypass.
Cons:
Compared to current options, it appears to lack the expected power level. In addition, the compact design precludes a 9V power source, and it is advised to be placed at the end of the signal chain pedals to achieve optimal results.
5. Electro Harmonix LPB-1
An increase in linear power output at the nanoscale, the Nano LPB-1. This is a faithful reproduction of the 1968-era LPB-1 circuit, which introduced overdrive.
Something should be stated about Electro-Harmonix and its influence on the effects pedal market. Many of the world's greatest guitarists have used and continue to use their products, making them the company to go to if you want to equip your pedalboard with the same gear. The Electro-Harmonix LPB-1 Booster Pedal is a fantastic little device.
It's not just one of the oldest still in use but also inspired the first overdrive effects pedals. The fact that it's so inexpensive right now is easily the finest. It's packed with useful extras and delivers solid results, making it one of the most influential fuzz pedals of our time.
Key Features:
Controls
The LPB-1 Linear Power Booster is a simple device with a single control knob. This encoder, positioned in the pedal's top center, allows for simple transitions between territories. It's named "Boost" and lets you choose how much amplification is applied to your audio. The problem is that it's extremely sensitive, and turning it to its maximum volume too quickly could permanently damage your hearing.
9V Battery Compatible
In addition, you may use either a 9V battery or an AC adaptor to power this guy. That's how easy it is. You'll be able to plug in and out with the rest of your gear and be ready to turn up the volume on any show. This guy needs to be tamed because if you set him loose, he'll go completely bonkers.
Circuitry
The first version appeared in 1968 and was instrumental in developing various musical styles. The newer, more compact model has the same circuitry but includes several updates vital to competing in the modern economy. This pedal is equipped with simple bypass circuitry to prevent any loss of tone while bypassing the pedal.
Character & Sound:
There's no way Electro-Harmonix would have found early success if their products sounded like an angry kid shouting at full volume. They would never have been able to keep that fame, either. This means that the LPB-1 Linear Power Booster produces a fantastic sound, elevating him to a higher echelon of players. You'll be amazed at how much gain it can add to your sound once you hit that footswitch.
Pros:
When disengaged, it acts as a genuine bypass and has no audible effect on your tone. Your tone's gain, loudness, and sustain will increase as you turn the knob clockwise. When used on the clean channel of an amplifier, whether tube or solid-state, it will push the amp into a delicious overdrive. When you've got some gain going, and you want to give it a little more push, it sounds wonderful, too.
Cons:
It's not a pure increase; it adds bulk as you crank the knob clockwise. Even though this could be a hindrance in most situations, the effects are great when combined with distortion.
6. Laney Tony Iommi Boost Pedal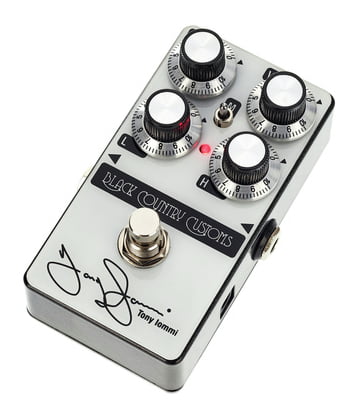 The TI-Boost, under Laney's Black Country Customs label, aims to impart Tony Iommi's trademark sharp edge to your already overdriven or fuzzed-up tones.
No one has to give you a primer on Tony Iommi. Iron Man has been hammering the heads of receptive metal fans for nearly half a century with his crushing sound. But, unfortunately, there were just three notes he needed to invent heavy metal guitar, and two of them were G. To pull that off, you need a unique tone and a talented player.
The TI Boost, developed by Laney's "Black Country Customs," is an exceptional treble enhancer. There is more than simply symbolic meaning there. For one, it has a three-band EQ (with a toggle switch for the mids), and its sound has a greater body in the low mids and a "furry" tone that Black Sabbath aficionados would recognize immediately.
Key Features:
Controls
They kept the pedal's basic operation—a major bass cut and mid boost—the same as his famed modified Range master but added some gain and EQ controls to make it more accessible to guitarists eager to experiment with their tones. In addition, there are drive and volume controls, low and high-frequency controls, and a Mid switch that provides access to two alternative Mid-frequency settings.
Switching Silently
There must be no audible "switching" sounds when activating an effect. For this reason, we take great care to create a switching system that generates no audible noise. In other words, nothing but the sound of an extremely functioning device.
Character & Sound:
This pedal doesn't change your amp's tone so much as it changes how your guitar reacts. If you turn down the bass, leave the drive at a low setting, and turn down the treble, your music will have the distinctive screaming character found in many outstanding 1970s guitar tones.
Pros:
You can feel the fatness when the bass is turned up. Sound waves crash into the amplifier like a golf ball being forced through a hose. The attack takes on that signature Iommi fuzziness at higher speeds, becoming softer and thicker.
Cons:
The fact that there aren't that many copies of this pedal floating around means it can be difficult to get your hands on. And if your hearing is important, don't plug it into a clean twin.
7. Walrus Audio Emissary Parallel Boost
Walrus Audio Emissary's parallel high-range and mid-boost channels add up to a versatile boost.
The Emissary Parallel Boost from Walrus Audio is perfect for many situations. This pedal employs two parallel boost circuits, each with its unique flavor that you can adjust via a knob to increase the gain of your guitar signal uniquely. What comes out of it is a level of adaptability that belies the box's two-knob simplicity.
Key Features:
Input Split
When you plug into the Emissary's input, your signal is split and sent down two parallel booster paths. One is a clean, high-headroom JFET preamp voiced to highlight high frequencies. The other is voiced to highlight the midrange. The former may be adjusted using the bright knob, while the latter is controlled by the mid one. A mini-toggle lets you set the band of midrange concentration at 800 Hz or 1 kHz.
On/Off Stomp Switch
The on/off stomp switch is a soft-relay, non-latching kind, so you can turn up the volume for a short passage and turn it off just as quickly. To activate the pedal, you push and hold the switch; removing your foot from the pedal will turn off the device. Of course, traditional stomp on/off control is also available with a switch flip.
Circuitry
The internal sound is replicated by two parallel boost circuits working in tandem. In addition, there are controls for Brightness and Middle Frequency. With the help of Bright, you can turn on a high-headroom JFET boost that works wonders for adding jangle and high-end attack.
The mid knob adjusts the volume of the instrument's midrange, which can be fine-tuned using a frequency selector. You can adjust the volume of each circuit to your liking, or you can use both at once. Adding this boost pedal to your board will be like a secret weapon.
Controls
The "bright" boost circuit's volume is adjusted with the top knob. This is a brightening boost with a small emphasis on higher frequencies, courtesy of a clean, high-headroom JFET. The "mid" boost circuit's loudness is adjusted via the bottom knob.
Depending on which way you flip the switch, this circuit provides a focused increase at either 1kHz or 800Hz. Momentary operation is available via the bypass switch as well. Press and hold to temporarily turn on the effect when the bypass switch is turned off.
Character & Sound:
The Emissary offers voice-crafting capabilities that are orders of magnitude superior to those of conventional boosters with a single knob. The additional EQ-shaping power is effective and tastefully applied while maintaining a user-friendly interface. If you're looking for a boost that can handle a wide variety of applications, give this one a try because it's rugged, has a low-noise floor, and offers superb clarity and character all around.
Pros:
The pedal requires a regular 9V DC power supply, and Walrus Audio suggests using a dedicated power source rather than a daisy chain. The whole presentation is polished and expert. The image on the matte black die-cast aluminum box depicts a medical professional studying an X-ray of a patient's head to locate the elusive "emissary veins" inside the skull.
Cons:
Because it is intended to accentuate particular frequencies, players looking for a perfectly linear and clean boost may want to explore elsewhere.
8. Keeley Katana Mini Boost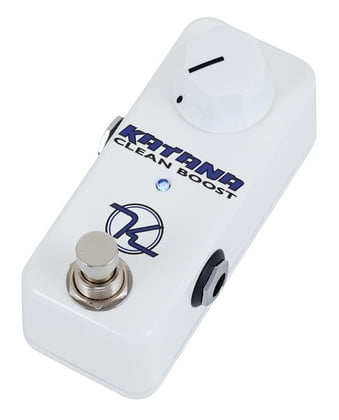 The Mini Katana is a compact version of Keeley's Katana clean boost pedal, which features two class A JFETs. Two internal DIP switches allow for a total of four tonal configurations.
One of the most well-known boost pedals is the Keeley Katana. This pedal quickly became prominent among players who required a simple means of amplifying their sound without distorting it, making it ideal for situations where more volume is more important than accuracy. Now it's reimagined more compactly, earning the name "Mini Katana."
Key Features:
Extra Treble
It ran from a unity gain point at approximately 10 o'clock to boost levels that took our little Fender amp from clean to full-on raunch, albeit with an inevitable rise in a hiss and added a delightful hint of extra treble with neither switch activated.
FET Circuitry
The original pedal's cascading FET stages are retained, allowing you to receive the same amp and guitar sound at a higher volume. But, unfortunately, you can't afford to have this tiny, crystal-clear transparent boost on your board since it is as clean and clear as they come.
More Gain On Tap
There are situations when more than a clean boost is needed to get the desired effect. For example, you want a somewhat gritty rhythm sound or crank up the overdrive a notch.
This bump in volume would typically require you to pull out the control knob on a full-sized Keeley, but Keeley has cleverly hidden it within the gain control's sweep so that at about 2 o'clock, you've reached the limit of the Keeley Katana's normal mode and are now in the boosted territory.
4 Mode Booster
This revision of the Mini Katana adds four additional boost levels. A total of four tones can be generated by using both microswitches. If you need more drive, you can get an overdriven sound using the built-in micro Hi-Gain Switch.
To achieve a mellower sound that complements any Strat or Tele, flip the internal Hi-Cut Switch. Simply toggling both switches, you'll be treated to a rich, creamy, tube-amp-sounding boost with many volumes.
Character & Sound:
By cranking the Katana Boost's volume control, you may get an overdriven, harmonically dense sound. You may leave it on constantly to get more out of your amp or use it occasionally to stand out.
Pros:
The Hi-Gain and High-Cut switch offers plenty of tonal shaping options; this makes the boost much more transparent and gives you the power it delivers in your hands.
Cons:
It's a tiny version of a pedal with many capabilities, but this functionality comes at a higher price. Not only that, but a 9V battery won't work with it.
Bonus:
Electro Harmonix Metal Muff/ Top Boost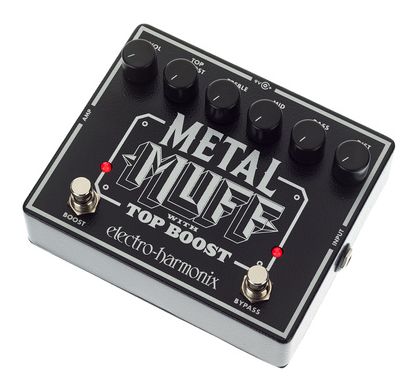 The Metal Muff offers something a little bit different, and it could end up being a hit with extreme noise terrorists and alt-rock guitarists just as much as it does traditional metallers.
A pedal with as much cache as the obscenely named Big Muff Pi was bound to inspire a slew of high-end knockoffs. This is a common reaction to the skyrocketing cost of vintage examples and the criticized quality of newly reissued pedals.
The Metal Muff, or Metal Muff With Top Boost to give it its proper name, is the newest member of the Muff family, and it looks great with its spiky take on the traditional logo and striking black and chrome livery. Top Boost is a function most guitarists would connect with Vox amplifiers in the '60s, but Electro-Harmonix included it so that riffs and solos would cut through a muddy rhythm guitar.
Key Features:
Interface
The Metal Muff is a hardy creature, similar in build to the Little Big Muff, except with a bigger case and two footswitches. The amp-style knurled metal knobs are aesthetically pleasing but don't hold onto the pot shafts as securely as the plastic knobs on their sister.
Instead, pop off the four screws holding the bottom plate to the housing to gain access to the battery, and although the Metal Muff's circuitry is more involved than that of a standard Big Muff, you can still count on battery life worthy of comparison to that of the Duracell Bunny.
Controls
Looking at its controls, you may understand this pedal's capabilities well. The pedal's various knobs can all be found on its top. First, you see a Volume knob and a Gain knob, but the latter is labeled Dist. Then, there is a three-band equalizer that is both sensitive and accurate.
At last, you'll find the Top Boost knob and associated foot switch at the pedal's base. You can think of the two gain settings as the default and the additional setting you can activate as needed. Perhaps it seems excessive, and if Electro-Harmonix didn't make the pedal, it would be.
EQ
Spitting Fuzz and marvelously scratchy low-fidelity voices result from extreme EQ settings and are great for livening up a mix or creating dramatic dynamic changes. Be wary of how much more bite the Top Boost may offer, as things can get fairly blistering when activated. That may be the ideal situation for you.
Character & Sound:
Electro-Harmonix When it comes to wealth, Metal Muff is unrivaled. A distortion pedal that does everything you need and more. To begin, the default setting of Metal Muff produces a tone that is reminiscent of a Plexi. There are a lot of gains, but the system is sound.
The pedal's gain curve becomes more gradual and meaty as the Dist knob is turned clockwise. The emotional intelligence component is fantastic. It's highly effective at controlling gain, and it's also very flexible.
Pros:
This is a great pedal with a wide variety of control knobs. Excellent fake harmonics are generated. Keep in mind, though, that this is just a distortion pedal. A multi-effects processor pedal, available for only a modest premium above a single-effects pedal, would vastly improve your sound by allowing you to layer in reverb, chorus, delay, and even a noise gate to your guitar's signal.
Cons:
Some guitarists may need help finding what they're looking for with this pedal, including those who prefer precise palm muting or chugging metal beats. It's important to note that the pedal's size makes it difficult to fit into a pedalboard, which is a drawback for some.
Conclusion
These pedals are required for any ride, for example, when your amp isn't picking up your guitar signal well, when you want a more dominant acoustic tone in specific sections of the song, when you want your guitar solo to sound clearer and louder, etc.
This list includes two of the most sought-after effects pedals in the music industry. A pedal that's now trending is undoubtedly the well-known Spark Mini Booster. The electronics and simplicity of a single knob ensure that the pedal will function flawlessly.
In addition, the analog signal provides a very pure 20dB boost without coloration. Plus, the PrimeTime feature is the most notable advantage. But we also suggest you check out its bigger brother, as it may meet any of your requirements.
A tone shaper, the Xotic EP Booster adds pleasing frequencies to your sound. The EP-3 Echoplex is a powerful option because of its stability and because it uses the widely used FET circuitry. These knobs and switches are top-notch and let you fine-tune the sound to your taste by adjusting the EQ using DIP switches. Fine-tuning the controls opens up a world of options.
While most of these pedals are designed to do the same thing, a few change the tone, which may seem unnecessary to certain players who already have pedals that add distortion or adjust the equalization.
Metal Related Topics:
Top 20 Metal Drums VST Plugins 2023 (VST, Kontakt, AU, AAX)
Top 7 Metal & Rock Kontakt Libraries 2023 (Best Guitars & Drums)
Can You Play Metal on Stratocaster? Answered
Is Ableton Live Good for Rock and Metal Bands? Answered
Is FL Studio Good For Making Rock & Metal?
Top 11 Plugins For Making Metal 2023 (Guitars, Drums & Effects)
Mixing Metal & Rock Drums: Tips For Room, Kick, Snare & More
Is Metallica considered Thrash, Death or Heavy Metal?
Top 17 Metal Electric Guitars 2023 (Black, Death, Stoner & Thrash)
Top 7 Bass Guitars For Stoner, Doom & Sludge Metal 2023
Top 12 Pedals For Metallica Tone 2023
Top 10 EQ Pedals For Metal 2023 (Any Budget)
12 Best Wah Pedals For Metal 2023 Update
13 Best Distortion Pedals For Metal 2023 (All Budgets)
Top 12 Delay Pedals For Metal 2023 (Any Budget)
12 Best Fuzz Pedals For Metal (Doom, Sludge, Stoner & Death)
Top 12 Reverb Pedals For Metal 2023 (Any Budget)
12 Best Combo Amps For Metal 2023
Top 6 Guitar Amplifiers For Prog Metal 2023
Top 8 Bass Guitar Strings For Metal 2023
Death metal enthusiast here. I am a Romanian musician and producer with over 13 years of experience in the music industry. I've experienced all types of Metal up until now, playing Melodic Death Metal, Brutal Death Metal, and Black Metal with different bands. Learning by doing is my base principle, which is why I've been drawn to sound design from an early age. Read more…