The 7 Best 37-Key Hardware Synths 2023
Roland JD-Xi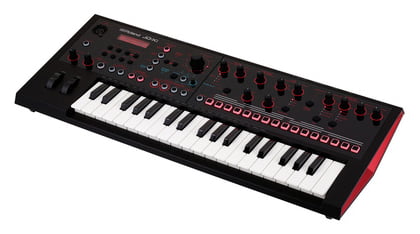 JD-Xi is an analog/digital crossover synthesizer with a vocoder. 
It has a 4-track pattern sequencer, auto-pitch, USB for audio/MIDI connectivity, and more. In addition, you get 128 voices of polyphony, 19 effects, professional drum kits, and plenty of ready-to-play patterns and sounds. Overall, it's a small and lightweight instrument with a versatile sonic palette, punchy drum kit, and a real analog flavor. 
Key Features:
SuperNATURAL synth engine
There's no doubt that the synth has a versatile and deep-sounding analog synth engine with digital controls, which give you the best of both worlds: great sound and on-hand control.

Sound Engine


To get started, there are 256 digital presets, 64 analog presets, and 32 drum kits. Then, you get an oscillator and a sub-oscillator, and options like brass, strings/pad, lead, etc., as the main sound source, beyond which you can apply a filter, envelope, LFO, and multiple effects like distortion, delay, reverb, compressor, bitcrusher, etc.

Easy workflow


The signal path is straightforward and streamlined, and you can easily navigate it. In addition, the workflow is simple; for example, tapping the tempo is incredibly easy, and you have an easy XLR mic and USB/MIDI connectivity.
Roland JD-Xi Hybrid Synthesizer Demo by Sweetwater Sound
Character & Sound:
The bass sounds are warm and fat, and the lead sounds are upfront, with incredible pads, strings, brass, and more. It has a decent-quality gooseneck mic with an auto-pitch attached to it. The synth tones are great & natural, with up to 128 voices of polyphony. Vocoder Presets like VP330 and Robot is great! You can also download and load additional sounds into the synth. 
Pros:
The USB for DAW connection is a huge pro, making the synth act like a 16-bit/44kHz 2in/2out USB Audio/MIDI interface. It has a good build, sturdy knob, great onboard parameters, and translucent rubber backlit selector buttons. Auto-pitch is another great tool to correct wrongly sung notes. 
Cons: 
The mic doesn't have a gain control and no battery power option. The digital parts can't easily be routed through the analog filters. Further, the keys are small and may cause resistance while playing. 
Behringer Vocoder VC340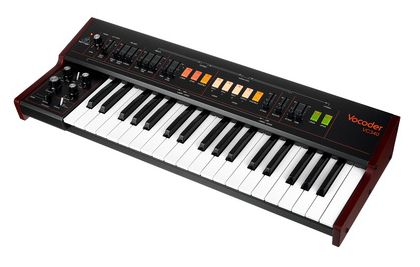 The VC340 is an analog string machine and Vocoder. 
It has 37 semi-weighted full-size keys with velocity sensitivity, original analog circuitry, and signals path, ensuring inspiring synth sounds and vocoders. It has flexible sound shaping options and a distinct vintage flavor, especially in its string sounds. It is known for its hybrid stringy synth and choir-based sounds.  
Key Features:
Aesthetically pleasing
The design seems to be inspired by the MK2, as it has organic color on some switches and faders. It has a vintage aesthetic, a wooden cover, and a solid overall build. It's small with only three octaves of keys, making it portable and looking good.
Completely Analogue
The VC340 by Behringer is very reminiscent of the string machine era due to its design. Its purely analog circuitry ensures full polyphony and preservation of the warm vintage sound.

Synthe Engine


You can select a gender in the human voice section and add ensemble effects that widen your sounds and open up their stereo imaging. Further, you can also add and control movements using LFO. Overall, it offers a nice thick texture, which sounds big and classy.
Behringer VC340 Vocoder Review — Daniel Fisher
Character & Sound:
It's great for modern vocal-synth effects and for emulating sounds of Daft Punk, Georgio Moroder, Zedd, etc. The high-quality sonic characteristics also support modern electronic music genres like house, techno, dubstep, future bass, bass house, etc. It sounds royally retro and analog and is great for creating rich choral effects and silky smooth strings. 
Pros:
The biggest pro of the VC340 is its simplified workflow yet great sonic possibilities. Another great thing about it is its honest & faithful design & synth architecture, as it stays true to its roots and gives you exactly what you expect from it, nothing more and nothing less. Lastly, it's heavy and quite durable.  
Cons: 
Thirty-seven keys may not be enough, especially for keyboard players who are also performing musicians. Secondly, the synth is good for strings and vocals but is not a versatile synthesizer and comes under niche uses. Finally, the human voices don't sound realistic without the ensemble effect, and their usability is limited. 
Novation MiniNova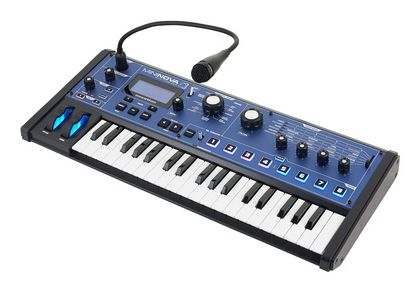 Mininova is a three-octave mini synthesizer with a powerful sound engine of the UltraNova. 
It has 37 velocity-sensitive keys, a pitch and modulation wheel, a filter knob, four performance knobs, and a switch for adding effects. 
Key Features:
Animate effects
You have eight pads that you can use to arpeggiate and animate your sounds. Using this, you can add cool articulations and effects to your sounds, using custom animations and activating multiple animations simultaneously. You can also save the patches you like by using the Favorite button.
Arpeggiator
There's a tempo knob you get under the Arp section in which you can sync the arpeggiator's timings to the tempo. A latch button lets you keep hearing the sound without having to hold on to the keys. Finally, you get a switch by which you can flip the pads from being animated to being arpeggiated.

Sound Engine


You get 14 types of highly-responsive and smooth filters, including high pass, low pass, and band pass, with different variations of slopes and resonances. There are six envelopes, out of which four can be applied to any parameter. These envelopes are snappy and responsive, so you can sculpt your sound however you want.

Attractive Price Point


At a $399 price point, the features you get on the portable and highly-functional MiniNova are insane at the time of writing this article. It has the sound engine of the UltraNova so you can load its patches into the instrument.
Novation Mininova, All The Vocoder Presets
Character & Sound:
There are 256 pre-loaded presets in the synth that you could go through and 128 available slots to save your patches. You can browse through the sounds using a data knob and select categories of type (bass, keyboard, pads, etc.) and genre (dubstep, house, rock, pop., etc.). 
You can also load external sound packs from online sources or the Novation website. Overall, it has a versatile range of sounds, given its analog-style oscillators with a wide frequency range and immense punch, combined with oscillators, envelopes, and other modulators and effects for sonic shaping. 
Pros:
It's well-built and one of the most affordable yet feature-heavy sound design tools. Its portability makes it great for touring and instant music production during inspiration. In addition, it has a great aesthetic, simple workflow, and dials & knobs that let you scroll through the options quite easily. 
Cons: 
The biggest con of the synth is that it's mono-timbral. Apart from that, the Vocoder is a bit disappointing in terms of clarity, and the reverb and other effects could have been better. There's no battery power, and the keys are also very small for live-performing keyboard/synth players. 
Choose If:
You want a portable sound design machine that is reasonably priced and that is optimized for electronic music production. In addition, the Vocoder and mic increase its usability and scope and make it more versatile. 
Korg MicroKorg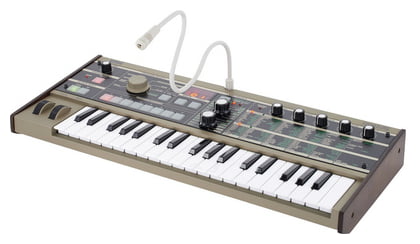 MicroKorg is an analog-style portable synthesizer with an 8-band vocoder and microphone. 
It features dual-oscillator digital signal processing, analog modeling, and a huge range of waveforms on the oscillator. You can run external instruments using its audio input jacks. It has 37 velocity-sensitive keys and four voices of polyphony. Plus, there are four filter modes and three types of modulation effects (chorus/flanger, phaser, and ensemble). 
Key Features:
Powerful Synthesis


It functions on 6 AA batteries, and you can play the synthesizer in both polyphonic and true monophonic modes. There are effects like portamento, vibrato, waveforms like saw, square, triangle, sine, vox, DWGS (more in a moment), and noise types. You also have the option to have pulse width and cross-modulation between the oscillators present in the synth.
Advanced Filters
The filters have 12 dB/octave and 24 dB/octave slopes with low-, high- and bandpass variants, with basic cutoff and resonance controls. You can also add an ADSR envelope and key-tracking modulations to the filters.

8-band Vocoder


The Vocoder in the synthesizer has some interesting features, such as you can freeze the sound formats and then play it across the keyboard without speaking into the mic repeatedly. You can also shift the formats to change the gender and age of the voice. On top of that, you can add modulations, filters, and effects to your sounds.
Also, you can get creative with the Vocoder by using different voices and instruments as the carrier and modulator signals, as there are no restrictions.

Other features


On your sounds, you can have onboard effects like flanger, chorus, ensemble, delay of various kinds, two-band eq, etc. onboard effects like flanger, chorus, ensemble, delay of various kinds, and two-band eq.
Plus, there's also an arpeggiator on which you can have six variations of movements of notes and a trigger option for staccato of the arpeggiated notes. Further, the global settings allow great flexibility for editing & shaping the sounds.
Start using the vocoder on the microKORG
Character & Sound:
MicroKorg has 128 presets to get started with, which include sounds of varying electronic genres, ranges, and musical styles. In addition, the modulation effects like delays, phaser, EQ, etc., line/mic input, and 6-types arpeggiator give you great flexibility over your sounds. The 128 programs are categorized into techno, trance, electronica, DnB, Hip-hop/Vintage, etc. 
It has a great analog-based circuitry that produces warm, fat, and punchy sounds and has the same sound engine as the MS2000. It's great for anything from creating funky leads to atmospheric pads to vintage strings fat & thumpy bass sounds, and more. 
Pros:
It's an extremely versatile tool for sound design purposes and creating different genres of EDM, pop & hip-hop, and its low-end sounds great because of its analog framework. The workflow and signal path is simplified and easy and its also easy to carry due to their compact and light physical nature. 
Cons: 
It has a steep learning curve, and it may take some time to develop muscle memory and an overall workflow around it; hence editing it can be a task. Lastly, since it is battery-powered, you don't get that complete analog flow and texture in the sound, although there's a touch.  
KORG microKORG XL+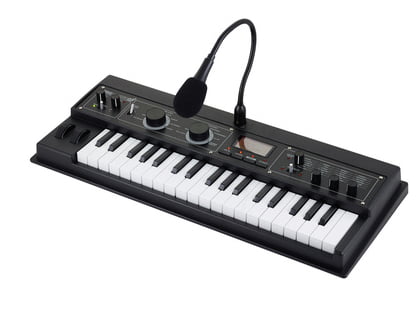 Microkorg XL+ is 37 keys, eight-voice synthesizer with a sixteen-band vocoder. 
It resembles a typical digital piano with an LCD screen, USB connection, and varying effects algorithms. It features the classic Radius sound engine, giving it its analog warmth and texture. It also makes it versatile, as it can create fat bass sounds to punchy leads to thick pads. 
Key Features:
Sound selection knobs
The knobs let you browse the sounds by genre and instrument categories, so you can easily find the sound you're looking for. In addition, you can layer sounds, split them, and layer them with an external source to expand your sonic horizon.

Flexibility of use


Its battery-charged option enables you to play it in a car, park, or studio, anywhere you like. It can also be used as a USB/MIDI controller and can work with phones. It doesn't necessarily require a laptop/computer. On top of that, it's compact and easy to use.

In-build Vocoder


You can use its detachable gooseneck microphone to perform vocals with vocoding effects in real time. The Vocoder has 16 bands, and you can use the external source(s) of sounds.
Vocoder DEMO | Mini Korg XL+
Character & Sound:
Apart from the 128 onboard sounds, you can load 640 more free sounds on the device by running its editor/librarian software on your computer. Sonically, it has great vintage sounds, including the KORG's SGproX stage piano, the M1, and the VOX organ. On top of it, you can add two master effects from Kaoss, delays, 17 different effects algorithms, and more effects. 
You can find program categories like Poly Synth, Bass, Lead, Arp/Motion, Pad/Strings, Keyboard/Bell, Sound Effect/Hit, and Vocoder/Audio In on the synth. 
Pros:
It has a small size and an optional battery power mode. The oscillators are voltage-controlled, and the filters are multi-mode, contributing to its great sonic abilities and feature-rich sound engine. The effects: Delay, Chorus, Flanger, Phaser, Vocoder with 16-band Filter, and 2-band EQ are also huge pros.
Cons: 
The build quality is not high-end, so it may not be rugged enough to carry around for touring musicians. 
Korg Opsix
Korg Opsix is often compared with the well-known and industry favorite Yamaha DX7, and it's even claimed that the Opsix is a recreation of the DX7. However, if we look beyond that, this machine has many more capabilities. Primarily, it is a 37 keys FM synthesizer with six operators.
It has five internal sound engines: Subtractive/Filter, FM with forty different algorithms, Filter FM, RM, and Wave (21 waveforms including white noise) folder, which can do expansive digital synthesis. It has six oscillators that can work in any of these synthesis engines. The subtractive mode has extensive filter types like the MS-20 and Poly-6.
Forty algorithms organize each of the six operators in different structures, giving you feedback loops and interactions you could work around. As an FM synth, this allows us to set any operator as the carrier or the modulator waveform.
Key Features:
Futuristic approach to FM Synthesis
We get a decent number of hardware controls on the Korg Opsix, which gives us a good hands-on approach to sound synthesis. By using the screen, we can also see the envelopes, parameter values, algorithms, and presets we are choosing. Each operator has its slider and a dedicated envelope generator. We can select a waveform, out of 21 different waveforms, for each operator and set algorithms in which these operators modulate each other. We can easily do data entry using the rotary encoders.
Extensive sound engines and programming capabilities
The five different synth algorithms give us the option to shape our sound to create tonal variations from the operators feeding from and into each other. There are three envelope generators for modulations, 3 LFOs with 23 LFO waveforms, 12 virtual automation patches, and one multimode filter. The arpeggiator comes with seven different patterns, and there are 30 effect types that you can apply to your sounds.
Korg Opsix Patch From Scratch - Sound Design with FM Synthesizers
Character & Sound:
The Opsix is great for creating gritty and glitchy percussive sounds for the cyberpunk music era. It's also great for creating lush and soothing ambient sounds that sound full and can easily fill up any space. The digital characteristic is at the core of the sound. This synth is versatile due to an intuitive hands-on interface being like an upgraded version of the DX7, just with more capabilities.
Pros:
The biggest pro of this instrument is that it makes FM easier and offers immense flexibility and control. Due to the control it offers, along with a room of randomness, it gives us a scope to innovate and create & discover new sounds.
Five hundred in-built patches and an interactive interface make it easily usable and programmable. With a lightweight of fewer than three kilograms, it's easy to carry around and is one of the best synths to design 80s sounds.
Cons: 
The sequencer has up to 16-tracks only, within which one has to stay limited to 16 steps and hence 16 lanes of automation. It responds to aftertouch only as a MIDI device and not otherwise, and the keys are narrow, making it hard to play.
Yamaha Reface DX FM Synthesizer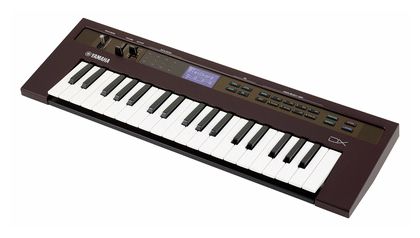 The Reface DX is part of Yamaha's series of portable mini-keyboards, each uniquely different from the next. It offers FM synth nostalgia with a hint of modern tone in a rather compact and slim case.
Yamaha's Reface DX is a polyphonic, analog FM synthesizer with a user-friendly interface for operator tweaking. Like the rest of the Reface series, it has built-in speakers, can run off six AA batteries, supports USB and MIDI connectivity, and uses a 37-note mini keyboard.
Key Features:
Four Adjustable Oscillators


Since the DX uses FM synthesis to create its range of sounds, you will have access to four oscillators that can each be set to act as either a carrier or a modulator. You will have access to up to twelve combinations for sculpting your FM tones.
Four Adjustable Envelope Generators
Each operator has a dedicated ADSR envelope generator. For each EG,

you can adjust each envelope stage's level and length

.
Feedback
By default, the operators output a sine wave, but you can use feedback control to morph an operator's waveform to form either a sawtooth, a square wave, or a combination of the standard sine wave and either of the two additional waves to create your interesting waveforms.
Built-In Effects
The Reface DC has seven built-in effects for you to use. You will have access to distortion, touch wah, chorus, flanger, phaser, delay, and reverb. In addition, each effect has two parameters for adjusting the qualities of the effect.
Phrase Looper
You will be able to record and playback passages with the phrase looper. It can record up to 2000 notes or 10 minutes at a BPM of 120. In addition, you can overdub phrases to create multi-layered loops, transpose loops, and edit patches seamlessly.
Character & Sound:
Yamaha's Reface DX supports up to 8-notes polyphonically and has a mono mode. The sounds vary from pads, brass, bells, and percussion to bass, electric piano, and synthetic lead tones.
The sounds can be smooth and groove well, or they can be loud and in your face. Overall, the Reface DX offers a wide variety of tone options.
Pros:
The interface for modifying sounds is very user-friendly and easy to use, which makes sculpting your sounds easier than with other FM synthesizers.
In addition, with built-in speakers, a headphone jack, and the ability to operate off battery power for up to five hours, you can use them on the go comfortably.
Cons: 
Unfortunately, any loops created are lost once the synthesizer is turned off, and there are no ways to save them, so if you come up with chart-topping loops, you will need to record them. Adding to the woes, some may find the mini-keys uncomfortable.
However, the keys are slightly longer than the standard. And lastly, since the polyphony only supports up to 8 notes, some may find the voicings limited.
Summary:
Yamaha's Reface DX is a powerful, portable synth that makes FM synthesis more enjoyable and less painful. They are a welcome addition to anyone's rig, especially if you are new to FM synthesis.
Readings that you may like: 
Other Recommended Gear:
Top 12 NearField Studio Monitors On Any Budget
Top 10 Midfield Studio Monitors For Home Recording
Best Biggest Studio Monitors (FarField Monitors)
Top 10 Guitar Pickups for Low Tunings 
Top 10 Analog Compressors For Mixing & Mastering (On Any Budget)
Top 12 USB Audio Interfaces Under 150$, 200$, 300$ 400$ (Any Budget)
Top 12 Hardware Equalizers (Analog EQs For Mixing & Mastering)
Top 6 Analog Hardware Limiters 
Top 6 Solid State Bass Amps (On Any Budget)
Top 6 Ribbon Mics On Any Budget (For Vocals, Drums & Guitars)
Top 6 Cheap Dynamic Mics For Vocals Under 50$, 100$, 200$ & 300$
Top 6 Chorus Guitar Pedals (On Any Budget)
6 Best 61-Key MIDI Keyboards (On Any Budget)
9 Best 49-Key MIDI Keyboards Under 100$ & 200$
Top 5 Best 25 Key MIDI Keyboards (On Any Budget)
Top 12 Acoustic Drums (Best Kits/Sets On Any Budget)
Plugin Roundups:
Genre Focused:
Top 10 EDM Plugins  (And 10 Best FREE Plugins For EDM)
Top 10 Plugins For TRAP Beats (And 5 Best FREE Trap Plugins)
20 Best Plugins For Rock Musicians (+ 6 FREE Plugins)
Top 14 Trance Plugins (Uplifting, Tech, Progressive, Vocal, Dream, Hard)
Top 10 GOA & PsyTrance Plugins (Best Psychedelic Trance Tools)
Top 7 Plugins For Dubstep (With 10 Best FREE Effects & Synths)
Top 20 Synthwave Plugins (+ 11 Best FREE Plugins)
Top 15 Plugins For Techno, House, Electro, Tech House, UK Garage
Top 6 Plugins For Latin Music  (And 4 FREE Tools)
Top 12 Plugins For Hip-Hop (+ Best Kontakt Libraries)
Top 7 Plugins For Game & Film Scoring  (+ 6 Best Kontakt Libraries)
Top 10 R&B And Pop Music Plugins & KONTAKT Libraries 
30 Best Free Plugins For DnB, EDM, IDM & Experimental Music 
EQ Plugins
Top 12 Free EQ Plugins For Precise Mixing & Mastering
Top 9 Mid/Side EQ Plugins  For Mixing & Mastering (+ 2 Free Tools)
Top 7 Graphic EQ Plugins  (With 3 Best Free EQs)
Top 7 EQ Plugins For Mastering In | And Best FREE Mastering EQs
Top 6 Passive EQ Plugins (Klevgrand, SPL, UAD, Waves, IK Multimedia)
Top 11 Plugins For Making Metal (Best Guitars, Drums & Effects)
Metering:
Top 5 Audio Metering Plugins (LUFS, RMS, LRA, True Peak)
Top 6 Spectrum Analyzer Plugins  – Spectral Analysis Tools
Top 6 Oscilloscope Plugins To See The Waveforms
Top 5 Key Detection Plugins & Software  (+ Best FREE App)
Kontakt Libraries
20 Best Kontakt Libraries For All Categories (Synths, Drums, Vocals)
Top 7 Drum Libraries For KONTAKT (And 4 Freebies)
Top 7 Trap Music Kontakt Libraries (And Best Lo-Fi Kontakt Library)
Top 7 Metal & Rock Kontakt Libraries (Best Guitars & Drums)
Top 10 Guitar Libraries For Kontakt (Acoustic, Electric, Bass & Freebies)
Top 7 Trailer Scoring Plugins & Kontakt Libraries 
20 Best Free KONTAKT Libraries For Various Instruments
Top 9 Piano Kontakt Sample Libraries  (And 5 Best Free Pianos)
Top 10 Percussion KONTAKT Libraries  (And 3 Freebies)
Top 7 Kontakt Libraries For Horror & Thriller Scoring (No VSTs)
Audio Restoration, Calibration & Utility:
Top 6 Noise Reduction Plugins (And 3 Best Free Tools)
6 Best Audio Restoration Plugins & Software 
Top 7 Phase Alignment Plugins To Fix Your Bass & Drums
Top 10 Room Calibration & Headphones/Speakers Correction Plugins 
Instrument Plugins: 
Top 6 Vocoder Plugins (Effects & Synths + FREE Vocoder)
11 Best Rhodes VST Plugins (AND 5 Free Rhodes Plugins)
Top 12 Randomizer Plugins Including FREE Plugins
Top 6 Kick Drum Plugins (Best Kick Designer Tools)
Top 12 Woodwind Plugins (And KONTAKT Libraries)
Top 10 Double Bass Plugins (Best Upright Basses)
Top 5 Strings VST Plugins (AND 4 Best Free Instruments)
Top 6 Sampler Plugins (And 3 Best FREE Plugins)
Top 6 Classical Guitar Plugins & Kontakt Libraries (And FREE Guitars)
Top 12 Sub Plugins (Best 808 & Bass Tools For Massive Low End)
Top 10 Plugins On PluginBoutique (And 7 Best Free Plugins)
Top 11 Plugins On Plugin Alliance 
Top 7 Acoustic Guitar Plugins (And 4 Best Kontakt Libraries)
9 Best Bass Guitar Plugins (And 2 Best Freebies)
Top 6 Electric Guitar Plugins (Best PAID & FREE Picks)
Top 10 Arpeggiator VST Plugins (Best Synths, MIDI Effects & Tools)
Top 10 Modular Synth Plugins (And 3 Best FREE Plugins)
Top 6 Choir Plugins & Sample Libraries (And 3 Best Free Plugins)
11 Best Percussion & Drum VST Plugins (And FREE Plugins)
Top 8 Piano Plugins (Best Sounding Pianos & 5 FREE Piano Plugins)
Top 6 Organ Plugins Ever Made  (And 3 Best Free Organs)
Top 14 VST Plugins For Beginners (And 9 FREE Plugins)
Top 9 Drum Machine Plugins (And Groovebox Plugins)
4 Best Banjo Plugins (Best Banjo Instruments)
The 5 Best Ukulele Plugins & Kontakt Libraries 
Top 13 Synth Plugins (And 5 Best FREE Synths Plugins)
Top 13 Sequencer Plugins  (Synth, MIDI & Step Sequencers)
The 10 Best Multi-Effect Plugins (And 3 Best Free Plugins)
Top 12 Plugin Bundles For Musicians (Synths, Mixing & Mastering)
Processing & Sound Design:
8 Best Lo-Fi Plugins (PAID & FREE)
Top 11 Plugins For Mixing Vocals  (For Home Studio)
Top 12 Saturation Plugins (Best Mixing & Mastering Tools)
Top 6 Pitch Shifter Plugins (And 3 Best FREE Pitch Shifters)
Top 6 Chorus VST Plugins For Musicians (And 3 FREE Plugins)
Top 6 Limiter Plugins For Precise Mastering & Mixing
The 8 Best Filter Plugins For Precise Cuts & Boosts (+ 5 Free Filters)
6 Best Autotune Plugins To Improve & Enhance Your Vocals
Top 10 Transient Shaper Plugins (VST, AU, AAX)
Top 7 Enhancer Plugins (For Bass, Drums, Vocals & Harmonics)
Top 6 Flanger Plugins (And 5 Best FREE Flanger Emulators)
Top 7 Phaser Plugins (And 3 Best FREE Phasers)
Top 10 Plugins For Mixing Drums (And 3 Best Free Plugins)
Top 7 Bitcrusher Plugins (And 4 Best FREE Bitcrushers + 3 Bonuses)
Top 6 Plugins For Voice-Over & Dialogue Cleaning (Post Production)
Top 10 Stereo Imaging Plugins (Best Old & Modern Picks)
Top 5 Multiband Limiter Plugins 
Top 7 De-Esser Plugins For Better Vocals (And 4 FREE Plugins)
Top 7 Clipper Plugins (Best Limiter Alternatives)
Top 6 Chord Generator Plugins That Inspire Melodies (+ FREE Tools)
7 Best Exciter Plugins For Mixing & Mastering
Top 7 Channel Strip Plugins (And 2 Best Free Plugins)
Top 11 Distortion Plugins (And 4 Top Free Plugins)
Top 5 Comb Filter & Resonator Plugins | Melda, Kilohearts, Tritik
The 7 Best Vibrato VST Plugins | Audec, Audiority, Melda
The 7 Best Tremolo Plugins | Eventide, Melda, SoundToys, Kuassa…
The 7 Best Harmonizer Plugins | Eventide, Melda, Aegean Music
7 Best Sidechain Plugins (VST, AU, AAX) | Xfer, Cableguys..
Top 10 Noise Gate Plugins (And 6 FREE Free Gate Tools)
The 6 Best Ring Modulator VST Plugins | KiloHearts, Melda
7 Best Autopan VST Plugins | CableGuys, Melda, Waves, Soundtoys
The 6 Best Frequency Shifter VST Plugins
Top 11 Granulizer Plugins For Future Sound Design
29 Best Sound Design VST Plugins
Compressor Plugins
Top 11 Free Compressor Plugins (VCA, Vari-Mu, FET, Digital)
Top 7 Multiband Compressor Plugins (And 4 FREE Plugins)
Top 5 Diode-Bridge Compressor Plugins 
Top 6 Mastering Chain Plugins: Complete VST Solutions 
The 7 Best VCA Compressor Plugins (VST, AU, AAX)
Top 11 Mastering Compressor Plugins (And 2 FREE Plugins)
Top 10 Opto Compressor Plugins For Transparent Sound
The 7 Best Vari-Mu Compressor Plugins (And 2 Best FREE Tools)
Reverb & Delay Plugins:
Top 12 Reverb Plugins (And 5 FREE Reverb Plugins)
The 6 Best Spring Reverb VST Plugins | AudioThing, GSi, u-he, Eventide
Top 12 Delay Plugins For Music Production In (VST, AU, AAX)
Top 10 FREE Delay Plugins (VST, AU, AAX)
The 10 Best Convolution Reverb Plugins 
Amps & Preamps:
Top 10 Guitar Amp Plugins (And 5 Best FREE Simulators)
Top 10 Bass Amp Plugins (And 5 Best Free Simulators)
Top 9 Preamp Plugins (For Vocals, Guitars & More!) + Free Preamps
Guitar/Amp Focused:
Can I Put Nylon Strings on a Steel-string Guitar?
Do Electric Guitars Sound Good Unplugged?
Buying Your First Guitar: 2 Things To Know
Are Tube Amps Worth It? (Tube vs Solid-State Amps)
How Often Does A Guitar Need a Setup?
Can I Play Classical Guitar On A Steel-String Guitar?
How often guitar necks need reset?
Can You Play Two Guitars Through One Amp?
Can a 6 String Bass Be Tuned Like A Guitar?
Can I leave My Guitar Tuned Down a Step? Yes, But Is It Safe?
Should I Learn 4, 5 Or 6 String Bass Guitar & Why?
How To Know If your Guitar Amp Is Broken?
How To Fix Distorted Bass Guitar Sound?
Do Fender Guitars Appreciate In Value?
Should You Put Stickers On A Bass Guitar?
How Acoustic And Electric Guitars Are Made?
Is Electric Guitar Too Loud for an Apartment?
Does a Preamp Improve Sound Quality?
If I Learn Acoustic Guitar Can I Play Electric Guitar?
How Many Hours A Day Should You Practice Bass Guitar?
Do I need an AMP/DAC To Run Bookshelf Speakers?
How to Record Electric Guitar Into Logic Pro X?
Do headphones get worse with age?
DAW Related:
Best DAWs For Musicians Available (With FREE DAWs)
What's The Most CPU Efficient DAW? – 5 DAWs Compared
How To Make Music Without Using A DAW?
Pro Tools Guide: How To Use AutoTune & Pitch Correction?
Ableton Review: Is It Worth The Money? (Cons & Pros)
Logic Pro X Review: Is It Worth It? (Cons & Pros)
How To Use Auto-tune & Pitch Correction In Cubase?
How To Fix Ableton Crackling, Crashing & Freezing? Step By Step
Plugin Related:
What Are Audio Plugins? Different Types of Plugins Explained
What Are The Best Tools To Develop VST Plugins & How Are They Made?
Cost of Developing Audio VST Plugin: Several Factors (With Table)
VST, VST, AU and AAX – What's The Difference? Plugin Formats Explained
Complete Guide To Noise Gate – What It Is, What It Does & How To Use It?
How To Clip My Drums? Here Is How & Audio Teasers (Before/After)
Complete Guide To Limiter: How To Use It (+ Best Plugins & Analog Limiters)
Mixing With Reverb: How To Add Life To Your Mixes
Linear Phase vs Minimum Phase EQ – Full Guide
Difference Between LUFS, RMS & True Peak Loudness Meters
How And When To Use Algorithmic And Convolution Reverb In Your Mix?
Difference Between Active EQ, Passive EQ and Dynamic EQ
Headphones & Studio Monitors:
Do headphones get worse with age?
Monitors vs Studio Headphones For Mixing & Mastering
Top 10 Room Calibration & Headphones/Speakers Correction Plugins 
Are Noise-Canceling Headphones Good For Music Production?
Can Headphones Break in Cold Weather?
Why do headphones & cables get sticky?
Can Wearing Headphones Cause Hair Loss?
How Do I know If My Studio Monitor Is Blown?
Side Effects Of Sleeping With Your Headphones On
Do You Need Music Amplifier For Studio Monitors or Studio Headphones?
Do Headphones or Earphones Damage Your Brain?
Can Headphones or Earphones cause Deafness or Toothache?
FarField, MidField & NearField Monitors – Their Uses, Pros & Cons
MIDI & Synths:
Should I Buy A MIDI Keyboard Or Synth? (Are Synths Worth It Anymore?)
Why Is Audio Gear So Expensive? (Especially Synths)
Top 12 Synth Brands – Analog, Digital & Modular Synth Manufacturers
11 Tips How To Choose MIDI Keyboard 
Should I Buy MIDI Controller Or Keyboard? Cons, Pros & Tips
Shaurya Bhatia, is an Indian Music Producer, Composer, Rapper & Performer, who goes by the stage name MC SNUB, and is also 1/2 of the Indian pop music duo, called "babyface". A certified Audio Engineer & Music Producer, and a practicing musician & rapper for more than 6 years, Shaurya has worked on projects of various genres and has also been a teaching faculty at Spin Gurus DJ Academy.