Anti-pop filters are an essential piece of music production. They aim to filter any blowing that can generate a strange sound in front of the microphone and protect it. This article will review some of the best pop filters for recording vocals in 2023:
4. EJT Upgraded Microphone Pop Filter
5. Earamble Microphone Pop Filter
7. Neewer Professional Microphone Pop Filter
Voice recording is one of the important processes in music production, so each word the singer emits must be perfectly captured by the microphone to obtain the most accurate shot possible. The microphone must be placed close to the singer, who, when singing, will blow air repeatedly in front of him.
This is when the pop filter comes into play, preventing the air blown by the singer from becoming noise, especially when consonants such as "P", "S", or "T" are pronounced, which produce more noise. Impact on the microphone membrane. In addition to the air, the pop filter prevents saliva particles from reaching the microphone and determines how far away the singer should be. This makes it a must-have accessory in any professional studio.
Top 12 Best Pop Filters For Recording Vocals 2023
1. Elgato Wave Pop Filter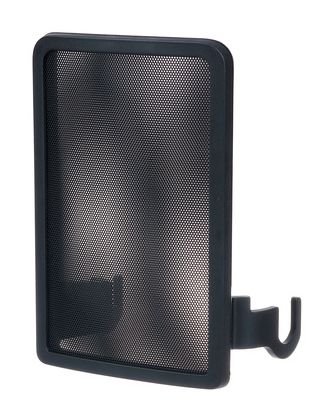 This unidirectional filter, specially designed for Elgato Wave microphones, is meticulously made for optimal surface coverage and easy attachment to the included microphone stand.
The Elgato Wave Pop Filter is a no-frills accessory, firmly made of steel for durability, sized to fit the bill perfectly, and priced accordingly. This filter is around 30 dollars.
Key Features:
Anti-Plosive
It is made from two layers of metal mesh, and this filter easily controls any plosive generated by the voice. It is ideal for singing, streaming, or any sound session requiring an Elgato wave microphone.
Magnetic Connection Points
Thanks to this, the filter can be placed or removed almost instantly from the support without significant difficulties. Its design is extremely elegant and according to the need of the microphone. The magnets have the necessary strength so that the filter remains firm without movement.
Audio Transparency
The density of its metal mesh allows the filter not to have sound losses, offering optimal air diffusion. This filter can be used on both Elgato Wave 1 and Wave 3 microphones.
Pros:
The firmness and durability of this product are high points thanks to the fact that it is made of steel. Magnetic connections bring you much convenience.
Cons: 
Due to its shape and characteristics, you cannot use it with microphones from brands other than Elgato.
2. PEMOTech

Pop Filter
The Pemotech Pop Filter is a three-layer screen for studio and live applications. Its arc design covers the entire surface of condenser or dynamic microphones.
Its support is through a set of rubber ropes that are easy to install, and its structure remains firm thanks to its metal mesh. This pop filter is around 15 dollars.
Key Features:
Three Layers Filter


It has three levels; the foam layer, metal mesh, and a soft layer of etamine to ensure total filtering to the blows of wind and sharp consonants. It is designed for microphones between 45 mm to 63 mm in diameter, making it suitable for different models.
Easy to Set Up
Its elastic rubber cords facilitate a quick placement on the microphone, wrapping it firmly. Its circular shape envelops and protects the front and sides of the microphone, keeping it perfectly isolated and protected.
Price / Quality Ratio
This pop filter is among the best options within its price range, as it offers a well-made and functional product at a low cost. Ideal for recording voices as well as wind instruments.
Pros:
Its triple-layer filter is very effective and easy to place. Its price is unbeatable. The fact that the filter is attached to the microphone prevents you from adjusting it every time you move the microphone position. It's an excellent option for home studio and streaming.
Cons: 
Its size and shape limit its use with microphones that are not round or exceed its dimensions.
3.

Auphonix Pop Filter
The Audiophix Pop Filter is of a classic design, being 6 inches in diameter, which is large enough to offer good coverage. It has a double layer, and although it is explicitly made for Blue Yeti microphones, it can also be used on other microphones.
It is a low-cost filter that can be adapted to all recording and streaming utilities or any session sound you want. Its price is around 15 dollars.
Key Features:
Double Mesh
Thanks to its two layers of thin fabric that have a separation between them, it provides excellent coverage of pops and hisses without attenuating the sound that reaches the microphone or the tone of the voice. Its wide diameter offers complete coverage.

Adjustable Gooseneck


The flexibility of its support allows it to be oriented in all directions and has the necessary length to adapt appropriately. At the end of its gooseneck, it includes an easy-to-place adjustable clip that keeps it firmly in the desired position.

Accessible Price


It can cover the needs of an amateur level and a professional studio at an affordable price.
Pros:
It is a simple filter of a good size and reasonable price without too many pretensions. It fulfills the function for which it was created.
Cons: 
Its clip only clamps onto flat surfaces, so it may have difficulty attaching to certain types of microphones.
4. EJT Upgraded Microphone Pop Filter
The EJT Upgraded Microphone Pop Filter is another classic design screen with a few improvements over its previous version. It offers all the facilities that a filter needs.
It can rotate 360 degrees, has a flexible gooseneck, and has a clamping clip. Its price is affordable. This pop filter is around 15 dollars.
Key Features:
Double Mesh
Compared to its previous model, this improved version offers two layers of dense material, with air separation between one and the other. Its uptake of pops and hisses is high and has a diameter of 6 inches.
360º Gooseneck
Unlike its previous version, the gooseneck support of this filter is more firm and can rotate 360 degrees to orient itself in the position you need. Its clamping clip also offers a larger size to be attached to all types of microphones.
Ultrasonic Suture
Its panels are sealed, forming a uniform structure, which gives it a lot of strength and makes it a one-piece filter. Ideal for filtering both voices and wind instruments.
Pros:
This pop filter correctly meets the user's needs at an excellent price. Its 360º movement is a strong point.
Cons: 
It is a good filter for home use, but it is advisable to look for higher-quality products for professional purposes.
5. Earamble Microphone Pop Filter
This is another option for recording studios and home use at a reasonable price. In this case, the Earamble Microphone Pop Filter offers a double-layer screen with a gooseneck and an adjustable clip with a wide opening range.
This filter meets your requirements, and its wide 6-inch screen can fully cover the microphone. This pop filter is around 15 dollars.
Key Features:
Two-Screen Pop Filters
It has two meshes forming a layer of air inside to neutralize air pressure. The first filter is responsible for attenuating hisses, saliva spraying, and pops emitted by the voice. In contrast, the second filter ensures that pure sound is the only thing that passes through it. Its 6-inch diameter provides full coverage.
360 Gooseneck
Its flexible support can adapt to any angle while maintaining firmness. Thanks to its 360º rotation, it facilitates the location of the filter right in front of the microphone. His gooseneck has a clamp with an opening of up to 1.6 inches, attaching almost any microphone arm.

Good Value For Money


The Earamble Microphone Pop Filter offers a product that adapts very well to the needs of a recording session at a more than reasonable price.
Pros:
It is a versatile filter that can cover the surface of the microphone you choose, and its price is unbeatable.
Cons: 
Its clip support can cause inconveniences when it is not used on a blue yeti microphone.
6. Aokeo Pop Filter
The Aokeo Pop Filter is another good option for condenser microphones between 45mm and 63mm. Easy to install and with a triple-layer composition that allows maximum microphone protection without loss of sound quality.
Excellent performance when recording spoken or sung voices. The fastening using elastic bands makes its placement quick and easy. This pop filter is around 10 dollars.
Key Features:
Three Layers Filter Mic Shield
A layer of foam, a second metallic layer, and a third layer of etamine achieve just the right combination to eliminate any pops or puffs generated by the breath.
Round Shape
Its shape, designed to fit the surface of the microphone, envelops and protects its integrity. Thanks to this, the pop filter can protect the microphone both in the frontal position and on the sides.
Easy To Set Up
The fastening using elastic bands greatly facilitates its installation and its removal. Inside, it contains rubber rings so that the filter rests gently on the microphone.
Pros:
Comfortable and easy to install, this pop filter perfectly fulfills its objective when it comes to recording voices without interference or annoying noise. Its price is very reasonable.
Cons: 
Its exclusive design is not compatible with all microphone models. For this reason, it is advisable to ensure that your microphone meets its specifications beforehand.
7. Neewer Professional Microphone Pop Filter
The Neewer Professional Microphone Pop Filter maintains the traditional design of studio filters and is an option that can be well adapted to different situations and different types of microphones.
Its filter has a double layer, and its gooseneck has the necessary elasticity and firmness to place it in the desired position. Given its price of around 12 dollars and the size of the filter, it is a good option without being expensive.
Key Features:
Two-Screen Pop Filters
Two filter layers are separated to create a barrier against the voices' air pressure and plosion. Its 6.1-inch diameter provides the necessary coverage for the entire microphone.
Adjustable Gooseneck
Its gooseneck arm can rotate 360º and reach the desired position thanks to its 14.8 inches, considerably longer than the average size of this type of pop filter. Thanks to this, it is simple to adjust the angle and the distance concerning the microphone.
Versatility
Unlike other models, this pop filter can be adapted to most microphones on the market. It fulfills the function of recording voices and wind instruments or streaming transmissions.
Pros:
Its gooseneck has a more extended reach than other models, and the filter diameter is more extensive than average while maintaining a lightweight.
Cons: 
Its clamp is made of plastic, and several users have stated they have had problems installing it or changing its position. It is a home-use product but not recommended for professional sessions.
8. Stedman Proscreen XL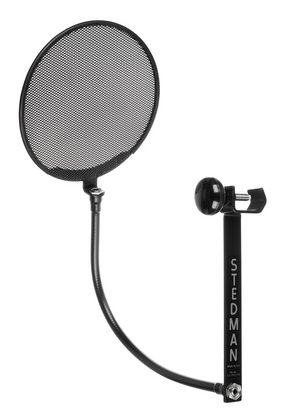 The Stedman Proscreen XL is a metal pop filter designed for applications of all kinds. This filter has remarkable firmness and uses innovative technology.
Its 13-inch gooseneck makes it easy to install on almost any microphone. It is a great option for both home use and recording studios. This pop filter is around 80 dollars.
Key Features:
Metal Mesh
Its metallic filter, made with exclusively designed material, diverts the air downwards and prevents any plosion from advancing the microphone. This happens thanks to its angled openings. The diameter of this filter is 6 inches, enough to cover the microphone correctly.
Easy Maintenance
This product's nearly complete metal composition makes it easy to keep clean. A damp cloth or a little detergent is enough to clean it and continue using it.
Flexible Gooseneck
Its 13-inch flexible arm allows its installation in any desired direction. In addition, the clamp includes a bar that facilitates the orientation of the pop filter.
Pros:
It is a quality product thanks to the materials with which it is made, and it offers extended durability. Its air diversion system is practical and meets a pop filter's requirements well.
Cons: 
In a pop filter of this price range, the clamp should be larger to attach to a larger number of surfaces.
9. SE Electronics Pop Screen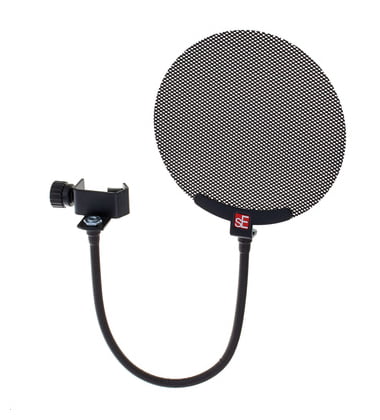 The SE Electronics Pop Screen is a professional-use metal filter that uses sound deflection technology. Its traditional design and firm gooseneck make it easy to install.
This type of filter is designed for users looking for long-lasting products. Its price is around 35 dollars.
Key Features:
Metal Filter
Its convex design metal mesh is designed to divert air, protecting the microphone and offering sound free of unwanted noise. This metal pop filter has a greater incidence of attenuating high frequencies than cloth filters.
Easy Maintenance
Since it does not have parts that absorb moisture, it can be easily cleaned with water and quickly dried.
Flexible Gooseneck
Its arm has the necessary flexibility to be oriented toward the desired position, and its metal clamp has enough opening and strength to remain correctly positioned.
Good  Price/Quality Ratio
Given its components and performance, this product offers an option one step above other pop filters with similar characteristics at a reasonable price.
Pros:
Its effortless maintenance and firm structure are vital points in constructing this pop filter. Its performance is commensurate with its price.
Cons: 
The metal filter does not have any frame, which would add greater rigidity, but considering its price, the product is fine.
10. Stedman Proscreen PS101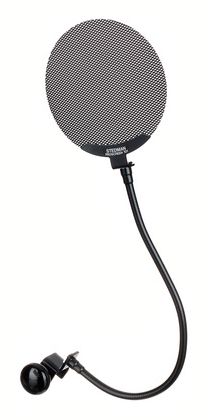 This metallic filter fits perfectly in most recording situations, with almost all microphone models available on the market. This is another of the pop filters designed to offer long durability.
It has a flexible gooseneck, a clamp with a rubber-coated interior, and a metal mesh with a unique design. The Stedman Proscreen PS101 is around 50 dollars.
Key Features:
4.6″ Metal Filter
This pop filter is designed to divert the air downwards, avoiding all kinds of explosions that the voice or breathing can emit. At the same time, the Stedman Proscreen lets the sound through without altering its definition.
Flexible Gooseneck
It is ideal to orient in any direction you need to locate your microphone and protect it. Thanks to the rubber coating, its clamping clip can be firmly attached to the microphone stand without leaving marks.
High Durability
This pop filter, made up almost entirely of metal parts, can be easily cleaned with soap and water to maintain regular hygiene. Its materials ensure high resistance and long durability.
Pros:
This product manufactured by Stedman fulfills its objective by offering high performance and outstanding durability.
Cons: 
It is a filter with professional-level performance, but if you need a more straightforward home-use option, you can choose cheaper options.
11. the t.bone MS 200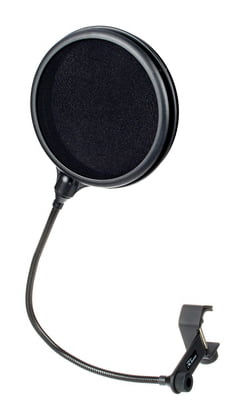 The T.Bone MS 200 is a two-independent panel filter with a gooseneck and clamp. It is an inexpensive option with good performance, which adapts well to different situations thanks to its classic pop filter design.
As a novelty, it presents a wide separation between both filters allowing air to circulate freely between them. This filter is around 18 dollars.
Key Features:
Independent Double Mesh
The T.Bone comprises two tissue panels with a 25 mm separation and open sides that allow good filtering of the air blows you want to avoid. The first layer eliminates noise and protects the mic, while the second layer completes the filtering so that the sound arrives clean.
Gooseneck and Clamp
Its flexible arm adapts perfectly to all positions, and its clamp has an added frame to take better advantage of the 300mm long gooseneck.
Versatility
This pop filter adapts perfectly to all types of condensers and dynamic microphones. It is light, easy to place and its price is very reasonable.
Pros:
It is a great low-cost option with good performance. It fulfills the purpose for which it was created.
Cons: 
It is recommended for home use, but for a professional level, it is preferable to look for better options.
12. Pauly P120 T-30 BK
Discontinued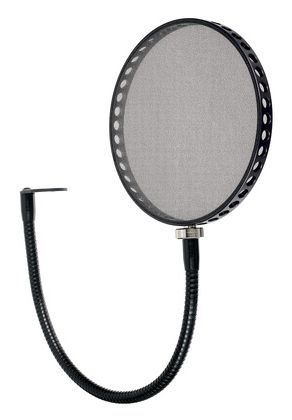 The Pauly P120 is a filter made of aluminum that offers enough versatility for users looking for a quality product that you can also adapt to different situations.
Its specially designed-fabric has a good filtration range, and its support can be modified to be placed in different positions. This filter is around 180 dollars.
Key Features:
Two Extra Thin Layers
The traditional round shape of 120 mm in diameter and two layers of cloth that can filter any plosive while allowing the sound to travel naturally toward the microphone. Its aluminum frame has perforations to reduce weight and make it lighter and more comfortable.
Two Support Options
It includes a firm and elastic 300mm gooseneck with an adapter to be placed in any direction and a direct mount for close placement. Ideal for all types of recording situations.

Nickel Plated Finish


Its nickel-plated color gives it an outstanding appearance, unlike other filters that use black as a standard.
Pros:
It is a versatile and comfortable product to use, easy to install, and with good sound qualities.
Cons: 
Its price is higher than other filters with similar characteristics and performance.
Bonuses:
In addition to this list of pop filters, I will mention some Isolation Shields options that can perfectly complement voice recording sessions and help a lot in the sound refinement process.
1. TONOR Microphone Isolation Shield
This Isolation Shield made by Tonor is an excellent option when capturing sounds through a microphone in environments that are not suitable. It can effectively isolate sound bounces and reverberations typical of environments that do not have adequate soundproofing.
It is fully transportable and has the necessary accessories to assemble quickly. This product is around 45 dollars.
Key Features:
High Sound Suppression
The Tonor Isolation Shield adapts to the precise environment for recording vocals or instruments in a remarkable way. Thanks to its panels made up of two levels, high-density sharp rubber and steel plates that complete the insulation process.
Portability
The panels have the right size and weight so that they can be transported and placed in the most convenient position. They are built and reinforced with high-quality steel and can be folded inwards to adjust the insulation angle or save space when not in use. Includes supports and adapters to fix the microphone to the desired position.
High Durability
Thanks to the materials with which it is made and its reinforced structure, this shield is very robust and resistant. With the necessary care, this product has an extended useful life.
Pros:
The ease of mounting it in any environment is a strong point. The price is according to the product.
Cons: 
Its height of 210 mm, depending on the type of microphone, may need to be more to achieve total isolation.
2. Aokeo (AO-302) Studio Recording Microphone Isolation Shield
This Isolation Shield made by Aokeo has the perfect size to achieve optimal isolation for recording voices and wind instruments. It can interface well with all types of condenser microphones.
Manufactured in two pieces of folding aluminum, it is robust and lightweight at the same time. An excellent choice when you need to get a well-tuned environment anywhere. This isolation shield is around 65 dollars.
Key Features:
Double Acoustic Panel
This shield comprises two aluminum panels forming a sound barrier of 300mm x 420mm. Its interior has a thick rubber with a spiked surface, ideal for attenuating all reflections that may be generated around the microphone. On the external side, the thickness of its panels creates a barrier that isolates all the sounds we do not want the microphone to capture.
Portability
Both panels are joined by hinges that make them foldable, which makes it possible to adjust the best angle for the microphone by expanding or shortening its coverage diameter. On the other hand, its hinges help store and take it with you anywhere. The product includes different nuts to be able to place many types of microphones.
Versatility
Thanks to its size, it can capture voices, wind instruments, and even acoustic instruments, obtaining clean and noise-free shots when used correctly. Its aluminum structure makes it light and resistant.
Pros:
It is a versatile product that perfectly fulfills its purpose and can be transported anywhere comfortably.
Cons: 
The fact that there are only two panels and not three limits the angle possibilities.
Conclusion
There are many pop filter options available to meet your needs. The quality of the materials is a point that you should consider since it will determine how long the product can last. Sometimes to save money, you can choose cheap options that end up being bad investments in the long run.
To avoid this, try to find out a little about the benefits that the product you have in mind offers, and it will be easier for you to make a good choice. The cheapest is not always the worst, and the most expensive is not always the best. Finding those options with the best possible price/quality ratio is vital. I hope this list is very useful for you. Thanks for your time!
Vocal Related Topics:
Top 12 Harmonizer Pedals For Vocals 2023
12 Best Condenser Mics For Live Vocals 2023
How To Isolate Vocals From a Song In Logic Pro X?
LALAL.AI Review: Separate Your Vocals With Neural Network
Top 12 Delay Pedals For Vocals 2023 From Top Brands
12 Best Pop Filters For Recording Vocals 2023
Top 12 Reverb Pedals For Vocals 2023 From Top Brands
Best Way To Record Acoustic Guitar And Vocals At The Same Time
How To Record Vocals Without Clipping & Distortion?
6 Ways to Isolate Vocals from a Song in Ableton 2023
Top 11 Waves Plugins For Mixing Vocals 2023
Top 10 Doubler Plugins For Vocals, Guitars & More 2023
Top 7 Compressor Plugins For Smooth Vocals 2023
How Loud Should You Record Vocals? Tips For Best Results
Top 6 Antares VST Plugins 2022 (For Vocals & More)
12 Best Mic Preamps For Warm Vocals 2023
Can I Run Vocals Through The Guitar Pedals? Answered
Best Plugins For Mixing Vocals: 11 Picks For Clean Voice 2023
Top 6 Cheap Dynamic Mics For Vocals Under 50$, 100$, 200$ & 300$
6 Best Ribbon Mics 2023 On Any Budget (For Vocals, Drums & Guitars)
6 Best Autotune Plugins 2023 To Improve & Enhance Your Vocals
Top 7 Enhancer Plugins 2023 (For Bass, Drums, Vocals & Harmonics)
Top 6 Reverb Plugins For Your Vocals 2023
Should I Sidechain Vocals & When? – It Depends
How Loud Should Vocals Be In a Mix? Answered With Images
How To Record Your Vocals in Ableton Live – Step By Step
How To Pitch Vocals Without Chipmunk Effect in FL Studio?
Best De-Breath Plugins For Vocal Breath Removal 2023
Should I Use a Limiter on Vocals? If Yes, When? Answered
Is FL Studio Good For Recording Vocals? Answered
How To Mix Vocals On A Premixed Beat?
How to Mix Hip-hop & Rap Vocals in FL Studio Lke a Pro
Top 7 De-Esser Plugins In 2023 For Better Vocals (And 4 FREE Plugins)
Top 12 Websites To Isolate Your Vocals & Instrumentals 2023
I am a composer, session musician and producer based in Argentina, with more than 18 years of experience in music. I play guitar, bass, kyboards and sax, I was part of different projects and I am familiar with musical genres like rock, pop, soul, reggae, funk, r&b, cumbia and others. Read more..