Today we're going to explore how you can make a Les Paul sound good, so we present the top 12 effect pedals great for Les Paul guitar 2023.
Choosing the proper guitar effects pedal is a difficult task. There are countless varieties, manufacturers, and designs to pick from, each presenting a unique spin on the concept. To avoid feeling overwhelmed, some guitarists choose a primary tuner and wah, while others go all out and purchase multiples of each available effect.
Introducing the first effects pedal can trigger a cascade of other pedals. You get one, then another, and finally a pedalboard large enough to hold all five of them, and it would be criminal not to use every inch of it. Even if you live in a shoebox flat in one of the world's busiest cities, you can always find room for another stompbox on your pedalboard, unlike electric guitars or amplifiers.
In a nutshell, here are the Top 12 Effect Pedals Great For Les Paul Guitar 2023:
4. Behringer Noise Reducer NR300
7. Strymon blueSky Reverberator
8. Electro-Harmonix Bad Stone Phase Shifter
11. Keeley Halo Andy Timmons Dual Echo
12. Fender Duel Pugilist Distortion
When it comes to a Les Paul guitar, the choices are limited in some respects since you either want its unique tone or you'll have to mod it if you want to take it to extremes. What's advantageous is that being a guitar with quite a long history, there have been plenty of ways, and solutions tried in terms of its tone, which makes it so that you won't go wrong no matter what you choose.
In this top 12 effect pedals great for Les Paul guitar 2023 we will talk about some solutions that represent a complete pedalboard, and hopefully will help you understand how you can make a Les Paul sound as good as possible.
What to look for if you're buying a pedal for your Les Paul?
When choosing a pedal for your Les Paul guitar, it is handy to consider that this guitar is massive, and its humbuckers need gain to give you that distinctive guitar tone. Overdrive is often regarded as the gold standard blues effect, and its placement after a wah or modulation pedal is highly recommended.
In addition to the wah-wah and distortion pedals, the fuzz pedal is another standard tool for blues guitarists. Your licks will have an extra harmonic layer thanks to the fuzz pedal's unique tone. Although not an original idea, contemporary blues guitarists have helped propel the fuzz pedal into the mainstream.
Moreover, you may add numerous excellent effects pedals to your Les Paul guitar setup to enhance its tone and make it stand out. Both traditional delays and tube screamers are available. Spend less on a two-channel pedal. As a result, you can interchange the audio coming from each channel or even use them interchangeably.
Having said that, let's look at what are the Top 12 Effect Pedals Great For Les Paul Guitar 2023.
Related Readings: 
Top 12 Delay Pedals For Metal 2023 (Any Budget)
Top 12 Plate Reverb Guitar Pedals 2023
Top 12 Reverb Pedals For Metal 2023 (Any Budget)
Top 10 EQ Pedals For Metal 2023 (Any Budget)
Top 8 Boost Pedals For Metal 2023 (For All Subgenres)
Top 20 Guitar Preamp Pedals 2022 (Best Rated)
Top 12 Effect Pedals Great For Les Paul Guitar 2023
1. TC Electronic PolyTune 3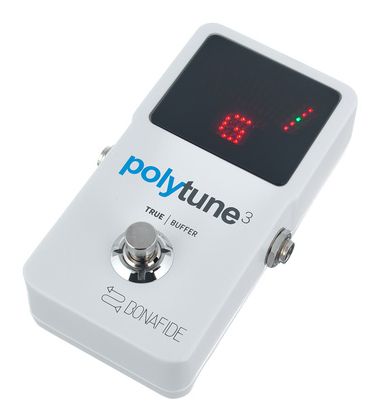 This pedal tuner is inexpensive and convenient, with three distinct tuning options.
When talking about guitar effects, everyone knows the brand TC Electronic. Even though it won't make your guitar sound as excellent as distortion or delay, the tuner serves a much more fundamental purpose: keeping your instrument in tune.
The guitar tuner may not be the most exciting accessory, but it is the most important part of adequately getting your guitar set up. Everything else you own is meaningless if your guitar isn't in tune.
Key Features:
Power
There are a couple of extra connections up top in addition to the 9V input and output. Users avoided devices requiring them to plug in two cords at once and tune the radio and fiddle with the screen's settings simultaneously.
Strobe
We grew to like the device as you tweaked its settings to your satisfaction. The display mode button lets you switch between the needle and strobe tuning modes for electric and bass guitars. Standard tuning, multiple drop tunings, and a variety of capo positions are all accessible via the tuning mode selector.
LED
The LED display has been improved to be larger, brighter, and more responsive, making adjustments easy in any lighting condition. Over a hundred ultra-bright LEDs allow this flexible display to be legible in direct sunlight.
It's easier on the eyes during dismal performances thanks to the third version's ambient light sensor, which adjusts the screen's brightness based on the current lighting circumstances. This is just another way the pedal enhances the overall coolness of your guitar setup.
Display
With a large, clear display as the first step, the interface is intuitive and easy to operate. It has a 9V output plug when only one or two effects are being utilized, such as in a small live band or a recording studio, allowing you to power yet another pedal in your signal chain.
Tunning
Thanks to the pedal's polyphonic tuning capability, there's no need for a tedious pre-performance routine, guaranteed to be well appreciated by the crowd. When you strum all the strings at once, you can immediately see which ones are out of tune.
By prioritizing the high-pitched strings, retuning can be avoided, and performances can go on without a hitch. The tuning process for this pedal transforms it from mono to polyphonic.
Circuitry
Although the pedal is small in stature, it manages to pack in cutting-edge technology that has won awards. Using a longer cable will stay relevant to the sound quality produced by the most recent versions of this industry standard pedal.
If you put the pedal where it shines at the start of your board, your tone won't change for another 60 feet of cable. However, bypass pedals may start to steal the top end of your signal after that point. It won't be easy to top the accomplishments of the past.
Character & Sound:
In particular, the 0.02-cent tuning accuracy in strobe mode was a godsend for us in the studio and on stage. Though the Strobe mode's visuals took some time, we ultimately found the method intuitive and helpful, like the rest of the pedal.
People found that the pedal's built-in, all-analog buffer did a superior job of preserving and protecting the tone, even when used as part of a bigger, more complex signal chain. Nowadays, various tuner pedals are available, and they all do the same thing: ensuring that your guitar remains in tune.
Pros:
Major flaws in the pedal's design don't become immediately apparent compared to other goods in its category. Superb tuning accuracy is coupled with an intuitive UI and many useful accessories. Guitarists playing electric, acoustic-electric, or bass guitars will find the pedal a reliable and long-lasting addition. TC has repeatedly demonstrated that budget pedals can compete favorably with industry leaders.
Cons:
True Bypass does not prevent battery drain even when the unit is turned off. The battery will still die if you don't listen to your three-hour performance. It's also possible that tracking will be sluggish initially when using the default setting. We are less flexible in the middle of a set and less open to calls for improvisation.
2. Boss DS-2 Turbo Distortion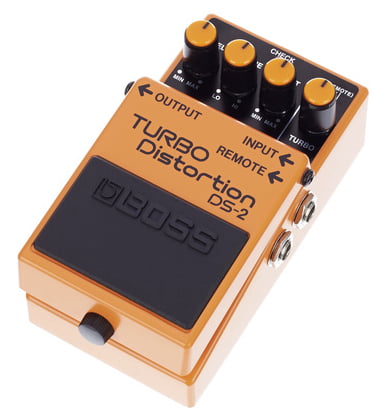 The original Boss Distortion DS-1, released in the late '80s, marked the beginning of the pedal's meteoric rise to prominence.
Heavy metal was all the rage during this time, and many up-and-coming rock stars today were early fans of this genre. Distortion with a "boss" sound is audible in the music of bands like Nirvana. By the late '80s, "they had refined Boss" pedals to produce a harsh, crushing sound, but the company's engineers decided to modify and add a Turbo mode.
Boss Distortion DS-2 has been around since 2017 and has seen its final overhaul. Almost 40 years had passed since the debut of the very first version. The pedals were only made in small numbers and were black.
Key Features:
Mode 1
When set to mode 1, its overdrive is smooth and creamy, making it ideal for laid-back blues grooves. Adding Turbo makes it excellent for grungy rhythm portions when going for a vintage 1990s vibe. When turned up to 11, the distortion pedal generates an over-driven sound reminiscent of late-era Foo Fighters.
Still, on typical settings, it provides a chunky distortion that won't overpower your lead. Playing a solo in mode one can be as satisfying as hammering out power chords, thanks to the way the sound stays clear and distinct from the rhythm section, even at low volumes.
Mode 2
Leads benefit most from Mode 2, enhancing high mids while decreasing low ones. The result is an improved overdrive with many treble bites for the user. Mode 2's controls allow a wide range of sounds, from crunch and fuzz solos to screamers.
When used with humbucking pickups, this distortion pedal provides a consistently meaty distortion. However, in mode 2, the distortion may lack the necessary punch if you use a single coil pickup. The pedal's humbucker provides excellent lead tones with a classic vibe.
Turbo
Each setting has a whole new depth when you use the Turbo feature. When added to mode 2, it brings out the best in the otherwise smoother mode 1. It adds a massive, muddy overdrive boost that cuts through even the most rocking groove.
Thanks to Turbo mode, the pedal's newfound adaptability allows it to move seamlessly from the dingy, '90s rock sound to the heavier, more modern metal genre. If you're searching for a raw metal sound, this pedal delivers a serious punch, yet it can't compare to purpose-built metal pedals.
In other words, if you're into death metal or hardcore, you should search elsewhere. The fantastic thing about the pedal is that despite its enormous boost (thanks to Turbo), it won't mess with your EQ and won't add any squeaky highs to your guitar sound.
Housing
The pedal lives up to the company's reputation for producing high-quality items, especially pedals. It's sturdy as a rock thanks to its all-metal construction. The pedal's body will survive even the wildest stomping, but the knobs will be ruined.
It may take decades of heavy foot traffic until the pedal finally gives up. A defective pedal need not worry about being a problem for the next five years, thanks to the warranty that covers it.
Power
There are better options than the included battery, and you should go elsewhere for power, given that the pedal's power is limited by the battery it uses. Regular pedal use will deplete a regular battery in about 10 hours, so you should switch to a spare.
You might also use an AC adaptor. We recommend using the official Boss adapter, as using any other may cause unwanted fuzz to be added to your distortion. Using batteries to remember to unhook your jacks from the pedal after use is especially vital.
Character & Sound:
The distortion pedal is reliable and flexible, giving you many tonal options. It's great for everything from catchy indie rock to crunching metal, but if you're looking for a super-smooth fuzz-free sound or blazing death metal, look elsewhere.
You won't need the manual once you take it out of the box because the controls are intuitive. The limitless permutations, however, might make mastering this pedal difficult without a lot of time spent experimenting. In the end, it shines when 90s grunge and rock artists like Nirvana are featured. Therefore, it can result in a distortion that sounds generic, but after understanding the parameters, it can unlock a wide range of tones.
Pros:
The pedal's low price is wildly unexpected, given its high build quality and wide range of possible uses. In sum, the pedal provides an excellent standalone distortion, meeting the needs of novice guitarists seeking to recreate the sound of their favorite bands and seasoned players seeking to forge their unique path.
Cons:
Some units come with problems; namely, they don't start. For some, it seems that the pedal doesn't deliver the tone they were expecting with the pedal, and pinch harmonics don't seem to exist.
3. Ibanez TS9 Tube Screamer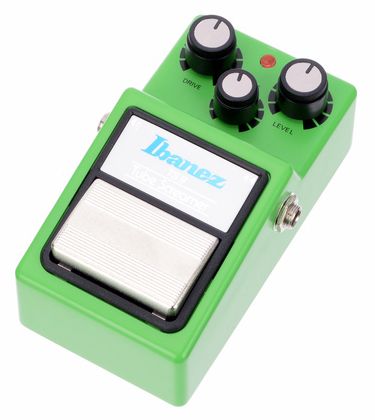 The Ibanez TS9 Tube Screamer is arguably the most well-known effects pedal ever made.
Since its introduction as the TS808 in the late '70s, numerous musicians' performances have been enhanced using Tube Screamers. Many iterations, including the now-iconic Ibanez TS9 Tube Screamer, have followed.
The Tube Screamer, like many overdrive pedals, is meant to add a bit of grit and crunch to your sound. The TS9, unlike other overdrive pedals, is designed to enhance your existing guitar tone rather than replace it. The TS9 is an easy-to-use effects pedal with three knobs: Drive, Tone, and Volume.
Key Features:
Controls
The Tube Screamer's ease of use is one of its many strengths. The three simple knobs (drive, level, and tone) make it easy for any musician to get a good sound out of it. Use the drive dial to find crunchy, bouncing rhythm textures, or blast it for a little extra boost to get you through that big solo. For an added "always on" bite and texture, many players park the drive low but leave the pedal on.
The level slider is like a global volume knob. After all that, you can adjust the tone to change the overall tone of your sound. Leaving it below noon provides a more level, balanced EQ palette, while dimming the knob highlights the TS9's midrange assault and snarl, thereby functioning as a highlighter for the Tube Screamer's particular tone.
Clean Boost
Turning the volume on an overdrive pedal can generate some excellent clean boosts, but none can compare to the sound of an Ibanez TS9 Tube Screamer. TS9 still offers a slight overdrive at zero, with the tone unchanged from a clean boost-like circuit. Once engaged, this pedal consistently adds grit to your clean sound on demand.
Circuit
The TS-9's potentiometers are attached to the circuit board using insulated copper-stranded wire, just like the old-school pedals. Potentiometers in many mass-produced pedal effects today are either hardwired to the circuit boards or connected to them through thin ribbon cables resembling those used in personal computers.
These alternatives are viable ways to reduce production costs, but they complicate maintenance and replacement in the long run. The fact is, the TS-9 reissue was wired the "old school" way. In addition to its wiring, the TS-9 demo unit's solder connections and the input/output connectors were both of high quality.
Character & Sound:
If you're a guitarist thinking about picking one up, know that it will give a lot of character to your tone and that it's the furthest thing from transparent distortion and drive pedals that are now trendy. When you turn up the TS9 reissue's tone and drive controls, it produces a strong roar that turns into a hard-edged distortion.
There is an abundance of crunchy, quick rhythm textures and bright, powerful solo sounds. This device also produces excellent edge-of-breakup tones at lower volume settings, making it well-suited for blues and mellower rock.
Many players may also utilize this as a clean boost, with the gain decreasing to the bottom. It adds a pleasingly gritty edge to otherwise plain clean signals. When the volume is turned up, the sound becomes distorted and reminiscent of feedback (something hard rock and metal players will appreciate).
Pros:
It's easy to see why this classic pedal is so beloved. The list of celebrities who have used it over the years speaks volumes about its quality. The pricing of the TS9 Tube Screamer is the most shocking aspect. To sum up the pros and drawbacks, this price is a steal. You can go right with this pedal; it will enhance your tone and provide you with various controls, all without breaking the bank.
Cons:
It is not a true bypass. It removes tone from your signal when it is disengaged, also known as when it is turned off. Some people may argue that it is not significant enough to matter, but if it is significant enough to be noticed, it is substantial enough to matter.
4. Behringer Noise Reducer NR300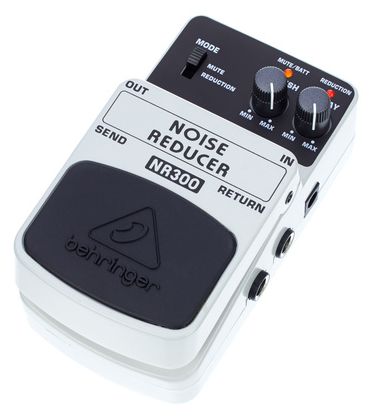 The pedal is your least expensive alternative if you're trying to save money.
Since we're dealing with a mass-production behemoth, these guys can provide very accessible prices on their wide range of audio equipment, from guitar pedals to studio gear. It's important to point out that the high quality of many of the company's offerings encourages reviews from various perspectives.
And given the asking price, it's easy to see why. That pedal is one of the least expensive options out there. It has nearly the same functionality as other, more expensive stompboxes of a similar type.
Key Features:
Volume
The pedal can be set to either mute or reduce volume. In the latter case, it will function as a conventional noise suppressor. If the pedal is set to Mute, pressing it will have no effect. If you urgently need to disable all of your signals, this feature could come in handy.
Connectivity
There are four jacks, the standard for such pedals. Therefore, if you have a long pedalboard, use it from the amp's front panel and connect it to the FX Loop. The 9V battery or 9VDC power supply is compatible with this pedal, so you can use it however you like. Its standard pedal size will only take up a little room on your pedalboard. The power adapter is not included.
Controls
You can primarily modify the pedal's function by adjusting the Thresh and Decay knobs. The first step is finding the minimum acceptable level of noise. The second controls the pedal's response time at note decay. It is up to you to tweak these controls to suit your guitar's components.
LED
When the pedal is engaged, two LED indicators will light up. Toggle between the first one, which shows when the stompbox is turned on, and the second, which indicates when the noise reduction kicks in. These lights will help dim the stage.
Character & Sound:
They say it works more like a noise gate than a noise suppressor. This pedal is less user-friendly than others on our recommended list. You should adjust Threshold and Decay to work well for your play style. However, this pedal is capable of doing its duties adequately.
Pros:
The pedal's low price of merely $19 is undoubtedly one of its best features. But you'll still find everything you need, like a four-cable connection and enough settings. It's also nice that you may switch between two different modes of functioning.
Cons:
This pedal's plastic housing raises serious durability concerns. The knobs, according to some users, are also loose. Nonetheless, you must realize that all this is okay for the price.
5. Boss RV-6 Reverb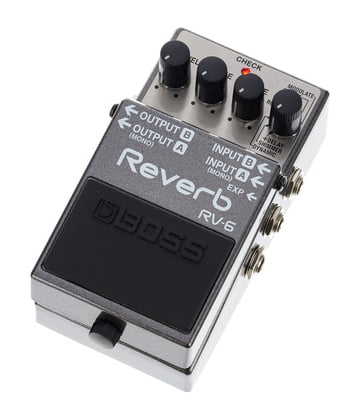 This pedal provides resonant, wide tones with a personal twist of trailing delays.
This pedal provides eight reverb options, ranging from classic algorithms to spring and plate reverb to, enveloping modern textures. To top it all off, the dynamic mode changes with your playing to create a lush ambiance that retains your Tone. It's easy to set up, there's an expression pedal input, and the pedal uses high-quality analog signal processing.
Key Features:
Modulation Effects
This kid's greatest strength is his ability to modulate. This mode fuses modulation's silky smoothness with echoing effects. This one's noises have a special way of enveloping you and not letting go. The shimmer effect hides the reverb. All the reverb varieties are full and genuine sounding, and the sound is improved by one octave.
Circuitry
A single battery or adaptor should do the trick if your pedal only requires 9 volts of electricity. The former is not advised as it is a heavy battery load. The housing of this pedal is built to last, no matter how severely you treat it. Even though the instrument has been processed digitally, its natural features have been kept intact using the dry analog approach.
It's stereo-ready thanks to its twin earphone jacks, so you can plug in two separate speakers and play them back at once. Your compositions will have greater nuance and complexity as a result. A reverb pedal that works with an expression pedal allows the user to control the effect's intensity. Because of its staggering array of eight different reverb effects, this pedal offers unparalleled versatility.
Knobs
You can use the initial part of the line to fine-tune the intensity of the effect and iron out any kinks in the chain. The next knob is Tone, which changes your sound's overall brightness or darkness by controlling how much emphasis is placed on the higher frequencies. There's also a parameter called "Time" for tweaking the echo's duration.
Character & Sound:
Amazingly, it's a pedal that can produce reverb at the same level as professional rack units. The reverberation is deep and immersive because of the careful adjustment of each reverb parameter. However, the pedal's shimmer and +Delay effect modes and the standard reverb provide it remarkable versatility.
Your soloing will have more impact with the help of +Delay's optimum combination of delay and reverb. An adjustable delay timer is given. Shimmer overlying low-pitched sounds produce a high-frequency overtone reverberating throughout the vast space. The dynamic mode is one of the most prominent because it may generate a lush reverb that surrounds chords and single notes with a dreamy void.
Pros:
This pedal can be powered by a battery if needed and features amazing stereo sound, a durable Boss design, a five-year warranty, and a battery indicator light. While there are a few reverb pedals in this price range, the majority are mono. Great squeaking sounds come from the spring and the plate.
Cons:
The massive footswitch on most of their pedals leaves little area for the knobs. Since the pedal has such a small display, the mode selection names are packed like sardines, making it difficult to discover what you need. It's also not easy to determine what's going on in modes when the stage is dark. You might give a hoot or not about this trivial issue.
6. MXR Ten Band EQ M108S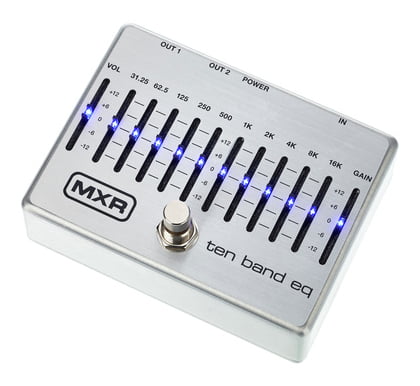 Multiple volume and tone controls are available in this MXR pedal.
The original noise-generating circuitry was exchanged for bypass switching, the aluminum case was lightened, and they added a two-tone to use two independent signal chains simultaneously. With the pedal's ten presets for input and output volume, you can fine-tune the volume of your instrument setup for any space in seconds.
Key Features:
Circuitry
Its design incorporates noise-canceling technology to make using it a soothing and unobtrusive experience. The benefits of this are magnified when the chain includes multiple pedals and cords. It has two outputs, so you can plug it into two different amplifiers or effects pedalboards. You'll have more leeway and control over your audio with either option.
Faders
With the central faders, you may amplify or attenuate individual frequencies. This level of accuracy is useful in a wide variety of contexts. For instance, one can produce a deeper, rumbling bass tone by lowering the highs and raising the lows.
Boost the mids for a warmer sound on an acoustic guitar or the highs for a soaring electric guitar solo. This pedal's many applications include directly replacing your amplifier's EQ knobs and allowing for dramatic, in-the-moment tonal tweaks.
Outputs
You may fine-tune the volume with the pedal's knobs, or it can be used as a standard volume booster. When you need to be heard over the sound of an audience, this is the tool for the job. With its 18-volt power supply and dual outputs, this effect pedal is suitable for use with a stereo system.
Character & Sound:
This effect pedal is compatible with electric and bass guitars due to its adjustable frequency range. You may spend as much time refining the bottom as the top since it starts so low and goes far. Surprisingly, adjusting the sliders won't have long-lasting effects on the sound.
The pedal's transparency is a welcome addition to its otherwise outstanding functionality. You may use it in the effects loop or the main chain, so it's quite flexible. You can extract more gain from the input before distortion or harshness, making overdriven tones more listenable. Its form remains constant regardless of its context.
Pros:
If you routinely adjust the volume on your device, you will appreciate how easy this is. You start by screwing in the treble knob, then fine-tune the bass knob. Furthermore, it is a true bypass that will not alter the sound. As soon as you adjust the equalizer, the sound will change. It's like having more all-purpose EQ controls on your amplifier, except these are tuned to a specific frequency band.
Cons:
Some buyers have complained that the LEDs are too bright and interfere with their night vision. Because of this, it can be challenging to see the pedalboard, resulting in missed shots. An LED brightness controller would have been helpful in this situation. According to multiple consumers, the pedal sliders have cracked after just a few months of use, showing that the pedals are poorly made.
7. Strymon blueSky Reverberator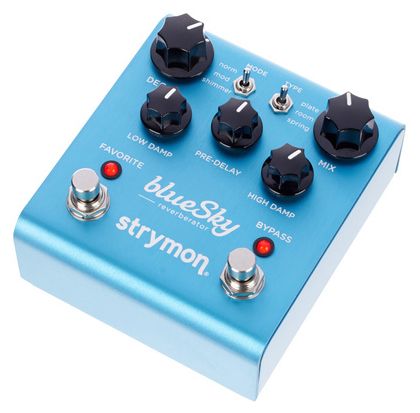 Since each Strymon pedal is made by hand, you know you're receiving a high-quality product.
Despite the pedal's sturdy exterior, a sophisticated circuit board, including high-efficiency converters that suppress noise, lies beneath it. Different variations and operational modes work together to produce remarkable outcomes.
The user interface is straightforward, and the versatile foot switch feels well-made. The company's idea generators are experts; thus, the Reverberator is full of fresh, ground-breaking concepts. With so few buttons available, the pedal must rely on button combinations to conceal its functions.
Key Features:
EQ
These two knobs regulate the reverb's decay time and, thus, the effect's tone. Adjusting the slider lower will reduce the prominence of the relevant frequencies in the tail decay while increasing it will increase their visibility. By simultaneously pressing both footswitches and adjusting the mix control, the user can reduce or increase the volume of the highs and lows by 3dB.
Toggle
A toggle switch, like those described in the previous subsection, allows the user to select from various modes. Each reverb type pairs uniquely with the mode settings. The default setting doesn't change the type chosen.
According to the mod that is picked, it will perform different modulation effects. Advanced users can benefit from Shimmer's regenerative octave shifting by switching to the mode. A fifth and an octave are added to the sound depending on the room and spring chosen.
Controls
You can adjust the decay time of the reverberant sound with the pedal's "Decay" knob. The decay time can be adjusted such that the volume gradually decreases in smaller rooms while remaining relatively constant in bigger ones.
The Pre-Delay control determines the time lag between the dry signal and the reverb tail. Maintaining a crisp and distinct sound requires a well-set value for this parameter. You then have the option to adjust the mix between the dry and wet signals with the included Mix knobs. You'll hear some unexpected sounds if you turn the volume up or down.
Switches
Two metal foot switches, one labeled "Favorite" and the other "Bypass," are on the pedal. You can store your current control settings as a favorite by holding down the "favorite" foot switch.
Then, whenever you want to hear your preferred tone, you must press the button again, and the corresponding LED will light up. The right-hand bypass button is an actual bypass. When powered on, pressing the button toggles the machine into analog bypass mode.
Connectivity
The first thing you'll notice on the back of the pedal is a power port for plugging in the included 9V power adapter. There is a pair of input/output jacks specifically for stereo processing and a separate set for mono. The most straightforward configuration involves plugging your guitar into the mono input and your amp into the mono output.
Circuitry
You can choose from a few different echoes using the three-position toggle. The circuitry demonstrates some classic-sounding relics by precisely simulating plate and spring vibrations. The user can adjust the room setting to create an intimate atmosphere like a three-bedroom home or a massive arena setting.
Combining these reverb kinds with the low and high damp settings can produce interesting results. For instance, by adjusting the wet settings, you may simulate the noises made by spring tanks of varying ages.
Character & Sound:
The room's most striking feature was the array of furnishings and ornamental elements. Using the Low Damp and High Damp settings alongside the Decay and Pre-Delay knobs, it was simple to create a convincing replicated environment, be it a carpeted basement or a concert hall.
The tone of the plate variant is the most robust of the three, making it perfect for single-note riffs in the classical tradition. In mod Mode, the plate creates a more foreboding mood. Given that you can't control the modulation's speed or strength, you're stuck with just one voicing option.
The Shimmer mode, on the other hand, works perfectly, the higher octave sneaked unnoticed with the spring tuning when playing chords or single notes.
Pros:
This pedal has a great appearance and produces high-quality audio output. Pushing the right buttons reveals hidden depths. The shimmer mode is fun to play with and provides refreshing octave shifts that can spark inspiration. The pedal is solidly constructed, and its buttons make it easy to toggle between settings.
Cons:
It may not appeal to audiophiles due to its clinical and synthetic tone. You could spend another $50 or so on their flagship pedal, which is vastly superior to the pedal in every respect (sound quality, versatility, ease of use, etc.).
8. Electro-Harmonix Bad Stone Phase Shifter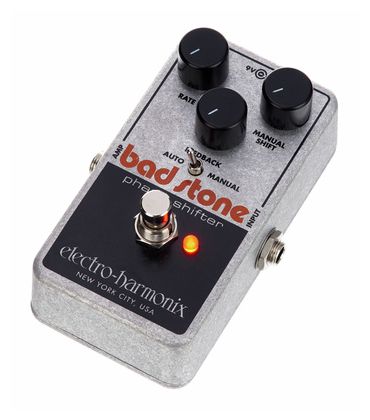 The Electro-Harmonix Bad Stone is a pedal with a thick phasing that offers a good amount of control, thanks to its feedback knob.
Even though they had previously released a FET-based version, the pedals most players are familiar with didn't join the EHX lineup until the early '80s. It had six steps of phase shift and a switch that let players zero in on a specific phase shift point to rock out on that odd filtered frequency all night long, making it an ambitious phaser for its day.
The pedal, like so many others in their past, was novel and odd, and it gave musicians something they didn't realize they needed. Fortunately, the desire to be different has persisted, and the product has been reborn in a nano-sized packaging that performs just as well as its storied, albeit offbeat, forebear.
Key Features:
Layout
The pedal didn't care about pedalboard dimensions; it was as big as a regular Big Muff. The new nano model is just as fashionable as the previous iteration, boasting an attractive blend of practicality and shag-lined custom-van remarkable.
The original's enclosure no longer features the line drawing of a hideous face that was its "grace," but it has been preserved in permanent etching on the PCB. However, a 9V battery can still fit on the board despite the extra graphic. It looks like an excellent setup. My only gripe is that the footswitch can be obstinate and makes a loud clicking sound when it finally clicks into place.
Controls
There are three knobs like the original, which is a throwback to the '70s. You may adjust the effect's volume with the rate knob and the feedback knob, respectively. The other two settings may be unfamiliar to fans of phasers with just one knob: the auto/manual toggle "freezes" the phase sweep.
Also, the manual shift knob allows you to dial in a particular sweep point, much like parking a wah in a specific position. This new feature benefits you with not one but two distinct impacts with only one application.
Phase Rates
Those who play with various phase rates may appreciate the many options available. This may be a beautifully subtle yet rich effect for slow chord and fast rhythms, especially at low feedback levels. At these slow speeds, raising the feedback level can be difficult.
The sweet spot for feedback settings was between noon and two, according to most respondents. The Bad Stone's phase voice is generally the most metallic and least contoured at all tempos when exposed to feedback rates beyond these marks.
Character & Sound:
Fortunately, phasers are typically used at quicker rates when the pedal's binary features of the voice shine. The metallic tang overtones add a cool peak intensity, almost evocative of the '60s studio flange when played via a slowly revolving Leslie speaker.
Turning up the feedback may take even the most conventional riffs in surprising new places, which may make purists wince. The ability to swap gears manually comes as a pleasant surprise. It can narrow down clean tones but sounds amazing with fuzz or high-gain overdrive.
In comparison to a conventional parked wah, the filtering features are distinctive. Depending on the isolated phase zone, there is less quack and an instant pick attack. Although this is a less common effect, the wide range of the knob makes it simple to find the ideal frequency for any given passage or song.
Pros:
The versatile phaser pedal boasts a wide range of features for its low price tag of $80. The correct feedback settings bring it very near to the depth and subtlety of a classic Small Stone's harmonic palette. And Manual shift mode turns the pedal into a one-of-a-kind filter.
At the same time, the feedback control allows you to switch between vintage tastes and experimental phase tones by using the pedal's metallic resonance. It's a terrific value for such a powerful and unique piece of audio equipment.
Cons:
An audible "pop" can be heard when the effect is activated for the first time after being powered on. In an ideal world, we could use an expression pedal to operate the manual shift, which an expression jack would trigger.
We believe this was a characteristic of the original poor stone; however, the rate knob's transitions are rather smooth up to about 4-5 o'clock, after which it begins to freak out and create pseudo ring mod-type sounds. Would have preferred a somewhat quicker pace up to that point.
9. Truetone V3 Jekyll & Hyde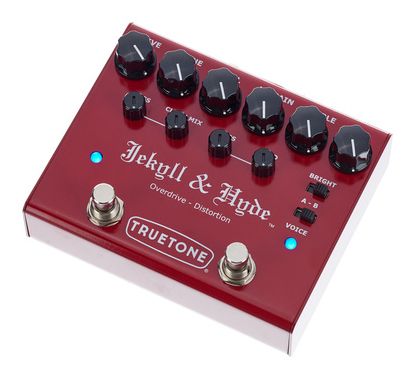 The Jekyll and Hyde distortion pedal is a great way to double up on your distortion setup.
Taking cues from the Open Road pedal, the Jekyll channel also features a Bass control and a Clean Blend slider for fine-tuning the amount of dirt in your sound. Hyde is more than just Jekyll, with a bass boost and extra distortion. The Bright and Voice switches provide a wide range of tonal options, making this pedal veritable for your setup. This pedal is great for various music, from the blues to metal.
Key Features:
Housing
The redesigned form factor and housing are immediately noticeable. The sturdy, folding metal pedals maintain their original bright red finish and take on a more standard double-pedal rectangle shape with top-mounted jacks. It's compact and convenient, taking up less space than identical pedals from competing brands.
Controls
The Overdrive section on the left features the standard Drive and Tone knobs in addition to brand-new Bass and Clean Mix knobs. The distortion channel has remained true to its original sound while gaining Bass and Mid EQ knobs and a Voice selector for varying between an open vintage sound and a saturated modern one.
Connectivity
Its setup is as malleable as its driving channels. You can use the pedal's channels independently of one another. You can add effects in between them or rearrange their existing placement thanks to the pedal's multiple inputs and outputs.
Of course, if you don't want to patch them independently, you can insert the entire pedal into your transmission line like any other pedal, but it's great to know that the option is there.
Circuitry
This pedal is intended to function as a bypass pedal, though this does not mean it is universally compatible with other pedals. RG Keen's custom electronics and gold-plated relays are used in this casing to provide a virtually silent switching mechanism. Buffering isn't always necessary, though, which is why this overdrive pedal has a Pure Tone buffering; you can toggle that between channels.
Separate Outputs
The pedal was innovative since it was among the first to offer a user dual gain settings on a single footswitch. And now, thanks to Truetone, you can take that idea one step further with separate outs for either side of the pedal, giving you more possibilities for switching effects and even more pedal stacking configurations.
Character & Sound:
Keeping with its moniker, the clean mix has a spacious, airy feel that may be pushed and broken for a more nuanced sound. To increase the volume, toggle to the Hyde setting. It gives you the freedom to go from a simple dirtiness to something far thicker and more imposing, spanning from the grind of classic rock to the rich tones of today's rock.
The company is fully embracing its new identity, and if current trends are any indication, they have a lot to look forward to in terms of publicity. You should give the new edition a shot if you're a fan of the series and have played the previous installments. Additionally, they are so positive about the quality of their product that it includes a lifetime guarantee. It's an excellent offering, and I can't wait to hear what comes next.
Pros:
The tones and features represent a new level of sophistication that is accessible and capable of competing in the high-end market. Although it is not a replica of other pedals, this one may easily stand in for higher-end models. If you were to buy all of the tones included in this package separately, it would cost you easily $300 or more.
It consists of a beautiful in-built noise gate and switchable buffers, two features that many boutique manufacturers do not provide. This pedal is a must-have for any serious rock guitarist. It's capable of producing virtually any sort of "driven" tone. The tones are superb, so there is no need to sacrifice quality for the low price.
Cons:
When the pedal is not patched, distortion comes first, followed by overdrive. Most users (95%) would rather have it the other way around. If you turn up the overdrive, you'll get a rougher sound overall and have three different textures to choose from, depending on the portion or song. Distortion caused by overdriving only makes the sound louder and worse. You may feel energized, but your tone will shift.
The issue can be patched, but doing so adds another potential point of failure: a cable. In the overdrive channel, you can adjust the driving level with one knob and the clean mix with another. This may be exciting in your head, but it will only make fine-tuning your overdrive that much more time-consuming.
In other words, if you have a knob to adjust the amount of drive, you probably don't need another one to do the same for the cleaning. It's like trying to coax warm water out of an old bathtub with only one hot and one cold faucet. All you need is a single knob to make adjustments.
10. TC Electronic SCF Gold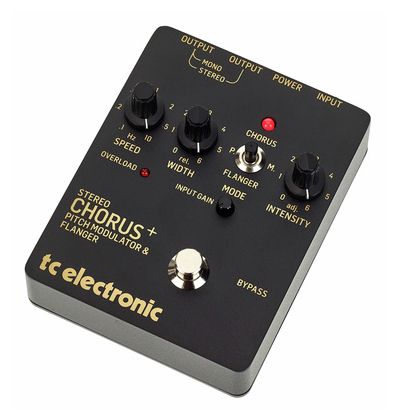 Many guitarists consider the Stereo Chorus Flanger the pinnacle of analog chorus effects.
The effect pedal is a high-voltage remake of the original, and it features three distinct modulation effects: chorus, pitch modulation, and flanger. The three different effects are powered by vintage-style bucket-brigade circuitry to provide authentic tones that harken to the era.
The pedal's analog preamp, which features a gain knob and an overload indicator light, allows for extremely high sound quality. Two separate outputs provide extensive stereo separation and a genuinely three-dimensional sound.
Key Features:
Chorus
The Chorus effect is the pedal's primary mode of operation. The speed knob regulates the delay span rate, and its controls are user-friendly. It goes all the way up to a more dynamic film reel presentation. You're welcome to take a seat wherever in that range.
After adjusting the speed, the delicate chorus sound became even more so. This is not necessarily bad; the chorus is subtly buried within the guitar's organic sound. It goes well with other effects you may have, notably delays and overdrives.
With the width knob, you may adjust the gap in time between each wave. The volume knob, though, is the pedal's crowning achievement. The chorus's strength knob serves as a wet/dry mix while the mode is in chorus.
Therefore, the chorus effect becomes extremely vibrant and modulative when turned up. The bucket brigade circuit design ensures that the pedal's brightness and clarity are preserved regardless of the setting, especially in the chorus setting.
Pitch
Pitch modulation is a vast, uncharted environment that might be challenging to comprehend. This pedal is uncomplicated in design. With the speed and width controls acting similarly to a chorus, the intensity knob is where you'll most likely find your preferred pitch modulation sound.
Using the pedal's strength control, you can fine-tune the ratio of vibrato to chorus effect, making it truly unique to your playing style. The pitch modulation option is the most sensitive of the four, but it's also a potent weapon that works excellent when cranked to eleven.
At first look, the input gain may seem less crucial than the other three knobs, but it plays a vital role in regulating and balancing the dynamics of the entire setup. This makes the body of the tone sound fuller and louder. Increasing the input gain in the pitch modulation mode builds the modulations and gives the music a gritty punch, from more robust output to lighter modulative harmonics.
Flanger
The flanger is the most extreme in terms of its effect settings. Here's the place to try pedal tricks if that's what you've been looking for. The flanger effect provides a wide range of customizable soundscapes, from low-end wobbling to high-end whirling soundscapes.
The volume knob now functions as a feedback control in this effect mode. You may adjust the volume of the flanger effect by adjusting the input gain and the effect level. This puts it on the verge of being too loud, making for an intense auditory experience.
Character & Sound:
Among the pedal's modulations are a plethora of traditional chorus and flange sounds, among many more. However, there are also a great many unforeseen advantages. Input gain levels that are relatively high go well with vibrato pulses that are both quick and fairly powerful.
Together, a fast flange rate and a moderate width setting produce softly pulsing waveforms reeking of phase, tremolo, and delay. The coolest sounds from the pedal come from increasing the intensity at this setting, which adds more vowels and metallic overtones.
People found the most conventional chorus modulations most appealing and entrancing. On the other hand, the chorus serves forth tasteful imitations of 12-string electric and hallucinogenic faux-rotary noises, both enhanced by the surround sound of stereo playback.
Pros:
The SCF Gold's versatility and usefulness may make it an essential gear for the working musician. And if you're trying to save space on your pedalboard, it may do the job of several others. The pedal's $149 price tag is a steal whether you're looking for the most flexible modulator available or want to recreate classic chorus and flange effects from the 1970s and 1980s.
The modulations may be less substantial and unsettling than what you'd get from other vintage analog flangers and choruses. On the other hand, the low noise floor and concentrated EQ profile make it simpler to control in various musical contexts.
Cons:
The footswitch is subpar compared to other TC pedals; it is tiny, cheap, and difficult to detect if your foot has engaged the pedal. Furthermore, the pedal activates once the footswitch is released, which is currently standard for most TC pedals. Finally, switching to Pitch Modulation mode causes an initial dip in volume.
11. Keeley Halo Andy Timmons Dual Echo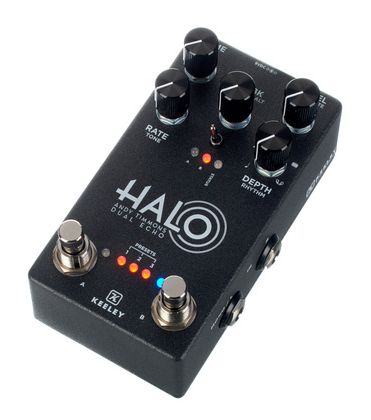 Every musician should have the Timmons Dual Echo Pedal.
Andy Timmons' signature "halo" sound is more than just an effect; for decades, this sought-after delay has been an integral part of the guitarist's tone, often mimicked but never recreated with precise precision.
Now it's easier than ever to channel the mystery and atmosphere of one of the electric guitar's sound gurus thanks to a single stompbox that captures Andy's signature dynamic delay sound. The Halo can lock in delays and swiftly switch between them on both the A and B sides, making it function like two pedals in one.
Numerous parameters allow you to fine-tune your sound, and a Rhythm Mode selector lets you quickly switch between standard delay kinds and a distinctive "halo" effect.
Key Features:
Controls
Although it's more than capable of handling the tasks set out for it, this fantastic delay pedal offers a wide range of tweakable parameters so you may find your unique sound signature. First, a single turn of the Rhythm Mode selector cycles through five distinct delay types to analog and tape possibilities and the highly sought-after "halo" effect.
In addition to the Tone and Highpass Filter controls, there is also a Saturate knob for adding tape compress to taste. You may add subtle choruses and flanger effects by adjusting the Standard Time and Feedback parameters for punching in ambiance.
One of the best features of the Halo is that it allows you to save your preferred settings as one of 8 users' presets; this is especially useful for guitarists who frequently switch between different sounds while recording or performing.
Double Delay
Here we have a pedal that satisfies the needs of guitarists and delay enthusiasts alike: a "dual echo" delay that packs a lot of character into a tiny package. The delay pedal's design has been drawn up several times before, but never early have players been treated to such a fantastic idea realized with such vintage Keeley style: two delays in a single pedal.
This pedal, which features two separate switches, is designed to facilitate rapid audio experimentation. You start with two different delays; where you go from there is up to you.
Footswitches
The Halo experience is built on two pillars: accessibility and expressiveness of mood. It's easy to pick up and play, so you'll be on the road to musical creativity in no time. Discovering your footing and striking out on your own will be a breeze.
With its dual-operating halves, the Halo has effectively quadrupled the power of the previously staggering delay system. Halo's user interface neatly organizes all of the action. Switching between two different setups is possible by clicking the A or B footswitch.
Thanks to this seamless swapping feature, delay effect enthusiasts from all over the world now have the freedom to set up and explore two distinct delay tones.
Delay Patterns
Five distinct delay patterns range from simple digital to analog stereo rack and tape echo simulations with multiple heads. The pedal can generate a wide variety of delay voices, all with modulation and saturation. Use the Halo to make shimmering, bouncing delay trails or mellow, pad-filled ambiance. There is a wealth of space between the extremes that can be developed and brought to life.
Circuitry
In addition to the rich tonality the Halo provides, cutting-edge Keeley technology is integrated for a cutting-edge playing and controlling experience. You may tailor the Halo experience to the individual player thanks to a wealth of customizable technological options.
Examples include expression pedal control, switching between trails and true bypass, saving presets, holding for an unlimited amount of time, and wet/dry modes.
Character & Sound:
While the delays produced by the pedal are technically stereophonic, the pedal's trademark diffusion sound is achieved by the modulated delays subtly drifting in time on both sides of the mix while keeping the original guitar signal unaffected. Although this little pedal is best known for Timmons' halo tone, it's still worth mentioning.
In addition to its slapback echo and rich stereo chorus, the Halo can produce repeats and typical digital delay sounds by simply opening the highpass filter and reducing saturation. Infinite repeat can be activated by depressing the unlit foot switch, and tapping the active button will activate the tap tempo.
Pros:
Guitarists who want to experiment with different delay effects to create freeform, flowing songs will likely enjoy this pedal. The pedal combines the functions of various delay effect pedals, allowing you to consolidate your board and simplify your setup without sacrificing sound quality.
This pedal is perfect for smaller pedalboards that want to make a loud noise. The pedal doubles down and crams more than a panel's supply of sounds and functionality into a compact box, making it ideal for fans of Timmons or delay in general.
Cons:
Fans of ping-pong echo will be disappointed to learn that the Halo does not offer real left-right stereo repeats despite its gorgeous stereo effects.
12. Fender Duel Pugilist Distortion
This overdrive pedal packs a hefty harmonic punch.
The pedal features two channels, a left hook and a right cross, and a wide range of tonal shaping and blending parameters, allowing for some filthy playing. Fender is making history with this treasure trove of tones because the business has previously needed help competing in the stompbox industry.
Key Features:
Controls
The volume and tone of each channel can be changed using the pedal. The amp's gain control regulates how much distortion is applied, while the tone control makes more subtle adjustments to the amp's overall volume. The music is broader and warmer at lower volumes, whereas, at higher volumes, it becomes distorted and harsh.
Pugilist's most original feature, though, is its blend control. You can quickly discover the best drive for any condition by turning this knob to the mixing position, which combines the two signals. You may flip a switch and connect the two drives in parallel if you want an even more aggressive sound.
This disables the mixing controls, but you can still adjust the volume and tone of each circuit separately. In addition to the bass boost button, this pedal features an overall level knob for controlling the importance of your signal.
Channels
It has two channels, so you can adjust the distortion amount independently. The volume, tone, and gain controls are independent of each distortion channel. The three positions on the mode switch allow for infinite permutations of the two sounds, which you can further refine with the blend and EQ knobs.
Mute
The mode switch is the beating heart of the pedal, allowing for three different configurations of how the pedals interact. When the volume is turned down, Distortion A takes over, while Distortion B serves as a mask. This option is the least fascinating of the various settings, but we found a few good ones by fiddling with it.
Bypass
Last but not least, the bypass mode offers a second excellent range of tonal tinkering options, including a blend knob for merging the two unique distortions. Mixing a heavily distorted tone with a clearer one, or vice versa is the best approach to achieve note clarity with pinpoint accuracy.
Since the dry output is engaged on the other channel, the guitar tones come through with refreshing clarity while doing the latter.
Distortion
Set the switch to series to replicate the effect of using many pedal board distortion units. When engaged, the guitar's tone can range from smooth overdrive to a high-gain, almost fuzz-like distortion. Distortion A should be used as the primary tone and Distortion B as an overdrive or dirt effect in this setting.
Character & Sound:
This pedal is great for guitarists who want a throaty, punchy drive since it emphasizes the pick and dynamics, especially when the gain isn't completely cranked down. The more challenging, aggressive sound that may be achieved using Channel B is ideal for heavy music.
Using the mix control in conjunction with the method and gain settings for each channel, you can create almost any effect. It shines when producing a solid medium gain tone but can also have a smooth low gain tone and scorching high distortion.
At high volumes, the pedal's articulation is still apparent; the sound wonderfully saturates, but the purity and precision of individual notes are preserved. This is fresh air compared to lesser distortions that squish your signal to nothing when turned up.
Pros:
The California company has been around for a while, but its pedal design is all new. The two-channel layout is novel, and the sound quality is surprisingly high, given the affordable pricing. The instrument's versatility, high build quality, and other performance advancements make it appealing to players of varying skill levels. If you're a guitarist looking for an adaptable and fun distortion, give the Pugilist a shot.
Cons:
Reducing the gain doesn't make up the difference. Low-gain distortion sounds similar to a clipped, clean tone, but badly. It doesn't matter how many combinations of series and blend settings you try as soon as you turn up the volume, that goes away, leaving you with a great sound.
Bonus:
Strymon BigSky Multidimensional Reverb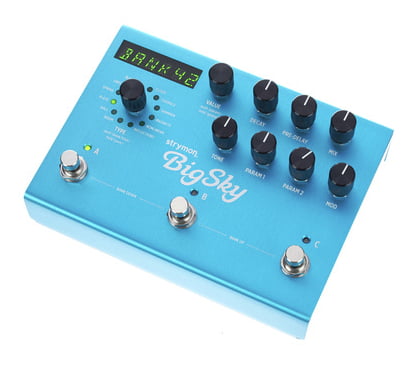 Simply connecting BigSky will immediately take your audio to new heights. 
Incredible feats of sound engineering and creative creativity were necessary to realize this reverb pedal's vision. Strymon has looked at and analyzed reverb tech from the past 50 years using the principles of acoustical science as our guide. It captured the spirit of these vintage tones while pushing forward to realize our futuristic reverb dreams.
The sounds can be fine-tuned and made easily accessible at the turn of a knob, but there are also preset slots built in. A powerful digital signal processor ensures the maximum audio quality. The reverb's tremendous strength suggests it might replace several individual reverb pedals.
Key Features:
Reverbs
The built-in reverb effects of the pedal range from natural spring reverb to shimmering, ethereal washes. These virtual effects are models of the most often used reverbs. The digital signal processor (DSP) guarantees crystal-clear sound reproduction.
Strymon has expanded the range of tweakable parameters for these noises, allowing you to give them any look or sound you like. Save up to 300 different settings for a given effect and call up your go-to reverb fast with the help of presets.
Tone Shaping
This is not just an attempt to recreate the sounds of the past.  The sounds are based on various common verbs, but several tone-shaping settings allow you to get exactly the sound you want.
Each option's settings are adjustable using the two "parameters" knobs. The expression pedal allows for quick adjustment of parameters, while the pedal's rear panel provides connections for stereo operation and MIDI control.
Connectivity
The high quality of the music produced by reverb would justify the entry price.  Although it creates a pleasant environment, this tool conceals many other functions. Thanks to the abundance of inputs and outputs around the back, you can easily link it to any other system.
Character & Sound:
Considering how academically serious their investigation is, you would be shocked if they seemed utterly normal. Still, all that work paid off because each of the 12 reverb devices can add a realistic or outstanding touch to your performance.
Each machine's modifiability also plays a role; for instance, the spring setting is quite lifelike and allows you to fine-tune the sound to your liking by altering the total number of springs. Also, the pedal comes preloaded with Strymon's signature atmospheric settings, a favorite among post-rock and ambient musicians.
The Shimmer setting's two chromatically-adjustable voices allow for great pitch control, making it an excellent choice for crafting enormous audio landscapes. Thanks to the syllable filtering applied to its verbs, the Chorale mode creates the effect of a vocal chorus accompanying every note.
Pros:
Any application of reverb, from the most basic to the exploration of foreign textures through lush verbs, is covered. This reverb pedal will meet your requirements because of the unique way it fulfills each one. One of the 300 selectable presets is sure to be right for you.
Even while perfectionists have had a great time creating and tweaking reverbs to get them just right, there are a ton of fantastic-sounding presets available that can be paired with practically any style of music.
Cons:
Big Sky is a better place to look if you want a simple reverb unit to replace one 30 years old. Simply put, it's for artists and recording engineers who delight in finding new reverb landscapes that can be as idyllic or wondrously horrific as their imaginations allow and who appreciate flawless ambiance in a live-ready instrument.
Costing a whopping $460, but it's pretty cheap. When you consider how much punch it delivers and how readily you can customize it to any live or recording environment, you'll realize it's a steal.
Conclusion
These are the Top 12 Effect Pedals Great For Les Paul Guitar 2023. A top in which we presented you among the best (but not the only) options you have when it comes to a Les Paul guitar.
The tuning of a Les Paul guitar is sophisticated and requires a lot of attention regarding the guitar's signal. In this top, we have presented the best solutions for a complete pedalboard, through which you can alter the guitar's tone according to your needs.
Certainly, these are not the only ones; as the guitar has passed through the hands of many musicians who play many genres, many solutions have been found. But we hope that these top 12 effect pedals great for les paul guitar 2023 have presented you with the most current solutions and helped you to find the right pedals for your desired tone.
Death metal enthusiast here. I am a Romanian musician and producer with over 13 years of experience in the music industry. I've experienced all types of Metal up until now, playing Melodic Death Metal, Brutal Death Metal, and Black Metal with different bands. Learning by doing is my base principle, which is why I've been drawn to sound design from an early age. Read more…