We checked various sources and compiled 12 products that we believe you will find useful when making techno vibes. Whether you are after minimal, deep, dub, acid or industrial, we got you covered.
These machines are best for jamming, but you can definitely use them for projects in your DAW as well as live gigs.
Top 11 Hardware Synths & Drum Machines Great For Techno (Minimal, Deep, Dub, Acid, Industrial, Melodic & More)
1. Elektron Analog Rytm MK II (Drum Machine, Synth & Sampler)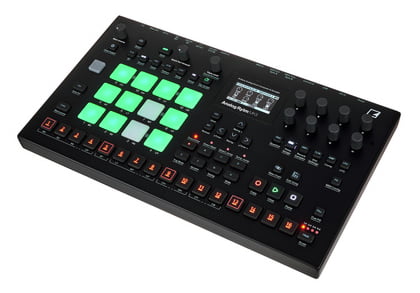 The Swedish manufacturer, Elektron, unveiled the Analog Rhythm in 2014, quickly finding its way to the electronic music community where hardware instruments were thriving.
And less than four years later, the MKII of the instrument appeared. The most apparent changes are in its appearance with its light grey/black aluminum body, tilted for convenience and featuring a white-on-black OLED display.
Similarly, the new version replaces the stiff pads of the original machine with large, soft pressure pads.
Key Features:
Dedicated Engines
Analog Rytm MK2 features twelve pads or tracks, each producing a different drum/percussion sound. However, it has eight analog synth engines, each dedicated to a specific type of drum sound. For example, the BD (bass drum) pad has an internal synth dedicated to producing kick sounds only, whereas the snare pad's synth only produces snare sounds.
This "limitation" ensures that you don't have anything too complex to program for sound design. Instead, you can focus on the type of sound you want, dial in a few parameters, and you're good to go! When editing, the OLED display shows all the parameters available, and you can use the rotary pots at the top right of the panel to dial in the corresponding values. Furthermore, you can even edit parameters per step to create creative and intricate patterns.

Samples


Analog Rytm MK2 allows you to record custom sample files for each pad via a pair of balanced inputs. It also comes with a factory sample library that you can use to add variety to your sounds in the Sample menu. Furthermore, you can either use only a sample, only the built-in synth or blend both the sample and synth to create a unique sound per pad.

Onboard Effects


The drum machine provides a true analog saturation drive, multi-mode filter with an envelope, an amp envelope, effect sends, and an LFO for each drum pad. Furthermore, it features a versatile digital reverb and a delay effect for the sends. And if you need more control, you can record and mix each pad sound separately using the multiple outputs on the back edge of the hardware. This feature is handy if you have an audio interface with multiple inputs or a mixer. Combining it with the DAW link features takes this drum machine to a whole new level.

Chromatic Mode


Modern electronic music rarely has drums without pitch changes. Hence, Analog Rytm MK2 lets you play any drum pad chromatically by enabling the chromatic mode. It's also useful for playing melodies or basslines using the dual-VCO synth engine built into the drum machine. Furthermore, it allows you to color-code the pads for easy identification.
Analog Rytm mk2 Only Techno Jam 2 #jamuary
Character & Sound:
The most impressive feature of this drum machine is its analog modeling synth engine. However, the most unique must be the per-pad parameter modulation. It allows you to create everything from the classic TR-808-style beats to modern Techno vibes.
Similarly, the factory sound library and a gigabyte of storage space for custom samples allow you to tailor the drum machine for any genre and style you want. Furthermore, if the built-in reverb and saturate delay aren't enough, the multi-out feature lets you get creative while mixing.
Pros:
Analog Rytm MK2 is undoubtedly one of the best drum machines ever made. It features a built-in drum synth that generates many types of sound alongside a sampler that can load and record samples.
Furthermore, the 16-step sequencer can modulate the parameters, play chromatic notes, and even introduce probability or "trigger conditions." Likewise, the pattern and song options allow you to load multiple patterns per session to help you perform live.
Cons:
Although the drum machine is filled to the brim with features, a few of them are tedious to use. For example, if you want to quantize a live recording, you have to turn the quantize percentage all the way up by dialing in a knob. I'd have loved to see a quicker way to perform such tasks.
However, it does ease up many complex or impossible tasks to its credit. Still, you might consider the machine too complicated if you aren't after so much flexibility. Similarly, the steep price may keep the instrument out of reach for most starting musicians.
2. Moog Matriarch (Semi-Modular Analog Synth)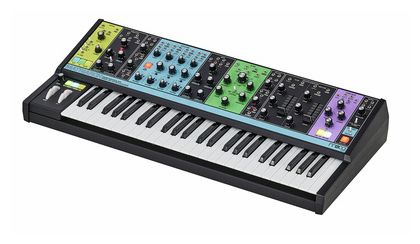 The Matriarch is the fourth installment in Moog's line of semi-modular synthesizers. Following the Grandmother, the Matriarch adds more functionality, keeps the colorful, pastel paint job, and provides the staple Moog tone many have come to love.
Moog's Matriarch is a 4-note paraphonic, semi-modular synthesizer with Eurorack support. It offers four VCOs, Moog's ladder filter, two EGs, a stereo delay, an arpeggiator, and a powerful sequencer. Additionally, you can seamlessly modulate various parameters using the synth's 90 patch points.
Key Features:
Four Oscillators




Up to 4 oscillators create a rich and diverse range of sounds. Each oscillator can be set to play within 4-octave ranges. To design your sound,

you can switch between four waveforms for each oscillator

: triangle, sawtooth, square, or a narrow pulse wave. In addition, you can set the synth to play monophonically, duophonically, or paraphonically.

Classic Moog Filter




The filter is

based on the classic Moog 904A module

. However, it offers more than just pure low-pass filtering like its inspiration. There are three selectable filters: series LP/HP, Stereo LP/LP, and Parallel HP/LP. The first creates a band-pass filter, the second a stereo signal path, and the third a notch filter.

Two ADSR Envelope Generators




You are offered full envelope customization of the filter and the amplitude through the two envelope generators. The EGs

can control the attack, decay, sustain, and release

to sculpt your sounds exactly how you want.

Stereo Delay




You can use a built-in stereo or ping-pong delay to add vibrancy and depth to your synthesized tones. The stereo delay module is based on the

Moog 500 Series Analog Delay

but offers shorter

delay times ranging from 35 msec to 780 msec

. However, if synced with a clock, you can use the time dial to alter the delay times within divisions or multiplications of the tempo to create ambiently trippy arrangements.

Sequencer


The Matriarch's arpeggiator is precisely the same as the Moog Grandmother's. However, the sequencer has been expanded upon. You will be able to store up to 12 sequences.

Each sequence can contain 256 steps or 1024 notes

(Each step comprises four notes).
JAGUAR (Dub Techno with Moog Matriarch & Digitakt)
Benjamin Damage | Matriarch All-Hardware Live Cirklon Techno Session
Character & Sound:
Overall, the interface is highly intuitive, and you will have an ocean of deep, warm, and smooth sounds to lose yourself. The analog tones are exquisite and don't require much external modulation to shine.
However, once you use the patch bay to connect external modules, the tonal options increase exponentially. If you want to hear some of the possible sounds created by a Moog, you can find sound samples here on Moog's Soundcloud page. The sound of Matriarch is great for electronic music genres including any kind of Techno.
Pros:
The optional oscillator sync function can thicken the sound substantially to create a sonic bulldozer that can stand up well in a mix. Couple the sync function with the option to switch to two or four-note paraphony, and you have a versatile synth that can excel in many situations.
Moog does offer a dark version with an all-black paint job if you aren't a fan of the pastel-colored interface.
Cons:
Much like the DFAM, you will be unable to save presets. The only workaround at the moment would be to take photos of the parameters and refer back to them when you need to recreate a sound.
Otherwise, Moog has printable blank patch sheets you can use to record any setups you've come up with. One of the more annoying cons you will come across is an issue with the internal clock swaying out of time when syncing the delay to the arpeggiator/sequencer.
3. Roland TB-03 Bass Line

(Great For Acid Techno)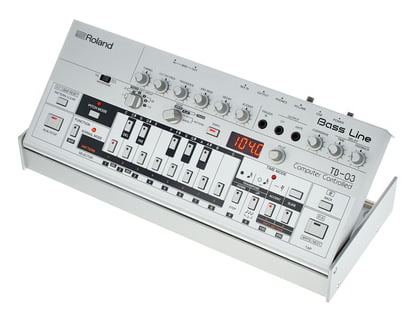 Roland TB-03 is a recreation of the classic TB-303 Bass Line Synthesizer.
Roland has recreated the single octave TB303 without changing its layout control and keeping the sound intact with its futuristic ACB (Analog Circuit Behaviour) technology, which authentically mimics the original synth, and has added some new features to it to make it fitter for the modern use. For example, it has a 4-units LED display for better visual feedback and more efficient programming.
Key Features:
Effects
It has onboard digital effects like overdrive and delay that lets you add a new dimension and depth to the sound, so they can be more upfront and easily fit the space. The overdrive is a single-knob effect that lets you control the intensity of the effect using the knob, and delay uses time and feedback knobs to set the effect right.
Studio expansion
The synth is not just for live performance but can also be used as a great instrument for studio purposes; with its MIDI and USB ports make it act like a sound card and can also be used to transfer signals to the computer or the interface.
Ease of use & portability
It's the perfect bass instrument for touring as it can operate on 4 AA batteries and be powered via USB. In addition, it also has a mini speaker on it, for instant inspiration and feedback. Further, the hands-on control over parameters like cutoff, resonance, envelope, etc., gives you great command and expression with the sounds.
Programming capabilities
You get a built-in sequencer that can switch between write and play modes. Writing modes are also available for time, pitch, and step expressions. Further, the pattern creation features, tempo control, overdrive and delay effects, and the LED display contribute to its efficient programming.
ANSR - Techno Live Jam #060 with Roland TR-8S + TB-03
Roland TB-303 Bass Line In Action
Character & Sound:
Sonically, the synth works well in the dark and filled spaces with huge monitoring systems and has a fat, warm, and punchy analog sound that can surely rock underground parties, Techno/EDM festivals, stadiums, and even works well as a recording instrument for studio & playback, and can also connect with DAWs.
Pros:
Its connectivity is also open to external analog gears via its CV/Gate output, by which it can command, program, and sequence other instruments. Lastly, it has a high-quality sound, compact packaging, flexibility, portability, and a decent overall build & workflow.
Cons:
It lacks a real-time recording mode and a power supply. Apart from that, it's pricy and unnecessarily small. Lastly, you cannot control it with an external device.
4. Arturia DrumBrute Impact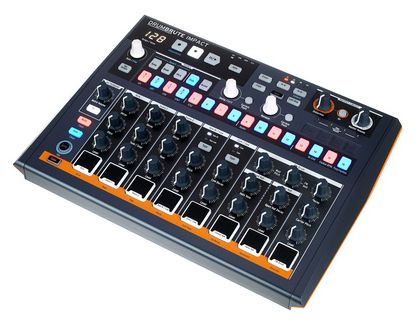 DrumBrute Impact is Arturia's second analog drum machine after the bigger sibling DrumBrute, although "sibling" is a pretty generalized term to use.
It has fewer voices and separate outputs, a smaller size, and a lower price, but the sound palette is also quite different with a fiery vibe. So, you could call DrumBrute Impact the younger, carefree sibling who enjoys wild parties.
DrumBrute Impact is a ten-voice analog drum synth with eight analog track strips and one FM strip. Furthermore, it features a pattern memory of four banks, where each bank contains sixteen 64-step sequences. So, you're fairly equipped well for most studio production and live performance use.
Key Features:
Synth Engine
As I mentioned, DrumBrute Impact features eight control strips for the analog voices, where the high and low toms share controls alongside the cymbal and cowbell, a new addition over the original DrumBrute. However, the shared controls don't affect the polyphony, meaning you can play the two voices separately and simultaneously without issue. Furthermore, the FM synth engine allows you to create a wide variety of silvery percussion sounds. You can control the modulator's pitch, the carrier's pitch, FM amount, and decay. So, it serves as a nice, twangy contrast to the analog engine's gritty, grounded sound.

Effects


The drum machine features a master distortion knob that adds an analog-style distortion to the entire drum mix. However, the most exciting feature in DrumBrute Impact is "Color." The Color mode generates a variant of the original sound, which is generally either a drive boost or a different filter, decay, and pitch setting(s), depending on which sound you're changing. Furthermore, you can modulate the Color button per step, resulting in an intricate sequence when used right.
DrumBrute Impact has individual outputs for the kick, snares, hi-hats, and FM drum. So, you could add outboard effects or connect the machine to a mixer or audio interface to get creative with the sounds. Try adding some delay and reverb on the drums to bring them to life instantly.

Sequencing


As you'd expect, you can step-record and record playing live, which quantizes based on the current grid. Furthermore, the hardware allows you to play at two levels using a velocity threshold: accented and non-accented. Similarly, you can add ratcheting rhythms using "step repeats" that repeat a step up to four times. This feature is excellent for sequencing hi-hats and snare or tom fills. Other cool features are swing and polyrhythm.
I've already mentioned that the drum machine has four banks with sixteen patterns per bank. A Song mode allows you to create a pattern chain and loop multiple patterns to create a drum arrangement easily.
Connectivity
Although they share a single volume control, the drum machine features a headphone output and a mix output. Similarly, you'll find 3.5mm MIDI clock in and out ports that allow you to sync multiple instruments. And 5-pin MIDI in and out ports allow you to control the drum using a keyboard or program another instrument using DrumBrute Impact's sequencer. Furthermore, a USB port lets you connect the device to your computer for a MIDI connection.
Character & Sound:
DrumBrute Impact is a very classic-sounding drum machine that provides a fairly simple workflow. Thanks to the analog engine, it sounds rather warm and soft, regardless of the settings. However, the vintage style makes it excellent Techno, Trance, Hip-Hop and some other genres. Although, adding some outboard gear opens the sound up for other genres. Furthermore, sequencing the Color mode helps bring another dimension to the drum patterns.
Pros:
DrumBrute Impact is a straightforward drum machine with a distinctly analog sound, from the sound generators to the distortion stage . So, if you like the sound of the classic Roland and Korg machines, you might like this portable drum machine too. Furthermore, the Color mode allows you to add intricacy that wasn't possible in vintage gear.
Cons:
While the drum machine is quite good for what it does, versatility isn't DrumBrute Impact's strongest suit. So, you might find the sound gets old pretty quick, despite rigorous programming and patching. Furthermore, it doesn't allow parameter modulation or automation, particularly on the FM synth engine.
5. Elektron Octatrack MKII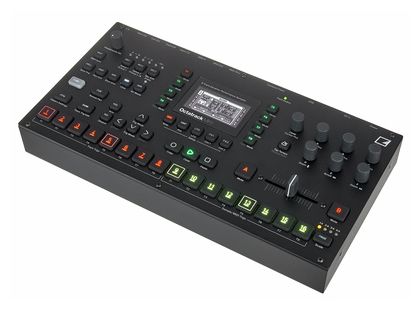 Octatrack MKII is a performance sequencer and sampler.
It packs eight stereo audio tracks, eight dedicated MIDI tracks, real-time sample stretching and pitch shifting, and an extensive sequencer. In addition, performance-based hardware has good-quality backlit buttons, accurate high-resolution encoders, crossfader buttons dedicated to various functions, high headroom, and an OLED screen.
Key Features:
Comprehensive Modulations
There are three LFOs available for each track, along with an LFO designer, with an etch-a-sketch type workflow plus smoothing, customizable wave-shaping features that you can apply to external & internal audios, and MIDI.
Effects
You can apply two insert effects on each track and choose from various effects like reverb, filters, EQ, compression, and more. You can sonically shape your sounds and samples with lo-fi, flanger, phaser, delay, chorus, and more effects.

Other features


You can use conditional triggers to sequence interesting performances, and you have powerful features like micro-timing adjustments, retrigger capabilities, flexible scale, timing controls, and more at your disposal.
Beats From Scratch / Elektron Octatrack Techno Jam
Character & Sound:
You get a bundle of 5 GB of free sounds, consisting of loops and one-shots by Origin Sound, Loopmasters, Sample Magic, and Samples from Mars, that can inspire some great work. The effects, modulations, sequencing, and sample manipulation options make up a versatile soundscape so that you can create various genres of music.
Overall, the drum samples are punchy, the melodic sounds are warm & atmospheric, and the percussions are innovative and inspiring.
Pros:
Apart from being a sampler, it could be used as a compact mixing and effects rack, as you can input audio and MIDI signals into it using its stereo inputs. In addition, the sequencing on the device is butter-smooth and has extensive options to repeat, mute, loop, and apply various jump commands to the sounds. The buttons, screen, and rotaries complement the workflow.
Cons:
The sampling instrument lacks bridging compatibility or USB MIDI sync, the screen is too small, and there's a lack of connectivity with this piece of hardware. In addition, there are no pads available for finger drumming, so you'd have to use the buttons. Lastly, its workflow is old, and the only thing is stopping it from losing it to its competitor.
6. Behringer TD-3-MO Synthesizer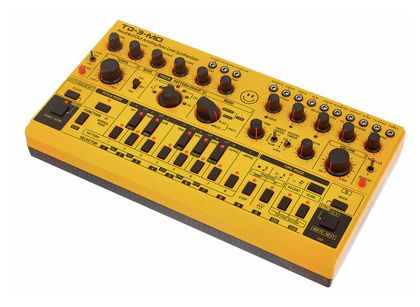 Behringer has taken to releasing their rendition of a modified TB-303, called the Devil Fish—created by Robin Whittle of Real World Interfaces. It features many of the same modifications made to the TB-303, along with a couple of extra features that add to the grittiness that made the mods great.
The TD-3-MO is a monophonic, analog bassline synthesizer. It offers a heft of new features over the TD-3 that allows more envelope control through additional attack and decay dials, musical expression with the sequencer through their slide and accent controls, a thicker tone through a sub-oscillator, and a variety of CV, gate, and filter inputs and outputs.
Key Features:
Single VCO
The VCO has a three-way switch for switching between two waveforms and an off position. You can use either a biting sawtooth or a hollow square wave to form the basis of your bass lines. Also, you can add a sub-oscillator with a 3-pole switch for the level that plays one octave below a sequence.

4-Pole Low Pass Filter with Keyboard Tracking


The low pass filter attenuates frequencies above the cutoff point by 24 dB per octave and has a comprehensive range, extending as low as closing the sound off completely to roughly 5 kHz for squealing runs. Moreover, the filter does track the keyboard, so the filter's cutoff shifts depending on the note, which gives bass lines a slightly more natural characteristic.
16-Step Sequencer
The sequencer has an adjustable step range that reaches a maximum of 16 steps in a sequence. You can set the timing for each step to either a sixteenth note, to tie sixteenth notes, or for a sixteenth note rest. In addition, you will be able to add accents and slides to the individual notes in your loops.
Track & Pattern Modes
Similar to the TD-3, the MO has four selectable pattern banks with individual A and B banks; overall, you can store up to 16 patterns on the device. Once you have your selection of patterns, you can create a sequence of patterns changed together in track mode.

Seven tracks are available, each corresponding to a particular pattern bank.
Behringer TD-3 MO & Model D - Techno Performance
Behringer TD-3 MO & Crave - Cosmic Acid Techno Performance
Character & Sound:
By default, the tones are smooth and deep, but because of the filter's extensive range, you can create highly sharp/squelching tones. If you need to add an extra level of grit to the signal, the overdrive effect offers a warmer, saturated tone to the mix without becoming overly distorted. And outside of the filter, you can use a muffler function to tame harmonics. TD-3-MO is definitely great choice for electronic music including Trance, Techno.
Pros:
They feature great control for creating musical passages. Steps in a sequence can be accented for a more dynamic sounding pattern. Moreover, the decay for accented and normal steps have separate dials, so that you can create a fluid distinction between the two.
Unlike the TD-3, you will have access to a filter FM input with dedicated control for adjusting the amount of frequency modulation for the filter.
Cons:
The manual provided lacks in-depth explanations for the controls. It gets the job done if you just want to know what the various controls are. But, if you want to know what the controls do, you may find the explanations underwhelming.
7. Korg Volca Sample 2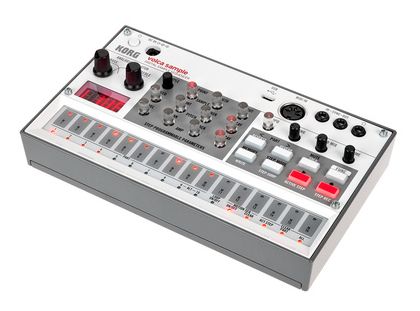 Korg Volca Sample 2 is an easy-to-use, portable, and versatile sampler & drum machine with capabilities beyond just sampling.
You can add and manipulate different samples and sounds in it flexibly and intuitively. Compared to Volca beats, it is not as analogue, and beat-making/drum programming focused. Instead, you change the samples on each pad by rotating a knob and browsing through a bunch of cool sounds, from drum samples to melodic sounds. You have controls over speed, filter, attack, and decay for pitch and amplitude, pan, and more. You can also stretch samples by manipulating their decay or speeding them up.
Key Features:
Additional effects for sonic shaping and expression
The machine has a great-sounding reverb that you can assign to different elements in your beats and add a sense of room and ambience to your loops/beats/grooves.
Secondly, the swing control is great for adding more human touch, funkiness, and a twist to your rhythms. Further, you can play around with filters, envelopes, and other audio manipulation tools to sonically shape and re-imagine your samples.
Compactness
Korg Volca Sample 2 is just 8 inches wide and weighs less than a pound, which makes it highly portable, as it could literally be slipped into a backpack. Additionally, within the small setup, it carries decent functionality.
Techno live with the Korg volca sample 2
Character & Sound:
It sounds fairly digital and is primarily for electronic music production, especially drums and bass. You can add any samples from any genre to it via USB, but the sampling architecture allows for groovy and experimental electronic sounds.
Pros:
Apart from its portability, its interface is simple and smooth to use, can also be used by a newbie, and is probably the only beginner-friendly hardware sampler on the list. The in-built samples are decent quality, and in terms of connectivity, you have MIDI IN, a USB, a SYNC i/o, a headphones jack, and more. The analogue isolator is an interesting feature that can apply analogue textures to your sounds.
Cons:
Being a pocket-sized sampler with decent memory, connectivity, and sample management, it is good for flexible music programming but is not versatile. In addition, it doesn't have the capabilities of a multi-purpose sampling device. Lastly, Korg does not include a USB lead in the package.
Choose If:
You want to create innovative and interesting sounds, for example, French electro, LoFi, Japanese Pop, 80s Retro pop, and more genres can be created using Volca Sample 2, as it is a fun, easy, and inspiring tool to use, with ease of connectivity, the good quality sound engine, and creative modulation & sound design capabilities, especially for grooves and bass.
8. Moog Subharmonicon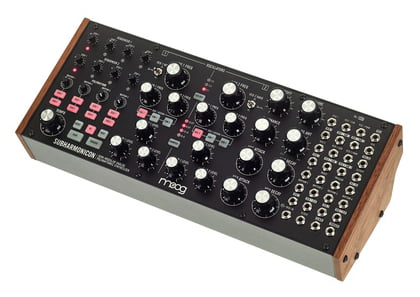 Moog has stepped into the arcane world of complex rhythms with the Subharmonicon. These rhythm-focused synthesizers reward exploration and provide plenty of inspiration along the way. Read on if you are looking for a unique chord or percussion-focused synth.
Moog's Subharmonicon delivers spellbinding polyrhythmic and subharmonic tones all within a compact, Moog vertical tiered rack, and Eurorack compatible casing. In addition, it offers a healthy amount of modular patch points and a tremendous amount of character that is great for accompanying a variety of synthesis setups.
Key Features:
Six Oscillators




Up to six oscillators build the tones generated.

Two oscillators form the basis of the tones, while up to four sub-oscillators add depth and harmony.

The main oscillators have a four-octave range—from middle C to C at the 8th octave—and are accompanied by two sub-oscillators each. Lastly, you will be able to set each oscillator to output one of three waveforms: a square wave, a sawtooth wave, and a pulse wave accompanied by sawtooth waves.

Interval Quantization




The oscillators share a quantization control. You can use the quantization parameter to automatically set the frequency of the oscillators to the intervals of a scale. The four quantization settings are

Chromatic Equal Temperament

,

Diatonic Equal Temperament

,

Chromatic Just Intonation

, and

Diatonic Just Intonation.

Chromatic quantization limits the interval to eight steps, and chromatic limits the interval to twelve steps.

Two 4-Step Sequencers




Each core oscillator is hardwired to its own four-step sequencer

, i.e., oscillator one is connected to sequencer one and vice versa, and provides the basis for which you can create your rhythms. The dial for each step controls the pitch of the step. You can set the octave range for each pitch control to within a range of 5, 2, or 1 octave above and below the initial pitch.

Four Polyrhythm Controls


The polyrhythm features take the set tempo and divide it by a specified value between 1 and 16. Then, the rhythm generator layers the divided rhythm over the chosen sequencer to create a complex polyrhythm. You will be able to lay four separate rhythms over either sequences 1, 2, or both.
10 Tips with the Moog Subharmonicon for Wicked Techno Melody
Character & Sound:
Since Moog makes them, you can expect the iconic smooth Moog tone, but they also offer snappy percussive sound, atmospheric soundscapes, and punchy rhythm arrangements. You can find short recordings of the Subharmonicon in action on Moog's Soundcloud page. The built-in features makes it perfect synth for Techno music.
Pros:
Since they use an analog audio engine, the sequences sway and drift organically with each cycle. As a result, no two playthroughs will sound the same, which gives the Subharmonicon an authentic characteristic.
In addition, the clock generator can receive and output a clock signal to sync external hardware.
Cons:
They do come with a steep learning curve, so you will need to take the time to view tutorials and flip through the manual a few times before you can summon the mystifying rhythms contained within.
Unfortunately, you won't be ahttps://www.youtube.com/watch?v=6bpqbwbfyjAble to save presets, so if you come across any fantastic tones while exploring, you will either need to use Moog's Patch Sheets or take a photo of the interface for future reference.
9. Roland TR-8S (Drum Machine / Groovebox)
The creator of some of the most renowned classic drum machines does it again with this powerful AIRA-lineup rhythm performing instrument.
Roland's AIRA series is a lineup of products that use Analog Circuit Behavior (ACB) technology to recreate some of their classic hardware sounds while providing the kind of flexibility music production today needs.
And as the name suggests, Roland TR8S recreates the sound of the TR-series machines, including the 808, 909, 707, 606, and 727, alongside mods of these models.
Furthermore, it adds a whole new FM synth engine to take your rhythm to another level. Dial precise values, build an entire kit from scratch, or even load custom samples.
Furthermore, onboard effects help make your kits sound even more polished. Let's check out some more of its key features.
Key Features:
Powerful Engine
Roland TR-8S features circuit-level models of the brand's classic TR drum sounds, making the instrument far more flexible than any sampled TR instrument available nowadays. Similarly, you can select the FM synth engine to produce intricate percussion sounds with control over the FM depth, ratio, and feedback via the Morph parameter.
Of course, the best way to customize your drums is by using custom samples. And TR-8S allows you to load both mono and stereo samples that you can blend with the drum synth. Furthermore, you can control the sample's tuning, decay, start points, speed, and playing direction.

Mixing


The drum machine provides filters, distortion, and compression on each drum track. Furthermore, you'll find reverb and delay sends as well as some master effects. The reverb and delay effects are also quite flexible. For example, the delay lets you change the algorithm to tape-style and configure the tape heads. And the master effects include a side-band filter, phaser, flanger, compressor, etc.
Additionally, Roland TR-8S provides eight assignable analog outputs for the drum tracks on the rear edge of the hardware. You can route any number of drums to any output. So, you could connect these to a mixer, outboard effects, or an audio interface to mix them individually or in buses.
Sequencing
Roland TR-8S provides a 16-step sequencer that allows both step recording and live. Furthermore, each pattern features up to eight variations, which you can "chain" together to create a longer pattern. Likewise, you can switch from one variation to another to use it as a different pattern.
Moreover, the variations allow you to copy-paste while playing live, modify the copy while still playing the original pattern, and then chain or switch to the new variation you created. And since you have eight variations per pattern, you could make the pattern length up to 128 steps. Similarly, you can have up to sixteen patterns per bank and eight banks in a session. Hence, the machine provides an enormous amount of pattern memory.
A cool feature in TR-8S is the sub-step. It allows you to create multiple steps in a single step. Also, you can change how many steps you want on each sub-step, which is excellent for creating ratcheting hi-hat patterns in, say, a trap beat. Similarly, "motion recording" allows you to step/live-record automation on almost any parameter on the drum machine. This feature lets you add dynamic motion to your drums or sample clips.
Roland TR8s Live Techno Performance
ROLAND TR-8S TECHNO LIVE SET - JAM USER PATTERNS
Character & Sound:
Roland's ACB technology allows the TR-8S drum machine to accurately reproduce the transistor-based sounds of the original hardware drum machines. It's fabulous how so many of the revered classics are in a single rhythm engine with a spot-on sonic resemblance.
Furthermore, despite the track labeling with drum elements (like the bass drum, snare, hi-hat, etc.), the drum machine allows you to load any type of drum sound on any track. So, you could have multiple instances of the same drum sound if you want. Similarly, the built-in track, send, and master effects completely allow you to customize the sounds.
Combine all of these features with its FM synth engine and custom samples, and it becomes clear that we have a star here.
Pros:
The most significant feature is that you receive all of Roland's ACB drum sounds. So, if you are a fan of the original Roland drum machines, TR-8S becomes a no-brainer.
You can also extend the sonic possibilities by adding custom samples, effect plugins, etc. Similarly, it has one of the best sequencers available on a drum machine alongside multiple outputs, USB audio, parameter modulation, and more.
Cons:
Roland TR-8S noticeably attempts to stay simple in many aspects. For example, while it allows some level of sample manipulation, it comes nowhere near the capabilities of modern DAWs.
Furthermore, the drum machine only allows queued variation or pattern changes, requiring you to program fills in a specific way. Similarly, it doesn't detect the pitch or allow chromatic playing, making recording pitch changes a bit jading.
10. Roland MC-707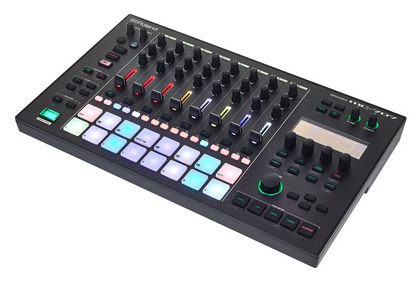 Roland MC-707 is a powerful, efficient, and fun-to-use groovebox with built-in virtual analog synthesis.
This groovebox is the only release in this range since Roland's MC-808 all the way back in 2007. And as with many other modern Roland hardware gear, the clip-based MC-707 groovebox also falls under the umbrella of the AIRA products, meaning it recreates the sounds of the classic drum machines and synths, albeit with ZEN-Core technology and not ACB tech.
ZEN-Core utilizes a mix of PCM audio samples and virtual analog synthesis to emulate hardware gear even more efficiently. Furthermore, you'll find more than merely classic drum machines. These include synths like the JUNO-106, SH-101, TB-303, etc. Let's have a look at its key features:
Key Features:
Internal Library
As you'd expect, the groovebox is full of drum kits from Roland's golden years. These include the TR-808, TR-909, and more, totaling eighty preset drum kits with sixteen drum sounds each. Similarly, there are over three thousand "Tone" presets

(melodic/harmonic) for playing leads, basslines, keys, etc.
The drum engine allows limited controls like tuning changes. So, it is a slight downgrade when compared to the ACB technology with circuit-level modeling. However, the good news is this new technology offers a 128-voice polyphony! So, the tradeoff was essential for a groovebox with a built-in subtractive synthesizer per track.

Sampling


Besides its built-in synth and drum machine, MC-707 offers a practical sampler that synchronizes your project's tempo (essential for drum loop sampling). You can record vocals, instruments, and samples straight into the hardware (up to 12 hours of mono audio and 6 hours of stereo audio). Furthermore, you can tweak and mangle the recordings by slicing, truncating, and reversing them. Likewise, you can trigger them while performing or sequence them into an arrangement.

Effects


MC-707 offers a collection of built-in digital effect plugins. These include chorus, delay, reverb, distortion, guitar amp simulators, etc., per track. Furthermore, you'll find master effects, including a bit-crusher, filters, and a bus compressor. You can also use these to process external audio sources. However, none of these effect plugins have a GUI. So, you will be working with parameter labels and number values like traditional sequencer hardware.

Intuitive


The set of volume faders on the MC-707 is likely the coolest feature on this groovebox. Similarly, user-assignable knobs let you control various parameters as needed. And the 8×2 trigger pads are excellent for triggering clips, playing the drums, and even inputting melodies, thanks to the virtual keyboard LED lighting.
Furthermore, you'll find 5-pin MIDI input and two outputs on the back edge of the groovebox. Similarly, there are two inputs (one mic), two sends and returns, two assignable outputs, and a mix out alongside a headphone out. All of these audio ports are ¼" TS ports. And it doesn't provide a 48V phantom power for condenser mics.
ROLAND MC 707 TECHNO PROJECT #2 @rolandglobal (4K)
#MC707 HOW MAKE A TECHNO TRACK FROM SCRATCH ( no talking )
Character & Sound:
The Roland MC-707 is an efficient 8-track groovebox with built-in sounds. Combined with some effect processing, the drum sounds are ideal for many electronic genres like house, pop, trance, hip-hop, etc. Furthermore, the subtractive synthesizer allows you to explore the sounds of vintage Roland synths.
Similarly, you can find even more sounds and features by updating the hardware with new ZEN-Core sound packs from the Roland Cloud Manager. You can do so using a computer by connecting your MC-707 via the USB port on the back edge.
Pros:
Roland MC-707 balances simplicity with functionality well. A large number of factory presets and sounds allow you to start creating music out-of-the-box. Similarly, it provides excellent effect plugins for individual tracks as well as for the master mix, a feature seldom seen in similar hardware. And it looks esthetically pleasing and professional.
Cons:
The hardware provides a lot of sounds and effects, but the workflow doesn't feel as modern as comparative products by other brands. Although, the clip-based workflow will feel familiar to Ableton Live users.
Furthermore, it lacks individual track outputs. Again, you can do so via USB, but it doesn't feel as straightforward. And finally, you cannot sample one-shots or slice up loops like a modern DAW.
11. MOOG DFAM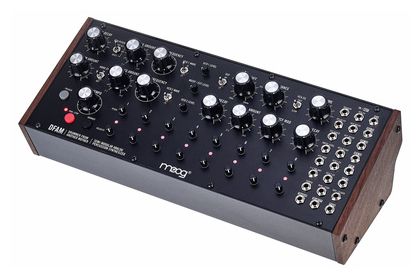 The Drummer From Another Mother follows on from Mother-32 and compliments its predecessor wondrously! And adds to their list of eccentric product names.
The DFAM is a monophonic, semi-modular synthesizer specializing in percussive and rhythmic tones. It integrates seamlessly with other synthesizers and support installation into a Eurorack system.
Key Features:
Two VCOs, A Noise Generator, & An External Audio Input




You will have access to

four different sound sources for creating your percussive soundscapes

: two voltage-controlled oscillators, a white noise generator, and an external audio source. Each voltage-controlled oscillator can output either a harmonically rich square wave or a biting triangle wave, and you can adjust the octave for each oscillator within a ten-octave range.

Two-Way VCF




The VCF can filter the sound by 24dB per octave using either a high-pass or a low-pass filter that attenuates the sound. Also, the resonance control will allow you to emphasize the filter's cutoff point to

create punchy bass tones to sharp percussive tones that cut like a hot knife through butter.

The timber of the filtering is controlled using a single dial. The Filter EG dial lets you control how dynamic and aggressive vs. how tame and dull the envelope modulation sounds.

8-Step Sequencer




The percussive and rhythmic sounds can be arranged using a basic 8-step sequencer. The sequencer offers six controls, two of which are step specific: Tempo, run/stop, trigger, advance, pitch, and velocity. The overall tempo can be adjusted using the tempo dial; otherwise,

if the pitch/velocity output is patched to the tempo input, you can adjust the timing of each step individually.

And lastly, you will be able to manipulate the individual steps using the pitch and velocity dials.

Modular Patch Bay: 15 Inputs & 9 Outputs




You can

expand on the sounds and features using the 24 patch points available.

All parameters of the DFAM can be routed for external modulation or to modulate various parameters within the synth. And it does support integration into a Eurorack setup.
Joris Voorn | Moog DFAM Minimal Techno!
Character & Sound:
The various sounds available are tailored to percussive and rhythmic sounds but can also be shaped to play drawn-out atmospheric tones. If you are curious about the tones available, you can find recorded sound samples on Moog's SoundCloud page here.
Pros:
The interface is painless to navigate since the controls are clearly marked and flow intuitively across the face of the synth. The patch bay may not offer a wide variety of options, but it does expand upon the already great tone exponentially.
Cons:
Unfortunately, the Drummer From Another Mother does not allow you to save sequences or presets for recall later, but Moog does have printable patch sheets that you can download from their website should you want to make a record of any sounds you discover.
12. Roland MC-101

(Groovebox/Sequencer)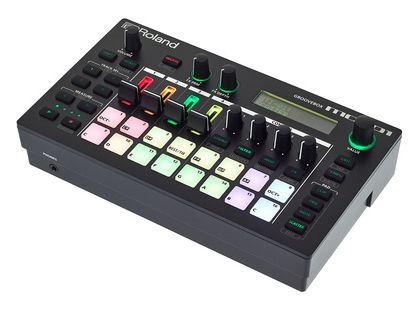 The MC-101 by Roland is a compact groovebox and sequencer with the same sound engine and sequencing power as the MC-707.
It's a better-powered, four-track portable version of the MC-707 that could be used anywhere in the time of instant inspiration. So you have a straightforward workflow in which you get four tracks at your disposal, which could be anything from a drum track, melody, loop, etc.
For example, you can select any track and, let's say, program a kick drum pattern on that track, a melody pattern of a few notes on another track, and so on. Sequencing music and playing on it is straightforward, and you can have quantized or unquantized data recorded.
Key Features:
Scatter
Scatter is a performance effect that lets you chop up audio from each track or the entire mix-out. Using it, you can create dramatic effects while performing and sample yourself while playing something. That is great for generative playing and randomization. Further, it allows you to add pitch, reverse, and other effects to your resampled sounds.
Zen-core synth engine
The synth engine sounds clean, with great in-built presets. You have chromatic scales written down on the pads, but you're not restricted to them and can change them. Overall, the sound engine is capable of some great standalone arrangements and high-quality music production on the go.
You can load up external samples on the device using an SD card, and the MC-101 preserves the stereo nature of the samples and their sonic characteristics without collapsing them into a mono-track. The sampler allows polyphony, with sound shaping possibilities that are great for such a small device with the given price point.
Roland MC-101 MINIMAL TECHNO practice 01
Roland MC-101 | Techno/House (No Talking)
Pros:
Resampling can create "infinite" tracks, and you can layer different instruments/sounds/samples, resample them, load them up, and keep expanding your arrangements. The Abelton-style Clip pad option is also a great pro. In addition, you can add multi-fx to each track, including some great effects like the Juno chorus and different types of flangers, phasers, distortions, filters, etc. At sends, you also have delay and reverb effects.
Cons:
The MC-101 has small pads, which creates resistance if you want to use it for finger-drumming, and the overall workflow is also a bit clunky and takes some time to get used to. In addition, the synth engine lacks sample chopping, and that is something you wish was there. It's great for travelling, touring, and using for immediate inspiration, but it may not be the best studio sampler and sequencer.
Shaurya Bhatia, is an Indian Music Producer, Composer, Rapper & Performer, who goes by the stage name MC SNUB, and is also 1/2 of the Indian pop music duo, called "babyface". A certified Audio Engineer & Music Producer, and a practicing musician & rapper for more than 6 years, Shaurya has worked on projects of various genres and has also been a teaching faculty at Spin Gurus DJ Academy.