Are you looking for Princeton Reverb Amp pedals? Today we'll talk about the Top 12 Pedals for Princeton Reverb 2023.
Its capacity to produce a great tone at lower sound levels made the first Fender Princeton, launched in the 1960s, ideal for use as a recording and practice amp, despite its relatively low 15W power rating. You may invest in a vintage model that has seen better days for a hefty sum, or you can check out the brand-new Princeton Recording Amp.
This modernized model was produced in Mexico using state-of-the-art manufacturing processes (evident by its tightly populated circuit boards) to recreate the original's sound. It does not use point-to-point wiring or hand-assembled PCBs with generous spacing.
The cabinet has a high standard of construction and is very well made. The low cost and particleboard construction may disappoint some, but we found no discernible difference in sound compared to plywood cabinets. Not exactly a lightweight amplifier, but it can get the job done. It has a 2-channel design with independent controls for volume, treble, and bass.
In a nutshell, here are the Top 12 Pedals for Princeton Reverb 2023
6. Behringer Vintage Delay VD40
9. J. Rockett – The Dude Boost/Overdrive
10. JHS 3 Series Harmonic Trem & Octave Reverb
11. Fender The Bends Compressor
12. Way Huge Smalls Aqua Puss Analog Delay
Because the Princeton Reverb amp is well recognized for taking effects well, our selection in this Top 12 Pedals for Princeton Reverb 2023 includes a broad variety of effects, ranging from those that are subtle to those that are evident, manufactured by well-known brands.
Do Pedals Go Well With The Fender Princeton Reverb?
Yet, Princeton is a master in taking pedals, and it is one of the guitar amplifiers that have been recorded the most in history. The Princeton Reverb is one of the most popular guitar amps ever made and one of the most versatile. It has reverb and tremolo and the distinctive, shimmering Fender sound.
Its lightweight and compact design makes it ideal for gigging guitarists searching for a fairly strong combos amp that can cut through the mix in a live setting or recording studio. Also, as a pedal board, it's fantastic for modern guitarists. A pre-amp pedal is available for usage whenever there is a need to alter the midrange frequencies.
You'll discover controls for the effect's duration, velocity, and loudness in the reverb section. The reverb control adjusts the overall reverberation level of the output signal. The vibrato effect is activated by pressing a foot pedal, and its modulating speed may be modified using the speed dial. In contrast, the vibrato depth can be changed using the intensity dial.
Let's follow what the Top 12 Pedals for Princeton Reverb 2023.
Related Readings: 
Top 12 Delay Pedals For Metal 2023 (Any Budget)
Top 12 Plate Reverb Guitar Pedals 2023
Top 12 Reverb Pedals For Metal 2023 (Any Budget)
Top 10 EQ Pedals For Metal 2023 (Any Budget)
Top 8 Boost Pedals For Metal 2023 (For All Subgenres)
Top 20 Guitar Preamp Pedals 2022 (Best Rated)
12 Best Pedals for Princeton Reverb 2023

1. Behringer Super Fuzz SF300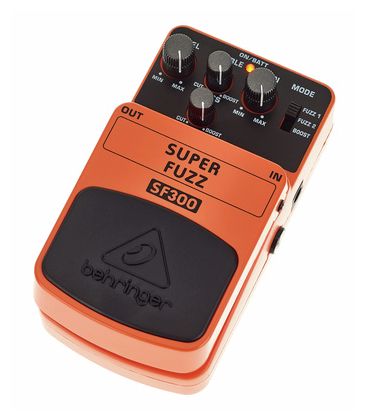 The SF300 is a great option for beginner and intermediate guitarists who wish to experiment with effects by creating their pedal board.
The Super Fuzz is also ideal for someone who has been playing for a while, regularly plays at shows, and knows that the price and performance of an effect matter far more than the name of the company making it. It's easy to see why this Behringer pedal is so popular: it has all the bells and whistles of pricier models but costs a fraction of the price.
Key Features:
Housing
Like the rest of Behringer's pedal collection, the SF300 Super Fuzz has a plastic chassis. The orange paint job on this particular model is eye-catching, and people were pleasantly surprised to find that its construction was quite solid. You could buy six or more of these for the price of one Boss FZ-2, even if it were to break.
Power
A 9V battery or the optional Behringer PSU-SB DC power supply may power this pedal. They put the battery through its paces in tests, and it passed with flying colors.
Behringer does not specify battery life for their products; however, people found that everything worked perfectly even after 8 hours of operation. A battery life indication LED is also included, so you won't have to discover during a performance that you need to switch batteries.
Controls
The Level knob, also known as Output or Volume, is typically used to adjust the degree of distortion applied to your signal. As it is turned up, the guitar's tone becomes less pure and more overdriven. Turning up the gain will assist in getting a distorted, fuzzy, and heavy sound.
Treble and Bass allow you to control how loud high and low tones are. It's the standard equalization control; increasing the Treble will boost high frequencies, and increasing the Bass will do the same for low ones.
Modes
You can find a classic Hendrix-like fuzz tone in Fuzz 1 of this pedal's three fuzz settings. Beginning the evaluation with the Bass and treble active EQ settings at midday gave us a sense of the overall tone. Fuzz 2 is our go-to for everything from a '90s Seattle sound to a full-on doom metal tone, so look no further if you're in the market for a current, grungy fuzz.
Rather than focusing on the midrange, the pedal is designed to emphasize the low and high ends of the frequency spectrum. This volume is perfect if you're playing rhythm in a band because it doesn't drown out the lead instrument.
With the third function, "level booster," we could make the amp break up nicely at low volumes (perfect for the bedroom) and provide a tremendous crunch when turned to eleven.
Character & Sound:
Some guitarists start with one of these super fuzz pedals but go to more extreme, high-tech options. Suppose you don't have a professional budget but still want to experiment with different sounds without taking a substantial financial risk.
In that case, the SF300 Super Fuzz pedal may be your constant companion from the beginning level to professional configurations. This pedal is highly versatile and easy to use thanks to its three super fuzz settings. By adjusting the Trebble and Bass, the effect is almost identical to a high-quality EHS Big Muff fuzz pedal. This boost mode's ability to imitate an overdrive effect is a fantastic added feature.
Pros:
This pedal is designed for beginners and intermediate guitarists, giving them a natural sound they can use to hone their skills in practice and on stage. Like any good tool, it will get you curious about the limits and possibilities of distortion pedals. That's fine with you? Then it would help if you bought this right now.
Cons:
The use of plastic for housing has been criticized for diminishing durability, but it dramatically reduces the price. This is a silly complaint, as we should take care of all our instruments equally regardless of their composition, it's sturdy enough to be used as a tour bus walking stick.
Even though its housing is made of plastic rather than metal, like most pedals, it performs well. Lastly, some guitarists may discover that this traditional style turns them off. You should go elsewhere if you're more into modern sounds.
2. TC Electronc PolyTune 3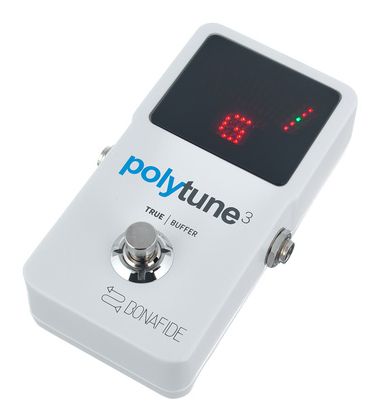 The TC Electronic PolyTune 3 is the next generation of guitar tuners, and it's faster, more reliable, and easier to use than ever before.
This affordable tuner pedal offers three different tuning modes (chromatic, polyphonic, and strobe) and is easy to use. TC Electronic is a household name in the world of guitar effects. The PolyTune 3 doesn't make your guitar sound as amazing as a distortion or delay would, but it will do something more fundamental and crucial: keep you in tune.
The guitar tuner is the most critical component of your guitar's setup, even if it isn't the most interesting thing you can buy. Everything else you have is pointless unless your guitar is in tune.
Key Features:
Circuit
Even though the PolyTune 3 has a small form factor, TC was nevertheless able to fit its Bona Fide Buffer circuitry, which has won multiple awards, inside of it. Newer versions of this popular pedal enhance your tone even when using long cable lengths.
If you put the pedal at the front of your board, where it excels, your tone will remain unaffected for another 50 feet of cable, while true bypass pedals may begin to steal the treble end of your signal. It won't be easy to top the PolyTunes of the past.
Polyphonic Tuning Mode
Listeners will appreciate the polyphonic tuning option of the TC Electronic PolyTune 3, eliminating the need for a tedious routine before each performance. PolyTune 3 makes it easy to see which strings are all in tune and which are not, as you strum all them at once.
Focusing on the high-pitched strings reduces the need for retuning and helps shows go on without a hitch. As you begin tuning, this pedal will change from mono to poly.
Strobe Mode
The PolyTune 3's large, clear display is just the beginning of its user-friendly design. For smaller setups or recording sessions where you're only using one or two effects, TC Electronic provides a 9V output connection to power another pedal in your signal chain.
People also found it helpful when our pedalboard's power supply was at capacity, and we wanted to add another pedal. There are a few extras on the top panel in addition to the 9V in and out. People preferred to avoid fumbling with two power connections while trying to figure out the PolyTune 3's tuning and display mode buttons.
Still, the unit quickly won us over once we got it set up to our satisfaction. The PolyTune 3 is a flexible unit for any guitarist. The display mode button allows you to choose between the needle and strobe tuning modes for electric guitar and bass guitar. The tuning mode button allows you to scroll between normal tuning, drop tunings, and numerous capo settings.
Display
The LED display on the new PolyTune 3 is larger, brighter, and more responsive than ever, making tuning simple in any light. Over a hundred extremely powerful LEDs make this bendable display legible even in direct sunlight.
The PolyTune 3 has an ambient light sensor built-in, so when the stage is dark, the display won't glare in your eyes. This is another example of how the PolyTune 3 adds an innovative attitude to your guitar setup.
Character & Sound:
The PolyTune 3's tuning accuracy consistently pleased us during our time with it, particularly in strobe mode, where the 0.02-cent precision proved to be an absolute blessing for studio and stage use. Strobe mode's visuals required some getting accustomed to, but once we did, we found the way straightforward and, like the rest of this pedal, really useful.
When utilizing the PolyTune 3 as part of a larger, more complicated signal chain, we found that the tone was better preserved and protected thanks to the pedal's built-in, all-analog BonaFide buffer. Multiple tuner pedals exist today, and they all serve the same purpose: to keep your guitar in tune. Few, though, can match the PolyTune 3 for its efficiency, convenience, and user-friendliness.
Pros:
It takes time to discover significant shortcomings when comparing the TC Electronic PolyTune 3 to other similar products. An extremely high degree of tuning precision is combined with a user-friendly interface and a wealth of practical extras.
The PolyTune 3 is durable and long-lasting and can be used by electric, acoustic-electric, or bass guitarists. Once again, TC has proven that low-priced pedals can be just as good as the best in the business.
Cons:
Even with the unit turned off and the pins set to True Bypass, the battery will still drain if the input is connected. Therefore, the battery will deplete even if you aren't tuning in during your three-hour performance. In addition, tracking might be slow, especially when first activated in the default mode. Less receptive to requests for sudden changes in the middle of a set.
3. Boss CH-1 Super Chorus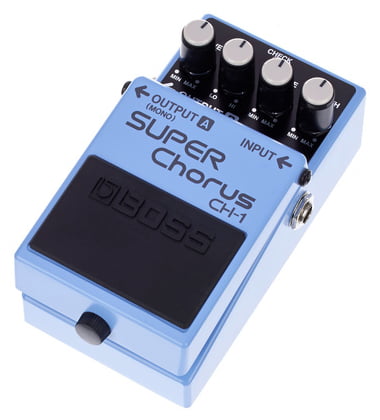 A classic clean and shimmering chorus tone can be yours with the BOSS CH-1 Super Chorus pedal.
It's hard to argue that this pedal isn't the best-selling chorus pedal in the world, and it's a perfect fit for any guitarist or pianist. It's possible to fine-tune your chorus sound with the CH-1's four knobs, which include volume, pace, depth, and equalization.
You may use the pedal in stereo for a lush, wide wave by dialing back the rate and turning up the depth, or you can use it at full speed for a dizzying psychedelic twist. Each pedal in the boss pedal set comes in a sturdy metal enclosure with a rubberized stomp area and base for added traction.
Anyone from a complete novice to an experienced guitarist building their ideal pedalboard may rely on BOSS's tried-and-true pedals to shape their sound.
Key Features:
Controls
The CH-1 is often regarded as the best and most dependable of all guitar effects pedals. Like other Boss foot pedals, this one is built to last and contains four adjustable knobs for fine-tuning the sound. By adjusting the EQ, you may adjust your signal's high and low-frequency contrast, while the effect level determines how loud the chorus effect is.
You may control modulation from a whisper to a whirling chorus with a simple adjustment to the rate. To conclude, the depth slider lets you adjust the chorus's volume. The pedal's mono and stereo outputs allow you to change sound through various amplifiers and speakers.
Stereo Output
Because it has two independent stereo outputs, you can power two amplifiers at once. Try this to emulate the full, resonant rock sound of guitarists like Zakk Wylde and Satch.
When using chorus in stereo, the signals entering each amplifier are modified differently, creating a more distinct separation between each amplifier and the others, giving the impression of many guitars playing together. It is a fantastic tool for sharing your guitar sound with more dimension and intensity.
Housing
The Boss CH-1 is a more classic and old-school chorus pedal than its digital counterparts, which makes sense given that it has changed little since its 1989 introduction. Like other Boss pedals, this one features a sturdy metal chassis and reliable controls and mechanics. Because of its rugged construction, Boss pedals can take repeated use on the road without breaking down.
Connectivity
Powerful moving parts include a mono input and stereo outputs, which create a mystical Stereo sound. The player can fine-tune the sound to their stereo configuration thanks to the guitar's dual jacks. This is how the guitar or piano sounds so natural in live performances.
The pedal's output impedance is 9–10 Kohms or higher, while its input impedance is 1 Mohm. The sound is amplified at the guitar's output components and sent to the amplifier(s), giving the instrument a lively tone. A Jack A/B adapter and DC 9 V are needed to power the pedal. The pedal's included batteries allow a guitarist to use it without being plugged into an outlet.
Character & Sound:
As one of the few pedals from Boss's first generation to still be manufactured after three decades, the CH-1 is an outlier. Updated models have since replaced the CE-20 and other good chorus effects, but the pedal's warm sound has kept it in demand.
Compared to modern chorus pedals, its warm, vintage-sounding chorus is a result of its circuitry and designs being from the past. Compared to vintage pedals, modern pedals lack the warmth and sprinkling of grit that characterizes their sound. It sounds best when it's rarely used. You may achieve the traditional wide and deep guitar sound by setting the effect and depth knobs between 9 and 1 o'clock.
The EQ knob is sensitive enough that you can dial in some warmth to excessively bright tones or add highs to muddy tone rigs by focusing on specific frequencies.  When used sparingly, it produces a beautiful, understated effect that adds life and personality to otherwise static tones.
Pros:
Even after 30 years, the Boss CH-1 continues to sell well, a testament to the quality of its sound and user interface. Thanks to this pedal, the guitarist may easily switch from playing fast guitar chords to playing slower tunes without adjusting any effect knobs.
You can purchase the pedal for between $80 and $110, which is cheap in light of its high sound quality. While newer pedals may offer more sophisticated capabilities, only some can surpass the CH-1 for tonal richness.
Cons:
The pedal has no problems in general, but most complain that the chorus is weak and too subtle. Unfortunately, there are better options on the market, and it only takes 10 minutes to find another one, but if you like it, it's worth a try.
4. MXR Analog Chorus M234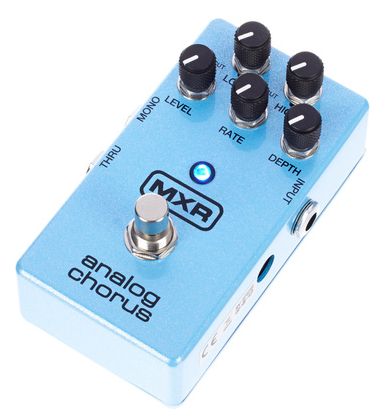 The real analog chorus has a special enchantment. That's why you should add this pedal to your guitar set-up.
The settings of the M-234 Analog Chorus allow for a wide range of effects, from a light shimmer to a dizzying swirl. The pedal's high and low-frequency cut sliders are also very useful for harmonizing your effected sound with your natural instrument tone. Like the rest of the pedals, this one is in a compact and lightweight aluminum chassis.
Key Features:
Layout
With just five knobs, you can adjust just about every aspect of this pedal. It works well enough for some situations but needs more flexibility than a dedicated chorus pedal.
In a word, it's a thick, resonant effect that doesn't mess with your EQ, isn't overpowering but still makes its presence felt and can be used with either clean or heavily distorted sounds. The pedal disagrees; in fact, it provides a great deal of control and a sound that can be adjusted to your liking.
Controls
With the knobs labeled "Low" and "High Cut," you may adjust the amount of low- and high-frequency cuts in the chorus sound. No, this isn't a boost/cut structure, with flat serving as the intermediary. The flat setting is at the far right, while the frequency reduction setting is at the far left.
You may adjust the strength of the impact on your guitar signal by adjusting the Level. The rate variable determines the tempo at which the chorus effect is applied. You can adjust the volume of the chorus with the depth slider.
Of course, you're going to play around with these controls until you find the sound that suits you best. You won't be let down because the pedal can produce both delicate tones and loud, psychedelic noises. With the same settings, this pedal produces excellent clean and distorted tones. You care about this feature because you believe it is where many chorus pedals fall short.
All-Metal Housing
This pedal's casing is made entirely of metal, making it rugged, reliable, and prepared for travel. Every component of this pedal was designed for durability. Its small dimensions mean it won't hog valuable pedalboard real estate.
Every single plug and switch is also high quality and built to last. This Analog footswitch uses what are known as "bucket brigade" circuits. Doing so will give it the genuine sound you're after. One 9-volt battery powers it. If you'd rather use an AC adapter, you can purchase one separately.
Made in the USA means just that. Although some components may be manufactured in the US, most are likely created in MXR's international factories. But, we do have one minor complaint. There are four tiny screws that You can remove to access the battery compartment. A small nightmare if you're in the middle of a performance and need to make a quick change.
Circuitry
The circuitry in this pedal is on par with a bucket brigade. Architecture is extremely popular around the world. You may easily adjust the tempo, volume, and depth of your music. Furthermore, it has frequency reduction controls in the form of knobs.
You can adjust the guitar's tone all the way up or down to the lowest possible frequency with these knobs. The pedal's aqua-blue housing is a nice touch. The materials used to construct this home are industrial grade. In addition, you obtain some sturdy switches in addition to the corresponding jacks. You may rely on them for a long time and receive high-quality service.
Character & Sound:
You can add a chorus sound to your music by gradually increasing the Level till you hear it. By doing so, you can keep from drowning out your audio with a sea of dirty water. Adjusting the Rate and Depth dials may get a wide variety of high-quality, low tones. This is due to the fact that it facilitates a smooth transition from mild to dramatic spatial effects.
Classic hard rock tones may be achieved by turning up the volume on your guitar and slam dunking on the Depth and Rate controls. The pedal is fantastic since it can give a guitar more depth or stage presence. Use the High and Low sliders on the equalization to do this. If you're trying to replicate the sound of a live performance in a recording studio, they're a must-have.
This pedal is like a time machine, transporting you back to the '80s in a little, portable package. The pedal produces a great sound reminiscent of a Leslie wash from the 1960s, so it's a great time capsule. Constantly adaptable, it can also be utilized to produce tones typical of modern music.
The best part is that it's evident from this pedal that the music of yesteryear wasn't all glitz and glamour. You can use this stompbox to produce some very hefty hard rock tones. To get the most out of the MXR Analog Chorus, you'll need to apply a lot of modulation.
Pros:
Addiction to the chorus is possible; if you want to bottle the '80s, this is the pedal for you. On the other hand, it works wonderfully as a modern texture or a '60s-style wash. This demonstrates that chorus can be more than a lovely, shimmering effect when housed in a well-constructed stompbox and built to extend beyond the most obvious uses.
Cons:
It would appear that the pedal wears down rapidly, which is bad. After around three to four months of use, it appears to develop a fault, although we are unsure whether this is due to a specific issue with a production line or a problem that occurs more frequently in general.
5. Fender Pugilist Distortion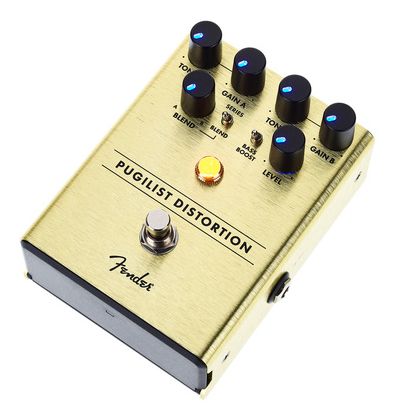 This overdrive pedal packs a hefty harmonic punch.
The pedal features two channels, a left hook and a right cross, and a wide range of tonal shaping and blending parameters, allowing for some filthy playing. Fender is making history with this treasure trove of tones because the business has previously needed help competing in the stompbox industry.
Key Features:
Controls
The volume and tone of each channel can be changed using the pedal. The amp's gain control regulates how much distortion is applied, while the tone control makes more subtle adjustments to the amp's overall volume. The music is broader and warmer at lower volumes, whereas, at higher volumes, it becomes distorted and harsh.
Pugilist's most original feature, though, is its blend control. You can quickly discover the best drive for any condition by turning this knob to the mixing position, which combines the two signals.
You may flip a switch and connect the two drives in parallel if you want an even more aggressive sound. This disables the mixing controls, but you can still adjust the volume and tone of each circuit separately. In addition to the bass boost button, this pedal features an overall level knob for controlling the importance of your signal.
Channels
It has two channels, so you can adjust the distortion amount independently. The volume, tone, and gain controls are independent of each distortion channel. The three positions on the mode switch allow for infinite permutations of the two sounds, which you can further refine with the blend and EQ knobs.
Mute
The mode switch is the beating heart of the pedal, allowing for three different configurations of how the pedals interact. When the volume is turned down, Distortion A takes over, while Distortion B serves as a mask. This option is the least fascinating of the various settings, but we found a few good ones by fiddling with it.
Bypass
The bypass mode offers a second excellent range of tonal tinkering options, including a blend knob for merging the two unique distortions. Mixing a heavily distorted tone with a clearer one, or vice versa is the best approach to achieve note clarity with pinpoint accuracy.
Since the dry output is engaged on the other channel, the guitar tones come through with refreshing clarity while doing the latter.
Distortion
Set the switch to series to replicate the effect of using many pedal board distortion units. When engaged, the guitar's tone can range from smooth overdrive to a high-gain, almost fuzz-like distortion. Distortion A should be used as the primary tone and Distortion B as an overdrive or dirt effect in this setting.
Character & Sound:
This pedal is great for guitarists who want a throaty, punchy drive since it emphasizes the pick and dynamics, especially when the gain isn't completely cranked down. The more challenging, aggressive sound that may be achieved using Channel B is ideal for heavy music.
Using the mix control in conjunction with the method and gain settings for each channel, you can create almost any effect. It shines when producing a solid medium gain tone but can also have a smooth low gain tone and scorching high distortion.
At high volumes, the pedal's articulation is still apparent; the sound wonderfully saturates, but the purity and precision of individual notes are preserved. This is fresh air compared to lesser distortions that squish your signal to nothing when turned up.
Pros:
The California company has been around for a while, but its pedal design is all new. The two-channel layout is novel, and the sound quality is surprisingly high, given the affordable pricing. The instrument's versatility, high build quality, and other performance advancements make it appealing to players of varying skill levels. If you're a guitarist looking for an adaptable and fun distortion, give the Pugilist a shot.
Cons:
Reducing the gain doesn't make up the difference. Low-gain distortion sounds similar to a clipped, clean tone, but badly. It doesn't matter how many combinations of series and blend settings you try as soon as you turn up the volume, that goes away, leaving you with a great sound.
6. Behringer Vintage Delay VD400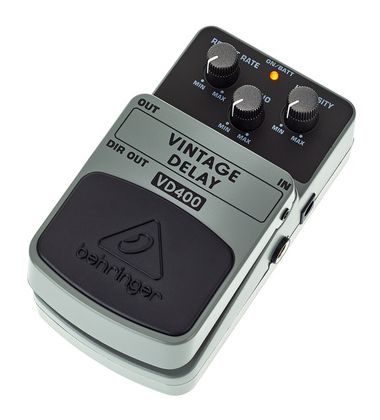 True analog delay pedals, such as the Behringer Vintage Delay VD400, have a distinct sound that guitarists appreciate.
It's deep and ominous, with a distinct ambiance and reverberating echoes. The guitar pedal provides all this and more, allowing you to tune in everything from a tape-style slap-back to long trailing effects with a few simple knob twists. In addition, the pedal's split outputs make it possible to route the delayed and direct sounds in separate directions, which is very neat.
Key Features:
Housing
If you're familiar with Behringer's pedals, you know that their plastic construction is infamous. You're in for a pleasant surprise if you've never held one. The pedal's plastic composition doesn't make it any less durable.
It won't hold up as well to abuse as metal pedals would, but if you're careful with your equipment, you can use one of these pedals on stage. Although inspired by vintage equipment, this pedal has a battleship gray finish.
Controls
Similarly to the DM-3, this pedal's layout consists of a trio of dials that let you adjust the effect's repeat rate, echo length, and intensity. The repeat rate determines how many times the pedal will play back a note you play before it stops.
The delay can be heard as a subtle echo or a precise repetition of the original message depending on the setting for "Echo," which determines the trail off. The pedal's intensity setting determines the number of repetitions it produces.
Connectivity
This pedal is unusual because it has three jacks instead of the standard two. There are the standard line-in and line-out jacks. Still, like the original pedal this is based on, there is also a direct-out jack that lets both the unaffected and impacted signals exit the pedal simultaneously so they can be routed to different amplifiers for a wet/dry effect.
Circuit
This pedal can produce up to 300 ms delays thanks to its analog construction and effective noise cancellation technology. For the most part, this pedal will satisfy your needs, as was previously mentioned. You get a high-quality sound, a natural delay, and responsive controls for the asking price.
This one might not be to the liking of the more experienced player who relies heavily on delay to achieve the ideal audio blend. However, the pedal offers everything you need if you want to add something extra to your guitar attack with this effect.
Character & Sound:
The control arrangement was just as intuitive as the Boss version, if not more so. Turning the Boss clockwise increases the repeat rate while turning it counterclockwise decreases it. On Behringer, the typical lower-for-clockwise and higher-for-clockwise convention applies.
While not the greatest range available, this pedal is adequate for most situations. If you put the pedal's controls in the middle position (midway between the extremes), you will have a good sense of how the sound would generally be. It had a pleasant analog quality that made it sound cozy.
The tape delay effect wasn't believable, but the sound was fantastic. Reducing the echo level led to a delay that was so abrupt it sounded like it had been cut short, which undoubtedly diminished the tone's overall warmth. Not only that, but when you turn off the echo, you can hear more of the ambient sounds.
If the echo is turned up, the sound is softer and more rounded, with less noticeable fizz. A lot of impacts came from turning up the volume. You could achieve tremendous sustain by turning this dial to the right while also being able to rapidly kill the sound by turning it to the left while maintaining a clean and punchy tone.
Pros:
The Behringer VD400 Vintage Delay is a fantastic choice if you're looking for a cheap, flexible analog delay. You can't beat it if you want to add thickness to your 80s hair metal leads, depth to your ambient soundscapes, or anything in between.
Cons:
When the delay is on, the pedal's white noise is manageable. However, the sound continues even after the bypass is activated. The noise is suddenly not contributing to the effect, incorporating it into the board. You can experiment to see if it's ever silent, but when you tried it with several power supplies, with and without other pedals, the noise from the pedal always seemed to linger on the board.
7. Dunlop Fuzz Face JDF2
Fuzz Face pedals are renowned for their deep, warm tones.
This new version of the Fuzz Face is a faithful reproduction of the original. This famous fuzz box, popularized by Jimi Hendrix and other favorite '60s and '70s rockers, is ruggedly built according to the classic germanium PNP transistor construction and vintage specifications.
You may adjust the sound with the knobs for volume and fuzz. The Fuzz Face is perfect for you if you're a contemporary musician who appreciates classic guitar sounds of vintage.
Key Features:
Housing
The housing of the pedal is one of its most intriguing features. Because pedals with a disk shape were eventually phased out, this particular example is quite unusual. The reissued version is a striking shade of red and features numerous germanium-based components.
It wastes a lot of space for no good reason since it has two knobs and one switch. But its form is a significant component of its attractiveness. However, despite its bizarre appearance, it is still one of the best examples of a good vintage fuzz revival.
Controls
Dunlop's JDF2 Fuzz Face only has two knobs, which is surprising considering how large the pedal is. The setup is effortless. One controls the volume, while the other determines how much distortion is applied to the incoming signal. This setup may seem overly simplistic now, but it was all required to achieve a groundbreaking fuzz tone when it was introduced in the '60s.
Inside The Pedal
Any fuzz fan who has been let down by the limited space of digital boxes or smaller analog devices will be pleased with the interior. It has the same degree of complexity as a Fuzz Face and is as straightforward as the trunk of a 1962 Chevy with a straight six engine.
You can readily check and trace the routes of the various components, from the array of capacitors, and transistors to the potentiometers used for the Volume and Fuzz settings. It is functionally identical to similar devices from the era and runs only on 9V batteries.
Character & Sound:
Because it uses antique PNP transistors and is based on germanium, this pedal can produce a wide variety of sounds from the past. You can achieve a wide variety of sounds with its simple controls if you know what you're doing. There's no denying that the awe-inspiring hum of those vintage germanium transistors is as captivating as it was.
The pedal is most interesting with the fuzz turned up; the trick is to use the guitar's volume knob; a slight reduction in volume significantly impacts the pedal's sound. Notably, the Fuzz Face lacks a mains adaptor, even though many fuzz heads prefer the tone of a battery-powered fuzz.
Those aspiring to emulate Jimi Hendrix's signature sound should have one in their arsenal. It has a similar sound to the original Fuzz Face, even if it isn't the original. Overall, it's a competent fuzz pedal, especially by today's standards.
Pros:
Only a little about this pedal makes it preferable to others on the market. Nonetheless, there's no denying that putting on the Fuzz Face is an adventure unlike any other. A fuzz pedal like this might make you long for a simpler era of guitars and tones. Therefore, if you want to experiment with the fuzz effect and own a genuine historical artifact, this is a perfect model to start with.
Cons:
Instead of being on the right, the input jack is on the left. Typically, the input on the pedals is on the right. This isn't very pleasant if you're trying to set it up on a pedal board that slopes from right to left. Remember that snug is as tight as it should get when replacing the battery.
Be careful if you try to strike the switch because the pedal can wiggle a bit. Overtightening the screw causes the backplate to bend in the direction of the exposed PCB, which can cause a short.
8. Boss SL-2 Slicer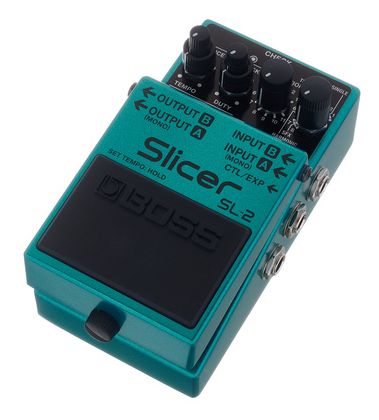 The SL-2 Slicer is a new and fascinating creative instrument from Boss, full of vibrant audio grooves and rhythmic intensity.
You can splice, slice, and dice your signal to create intricate rhythms and percussive grooves, just like the original BOSS pedal, but in a far more compact and pedalboard-friendly package. There are eleven different rhythms to choose from, and you can adjust the tempo with the control knob or the hands-free tap tempo function.
In addition to the conventional tremolo tone, the Type knob offers five more interesting options: dual slice, single slice, tremolo, harmonic slice, and special effects slice. Finally, the pedal is loaded with high-end capabilities like MIDI, expression in, stereo inputs and outputs, and a custom BOSS app to explore even more pattern options.
Key Features:
Housing
People were immediately impressed by how much was packed into the compact body of the Slicer mini pedal. There are six dials, five jack ports, a 9v PSU connector, a TRS mini-jack MIDI socket, and a USB socket on the pedal. This pedal is overwhelming in its density of people.
Modulation Parameters
The Slicer's memory slots store a variety of straightforward volume modulation effects, including a tremolo effect. Attack and Duty are two of the pedal's concentric knobs that you can tweak to personal preference.
Duty is the time interval within a single wave cycle between its peak and trough; however, in the music technology community, this term is more generally known as pulse width, which may cause some confusion for end users. Tremolo patterns can be tailored to the user's preferences by altering the Attack and pulse width Duty.
Controls
Thanks to its streamlined interface, you may make advanced textures in a flash with the SL-2. Two dials allow you to adjust the waveforms for various sonic effects, from sharp, percussive chops to gentle, fluttering tones.
You can activate the tap tempo mode without touching the keyboard by simply holding the pedal switch, and you can change the tempo with a separate control knob. The Balance knob and the +/-12 dB output level govern the direct/effect mix.
Also, you can use an expression pedal to modify the values of the knobs or the volume as a whole. The TRS MIDI input allows the grooves to be timed to a drum machine, digital audio workstation, or any device that outputs MIDI clocks. Expression, tempo, and bypass can also be manipulated via MIDI CC signals.
Effects And Connectivity
The SL-2's TRS MIDI input and mono/stereo output modes make it a versatile piece of gear that should interact with various other devices, such as drum machines and digital audio workstations. Boss gives customers various output options in the latter, including seven different stereo modes.
Single- and two-seater modes of operation are both possible. These settings only require a little explanation. Unlike a dual slicer, which uses two slicers at once, a single slicer only has one. This tremolo effect comes as near as it can to the authentic tremolo sound.
By allowing for wildly variable modulation, the harmonic mode adds another layer of complexity to rhythmic exploration. In addition to the effects already present in the main mode, the SFX mode can also introduce new ones, depending on which of its several submodules is activated.
Character & Sound:
Boss claims that any musician may utilize it, from guitarists to keyboardists to DJs. It looks to include a slicing effect analogous to the original gate. In other words, it's possible to time it to music. It's possible to utilize the effect to imitate an intense tremolo.
This pedal might be for you if you want to add variety and excitement to your musical arrangements with percussion effects. The slicing impact is much more compelling when synchronized to a drum machine, digital audio workstation, or MIDI clock input.
The gadget may prove popular among musicians because of its recent improvements and compact design. This is the way to go if you want to add some pizzazz to your guitar sound without breaking the bank.
Pros:
This pedal is an example of how the availability of novel effects broadens our scope for original musical expression. Boss made it easy to integrate their pedal onto your pedalboard with its modern appearance and vibrant colors, so you can begin creating futuristic tones immediately.
Cons:
This pedal is a bit complicated for such a compact version, so a slightly larger version with slightly more controls would be more useful. It would also be nicer if you could connect midi via USB. Labeling seems confusing at first for beginners, but they will get used to it quickly.
9. J. Rockett – The Dude Boost/Overdrive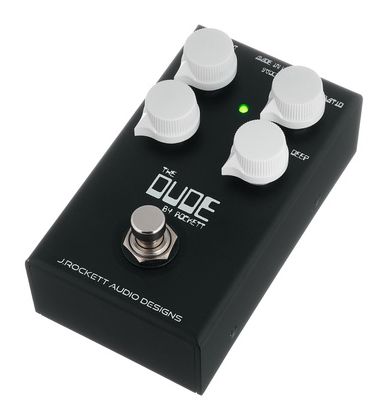 J. Rockett Audio Designs' Dude pedal is an homage to the highly regarded boutique guitar amps used by many professional musicians.
These amps are legendary for their one-of-a-kind sound and playability and their excessive costs resulting from their meticulous, handcrafted construction in California. The Dude's "ODS" tone and feel are reminiscent of the classic D style, and it can produce anything from a transparent clean boost to a searing high gain while still being extremely sensitive to your pick attack and guitar volume control.
Key Features:
Controls
The Dude's straightforward 4-knob design allows you to quickly and easily create the perfect tone for every musical situation. While the Level pot adjusts the volume, the Ratio pot enables instant parallel processing by adjusting the balance between the drive and unprocessed signals.
The Treble and Deep pots allow you to independently adjust the high and low ends. How near the Dude gets has surprised and delighted people, especially given its low price.
Power
This pedal can be powered by either a nine-volt adaptor or batteries; however, the four screws that enable access to the battery compartment are tiny, so you'll need to exercise caution when handling them. The pedal can be powered by either a nine-volt adaptor or batteries. The pedal is relatively small and has just the right weight.
Circuit
Similar to the original Dumble Overdrive Special, this is their rendition. The Dude is a versatile pedal that can be used as a clean boost, generate traditional Dumble sounds, or crank out smooth, high-gain tones, all while emulating the sound of a Dumble-style pedal.
Try out different volumes, but be careful—the Dude can roar. By blending dirty and clean signals via the Ratio knob, the Dude emulates the sound and feel of an amp more closely than other overdrive pedals. The Dude nails the sound of a Dumble Overdrive Special and catches its spirit.
Character & Sound:
Since a Dumble Overdrive Special is arguably the most coveted amplifier in the world, it is no surprise that numerous companies are working on bottling the amp's enchantment in pedal form. The most recent example is JRAD's pedal, which was modeled by a meticulous examination of a vintage ODS.
From roughly 10 o'clock on, the Level knob increases the pedal's output and introduces a clean boost; if you want dirty sounds, the Ratio knob gradually adds gain to the clean growth until the sound is fully overdriven, with some excellent blends in between.
A Treble knob and a Deep knob, which affects the lower mid frequencies and can put in a touch of scoop or dial in a bit of thud, allow for this without sacrificing string purity. When you play through The Dude, you'll hear a Dumble amp's characteristic touch sensitivity and harmonic richness.
If you like melodic lead playing with a lot of fat sustain, there's something for you. Despite the obvious amp parallels, this overdrive pedal is incredibly adaptable.
Pros:
If you touch the Dude, pleasant tones will emanate from your fingertips. As far as we're concerned, this pedal is top-notch, capable of sparkling clean boosts and muddy, grittier gain tones. This overdrive pedal could use for anything from blues to heavy metal.
Cons:
Some models come bundled with latency, but this is a highly particular situation, and you can solve these problems under warranty. The only major problem this pedal has is the design; it's not very clever to put black knobs on a black background, especially not being marked by a white pointer, it can make you confuse the settings when you're on stage, and it's possible to make wrong changes.
10. JHS 3 Series Harmonic Trem & Octave Reverb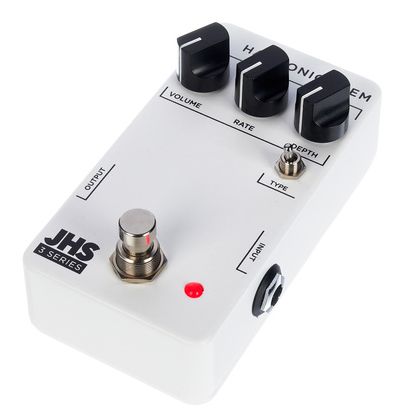 JHS has recreated Leo Fender's legendary tremolo effect with their 3 Series Harmonic Tremolo.
This stompbox's pulsating tone is achieved not through the varying volume but through dual-band filtering and LFOs that alternate between boosting high and low frequencies. The top-panel settings of the Harmonic Tremolo are extremely user-friendly, allowing for a wide variety of sounds and textures, from traditional tremolo to crazy Vibra-Chorus simulations.
The guitar pedal has three knobs for adjusting the tremolo's speed, volume, and depth and a Type switch for selecting between the traditional tremolo and the harmonic tremolo. The 3 Series has an original term effect. If your pedalboard is missing something, this cheap stomp may be the answer.
Key Features:
Controls
The top-panel settings on the Harmonic Tremolo are just as straightforward as those on the rest of the 3 Series pedals. Using the Rate knob, you can adjust the tremolo speed from slow to fast. Turning the pedal's Volume knob from left to right (reduced volume) reveals an unexpectedly loud output from the Harmonic Tremolo.
You can adjust the tremolo effect in intensity by turning the Depth slider. And finally, you can use the Type switch to select between the regular tremolo up and the harmonic tremolo down positions.
Circuit
JHS added the Harmonic Trem pedal to their 3 Series pedal effects. Leo Fender's groundbreaking tremolo circuit from the 60s, featured in the guitar amps, served as inspiration. The name "Harmonic Tremolo" is a bit of a misnomer because the effect was applied to the volume level and not the pitch.
It split the amp's signal into high-frequency and low-frequency components, and the output alternated between the two, creating a hazy effect similar to the well-known Uni-Vibe.
Housing
In addition to its compact design, the box's white exterior and red LED make it stand out against the backdrop of a dark stage, earning rave reviews from users. An LED flashes in sync with the shaking.
You'll see a pedal that's been upgraded to use those blue LEDs that are so hard to miss. The jacks for audio input and output are conveniently located on the sides of the device.
Character & Sound:
It initially drew people to this pedal because of the harmonic tremolo, which offers a unique sound alternative. It's not quite vibrato or univibe, but it has a similar musical quality; it sounds like a combination of phase and pitch change.
At 8 o'clock, you'll hear a glimmer of the effect that adds a pleasant background to the sound. Increasing the depth to around 2 o'clock also improves the sound significantly. The output of this pedal has a nice balance between dry and wet sounds.
There is a volume knob, which is a fantastic addition to a tremolo pedal. The effect is quite true to the guitar's natural tone. In other words, the pedal is not significantly modifying the EQ or volume of the guitar's original signal, so it is not coloring the sound.
You can get a lot of different tones out of the tremolo setting by playing around with the depth and rate. All settings for depth and tempo are reliable. This pedal produces an extensive range of tones.
Pros:
We can't say enough good things about this pedal. It has a sleek design, solid construction, and excellent sound. If tremolo is your thing, this is an easy choice. It sounds equally as wonderful as the more expensive choices.
Overall, the JHS 3 series pedals give the impression that you got a lot of bang for your buck. Anyone who enjoys tremolo, or those who don't, should listen to this. You can now try the motivating effect of harmonic tremolo without breaking the bank.
Cons:
The pedal switch seems to come broken at first, but indeed the problems are minor and can be easily returned. There aren't too many drawbacks to the pedal; it does its job well.
11. Fender The Bends Compressor
Fender has innovated in the realm of fantastic compression pedals by giving you access to something different.
The Bends has been meticulously designed to give you complete dynamic control over your tone while preserving your guitar's original feel and response. You may dial in The Bends' lightning-fast recovery time until you get the right feel.
The Blend knob allows you to reintroduce as much of the original signal as you'd like. With the release of the Bends compressor, Fender is making a solid return to the effects pedal market.
Key Features:
Controls
This pedal is a studio-grade footswitch that smoothes out sudden changes in volume without affecting your sound's character. By adjusting the Drive and Recovery knobs, you can find the sweet spot between compression and sustain for your playing style, and by adjusting the Blend knob, you can keep your natural pick attack while still extending sustain.
As you play, the Amp Jewel LED will go from white to pink to indicate when the compression circuit is active and how long it will alter your signal.
Housing
Lightweight and sturdy anodized aluminum is used for the chassis, and the Amp Jewel LED provides that iconic Fender aesthetic for your pedalboard. On a dark stage, you can easily see what you're doing with the controls thanks to the LED illumination. With our patented, magnetically-latched 9V battery door, we even made battery swapping a breeze.
LED
When the compressor runs, the operational lamp is white; however, it turns pink during compression. While a sliding scale showing compression levels would be ideal, in practice, compression is either on or off. Each dial has an LED that may be turned on independently of the main indicator. It's great when it's completely dark, but the unit's blue LEDs become like runway lights when used as part of a home practice rig at night.
Character & Sound:
With care and deliberation, they choose the pedals and rack effects required to achieve this compressed tone. You can use it with an orchestra or a jazz drummer because of its crystalline tone, heavy vintage design, and infinite, lightning-fast dynamic command typical of studio outboard equipment.
As a progressive company, Fender has also included a wet/dry blend knob, which allows you to add an extra layer of nuance while preserving your clean tone for purists. The Bends can be used to steady an unsteady pick hand or to lengthen the sustain to an almost inconceivable level.
Pros:
There is no such thing as a "poor" compression setting; only a variety of effects to choose from—Low-noise and clear. There is no audible pumping, even at the highest volume settings, and even then, it is musical. A background in engineering is unnecessary.
The new Fender-style battery box is the best one available. Changing a board's batteries takes three seconds and causes no other disruptions. Batteries can be used in place of an external power source, eliminating the need for an electrical outlet.
Cons:
Like other Fender pedals that don't have driving effects, this one has a strange limitation: the range of possible adjustments is extremely narrow. It seems that until the 'Drive' knob is closer to the 3 o'clock position, the pedal will not compress.
Turning the 'Drive' knob to four o'clock causes the compressor to distort the incoming signal. This could be useful if you used the pedal at the end of your signal chain. You will notice little compression effect while playing notes within that range. It works only if you put in a lot of effort.
12. Way Huge Smalls Aqua Puss Analog Delay
The Aqua-Puss will enchant the riffs and leads of your music.
Easy to use, simply adjust the Delay time and the Feedback repetition count before blending to taste. The pedal's true potential is unlocked by adjusting the Blend knob, which allows everything from subtle coloring to eerie wails and moans to be added to the soundscape.
The pedal comes into its own for rockabilly-style slapback, where it can add layers and personality without overpowering the rest of the sound. The pedal's real hard-wire bypass switching is a bonus, as it protects your signal more thoroughly when turned off.
Key Features:
Circuit
Even though a significant company is now making the pedal, it still has all the same great characteristics that made the original so famous. In every tone it produces, its all-analog circuitry shines through.
The controls are standard fare for guitar delay pedals, so you won't have trouble getting the hang of things and using the pedal to great effect. Compared to modern standards, the delay time here is short, at 20ms to 300ms; this is precisely what made the original pedal so famous.
Housing
The bold blue color and the graphical writing immediately grab your attention. The bulky black knobs attached to the surface provide the finishing touch. You won't need to sell it again and again because of how wonderfully it's made.
Further, the pedal's circuitry has AC protection to ensure that power adapters won't cause any harm. This pedal, like most stompboxes, may be powered by a single 9V battery or a Dunlop DC converter, both of which are accessible via the unit's non-removable battery compartment. The unit's full bypass functionality ensures that it will send your sound in its original form.
Controls
The control system has few moving parts but is effective. After all, this is how the masses may hear the circuitry's magic. The large size of the encoders allows for effortless fine-tuning; adjusting the controls feels like you're using your fingers to handle the various knobs and dials.
If you've used an Aqua-Puss or similar delay pedal, you're undoubtedly already familiar with the controls. The Delay knob is the first to adjust; this feature adjusts the delay time, ranging from 20 to 300 milliseconds. With this method, you may quickly switch from short delays to lengthy ones.
The next step is feedback, which modifies the cycle length. With this feature, you can adjust the echoed sound to your liking and check the results thoroughly. The blend is the final knob, and it combines unmodified and delayed signals. Both quantities grow as the controls are turned up higher. The immediate on/off footswitch/true bypass switch is also available.
Character & Sound:
The manufacturer was careful to preserve the distinctive Aqua-era Puss sound. Furthermore, it was a smashing success. For example, if you expect to find a certain sum of money in your bank account but don't find it, you know you have a replacement pedal. 
The analog warmth permeates every pore of the reissue, giving it its distinct flavor. The extreme gloom and distortion that it exhibits are what set it apart. Your riffs will gain thickness and vitality with the repetition of faster delays at different tempos.
When things are slowed down, and the delay is increased, however, a beautiful echo is produced that improves the presentation. The delays will reverberate off of each other audibly if you apply excessive feedback. One of the most interesting aspects of this pedal is its Blend knob.
It's not like a regular wet/dry mixer because it boosts the loudness of the original signal and the one that's been altered. What's left is a finished sound that stays true to your instrument's roots. Instead of trying to remove it, it has chosen to live beside it.
Clock time noise, typical of analog delays, is also present. They have obtained the full circuitry and are sending it to you unaltered, which may or may not be a good thing.
Pros:
The pedal is high-quality in its many useful features and the sounds it produces. The fact that it is enclosed in a vintage-style, robust case is just icing on the cake. Try out the pedal even if you have no interest in or knowledge of the original. If you don't take my word for it, you can check out the included sound snippets to hear why this is one of the best analog delays available.
Cons:
The headroom is minimal, and the delays are highly distorted. It seems strange to hear a distorted repetition on a guitar that is otherwise very clean, but this is something to keep in mind if you are using an overdrive effect. It would be wonderful if there were more headroom on the pedal.
Bonus:
Keeley Red Dirt Overdrive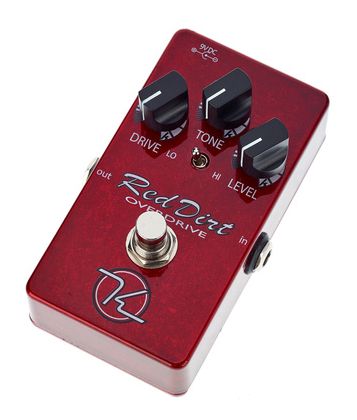 The traditional drive and incredible sound diversity of the Red Dirt Overdrive guitar pedal make it suitable for any genre.
Robert Keeley, a renowned pedal designer, essentially merged the fantastic tones of his classic Mod Plus and Baked modded pedals and then added improvements normally only seen in his bespoke pedal line. Many guitarists are certain that we have died and gone to pedal heaven because of how alive and natural the end product is.
Key Features:
Controls
Only three knobs and a single toggle switch are needed to control its full range of effects. You can achieve everything from a pure increase in speed to Overdrive with a crunchy, shimmering texture by starting on dirt and working up to the highest level.
If you desire a darker tone, keep piling on the dirt until you get the level of saturation you want. The pedal's strength lies in the fact that it can produce a wide variety of overdrive tones while retaining that remarkable "Keeley" quality that sets Keeley pedals apart from the competition.
Mods
The Red Dirt Overdrive is essentially a Tube Screamer-based overdrive with Keeley's "baked" mod and "mod plus" added to it. The pedal has a particular FET input stage that accurately imitates the sounds of a failing valve amplifier. It has the standard volume, gain, and tone knobs of a TS-style overdrive and a "lo-hi" toggle between the two mod settings.
Switch
A transition between "lo" and "hi" does affect the sound, however, the change is negligible when played live. It is a helpful feature since it allows you to maintain a robust tone even in a bright room and provides additional articulation in a muffled one.
Character & Sound:
You'll feel at ease with this small red box if you're used to using effects pedals like a Tube Screamer. Nonetheless, the available levels of thrust may surprise you. If you use it as Stevie Ray Vaughan did, the Red Dirt Overdrive is pretty close to transparent. It adds a touch more mellowness and sustains and raises the mids.
So, it does add some color to your signal, but in a good way, especially if you're utilizing a strat. When used as the last gain stage, it produces a thick-clipped saturation well-suited to more aggressive musical styles.
There is a huge spectrum of motivation to draw from between these two poles, where you can find your distinctive voice. Flipping the 'lo-hi' switch makes a difference in the sound; however, the effect is subtle in a live setting. It's a great tool for maintaining a full sound in an acoustically bright room or adding clarity to a murky one.
Pros:
The pedal is loaded with top-shelf parts and is built in the USA. Robert Keeley insists on having things his way. As a result of its military-grade construction, your Red Dirt Overdrive will last years of use on the road while continuing to sound fantastic and function flawlessly.
Cons:
The EQ section of the pedal provides a small amount of compression, which makes the pedal sound a little more digital. Otherwise, there aren't too many negative things to say about it.
Conclusion
They were at the very Top 12 Pedals for Princeton Reverb 2023. Because this amplifier can interact with various effects, making it incredibly versatile and sophisticated, we have picked pedals that pedalboard musicians frequently use to represent this selection. There is no doubt that Fender pedals stand out from the crowd, but you should be aware that they are not the only pedals compatible with the Princeton Reverb Amp.
In terms of the tone of your Princeton Amp, we hope that this Top 12 Pedals for Princeton Reverb 2023 has helped you meet some new friends and has also given you a notion of how adaptable it is.
Related Readings:
The 12 Best Tuner Pedals For Bass & Guitar 2023
Top 7 Ring Modulator Pedals For Bass & Guitar 2023
The 13 Best Fuzz Pedals For Bass 2023 (All Budgets)
13 Best Overdrive Pedals For Bass 2023 (All Budgets)
The 11 Best Wah Pedals For Bass 2023
The 13 Chorus Pedals For Bass 2023 For All Budgets
11 Best Autotune & Pitch Correction Pedals 2023
The 13 Best Phaser Pedals for Bass 2023
13 Best Distortion Pedals For Metal 2023 (All Budgets)
Top 6 Overdrive Pedals For Worship Guitar 2023
Can I Use Guitar Pedals For Bass? Is it okay?
Top 12 Pedals For Metallica Tone 2023
Top 12 Mini/Small Guitar Volume Pedals 2023
Top 11 Reverb Pedals For Synths 2023 From Top Brands
Top 12 Harmonizer Pedals For Vocals 2023
Top 9 Best Glitch & Stutter Pedals 2023
Top 13 Vibrato Pedals For Bass 2023 (On All Budgets)
Top 7 Available Arpeggiator Guitar Pedals 2023
13 Best Compressor Pedals For Bass 2023
20 Best VST Pedal Plugins 2023 (Chorus, Distortion,Reverb,Delay)
12 Best Mini/Small Compressor Pedals 2023 (All Budgets)
Top 12 Guitar Pedals Great For Telecaster 2023
11 Best Effect Pedals For Jazzmaster Guitar 2023
Top 12 Delay Pedals For Vocals 2023 From Top Brands
Top 12 Effect Pedals Great For Les Paul Guitar 2023
20 Best Pedals for Guitar Solos 2023 (Boost, Delay & More)
Top 12 Reverb Pedals For Vocals 2023 From Top Brands
8 Best Pedals For Rickenbacker Bass 2023
Top 12 Guitar Pedals Great For Stratocaster 2023
Top 12 Multi FX Pedals For Acoustic Guitar 2022
6 Best Noise Reduction Pedals Available in 2023
Top 12 Plate Reverb Guitar Pedals 2023
Top 14 Rotary Pedals & Leslie Sims 2023 (Best Rated)
Top 10 Pedals For Techno, House, DnB & EDM Music
Top 11 Pitch Shifter Pedals 2023 For All Budgets
How To Use Guitar Pedals In Logic? Answered
Top 7 BitCrusher Guitar Pedals Available 2023
Top 12 Delay Pedals For Metal 2023 (Any Budget)
Top 12 Reverb Pedals For Metal 2023 (Any Budget)
Cheap VS Expensive Guitar Pedals: Main Difference, Pros & Cons
The 11 Best Ambient Guitar Pedals 2023
Top 8 Boost Pedals For Metal 2023 (For All Subgenres)
Top 10 EQ Pedals For Metal 2023 (Any Budget)
12 Best Wah Pedals For Metal 2023 Update
Top 12 Spring Reverb Guitar Pedals Available in 2023
Top 20 Guitar Preamp Pedals 2022 (Best Rated)
Top 11 Hardware Vocoders 2023 (Best Synths & Pedals)
12 Best Fuzz Pedals For Metal (Doom, Sludge, Stoner & Death)
Best Lo-Fi Guitar Effect Pedals 2023 For Unique Tone
Can I Run Vocals Through The Guitar Pedals? Answered
4 Best Analog Saturation Pedals 2023 (Tone Shapers & Tape Saturators)
Top 4 Limiter Pedals 2023 You Can Get (Best Guitar Limiter Pedals)
Top 2 Best Guitar Sidechain Compression Effect Pedals 2023
Top 6 Modulation Plugins 2023 (Flanger, Phaser, Chorus…)
Top 6 Chorus VST Plugins 2023 For Musicians (And 3 FREE Plugins)
Top 7 Phaser Plugins 2023 (And 3 Best FREE Phasers)
Best Flanger Plugins: 6 Picks To Emulate Your Sound 2023
The 7 Best Tremolo VST Plugins 2023 | Eventide, SoundToys..
The 7 Best Vibrato VST Plugins
Top 9 Leslie & Rotary Speaker Plugins 2023
Death metal enthusiast here. I am a Romanian musician and producer with over 13 years of experience in the music industry. I've experienced all types of Metal up until now, playing Melodic Death Metal, Brutal Death Metal, and Black Metal with different bands. Learning by doing is my base principle, which is why I've been drawn to sound design from an early age. Read more…