This article will discuss the twelve best hardware filter modules and filter banks for analog sound in 2023. 
Filter modules are standalone hardware or circuitry that consist of filters for filtering out audio signals, getting rid of a particular range of frequencies or harmonics/partials. These can be used in your modular workflow to create musical/rhythmic filter sweeps and movements. 
These are heavily used in electronic music to create unique and innovative musical effects and movements. Different filter modules have different sounds due to the difference in their circuitry, the electronic components, the settings in which you use them, etc. Now, let's understand how analog filters work. 
How do analog filters work?
Analog filters work by using resistors and capacitors as filters, with the cutoff frequency controlled by a potentiometer under the hood. We will go in-depth into understanding the above statement. Let's start with understanding what a filter is. A filter lets only some part of the audio signal or only some frequencies pass through. 
For example, a lowpass (or high-cut) filter lets only frequencies lower than a frequency, called the "cutoff frequency," pass. Similarly, a highpass (or low-cut) filter lets only frequencies higher than the cutoff frequency pass through. Then, in a voltage-controlled filter (VCF), these frequencies can be filtered using capacitors and resistors in different orders.
You can set the cutoff frequency by using a potentiometer which controls the amount of resistance that the resistor offers to the signal. In analog terms, the slope of the filter is called its order. For example, a filter with a slope of 6 dB/octave is the first-order filter, a filter with a slope of 12 dB/octave is called the second-order filter, and so on. The slope decides how sharp or smooth the filtering is.
The higher the slope, the sharper the filtering happens at the cutoff, and the lower the slope, the smoother the filtering is. Next, let's understand what resonance is. Resonance exaggerates or suppresses the signal at the cutoff point. So high resonance will increase the signal's amplitude at the cutoff frequency and add a sloppy bouncing behavior to the signal. 
Whereas lower resonance will dip the signal amplitude at the cutoff frequency. There are nonresonant filters for which we cannot change the resonance. Lastly, let's discuss the Voltage Controlled Filter or the VCF. A VCF lets you control the filter's behavior (mainly the cutoff frequency and resonance/Q-value) by an input control voltage. 
In a VCF, different slope settings are called poles. For example, a filter with a slope of 6dB/octave is called a 1-pole filter, a filter with a slope of 12dB/octave is called a 2-pole filter, a filter with a slope of 24dB/octave is called a 3-pole filter, and so on. Some VCFs have variable slope settings as well. 
Top 12 Hardware Filter Modules 2023
1. Sherman Filterbank 2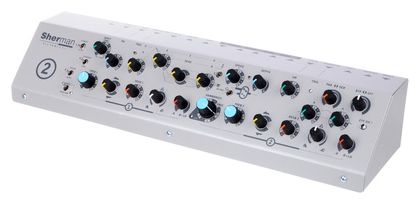 Sherman Filterbank 2 is a physical/analog filter and distortion unit. 
It is a compact and versatile machine with many different effects, including filters & tube sound overdrive, that can be used with any sound source, instrument, synthesizer, oscillator, etc., to create interesting movements and warm sounds. Both live musicians, DJs, producers, and studio producers and engineers can use the Filterbank 2. 
It has two independent low pass, band pass, and high pass filters, with resonance, frequency, and ADSR controllers. It also has inputs for frequency and amplitude modulations, and you can work with the device in both series and parallel connections. The colorful knobs on the white-colored well-built board give it a great feel and hands-on control. 
Key Features:
Connectivity
Any sound source, whether a guitar, bass guitar, sampler, synthesizer, microphone, drum machine, CD player, violin, etc., can be used as input on the device. It has a pedal input, the main signal input, MIDI in, out, and thru, FM in, AM in, Trigger AR, and the main output, giving you the option to connect with more filterbanks or effect units as well.  
Modulations
When you connect a signal as input, the trigger light indicate when the filter bank is active. The device allows for LFO Modulation with speed and depth settings, AR (Attack Release Modulation), LFO with AR trigger, ADSR (Attack-Decay-Sustain-Release) modulation, FM – Frequency Modulation, and AM – Amplitude Modulation. 
Filters
There are two identical filters with a 12dB/oct slope, cutoff knob, and resonance knob. However, the filters have a correction knob that allows you to create complex filter shapes with -B+LH and -B extremes, where B = Band Pass filter and LH = Low or High Pass filter.
So essentially, it creates complex shapes by subtracting the bands from each other. There's also a harmonics knob that allows you to add harmonic content to the sound. 
Sherman Filterbank Walkthrough and Demo
Pros:
It's a high-quality machine with butter-smooth knobs and controllers, built in a tabletop workflow, along with great sounding analog filter architecture that makes the output warm and punchy. You can get creative with the filter waveshapes and use the device with various sound sources. It also helps that the device is compact and portable, which makes it convenient for traveling musicians and DJs. 
Cons: 
It may take time to get used to Filterbank 2 and adjust it to your workflow. First, it doesn't have any screen for visual display, so the entire workflow is ear-dependent. The filters have a fixed slope, which makes their flexibility questionable. Lastly, the pitch tracking is not accurately built and is random. 
Good For:
It's good for sound designers looking for a creative filter machine, performing musicians/instrumentalists who want a device for their instrument by which they can create interesting modulation and filter-based effects in real-time, or studio-based music producers looking for a reliable analog filter. 
2. Behringer 121 Dual VCF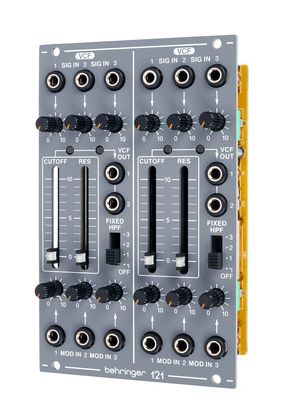 121 by Behringer is a dual analog voltage-controlled filter that is a recreation of the legendary 80s-based "System 1ooM" circuitry.
It comprises two filter sections with cutoff and resonance sliders, a fixed highpass filter switchable between three different modes, and a lowpass filter. You can have up to three signals and three modulation inputs on each channel. The filter circuit and architecture are designed to create modular-based sonic scapes and sound effects/modulations. 
Key Features:
Authentic in sound
The recreation of the 80s-based System 100M dual VCF is as organic as possible, evident in its design and sound. The high-quality resonance and cutoff sliders are responsive and sensitive to the touch. In addition, you can pull off butter-smooth sweep actions with the three variations of highpass and lowpass filters.
Hands-on control
You can have independent and complete control over the signals from the 3 CV inputs and 3-channel mixers per VCF that you can attenuate, mix and play around with. Similarly, the resonance and cutoff controls are great, and you also get fixed cutoff frequency switches (1 kHz, 2 kHz, and 5 kHz) for the HPF.
Compatible with Eurorack
Eurorack is a modular synthesis hardware workflow and format design you can build and use for a modular synthesis-based sound design workflow. Behringer 121 dual VCF is made to fit into the Eurorack case. and has the right connectivity to fit into its workflow.
Pros:
It's rare to find a modular and analog filter bank at this price point, which is its biggest pro. You can combine it with oscillators, sound sources, VCAs, modulation devices, and other instruments to get creative and complete your workflow. It's also portable and light and has good connectivity. 
Cons: 
The problem with the device is flexibility and control. There need to be more modules and controllers to give you sufficient options to shape and sculpt your sounds. It's great at what it does and sounds good, but it lacks the functionality that a modern workflow requires of a filter bank. 
Good For:
It's great if you are a sound designer, a modular synth, or a Eurorack user looking for a functional filter bank at an affordable price. You can set it up with the Behringer 1o0, 110, 112 modules, etc. Its sound is edgy and punchy as compared to the silky Moog-type filters. 
3. Intellijel Designs Morgasmatron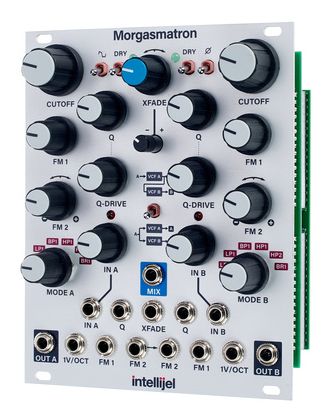 Orgasmatron by Intellijel Designs is a Eurorack dual-filter module with plenty of additional effects and functionalities. 
It's one of the most feature-rich analog filter modules you can find, and it has options that the previously listed filters on the post do not have. For example, you can do frequency modulations, add saturation effects, have the flexibility to set the cutoff and bandwidth of curves of the filters, and more. You can also set the signal flow between the two VCAs in series or parallel. 
Key Features:
Crossfade options
It has an XFADE knob that allows you to crossfade the two filters. So you can set the mix of filters A and B and decide which of the two filters you want to dominate more and if you want to keep them at the same level.
In addition, there's also the X-fade ATTENUVERTER which reduces and inverses how much a signal appearing at the XFADE CV input jack modulates the XFADE and an X-fade LED light for indicating which of the two filters is more dominant in terms of mix.
Overdrive switch
You can activate an overdrive switch on filter A to provide an aggressive and saturated texture on the filter. You can also derive that effect by boosting the Input or Q-Drive, which introduces soft clipping.
Frequency Modulation
You can modulate the cutoff frequency of both filters by sending a modulator signal at the FM input. For example, the FM1 knob will allow you to set how deeply the incoming signal modulates the cutoff frequency. In addition, the FM 2 knob allows for the incoming CV signal to modulate either only filter 1's cutoff or the cutoff frequency of both filters.
Filter Modes
You can select the filter modules between 2 lowpasses, one bandpass, two highpasses, and one band reject/notch filter. For the filters, you can select the cutoff frequency, their Q value or bandwidth, and the Q-Drive, which adds additional drive to the filter resonance and adds a "growl" texture to the sounds.
Other features
There's a phase-invert switch to phase-invert the signal from filter B before entering the XFADE. In addition, there are also "DRY" switches by which you can keep the inputs of both filters the same as their outputs. Plus, there's an additional switch by which you can feed the signal of the two filters into each other in series or parallel.
Intellijel Morgasmatron || How I Use It
Pros:
It's easy to use and expands your creative potential to create interesting and unique soundscapes. It is designed to fit into Eurorack and is a great tool to be added to your modular sound design workflow. Self-oscillations and the overall intuitive design & workflow are huge pros of the device.  
It has flexible routing, modulation options, an expandable sonic palette, and six filter modes. In addition, the 1V/octave module in both filters allows chromatic playing and expands your sound design's scope. 
Cons: 
A resonance control and slope control are missing from the Orgasmatron. Learning the workflow may take some time and could be confusing initially. However, the manual is well-written, and will take care of that. Also, the inputs are mono only. Lastly, a filter bank's price point above $300 is a lot.  
Good For:
It's great if you're looking for a versatile and feature-rich all-in-one filter bank with good flexibility and capability. It's great for sound designers, music producers, studio musicians, solo performers, and performing DJs/instrumentalists. 
4. Doepfer A-124 VCF5 Wasp Filter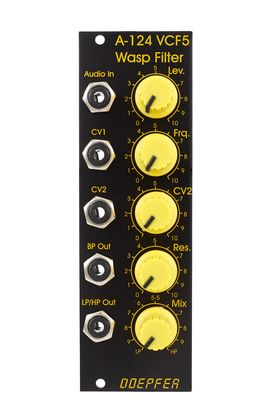 Doepfer A-124 is an analog filter compatible with Eurorack priced at just $105. 
The filter bank is based on the filter found in the 70s-based EDP Wasp analog synthesizer, known for its strange, dirty, and unique signature sound. The voltage-controlled multimode filter has a fixed cutoff slope of 12 dB/octave and is switchable between band pass, low pass, and high pass filters. 
Key Features:
Core technology
The core circuitry uses digital inverters as analog operational amplifiers, giving it the dirty and distorted sound and sonic texture it's known for. Plus, the circuitry is based on the Wasp synthesizer manufactured by the EDP (Electronic Dream Plant).
CV/inputs
It has two CV/inputs that allow you to connect it with external modulation devices for interesting movements and effects in frequencies, pan, and amplitude. In addition, the band pass filter's output differs from the high pass and low pass filters.
Compact and simple
The filter bank is small, easy to carry, and fits into your modular workflow/Eurorack. The design is straightforward and uncomplicated and allows for smooth and resistance-free sound design.
Doepfer A-124 VCF5 WASP 🐝 Filter
Pros:
The biggest pro of the A-124 is its signature sound that you cannot find in any other filter. First, it has an organic feel which is hard to emulate with any ordinary filter bank. Secondly, its price point and small size are attractive. 
Cons: 
The filter has little to offer in terms of functionality. Its simplicity may be the charm, but it needs more versatility and flexibility. Unfortunately, that may limit its use in creative sound design and experimentation. 
Good For:
It's good for its buzzy, thick, and chunky sound. It's affordable, easy to use, simple, and compatible with Eurorack. It's also engaging, inspiring, and fun to play around with. 
5. Erica Synths Black Polivoks VCF V2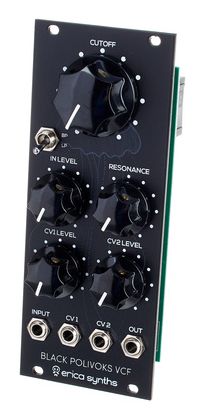 Erica Synths Black Polivoks is a compact VCF with high-end and precise functionalities.
It emulates the Russian synth "Formanta Radio Factory Polivoks," and the device uses the circuit's authentic Russian ICs K140UD12 technology. It's designed to fit your modular synthesizer demands with high-resolution parts to deliver punchy, warm sounds and deep controls. 
Key Features:
Controls
The Polivoks VCF 2 has knobs for the cutoff frequency and resonance controls. You can also control the input levels and CV1 and CV2 levels. In addition, the filter is switchable between band pass and low pass modules.
Connectivity
The device is well-responsive to external modulations and accepts between -10 and 10 V of CV input. The power usage is between 11mA (+12V) and 11mA (-12V). In addition, it has independently buffered inputs, ensuring an output signal of great quality.
Erica Synths Polivoks VCF II
Pros:
Polivoks is a sophisticated recreation of the classic original synthesizer, ensuring the authentic taste is reflected in the device's sound. It's compact, easy to use, and has a slick visual appeal and design. It can also fit in your Eurorack filter module and is easy to install; the packaging provides everything you need, from screws to the power ribbon cable. 
Cons: 
It doesn't have a high pass filter, and the overall functionality could be better, given the price point of the filter. It functions well with Erica Synths' other devices like VCA and VCO but may need to be more efficient. 
Good For:
It's good for anyone looking forward to adding a filter bank that is warm, punchy, and great for bass sounds in their modular or Eurorack workflow. In addition, it can work for you if you're into collecting old-school analog audio machines or want to integrate that sound of the filter into your workflow. 
6. Schlappi Engineering 100 Grit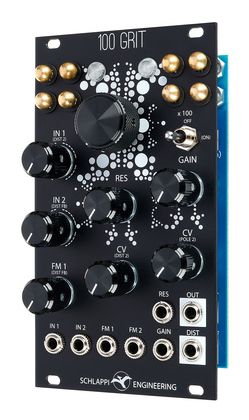 100 Grit is an analog filter with VCA and distortion. 
It consists of a 2-pole lowpass filter with knobs for cutoff frequency and resonance. In addition, it has two FM inputs, two changeable audio inputs with an optional overdrive functionality, a 2-pole CV input with volume control, a distortion switch with an x100 gain switch, and Operational Transconductance Amplifiers (OTA) – based VCA. 
Key Features:
Connectivity
The device has extended connectivities for frequency modulations, distortion, resolution, and gain. That allows you to expand the device to a regular analog filter and use it as a modulator, distortion unit, and amplifier.
Touchpoints
100Grit has an interesting interface as it has a touch point map, with eight touch points that are direct resistive connections to parts of the circuit that you can connect with fingers, cables, alligator clips, or any conductive surface. That provides an interesting workflow using which you can use your thumb and fingers to assign a signal flow.
Flexible signal flow
The circuit of the 100Grit is open to which you can make changes. For example, there are two headers, both of which can be changed per your preferences. Similarly, you can also calibrate the Resonance Amplitude Trim (RV3) and Symmetry Trim (RV4 & RV8) in the circuit for different settings of the controllers.
Schlappi Engineering 100 Grit // Eurorack filter, VCA, distortion & feedback noise instrument
Pros:
The feature richness, including distortion, FM, and VCA-based functions, are the biggest pros of the device. You can also set the device to allow feedback and self-modulate. Lastly, all the connectivity and features are packed into a compact 14U wide and 25mm deep board. 
Cons: 
As a filter, it doesn't suffice as it only has a low pass filter, and that too with a fixed slope. Moreover, the workflow can be complicated as so much is packed on a small board. It's a comprehensive and versatile tool but doesn't specialize in anything. 
Good For:
It's good for sound designers, music producers, and modular enthusiasts with good knowledge and experience working with analog devices, as it has an advanced and unconventional workflow. But that could also inspire creativity and experimentation. 
7. XAOC Devices Belgrad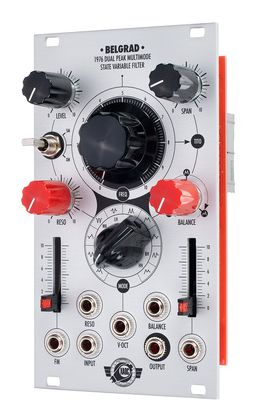 Belgrad by XAOC Devices is a Voltage Control Filter with many additional unique characteristics and features.
The interesting part about it is the varying frequency response that the filter has in different modes and settings. You can dive in-depth with your filtering process while exploring some interesting movements and modulations. The filter can cover from 4 Hz to 28 kHz of frequency, and voltage-controlled filtering is an option. 
Key Features:
TITO Switch
The device has two modes in which it can operate, which can be accessed and switched between using the TITO Switch. The SM mode adds a radical and textured sound to the resonance, whereas the XM mode gives a character chirpy and warbly sound.
Filter Modes
There are ten filter modes: LL (Double Slope Lowpass), LB (Low Pass + Band Pass), NL (Low Pass with an additional notch in passband), NN (Double Notch), LH (Lowpass + Highpass), BB (Double Bandpass), HL (Bandpass), HN (High Pass with a notch in passband), BH (Bandpass + Highpass), and HH (Double Highpass).
Each mode has different curves with different slope settings combined to give attractive colors and sonic flavor at different values of SPAN.
Other Features
The FM and Span sliders are two unique controllers that aren't found in many filter banks. Other than that, there's a Balance knob that allows you to select symmetry and set which peak out of the lower or higher is more dominant.
Pros:
The Belgard filter is overpacked with features and sonic capabilities that allow you to experiment and create new sound design possibilities. Working with it can be fun and complicated simultaneously, giving you the flexibility to unleash its creative potential. In addition, it has filters with variable slopes, which not many analog filters have. 
Cons: 
The Belgard has a workflow so unique and new that it could take time to get used to and fully exploit all its functions. Secondly, most times, you require a filter in your modular workflow to do simple subtractive duties and may not need so many functionalities. Lastly, a filter's price is high, so it may only be affordable to some. 
Good For:
It's great for immersive sound design and music production experience. You can go for it if you want to experiment with a unique and feature-rich modular filter and can afford a filter device that costs more than $500. 
8. Dreadbox Eudemonia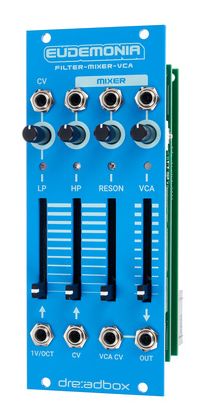 Eudemonia is a compact dual filter, mixer, and VCA. 
It has two filters: high pass (18 dB/oct nonresonant) and low pass (24 dB/oct 4-pole), with their respective jacks and sliders and a resonance slider. In addition, a voltage-controlled amplifier slider comes just before the final output in the signal chain. It accepts +/- 5V of Highpass filter CV input and +/- 12 V of 1V/oct Lowpass cutoff filter CV Input. 
Key Features:
Simple and Compact
The workflow and the functionality of the filter are straightforward and uncomplicated. It has VCA LED that turns from orange to red when the output level exceeds 5V. In addition, it allows three audio inputs in the mixer, each having a dedicated knob for amplitude. The device has a 10HP footprint.
Affordable
It's one of the few analog filter banks priced below $100. The filter's design, build, four CV connection points for complex Eurorack module routing, and sound is pretty good for their price, making it a great bargain.
EUDEMONIA / Filter- Mixer - VCA - CHROMATIC MODULES by Dreadbox
Pros:
The filter is compact and has a cool blue-themed design and interface. The price, responsible controllers, VCA, lights, and easy workflow are some of its pros. Overall, you get a fully functional analog filter at an entry-level price. 
Cons: 
The highpass filter has a fixed resonance that you cannot change. In addition, both filters have fixed slopes, which makes the flexibility and versatility of the device questionable. Lastly, you must buy the power supply separately, which is not included in the packaging.  
Good For:
It's good for straightforward filtering and movements at an affordable price and can easily fit your modular workflow. If you're short on budget and need a decent filter bank, the Dreadbox Eudemonia is a great option! 
9. Behringer 914 Fixed Filter Bank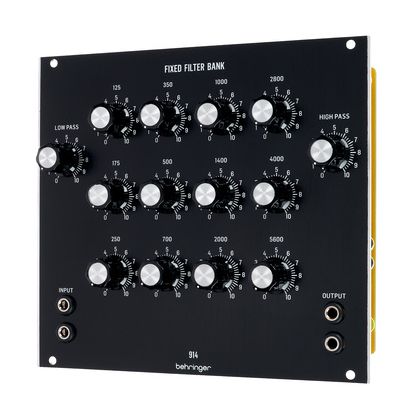 The Behringer 914 Fixed Filter Bank consists of 12 active bandpass filters, a high pass, and a low pass filter.
It's a great tool to shape the tone of your sonics, with twelve active bandpass filters ranging from 125Hz to 5.6Khz, each having its dedicated knob. In addition, there are highpass and lowpass filters with 24 dB/octave of the slope. It can fit your Eurorack module and add slight overtones to the bands. 
Key Features:
Complete hands-on control
The bandpass filter knobs are present at 25Hz, 175Hz, 250Hz, 500Hz, 700Hz, 1kHz, 1.4kHz, 2kHz, 2.8kHz, 4kHz, and 5.6kHz, which gives you access to in-depth sonic sculpting and shaping the timbre and resonance of the sound source. Lastly, the two inputs and outputs are routed in parallel.
Affordable
Priced at just about $100, the filter sounds great! It's an organic recreation of the original analog fixed filter bank module "Modular 55″ Series," with sturdy knobs, a rugged build, and a slick & unique overall design.
914 Fixed Filter Bank Eurorack Module
Pros:
The installation of the device is easy, and the device itself is easy to use. You get good command over the tonal balance of your sound. Overall, it's like a hardware EQ machine, but it also has an analog feel due to the harmonic content it adds to the sounds, making them warmer and punchier. Price and ease of use are also some of the pros.  
Cons: 
It's a $100 Equalizer, for which you may not need a hardware device. In addition, there's little scope for filter modulations and creating rhythmic filter movements. The lowpass and highpass filters have fixed slopes and bandwidths, and the peak frequency is about 7.5 kHz only.  
Good For:
It's good for detailed sonic shaping and frequency balancing. It is an honest recreation of the original and has that particular sonic characteristic built into it. 
10. Joranalogue Audio Design Filter 8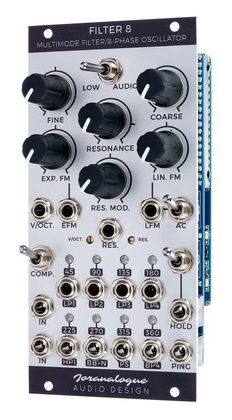 Audio Design Filter 8 is an 'OTA style' multi-pole voltage-controlled filter.
It consists of four lowpass filters with different poles, a 1-pole highpass filter, a 4-pole bandpass filter, a band-boost + notch, and a phase shifter. The filter is designed creatively not to lose the low-frequency response when the resonance increases. As a result, you can also create oscillations on Filter 8 at high resonance. 
Key Features:
Filter flexibility
The flexibility, especially with the lowpass filters with different slope settings (or poles), allows you to go in-depth with creating modulations and filter movements. In addition, there's a high pass with 6 dB/oct of slope and a bandpass with 24dB/oct of slope. You can create interesting phase movements and effects with the phase shifter.
Modulation flexibility
There are two dedicated knobs for linear and exponential frequency modulations (FM) that you can use, along with using the 1 V/octave input and low-frequency modulation AC-coupling switch. That allows for a great scope for sound design. In addition, you also have the flexibility for self-oscillations with 8-phase sine waves separated by 45 degrees. Lastly, the device also allows for LFO modulations.
VCF capabilities
The device allows you to maintain and stabilize the temperature using the sine wave VC(LF)O, with knobs for fine and coarse pitch tuning. The filter can cover a high-frequency range of 2.8 to 27 kHz. In addition, two inputs allow for greater flexibility for connection and patching.
High-quality build
The overall build and design materials are of great quality and are made in Belgium. Filter 8 uses high-resolution electronic components in its circuitry, including black nylon washers and complementary hex keys.
Tonal capabilities
The "ping" input allows you to trigger a transient generator to shape your sonics tonally. In addition, the resonance, resonance mode, coarse, and fine knobs let you further fine-tune and sculpt your sounds accurately to your taste and sensibilities.
Module Overview #1 - Joranalogue Filter 8
Pros:
The Filter 8 is packed with unique and innovative features and is still compact and small, with minimal controllers. The sophisticated design, user interface, sturdy build, and Eurorack-compatibility make it a great bargain at about $250. Lastly, at an affordable price, you get an OTA-based filter bank with multiple poles and mixed-band filters which also sounds great!
Cons: 
You can do a lot with this device by Joranalogue Audio Design, but it can take time to get used to and understand it enough to exploit its potential fully. In addition, the workflow can get confusing and complicated because it has so much packed into a small board. 
Good For:
It's great for inspiring fresh ideas and doing innovative sound design. You get the flexibility to experiment and control your overall process. However, you need good knowledge of how analog audio machines work. So it's not suited for beginners. 
11. Tiptop Audio Forbidden Planet Analog Filter

The Forbidden Planet Analog Filter is a simple, fun, affordable analog filter.  
It has three audio inputs: low pass, high pass, and bandpass, a filter cutoff frequency knob, a Cutoff CV control input, a CV jack attenuator, resonance control, an additional CV control, and output controls. You can enter any audio signal from any sound source into the inputs and create interesting filter effects. 
Key Features:
Easy to use
Simplicity is the key for a device like Forbidden Planet, as you can perform any filtering, but the signal path and workflow are uncomplicated. Everything is straightforward. Just plug in your input and output, and start working!
Analog Nature
The classic rich and airy analog sound is created due to the filters of slope 12 dB/octave, self-oscillating behavior, natural saturation, and voltage-controlled inputs giving it its vintage, warm, and punchy sonic characteristics.
Tiptop Audio Forbidden Planet
Pros:
It's a great-sounding filter at an affordable price, with just enough capabilities and features to fulfill your subtractive purposes. It has just what you need in a filter bank and can easily fit your modular or Eurorack workflow. It's equally good for both live and studio sound design purposes. 
Cons: 
Its pros are its cons, as the simplicity could also remove the feature's richness. It's good for subtractive sound design duties, and that's it. You would need a separate module for modulations and tonal sculpting. Lastly, all filters are 2-pole. A dynamic/flexible pole would have been a good addition. 
Good For:
It's great as an inexpensive standalone filter module that you can use with any instrument, synth, or oscillator or fit into your Eurorack. It's simple, compact, visually attractive, and readily available. 
12. NANO Modules FONT

FONT is a simple and compact analog filter module.
It consists of a 2-pole low pass filter, a 2-pole bandpass filter, a CV input for frequency and its attenuator, a CV input for resonance and its attenuator, a 1V/oct keyboard tracking input, resonance knob, and a cutoff frequency knob. It sounds great and has a crunchy response, especially to bass and mid-frequencies. 
Key Features:
Superior Core technology
FONT is a voltage-controlled filter using the V2164 IC, a high-quality and sophisticated integrated circuit. It uses Operational Transconductance Amplifiers (OTA), which gives the filter a smoother movement and less internal distortion than the transistor ladder VCF design.
Resonant Filters
You can cause self-oscillations by driving the resonance at maximum values. You can create an additional oscillator and use it as a sine oscillator. In addition, you can use the resonance attenuator that adjusts the amount and polarity of resonance modulation from the CVR input.
Affordable and simple
The FONT's design by Nano Modules is uncomplicated, the signal flow is straightforward, and the device is easy to use. At about $100 of price, you get a well-built filter bank with high-quality circuit components.
NANO Modules FONT // Tiny Eurorack filter with a BIG sound!
Pros:
Its price, small size (6 HP width and 20 mm depth), ease of use, and high-resolution internal machinery are some of the biggest pros of FONT. In addition, it can also be used as an oscillator, and it sounds great with an edgy and sharp texture. Lastly, there's a three-year warranty on the product. 
Cons: 
The filter bank lacks a highpass filter, which makes its use limited. At the same price, analog filters are available in the market with the capabilities of low pass, high pass, and band pass filters. The poles of the filters are fixed at 12 dB/Oct. 
Good For:
It's good for anyone looking for high-quality and economical low pass and band pass filters for their modular rack or eurorack.  
Bonuses:
1. Doepfer A-106-5 SEM Filter

Doepfer A-106-5 SEM Filter is an analog filter with bandpass, lowpass, and highpass filters. 
It consists of two CV inputs, one audio input, one bandpass out, and one lowpass-highpass mix. In addition, there are dedicated knobs for cutoff frequency selection, CV2, volume/level, resonance, and mix. It can fit into your Eurorack rig and sounds smooth and warm. 
Key Features:
Affordable
SEM filter is a simple and easy-to-use filter at an affordable price of $111. It can easily fit into your modular workflow to fulfill subtractive duties with its warm and silky filters.
Distortion Effects
When the input signal is driven too much, the device adds a slight distortion to the signal instead of letting the signal self-oscillate.

Filter modes


The Oberheim SEM filter is a 12 dB multimode filter with one output as a bandpass and the second as a mix between low and highpass. The output turns into a notch filter when you keep the mix at 50%.
Pros:
It's a good-quality filter that is made in Germany and has a decent sound and hardware build. Its attractive price point and to-the-point performance are its pros. 
Cons: 
The SEM Filter is limited to being a filter without having any additional features for modulations or effects. It's straightforward, but its simplicity could sometimes be uninspiring and boring. 
Good For:
It's great for you if you're looking for a compact and simple filter module for your modular rig. Lastly, it's beginner-friendly, easy to use, and can connect easily to any workflow, whether live or studio.
2. Make Noise QPAS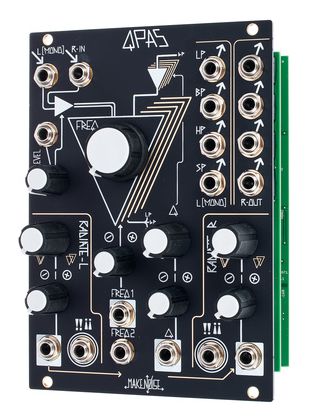 Make Noise QPAS is a Eurorack synth with four different filter outputs. 
It has a low pass, band pass, high pass, and a unique smile pass stereo filter output, a frequency selector knob switchable between the three (low-, high-, and band – pass) filters, stereo VCA, and voltage control. It's great for FM synthesis, as the modules and knobs are responsive, and the dual radiate controls are great for creating interesting movements and contrast between the left and right channels. 
Key Features:
Filters
The smile pass filter is bell-shaped, can morph through the cutoff range, and can deliver consistent amplitude across the entire spectrum of the frequency range. In addition, the QPAS filters have a 12 dB/octave slope, making for a gentle cutoff curve that can sweep through the frequencies smoothly.
Animation & Stereo Imaging
The multi-peak operations on a stereo channel are well-supported by the quad-core filters that allow you to create interesting effects in the pitch, pan, volume, and other parameters.
You can create the sweeps on noise, synths, instruments, and any sound sources and create cool and unique stereo and animation effects and modulations.
Hence, it's great for binaural sounds, ear candy effects, sound design experiments, and inspiration.
Resonance and Peaks
The one big knob in the middle is the common cutoff knob for all filters, with a separate resonance knob by which you can add harmonic content. The amount of feedback and external voltage can also be controlled using their respective knobs.
Creative Effects/Modulations
You can emphasize just the harmonics using the sweeps, which creates a very musical movement of the harmonics, especially when you're playing across octaves from an external instrument. You can create ring shifts and some cool bell and melodic percussion sounds.
Pros:
You can create radiate format-based effects using the radiator knob, and the Voltage Controlled Amplifier can drive the filter and add fatness and warmth to the overall sound. The 1v/octave control in the filter can let you play chromatically and create naturally detuned bell sounds that sound great!
The mono-to-mono, mono-to-stereo, stereo-to-stereo, and stereo-to-mono patches are great and give you a huge scope for some interesting sound design. Lastly, the controls, especially the resonance, are clean. 
Cons: 
The filters have a fixed slope. Some flexibility would have been good! 
Good For:
It's great for stereo movements, FM effects, percussive sounds like bells, xylophone, glockenspiel, ring modulations, and binaural effects, with limited yet sufficient control for maximum creativity. It's easy to use and great for creating complex and unique sounds. Any sound designer would love using the QPAS by Make Noise. 
Conclusion
Many analog filters are available in the market, some of which are simple and easy to work with, and some are more innovative and uniquely packed with additional features, effects, and modulations. Depending on your needs, you will find the right filter that suits your budget and sensibilities.  
To conclude, Sherman Filterbank 2 is the most versatile filter module. On the other hand, QPAS by Make Noise, Morgasmatron, Filter 8, and Belgard by XAOC devices are the most innovative filter modules and are great for sound design purposes. Lastly, the Forbidden Planet Analog Filter and Polyvoks VCF V2 are the best affordable and simple filters. 
I hope the article was helpful. Thank you for reading!
Readings that you may like: 
Other Recommended Gear:
Top 12 NearField Studio Monitors On Any Budget
Top 10 Midfield Studio Monitors For Home Recording
Best Biggest Studio Monitors (FarField Monitors)
Top 10 Guitar Pickups for Low Tunings 
Top 10 Analog Compressors For Mixing & Mastering (On Any Budget)
Top 12 USB Audio Interfaces Under 150$, 200$, 300$ 400$ (Any Budget)
Top 12 Hardware Equalizers (Analog EQs For Mixing & Mastering)
Top 6 Analog Hardware Limiters 
Top 6 Solid State Bass Amps (On Any Budget)
Top 6 Ribbon Mics On Any Budget (For Vocals, Drums & Guitars)
Top 6 Cheap Dynamic Mics For Vocals Under 50$, 100$, 200$ & 300$
Top 6 Chorus Guitar Pedals (On Any Budget)
6 Best 61-Key MIDI Keyboards (On Any Budget)
9 Best 49-Key MIDI Keyboards Under 100$ & 200$
Top 5 Best 25 Key MIDI Keyboards (On Any Budget)
Top 12 Acoustic Drums (Best Kits/Sets On Any Budget)
Plugin Roundups:
Genre Focused:
Top 10 EDM Plugins  (And 10 Best FREE Plugins For EDM)
Top 10 Plugins For TRAP Beats (And 5 Best FREE Trap Plugins)
20 Best Plugins For Rock Musicians (+ 6 FREE Plugins)
Top 14 Trance Plugins (Uplifting, Tech, Progressive, Vocal, Dream, Hard)
Top 10 GOA & PsyTrance Plugins (Best Psychedelic Trance Tools)
Top 7 Plugins For Dubstep (With 10 Best FREE Effects & Synths)
Top 20 Synthwave Plugins (+ 11 Best FREE Plugins)
Top 15 Plugins For Techno, House, Electro, Tech House, UK Garage
Top 6 Plugins For Latin Music  (And 4 FREE Tools)
Top 12 Plugins For Hip-Hop (+ Best Kontakt Libraries)
Top 7 Plugins For Game & Film Scoring  (+ 6 Best Kontakt Libraries)
Top 10 R&B And Pop Music Plugins & KONTAKT Libraries 
30 Best Free Plugins For DnB, EDM, IDM & Experimental Music 
EQ Plugins
Top 12 Free EQ Plugins For Precise Mixing & Mastering
Top 9 Mid/Side EQ Plugins  For Mixing & Mastering (+ 2 Free Tools)
Top 7 Graphic EQ Plugins  (With 3 Best Free EQs)
Top 7 EQ Plugins For Mastering In | And Best FREE Mastering EQs
Top 6 Passive EQ Plugins (Klevgrand, SPL, UAD, Waves, IK Multimedia)
Top 11 Plugins For Making Metal (Best Guitars, Drums & Effects)
Metering:
Top 5 Audio Metering Plugins (LUFS, RMS, LRA, True Peak)
Top 6 Spectrum Analyzer Plugins  – Spectral Analysis Tools
Top 6 Oscilloscope Plugins To See The Waveforms
Top 5 Key Detection Plugins & Software  (+ Best FREE App)
Kontakt Libraries
20 Best Kontakt Libraries For All Categories (Synths, Drums, Vocals)
Top 7 Drum Libraries For KONTAKT (And 4 Freebies)
Top 7 Trap Music Kontakt Libraries (And Best Lo-Fi Kontakt Library)
Top 7 Metal & Rock Kontakt Libraries (Best Guitars & Drums)
Top 10 Guitar Libraries For Kontakt (Acoustic, Electric, Bass & Freebies)
Top 7 Trailer Scoring Plugins & Kontakt Libraries 
20 Best Free KONTAKT Libraries For Various Instruments
Top 9 Piano Kontakt Sample Libraries  (And 5 Best Free Pianos)
Top 10 Percussion KONTAKT Libraries  (And 3 Freebies)
Top 7 Kontakt Libraries For Horror & Thriller Scoring (No VSTs)
Audio Restoration, Calibration & Utility:
Top 6 Noise Reduction Plugins (And 3 Best Free Tools)
6 Best Audio Restoration Plugins & Software 
Top 7 Phase Alignment Plugins To Fix Your Bass & Drums
Top 10 Room Calibration & Headphones/Speakers Correction Plugins 
Instrument Plugins: 
Top 6 Vocoder Plugins (Effects & Synths + FREE Vocoder)
11 Best Rhodes VST Plugins (AND 5 Free Rhodes Plugins)
Top 12 Randomizer Plugins Including FREE Plugins
Top 6 Kick Drum Plugins (Best Kick Designer Tools)
Top 12 Woodwind Plugins (And KONTAKT Libraries)
Top 10 Double Bass Plugins (Best Upright Basses)
Top 5 Strings VST Plugins (AND 4 Best Free Instruments)
Top 6 Sampler Plugins (And 3 Best FREE Plugins)
Top 6 Classical Guitar Plugins & Kontakt Libraries (And FREE Guitars)
Top 12 Sub Plugins (Best 808 & Bass Tools For Massive Low End)
Top 10 Plugins On PluginBoutique (And 7 Best Free Plugins)
Top 11 Plugins On Plugin Alliance 
Top 7 Acoustic Guitar Plugins (And 4 Best Kontakt Libraries)
9 Best Bass Guitar Plugins (And 2 Best Freebies)
Top 6 Electric Guitar Plugins (Best PAID & FREE Picks)
Top 10 Arpeggiator VST Plugins (Best Synths, MIDI Effects & Tools)
Top 10 Modular Synth Plugins (And 3 Best FREE Plugins)
Top 6 Choir Plugins & Sample Libraries (And 3 Best Free Plugins)
11 Best Percussion & Drum VST Plugins (And FREE Plugins)
Top 8 Piano Plugins (Best Sounding Pianos & 5 FREE Piano Plugins)
Top 6 Organ Plugins Ever Made  (And 3 Best Free Organs)
Top 14 VST Plugins For Beginners (And 9 FREE Plugins)
Top 9 Drum Machine Plugins (And Groovebox Plugins)
4 Best Banjo Plugins (Best Banjo Instruments)
The 5 Best Ukulele Plugins & Kontakt Libraries 
Top 13 Synth Plugins (And 5 Best FREE Synths Plugins)
Top 13 Sequencer Plugins  (Synth, MIDI & Step Sequencers)
The 10 Best Multi-Effect Plugins (And 3 Best Free Plugins)
Top 12 Plugin Bundles For Musicians (Synths, Mixing & Mastering)
Processing & Sound Design:
8 Best Lo-Fi Plugins (PAID & FREE)
Top 11 Plugins For Mixing Vocals  (For Home Studio)
Top 12 Saturation Plugins (Best Mixing & Mastering Tools)
Top 6 Pitch Shifter Plugins (And 3 Best FREE Pitch Shifters)
Top 6 Chorus VST Plugins For Musicians (And 3 FREE Plugins)
Top 6 Limiter Plugins For Precise Mastering & Mixing
The 8 Best Filter Plugins For Precise Cuts & Boosts (+ 5 Free Filters)
6 Best Autotune Plugins To Improve & Enhance Your Vocals
Top 10 Transient Shaper Plugins (VST, AU, AAX)
Top 7 Enhancer Plugins (For Bass, Drums, Vocals & Harmonics)
Top 6 Flanger Plugins (And 5 Best FREE Flanger Emulators)
Top 7 Phaser Plugins (And 3 Best FREE Phasers)
Top 10 Plugins For Mixing Drums (And 3 Best Free Plugins)
Top 7 Bitcrusher Plugins (And 4 Best FREE Bitcrushers + 3 Bonuses)
Top 6 Plugins For Voice-Over & Dialogue Cleaning (Post Production)
Top 10 Stereo Imaging Plugins (Best Old & Modern Picks)
Top 5 Multiband Limiter Plugins 
Top 7 De-Esser Plugins For Better Vocals (And 4 FREE Plugins)
Top 7 Clipper Plugins (Best Limiter Alternatives)
Top 6 Chord Generator Plugins That Inspire Melodies (+ FREE Tools)
7 Best Exciter Plugins For Mixing & Mastering
Top 7 Channel Strip Plugins (And 2 Best Free Plugins)
Top 11 Distortion Plugins (And 4 Top Free Plugins)
Top 5 Comb Filter & Resonator Plugins | Melda, Kilohearts, Tritik
The 7 Best Vibrato VST Plugins | Audec, Audiority, Melda
The 7 Best Tremolo Plugins | Eventide, Melda, SoundToys, Kuassa…
The 7 Best Harmonizer Plugins | Eventide, Melda, Aegean Music
7 Best Sidechain Plugins (VST, AU, AAX) | Xfer, Cableguys..
Top 10 Noise Gate Plugins (And 6 FREE Free Gate Tools)
The 6 Best Ring Modulator VST Plugins | KiloHearts, Melda
7 Best Autopan VST Plugins | CableGuys, Melda, Waves, Soundtoys
The 6 Best Frequency Shifter VST Plugins
Top 11 Granulizer Plugins For Future Sound Design
29 Best Sound Design VST Plugins
Compressor Plugins
Top 11 Free Compressor Plugins (VCA, Vari-Mu, FET, Digital)
Top 7 Multiband Compressor Plugins (And 4 FREE Plugins)
Top 5 Diode-Bridge Compressor Plugins 
Top 6 Mastering Chain Plugins: Complete VST Solutions 
The 7 Best VCA Compressor Plugins (VST, AU, AAX)
Top 11 Mastering Compressor Plugins (And 2 FREE Plugins)
Top 10 Opto Compressor Plugins For Transparent Sound
The 7 Best Vari-Mu Compressor Plugins (And 2 Best FREE Tools)
Reverb & Delay Plugins:
Top 12 Reverb Plugins (And 5 FREE Reverb Plugins)
The 6 Best Spring Reverb VST Plugins | AudioThing, GSi, u-he, Eventide
Top 12 Delay Plugins For Music Production In (VST, AU, AAX)
Top 10 FREE Delay Plugins (VST, AU, AAX)
The 10 Best Convolution Reverb Plugins 
Amps & Preamps:
Top 10 Guitar Amp Plugins (And 5 Best FREE Simulators)
Top 10 Bass Amp Plugins (And 5 Best Free Simulators)
Top 9 Preamp Plugins (For Vocals, Guitars & More!) + Free Preamps
Guitar/Amp Focused:
Can I Put Nylon Strings on a Steel-string Guitar?
Do Electric Guitars Sound Good Unplugged?
Buying Your First Guitar: 2 Things To Know
Are Tube Amps Worth It? (Tube vs Solid-State Amps)
How Often Does A Guitar Need a Setup?
Can I Play Classical Guitar On A Steel-String Guitar?
How often guitar necks need reset?
Can You Play Two Guitars Through One Amp?
Can a 6 String Bass Be Tuned Like A Guitar?
Can I leave My Guitar Tuned Down a Step? Yes, But Is It Safe?
Should I Learn 4, 5 Or 6 String Bass Guitar & Why?
How To Know If your Guitar Amp Is Broken?
How To Fix Distorted Bass Guitar Sound?
Do Fender Guitars Appreciate In Value?
Should You Put Stickers On A Bass Guitar?
How Acoustic And Electric Guitars Are Made?
Is Electric Guitar Too Loud for an Apartment?
Does a Preamp Improve Sound Quality?
If I Learn Acoustic Guitar Can I Play Electric Guitar?
How Many Hours A Day Should You Practice Bass Guitar?
Do I need an AMP/DAC To Run Bookshelf Speakers?
How to Record Electric Guitar Into Logic Pro X?
Do headphones get worse with age?
DAW Related:
Best DAWs For Musicians Available (With FREE DAWs)
What's The Most CPU Efficient DAW? – 5 DAWs Compared
How To Make Music Without Using A DAW?
Pro Tools Guide: How To Use AutoTune & Pitch Correction?
Ableton Review: Is It Worth The Money? (Cons & Pros)
Logic Pro X Review: Is It Worth It? (Cons & Pros)
How To Use Auto-tune & Pitch Correction In Cubase?
How To Fix Ableton Crackling, Crashing & Freezing? Step By Step
Plugin Related:
What Are Audio Plugins? Different Types of Plugins Explained
What Are The Best Tools To Develop VST Plugins & How Are They Made?
Cost of Developing Audio VST Plugin: Several Factors (With Table)
VST, VST, AU and AAX – What's The Difference? Plugin Formats Explained
Complete Guide To Noise Gate – What It Is, What It Does & How To Use It?
How To Clip My Drums? Here Is How & Audio Teasers (Before/After)
Complete Guide To Limiter: How To Use It (+ Best Plugins & Analog Limiters)
Mixing With Reverb: How To Add Life To Your Mixes
Linear Phase vs Minimum Phase EQ – Full Guide
Difference Between LUFS, RMS & True Peak Loudness Meters
How And When To Use Algorithmic And Convolution Reverb In Your Mix?
Difference Between Active EQ, Passive EQ and Dynamic EQ
Headphones & Studio Monitors:
Do headphones get worse with age?
Monitors vs Studio Headphones For Mixing & Mastering
Top 10 Room Calibration & Headphones/Speakers Correction Plugins 
Are Noise-Canceling Headphones Good For Music Production?
Can Headphones Break in Cold Weather?
Why do headphones & cables get sticky?
Can Wearing Headphones Cause Hair Loss?
How Do I know If My Studio Monitor Is Blown?
Side Effects Of Sleeping With Your Headphones On
Do You Need Music Amplifier For Studio Monitors or Studio Headphones?
Do Headphones or Earphones Damage Your Brain?
Can Headphones or Earphones cause Deafness or Toothache?
FarField, MidField & NearField Monitors – Their Uses, Pros & Cons
MIDI & Synths:
Should I Buy A MIDI Keyboard Or Synth? (Are Synths Worth It Anymore?)
Why Is Audio Gear So Expensive? (Especially Synths)
Top 12 Synth Brands – Analog, Digital & Modular Synth Manufacturers
11 Tips How To Choose MIDI Keyboard 
Should I Buy MIDI Controller Or Keyboard? Cons, Pros & Tips
Shaurya Bhatia, is an Indian Music Producer, Composer, Rapper & Performer, who goes by the stage name MC SNUB, and is also 1/2 of the Indian pop music duo, called "babyface". A certified Audio Engineer & Music Producer, and a practicing musician & rapper for more than 6 years, Shaurya has worked on projects of various genres and has also been a teaching faculty at Spin Gurus DJ Academy.