Have you ran out of ideas and want to add new effects to your pedalboard to give your sound a fresh perspective? So here are the Top 12 Bass Pedals For Metal 2023.
Bass pedals are electronic effects units that can be used in conjunction with an electric bass and bass amplifier, upright bass and amplifier, or public address system. The most prevalent form of bass effects pedal is the stompbox, a metal or plastic box with a switch or button activated by stamping the pedal with the foot.
Most pedals typically include knobs to adjust the effect's volume, tone, and intensity. You can find some bass effects in 19-inch rackmount devices that fit neatly into a gig bag. Further, some bass amplifiers have effects like compression, overdrive, and chorus in the amp's design.
It's up to you and the musical setting to decide how you want to utilize a bass pedal. When compared to the acoustic or electric guitars that provide the melody, bass guitars are typically the backbone of a band's sound. Therefore, the pedals' primary function is to enhance your tone and narrow the frequency range you're working in. Alternatively, highlight your instrument using larger, more sweeping effects.
There is a wide variety of bass guitar pedals available from a wide variety of manufacturers. Many among you would like a streamlined pedal with minimal features. Some people will prefer a simple stompbox, while others will want something with a lot of features. Look for an effects unit that can store and apply multiple effects simultaneously.
We've compiled a list of ideal effects for creating the desired metal tone.
Top 12 Bass Pedals For Metal 2023 For Powerful Bass Rifs (Overdrive, Fuzz..)
1. Boss SD-1 Super Overdrive Pedal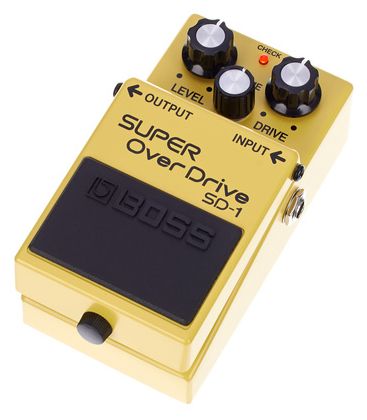 You may use the Boss Super Over Drive SD-1 with any amp configuration to simulate the overdriven tone of a tube amp.
The SD-1 is extremely touch-sensitive and will respond to even the most subtle bass playing. In addition, the unit's over-drive effect has a wide range, making it possible to switch between a strong and a gentle sound. The SD-1's versatility comes from its ability to accommodate a wide variety of guitars, allowing it to generate overdrive effects without drastically affecting the guitar's natural tone.
Key Features:
Tone Knob
You may adjust the pedal's EQ with a few simple twists of the Tone Stack knob, a standard blend-style control. For example, turning the Tone control counterclockwise will eliminate the treble range, letting just the bass come through, whereas turning it clockwise will gradually introduce more treble while simultaneously reducing the bass.
As a result, the bass response is nicely rounded off and not dull, thanks to the pedal's slightly brighter tone than other overdrive effects. This is especially useful for disguising the Mids- Boost the volume and let the bass's higher frequencies interact with the mids to let them shine.
Drive
For the most part, this pedal's overdrive is what you'll be using it for. Overdrive, in simple terms, allows you to take your bass to new heights. Naturally, the tone of your overdrive will change depending on the instrument and amplifier you choose. However, given the SD-1's high standard, you can rest assured that it will meet your needs.
Level
This knob controls the volume of the overdrive effect. As the volume increases, more overdrive is added, and the clean guitar signal is drowned out. Turning this knob up will push your amplifier or other effects, or you may adjust it to strike a comfortable balance with your clean tone.
Voicing
If you want your overdrive pedal to do more than add grit to your sound, then the SD-1 is worth checking out for its distinctive voicing. A guitar's tone receives a sort of brightness from the SD-1, an effect that works particularly well with crunchy, open chords. It adds just the right depth to a single-coil guitar's tone and a hint of warmth to a humbucker guitar's harmonics.
Asymmetrical Clipping
SD1 uses asymmetrical clipping; asymmetrical clipping circuits clip only half as much of one side of the waveform as the other while the waveform is amplified internally. Clipping is said to be symmetrical when it affects the waveform equally on both ends.
Character & Sound:
The SD-1 has a similar quality to that of other Boss pedals. This is the pedal for you if you want your music to have more depth and clarity. While the pedal may not seem perfect for metal, cranking the overdrive can provide interesting results.
Rhythm and lead guitarists alike will find it to be a great resource. In addition, the crunchier melodies you can find by turning the overdrive knob make it a great companion for various musical styles, from alternative to heavy rock to jazz and blues.
Pros:
This pedal does a fantastic job of simulating the feel of a tube overdrive, down to the fact that the amount of drive is adjustable based on how you play the bass (much like a real tube overdrive). But even without those specifics, the tone is still great material with a wide range of applications and a fair price.
Cons:
The level of distortion offered by this pedal is so high that it makes it difficult to get a subtle crunch, and when paired with a tiny amp, it hides its potential.
2. Tech 21 Bass Driver DI V2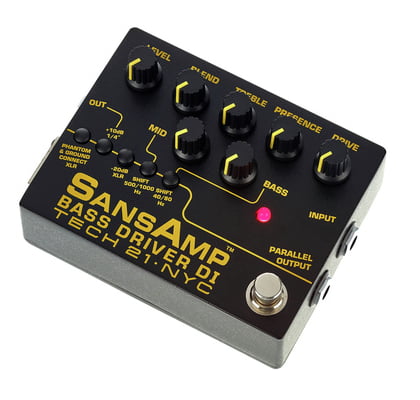 The SansAmp Bass Driver DI V2 is based on the original SansAmp bass pedal, a mainstay of countless live and recording setups, and it provides a wider range of tone control well suited to today's bass setups.
The enlarged low-end control is a favorite among bass players, as it allows players to set the bass control's center frequency anywhere from 80Hz to 40Hz, making it suitable for both 5-string and 6-string basses. In addition, the SansAmp Bass Driver DI V2 is a great pedal for both bass amps and live systems, and you can adjust its middle frequency to work with a wide variety of pickups.
Key Features:
Drive and Presence
You can get great sound out of your bass with the help of the SansAmp Bass Driver DI V2's extensive tone-shaping controls. The drive control makes it simple to add some sass to your tone, and at full volume, you'll hear a wooly distortion that can offer some depth to a sparse mix.
For instance, slap bass tone can be adjusted with the help of a presence control, which emphasizes harmonic overtones to make the instrument sound louder than it is.
Speaker Simulation
The SansAmp Tube Amplifier Emulation has an in-built speaker simulation. It's made to work with any bass speaker cabinet and has a uniform response like that of a cabinet that's been mic multiple times, without the dips and spikes that come with a single mic.
Housing and Controls
This pedal has a sturdy metal casing that will protect it for years and ensure its continued functionality. At first sight, you might think you're looking at another original SansAmp pedal, but that's not the case.
In its place, it has seven control knobs (Level, Blend, Treble, Mid, Bass, Presence, and Drive), as well as several switches (including a Mid Shift switch that shifts the frequency from 510 Hz to 1 k Hz and a Bass Shift switch that shifts the frequency from 30 Hz to 70 Hz), and an XLR Output Level switch, and a +10 dB Boost switch.
Many Uses
Because of its multiple functions, The SansAmp Bass Driver DI V2 is a favorite among gigging bassists because it ensures that you will never be without a usable bass setup again. The SansAmp Bass Driver DI V2 has both 1/4″ and XLR outputs, making this possible.
The SansAmp Bass Driver DI V2's output can be routed straight into an amplifier's effects return, eliminating the need for the amplifier's preamp. Similarly, you can bypass batteries and AC by sending the signal directly to the PA via the XLR output and powering it with the phantom. You may send the affected signal to the PA while providing a clean signal to your bass amp for on-stage monitoring, all thanks to the parallel output.
Character & Sound:
The SansAmp Bass Driver v2 is dynamic, making it one of the best bass overdrive sounds you can get. The more you dig, the harder it works, while a softer touch will provide a pleasant, smooth sound. For more than four strings, the SansAmp bass drive tone is even more developed, becoming the trademark sound of the company.
Pros:
You can use it as a Bass DI box in addition to its primary functions as a tone shaper and bass overdrive. It does a great job of simulating amps, is very quiet, and has great sounds built right in. Bass Driver DI has been improved upon from its first release by adding features that will appeal to modern five and six-string bassists.
Cons:
The onboard speaker emulation is always on and cannot be turned off independently; it is a part of the SansAmp tube amp simulation. However, this is not a problem in practice, even when plugging the pedal into a bass amplifier, because bass rigs are often full-range.
Some initial confusion may be caused by the five pushbuttons' varying labels and placements, but you'll get the hang of things quickly and likely just set and forget most of them.
The XLR plug can be ground lifted, or the pedal can be powered through phantom power. Unfortunately, because of how phantom powering operates, you can't do both at once.
3. MXR M80 Bass DI Plus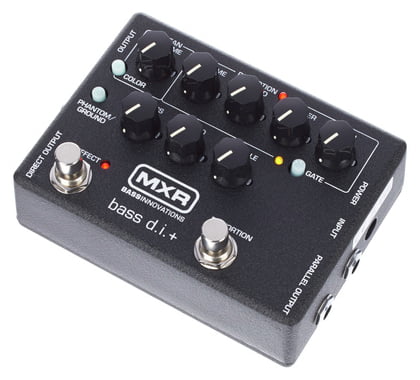 A direct connection to a PA system is never 100% reliable, so having your own DI box is always a good idea.
The M80 is encased in a sturdy metal box with solid knobs and a three-band equalizer; the instructions don't specify the EQ bands' center points, but whatever they are, they get the job done across a wide frequency spectrum.
Key Features:
Level Control
During normal playback, the tape may be played in bypass mode, but the EQ/boost can be turned up for more intense moments, such as solos. The M80 doesn't stop there; it also has a "color" switch for a low, rumbling tone.
Gated Distorsion
A second sturdy button on the right allows you to toggle this feature. The distortion pedal incorporates the color switch mechanically, ensuring that your distorted sound retains a substantial bass response. The clean volume is likewise disabled, but the EQ is preserved.
Dual-Channel Preamp
This preamp/pedal combo is ideal for bypassing amplifiers and connecting straight to the soundboard or mixing console. It also serves as a reliable fallback in the event of an amplifier breakdown.
Adjust your bass's tone from clean to distorted with the help of the master 3-band EQ. Always be prepared for anything by keeping an MXR Bass D.I.+ in your gig bag.
Great Distortion Tones
The MXR M80 D.I.+ provides all the heft and thump you need when cramming up the volume with some serious bass distortion at your shows and recording sessions. From vintage rock overdrive to distorted metal, the Bass D.I.+ has you covered.
You'll be pleased with how much crunch and snarl you can get out of this preamp. The blend feature enables you to combine your clean and filthy signals to achieve the perfect bass tone, while the noise gate helps to reduce any unwanted background noise.
Outputs
Thanks to the dedicated output, you can connect your signal to your amplifier or power amp. You can run the parallel output to the board, another amplifier, or a dedicated tuner. The XLR direct-out is great for both studio use and live performances.
The MXR Bass D.I.+ can be powered in various ways, including by a 9v battery, an optional adapter, or phantom power from a mixer. 
Character & Sound:
The distortion is rather strong, especially at the low gain setting; there is no pleasant crunch or overdrive to be found here. It's almost a bit sad that this option is only active distortion enabled; sometimes, we need to be able to dial down the upstream fuzz because the gate is so good at cutting down on noise and never accidentally cutting the sustain.
Pros:
This pedal doesn't need a lot of practice to get the hang of due to how straightforward it is. All the options mentioned above are readily accessible, and the interface is so natural that it may even be used in everyday life.
Cons:
If you wish to drive the bass signal a little, it is difficult to use. When you reach level 2 of distortion, the pedal's quantity may be excessive for certain purposes.
4. Palmer Pocket Amp Bass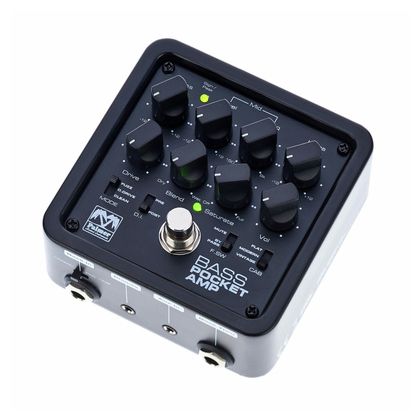 The Pocket Bass Amp is a flexible effect pedal and preamp that excels at all three of these uses thanks to its wide range of tonal shaping choices for both active and passive bass guitars.
It has a 3-band EQ with a semi-parametric mid-control that is fine-tuned for bass guitar, a vintage or modern cabinet simulator, and a clean, overdrive, and fuzz mode with adjustable drive and saturation. In addition, there is a blend knob to adjust the level of the unprocessed and processed signals.
Key Features:
Controls
The Pocket Amp Bass comes in a case that's quite similar to the Pocket Amp MK2, but one that's been painted black and features a greater amount of controls, switches, and plugs. There are three rows of controls, two knobs, and one switch on the panel's upper surface. Semi-parametric mids (Bass, Mid Level, Mid Freq, and Highs) are controlled by the EQ in the top row of knobs.
A green LED between the Bass and the Mid Level says Sign/Peak. Drive is located in the third group of knobs from the bottom and adjusts the gain according to the Mode switch. Finally, the Blend knob determines the relative volume of the direct and processed signals; the Saturate knob, located before the FX output in the circuit, simulates tape saturation to create a thick, warm sound; and the Vol knob sets the overall volume.
Mode Switch
A red status LED is above the footswitch, and the D.I. (Pre/Post) switch controls the XLR output, the F.SW. (Mute/Bypass) switch modifies the footswitch's configuration so that you can use it to silence the signal while tuning or switching instruments, and the Cab (Vintage/Modern/Flat) switch determines the emulation's frequency response.
Character & Sound:
The EQ is far more comprehensive and versatile than the guitar preamp, but the Mode and Cab switches give you six general sound shaping options right off the get.
The Blend knob allows for varying degrees of saturation to be mixed with the signal without becoming saturated, allowing for the clear definition that bass requires in almost all situations while also making it easy to achieve clean sounds with a punch, from aggressive trebles that assist the slap or tapping to full and rounded dub bass. The Saturate knob controls the number of outside effects in the feedback loop and, more crucially, the signal's width.
Pros:
Saturation may not be particularly beneficial for bass in most contexts, but the Pocket Amp Bass offers invaluable features to any performer or studio musician. It's a small pedal that adapts to any situation, produces high-quality sound, and can easily and precisely adjust.
Cons:
In some situations, such as a live context, it is very important to know that the footswitches are of good quality because you can use them with a lot of force sometimes. Well, this pedal has a footswitch that feels like it could have better quality; they feel cheap and lack a shroud. Also, it is very close to the knobs, so you might accidentally change your tone a few times.
5. Darkglass Alpha Omicron Bass Distortion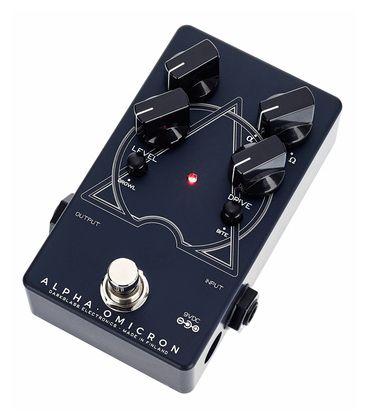 If you're a bassist looking for the ideal analog signal route and dual distortion modes of the Darkglass Alpha Omega in a more compact and affordable pedal, go no further than the Alpha Omicron.
This pedal excels at creating a clattering, djent-like sound. However, a Blend slider allows users to easily access more subtle dirt colors. Pick from two different types of distortion, adjust the growl and bite for a more aggressive or subtle sound, then layer it all on top of your dry bass tone. Like all Darkglass pedals, the Alpha Omicron is proudly handcrafted in Finland using only the highest quality components.
Key Features:
Two Distortion Modes
Borrowing the Alpha Omega's dual-distortion engine, the Alpha Omicron can produce an almost infinite range of bass tones. When the Mod knob is turned counterclockwise, the Alpha distortion produces a tighter, punchier fuzz ideal for rock and progressive music.
Conversely, the Omega has a spanker, gnarlier effect that works well with solos and more contemporary metal styles. The Sweetwater bassists usually settle somewhere in the middle. After settling on a suitable tone, use the Level and Blend knobs to adjust the mix with your dry signal.
Controls
Normal controls such as drive, volume, and wet/dry mix are all present in a simple form. And the mod dial is the primary control for combining the two circuits or sweeping between the alpha distortion's deeper and more defined sound and the omega distortion's gnawing and raw tones.
Growl and bite push buttons provide additional EQ control in the form of bass and high-midrange boosts, respectively. The controls make it simple to achieve a wide variety of distortion effects, and I didn't experience any unwanted side effects.
Character & Sound:
The alpha circuit's fuzzier vibes will have a stronger pull on you emotionally. As if that weren't enough, when you push the "growl" button to make it even fatter, it has punch, a lot more sophistication, and a murky depth. Just throw in whatever you want, and you'll have a distortion dance party under your feet, with people of all different ethnicities and religious persuasions dancing to the beat.
Pros:
This pedal is stylish thanks to its stealthy design, but it is also solidly constructed and feels like they made it with high-end materials in its casing. A plethora of gritty tones are produced by the two distortion engines. The toggles for growling and biting are a nice touch as well.
Cons:
The high asking price is surprising given the extensive set of features included. The equalization and additional outputs on the A-O's sibling are nice bonuses that could entice some customers to pay the extra $100.
6. Proco Rat 2 Distortion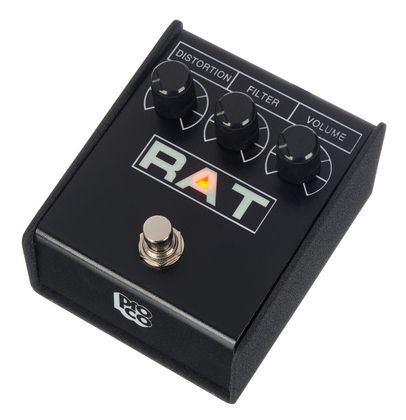 The RAT pedal's history is rich, with plenty of tales and mysteries. This hard-clipping distortion pedal has proven to be an indispensable component of guitarists' arsenals.
The filthy, harmonically-rich saturation heard on a thousand seminal recordings can be yours with the RAT 2, whether you use it to hot rod a British high-gain head, push a struggling American-style combination into luscious overdrive, or infuse a squeaky-clean high-headroom amp with heavy-duty, fuzz-like grunge.
The three-knob configuration of this distortion pedal is reminiscent of its historical forebears, and it also features a sturdy on/off footswitch, a classy status LED, and eye-catching glow-in-the-dark graphics.
Key Features:
Wide Range Of Tones
The RAT 2 has the same basic Distortion, Filter, and Volume controls seen on previous models. You can adjust the overall level of saturation by turning the Distortion knob. This knob functions as a fuel-injected dirty boost at its lowest level and a harmonic-laden fuzz at its maximum. The Filter dial allows for extensive tonal manipulation. To achieve edgy cutting tones, rotate the control counterclockwise; to achieve a warm, cranked amp sound, rotate it in the opposite direction. The volume control modifies the overall Volume. The RAT 2 can be used at unity gain to provide a little edge or at high volumes to severely overload the amplifier's preamp.
Housing
On the plus side, this pedal is constructed like a tank, with solid metal housing and metal panels on all sides. The knobs, in particular, look like they were built to withstand the kind of abuse that would be commonplace in a real-world setting. From the perspective of the pedal's casing, the more basic the pedal, the more solid it felt. That's probably not always the case, but in the case of the ProCo Rat 2, it is the case.
Saturation
Saturation is the goal, with the low and middle frequencies receiving extra attention. However, as we've covered in the "Features" section, the RAT2 stands out from the crowd thanks to its intensity across a wide frequency range (1.7kHz to 10.6kHz). Furthermore, by distributing the distortion uniformly over this frequency range, the RAT2 avoids the scooped sound of other distortion pedals like the DS- while preserving the guitar's unique characteristics.
Character & Sound:
The Filter functions as a high-pass and low-pass filter, making it difficult for the pedal to cut through in bass-heavy environments. When that side of the filter is activated, it simply disappears. The tone is great on lower volume settings, though we can caution that the pedal does not provide a lot of sustain. This pedal shines when playing grunge and old rock, but it can't handle the stronger metal tones.
Pros:
The RAT2's low price makes it a great choice for those just getting started with pedals or those who want to customize their RAT2 in the future.
Cons:
The initial impression can be that it has a restricted set of controls. The tone goes deeper than heavy or metal music, and the smoothness can sometimes mask the tone altogether.
7. Digitech Whammy Bass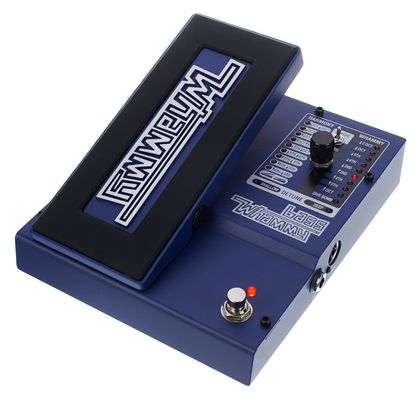 The next-generation Bass Whammy is the greatest bass-specific pitch-shifting effect pedal on the market, thanks to its utilization of pitch detection and polyphonic note-tracking technology.
The Bass Whammy pedal is DigiTech's reintroduction of their signature effect for bassists, and it features nine modes that allow you to vary the pitch and slide the notes of your instrument to create a wide range of expressive effects.
You can play a lead line by jumping up two octaves or extremely low bass lines by dropping down another octave. As a result, the Bass Whammy sounds natural, even when turned up. The ability to completely alter the instrument's fundamental tone is particularly appealing to bassists or use the pitch-shifted tone as a layer over the original for harmony effects.
Key Features:
Controls
Whether you're using the Harmony, Whammy, or Detune effect, the Expression Pedal is how you adjust the degree of pitch bending. Increasing the pitch bending is achieved by moving it forward (toe down), while decreasing it is achieved by rocking it back (toe up).
When engaged, the Classic/Chords switch alternates between the traditional Whammy algorithm (Classic) and the more recent chordal method (Chords). The Classic setting is appropriate for single-note playing, while the Chords setting is optimal for chord bending. Using the selector knob, you can choose between the Whammy, Harmony, and Detune effects.
Whammy
The signal you're receiving will be shifted upwards or downwards, depending on the effect setting you select. With a little back-and-forth rocking of the Expression Pedal, you can change the signal's pitch from its unmodified input to the customized pitch of your chosen effect.
Harmony
This section works together to make your incoming signal sound more balanced. The input signal and harmony note are blended so that it seems like two bass instruments are playing simultaneously. The input signal stays the same while the harmony note bends back and forth between two intervals determined by the effect setting.
Detune
These effects work by making a copy of your input signal, modifying the pitch of that copy, and recombining it with the original. Changing the volume of this detuned signal is as simple as rocking the Expression Pedal back and forth. The dry signal is restored when the foot is lifted off the pedal. If you rock the pedal in the forward direction, you will add more of the distorted signal to the unmodified one.
Midi
You can feed MIDI data into the Bass Whammy via its input. Selecting a Whammy effect and determining whether it is active or bypassed can be done via MIDI messages. You can modulate the Bass Whammy Expression Pedal's position via MIDI CC messages. Bass Whammy's effects can be changed with MIDI Program Change commands; choosing between an "on" and "off" setting for each effect is possible.
The following diagram shows the Bass Whammy's Program Change commands and their corresponding effect settings and status when in Classic mode. The following diagram shows what Program Change commands the Bass Whammy understands when in Chords mode, along with the current effect settings and their respective states.
Character & Sound:
Picking a sound and settling on a nice expression pedal setting is well, but the real magic happens when you start rocking the pedal and letting out those octave and harmony sweeps. In the Chords mode, you can manipulate the notes to form new chords and add harmonic emphasis, much like the levers on a pedal steel guitar.
Due to its wide range of pitch possibilities, this pedal may go from sublime to absurd in an instant, but in the hands of a master, it can produce truly magical musical effects.
Pros:
It's a great opportunity to experiment with your accent and create new expressions. It provides octaves, simple intervals, and even three-note chords. You can keep the bottom grooving while the pedal breaks off and harmonizes, giving you chords, etc., in a guitar trio when one of the guitarists takes a solo.
Cons:
Even with the pedal turned off, you may feel the whammy effect on the signal. Also, you cannot use the footswitches to alter the effects.
8. MXR M288 Bass Octave Deluxe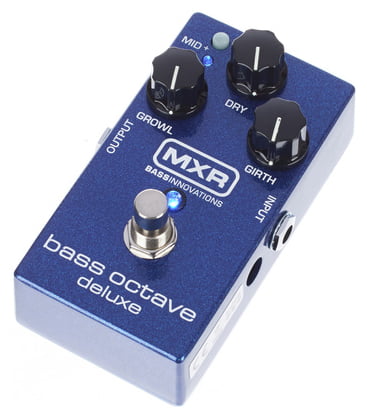 Bassists are just as keen to experiment with their instruments' tone palettes and electronic gizmos as the MXR M288 Bass Octave Deluxe Pedal provides their guitar-playing counterparts.
This octave pedal is great for analog sound-shaping because it has two separate voices and a genuine bypass. With the M288 Bass Octave Deluxe, you may blend your direct bass output with the octave effect using the Dry knob, increasing the moderate loudness by up to 16dB. Dry, Growl, and Girth are all the M288 Bass Deluxe parameters that modify the sound's midrange and low end, respectively.
Key Features:
Housing
Initially, they followed the Phase 90 pedals' lead and selected a small, durable housing design that would hold up well over many years of hard use. The visual cues inform you that this pedal differs from the others on your board, but the similarities stop there.
The blue glitter paint on the housing is a classy touch that isn't overdone. The two dials, labeled "Growl" and "Girth," produce a sound reminiscent of 1970s tag-team wrestlers. MXR's young minds, on the other hand, are always surprising everyone.
Dual Voice Analog Sound
It has two unique octave voices, an analog sound, true bypass, an internally adjustable EQ that hammers the low-mids at 310hz or amplifies the mids at 870Hz, and MXR's constant headroom technology, which creates 18 volts of headroom from a single 9V battery. Moreover, the setup and design are easy enough to have a pleasant sound immediately, and you can adjust it to your heart's content to please even the most discerning players.
Constant Headroom Technology
From a single 9-volt battery or external power supply, the MXR CHT circuit generates 18 volts of headroom. Regardless of the input voltage, it will always maintain the CHT's 18-volt headroom thanks to the technology's voltage step-up processes. CHT, for instance, may increase the voltage of a used battery from 4.5 to 30 volts, so you have 18 volts of extra space. CHT also safeguards against AC voltages and incorrect reverse polarity.
Growl And Girth
The Girth knob produces a smoother octave-below sound, while the Growl knob produces a slightly edgy sound in the middle range. The individually voiced controls are great because you can adjust the volume of each one independently. This means you can use any bass you own with the MXR and achieve the precise voicing you desire. Adjusting the Dry knob may create the ideal effect-to-signal ratio for your unique brand of coolness.
Character & Sound:
The pedal-free players preferred the vintage amp's warm tube sound over the modern amp's crispness and punch. The MXR fits well with any basses, providing room for the instrument's individuality. Even though the electric upright was off to the side, some brilliant person will find a way to use it in tandem with something else.
Pros:
The octaver has a versatile design and character. Essentially, you're getting two octaves for the price of one. In addition, it emulates two different octaves, one with added saturation like an octave and the other with a clean, EBS-like sound.
Cons:
Some brand-new versions may have serious latency/tracking delay at the lowest end of the bass bass's range. Distributors may swap out affected items while the problem is being fixed.
9. Behringer V-Tone Bass BDI21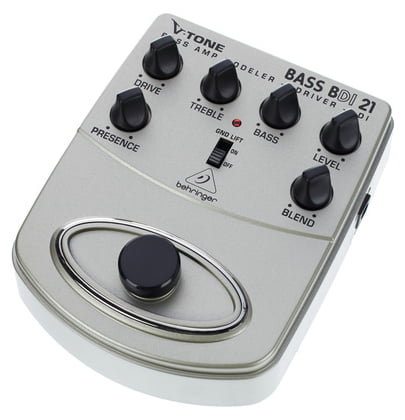 The Behringer V-Tone Bass Driver DI BDI21 combines direct-input capabilities with tube emulation circuitry, putting a wide variety of classic tube amps at your disposal.
Blend the amount of tube emulation with your bass guitar's direct signal with the Blend knob, or stomp on the BDI21 for a straight DI sound. Afterward, you may fine-tune your sound with the included Drive, Treble, Level, and Presence knobs. The Behringer V-Tone Bass Driver DI BDI21 can take you from pop and slap to silky funk to overdriven mayhem.
Key Features:
Dual DI mode


With just one foot stomp, the V-Tone Bass Driver DI BDI21 can be switched between its two primary uses as an active DI box and a recording output DI with tube emulation. In addition, you can choose between a TS and a balanced, gold-plated XLR connector to route your signal. Finally, the BDI21 is an all-inclusive active DI that includes a ground lift switch for eradicating annoying ground loop hum.
Class-D Technology
The V-Tone Bass Driver DI BDI21 from Behringer features the true tone of a vintage tube amp in a compact, pedalboard-friendly package thanks to the company's innovative Class-D amplifier technology.
Class-D amplification gives huge power and great audio performance without cumbersome power sources and huge heat sinks. Class-D amplification is also very efficient in power consumption; therefore, the BDI21 can play nonstop without overheating.
Character & Sound:
It's just a quality DI with a ground-loop structure. As soon as you turn it on, you'll be able to enjoy the 2-band EQ and other sonic enhancements at your disposal. Drive adds a tube-like weight, while Presence benefits from added upper-particular air that allows it to cut through a busy recording mix.
Pros:
The blend and gain controls allow you to get the most out of the pedal's effects while keeping things simple to find your ideal tone in no time. The low price of only $30 for the pedal is a major selling point; that's a steal for many features.
Cons:
When you start pushing the pedal into the distortion zone, you'll notice a steady decline in quality as you turn up the volume. It's also not very well protected, as it occasionally emits strange hums and noise.
10. Electro Harmonix Little Big Muff Pi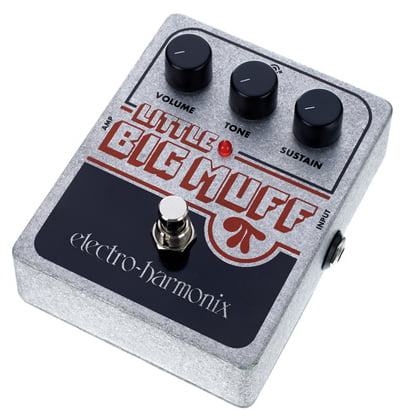 For those who adore the Muff sound, the Little Big Muff provides the mobility, longevity, and rational power options they've been waiting for.
Electro-Harmonix listened to player comments and made a more compact version of their iconic Big Muff distortion pedal called the Little Big Muff. The Little Big Muff is a distortion pedal, similar to the Electro-first Harmonix EL34.
They released a pedal with the same name in the late '70s; it looked identical to the Small Clone, but it had a single volume control and a two-way tone slider, allowing for a soft distortion. Unlike the full-size models, which necessitate an old-school mini-jack adaptor if you want to use a 9v power source, the new Little Big Muff uses a standard barrel socket, just like a BOSS or DigiTech pedal.
Key Features:
9V and true bypass
You may operate this True Bypass pedal with a 9V battery or a DC power supply. The good news is that many contemporary pedals don't even have a battery option. A battery or an external power source may seem like a minor inconvenience, but it is limited to only one can be unpleasant.
Controls
That's all you need from a distortion pedal; the fewer controls it has, the better, and it should be within easy reach. In addition, it involves a single tone whose volume, and you can modify duration. The pedal's output volume is the primary focus here, while the sustain knob impacts distortion and sustain, and the tone knob allows you to adjust the balance between bright and low tones.
Housing
While the Little Big Muff's die-cast housing is ingenious and sturdy, it lacks an access door for battery changes, necessitating an unscrewing of the back. However, because of the low current requirement of such a circuit, batteries often last long.
Character & Sound:
Its high sustain and loud, scorching roar set it apart from other dirt boxes when it was first released in 1969 and have made it an iconic effect ever since. Due to its wide range and significant effect on the placement of the sound in the mix, the location of the Big Muff's tone control is vital, especially when performing live.
With your bassist and the other guitarists, experiment with different volumes on stage to find the sweet spot for the tone, as even a small change may radically affect the sound.
Pros:
With its smaller footprint and high-quality sound indistinguishable from the original, this functional upgrade unquestionably inspires trust. So if you're in the market for genuine sound and practicality without breaking the bank, the company's suggested retail price of £70 is a no-brainer.
Cons:
Their sound differs from everyone's liking, but they produce a lot of sustain and distortion. Also, switching to 9V mode requires unscrewing four screws, which could be an issue if you intend to use Velcro to secure the pedal to your pedalboard.
11. Darkglass Microtubes X Ultra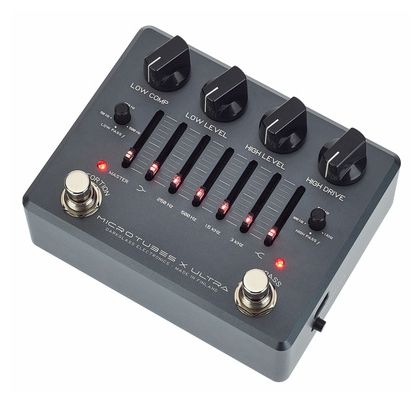 The Darkglass Microtubes X Ultra Bass Preamp Pedal has great potential for improvisation since it provides a high level of harmonic intensity that you can target to any section of the tone spectrum.
You can adjust the amount of compression and overdrive applied to the lows and highs separately, giving you control over how much each frequency range is affected. You can adjust the midrange and treble independently with the knobs, and the six-band graphic EQ provides extensive control over the sonic profile.  The Microtubes X Ultra gives you more than just overdrive, with direct output and an award-winning impulse response cabinet emulation.
Key Features:
Two-Variable Filters
The Darkglass Microtubes X Ultra Bass Preamp Pedal uses two filters to split your signal before amplifying it. Using the highpass and lowpass filters, you can adjust how much of your tone goes through the drive circuit while maintaining a clean, punchy sound. In addition, you can find the ideal volume level for each signal path by individually adjusting the dedicated controls for those paths.
6-Band Graphic EQ
The Darkglass Microtubes X Ultra pedal's four-band graphic EQ is ideal for bassists who play various musical genres. You may adjust the midrange character to make it sit nicely in the mix regardless of how many guitars, keyboards, or vocalists you're working with. We provide high and low shelving bands in addition to 250Hz, 500Hz, 1.5kHz, and 3kHz frequency sliders. Global volume control lets you adjust for drastic volume changes.
Cabinet Simulation
Darkglass incorporates its highly acclaimed impulse response cabinet simulation into the Microtubes X Ultra pedal, making it a one-stop shop for bassists searching for the perfect tone. In addition, the sound of a miked cabinet can be sent directly to a PA system or recording device via a switch located next to the XLR direct output.
Character & Sound:
You may expect the same robust and rowdy tones seen in other Darkglass products, and that's exactly what you get here. Regarding cutting-edge distortion tones, the company is unrivaled, and we're happy to say that the X Ultra delivers on every front. Suppose you discover that certain overtones or resonances are too much for your taste.
In that case, you may easily wind in the problematic frequencies thanks to the high degree of tonal manipulation available to the player. The low end is always preserved, and you have the tools to tidy things up so you can cut through even a thick band mix. These are especially useful if you play in dropped tunings, where low string tension can lead to resonance and harmonic difficulties.
Pros:
The Darkglass Microtubes X is a treat for bassists because it offers a wide range of distorted tones. Although it may feel less natural to use than its more well-known sibling at first, you may achieve the same or even better outcomes with just a little extra effort.
Its compact design saves room on your pedalboard and delivers a powerful sound. The Microtubes X may be the right choice if you want a durable pedal that keeps style for its arsenal of powerful tones.
Cons:
Although the pedal's straightforward design might lead a beginner to believe that finding the ideal tone will be super easy, the controls' extreme sensitivity means that the effect can produce a wide variety of tones and sounds, making the process of zeroing in on the ideal one more time-consuming than expected.
It's vital to keep an eye on everything when shopping for a pedal, as some of them have issues with making a popping or thumping noise when turned on or off.
12. Keeley Bassist Compressor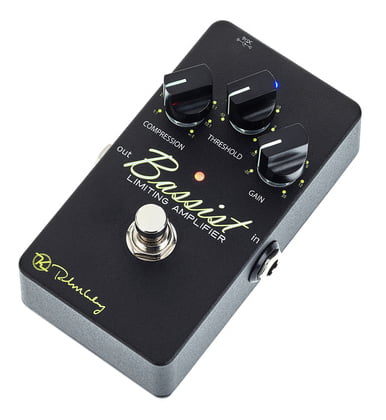 The Keeley Bassist Compressor guitar effects pedal can help you get a more defined and manageable bass tone.
The Bassist Compressor is a high-fidelity VCA-style compressor that handles large bass signals and gives you complete control over your sound. You can use it as a limiter to prevent distortion of your amp and speakers during intense soloing, as an effect to add impact to your playing, or as a boost by dialing down the compression.
Plus, the Keeley Bassist Compressor provides studio-quality compression without the cost or inconvenience of additional outboard rack equipment by paying particular attention to bandwidth and noise.
Key Features:
Compression And Threshold
The Keeley Bassist Compressor will create a more magnified and audible sound for bass players. By acting as a limiter, the effect prevents the amplifier from distorting the speakers' sound. To prevent your amplifier from distorting or your speakers from being damaged, you can adjust the Threshold to detect signal peaks.
It's easy to set limits on certain types of play; keep an eye on the Threshold Indicator light. Next, adjust the Compression knob to the desired compression level above the Threshold level. Make sure compression is turned to zero (1:1), and use the Gain knob to amplify the signal instead. To create a limiter above the Threshold setting, turn compression up to its maximum.
Attack And Release
Regarding compression, 125 decibels per second (dB/s) has a nice ring. This true-RMS detector is used in feed-forward compressors and has a single time constant parameter.  Depending on your playing volume or the signal sent into the compressor, the timing capacitor will provide you with different attack and release times.
Character & Sound:
This pedal's versatility is unmatched; you may use it as a limiter to prevent your amplifier and speakers from distorting when you dig in for a solo, as an effect to give your playing more oomph, or as a boost by dialing back the compression. Plus, the Keeley Bassist Compressor provides studio-quality compression without the cost or inconvenience of additional outboard rack equipment by paying particular attention to bandwidth and noise.
Pros:
The Keeley Bassist Compressor guitar effects pedal can help you get a more defined and manageable bass tone. The Bassist Compressor is a high-fidelity VCA-style compressor that handles large bass signals and gives you complete control over your sound.
Cons:
The proximity of the knobs to the footswitch increases the risk of inadvertently altering the sound when the switch is used, which is not ideal in live settings.
Bonus:
Electro Harmonix Deluxe Bass Big Muff Pi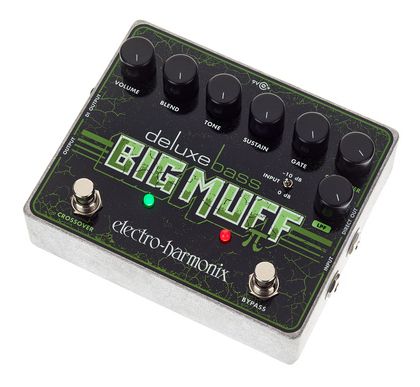 Fans of bass distortion have praised Electro-Bass Harmonix's Big Muff Pi for years, but the new Deluxe model raises the bar.
If you're looking for that iconic bass fuzz sound, the Electro-Harmonix Deluxe Bass Big Muff Pi has it, and it also gives you the flexibility you need to make it fit into your music. The Deluxe Bass Big Muff Pi is ehx's response to the many requests it has received from working bassists for more advanced tonal controls. To account for active pickups, for instance, there is a -10dB pad onboard and a gate to help you maintain a tight performance.
Key Features:
Crossover Controls
When the Deluxe Bass Big Muff Pi was released, its crossover controls surprised everyone. The dry low-frequency sound can be smoothed out with the variable lowpass filter, making room for high-frequency fuzz. In contrast, the fuzz is cleaned out by the variable highpass filter, which extracts low frequencies. The foot-switchable crossover portion of the electro-harmonix Deluxe Bass Big Muff Pi is the icing for its ability to provide instantaneous, dramatic tonal changes.
Three Separate Outputs
Electro-Harmonix anticipated that bass players like you would want to use them in both live performances and studio recordings, so they designed it accordingly, which is why three separate outlets are attached. You can send only the dry signal to the monitor or onstage amp through the output. The Deluxe Bass Big Muff Pi has a standard 1/4″ output jack, two additional jacks for optional effects "a balanced XLR out for direct connection to a PA or recording interface, and an additional output for your main amp.
Blend Dial
With the Deluxe Bass Big Muff Pi, you can achieve a massive bass fuzz tone without sacrificing the dynamics and definition you need. This is because the classic Bass Big Muff Pi from Electro-Harmonix now features a blend control, allowing the player to add some undistorted signal back into the distorted sound.
Character & Sound:
The Blend knob combines the distorted and dry signals, while the Crossover switch applies a lowpass filter to the dry signal and a highpass filter to the distorted signal in series. This is remarkable since it not only tames the harshness of the distorted sound but also adds an element akin to funky parametric tone shaping, making it deserving of its pedal. This pedal has two different effect outputs, a clean direct out and a Pad switch for use with either passive or active basses at the input.
Pros:
Outputs in various formats allow for easy configuration and optimal sound quality. Powerful blending and gating variables The Bass Big Muff's foot-switchable crossover circuit brings it to new musical territory at a low price.
Cons:
It's challenging to find criticism with this pedal. However, when it comes to distortion, bassists have particular needs, such as preserving the low end. The Deluxe Bass Big Muff Pi equips you with all the tools you need, like a Blend knob, to steer clear of those problems and produce fantastically distorted tones without sacrificing your bass.
Conclusion
Because guitar effects pedals are responsible for most of the instrument's transformation, low-end is essential and can be delivered coolly when used appropriately. We have a wide variety of options when it comes to bass pedals. Solutions that have been available for a while on the market are displayed here with both new and innovative solutions in idea and scope. We couldn't remove the Darkglass pedals from this list because of their impact on the bass guitar and the metal music genre. From the start, they were able to overcome all obstacles and provide artists with all they might want or need.
The more forceful or subtle tones of the Darkglass Alpha Omicron Bass Distortion are available in its analog mode. The Growl button provides a fuller tone with a straight punch, while the other helps to achieve a clean tone that is as close to perfect as possible. Although its high price tag may be off-putting at first, and the fact that, for a higher price tag, you can have something even more powerful from them may create doubts, rest assured that it is as intricate as it gets and delivers quality audio.
The Darkglass Microtubes X Ultra has a lot of harmonic intensity since the compression and overdrive it applies affects the lows and the highs independently, allowing maximum customization. In addition, it supports Di and provides an impulse-response-based cabinet emulation. You'll be spending a lot of time with the 6-Band Graphic EQ, but it's worth it because it allows bassists to easily craft their tone while being a sophisticated EQ that responds well to tweaks.
The Big Muff's distinctive tone and unmatched history make it permanent on every serious guitarist's pedalboard. The Little Big Muff Pi from Electro Harmonix is a smaller, more portable version of the original Big Muff with all the same great features. The pedal's design has been requested for some time, but don't think that the reduced size means it can't provide the same renowned sustain.
In addition, the Deluxe Bass Big Muff Pi launched not too long ago, is an attempt to bring Electro Harmonix into the present day. The footswitch circuit allows for greater flexibility in terms of Output, and the unit's powerful gate and mixing are particularly noteworthy.
Although these products aren't exhaustive, they are among the finest of 2023, and we hope they've inspired you to explore new avenues in your pursuit of flawless tone.
Death metal enthusiast here. I am a Romanian musician and producer with over 13 years of experience in the music industry. I've experienced all types of Metal up until now, playing Melodic Death Metal, Brutal Death Metal, and Black Metal with different bands. Learning by doing is my base principle, which is why I've been drawn to sound design from an early age. Read more…