No studio will be complete without a pair of studio monitors.
While mixing with your headphones is tempting, you don't get the same punch and accuracy that a studio monitor offers. Sure, studio headphones are cheaper and easy to carry. But they don't have the same quality of drivers the studio monitors offer.
Using studio monitors has benefits, with the goal of helping you identify the flaws in your recording and mix. Whether you have a bedroom recording set-up or a full-fledged recording studio, incorporating a pair of studio monitors in your recording desk gives you an audio perspective that ordinary speakers don't offer. The advantages of having studio monitors include:
Preventing distortions in the playback 
Cranking up an ordinary pair of speakers introduces more noise and clipping in the playback 
Having a Flat Frequency 
Studio monitors were designed to be neutral, without any unnecessary frequencies attenuated or boosted 
Multiple Power Amplifiers 
Having individual amplifiers for the tweeter, woofer, and mid-range speakers allow for better hearing of the frequency spectrum 
Higher dynamic range
Studio monitors tend to have a wider dynamic range, which equates to being able to hear lower frequencies clearly 
Choosing which studio monitors suit you can be tricky, considering all the available brands. To help you get started in your journey of choosing studio monitors, let's take a look at what the best-selling brands are today.
1. KRK Systems
Known for their yellow and black speaker cones, KRK Systems has provided recording studios with studio monitoring equipment. It has become the choice of many recording engineers and producers, so you'll likely find a pair of KRK Speakers in professional recording studios.
The product line of KRK spans studio monitors, subwoofers, and headphones. They're priced at the mid-tier and easily one of the preferred brands for small to medium-scale recording engineers and music producers.
Brief History
KRK Systems started in 1986 due to not having a good pair of speakers to produce sound for films. At that time, Keith R. Klawitter worked on films like Brainstorm and The Doors. Klawitter was looking for accuracy and clarity, which drove him to produce his line of studio monitors.
Many studio engineers took notice of Klawitter's work, and for a decade, Klawitter worked on custom orders until eventually deciding to establish KRK Systems. At the beginning of the new millennium, KRK established itself as the choice for many electronic producers.
Starting KRK wasn't easy at all for Klawitter. He hand-made the speakers from scratch until he found the right design. He also took on live sound projects until he settled on studio gear. Today, KRK is owned by the InMusic Brand, which acquired the company from Gibson Pro Audio.
Claim to Fame
One thing noticeable with KRK Studio Monitors is their yellow and black speaker cones. Once a recording engineer or music producer sees this color combination, it's likely a KRK studio monitor.
Another notable thing about KRK Studio Monitors is how they work well with electronic music, particularly when mixing tracks that are bass-heavy.
A good example of these speakers is the KRK Rokit G4 (Generation 4), the company's best-seller. Based on reviews, many have noted how the bass tones on these speakers are prominent and accurate. If you're into EDM music, you can't go wrong with the Rokit G4.
Contemporary Offers: KRK Rokit 5 G4
The KRK Rokit 5 G4 is one of today's most popular studio monitor models. For its size, this studio monitor works best for studio producers and artists making music at home.
Like all KRK speakers, the Rokit 5 G4 features the same yellow and black speaker cone. It also has an optional speaker cover to protect the cones from damage.
The Rokit 5 G4 features a five-inch speaker, but you can also get models with larger speaker sizes. The Rokit 5 G4 is sold individually, but bundles are available for a paired unit.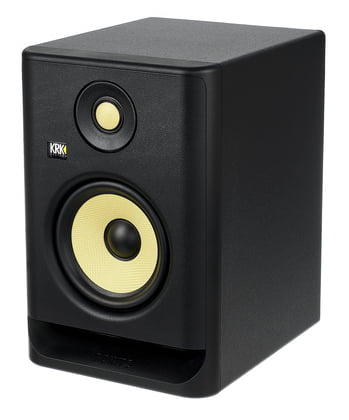 Features:
The KRK Rokit 5 G4 has a slew of interesting features that make it noteworthy, ranging from durable speaker cones to voicing.
DSP Graphic EQ
The Rokit 5 G4 features a DSP-powered graphic equalizer with 25 presets that allow you to tune the speakers based on the room's acoustics. You can control these settings using the KRK Audio Tools app that you can access on your smartphone.
KRK Audio Tools App
This smartphone app isn't just for tuning the speakers to compensate for any imperfections in the room acoustics. You can also use this app to help you position your studio monitors with respect to your desk, adjust levels, and eliminate phase issues, among other things.
Class D Amplifier and Brickwall Limiter
The driving power for the Rokit 5 G4 is a Class D amplifier that has a Brickwall Limiter that ensures volume levels are maintained and improved dynamics. Likewise, the Class D amplifier provides better operations without overworking the speakers and circuit.

Kevlar Woofer and Tweeter Speakers


Lifting from the innovations of the KRK V Series speakers, the Rokit 5 G4 uses high-quality Kevlar for its woofer and tweeter. Using Kevlar ensures a better strength/weight ratio and durability.
2. Tannoy
The Tannoy brand is perhaps one of the richest in terms of heritage. Starting out with public address systems, Tannoy became synonymous with this purpose. It, in fact, has become part of the dictionary, referring to public address systems.
With almost a century in the business, Tannoy continues to make speakers designed from different applications, including studio and live sound.
Brief History
Tannoy started in London when it was founded by Guy Fountain in 1926. Back then, it was using the name Tulsemere Manufacturing Company. Two years later, it adopted the name Tannoy after the main materials used for its rectifiers: Tantalum and Alloy.
From the 1930s up to the 1940s, Tannoy carved its niche in the public-address system. In 1947, Tannoy launched its dual-concentric drivers that redefined the audio industry. In the 1970s, Tannoy would become a staple in the recording industry, with Pink Floyd recording through these speakers.
Tannoy was later bought by Harman International Industries and would be last acquired by the Music Tribe group, the owners behind the Behringer brand.
Claim to Fame
Perhaps one of the most iconic appearances of Tannoy was during the recording of the Pink Floyd Album "Dark Side of the Moon. EMI Studios employed Tannoy Gold studio monitors to record this album and get the iconic London sound today.
The Tannoy Golds were designed with power efficiency in mind. The bass and tweeter diaphragm has minimal phase issues by putting the tweeter diaphragm behind the driver magnet. Sounds are also accurate and transparent, something other studio monitors were trying to achieve.
As part of its design, the high-frequency driver was placed in an inverted phase position, wherein airwaves travel through a phase plug amplified by the magnet and boosted by the bass diaphragm. The use of a phase plug allowed for the retention of high frequencies.
Contemporary Offers: Tannoy Reveal 502
The Tannoy Reveal 502 is a great way to try Tannoy without breaking the bank. Loaded with five-inch speakers, the Reveal 502 is a perfect addition to any home studio or professional studio that needs more reference speakers.
These speakers help you get that sweet spot for listening. You can move around while reviewing the mix or have someone review the work, even when not sitting in the listening position.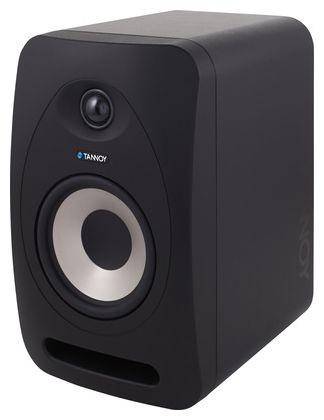 Features:
105 watts of power
The Reveal 502 features 105 watts of speaker power with its five-inch woofer and 1-inch tweeter, which are bi-amped.
Multiple Inputs
You get three options to connect your audio sources to the Reveal 502: via XLR or 1/4-inch inputs for mixers or audio interfaces, or you can connect through the 1/8-inch aux jack if you need to connect your music player. On top of that, you can link your left and right speakers through the Aux Link feature.
Compact size
The Reveal 502 speakers are compact, making them ideal for home studios. Full-sized professional studios will also like these speakers as a supplementary pair for additional references.
3. Mackie
When you see that small running man stick figure logo, you know it's a Mackie product. Among all the brands in the market, Mackie has one of the most recognizable logos in the pro-audio industry.
Mackie has had a long history in the audio industry. It started from mixers and eventually branched out to other related products, including studio monitors, audio interfaces, and monitor controllers.
Brief History
Mackie Designs Inc. is the brainchild of Greg Mackie, a former Boeing employee who assembled pro-audio and guitar amps in his free time. Mackie had founded TAPCO and Audio Control before beginning Mackie Designs, targeting consumers who wanted a low-budget offering that could compete with top brands.
The first Mackie product was the LM-1602, a line mixer sold for $399 then. These mixers had good sales enough to move the operations of Mackie to a larger space. In the 1990s, Mackie introduced the HR series of studio monitors. In an unprecedented move, 55 percent of Mackie's sales would come from speakers in 2001.
Claim to Fame
The most notable studio monitors of Mackie are the HR series. Released in the 1990s, these speakers helped bolster the sales of speakers for the company, which resulted in most of their sales coming from their speaker line.
While these speakers were a commercial success, Mackie found ways to add more innovations to their functionality. The HR series was later succeeded by the HR mk2 speakers, which Mackie continues to offer today.
Contemporary Offers: HR824mk2
The Mackie HR824mk2 is a significant improvement from its predecessors. While the previous HR series was already good on its own, the HR824mk2 introduces improvements that affect the overall quality of the speakers.
For one, the HR824mk2 features a Zero Edge baffle made of solid aluminum. These speakers also have a calibrated waveguide to improve the accuracy of the sound that comes out of the speakers.
Features:
Most of the features found on the HR824mk2 are improvements from the previous HR series.
Acoustic Space Control
For those working in a less desirable room, the built-in Acoustic Space Control lets you fine-tune the speakers to match the room's acoustics. There's also a high-frequency shelf and low-frequency roll-off to help you adjust the speakers.
Sufficient Wattage
The HR824mk2 uses a Fast Recovery (FR) Amplifier to drive 150 watts of power to the speaker, while the waveguide dome tweeter uses 100 watts. To eliminate phase issues, there's an active crossover available for this correction.
Time Correction 
The HR824mk2 also has a time-correction circuit that allows low and high frequencies to be heard simultaneously.
4. Adam Audio
ADAM Audio is another industry name you will likely see in big-time studios. From hand-built components to accurate sound references, it's not surprising that the brand is one of the must-haves for a professional recording studio.
While only two decades old, ADAM Audio has managed to innovate and put itself on the map of the audio industry. You can find ADAM Audio in over 70 countries worldwide, even with a small team globally. 
Brief History
ADAM Audio was established in Berlin sometime in March 1999. Taking a cue from the AMT technology developed by Oskar Heil, ADAM Audio used this as their basis to develop their products. The end result was the Extended Accelerating Ribbon Technology (X-ART).
The X-ART creates sounds with a pleated diaphragm that can move air four times faster than AMT. The result of this design was promising and used as the basis for developing ADAM Audio products.
To take things a notch higher, ADAM Audio used newer materials, such as rare-earth magnets and durable diaphragm foils, to improve driver geometry. Because ADAM Audio continued to innovate, it would produce speakers surpassing the traditional driver's efficiency.
Today, ADAM Audio continues to operate under the Focusrite Group, the same company behind the ubiquitous red audio interfaces and preamps.
Claim to Fame
If there's anything worth noting about the speaker line of ADAM Audio, the A Series is their best seller.
The A Series is a product line under the famous AX Series of ADAM Audio. These speakers feature significant improvements over the years, reflecting the brand's commitment to producing better results.
The A Series speakers feature Multi-Layer Mineral Drivers, X-ART, and DSP to improve sound quality. The A Series is also the perfect meeting point for affordability and good sound quality for many sound engineers.
Contemporary Offers: A8H
The A8H is the flagship speaker of the A Series of ADAM Audio. Available in left and right variants, these speakers feature an eight-inch MLM fiber woofer, a 3.5-inch DCH midrange driver, and a handmade X-Art tweeter to cover a wide frequency range.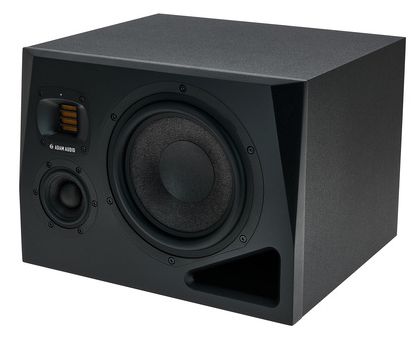 Features:
The A8H offers the best of ADAM Audio. You could say they crammed the best features they can offer without costing a lot.
Rotatable HPS
The rotatable HPS lets you change speaker dispersion to help you get the sweet spot sans reflections from studio furniture or fixtures.
Triple Amplifier
Behind the three speakers of the A8H are a 250-watt Class D amp to power the woofer, a 70-watt Class AB amp for the midrange, and a 20-watt Class AB amp for the tweeter.
DSP Technology
To help you fine-tune your speakers to your room, the A8H features DSP tuning that works with the Sonorworks SoundID plugin (sold separately) to ensure accurate sounds. It can be hard to get an accurate mix in a badly-treated room, so this DSP was introduced to help users match the speakers to the room.
5. Yamaha
Yamaha is perhaps one of the most prolific brands when it comes to music and sound. Yamaha will likely offer a product for different uses, from musical instruments to pro-audio gear.
The company is no stranger to the pro-audio market, as it offers a wide gamut of gear, ranging from mixers, headphones, and speakers.
Brief History
Yamaha ventured into pro-audio in 1969 when it introduced its line of speakers. In the 1970s, it introduced its line of mixers and amplifiers. The 1980s saw Yamaha stepping up its business by embracing digital technology with its mixers and signal processing gear.
It continued its production of digital gear and later introduced newer speakers, such as the HS series, for studios.
Claim to Fame
One of Yamaha's most prominent products for studio speakers is the HS series.
The HS series are known for being honest. For some, it's too honest to the ear. While some studio monitors tend to have more prominent frequencies, the HS series was designed to be as transparent as possible. If you're looking for a flat response, these speakers are as close as they can.
These speakers are also easily identifiable. HS speakers have a combination of black and white speaker cones, just like how the KRK Rokits are known for their yellow and black combination.
The HS series comes in three speaker sizes: 5 inches, 6.5 inches, and 8 inches.
Contemporary Offers: Yamaha HS8
The Yamaha HS8 is the most popular choice in the HS series line. Many have sworn by these speakers as they deliver one of the most accurate recreations of your recordings.
These speakers are the biggest in their product line, so they're good for use in the recording studio.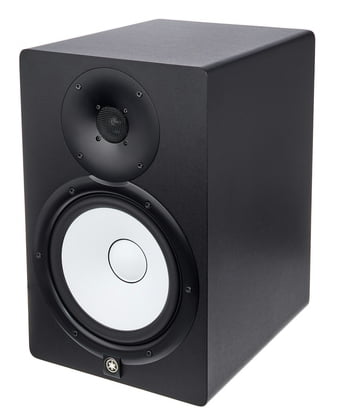 Features:
Improved Transducers


The HS8 comes with better-designed transducers that provide a smoother response. The magnetic field controls the response to provide a more natural sound from the speakers.

Lower Resonance


The HS8, like all other speakers in the series, produce lower resonance with the help of a stronger MDF board and a three-way mitered-joint design for better stability.

Room Tuning


The HS8 has a Room Control feature that lets you reduce the amount of artificial low-end frequencies and better tuning of high frequencies.
6. Presonus
Presonus has always positioned itself as the "in-between" brand. It never claimed to be the best for professional use, but it never tried to say it was an outright budget brand.
But if you look at their products and ratings on online retailers, you'll see good reviews, reinforcing that their strategy works.
Brief History
Like many companies, Presonus started in a garage in Louisiana back in 1995. Founded by Jim Odom and Brian Smith, both electrical engineering graduates, the two originally ventured to solve some technical issues found in music CDs. Their first product was the DCP-8, a digital processor that let users control analog audio with MIDI signals.
Later, the two ventured into creating other pro-audio equipment, including audio interfaces and preamplifiers. 14 years later, they developed their first Digital Audio Workstation, Studio One.
Presonus, later on, managed to expand by acquiring other companies, including Nimbit and Notion Music. January 2013, or 18 years after its founding, Presonus launched its studio monitor line, the Eris series.
Claim to Fame
Presonus entered the studio monitor market with the Eris series, which, until today, remains one of the fast-selling studio monitors for home studios.
The Eris was designed for users who did not want to splurge on a set of studio monitors yet still managed to deliver high-quality audio for mixing at home. The Eris comes in two sub-series: the Eris and Eris XT, each with a set of speakers available.
Presonus refers to the Eris as Media Reference Monitor, while the Eris XT is a studio monitor. The Eris was designed for the home producer or enthusiast, while the Eris XT is the professional line of speakers. In both cases, both sub-series are good for referencing a recording mix.
In addition, the Eris line also offers versions with Bluetooth connectivity.
Contemporary Offers: Eris 3.5
The Eris 3.5 is perhaps one of the fastest-selling studio speakers today. While Presonus refers to them as Media Reference Monitors, the Eris 3.5 is still a good choice to mix your tracks with, although you may not get the same results compared to higher-end studio monitors.
For anyone looking to buy their first speakers for a home studio, the Eris 3.5 is a good choice, considering the sound quality and the price.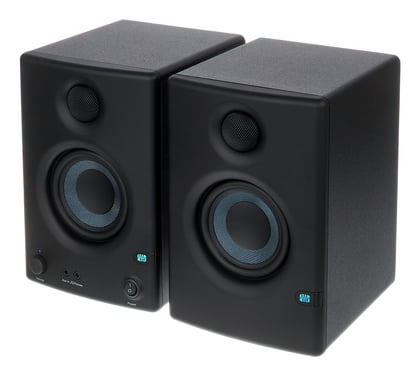 Features
Woofers and Tweeters
The Eris 3.5 uses a low-frequency, woven composite driver to create a consistent sound dispersion within its frequency range. This results in a cleaner sound coming out from the speakers. The tweeters, meanwhile, are made of silk that ensures smoothness of tones and accurate recreations of the high frequencies with a wide pattern to ensure you're always at the sweet spot.

High and Low-Frequency Controls

The Eris 3.5 has high and low-frequency controls to help your speakers adjust to the room acoustics. Each speaker is driven by a 25-watt power amplifier that can get loud but not distort the playback.

Studio Magic

Like other Presonus Speakers, the Eris 3.5 gives you access to Studio Magic, a $1,000 suite that includes plugins, virtual instruments, and guides that can help you get started with recording and producing.
7. EVE Audio
Starting only in 2011, EVE Audio managed to carve its niche in the audio industry with its studio monitors. Using its trademark DSP and Air Motion Transformer, the company managed to create a good following, establishing itself in 60 countries quickly.
While EVE Audio is fairly new to the market, you can't say the same for the people behind the brand. Roland Stenz, the founder of EVE Audio, is a long-time expert in the Audio industry and once headed ADAM Audio, another studio monitor manufacturer.
Brief History
EVE Audio was started in May 2011 by Roland Stenz, a long-time audio industry expert who once became the CEO of ADAM Audio, another popular speaker brand. While the company started in 2011, it was only on March 2012 that the company first launched its products at the Musikmesse that year.
Their first products consisted of studio monitors and subwoofers, all of which had built-in DSP. The use of DSP made EVE Audio one of the first companies that used this technology.
Two years later, EVE Audio launched its flagship speakers, the SC3010 and SC3012. They followed a year later with their SC203 desktop speakers and PMR 2.10, a passive monitor routing system. In January 2020, EVE Audio launched its SC4070, a four-way studio monitor that would later be awarded the TEC Award at the NAMM show for best studio monitors.
Claim to Fame
EVE Audio studio monitors are known to use the Air Motion Transformer (AMT) for recreating high frequencies. AMT deviates from the usual speaker driver systems. It uses a light diaphragm that's hand-folded and comes with a thin layer of aluminum. The signal then moves through the conductor paths.
Now, the diaphragm is put on a magnetic field, which results in the air in the gaps between folds getting squeezed out at a 1:4 ratio. This then results in better clarity and dynamics while maintaining low distortion levels.
Considering that EVE Audio has different speaker sizes, the company developed three kinds of AMTs to match different monitor sizes. While the system is the same, the different AMTs work with corresponding frequencies and sound pressure levels (SPL).
Another claim to fame for EVE Audio is the use of DSPs. The company is one of the early users of DSPs for their studio monitors, which allows users to adjust the tuning of the studio monitors to adapt to the room acoustics.
Among all the studio monitors EVE Audio, the company is most recognized for its SC4070. This model was awarded the best studio monitor in the June 2022 NAMM show.
One thing notable about these speakers is that they can be placed either horizontally or vertically. You can position the SC4070 as a center speaker for reference, but just the same, you can also position them left and right for stereo imaging.
Contemporary Offers: SC305
The SC305 is a near-field studio monitor that you can mount vertically and horizontally. Like other EVE Audio monitors, the SC305 uses the same AMT for better recreations of high frequencies.
These studio monitors offer a three-way system for proper frequency distribution. This design allows for the offloading of frequencies, with each cone acting as a woofer for low and low-mid frequencies.
On its own, you can use the SC305 as a center studio monitor, but you can also have them mounted left and right. Note that the SC305 is sold as a single speaker, so you need to get two units for stereo monitoring.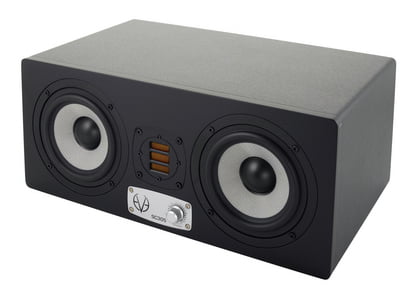 Features:
The SC305 has its share of interesting features that make it easy to use in any recording studio.
DSP Chip
Like all EVE Audio studio monitors, the SC305 has a DSP system based on BurrBrown parts. The DSP ensures low latency while shielding the tweeter and woofers from overload.
Easy Speaker Positioning
The built-in DSP of the SC305 also helps you tune your speakers for their position to maintain the correct symmetry between the speakers. There's a dip switch at the back to lock your settings, including volume.
SMART-Knob
Using the SMART-Knob, you can fine-tune the SC305 to adapt to the room acoustics. The SMART-Knob adjusts the volume and filters, such as low-shelf, high-shelf, or mid-EQ sweeps. An LED ring provides information on the current setting of the speakers.
8. Genelec
Genelec takes pride in being a studio monitoring-centric company, although it has expanded its reach with other consumer-grade speakers. With over 40 years of experience, Genelec made its name with its one-of-a-kind innovations in professional audio. 
Today, the company has moved up from being a pioneer in Finland to one of the top-rated brands in the world. 
Brief History
Genelec started as a contractor for YLE, Finland's radio house. Juhani Borenius, an acoustician for YLE, needed an active studio monitor, to which he asked his friends to develop one for him. The first prototypes yielded good results, prompting them to improve their product further.
In 1978, two years after they started the first prototype, the first Genelec speakers were born. Dubbed the S30, these speakers were produced by a small team, yielding 340 pieces a year. Part of Genelec's business model also included installations in theaters.
Genele+c shifted its business to focus on manufacturing in 1989. Since it wanted to be known as a speaker manufacturing business, it rechanneled its efforts in this direction. Luckily, demand increased, and so did the capacity of the company.
In modern times, Genelec continued to adapt to the trends in studio monitoring. It now integrates DSP technology, as well as applications for acoustic calibration.
Claim to Fame
The S30 speakers introduced Genelec to the market in the late 1970s. These were Genelec's first speakers formally made for retail.
But it was the Genelec 1031A that made the brand very reputable. Sold between 1991 and 2005, the 1031A featured Genelec's proprietary Directivity Control Waveguide, ensuring accurate sound quality in the least desirable acoustic treatments.
These speakers also feature crossover controls to precisely match the speakers to the room.
While these speakers were discontinued in 2005, it was in 2014 when the 1031A was inducted into the TECawards Hall of Fame. The 1031A has been replaced with the 8050A model.
Contemporary Offers: Genelec 8050B
The Genelec 8050B is one of the company's best offerings. After retiring the 8050A model, the 8050B takes on the task of being one of the company's flagship products for studio use.
The 8050B boasts a wide frequency response down to 35 Hz. The Minimum Diffraction Enclosure also provides improved audio imaging, resulting in a clear and accurate sound recreation.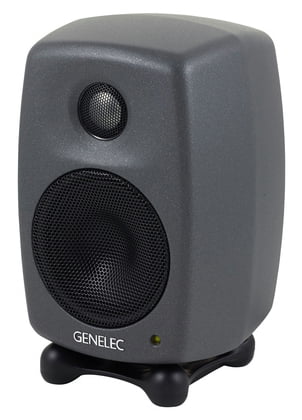 Genelec 8010 AP, Check on Thomann
Features:
Like many modern studio monitors, the 8050B provides users with useful features that adapt to the needs of the times.
Room Compensation
The 8050B features a set of back panel switches that allow you to tune the speakers based on the room's acoustic characteristics.
Directivity Control Waveguide
As part of Genelec's 8000 series of studio monitors, the 8050B uses Directivity Control Waveguide to ensure accurate sound recreations when listening in different positions. You can move around the room and still get a flat response from these speakers.
Reflex Port
To ensure that bass frequencies stay as flat as possible, the 8050B features a reflex port that takes advantage of airflow to produce low frequencies without compression.
ISS Power Management
Genelec uses Intelligent Signal Sensing (ISS) Power Management to ensure that you save on energy costs. The ISS detects signals regularly from the input source. Once the ISS doesn't sense any signal, it will put the 8050B on standby mode, which reduces electricity consumption.
9. HEDD
HEDD is a rather new player in the studio monitor market. Founded in Berlin by physicist Heinz Klaus and his son, Dr. Frederik Knop, a musicologist, the two developed different audio solutions for sound engineers, producers, and Hi-Fi audio enthusiasts.
The HEDD brand leans towards the high-end and boutique consumer. But with the price of their products, you're guaranteed to get a premium product worth every dollar spent.
Brief History
HEDD might be new to the market, but its founders have decades of experience that helped craft the brand.
Heinz, the founder of HEDD, had previously founded ADAM Audio, where he introduced Air Motion Transformers into the design of its speakers. Previously, Heinz was busy dissecting electronics and finding ways to improve the product.
Before HEDD was founded, Heinz spent 20 years as the CEO of ADAM Audio. After his retirement from the company, Heinz felt that he needed to do more and improve his existing innovations. It was from here that he decided to establish HEDD with his son.
Claim to Fame
Of all studio monitors of HEDD, the Type 07 MK2 is the company's flagship model. It features an improved AMT tweeter that takes off the improvements made to the existing versions.
The Type 07 MK2 offers a lifelike recreation of sound in different frequencies. Bass response is quite spot-on, and you won't have any issues working on different types of recordings.
Behind the improved bass response of the Type 07 MK2 is a honeycomb diaphragm driven by an ICE Power Class D amplifier rated at 100 watts.
These speakers also let you tune their tone to adapt to room acoustics. You also get the company's Closed or Ported system that gives you two options for sound.
Contemporary Offers: Type 05 MK2
The Type 05 MK2 offers the same bells and whistles found on the Type 07 MK2 in a smaller package. 
There isn't much difference between the two, except in size, which also affects the application.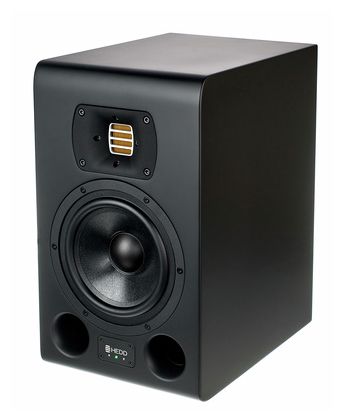 Features:
Speaker Size
The smaller Type 05 works best for home studios due to its size. The diameter is smaller at five inches and is classified more as a desktop speaker. But, just the same, it can still do the job of a studio monitor.
Frequency Coverage
Expect a slightly narrower frequency spectrum coverage on the Type 05, compared to the Type 07, again due to its size.
10. JBL
JBL is one of the most popular brands in the audio industry, as its products are used by professionals and consumers. The brand is no stranger to sound, having its roots traced back to the 1920s. 
The JBL brand is ubiquitous, as you will likely spot someone using these products for everyday applications. They are perhaps one of the biggest sellers of audio equipment in the market due to their variety of products.
Brief History
JBL takes its name from its founder, James Bullough Lansing, and the Altec Lansing brand. Working under the Lansing Manufacturing Company, the first products of Lansing were speaker drivers used for radio sets and consoles.
The first studio monitor that Lansing made was in 1937, under the Altec Lansing brand that bought the Lansing Manufacturing Company. Dubbed the "Iconic", this two-way monitor was compact and the basis of many other studio monitors to be made under Lansing's name.
It was only in 1946 that Lansing established the JBL brand. Its first products were derived from previous designs made under the Altec Lansing brand. While regarded as an innovative engineer, unfortunately, Lansing did not see the fruits of his labor as he passed away in 1949.
The JBL brand continued with the development of studio monitors in the 1960s. Since then, JBL continues to offer different studio monitors and other pro-audio equipment as a company under Harman.
Claim to Fame
The most notable studio monitor by JBL is the JBL 305P.
Now on its second version, these nearfield speakers are ideal for applications that need you to have an accurate sound. The 305P MkII takes features from its 7 Series and M2 Master Reference Monitor to get the best sound quality possible.
The Image Control Waveguide provides for refined transducers to deliver high-quality stereo sound. The sweet spot on these speakers is wide, which makes them ideal for listening sessions as you finalize the mix of your recordings.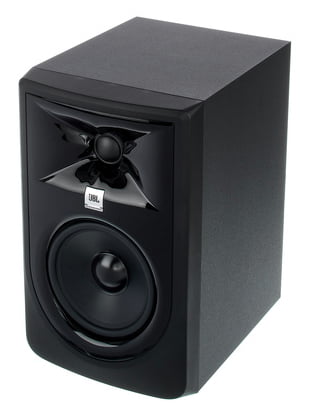 Contemporary Offers: JBL One Series 104  
The JBL One Series 104 was designed for home studios, podcasters, and other professionals needing a compact speaker to carry for work. These reference speakers provide crisp sounds in a small form that fits perfectly on desktops.
The One Series 104 can churn out high volume without distortion. You get to hear your mixes as if they were in a loud environment without any alteration in the tonal quality.
Features:
Unlike other studio monitors, these speakers come as a pair out of the box. Also, these speakers are the only ones not shaped like a rectangular prism, as they look like an egg, making them stand out.
Coaxial Driver
The coaxial driver design and low-frequency port help create a clear and flat sound profile, recreating frequencies from 60 Hz to 20 kHz, despite the size.
Bluetooth Compatibility
If your client has a reference track on his phone or computer, you can easily pair it to the One Series 104 for you to listen to and analyze what they're looking for in their recording. No need for additional cables.
Headphone Output
If you lack headphone outputs in your recording setup, you can use the headphone jack on the One Series 104 as an additional output.
Lightweight
The One Series 104 uses an ABS casing with a metal grill that protects the speakers from harm.
Conclusion
Regardless of the brand, studio monitors are just one part of getting the right sound for your mix. Just as important is also to have the right acoustic treatment and ensure that the speakers are placed in the right position to maximize the sweet spot. Even home or bedroom studios will benefit from the proper placement. 
Some basic things you can do in positioning your speakers include using monitor stands and isolation pads to reduce vibrations that create more bass frequencies. If you can, keep your speakers away from the wall to reduce bass frequencies. 
Studio monitors are an essential investment for any studio. Not being able to use them properly, especially when positioning them, will not yield pleasurable results. 
Studio Headphones & Studio Monitors Topics:
Why Do Headphones Distort? (Especially at high volume)
Why Do My Headphones Make a High-Pitched Noise?
How To Keep Cool Ears While Wearing Headphones?
13 Best Cheap Closed-Back Headphones
Why Do Headphones Sound Like Underwater?
Do Bluetooth Headphones Lower the Sound Quality?
Why Are My Bluetooth Headphones So Quiet All of a Sudden?
Top 7 Cheap Open-Back Studio Headphones For Mixing
Why Pros Wear Earbuds & Headphones?
Do headphones get worse with age?
Could Cheaper Headphones Sound Better?
Can Noise Cancelling Headphones Cause Nausea & Headache?
Why do headphones & cables get sticky?
Can Headphones Break in Cold Weather? (Wireless, Wired & Bluetooth)
Are Noise-Canceling Headphones Good For Music Production?
Will Loud Volume Damage Your Headphones?
Can Wearing Headphones Cause HAIR LOSS? (While gaming or producing music)
Do Headphones or Earphones Damage Your Brain?
Side Effects Of Sleeping With Your Headphones On
FarField, MidField & NearField Monitors – Their Uses, Pros & Cons
Do You Need Music Amplifier For Studio Monitors or Studio Headphones?
Top 7 Studio Monitor Controllers (Best Rated)
How Do I know If My Studio Monitor Is Blown? (How To Fix & Avoid That)
Top 10 Studio Monitor Brands In The World
Are Studio Monitors good for DJing?
Can You Use Studio Monitors as Regular Speakers?
Top 10 Studio Monitors For Untreated Room 
Best NearField Monitors: 12 Picks For More Clarity 
Best Passive Studio Monitors Available
Are Studio Monitors Worth It In The Untreated Room? – 7 Tips
Best Midfield Monitors: 10 Picks For Your Studio
Best Biggest Studio Monitors  (FarField Monitors)
Is Playing Music Loud Bad For Studio Monitors?
How To Stop Headphone Wires From Twirling/Twisting
John Narciso is a guitar player and music technology hobbyist. He loves exploring guitar effects processors in pedal and plugin format and free music applications. His music preferences tend to be diverse, listening to genres spanning from metal to alternative rock and a little hip-hop.