This list will feature the 6 best thunderbolt audio interfaces available in 2023.
While you can record using the old USB and the newer USB-C interface, a Thunderbolt Audio Interface has a more robust system to handle large data transfers to and from the computer.
Make no mistake. A Thunderbolt and USB-C port may look the same, but they are still different when it comes to data transfer. A USB-C port can only handle up to 5 Gb/second of data, which is fast. Thunderbolt 3 ports can deliver up to 10 GB/s of data, which equates to even lower latency during tracking and mixing.
Considering the speed that Thunderbolt 3 can deliver, it makes sense to use it as a way to future-proof your recording setup. That said, here are the top six Thunderbolt Audio Interfaces worth considering for a more professional rig.
Top 6 Thunderbolt Audio Interfaces 2023 (For Pro Sound Quality)
1. Universal Audio Apollo Twin X Duo Heritage Ed.
First on the list is the Apollo Twin X Duo Heritage Edition. This Thunderbolt Audio Interface package features the best of Universal Audio. For starters, you get the Apollo Twin X, a 2-input/4-output Thunderbolt 3 Audio Interface designed for Mac or PC users.
Each Apollo Twin X comes with a pair of XLR combo jacks for microphone and line inputs, a Hi-Z instrument input, a pair of line outputs, a pair of monitor outputs, and an ADAT/SPDIF input to expand the number of inputs on the interface. You can have ten inputs when expanded through the ADAT/SPDIF input.
Designed as a desktop interface, the Apollo Twin X fits perfectly on any desk without the need of having to find rack space in your studio.
While some might look at the Apollo Twin X as a premium-level basic interface, considering the number of initial inputs it has, its features prove otherwise.
Key Features:
UAD-2 DUO Core Processor
The Apollo Twin X takes off resources from your computer and processes specific data on the interface. By unloading resources from your computer, you can track and monitor using plugins live with latency levels of as low as two milliseconds. The signals that come in are pristine, thanks to the top-notch AD/DA converters, the 127 dB dynamic range, and the built-in industry-standard Unison Preamps.
Powerful Plugin Suite
Since the Apollo Twin X Duo Heritage is a bundle, you can access premium plugins from Universal Audio, including five UAD Powered Plugins and the Realtime Analog Classics plugin bundle. Many users say these plugins are one of the most accurate representations of the most popular analog equipment in the market. These plugins include the UA 610 Tube Preamp and EQ Collection and the UA 1176 Compressor Limiter.
Compatibility with Luna
You get access to LUNA, Universal Audio's exclusive Digital Audio Workstation (DAW), for its Thunderbolt Audio Interfaces. This DAW gives you a more cohesive experience using Universal Audio plugins and the Apollo Twin X. This software is free to download for Mac users and is a formidable replacement to other DAWs, such as Logic Pro X.

Backward compatible with previous Thunderbolt versions
Suppose you have an older Mac computer that's still doing fine. In that case, you can still use the Apollo Twin X, as this Thunderbolt Audio Interface is backward compatible with Thunderbolt 2 and Thunderbolt 1. Thus, you don't need yet to upgrade your Mac to a newer model, as long as you have a compatible port. Note that this only applies to Mac computers, and Windows computers need a separate converter to work on older Thunderbolt ports.
Character & Sound:

On its own and without the plugins, the Apollo Twin X provides clear recordings of your raw track. And thanks to its AD/DA converters, the quality is above par. In addition, the signal path features a 127 dB dynamic range making all of this clarity possible.
With the exclusive plugins from Universal Audio, the seamless effects and interface compatibility make recording smoother and less taxing on your computer's processing power. As a result, you can put more plugins than usual, and your DAW will not even struggle.
Pros:
The Apollo Twin X has built-in processors that help offload resources from your computer. With its processing power, you don't have to worry about drop-outs during recording or mixing sessions. Instead, you get an accurate signal from your input device, and with the advanced AD/DA converters, you get an accurate representation of your signal from the instrument or microphone.
With the bundled plugins, you get more than the essential tools and tonal palette you need to enhance your recordings. With the bundled plugins, you already get a good collection of compressors, EQs, amp modelers, and reverbs, among other effects, which are more than enough to get you started.
Cons:
While this bundle is one of the cheaper ones in the market, you will need to use external hardware to unlock the 10-in/6-out features to unlock the full potential of the Apollo Twin X. That entails using Optical Input of the interface and connecting a device with an optical output into the Apollo Twin X.
To maximize the full potential of this interface, you need to use a computer running macOS, as the Luna DAW is not compatible with Windows systems. Even if this interface bundle is cheap, switching your system to macOS can set you off by another thousand dollars to ensure full compatibility.
Choose If:
Home studio owners will benefit Apollo Twin X Duo Heritage Edition as a starting point in opening up their hobbies to become full-fledged recording professionals. It's cheaper than a massive mixing desk, but you still get professional quality outputs, thanks to the plugin suite.
It's also best for those running macOS on their computers, considering that the LUNA software only works with Apple computers.
2. MOTU 828x
The Motu 828X is an audio interface that combines studio and live functionality into a single 1U rack unit. For starters, you get a pair of XLR combo jacks that work with instruments and eight analog line inputs and outputs. This interface connects to your computer via Thunderbolt, USB 2.0, or 3.0.
Initially, you get a total of 10 inputs on the Motu 828x. But when expanded using ADAT and SPDIF, you get a total of 28 inputs. Likewise, the 12 outputs you get becomes 30 using the same hardware attachments.
It's also worth noting that the Motu 828x also has two headphone outputs, which initially eliminates the need for a multi-output headphone amp when tracking one artist.
The Motu 828x only takes up one slot on your rack shelf. Therefore, it should fit easily on your desk's rack shelf. You can also remove the rack brackets if you plan to use this device as a desktop interface.
This interface also runs off 100 – 240 VAC, so a power conditioner is highly recommended to use in tandem with this interface.
Key Features:
Built-in Effects


Thanks to the built-in CueMix FX, the Motu 828x lets you run some effects from the interface instead of your computer. By running these effects from your interface, you can free up more resources on your computer, equating to more live plugins during tracking. Some of the effects of the CueMix FX include compressors, EQs, and reverbs.
Built-in Mixer
Aside from having built-in FX processors, the Motu 828x also functions as a stand-alone mixer. You can save your effects settings in the studio and take them with you when you need a mixer for live applications. By recalling these effects, you can maintain a consistent sound from the studio to the stadium.
Multiple Interface Support
The Motu 828x gives you two ways to connect to your computer. You can opt to connect through Thunderbolt, as the Motu 828x is compatible with Thunderbolt 2 ports. If your computer does not have Thunderbolt 2 ports, you can still get low latency by connecting through USB 2 or USB 3.
FX Sends
For those with many off-board effects units, such as compressors, EQs, and reverbs, you can expand your studio tonal palette using the Motu 828x's FX Loops. Each FX Loop on this interface has a limiter to ensure that you get minimal clipping while providing an additional 12 dB clean boost. You can then use this signal to route into your favorite rack processors.
Character & Sound:
The Motu 828x gives you a good capture of your audio source with little to no coloration in its sound. That can be attributed to the onboard microphone preamps used on the interface. Unfortunately, Motu did not exactly disclose what the preamps are based on; however, these preamps can provide as much as a 58 dB boost to your signal, which can help elevate the sound from weaker sources.
By integrating the onboard effects, you can add more dimension to your input source. The built-in limiter also ensures that the sound your record or process minimizes clipping. For the most part, you can expect little to no clipping when using the Motu 828x.
Pros:
The mixer and storage of FX settings are strong features of the Motu 828x. It helps you maintain your overall sound from the studio should you go live and use the interface as your mixer during your gig. With a little tweaking, you can use the saved settings to get the same vibe you had during the recording to match the acoustics of the venue.
The multiple connectivity is also useful, as not everyone runs a macOS computer. By having USB 2.0 and 3.0 compatibility, you can still get low latency recordings. It's also worth noting that the power cable for the Motu 828x is common, and you don't need to deal with proprietary wall-warts in case you lose or break the power cable of the interface.
Cons:
The first thing one will notice with the Motu 828x is that it lacks a Thunderbolt cable to connect to your Mac. Instead, you need to get one separately from your nearest Apple retailer or computer store. This is unusual, as you will find an included cable when you buy an audio interface from other brands.
Another disadvantage that might change your perception of the Motu 828x is its lack of new firmware updates. As of July 2022, the last firmware updates for the Motu 828x are available for macOS computers running up to 10.14 and Windows computers using Windows 10 and were posted in 2017.
Some users have also reported driver issues, which you can resolve with Asio4All drivers.
Choose If:
The Motu 828x is an ideal solution for anyone looking to have a consistent sound by taking the same recording settings to a live environment. If you have particular settings used in a recording, recalling these settings in a live situation will make adjustments to the venue much easier, as there's no need to guess every time.
3. RME Fireface UFX+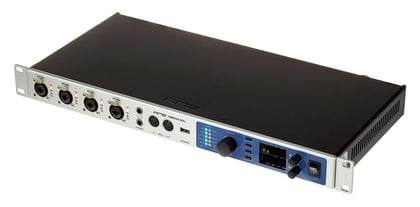 The RME Fireface UFX+ is another Thunderbolt interface worth looking at, considering its features. According to RME, the Fireface UFX+ raises the bar when it comes to the connectivity of audio sources.
Out of the box, the interface features four XLR combo jacks in front and eight line inputs at the back. When utilizing MADI I/O, you can expand the current 12-in/14-out interface to a 188-input device.
Users of this interface get two options to connect their computer. You can run it through Thunderbolt or USB 3.0. In addition, the Fireface UFX+ also has a USB port that lets you plug storage devices of up to 2 TB.
Key Features:
DURec


If you love the functionality of the portable digital recorders that have large storage, you will love the DURec feature. The DURec, or Direct USB Recording, allows you to record directly onto a USB storage of up to 2 TB. With its DSP, the recording function remains independent from your computer, making the Fireface UFX+ a powerful portable recording solution.

TotalMix


The TotalMix software functions like a virtual mixer that lets you create different routings of your signal using the Fireface UFX+. You get access to effects processors, which you can route to different monitor mixes. On top of that, the complimentary iPad app gives you a remote control that allows you to make tweaks even when away from the desk.
DigiCheck
The Fireface UFX+ gives you access to DigiCheck, a software that allows you to test audio signals. With it, you can check for phase issues and peak levels and even do spectral analysis. DigiCheck also lets you check dynamic to signal noise ratios, which will help you make the necessary adjustments. Another bonus to DigiCheck is that it's free to use, as long as you have an RME interface.

ARC USB


The ARC USB is a separately sold MIDI controller that has native compatibility, provided that you have an RME audio interface connected. This controller lets you have better control of the Fireface UFX+, as it lets you assign functions on its 15 buttons and adjust the volume of the output. You can think of it as a dedicated monitor control system, similar to the Presonus Faderport.
Character & Sound:
Like other flagship audio interfaces in the market, the Fireface UFX+ lets you record the rawest yet clear sound possible, thanks to the high-end preamps that RMC uses on its devices. There might not be any limiters, but with the control offered by the TotalMix system, you can adjust things accordingly for better results.
And with the help of the DigiCheck, you can ensure the integrity of your audio signals. Simply integrate DigiCheck into your workflow and run it to find any issues in your audio signal. Thanks to this software, you can ensure that the signal processed by the Fireface UFX+ won't be problematic later on in the mixing stage.
Pros:
Perhaps the strongest feature of this interface is the DURec. As a standalone recorder, the DURec feature lets you record up to 74 tracks, which is enough to record a full production show with different audio sources. Plug in a 2 TB hard drive, and you'll have enough space to record a one-hour show.
Another notable feature is expandability. By expanding to its maximum of 188 inputs, you can practically track a whole orchestra and still have more inputs to spare. That's more than enough input to record Metallica and the San Francisco Symphony at the same time.
Cons:
One thing users have observed with the Fireface UFX+ is the learning curve. While there have been improvements in the software interface design, it takes a little more time to get used to. But once you get the hang of it, you will have a powerful recording tool at your fingertips.
Another notable weakness is investing in additional hardware to maximize the features. For one, you get enough microphone inputs to record a drum kit, but to make the most of the interface, you need to have additional ADAT hardware to gain full access to the inputs of the Fireface UFX+.
Choose If:
For people looking to have a portable recording solution for gigs without bringing a computer, the Fireface UFX+ perfectly fits the bill. It's also a great addition to any backline rental that wants to offer on-location recording as a premium service.
4. Antelope Orion Studio Synergy Core (Thunderbolt & USB)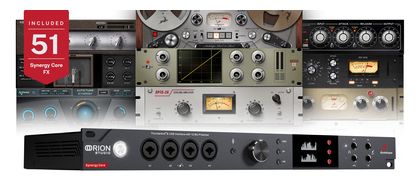 For those looking at using a lot of microphones for recording, the Antelope Orion Studio Synergy Core should be on your shortlist of Thunderbolt Audio Interfaces.
With 12 XLR combo jacks, you'll have enough microphone inputs to record a five-piece band, even when using a full drum microphone kit. Even better, you can run up to 128 effects plugins at the same time while only using the Orion Studio Synergy Core processors.
As a result, you won't need to take up resources from your computer, making the recording easier.
Speaking of processors, the Orion Studio Synergy Core uses six ARM-based DSPs and a pair of FPGAs to ensure smooth performance during recording.
Furthermore, because of its processing power, the Orion Studio Synergy Core can run all those effects plugins without latency. So, what else can one expect from the Orion Studio Synergy Core?
Key Features:
Expandable Effects Library


Out of the box, the Orion Studio Synergy Core comes with 50 effects plugins that you can run off the interface. These effects include amp modelers, compressors, equalizers, reverbs, and even a pitch corrector that's powerful enough to help you correct pitches and even keys of recording. If you find something missing, you can buy more plugins from Antelope Audio and load them into the interface.
Reamping Jacks
The reamping output lets you run existing recordings to your outboard effects or even your pedalboard so that you can integrate these hardware processors into your recording. Not all interfaces allow you to do a direct reamping output, which is why this feature is a plus for the Orion Studio Synergy Core. In addition, you don't need any converters to make the signal compatible with your effects, which lessens errors when reamping.
Software Control Panel
Antelope Audio's Software Control Panel bridges your interface and your DAW. Using its single window interface, you can use this software to adjust gain levels, apply effects, and route signals to your DAW or even one of the outputs of the Orion Studio Synergy Core to send to another computer or even your PA system.
Bypassable Preamps
If you already have a good set of offboard gear, you can bypass the preamps on the Orion Studio Synergy Core to record directly to the digital converters of the interface. By bypassing the built-in preamp of the interface, you can remove redundancy in the effects chain for a more consistent signal based on what is fed to your inputs.
Character & Sound:
The Orion Studio Synergy Core is like many of the interfaces in this article. Latency is almost zero, and the built-in preamps do a good job of capturing the rawest possible signal.
With the preamp bypass feature, you can remove any possible coloration, especially with line-level signals.
The built-in effects are also a great feature, especially the Auto-Tune Synergy, which comes free with the interface. This plugin is a plus; it helps you fix any missed notes made during tracking.
Aside from that plugin, the 50 other plugins that come with the interface are also useful in enhancing the overall mix of the recording.
Pros:
One of the strongest features of the Orion Studio Synergy Core is its 12 XLR combo jacks that have preamps on each input. This feature provides many possibilities in recording: you can record a full drum kit, do live band recording and incorporate different gang vocals during the take, and so forth.
In addition, with 12 microphone inputs, you can record different musical acts.
Another strong point here is the expandable effects library. Since the Orion Studio Synergy Core can run plugins without taxing from the computer, you can take advantage of this feature by getting more plugins from Antelope Audio and loading them onto your interface. You can build around this feature to keep your DAW running smoothly.
Cons:
One of the notable weaknesses of the Orion Studio Synergy Core is its dependence on the AFX2DAW. While optional to use, the AFX2DAW is actually what allows you to maximize the potential of the interface.
And unfortunately, the AFX2DAW does not come in for free and is an added $199 to use. It's also worth noting that AFX2DAW is only for Thunderbolt ports.
Another disadvantage of the Orion Studio Synergy Core is that you can only use some plugins a number of times. While Antelope boasts 128 plugins running, this limitation caps the number of plugins that may be present during a recording.
That could be attributed to the power of the DSP, and the limit varies per plugin.
Choose If:
The Orion Studio Synergy Core is ideal for producers who rely a lot on digital effects or plugins. The expandable plugin library will be useful for anyone who wants to build on this interface as the core of one's music production.
5. Universal Audio Apollo Solo TB3 Heritage Ed.
The Universal Audio Apollo Solo TB3 Heritage Edition is a Thunderbolt Audio Interface bundle, just like the Twin X Duo Heritage Edition. You can say that this bundle is a scaled-down version of the Twin X Duo bundle.
To start things, this bundle works around the Apollo Solo, a desktop Thunderbolt 3 audio interface. In addition, it has a pair of Unison preamps onboard for its microphone inputs, which is one of the selling points of the Universal Audio interfaces.
Accompanying it is the Heritage plugin bundle, which runs off the Apollo Solo interface. These plugins are based on classic plugins and effects processors that have been industry standards for years. These plugins don't take up resources from your computer as they run from the interface, so your DAW can still run smoothly.
Key Features:
Compact Form


The Apollo Solo was designed as an on-the-go interface. It fits easily into any laptop bag, so that you can record anywhere, especially when inspiration strikes. It's also bus-powered, so you don't need an external power supply to run the Apollo Solo.
Unison Technology
The Unison Technology used on the Apollo Solo makes the emulation of the sought-after preamps more realistic when recording. Some of the emulations you get with the Apollo Solo include the Neve, Fender, and Marshall-inspired plugins that come with the bundle.
Compatible with LUNA
To maximize the potential of the Apollo Solo, you get access to LUNA, Universal Audio's DAW designed to run exclusively with Universal Audio interfaces. This DAW runs on macOS only and was developed to ensure smooth operations of the interface, especially with the offloaded plugins.

Wide Plugin Library
Aside from the plugins you can run on the Apollo Solo, this interface also gives you access to 14 Universal Audio plugins that emulate different preamps, and reverbs. These plugins are more than enough to help you produce a decent sounding demo or study mixes that you can send to your bandmates or session players to help them study new music.
Character & Sound:
Like its bigger brother, the Apollo Solo provides clear recordings of your raw sound based on your input source. With the help of the AD/DA converters, the recordings you get are a good representation of your input.
With the Universal Audio plugins, your recording experience becomes smoother, as the plugins don't need to depend on resources from your computer. Also, thanks to the Apollo Solo, your computer doesn't need to impart too much of its resources when tracking and mixing with more plugins.
Pros:
The strongest point of the Apollo Solo is its portability. You can easily take it with you on the road to record or even use it as a live streaming device, wherever and whenever. In addition, because the form factor is small, you can easily set up the Apollo Solo in a coffee shop or your hotel room.
Another advantage of the Apollo Solo is that it is bus-powered. That's one less cable to worry about when traveling. As long as your computer has enough power, you can use the Apollo Solo. And with the newer Macbooks in the market today, power won't be much of an issue.
Cons:
The first noticeable weakness of the Apollo Solo is its lack of backward compatibility. For example, the Thunderbolt 3 edition of the Apollo Solo only works with Thunderbolt 3 ports and will not work even with Thunderbolt 2 ports.
At the same time, it will not work on USB-C ports, which require the USB-C edition of the Apollo Solo to function.
Like the Apollo Twin X, the Apollo Solo can only be maximized when using a macOS computer. Because the LUNA DAW runs only on macOS computers, you won't be able to unlock the other features when using Windows PCs or laptops, even when using the USB-C edition of the Apollo Solo.
Choose If:
The Apollo Solo is best for musicians and producers who are always on the road and love to create music wherever they may be. It's also best for those who use the macOS ecosystem to maximize the compatibility of the LUNA software.
6. Presonus Quantum 2626
Presonus won't allow itself to be left out in the Thunderbolt game, as it brings the Quantum 2626 Thunderbolt interface into the market. It's the latest in the Quantum series, which is known for its multiple and expandable inputs and outputs.
The Quantum 2626 has eight XLR combo jacks at the front panel that you can use for instrument and line inputs. You can also chain it to your rack effects, thanks to its effects loop behind the interface. With the help of external hardware, you can expand the input and output to 26 per side, which is enough to record a live band.
This interface features backward compatibility for Thunderbolt 1 and 2. So you won't need any converters, as long as you have the right cables. In addition, the Quantum 2626 runs on 12 V DC, which means it needs a wall-wart to power up. But because it uses DC power, finding a quick replacement is easy, as long as you have the right specifications.
Key Features:
Access to Studio One Artist
Like other Presonus interfaces, the Quantum 2626 gives you access to Studio One Artist DAW. Priced at $100, this DAW comes free with every purchase of a Presonus interface. All you need to do is register your interface, and you will get a download link in your account that will let you download the DAW.
XMAX Preamps
The Quantum 2626 uses XMAX microphone preamps that are said to provide good sound quality, even without using plugins from your computer. These preamps take pride in their high-definition conversion. The latency is also low, reaching below 1 ms when the computer's resources are not maxed out.

High Definition Input


The Quantum 2626 works at 192 kHz for clear audio signals. The XMAX preamps give you high headroom inputs for more defined low and high ends. There's also a 115 dB dynamic range to capture natural harmonics without clipping.

Expandable Inputs


Sometimes, you need more inputs to record everyone at the same time. For the Quantum 2626, all you need is the optional Presonus DigiMax DP88, which gives more microphone preamps for the Quantum 2626. What's even nice about the external preamp is that you can synchronize it with Studio One and the Quantum 2626.
Character & Sound:
The Quantum 2626 delivers well-defined bass and treble frequencies from your audio source. In addition, with the help of the XMAX microphone preamps, you get better headroom and less clipping from the audio source.
The Quantum 2626 has no built-in effects, unlike many interfaces here. But the lack of DSP processing doesn't hinder it from performing well. On the contrary, it contributes to the user experience, as it becomes a simpler machine.
Pros:
One of the selling points of Presonus audio interfaces is the free access to Studio One Artist. While it is not the top of the line in the Studio One lineup, Studio One Artist is still a capable DAW and has most of the tools you need. It isn't limiting compared to the free version, and the $100 savings you get will tell you that you got more than what you paid.
If you're not satisfied with Studio One Artist, you can use your existing credentials for Studio One Artist to upgrade to the professional version, which will come out cheaper than buying the DAW at its regular price.
Cons:
Unlike many of the audio interfaces here, the Quantum 2626 does not have any built-in effects that you can use directly from the interface. All plugins you use run from your computer, meaning you need enough processing power and memory to run your DAW.
If you have used the Quantum series of audio interfaces before, one thing you'll notice with the Quantum 2626 is the single Thunderbolt 3 port, unlike its predecessor's pair of Thunderbolt 2 jacks. Unfortunately, the Quantum 2626 cannot be chained in the middle of a Quanta chain and needs to be in the end to maximize its features.
Choose If:
If you're looking for multiple inputs but without the complex features of DSP effects and routing, the Quantum 2626 is pretty much straightforward for what it does. Sure, it takes more resources from your computer, but operating with multiple inputs can never get any simpler than the Quantum 2626.
Bonus
Avid Pro Tools HD Native TB Core

Lastly, any interface roundup without Avid's Pro Tools won't be complete. Avid offers the HD Native TB Core as its entry to the Thunderbolt connection for the Thunderbolt market.
At first glance, the HD Native might not seem much, as it only has one knob and a headphone output. But when connected to the HD I/O or HD MADI, things become more interesting for this little box.
The HD IO and HD MADI are some of the interfaces you can connect to the HD Native. These attachments and the HB TB Core co-exist to unlock their potential as a pro audio machine. Without one, the other cannot operate at its full function.
Key Features:
FPGA for Low Latency
The HD Native features a pair of FPGA to ensure that your recordings will have low latency while maintaining the highest recording quality. While it doesn't use DSPs, unlike other Thunderbolt interfaces, the HD Native can deliver a high-quality recording, even while leaving the plugin processing and mixing to your computer.

Modular Design


The HD Native is a hub for your compatible input and output devices. Because of the modular design, you can integrate different Pro Tools interfaces or other third-party devices and customize them to your workflow.

Bus-powered


You don't need to scramble for a wall socket or deal with wall-warts when using the HD Native. Instead, it gets power through your computer's Thunderbolt port. Alternatively, you can use a 12V DC power supply to run the HD Native.
Portable
Pro Tools designed the HD Native with portability in mind. That's why the HD Native can fit inside your laptop bag so that you can take it wherever you need it. Likewise, the add-on interfaces for the HD Native don't take up a lot of rack space, so you can still take it with you.
Character & Sound:
For the most part, the recording quality remains consistent on the HD Native, regardless of which Pro Tools interface you add to it. You get the same low latency, with sound quality input varying on what device you attach it to.
For instance, attaching a Focusrite Red 8Pre will have different results when plugging in a Pro Tools HD MADI. The same can be said if you plug an Eventide H9000 in the path. Note that attaching third-party hardware may require an Avid DigiLink License to use. So before experimenting, make sure that a license is available.
Pros:
The main selling point of the HD Native is its flexibility. You're not limited to one preamp or interface; you can attach different compatible interfaces through DigiLink. You can see which one yields the best results based on your application.
Another plus feature is portability. While you still depend on a DigiLink interface, the nice thing about the HD Native is that you can take it to different studios. In addition, you can patch in, provided that the studio you're going to has a compatible interface with the HD Native.
Cons:
While the modular design is a strong point, it is also a weak point for the HD Native. You still need DigiLink interfaces to go with this little box. You can't maximize it out of the box unless you already have a compatible interface. That would mean spending a few thousand dollars to make this work at its full potential.
On its own, the basic HD Native also does not include DAW software, unlike other brands in the market. Not all DAWs work smoothly with HD Native, so check which one works well before spending a few hundred dollars for a compatible DAW to go with the HD Native.
Choose If:
The HD Native is best for producers who have regular access to interfaces that use DigiLink connectors. It's also good for those who need to take their work outside, as the HD Native was designed for portability. If you are on the Pro Tools system and would want something portable for travel, the HD Native is also a good choice.
Verdict
All these interfaces have their strengths and weaknesses. You can't say one interface beats everyone else on the list, as many artists and producers have different needs. Some prefer working in a studio, while others like to finish their music projects in an unfamiliar setting.
If you're looking for power and portability, the Universal Audio Twin X Heritage bundle is a good option, as it has a good collection of plugins. The Apollo Twin X also helps unload resources from your computer through the LUNA software.
For those looking at creating a workflow centered on the interface, the Orion Studio Synergy Core is a good option, given its expandable library. A straight-to-the-point alternative, meanwhile, would be the Presonus Quantum 2626 due to its compatibility with Windows and macOS and less cumbersome workflow.
The best Thunderbolt Audio Interface for you will depend on your workflow and how you manage to finish your projects. There are plenty of reviews on the Internet that will help you make an informed decision.
Other Audio Interface Topics
Why is My USB Audio Interface Buzzing & Crackling?
How To Fix Audio Interface Crackling, Popping & Buzzing?
Top 10 Best Audio Interface For Film Scoring
Is Audio Interface Same As Headphone Amp?
Do I Need To Turn Off Audio Interface When Not in Use?
Top 12 Audio Interfaces For Guitar (On All Budgets)
11 Best Audio Interfaces With Preamp
Top 11 Audio Interfaces With Loopback
Top 11 Audio Interfaces With DSP
Top 12 Audio Interfaces for 5.1 & 7.1 Surround
Top 7 Audio Interfaces For Neural DSP Software
Top 10 Audio Interfaces For Recording Vinyl
Is it Worth Upgrading Audio Interface? Do You Need it & When?
Can You Use DAW Without Audio Interface?
Best FireWire Audio Interfaces: 5 Picks For Pro Sound 2023
Amp vs Audio Interface: Which Is Best For Me?
John Narciso is a guitar player and music technology hobbyist. He loves exploring guitar effects processors in pedal and plugin format and free music applications. His music preferences tend to be diverse, listening to genres spanning from metal to alternative rock and a little hip-hop.