Sound design is used in many different areas, such as music production, movies, games, software, and television.
With that in mind, there are a vast number of plugins to cover in one article.
29 Best Sound Design Plugins In 2022
In this list, you will find the following plugins:
1. Native Instruments Reaktor 6 | More Info
2. Native Instruments Absynth 5| More Info
3. Native Instruments Replika XT| More Info
4. FabFilter Timeless 2 | More Info
5. Izotope Trash2 | More Info
6. Glitchmachines Polygon | More Info
7. SoundMorph Dust | More Info
8. Audio Damage Grind | More Info
9. Audio Damage Discord 4 | More Info
10. Melda MFreqShifterMB | More Info
11. SoundToys PanMan | More Info
12. XferRecords LFO Tool | More Info
13. AudioThing Fog Convolver | More Info
14. Melda MRingModulatorMB | More Info
15. Melda MGranularMB | More Info
16. SoundToys FilterFreak | More Info
17. Cableguys TimeShaper 2 | More Info
18. Sonicsmiths The Foundry | More Info
19. Waves Doppler | More Info
20. Waves Doubler | More Info
21. SONiVOX Wobble Dubstep Grime Generator | More Info
22. Antares Harmony Engine Evo | More Info
23. Eventide Quadravox | More Info
24. illformed glitch 2 | More Info
25. PSP N2O | More Info
26. Loomer Manifold | More Info
27. Polyverse Manipulator | More Info
28. Eventide Physion | More Info
29. Sugar Bytes Turnado | More Info
Download our free Delay plugin with sound design in mind:
Deelay by Integraudio & Sixth Sample – Free Delay VST/AU Plugin
1. Native Instruments Reaktor 6
More Info & Price (Trial Available)
Reaktor 5 is a development environment for audio, effects, and synths, plus much more.
Some of you may know Reaktor for its built-in synths plus its vast selection of user-made libraries. Alternatively, you may use Reaktor for sampling your audio files instead of using a built-in sampler into your DAW. Offering a manual patching system gives you ultimate control of what is affecting your synth/sound, plus where it is being outputted to. Having this level of controllability can be overwhelming, but with a somewhat simple layout, Reaktor makes it easy to create huge sounds in minutes!
The way your sound is processed is through a graphical signal flow paradigm; this will be where all of your parameters, events, MIDI, and oscillator data are combined. Using a smart system of color-coded cables, you will be able to quickly hook up your patch blocks to affect your primary sound source.
Sound Design Tutorial: Using Reaktor as an Effects Plugin
The power of building your blocks can create an edge over others using stock sounds. Getting back to the basics with music and keeping it simple, these guys do very well, granted if you have never applied Reaktor before, it may be a little overwhelming, but once you have found your way around the plugin, it becomes your playground for all things especially sound design.
Patch Blocks offers effects for your sound sources, Reaktor provides many patch blocks to get you started, but the power lies under the hood. You can head over to this link here to download some highly complex synths/effects/generators.
It's safe to say you wouldn't be running out of creative ideas with this any time soon; with an ever-expanding library of sounds, VSTs, and blocks, this really can become an epic weapon for your arsenal. You can get Reaktor 6 from NI's official website.
Key Features:
Unique building blocks built to do various tasks

Over 4000 user libraries

are continually growing
Leading algorithms that go on behind the scenes to make your sounds pop

Unlimited possibilities

for your music, movies, or games
Sound-Design with Reaktor 6 VST
When To Use:
Creating sequence-based sounds
Having a sample but wanting to manipulate it to your liking

Live performances

– you can create custom effects for live shows
When you want to create a sound you have in mind, using the built-in patches, you can create really anything you can think of
2. Native Instruments Absynth 5
More Info & Price (Trial Available)
We are taking a look at another Native Instruments plugin; these guys have several industry-standard plugins such as Absynth 5 with its semi-modular layout, offering a diverse choice of sounds and ways to output sounds is immense.
Absynth 5 is an amazingly natural and organic-sounding synth. It offers three oscillators capable of many tasks you throw its way; this has been a go-to plugin for many professionals since its release back in 2000. With a vast popularity rise, the developers knew they were onto something and, for over a decade, have been putting more and more features built into the synth.
With three powerful oscillators with a popular selection of wavetables, your sound will then be sent to various 8 modules with their own set of 14 filters plus many effects. These modules can be set up in whatever order you wish; for example, you may have a sound that needs a higher pitch; for this, you may decide to use the 'Frequency Shifter' before you send your music to a filter, and then your output.
1 hour sound design w/ Absynth 5
Custom wavetables are another critical feature to Absynth. Offering a window view allowing you to take any wavetable and add more harmonics to create a custom wavetable, you can alternatively create them from scratch, having full controllability. Finally, you can save these for later uses. Envelopes are what control the overall velocity shape of your sound. Absynth comes with preset envelope modes but also has a detailed envelope editor for all three oscillators. Get the copy of NI Absynth 5 here.
Allowing fully controllable macros that can be assigned a variety of parameters, many synths nowadays offer this. Still, like many other plugins, they have great functionality in creating movement, atmospheres, and drones.
Having this level of controllability in one synth puts this synth on a high podium within the industry.
Key Features:
Oscillators capable of combining subtractive synthesis, FM synthesis, wavetable synthesis, granular synthesis, sampling with wave-morphing, filters, modulators, and effects
Built-in sampler allowing you to send your audio samples to any of the built-in effects modules that can be used alongside an oscillator with a wavetable
Coming with a selection of 1800 pre-made deeply atmospheric sounds, there are several possibilities straight off the bat
Define your path of sound processing

The Mutator –

This offers a new way to blend multiple synth patches into a new custom synth patch
Absynth 5 Pads Tutorial 2020 | Design your Atmospheric, Ambient, Deep & Dark Pads
When To Use:
A most common use for Absynth is when you start a new music project/film scoring session/game sound design. With the vast number of presets plus the mutator, you have an unlimited resource of sounds continually being pushed out.
Great for creating custom wavetables.
Having the ability to combine your samples with oscillators can really take a flat kick drum into a thumping kick in the teeth
Great For making your own atmospheric pads within the "Sound Mutation" section
3. Native Instruments Replika XT
More Info & Price (Trial Available)
Replika XT is a highly developed delay combined with a diffusion algorithm packaged into a user-friendly but highly effective plugin. Native Instruments have made this a high-quality, all-in-one plugin for more purposes than just delays used by many professionals.
Replika XT makes your life much easier by developing intelligent delay rhythms, widen your mix, or an untapped sound design factory with just the turn of a few knobs.
Offering you several parameters to affect your delay that other delay modules don't have adds a level of uniqueness to what can be a plain sound before applying Replika. Diffusion is what brings life to the spaces in your tones, and you may be using a pad that cuts off immediately after being played or doesn't have a sense of space. Adding diffusion will process your sound with many more reflective surfaces being picked up, ultimately resulting in a broader, more spacious, and organic sound tweaked to your liking.
Key Features:
Ping Pong delay

switch

Built-in filters

for easy manipulation of delay and diffusion

Accurate visual display

of real-time delay pattern

Five different delay modes

inspired by prevalent delays throughout history (Modern, Vintage Digital, Analogue, Tape, Diffusion)
Replika XT - Creative multi-mode delay | Native Instruments
When To Use:
Creating repeats can turn a single hit sound into a whole other element within your projects without causing you a headache

Diffusion offers the ability to turn.

Plain flat sounds into huge ear-catching sounds. You may decide to use this when your music isn't covering enough of your stereo field

Built-in filters

are handy for taking out nasty or unwanted frequencies. Giving you five filtering options, you can boost and cut until your heart's content
---
4. FabFilter Timeless 2
Discontinued – Replaced with Timeless 3 – Check HERE for more info
Timeless 2 is Fab Filter's versatile delay. This ultimate sound mangler is correctly modeled from a classic tape delay, but it has much more under the hood, creating flangers, chorus, echos, phaser, turntable scratch effects, and much more.
With a very easy-to-assign modulation panel, you can assign modules such as LFO's, Envelope Generator, XY pad, Envelope Followers, and MIDI sources to any knobs within your timeless 2 GUI.
FabFilter has added its array of high-quality filters into twin 2, giving you full control over your delays, adding resonators, or even creating. LFO filter sweep.
FabFilter Timeless 2 - Tips & Tricks part 2
"FabFilter Timeless 2 is another favorite of mine. I love delay, and the ability to create crunchy modulated delays and creative effects has changed my mixes forever!"
Key Features:
Beautiful GUI FabFilter follows a what-you-use-is-what-you-see concept"
Offering a modulation window that is mappable to several parameters plus offers a visual representation
Fully viewable filter windows and multiple filter settings
Over 300 presets
Tap feature to find a tempo
Intelligent mid/side processing
A/B switching
When To Use:
Timeless 2 is not just a delay; you can use it as. Flanger, chorus, slapback…. the list goes on. Timeless is best experimented with on your sounds
Timeless 2 creates depth and ear twisting delays
5. Izotope Trash2
More Info & Price (Trial Available)
Trash 2 has to be my favorite distortion plugin to use for all of my sound design channels.
Trash 2 is a distortion, mangler, and transform plugin capable of giving you highly in-depth graphs, windows, and parameters to play with. Combining filters, convolve, delays, and dynamics, you can get stuck into all it has to offer with the click of a few buttons. Coming with some presets to get you started, you will immediately hear the sound tearing effect of Trash 2.
Trash 2 comes with four multi bands allowing you to pinpoint what frequency range your distortion goes to or even add multiple types of distortion to set ranges. Use the dual stages to apply various distortions to 1 of 4 bands, meaning you have full flexibility.
You may distort a sound which then causes nasty peaks and inconsistencies within the frequency range. The built-in multi-band compressor and gate allow you to control the music as it comes out of the processing line.
Beyond Distortion | Sound Design with Convolve in iZotope Trash 2
Key Features:
Pre and post-processing filtering can be applied
Convolve – convolution modeling allows you to place your audio into another space or object entirely freely

Multi-band compression/gate

window fully patchable to all four bands
Limiter to control the chaos going on under the hood
When To Use:
Adding life to. Dull sound.
A little tip to anyone who uses or wants to use Trash 2 – under the saturation types, you will find 'Tape Saturation.' This subtly adds weight, but when turned up, it can add the fullness you've been missing in the sound
Moving a sound into a new environment or space using convolve
6. Glitchmachines Polygon
Glitchmachines Polygon - Sound design plugin - Granular Sampler Oscillator
Polygon is a sampler-based plugin aimed at electronic producers; using four modules to play your selected sounds (also comes with over 1GB of preset samples) you can develop your old samples into whole new sounds.
Polygon offers granular mode and sub-oscillator to be used to layer with 1 of 4 modules. Polygon brings several top effects and processes, cramming it all into a naturally pleasing format.
The effect processors are metallizer, stutter, and ring mod, frequency modulated (FM). These can go a long way for adding texture and harmonic into your sounds. Following from there, there is a selection of 8 LFOs, all mappable to parameters; envelope 1-4 gives you pinpoint precision for each sample, but also, if you do not want to change the individual containers, there is an available master envelope which will affect all four modules. Like many popular plugins, Polygon has a matrix menu where you can assign a parameter to one another or view preexisting sources, offering flexible control from start to finish. See more info about the plugin here.
Key Features:
4 Monophonic modules for samples
Granular Mode/Various play/loop modes
4 Mod Envelopes & 8 LFOs

3 FX Processors

(metalizer, stutter, and ring mod)
Sub Oscillator to deliver the punch back to your samples
When To Use:
When you are bored of your sample library and want to spice things up! This plugin is excellent for rediscovering old sounds and turning them into something completely new
You could use Polygon for creating a variation of a loop to give your project that edge
Polygon has many uses for your samples, you can turn hi-hat into a modulating rhythm, or you can take a vocal sample and manipulate your heart's content
7. SoundMorph Dust
More Info & Price (Trial Available)
SoundMorph - DUST Plugin - Tutorial
SoundMorph's Dust is in its lane; Dust uses sample-based granular synthesis to twist and manipulate the selected sounds.
Taking particle simulations to a whole new level, Dust uses a particle system allowing users to move and line them within the simulation space independently. Each particle is binaurally based on the position of the particle to the center of the visual display. Forward will push the sound to the front of the speakers, and backward will do the opposite, giving you full control over how your music is perceived.
The sequencer editor allows you to decide when the particles are emitted; each step has four different changeable values. We all love to experiment with LFO well with a very versatile LFO built-in that can be attached to any parameter in Dust, giving you full control. All modulation is additive, meaning it will only add to the manually set value rather than replacing it.
The flow field is generated by complex equations; this determines how particles move around the space and are defined by an equation. Effectors replicate a customizable magnet. The flow field is selected from a list of built-in equations or defined by a user-based equation offering full flexibility.
Key Features:
Built-in convolution reverb

(This works by taking tonal, textural, and temporal characteristics from a loaded audio file instead of computing them algorithmically. This means that instead of calculating the reverb for a given sized room, you can record the sound of a cave in a lead pipe or concert hall and apply this as your reverb.)
Particle emitter x8
The ability to save and load presets
Importing your sounds to work with

Up to 4 modulations

on parameters
When To Use:
Any sample you want to granular synthesizes this is your go-to tool with so many options and rational equations
Dust is perfect for when you have a finished project, but you may have some spaces you want to fill; for example, I might want to add a soft or sharp texture under my track to fill the gaps
8. Audio Damage Grind
Grind is an absolute monster for anything like saturation and waveshaper distortion; Audio Damage says themselves, "Make no mistake: this is not a subtle, polite tool." with that said, you can tame Grind and all its parameters.
Offering a lot under the hood, Grind brings you a multi-mode filter, distortion/saturation, and a wavetable-based waveshaper.
Developed with high-quality distortion/saturation algorithm's you can take any sound and tear into smithereens, granted you might not want that effect, but this is what Grind is for; its to make a sound and send it through a bright array of processes all controllable by yourself. Grind's features 11 types of resonant filter, regular 12/24dB high-pass, 12/18/24dB low-pass, and 24dB Band-pass, Notch, emulations of the famous Korg MS-20 LP/HP, and the screens from Audio Damage's "vintage" 914 band-pass and Filterpod low-pass.
Key Features:
Modulate

with the low-frequency oscillator
11 highly developed saturation/distortion algorithms
Bypass for each processing step
Offers a noise gate
Blending wavetables with the turn of a knob
When To Use:
You might find yourself using Grind for anything from drum loops to bass sections, even to vocals. It's up to you to decide what sounds need a little touch of this plugin. For example, you may want to crush your drums until they are not recognizable, but you might consider putting the same patch but with a much less dry/wet ratio creating a symphony of saturation/distortion
9. Audio Damage Discord 4
More Info & Price (Trial Available)
DISCORD 4 Sounds Smazing │ Stereo Pitch Shifter FX - haQ attaQ 272
Audio Damage brings you a plugin modeled off the H910 since this is a digital stereo pitch shifter.
This gives you multiple options on how to pitch your chosen sound and pitch it up to 6 octaves above its played key. This is a real sound mangler since its first release in 2004; Audio Damage has continued to update and bring you the latest sound advancements.
This plugin contains three intelligent algorithms (Vintage, Clean, Granular), each offering its strengths. Tempo synced delays and filters allow you to match the BPM of your projects. Also, Discord easily adds a reverb into the feedback loop, making shimmering easy to access.
Discord 4 has to be a fan favorite for its reformed GUI; Audio Damage listened to listeners' feedback and made their plugin much more user-friendly. With an easy-to-follow visual display, you are able able to tweak your Discord setting to your liking, implementing all four effects (Shifter, Delay, LFO, Filter, Reverb). Get Audio Damage Discord 4 here.
Key Features:
Ability to choose three unique pitch shifting modes (Vintage, Clean, Granular)

Handy LFO tool

to add modulation
Soft saturation/limiting is involved under the hood
Unique artifacts can be created with ease
When To Use:
Add to a single note midi clip, tweak the setting and hear the magic
Useful when wanting to add shimmering to a sound with the use of the reverb effect
When wanting to add a delay that is temp synced to your project
10. Melda MMultiBand FreqShifterMB
More Info & Price (Trial Available)
Melda brings us MFreqshifterMB, an advanced frequency shifter plugin that analyses the harmonic data of your sound.
With this, you can decide to do some stereo width, flatten out the music, or destroy the music. Six multi bands give you full controllability of the frequency cross-overs, allowing you to process each group independently.
Onboard is a modulation section that is attachable to any parameter, choosing from several modulation sources such as (LFOs, audio level followers, envelope generators, randomizer, and pitch detectors). Included with this plugin, Melda Production appreciates that it can be overwhelming. First, they offer dozens of presets to get to grips with everything that goes into MFreqshifterMB quickly.
Tuning Drums with MFreqShifterMB
The power of this plugin is unlimited.
Whether you want to recreate all your samples into something new, or you want to take a predicting example and correctly put it into the correct key that you are working in, this plugin has got you covered.
Key Features:
Accurate frequency shifting for precision movement
Dozens of presets to get you started

6 Multi bands

that are capable of clean crossovers
Random button for creative ideas
Synchronization with time signatures
When To Use:
When you have a sample that you want to use but it isn't in the right key
Developing your old samples into new ones
Adding stereo width to your sounds
When you want to identify and modify individual frequency bands
11. SoundToys PanMan
More Info & Price (Trial Available)
PanMan is an in-depth panning module from the guys over at SoundToys, PanMan can be perceived as just a simple panning plugin, but this is where you would be fooled! PanMan brings the simple functions of panning sound and implements a few cool other features that professionals love.
Create unique panning effects that are tempo-synced to your project; alongside that, PanMan offers the ability to create a visual representation of rhythmic patterns and panning waveshapers. There's also Attack and Release, giving you control over how quickly the effect kicks in and how slowly it is released.
Amazingly PanMan offers you six modes to choose from when applying to the pan, including LFO, step, and random. The filter option is a great tool to cut out unwanted frequencies caused by PanMan. Visit Pluginboutique for further info.
Panning Your Auto-Pan with PanMan
Setting the threshold within PanMan will enable your music's dynamics to control the speed, offset, and width of the sound source.
An excellent additive to this plugin is the ability to pick 1 of 7 analog styles (Clean, Fat, Squash, Dirt, Crush, Shred, and Pump), all offering a unique style.
Key Features:
More than just a panning plugin

Rhythm editor

is great to manipulate your pan settings precisely
Threshold allows your music to control the setting of your pan
7 Analogue styles
Built-in filter
When To Use:
PanMan is excellent to use over other panning plugins because it offers so much more under the hood than other plugins
When you want to add a sense of depth to a sound
Creating unique panning effects with several effects
12. XferRecords LFO Tool
More Info & Price (Trial Available)
Serum may come to mind when you think of XferRecords.
The team with excellent knowledge of all thing electronic music bring you a nifty LFO tool that is very user friendly. LFO Tool plugin allows you to mold custom LFO curves and shapes, plus LFO comes equipped with dozens of presets to achieve results instantly.
With LFO Tool, you have the option to process incoming audio and generate a MIDI message sequence for other instruments. With a high level of control over what filter types, filter drive, LFO routing, and the ability to correlate MIDI notes to actions, Xfer has pushed the boat out on this.
Giving you full controllability over the speed of your LFO, you can choose from having a standard time signature with or without swing and Hz mode for precision LFO speeds. Get LFO Tool on Pluginboutique.
My Secret LFO Tool Tricks
Key Features:
Simple interface, which makes LFO very easy to use with massive outputs

An array of filters

to choose from to suit your liking, plus a filter window to represent what's going on
MIDI patchable settings are allowing you to control parameters with your MIDI controllers
Offers Mac OSX and Windows versions
It is coded in C++ to minimize CPU usage
Sample-accurate sync
When To Use:
It can be used as a ducker (side-chain emulator)
Very useful when using multiple instruments to create a chain for MIDI to follow
The filters alone can be a source of inspiration
13. AudioThing Fog Convolver
More Info & Price (Trial Available)
Audio thing brings you Fog Convolver; this is a stereo convolution reverb plugin.
Using the impulse signal of a recorded audio Fog will add reverberation and effects.
Coming with a library of over 250 impulses to get you started, it can also be combined with your IR samples. You will be able to record a tick or clap typically in the environment, and Fog will emulate the environment.
The Fog has exact stereo width and a visual display to see your L&R channels; this is very helpful for knowing what your IR will do to your sound. With full controllability of your IR, you can choose the starting and endpoint, fade in or fade out and create curves. See more information on Pluginboutique.
AudioThing Fog Convolver Walkthrough (Convolution Reverb Plugin)
Key Features:
Over 250 impulses to get started
Ability to add your own IR and edit within the plugin

Exact stereo

width to accurately represent the input
Customizable browser window including tags and rating to find impulses easily

Drag and drop

samples into the plugin
When To Use:
To create a unique reverb for your sounds, either chosen from the hundreds of samples or a sample of your choice
When experimenting with your sound recording. You can put my sample or tape into Fog, and it will read the IR
14. Melda MRingModulatorMB
More Info & Price (Trial Available)
Ring modulators were invented by Frank A. Cowan in 1934 and patented in 1935.
Since the digital domain, there has been an increase in ring modulators on the market. Melda Productions bring us MRingModulatorMB; this is a very in-depth engine with a lot to discover.
Changing the frequency will tell the ring modulator to apply its setting to different frequency ranges in the sound. You can also add several modulators to the patch, such as LFO, level follower, midi/audio triggered ADSR enveloper, randomizer, or pitch detector. Having these modulators add another layer to uncover and play about within your projects, also there is a 'Multi parameters' button to which you can map multiple parameters.
Guitar Synth Sounds with MRingmodulatorMB
The browser window will allow you to load up the global presets. Still, also, the team over at MeldaProduction has been making a community list of presets which you can download and efficiently apply to your sounds!
Key Features:
Dual user interface – offers a simplified mode to show you what the main parameters are
6 Multi bands to affect single frequency ranges
Including the most versatile algorithms for the oscillators, wavetable, and step sequencer
Automatic gain compensation (AGC)
Safety limiter to save your ears and DAW
Stuck between presets? Add up to 4 presets to an X-Y pad
When To Use:
When wanting to turn a plain sound into an alien morphing beast
A great way to add another layer to your sound
Using the X-Y pads, you can quickly create a variety of preset ring modulators
15. Melda MGranularMB
More Info & Price (Trial Available)
MGranularMB is a versatile plugin that can turn anything, such as your lead, into a pad or even add a killer boost to your drums.
This plugin cuts your sound into small pieces (grains) and turns that into completely new music. As always, the guys over at MeldaProduction have made the plugin work on a multi-band system.
Panoramic and pitch shifting are very common with granular synthesis, but these guys take it a whole other step further. With the implementation of graph-based transformations, intelligently pitches each grain to harmonize and layer up to 20 sounds at once to create a complete grain cloud.
Having a vast number of presets, you will find it easy to create great sounding patches with this granular plugin. Following the same trend as other plugins from the team at MeldaProduction, it implements the intuitive X-Y pad allowing you to blend up to 4 presets at a time.
Key Features:
6 Multi bands to accurately apply your patches to the selected frequency range
Intelligent granular algorithm
Control on how many copies are made and processed
Pitch control to create a different pitch layer with your sounds
A good number of presets to run with from the start
X-Y pad for multiple patch blending
When To Use:
Creating a new sound from your old sounds
Selecting specific frequency ranges to add the patch can give your sound width or diversity while maintaining original sounds
Are you bored with your lead sounds? Why not turn them into pads with this plugin
16. SoundToys FilterFreak
Soundtoys FilterFreak - Enhancing drums
Emulating legendary hardware filters, including Sherman Filterbank, SoundToys brings us FilterFreak.
FilterFreak is a modulator for two screens within the plugin, combining both filters with various settings such as LPF (low-pass filter), BPF (band-pass filter), HPF (high-pass filter), and BSF (band-stop filter). You will have the power to visualize the screens in real-time.
Filterfreak 1 is a simple single-use filter with the thing you would expect from a standard screen, including resonance, cutoff, and mix, including the added extras in FilterFreak. FilterFreak 2 gives you two analog filters side by side; you can apply modulation settings to provide you with a world of filter movement.
Key Features:
Choice of one or two filters
Create your own LFO shapes with the editor
Replication of analog gear that offers the same effect as the real gear
Envelope follower and sample-and-hold effects
Including seven analog styles (Clean, Fat, Squash, Dirt, Crush, Shred, and Pump)
"…truly jaw-dropping, goose-pimple-inducing levels of creative inspiration and excitement." – Remix Magazine
When To Use:
Quickly creating movement in your sound while maintaining proper audio levels and limits
Push the resonators up to see the real power of FilterFreak
Epic for creating old-school wah tones or creepy science fiction samples and hold effects
17. Cableguys TimeShaper 2
More Info & Price (Trial Available)
TimeShaper 2 is essentially an all-in-one station for all things related to audio manipulation.
For example, you can scratch tracks by drawing in your unique pattern into the window viewer, or you can decide to stutter, tape stop, pitch, and reverse the audio all in one plugin! Cableguys thought of what things vinyl DJs have to their fingertips and decided to make a user-friendly plugin where you can achieve well-known effects.
Create instant stutters, rewinds, tape stops, all with just drawing in your desired pattern. Having the ability to change and move your modulation points to your liking easily, this tool becomes very powerful for tasks that are just not achievable without vinyl gear.
Like many other plugins, this has a dry/wet knob allowing you to blend your creation with the original sound; this can give you hours and hours of rediscovering and mangling your projects or even your favorite tracks.
TimeShaper Mini Guide 1/7: Repeat & Stutter
Half-speed is something else in its respect; with the power of taking any hit or loop, you can manipulate the playback pitch with many options for getting the desired sound. But this also offers the feature of hooking it up with your instruments in MIDI and manage the live playback loop!
Key Features:
User-friendly display
Easy to get results with the built-in draw modes
The ability to choose a multi-band mode that manipulates two bands independently
Scratch on time

Reverse

in real-time
Flange and chorus
Design your own LFO's
Fine mode
A library of shared patches
When To Use:
This plugin is fantastic to use when you want to emulate vinyl DJ effects, but you don't want to have to combine six plugins, or you don't have the equipment to record your vinyl gear.
This saves so much time!
The sheer number of possibilities with this plugin is enormous. Introducing a pen tool, you do have freedom of choice with how you decide to apply the various settings
18. Sonicsmiths The Foundry
Sonicsmiths The Foundry is an AARE – Adjective Assignable Randomizer Engine within the Kontakt player; the Foundry contains various parameters to manipulate over 19,000 sounds adding up to about 20GB of data.
With all these sounds allowing you to layer another sound with it, the possibilities are endless.
From real pianos to vast organic orchestral atmospheres, even to live recordings of ducks, these guys have added an immense library of sounds. But that isn't all The Foundry can offer.
With some styles to choose from, such as bed/pad, fx/hit, rhythmic, and texture, this will give you several samples based on those parameters. Once you have selected a style, you can pick some adjectives to match the sound. For example, I might want to have a pitched sound that is soft, clean, and pulsing; The Foundry makes this foolproof to get amazing results with very minimal distractions.
Murray Gold
"The Foundry is brilliant. From the day Sam and Michael gave it to me, I've dropped it into everything – television, theatre, dance. It's spooky and real and unpredictable and consistent all at once. Most importantly, I feel like I can hear the touch of materials. It sounds tactile. I love that."
Murray Gold – Composer, New York/Santa Monica
Key Features:
Intuitive X-Y axis for blending sounds
Built-in random button to turn your patch into something new

Effects modules

(SEQ, Granners, Filters, Body, Distortion, Delay, Rotor, Panner, and Sends)
3-mode step sequencer (can create extremely complex rhythms
When To Use:
If you lack inspiration, The Foundry can be very powerful for finding that first spark
To quickly create multiple patches, all with the same timbre
The Foundry is best used when you have an artist in the studio or a client who wants you to fit a brief. With the endless sounds and rhythms this engine can pump out, you won't be lacking in material
19. Waves Doppler
More Info & Price (Trial Available)
Have you ever had a car honk its horn as it has gone past you? It creates a sense of the sound moving, but it also does for that, it changes the initial frequency of the music when your ears perceive it.
With that cleared up, the Waves Doppler is essentially an emulator of that effect.
Doppler gives you a visual representation of the stereo field, plus an orange lone and circle, which indicate the direction of the sound and the position of the sound source. Implementing some key parameters such as gain, pan, pitch, track time, and center time will apply the Doppler effect to your sound. However, you desire.
Key Features:
Accurate visual display
Does what it says on the tin

Reverb

controls
Click and drag functionality

Offering different modes

(Energy, manual, continuous cycling, and one-shot)
When To Use:
You may find yourself editing a film or trailer if there are any moving sound sources or environmental elements. Doppler can be used to make it sound how it would work in real life to the human ear
This can be used in music production, too; you could use this on your riser so just before the drop to quickly slopes from L-R, giving an ear-catching effect
20. Waves Doubler
More Info & Price (Trial Available)
Waves Doubler uses pitch and delays to deliver you a harmonized doubler effect to your vocals, polyphonic instruments, and even full mixes.
With the use of an original doubler, you can copy the signal from 2-4 times; each voice has its independent values to change, such as gain, pan, delay, and tune. Doubler stands out from its competitors because it offers the pitch to be adjusted while maintaining the length of the audio being played.
Offering a visual display of where your audio copies are being played within the stereo field plus where they sit on each other. Following the processing chain alone, you also have a representation of where your sounds are sitting on a frequency spectrum, which then passes into a filter at the end. With the gain slider, you can stop nasty clipping by pulling back your signal.
Key Features:
Ability to double-track/chorus/shimmer/presence.
Visual representation of real-time modulation and copies.
Preserves the audio time even after pitching.
Gain control to stop clipping.
When To Use:
To take a mono sound and give it a sense of depth.
Adding chorus to a vocal or creating a backup vocal to mix with your lead vocal
Use the feedback to make your copies last longer and repeat.
21. SONiVOX Wobble Dubstep Grime Generator
More Info & Price (Trial Available)
SONiVOX brings you a generator for wobbles, fx, and atmospheres. This plugin makes it easy to create some of your favorite bass sounds with ease with two channels; it gives you the ability to change the width, filter, filter q, and LFO.
Including three windows sound, pattern, and effects, this gives you full control over the noise generated, the pattern it plays in tempo sync, and the rest being applied to the sound. Effects that you can add are delay, chorus, and reverb; with over 200 presets in Wobble, you can have an infinite number of sounds just by turning the knobs.
The pattern generator is tempo-synced to your DAW, allowing you to draw up and down, velocity, note offset, LFO 1/2, and other parameters found within Wobble. There is also a glide feature built-in allowing your notes to glide between each other, coupled with a pitch and mod wheel for fingertip modulation.
Key Features:
Patch browser
On/off switch for modulation
Built-in effects
MIDI learn control mapping
When To Use:
Cool for quickly creating ides
Create interesting fx/buildups for your projects
Unlimited possibilities with the width knobs
22. Antares Harmony Engine Evo
More Info & Price (Trial Available)
Harmony Engine EVO is used for generating vocal harmonies. Harmony engine takes a monophonic voice and creates up to 4 harmonies corrected layers. With vibrato and pan, this gives you the power to make it sound like the singer or someone else!
Harmony engine "Humanise" functions let you set individual random pitch and timing variations for each channel for natural-sounding results. Having Antares built-in choir vocal multiplier on all five channels (including input), each channel can sound like 4, 8, or 16 voices.
Harmony Engine EVO has a pinpoint accurate harmony control tab, allowing you to change the root note, scale, and what chord you would like to create. You can control this with MIDI and control the outcome of harmony based on MIDI values.
Key Features:
Four

harmony corrected channels
Intelligent artifact-free pitch shifting
Formant corrected harmony channels
Ability to recall up to 6 different vocal groups
Groundbreaking vocal tract modeling
When To Use:
When you have a dry vocal and want to add a harmony or backup layer
Remodeling vocals to make them sound more natural
Harmonize up to 16 voices per channel to create choir effects
23. Eventide Quadravox
More Info & Price (Trial Available)
Quadravox Pitch Shifter By Eventide - Setting Up Easy Vocal Harmonies
Quadravox is a harmonizer/pitch shifter made by Eventide, combining the ability to add this to drums, vocals, synths, etc.
Anything you want to add more voices to, pan, delay, or pitch, Quadravox has got you covered. Being optimized for multiple instances, you don't need to worry about your patches clashing.
Harnessing the power to use this for creative purposes, songwriting, or to widen out the sound with its powerful algorithms. Having up to 4 voices giving you four different ways to process one sound; you can move the harmony one of two ways you can move within the notation grid or use the pitch interval arrows (up or down).
You will struggle to run out of ideas with Quadravox due to the built-in random button; for example, you might not know where to start or where you want to end up, hit the random button, and let Quadravox do the hard work for you. This plugin offers a very easy to execute way of adding more voices to your single sounds.
Key Features:
Optimized for multiple instances
Four voices
Accurate pitch adjustment

MixLock

keeps dry/wet mix of the effect static as you scroll through presets or user-defined snapshots. The KeyLock does the same for the Key and Scale
When To Use:
Monophonic synths – adds width and depth
Adding more voices to a vocal channel
Creating drum sequences that sound alive
24. illformed Glitch 2
More Info & Price (Trial Available)
Glitch 2 is a step sequencer but with a twist, with the ability to draw in a sequence of effects! With a list of effects such as Modulator, Tape Stop, Reverser, Distortion, Gater. Each effect has its window to deliver the desired sound by adjusting the parameters.
You're not limited to just one effect; you can combine multiple effects to create pleasing tones and modulations. Everything is tempo-synced, meaning keeping everything you do within the BPM of your projects.
Key Features:
Color-coded effects and user-friendly layout
Tempo Synced effects and sequencer

Pattern editor

with drag and drop. Draw, erase, resize, split and join blocks all in one
Allowing the ability to trigger a unique scene with your MIDI notes on your keyboard
A built-in random button to keep inspiring you
Filter, mix, pan, and volume controls can be found on each module
When To Use:
Adding flair to your tracks
Easily layering effects to create amazing-sounding changes to your sounds
Having full controllability of which multiple patches from your keyboard – this can be used for intro, drop, and breakdowns
25. PSP N2O
More Info & Price (Trial Available)
PSP N2O is a semi-modular multi-effect plugin that offers full freedom of control.
Built-in high-quality modules can be patched in any way you like, taking the same concepts as its family member, the PSP Nitro. With a new user interface making it much more simplified to create drones, pads, and atmospheres, this becomes a powerful tool for professionals.
There are three windows you will spend most of your time in are modular, global, and operator sections. Parameters can be applied using a fixed tempo typically set by the host tempo, but this can be changed by disabling the lock feature and typing in your rhythm.
Each operator contains morphing resonant and formant filters, eq, delay, reverb, pitch-shifter, compressor/expander, distortion, full-wave rectifier, and many more, all coming with animated display slots.
Key Features:
Over 190 presets
Built-in limiter to eliminate overloads
Included side-chain input
Extensive optimization
When To Use:
For sound design control. Giving enough options to develop your sounds to a new level
Intuitive pitching system gives you a visual representation of your patches, giving you full control
26. Loomer Manifold
More Info & Price (Trial Available)
Manifold is an audio effects unit that processes the desired signal giving it a fuller, bigger, and living sound.
Cleverly cutting the audio in up to 20 voices, all applied with detune, they are rearranged around the stereo field, producing fantastic results. A great feature is that you can either add a beautiful blend of subtle modulation or take it to the max, which will extremely detune the sound source and fatten up the sound.
Dual high-pass and low-pass filters sculpt your sound through the process giving you full flexibility on what frequencies get processed, also equipped with L-R panning.
Related Readings:
6 Unique Tips How To Improve Your Vocal Recordings
27. Polyverse Manipulator
More Info & Price (Trial Available)
OMG I sound like a synthesizer!
The team over at Polyverse brings you, Manipulator.
This intelligent real-time pitching plugin is used to create exciting pitch differences in your live vocals, recorded tracks, and even keys/synths. Giving you the power to alter the timbre of a sound, this tool provides a new innovative idea to process your sounds. Bear in mind; this plugin doesn't like polyphonic sounds unless your goal is to destroy sounds, then feel free.
With some built-in effects, you can sculpt how Manipulator will react to your sounds based on their velocity.
Key Features:
Manipulate your sounds into new ideas
Timbre and pitch controls
Live performance processing
Ability to change melodies of existing performances
Up to 10 fully customizable effects
When To Use:
For weird, creative vocals, twists, and pitches
Has the ability to perform live and implement the keyboard for key tracking
28. Eventide Physion
More Info & Price (Trial Available)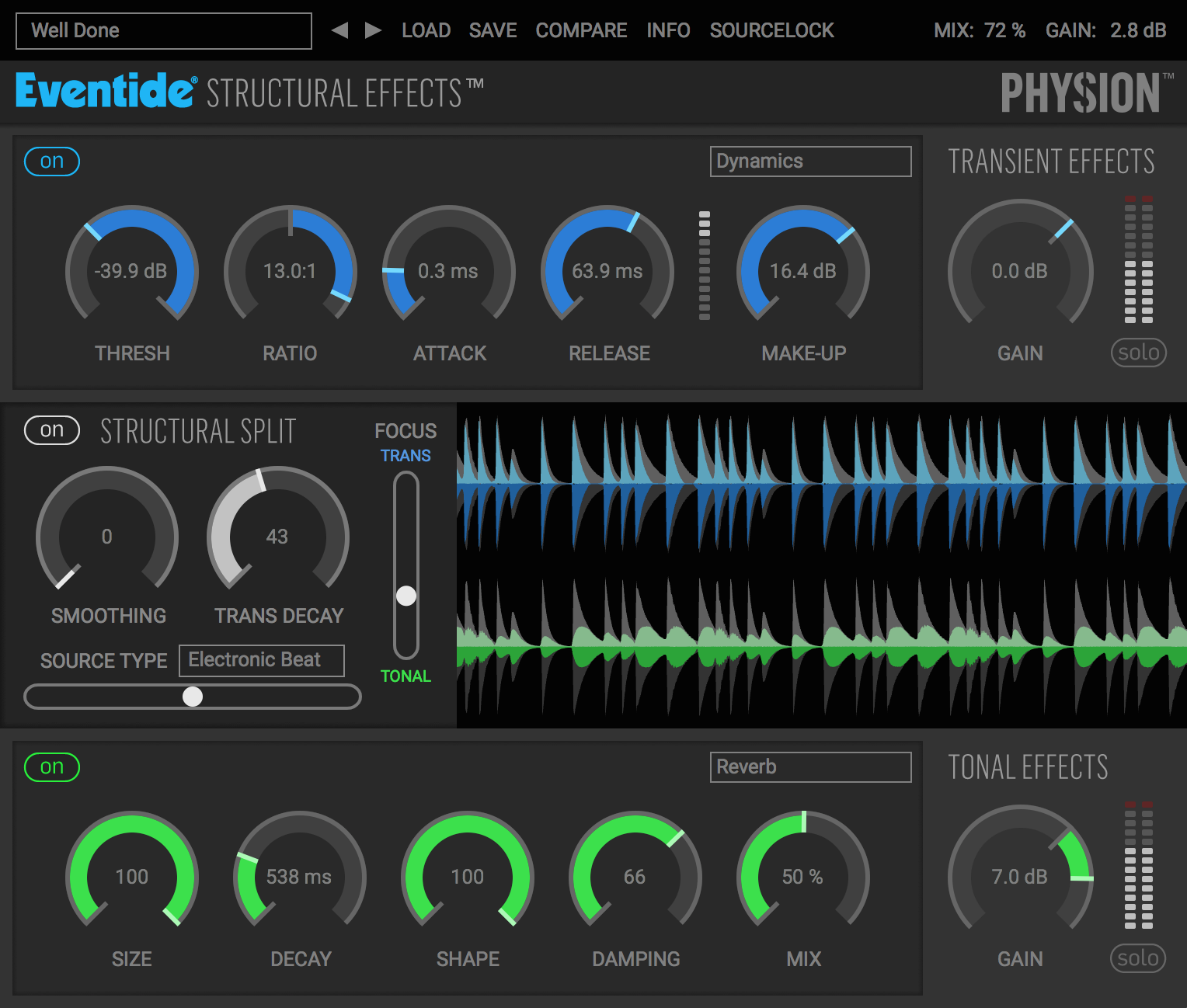 This new intelligent way of processing allows you to independently affect the transient and tonals parts of a sound, giving you the power to add small touches to huge effects.
Reshape your music however you choose; this plugin gives you the ability to sculpt your sounds to your liking or fit a project.
Offering a visual display of the waves form, you can add up to 6 effects (Delay, Tap Delay, Dynamics, Phaser, Reverb, Gate + EQ) to further develop your sound.
There are truly unlimited possibilities with Eventide's Physion. For more information, click here.
Masters at Work: Paul "Willie Green" Womack on Making a Beat with Physion
Key Features:
Accurate visual display

Amazing audio split

(transient, tonal)
7 Effects for both Transient (Delay, Tap Delay, Dynamics, Phaser, Reverb, Gate + EQ) and Tonal (Delay, Compressor, Pitch, Chorus, Reverb, Tremolo, EQ)
Output level to stop clipping
When To Use:
For pinpoint accuracy, it gives you full control over the sounds
Recreating old samples to bring them into the future
You can use the accurate waveform display to see where your sound is lacking
29. Sugar Bytes Turnado
More Info & Price (Trial Available)
Turnado is a powerhouse with eight slots that can be equipped with over 20 effects!
Some of these effects are reverse delay, pattern delay, stutter, reverb, phaser, freeze verb, vinylizer, and many more.
With an individual control for each module, you can automate up to 8 effects at once. With a much thought-out GUI, this plugin can be used in the studio or on live performances with a window for quickly switching up the modules.
Within the effects editor, you can connect up to 5 parameters to one knob, also achievable with the built-in LFOs/step sequencer. Giving you total freedom and choice makes Turnado a formidable contender on our list.
Key Features:
24 effects to choose from
Up to 5 parameters can be mapped to 1 knob
Dynamic signal flow gives you more in-depth control over your effects
Built-in LFO's/step sequencer
When To Use:
It can be used for live performances to cue different effects for tracks quickly
Great way to enhance your tracks with the customizable 1 knob feature
A vast number of ways to patch in effects, there are endless possibilities for sound design
Top 3 Sound Design VST Plugins From This List
We have looked at 29 of the best sound design plugins but let's give you our top 3.
For us, the first place has to be Absynth 5 By Native Instruments. This powerhouse of the synth has some of the most unique presets and capabilities. Whether you want to create new blips for games, deep and rich atmospheres for a movie, or even would like to use them in a musical project, this tool gives you unlimited power at their fingers tips with the built-in patching and eight modules.
Coming in second for our top 3 picks is Timeless 2 By FabFilter (Updated to Version 3 Now). This amazingly diverse delay plugin has so many capabilities other than making your sounds delayed. With the ability to significant scratches, flanges, chorus, and much more, there are always new ways people are finding to use this plugin. The modulation window, with its many effects and mappable parameters, gives this plugin an edge over other plugins on the market.
In third place, we hold with high respect Doubler by Waves. Now, this plugin has not only been used extensively throughout the industry but has been used in one of your favorite tracks. It can take your audio signal and split it from 2-4 times, depending on your preference. With the intelligent algorithms onboard, Doubler will maintain the length of the sample while adjusting pitch. Full stereo field controls and a filter allow you to place your copies anywhere within the stereo domain.
Conclusion
Today we broke down and took an in-depth look at 29 of the best sound design plugins in 2022; we have tried to put as much information as here to guide you through the many pieces of software you have floating about. Not everything here you may find helpful to your needs, but it's always good to know what you may need before you need it. With that said, we hope you have enjoyed this article on Integraudio.
Other Plugin Roundups:
Genre Focused:
Top 10 EDM Plugins 2022 (And 10 Best FREE Plugins For EDM)
Top 10 Plugins For TRAP Beats 2022 (And 5 Best FREE Trap Plugins)
20 Best Plugins For Rock Musicians 2022 (+ 6 FREE Plugins)
Top 14 Trance Plugins (Uplifting, Tech, Progressive, Vocal, Dream, Hard)
Top 10 GOA & PsyTrance Plugins 2022 (Best Psychedelic Trance Tools)
Top 7 Plugins For Dubstep 2022 (With 10 Best FREE Effects & Synths)
Top 20 Synthwave Plugins 2022 (+ 11 Best FREE Plugins)
Top 15 Plugins 2022 For Techno, House, Electro, Tech House, UK Garage
Top 6 Plugins For Latin Music 2022 (And 4 FREE Tools)
Top 12 Plugins For Hip-Hop 2022 (+ Best Kontakt Libraries)
Top 7 Plugins For Game & Film Scoring 2022 (+ 6 Best Kontakt Libraries)
Top 10 R&B And Pop Music Plugins & KONTAKT Libraries 2022
30 Best Free Plugins For DnB, EDM, IDM & Experimental Music 2022
EQ Plugins
Top 12 Free EQ Plugins 2022 For Precise Mixing & Mastering
Top 9 Mid/Side EQ Plugins 2022 For Mixing & Mastering (+ 2 Free Tools)
Top 7 Graphic EQ Plugins 2022 (With 3 Best Free EQs)
Top 7 EQ Plugins For Mastering In 2022 | And Best FREE Mastering EQs
Top 6 Passive EQ Plugins 2022 (Klevgrand, SPL, UAD, Waves, IK Multimedia)
Top 11 Plugins For Making Metal 2022 (Best Guitars, Drums & Effects)
Compressor Plugins
Top 11 Free Compressor Plugins 2022 (VCA, Vari-Mu, FET, Digital)
Top 7 Multiband Compressor Plugins 2022 (And 4 FREE Plugins)
Top 5 Diode-Bridge Compressor Plugins 2022
Top 6 Mastering Chain Plugins: Complete VST Solutions 2022
Top 10 FET Compressor Plugins 2022
The 7 Best VCA Compressor Plugins 2022 (VST, AU, AAX)
Top 11 Mastering Compressor Plugins 2022 (And 2 FREE Plugins)
Top 10 Opto Compressor Plugins 2022 For Transparent Sound
The 7 Best Vari-Mu Compressor Plugins 2022 (And 2 Best FREE Tools)
Reverb & Delay Plugins:
Top 12 Reverb Plugins (And 5 FREE Reverb Plugins)
The 6 Best Spring Reverb VST Plugins 2022 | AudioThing, GSi, u-he, Eventide
Top 12 Delay Plugins For Music Production In 2022 (VST, AU, AAX)
Top 10 FREE Delay Plugins 2022 (VST, AU, AAX)
The 10 Best Convolution Reverb Plugins 2022
Metering:
Top 5 Audio Metering Plugins 2022 (LUFS, RMS, LRA, True Peak)
Top 6 Spectrum Analyzer Plugins Of 2022 – Spectral Analysis Tools
Top 6 Oscilloscope Plugins 2022 To See The Waveforms
Top 5 Key Detection Plugins & Software 2022 (+ Best FREE App)
Amps & Preamps:
Top 10 Guitar Amp Plugins 2022 (And 5 Best FREE Simulators)
Top 10 Bass Amp Plugins 2022 (And 5 Best Free Simulators)
Top 9 Preamp Plugins 2022 (For Vocals, Guitars & More!) + Free Preamps
Kontakt Libraries
20 Best Kontakt Libraries For All Categories 2022 (Synths, Drums, Vocals)
Top 7 Drum Libraries For KONTAKT 2022 (And 4 Freebies)
Top 7 Trap Music Kontakt Libraries 2022 (And Best Lo-Fi Kontakt Library)
Top 7 Metal & Rock Kontakt Libraries 2022 (Best Guitars & Drums)
Top 10 Guitar Libraries For Kontakt 2022 (Acoustic, Electric, Bass & Freebies)
Top 7 Trailer Scoring Plugins & Kontakt Libraries 2022
20 Best Free KONTAKT Libraries 2022 For Various Instruments
Top 9 Piano Kontakt Sample Libraries 2022 (And 5 Best Free Pianos)
Top 10 Percussion KONTAKT Libraries 2022 (And 3 Freebies)
Top 7 Kontakt Libraries For Horror & Thriller Scoring 2022 (No VSTs)
Audio Restoration, Calibration & Utility:
Top 6 Noise Reduction Plugins 2022 (And 3 Best Free Tools)
6 Best Audio Restoration Plugins & Software 2022
Top 7 Phase Alignment Plugins 2022 To Fix Your Bass & Drums
Top 10 Room Calibration & Headphones/Speakers Correction Plugins 2022
Instrument Plugins:
Top 6 Vocoder Plugins 2022 (Effects & Synths + FREE Vocoder)
Top 12 Randomizer Plugins 2022 Including FREE Plugins
Top 6 Kick Drum Plugins 2022 (Best Kick Designer Tools)
Top 12 Woodwind Plugins 2022 (And KONTAKT Libraries)
Top 10 Double Bass Plugins 2022 (Best Upright Basses)
Top 5 Strings VST Plugins 2022 (AND 4 Best Free Instruments)
Top 6 Sampler Plugins 2022 (And 3 Best FREE Plugins)
Top 6 Classical Guitar Plugins & Kontakt Libraries (And FREE Guitars)
Top 7 Wavetable Synth Plugins 2022
Top 12 Sub Plugins 2022 (Best 808 & Bass Tools For Massive Low End)
Top 10 Plugins On PluginBoutique 2022 (And 7 Best Free Plugins)
Top 11 Plugins On Plugin Alliance 2022
Top 7 Acoustic Guitar Plugins 2022 (And 4 Best Kontakt Libraries)
9 Best Bass Guitar Plugins 2022 (And 2 Best Freebies)
Top 6 Electric Guitar Plugins 2022 (Best PAID & FREE Picks)
Top 10 Arpeggiator VST Plugins 2022 (Best Synths, MIDI Effects & Tools)
Top 10 Modular Synth Plugins 2022 (And 3 Best FREE Plugins)
Top 6 Choir Plugins & Sample Libraries 2022 (And 3 Best Free Plugins)
11 Best Percussion & Drum VST Plugins In 2022 (And FREE Plugins)
Top 8 Piano Plugins 2022 (Best Sounding Pianos & 5 FREE Piano Plugins)
Top 6 Organ Plugins Ever Made 2022 (And 3 Best Free Organs)
Top 14 VST Plugins For Beginners 2022 (And 9 FREE Plugins)
Top 9 Drum Machine Plugins 2022 (And Groovebox Plugins)
4 Best Banjo Plugins 2022 (Best Banjo Instruments)
The 5 Best Ukulele Plugins & Kontakt Libraries 2022
Top 13 Synth Plugins 2022 (And 5 Best FREE Synths Plugins)
Top 13 Sequencer Plugins 2022 (Synth, MIDI & Step Sequencers)
The 10 Best Multi-Effect Plugins 2022 (And 3 Best Free Plugins)
Top 12 Plugin Bundles For Musicians 2022 (Synths, Mixing & Mastering)
Processing & Sound Design:
8 Best Lo-Fi Plugins 2022 (PAID & FREE)
Top 11 Plugins For Mixing Vocals 2022 (For Home Studio)
Top 12 Saturation Plugins In 2022 (Best Mixing & Mastering Tools)
Top 12 VST Glitch Plugins 2022 (Best Stutter Tools + Freebies)
Top 6 Pitch Shifter Plugins 2022 (And 3 Best FREE Pitch Shifters)
Top 6 Chorus VST Plugins 2022 For Musicians (And 3 FREE Plugins)
Top 6 Limiter Plugins 2022 For Precise Mastering & Mixing
The 8 Best Filter Plugins 2022 For Precise Cuts & Boosts (+ 5 Free Filters)
6 Best Autotune Plugins 2022 To Improve & Enhance Your Vocals
Top 10 Transient Shaper Plugins 2022 (VST, AU, AAX)
Top 7 Enhancer Plugins 2022 (For Bass, Drums, Vocals & Harmonics)
Top 6 Flanger Plugins 2022 (And 5 Best FREE Flanger Emulators)
Top 7 Phaser Plugins 2022 (And 3 Best FREE Phasers)
Top 10 Plugins For Mixing Drums 2022 (And 3 Best Free Plugins)
Top 7 Bitcrusher Plugins 2022 (And 4 Best FREE Bitcrushers + 3 Bonuses)
Top 6 Plugins For Voice-Over & Dialogue Cleaning 2022 (Post Production)
Top 10 Stereo Imaging Plugins 2022 (Best Old & Modern Picks)
Top 5 Multiband Limiter Plugins 2022
Top 7 De-Esser Plugins In 2022 For Better Vocals (And 4 FREE Plugins)
Top 7 Clipper Plugins 2022 (Best Limiter Alternatives)
Top 6 Chord Generator Plugins 2022 That Inspire Melodies (+ FREE Tools)
7 Best Exciter Plugins 2022 For Mixing & Mastering
Top 7 Channel Strip Plugins 2022 (And 2 Best Free Plugins)
Top 11 Distortion Plugins 2022 (And 4 Top Free Plugins)
Top 5 Comb Filter & Resonator Plugins 2022 | Melda, Kilohearts, Tritik
The 7 Best Vibrato VST Plugins of 2022 | Audec, Audiority, Melda
The 7 Best Tremolo Plugins 2022 | Eventide, Melda, SoundToys, Kuassa…
The 7 Best Harmonizer Plugins 2022 | Eventide, Melda, Aegean Music
7 Best Sidechain Plugins 2022 (VST, AU, AAX) | Xfer, Cableguys..
Top 10 Noise Gate Plugins 2022 (And 6 FREE Free Gate Tools)
The 6 Best Ring Modulator VST Plugins in 2022 | KiloHearts, Melda
7 Best Autopan VST Plugins 2022 | CableGuys, Melda, Waves, Soundtoys
The 6 Best Frequency Shifter VST Plugins Of 2022
Top 11 Granulizer Plugins 2022 For Future Sound Design
DAW Related:
Best DAWs For Musicians Available in 2022 (With FREE DAWs)
What's The Most CPU Efficient DAW? – 5 DAWs Compared
How To Make Music Without Using A DAW?
Pro Tools Guide: How To Use AutoTune & Pitch Correction?
Ableton Review: Is It Worth The Money? (Cons & Pros)
Logic Pro X Review: Is It Worth It? (Cons & Pros)
How To Use Auto-tune & Pitch Correction In Cubase?
How To Fix Ableton Crackling, Crashing & Freezing? Step By Step
Plugin Related:
What Are Audio Plugins? Different Types of Plugins Explained
What Are The Best Tools To Develop VST Plugins & How Are They Made?
Cost of Developing Audio VST Plugin: Several Factors (With Table)
VST, VST, AU and AAX – What's The Difference? Plugin Formats Explained
Complete Guide To Noise Gate – What It Is, What It Does & How To Use It?
How To Clip My Drums? Here Is How & Audio Teasers (Before/After)
Complete Guide To Limiter: How To Use It (+ Best Plugins & Analog Limiters)
Mixing With Reverb: How To Add Life To Your Mixes
Linear Phase vs Minimum Phase EQ – Full Guide
Difference Between LUFS, RMS & True Peak Loudness Meters
How And When To Use Algorithmic And Convolution Reverb In Your Mix?
Difference Between Active EQ, Passive EQ and Dynamic EQ
Started as a rapper and songwriter back in 2015 then quickly and gradually developed his skills to become a beatmaker, music producer, sound designer and an audio engineer.