In this article, we will discuss the best hardware sequencers, of all types, for various purposes, in 2023.
There are various physical synthesizers and samplers with great in-built sequencers and standalone dedicated sequencers that you can buy, depending on your needs. These can be step sequencers, analogue, digital, modular, semi-modular, and hybrid models we have covered in the post.
Then there are other considerations like connectivity, build, workflow, compatibility with other hardware and software, firmware, quality, versatility, and more factors you must consider while purchasing the device. Keeping all that in mind, we have listed the top 20 physical sequencing devices available in the market, along with two bonus recommendations. So let's dive right into it.
Top 20 Hardware Sequencers 2023 For Music Production
1. Roland System-8

(Advanced Synth With Step Sequencer)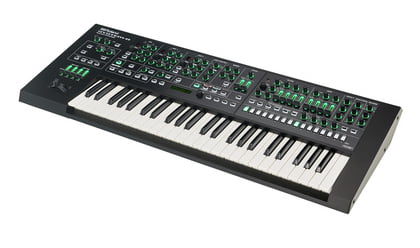 Roland system 8 is a versatile digital synthesizer that recreates the Juno 6, Jupiter 8, and XP sounds.
It combines the emulation of this synthesis under a single machine, where you can split and layer these sounds and combine them with sounds in the Roland cloud. In addition, it has a polyphonic sequencer that can act upon internal sounds and sounds from an external device connected via USB, MIDI or CV/Gate input. 
If you're a professional keyboard player looking for a 61 keys synthesizer with a good amount of polyphony and sequencing capability, you can go for it. The AIRA software within it is great, and it's light in weight, given its size and functionalities. Also, the connectivity, expansion, and performance are unparalleled.
Key Features:
Comprehensive Sound Architecture
You can record in step or real-time modes, and the sequencer can capture per-step or real-time parameter changes using motion recording. Keep things fresh and exciting with dedicated knobs for scale, gate, and shuffle as well as hands-on control of playback modes and direction.
Real-time performance features
System-8 allows you to record sequencing data in step or real-time, as the sequencer can capture parameters automation data per step or in real-time. In addition, there are scale, gate, and shuffle controls, along with hands-on command over playback, that you can edit and command.
Character & Sound:
The synth is a good mix of analogue and digital, offering that capability and characteristic. The synth engine has multiple analogue waveforms, supersaws, FM, cowbell, vowel sounds, etc. for maximum versatility, and a colour knob, with control on the depth of PWM, FM, define, and formant. Overall, it sounds warm, punchy, and dynamic, with scope for good movement and modulations.
@Roland System-8 Step Sequencer - Part 3 synthesis tutorial
Pros:
The plug-out expansion with three slots for expanding your sound design horizon is a huge pro. Many Roland synths, like JUNO-60, SH-2, SH-101, PROMARS, SYSTEM-100, etc., are compatible with the plug-out. The synth has great connectivity with USB, MIDI, and CV/Gate, and high-quality controllers, knobs, sliders, etc., which have a good response and build.
Cons: 
The sequencer doesn't have a click track, which is a huge bummer, as you can't control it in real-time to the tempo. In addition, the internal arpeggiator has no swing or gate modes.
2. OXI Instruments ONE

*NEW

(All In One Sequencer)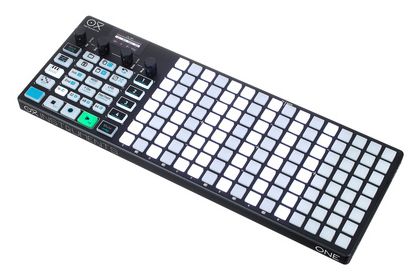 It's a way to sequence your synthesizers and interact with your instrument(s) without touching your keyboard.
It has 128 pad grids, which give great visual feedback for the sequencer, let you play notes chromatically, and command all patterns in the arranger view. In addition, it allows you two types of sequencing: mono, that is, programming a single note at a time, and poly, that is, playing around with multiple notes simultaneously.
Key Features:
Keyboard view
You can play notes irrespective of the sequencer and quantize your notes in real-time, so you don't play out of time. You can also add rolls to your sounds and change octaves.
Chord sequencer
In the same keyboard view, you get access to play chords and their various inversions and style, and you can also trigger chords by pressing a single pad.
Stochastic mode
The stochastic mode lets you assign probability sets to certain notes to create generative music. The higher the probability, the more lit a pad is.
The generative features like randomizer, harmonizer, random chord generator, and 4-way arpeggiator, multiple LFOs allow for some interesting movements and sounds. Of course, its basic sonic structure depends on the instrument it's connected to, but as a sequencer, there's no limit to the programming you could do to the incoming signal.
OXI One Tutorial - Getting started with your OXI One #1
Review: OXI ONE Sequencer // Generative features explained
Pros:
You can connect any external instrument/synth to the OXI using its USB-C connectivity, MIDI inputs, and 8 CV/Gate outputs. Moreover, it has a long battery life and string built, which makes it portable and great for performance. Overall, its Multi mode also gives you great performance, making it a flexible instrument with insane capabilities, as it can sequence up to 4 polyphonic synths simultaneously.
Cons: 
At the same price, devices are available in the market with in-built synths, samplers, and sequencers that the OXI doesn't have. The pads aren't velocity sensitive to play an instrument with them, and the screen is very small.
3. Arturia MiniBrute 2S

(Semi-Modular Synth with 3-track Step Sequencer)
Check on Thomann (Noir Edition)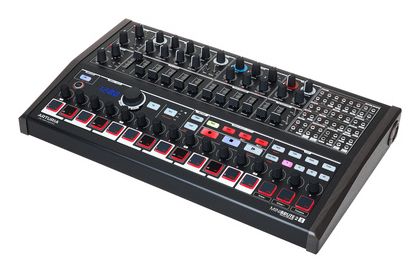 MiniBrute S2 is a semi-modular patch synth with two different synth engines in one. 
The first synth engine has a fader section for six different oscillators, 2 envelope sections, 2 VCO sections, one amp section, and two LFOs. The other section has patchable modular synth architecture with VCOs, sequencers, filters, amp, and envelopes. This workflow makes the device a customizable yet easy-to-use synth with a three-track step sequencer. 
Key Features:
Sequencer features
You can sequence up to 64 steps, such as sixteen sequencers per bank, with pitch and gate, which can be looked at as a single track, and velocity & pressure are two additional configurable tracks. You can sequence in two different ways: step and live. You can also tie the notes together or increase the gate length.
Other features
The device has oscillators with different waveshapes, rewiring ADSR, LFOs, multimode filters, AD Envelope, live recording, arpeggiator, voltage sequencing, AD sequencing and LFO sequencing. These advanced sequencing options are rare to find in any sequencer or synthesizer.
Character & Sound:
As an analogue synth, you'd expect it to sound a particular way. However, the multi-functionalities and feature-heavy design take away from that analogue nature. However, the VCO/VCF/VCA signal paths are analogue, but the controls are digital. 
MiniBrute 2 Ecosystem Tutorials: Episode 04 - The Sequencer
Pros:
The advanced sequencing option is a huge pro for the MiniBrute 2S, and its flexible yet easy-to-use two-in-one modular and step sequencing functionality. You can efficiently use it with any external gear to do some insane sequencing. In addition, it has a good sonic character and an attractive and well-laid-out system.
Cons: 
It doesn't have CV mixers and multiple options, and its ADSR time is limited. Furthermore, it allows you to arpeggiate up to a single octave only. On top of that, you cannot save or store all its settings. 
4. Native Instruments Maschine MK3

(Workstation With Built-in Software Sequencer/Sampler)
Maschine mk3 is a standalone all-in-one music production box for sequencing and programming music.
It's a great instrument for loading, recording, slicing, editing, and manipulating samples and audio clips, with a comprehensive sound engine for creating beats and triggering samples/loops live. It's a complete DAW within a box and has great utility for both live and studio purposes.
Key Features:
Comprehensive Sequencing Engine
The sequence mode allows you to use its step sequencer, which you could also use in its step mode. In addition, you can sequence immediate and dynamic patterns for the times of inspiration using its velocity-sensitive pads and other controllers.

Navigating through its screen you can have up to 16 divisions of one bar, on which you can program different samples and sounds.
The 8 GB content library pre-installed in the machine is of high resolution and quality. The samples are versatile, and the Komplete 6 software bundle gives access to plenty of virtual instruments like Massive, Monark, Drumlab, etc., and effect plugins for sound shaping.
Maschine MK3 - Step Sequencing & Grid Mode - Tutorial & Very Cool Tips & Tricks
Pros:
It allows a 96kHz sample rate and 24-bit bit depth in its recording and has 16 multicolour pads, 47 controllers, and 2 LED screens to allow ease of use and command. Moreover, easy connectivity of software/hardware hybrid (available as AAX, VST and AU) and Komplete software bundle (with instruments and effect plugins) at a discounted subscription ($9/mo) are huge reasons for buying this sampler.
Cons: 
It could be challenging for beginners, and it doesn't have a CV/Gate Input or an SD Card, hence lacks connectivity. Choose if you're already a Maschine user and want to commit to the same workflow or if you've used a DAW or a sampler before, as the workflow is unconventional and has a steep learning curve.
5. Erica Synths Black Sequencer

(64-Step Eurorack Sequencer)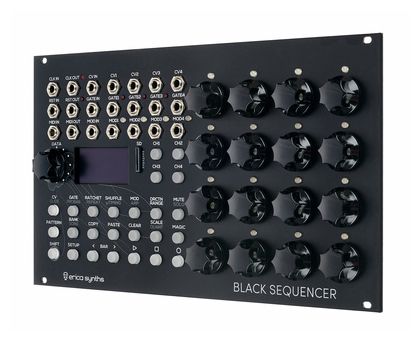 Erica has launched its 64-step sequencer, which is performable, musical and has an analogue feel.
The parameters are labeled and display their exact functionalities, with great quality knobs, high-grade build, and an interactive & well-designed display which is clear & concise and can pull off any performance when connected with another instrument/synth/sampler.
Key Features:
High-quality encoders
The device has rock-solid knobs that are quite turntable and pretty responsive, with patch points above it, a cluster of buttons below it, and a black-and-white OLED screen alongside an efficient data knob. That makes up for a great display and hands-on control.
Function
Each channel has a CV, Gate and Mod output, with a length of up to 64 steps, in the direction & time division of the master clock. On top of that, it has a 4-channel CV/MIDI sequencer with 12 different analogue outputs.
The sequencer sounds fairly and analogue in a world full of digital sequencers due to its modular workflow and builds quality. The output is warm, crisp, upfront, and huge! In addition, the Mod and arpeggiator options allow for some great momentum and rhythm in the sounds.
Staff Favorite: Erica Synths Black Sequencer
Pros:
The Magic button allows for randomization and generative playing and can be quite useful in times of low inspiration, as it functions on everything. The arpeggiator is fun to play with and acts on every single step. Overall, it has great functionality and sounds musical.
Cons: 
It doesn't have a drum section, which is a huge bummer for performing musicians. Also, since it's a modular sequencer, the learning curve may be steep and complex. It's great for people into modular programming but may not be as intuitive as others.
6. Moog Mother-32

(Analog Desktop Synth With 32-Step Sequencer)
Moog mother 32 is a patchable analogue instrument with modular functionality.
The mother 32 unit by Moog, combined with a powerful sequencer, MIDI connectivity and a set of high-quality knobs and switches, makes up for a great analogue-sounding synth. Its front panel has a single octave keyboard, a 32-step sequencer, and a 32-point patchbay.
Key features:
Analogue circuitry
The voltage-controlled amplifier and voltage-controlled filter greatly contribute to its classic Moog warmth and sonic characteristics. Combined with the modular patching and knobs, it further amplifies that quality. The filter is the OG Moog four-pole transistor ladder filter, with a switchable setting for low-pass and high-pass operation.
Modulation
Mother 32 has an LFO with triangle and square wave outputs with variable speed controls. You can control the VCO and VCF modulation via its envelope generator and LFO, as it can control pulse width and is great for creating vibrato and FM-type effects.
The synth has two oscillators: saw and pulse, with a voltage-controlled amplifier (VCA), pulse width, and frequency selection. That makes up for a warm analogue basic sound that can be further manipulated, played and sequenced in various ways to get the sound of your desire. Overall, it sounds buzzy, rich, and Moog.
Mother-32 | Your First Sequence
Pros:
It's a robust machine with immense flexibility and the ability to tweak around with high-quality controllers and encoders. Compared to most modular workflows, it's easier to understand and work around. The the32-step, the 64-pattern sequencer is a huge pro.
Cons:
It doesn't have a sub oscillator like many Moog synths; on the other hand, it has only one oscillator, and that too monophonic, which is a letdown for the price.
7. Synthstrom Audible Deluge

(Synth, Sequencer, Sampler)
Source: Synthstrom
The flagship product by Synthstorm, Deluge, is an all-purpose synthesizer, sequencer, and sampler. 
It's a powerful, portable, all-in-one stand-alone device that is extremely versatile and feature-heavy. Priced at almost 1200 USD, the instrument is great for both live and studio purposes and also has a sturdy build for touring purposes. 
Key Features:
Expansive Synth Engine
It has subtractive, wavetable, and FM synthesizers loaded together in a single device, with up to 64 voices of polyphony. In addition, it has full MPE support for connected MIDI controllers, two endless turn encoders, dedicated volume and temp knobs, LFOs and envelopes on each synth, custom scales, and much more.
Sequencer
It allows a piano roll style 128 (16 x 8) pad sequencing with scrolling and zooming. You can use the arranger view to add your sequences into longer compositions and work with audio clips, just like in a DAW. It also allows for Euclidean sequencing, probabilistic sequencing, and generative playing.
Character & Sound:
Sonically, you can create almost anything on this instrument due to the wavetable, FM, and subtractive synthesizer combined with a versatile sampler. As a result, it's a great instrument for making almost any genre of electronic, pop, and hip-hop music. 
The Deluge 4.0 Update is AMAZING (Sequencer Overview)
Pros:
You can load up samples from an external SD card, use audio clips and samples for live looping, manipulate samples with its time stretching and pitch shifting algorithms, and slice and chop them with its extensive synthesizer and sequencer. It also has great connectivity, with USB, CV, MIDI, line, mic, and headphones inputs and outputs. 
8. Novation 61 SL MKIII

(MIDI Keyboard With Clean Sequencer)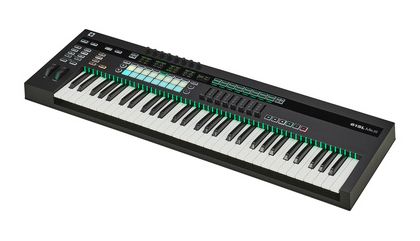 The SL MKIII by Novation is a Keyboard controller which can double up as a MIDI device and a synth programmer. 
Using sequencer and automation capabilities, you can connect it with any external synthesizer and program music. On top of that, you can also control a DAW, plugins and effects inside it, and their different parameters inside the instrument. That makes it a versatile keyboard controller with good connectivity and performance modes. 
It has velocity-sensitive RGB pads that are semi-weighted, with polyphonic aftertouch, an expressive way to trigger samples, program steps into the sequencer, and record drum patterns. 
Key Features:
Synth Automation
Let's say you have an external synthesizer, like a Prophet 6, and you want to program the chords for any scale to the sequencer's pads and also automate a parameter like a filter sweep while you play; you can do that using the SL MKIII. Although this type of programming is easily accessible in a DAW, you can do these in real-time as a performance without using a computer.
Creative arpeggiation
On the sequencer pads, you can activate or deactivate some steps to adjust your arpeggiation, so while you play a chord, notes only on the activated pads play. That allows you to create some interesting movements and a latch button that lets you hold the arpeggiation and make changes to it or play a beat to it in real time.
Sessions
You can save performance templates by setting up your entire arrangement, sequences, recorded notes or chords of different songs inside the instrument without using a DAW or a computer.
Character & Sound:
Its sound depends on the device it's connected to, and it can get connected to any plugin/VST inside your DAW or any external synthesizer. In addition, its sequencer, arpeggiation, and other programming capabilities allow deep editing and movements in your sounds, especially during performances. 
Novation SL MkIII MIDI Keyboard Review: Is it a gamechanging controller? (49SL MK3/61SL MK3)
Pros:
It's equally good for studio and live, integrates deeply with Abelton Live, Logic Pro, and Reaper, and is compatible with other DAWs like Cubase, Pro Tools, Studio One, etc. In addition, it has 61 keys with multiple knobs, controllers, sliders, etc., giving you good hands-on control. 
Cons: 
The navigation is not exactly intuitive and has a scope for improvement. For example, a fader display, more intuitional pattern & sample triggers, some randomization/variation options, and plugin functionalities would have been good. 
9. Korg SQ-1

(Compact 2×8 Step Sequencer)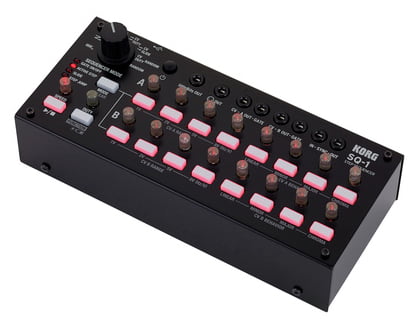 The SQ-1 by Korg is a dedicated step sequencer that you can use along with external instruments. 
It has 2 x 8 steps and is compatible with any device, adaptable to vintage analogue synths and even the latest digital instruments. It has four different sequencer modes and a knob for directions & movements of the sequencer with eight different options, including randomization. 
The 2 CVs' behaviour is adjustable between four different options, including liner, minor, major, and chromatic, and you can also choose its range can vary between 1 V, 2 V, 5 V, and 8 Hz/V. In addition, it has a simple and intuitive interface and MIDI connectivity for sequencing your input from your DAW. 
Key Features:
Durable and Well-built
The hardware sequencer is great for live shows and touring due to its good build quality and durability. It's a rugged piece of hardware with high-grade knobs, jacks, and controllers.
Interesting movements
With a device of this type, you have a scope of creating unconventional polyrhythms and inspiring rhythms that you may not think of or play otherwise. That improves workflow, inspires in times of writer's block, and helps you be more creative.
Character & Sound:
It sounds warm and fairly analogue and can create interesting movements and rhythmic compositions. In addition, it's highly playable, has a great quality output, and can be useful during live sessions. 
The power of a simple sequencer for eurorack - with the Korg SQ-1
Pros:
The CV and MIDI connectivity is a huge pro, making it a versatile instrument, with its connectivity open to software and hardware synths both. On top of that, it's compact and compatible with various devices, affordable yet well built, easy to use with battery operation, and is full of new & interesting functionalities. 
Cons: 
It has great rhythmic functionalities, but if you lean more towards melodic options, the device may not be the right fit for you. It lacks monitoring and visual feedback demands to be played/programmed by ear and doesn't have some obvious features like transpose. 
10. Arturia Beatstep Pro

(MIDI Sequencer/Arpeggiator)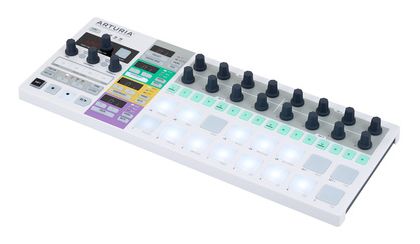 Arturia Beatstep Pro is a MIDI controller with four built-in sequencing tracks. 
Each sequencing track can be polyphonic and act as a drum sequencer or arpeggiator, with the device capable of controlling both software and hardware. The overall build is solid and high-quality, with velocity-sensitive keys & pads, with channel aftertouch. 
It also has pitch and modulation touch strips, a touch controller for triggering clips and loops, octave control, and hold and transpose buttons. You can program the sequencer with divisions from 1 to 64 steps, which you can control in four pages of sixteen steps each.  
Key Features:
Connectivity
It has MIDI i/o, USB support, CV outputs for modular or semi-modular devices, 8 GATE outputs, Velocity/modulation controls, metronome output, and a sustain pedal input, to meet the requirements of connecting any additional instrument to it.
Arpeggiator
Three out of four tracks in the instrument are arpeggiated, so you can play any pattern by playing a chord, which you could play as arpeggiated or repeated in different octaves. In addition, you can apply Scales like major, minor, chromatic, Dorian, etc., and customized scales, so you don't go out of key.
Sequencing
Notes/chords can be sequenced in the quick record, step record, and by playing in real-time. So even if you don't know how to play the piano, you can enter the notes in the step using the quick record mode and sequence different events at each step. You can change each parameter on a per-step basis.
Its fully unquantized polyphonic recording options let you program some organic performances and natural-sounding sequences. In addition, the multiple arpeggiators, drum sequencing options, good range of connectivity, and features make it an all-in-one and versatile MIDI instrument and sequencer. 
Arturia BeatStep Pro Sequencer & Controller Demo
Pros:
Keystep pro is great if you want to connect or layer multiple instruments to a single device and play them in live settings. Overall, it's feature-rich, easily compatible, and compact and can fulfil any sequencing needs you have for a MIDI device.  
Cons: 
The four tracks are a bit overkill and may not be necessary, especially in studio settings, where you want to play a single synth at a time. On the other hand, it is not the right instrument if you want to sequence more than four instruments at a time. Lastly, it has steep learning curves, as the number of features could get overwhelming and complicated. 
11. AKAI Professional Force

(Music Workstation With Sequencer)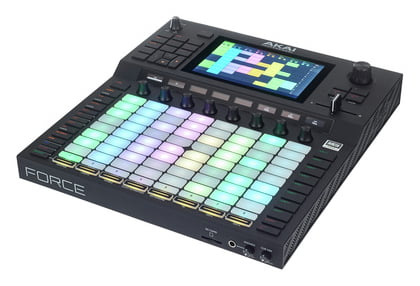 AKAI Professional Force is a standalone music production device that can work independently of any computer or DAW. 
It's an entire DAW by itself, which allows you to record and sample instruments, connect synths to them, sequence patterns onto them, use them as a drum machine, and more. With a seven-inch fully colored and responsive touch screen, RGB velocity-sensitive pads, high-grade controllers & knobs, you can record and edit audio clips and MIDI data. 
Key Features:
Intuitive interface
The touch screen can be zoomed in and out and is pretty responsive, so you can easily edit samples, midi recordings, etc. In addition, you can easily navigate through different windows using the screen and the clickable buttons below it, which light up when you select them. It may take some time to get familiar with the workflow, but overall it's easy and expressive.
Sampling capabilities
Force allows you to record guitars, vocals, or any instruments, by connecting a microphone to it. On top of that, its advanced time-stretching and pitch algorithms allow for extensive sample editing. Hence, it's great for remixes, mashups, DJing, and production.
It has four built-in synth engines, clip launching, step sequencing, and even DJ functionality, making it a good end-to-end standalone workstation with a built-in effects bundle by AIR. The in-built synthesizers are versatile and create any sound ranging from a pad, pluck, lead, bass, and more. 
Force Tutorial Series – Using the Step Sequencer
Pros:
The device's construction is pretty solid; the back of it is made of metal, and it also has a good air passage to keep it cool. The CV/Gate outputs, MIDI i/o, headphones out, and mic input make it expansive and increase its scope of use & connectivity. It's also great for virtual concerts and performances, where you have to perform your sets and route your audio to zoom, Instagram Live, etc. 
Cons: 
The device could be intimidating and confusing as it has too many features and functionalities. Some knobs have a non-linear response, which is a bit counterintuitive. Overall, its steep learning curve is a huge resistance and its biggest con. 
12. Novation Circuit Tracks

(Groovebox with Sequencer)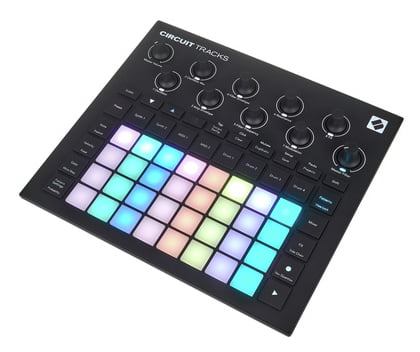 Circuit by Novation is a standalone groove box and music production hardware. 
It is essentially a sampler with two polyphonic in-built synth engines, two MIDI engines, and two Drums, with editable and replaceable samples stacked up in an easy-to-use and intuitive workflow. In addition, it has 32 RGB Velocity-sensitive pads, 28 RGB backlit tactile click buttons, and good connectivity.  
Key Features:
Firmware Gate & Probability
Novation has evolved the circuit much since its creation, and the new version has more developments, like the SD Card slot availability. Another example is that each step has up to six micro-steps that can be edited and programmed. Further, you can also set the probability of a certain musical event happening or not, which introduces more randomness and generative playing into it.
Sampling & sequencing capabilities
You can set a sample per step in the device to flip the sample on each step in real-time, and the knobs for the envelope, modulations, etc., can also be automated. Further, notes can be easily programmed in each step and recorded in quantized and unquantized ways.
Hundreds of preset synth patches are available, and these different patches vary sonically and have great quality. The in-built drum samples are also decent, and you can connect the device with external synths or DAWs to get the flavour/sauce you want.  
Circuit Tracks - Sequencer Fundamentals 1 // Novation
Pros:
It's compatible with Windows and Mac and can control almost any DAW. It's compact and portable and has an uncomplicated workflow that lets you play instinctively, as it's designed for immediate performance. You can have more than one octave laid out chromatically into the pads using the Note mode.
The device is extremely versatile, as it has a sequence, synth, and sampler, all packed into single hardware. 
Cons: 
With so much going on, the device could be a bit overwhelming for a beginner, as it has too many capabilities to be completely understood by a novice producer. In addition, the 4 hours battery life is fairly short, and it doesn't have a screen for visual feedback and monitoring. 
13. Make Noise 0-Ctrl

(Semi-Modular Desktop Controller & Sequencer)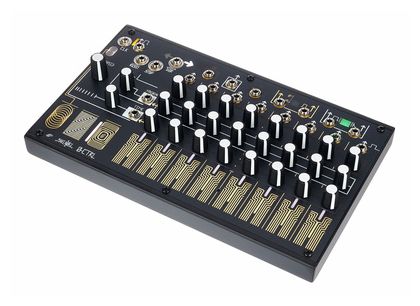 0-control is an analogue touch sequencer or controller with semi-modular capabilities. 
It has a pressure-sensitive surface with eight divisions, so each division gets triggered by touch. When that is not used, it can be applied as a sequencer. There are eleven plates, out of which eight are pressure-sensitive; one starts the sequencer, one sets the direction of the sequencer, and you can use the last pad to interrupt the sequencer. 
Other than that, the interface has three rows: pitch, strength, and time, with eight knobs on each row, each of which can be used to control anything that is voltage controlled. 
Key Features:
Step-wise capabilities
Each of the eight steps in the device has a touch-sensitive pad and three knobs that output CV, Pitch, Strength and Time. You could edit each of these for every individual pad.
Switchable signal flow and flexibility
Due to its modular functionalities, you can easily patch things into each other and tweak the device according to you. As a result, multiple ways of doing the same thing complicate the instrument and increase its scope and versatility.
Character & Sound:
You can create great patches that sound warm, punchy, and in-your-face. It sounds analogue and great for programming fat bass sounds, punchy plucks, and lead sounds that stick out. Overall, the sound quality is high, and the modular capabilities give you great control river the routing and overall output of the sound.
Make Noise 0-CTRL Analogue CV/Gate Touch Sequencer Demo
Pros:
Overall, you have great hands-on control, as the device is fully patchable, with no screen or menus. That also makes it flexible, fun, and easy to experiment with. The CV input and outputs also allow you to expand it as a sampler, other than the sequencer and controller that it already is. 
Cons: 
The knobs are unquantized; for example, if you want to change the pitch, you'll have to do it by ear or use an external tuning device. Secondly, the workflow of the device is too new and unconventional and requires time & effort to get used to.
The modular workflow can also require a bit of a learning curve. Finally, it could be a complicated device due to its continuous-time & voltage- based values and knobs. 
14. Korg SQ-64

(Polyphonic Step Sequencer/Arpeggiator)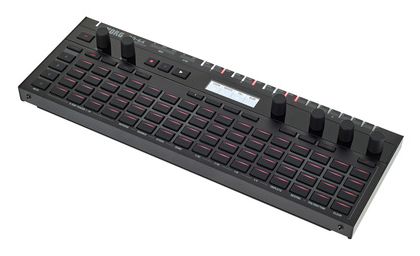 SQ-64 is a 4-track polyphonic sequencer with three melodic tracks and one drum track.
It consists of 64 pads, which you can play chromatically in different modes, to which we can also apply custom scales for easy playing. Similarly, you can use many different performance modes for different purposes. On top of it, it allows you to store up to 64 projects on the device. 
Key Features:
Connectivity
The SQ-16 has eight GATE outputs for the first 8/16 drums in the drum kit and three CV/Gate and Mod outputs for each of the three melodic tracks. It also has MIDI and USB input/output slots and can be connected with any external synthesizer.
Sequencing features
The drum sequencer allows for straightforward programming and sequencing of different samples in sixteen divisions of four different rows. Similarly, melodic sequencing can be step by step or recorded live, with gate events sequenced separately and editable pitch and other parameters.
Advanced sequencing features also allow you to edit parameters in the gate, pitch, and mod modes. These parameters include steps, rotate, fill, probability, alternate, offset, slide curves, and more.
The SQ-64 is modern and caters to the latest music production needs as a step sequencer; hence, it can be connected to any external instrument as its input. Of course, the sonic characteristics of the device depend upon that, but it has a good quality output that translates the sound well. 
Tutorial: Korg SQ-64 Sequencer Workflow & Demo
Pros:
It has a solid build with an all-metal enclosure. The advanced arpeggiator is another huge pro, which allows for some cool and interesting movements. The screen is small but is different for each controller and allows for good visual feedback. Overall, the workflow is intuitive and interactive.  
Cons: 
The feature richness makes the device complicated. The pads aren't velocity sensitive, and the navigation using the knobs can get a bit tedious, adding resistance to the workflow. Apart from that, the SQ-64 works just fine. 
15. Elektron Octatrack MKII

(Performance Sampler & Sequencer)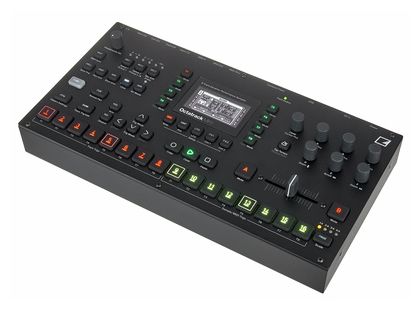 Octatrack MKII by Elektron is an eight-track performance sequencer and sampler with great ways to tweak and manipulate samples and their properties. 
It is a performance-focused device with a high-quality build, good resolution encoders and controllers, and an OLED screen, with eight stereo audio & MIDI tracks. It has a simplified and flexible workflow, especially the real-time sample stretching and pitch shifting options.
Key Features:
Smooth workflow
The OLED screen, eight audio & MIDI tracks, streamlined sample recording, sixteen-track sequencer, plenty of buttons & encoders, and assignable crossfader account for a flawless user experience and efficient overall workflow for all your music production needs.
Advanced modulations & triggers
You can modulate internal and external audio using three LFOs, with adjustable shapes that can be applied to each track. In addition, you can 

use conditional triggers to sequence interesting performances, and you have powerful features like micro-timing adjustments, retrigger capabilities, flexible scale, timing controls, and more at your disposal

. 
You can find in-built samples, loops, and one-shot sounds by aggregators like Origin Sound, Loopmasters, Sample Magic, and Samples from Mars, which can expand your sonic scope and horizon. It also has great effect plugins, modulation and sequencing options to shape your sounds in any way you wish to. 
Elektron Octatrack MK2 Tutorial: Sequencing an External Synth
Pros:
It's a versatile music production machine, an entire DAW within itself, wherein you can do anything from sampling, sound designing, sequencing, mixing, and more. The sequencing functionalities are especially great and will improve your overall workflow.  
Cons: 
The device has a steep learning curve, takes some time to get used to, and doesn't have bridging compatibility or USB MIDI sync. In addition, the screen is too small, doesn't have any pads for finger drumming, uses only buttons, and lacks overall connectivity. The workflow is also outdated. 
16. Korg Volca Sample 2

(Portable Sampler with Step Sequencer)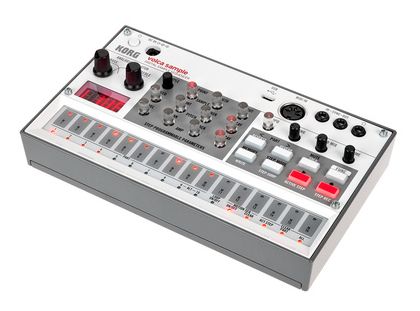 Volca Sample 2 is a compact and beginner-friendly sampler and step sequencer.
It is primarily a sampler, with great flexibility and distinctiveness to edit and manipulate samples, browsing through them, whether they are melodic samples or percussive ones. The filter, attack, decay, and speed controls over the pitch, pan, amplitude, and more give you great freedom with your processing.   
Key Features:
Flexible sequencer
The step sequencer is simple and lets you create patterns and link them to your arrangements/songs, along with the motion sequence, which can record and playback automation for up to eleven parameters.
Effects
It has a great-sounding reverb which can give a good ambience to your sounds, alongside the swing and shuffle controls/functions for more human touch, funkiness, and twist. You can sonically shape your sounds with envelope settings and these effects.
Character & Sound:
It doesn't sound analogue and has a prominent digital texture, which works for the instrument. It's great for punchy drums and bass sounds, and we can add samples of any type using the USB port. However, the sampling architecture allows for percussive and experimental samples. However, a feature called 'the analogue isolator' can apply analogue textures to your sounds.  
2 Volca Sample - Step Sequencer
Pros:
It has great connectivity, portability, and a smooth interface, which makes it beginner-friendly and versatile as a drum machine and a step sequencer. It's less than 8 inches wide and weighs less than a pound, and the analogue isolator is also an interesting function of the device. For a pocket-size sampler, it has good memory, wide functionality and a decent sample management system. 
Cons:
 It's not versatile, as it doesn't have the capability to multi-sample instruments and is not ideal for melodic sequencing. In addition, the sound is limited only to a few electronic genres and lacks a scope for expansion. 
17. Behringer TD-3

(Desktop Synth With 16-Step Sequencer)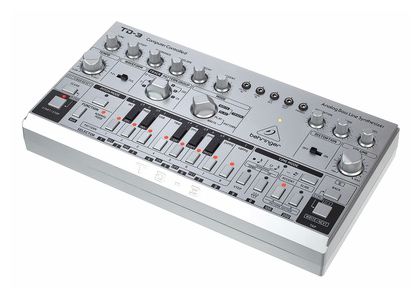 The Behringer TD-3 is a clone of Roland TB 3O3, which was designed to mimic bass guitars. 
It's a compact, light, pocket-size synthesizer with MIDI i/o connections, USB for software control, CV/Gate outputs, Sync in, headphones out, and more. The sequencer is complicated unless used with a software synthesizer, so there are four groups of patterns and seven different patterns. The synth tool can be used and edited digitally to edit and program MIDI information. 
Key Features:
Synthesis Engine
The device has a single oscillator, switchable between saw and square wave, with a cutoff filter, resonance, envelope, decay, and accent knobs, alongside distortion, tone, and level controllers.
Sequencing Engine
The TD-3 separates the rhythm & timings of the synth from the pitch, accent, and slide data. You can create up to eight patterns, such that by default, the pattern is of sixteen steps but can be changed, and you can enter the notes separately in the pitch mode and timings in the timing mode.
Character & Sound:
The idea behind the design was to emulate a bass guitar. However, it can do a lot more and can be used to program anything from bass, lead, brass, pluck, etc., as it has a nice, fat, and warm oscillator to get started with. In addition, the voltage-controlled variables and parameters add a good analogue texture to it. 
How to record a pattern / sequence on the Behringer TD-3 in one minute.
Pros:
As it models the TB-303, especially for the sequencing engine, it does get a bit complex on the hardware. However, the DAW sequencing option is extremely smooth and easy. The distortion knob is a great addition and also has good characteristics. Overall, it's fun to use and great for breaking you out of your regular music production workflow. 
Cons: 
It's different from the TB-303 in many aspects and also sounds a bit different, as it doesn't have enough variance in the capacitors. The complication of the hardware sequencer is another huge con. 
18. Doepfer Dark Time

 (16-Step Sequencer)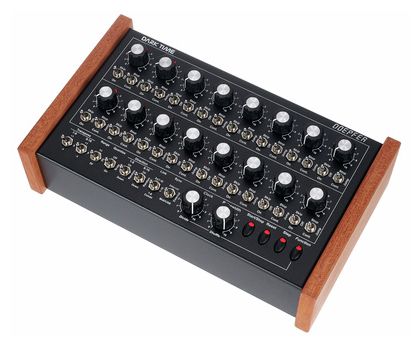 Dark Time Red is an analogue-style step sequencer which is digital. 
It has two rows with eight controllers each, and for each step, there are rotary controls, an on/off/skip switch, and a stop/continue/jump switch, with several operating modes and running directions. In addition, there are options to transpose, an analogue interface for CV/gate/clock/Start-Stop, timing control, switchable quantization, and more. 
Key Features:
Well-built
The machine has a sturdy metal body with a wooden covering, multiple three-way switches, and high-quality knobs, giving it a dark and rugged overall feel.
Sequencing Engine
The knobs, switches, and step buttons in the Dark Time Red allow you to trigger different patterns of notes and sounds simultaneous to play creative riffs and brilliant polyrhythmic compositions on the go, which makes it a comprehensive companion for any synthesizer or sampler.
Sonically, as the name suggests, it has a dark underground feel, which is great for electronic music genres like dubstep, drum and bass, Jungle, Grime, Drill, and many more. It has an analogue approach, but it sounds fairly digital. 
Doepfer Dark Time Sequencing Session 1
Pros:
It's fun to use, has a simple workflow, can be updated by software rather than soldering, and is interactive enough for you to want to play it more and more. In addition, it supports various clock rates, is easily quantizable to any scale, is feature-rich, and separates the note's velocity and pitch parameters. 
Cons: 
The firmware update process is not as easy as you'd like it to be, and the controls are not very responsive. On top of that, the knobs and switches are very clamped up and could have been more spacious. The analogue-style workflow may be a bummer for new producers used to working with a DAW and within digital systems. 
19. Roland MC-101

(Groovebox/Sequencer)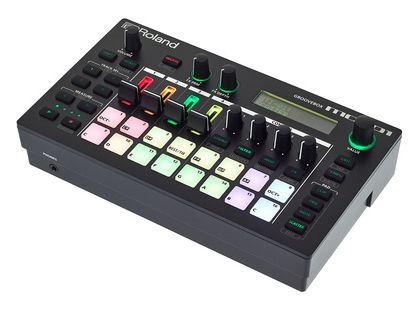 The MC-101 by Roland is a compact groovebox and sequencer with the same sound engine and sequencing power as the MC-707.
It's a better-powered, four-track portable version of the MC-707 that could be used anywhere in the time of instant inspiration. So you have a straightforward workflow in which you get four tracks at your disposal, which could be anything from a drum track, melody, loop, etc.
For example, you can select any track and, let's say, program a kick drum pattern on that track, a melody pattern of a few notes on another track, and so on. Sequencing music and playing on it is straightforward, and you can have quantized or unquantized data recorded. 
Key Features:
Scatter
Scatter is a performance effect that lets you chop up audio from each track or the entire mix-out. Using it, you can create dramatic effects while performing and sample yourself while playing something. That is great for generative playing and randomization. Further, it allows you to add pitch, reverse, and other effects to your resampled sounds.
Zen-core synth engine
The synth engine sounds clean, with great in-built presets. You have chromatic scales written down on the pads, but you're not restricted to them and can change them. Overall, the sound engine is capable of some great standalone arrangements and high-quality music production on the go.
You can load up external samples on the device using an SD card, and the MC-101 preserves the stereo nature of the samples and their sonic characteristics without collapsing them into a mono-track. The sampler allows polyphony, with sound shaping possibilities that are great for such a small device with the given price point. 
Roland MC-101: Sequencing Melodies and Notes
Pros:
Resampling can create "infinite" tracks, and you can layer different instruments/sounds/samples, resample them, load them up, and keep expanding your arrangements. The Abelton-style Clip pad option is also a great pro. In addition, you can add multi-fx to each track, including some great effects like the Juno chorus and different types of flangers, phasers, distortions, filters, etc. At sends, you also have delay and reverb effects.  
Cons: 
The MC-101 has small pads, which creates resistance if you want to use it for finger-drumming, and the overall workflow is also a bit clunky and takes some time to get used to. In addition, the synth engine lacks sample chopping, and that is something you wish was there. It's great for travelling, touring, and using for immediate inspiration, but it may not be the best studio sampler and sequencer. 
20. Behringer Crave

(Semi-Modular Desktop Synth with Step Sequencer)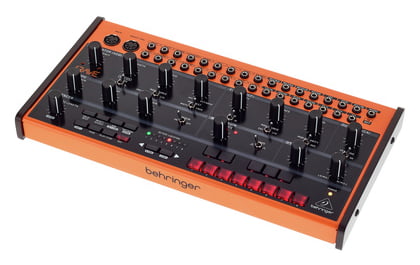 Crave is a semi-modular analogue mono synth based on 3340 oscillators and a latter filter. 
It has one LFO, one envelope sequencer, and a 32-jack your rack compatible patchbay and is suspected to be inspired by Moog Mother 32. It has a solid metal build, solid knobs, clicky buttons, and responsive controllers. It has MIDI connectivity, VCA output, and a USB Port for decent connectivity. 
Key Features:
Synthe Engine
It has a 3340 VCO oscillator with two core shapes: saw and variable pulse width and eight octaves of variations in pitch. You can change the pulse width, oscillator modulation, and mix. There is a voltage-controlled filter, voltage-controlled amplifier, LFO, glide, and envelope shaper to design the sound further.  
Sequencer Engine
The sequencer is at the bottom of the device and can store 64 sequences of up to 32 steps each, with straightforward signal flow and functionalities. However, you cannot sequence things in real-time and have to assign the notes or samples to the step using the record button.
Character & Sound:
The patchbay and the voltage-controlled parameters give a good analogue warmth to the sound. It's great for creating fat and punchy bass lines, lead sounds, pads, and many more such sounds. The sequencing options are limited, but you can create decent rhythmic movements using it. 
Behringer CRAVE: Sequencer Walkthrough Demo and Tutorial
Pros:
Crave is a simple synthesizer, given its uncomplicated workflow, signal path, and analogue characteristics, which is good at this price point. It has a sturdy build, is visually appealing, and has a simple interface, divided into three parts in an uncomplicated fashion. 
Cons: 
The number of sequences can be long, and the number of pages of all steps can increase. Real-time recording of the sequencer would also be great. Unfortunately, as an analogue and semi-modular synth, you can't store presets on it. 
Bonuses:
1. teenage engineering Street Fighter PO-133

(Pocket Sequencer/Sampler)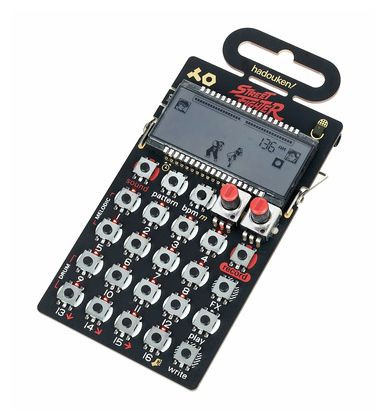 Street Fighter PO-133 is a pocket-size sequencer and sampler with a built-in microphone. 
Apart from the cool interface and visual display, it has up to 40 seconds of sample memory, with original in-built samples from the Street Fighter game. In addition, it includes eight melodic one-shots, eight drum slots, a step multiplier, and fifteen punch-in effects. 
Key Features:
Fun Synth-Engine
It has original street fighter sounds and a built-in mic to record new samples. The two 8-bit synth engines for melody and bass parts are waiting to be tweaked and played around with. Nevertheless, it's extremely user-friendly and serves the right purpose as a pocket operator. 
Character & Sound:
The 80s-based sounds in the synth have a nostalgic value and 15 Recordable effects on both Operators. In addition, you can explore pattern linking, which could help you inspire new song ideas. The samples are low resolution and comprise vocal clips of the fighters (Hadouken!), the narrator (fight!) and some arcade-style drums and synth sounds.
Pros:
It is fun and quirky and doesn't cost much. It's for hobbyists primarily and is great for creating lofi music, 8-bit sounds, and more. The interface is also interesting and playful, and the screen gives you video game animations to visualize the sounds, which have a distinct character. 
2. SOMA Ornament-8

(Organismic sequencer)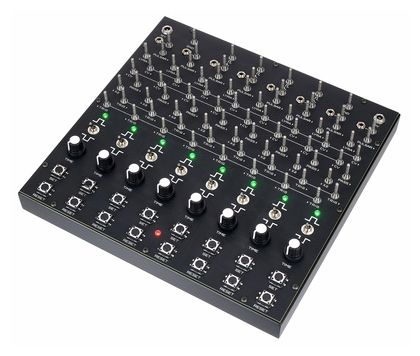 Ornament-8 is an analogue organismic sequencer and synthesizer behaviour. 
It is uniquely based on the horizontal hierarchy of modules that contains eight equal and independent cells. A traditional sequencer allows you to program steps and sometimes change the movement's number of steps and directions. However, the fully modular capabilities of the Ornament-8 allow you to create your topologies with diverse behaviours.
These topologies can be multiple single-dimensional or multi-dimensional networks with interesting movements and directions. Triggers, GATE, and CV signals can be edited, re-routed, patched, and edited. 
Key Features:
Customization
Since the device is completely patchable and 100% modular, you can set the routing and signal flow per your needs and customize your sequencing. It works in three modes: normal, inverted, and muted. It also has dedicated pins for connecting Lyra-8 and Pulsar-23.
Non-linear flow
An organismic sequencer doesn't function like regular sequencers and hence does not have a linear response. However, it also records unquantized and raw signals, adding to the organic analogue nature of the synth.
Character & Sound:
You can create euclidean rhythms, create interesting synchronization, and have an unfiltered analogue sounding warm and crisp at your disposal. As an analogue computer and synthesizer, you can shape your sonics in any way possible and get unique results. 
ORNAMENT-8 organismic sequencer. Demo (SOMA Lab)
Pros:
The device is one of a kind for people who like to get into the tiniest detail of the process. Behaviour ranges from periodic to chaotic with plenty of room to explore, with four pulse converters, with delay times ranging from 5ms to 50 seconds and up to 5 minutes with cell delay time at >CV = 0V. 
Cons: 
It could be complicated to use, as it's too new and completely modular. If you don't have experience working with modular synthesizers or machines, the Ornament-8 may not be the right sequencer. It's great for purists but not for generalists like composers, singers, etc. 
Conclusion
It is recommended to test the device(s) before purchasing to ensure the best returns on your investments. Whether for studio purposes or live, we have covered the best sequencers in the market in 2023. 
For modern use, I recommend the OXI Instrument One, Erica Synths Black Sequencer and Arturia's Beatsstep Pro to suit all your sequencing needs. In addition, the Roland System 8 and Moog Mother 32 are good options if you're looking for a synth sequencer.
Maschine MK3, AKAI Professional Force, and Elektron Octatrack MKIII are great options for a sampler sequencer. If you want something small and portable, I recommend the Roland MC-101, Korg Volca Sample 2, and Novation Circuit Tracks. Finally, you could go for the Synthstorm Audible Deluge for an all-purpose synthesizer, sampler, and sequencer.
Hope the article was of help; thank you for reading.
Readings that you may like: 
Other Recommended Gear:
Top 12 NearField Studio Monitors On Any Budget
Top 10 Midfield Studio Monitors For Home Recording
Best Biggest Studio Monitors (FarField Monitors)
Top 10 Guitar Pickups for Low Tunings 
Top 10 Analog Compressors For Mixing & Mastering (On Any Budget)
Top 12 USB Audio Interfaces Under 150$, 200$, 300$ 400$ (Any Budget)
Top 12 Hardware Equalizers (Analog EQs For Mixing & Mastering)
Top 6 Analog Hardware Limiters 
Top 6 Solid State Bass Amps (On Any Budget)
Top 6 Ribbon Mics On Any Budget (For Vocals, Drums & Guitars)
Top 6 Cheap Dynamic Mics For Vocals Under 50$, 100$, 200$ & 300$
Top 6 Chorus Guitar Pedals (On Any Budget)
6 Best 61-Key MIDI Keyboards (On Any Budget)
9 Best 49-Key MIDI Keyboards Under 100$ & 200$
Top 5 Best 25 Key MIDI Keyboards (On Any Budget)
Top 12 Acoustic Drums (Best Kits/Sets On Any Budget)
Plugin Roundups:
Genre Focused:
Top 10 EDM Plugins  (And 10 Best FREE Plugins For EDM)
Top 10 Plugins For TRAP Beats (And 5 Best FREE Trap Plugins)
20 Best Plugins For Rock Musicians (+ 6 FREE Plugins)
Top 14 Trance Plugins (Uplifting, Tech, Progressive, Vocal, Dream, Hard)
Top 10 GOA & PsyTrance Plugins (Best Psychedelic Trance Tools)
Top 7 Plugins For Dubstep (With 10 Best FREE Effects & Synths)
Top 20 Synthwave Plugins (+ 11 Best FREE Plugins)
Top 15 Plugins For Techno, House, Electro, Tech House, UK Garage
Top 6 Plugins For Latin Music  (And 4 FREE Tools)
Top 12 Plugins For Hip-Hop (+ Best Kontakt Libraries)
Top 7 Plugins For Game & Film Scoring  (+ 6 Best Kontakt Libraries)
Top 10 R&B And Pop Music Plugins & KONTAKT Libraries 
30 Best Free Plugins For DnB, EDM, IDM & Experimental Music 
EQ Plugins
Top 12 Free EQ Plugins For Precise Mixing & Mastering
Top 9 Mid/Side EQ Plugins  For Mixing & Mastering (+ 2 Free Tools)
Top 7 Graphic EQ Plugins  (With 3 Best Free EQs)
Top 7 EQ Plugins For Mastering In | And Best FREE Mastering EQs
Top 6 Passive EQ Plugins (Klevgrand, SPL, UAD, Waves, IK Multimedia)
Top 11 Plugins For Making Metal (Best Guitars, Drums & Effects)
Metering:
Top 5 Audio Metering Plugins (LUFS, RMS, LRA, True Peak)
Top 6 Spectrum Analyzer Plugins  – Spectral Analysis Tools
Top 6 Oscilloscope Plugins To See The Waveforms
Top 5 Key Detection Plugins & Software  (+ Best FREE App)
Kontakt Libraries
20 Best Kontakt Libraries For All Categories (Synths, Drums, Vocals)
Top 7 Drum Libraries For KONTAKT (And 4 Freebies)
Top 7 Trap Music Kontakt Libraries (And Best Lo-Fi Kontakt Library)
Top 7 Metal & Rock Kontakt Libraries (Best Guitars & Drums)
Top 10 Guitar Libraries For Kontakt (Acoustic, Electric, Bass & Freebies)
Top 7 Trailer Scoring Plugins & Kontakt Libraries 
20 Best Free KONTAKT Libraries For Various Instruments
Top 9 Piano Kontakt Sample Libraries  (And 5 Best Free Pianos)
Top 10 Percussion KONTAKT Libraries  (And 3 Freebies)
Top 7 Kontakt Libraries For Horror & Thriller Scoring (No VSTs)
Audio Restoration, Calibration & Utility:
Top 6 Noise Reduction Plugins (And 3 Best Free Tools)
6 Best Audio Restoration Plugins & Software 
Top 7 Phase Alignment Plugins To Fix Your Bass & Drums
Top 10 Room Calibration & Headphones/Speakers Correction Plugins 
Instrument Plugins: 
Top 6 Vocoder Plugins (Effects & Synths + FREE Vocoder)
11 Best Rhodes VST Plugins (AND 5 Free Rhodes Plugins)
Top 12 Randomizer Plugins Including FREE Plugins
Top 6 Kick Drum Plugins (Best Kick Designer Tools)
Top 12 Woodwind Plugins (And KONTAKT Libraries)
Top 10 Double Bass Plugins (Best Upright Basses)
Top 5 Strings VST Plugins (AND 4 Best Free Instruments)
Top 6 Sampler Plugins (And 3 Best FREE Plugins)
Top 6 Classical Guitar Plugins & Kontakt Libraries (And FREE Guitars)
Top 12 Sub Plugins (Best 808 & Bass Tools For Massive Low End)
Top 10 Plugins On PluginBoutique (And 7 Best Free Plugins)
Top 11 Plugins On Plugin Alliance 
Top 7 Acoustic Guitar Plugins (And 4 Best Kontakt Libraries)
9 Best Bass Guitar Plugins (And 2 Best Freebies)
Top 6 Electric Guitar Plugins (Best PAID & FREE Picks)
Top 10 Arpeggiator VST Plugins (Best Synths, MIDI Effects & Tools)
Top 10 Modular Synth Plugins (And 3 Best FREE Plugins)
Top 6 Choir Plugins & Sample Libraries (And 3 Best Free Plugins)
11 Best Percussion & Drum VST Plugins (And FREE Plugins)
Top 8 Piano Plugins (Best Sounding Pianos & 5 FREE Piano Plugins)
Top 6 Organ Plugins Ever Made  (And 3 Best Free Organs)
Top 14 VST Plugins For Beginners (And 9 FREE Plugins)
Top 9 Drum Machine Plugins (And Groovebox Plugins)
4 Best Banjo Plugins (Best Banjo Instruments)
The 5 Best Ukulele Plugins & Kontakt Libraries 
Top 13 Synth Plugins (And 5 Best FREE Synths Plugins)
Top 13 Sequencer Plugins  (Synth, MIDI & Step Sequencers)
The 10 Best Multi-Effect Plugins (And 3 Best Free Plugins)
Top 12 Plugin Bundles For Musicians (Synths, Mixing & Mastering)
Processing & Sound Design:
8 Best Lo-Fi Plugins (PAID & FREE)
Top 11 Plugins For Mixing Vocals  (For Home Studio)
Top 12 Saturation Plugins (Best Mixing & Mastering Tools)
Top 6 Pitch Shifter Plugins (And 3 Best FREE Pitch Shifters)
Top 6 Chorus VST Plugins For Musicians (And 3 FREE Plugins)
Top 6 Limiter Plugins For Precise Mastering & Mixing
The 8 Best Filter Plugins For Precise Cuts & Boosts (+ 5 Free Filters)
6 Best Autotune Plugins To Improve & Enhance Your Vocals
Top 10 Transient Shaper Plugins (VST, AU, AAX)
Top 7 Enhancer Plugins (For Bass, Drums, Vocals & Harmonics)
Top 6 Flanger Plugins (And 5 Best FREE Flanger Emulators)
Top 7 Phaser Plugins (And 3 Best FREE Phasers)
Top 10 Plugins For Mixing Drums (And 3 Best Free Plugins)
Top 7 Bitcrusher Plugins (And 4 Best FREE Bitcrushers + 3 Bonuses)
Top 6 Plugins For Voice-Over & Dialogue Cleaning (Post Production)
Top 10 Stereo Imaging Plugins (Best Old & Modern Picks)
Top 5 Multiband Limiter Plugins 
Top 7 De-Esser Plugins For Better Vocals (And 4 FREE Plugins)
Top 7 Clipper Plugins (Best Limiter Alternatives)
Top 6 Chord Generator Plugins That Inspire Melodies (+ FREE Tools)
7 Best Exciter Plugins For Mixing & Mastering
Top 7 Channel Strip Plugins (And 2 Best Free Plugins)
Top 11 Distortion Plugins (And 4 Top Free Plugins)
Top 5 Comb Filter & Resonator Plugins | Melda, Kilohearts, Tritik
The 7 Best Vibrato VST Plugins | Audec, Audiority, Melda
The 7 Best Tremolo Plugins | Eventide, Melda, SoundToys, Kuassa…
The 7 Best Harmonizer Plugins | Eventide, Melda, Aegean Music
7 Best Sidechain Plugins (VST, AU, AAX) | Xfer, Cableguys..
Top 10 Noise Gate Plugins (And 6 FREE Free Gate Tools)
The 6 Best Ring Modulator VST Plugins | KiloHearts, Melda
7 Best Autopan VST Plugins | CableGuys, Melda, Waves, Soundtoys
The 6 Best Frequency Shifter VST Plugins
Top 11 Granulizer Plugins For Future Sound Design
29 Best Sound Design VST Plugins
Compressor Plugins
Top 11 Free Compressor Plugins (VCA, Vari-Mu, FET, Digital)
Top 7 Multiband Compressor Plugins (And 4 FREE Plugins)
Top 5 Diode-Bridge Compressor Plugins 
Top 6 Mastering Chain Plugins: Complete VST Solutions 
The 7 Best VCA Compressor Plugins (VST, AU, AAX)
Top 11 Mastering Compressor Plugins (And 2 FREE Plugins)
Top 10 Opto Compressor Plugins For Transparent Sound
The 7 Best Vari-Mu Compressor Plugins (And 2 Best FREE Tools)
Reverb & Delay Plugins:
Top 12 Reverb Plugins (And 5 FREE Reverb Plugins)
The 6 Best Spring Reverb VST Plugins | AudioThing, GSi, u-he, Eventide
Top 12 Delay Plugins For Music Production In (VST, AU, AAX)
Top 10 FREE Delay Plugins (VST, AU, AAX)
The 10 Best Convolution Reverb Plugins 
Amps & Preamps:
Top 10 Guitar Amp Plugins (And 5 Best FREE Simulators)
Top 10 Bass Amp Plugins (And 5 Best Free Simulators)
Top 9 Preamp Plugins (For Vocals, Guitars & More!) + Free Preamps
Guitar/Amp Focused:
Can I Put Nylon Strings on a Steel-string Guitar?
Do Electric Guitars Sound Good Unplugged?
Buying Your First Guitar: 2 Things To Know
Are Tube Amps Worth It? (Tube vs Solid-State Amps)
How Often Does A Guitar Need a Setup?
Can I Play Classical Guitar On A Steel-String Guitar?
How often guitar necks need reset?
Can You Play Two Guitars Through One Amp?
Can a 6 String Bass Be Tuned Like A Guitar?
Can I leave My Guitar Tuned Down a Step? Yes, But Is It Safe?
Should I Learn 4, 5 Or 6 String Bass Guitar & Why?
How To Know If your Guitar Amp Is Broken?
How To Fix Distorted Bass Guitar Sound?
Do Fender Guitars Appreciate In Value?
Should You Put Stickers On A Bass Guitar?
How Acoustic And Electric Guitars Are Made?
Is Electric Guitar Too Loud for an Apartment?
Does a Preamp Improve Sound Quality?
If I Learn Acoustic Guitar Can I Play Electric Guitar?
How Many Hours A Day Should You Practice Bass Guitar?
Do I need an AMP/DAC To Run Bookshelf Speakers?
How to Record Electric Guitar Into Logic Pro X?
Do headphones get worse with age?
DAW Related:
Best DAWs For Musicians Available (With FREE DAWs)
What's The Most CPU Efficient DAW? – 5 DAWs Compared
How To Make Music Without Using A DAW?
Pro Tools Guide: How To Use AutoTune & Pitch Correction?
Ableton Review: Is It Worth The Money? (Cons & Pros)
Logic Pro X Review: Is It Worth It? (Cons & Pros)
How To Use Auto-tune & Pitch Correction In Cubase?
How To Fix Ableton Crackling, Crashing & Freezing? Step By Step
Plugin Related:
What Are Audio Plugins? Different Types of Plugins Explained
What Are The Best Tools To Develop VST Plugins & How Are They Made?
Cost of Developing Audio VST Plugin: Several Factors (With Table)
VST, VST, AU and AAX – What's The Difference? Plugin Formats Explained
Complete Guide To Noise Gate – What It Is, What It Does & How To Use It?
How To Clip My Drums? Here Is How & Audio Teasers (Before/After)
Complete Guide To Limiter: How To Use It (+ Best Plugins & Analog Limiters)
Mixing With Reverb: How To Add Life To Your Mixes
Linear Phase vs Minimum Phase EQ – Full Guide
Difference Between LUFS, RMS & True Peak Loudness Meters
How And When To Use Algorithmic And Convolution Reverb In Your Mix?
Difference Between Active EQ, Passive EQ and Dynamic EQ
Headphones & Studio Monitors:
Do headphones get worse with age?
Monitors vs Studio Headphones For Mixing & Mastering
Top 10 Room Calibration & Headphones/Speakers Correction Plugins 
Are Noise-Canceling Headphones Good For Music Production?
Can Headphones Break in Cold Weather?
Why do headphones & cables get sticky?
Can Wearing Headphones Cause Hair Loss?
How Do I know If My Studio Monitor Is Blown?
Side Effects Of Sleeping With Your Headphones On
Do You Need Music Amplifier For Studio Monitors or Studio Headphones?
Do Headphones or Earphones Damage Your Brain?
Can Headphones or Earphones cause Deafness or Toothache?
FarField, MidField & NearField Monitors – Their Uses, Pros & Cons
MIDI & Synths:
Should I Buy A MIDI Keyboard Or Synth? (Are Synths Worth It Anymore?)
Why Is Audio Gear So Expensive? (Especially Synths)
Top 12 Synth Brands – Analog, Digital & Modular Synth Manufacturers
11 Tips How To Choose MIDI Keyboard 
Should I Buy MIDI Controller Or Keyboard? Cons, Pros & Tips
Shaurya Bhatia, is an Indian Music Producer, Composer, Rapper & Performer, who goes by the stage name MC SNUB, and is also 1/2 of the Indian pop music duo, called "babyface". A certified Audio Engineer & Music Producer, and a practicing musician & rapper for more than 6 years, Shaurya has worked on projects of various genres and has also been a teaching faculty at Spin Gurus DJ Academy.