With this list, we will get our modulation on as we review the top 14 rotary pedals available today!
The rotary pedal is a simulation of Don Leslie's rotary speaker that he invented in 1937.  Unsatisfied with how the electric organ sounded compared to a cathedral-style pipe organ, he attempted to recreate the sound using dual rotating speakers built into a single speaker cabinet.
With a horn rotor taking care of the treble and the drum rotor pushing out the base frequencies, the rotating speaker system created a doppler effect, much like the effect created by an emergency vehicle's siren passing you on the street.  As the speakers rotated, they created a pleasant pitch warble that enabled Leslie to have his electric organ sound closer to the real thing.
The pedals mimic this sound through pitch shifting the highs and lows at varying speeds.  Although some of the earliest examples of their mainstream use date back to Buddy Guy and the Beatles, it wasn't until the 90's that rotary pedals were mass-produced, and we saw an explosion of popularity across the industry in almost every genre.
Top 14 Rotary Effect Pedals 2023 (Best Rated)
1. Neo Instruments Ventilator II
This feature-packed offering is a simulation of the Leslie 122 speaker cabinet.
Every feature is accurately represented using five dual-function knobs positioned across the top of the device.  These knobs control everything, including the fast and slow speeds of the rotors individually, the volume balance between high and low rotary speakers, the tube drive of the built-in amp and the distances of the simulated microphones from the speakers.
The Ventilator II also flaunts some advanced features, such as the ability to control the acceleration rate when switching between fast and slow modes and a keyboard mode for when you require the sound of the Leslie 122 to be simulated along with the effect.  All these functions are controlled with the three-foot switches on the bottom of the pedal or the optional addition of a foot pedal for use with a keyboard.
Key Features:
Depressed Knob Panel
The panel that contains all of the main function knobs is recessed.  This location creates a safe place for the knobs, protecting your settings from the onslaught of your feet on stage.
Full Stereo In/Out


This feature is 

one of the most sought-after features

for this type of effect.  It enables the effects to be layered upon an

 unaltered full stereo signal,

 producing the same richness and flavor as the original sound.

Tube Drive
The Drive knob on the pedal

controls the output signal's gain.

  This

increases the volume

 of the built-in amp

and pushes the signal to the brink of distortion, giving you a unique tone at higher levels.
Balance and Speed


The Ventilator can

 control the balance between rotors and the rate at which each spins individually.

  These features combined give you

expanded control over the sound design

 and are features that are usually only reserved for fully dedicated rotary pedals such as this one.

Bombproof Construction


The aluminum housing, a recessed knob compartment, and sturdy foot switches

all lend to this pedal's durability.  Whether you play live once a week or you gig full time, 

this pedal is sure to withstand daily abuse and last for a very long time.
Neo Instruments Ventilator II
Pros:
The Ventilator was designed with both the guitarist and keyboardist in mind.  Either will be able to use the parameters of this pedal to accurately recreate the sound of the classic Leslie 122 rotary speaker cabinet.
Its feature-rich approach to rotary sound will give you the ability to have a rotary speaker cabinet without the weight and size of the real thing.  Anyone who requires this effect in their sound but does not want to lug a rotary speaker on stage or deal with the multi-microphone setup of a live set when using one will appreciate this.
Cons: 
With the ability to nail the sound of the Leslie 122 and all of its features into a pedal, it is one of the most pricey on the list.  For this fact, you will want to ensure that this sound is the one you are specifically after.  
Switching between the top and bottom row of controls on the five knobs requires the use of two switches at the same time.  This can seem a little cumbersome during a live set and may require you to sit down unless you use your hands between songs to manipulate the settings.
Choose If:
You are the type of performer looking for a near-perfect replication of one of the most popular rotary speaker cabinets.  This pedal is also one of the best choices if you are going to be using this with more than just a guitar.
2. Electro-Harmonix Lester-G Deluxe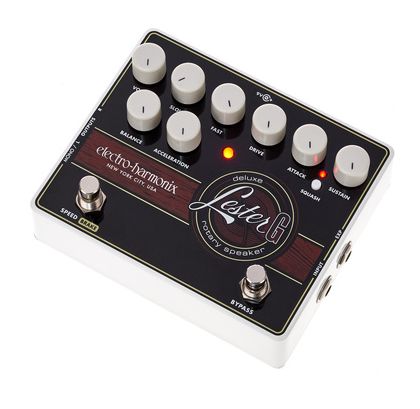 The Lester-G Deluxe Rotary Speaker pedal sounds great and is really fun to play.
This incredible pedal from well-known manufacturer Electro-Harmonix is jam-packed with the most valuable features found on any rotary pedal worth its weight.  With separate controls for volume and drive, the ability to switch between rotor speeds and controls for balance and acceleration, it won't leave you looking for much more.
Unique to this pedal is how they have added a section for sound control that is all it's own.  Along with the drive control, there are knobs controlling attack and sustain with a squash button to add some extra compression that, along with the drive control, really gives the sound a thick and distorted feeling when cranked up.
Key Features:
Speed Control
The speed switch not only allows you to switch between your slow and fast settings but also allows you to stop the rotation.  This feature allows you to stop the modulation and get the full sound of the pedal without the warble.
Volume AND Drive


These parameters are separated

on this pedal.  This feature affords you some 

extra balance tweaking

 between how loud you are and the desired drive you wish to push onto your signal giving you 

more variation on what the end product sounds like.

Sound Design Section
The section to the right of your Leslie controls features knobs to control both attack and sustain of the effect and a squash button.  Adding an extra compression layer is one of this pedal's most exciting features if you are looking for a solid distorted sound.
Expression Pedal Compatibility


The right side of the device features an 

input for an expression pedal.

  The ability to vary the speed of the rotors using an expression pedal

gives you more variation when it comes to playing live.

Buffered True Bypass


The bypass on this pedal is buffered and will 

prevent signal loss when used with long cables.

  This feature adds another layer of variation when writing specific sounds for the different parts of live production and will

revert you to your clean tone when switched.
Electro-Harmonix Lester G Deluxe Rotary Speaker Pedal (Demo by Bill Ruppert)
Pros:
With all of the ways that you can customize your effect with this pedal, its surprising how intuitive everything feels.  It is an incredible-sounding box that is a staple for any rock enthusiast looking for that pure rotary tone to add to their effects chain.
The Lester-G packs a ton of features for a reasonable price, and this would be the pedal of choice for a guitarist looking for value.  In addition, you can rest assured that you are getting quality when you buy from a well-respected manufacturer like Electro-Harmonix.
Cons: 
You may find that the knobs of this pedal take up a little too much space on the top panel.  They may get in the way if you have massive feet, but wont be a bother if you are controlling it with your hands during an organ performance.
The Lester-G lacks the ability to control the speed of the horn and drum rotors independently.  This leaves a little to be desired when it comes to controlling the full spectrum of the modulation effect.
Choose If:
You are looking for incredible sound and value in your next rotary pedal.  This pedal really leaves nothing more to be desired and will feel like it is a lot of pedal for the money in regards to the build quality and sound produced.
3. Strymon Lex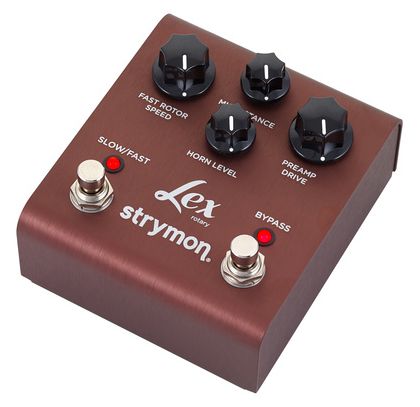 The Strymon Lex is a rotary pedal that has stood the test of time.
This great-sounding rotary pedal has been around for a little over a decade at this point.  However, its front panel is a little deceiving as it hides four additional parameters you can access by toggling both the fast/slow selector and the bypass switch on the front. 
This box can seemingly do it all with a host of parameter adjustments such as mic distance, cab direction, drive, and individual rotor speeds.  In addition, the ability to dial in a broad range of sounds, stereo outputs, and low-noise operation has set this pedal apart from the competition for years.
Key Features:
Individual Horn and Drum Controls


You can 

adjust both the speed of the high and low rotors independently from each other.

  This ability gives you

more audio dynamics to play with

 when trying to achieve a specific sound, whether for guitar or organ.

Advanced Acceleration


Acceleration controls allow you to adjust

 how quickly the rotors change from slow to fast

when you hit the selector switch.  As a result, the 

horn and drum accelerate at different rates,

 mimicking the operation of a true Leslie cabinet.

Brake Control


You can 

stop the rotors by holding your foot down on the fast/slow foot switch

on the left side of the pedal.  This feature allows you to get the 

full tone from the Lex without the modulation

 from the emulated spinning of the rotors.

Expression Pedal Compatibility


An 

expression pedal can be used

to control any parameter on the pedal.  This is a 

pretty standard feature on these dedicated rotary pedals

but not always on the multi-FX pedals that have a rotary function as an afterthought.

Mic and Direction Adjustments


The ability to 

change mic distance

 can drastically change how far away the effect signal sounds from the dry signal. On top of that, Strymon 

added the ability to change the direction of where the cab is being heard from,

 front or back.
New Lex Audio Examples | Strymon
Pros:
The Strymon Lex comes with quite a few advanced controls you won't find in other dedicated rotary pedals at this level.  The ability to have mic distance and cab direction controls gives this pedal a great variance when it comes to pure sound design.
There is a huge tonal difference between the full sweep of the horn level control.  Combine this with a crunchy drive, and you get a lot to play around with and a very accurate representation of what a true Leslie rotary speaker should sound like.
Cons: 
Holding a switch with your foot to stop the rotors may feel like a bother when you are trying to focus on playing your instrument.  The ability to change the level of the drum rotor independently from the horn would have been a welcome addition.
At first glance, you may think that this pedal lacks some features, and you will need to read the manual to figure out that every knob has a hidden feature.  However, I feel this could have been avoided by adding the hidden features' labels next to the ones already there.
Choose If:
You are a guitarist or keyboard player looking for more control over the final tone.  You won't find another rotary pedal in this bracket that gives you the same amount of adjustability as it does grungy drive and pure rotary sound.  It really is a do-it-all package.
4. Fender The Pinwheel Rotary Speaker Emulator Pedal
Fender's The Pinwheel is well-built, tone-centric, and has a refreshingly modern sound.
It's exactly the kind of rotary pedal that you would expect from Fender.  With separate controls for drive, tone, and level, the ability to manipulate the sound with this pedal allows you to get a wide breadth of varying sounds ranging from soft and silky smooth to thick and distorted.
This is the first box on the list that attempts to emulate three different styles of rotary cabinets.  The first mode gives you a 122 Leslie; the second mode is a 145 Leslie; the third mode is a slightly more modern example, Fender's own Vibratone.
Key Features:
Three-Mode Rotary


The three modes on this pedal open a 

new avenue for creativity when pairing sounds.

  The ability to have classic 122 and 145 sounds, which incorporated two rotary speakers, and the Vibratone, which had a single rotor and speaker, gives you

more to play around with.

Autonomous Speed Control


When you toggle the dynamics switch on the back of the pedal, 

the speed of the rotors will automatically change depending on the intensity of your playing.

  You can adjust this by using the sensitivity knob

 on the front panel.

Fender Tone


The tonal range on this pedal is going to be hard to beat.

  When reviewing all of these different pedals, the

Fender Pinwheel will make your ears perk

 from the second you start to hear someone strum the guitar or play the organ.

Full Stereo In/Out


This pedal also has a 

full complement of in and out connections.

  Modulating and retaining the full stereo signal is a fantastic ability of this pedal, and it is

one of the few on this list that you will want to hook up to dual monitors

 if possible.

Instrument Segregation


On the back of the device, you will find a 

toggle switch for guitar or keyboard.

  These give The Pinwheel the ability to

change its voicing to better suit the situation or the instrument

 you use the pedal with.
The Pinwheel Demo | Effects Pedals | Fender
Pros:
The Pinwheel's tonal control through multiple parameter controls such as the instrument selector, separated tone & drive settings, and three-mode functionality is unparalleled in this segment.  In addition, the full stereo capabilities will also retain all of its tonal glory and complete this full-dynamics package. 
Dynamic mode with sensitivity is a unique add-on, and having the speed of the rotors change to your intensity is an interesting concept.  In the end, you can trust that you are getting a quality, well-built device that will withstand many beatings on the long road ahead.
Cons: 
Fender did not include individual speed controls for the horn and drum rotors, only speed controls for how fast the fast and slow settings are.  This pedal may feel a little too tone-centric for someone looking for complete control over every aspect of a rotary cabinet.
Depending on how you play, the dynamics mode can sometimes be a little unpredictable and seemingly hard to control.  Spatial controls would have been a good feature, with mic placement and distance controls missing from this pedal.
Choose If:
The Pinwheel is a great addition to your collection as this pedal is a shining example of Fender's ability to produce great-sounding, high-quality devices to make music with.  It was also the first pedal on the list with a tone that was truly a mash of vintage and modern styling.
5. TC Electronic Vibraclone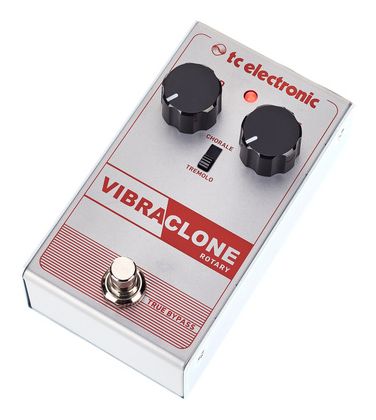 TC Electronics are the masters of value and ease of use, and the Vibraclone is a prime example.
Next on the list is Vibraclone, the budget option from TC.  With their "playable straight out of the box" approach, they have created the perfect rotary pedal for the guitar or keyboard player who either wants to get straight to the good stuff or doesn't want to spend too much time with an effect that isn't on the top of their chain.
The Vibraclone is a very simple device, having a one-speed knob on the rotation side of the pedal and one drive knob on the tone side.  In addition, a mode toggle switch in the center gives you the option between a wet-sounding chorale mode and a dry-sounding tremolo mode.
Key Features:
Ease of Use


This is the pedal you will choose off this list if you are looking for 

an easy-to-use, secondary effect pedal.

 

Not everyone wants the rotary sound to be at the forefront of the sound they are producing

, and this is a good pedal for that use.

Two Pedals in One


The 

ability to switch between the chorale and tremolo modes adds variance

to the sound produced by this pedal.  They are two very different sounds, and despite all of the simplicity, 

both sound really good

 if you don't crank the drive too much.

True Bypass


When switched off, 

the pedal passes your clean signal through it unaltered.

  Despite this being a good feature to have,

the bypass toggle is the only foot switch on the top panel of the pedal.

Portability


The Vibraclone is 

smaller than some of the other dedicated rotary pedals

on this list and fits nicely into the middle of a crowded pedal board.  It is a back saver 

not having to lug an actual Leslie speaker cabinet

 to live performances with you, especially if it isn't your main effect.

Affordability


Many guitarists who want a dedicated rotary pedal as a secondary effect in their chain 

couldn't be bothered to spend $300.

  TC Electronic

gives that market an option

 when choosing the right rotary pedal for their setup.
0% Talk 100% Tones - Vibraclone Rotary
Pros:
The combination of being simple and affordable has its appeal, and this pedal fills that void in this segment.  The pedal does a good job of giving you a couple of sound design options and also makes both options a pleasure to listen to.
The drive control sounds really good on the lower settings.  It's a quality of tone you would find in a much higher-priced pedal, and I think for that reason alone, this pedal wins the award for the best value in this review.
Cons: 
Of course, the lack of features such as a fast/slow switch, volume, stereo ins and outs, or spatial controls will leave a true sound designer wanting much more.  The Vibraclone isn't going to be the pedal for you if you are looking for an authentic Leslie cabinet sound.
Compared to other dedicated rotary pedals on the list, it seems like this one is not out to emulate any particular model from the past.  This fact will leave the keyboard player wanting to choose one of the more authentic-sounding options.
Choose If:
The Vibraclone will be perfect for the guitarist who doesn't want to spend a lot on a simple pedal that will allow him to add rotary as a secondary sound in his chain. It is a massive value for its ability to produce such a great sound for so little cost.
6. Wampler Terraform (Multi FX With Rotary)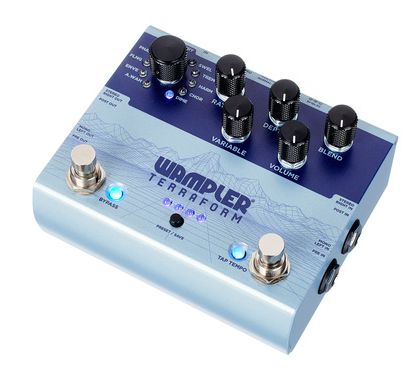 This full-sized multi-FX modulation unit does just about anything, and very well.
The Wampler Terraform has all the most popular effects the modern guitarist could look for.  You will find the most common effects, such as flanger, phaser, and tremolo, to more complex effects, such as auto-wah, u-vibe, and dimension.
With the option to have a full stereo signal or the choice between your effect being pre or post-gain, this pedal sports many features not found on other devices in this category.  As far as external control goes, you have the option of an expression pedal or midi, and it even has a tap tempo for rate built in.
Key Features:
Eleven Modes


This pedal sports a 

wide range of effects

, and pedals such as these are useful devices for perfecting that perfect sound you are looking for.  The full list includes an

auto-wah, envelope filter, flanger, phaser, u-vibe, rotary, auto swell, tremolo, harmonic tremolo, chorus, and dimension.

Expanded Control


With plenty of options regarding effect control, the Terraform 

gives the audio designer a lot to play with.

  Sometimes you will find that multi-FX pedals can feel like real Jacks-of-all-trades, but in this presentation,

no effect has been left behind.

Stereo or Pre/Post Gain


Another great feature is that the pedal allows you to 

place the individual effects before or after the gain

or run a full stereo signal.  This feature gives you the ability to place them in the proper relation to the gain for every effect or have full stereo for effects such as rotary.

Expression Control


The various parameters of this pedal can be 

controlled externally through an expression pedal

 and supports

 full midi operation.

  These controllers not only give you the ability to control the effects parameters hands-free, but

with midi, you unlock the options for parameter automation.

Rotary Control


This effect is why the pedal made this list and

 didn't disappoint.

  The pedal offers

individual speed controls for both the horn and drum rotors, acceleration control, and balance control between the rotors,

and the

 effect shines when combined with the full stereo output.
Wampler Terraform Multi-Modulation Pedal Is Here!
Pros:
The pedal does a great job of giving you a plethora of effects options while not skimping the amount of control you have over each of them individually.  As a result, this stomp box is a solid option for someone who doesn't want to spend the money for each of these effects individually.
The ability to be placed into your effects chain at different points concerning input gain sets this pedal apart from many others in this category.  In addition, the ability to have eight saved presets allows complete freedom, as you will never feel like you need more than this during a live performance.
Cons: 
Its large stature will make it hard for this pedal to fit into a pedal board that is already crowded.  Add that to the fact that the ins and outs are placed on the sides of the device, and you have a pedal that takes up even more room than its size would make you think.
It will require you to take some time with the manual to learn all the parameter controls.  With every effect, the myriad of knobs on the top panel change function and perform different duties in the way that they modulate the sound, and memorizing all of this will be a chore.
Choose If:
You want a full-featured multi-FX pedal with almost every option available to the creative guitarist.  This pedal packs a ton of features for far less than it would cost to own every individual pedal, and it does each and every one of the effects surprisingly well.
7. Keeley Monterey (Multi FX With Rotary)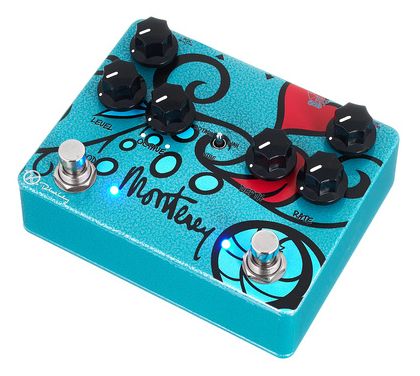 The Monterey is a full Jimi Hendrix revival with all the vintage fuzz you could ever need.
Anyone looking for the full vintage package will love the Monterey from Keeley.  With three modes of parameter control, including rotary, vibe, and wah, the pedal is a home run if you want to emulate the rich, round sound of classic American distortion.
In addition to the main features, you also get an octaver that can run with any of the chosen effects, support for use with an expression pedal, and a "hidden" switch under the bottom plate that allows you to adjust the order of the modulation and fuzz effects.  This pedal is the real deal when it comes to complete Jimi replication.
Key Features:
Three Modes


The ability to control the three modulation effects separately and have them blend to create a final product allows you to 

fine-tune your sound and achieve accurate representations of classic clean or distorted sounds that dominated the late 60s.

 This feature will be 

a boon to sound designers.

Octave Control


There's nothing like the sound of a good octaver.

  With the pedal in vibe or wah mode, turning the octave knob down will add an

octave-down effect

 and up, an 

octave up

, and with the pedal in rotary mode, it 

controls the balance between the simulated horn and drum rotors.

Fuzz


The 

vintage, full-sounding fuzz

 included in this package is

 touch sensitive

and scales with the intensity of your playing or where you have your volume knob on the guitar set.  It 

sounds great with single-coil pickups or humbuckers,

 making this fuzz a very versatile and great-sounding option no matter what type of pickups you have.

Expanded Wah Effects


When in wah mode, the 

depth knob controls the type of wah effect.

  With the knob turned all the way down, you get a

standard wah

 that can be controlled manually with an expression pedal, with the knob below half way, you get an 

auto-wah

, and with the knob above the half way mark, you get the 

beautiful full sound of a harmonic wah.

Rotary Control


With the rotary mode selected, the 

octave knob controls the balance between horns

, and there are 

separate controls for the depth of the effect and rate at which the rotors spin.

  With the rate of the rotors turned down to stop the modulation, the

Monterey sounds great as a cabinet emulator

 for achieving the tones you would hear from a vintage rotary cabinet.
Keeley Monterey - This Pedal's a Rockin'
Pros:
The Monterey has an incredible sound that fills the void if you are lacking the sound of pure '60s distortion in your setup.  In addition, the expression pedal gets a full workout in conjunction with this pedal as it can manually change the rate of the rotary modulation or become a true manual wah pedal when the wah mode is selected.
The inclusion of the option to switch between modulation before fuzz or visa versa gives you the ability to drive the fuzz with the modulation effect, boosting gain and spitting out some dirty full-sounding distortion.  The fuzz is also touch and volume sensitive, allowing you to better communicate your performance fluently with the listener.
Cons: 
The pedal may lack a bit of versatility as it produces very specific tones you will need to be looking for before purchasing.  Additionally, the lack of stereo abilities removes some of the rotary modulation ability as it will not produce as much depth as some of the other pedals on the list.
Limited rotary options will leave you wanting more if you are looking for a rotary pedal for the rotary effect alone.  This pedal is more of an emulator of a specific sound or tone than a full Leslie cabinet replicator, leaving the rotary option as one of the means to achieve the specific tone this pedal puts out. 
Choose If:
You are missing the thick, round fuzzy driven sound of Jimi Hendrix and want this option for recording or playing live performances.  You can achieve a lot with this great-sounding pedal, and you will have a blast going through all of the tones that the Monterey can offer.
8. NUX MOD Core Deluxe (Multi FX With Rotary)
The NUX Mod Core Deluxe is the most fully featured pedal for its size on the market today.
With a full eight effects and the option to switch to deluxe mode, the Mod Core can crank out sixteen different sounding effects, making it one of the most versatile on this list.  Its simple setup of rate and depth knobs won't keep you guessing, and the tweak knob adapts itself to the effect you currently have selected.
Besides the normal and deluxe modes, the pedal also offers a tone lock function to save your settings so that you can't accidentally change your settings during a live performance.  The Mod Core also has a leg up on a few other pedals in this category by offering full stereo ins and outs that add dimension to the sound you create.
Key Features:
8+ Modes


The standard modes include 

chorus, flanger, tremolo, phaser, rotary, pan, u-vibe (chorus), and vibrato.

  With the deluxe mode toggled, you gain

tri-chorus, tape flanger, 8-stage phaser, optical tremolo, rotary cab simulation, pan with filter control, u-vibe (vibrato), and a momentary vibrato controlled by the footswitch

 for a full sixteen effects.

Stereo Ins/Outs


A 

full stereo signal

is great for retaining the full sound of the effects when played on two monitors.  This feature is a 

great addition for live performances

, and you will be sure to wow the audience with its full, round sound.

Tone Lock


With 

tone lock enabled,

the LED on the top panel will let you know when you have any knob in the remembered position by blinking as you sweep past the saved setting.  This feature allows you to 

quickly find the correct positions of the knobs 

in the event that you bump them.

Battery Power


A 

battery compartment

 is a welcome extra as it allows for 

expanded portability

and uses if you want to bring your effects to a jam session with limited outlets.  This addition also allows for outdoor jamming for 

intimate sessions with friends on the go. 

All

 you need is one 9V battery.

USB Updates


NUX will be releasing 

firmware updates

for the effects on the pedal.  The pedal can 

easily be updated with a USB cable and a PC,

 giving you the ability to update all of the effects to their latest and greatest versions of themselves.
Pros:
The NUX Mod Core packs many features into a small, portable device that won't take up too much room on your pedal board.  This one is high on the list for value as a mod pedal, offering so many quality effects and fun for such little money.  
With easy-to-use controls and the ability to change how each effect sounds, it will be hard to get bored of this pedal.  It is also one of the few pedals on this list that you will want to get straight to tinkering right out of the box with very little time spent reading a manual.
Cons: 
Quite a few features are missing here, including tap tempo, levels, mix, etc.  I felt like any of these features missing on their own would be ok, but to have so many missing left the pedal with fewer options for the true sound designers looking for anything specific.  It's more of a Jack-of-all-Trades.
The Mod Core only features one preset and the ability to tone lock one set of parameters.  These will leave you playing with dials in between songs if you need different effects for the various songs you are trying to perform.
Choose If:
You are looking for a solid value in a multi-FX pedal that has a ton of features you can experiment and have fun with.  This pedal is a bit of a less serious device that may take you on a journey that ultimately ends with you acquiring more advanced pedals that perform more specific duties.
9. Keeley Dyno My Roto (Multi FX With Rotary)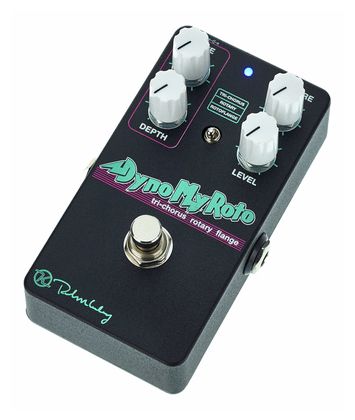 Achieve true 80s nostalgia with the Keeley Dyno My Roto.
Since Keeley first released their Dyno My Piano in the 80s, companies have struggled to figure out how Keeley fit so much analog warmth into such a small package.  With the Dyno My Roto, Keeley has added a rotary effect alongside one of the best-sounding flangers that money can buy.
The triple-chorus effect from this pedal was modeled after the sound of chorus rack effects such as the CS-5 Chorus Splitter.  Boasting a good selection of knobs to manipulate the sound with, including rate, depth, texture, and blend, the Dyno My Roto has plenty of variation, with each mode sounding better than the last.
Key Features:
3 Modes


Rounding out the 

full 80s experience,

 you get the classic tri-chorus, silky smooth rotary, and an incredible flanger. Some guitarists have said that 

the flanger is so good that they would still buy this pedal if the flanger were the only effect it produced.

Tri-LFO Chorus


On most devices, you will find a chorus with two voices,

one straight and one modulated LFO.  The 

Dyno My Roto has three LFOs.

  Adding a third LFO gives this effect a complex tone reminiscent of three guitars playing in unison.
Waveform Control


In tri-chorus mode, the texture knob's position determines the 

type of waveform

that is heard through the effect.  Turning the dial allows you to blend between a 

sine wave, triangle, and square wave,

 adding to the number of abilities this small pedal has.

Rotary Control


Along with controls for the rate, depth, and blend of the effect, the pedal allows you to change the 

simulated mic distance

through the texture knob.  This feature is missing from similar boxes in this category

 and is a really useful addition when dialing in that perfect rotary sound.

Negative Feedback


The texture knob 

increases or decreases the amount of negative feedback

heard through the effect on the flanger setting.  This feature is a boon to those looking to dial in that 

perfect 80s flanger sound.
Keeley Dyno My Roto: Tri-Chorus, Rotary, Flange
Pros:
The accuracy of this 80s sound replication is one to behold.  Chances are that if you listened to the radio or watched TV in the 80s, you would have heard at least one, if not all of these effects played in the music you were listening to.
It's amazing that Keeley could fit this many options for sound in such a small device, as its stature easily fits onto the most crowded pedal boards.  Additionally, the pedal's construction is bombproof, ensuring that it will last through many nights of performing on the road.
Cons: 
I feel like adding a full stereo ins and outs would have taken a pedal like this to the next level, especially concerning the rotary and flanger effects.  The lack of presets, tap tempo, and full rotary controls take away from some of the pedal's main abilities and may leave you wanting more out of a rotary pedal.
The price is a little high for a pedal missing these features, and if you aren't specifically looking for the 80s sound that this pedal creates, you may give this one a skip.  I would have liked to see a slightly larger pedal with stereo, expression control, and gain control.
Choose If:
You are looking for one of the most accurate replications of true 80s sound in a pedal that won't take up to much space in your gear library.  Between the tri-chorus, rotary and flanger, it is really hard to decide which is the better-sounding effect, and I think that someone looking for this sound will get plenty of use out of this pedal. 
10. COOLMUSIC Modulator (Multi FX With Rotary)
Get it all with this inexpensive offering from Coolmusic.
The Coolmusic Modulator is one of the cheaper alternatives, but don't let the price fool you.  This pedal has a plethora of effects, including your standard chorus, vibrato, tremolo, and phaser, but it also includes more advanced effects such as detune, wah, dyna filter (auto-wah sound), and a ring modulator.
With its simple-to-use design and "easy to see in the dark" LEDs, this pedal will be ready to go from the moment you get it out of the box and is perfect for the impatient guitarist.  The tremolo and chorus effects are solid on this pedal and rival some of the more expensive multi-FX pedals on this list.
Key Features:
11 Modes


The full 

list of modulation effects on this pedal is vast

and includes classics and some effects that aren't found on every multi-FX pedal.  This fact will give the player a

 ton of versatility

 when playing around with the different effects and searching for the perfect sound.

Built Tough


The

 slim design

of the Modulator makes this pedal unique as far as designs go.  The outer shell of the pedal is made of metal, and you can tell straight away that it was 

designed to take more than a couple of good beatings

 from daily use.

Simple to Use


Not every guitarist out there wants to be a full-fledged sound designer

, and this pedal will be very easy to understand.  With three

basic controls for speed, depth, and mix

 on the top panel, you won't feel like you are jumping back and forth between multiple knobs trying to search for tone.

Full LED Backlighting


All the switches and knobs on the Coolmusic Modulator are backlit,

giving the pedal great visibility in dark settings or just looking good in general.  This feature 

won't leave you guessing

 while trying to perform in a dimly lit venue or at night when you are jamming alone with headphones on.

Synth Effects


With the 

detune and ring mod options

on board, you can start to dive into the world of electronic sounds with this pedal on the cheap.  These effects are

 usually found on more expensive pedals

 

and synthesizers

 created with sound designers in mind.
COOLMUSIC MODULATOR 11mods effect
Pros:
With eleven effects built into a box that costs around $50, this device is one of the most value for your money on the list.  This fact gives your beginner guitarist a chance to dive right in and explore some of the most commonly used effects before they know exactly what they are looking for without breaking the bank.
The overall build quality of the pedal is really good, and this pedal will last through many stomps.  The small design, simple-to-use controls, and addition of more advanced effects will be a strong lure for those just getting into guitar or bass pedals as well.
Cons: 
Of course, you are looking to give up some important options at this price.  There is no stereo signal, tap tempo, or presets, and the controls are very simple.  As a result, this will not be a good pedal for some of the more advanced sound designers looking for a large and expansive tonal palette to work with.
When playing through the list of effects on this pedal, I found that many sounded the same.  Effects such as the tremolo, flanger, rotary, and vibrato all seem to meld together, and I would have liked to see a little more variation as far as the final tone of these is concerned.
Choose If:
You are a beginner electric guitarist or bassist looking for a way to try to find the effects that appeal to you the most for the least amount of money.  The chorus and tremolo of this pedal sounded really good, and just those two effects are worth the money for this great little versatile box.
11. Tomsline ARE-3 Roto Engine
The Tom'sline Roto Engine is our first venture into the micro realm.
The Roto Engine is more of a rotary-style effect simulator than a true rotary speaker and cabinet emulator.  It comes with three different modes, each of which sounds really good for such an affordable pedal that can fit in the palm of your hand.
One of the first things you will notice is the Tom'sline signature "roll bar" that protects the top of the device.  It is a feature on all their effects pedals, and its benefits are twofold: to protect the knobs and switches from breaking and your settings from accidental bumps while performing.
Key Features:
3 Modes


The Roto Engine features three classic rotary effects: phaser

, vibe, and chorus.

 The effects that the pedal produces are 

really warm,

 

reminiscent of the silky smooth sound you get from a true analog device.

Low Noise Operation


One of the reasons this is not a sub $50 pedal is that 

Tom'sline has taken great care to use high-quality metals in the construction and high-quality internals

to pass the signal along.  There is

 no added noise

 when you stomp on the bypass switch.

Simple to Use


This pedal is intuitive with easy-to-use controls, including a 

level knob, an intense knob that controls the mix,

 

and a large speed knob front and center

.  This is a great feature for those that enjoy

less effort when trying to dial in a tone

 that sounds good.

Small Stature


Being 

one of the smallest on the list,

 the Roto Engine will barely take up any space on your pedal board and fits into any size gig bag,

 including your front pockets.

  The portability of pedals of this size is unmatched and

helps lighten the load

 when playing live.

True Bypass


When you have toggled the pedal off using the foot switch, the 

signal passed through is clean

with no added noise to muddy up the sound.  This feature is especially 

useful when you have many effects pedals

 connected in a chain.
Pros:
Being one of the smallest and easy-to-use pedals in this category makes it very appealing to the guitarist who wants to get all of the warm, analog-like sounds that this pedal produces without having to lug around an actual analog head unit.  It is also easy to unbox and get straight to the good stuff.
Even with the intensity turned all the way up, the effects never get out of control, and everything still sounds impressive.  The chorus on this pedal shines, and this effect alone is worth every penny you spend on this affordable device.
Cons: 
Usually, in a pedal of this size, you will give up many features, and the Roto Engine is no different.  I feel that the pedal does not have many of the main rotary controls, which makes it more of a multi-FX pedal with rotary style effects, and that the die-hard rotary fans will choose a multi pedal that does more than this one.
This fact may confuse the buyer as to what the pedal is trying to achieve.  There are dedicated rotary pedals that have more options for sound manipulation and multi-FX pedals that contain a longer list of effects that have better value than this pedal. 
Choose If:
You are looking for a small, easy-to-use rotary effects pedal that does the three main rotary effects well.  This pedal will be better for the guitarist who doesn't plan to make rotary the main effect in their songwriting or live performances.
12. Flamma FC05 (Multi FX With Rotary)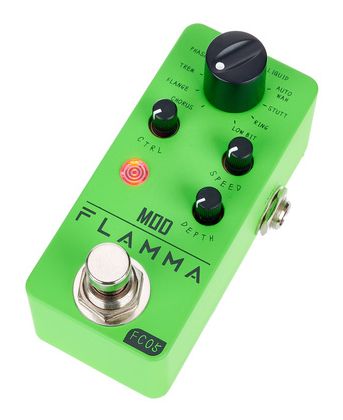 This feature-packed micro dips its toe into the realm of quirky digital sound. 
Flamma's FC05 is bursting with eleven effects that sound just as good as the green on its bright exterior.  With some unique effects on board, such as liquid, stutter, and low bit (bitcrusher), this pedal allows the user to dial in some strange and fun digital tones.
Being the least expensive and one of the smallest pedals on the list, you would never expect how good it sounds.  The FC05 guarantees hours of effect exploration, and it's perfect for someone looking to acquire an exhaustive list of effects for their guitar for very little money. 
Key Features:
11 Modes


On the 

left side of the control knob, you will find classics

such as chorus, flanger, tremolo, phaser, vibrato, and rotary.  The 

right side dives into the deep end of the pool

 with liquid, auto-wah, stutter, ring modulator and a bit crusher called low bit.

Extreme Portability


Being the 

smallest pedal on the list,

 the Flamma allows you 

to

take all of these incredible effects with you anywhere

there is an available outlet.  So it would be the perfect pedal to buy if you have a travel guitar, ukulele, or even a smaller keyboard and wish to 

bring the effects anywhere.

Straightforward Design


There is 

no fluff to be found anywhere on this pedal

, as only a simple, three-knob layout is found on the top plate.  The knobs include a s

peed knob to control modulation speed, a depth knob that either controls depth or mix, and a control knob that changes purpose with each effect.

Bright Color


This pedal's bright green paint that covers the entire exterior is 

super easy to see, even in the lowest-lit venues. 

 This feature allows you to 

immediately identify the pedal

 in a sea of black pedals that dominate your pedal board.

Lightweight 
Being extremely small doesn't always mean you are the lightest, but at only .35lbs, the FC05 is the lightweight champion for the amount of work it can do.  This pedal only weighs about 2/3 of the other pedals in this similar category.
Flamma: MOD FC05 - 11 Modulation Effects
Pros:
With an unmatched portability factor and the sheer amount of effects that this pedal can produce, Flamma's pedal is unmatched when it comes to value.  Even with its small stature, its bright exterior and powerful sound make it seem to have a much bigger presence on your effects chain.
Its super simple and easy-to-use design won't leave you paging through manuals trying to figure out how to operate it.  It is another pedal that wants to be played the moment you bring it home, and with all of the built-in effects, you will end up spending more than a few hours with it.
Cons: 
Some of the effects, like the rotary and vibrato effects, sound similar, leaving me feeling like I wanted a bit more variability.  Although great sounding and fun, the more complex digital effects felt like they may not be quite as useful as some of the classic effects this pedal offers.
The FC05 could have benefitted massively from full stereo ins and outs, as some of the tones produced felt vast and could have sounded even better with some stereo width.  The lack of options concerning sound control may leave some audio tinkerers with an itch to scratch elsewhere.
Choose If:
You are looking for the most portable multi-FX pedal on a budget.  From its impressive sounds and flashy color to its easy-to-understand controls, the Flamma FC05 will give you many hours of use at a price you will almost immediately forget about.
13. DigiTech Ventura Vibe
This smooth-sounding rotary box has a vintage side that is quite unique.
The DigiTech Ventura Vibe is unique in the choice of its three effects.  You get everything from the perfectly off-balance sound of a vintage rig, a modern tone that is kind of like a pitch vibrato, and a very convincing Leslie replication with its rotary mode.
What the Ventura Vibe lacks in effects, it makes up with the amount of variation you get out of the finished sound.  Having this many ways to manipulate the chosen effect enables this pedal to polish its three effects very well.
Key Features:
Vintage Mode


This mode is actually 

two effects

 as DigiTech has placed a

chorus on the left side of the mix knob and vibrato on the right. 

 This mode has a warm, 

smooth warble

 that shines with all the options you have for sound control. 

Modern Mode


The 

center setting is a modern pitch vibrato

that is a really unique version of this effect.  When it is played with the speed setting on slow, it kind of sounds like a 

record that is off balance

, and when you ramp up the speed, you can reach 

a complete earthquake-like warble.

Rotary Mode


The Ventura Vibe has a bit 

more variation in sound design,

which

 really helps out in a mode like this. 

 The drive knob changes function here,

 allowing you to dial in some 

saturation taken right out of a vintage Leslie speaker cabinet.

Multi Function Foot Switch


A hidden function in the foot switch 

allows you to ramp the speed up and down when you press and hold it.

 This is a feature that we haven't seen since earlier on the list and is a welcome addition, 

especially when you have modulation effects.

Stereo Ins/Outs


With rotary modulation,

 one of the most powerful features you can have is full stereo ins and outs.

 The Ventura Vibe won't disappoint in this department, allowing you to

 run two monitors and have the sound swirl

 around through them.
Pros:
The three modulated effects built into a box with expanded controls will be a lure for guitarists who want to achieve a solid vintage sound. The vintage mode and the rotary mode sound really good and will be useful in a vast amount of songs and performances.
With effects such as full stereo ins and outs and speed ramping, the Ventura Vibe brings back some useful features found on many of the earlier pedals on this list. In addition, its multi-function LED makes it easy to understand what the pedal is doing at any time.
Cons: 
I felt like some of the pedals at half this price had better sounding chorus and vibratos than the Ventura Vibe. It sounded really dry and tinny when I expected warm and round, making the modulation sound robotic when you ramp the speed up.
Although fun to listen to and play around with, the modern setting didn't feel like it would be very useful. All of this adds up to a slightly overpriced pedal, and I felt like most other pedals had more of a reason to purchase them.
Choose If:
You are looking for a rotary modulation style pedal that does a fine job on a few of the most popular effects and gives you some more control over them than the micros. The added full stereo is a solid feature and gives you a bit more rounded sound than anything from the pocket pedal section.
14. KOKKO Vibe
This final micro pedal is very good at one specific effect.
Analog sound is hard to reproduce accurately, but this small pedal nails it.  Rotary modulation is the only effect featured on the Kokko Vibe, but it doesn't let you down with its ability to help you get your swirl on and dive right into the world of rotary modulation.
This pedal is the most simple-to-use device on the list, and it is the perfect one if you only want to add a solid rotary sound to your effects chain.  With its very low price and durable build, it is an easy choice and one that will last with you on the road ahead.
Key Features:
Rate Control


The knob located on the 

top left of the device controls the rate.

  This knob is where you can

go from a soft, drawn-out, well-rounded tone all the way into modulated madness

 with its clear, sharp tones and great-sounding warble.

Depth Control


The top right knob is for 

controlling the depth of the sound produced.

  With this feature, you can ramp up the amount of effect you hear over your clean signal, and in regards to this pedal,

 it acts much like a mix knob.

Volume Control


The knob in the center of the pedal is for 

controlling the amount of level that you desire.

  Separate controls for the mix and level

 allow for greater versatility

 when searching for the right amount of rotary effect.

True Bypass
Not a peep of any extra signal is heard when you tap the foot switch as this pedal features a true bypass to only lets your true clean signal pass through when off.  This feature is great if you have a ton of pedals on your board.
Quality Build


This pedal also features a

 full aluminum case

that can survive many nights of shows or any stuffed gig bag.  The

 LED on the top communicates what the pedal is doing

, and the 

anti-skid rubber on the bottom stops it from sliding.
Kokko Vibe Pedal Demo | Dorin Ardelean
Pros:
The Vibe is a very good-sounding analog recreation of a rotary cabinet.  The Kokko Vibe sounds much better than many other vibe effects from other pedals on this list but for a lot less money than most of them.
This fact makes the pedal an incredible value for how much you get out of the sound produced.  That and the fact that it is super easy to use will be attractive for many guitarists who just want to play the pedal without going through any manuals or watching a tutorial.
Cons: 
Only one effect and three controls on top may leave many guitarists with nothing to play with after about 10 minutes. You will have to want this sound to enjoy this pedal, and it will probably be mostly an afterthought in a complex signal chain.
Stereo ins and outs would have been nice with a truly analog sound like this, as it is quite rich and well-rounded.  Also, the lack of a battery option will remove some of its portability as it has to have a power supply to operate.
Choose If:
You are looking for a close adaptation of how well a true analog rig can sound.  You will want to grab this one if you are looking for the rotary sound to be an added layer onto another effect or if you want to try it out for little money.
Conclusion
The world of rotary effects is quite large and spans many genres and styles.  From vibratos and tremolo to phasing and flanging, these effects are a core component of plenty of popular music from the '60s to the present day.
As far as complete replications of the Leslie sound are concerned, the Ventilator, Electro's Lester G, and the Strymon Lex top this list with their ability to control most aspects of a true rotary speaker cabinet.  These will also have the most authentic replications when using them with a keyboard or electric organ.
If you are looking for a plethora of effects that you can use to find your perfect sound, the Wampler Terraform is your best bet for sound quality, with the NUX Mod Core Deluxe being the better option in portability.  The Coolmusic Modulator is a notable mention that introduces some complex synth tones for less money.
There are also a few pedals from Keeley that boast some specific use cases.  With the gritty Jimi Hendrix sound of the Monterey to pure 80's nostalgia in the Dyno My Roto, Keeley has given the guitarist or keyboard player options when going after some familiar and useful effects to help cover bands turn some heads.
The biggest decision here is whether to buy a pedal that properly emulates a Leslie cab of various styles with all of the same features that you would find there or grab one that will send you on a musical journey, offering all of the effects conceived by this style of modulation and sometimes more.  Rest assured that you have made the right choice wherever you land on this list.
Integration is a music website focused on audio advice, how-to, tips & tricks and best plugins (free & paid). Read More…