Let's discuss the 14 studio preamps for your bass and 4 bonus bass preamp pedals.
As we delve into the world of recording and sound engineering in 2023, we are continuously reminded of the importance of the right preamplifier, or 'preamp,' when defining the soul and tone of the bass guitar. The preamp is the essential link between the bass and the recording medium, a silent maestro that can shape, elevate, or even distort your sound. 
Understanding the importance of a preamp begins with acknowledging its function in the signal chain. As it amplifies the low-level output from your bass, it also refines the raw sound before it reaches your audio interface, mixer, or amplifier.
The choice of a preamp can significantly influence your sound's quality, coloration, and character, marking the difference between an average and an exceptional bass tone.
The 14 Studio Preamps For Bass Guitar 2023
1. Universal Audio Solo 610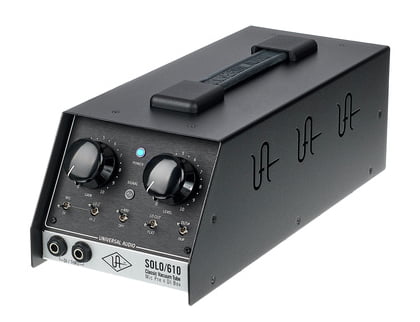 The Universal Audio Solo 610 is a studio tube preamp offering DI capabilities. Long before Universal Audio offered its line of audio interfaces, the company had provided different recording solutions, including the 610 consoles. This preamp is based on a single track from the console.
As a single preamp device, the Solo 610 is portable and much easier to take anywhere, unlike its predecessor, the Putnam 610 console. This preamp also features added gain, which puts some exciting tones into your bass guitar's tone.
Key Features: 
This preamp is also relatively straightforward to use, with a few tricks. Sound-wise, you can expect vintage tones with a more modern approach.
Tube Circuitry
The Solo 610 uses 12AT7 and 12AX7 tubes to add some tube warmth to the sound. Unlike other preamps that emulate console tones, the tubes in the Solo 610 add some coloration to your tone, which isn't bad at all. The tubes added exciting flavor for me, considering the 12AT7 is often used for reverb sections. 
Thru signal routing
The DI feature on the Solo 610 offers thru signal routing, which gives you more versatility. This signal is unaffected by the preamp, letting you route your bass into a different preamp for a more distinct sound. This feature comes in handy when recording different bass tones in one go.
Hi-pass Filter
The hi-pass filter allows you to enhance the low frequencies by rolling off a bit of the high frequencies. When using this preamp with a bass guitar, you get to make the bass tones more prominent without boosting or introducing muddiness into the signal. 
Gain Control
The gain control allows you to add a little grit to your tone, which is handy when using a bass guitar. In this case, I noticed some tonal differences when using this preamp. The bass guitar tone sounded more open with the gain control turned up. When turned off, the bass sounded more neutral, which isn't a bad thing at all. 
Pros: 
The first thing that caught my attention with this preamp was the tube circuit. I like how the notes had better clarity, especially with some gain dialed in. This serves two purposes: it can act as an added volume boost or may be used to add some grit to the overall tone. 
The thru signal routing is another fun feature to use. I found this helpful in recording two bass guitar signals, allowing me to route the thru signal to a bass processor. Aside from that, it also comes in handy to record the purest bass signal from the guitar so that I can apply impulse responses during recording. 
I also like the gain control and how it adds some color without altering the overall tone of the bass. The gain added isn't gritty, making it excellent for boosting. I want to think of this preamp as a very transparent light overdrive driven by a tube circuit. 
Cons: 
One thing I noticed with this preamp is that it doesn't have an effects insert. Many of the modern preamps now, including those in audio interfaces, integrate effects inserts or loops to help you consolidate your processors in one device. 
Another issue I have with this pedal is the price. But considering what it offers, getting a quality product is an excellent trade-off. This is a good option if you have the budget to spare for a high-quality preamp while maintaining a lean lineup of gear in the studio. 
2. Focusrite ISA One Analog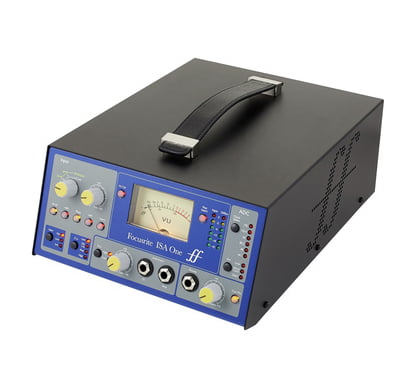 The Focusrite ISA One Analog is a studio preamp designed for various purposes. You can plug a microphone or instruments, such as bass guitars, into this preamp and connect it to different outputs. It's flexible enough to work as a preamp for your bass amp or recording.
With its different routing options, you can use this studio preamp straight into a bass guitar power amp or into devices such as cabinet simulators and IR loaders for routing to the front of the house or your recording interface. 
When used with a bass guitar, this studio preamp lets you maintain your signal's low and mid frequencies.
Key Features: 
There are a lot of exciting features on the ISA One, and no doubt, it will cause analysis paralysis. But to help you understand what to expect with this studio preamp, here are essential features.
High Pass Filter 
The high pass filter control allows you to cut off the high frequencies. When used with a bass guitar, this preamp lets your bass frequencies pop out naturally without adding too much.

Effects Loop 


This feature lets you insert effects into the signal chain. You can add reverb, compressors, and EQ processors, which let you shape the tone of your bass signal. As this studio preamp has few tone-shaping options, the effects loop allows you to adjust your bass guitar tone before it hits the power amp or the front of the house.

Phantom Power 


If you need to plug in a bass preamp pedal that uses phantom power, you can use the ISA One studio preamp to deliver power to the preamp. This eliminates the need for batteries or added power cables. Note that this may only be used when plugging the bass preamp into the XLR input of the preamp. 

VU Meter Calibration 


The ISA One features a VU Meter that lets you check how hot the signal is coming from. The VU meter can be calibrated to ensure a consistent reading from the signal that enters this preamp.
Pros: 
The first thing that caught my attention here is the effects loop. While preamps like the ISA One were designed to be generally flat, adding an effects loop makes it more flexible, especially in a live setting. As venues' acoustics differ, integrating outboard effects such as reverbs and EQ allows you to compensate for imperfections. 
The hi-pass filter is another powerful feature. Using the hi-pass filter, you can remove any excess trebles frequencies so that your bass stands out within a mix. This feature is helpful, especially if you want a more rounded tone.
The VU meter calibration is also another plus for this studio preamp. You can ensure that you get accurate readings of your signal's intensity and prevent any clipping. Aside from that, you can also set the VU meter to either the send output or the return input.
Cons: 
The ISA One works better for active basses. As active bass guitars often have gain and active EQ controls, you can get away without having any tone-shaping options on this studio preamp. Whatever comes into this preamp goes to your speakers comes in without coloration. While that may be good, it tends to be too dry for some people. 
As to what genres this preamp can handle, they will be lacking for some, such as rock or metal. However, you can expect this preamp to do wonders when it comes to soul and gospel music. 
3. Golden Age Premier PRE-73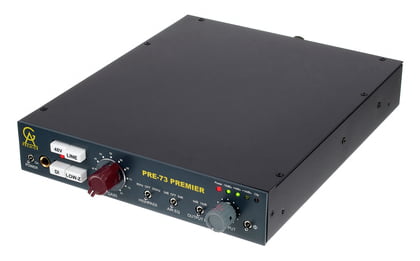 The Golden Age Premier PRE-73 is a preamp based on the famous Neve 1073 console. As one of the popular preamps of its era, having been used in thousands of records, Golden Age developed its take and created, with some improvements, to make it compatible with instruments, such as a bass guitar. 
Designed to fit on top of studio desks or home studios easily, this preamp allows you to induce up to 80 dB of gain with a single knob. It's an excellent alternative to buying massive mixing desks or larger preamps. 
The secret to the sound of the PRE-73 lies in the gain and output controls. Tweaking them lets you get clean boosts or slightly gritty bass tones.
Key Features: 
The PRE-73 has some common features found in many preamps in the market, as well as some interesting features on its own. Here's a close look at what will come hand for bass guitars and other instruments.
Air EQ 
The Air EQ circuit is a boost that improves the high frequencies in your signal. You can choose between adding a slight notch at 3 or 6 dB at 30kHz. 
High pass filter
The high pass filter allows you to remove high frequencies in the signal. You can switch between 80 and 200 Hz. When used with a bass guitar, this helps your bass frequencies stand out even more.
Gain Control
The gain control allows you to add some vintage tones to your signal. Unlike gain controls in pedals, this knob allows you to boost the signal levels further while preventing it from clipping. Clipping may still occur only when the signal is too hot.
Effects insert
The effects insert a TRS jack that allows you to add different effects processors to your signal. If you have processors such as studio compressors or reverbs, you can plug them through this jack. Note that you need a TRS Y-cable to use this feature.
Pros: 
What I like about this preamp is how you can control the amount of coloration when used with instruments such as a bass guitar. Some people want that flat response, while others like vintage console tones. You get the best of both worlds with this preamp.
Another plus point is gain control, which adds more color to your tones. It doesn't overly exaggerate the tones to put some semblance of transparency in this preamp. Your bass guitar tone won't differ much, making it ideal for running active basses or full-fledged bass pedals.
Suppose you plan to use bass pedals that can run on phantom power. In that case, the built-in phantom power will allow you to eliminate running additional power cables in the studio or during live applications. While it might seem redundant to run a bass preamp into another preamp, the fact that there's slight coloration will maintain the tone of the bass pedal ran into it. 
The hi-pass filter is also helpful, considering how you want to make the bass frequency stand out. Unlike other preamps with only one filter option, the PRE-73 lets you choose from two frequencies to enhance with this filter. 
Cons: 
Like many effects inserts on preamps, using a TRS Y-cable can be problematic. Even worse is that no markings on the back panel regarding how the signal is routed with the Y-cable. If you're an engineer on call and you encounter this preamp, you may need to do some reading as to how to wire the effects inserts correctly. 
4. Great River ME-1 NV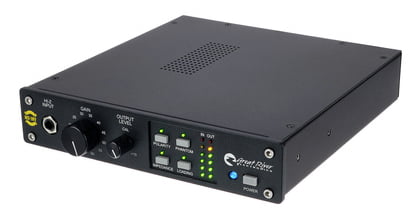 The Great River ME-1NV is another preamp based on the 1073 console preamp but in a more compact format. This preamp was designed to provide your signal with vintage warmth without investing thousands of dollars for a massive console table.
The ME-1NV preamp works well with instruments, such as bass guitar. It has a hi-Z input allows you to plug low-impedance devices, including ribbon microphones. Pushing the preamp can add punch to your bass guitars, drums, and other instruments. Adding more gain through the rotary control imbues an amount of compression without too much grit.
This preamp is compact and should fit on your studio desk without taking up much space.
Key Features: 
The ME-1NV has the standard features you would expect from a desktop microphone preamp. However, the features offer different tones.
Dual Gain Control 


The gain control is a rotary selector switch that lets you increase the gain in increments of 5 dB. When combined with the output level, you can push the gain up to 70 dB. Increasing the gain introduces some light grit and compression into your signal. When used with a bass guitar, this preamp will function like a light overdrive.

Dual LED metering 


The dual LED meters allow you to keep track of signal clipping on the gain control and the output level control. If you're just after an increase in volume without introducing signal breakup, dual metering can help you achieve the proper levels.

Effects Loop  


I emphasize preamps having effects loops or inserts, making a preamp more flexible to use. The ME-1NV has a built-in effects insert that lets you add your choice of processors into the signal chain. To use the effects loop, you will need a TRS Y-connector, wherein the tip (T) goes to the input of the effects processor, and the ring (R) is for the return or output of the last processor in the insert chain.

-10dbV Output 


The -10dbV output jack on the preamp allows you to connect the preamp to a low-impedance monitoring system. This feature allows you to set your audio interface to full playback while this output jack may be routed to a power amp.
Pros: 
What I like about this preamp is the effects loop/insert guide printed on the back. If one isn't familiar with this preamp, the labels for the send and return make it easy for anyone to chain effects into this preamp—no need to look for the user manual.
Another plus point is that the natural compression exerted by this preamp isn't overly done. When you don't want too much grit or compression, the ME-1NV allows you to maintain the transparent tones of your bass guitar or other devices.
The zero-latency output is another strong point for this device, as you can route your signal into a power amp for easy monitoring. If you're recording straight into the DAW with an audio interface, you can skip the headphones if it's uncomfortable for you.
Cons: 
One gripe I have with this preamp is the rotary control. I prefer a potentiometer over a rotary switch to gain control to give me more precise settings for gain. Although I understand the rotary switch's function, selecting between different resistors, I prefer the smoothness of rotating a potentiometer.
5. Fredenstein V.A.S.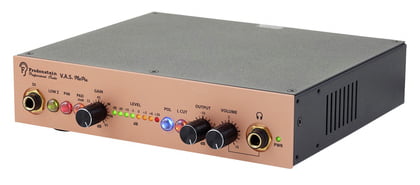 The Fredenstein VAS is a microphone desktop preamp with a low-impedance input ideal for ribbon microphones and instruments, such as bass guitars. Its features are relatively straightforward, which makes it easy for any aspiring home product to use, especially if working on a limited budget. 
This preamp looks like any other preamp in the market today. Still, it has some exciting features that make it ideal for different studio and live applications, including using bass guitars. 
Key Features: 
This preamp has some exciting features that come standard with many desktop preamps today, including DI and frequency filters. But some unique features on this preamp make it ideal for bass guitar.
Op-amp Socket
 The VAS preamp uses an OPA2 op-amp that is socketed. You can swap it out to experiment with different tonal characteristics, which come in handy when running instruments, such as bass guitars, into the VAS preamp. Socketed op-amps aren't new and are being used in many effects pedals for guitars.
Low-Z Input
The DI or Low-Z serves as an input for low-impedance devices, including some ribbon microphones and instruments like bass guitars. This input is labeled as DI, which disconnects the microphone input on the VAS whenever you plug a device into the DI jack. 
Effects Loop
You can insert effects into the insert jack behind the VAS preamp. You can add products like a compressor, overdrive, among other processors. Since this is a relatively neutral preamp, you can turn the VAS into a unique bass guitar rig. The effects insert requires a TRS Y cable to accept effects into the preamp.
Low-cut Filter
A low-cut filter allows you to remove muddiness in your signal. You can put more note definitions in the low end when used with a bass guitar.
Pros: 
What I liked about the VAS is its simplicity. There aren't too many switches to consider when plugging your bass guitar into this preamp. It's a relatively straightforward device and shouldn't offer much coloration to your bass guitar's tone. 
Also, you can swap out the OPA2 op-amp since the chip is socketed. In place of swapping tubes, being able to experiment with different op-amps is an excellent idea to get the best sound needed for your applications. 
The low pass filter is also another strong point for this preamp. While cutting low frequencies when using this preamp for bass sounds unusual, it doesn't overdo it. It provides the right amount of cut in the low frequencies to remove any muddiness.
Cons: 
The first thing I'm not a fan of is the TRS connection needed for the effects insert. I've always preferred having separate input and output connections for effects inserts. It makes routing of effects easier, especially if inserting bass guitar processors. 
Another feature I'd like to see on this preamp is a hi-pass filter, which could trim excess treble frequencies from any signal, not just for bass guitar. That can be used to tame a harsh electric guitar signal.
6. Warm Audio TB12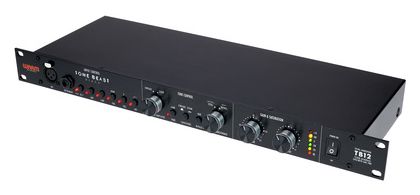 The Warm Audio TB12 is a rackmount microphone preamp based on the API 312 preamp. This preamp, also known as the tone beast, gives the user different signal paths that let you choose between capacitors, transformers, and op-amps to shape your sound.
When the gain control is cranked, you get to add some grit to your instruments, such as your bass guitars. Combine it with the different tone options and the effects inserted behind this preamp, and you get yourself a formidable preamp that you can use for studio or live applications.
The TB12 preamp uses a 19U rack unit format, so it should fit on your rack shelf perfectly.
Key Features: 
There's a lot going on with this affordable rackmount preamp. This is one of the preamps that stands out in this round-up. I gravitate towards this preamp because of its overall design.
Discrete Signal Paths 
The TB12 Preamp allows users to switch around the signal path to change the overall tones of the signal. This feature is similar to switching clipping or voicings in an effects pedal. You can switch around op-amps, transformers, and capacitors to see which works for instruments, such as bass guitar.
Socketed Op-amps 
Another feature I like about the TB12 preamp is the socketed op-amps. Like the VAS preamp, the TB12 lets you swap op-amps as you deem fit. This is handy when experimenting with different instruments, such as a bass guitar.
Effects Insert 
The TB12 has an effects insert found at the back panel of this rack preamp. But unlike many effects inserts in this round-up, this preamp uses individual jacks for the send and return inserts. That means, no need to look for manuals or specialized cables to run outboard effects.
Gain and Saturation 
The Gain and Output knobs allow you to increase the overall signal. But what's attractive with these controls is how they add grit to your overall signal when used with discrete signal paths. You can go on almost full-on overdrive with these controls using the right combination of transformers and op-amps. 
Pros: 
I like how this preamp can act as a "flat" overdrive processor. With the right combination, you can get a good amount of usable saturation on a bass guitar, which works for studio and live applications. If you don't need searing overdrive tones, this should be an excellent always-on preamp with a bass guitar.
Next is the effects loop. Unlike many preamps in the market, this preamp has a pair of jacks for its effects loop. You don't need special TRS Y-connections to connect your effects to this preamp. You can easily add them using standard cables.
Another thing to like about this preamp is the swappable op-amp section. You can swap out op-amps based on the bass guitar or player using the preamp to get the best results.
Lastly, the price of this preamp is also worth noting. I recommend you get this preamp to add a few more hundred dollars to your budget.
Cons: 
Since this preamp is a rack unit, it would be hard to access the back side unless you don't mount it on a shelf. But even if you do, this can be remedied with a good patch bay to connect the backside to where you want to route the signal chain.
7. Neve 1073SPX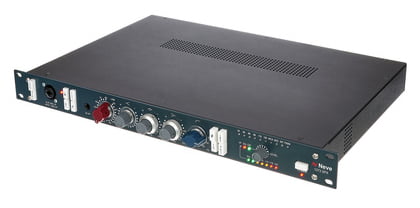 No studio preamp roundup will ever be complete without a Neve on the list. The 1073SPX preamp is based on the 1073 console used in thousands of recorded sessions. When it comes to recording straight to a console preamp, the 1073 has become synonymous with it.
And that is why Neve came up with the 1073SPX preamp. The 1073SPX is a more economical solution, taking up less space and costing a fraction of what you will spend with a full-blown console.
But this preamp isn't just a single section of that console. It offers other exciting features that make it worthwhile, not just for recording vocals but also for instruments like bass guitars. Using an instrument entails plugging into the DI I/P jack in the front panel, which bypasses the XLR combo jack on the same side. 
Key Features: 
The 1073PX preamp is known for its iron transformer, which provides sufficient clarity to your signal. Bass, mid and treble frequencies are pretty straightforward, making this preamp a suitable device for using instruments such as bass guitars.
Three band EQ 
The secret to the clarity that the 1073SPX offers is its three-band EQ. The EQ provides a cut or boost of 16dB with selectable frequencies for the low and mid. The high frequency is set by default to 12 KHz. To complement the EQ is a hi-pass filter that provides a shift at 50Hz, 80Hz, 160Hz, or 300Hz.
Pre/Post EQ Switch
The Pre switch lets you move the EQ section before or after the effects loop. Experimenting with this function can yield exciting results for your signal, especially with a bass guitar. This feature comes in handy with passive basses, as you can use this to emulate the EQ section of an active bass guitar.
EQ Bypass 
If you want the purest signal without coloration, you can bypass the EQ section of the 1073SPX. If you're using an active bass guitar, this can deliver a more transparent tone into the preamp.
Effects Insert 
The effects insert can be found at the back panel of the preamp. This feature can add outboard effects, such as compressors, de-users, and reverb. When used with a bass guitar, you can add more color to your tone, making the 1073SPX a good option for bass amplification. You can bypass the insert section with one switch, so you don't have to unplug or replug devices when comparing your tones. 
Pros: 
There's a lot to love about this preamp, primarily when used with a bass guitar. If there were no limits in the budget, this would be a shoo-in for a preamp to invest in. For one, the separate send and return jack for the effects insert is useful. The bypass option is a plus when tone chasing for recording or live applications.
The EQ section on this preamp is the most powerful feature. It's not just for microphones, as it also does wonders for bass guitars. You can easily cut off high frequencies when you need to without altering the natural bass frequency of your bass guitar.
The feature to switch the EQ section in the signal chain is also helpful, as you can easily create varying tones on your bass. Another thing to like is the EQ bypass feature, as you can preserve the tones from the bass guitar or rig.
Cons: 
Like the TB12 preamp, the effects loop can only be accessed through the back panel, which can be problematic if the preamp is mounted on a 19U rack shelf. A patch bay should be good enough to remedy this issue.
Another drawback to this studio preamp is the price. It's not cheap, but if you focus on quality over quantity of gear in your studio, then the 1073SPX is one of the best options to consider. 
8. JHS Colour Box
https://thumbs.static-thomann.de/thumb/bdbmagic/pics/prod/550965.jpg" alt="" title="" class="bbcode-image" />
The JHS Colour Box is a versatile preamp pedal on instruments and microphones. Josh Scott, the founder of JHS Pedals, designed this preamp pedal with the vintage console preamp in mind. He's made a previous version of this pedal with version 2 as the latest iteration.
This preamp pedal is one of the most useful because it's the most convenient preamp to bring to a gig. Many bass guitar players consider using this preamp, considering its vintage console emulation.
This pedal is slightly bigger than the usual bass guitar preamp but smaller than the studio preamps in this list. 
Key Features: 
There are a lot of exciting features found on this preamp pedal by JHS, which is why many bass guitar players like this pedal. For one, it does have that vintage console tone that tends to be flat. But when used with the other controls, it becomes a potent tool for studio and live performances.
Gain Section (Red Knobs)
The Gain section of this preamp is marked in red. The master volume serves as the output control of the preamp, while the pre-volume works as the gain control. Notably, the gain control can be cranked to distortion or fuzz territory. The step control is a five-way rotary switch that increases the gain from 18 – 39 dB in 5 dB increments.  
EQ Controls (Blue Knobs)
Aside from having a three-band EQ control, the Colour Box pedal has shift EQ controls that work on bass, mid and treble frequency. The bass frequencies may be shifted from 20 – 440 Hz, with mids at 150 Hz – 2.4 kHz and treble at 2 – 30 kHz.
Hi-Pass (Yellow Knob)
The hi-pass knob is engaged through the toggle switch below the knob. This octave hi-pass filter lets you reduce by 3 dB frequencies from 160 – 650 Hz.
Hi-lo Switch
The Hi-lo switch allows you to increase clean headroom on the preamp. The Lo mode gives you clean tones, which works better when you need a pure bass guitar tone. The Hi gives you more gain on tap, and you can go into overdrive to fuzz territory.
Pros: 
If I were a bass guitar player, I would lean toward this preamp pedal because of its portability. Unlike desktop or rackmount preamps, it fits easily into any gig bag or pedalboard. This one has the most potential for regular use among all the preamps that can handle microphones in this list.
For one, the gain on this preamp can go to fuzz territory. If I were running this with a bass guitar, this could get gritty to use. Potentially, this can do those fuzz tones heard in tracks by Muse or The White Stripes.
The Hi-Lo switch is another plus point on this preamp, as it can tame the gain from the Colour Box. As only some people need a high gain, using the lo switch can help reduce the gain needed in a signal. Pair this with a nice bass overdrive, and you can get a punchy bass guitar tone.
The EQ control is also robust as it is. JHS wasn't bluffing when they said the Colour Box preamp has a powerful EQ section. You can sweep through frequencies to cut or boost them as you see fit. This feature comes to hand when adapting to different venue acoustics so you can churn out lovely bass guitar tones.
There's also phantom power available on this preamp. Plug into a mixer or interface; you only need one cable to power this pedal. A standard 9v pedal power supply can power this preamp if used live.
Cons: 
Personally, I don't see anything wrong with this pedal. It has the best of both worlds: good tones at a reasonable price that's still cheaper than many of the preamps listed in this roundup.
9. Berhinger MIC500USB (Budget)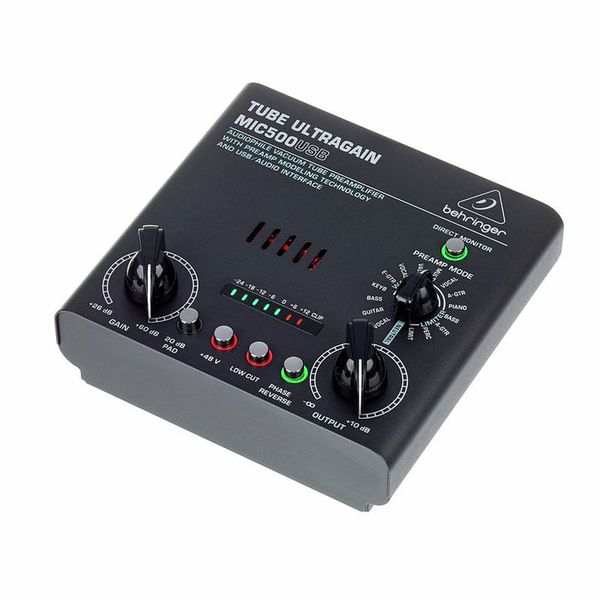 The Behringer MIC500USB is ideal for those with a low budget who want a nice preamp and audio interface in one device. This preamp and audio interface is perfect for anyone looking to explore using preamps in tandem with instruments, such as a bass guitar.
Among all the preamps in this roundup, this preamp is the cheapest and has the most needed to get started in recording at home. But don't let that fool you, as this preamp has some exciting features you won't get in other preamps.
This preamp and audio interface is based on the Behringer MIC300 tube preamp, for those who don't know. 
Key Features: 
For a preamp and audio interface, the MIC500USB has many features that give it a lot of value for money.
Preamp Mode  


The preamp mode lets you set the voicing of the MIC500USB. You can choose from a neutral sound or add a limiter to the signal. There are settings also tailored for different instruments, including bass guitars.

Audio Interface 


This is one of the reasons why you would want to consider this preamp. You can connect this preamp straight to your computer for recording into your Digital Audio Workstation. For monitoring purposes, you can use the headphone output on the preamp when tracking instruments, including bass guitars. You can also use the direct monitoring switch to monitor without latency.
12AX7 Tube 
The MIC500USB uses a 12AX7 tube to add tube saturation to your signal. When used with a bass guitar, you can use this to add some grit to your signal. This has great potential in a recording setup, such as adding IRs to your recording signal to simulate a bass amp tone.
Dual inputs 
There are three onboard inputs on this preamp, of which two can be used simultaneously. The hi-Z and microphone input take advantage of the tube preamp circuitry, while the second line input can be used to insert other devices, such as outboard processors, keyboards, or mixers. Note that the hi-Z and microphone input cannot be used simultaneously.
Pros: 
If I were a starting home producer or someone wanting to get into home recording, I'd consider the MIC500USB. This preamp will help any beginner get into the ropes of using preamps and outboard gear.
Including a limiter is much welcome, although the settings are fixed. Nonetheless, having a limiter will allow anyone learning recording how it affects a sound.
Another thing to like about this preamp is the bass-tuned setting. As it is, you can set the preamp with bass limiting or plain bass. While you can use other settings for bass guitar, the bass-tuned settings are a good starting point to dial in your tone.
Another thing to like about this preamp is that it can work without a computer. You can use the MIC500USB as a standalone preamp and run it through a mixer or power speaker. With a headphone output, you may also use the preamp as a practice tool. Since it's a small-sized preamp, it can fit in your bag easily.
Lastly, the MIC500USB is the cheapest tube preamp you can get today. Getting tube saturation at such a price point is a game changer for many.
Cons: 
Unlike most studio preamps in this roundup, the MIC500USB is the only one that doesn't have an effects loop. That means you must chain effects from the direct output or use VSTs in your DAW. But considering what you get at this price range, this preamp is still worth your money, especially for bass guitar players.
10. Presonus TubePre
For those looking to expand their options for tube preamps, the Presonus TubePre V2 is worth considering. This tube preamp is also on the lower budget spectrum but can yield promising results. This preamp fits well in home studios and professional setups with its compact form.
While this preamp was designed for studio application, it also makes a worthy part of your arsenal in a live setting. Bass guitar players will love the added saturation the TubePre imbues in your signal.
The nice thing about this preamp? It costs less than $200 brand new. Let's examine how much value you get with this preamp.
Key Features: 
The TubePre V2 is based on the XMAX preamps used in the StudioLive mixers and AudioBox audio interface. The XMAX preamp is quite popular and used by different studios worldwide.
Dual-servo Vacuum Tube Output
The TubePre V2 uses a dual-servo 12AX7 vacuum tube at the output stage. You can control the amount of tube warmth blended into the signal of your instrument or microphone. Because of this, you can crank the gain control to deliver saturated tube fuzz on bass guitars and other devices.
Hi-pass filter
The TubePre V2 has a hi-pass filter to help you adjust the amount of low end in your signal chain. You can scoop out frequencies below 80 Hz to help remove muddiness in your signal.
VU Meter
The built-in VU meter lets you see how hot the preamp drives the signal. You can use this to increase the gain or output of your signal from the preamp. This comes in handy, especially when dealing with low frequencies, as they can cause damage to speakers when the signal is too hot.
Pros: 
What I like about the TubePre V2 is how it gives you grit while maintaining the original tones of your bass guitar. I wouldn't call it transparent, but instead, it provides your signal in general more body. There's a little boost in the frequency spectrum as you crank the gain control, which can please my ears.
These tones can be attributed to the 12AX7 tube used by this preamp. The added tube circuit enhances the overall tone, including added saturation.
The VU meter is also helpful in dialing your gain control. You can pinpoint precisely how hot the signal can get, so you know exactly your limits.
Cons: 
One thing I noticed with this preamp is that it doesn't affect inserts. But considering the price of the TubePre V2, I could not say that flaw is terrible.
Another thing that could be improved is the labeling on the panel. The 80 Hz hi-filter switch could be mistaken as a boost switch.
11. PreSonus Studio Channel
If you're looking for a more powerful version of the Presonus TubePre V2, here it is, the Presonus Studio Channel preamp. This rackmount preamp offers all the features of the TubePre but with more features. The Presonus Studio Channel is a souped-up version of the TubePre.
This preamp is more powerful and should be among the top tier overall regarding its value to your signal chain. It's got some exciting tools on board that will make tone sculpting easier, especially for bass guitars.
And like the TubePre, the Presonus Studio Channel also has a tube circuit that contributes significantly to the sound of your audio source.
Key Features: 
For a below-$400 rackmount preamp, the Presonus Studio Channel offers some exciting features that you often expect in more expensive preamps. You can expect exciting results with instruments such as a bass guitar.
Parametric EQ
The Presonus Studio Channel has a three-band parametric EQ that lets you adjust the gain based on a specific frequency. You can fine-tune the bass frequencies and boost them as needed using a bass guitar. The mid-EQ has a Q control that lets you also fine-tune the mids.
This feature is handy if you don't want to overemphasize any mids in a low-tuned instrument, such as a bass guitar. You can bypass it by switching it off if you don't need the EQ.
VCA compressor 
You get a VCA compressor with the Presonus Studio Channel. The compressor is a nice added touch for vocals and bass, but for any other instrument that needs smoothing in frequencies to make them tighter. There's also a make-up gain control if you need to compensate. And if you don't need the compressor, you can bypass it.
Tube Circuit 
The Presonus Studio Channel uses a 12AX7 tube circuit, giving you added tube saturation with your sound. This preamp section features a hi-pass filter, gain control, and tube drive control. The gain control controls the amount of signal that the tube circuit processes, while the tube drive control controls the amount of tube saturation. The right-most level control is used for the overall output of the preamp.
VU metering 
Aside from the LEDs that light up when driving a signal, the Presonus Studio Channel has a VU meter that allows you to check the power of the signal being pushed into this preamp. I always look at VU meters, especially when dealing with low frequencies, which helps keep things on track to reduce muddiness. 
Pros: 
There's much to like about this preamp, not just because I love using Presonus products. For one, among all the preamps in this roundup, this one sounded the most amp-like. With the help of the compressor and parametric EQ, I made this preamp sound like a bass amp.
The added tube drive control helped me get some grit into the signal. This makes a very flexible addition to any studio, especially for those who believe "less is more." The 12AX7 tube circuit makes a whole lot of difference in this preamp. It contributes to the preamp's integral sound, making it usable for instruments like a bass guitar.
The built-in parametric EQ and compressor are powerful on their own. As I said, it helps give the preamp a more amp-like behavior, which makes it ideal for bass guitars. And because microphone preamps like the Presonus Studio Channel tend to be more neutral sounding, they also make an excellent preamp platform for other instruments, such as keyboards, electric, and acoustic guitars. 
Cons: 
The only thing I would have liked about this preamp is the need for an effects insert. Granted that the compressor and parametric EQ section is already powerful, switching out the compressor or EQ with more in-depth ones could have made this preamp more powerful.
But on its own, the Presonus Studio Channel is already a very powerful preamp without breaking the bank.
12. ART Tube MP Studio V3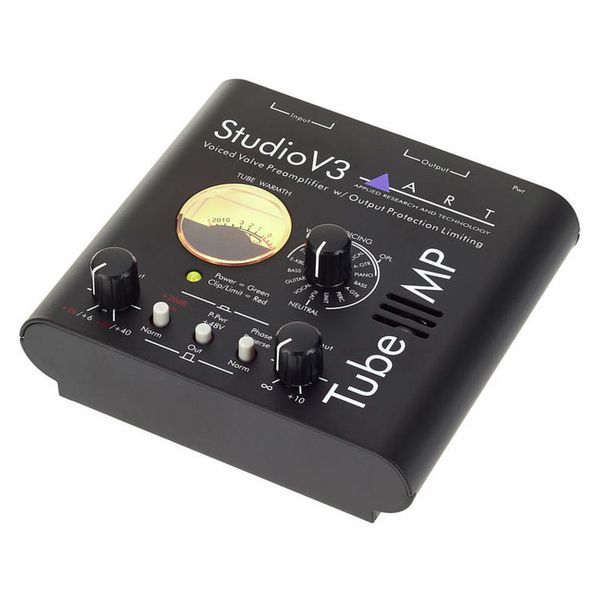 If you're looking for a cheap desktop preamp that does a lot and costs around $200, the ART Tube MP Studio V3 is an excellent option. This preamp shares similar features with the Behringer MIC500USB and its predecessor, the MIC300, sans the audio interface features.
This preamp is loaded with pre-tuned settings that work with different instruments, including bass guitar. It's also a microphone preamp to record vocals or acoustic guitars.
The Tube MP Studio V3 is also tube-loaded, giving tube warmth in your signal chain. If you're looking towards the more budget-friendly offerings for tube preamps, you should provide this preamp a look before deciding on anything.
Key Features: 
The Tube MP Studio V3 shares similar features with the Behringer microphone tube preamps. Based on what I've seen, their prices are not that far.
Tube Voicing 


The Tube MP Studio V3 gives you preamp settings that take advantage of the tube circuitry inside the preamp. They are settings tailored for bass guitar, acoustic guitar, electric guitar, keyboards, and vocals. Some settings have a limiter applied to the signal, although the presets are fixed. A neutral setting gives you a more flat response when driving your instrument into this preamp. The flat setting works well with an active bass guitar.

Tube Circuitry 


Behind the tones of the Tube MP Studio V3 is a tube circuit that adds saturation and warmth to your tones. The tube circuit uses a 12AX7A tube, similar to the 12AX7 variant. You can opt to swap this tube with tubes with matching pins.

+20dB Switch 


The Tube MP Studio V3 features a 20 dB boost that helps you increase the signal in case it's too weak. This should come in handy with bass guitars with weak and passive pickups.

VU Meter 


Lastly, a VU meter is on board to help you track how hot the signal is being processed. You want to avoid clipping but try to get somewhere just before the movement hits the red. The VU meter helps you reach that point.
Pros: 
What I like about the Tube MP Studio V3 is the available effects on board. Granted that you cannot tweak the presets, it still makes a good entry point for anyone looking to use preamps and other outboard gear with their bass guitar or other instruments. Since it's cheap, it makes a good take-off point to learn these effects and how they shape your tone.
Of course, anything with a vacuum tube in signal processing is a plus for me, and the Tube MP Studio V3 is no exception. It does add warmth to your tones, although it is far from what you can expect from higher-end tube preamps since the Tube MP Studio V3 uses a starved design. I wouldn't run it on higher voltages, as this can damage the preamp.
And as always, I like the VU meter, considering I like pushing the signal as far as possible without clipping. Considering the price for these features, I say it's good value for money. 
Cons: 
I first looked for an effect insert, which wasn't present. But considering the price, what this preamp can do, and who this preamp was made for, I can survive using this even without an effects insert. 
13. Chandler Limited REDD.47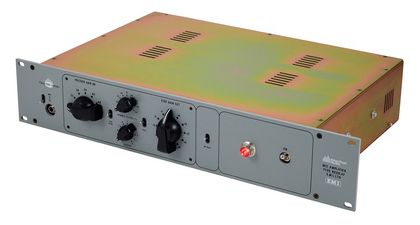 The Chandler Limited REDD.47 is a tube preamp taken from the EMI REDD.51 console used in the famous Abbey Road studios and made popular by bands like The Beatles. While based on a vintage tube preamp, the REDD.47 comes with some modern features to match modern recordings.
REDD.47 takes its name from the Abbey Road's Studios Recording Engineering Development Department. The REDD.47 preamp is a core component of the said console. This preamp delivers warm tube saturation to your signal, which can be very interesting when used with instruments like a bass guitar.
Key Features: 
The REDD.47 isn't as feature-packed as other preamps in this roundup. However, it does make up for the quality it offers users.
Tube Circuit
 At the core of the REDD.47 tube circuit are EF86 and E86CC vacuum tubes. The EF86 is known for its low noise, while the E86CC is a popular vintage tube model used in older preamps. These two are responsible for the tube saturation and warmth this preamp delivers.
Voltage and Fine Gain Controls
There are two gain controls on the REDD.47: voltage gain and fine gain. Voltage Gain is used to increase the input levels using 6 dB increments. The Fine Gain control allows you to fine-tune the input gain by adding or subtracting 5 dB gain with increments of 1 dB. To use the two in gain staging, it's suggested to set the Voltage Gain first before tweaking the Fine Gain to get the ideal level or saturation.
Pros: 
I'll be honest: there aren't many features on the REDD.47 preamp for instruments like a bass guitar. What it lacks in quantity, it makes up in sound quality. This preamp gives you a lot of grit while maintaining its flat sound profile.
Now, if you're looking to get a vintage tone from a bass, this is as close as you can get, similar to what was used in the Abbey Road studios. If you're familiar with The Beatles' Revolution album, this preamp can get you into that territory. 
Cons: 
I'm disappointed that the REDD.47 doesn't have many features, especially for the instrument side of this preamp. Considering the price, I expected some added features to adapt to modern times, such as an effects insert. While replicas or emulations are close to the real McCoy, I don't buy into the hype of these devices.
That said, the REDD.47 is best for those who want to say they have the core device behind the tones of The Beatles and other classic recordings from the Abbey Road studios. 
14. Avalon V5
The Avalon V5 is a versatile preamp that you can use in the studio or live applications. According to Avalon, this preamp was designed to emphasize low frequencies without overpowering them. If there was a premium preamp that could do it all, the V5 preamp is a strong contender.
The V5 preamp has some exciting features, with its design similar to the Avalon U5 but has added tone characteristics. Hearing a jazz bass guitar running into this preamp made me think the guitar was being run through a bass amp, not a microphone preamp or DI.
Key Features: 
The V5 preamp is marketed as a versatile tool for any studio. Primarily, it serves as a microphone preamp, but it also works as a DI box for instruments.
Reamp Jack
The V5 preamp has a dedicated ramp jack to route a recorded signal into instrument effects or an amp. Use this feature if you want to play around with a dry signal, different effects pedals, or even an amp. You can experiment with varying overdrives of bass and modulations with this feature.
To use the ramp function, plug the line output of your audio interface into the line input of your amp, then plug an instrument cable from the -18dB to amp jack into your effects or amp. Then record your signal from there using any microphone you want.
Tone Shaping 
You get a total of ten passive tone-shaping presets with the V5 preamp. Six of these presets based on the tone shaping used on Avalon's U5 preamp. These presets were designed to cut or boost specific frequencies. There are bass guitar recommended settings that you can use, but feel free to try other settings as you deem fit with the sound that you're after.
Low pass filter
The low pass filter on the V5 preamp was designed to eliminate any hiss in your sound. If you're experiencing noise issues with your bass guitar, the low pass filter can help reduce, if not eliminate, any hissing in the signal chain. This is helpful if you're trying to track a pure signal for recording. 
Pros: 
One thing I noticed here was that, among all the studio or microphone preamps listed here, the V5 was one of the closest to getting a bass amp tone. Even with fixed presets for tone, you can get good tones with your bass guitar with this preamp. While this preamp isn't cheap, the ones you get using it justify the price.
Another strong point with this preamp is the ramp feature. While this preamp still needs an audio interface to use this feature, the ramp jack is much welcome as a tool that can be used to improve your recording. It's not just for plugging the preamp into an amp; you can also use it to run other effects processors, such as bass guitar pedals.
Lastly, I like how this preamp doesn't have much noise. And if there is any noise, the low pass filter can handle the excess hiss.
Cons: 
While there are a lot of solid points for this preamp, some things could be improved. For one, considering the price of the V5, it doesn't have an effects insert feature. There are a lot of preamps that are cheaper than feature effects inserts to help you shape your signal.
Another drawback with this preamp is the price. It's not cheap, so I would only recommend it to bass guitar players willing to make a significant investment.
Why Should You Use A Studio Preamp For Your Bass Guitar?
Using a bass guitar and microphone preamp together offers various benefits. For one, microphone preamps tend to have a more flat response, giving you the full and natural characteristics of your bass guitar and even effects pedals that you combine it with.
More often than not, microphone preamps are often patterned after the preamp section of a mixing console. Using a microphone preamp with a bass guitar helps you copy that sound from older recordings when bass guitars were recorded straight into the mixing board. When used in a live scenario, you can bring studio tones produced by your bass into a live setting for a more genuine replication. 
What Are The Types Of Preamps For Bass Guitar?
Preamps for bass guitars come in a wide variety, depending on their features or applications. They can be divided into tube categories: solid-state, hybrid, digital, FET, and your bass preamp and pedal formats. It's important to distinguish them because you can easily choose what suits you better. These are:
Tube Preamps


Famed for their warm, organic tone, they use vacuum tubes for amplification. When driven hard, they introduce a desirable distortion or saturation, adding a vintage flair to your bass sound.
Solid-State Preamps
Reliable and consistent, solid-state preamps employ semiconductor components for amplification. They're recognized for their clear, transparent tones and neutrality, keeping the natural sound of your bass intact.
Hybrid Preamps
They offer the best of both worlds, combining tube and solid-state technologies. A tube stage brings warmth and richness, followed by a solid-state stage for precise control and transparency.
Digital Preamps
A recent addition to the preamp family, digital preamps use digital signal processing (DSP) to replicate the tonal qualities of analog preamps. They often have added features like built-in effects, EQs, and amp/cabinet simulations.
FET Preamps
A subtype of solid-state preamps, Field-Effect Transistor (FET) preamps aim to imitate the warm tonal properties of tube preamps, offering a more colorful tone than regular solid-state preamps.
Onboard Bass Preamps
Integrated directly into the bass guitar, onboard preamps provide handy tone control. They can be active, requiring a power source, or passive, operating without one.
Outboard Bass Preamps
As standalone units, outboard preamps range from rack-mounted models to compact, pedal-based designs. They're typically preferred in studio and live settings, offering greater flexibility and control over your tone.
Death metal enthusiast here. I am a Romanian musician and producer with over 13 years of experience in the music industry. I've experienced all types of Metal up until now, playing Melodic Death Metal, Brutal Death Metal, and Black Metal with different bands. Learning by doing is my base principle, which is why I've been drawn to sound design from an early age. Read more…