This list comprises the greatest Arpeggiator offerings ever to grace the market by some of the world's best music companies, such as Boss, Mooer, Meris, EarthQuaker Devices, Bananana Effects, Electro-Harmonix, and Hologram Music.
In a nutshell, here is our list of the best arpeggiator pedals:
1. Mooer E7 Polyphonic Guitar Synth
4. EarthQuaker Devices Arpanoid Polyphonic Pitch Arpeggiator
5. Bananana Effects Tararira Arpeggiator
6. Electro-Harmonix String9 String Ensemble
You'll find the market of 2023 overflowing with guitar pedals. Separating Arpeggiator pedals from the rest of the lot isn't the easiest of tasks. Even after filtering out the Arpeggiator pedals from the rest, you'll still be left with numerous options, each with its distinctive looks, features, size, and price.
Many things must be considered since you can't afford to base your decision on random selection, guesswork, or trial and error. We've picked the best pedals, keeping your requirements in mind, and added detailed information in this article to help you make the correct decision.
Finding the right pedal was once daunting, but now it's become as easy as reading an article. This list will help you find the pedal that best suits your needs.
What does an arpeggiator pedal do?
Arpeggiator pedals have innovative circuitry that arpeggiates whatever is played. In other words, if a guitar chord is played, the notes comprised of the chords are played in an arpeggio form one at a time each, which gives way to some interesting tonal possibilities adding more depth to your sound.
An arpeggiator pedal can transform something as simple as playing an uncomplicated sequence of single notes into immersive ascending/descending patterns. Although the pedal has no limitations when it comes to the genre of music, you'll see these pedals being used by modern guitar players for ambient music.
Top 7 Available Arpeggiator Guitar Pedals 2023
1. Mooer E7 Polyphonic Guitar Synth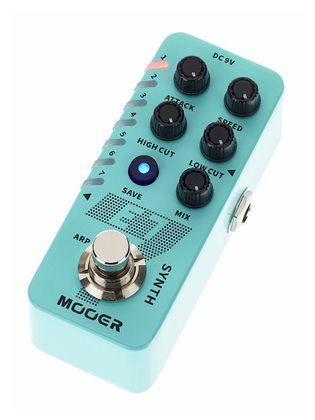 Encased in a distinctive exterior, the guitar pedal looks unique, with slanting LED indicators aligned towards the left.
This micro-sized pedal is easy to carry and just as easy to use. It tracks well and packs a unique blend of features, all of which greatly vary from one another. Mooer's 7-series micro pedals are genuinely good. They all incorporate a similar boxy look and a simplistic design layout.
The series includes a Tone Capture GTR pedal (Intelligent EQ Match Pedal), the A7 for Ambience Reverb effects, the D7 for Delay effects, the R7 for Digital Reverb effects, and the E7, of course, for Polyphonic and Synth effects.
Key Features:
What's in the Box?


The guitar pedal comes packed in a black cardboard box containing a footswitch cover and a user manual. The device is very compact. It measures just 3.68″ x 1.65″ x 2.05″ (9.35 cm x 4.2 cm x 5.2 cm) and weighs 0.155 kg or 0.342 lbs., making it very portable. It won't take much space on the pedal board, either.

Attack, Speed & Mix


This pedal features a micro pedal layout. The Guitar pedal's top panel comprises five knobs for Attack, Speed, High cut, Low cut, and Mix. The attack button can be used to set the attack, the speed button regulates the arpeggiator speed, and the mix button decides the blend between the dry and wet signal.

Filtering & LEDs


The high-cut and low-cut controls are used to adjust the frequency. The high-cut knob can change the frequency between 5k and 20kHz, while the low-knob ranges from 20Hz to 2000Hz. The side of the device hosts LED indicators. The seven LEDs indicate the seven different presets and seven different synths, which can be saved by adjusting the knobs and hitting the save button. The seven presets include a synth tone that resembles a trumpet, one that sounds like an organ, a warm sea wave synth with an LFO effect, a bright tone, a saw-like synth that slows the LFO effect, an 8-bit synth, and a synthesizer tone that sounds like EDM/Pad. As the name suggests, the save button saves the effect and indicates the current situation. The footswitch stands out in prominence, placed on a polka-dotted seven, which has E7 typed at its top, and it serves as an on/off switch for the effect and allows you to change between the various Arpeggiator modes. The sides of the pedal host a quarter-inch mono input jack, with an impedance of 2.2M Ohms, and a quarter-inch mono output jack with an impedance measuring 100 Ohms.

Overview


A part of Mooer's 7 in 1 series, the E7 is a very powerful polyphonic synthesizer pedal. With this pedal, you won't require additional equipment besides your guitar, cables, and an amp. Another great thing about this pedal is that you'll get an individual arpeggiator for each tone.
Pros:
The unit has a minimal form factor. It offers an arpeggiator on all seven sound modes. The polyphonic pedal is pretty decent when it comes to tracking and comes equipped with some delightful synth sounds.
Cons:
The pedal only features seven sounds, a few of which come with sweeping mods that can't be changed or removed. The pedal can't be connected to an expression pedal and needs to be powered via a power adaptor since it can't operate on batteries.
2. Boss SY-200 Synthesizer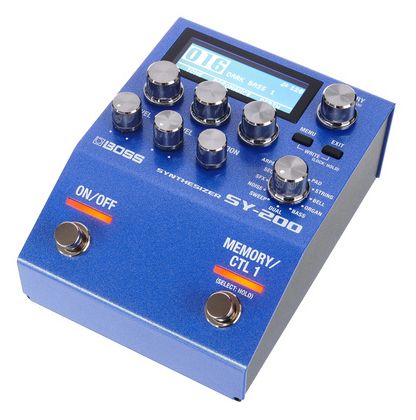 This brilliant blue pedal is as striking as it is feature-packed. The synth pedal builds on its predecessor, the SY-1.
This pedal possesses 50 more synth sounds than the SY-1, reaching an impressive 171 sounds. These 171 synth textures include Arpeggiator, sequencing, bass synths, strings, ethereal swelling synth pads, stacked dual synths, leads, and more.
The device also hosts a control switch which may be programmed for pitch shifting, infinite sustain, and tap tempo. The pedal also allows you to store up to 128 presets and recall them whenever you like. This will let assist you in taking studio made presets onto the stage.
Key Features:
Unboxing and initial thoughts


The box contains a company card, a card with the QR code and safety instructions, an owner's manual, a warranty information booklet, batteries, four rubber resting pads, and the synth pedal itself, which measures 7.85″ x 6.75″ x 4.35″ (19.94 cm x 17.15 cm x 11.05 cm) and weighs 0.45 kg (1.0 lbs.). The pedal feels very solid and durable. The knobs, jacks, and footswitches are sturdy, with zero shakes.

Top Panel Layout


The face of the pedal features a display screen, eight knobs, two buttons, two footswitches, and two LED indicators. The display is vivid, clear, and easily readable. Next, you'll find a memory knob that can be rotated to scroll between the device's 128 memory slots. Pressing the knob selects the memory slot. Just under the screen, you'll find three knobs for regulating the values of the parameters mentioned at the base portion of the display. Placed beside these knobs are two buttons for the menu and exit. The menu button makes the menu appear on the screen. The exit button can take you to the previous screen or removes the current function. Long pressing this button locks and unlocks the knobs and buttons, but not the switches. Pressing both buttons (menu and enter) simultaneously takes you to the Write utility screen, where you can exchange, save and initialize memories.
Knobs & Footswitches
Below is a Type knob for switching between synth sound types. These include Lead, Pad, String, Bell, Organ, Bass, Dual, Sweep, Noise, SFX, Seq, and Arpeggio. To the left of the type knob, you'll see three more knobs, a Variation knob for choosing variations for the selected type, an E-level knob to set the effect's volume (for synth effect), and a D-level knob for setting the direct sound's volume. Then, to the slanted base of the pedal's front interface, you'll see two footswitches, the first of which serves as an on/off switch for the synth sound effect, and the second knob acts as a memory/CTL 1 switch to move between memory slots. Holding this switch down causes it to become a CTL 1 switch.
Rear Panel
This side of the device supports five jacks for Input, Send/Return, Output, and CTL 2. 3/EXP. Neighboring these jacks is a DC in port for a PSA-S series AC power adaptor (sold separately). If batteries are inserted while a power adapter is powering the device, the device takes power from the adaptor. Also, you'll find a Ground/ External earth terminal on the panel's rear panel. 
Pros:
Apart from its ability to dish out some amazing arpeggios, the pedal is somewhat of a multi-functional unit with the ability to process 171 different sounds to help emphasize different passages of play. In addition, the unit can operate on batteries which adds to its portability. There's also a port for an external expression pedal, giving you more creative options.
Cons:
Unlike most Boss pedals with stereo inputs and outputs, the Sy-200 only offers mono connectivity which has many of us scratching our heads. The pedal also seems to act weird when made part of an effects loop, although it works great as a stand-alone unit.
3. Meris Enzo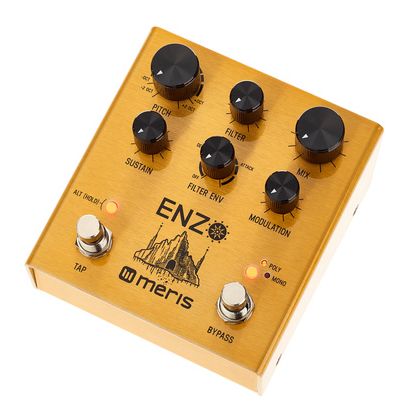 This shiny golden piece of machinery features four different synth modes and an awe-inspiring filter section.
The pedal offers classic pitch shifting, dancing arpeggiator lines, a variety of mono synth sounds, and polyphonic synth progressions. It's a complete game-changer of a device, a real trendsetter.
The Enzo is an absolute masterpiece in terms of looks and features. The beautiful exterior packs sound that is original as well as highly realistic. With this pedal, you won't need to install any extra gear.
Key Features:
Unboxing and first impressions


The box contains a detailed user manual, a Warranty card, a branded sticker, and the pedal. Upon inspection, the shiny black knobs are all quite firm, the footswitches are strong, and the overall build quality is robust. The device weighs 0.414 kg (0.91 lbs.) and measures 2″ x 4.25″ x 4.5″ (5.08 cm x 10.8 cm x 11.43).
Front Panel
The face of the pedal comprises two bigger knobs, four smaller knobs, and two footswitches with two small buttons on either side of a Meris Enzo logo. Two small LEDs are situated next to the right footswitch. The first of the six knobs is the pitch knob which adjusts the synth's pitch or the dry signal. The larger knob also allows you to change the synth per your requirement. To the right, you'll find a smaller Filter knob for adjusting the filter's cutoff frequency. You can select one out of six filter types. The filters include Ladder Highpass, Ladder Shelving Bandpass, Ladder Lowpass. The pedal also provides three filters including , State Variable Highpass, State Variable Bandpass and State Variable Lowpass. The Mix knob is next, placed at the top right corner. This knob will allow you to set the balance between wet and dry signals.

Modulation Knob


The smaller knob, just below, is for Modulation. This adjusts the delay modulation amount in dry mode, and doubles as a control for delay line repeats. The Filter ENV knob regulates the decay rate and attack for a triggered envelope. The knob also serves as a Resonance control. The Sustain knob, as the name suggests, modifies the sustain of the synth notes. It also adjusts the frequency of a classic ring modulator. 

Footswitches & Buttons


The left footswitch is for Tap. It adjusts the time for arpeggiated synth and the delay line. It may also change the filter envelope from triggered to follower. Just above is an alternate functionality button. It must be held down to activate the alternate functions of all six knobs and both footswitches. The right footswitch is for bypass. It passes the input through to the output and disables processing. This switch can alter the synth waveshape from square to sawtooth. The button right above is for synth mode selection and allows you to choose between Poly, Mono, Arp, and Dry.

Rear Panel


The back panel of the pedal houses four quarter-inch jacks for Input, Left output, Right output, and EXP/MIDI. Next to the jacks, you'll find a 9V DC power socket. The panel also hosts two LED indicators for TRS stereo and Line/Synth Levels. The bottom right corner reads that the device was designed and built in Los Angeles, California, USA.
Pros:
Thanks to the solid knobs and sturdy construction, the device looks and feels great. The synth pedal's dry pitch shifting and ladder lowpass filter are fantastic and have many valuable applications in a studio environment or on stage.
Cons:
It's a bit difficult to dial in sounds on this one. There's no option for saving presets, a must-have for a pedal with as many adjustable parameter controls as the Meris Enzo. For this reason, recalling your old settings is a nightmare. In addition, the pitch shifting is not spot on, as specific notes are overlooked.
4. EarthQuaker Devices Arpanoid Polyphonic Pitch Arpeggiator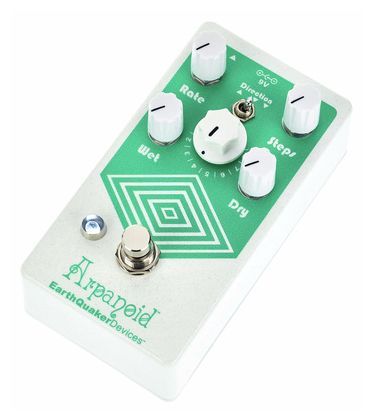 One of the very first of its kind, this polyphonic pitch arpeggiator pedal is very compact and has eight intuitive modes.
EarthQuaker Devices was founded in the year 2004 by a musician, Jamie Stillman, and their equipment is used the world over by artists such as Arianna Powell (Halsey), Andrew Whiteman (Broken Social Scene), and Frank Lero (My Chemical Romance).
This guitar pedal takes what is played and incorporates effects that cater to complex chords and individual notes of any key. This device will arpeggiate your notes at a higher or lower octave in a major or a minor key.
Key Features:
First Impression


The pedal measures just 4.63″ x 2.5″ x 2.25″ (11.76 cm x 6.35 cm x 5.72 cm). The device is very compact, which makes it easy to carry or add to a pedal board. The exterior is solid, and the center of the top panel hosts an Arpanoid logo which splits the panel into green and white portions, a design feature common in all pedals from the series.

Front panel


This panel houses five knobs, a switch, a tiny button, and a footswitch. The Rate knob can be rotated to regulate the sequence's speed (from slow to high). The center toggle switch allows you to change cycle's direction from up to down and vice versa. If this knob is turned to its left position, it'll cause the sequence to continuously repeat moving upwards. If the knob is centered, the sequence will repeat continuously, moving upwards and downwards. If the switch is pointing right, the signal is going to repeat continuously going up. You can use the Step control knob to decide the number of notes that are in a sequence. This will establish the overall feel and timing of the cycle. The Wet and Dry control knobs control allow you to set the mix levels. Unity for both is around the twelve o'clock mark. In between the Wet and Dry knobs, you'll find a bigger Mode selection knob. You can decide the key and the octave using this knob through its eight expandable modes.
Rear Panel
The device's rear panel just hosts two quarter-inch jacks for input and output and a power socket. The device draws 65mA of current and only operates via a standard 9V DC power adaptor. 
Pros:
The guitar pedal is very compact. All the sound effects on offer are unique, and the pedal is straightforward to use, with a manual further assisting in the shape of preferable settings for each mode.
Cons:
The arpeggiation algorithm is such that if you play a chord, the pedal will arpeggiate each note of the chord, which sounds great in some cases but seems to clash in others. But then again, that's how most arpeggiators work. In addition, the device doesn't operate on batteries.
5. Bananana Effects Tararira Arpeggiator
This shiny futuristic-looking guitar pedal is an eight-step pitch-shifting sequencer that inspires creativity.
The pedal offers 27 scales, three of which can be edited to best fit your needs. It also comes equipped with eight different effect modes, which may be used for creating anything from natural and practical sounds to robotic experimental sounds.
The device comes with the option of saving up to nine presets, which you may switch between easily, all thanks to the device's ease of use. The device also features a crystal-clear OLED display panel.
Key Features:
Hardware


The pedal measures 5.71″ x 4.76″ x 2.17″ (14.5 cm x 12.1 cm x 5.5 cm) and weighs just over half a kg at 0.52 kg (1.15 lbs). The device's rear panel comes equipped with a 9V DC in the power socket, a MIDI in port, and three quarter-inch jacks for Output, Exp., and Input. The top panel hosts an OLED display near the top left corner, next to which you'll find four small buttons for Patch/ Bank save, Clock, Random, and Envelope. A white cloud design hosts four control knobs for Volume, Mode/ Scale/ SFX, BPM/DIV/Step, and Sequence. Just below, you'll find eight touch sensors for pitch control. Near the base of this panel, you'll see three shiny footswitches for Sequence FX, Bananana Effects, and Tap Patch/Bank. 
Eight Modes
The device offers eight modes, namely Normal, Organ, Hold, Square, Sine, Sine Hold, Glitch, and Toybox. The Normal mode is the general arpeggiator mode which sequences pitch shifts. The Organ mode allows you to mix the pitch shift with the fifth harmony to create resonant tones that sound similar to an organ. The Hold mode permits you to briefly hold the input sound when the pitch experiences a shift due to the pedal's footswitch being pressed. The Square mode changes the input sound to a square wave causing a shift in pitch. The Arpeggiator can also be utilized to create sounds resembling retro game sounds. The Sine mode changes the input signal to a sine wave, resulting in a much softer tone. The Sine Hold lets you momentarily hold the input sound converting it to a sine wave, producing a softer tone. The Glitch mode has eight different speeds of playback, categorized into two groups, Reverse (-0.5x, -0.75x, -1x, and -2x) and Forward (2x, 3x, 4x, and 8x). The eighth mode, the Toybox mode, allows you to add eight effects (LPF, FUZZ, VIB, BIT C., F.B., OCTup, OCTdn, and Ring) to your input signal.

Overview


The pedal looks interesting and unique, incorporating touch sensor keys and an OLED display panel. The device is very easy to use, produces great-quality effects, and offers some very handy features. The device is priced just under the $300 mark and provides excellent value for money.
Pros:
The elusive Bananana brand always has something unique up its sleeve. It's hard to compete with a pedal with 8 modes and 9 sequence effects. The 8-step sequencer is seriously good, and the pedal is ingeniously engineered to dish out 27 scales. In addition, you'll also find 9 spaces to save your favorite presets.
Cons:
With all that the pedal has going for it, there is one slight issue that goes against it. When the pedal is engaged, you'll notice a slight reduction in the volume, which isn't much of a deal breaker but surely something the Bananana team can improve in the next version.
6. Electro-Harmonix String9 String Ensemble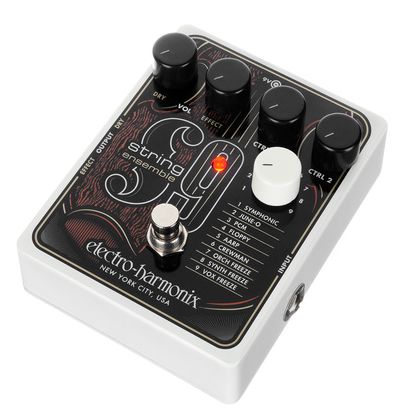 This artistic-looking pedal brings a lot to the table, including nine great string ensembles and string synthesizer sounds.
The pedal converts any signal from a guitar into a polyphonic string section. With this device, you won't need a MIDI or special pickups. The unit also features the legendary signature EHX effects.
In 1968, Mike Matthews founded Electro-Harmonix in New York City. The company started its operation by producing state-of-the-art guitar effects pedals and making them available, keeping affordability in mind.
Key Features:
First Impression
The device measures 4.69″ x 3.66″ x 2.01″ (11.9 cm x 9.3 cm x 5.1 cm) and weighs 0.316 kg (0.7 lbs.). The face of the pedal hosts five knobs, an LED indicator, and a Footswitch. The sides feature three quarter-inch jacks and a switch. The rear panel only holds a power socket.
Front Panel
The face of the pedal comprises a Dry knob for adjusting the volume of the untreated instrument signal. The Effect knob can be used to set the overall volume of the selected patch (the effect output jack). The neighboring two knobs represent Ctrl 1 and 2. The Ctrl 1 knob is a control knob for tone. Rotating the knob makes the effect turn brighter or darker. The Ctrl 2 knob controls the release time and sustain. As this knob is rotated clockwise, the time for fade-out increases, and if the knob is turned anti-clockwise, the fade-out time decreases. The panel also hosts a Bypass footswitch and an LED indicator for status. The footswitch can be pressed to set the effect headphone jack. The panel also comprises an artistic paint job, spelling out the pedal's model, with the brand name and place of origin mentioned just below the footswitch. 

Multi-feature Knob


Just under the black knobs, you'll find a white Patch knob that can be turned to choose a string patch from AARP, Floppy, Crewman, June-O, Symphonic, PCM, Synth Freeze, Orch Freeze, and Vox Freeze. In the Auto Freeze Mode, until you play the next chord, the note or chord will be sustained. Manual Freeze Mode will sustain the note or chord until and unless the pedal is turned off. The dry signal can be used to play over the signal which is frozen. The dry output may send the signal to an overdriven Amp without affecting the effect signal. 

Sides and Rear Panel


The left side features two quarter-inch jacks for Dry Output and Effect Output, while the right side of the device hosts a quarter-inch Input jack and a Bypass Mute DIP Switch (Internal). The device's rear holds a power socket for a 9V DC power adapter (100mA).
Pros:
Aptly named "Ensemble," the pedal indeed has an orchestra-type feel to it. One can use it for church music or even create sounds well suited for ambient guitar. If your keyboard player couldn't make it to the gig, have no fear; the pedal will fill in for him in its own unique way. All in all a great pedal for both studio and live applications.
Cons:
The String9 Ensemble is not everyone's cup of tea. A lot is going on regarding different modes and knob controls, but it'll take some experimentation to get it sounding the way you want. The manual freeze mode is a little unorthodox and may take some time.
7. Hologram Dream Sequence
Hologram Electronics was founded in the year 2015 by Jason Campbell (musician with a background in engineering) and Ryan Schaefer (musician and software designer).
The device is a pattern-based octave-generating pedal equipped with built-in freeze and many other valuable features. This multi-purpose pedal can serve as a sequencer, pitch shifter, Arpeggiator, tremolo, envelope shaper, or sampler.
The guitar pedal lets you customize patterns according to your preference via its User Presets feature. The device's User Bank allows you to save and recall up to twelve customizable step sequencer patterns.
Key Features:
Light Indicators
The front panel of the device hosts six indicator lights for Tempo, Hold, Octave Down, Middle Octave, and Octave Up. All three horizontal indicators have different types of presets linked to them and different colored light indicators accordingly. Yellow is the color assigned to User Bank's patterns, and the color changes to orange to denote more drive. The Factory Back preset has been assigned a blue light indicator that turns green to show more drive. Auxiliary Modes have been given a purple light indicator that turns white to denote drive. The indicators are brightest when signifying the output drive amount that is applied.
Knobs & Switches
The device features four red and black control knobs for Shape, Dry Mix, Drive, and Tone, and two red and black rotary switches for Subdivision and Preset. The panel also hosts three footswitches and one smaller toggle switch. The Shape control knob can be turned clockwise from zero to 50% to all increased decay and sustain of each note. When the knob is pointing upward, the waveform changes to a full square wave with zero decay. If the knob is turned from the twelve o'clock position to the right extreme, the contour shifts to a "ramp" shaped wave. The Dry Mix knob regulates the balance between the effect and the raw instrument signal. If the knob is rotated beyond 75%, it will reduce the affected signal. The Drive control knob regulates the distortion amount at the output. The knob's position may be saved in presets, and movement may be played back with the sequence. The Tone control knob adjusts the amount of high-frequency roll-off at the output.
Subdivision & Footswitches
The Subdivision rotary switch allows you to choose a musical subdivision out of numerous choices. The Preset rotary switch and the Preset Bank switch allow you to scroll and select one of the Dream Sequence's 35 internal presets. Near the base of the front panel, you'll find three footswitches for Tap, Bypass, and Hold.
Side & Rear Panels
The left side of the pedal hosts a quarter-inch Output jack, and the right side holds a quarter-inch Input jack. The device's rear panel features a MIDI in, MIDI out, EXP, and a 9V DC socket for a 2.1mm DC barrel power supply.
Pros:
It's incredible how this effects unit is loaded with countless features, including 12 different presets and multiple subdivision options to shift the sound's tempo. You can also choose between various waveforms and get access to gain and tone knobs to change the characteristics of your sound.
Cons:
It will take time for you to get completely familiar with what the Dream Sequence can do, as the user interface seems quite daunting. Furthermore, because of the advanced circuitry inside, the unit is quite large and will take up a lot of space on your workstation or pedalboard.
Conclusion
If you haven't had the pleasure of experimenting with an arpeggiator pedal, I assure you that you're missing out. Any of the arp pedals on today's lists can be a worthy addition to your guitar gear. While some pedals are purely designed for arpeggiation, others on the list also perform an array of other functions.
The Mooer E7 and Arpanoid by Earthquaker Devices outshines the rest of the pedals because of the simple layout and compact design. The String Ensemble unit from Electro Harmonix doesn't only arpeggiate your sound but also has 8 other modes to look into if you want to get creative.
Some of the more extensive pedals include the Boss SY-200, which offers 12 different modes, the Hologram Electronics Dream Sequencer, which has12 presets and a ton of subdivision settings and the Bananana Tararira, which gives you access to an 8-step sequencer, 8 modes, and 9 sequence effects.
Related Readings:
The 12 Best Tuner Pedals For Bass & Guitar 2023
Top 7 Ring Modulator Pedals For Bass & Guitar 2023
The 13 Best Fuzz Pedals For Bass 2023 (All Budgets)
13 Best Overdrive Pedals For Bass 2023 (All Budgets)
The 11 Best Wah Pedals For Bass 2023
The 13 Chorus Pedals For Bass 2023 For All Budgets
11 Best Autotune & Pitch Correction Pedals 2023
The 13 Best Phaser Pedals for Bass 2023
13 Best Distortion Pedals For Metal 2023 (All Budgets)
Top 6 Overdrive Pedals For Worship Guitar 2023
Can I Use Guitar Pedals For Bass? Is it okay?
Top 12 Pedals For Metallica Tone 2023
Top 12 Mini/Small Guitar Volume Pedals 2023
Top 11 Reverb Pedals For Synths 2023 From Top Brands
Top 12 Harmonizer Pedals For Vocals 2023
Top 9 Best Glitch & Stutter Pedals 2023
Top 13 Vibrato Pedals For Bass 2023 (On All Budgets)
13 Best Compressor Pedals For Bass 2023
Top 12 Pedals for Princeton Reverb 2023
20 Best VST Pedal Plugins 2023 (Chorus, Distortion,Reverb,Delay)
12 Best Mini/Small Compressor Pedals 2023 (All Budgets)
Top 12 Guitar Pedals Great For Telecaster 2023
11 Best Effect Pedals For Jazzmaster Guitar 2023
Top 12 Delay Pedals For Vocals 2023 From Top Brands
Top 12 Effect Pedals Great For Les Paul Guitar 2023
20 Best Pedals for Guitar Solos 2023 (Boost, Delay & More)
Top 12 Reverb Pedals For Vocals 2023 From Top Brands
8 Best Pedals For Rickenbacker Bass 2023
Top 12 Guitar Pedals Great For Stratocaster 2023
Top 12 Multi FX Pedals For Acoustic Guitar 2022
6 Best Noise Reduction Pedals Available in 2023
Top 12 Plate Reverb Guitar Pedals 2023
Top 14 Rotary Pedals & Leslie Sims 2023 (Best Rated)
Top 10 Pedals For Techno, House, DnB & EDM Music
Top 11 Pitch Shifter Pedals 2023 For All Budgets
How To Use Guitar Pedals In Logic? Answered
Top 7 BitCrusher Guitar Pedals Available 2023
Top 12 Delay Pedals For Metal 2023 (Any Budget)
Top 12 Reverb Pedals For Metal 2023 (Any Budget)
Cheap VS Expensive Guitar Pedals: Main Difference, Pros & Cons
The 11 Best Ambient Guitar Pedals 2023
Top 8 Boost Pedals For Metal 2023 (For All Subgenres)
Top 10 EQ Pedals For Metal 2023 (Any Budget)
12 Best Wah Pedals For Metal 2023 Update
Top 12 Spring Reverb Guitar Pedals Available in 2023
Top 20 Guitar Preamp Pedals 2022 (Best Rated)
Top 11 Hardware Vocoders 2023 (Best Synths & Pedals)
12 Best Fuzz Pedals For Metal (Doom, Sludge, Stoner & Death)
Best Lo-Fi Guitar Effect Pedals 2023 For Unique Tone
Can I Run Vocals Through The Guitar Pedals? Answered
4 Best Analog Saturation Pedals 2023 (Tone Shapers & Tape Saturators)
Top 4 Limiter Pedals 2023 You Can Get (Best Guitar Limiter Pedals)
Top 2 Best Guitar Sidechain Compression Effect Pedals 2023
Top 6 Modulation Plugins 2023 (Flanger, Phaser, Chorus…)
Top 6 Chorus VST Plugins 2023 For Musicians (And 3 FREE Plugins)
Top 7 Phaser Plugins 2023 (And 3 Best FREE Phasers)
Best Flanger Plugins: 6 Picks To Emulate Your Sound 2023
The 7 Best Tremolo VST Plugins 2023 | Eventide, SoundToys..
The 7 Best Vibrato VST Plugins
Top 9 Leslie & Rotary Speaker Plugins 2023
Sultan Zafar is a guitar player from Islamabad, Pakistan. He has been playing music with various mainstream musicians for over 20 years. He is a song writer and music producer. These days he spends his time exploring different music genres and collaborating with fellow musicians on various projects. Read more..