Are you looking for volume pedals but don't want them to take up a lot of space on your pedalboard? Today we're talking about the Top 12 Mini/Small Guitar Volume Pedals 2023.
While volume pedals may not be the most thrilling addition to a guitarist's or other musician's rig, they are essential for many situations. The volume pedal can rapidly become our best companion on the pedalboard, allowing us to do everything from muting the signal to creating volume swells and controlling the performance's dynamics.
The volume pedal is a crucial part of the signal chain to a performer, because of their subdued nature, they are frequently disregarded in favor of effects that have more noticeable and dramatic tonal effects.  A high-quality loudness pedal is essential for getting the most out of your other effects pedals. You'll have complete command over your sounds, and your pedalboard's sound will remain consistent.
In a nutshell, here are the Top 12 Mini/Small Guitar Volume Pedals 2023:
In this Top 12 Mini/Small Guitar Volume Pedals 2023, you will find pedals from big brands that offer good-quality solutions. These pedals are highly rated and have a good range of motion. You can find the ideal variant to suit your needs thanks to the wide range of options adapted to suit various aesthetic preferences and practical applications.
We present you the Top 12 Mini/Small Guitar Volume Pedals 2023.
Related Readings: 
Top 12 Delay Pedals For Metal 2023 (Any Budget)
Top 12 Plate Reverb Guitar Pedals 2023
Top 12 Reverb Pedals For Metal 2023 (Any Budget)
Top 10 EQ Pedals For Metal 2023 (Any Budget)
Top 8 Boost Pedals For Metal 2023 (For All Subgenres)
Top 20 Guitar Preamp Pedals 2022 (Best Rated)
Top 12 Small Guitar Volume Pedals 2023 (Mini Pedals)
1. Boss FV-500H Volume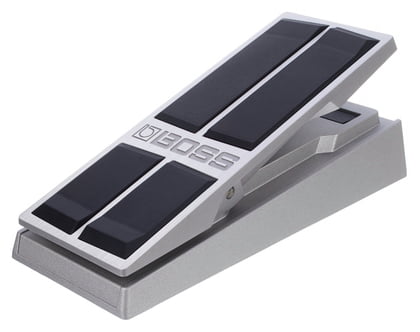 This die-cast pedal is built to withstand the punishment of the toughest users.
The pedal has a modern look, is built to withstand the road's rigors, and is easy on the feet. Both versions feature an expression output, making them compatible with amplifiers, effects, and synths that use the same standard.
Key Features:
Housing


The first thing that will strike anyone is how incredibly durable this item is. People can confidently say that this pump is among the most long-lasting we have ever seen, thanks to its thick aluminum housing and die-cast body. Regarding the device's construction, it's fantastic that it's sturdy and runs smoothly and precisely. The maker put rubber on the pedal so the performer's foot wouldn't slip off.
Connectivity
The intake and output of this mono device are both the same. Most users will be alright because the pedal only supports a single instrument's connection and does not permit using two separate amplifiers. In addition, there is an expression out so you can hook it up to any other effect pedal you own and regulate its volume with this one.
The tuner out lets you maintain your guitar in tip-top shape on stage without constantly stopping and adjusting the tuning mechanism. Not a must-have function, but still very useful. There is no need for batteries or other power sources because this is a passive gadget.
Controls
If you've ever used one, you can expect a limited set of settings and options from a volume pedal. The BOSS pedal is no different, though it does offer an extra knob compared to its rivals. The pedal itself serves as the primary steering mechanism.
By depressing the pedal with your foot, you can adjust the loudness of your tone. The lowest volume knob, however, can be found on the pedal's side. The pedal's volume at the lowest level can vary from the volume at the highest setting, depending on the minimum volume.
If you adjust the minimum volume knob properly, you can keep the volume pedal perceptible even when the volume is turned down with your foot. Alternatively, the level could be reduced even when intended to be played at maximum volume.
Character & Sound:
Given its size, you might assume that this level pedal produces a clumsy sound or is tricky to adjust. Nonetheless, many artists find that this pedal gradually boosts volume. Your ability to hear tones should remain the same. You can set the pedal's resistance to make pressing it as hard or as simple as you like.
One of the greatest benefits for musicians is the ability to change the string's resistance if it isn't comfortable. If the rise in volume is happening too quickly, try increasing the resistance you're using.
Alternatively, reduce the amount of force being applied if you aren't seeing any progress. The expression method of operation is perfectly usable should you decide to experiment with it. The pedal is still as smooth and simple to use as ever.
Pros:
Compared to other guitar volume pedals, this one has a good chance of being named the finest. You want to ensure the volume pedal sounds good and isn't too difficult to push down on, despite its coolness. Additionally, you should check their durability just like any other pump. We can't find anything to criticize about the price, which is within the range of high-end goods while still providing excellent value.
Cons:
The fact that this pedal is quite large and awkward to use is a disadvantage because it prevents some pedal boards from making space for it.
Furthermore, the majority of the movable components of this apparatus are made of plastic, which makes it more susceptible to damage than its external appearance would lead one to believe it would be. If the housing of the device is made of cast aluminum, but the most important parts of the device are made of plastic, then the housing material is irrelevant.
2. Dunlop Volume (X) Mini Pedal DVP 4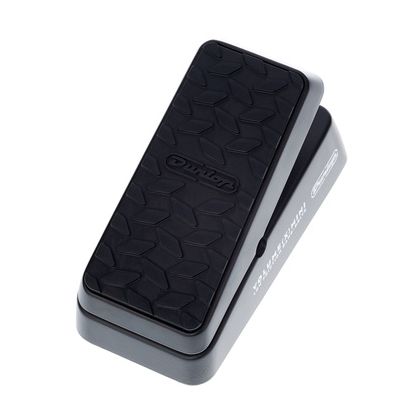 Dunlop's DVP4 Volume (X) Mini is a follow-up to their popular Cry Baby Mini Wah.
This tiny volume pedal features an aux input connecting an external tuner or expression pedal for affect modulation. The pedal features an internal pot that allows you to adjust the minimum control number for an expression pedal.
Guitarists highly recommend it to any musician requiring precise volume and expression influence in a compact package. With the Mini Pedal, you get the same features as the larger Dunlop DVP3 pedal but in a more portable package.
Key Features:
Build Quality
The compact design and lightweight frame contribute to its low weight. The lightweight metal is used in its construction. It is encased in black and equipped with a black non-slip surface.
Because the pedal and, by extension, the swaying motion is limited, foot placement requires extra attention. The frame and tires are also well-made, sturdy pieces ready for the road. The rocking device, like the pedal, functions with a consistent and uniform motion.
Specifically, it employs a Dunlop-patented low-friction band motor. The swaying action's intensity is also variable. This allows you to tailor it to your specific preferences and how you plan to use it. You can connect a tuner or emotion pedal as well. Just plug your headphones or external speakers into the Aux outlet in the middle of the three 1/4-inch jacks on the chassis.
Connectivity
The pedal is programmed for expression mode out of the package. You can connect your beloved delay or any other effect compatible with a 10k ohm expression pedal to the pedal's AUX jack through a stereo or TRS cable.
A nice touch is an internal switch that reverses the polarity of the pedal so that you can adjust minimum and maximum expression levels independently for the heel and toe. In addition, an internal trim-pot allows you to adjust the minimum expression value.
Of course, if you want to use your volume pedal as a tuner, you must open it up, flip the button inside from EXP to Tuner, and plug your tuner into the AUX jack. This method allows you to adjust easily while on the move or in silence.
Controls
The settings are minimal, but that is to be expected from such a pedal that doesn't employ tones. It has the three jacks we discussed and a single pedal. One input is required for one possible outcome. The tuner's aux output can also be used as an expression pedal when attached to another device.
An internal button determines the aux control's position. Reversing the way of the pedal motion is an additional control facility. You can switch things around, so your foot goes down on your heel instead of your toes. The second internal switch allows for that—an advantageous feature for some.
Character & Sound:
The pedal is easy to perform thanks to the smooth and consistent rocking mechanism, which you can fine-tune even more conveniently. However, its primary function is to allow the user to adjust the intensity and effects settings and specifically, in that role, it excels.
Finding the minimum value of a measure that can be adjusted by foot allows you to set the pedal accordingly. The interior pot helps with that. However, this pedal does not have a skip option.
It's not an inexpensive choice for something that some people consider to be a luxury item. Despite its high price, this pump is of high quality. Some people may opt for the less expensive option if they anticipate using the button sparingly.
Pros:
It has many advantages, such as its compact size and interior adaptability. While the initial investment may be more than you'd make with some mass-market alternatives, you won't have to replace worn-out cogs or shattered strings.
The small footprint is, of course, the main selling feature. While the sweep is welcome, those used to a bigger pedal may need time adjusting to the smaller pedal's shorter throw and different angle. However, it became remarkably user-friendly after only a brief while of practice, along with some fine-tuning of the tension.
Cons:
Good pedals of this type tend to be on the pricey side. Think about how often you'll need to use it. If you're using it sparingly, it could be a waste of money to add to your board. The issue of mastering it also needs to be considered. The rocking action requires a certain degree of nuance to produce the desired effect. It's more complex than rocking your foot from side to side.
3. Ernie Ball Most Valuable Pedal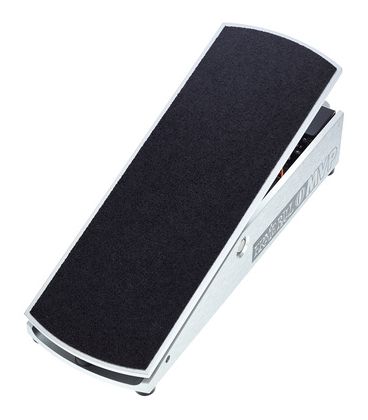 Including this volume pedal in any electric instrument's signal chain will prove extremely beneficial.
Regardless of whether it is positioned in front of or in the amplifier's effects loop, this pedal provides consistent volume control without any loss of high frequencies. The lowest volume setting allows a volume range of 0 to 50 percent in the heel position.
In contrast, the toe position can be boosted by up to 20 decibels, enabling you to lay into your amplifier or pedals. Using the pedal's independent tuner output shouldn't be too difficult in place of your preferred volume knob.
Key Features:
Controls
It operates in a manner that is analogous to that of a conventional volume pedal, with a sweep that goes from heel back to toe forward. Still, it also has a minimum knob that enables the heel back spot to offer up to half the volume you initially set.
A gain adjustment allows you to increase the signal by up to 20 decibels whenever the pedal is in the forward position. This knob is accessible whenever the pedal is in the forward position. When performed through the clean channel of an amplifier, the pedal produces a warm and nuanced gain tone, despite being at a more manageable and adjustable volume.
Minimum Volume Control
One can change the foot pedal range from 0 to half percent to fine-tune the sound. If you want your explosive leads to stick out, crank up the gain on the toe position to 20 dB, or reset it to full of its previous setting.
There will be no change in quality to the audio transmission if you use the tuner output at greater volumes or with different tuners. In addition to the pedal's adaptability, its volume control retains its high-frequency characteristics regardless of its position.
Housing And Power
Regardless of how loud you turn the pedal's level up, there will be no reduction in high-frequency output. The pedal's robust gain boost, which works with both active and passive circuitry, enables an increase of the audible signal of up to +20 decibels and is functional with both types of circuitry.
The pedal's base is made of billet aluminum, allowing it to be compact and incredibly long-lasting. Make use of a 9-volt battery or another supply of DC power.
Character & Sound:
You can change the effect to range from a robust overdrive to a clear and transparent chimney sound by appropriately adjusting the gain control and the minimum control. The gain stage lived up to its promise of preserving high frequencies at all volume levels, and the listeners were pleasantly delighted by its crisp highs regardless of the volume level they were at.
This pedal is an excellent option for silent tuning in on-stage or practice environments due to its super-sturdy aluminum construction, non-slip foot tread, and tuner out, which you can use at any intensity.
Pros:
Strong construction that keeps its position thanks to an adequate amount of bulk. Pedal operation is smooth, and the output is well-graded up until the very end of the toe-down travel. At that point, there is a shocking leap in volume with the minimum and maximum level controls completely "off."
When you know this trait, dealing with it is no longer a challenge. The potentiometers that regulate the minimum and maximum levels have a nice feel to them and function quietly.
Cons:
The input jack instantaneously bent when plugged in for the first time. The thin connection connecting the pedal to the base appears so weak that it will break after only a few hundred hours of use at the very most. The "20 dB increase" advertised is more like 3 dB. This pedal will color your tone and add a warble because the potentiometer used inside is of such low quality that it produces unpredictable values.
4.

Sonuus Voluum
The Sonuus Voluum pedal sticks out among multi-effect guitar pedals because it allows you to control up to five effects with a single expression pedal.
The pedal does more than control loudness; it also has various effects you can use in any combination. Each effect can be programmed to be manipulated by the expression pedal or a MIDI device. When you're satisfied with the custom effects you've made, you can save them as user presets in the pedal.
Key Features:
Housing And Layout
The chromed treadle to the controls' left gives the machine a solid, weighty appearance and feel. The plastic buttons and solitary rotary knob look cheap compared to the sturdy metal housing, but a brace of shiny roll bars safely encloses them. There are three distinct areas on the small control console.
The pedal's settings are navigated via a screen, and up/down cursor controls are on top. The treadle and footswitch make it convenient to scroll through the factory and user settings without using your hands. Below, the preset monitor shows the current state of the pedal. One displays gate activity, five suggest volume, and a dotted axis of three LEDs depicts gain reduction in the compressor.
Control App And Power Options
There are a few more buttons and a rotary encoder on the control panel for tweaking effect parameters. Still, the free PC and Mac control software is the more enjoyable experience. In addition to four AA batteries or a regular 9V DC mains adapter, it can be fueled exclusively from the USB bus.
Launching the desktop editor unveils the pedal's depth of intricacy. After a short self-orientation, adjusting parameters and making new presets is natural. What's mind-boggling, though, is the sheer number of factors you can tweak and the flexibility with which they can be assigned to the footswitch, the envelope follower, or MIDI.
Effects
Five tabbed pages allow fine-grained control over the pedal's five primary sections, each of which can be separately switched into and out of the signal path to create a unique saved preset. The input level and compression meters on top of the effects tabs change in real-time in response to your playing through the pedal.
Next to these is a graph comparing the input and output levels, with a tiny 'x' indicating where in the curve the input signal currently resides. To further customize your pedal, you can change the input and brightness via the dedicated MIDI and general setup tabs.
There is also a preset bypass option, which is a nice touch and makes it so that when the pedal is bypassed, it automatically returns to a previously set value (in this case, the volume setting).
Envelope Control
The compression does not feature an envelope control, but enabling pedal or MIDI control opens up new options. Compression that a foot pedal can modulate may be unfamiliar to some listeners, but it is useful in actual use.
Adding more compression as you press the pedal down makes for a fantastic solo boost, acting as an overdriven volume pedal. While more extreme settings are possible, such as with gigantic in the pedal-down configuration, more nuanced settings can be set up to give softer and more percussive squeezed tones on demand by pedal control placed above a white attack time and other parameters.
Character & Sound:
Whereas guitar effects are typically implemented with as few as three knobs, this pedal adds some of the complexity normally associated with plug-ins. Trem depth and rate can be adjusted in the standard ways, with the latter being in beats per minute (bpm) and accessible via tap tempo or synchronized to a MIDI clock in several different time segments.
An optical setting is available for simulating a classic tremolo response with eight distinct waveforms. Quantizing the LFO's output to anywhere from 1 to steps can make the effect jumpier or smoother, and delaying the effect's start means the fade-in of a tremolo will be retriggered with each note played.
Even before activating the second LFO, which can be used to change the phase of the first LFO about the second, you have access to all of its features. Last but not least, a handy volume boost/cut control allows you to compensate for the audible decrease in loudness that tremolo effects typically cause.
Using the desktop editor, they made remarkable adjustments to achieve a convincing facsimile. However, a side-by-side comparison revealed that this pedal is still slightly noisier than a high-quality tremolo despite being relatively quiet and transparent in sound.
Pros:
This pedal is unlike any other due to its wide range of effects and the flexibility you can mix and adjust them. It's safe to assume that if a product can solve a problem that no other solution can, it's either incredibly creative or the answer to a question nobody even thought to ask.
This pedal is a great value if you still need to get a tremolo, compression, and volume pedal, but we prefer to think of it as a combined-effects unit rather than a multi-effects unit. The powerful, dual-LFO section is reason enough to buy it for true tremolo fans. However, the best reason to buy it is to gain access to the unique effect combinations and control possibilities it provides.
Cons:
Having a product that assumes a bit of complication will send the ordinary slinger fleeing for the hills is frustrating when you're a tech-savvy guitarist. Although the company has thoughtfully included a lock switch to prevent accidental editing on stage, they have taken the opposite approach instead.
So, leaving the full and comprehensive range of tricks, this computer-controlled analog signal device can squeeze exposed to adaptation via the outstanding computer editor. They may have come to terms with the fact that in the age of DAWs, most musicians are fluent in the nuances of plug-in effects. Another possibility is that whoever designed the pedal had a great time doing so and expected that the rest would enjoy it too.
5. Fender Tread-Light Volume/Expression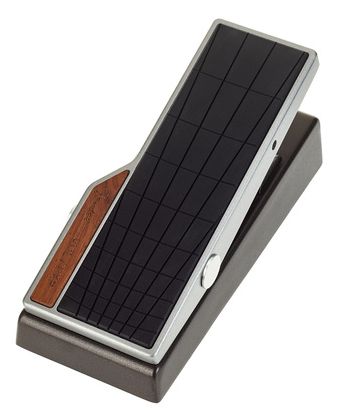 Using the Fender Tread-Light volume pedal, you can adjust the level of your instrument to your liking.
A visually appealing wooden inlay complements the pedal's lightweight anodized aluminum body. This pedal's exceptional durability is a result of both of these characteristics. It can endure rigorous use night after night on stage, and the top-mounted jacks make it simple to add to an already crowded pedalboard.
The pedal is constructed to last for years. A specialized LED under the treadle illuminates brightly whenever the pedal is pushed. This guarantees that the treadle can be seen clearly, even in dim settings.
Key Features:
Circuit
It is based on a completely original Fender circuit and is highly sensitive to light and heavy manipulation of the volume and other settings via external pedals. That's right; it's the ideal partner for your existing stompboxes. This volume pedal, and not just any old volume pedal, is essential to the signal path of your stompbox.
Under Treadle LED
Since it has a special LED that can be turned on and off separately, it is easy to see in any lighting condition. The instrument's treble and midrange controls are at their summit, allowing the player to fine-tune their sound. This allows the instrument to take on a wider range of tones. A toggle within the internal buffer allows you to choose between a buffered wah effect and a standard wah tone.
Housing And Power
The 9VDC connection in the pedal's middle makes it compatible with nearly all power supplies and pedalboards. These pedals are made from anodized aluminum and feature a woodgrain treadle; they are lightweight and sturdy and look great.
Character & Sound:
The Fender Tread-Light Expression Pedal will add a touch of class to your pedal board while delivering a uniformly even volume spread. This is true regardless of whether you are using clean or dirty effects. Whether you perform quietly in the background (which is great for harmony work) or crank up the volume for a blistering solo, the signal from your guitar won't be affected in any way.
You will only need a little space on your board to accommodate it as you would for some of the other expression pedals you've tried. When used for loudness swells with clear patches, this pedal's silky smoothness shines through in its absolute best form. The instrument's appearance is fancier and more professional than it is helped by adding the blue light beneath the foot treadle.
Pros:
The expression pedal has a timeless design, a sturdy rubberized cushion, and a stage-ready frame. It's ideal for musicians who use volume pedals to sweep in harmonies or for anyone who wants more precise control over their sound.
Furthermore, the pedal is ideal for artists who want an expression pedal to control their keyboards and other effect pedals. And the connectors on its top make it a breeze to connect to pedalboards. In addition, you can turn on and off the pedal's under-treadle LEDs with the flip of a button.
Cons:
You can barely detect the tap in the audio transmission unless you use the wah at its extremes. Tapping on a guitar pickup produces a sound similar to this. As the wah-wah pedal mimics the action of a microphonic transducer, this is the situation.
We presume you sent it back because the microphonic thing was ridiculous, and we've heard that the Fender Mustang expression pedal, which shares this housing, also has quality control problems. We will therefore treat a return without a swap as a return if it has been shipped back to us. It's a wah pedal and does what a wah pedal should without any fanfare.
6. Xotic XVP-250k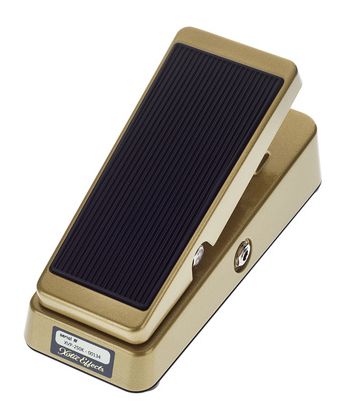 Utilizing this loudness pedal that has a high impedance will not cause any alterations to the sound produced by your instrument.
Thanks to its premium audio potentiometer, fabric wires, and hand-wired construction, it is especially well-suited for use with instruments that use passive electrical components, such as guitars and basses. Guitarists like that it has a tuning output that can be used independently, in addition to its small size.
If you are concerned about maintaining the natural sound of your instrument, one of the best choices that you have at your disposal is a volume amplifier that has a high impedance.
Key Features:
Housing
As a result of the enclosure being so small in size and made of extremely durable aluminum die-cast, the majority of volume pedals can accommodate inside of it, making it a great option for portable and smaller pedalboards.
The pedal even has a tuning out built-in, so you can use whichever tuner you want. This gives you a lot of flexibility. To put it another way, no restrictions are imposed on the areas where one may use a bicycle for transportation.
Pivot And Rack Mount
These pedals feature a pivot and rack and pinion construction, making them extremely durable and ensuring a perfectly smooth volume spread under your feet. This one is much more reliable than string and manually controlled volume pedals, which are prone to breaking and not functioning properly.
Potentiometer
You will have full control over the volume of your setup if you position this straightforward pedal anywhere you like in the signal chain you are utilizing; this will allow you to do whatever you want with the volume. Also, you can feel the most expanding ripples under your foot due to the high-quality audio potentiometer included in the pedal.
This potentiometer ensures that your tone remains consistent throughout the entire frequency range. Every connector and piece of wiring in the pedals is constructed by hand, one point at a time, using cloth-covered wire.
This is done, so the pedals have the highest possible durability and sound quality. Because the enclosure is made of an exceptionally long-lasting aluminum cast and is roughly the size of a standard volume pedal, it is ideal for use with pedalboards and portable setups.
Character & Sound:
Using the volume pedal is not limited to assisting individuals who cannot increase the loudness of their noises by using their pinky fingers. A volume pedal can be of assistance to anyone who needs it. For example, in the middle pickup position of a Les Paul, where it would take superhuman skill to turn both knobs simultaneously, they are a tremendous help.
Even if you tried, you couldn't perform the guitar in this position. Not only are they necessary for increasing the volume when playing solo, but they are also necessary for executing intricate fingerpicking patterns, which are only feasible with them. With them, the patterns would be possible to execute.
On the other hand, they are malleable and can be redirected inventively to make space for additional pedals. This is a positive aspect of their design, for example, by placing the pedal after the fuzz, you can swell magnificent stacked-stomp brutality into the lush, reverberated echoes provided by pedals at the end of the chain without the insane extraneous noise marring it all in between swells.
Pros:
It is very well built, has gears, is lightweight, and although it is a little smaller than what you are used to, it goes all the way to off, which you are not used to. It is a long sweep with no noise, so you must become accustomed to it or change it to include a stop.
This pedal should be the industry standard. In contrast to the others, there is no effect on the music produced by this. The fact that it comes in a more compact version is another advantage, as you can play it on any board without requiring additional room.
Cons:
Unfortunately, the top-end clarity was a noticeable decline when you turned the intensity up. It seemed as though the highs dropped by three to four decibels, and as soon as you removed this volume pedal from the circuit, your tone returned to its previous vibrant state.
In addition to that, the spring and cable pulling mechanism are missing from it. This has the propensity to break, and when it does, repairing the Ernie Ball pedal can be a very time-consuming process.
7. Lehle Mono Volume S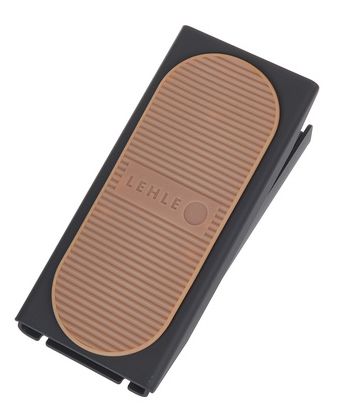 This version of the Lehle Mono has been refined to be both smaller and lighter, and it now supports MIDI over USB, opening up even more possibilities for manipulation.
The pedal uses a magnetically controlled VCA to provide extremely precise volume control with no mechanical potentiometer to wear out or become inaccurate over time. They developed the pedal with live performance in mind, so it maintains the highest possible signal integrity, allowing your tone to shine unaltered throughout its full sweep.
Those who consider a volume pedal an essential part of their instrument setup will be impressed by its smooth operation and remarkable durability.
Key Features:
Build Quality
Most volume pumps have a large, easy-to-grip footpad at their core, and this one is no exception. The Hall effect, a technique for determining the intensity of magnetic fields, is used in conjunction with the device's internal magnets to regulate volume.
They say that this system provides a smoother sweep and greater durability compared to conventional volume pedals that use potentiometers. This pedal, at least, functions more efficiently than its competitors. Only the magnet housed within the pedal is subject to constant wear and tear.
Power
The volume knob may be the most apparent function of this pedal, but it has several additional uses. The pedal accepts input voltages from 9V to 15V and internally boosts them to 18V for increased volume and a more transparent tone. As a bonus, this pedal includes a 10dB gain, making it ideal for use during leads and particularly intense music sections.
Controls
The pedal's controls should be intuitive for most users. The footpad allows you to change the level from -92dB at the very back to 0dB at the very front, which is the same as your unaltered signal. The expansive range allows for instant access to virtually any intensity setting. The pedal's inputs, outputs, and gain knob are all accessible from its top.
Circuitry
There are two outputs after the input and dial-adjustable 10dB boost circuit; one is a normal output for connecting to another pedal or an amplifier, while the other serves as a buffered output. Musicians can connect to a tuner, 2nd amp, or digital audio workstation without compromising sound clarity or adding extra components to their signal chain.
Character & Sound:
It provides exceptionally transparent sound, with no loss of high frequencies (unusual for a volume pedal) and no narrowing of the tone range. However, the smooth functioning of this pedal is what most players will love about it.
Unlike other volume pedals, which can be jerky and require a lot of trial and error to find the "sweet spot" where you can reduce the volume without cutting off your signal, this one has a surprisingly smooth and calibrated volume sweep.
The sound is constantly shifting from the far back of the pedal to its far front. Equally, maintaining a loudness of fifty percent or less of the maximum signal requires thirty seconds of fiddling around before finding the sweet spot or compromising the audible range. This effect device is versatile enough to be used for both smooth volume modulation and choppy tremolo.
Pros:
The pedal is undeniably among the finest level controls currently available. It has an expansive sweeping range, a highly dynamic volume knob, and sturdy construction that ensures it will last for years longer than any comparable product.
However, it is also very costly compared to similar models. Those who must have a volume pedal should try it out. Still, guitarists looking for a new toy effect or curious about the possibilities of a volume pedal should probably look elsewhere.
Cons:
One disadvantage is that it does not have as much reach as a VP Jr., a minor issue. Additionally, the jack connectors are a little too close to one another, which, if they are thick, may cause you a headache. Buyers should be conscious that this requires power; consequently, they should read the manual before purchasing.
8. Mission Engineering Inc VM-Pro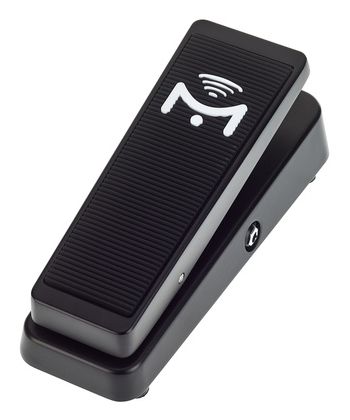 The Mission Engineering VM-PRO is not your average volume pedal; it features multiple outputs and is highly customizable.
Take the pedal as the first link in your signal chain. The input jack can be switched between inactive and active instruments, making it ideal for guitar and bass use. Buffering the output means your instruments and long cables will still have a good frequency response.
Key Features:
Housing
The prevalent misconception about volume pedals is that they only do one thing and have no other uses. However, this cannot be assumed in all cases. The pump we're talking about today has many customizable features that set it apart from the competition.
Quality cabling and components are housed inside the pedal's metal enclosure. It comes in four hues and uses a traditional taper switch design.
Circuitry and Power
To top it all off, it has a buffered circuit to stop tonal decay that could occur with a lengthy chain. In this manner, no matter how many wires you jam in there, your audio will remain crystal clear. This may be the only customizable aspect.
You can tailor the remainder of the circuitry to your setup. You can adjust the pedal for resistance, brightness, and pickup match. This adaptability allows you to filter out any unwanted influences on your performance. In addition to the converter, the pedal can be powered by a single 9V battery, 9VDC, or 18VDC.
Output
The TRS-type outlet on this baby lets you connect it to a tuner and an amplifier simultaneously. The signal is transmitted to the modulator via the ring, allowing inaudible tuning with no degradation to the overall signal. It is then sent to the amplifier via the tip. Now you have everything at your disposal to keep your tone crystal clear.
Controls
Pedal controls allude to the physical buttons, and internal switches used to adjust the pedal's settings. All we have at first glance is a trickle that raises the volume temporarily or serves as a simple volume control otherwise.
In addition, you can adjust the pedal's resistance. The included hex key can loosen or tighten the actuator tension adjuster bolt. This way, you can always have the pedal sensation how you like it. The moment has come to uncover the inner workings and possibilities within electronics.
Bottom Plate
When you raise the bottom plate, the on/off switch is in the exact middle of the interior. A total of three settings can be toggled on and off. Toggle between an Active and Inactive state whenever you like with the first available option.
This switch-on could lead to distortion from high-output instruments, so it's best to leave it off. The Sparkle knob boosts the pedal's brilliance in the low end, and the impedance knob lets you adjust the volume. The second feature ensures your pedal works properly with your antique fuzz box.
Character & Sound:
Talking about the pedal's tone won't take long, but a few points are worth making. The accelerator gives off an air of openness and clarity. As a bonus, it won't mess with your signal strangely. It's noiseless and won't steal your tone under any circumstances.
Because of the taper's subtlety, it can produce dynamic loudness changes or give quieter passages more presence. Buffering preserves the integrity of your guitar signal by preserving high-frequency clarity at each stage of the signal path.
When you want to add a little glimmer and a lot of 'oomph' to the low end, switch on the Sparkle. The pedal's sonic variety is in your hands; it comes with everything a musician needs to play around with their sound. However, the pump is an impressive device even when used for mundane purposes.
Pros:
Although volume pedals generally don't inspire much praise, some manufacturers defy expectations and make you sing their praises. You can't help but rave about it once you put it in and start using it. It's no one's fault; this device is a magician. This pedal could be the one to get if you're ready to splurge on something that will bring out the best in your performance.
Cons:
This pedal is not suitable for use to swell the loudness. Because it has a linear pot, it is extremely sensitive to the beginning of the sweep, which can cause abrupt jumps or spikes in the volume. This is because the pot is linear. You should not get this pedal if you want to achieve even and smooth swells through a delay while the guitar is taking up a conspicuous position in the mix.
It will lead to sudden jumps in loudness that are uneven and inconsistent, essentially ruining it. Because we are talking about a distance measured in millimeters, we are talking about something that produces an almost step-function increase in volume. It is simply impossible to achieve this kind of control live.
9. Korg XVP20 Stereo Vol/Exp Pedal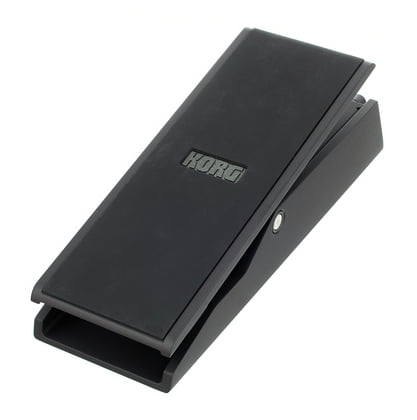 The XVP-20 from Korg is a versatile volume controller for keyboards that gives the user complete control over the instrument's signal path.
The pedal has a sturdy aluminum frame and nonslip rubber treadle and base. Because of its stereo inputs and outputs, you can route the information in any direction. Pull the pedal to its lowest setting to customize the signal at a minimum level.
Key Features:
Inputs And Outputs
The pedal has two ports for input and output, making it a dual-input, dual-output volume pedal. A particular instrument or effect with mono or stereo outputs can adjust its level independently.
A designated TRS expression jack on the pedal can also be used as an expression pedal. It is situated just at the "toe" end of the pedal alongside the other inputs and settings. They threw in a TRS cable for the expression port, which is much appreciated.
Housing
The aluminum chassis and rubber soles are slightly more compact than the predecessor. It's also easier to carry around than its forerunners. The pedal has a black anodized finish to complement their top-of-the-line Kronos computer.
It employs a gear system instead of the strings used by other volume pedals to turn the potentiometer. The new pedal has more teeth than its forerunner, allowing for greater fine-tuning control and a more pleasant, subjective experience.

Rubber Pads And Torque Control


The pedal now features rubber feet to keep it from sliding away, even on hard surfaces like hardwood, marble, or concrete. The treadle has a rubber covering, which makes it easier to maintain your foot in place and gives you more control.
The variable torque is a wonderful addition, it is possible to fine-tune the pedal's feel and the amount of power needed to manipulate it by adjusting a screw underneath the treadle.
Minimum Volume Control
The pedal's perceived loudness setting is also very convenient. This can be adjusted from completely off to half volume, letting some sound through even with the pedal to the rear. This is perfect for establishing a base volume for rhythm sections and a higher volume for solos ahead of time.
Character & Sound:
It can be used as an expression pedal or in the final position of a series of pedals without any problems, but starting the chain with it is not advised because of the impedance imbalance. Of course, this isn't a problem with low-impedance or active pickups, but most guitarists don't use either.
In the meantime, keyboardists will find the pedal a fantastic option for volume and expression control until Korg releases a high-impedance version to make it more compatible with guitar rigs.
Pros:
You should know what you're going into with this excellent volume pedal. Keyboardists can confidently purchase one because they are compatible with the low impedance output of their instruments. Still, guitarists should consider where and how they will use the pedal before purchasing.
Cons:
Using it as a level or expression pedal is best, but not both at once. The pedal's low impedance makes it well-suited for synthesizers, but less so with the guitar's high impedance. It works great as an expression pedal with guitar instruments and after an effects pedal since most have low impedance outputs.
This is not the volume pedal you want if you plug in a guitar with passive pickups and operate it first in the signal chain or solo. Even though it's lighter than its predecessor, this pump is still not exactly a featherweight. Plus, it is more stable than a lightweight pedal and less likely to move around.
10. Ernie Ball VPJR Tuner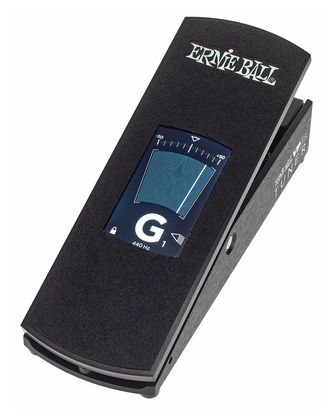 Guitarists typically put their tuner and volume pedal at the beginning of their effects chain; the Ernie Ball VPJR Tuner eliminates the need for both.
The pedal is of the same high quality as the rest of the company's offerings, and it even includes a chromatic tuner and a graphical level readout. This pedal's discrete buffer circuit is a blessing for musicians using lengthy effects chains in addition to its other benefits. The pedal's lightweight aluminum chassis is a nice feature, as you will step on it frequently.
Key Features:
Touchscreen Display
An attractive graphic volume indicator and a high-definition touchscreen make the pedal's sleek chromatic tuner a breeze. It was discovered that the screen could be seen plainly in various lighting conditions, from a completely dark stage to bright sunlight.
Based on the strength of your signal, the screen will automatically switch between tuner and volume modes, letting you adjust the volume as needed while still hearing the station. However, you can access other always-on setups with a single display press. The tuner has high responsiveness and can be set to various reference frequencies.
Circuitry
The treadle's versatility stems from the fact that it can be handled as either a gain or master volume control. Its braided Kevlar cable is coated in PVC, making it extremely durable, and its potentiometer traction makes for constant tension throughout the entire range.
In addition, the chassis is made of aircraft-grade metal, making it resistant to the impact of even the most fervent foot stomps. The pedal's high-quality buffer circuit prevents tone degradation from occurring along the signal chain.
Amazing Build Quality
For a long time now, the pedals have set the benchmark. They're comfortable to wear, perform admirably, and are surprisingly sturdy. Today, however, when the pedalboard room is at a premium, a volume pedal may not be worth the investment.
Smaller versions are on the market, but they don't provide the same level of control, and it only takes one accidental flip to damage the jack sockets on a mini pedal. You can only have a professional pedalboard with a tuner, and it's also convenient to have a volume pedal. You can get a full-sized volume pedal with a huge, bright tuner for the same size as a TU-3 and a mini volume pedal.
The I/O Ports Are Independent
While everyone agrees that a tuner should come first in the signal path, opinions vary on where the volume pedal should go. The tuner and level pedal have their inputs on the pedal, solving this problem. The tuner can be plugged in first, followed by the drive pedals, then the level knob, and finally the amplifier. You can even bypass the tuner and put the level pedal in the effects loop of your amplifier.
Character & Sound:
The pedal's tuner mode is easily accessible by depressing the handwheel to its heel-down mute position. This mode provides simple and precise adjustments for each string individually, with color-coded "green" for in-tune and "blue" for out-of-tune readouts and a needle-based readout for the highest degree of precision.
You'll rapidly come to respect how much time this saves when tuning quickly in between songs because the display is big, bright, and much more readable than many compact tuners. If you double-tap the screen while tuning, you can choose a frequency above or below the default 440Hz.
When you turn on the display, you can run it exclusively in tuner mode if you want to keep a watch on your tuning, say, in the middle of a song. However, using it only in that manner would mean missing the opportunity to use one of the pedal's greatest ingenious functions.
As you slowly turn up the volume in the default volume and tuner setting, the screen will change to show you a visual representation of your volume level from 1-10. If you've ever used a volume pedal in rage, you know that a lot of the level adjustment has been completed by ear and feel.
Still, it's helpful to have a readout to ensure you always leave the treadle where you want it, not to mention the fact that having an FX transmit and return is incredibly helpful.
Pros:
The pedal is a brilliant answer to the issue of finding space for a volume pedal on a board. Its tuner is larger and clearer than any pedal tuner seen, and its audio quality far surpasses that of an inactive volume pedal. This isn't a give-and-take arrangement; it's the optimal combination of two desirable options.
Cons:
Here, the price is the proverbial monster in the room. At nearly 250 notes, the pedal is almost twice as expensive as a simple volume pedal and a small tuner like the PolyTune Mini. That's a lot of money, and it'll be hard for many of us to explain, but if you can, you'll get a great pedalboard space-saver with the best floor-based tuner display available and some nice hybrid extras.
11. Joyo Wah II Multimode Wah/Vol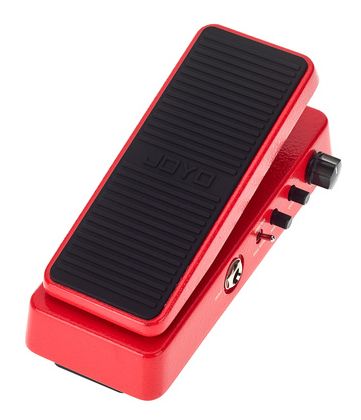 The JOYO Wah II Multimode is a multipurpose pedal with wah and level controls.
With a wah effect Q value knob, you can adjust the sound from a tight, sharp tone to a smooth, broad one. Six different tonal ranges are accessible, perfect for accommodating a wide variety of musical genres. Its RM-shielded inductance, specifically intended for wah tone, ensures excellent tone.
Active volume circuit architecture guarantees minimal signal loss and unaltered tonality. The toggle switch and volume knob with minimum noise control are simple. It is compact enough to fit on a pedal board, lightweight, and easily transported.
Key Features:
Switch
The pedal can be turned on or off by pressing the end of the pedal. There are two jobs available for this. When you toggle between wah and bypass, you have a traditional wah-wah pedal throughout your palms. You can toggle on, and the wah-wah and level controls off separately. The word "ecosystem" refers to a group working in the construction industry. The wah effect's "depth" can be adjusted using the Range control.
Housing
When in use, the pedal's RM protection is indicated by a green LED. This compact wah has a sturdy metal casing that makes it feel secure in your hand and prevents it from moving around. 16cm x 6cm size saves space. Not too big, not too tiny.
Q Control
The Q knob adjusts the wah's midrange resonance; a higher Q results in a higher-pitched quack, while a lower Q creates a flatter, lower-pitched quack.
The Q controls the EQ mid-range frequencies; if you picture a hill, the steeper the slopes, the more prominent the mids will be in the wah sound. The Q selector allows you to fine-tune the frequency range, providing a wide range in the Wah Quack Frequency.
Wah/Volume
So when the wah pedal is in use, the LED lights up to let you know that the wah mode is on, and a push of the pedal puts you in bypass mode. You can fine-tune yourself to introduce sweeps and improve accuracy, which is a fantastic feature. To raise the volume, depress the pedal all the way forward and then release it to return to its default low setting.
Character & Sound:
Their multifunction wah pedal will be a must-have for guitarists who want complete control over their wah. It's a fantastic pedal to add this other level of creativity to your guitar playing, from funk to shoegaze. A wah-wah pedal makes the most distinctive sound when used in wah mode for a percussive effect during rhythm guitar parts.
Muting chords, holding down a chord and sliding the pedal forward and back change the harmonics from low to high. On, you can hear one of our favorite guitar solos. Try the pedal on an electric violin or ukulele, or plug it into your synthesizers to add a few expressive shaping effects to your tone. It's not just for the funky electric guitar.
Pros:
If you prefer in-depth metal dives, a nice 'foot-bathed' solo, or a reggae beat, this wah pedal is ideal for those who don't want the wah effect all the time but still need a simple volume control. It is also much lighter than a typical wah-wah pedal.
Cons:
The pedal is of high quality, but purchasing it is similar to playing the lottery in that you must say some prayers to ensure you receive an operational model. It would appear that this company sells products that are either prone to breakage within a short period or arrive damaged by the manufacturer.
It is quite unfortunate because their designs and the way they enter the market are very excellent; however, they need to hire new people to improve both the manufacturing of their products and the quality control of those products.
12. Dunlop Volume (X) 8 Pedal DVP5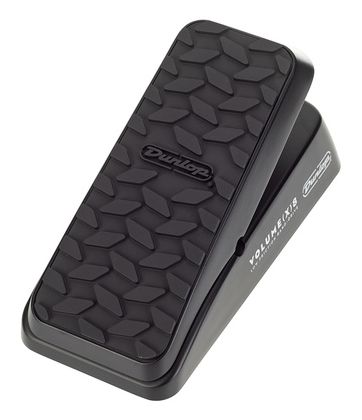 The Dunlop DVP5 (X) 8 volume and expression pedal was developed with Pedaltrain to ensure seamless integration with their pedalboards.
Long-lasting low-friction band drive in the pedal ensures responsive volume and stompbox settings. Furthermore, the pedal has an in-built tuner output and controls for adjusting the minimum effect volume parameters and polarity.
Key Features:
Volume Mode Control
Both Power and Expression modes are available for tweaking the pedal's parameters. Dunlop's Low Friction Band-Drive provides a smooth treadle action that is perfect and stays put, though you can adjust it with an Allen key.
Connectivity
To use an expression, you'll need a TRS cable, and you can adjust the range by selecting the toe value, then the heel value, as is customary. However, the lowest value is also adjustable via a pot located internally and secured with four screws on the baseplate. You can get the most out of the heel-down posture by flipping an internal polarity switch.
Separate Jack
It functions as a volume pedal, allowing immediate muting, rolling back to clean up a dirty amp, or swelling to an assault on your note reminiscent of a violin. You can adjust in silence by placing your heel on the pedals, and the tuner's connection jack is isolated from the rest of the bike's signal flow.
Housing
A compromise between the two, this new Dunlop pedal was developed in tandem with Pedaltrain to work with the company's Metro and other popular lines of pedalboards. Still, it's also a great choice for anyone looking to make the most of the room under their feet.
The pedal is only 20 centimeters in length. While its width is comparable to a regular Cry Baby, placing its socket in the pedal's front rather than its sides allows for significant savings in the all-important left/right dimensions.
Switch
To activate or deactivate the wah, press the switch beneath your foot, and a light indicator will let you know. Dunlop knows that wah is subjective, so they've included three different wah settings (the contemporary Cry Baby, the vintage midrange, and the throatier) in their junior model.
Settings
These are activated by a side switch and significantly modify the pedal's stroke. The H setting will be instantly recognizable to those who have previously used a Cry Baby or equivalent. With the toe down, it has the most high-end and the widest span of the three.
If you find that too sharp, try switching to the classic mids by pressing the "M" button. You can hear notable frequency reduction. The L option goes even lower in brightness and adds some talk to the wah to make it sound even darker. Everyone can find what they're looking for here.
Character & Sound:
While the included Allen key allows for fine-tuning of the treadle action, the factory default option is likely to meet the needs of the vast majority of players. The volume pedal may not be as flashy as other guitar effects, such as modulated delays or octave distortion, but once you've added one to your setup, you won't want to play without it.
It's a must-have for any pedal-steel player, and you'd be surprised at how many other situations call for a bender. If you are overdriving a single-channel tube amp, backing off will clean things up beautifully, and if the situation calls for it, you can always violin your notes.
The ability to plug in a converter is incredibly useful, to tune up secretly, simply rock back on your foot and up on the pedal. Removing the bottom plate allows you to access a potentiometer to select the expression pedal's upper and lower limits.
Pros:
The pedal provides three delicious wah flavors in a compact design, and its usefulness makes it a strong contender for a permanent spot on your pedalboard. A well-organized Cry Baby's worth of features in a package won't take up much room on your pedalboard.
The Pedaltrain-aided design of this wah makes it noticeably smaller than a standard wah, but that's not the only way it saves space on your pedalboard. With its top-mounted jacks, flat rubber bottom panel, and bright bypass LED on the enclosure's heel, the Junior is great for those limited by the stage area.
Cons:
Some players might complain that the range of treadle action is too great. After one hour of rocking the pedal back to the full heel-down position, we felt like we were trying some unnatural toe-to-shin stretch. However, that has more to do with the overdue for a yoga class than any flaws in the architecture. And the risk of getting a foot cramp while performing is more than justified by the gain in accuracy and nuance.
Bonus:
Morley 20/20 Volume+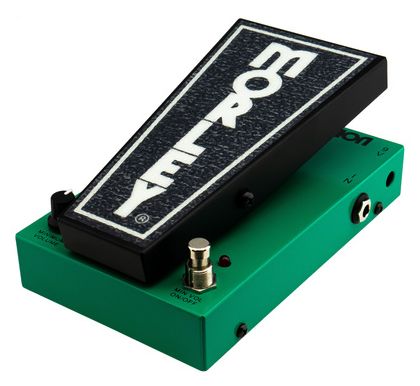 When you want to generate, thrilling volume increases, use the Morley 20/20 Volume Plus pedal.
Because the function for minimum volume is selected with your foot, switching between performing rhythm and lead parts is simple when you are playing the instrument. The nearly silent operation of the electro-optical design has led many guitarists to prefer it to the vintage incarnations of the instrument. The pedal's housing is made of cold-rolled steel, and it features an LED indicator and a quick-clip battery entry.
Key Features:
Potentiometer
Expression pedals typically consist of a button that initiates the effect, followed by a dial that can be adjusted by a pedal that turns a cog, which affects a potentiometer. This is done to keep things as straightforward as possible.
Like most other things, these vessels will ultimately become damaged to the point where they need to be replaced, repaired, or maintained. Morley pedals instead use optical and quiet switching, which involves a shutter within the pedal that adjusts the amount of light passing through to a resistor, simulating the action of a pot without the wear and tear that comes along with it. This helps to avoid going down any additional rabbit holes.
Quiet Circuitry
As a result, the pedal can remove pots from its new range of pedals, which are prone to wear and tear and provide silent switching via optical circuitry. In comparison to some of their more well-known and sturdy variants, these pedals come in a package that is more compact and more conducive to use with pedal boards.
Housing
It consumes worn-out potentiometers and gearboxes to power Morley's renowned optical electronics, which are virtually indestructible and operate in complete silence. Because the pedal has been shown to last for a long time, the company that makes it provides a good guarantee for life. LED lights are used to illuminate the treadles of this pedal, allowing them to be seen in any environment, day or night.
Character & Sound:
You can modify the volume of the wah effect, making it sound more or less noticeable concerning the songs or band you are performing with. Having a volume pedal that functions more analogously to an audio taper than a straight volume control is also beneficial. The end effect is a sound that is more natural and has less of an increase in volume.
The loudness setting has a minimum threshold of about 30%. The shift was disorienting, and from there on out, everything became increasingly sensitive. It takes work to pull off the successful execution of a rapid progression of volume increases.
Wah functions flawlessly when used as a straightforward on/off-volume control. We believe that Morley designed it in such a manner that you could use it with a variety of stringed instruments.
Pros:
This compact volume pedal does precisely what we hoped it would do, which is to regulate the volume smoothly. Additionally, the "minimum low volume" function is excellent in its own right. In addition to that, you can use this in place of full-range volume control.
The lower end of this pedal allows you to set a minimum floor, which guarantees that the only volume range you can move between is full volume and a user-adjustable minimum volume. 
Cons:
Its arc from off to full is very abrupt. Instead of a gradual increase and decrease in volume, the audio is more of a fast taper with a perceptible jump in its range.
Regarding the mechanical sweep range of the pedal, the aural sweep range is 60% of the total. Stiff mechanical action is used throughout. All the screws keeping the base together were dangling, and the stripped holes made it impossible to secure them.
You can fix the sound problems with a few tweaks. That's how everybody found out the bottom screws had come free. By moving the LED and filing down the hole in the card that blocks or bleeds light from the LED to the photosensor, they could get a very smooth taper out of the device. Tightening the treadle's mounting fasteners alleviated the problem.
What Are Volume Pedals Used For?
A volume pedal, which typically resembles a wah pedal, adjusts the overall loudness of your setup. You can adjust the level by depressing it or lifting your foot off like any other foot pedal. These pedals often serve many purposes; some include a modulator, while others can regulate volume and expression.
Many musicians refer to the device used to adjust the volume of their instrument as a "dynamics" pedal, and its primary function is to boost or cut the intensity of the audio output. It's a simple idea! Complicating matters is the wide variety of volume buttons on the market, each with its features and advantages.
The Wah pedal and most volume controllers look similar. It's a big, flat thing about the size of your foot; you put your foot on it, "bounce" it back and forth (either on your heel or your toe), and repeat. So, you have access to at least one level knob as a guitarist or bassist.
The amp and instrument both have volume controls, many musicians find that they have greater influence over their sound by using a volume pedal. Various sounds can be created by strategically placing your volume pedal in addition to your unique playing technique.
In the most basic scenario, you could prefer a volume pedal over the guitar's volume knob because it allows you to adjust the guitar's gain without moving your plucking hand. An intriguing effect is achieved by combining a volume pedal with other effects, such as reverb and delay, to produce "swells" and ambient textures.
Like when playing the violin, you can fade in and out of sounds. If you perform in a band or on stage, a volume pedal can help you balance the volume of your equipment with that of the other instruments. If your volume pedal has a low setting, you can use that when performing in a rhythm section and then press down with your toe to increase the volume for a solo or to get some overdrive/distortion.
Are Volume Pedals Worth It? Why Should I Use Them?
It's money well spent on a volume pedal. Utilizing a volume pedal to give your instrument a more expansive or swelling sound is common. Consider how the music on your beloved records and albums sometimes fades in and out. The volume of a guitar section, such as a solo or chorus, can be built up gradually.
As an alternative to an abrupt ending, you can fade out your playing as the level drops to end a song without a climactic outro riff or statement. These pedals are also commonly used in ambient music styles like shoegaze, where numerous layers or loops of playing are stacked on top of one another to produce a hazy, ethereal effect.
With the help of a volume pedal, guitar chords can be swelled and faded in and out to produce a wave-like effect. Anything that needs to sound dynamic probably needs a level knob.
Expression pedals, which we'll group with volume pedals, have a much wider audience because guitar effects that can be controlled directly by an expression pedal can be used in almost any genre. Keep in mind that there are no set standards for how to operate a level pedal. Use it to create rippling waves of reverberated madness or to play quieter, higher-gain music in a crowded home.
Do Volume Pedals Affect Tone, Or Is It a Myth?
They do, indeed. In the worst cases, volume boosters can completely kill the tone of your music. Fortunately, you can use a buffer to prevent this vampire-like horror tone. If you use a volume control on your pedalboard, you must install a buffer circuit first.
It has the potential to be a superior storage interface. Make sure that pedal comes before the volume pedal, and your sound will protect itself from tone thieves by preserving the top end. You can get by with a Boss amplifier instead of investing in a high-end buffer circuit.
Tuning pedals by Boss are recommended. A buffer or buffered pedal basically "drives the signal" through the impedance loading, rescuing the muffled tone in the process. It's a crucial factor you can't ignore if you want successful outcomes.
But if your setup is very bright, you might enjoy the muted effect, so as always, trust your judgment and do what sounds best to you. However, that would only be true for some installations. Adding a volume pedal to your arsenal can open up a whole new dimension of interactivity and dynamics in your music.
It's one of the most crucial parts of my setup. That kind of command is essential both in the recording booth and on the stage. One of the most desirable qualities in a professional musician is the ability to match the real volume and provide a balanced presence in a mix. Having something like this at your disposal is invaluable when playing music is your top priority.
Are Volume Pedals and Expression Pedals the Same?
They are not really the same. You can use an expression pedal to adjust more than just level depending on the situation, while a volume pedal is limited to just that. While every expression pedal is also a volume control, the reverse is only sometimes true.
Understandably, given the plethora of overlapping terms used by different manufacturers, you would be confused about the precise meaning of the expression pedal. The capacity of expression pedals to facilitate expressive playing is a simple way to think about them.
In the same way that bending and tremolo are performed by physically altering the strings outside of a linear parameter, expression pedals allow guitarists to add expressiveness to effects by manually altering linear signals.
Conclusion
When you want more personal influence over the sound you get, you need these, as everyone knows. These pedals give you the ability to modify the sound of pedals that are already on your pedalboard, such as a reverb or delay, and why not, they help a lot during breaks from gigs.
In this Top 12 Mini/Small Guitar Volume Pedals 2023, we have seen some fairly basic solutions and some that are even more contemporary. For instance, the Ernie Ball VPJR Tuner is a tuner that incorporates two pedals into one, specifically a tuner and a volume pedal.
This is of the same high quality as the rest of the offerings the business provides, and it even comes with a chromatic tuner and a graphic-level readout. You will quickly appreciate how much time this saves when rapidly tuning between songs because the display is large, bright, and much easier to read than many other compact tuners.
The Xotic XVP-250k is a pedal that will undoubtedly be useful to your signal chain due to its potentiometer, cables, and extremely high-quality chassis. The substance it is made of not only lends it a diminutive form but also exceptional resilience. Because it is a lengthy sweep that is completely silent, you will need to get used to it or modify it to include a stop.
We hope that this Top 12 Mini/Small Guitar Volume Pedals 2023 has looking you in locating the pedal that best meets your requirements. Be aware that even though they come in a more compact version, they are very good quality. If you plan to construct a small pedalboard, this will only work to your advantage.