Today we will discuss the 12 Best Pedals For Punk & Pop Punk (Distortion & Overdrive).
In the landscape of punk and pop-punk music, where energy, rebellion, and raw emotion are manifested through sonic waves, the role of guitar effects – particularly distortion and overdrive pedals – cannot be overstated. These pedals, aptly termed the heart of aggression in music, give life to the raucous melodies that have defined generations.
Over the years, many distortion and overdrive pedals have hit the market, each promising to deliver that punk crunch or the gritty overdriven tone central to the pop-punk sound. Yet, selecting the optimal pedal to perfect your tone can be as daunting as navigating the labyrinthine cables in a guitar shop.
This article is designed to provide a guided tour through this maze, highlighting the 12 best pedals for punk and pop punk music. The list has been carefully curated, considering various factors, from the quality and range of sound these pedals produce to their reliability, build quality, versatility, and ease of use.
In a nutshell, here are the 12 Best Pedals For Punk & Pop Punk (Distortion & Overdrive):
This article will explore the best pedals that capture the essence of punk and pop-punk, considering their compatibility and potential to craft the desired raw, gritty sounds. From mainstream choices to unconventional pairings, we'll delve into the multifaceted world of punk's sonic landscape, where creativity often thrives in breaking the rules.
Let's see the 12 Best Pedals For Punk & Pop Punk (Distortion & Overdrive).
12 Best Pedals For Punk & Pop Punk (Distortion & Overdrive)
1. Proco Rat 2 (Best Value Distortion)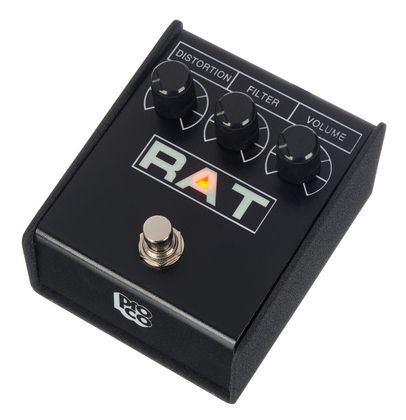 The ProCo Rat 2 is cherished by musicians for its powerful distortion and articulated tones.
The Proco Rat 2 is a great distortion pedal musicians use to achieve a distinct punk/rock sound. Equipped with a single gain knob, it allows for precise control over distortion levels, ranging from mild overdrive to intense fuzz.
Also, its filter control helps customize the tone, while the robust construction ensures durability. Recognized for its simplicity and effectiveness, the Proco Rat 2 is frequently chosen by people seeking a reliable tool for creating various textures.
Key Features:
Distortion Control


The Rat 2's Distortion control knob offers everything from a subtle, bluesy crunch when dialed down to a saturated, face-melting distortion when cranked to its maximum. This wide range of distortion levels allows players to customize their tone to the smallest detail, making it suitable for many musical styles and preferences.
Filter Control
The Filter control knob on the Rat 2 is somewhat counterintuitive but ingenious because unlike standard tone controls that increase treble as they're turned clockwise, the Rat 2's filter works reversely. As you turn it clockwise, it rolls off the high frequencies, leading to a progressively warmer and darker tone.
This approach to tone control offers a different perspective on tone-shaping, allowing you to dial in a sound that fits perfectly with your style, from bright and piercing to smooth and mellow.
Volume Control
The Volume control on the Rat 2 provides the means to balance the level of the distorted signal with your clean guitar tone, enabling you to achieve the perfect blend of grit and clarity. This feature is particularly useful for rhythm players who need distorted chords to sit well in the mix without overshadowing the other instruments.
RAT Filter Circuit
The heart of the Rat 2's tonal capabilities lies in its legendary RAT filter circuit. This proprietary circuitry passed down from the original Rat, is known for producing a distinctive, warm distortion synonymous with the Rat name. The filter circuit adds sonic depth and complexity to your sound, making it more vibrant and textured.
Pros:
The Proco Rat 2 has several strengths, making it an alluring choice for guitarists across skill levels. Firstly, its simple and intuitive control layout makes it a breeze to use, even for those new to distortion pedals.
The range of tonal possibilities afforded by its filter and distortion controls allows finetuning to match nearly any desired sound, whether for blues, punk, or heavy metal. Lastly, the affordability of the Rat 2 makes it an accessible piece of kit, providing great distortion at a price point that is agreeable to most.
Cons:
Some users may initially need clarification on the Filter control's reverse functionality, as it operates differently from the common tone controls on most pedals.
Another point worth noting is that while its extreme distortion capabilities are impressive, the Rat 2 might be too aggressive for those seeking a more subtle, low-gain overdrive. Furthermore, despite its rugged build, some players have reported that the switch can become unreliable after years of heavy stomping.
2. Boss DS-1 (Distortion)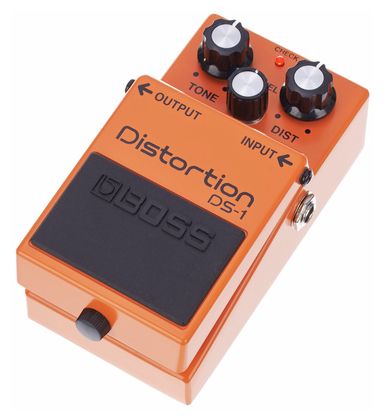 The Boss DS-1 is a classic distortion pedal that has left a great mark on the sound of rock music.
Since its debut in 1978, it has served generations of musicians with its distinct, hard-edged distortion and notable sustain. The DS-1's tone is recognized for its ability to provide sharp definition even at high-gain settings, making it a mainstay for guitarists across genres, from punk to metal.
Key Features:
Volume Knob
The volume dial manages the intensity of the pedal's output. The spectrum of its influence spans from a soft buzz of the distortion effect, lending a hidden layer to the clean voice of your guitar, to a powerful, magnified output that charges up your overarching sound.
It forms a pivotal counterbalance between the innate resonance of your instrument and the inborn distortion of the pedal, generating a great blend of tonalities.
Tone Knob
The tonal modifier functions as the artist's mixing palette in your sonic canvas and extends beyond a mere treble increase or decrease; it behaves as a lively filter that modifies your tone's overall luminosity or shadow. Whether you yearn for a deep, velvety jazz-like distortion or a bright, energetic rock or metal timbre, this knob provides a complete tonal range.
Distortion Knob
It offers a seamless shift from a delicate, almost invisible harshness that brings a nuance of sophistication to your clean tone to a robust, gain-intense tone that can command attention in even the most powerful rock or metal arrangement. This extensive array of tonalities is a critical feature that sets the DS-1 apart from numerous other distortion pedals.
Buffered Bypass
Unlike many modern pedals that feature true bypass, the DS-1 has a buffered bypass. This means it can help maintain signal strength and clarity over long cable runs and through complex pedal setups. This feature can be particularly beneficial in preserving your tone if you have a large pedalboard or use long guitar cables.
Housing
The rugged metal construction of the pedal is designed to withstand rigorous stage use and the occasional knock or drop. It can survive extensive touring and harsh conditions and still perform consistently, so this rugged build makes the DS-1 a workhorse pedal that won't let you down when it counts.
Pros:
The DS-1's appeal lies in its simplicity, reliability, and versatility. Its controls are easy to understand and manipulate, making it a perfect choice for guitarists of any skill level. You're not lost in a labyrinth of knobs and switches; instead, you'll be presented with three controls that can sculpt your sound meaningfully.
In terms of sound, the DS-1 provides a great range of distorted tones, fitting for various musical styles. When used subtly, it delivers a pleasantly organic and warm distortion, but it can also dish out a biting, saturated drive for those looking to make a bold statement.
Cons:
Some people find the tone harsh or fizzy when the distortion is dialed up, making it less ideal for genres that demand a smoother, creamier distortion. Furthermore, while its simplicity is one of its main selling points, it might also be a drawback for those seeking a more complex and nuanced distortion pedal.
Also, there's no built-in EQ other than the single-tone knob, which limits how much you can shape your sound, but this can easily be solved with an extra EQ pedal or from the amp's EQ.
3. Electro Harmonix Big Muff PI (Distortion)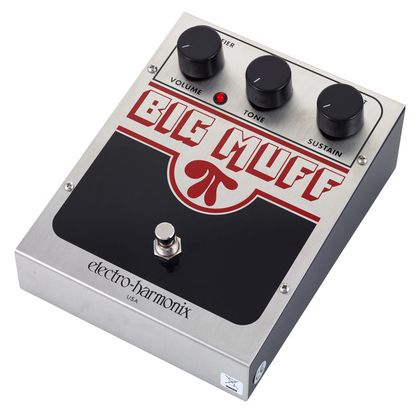 The Electro-Harmonix Big Muff Pi is an iconic fuzz pedal renowned for its rich harmonic character.
Known for its compellingly rich, creamy tones, the Big Muff Pi creates a sonic footprint that extends well beyond conventional distortion. It has been embraced by an eclectic mix of musicians over the years, becoming a cornerstone of the guitar sound for countless artists spanning various genres – from punk/rock to shoegaze and blues to doom metal.
Key Features:
Volume Knob
The 'Volume' knob is pivotal in controlling the signal's output level, allowing you to decide how hard you want your amplifier to be driven by the pedal's output. This feature helps achieve the desired level of distortion and can particularly come in handy in scenarios where balancing your affected signal with your dry guitar tone is imperative.
Tone Control
The 'Tone' knob provides an extensive sweep of sound textures. This control is far from a simple treble roll-off; it's a powerful tone-shaping tool that adjusts the balance between high and low frequencies.
It can deliver deep, bass-heavy sounds at counter-clockwise extremes, while the clockwise settings result in sharp, cutting treble frequencies. This spectrum of tone control ensures that the Big Muff Pi can cater to a wide variety of genre-specific needs and individual player preferences.
Sustain Control
The 'Sustain' control fuels the Big Muff Pi's legendary fuzz tone. Increasing the sustain control adds to the saturation and length of the fuzz, pushing your guitar's notes into rich, harmonic-filled sustain that can morph into smooth, controlled feedback at higher settings.
This feature can turn simple chords or single-note riffs into powerful, captivating sonic statements, ideal for musicians exploring more complex and layered tonal landscapes.
True Bypass
The Big Muff Pi comes with true bypass circuitry, ensuring your signal path remains unaltered when the pedal is unused.
This feature is crucial for preserving your original guitar tone, keeping it free from any coloration or loss of high-end frequencies, which some non-true bypass pedals can introduce. In practical use, your unaffected guitar tone will sound just as you intend, even with the pedal in your signal chain but disengaged.
Pros:
The Big Muff Pi shines through with its unmatched ability to produce many tonal colors, from a warm, woolly fuzz to a raucous, ripping distortion. It is revered for its unique sustain properties that can transform simple notes into complex, richly textured sonic landscapes.
The simplicity of the three-knob design allows for quick and easy tonal adjustments, making it a user-friendly pedal for beginners and pros alike. Also, its true bypass circuitry guarantees that your dry signal remains unaltered, making the pedal a welcome addition to any pedalboard setup without compromising the core guitar tone.
Cons:
The sizeable nature of the Big Muff Pi may challenge musicians who grapple with confined rooms on their pedalboards. While the stompbox's characteristic and highly saturated tones are lauded by many, these might not align with the preferences of players hunting for a gentler, more refined distortion effect.
Lastly, a negligible yet noticeable hum has been remarked upon by some players when the pedal is switched on; while slight, it could interfere in circumstances requiring a silent operation, such as during studio recording or serene live gigs.
4. TC Electronic Dark Matter (Budget Distortion)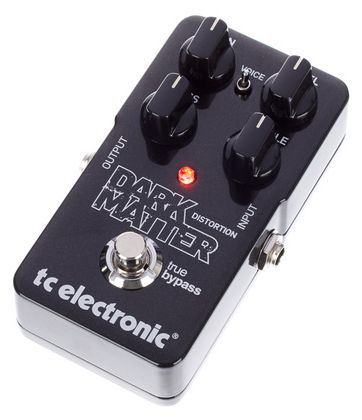 The TC Electronic Dark Matter greatly combines vintage sound with modern features.
Since its introduction, it has become popular for its ability to capture vintage tones, resonating particularly with rock and blues musicians. The Dark Matter's appeal lies in its combination of modern design with a sound reminiscent of classic distortion pedals; it has Gain, Level, Bass, and Treble controls, and a two-way voice switch all caters to diverse tonal demands, from subtle overdrive to pronounced distortion.
Key Features:
Gain Control
This dial dictates the extent of your signal's distortion, and with Dark Matter, this range is rather extensive. It's perfect for those wanting a light touch of grit on their clean tone and equally as competent when dialed up for a heavier, grittier, and more aggressive tonal output.
It doesn't stop there, though; the gain circuitry in the Dark Matter is designed with true analog in mind, giving you responsive and dynamic control over the character of your tone.
Level Control
The 'Level' control on the Dark Matter adjusts the output volume of the affected signal, offering the user precise control over their sound about the bypassed signal or the rest of the mix.
This is particularly useful in a live scenario where adjusting volume levels can mean the difference between a well-balanced performance and an overpowering guitar tone.
2-Band EQ (Bass and Treble)
One of the standout features of the Dark Matter is its 2-band EQ comprising of 'Bass' and 'Treble' controls. This feature is immensely helpful for refining your overall tone. The 'Bass' control lets you determine the richness and depth of your low-end frequencies.
Conversely, the 'Treble' control allows you to shape the sparkle and bite of your high-end frequencies. The ability to independently manipulate these frequency bands allows you to dial in the perfect tone for guitars, pickups, and musical styles.
Voice Switch
This can shift the pedal's bass response and be immensely beneficial in adjusting your sound based on the type of guitar or amp you're using. For instance, flipping the switch could help balance your tone if you use a guitar with a heavier bass response.
Pros:
One of the defining virtues of the TC Electronic Dark Matter is its range of sonic capabilities. Thanks to the breadth of its 'Gain' and 'Level' controls, many tonal variations are within your reach. From mild overdrive to pronounced distortion, it is all attainable.
This diverse range, coupled with the nuanced 2-band EQ, opens up a remarkable playground for tone seekers, making Dark Matter an excellent choice for players who require flexibility.
Also, Dark Matter scores high on the durability scale as well. It is crafted for rigorous use, and its robust construction promises longevity, even under the pressure of extensive gigging or studio sessions; this is a piece of gear built to last.
Cons:
The overall sound might not cater to players looking for extreme, high-gain distortion. Its emphasis on versatility means that it may not excel in any specific genre, potentially causing dissatisfaction among those looking for a pedal with a more focused character.
Furthermore, some users have reported that while useful, the 'Voice' switch can sometimes make the tone slightly artificial when extreme settings are used. Nonetheless, these are relatively minor issues that do not significantly detract from the overall value of Dark Matter.
5. Boss SD-1 (Overdrive)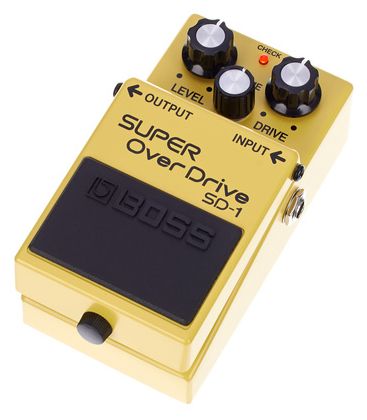 The Boss SD-1 Super Overdrive is an esteemed entry in the field of guitar effects pedals that has set the bar for decades.
Introduced in 1981, the Boss SD-1 Super OverDrive pedal caught the attention of guitar enthusiasts thanks to its distinctive tonal qualities. Many appreciate the pedal's ability to replicate a tube amplifier's smooth, overdriven sound, a trait that has attracted musicians across various styles.
The lasting allure of the SD-1 is rooted in its knack for delivering a particular kind of overdrive sound that seamlessly blends into various musical settings, such as blues or rock, and punk. This has cemented its place as an important element within the world of guitar effects.
Key Features:
Level Control
This adjusts the output volume of the pedal, an important feature allowing for a seamless transition between the bypassed and affected signal. By finetuning the level control, guitarists can ensure the balance of their sound remains unaltered when engaging the pedal.
Tone Control
This knob allows you to adjust the color of your overdrive sound by regulating the high-frequency content. Whether you're after a bright, biting tone or a dark, mellow sound, tone control offers a broad spectrum of possibilities. This flexibility makes the SD-1 adaptable to various genres and playing styles.
Drive Control
The Drive knob is responsible for setting the gain level, effectively controlling the intensity of the overdrive. This control lets you explore various overdrive characteristics, from a light crunch to a heavy roar. It's this dynamic feature that puts the SD-1 as a top choice for many guitarists.
Asymmetrical Overdrive Circuit
The SD-1 is engineered with an asymmetrical clipping circuit. This means it reproduces the harmonically rich overdrive and powerful sustain of a tube amplifier cranked up to its sweet spot. This organic, smooth response truly sets the SD-1 apart from other overdrive pedals in its class.
Buffered Bypass
The SD-1 features Boss's standard buffered bypass circuitry, which maintains the clarity and strength of the signal even when the pedal is off. This ensures that your guitar tone remains unaffected by cable capacitance or other pedals in your chain when the SD-1 is not in use.
Pros:
The SD-1 pedal ensures long-lasting durability, a feature regardless of whether it's used in a home studio or taken on tour. Its genuine and sensitive overdrive is another notable merit; the SD-1 fulfills your needs, irrespective of whether you seek a hint of tone improvement or a full-on, soaked drive.
Also, another prominent benefit of this pedal is its cost-effectiveness, making it an attainable piece of gear for guitarists with varying financial capacities. Additionally, the SD-1's ability to mold tones allows musicians to experiment with diverse sounds, rendering it a versatile option suitable for a broad range of musical genres.
Cons:
Some users have noticed a degree of noise produced by the pedal, especially when the Drive setting is cranked up, which might be bothersome for those pursuing an immaculate, undisturbed output. Although its uncomplicated design is a blessing for those who favor simplicity, it could leave individuals desiring more advanced tonal manipulations slightly unsatisfied.
Finally, even though the SD-1 delivers a rich and warm overdrive, it may not meet the requirements of metal players who hunt for an intense, more potent distortion.
6. Maxon OD-808 (Best Value Overdrive)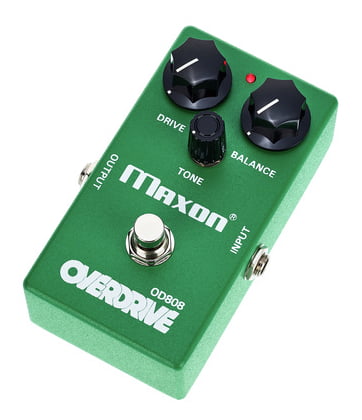 The Maxon OD-808 is a great solution that covers a wide range of distortion tones.
The iconic Tube Screamer circuit inspired the pedal and was born out of a partnership between Maxon and the renowned boutique pedal manufacturer Keeley Electronics. It's engineered with a JRC4558 IC, which creates warm, dynamic tones and features Drive, Balance, and Tone controls and a Keeley Mod Plus, enabling expansive sound options.
Key Features:
JRC4558 IC
The heart of the OD-808 is the JRC4558 integrated circuit (IC), a specific chip revered by musicians for its characteristically warm, smooth, and dynamically responsive tone. This IC is key in mimicking the tonal qualities of a driven tube amplifier, lending a unique vintage coloration to your guitar sound.
Drive Control
The Drive knob on the OD-808 isn't just a simple gain control. It allows you to finetune the level of overdrive saturation in your signal, from a light, almost clean boost to a rich, creamy overdrive. This feature allows musicians to shape their sound according to genre and playing style.
Balance Control
This is essentially your master volume control. It allows you to balance the level of the affected signal with the bypassed or "clean" signal. As such, you can set your overdrive to be quieter, equal, or louder than your dry signal, which can be handy during live performances or recording sessions.
Tone Control
The Tone knob is an active EQ control that lets you finetune the brightness or darkness of your overdriven signal. The enhanced range of this feature compared to its counterparts in other overdrive pedals allows for more precise tonal sculpting, serving as a helpful tool for musicians who value tonal variety and customization.
Keeley Mod Plus
Including the Keeley Mod Plus sets the OD-808 apart from other pedals in the market. This modification improves the pedal's clipping fidelity and tone, giving you a tightened bass response, expanded gain range, and increased clarity. It provides an additional layer of sonic versatility, perfect for guitarists seeking more tonal options.
Pros:
What sets the Maxon OD-808 apart from its competitors is its rich, vintage tone, providing a full-bodied, creamy overdrive that enhances your sound without overpowering it. The pedal's intuitive controls make it simple for even the novice guitarist to dial in their perfect tone, while the expanded EQ range and the Keeley Mod Plus ensure that seasoned pros will find enough depth to keep them tweaking.
Additionally, the pedal's build quality is second to none, and the true bypass switching ensures your signal remains pure and uncolored when the pedal is off.
Cons:
Its tonal character might be too warm or "vintage-sounding" for players who prefer a more transparent or modern overdrive. Furthermore, it doesn't offer as much gain as other overdrive pedals, potentially limiting its appeal for heavy rock or metal players. Lastly, some users may find the pedal pricier, which could be a barrier for those on a tighter budget.
7. Behringer TO800 (Budget Overdrive)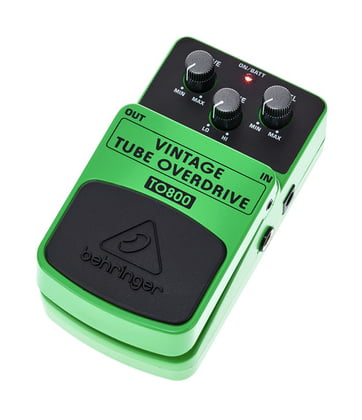 The Behringer TO800 is a vintage overdrive known for delivering classic tube-like overdrive sounds.
Introduced as an affordable alternative to more expensive overdrive units, it has found favor among musicians seeking that specific warm, vintage tone.
The TO800 is often used to emulate the sound of an overdriven tube amplifier, a quality that has made it popular across various musical genres, including blues, punk, rock, and jazz. Its significance lies in its distinctive sound and accessibility to musicians on different budgets, marking it as an influential piece in the evolving landscape of guitar effects.
Key Features:
Vintage Tube-like Overdrive
At the heart of the TO800 is its ability to mimic the warm, lush overdrive sounds often associated with vintage tube amplifiers.
This is primarily achieved using the original 4558 dual op-amp and MA150 distortion diodes, which work in unison to replicate the soft clipping effect that vacuum tubes are celebrated for. This feature is invaluable for musicians seeking that classic rock 'n' roll or bluesy tone that has defined countless legendary records.
Controls
The TO800 gives users three simple yet powerful control knobs for drive, tone, and level. The drive control dictates the amount of overdrive or distortion, offering a broad spectrum from subtle warmth to a full-on tube roar.
Tone controls the coloration of the sound, allowing musicians to tweak the EQ to their liking. Conversely, the level control adjusts the output volume, ensuring that your sound blends perfectly with the mix.
True Bypass
Behringer has incorporated a true bypass circuitry into the TO800. This means when the pedal is turned off, it won't color or degrade your original guitar signal, preserving its tone and integrity. This feature is highly sought-after by purists who want their unaffected sound to remain as natural as possible.
LED Indicator
The pedal includes a built-in LED indicator to display whether the effect is engaged. This feature is more than just a visual cue; it provides a quick and easy way to monitor the status of the pedal during live performances or recording sessions, ensuring that the musician is always in control.
Pros:
Its cost-effective nature does not compromise delivering a wide range of warm, tube-like overdrive sounds. This makes it an accessible choice for both professionals and hobbyists alike. Its user-friendly controls offer musicians an intuitive interface, making it suitable for those new to the effects pedals. The durable construction is another noteworthy aspect, offering reliability and longevity.
Cons:
While it excels in providing classic, warm overdrive sounds, it may not meet the needs of musicians seeking more modern, high-gain distortions.
Additionally, its plastic casing, though durable, may not hold up as well as a metal enclosure under extreme conditions. Finally, while its simplicity is a strength for beginners, more experienced musicians might desire greater tonal complexity and control options than the TO800 offers.
8. Ibanez TS808 (Classic Overdrive)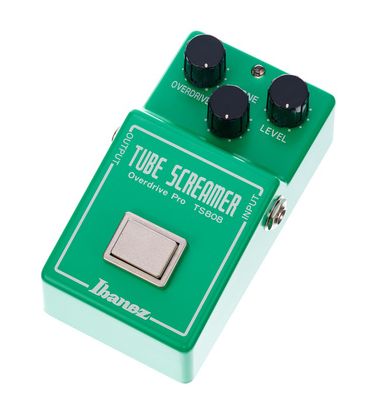 The Ibanez TS808 Tube Screamer is a veritable icon in guitar effects pedals.
It's a compact and reliable stompbox that has graced the pedalboards of countless guitarists around the globe, known for its signature warm overdrive and eminently musical tone. Steeped in a rich history that dates back to its release in the late 1970s, the TS808 maintains its esteemed status with a classic design and timeless sonic performance blend.
Key Features:
Overdrive Control
This dial adjusts the amount of distortion introduced to the signal. With a gentle twist, you can control the intensity of the overdrive from a soft, subtle coloration to a more saturated, gain-filled response. It's an essential feature for dynamically shaping the sound based on your playing style and the specific tonal qualities of your guitar and amplifier.
Tone Control
Adjusting the TS808's tone control allows you to shape the high-frequency response of your overdriven signal. By darkening or brightening your tone, you can finetune the timbre of the overdrive to your preference, making your sound stand out in the mix or blend harmoniously with other instruments.
Level Control
This controls the output level of the affected signal. It's a crucial feature that allows you to match the volume of your clean and overdriven tones or to use the TS808 as a boost pedal to drive your amplifier harder for a natural, tube-like overdrive.
JRC4558D IC Chip
This is the heart of the TS808, providing that distinct vintage tone. It's known for delivering warm, tube-like overdrive and organic, musical response to your playing dynamics. The key component sets the TS808 apart from other overdrive pedals.
True Bypass Switching
This feature ensures that when the pedal is switched off, the signal bypasses the circuitry entirely, preserving the purity and integrity of your original guitar tone. It's vital for players who use multiple pedals or care deeply about maintaining their guitar's natural sound when the pedal is not in use.
Pros:
Among the significant advantages of the TS808 is its great versatility, allowing players to use it as a standalone overdrive pedal or as a boost to push a tube amplifier into natural overdrive. It excels in its ability to enhance your guitar's natural voice rather than replace it, making it a favorite among tone purists.
The intuitive and straightforward controls invite users to explore and find their sound easily, and its robust build quality is known for its reliability on the road, making it an excellent investment for touring musicians. Also, its iconic status means it maintains value over time.
Cons:
Despite the myriad of positives, the Ibanez TS808 has drawbacks. Some players might find the overdrive too smooth or lacking in bite, particularly those who play heavier genres. The pedal can also be perceived as somewhat pricey compared to other overdrive options, especially considering its simplistic feature set.
Lastly, its larger footprint may not appeal to players with crammed pedalboards, as it could take up valuable real estate
9. Electro Harmonix Soul Food (Overdrive)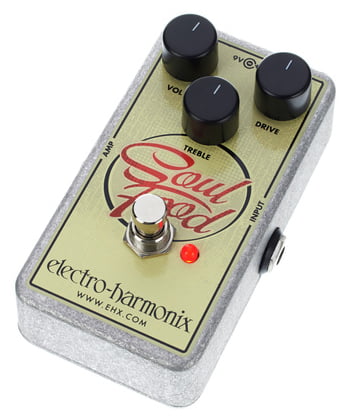 The Electro-Harmonix Soul Food shines with its ability to deliver the revered transparent overdrive of the iconic Klon Centaur.
The Electro-Harmonix Soul Food is a transparent overdrive pedal renowned for providing a wide range of clean boosts to rich overdrive tones. Its ability to add touch-responsive grit without coloring the core tone has made it a favorite among guitarists who seek to preserve the natural voice of their instrument.
Key Features:
Drive Control
The Drive control, a pivotal feature of the Electro-Harmonix Soul Food, is essential in calibrating the overdrive level. Through the manipulation of this knob, guitarists gain the ability to add a gritty texture to their tone, creating an aggressive punch that can evoke raw emotions in listeners.
On the other hand, minimizing the Drive can also provide a subtle edge to a clean tone, allowing the original character of the guitar and amp to shine through. This dual functionality offers a unique blend of versatility that caters to a wide spectrum of musical styles and preferences.
Volume Control
The Volume control offers a valuable feature by allowing users to regulate the pedal's output level. This adjustment can yield a variety of effects depending on its application.
When used subtly, the volume boost can help a guitar's sound cut through a dense mix, particularly useful during solos or prominent riffs. Conversely, when pushed to higher settings, the Volume control can provoke a natural-sounding overdrive in your amplifier, adding a layer of warmth and saturation to your tone.
Tone Control
The Tone control acts as a sonic chameleon, adapting your guitar's timbre to fit various musical scenarios. By tweaking this control, you can darken your tone for a smoother, jazzier sound or brighten it for a snappy, twangy bite. This function equips musicians to match their sound to any genre, style, or mood.
True Bypass
Preserving the integrity of your guitar's original signal, the True Bypass feature ensures that your tone remains untouched when the pedal is deactivated.
This is beneficial for those who prize the natural sound of their instrument and don't want it colored or altered when the pedal is not in use. Additionally, it prevents any signal degradation or loss that could occur when the pedal is off, ensuring that your sound remains strong and clear.
Pros:
The transparent overdrive that it offers makes it a great choice in its price range, offering a clear, warm, and dynamic overdrive sound that doesn't mask the natural tone of your instrument. The pedal's wide range of tone control lets you tailor your sound for various music genres, from blues to rock.
It also works well with other pedals, making it a versatile choice for any pedalboard. The True Bypass feature ensures your tone remains unaltered when the pedal is switched off. Furthermore, its sturdy construction gives it gig-ready durability that can withstand extensive use.
Cons:
Despite its many advantages, Soul Food does have some limitations. Firstly, some users may find that the pedal's drive range is less broad and more aggressive than other overdrive pedals, which might limit its use in heavier music genres.
Also, while its simplicity is part of its charm, the lack of additional features such as dual-channel or a mid-control can be a downside for those seeking more complex shaping tools.
Lastly, although the pedal aims to replicate the tone of the Klon Centaur, some purists might argue that it only partially captures the depth and complexity of the original. However, considering the vast price difference, this might be an acceptable compromise.
10. Friedman BE-OD (Overdrive)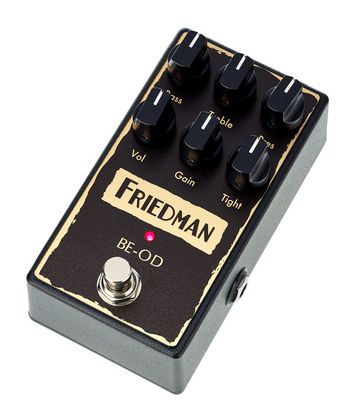 The Friedman BE-OD eloquently replicates the signature crunch of a British tube amp.
Its harmonic richness, born from an expansive gain range, a comprehensive three-band EQ, and an unusual Tight control, offers guitarists a buffet of tonal landscapes. Features like the nuanced Presence knob and an internal gain trim pot, combined with the true bypass, underline the BE-OD's ability to morph your rig into a boutique amp experience, infusing aural versatility with unerring fidelity in a compact, robust chassis.
Key Features:
Gain Control
The primary drive knob of the BE-OD has a profound impact on the overall character of your tone. This control spans a vast range from a mild overdrive, ideal for adding a touch of grit to your clean tone, to full-on distortion, emulating the saturated power of a British cranked tube amplifier.
It's not just a linear increase in gain; turning this knob imbues your tone with added harmonic complexity, creating a lively, responsive, and touch-sensitive playing experience.
Three-band EQ
The pedal's three-band EQ, consisting of bass, mid, and treble controls, is essential in shaping the sound to suit various contexts.
The bass control adjusts the low-frequency content, allowing you to dial in a thick, full-bodied sound or trim the bass for a tighter, more focused tone. The mid control helps carve out your sonic space in a band mix, while the treble control adds definition and articulation to your notes.
Presence Control
This knob adjusts the overall brightness and sheen of your sound. It's especially helpful when cutting through a dense mix or adding a sparkle to a dull-sounding rig. You can also dial it back to soften the high-frequency content, producing a smoother, more laid-back tone.
Tight Control
This control adjusts the pedal's low-frequency response, particularly when the gain control is high. This is crucial for preventing a muddy or boomy sound when using high gain levels. With the Tight knob, you can keep your tone focused and articulate, even when unleashing a wall of distortion.
Internal Gain Trim Pot
Inside the pedal, you'll find a small trim pot that controls the maximum gain level. This gives you added flexibility, allowing you to adjust the pedal's overall gain structure. With careful adjustment, you can turn the BE-OD into a two-channel pedal, with the internal trim pot setting your "channel 1" gain level and the external gain control setting your "channel 2" level.
Pros:
The BE-OD's richness in tone quality is undeniably one of its greatest strengths. Its sonic capabilities, granting guitarists a wide spectrum of overdrive flavors, make it an adaptable pedal for various genres and playing styles.
Despite its array of tweakable parameters, the unit's ease of use invites beginners and seasoned musicians to experiment and find their unique sound. Furthermore, the BE-OD's capacity to offer a boutique amp experience in a compact stompbox is an undeniable attraction for guitarists who crave that high-end sound without the physical or financial bulk.
Cons:
The unit's vast gain range might be overkill for those seeking a touch of overdrive; it's like having a race car for a Sunday drive. Furthermore, some users might find the internal trim pot inconvenient to adjust, as it requires the removal of the backplate. Finally, the pedal's price point might discourage budget-conscious musicians.
11. MXR 75 Super Badass Distortion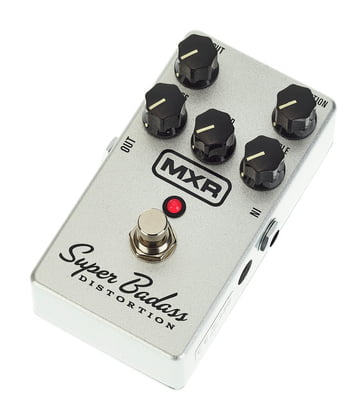 The MXR M75 Super Badass Distortion packs a punch with many features that empower a musician's expression.
Its 100% analog design brings out an authentic, warm tone reminiscent of classic tube amplifiers, while the tripartite EQ controls (Bass, Mid, Treble) provide great sound customization.
Coupled with the sweeping range of the Distortion knob and the nuanced control offered by the Output control, the M75 caters to a wide spectrum of musical styles and tones.
Key Features:
Analog Circuitry
The MXR M75 Super Badass Distortion takes pride in its purely analog circuitry. In an era dominated by digital models and simulations, the M75 remains true to analog sound's raw, organic warmth.
Its circuitry carefully mimics the response of tube amplifiers, imparting an authentic, vintage charm to your tone. The authenticity this brings to the table makes every note you play feel nuanced and rich, amplifying the expression and dynamics of your playing.
EQ Controls
The standout feature of the M75 is undoubtedly its comprehensive EQ section, which includes dedicated knobs for Bass, Mid, and Treble frequencies. Each knob allows you to manipulate the designated frequency range precisely, affording you great control over your tone.
The Treble control lets you dial in the perfect amount of sparkle or roll it off for a warmer tone. The Mid control helps you to cut through the mix or pull back for a more laid-back, mellow sound. On the other hand, the Bass control can add thick, growling lows or clean up your sound for a tighter response.
Distortion Knob
The Distortion knob on the M75 is a game-changer. It provides a sweeping range of distortion levels, letting you craft anything from smooth, subtle overdrive to a scorching, heavy distortion. This wide tonal breadth can cater to many genres and playing styles. Whether you're a blues player looking for a gritty break-up or a metal guitarist seeking a high-gain roar, the M75 has you covered.
Output Control
The Output control on the M75 isn't merely a volume knob; it's a powerful tool for managing your overall sound. This feature allows you to balance the level of distortion with the clean signal, maintaining your guitar's character even when pushing the pedal hard. This ensures that the distortion complements your playing rather than overpowering it.
Pros:
Its wide-ranging distortion controls offer flexibility that few competitors can match, enabling musicians to achieve a diverse range of tones with a single pedal. The true bypass design ensures no coloration of your guitar's natural tone when the pedal is not engaged, thereby preserving the authenticity of your sound.
The interactive EQ section adds an extra dimension of control, providing the ability to shape your sound to the finest details, making it a perfect tool for tonal exploration.
Cons:
Despite its impressive features and capabilities, the MXR M75 has a few shortcomings. Its broad range of distortion can be overwhelming for beginners, requiring a certain degree of understanding and skill to harness its power truly.
This pedal may be complex for those seeking a more straightforward plug-and-play solution. The absence of a power adapter in the package could also be a downside, obliging users to purchase one separately. Additionally, its aggressive tone might be better for genres requiring a softer, more nuanced distortion.
12. Suhr Riot (Distortion)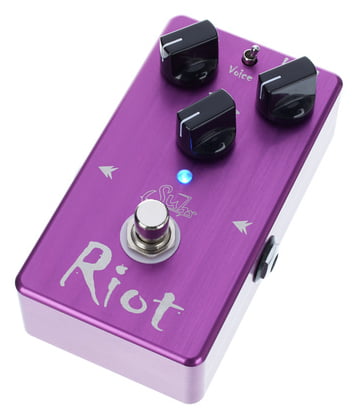 Suhr Riot emulates the characteristics of a 100-watt tube amplifier.
Endowed with a wide-ranging Distortion control, it delivers sounds from a light crunch to intense, full-bodied distortion, enabling it to accommodate varied musical styles. The Level and Tone knobs provide further sound-shaping options, balancing volume and manipulating treble frequencies.
Moreover, a three-position voice switch augments the pedal's tonal range by altering the mid-range contour. At the same time, its sturdy construction ensures reliable, long-term performance, all in a compact design that doesn't consume significant pedalboard space.
Key Features:
Gain Control
The Distortion knob on the Suhr Riot isn't your typical gain control. It governs a broad range of distortion textures, from a light touch of overdrive to full-on saturated distortion.
This range allows guitarists to produce many sound profiles, accommodating everything from the light grit of classic rock to the intense gain needed for heavy metal. The comprehensiveness of this control makes the Riot a truly versatile beast.
Output Level
The Level knob is a master volume control, allowing musicians to balance the output of the pedal against the clean signal of their instrument. Whether it's maintaining unity gain for rhythm parts or boosting the level for standout solos, this feature gives players full control over their volume dynamics, an essential asset for any live performance scenario.
Tone Knob
The Riot's Tone knob is an integral component in its sound-shaping arsenal. It allows users to alter the treble frequencies, which means they can dictate the sharpness or mellowness of their sound. Used deftly, it can carve out precise tonal characteristics to ensure your guitar sound fits perfectly into any mix or stands out in a solo.
Three-Position Voice Switch
This feature introduces another layer of tonal diversity. The switch toggles through three different settings, each modifying the midrange contour of the distortion. Whether you desire a scooped mid for that classic metal sound or a more pronounced midrange for bluesy solos, this switch is your key to unlocking various tonal possibilities.
Pros:
Its most commendable aspect is its versatility, which enables the pedal to yield an impressive spectrum of tones, from a mild crunch to a full-blown, high-gain roar. In addition, the voice switch acts as a valuable tool for sculpting mid-range frequencies, augmenting the pedal's versatility even further.
The pedal's user-friendly interface and rugged construction are equally praiseworthy, making it a reliable companion for home practice and professional performances. Additionally, its compact size ensures it doesn't monopolize valuable real estate on your pedalboard.
Cons:
Its range and extensive controls, while delivering comprehensive tonal variations, may be overwhelming for beginners. Therefore, less experienced users might need to understand tone shaping to exploit the pedal's full potential.
Also, the high-gain settings can occasionally verge on harshness, especially if not balanced adeptly with the Tone control. Furthermore, it carries a slightly higher price tag than similar pedals, potentially making it less appealing to budget-conscious musicians.
Bonuses:
1. JHS Pedals Angry Charlie (Distortion)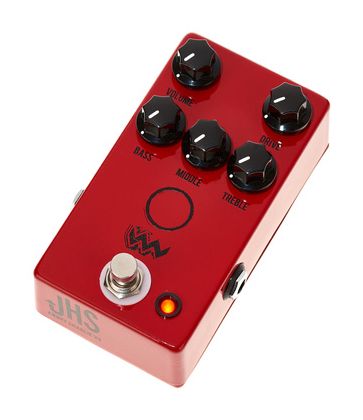 The JHS Pedals Angry Charlie is known for its aggressive yet articulate sound.
Since its inception, it has become a favorite among rock guitarists looking for that British amp growl and cutting lead tones. The Angry Charlie's characteristic distortion, which can deliver anything from a crunchy rhythm tone to a screaming lead, has found its place in various musical contexts.
It's not merely a tool for adding gain; its finely crafted tone has become part of the musical voice for many artists. The enduring popularity of the Angry Charlie attests to its role as a significant and expressive tool in modern guitar soundscaping.
Key Features:
Volume Control
This is a simple loudness knob and a highly interactive feature that works with the Drive control. At lower Drive settings, the Volume control can add a touch of grit to your clean tone, and at higher Drive settings, it manipulates the output level without significantly altering the tonal character. This makes it a highly adaptive control, perfect for finetuning the overall power of your performance.
Drive Control
It is responsible for the degree of distortion or 'gain' applied to your signal. The Drive control is remarkably responsive, from a subtle crunch that adds a bluesy edge to your tone to a high-gain roar perfect for hard rock and metal. It's like having an array of high-gain British amplifiers just by rotating a knob.
Bass Control
One of the more defining features of the Angry Charlie is its Bass control, which isn't just about turning up the low-end frequencies. This knob shapes the character of your tone by injecting warmth and depth. It's a critical tool for ensuring your guitar won't disappear in a full-band mix, giving it the necessary weight to hold its own.
Treble Control
Complementing the Bass control is the Treble knob, which allows you to introduce sparkle and brightness to your tone. Cut through a dense mix or give your lead lines an articulate and pronounced voice is essential. However, it's not a one-trick pony-dialed back; it can smooth out overly bright pickups and provide a rounder, vintage-style tone.
Pros:
One of the standout benefits of the Angry Charlie is the richness of its distortion tones that spans the gamut of hard rock, drawing parallels to the classic sound of a British amplifier pushed to its limits. The pedal's tonal versatility also deserves special mention, offering an incredible range of musical possibilities, from quiet bluesy crunch to full-on heavy metal distortion.
Despite the pedal's complexity under the hood, the user interface remains straightforward and intuitive, enabling even novice users to navigate its features and explore its vast sonic landscape easily.
Cons:
The pedal might not be as affordable as other options on the market, potentially making it a less appealing choice for budget-conscious musicians. Another point to note is that while its impressive high-gain capabilities, the Angry Charlie might not be the best choice for players seeking a milder, cleaner, or more vintage-oriented overdrive sound.
Also, its intense focus on delivering powerful, saturated tones might sometimes overshadow its subtle, nuanced qualities, thus potentially limiting its applicability in more laid-back, traditional settings.
2. Wampler Tumnus (Overdrive)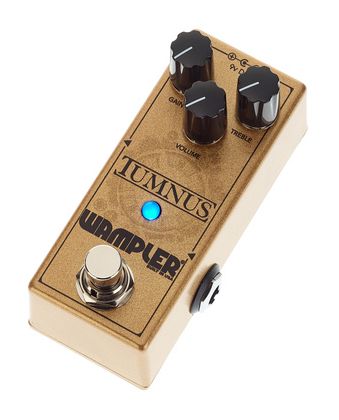 The Wampler Tumnus offers rich and transparent overdrive tones.
Introduced as a tribute to a legendary overdrive circuit, it has established itself as a coveted tool among guitarists seeking that warm, tube-like overdrive.
The Tumnus is appreciated for its ability to add a subtle, harmonic richness to a guitar's natural tone or provide a more saturated overdrive when dialed up and also its compact size, combined with its versatile tonal capabilities, make it a popular choice among professionals and hobbyists alike.
Key Features:
Design
An essential element of the Tumnus is its remarkably small footprint. The pedal's compact design provides a deceptively powerful tonal engine within a tiny enclosure that can easily nestle into even the most crowded pedalboards.
The placement of the knobs and the switch are thoughtfully designed for easy access, even on a packed stage. The small size does not compromise the sturdiness of the pedal, making it robust and capable of withstanding the rigors of gigging.
Controls
Akin to a master painter's palette offering a broad color spectrum, the Tumnus provides a triad of Volume, Gain, and Treble controls allowing a wide array of tonal possibilities. The Volume knob regulates the output, allowing a precise balance between the pedal and the amplifier's volume.
The Gain knob brings a wealth of diversity, transitioning smoothly from a clean boost to a harmonically rich overdrive. The Treble control, distinguished from common tone knobs, is astutely sensitive, granting the ability to shift from mellow warmth to crystalline brightness effortlessly.
Inspired by Legendary Tone
The Tumnus is conceived in the sonic image of the revered Klon Centaur. Its circuitry is meticulously designed to reproduce the original's harmonic richness and dynamic response. This association imbues the Tumnus with a pedigree that reverberates through every note it produces.
This feature not only stands as a testament to the quality of the Tumnus but also gives users a piece of the legendary Centaur tone at a fraction of the price.
True Bypass
This ensures your guitar signal is passed directly through the pedal, untouched when the pedal is in bypass mode. It's a fundamental feature for those concerned about the tonal integrity of their guitar signal, ensuring no coloration or loss of quality when the effect is disengaged.
Pros:
Its minimalistic design, offering straightforward controls, is an appreciable feature for musicians seeking simplicity without compromising sound quality. The Gain Control offers many options, from subtle warmth to hard-hitting crunch, making it perfect for various genres and playing styles.
The Treble control lets you finetune the brightness of your tone, making it highly adaptable to the guitar and amp setup. Also, the Tumnus's true bypass switching work great in retaining the purity of your signal, a vital feature for tone purists.
Cons:
The simplicity in design might not cater to the tastes of musicians seeking extensive EQ options and greater tweakability. While offering a broad range, the single-tone control might not provide in-depth control of separate bass, mid, and treble adjustments.
For those seeking extreme high-gain tones, the Tumnus, focusing on the mid-gain range, might not fully satisfy. Lastly, the price point, reflective of its boutique nature, might deter those on a tighter budget.
Conclusion
They were 12 Best Pedals For Punk & Pop Punk (Distortion & Overdrive). These pedals have made their mark on tone history by injecting saturation into the amp, helping musicians who want a more aggressive tone. In this top, we have presented several solutions that have made history and some that blend modern technology with vintage sound, making this technique more complex and useful.
For example, TC Electronic Dark Matter is one of those solutions you want when buying a versatile, modern, yet inexpensive solution. It combines vintage sound with modern technology very well, with the way it lets you adjust the EQ and that switch that recalibrates the way the pedal responds in the low end.
If we're talking about cheap solutions, the Behringer TO800 is the solution you're looking for. It is a great alternative to more expansive pedals, offers classic tube-like overdrive tones, and can be used in any musical context/genre.
The pedal serves beginners well and those who want backup pedals (in case the main pedals break down in live situations). It has a true bypass circuit, an LED indicator, and a plastic chassis that won't break if you take care of the pedal.
The Ibanez TS808 is the solution if you want a medium price offering classic tones often used in the punk genre, which practically made history. The pedal has a very easy-to-follow layout of controls (Tone, Level, Overdrive).
This circuit has an integrated JRC4558D IC chip, which is why this pedal is so good, as it offers warm, tube-like tones that have a very organic response to your dynamics and a True Bypass switch. It's among the middle of the road options in this top, whether we're talking price or the amount of overdrive it offers.
We hope this top has helped you find the right pedal for you, and if you want to look at other types of pedals that sound good in the punk genre, we invite you to check out the following articles.
Related Readings:
Top 12 Delay Pedals For Metal 2023 (Any Budget)
Top 12 Plate Reverb Guitar Pedals 2023
Top 12 Reverb Pedals For Metal 2023 (Any Budget)
Top 10 EQ Pedals For Metal 2023 (Any Budget)
Top 8 Boost Pedals For Metal 2023 (For All Subgenres)