In this article, we look at the 12 best analog mixers for your home studio on any budget.
Analog mixers are good options for people wanting to set a straight-to-the-point recording setup. They're easy to set up and don't have the bells and whistles of digital setups. Considering the simplicity in use, analog mixers are a good option for anyone needing a mixer for their home studio.
Now, let's dive in!
Top 12 Analog Mixers For Home Studio 2022
1. Allen & Heath ZED60-10FX
The Allen & Heath ZED60-10FX is analog mixer worth using in a home studio setup, considering the features that it comes with.
This 10-input/4-output analog mixer is a good option for anyone looking to track drums at home without skimping on microphone placements. With four XLR inputs, you can set up a kick, snare, and two overhead microphones when recording drum tracks for your songs.
The ZED60-10FX also features multiple output routing options that let you send your mix to a PA system or an external recorder. With RCA and XLR outputs, you have different options to send a mix out from the mixer.
Key Features:
MusiQ EQ
The ZED60-10FX uses MusiQ, a three-band EQ with a mid-frequency sweep that allows you to shape your sound accordingly. The MusiQ system allows beginners to shape their tone with little to no learning curves.
Built-in Guitar DI
For those who want to plug their guitars straight into the mixer, the ZED60-10FX features two guitar inputs, eliminating the need for a separate DI box. In addition, the guitar inputs offer tube-warmth simulation through the FET preamp, enhancing your instrument's tone.
16 Built-in Effects
Like many mixers in the market, the ZED60-10FX features built-in FXs that are applied to all channels. In addition, you can remove effects in a channel by tweaking the FX knob so that the dry signal only passes through.
USB connectivity
You can use the ZED60-10X as a USB interface to record directly to your computer. When plugged into a computer, the ZED60-10FX acts as a 2-input soundcard, which sums your inputs into a stereo track.
Allen & Heath ZED Sixty10FX USB mixer demo at Nevada Music UK
Pros:
The ZED60-10FX allows you to solo channels to help you tweak them for a mix. Instead of muting other channels of the mixer, pressing the solo button on a channel allows you to isolate the channel to hear it.
The solo feature helps troubleshoot a channel, especially when finding its spot in a mix.
The FET preamp is also an advantage for the ZED60-10FX, as it can provide coloration to your sound.
In addition, FET preamps provide tube warmth, enhancing the sound of your guitars that go through the instrument input.
Cons:
One noticeable thing with the ZED60-10FX is that two instrument inputs share channels with two microphone inputs. These will share the same properties and can be a challenge to mix.
The ZED60-10FX could use more channels to maximize its inputs or have the instrument inputs share channel space with a line input.
The ZED60-10FX can only record two tracks at a time in your DAW. While plenty of inputs are available on the mixer, what appears in your DAW are summed stereo inputs that combine all connected sources.
You can separate them by panning the tracks you want to separate left and right and then recording each side into individual tracks.
2. Mackie ProFX6v3
For those on a budget for an analog mixer, the Mackie ProFX6v3 is a logical choice. At less than $200, this analog interface offers six channels for you to use during rehearsal or recording.
The ProFX6v3 features two XLR combo jacks that allow you to alternate between microphone and XLR inputs. In addition, you also get two sets of line inputs.
Finally, you get a pair of XLRs and TRS jacks for your outputs to route to monitors or other line-in devices.
A USB port also allows you to use the ProFX6v3 as an audio interface for recording. As an audio interface, you get summed input of two channels, which can be divided by panning channels left and right.
Key Features:
Onyx Preamps


The ProFX6v3 features a pair of Onyx preamps connected through the XLR combo jacks. These preamps are known to be built into Mackie's mixers and audio interfaces. Many claim these preamps are quiet and don't distort easily.
24 Built-in FX
You get a wide selection of effects processors using the ProFX6v3. However, for something of its size, it's quite remarkable that this mixer has this many effects compared to larger mixers with only 16 effects built into them.
Waveform OEM DAW
If Presonus has Studio One and Universal Audio has LUNA, the closest you can get to a free DAW with Mackie is Waveform OEM. This DAW is unlike most free recording software in the market, as this gives you the full capabilities of the DAW. On top of that, Waveform OEM is also available on Linux, besides Windows and macOS.
192 kHz recording quality
The ProFX6v3 features a recording quality of up to 192 kHz for clearer sounds. While the clarity of any recording depends on the audio source, with a rate of 192 kHz, you can get accurate representations of your audio source into your DAW.
Sound test of the Mackie ProFX6v3 6-Channel Pro Effects Mixer with USB
Pros:
The simplicity in the design of the ProFX6v3 is what makes it a good analog mixer for your home studio.
You might not be able to track a drum kit unless you're recording an electronic drum kit, but you don't need to deal with complex routing of signals and effects.
Another strong point of this mixer is the price. If you're on a budget, this mixer is good enough to serve as your audio interface and still powerful enough to use as a supplementary rig for live performances.
Many keyboard players also love mixers of this size, as you can use them to route multiple keyboards to the PA system.
Cons:
Unlike many audio interfaces, the ProFX6v3 needs a separate driver installation to act as a sound card for your computer. The trend is usually that audio interfaces are supposed to be plug-and-play. However, that might not be the case for this mixer.
Note that your mileage may vary, as some computers may not need the driver. Based on the Mackie website, you're likely to need a driver with Windows 10 computers.
The FX tweaking of the ProFX6v3 can be limited. For one, the FX control is only applied to channels 1 and 2.
It's a simple on-off switch, unlike other mixers that use a knob to get partially wet and dry signals. You can't get any in-between sounds.
3. Yamaha MG10XUF
Yamaha joins the home studio mixer roundup with the Yamaha MG10XUF. This analog mixer takes off from its predecessor, the MG10XU, and features some improvements from the latter.
The MG10UFX features ten channels, divided into four mono and three stereo inputs. The four mono inputs feature an XLR combo jack that allows you to plug microphones or TRS line input devices.
This analog mixer also features balanced XLR outputs, a monitor out, and line outputs to give you variety to route your output signal. You can then route these signals to monitor speakers, a power amplifier, or any device that needs a balanced output.
Key Features:
D-Pre Preamps
The MG10UFX uses Discrete Class A Preamps, or D-Pre Preamps, to power up the microphones. These preamps are known to have low distortions and clear high and low frequencies. You can also expect good signal handling thanks to its frequency range.
Built-in Compressors
Aside from having onboard effects, the MG10UFX features individual compressors on the first and second channels. Controlled by a single knob, you can easily adjust the compressor to your liking after setting the right volume level on each channel.
Access to Cubase AI
For those unsure about what DAW to use, the MG10UFX allows you to download for free Cubase AI. Cubase AI is a DAW distributed as a free download for every purchase of partner interface brands. Aside from Yamaha, you can also get Cubase AI through Steinberg products.
Built-in USB interface
Speaking of DAW, the MG10UFX has a built-in USB interface. You can turn this mixer into your computer's sound card so that you can record podcasts or songs that you have in mind. The mixer sums your inputs into stereo tracks when used as an interface.
Yamaha MG10XU vs MG10XUF | Review & Comparison
Pros:
Instead of dropping the faders to mute a channel, you can use the On switch to remove a channel from a mix when not needed. This feature is perfect for podcasting or live streaming when you want to mute an audio source without remembering the volume setting. Also, in a live music setting, you can use this to troubleshoot sources for any issues.
The MG10UFX does not have much of a learning curve for a large-capacity mixer. So if you're only looking to plug one side to reach your DAW or powered speakers, you won't have a problem setting up this analog mixer.
Cons:
The MG10UFX lacks a dedicated instrument input, particularly for guitars and bass. So if you're a guitar or bass player looking to use the MG10UFX as a recording interface, you will need a DI box between your guitar and the mixer or have some form of converter that can convert instrument level to line levels.
There's also the 16-bit recording capability, which equates to lower headroom for the audio processing. 24-bit has a better range for recording without distorting at higher levels.
This feature is important, especially if you have weak audio signals that you may need to raise in the mix during recording.
4. Presonus StudioLive AR12c
The Presonus StudioLive AR12c packs a lot of features that any home studio producer would love to have for different features. It takes off from its predecessor, the AR USB mixer series.
The StudioLive AR12c has a total of 14 inputs that allows you to blend different audio sources, including keyboards, guitars, and up to eight microphones. In addition, each XLR input on the mixer has built-in phantom power if you need to power condenser microphones or preamps.
The StudioLive AR12c uses USB-C to connect to your devices and is considered a USB class-compliant device, which means you don't need any special drivers for your computer to recognize the StudioLive AR12c.
Key Features:
XMAX Preamps
The StudioLive AR12c gives you eight XMAX preamps to use. With eight preamps, each routed to a microphone input, you can easily set up a basic drum mic kit and still have slots for your vocals and mic'd guitar amps. The XMAX preamps on the StudioLive AR12C are also special, with a higher gain output to compensate for low input microphones.
Built-in Effects
You can blend in effects for individual tracks with the StudioLive AR12c. With 16 stereo effects, you can use these effects to enhance your overall live sound. For example, if you're expecting to play in a reverb-rich venue and want to get a feel, you can add reverb to the stereo output to help you simulate your sound.
Recording Ready
You get different ways to record using the StudioLive AR12c: you can record via USB with Studio One Artist, free with every purchase of the mixer or any other Presonus interface. PreSonus Capture also detects all active live inputs and lets you record your rehearsals on your computer. Lastly, you can also record a stereo mix on an SD card.
iOS and iPadOS compatible
The StudioLive AR12c features compatibility with iOS and iPadOS. So you can stream live with your iPad or iPhone and not worry about the sound quality, unlike streaming with your phone or tablet's microphone. All you need to do is plug the StudioLive AR12c into a USB to lightning or USB-C converter, and your device will recognize the mixer.
Best Mixer for Live-streaming and Podcasting
Pros:
The StudioLive AR12c is ideal for those looking to document rehearsals or gigs, as this analog mixer gives you options to record your performance. With different recording options and mobile compatibility, you can easily create review recordings to help you improve your sound and performance in the future.
Another notable feature is that the StudioLive AR12c has two dedicated instrument inputs.
So you can forget about using a DI box for your guitar or bass. That is very useful, especially for acoustic guitars, which usually need a DI box when used in live situations.
Cons:
On the downside, the StudioLive AR12c uses a single phantom power switch for all microphone inputs. That means you won't be able to blend dynamic and condenser microphones for recording. The presence of individual phantom power control would have allowed a wider variety of microphone combinations.
While the built-in effects are a strong point, remember that using them applies to all tracks in the mix, unlike multiple input audio interfaces that allow you to select which tracks to apply.
In this case, you must ensure that the FX mix knob only blends the dry signal; otherwise, the mixer will apply the effect to the track.
5. Soundcraft FX 16 II
The Soundcraft FX 16 II is a versatile tool that you can use for various purposes. It's great for live sound reinforcement, recording, and mixing, thanks to the built-in 32 effects and 100 presets.
This mixer is a 16-channel mixer with effects onboard. It has eight mono channels, four stereo channels, and a stereo return channel. You can't go wrong with having this in your home studio, as it can help you enhance your sound during rehearsal, recording, or even live performances.
Each of the mixer's channels has a 3-band EQ, to help you adjust the characteristics of your tracks and adapt to the room environment.
Key Features:
32 Editable Effects Settings
The Soundcraft FX16II features 32 effects that you can edit to your liking. These effects are powered by a Lexicon MX500 processor, allowing you to use tap tempos to improve your sound.
Memory for User Settings
You can stay consistent from the studio to the bar using the memory feature of the Soundcraft FX16II. Save your reverb settings and use them to thicken up your snare sounds when you get to your gig. This feature is about maintaining the best tones of your craft and making them available when needed.
16 inputs for XLR, Line, or Instrument inputs
Some mixers have a shared channel for XLR, Line, and Instrument inputs, sometimes resulting in a shortage of mixer inputs. The Soundcraft slightly changes that by providing 16 channels for each input. As a result, you can now set up a full drum kit, put microphones on your guitar amps, and still have enough slots for your keyboard and singers.
Phantom Power Option
While phantom power is applied to a group, one thing notable with the Soundcraft FX16II is how you can have two sides for phantom power. You can choose between channels 1- 8 and 9 – 16, which will have phantom power active. That means you can still blend your favorite dynamic microphones into the mix.
Pros:
The ability to tweak the parameters of the onboard effects is one advantage of the Soundcraft FX16II. Normally, you only get a control knob to blend the wet signal. However, the Soundcraft FX16II lets you tweak settings, such as rate and depth of modulations. This feature lets you sound closer to how you want your performance to be.
The equal distribution of microphone, line, and instrument inputs is another plus point for this mixer.
You don't need to worry about not having enough microphone inputs, as there are more than enough inputs available to have a drum kit, three amps, keyboards, and microphones for your band.
Cons:
Considering the number of microphones the Soundcraft FX16 II can handle, it cannot eliminate out-of-phase signals. Phase removal is a common audio processing technique that can improve the sound quality of recordings. If the FX16 II had phase switching, signals picked up can be clearer and more accurate.
The Soundcraft FX 16 II has a slight learning curve. It might initially look overwhelming, given all the faders, controls, and possible routings.
But it's quite easy to use once you get the hang of it. You'll realize the potential of this mixer in the studio and in live applications.
6. Behringer Xenyx X1204 USB
The Behringer Xenyx X1204 USB is an 8-channel mixer with USB connectivity. It features four Xenyx mic preamps, four stereo line inputs, and two aux sends. The mixer also has a three-band EQ, and a built-in USB interface.
The mixer is designed for live sound applications, and its USB connectivity allows it to be used as an interface for recording. You can use the mixer with a computer or with an iOS device.
Having wide compatibility for devices, this mixer is a good option for doing live streams on Facebook or YouTube.
Key Features:
Xenyx Preamps


The Behringer Xenyx line of preamps is a popular choice for budget-conscious audio engineers and musicians. These preamps on board the Xenyx X1204 allow for a wide range of features and options, making them versatile for various applications.
One Knob Compression
The Xenyx X1204 has a built-in one-knob compressor on channels 1 – 4, which you can use to control the overall level of the signal. For beginners in the studio and live effects processing, the single control compressor is a great way to get acquainted with signal compression and how it affects your sound.
Studio-grade Effects Processors
The Xenyx X1204 uses studio-grade effects processors with 16 presets, making it ideal for use in a home studio or live performance setting. You also get tap tempo on the X1204, which you can use in tandem with the delay effects.
Flexible Routing Options
The Xenyx X1204 makes this possible through its XLR and TRS outputs if you want to explore different routing options. For example, you can route the signal to your studio monitors or a power amp feeding a pair of PA speakers.
XENYX X1204USB Premium 12-Input 2/2-Bus Mixer
Pros:
The Xenyx X1204 is a great mixer for those who need a lot of input options and a good amount of control over their mix. With 24 presets of effects and routing options, you can maintain your sound and not worry too much about sounding off when used live.
Another advantage of the Xenyx X1204 is the price. For $200, you get a lot of inputs and a wide option for effects processing and signal routing compared to other mixers in that budget.
Cons:
The Xenyx X1204 does not have a dedicated instrument input. Therefore, you will need a DI box if you want to plug in a guitar or bass or use an effects processor that can convert the signal to line levels.
Another disadvantage is the phantom power switch, which is placed behind the mixer, beside the main power button. Reaching for the phantom power switch may sometime cause you to turn off the mixer accidentally, which might cause some pops.
It would have been more convenient if Behringer had placed it with the other control buttons.
7. Yamaha MG06
The Yamaha MG06 is a 6-channel mixer for live shows or demo recordings. With its D-Pre preamps, the MG06 can easily enhance the sound of your drums, vocals, or any track running through these channels.
The EQ section provides control over the frequencies of each channel. Finally, the pan pot allows you to place each channel in the stereo field.
The Yamaha MG06 is a great mixer for small venues or home studios, considering its features. It fits easily inside a backpack to take you to your gigs.
Key Features:
Six simultaneous inputs
You can run up to two microphones and four line inputs or six line inputs simultaneously with Yamaha MG06. Since it's small, this mixer's inputs are ideal for solo or duo performers or use in small venues like coffee shops.
Tone Shaping through EQs
The Yamaha MG06 features EQ control on the mono channels. In addition, a 2-band EQ and a high pass filter allow you to remove excessive low frequencies in your music.
One-knob Compression
Despite the absence of effects, the one-knob compressor control allows for further tone shaping in your mix. You can tame those high frequencies and even it out with other elements in the mix.
Compact size
If space is a luxury, then finding a spot for the Yamaha MG06 on your desk won't be a problem. This mixer fits easily on almost any desk, and you can still have some surface area to jot down notes on songs you're working on currently, without the mixer getting in the way.
Pros:
The Yamaha MG06 has a straightforward interface. There's no need to worry about signal routing or inserting FX into the mix of your music. All you need to do is plug all your inputs and outputs, and you're good to go.
Another strong point for the Yamaha MG06 is the one-knob compressor. Despite its simplicity, the Yamaha MG06 provides control over the frequencies in your mix.
Just set the volume of the channel and adjust the compressor to your liking.
Cons:
This mixer doesn't offer much, but if there's anything that Yamaha could improve is the lack of a USB interface. Many cheap audio mixers already have built-in audio interfaces for recording.
However, at its price, it could have been a strong contender for many 2-input/2-output audio interfaces in the market today.
Another feature that Yamaha should have included is built-in FX. While the Yamaha MG06 isn't that big, having a few onboard FX could up the ante on this mixer. It doesn't need to have a wide library; a few reverbs and modulations should be enough.
The Mackie 402 VLZ4 is a professional, 4-channel mixer with many features and applications. It is ideal for live sound reinforcement, recording, and broadcast. The 402 VLZ4 has a sleek, compact design and is built with high-quality components for durability and long-term reliability.
It features Mackie's proprietary Onyx mic preamps for superior sound quality and a 2-band EQ on each channel for precise tonal control. The 402 VLZ4 also has a stereo RCA tape input/output for easy connection to a tape deck or other external audio source.
The Mackie 402 VLZ4 is a good option for anyone needing a high-quality, compact mixer. It is easy to use and has a wide range of features that make it perfect for straightforward applications.
Key Features:
Onyx Preamp
The Onyx Preamp is a built-in microphone preamplifier that provides high-quality audio to a computer or other audio device. The Onyx Preamp has a balanced input and output, gain, and volume control. This preamp is a standard feature for all Mackie mixers and audio interfaces.
Sealed Controls
While the Mackie 402 VLZ4 isn't waterproof, it has an added layer of protection with its sealed rotary controls that can handle dirt and any liquids that may spill on your mixer. So you can safely have your morning coffee while listening to a track without worrying too much about spillage.
Compact size
The small form factor of the Mackie 402 VLZ4 allows it to sit on any small desk. If your workspace doubles for other purposes, this mixer won't interfere much, and may even be stored inside your drawer when not in use.
Low Noise
The Mackie 402 VLZ4 uses high-grade components that allow for better noise reduction and RF noise rejection. It's good for live streams when coupled with a compatible USB audio interface.
Pros:
The presence of the Onyx preamp is reassuring of having at least decent sounds from the microphones you plug into. It might not be the best preamp available in the market, but it's good enough to help you get good recordings using the Mackie 402 VLZ4. The RCA is also welcome, as it provides more options for connectivity.
Another nice thing to note about the Mackie 402 VLZ4 is its size. Musicians who live in small quarters or living spaces will appreciate the size of this mixer, as it can fit easily on desks.
It's also compact enough to bring to gigs, which keyboard players can use to streamline their keyboard rigs to go straight to the PA.
Cons:
Like many of the small mixers in this article, the Mackie 402 VLZ4 could have been better with a USB audio interface function.
Many musicians are now making demos and albums at home, and it would have been good to have this mixer come with a USB interface function so that even musicians on a budget can still produce quality recordings at home.
And since this mixer was designed with home studio enthusiasts in mind, it would have been nice if there was a dedicated instrument input, to help simplify the recording process.
When bundled with a USB interface, the Mackie 402 VLZ4 could match many of the personal audio interfaces used by bedroom musicians.
9. Dynacord CMS600-3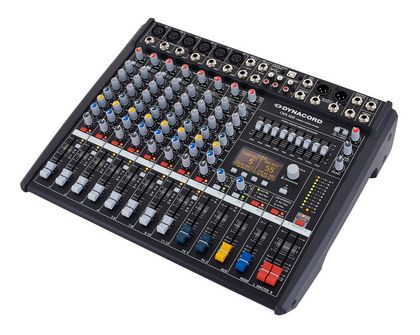 The Dynacord CMS600-3 is a professional mixer designed for use in a live sound reinforcement environment. It's a 12-channel mixer with three-band EQ on the XLR/Line in channels. The mixer also has a stereo tape input/output and a mono auxiliary input.
The CMS600-3 mixer is a versatile mixer that you can use for various applications. It is well suited for use as a live sound mixer, as well as for use in a studio environment. The mixer has optional rack brackets that you can use to mount into your studio desk sidecars, or rack shelf.
It is also easy to use, making it a good choice for those new to home recording and music production. You can produce professional-sounding demos or even record your debut album with this mixer.
Key Features:
OLED Display
The CMS600-3 has an OLED display that shows various information about the device, such as the current status, battery level, and settings. With an OLED display, the information on the screen is easier to read and makes tweaking settings more convenient.

USB Interface


With eight XLR inputs, the Dynacord CMS600-3 lets you track drums. You can have two overheads and one microphone each for the kick and the snare drum and still have inputs for other instruments. Blend in some effects, and you can have a massive-sounding drum kit blasting through your recordings.
Built-in Effects
The Dynacord CMS600-3 has two FX processors that let you access 200 presets. You can dial in different settings and use them during live performances. What you sound like in the studio, you should be able to replicate live with these FX presets.
Industry-standard components
The Dynacord CMD600-3 uses known industry-grade parts, such as ALPS faders and potentiometer, to ensure durability. High-end brands swear by these parts, which have a track record for withstanding abuse.
Pros:
The Dynacord CMD600-3's strong points are in the grade of components it uses. The ALPS faders and potentiometers are known for their durability, so you can subject this mixer to rigorous use and still survive after years.
Another advantage to the Dynacord CMD600-3 is the OLED display. You get to see what preset you're exactly using, as the name gets displayed clearly, instead of mere numbers on a segment display.
Cons:
There are a few disadvantages to the Dynacord CMS600-3 mixer. First, it is a bit pricey compared to other mixers within the same price range. However, you can get more features at a fraction of the price.
Second, it is not the most user-friendly mixer on the market. This mixer has a learning curve and can be challenging to use if you're unfamiliar with the layout.
You will have to keep the manual by your side for the first few weeks of use to get yourself familiar with its capabilities.
10. Alto Professional Live 802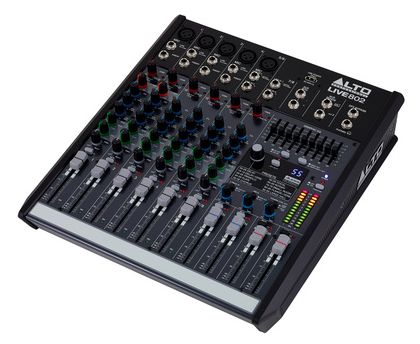 The Alto Live 802 is a 6-channel mixer with built-in effects. It has five XLR inputs, four stereo line inputs, and two pairs of mono line inputs. In addition, the mixer has three-band EQ with sweepable mid-range, panning, and level controls on each channel.
The Alto Live 802 also has a built-in 24-bit digital effects processor with 100 presets. You can also use it as an audio interface for your recording.
The Alto Live 802 has a balanced XLR output that you can use to connect the mixer to a PA system. Likewise, the Alto Live 802 also has an unbalanced 1/4″ output to connect the mixer to a power amplifier.
Key Features:
Alesis DSP Technology
The Alto Live 802 uses Alesis DSP Technology to provide various effects. The effects include Reverb, Chorus, Delay, Echo, Phaser, Flanger, and Pitch Shift. Use these as part of your recording chain, or save these presets as part of your live sound.
USB Recording
Use the Alto Live 802 as a USB audio interface to record the output of the mixer to a computerConnectingng the mixer to your computer can also update the mixer's firmware to ensure the device's stability.
DNA Microphone Preamps
The Alto Live 802 uses DNA microphone preamps to provide a wide dynamic range and low noise. The mic preamps are also designed to work with various microphones, including those with high output levels.
9-Band Graphic Equalizer
You can apply more tone shaping with the Alto Live 802's nine-band equalizer. Use the EQ to enhance your live performances and adapt immediately to the voicing of the venue. For example, you can cut off excess bass frequencies or boost mids to ensure the guitar cuts through the mix.
Features & Benefits of the Alto Professional Live 802 | 8-Channel / 2-Bus Mixer with 5 XLR Inputs
Pros:
The advantage of the Alto Live 802 is its nine-band equalizer, which allows you to fine-tune the sound of your mix. Additionally, the Alto Live 802 has a built-in effects loop, which allows you to add effects to your mix without having to route them before the mixer.
Another advantage of the Alto Live 802 is the Alesis DSP Technology. This technology is designed to provide you with a clear and natural sound.
The DSP Technology also provides you with a wide range of sound options. You can choose from various sounds from the 100 presets loaded in the mixer.
Cons:
One disadvantage of the Alto Live 802 is its weight. It is a bit heavier than some of the other mixers on the market. As a result, you may need a dedicated road case to ensure it doesn't get damaged in transit.
Another disadvantage of the Alto Live 802 is that it does not have a dedicated instrument input.
Instead, you will need to use one of the line inputs for any instruments you want to connect, which requires a DI box or an effects processor that can convert instrument level to line level.
11. Tascam Model 24
The Tascam Model 24 is a multitrack recorder that the company released in 2016. It is capable of recording 24 tracks of audio simultaneously and has a built-in mixer with EQ and effects.
You can use SD cards or USB drives for storing recordings from the Model 24. You can also connect the mixer via USB to a computer for additional editing and mixing capabilities. It can record up to 24 channels of audio at once and run EQs and effects.
Out of the box, you get 20 channels with XLR inputs, of which two channels also have a dedicated instrument input. The other two channels are stereo line inputs.
You can also link the recorder to your computer via USB to use it as an audio interface and bypass the flash storage of the mixer.
Key Features:
Built-in Recorder
The Tascam Model 24 has a built-in recorder that allows you to record your performances directly to a USB drive or SD card. In addition, the recorder has two channels so that you can record your vocals and guitar simultaneously.

Multiple EQs


Shape your sound easily with the multiple EQs of the Tascam Model 24. Each channel features a 3-band EQ to help you sculpt each track. On the output stage, a 7-band EQ helps you enhance the overall mix you put on your DAW or speakers.
Tascam Preamps


The Model 24 uses Tascam's microphone preamps, known for their low noise and high headroom. These preamps are a staple in many of Tascam's mixers, which remain a popular choice among music producers.

Built-in instrument inputs
You can forget about using DI boxes if you plan to record a solo guitar using the Model 24. This mixer has a dedicated instrument input that eliminates the need for a DI box to convert the signal to a high impedance one.
Tascam Model 24 Mixer Demo
Pros:
One notable advantage of the Tascam Model 24 is the built-in recorder. This feature allows you to record your tracks to an SD card or USB drive. That is a welcome feature for those who want to be able to record their tracks without having to use a computer. And when you're done, you can connect the Model 24 to finalize the mix from the mixer.
Another notable feature is the multiple EQs found at each channel and in the output of the Tascam Model 24. That gives you a lot of control over the sound of your tracks. You can fine-tune the sound to get it just the way you want it.
Cons:
The main disadvantage of the Tascam Model 24 is that it can get very pricey compared to other mixers that have plenty of inputs. You can get portable analog mixers for a fraction of the price but at the expense of fewer inputs.
Likewise, the Tascam Model 24 is big, and recommended to get a road case if you plan to take it to gigs. However, considering that you don't need to bring a computer with you to record, the size can still be bearable.
12. Behringer Xenyx QX1204USB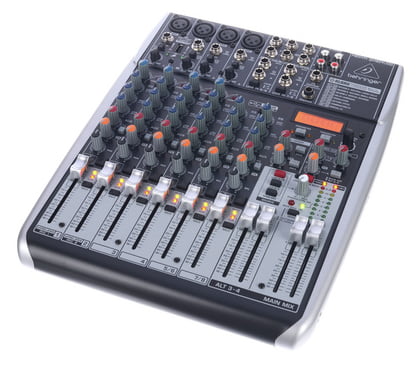 The Behringer Xenyx QX1204USB is a 12-input, 2-bus mixer loaded with different effects processors that shape your sound.
At the core of the Xenyx QX1204 are the Xenyx mic preamps, which come standard on Behringer mixers and audio interfaces. There's also a one-knob compressor, British EQs, and an integrated 2x2 USB audio interface for recording to your computer.
The QX1204USB features 48V phantom power for condenser microphones and two stereo line inputs for connecting external devices such as keyboards or sound modules. In addition, this mixer features a 3-band EQ and a headphone output with level control.
Key Features:
24-bit Klark Teknik FX Processor
The Xenyx QX1204USB uses The Klark Teknik FX Processor loaded with 100 preset effects. This 24-bit FX processor offers a wide range of features and functions for various applications.
Compatible with Behringer Wireless Microphones
If you're using the Behringer wireless microphone system, the Xenyx QX1204USB is compatible out of the box. In addition, this mixer works flawlessly with the USB dongle of the Behringer wireless system, so you don't need to adjust the settings.
One-Knob Compressor
Like many mixers in this article, the Xenyx QX1204USB features a one-knob compressor that's easy to use. If you're a beginner, working this compressor won't be a problem leveling the frequencies in the mix.
Solo Switch
The Solo Switch on the Xenyx QX1204USB is useful in isolating tracks. In addition, you can use it to compare mixes and adjust parameters to get desirable results.
XENYX QX1204USB Small Format Mixer & USB Audio Interface
Pros:
The Behringer Xenyx QX1204USB is a great mixer for those who need a lot of input options and want to record their mixes directly to their computer without breaking the bank. It has 12 input channels, 4 of which are mic/line inputs with phantom power and four stereo line inputs.
This analog mixer isn't as big, considering its features. But it makes a good companion to a gig if you want to consolidate different inputs to the front of the house. For example, you can use this to route your keyboards to a single track in the PA system or as part of your sound reinforcement for quick sets, as this mixer can send signals to your powered speakers.
Cons:
While packed with features, the Behringer Xenyx QX1204USB only works best for small gigs. There aren't many inputs on this mixer to cover a full band, but you can still use it for folk band gigs or even podcasting.
Another issue with the Xenyx QX1204USB is the phantom power switch placement at the back. You might turn off the mixer accidentally when trying to reach the switch at the back panel.
Bonus
the t.mix xmix 802 USB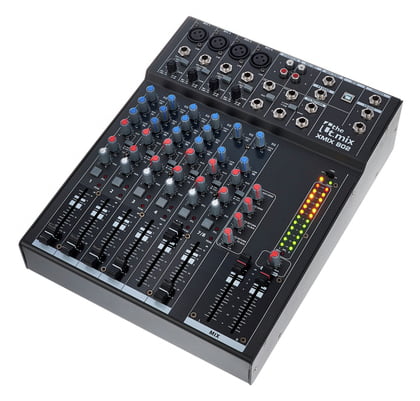 The t.mix xmix 802 analog mixer is a compact mixer with many features. It has six channels, divided into four XLR/Line inputs, four mono line inputs, and an RCA input. Each channel has its three-band EQ, gain control, and pan control.
This mixer also has auxiliary and FX sends for different routing capabilities, making it a mixer packed with features, even in a small package. As a result, it is perfect for home studios or as a supplement to a gig's existing live PA system.
For the price you pay, the t.mix xmix 802 offers features that you can only get with more expensive analog mixers on the market.
Key Features:
Six Simultaneous Inputs
The t.mix xmix 802 allows for four simultaneous XLR and two line in usage, which is good for folk bands that don't use a lot of instruments. It's also a good option for keyboard players who want to route their keyboard rigs into a single mixer for sending to the PA system.
USB recording
The t.mix xmix 802 is a USB audio interface that you can use to connect a microphone, instrument or other line-level audio sources to a computer. You can also use it to play back audio from a computer. You can also route the outputs XLR, TRS, or RCA outputs.
FX Loop
The t.mix xmix 802 has an FX loop that you can use to connect external effects devices. Now, this mixer does not have built-in effects, which is almost standard with many modern mixers on the market. But with the FX loop, you can expand your tonal palette and include off-board effects to enhance the sound of your mixes.
Pros:
There aren't many features with the t.mix xmix 802, making it a straightforward analog mixer. For example, you don't need to worry about configuring outputs from the mixer, nor do you have to think about routing effects, with only one FX loop inset jack in the mixer.
Despite the simplicity of the t.mix xmix 802, it's still fortunate enough to have a built-in USB interface for home recording. Because of this, the t.mix xmix is a good alternative to 2-input/2-output audio interfaces, such as the Focusrite 2i2, although you will still need a DI box for your guitars.
Cons:
One noticeable disadvantage to the t.mix xmix 802 is the lack of a Hi-Z or instrument input. The absence of a dedicated instrument input means having to add a DI box to your home studio gear. That can set you back at least $50 for every guitar and bass that needs to be fed into the mixer.
Another disadvantage is the lack of FX presets. You will have to rely on your DAW to enhance your tracks, or the FX loop and use offboard gear.
Considering the price of this mixer and the features you get, it looks like you can't have everything.
What's The Difference Between Analog And Digital Mixer?
The difference between analog and digital mixers lies in the operation and signal handling. Analog mixers are simpler to use but tend to get noisy. Digital mixers offer more customizations and better noise removal but need more tweaking to get the optimal sound.
Another thing to note about Analog Mixers is that they have a purer or raw sound, but they can be restrictive in the number of devices or expansions you can do. Digital mixers tend to be more processed, but have better options for expanding the capacity of the mixer.
Do analog mixers sound better than digital?
Analog and digital mixers have their pros and cons when it comes to their sound quality. For one, analog mixers sound more natural and also carry noise with their signal. Digital mixers, meanwhile, are less noisy, but the sound it produces tends to be less natural or a bit far from the original audio source.
Considering these advantages and disadvantages, an analog mixer is a good option for those who want to work with a purer sound, and don't mind dealing with noise.
A digital mixer is better for those who want to save time when dealing with noise in the signal chain, and don't mind the less natural sound. But, remember, at the end of the day, it's what the listeners hear that matters.
You can use an analog mixer with a DAW by plugging the line out of your mixer to the line input of your audio interface. In some cases, an analog mixer may already have a built-in audio interface, which eliminates the need for an external interface to use.
The advantage of using your analog mixer with your DAW is the integration of any existing effects from the mixer into your recording. This can free up resources from your computer that is normally taken up by plugin usage. You can also use the mixer as an external EQ control, to sculpt the sound that your computer picks up.
An analog mixer needs to have a designated USB port for connecting it to a computer. Usually, you will find a USB-B or USB-C port on the mixer, which should denote that it can work as an audio interface. If you see another USB port, you can check the user manual if the port is for the interface.
While you may plug your analog mixer into your computer without an interface, you may expect noise and latency issues. There are fixes to this, which include installing different third-party drivers but are not guaranteed to get the same results. Thus an audio interface is recommended for the best results.
Conclusion
Considering all the possible options for an analog mixer for your home studio, it would be hard to choose which one is best.
That said, the USB audio interface function is a good feature to have at the bare minimum for these mixers. These interfaces provide value for money and are tools to help you write and record music.
Among the options listed here, a good choice would be a toss between the Presonus Studio Live AR12c due to its recording function and microphone inputs or the Mackie ProFX6v3 for its portability and recording option. If the budget isn't much of an issue, the Tascam Model 24 is perhaps one of the strongest contenders in this round-up, given the features it offers.
At the end of the day, you should go for something that will fulfill your musical needs without breaking the bank, while future-proofing your home studio setup.
John Narciso is a guitar player and music technology hobbyist. He loves exploring guitar effects processors in pedal and plugin format and free music applications. His music preferences tend to be diverse, listening to genres spanning from metal to alternative rock and a little hip-hop.