Digital mixers offer a variety of features for you that have not been previously seen in their predecessor – the analog mixers. You can save the EQ profiles and mix settings for each channel and create "scenes" that you can operate at the push of a button.
With that said, In this article, we look at 12 digital mixers for live sound in 2023 from well-established brands in the music industry:
But first, we need a brief overview of what a digital mixer does, the pros and cons, and the points to consider before buying one.
The audio mixer has long been a very handy device in the sound engineer's arsenal. The concept is rather simple.
The mixer is a processor that takes input from multiple microphones, instruments, and sound devices, allows you to manipulate the sound signals by applying EQs and effects, and then sends the sound to multiple output devices.
The analog mixer is slowly becoming a thing of the past. You get more power, flexibility, and control over your sound with the introduction of digital mixers. You can now choose from a barrage of options at different price points.
With digital effects, futuristic preamps, processing muscle, and unlimited input/output options, you can get very close to your idea of the perfect sound.
How do Digital Mixers Work?
A digital mixer takes the analog signal from microphones, line instruments, synths, and other music devices and converts them into a digital signal.
Analog signals are generally noisier, while digital signals have a cleaner sound and can be manipulated and enhanced by applying several effects on board a digital mixer.
Pros And Cons Of A Digital Mixer
Digital mixers offer a variety of features for you that have not been previously seen in their predecessor, the analog mixers. You can save the EQ profiles and mix settings for each channel and create "scenes" that you can operate at the push of a button.
Each meter or knob can be set by entering precise values. Most digital mixers will also be able to create custom mixes for each musician connected to it.
Another advantage of digital mixers is that there is a vast array of settings you can access because of the technology, e.g., fx for each channel, precise gain level setting, individual settings for each musician, and the option of tracking to an external storage card (in some models).
The cons come hand in hand with the pros. There's a learning curve with each digital mixer that you'll have to sit down and understand first. However, most analog mixers are plug-and-play and don't require too much tinkering. Digital mixers are also not easy on the wallet and are a big investment, so not everyone gravitates to them.
Things To Consider Before Buying A Digital Mixer for Live Sound
Before buying a digital mixer, there are many factors that you need to look at. First, you need to clearly know the number of microphones and instruments you need to connect the mixer. If your requirement is based on more mics than line instruments, you'll need a mixer that has enough microphone preamps built into the unit and phantom power to power them.
If it's the other way around, you must ensure that the mixer has enough line input slots available. You may also look for a mixer that has combo ports so that you have the freedom to connect a microphone or any sort of instrument to it.
Secondly, you need to know how many output options you require and the type of ports you'll need to connect to those output devices. Finally, if you're keen on spending less on external gear like pedals and effects, you can look for a mixer with a solid effects processor.
Now let's dive into our Top 12 Digital Mixers list so that you're all set to make an informed decision by the time you're done.
The 12 Best Digital Mixers For Live Sound In 2023
1. Behringer X32 Rack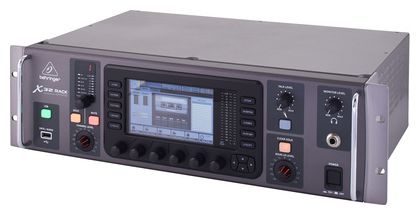 The Behringer X32 Rack has a unique interface spruced up by its 5-inch colored screen.
Strangely enough, you will not find any faders on the front panel. The separate section for your channels, like what was offered by its predecessor, the X32 producer, is also missing.
However, the X32 makes up for this deficiency by providing unique and innovative options to interact with the device. Behringer X32 gives total control of all major functions wirelessly via mobile connectivity.
The X32 is a versatile digital mixer and can be used to mix sound for small-scale gigs as well as for larger liver performance setups. The device is compatible with audio data network protocols like Ultranet and AES50.
In addition, it has a USB port on the back for connecting to a computer and one on the front to record directly on a USB storage device which is a very handy feature.
Key Features:
Innovative Front Interface




One of the definitive features of a mixer is its faders.

The X32 is a digital mixer that has no faders

. Instead, it allows your

mobile device to adjust each channel digitally

. So if you're not near a computer and find yourself in a situation where you need to mix sound,

your iPad or iPhone can connect to the X32 with an app eliminating the need to have a system nearby

. In addition, all

major functions can be directly controlled from the front panel and monitored through the crisp 5inch display

. The user-facing interface is aesthetically pleasing and

has only 2 output options, one for your headphones and the other for your USB drive.

Channels and Connectivity




The Behringer X32 is

40 input mixer with 25 buses

, so you know it can handle mega-sized events.

The mixer's connectivity options can be further increased by combining it with Behringer's digital snake.

Its rugged body also houses a

32 x 32 USB card for recording and playback.

In addition, the back panel has a separate port to connect personal monitors if you want to monitor the sound in a studio or live setup.

Built-in Effects Processor




The Behringer X32 has a dedicated

"Effects" button

on the front panel, which opens up a

stereo effects processor with 8 storage slots.

This allows you to apply

EQs, delays, compressions, and reverbs

to your mix via the encoders on the front panel. In addition, the processor can simulate the infamous

EMT's effects, its variations, and the famous Lexicon reverbs/delays.

Apple Apps for Wireless Connectivity




With the

X32 mix app, you can connect your iPad

to the digital mixer and have

wireless controls

at your fingertips. The application can be

downloaded for free from the Apple store

. The

app's interface shows all the main menus and sub-menus you see on the front panel

and is fully capable of controlling all the features the X32 offers. There is also an

X32 Edit app available for download, allowing you to edit your mix easily

. The app is compatible with all operating systems, including

Mac, Windows, and Linux.

Preamps and Latency




The

16 mic preamps

on the back panel of the X32, combined with the intuitive

floating point Digital Signal Processing (DSP)

feature, provide great sound quality and extremely

low latency of just 0.8 ms

, which is unnoticeable.

Saving Scenes




A clever feature found in the X32 mix app can be explored in the

"Scene" tab

. Here you can

take an image of your mix

along with whatever adjustments/manipulations have been made over it,

including all effects that have been applied and the levels of different digital faders.

This means that you can

save and recall 100 scenes or mixes

, which saves time and adds efficiency to your mixing.
A General Overview of the Behringer X32 Rack
Pros:
The front panel is very organized and user-friendly without the clutter of too many knobs and buttons. The X32 apps make things easy by providing wireless controls on the go.
The effects processor on board is very handy and can transform the sound of your mix. The scene-saving option allows you to pick up from where you left off and adds value to the mixing experience.
Cons:
A slightly larger screen with a touch option would save time and improve the user experience. The X32 app tends to be a bit laggy at times.
You may experience digital noise from some of the output channels. Some features could be simplified instead of hitting multiple button combinations to achieve the desired result.
2. Allen & Heath Qu-16 Chrome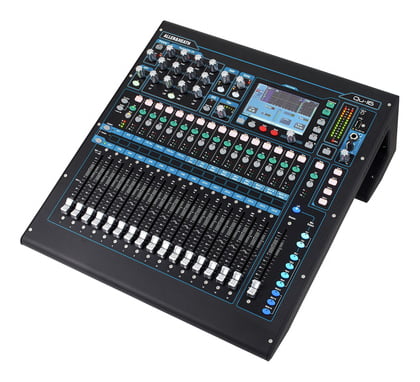 Out of all the products that Allen & Heath have designed and released, the Qu-16 Chrome is their best seller.
When talking about the Qu-16, the main focus has been on making it easy to use. The mixer is nicely built, and the angled ergonomic design sits well on your mixing desk. The faders are automated and instantly take place when different settings are recalled.
The Qu-16 also connects with your iPad to bring the controls to your fingertips without a network of wires getting in the way.
The colored display also allows you to adjust controls via touch. In addition, the graphical interpretations of various frequencies and signal strengths are depicted on the display through colorful spectrograms, making it easier for the user to judge at a glimpse what adjustments need to be made.
Key Features:
Easy Transition




The Qu-16 is designed in such a way that it makes the

transition easy for beginners as well as users who want to make the shift from an analog mixer to a digital one

. All the

major controls are right in front

, so you

don't need to scroll through multiple digital menus

to get o where you need to be. There are

16 faders on the front with corresponding input channels and controls for each input

. Each channel can be

muted, selected, or soloed

with a touch of a button.

Inputs/Outputs




As the name suggests, the Allen & Heath Qu-16 Chrome

has 16 inputs and 10 XLR outputs on the back panel

. To save space, the interface is designed so that you can also

use the same master control, faders, and levels to adjust your output controls

by pressing the relevant button.

Recall Feature




All the different settings available, including the

preamp settings, the levels, and the faders

or each channel, can be

saved and recalled

. When the relevant button is pressed, the

faders magically move to where they were during the last saved setting

, making the operation futuristic and appealing.

Colored Touch Screen Display




The Qu-16 has a

touch screen color display for your fine tuning and tweaking needs.

The

user can use the available physical knobs on the front panel,

which will show a helpful data knob adjusting to the changes. The same can be

done directly from the touch screen

.

4 Band EQ and HPF




There is a

4 band EQ with "Gain," "Frequency," and "Width" knobs that, when moved, show corresponding visualizations on the touch screen.

The device also features a

High Pass Filter which removes any unwanted frequencies from the sound,

but what is different about the HPF is that instead of an on/off button that is commonly seen, you

get a knob to adjust the frequency exactly the way you like

.

Effects Processor




The Qu-16 has a built-in effects processor with a

vast library of 80 effects.

The processor allows the

user to apply 4 effects at a time simultaneously.

This can be done by pressing the

dedicated "Effects" button

. In doing so, the display shows the

relevant graphic interface depending on what effect is applied

,

such as delays and reverbs.

A built-in processor allows you to travel light as you may not need to carry effect-related hardware with the Qu-16 on hand.

Qu Port




Connecting your

USB storage device directly with the Qu Port on the front will turn the drive into a multi-track recorder

that will record in waveform. This way, you can

record the sound check session of your band and play around with the mixer to get the levels right while the band takes 5

. This concept is called

virtual sound check

. You also have a playback option, so you could have some music to play in the background when the band takes a little break.
Pros:
Allen and Health's Qu-16 is very strongly built. It has been designed so users of all levels can familiarize themselves with it and get going relatively easily. The sound quality is exceptional.
The option to record and playback multi-track audio thanks to the Qu port is a feature that adds convenience and reliability to the user experience. In addition, the built-in effects process reduces your hardware load.
Cons:
The mixer has some significant issues like static which eventually gets mixed with the tracks when plugged into a USB 3.0. It may give out a windy/hum sound when the power is on, and nothing is playing.
The front faders may become non-responsive at times which can only be corrected by turning the device off and resetting it.
3. Presonus StudioLive 32SC
The Presonus StudioLive 32 SC is riddled with versatile features yet very easy to use.
Regarding performance and stability, the 32 SC has solid processing power. It operates on a dual-core engine that can simultaneously power up to 286 processors.
Having this much power under the hood, the Studio Live houses Fat Channel plug-ins that can be applied on every channel or bus (26 mix buses) on board the SC 32.
The 32 SC is a stable device with versatile features, making it suitable for home studios and larger-scale live event setups. With all the input and output options available, it would be impossible to find a mixing/recording situation that you are not prepared for.
The Presonus Studio Live comes with the Studio One and Studio Magic software bundle, eliminating the need to purchase DAWs or plug-ins.
Key Features:
Input/Output Options




A 32-channel Presonus StudioLive 32 SC is loaded with input and output options. The

back panel includes 32 mic preamps

, out of which the first

8 are regular preamps

, and the remaining

8 are combo ports giving the option of connecting mics in the available preamps or any other line-in instrument

of your choice

.

Also included on the back panel are

6 XLR outputs

for your monitors and other sound output devices. On the back of the Presonus StudioLive 32, you also get an

AED connector, an audio network port

to connect with

stage boxes,

and an

Ethernet port to connect directly to a router.

Lastly, there is a USB port you can use to record as many as

64 channels of USB.

Front Interface




The most catchy feature of the user interface is perhaps the

7-inch colored touch screen display that makes adjusting various parameters easy

. The panel has

17 automated faders, one master, and 16 faders for the 16 available input channels.

In addition,

a "Fat Channel" section allows you to change the selected channel's gain, panning, noise gate, and compression

.

You also get a High Pass Filter (HPF) knob to cut out unwanted frequencies and a 4-band (low, low mid, high mid, and high) EQ which includes Frequency, Q, and Bandwidth controls.

Built-in Plug-ins




On the front panel's

"Fat Channel" area

, you will also find a

bunch of plug-ins modeled after old analog versions of compressors and EQs

. These are available for application on not only your

inputs but your outputs and master output as well.

Software Bundle




The addition of the

Studio One Artist and Studio Magic Plugin software bundle

increases the value of the overall package that the Presonus StudioLive offers. You get all the

Fat Channel plug-ins on the Studio One Artist and have a large library of additional plug-ins available in Studio Magic.

Some special plug-ins include the

Lexicon reverb and Brainworx compressor, among many others.

A/B Option




An interesting feature of the 32 SC is the

Fat Channel A/B button that allows you to store two types of settings on a channel

. This can be especially handy

if your band member wishes to change his guitar in the middle of a show and needs an EQ change for the second guitar.

Instead of going through the hassle of importing previously saved settings, one can have

two different settings and toggle between them with the A/B button.

Options for Recording




The 32 SC gives you plenty of

options to record your mixes

. You have an

SD slot to record directly on an SD card.

You also have the option to

playback audio from an SD card

. You can connect your

Presonus device to a computer via USB and have 64 channels for playback and recording.

Plugging into the

Ethernet port

also gives you options to connect to

studio boxes or personal mixers

for recording purposes.
Digital Mixer for Churches | PreSonus StudioLive 32SC Walkthrough
Pros:
The software bundle that comes with the 32 SC gives you all you need to get going. The Fat Channel offers many effects like reverb, compression, and EQ and includes several famous effects plug-ins of the past to help you transform your sound.
In addition, multiple recording options are available for the user, including an SD card, recording on your computer via USB, and the Ethernet port.
Cons:
Like most mixers with motorized faders, there might be times when the faders become unresponsive, leading you to restart or reset your device to regain proper functionality and control. Projects cannot be edited offline. The same goes for the saved scenes.

4. Soundcraft Ui24R
The Soundcraft Ui24R looks very different from the digital mixers discussed thus far.
Contrary to other digital mixers that connect to a computer through a USB port, the Ui24R has a unique approach. It has a built-in dual-band router which can be found in the wifi list of your computer and connects wirelessly when selected.
The device does not have any colored touch screen display. Instead, it uses your computer's web browser to show its interface.
The design of the Soundcraft Ui24R is also quite different from what you may find on other digital mixers. Except for the built-in router's antenna, there is nothing on the back, while all the inputs and outputs you would normally find on the back panel of a mixer are front facing.
Despite the peculiar design, however, the device has all the features of a fully functional mixer.
Key Features:
Front Panel Input/Outputs




The front of the Ui24R is loaded with input/output options. There are

20 mic line inputs, out of which 10 are combo jacks to connect any combination of mics, instruments, and sound input devices.

There are

8 line outputs that you can use to connect to amplifiers and monitors, and next to it is your master output that connects to the PA system.

You get an input option for connecting an iPod or CD player to play music, and there is also a

USB port to play Mp3 or Wav files directly from a USB storage

device. A

32-channel USB streaming port can stream audio

to and from the unit, and yet another USB port for recording 24 channels simultaneously into a USB storage device.

Dual Band Router and Software Integration




The

built-in dual-band router is what connects any wireless device to the mixer

. All you need to ensure is that the

device you wish to connect to the mixer has a web browser because the mixer's GUI will essentially open by visiting

ui.io

in your web browser. The web browser interface is

very lightweight and doesn't demand much from the processing unit of your device.

This is why

10 devices can be hooked up to the router at any time

to adjust their relevant aspects.

The Web Browser Interface




Once you connect to

ui.io

, you

will land on the mix mode screen, where you'll see all your input channels with a corresponding fader for each

. You will also see your

USB controls

. You have well-labeled

digital buttons to toggle between mix mode and gain mode.

The

gain mode lets you set levels and switch on the phantom power for your mic inputs

, among other things. You get another toggle button to switch to your aux bus page, where you get access to the

8 aux buses theUi24R offers.

Builtin Effects Processor




A separate

"FX" button takes you to the 4 effects channels

on which you can set various effects. By default, the

4 available effects are 2 different reverbs and a delay. The effects can be further manipulated through the edit mode

to achieve the desired results.

In-Depth Editing




Selecting any channel and hitting the

"Edit" button opens a whole array of parameters that can be changed

. You get access to a

3-band EQ with high pass and low pass filters, a noise gate, compressor, further fx editing, and aux bus controls

. Another tab found on the first 2 channels

allows access to several amp simulations provided by DigiTech

. This allows you to leave your amps behind, as these digital amps sound pretty close to the real thing.
Pros:
The router-based connectivity is a smart way to connect and eliminates lengthy software installations to start working.
The GUI is web-based, and you'll find it on your browser. DigiTech's amp simulations present in the digital UI can come in handy if you want to carry bulky amplifiers as you travel.
Cons:
The built-in router is unreliable and may drop signals creating problems for your home studio and live setups. Using a web browser-based user interface is not everyone's cup of tea.
Some sound engineers may prefer the touch of tangible faders at their fingertips rather than getting lost in the scrolling to find the channel they want to edit.
5. Yamaha TF1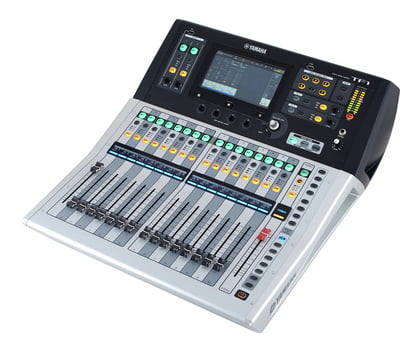 The Yamaha TF-1 is the most basic of the Touch Flow series mixers, including the TF-1, TF-3, and the TF-5.
The "Touch Flow" concept introduced through these mixers promises a reliable, intuitive, and efficient way to adjust various parameters/controls through a combination of the physical controls and the multitouch colored screen.
In addition, the TF-1 focuses on giving the user a customizable device that can change or reassign functions to various buttons on the front panel.
The touch and turn knob is a unique feature that can help a beginner-level engineer get to his desired sound quicker. This new feature can impress the more tech-savvy engineer as it saves time and adds efficiency.
The touch and turn mode can be easily switched off to give the user a more hands-on ability to change parameters.
Key Features:
Front/Back Panels




The TF-1 has

16 combo inputs and 16 Omni outputs at the back of the unit

.

Outputs 15 and 16 act as your master outputs by default, but these ports are programmable and can be changed to act differently

. There is an empty slot at the back of the device where a

Dante card can be inserted to enable connectivity to a studio box via cat 5 cables

. The front panel has

1 master fader and 16 mechanical faders corresponding to each of the 16 mic preamps at the back

. The

multitouch display allows you to change several key features through touch

, for instance,

recalling a save scene from the scene list menu

. Next to the display, you will find a couple of stereo input controls for the

RCA connectors on the back panel.

There are

several user-assignable keys around the screen that can be programmed according to the sound engineer's requirements to make changes quickly and efficiently.

There are

2 fully editable effects processors which are easy to adjust through dedicated controls.

A couple of one-touch buttons help mute your inputs and effects.

A display strip runs through the front panel showing details of each channel.

Quick Pro Presets




Yamaha's out-of-the-box thinking led them to

collaborate with three of the industry's top mic manufacturers: Sennheiser, Audio Technica, and Shure.

So there's no surprise that you will be able to

select their product presets directly through the multitouch screen if you happen to use one of their state-of-the-art mics.

Touch and Turn Knob




Instead of having 3 or 4 different knobs to control your EQ and other features, Yamaha has come up with a very quick solution to your problems.

The Touch and Turn knob is a great way to manipulate your EQ, Frequency, and Q parameters. Just keep rotating the knob clockwise and counterclockwise to see how the EQ curve changes.

Then, stop when you have the desired sound. The same knob can be used for

noise gates, compressions, and reverbs.

If you are one of those sound

engineers who want to adjust every little parameter at a micro level

, you can come out of the touch and turn mode, and

now you have the option to play with each parameter through the multitouch display.

Gain Finder




The

gain finder is a nifty little graphic that quickly shows you the strength of gain

on your input channel. You will see

some various differently sized bars being highlighted

. For example,

orange means that the signal quality is too low

.

Red shows that there is too much gain, and the sound may clip, while green shows that the input signal is just right.

Of course, this section can also be adjusted through the touch and turn knob.

The Apps




The Yamaha TF-1 comes with

three different apps to enhance the user experience.

The first is the

TF editor, which makes a complete digital representation of the physical TF-1 console on your laptop

. The

second is the TF Mixer app allows up to 3 iPads to control all parameters of your TF-1 wirelessly through wifi

. Finally,

the Monitor Mix app allows as many as 10 iPhone users to connect their iPhones to the TF-1 with limited privileges

. This means that

each user can adjust their monitors to hear their sound the way they want, which can be a good feature to have during a live concert.
Yamaha TF1 16 Channel Digital Mixer | Part 1 - Overview
Pros:
The displays, buttons, and knobs on the Yamaha TF-1 are very customizable, making the user experience very interactive. The mic presets of leading manufacturers on board make the perfect mic sound very easy to achieve.
In addition, the touch and turn knob quickly adjust EQ settings, gates, compressor, reverbs, and several other controls saving time in a live situation.
Cons:
Although advertised as time savers, the touch controls lack precision in some situations like pinching or expanding EQ sound curves to get them just right. Some physical knobs, in this case, would give better results.
The Dante card slot is available, but the device does not come with one.
6. Midas M32 Live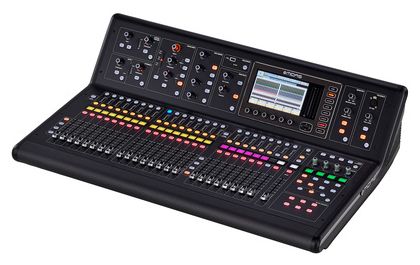 The Midas M32 Lives was designed in collaboration with a designer known for his work on several luxury cars.
The front and back panels are loaded with input and output options that have you covered regardless of the number of instruments or mics that need to be mixed. Midas's preamps are known for high-quality sound.
The M32 has 32 of them on board. In addition, several effects, including delays, reverbs, compressors, chorus, and flangers, can be accessed through the appropriately named "Effects" button.
The M32 strives to make its interface user-friendly. Corresponding faders and page flip buttons make leveling of channels a breeze. The 6 ready knobs on the base of the display can be used to adjust the levels of the selected parameters making the process speedy and efficient.
Your ongoing sessions can be saved in a scene library and easily recalled when needed.
Key Features:
Back Panel




The Midas M32, as the name suggests, has

32 XLR inputs on the back panel, each having the famous Midas preamp

. There are also

16 XLR outputs available

. The

15th and 16th output channels are set as the master out but can be reassigned to another output channel according to the user's preference

. On the back, you can also find

6 Aux inputs/outputs and 2 RCA inputs/outputs

. Furthermore, if required, you have your

AES 50, Ultranet, and Ethernet ports to connect to a stage box.

Front Panel




The front panel shows

automated faders for each of the first 16 channels.

Channels 17 through 32 can be accessed by switching to the other page.

Each channel has a

select, mute, and solo button

. Once a channel is selected, a section of shared controls can now be used to

change different parameters like gain, gate, compressor, reverb,

etc. Similarly, the

16 buses can be accessed by the two bus range buttons next to the corresponding faders

. A

polarity switch button is available to ensure that your top and bottom mic signals on a drum kit are not clashing with each other

. There is a

4 band EQ on the front panel and a separate control called low cut, which helps reduce any unwanted lower-end frequencies.

When deep diving into the various menus and sub-menus, you

can hit the view button, which will take you to an overview of the channel, showing all the changes that have been made.

Phantom Power




A

phantom power button is there to provide power to the selected channel. Once a channel has phantom power activated, a small led lights up

at the back to let the user know. This way,

any sensitive equipment that cannot handle the surge of power can be protected.

USB Connectivity and SD Card Slots




The

2.0 USB port on board can connect directly to your computer's DAW

, turning the M32 into an audio interface. Two SD card slots each allow you to

record 32 channels simultaneously onto the card

. In addition, you can save your

M32 settings on a USB drive and access them just as easily through the USB por

t.

Scenes




The Midas M32 lets you

save multiple scenes that can be recalled at any time by going to the scenes menu and

scrolling through an easy to comprehend list. Another handy feature is the ability to

"scene save" some controls

. This means t

hat the effects or monitor settings you don't wish to change with every scene change can be protected

from unnecessary changes

through the scene save option

.

Monitor Mixing




Through the M32, giving each artist on stage their

preferred mix on the personal monitor is a cinch.

You need to select the

relevant bus and press the fader flip button

. Now the

faders of all the channels you need to send out can be adjusted according to the performer's preference.
Midas M32 Live - The Ultimate Walkthrough | RedOne Music Canada
Pros:
The sound quality is great. The front panel is very detailed and allows the user to dial down the right sound at a micro level. The display is very helpful and compliments the physical buttons and knobs well.
There is no need to carry your floor pedals around as the Midas M32 has more than 50 effects processors with all the classic reverbs, compressors, and gain libraries you could dream of.
Cons:
The device may seem a bit daunting for the beginner-level sound engineer because the user interface has been aligned with countless knobs and buttons. Also, it may take some time for the beginner or even intermediate user to get familiar with the device as the learning curve is a bit steep on this one.
7. Zoom LiveTrak L-12
The Zoom company has focused on versatility by introducing the multi-function Zoom LiveTrak L-12.
The L-12 can work as a mixer, audio interface, and digital recorder, so you probably won't find yourself in a situation that the Zoom LiveTrack isn't equipped to solve.
In addition, the device isn't as bulky as some of the other digital mixers on the list and comes with a much smaller price tag.
The L-12 has a minimalist design and may appeal to beginner-level users. The interface is non-complicated and basic. The built-in mic for talk back is a great feature to have.
You get plenty of headphone-outs for each musician to hear their own mix for monitoring. You can record on to an SD or computer separately and simultaneously.
Key Features:
The interface




As reflected in its name, the L-12 has

12 input channels, out of which 8 inputs are combo inputs featuring both mic and line in capabilities.

The

first 2 channels are capable of handling hi-Z inputs

. The 9/10 and 11/12 channels provide RCA or TRS connectivity. You have corresponding

manual faders

for each channel. On the

output side, you will find 2 XLR master outs, 2 quarter-inch ports for monitoring, and 5 headphone outs.

There is a section with

rotating knobs for the 3-band EQ

. In addition, there is a group of

9 backlit scene recall buttons

. Finally, an

effect knob can be seen to apply different effects to each channel

. The

display is small but easy to navigate

through dedicated controls. Additional features include a

metronome

and

a slate mic built right in

.

Recording




The L-12 can

record directly onto an SD card

. The device allows simultaneous recording of

up to 14 tracks and a 12-track playback

. In addition, the audio is raw in the sense that it is

pre-effects and pre-fader

. This means you can

import it into your DAW and modify or remix it using the features available

in your digital recording software.

Headphone Sends




5 headphone outs allow

you to send a different mix into each of the headphones

. So, for instance, if a lead

guitarist wants more rhythm in his headphones to play a solo or a bass player is looking to hear more drums to adjust the bass line, that can be achieved very easily

through the user-friendly buttons on the interface.

Effects Processor




The Zoom LiveTrak L-12 has

16 effects that you can use on each of the available channels

. The effects include several

delays and reverbs

. Applying the effect is a simple process. The

dedicated effects knob can be used to scroll through the effects after the channel that needs the effect is selected

. Each delay and reverb can be edited and modified as per choice.
Zoom LiveTrak L-12 Digital Mixer and Multitrack Recorder Review
Pros:
Being on the lower end of the price spectrum, the L-12 is good value for money. You get three different modes (mixer, audio interface, recorder). The interface is very easy to get used to.
The feature of 5 headphone outs with the possibility of sending different mixes through each is handled very well on the L-12.
Cons:
The Zoom LiveTrak L-12 does not have any solo buttons for the tracks. Leveling the output can be a bit inaccurate.
There is no option to expand inputs or outputs. Only 9 scenes can be recalled, and scenes cannot be moved from one project to another. Also, tracks cannot be moved from one channel to the other.
8. 1010music Bluebox
The 1010Music BlueBox is small in presence but big in terms of the features on offer.
The BlueBox attempts to give you more space on your work desk by eliminating several features you may find on more conventional digital mixers. The purpose of having limited features on the BlueBox is that the device has been designed to mix and record synthesizers, euro rack, and similar midi-type electronic instrument modules.
Rather than having separate physical channels with faders and other channel-specific buttons, the touch screen does most of the work for you.
You will also not find mic preamps or combo ports with hi-z or lo-z capabilities on this device, as the BlueBox doesn't need these features to do what it does.
Key Features:
Inputs/Outputs




Looking at the back panel, you may only see

6 inputs and 2 outputs

. However, it is hard to comprehend that this diminutive device can accommodate

12 input and 6 output tracks using tip ring/y type splitter cables

. All the input and outputs use

TRS connections which is another way the BlueBox saves space

. The device also has

midi in and out ports on the front

, designed for the

3.5mm jack.

You will also find an SD card slot to record onto directly. Also, scene saving can be done on the SD card.

Interface




The interface of the BlueBox is very easy to get familiar with. The 1010Music BlueBox has a

3.5-inch colored touch screen

flanked by an identical combination of two knobs and a back and info button. The

info button

comes in handy when you need to

zoom into

a certain page or effect for

tweaking and fine-tuning.

The knobs perform more of a scrolling function and help you navigate through each menu. The

knobs also get assigned different parameters on different screens and show a digital representation on the screen when moved

. 8 pad buttons will

take you to different mode pages

for further adjustments. In addition, you get

three dedicated buttons for recording, playback, and stopping.

Recording




You can record up to

12 tracks in mono and 6 tracks in stereo directly through the BlueBox.

So you don't need a DAW on hand. You can build your recordings from the ground up or bring in already recorded tracks and be creative with those using the features of the BlueBox mixer. Also, the

BlueBox can create 3 different mixes to be sent out to your output channels

.

EQ and Effects




The BlueBox has a

4 band EQ. There are also 3 EQ presets available to save time, including Low Cut/Low Shelf, High Cut/High Shelf, and Parametric

. You can also add effects like reverb, delay, and compressor to your mix to get it sounding just the way you want.
1010Music BLUEBOX Review // Is it the new king of synth mixers?
Pros:
The BlueBox is extremely compact and doesn't take a lot of desk space. You are not likely to find this many options for inputs and outputs in a device of this size. In addition, the device is very stable in use.
The touchscreen manages most of the features well and gives different visual modes to change how things are displayed on the screen to avoid clutter when the number of tracks increases.
Cons:
To reduce the size and keep things compact, the BlueBox has to forgo some important features. There are no preamps, combo jacks, or phantom power, so your input options are limited to synths and similar sound devices.
Also, if you're the kind of user that likes to keep things traditional, you will not see any physical faders on the BlueBox. Finally, the device cannot work as an audio interface.
9. Behringer X32 Compact
As the name suggests, this unit is a compact version of the Behringer X32 and has similar features.
The X32 compact has Behringer's famous Midas preamps. However, unlike the rack-mountable version, you will find motorized faders on the device's front face, giving it a more traditional digital mixer look.
In addition, Behringer has given the X32 customizable options based on user preference, like assigning different functions to the automated channel faders.
The colored display looks aesthetically pleasing, and the overall user experience is enhanced by the presence of a scribble strip that runs horizontally through the unit's front face.
The strip can be customized by changing its color, adding channel names, and adding helpful graphics to it for each channel.
Key Features:
Inputs & Outputs




The back panel of the X32 compact shows

16 Midas preamps along with 6 aux inputs and outputs.

You will also find

8 XLR outputs

on the back, which are assignable and can be used as inputs or outputs. The

main outs, by default, are outputs 7 and 8

. There is a

built-in talkback mic

on the X32 compact. However, you also have an output to

plug in an external mic

for this purpose. Dedicated

monitor outputs and AES 50 connectors can be seen on the back panel that can be used to connect to stage boxes.

The X32 Compact has both

Ethernet, Ultranet ports, and midi connectivity

.

The User Interface




By default, the interface is set up so that you have

8 input faders, 8 output faders, and a master fader

. You can scroll through both inputs and outputs using the channel range buttons on either side. If you wish to have

16 inputs or 16 outputs channels available at a time, you can do so as well.

All standard channel buttons, including

select, mute, and solo, are present on each channel strip

. Selecting a channel enables the effects strip controls for that particular channel. From here, you can select the

gain on each channel

. You can also

apply phantom power to each channel strip

, and there is

also a reverse phase button to bring all your mic inputs in phase with each other

. The X32 compact has a

dedicated low-cut button to help remove any low-end frequencies

. You'll find

several view buttons

dispersed along the front panel. Pressing these allows you to make

detailed adjustments to the selected parameter in the 7-inch colored display.

Bus Send Section




The bus sends section allows you to adjust how you want to use your mix buses. For example, the

buses on board can be used to group channels, apply effects, set up monitoring mixes

, etc. In addition, the

DCA group option

on the output section of the console allows you to adjust the

levels of multiple channels on a fader, saving time and effort.

EQ




There is a

4 band EQ on board with low, low mid, high mid, and high

settings. An important feature in this section is that any of the

EQ bands can be shaped as a low cut, booster cut, or shelf

. In addition, a

real-time analyzer on board shows live visualizations of your signal

so that you can stay on top of things and

identify any noise or feedback signal

for quick action.

Software and Apps




Apps are available for several devices, including

Mac, Windows, Linux operating systems, iPad, and iPhone

, so that you can have a digital representation of the X32 Compact on any device you choose for remote mixing.

You also get a license to download Traction, a Digital Audio Workstation, so you are ready to mix and record right off the bat.
TUTORIAL: Behringer x32 Compact
Pros:
The Midas preamps stand out in terms of sound quality and clarity. The versatile app gives wireless connectivity to an array of devices for you to choose from. The built-in effects sound very professional.
The EQ on the Behringer X32 is quite comprehensive and allows you to dig deep and get the sound you want on your input and output channels.
Cons:
The faders are a bit buggy and may make noises when operating. In addition, the build quality could be improved. Some system crashes and irregular output sound issues have also been seen in some X32s.

10. Bose T4S ToneMatch
The Bose T4S has been designed so that anyone can use it and get the desired sound from the user-friendly interface.
The backlit buttons are easy to figure out. Nothing seems too complicated, and the user interface has been prepared so that you don't need to go through various menus to dig up the effects and parameters you need.
Instead, everything appears on the same layer on the GUI. In addition, the people at Bose have collaborated with several instrument brands to make available some presets to get you the exact tone.
The different types of EQs available on the device help you get really specific when dialing in to get the tone you are looking for. The tiny unit comes with its unique magnetic cover that protects it when the unit is not being used.
The Bose T4S can be a good choice for smaller setups that don't require too many input/output options.
Key Features:
Input/Output Options




The back panel has

4 combo preamps that support your mic's XLR cables and quarter-inch jacks

. In addition, there is a

USB A and a USB B port for connecting a storage device or connectivity with your computer

. You will find two

aux inputs, two aux sends, and two Tone Match ports

for digital audio connectivity with other Bose devices.

3 Different EQs




With the Bose T4S, you get some

amazing EQ presets for your vocal mics, electric guitars, acoustic guitars, bass, percussions, and much more

. Exploring each of these brings you to some presets of actual instruments which Bose has engineered after

collaborating with major music brands and companies

. So if you have an instrument that matches the list, you are good to go. Turning the

Tone Match knob to the ZEQ setting will target the preset

selected in the previous step. So, for instance, if you have a

Taylor acoustic guitar and selected the Taylor Acoustic preset from the list, you can now go to the ZEQ section and specifically control the lows, mids, and highs of that particular Taylor preset.

When the Tone Match knob is switched to the EQ setting, you can select

three different parametric EQs for different frequency ranges

and can change the level and frequency of each when selected.

Effects Processor




The Tone knob can be used to cycle through

different effects that are builtin into this compact unit

. All your effect

combinations can be applied separately on each channel.

The effects you can choose from include

compressors, noise gates, modulation, reverb, and delay

. Each of these can be further edited with relative ease.

Global Section




Moving the Tone Knob further takes you to the

global section. Whatever changes are made here will collectively apply to all the channels

. So this

section works as your master control.

You can also manage your scenes here.

There are up to 6 available slots, so save and recall your scenes.

This option saves valuable time if you're a musician who regularly plays at a few different venues.

Panning/Builtin Tuner




You will also find the panning features regarding your aux sends as you go further down the effects wheel controlled by the Tone Match knob. Next to it is the

built-in tuner with all common tuning options, including half step, full step, and standard tuning, which make your tuner pedal redundant.

Efficient Muting




On the T4S, you will find a couple of

different mute buttons for each channel

. The regular

"MUTE" button by muting the corresponding channel completely. The "FX MUTE" button,

however, only mutes the effects that have been applied on the channel. That way, the user can assess the difference in sound before and after the effects have been applied. Also,

if you're a vocalist and want to interact with the crowd in between songs, you can mute the effects that have been applied for vocals.
BOSE T4S ToneMatch - Demo & Review
Pros:
Like most Bose devices, the T4S offers great sound. The compact size with the same layer GUI functionality makes the device easy to get used to.
The Tone Match feature is a good addition for those who own one of the many listed instruments and are looking to get optimum sound out of it. Additional EQs allow the user to fine-tune their sound even further.
Cons:
The device has some stability issues and may crash in certain outdoor conditions. The built-in effects are quite basic, and some expert-level musicians may opt to use their own effects rig instead. The Bose T4S does not come with a power cable.
11. Tascam Model 12 (Mixer, Interface, Recorder & Controller)
The Tascam Model 12 is the smaller version of Model 16 but has some additional features in comparison.
The Model 12 is a bit of a Jack of all trades type of unit. It can be used purely as a mixer. It can record tracks, play them back, and act as an audio interface for your computer. Contrary to what you find on the back of other devices in this list, the Tascam Model 12 has a USB C port for connecting to your computer.
The Model 12 showcases Tascam's high-quality preamps on its back panel, which are known for their sound quality. In addition, a dedicated button for phantom power can provide the juice needed for any combinations of mics that may be connected to the back panel of the Tascam Model 12.
Key Features:
Inputs/Outputs




The back panel has

10 input preamps of high-grade quality,

which act as combo jacks and can manage both your mic XLR cables and line-in jacks. You get

two stereo inputs in the 7/8 and 9/10 combo ports

. 2 additional TRS inputs allow you to connect

effects pedal and processors to the mixer

. You also get

midi inputs on the back and an input for a foot switch to turn your effects on and off

. Finally, you will find

aux outputs, sub outputs, and a master output

on the back panel.

Front Panel




Each channel has a plethora of control knobs and buttons on the front panel. Every channel has a

gain knob, a low-cut button to eliminate unwanted lower-end frequencies, and an instrument button to switch to a hi-z signal

. Next, there is a

compressor knob for each channel

, followed by a

dedicated 4-band EQ

. Moving further down, you can see some

aux 1 and 2 controls and a panning knob

. Next up, you have your faders with standard controls like

record, mute, solo,

etc.

Effects Processing




You can choose from several

choruses, delays, reverbs, and flangers

in the effects section. The controls are fairly simple. You

get a fader to select the effects level, and some send buttons to help you choose which inputs/outputs would be affected

by the changes that have been made.

Unique Features




Every

combo input channel has a hi-Z input which is unusual in most digital mixers from this range.

The Model 12 also has a

blue tooth option to pair your 9/10 channels with any blue tooth device. The C-type USB connector

is another unique feature you won't find on many similar devices in the market. The back panel has a

unique input for your phone or audio device and allows you to cut out vocals or a part of the music being played through

it so you can use it as a backing track. A click output port at the back can be used to send out your metronome clicks to an output device. The metronome has its own tap tempo as well.
TASCAM Model 12 - How to Set-up and Record a Song
Pros:
Some tech-savvy users would appreciate the front-end design as all the necessary controls of the individual channels are right there, saving you the trouble of cycling through menus to find them.
The blue tooth connectivity and C-type USB connector are good features to have. In addition, the Tascam Model 12 has some considerably higher-end preamps that you can get at this price point.
Cons:
The user interface is quite unfriendly, and some might find the clutter of knobs and controls intimidating. When connecting to a computer, you are left with 10 inputs as two of the ports become sound outputs. The device does not have a built-in power supply and comes with an external power brick.
12. Behringer XAir X18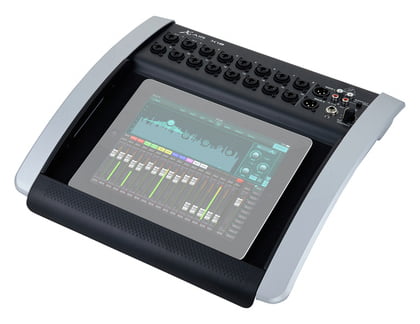 Behringer has made some interesting design choices with their X18 digital mixer.
The interface of the X18 lacks any physical controls or faders you are used to seeing on most digital mixers. Instead, you only see the input/output options and a tray to place a display device. The back panel also has a few I/O options, but overall the device has a very minimal design.
Behringer gives the option to enhance the mixing experience by integrating your X18 with an iPad and any other wireless device through an app.
Once connected to the app, you can see the more familiar controls you can expect on a mixer, like virtual faders, EQs, and effects that can be applied to the available channels.
Key Features:
Input/Output Options




There are

16 Midas preamps on the top panel with combo jack inputs for your mics and line-in devices. 2 more inputs are available as RCA connectors.

You also get RCA outputs on the top panel. The main XLR outputs can be found on the top panel, and there are

6 other output options on the rear of the unit that allow aux connectivity

. Like other recent digital mixers from Behringer, the X18 has an E

thernet port for direct connectivity with a PC and an Ultranet port at the back for personal monitoring.

Connecting to a Computer




There are a couple of ways that you can hook your computer to the X81. First, the unit has a

built-in router that can be used to connect to your computer if you do not wish to use the Ethernet cable for direct connectivity

. Secondly,

a USB port allows an 18 inputs/18 outputs connectivity

for your computer.

Simple/Advance Modes




The effects available on the front panel of the digital user interface are

4-band EQ, dynamics, and noise gate

. Each can be pressed for further editing menus. The

GUI has a simple mode that can help beginner and intermediate users to dial in their tones and an advanced feature with more micro-level adjustment for the expert sound engineer.

The same dynamics, EQ, and noise gate controls can also be set on the output strip.

Effects




The X18 also has the same effects that are available on the X32 series digital mixers. About

50 plug-ins are available in the effects section, including accurate representations of some classic compressors, reverbs, delays, and all-time classics

like the EMT and Lexicon effects.
Pros:
By moving the front panel onto an app, Behringer has brought the cost down on their Behringer X18, which is otherwise loaded with premium features. In addition, the availability of simple and advanced modes makes the X18 equally suitable for beginners, intermediate and expert level users.
Cons:
The built-in router's wifi signal may sometimes act up due to signal interference if surrounded by multiple wifi devices at a time.
You may also encounter feedback issues on your output devices which, when cut back through the gate, may make the mix sound inadequate for a live performance.
Conclusion
You now know the ins and outs of several Digital Mixers. You know how many inputs/outputs they provide, their effects, how to connect them to various devices, and their overall mixing and recording capabilities.
However, if you are someone who is just venturing into the world of mixing, don't want to break the bank, and require something suitable for a smaller setup like a home studio or just a few friends jamming in a garage, we suggest going with the Bose T4S, 1010Music Bluebox, Zoom Live Track L-12 or a Tascam Model 12.

If you're getting the hang of things now, growing as a musician, and your mixing needs are growing, you may need a slightly more advanced Digital Mixer that offers a bit more and handles additional I/O. The Yamaha TF-1, Allen & Heath Qu-16 Chrome, Behring X18, and the Soundcraft Ui24R are all good choices.
If, however, you want a full-fledged unit that has you covered for years to come in terms of I/O options, processing power, effects, versatility, and you can dish out the big bucks, it's time to go for any of these beasts: Behringer X32s Rack/Compact, Presonus StudioLive 32SC or Midas M32 Live. The choice is yours.
Readings that you may like:
Other Recommended Gear:
Top 12 NearField Studio Monitors On Any Budget
Top 10 Midfield Studio Monitors For Home Recording
Best Biggest Studio Monitors (FarField Monitors)
Top 10 Guitar Pickups for Low Tunings
Top 10 Analog Compressors For Mixing & Mastering (On Any Budget)
Top 12 USB Audio Interfaces Under 150$, 200$, 300$ 400$ (Any Budget)
Top 12 Hardware Equalizers (Analog EQs For Mixing & Mastering)
Top 6 Analog Hardware Limiters
Top 6 Solid State Bass Amps (On Any Budget)
Top 6 Ribbon Mics On Any Budget (For Vocals, Drums & Guitars)
Top 6 Cheap Dynamic Mics For Vocals Under 50$, 100$, 200$ & 300$
Top 6 Chorus Guitar Pedals (On Any Budget)
6 Best 61-Key MIDI Keyboards (On Any Budget)
9 Best 49-Key MIDI Keyboards Under 100$ & 200$
Top 5 Best 25 Key MIDI Keyboards (On Any Budget)
Top 12 Acoustic Drums (Best Kits/Sets On Any Budget)
Plugin Roundups:
Genre Focused:
Top 10 EDM Plugins (And 10 Best FREE Plugins For EDM)
Top 10 Plugins For TRAP Beats (And 5 Best FREE Trap Plugins)
20 Best Plugins For Rock Musicians (+ 6 FREE Plugins)
Top 14 Trance Plugins (Uplifting, Tech, Progressive, Vocal, Dream, Hard)
Top 10 GOA & PsyTrance Plugins (Best Psychedelic Trance Tools)
Top 7 Plugins For Dubstep (With 10 Best FREE Effects & Synths)
Top 20 Synthwave Plugins (+ 11 Best FREE Plugins)
Top 15 Plugins For Techno, House, Electro, Tech House, UK Garage
Top 6 Plugins For Latin Music (And 4 FREE Tools)
Top 12 Plugins For Hip-Hop (+ Best Kontakt Libraries)
Top 7 Plugins For Game & Film Scoring (+ 6 Best Kontakt Libraries)
Top 10 R&B And Pop Music Plugins & KONTAKT Libraries
30 Best Free Plugins For DnB, EDM, IDM & Experimental Music
EQ Plugins
Top 12 Free EQ Plugins For Precise Mixing & Mastering
Top 9 Mid/Side EQ Plugins For Mixing & Mastering (+ 2 Free Tools)
Top 7 Graphic EQ Plugins (With 3 Best Free EQs)
Top 7 EQ Plugins For Mastering In | And Best FREE Mastering EQs
Top 6 Passive EQ Plugins (Klevgrand, SPL, UAD, Waves, IK Multimedia)
Top 11 Plugins For Making Metal (Best Guitars, Drums & Effects)
Metering:
Top 5 Audio Metering Plugins (LUFS, RMS, LRA, True Peak)
Top 6 Spectrum Analyzer Plugins – Spectral Analysis Tools
Top 6 Oscilloscope Plugins To See The Waveforms
Top 5 Key Detection Plugins & Software (+ Best FREE App)
Kontakt Libraries
20 Best Kontakt Libraries For All Categories (Synths, Drums, Vocals)
Top 7 Drum Libraries For KONTAKT (And 4 Freebies)
Top 7 Trap Music Kontakt Libraries (And Best Lo-Fi Kontakt Library)
Top 7 Metal & Rock Kontakt Libraries (Best Guitars & Drums)
Top 10 Guitar Libraries For Kontakt (Acoustic, Electric, Bass & Freebies)
Top 7 Trailer Scoring Plugins & Kontakt Libraries
20 Best Free KONTAKT Libraries For Various Instruments
Top 9 Piano Kontakt Sample Libraries (And 5 Best Free Pianos)
Top 10 Percussion KONTAKT Libraries (And 3 Freebies)
Top 7 Kontakt Libraries For Horror & Thriller Scoring (No VSTs)
Audio Restoration, Calibration & Utility:
Top 6 Noise Reduction Plugins (And 3 Best Free Tools)
6 Best Audio Restoration Plugins & Software
Top 7 Phase Alignment Plugins To Fix Your Bass & Drums
Top 10 Room Calibration & Headphones/Speakers Correction Plugins
Instrument Plugins:
Top 6 Vocoder Plugins (Effects & Synths + FREE Vocoder)
11 Best Rhodes VST Plugins (AND 5 Free Rhodes Plugins)
Top 12 Randomizer Plugins Including FREE Plugins
Top 6 Kick Drum Plugins (Best Kick Designer Tools)
Top 12 Woodwind Plugins (And KONTAKT Libraries)
Top 10 Double Bass Plugins (Best Upright Basses)
Top 5 Strings VST Plugins (AND 4 Best Free Instruments)
Top 6 Sampler Plugins (And 3 Best FREE Plugins)
Top 6 Classical Guitar Plugins & Kontakt Libraries (And FREE Guitars)
Top 12 Sub Plugins (Best 808 & Bass Tools For Massive Low End)
Top 10 Plugins On PluginBoutique (And 7 Best Free Plugins)
Top 11 Plugins On Plugin Alliance
Top 7 Acoustic Guitar Plugins (And 4 Best Kontakt Libraries)
9 Best Bass Guitar Plugins (And 2 Best Freebies)
Top 6 Electric Guitar Plugins (Best PAID & FREE Picks)
Top 10 Arpeggiator VST Plugins (Best Synths, MIDI Effects & Tools)
Top 10 Modular Synth Plugins (And 3 Best FREE Plugins)
Top 6 Choir Plugins & Sample Libraries (And 3 Best Free Plugins)
11 Best Percussion & Drum VST Plugins (And FREE Plugins)
Top 8 Piano Plugins (Best Sounding Pianos & 5 FREE Piano Plugins)
Top 6 Organ Plugins Ever Made (And 3 Best Free Organs)
Top 14 VST Plugins For Beginners (And 9 FREE Plugins)
Top 9 Drum Machine Plugins (And Groovebox Plugins)
4 Best Banjo Plugins (Best Banjo Instruments)
The 5 Best Ukulele Plugins & Kontakt Libraries
Top 13 Synth Plugins (And 5 Best FREE Synths Plugins)
Top 13 Sequencer Plugins (Synth, MIDI & Step Sequencers)
The 10 Best Multi-Effect Plugins (And 3 Best Free Plugins)
Top 12 Plugin Bundles For Musicians (Synths, Mixing & Mastering)
Processing & Sound Design:
8 Best Lo-Fi Plugins (PAID & FREE)
Top 11 Plugins For Mixing Vocals (For Home Studio)
Top 12 Saturation Plugins (Best Mixing & Mastering Tools)
Top 6 Pitch Shifter Plugins (And 3 Best FREE Pitch Shifters)
Top 6 Chorus VST Plugins For Musicians (And 3 FREE Plugins)
Top 6 Limiter Plugins For Precise Mastering & Mixing
The 8 Best Filter Plugins For Precise Cuts & Boosts (+ 5 Free Filters)
6 Best Autotune Plugins To Improve & Enhance Your Vocals
Top 10 Transient Shaper Plugins (VST, AU, AAX)
Top 7 Enhancer Plugins (For Bass, Drums, Vocals & Harmonics)
Top 6 Flanger Plugins (And 5 Best FREE Flanger Emulators)
Top 7 Phaser Plugins (And 3 Best FREE Phasers)
Top 10 Plugins For Mixing Drums (And 3 Best Free Plugins)
Top 7 Bitcrusher Plugins (And 4 Best FREE Bitcrushers + 3 Bonuses)
Top 6 Plugins For Voice-Over & Dialogue Cleaning (Post Production)
Top 10 Stereo Imaging Plugins (Best Old & Modern Picks)
Top 5 Multiband Limiter Plugins
Top 7 De-Esser Plugins For Better Vocals (And 4 FREE Plugins)
Top 7 Clipper Plugins (Best Limiter Alternatives)
Top 6 Chord Generator Plugins That Inspire Melodies (+ FREE Tools)
7 Best Exciter Plugins For Mixing & Mastering
Top 7 Channel Strip Plugins (And 2 Best Free Plugins)
Top 11 Distortion Plugins (And 4 Top Free Plugins)
Top 5 Comb Filter & Resonator Plugins | Melda, Kilohearts, Tritik
The 7 Best Vibrato VST Plugins | Audec, Audiority, Melda
The 7 Best Tremolo Plugins | Eventide, Melda, SoundToys, Kuassa…
The 7 Best Harmonizer Plugins | Eventide, Melda, Aegean Music
7 Best Sidechain Plugins (VST, AU, AAX) | Xfer, Cableguys..
Top 10 Noise Gate Plugins (And 6 FREE Free Gate Tools)
The 6 Best Ring Modulator VST Plugins | KiloHearts, Melda
7 Best Autopan VST Plugins | CableGuys, Melda, Waves, Soundtoys
The 6 Best Frequency Shifter VST Plugins
Top 11 Granulizer Plugins For Future Sound Design
29 Best Sound Design VST Plugins
Compressor Plugins
Top 11 Free Compressor Plugins (VCA, Vari-Mu, FET, Digital)
Top 7 Multiband Compressor Plugins (And 4 FREE Plugins)
Top 5 Diode-Bridge Compressor Plugins
Top 6 Mastering Chain Plugins: Complete VST Solutions
The 7 Best VCA Compressor Plugins (VST, AU, AAX)
Top 11 Mastering Compressor Plugins (And 2 FREE Plugins)
Top 10 Opto Compressor Plugins For Transparent Sound
The 7 Best Vari-Mu Compressor Plugins (And 2 Best FREE Tools)
Reverb & Delay Plugins:
Top 12 Reverb Plugins (And 5 FREE Reverb Plugins)
The 6 Best Spring Reverb VST Plugins | AudioThing, GSi, u-he, Eventide
Top 12 Delay Plugins For Music Production In (VST, AU, AAX)
Top 10 FREE Delay Plugins (VST, AU, AAX)
The 10 Best Convolution Reverb Plugins
Amps & Preamps:
Top 10 Guitar Amp Plugins (And 5 Best FREE Simulators)
Top 10 Bass Amp Plugins (And 5 Best Free Simulators)
Top 9 Preamp Plugins (For Vocals, Guitars & More!) + Free Preamps
Guitar/Amp Focused:
Can I Put Nylon Strings on a Steel-string Guitar?
Do Electric Guitars Sound Good Unplugged?
Buying Your First Guitar: 2 Things To Know
Are Tube Amps Worth It? (Tube vs Solid-State Amps)
How Often Does A Guitar Need a Setup?
Can I Play Classical Guitar On A Steel-String Guitar?
How often guitar necks need reset?
Can You Play Two Guitars Through One Amp?
Can a 6 String Bass Be Tuned Like A Guitar?
Can I leave My Guitar Tuned Down a Step? Yes, But Is It Safe?
Should I Learn 4, 5 Or 6 String Bass Guitar & Why?
How To Know If your Guitar Amp Is Broken?
How To Fix Distorted Bass Guitar Sound?
Do Fender Guitars Appreciate In Value?
Should You Put Stickers On A Bass Guitar?
How Acoustic And Electric Guitars Are Made?
Is Electric Guitar Too Loud for an Apartment?
Does a Preamp Improve Sound Quality?
If I Learn Acoustic Guitar Can I Play Electric Guitar?
How Many Hours A Day Should You Practice Bass Guitar?
Do I need an AMP/DAC To Run Bookshelf Speakers?
How to Record Electric Guitar Into Logic Pro X?
Do headphones get worse with age?
DAW Related:
Best DAWs For Musicians Available (With FREE DAWs)
What's The Most CPU Efficient DAW? – 5 DAWs Compared
How To Make Music Without Using A DAW?
Pro Tools Guide: How To Use AutoTune & Pitch Correction?
Ableton Review: Is It Worth The Money? (Cons & Pros)
Logic Pro X Review: Is It Worth It? (Cons & Pros)
How To Use Auto-tune & Pitch Correction In Cubase?
How To Fix Ableton Crackling, Crashing & Freezing? Step By Step
Plugin Related:
What Are Audio Plugins? Different Types of Plugins Explained
What Are The Best Tools To Develop VST Plugins & How Are They Made?
Cost of Developing Audio VST Plugin: Several Factors (With Table)
VST, VST, AU and AAX – What's The Difference? Plugin Formats Explained
Complete Guide To Noise Gate – What It Is, What It Does & How To Use It?
How To Clip My Drums? Here Is How & Audio Teasers (Before/After)
Complete Guide To Limiter: How To Use It (+ Best Plugins & Analog Limiters)
Mixing With Reverb: How To Add Life To Your Mixes
Linear Phase vs Minimum Phase EQ – Full Guide
Difference Between LUFS, RMS & True Peak Loudness Meters
How And When To Use Algorithmic And Convolution Reverb In Your Mix?
Difference Between Active EQ, Passive EQ and Dynamic EQ
Headphones & Studio Monitors:
Do headphones get worse with age?
Monitors vs Studio Headphones For Mixing & Mastering
Top 10 Room Calibration & Headphones/Speakers Correction Plugins
Are Noise-Canceling Headphones Good For Music Production?
Can Headphones Break in Cold Weather?
Why do headphones & cables get sticky?
Can Wearing Headphones Cause Hair Loss?
How Do I know If My Studio Monitor Is Blown?
Side Effects Of Sleeping With Your Headphones On
Do You Need Music Amplifier For Studio Monitors or Studio Headphones?
Do Headphones or Earphones Damage Your Brain?
Can Headphones or Earphones cause Deafness or Toothache?
FarField, MidField & NearField Monitors – Their Uses, Pros & Cons
MIDI & Synths:
Should I Buy A MIDI Keyboard Or Synth? (Are Synths Worth It Anymore?)
Why Is Audio Gear So Expensive? (Especially Synths)
Top 12 Synth Brands – Analog, Digital & Modular Synth Manufacturers
11 Tips How To Choose MIDI Keyboard
Should I Buy MIDI Controller Or Keyboard? Cons, Pros & Tips
Sultan Zafar is a guitar player from Islamabad, Pakistan. He has been playing music with various mainstream musicians for over 20 years. He is a song writer and music producer. These days he spends his time exploring different music genres and collaborating with fellow musicians on various projects. Read more..