This article will discuss the best MIDI keyboards/controllers/devices for FL Studio in 2023.  
Using MIDI devices in FL Studio can provide several benefits that can enhance your music production workflow. It gives you more efficiency, adds depth to your expressions, and lets you accurately play automation lanes, notes, articulations, and more.
Further benefits include greater control and flexibility through the use of physical controllers, increased productivity through efficient recording and editing of MIDI data, improved accuracy compared to using a mouse and keyboard, compatibility with a wide range of software and hardware products, and expanded creative possibilities through the use of virtual instruments and other sound design tools.
Overall, incorporating MIDI devices into your music production setup can help you to achieve a more immersive, expressive, and efficient workflow. We have curated a list of the best MIDI devices for FL Studio in 2023, so let's dive right into it.
Top 11 MIDI Keyboards/Controllers For FL Studio 2023
Novation FLkey 37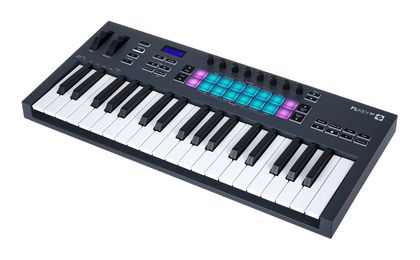 The Novation Launchkey 37 is a MIDI keyboard controller specifically designed to work with the music production software FL Studio.
It has 37 velocity-sensitive keys, 8 knobs, and 16 pads that can control various aspects of your music, such as virtual instruments, effects, and mixer settings. The Launchkey also comes with a number of features that make it easy to use with FL Studio, such as dedicated transport controls and a set of templates for the software's most popular virtual instruments.
Why It's Good For FL Studio?
There are several reasons why the Novation Launchkey 37 is a good choice with FL Studio. First, it is specifically designed to work with the software, including features and controls optimized for use with the DAW. For example, it has dedicated transport controls for play, stop, record, etc., and a set of templates for the software's most popular virtual instruments.
Second, the Launchkey is a high-quality MIDI keyboard controller that offers a range of features and controls that are useful for music production. Finally, the Launchkey comes with a copy of FL Studio Fruity Edition, so you can start making music right out of the box.
This can be a great way to get started with the software if you're new to music production or looking to upgrade from the free version of the DAW.
Key Features: 
Expressive playing
The keyboard has 37 full-size keys that are velocity-sensitive, meaning they can detect the speed at which you play them and respond accordingly. This can add expression and dynamics to your music by allowing you to play softly or loudly, depending on how hard you press the keys.
16 pads
The keyboard also has 16 velocity-sensitive pads that can trigger drum sounds, samples, or launch clips in your DAW. The pads are also RGB-backlit, meaning they can light up in different colors to indicate different things, such as the clip's status or the type of pad.
Templates for popular FL Studio virtual instruments
The instrument includes a set of templates for some of the most popular virtual instruments in FL Studio, such as the 3xOSC synthesizer and the FPC drum machine. These templates make it easy to control the instruments using the knobs, pads, and keys of the Launchkey.
Ease of use
The Launchkey can be powered via USB, so you can simply connect it to your computer. In addition, it is compact and lightweight, making it easy to take on the go.
Optional sustain pedal and protective case available separately
If desired, you can purchase a sustain pedal and protective case separately to use with the Launchkey. The pedal can add sustain to your playing, while the protective case can help keep the keyboard safe when traveling.
Pros: 
The Launchkey is reasonably priced compared to other MIDI keyboard controllers, and it is well-built and should withstand the wear and tear of regular use. In addition, it can be used with other music production software so that you can use it with a range of different programs and virtual instruments.
Cons:
One potential con of the Launchkey is that some users may prefer a keyboard with more keys or a different type of keyboard action (e.g., semi-weighted or weighted keys). The included copy of FL Studio Fruity Edition is a cut-down version of the software, so it may not have all the features of the full version.
The sustain pedal and protective case are sold separately, which may be an additional cost for some users. Additionally, some users may prefer a controller with more knobs, pads, or controls. Finally, some users may prefer a controller with other advanced features.
K. M. Joshi is a multi-award-winning composer and sound designer, specializing in film, game, and TV audio. He enjoys making cinematic music, rock, blues, and electronica. Read more..