Do you find that the amplifier's EQ does not provide sufficient frequency control, and you wish to eliminate unwanted sounds? So, we've compiled the Top 10 Equalizer Pedals for Metal in 2023. (Any Budget).
A specific audio frequency is associated with every sound you have ever heard and is quantified in Hertz (Hz). Humans have a wide range of audible frequency responses. The human ear can hear sounds between 20 hertz and 15,000 hertz or higher.
Our hearing range extends from extremely low-pitched sounds to extremely high-pitched ones. Furthermore, our ears are sensitive to all frequencies within this range. There is evidence of these tones in musical compositions. They are, therefore, always present whenever you pick up your guitar.
For example, playing the lowest E string on your instrument will produce a low-pitched, low-hertz sound. For example, if you want to play a note with a higher pitch and a higher Hz, you can move up to the high E string and play the 12th fret. Each fret between these two positions will be located at a unique point on the frequency spectrum.
The EQ pedal modifies the signal's frequency response by adjusting the relative amplitudes of the frequencies (primarily those in the upper registers). Increasing or decreasing the volume of specific frequency bands, an EQ pedal can help achieve a more even sound for the guitar or bass, both in the context of a full mix and on its own.
Let's examine how we might fix these issues and what solutions are available for 2023.
Top 10 EQ Pedals For Metal 2023 (Any Budget)
1. MXR 10 Band Equalizer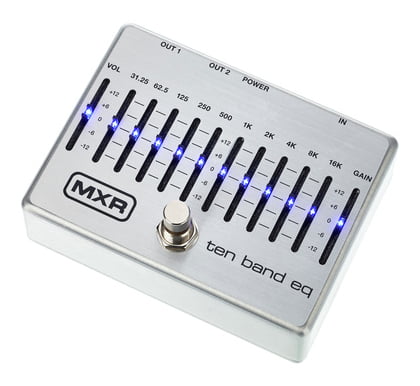 The MXR Ten Band Graphic EQ in a rugged housing allows for extensive tonal sculpting and volume adjustment.
The original noise-inducing circuitry has been replaced with simple bypass switching, the pedal's aluminum enclosure has been made lighter, and a second output has been added so you can use two independent signal chains. In addition, the Ten Band EQ has ten carefully selected frequencies and settings for both input and output volume, allowing you to quickly and easily fine-tune your bass or guitar rig to any room.
Key Features:
Separate Volume And Gain
The volume and strength of the 10-band equalizer can be adjusted by +/- 12dB. You can use the pedal's controls for fine-tuning the level whenever it is activated, or it can be used as a simple boost to increase the loudness of all frequencies.
This is very useful if you're playing in a loud environment and need to be heard above the rest of the band. This effect pedal has 18-volt power and two separate outputs, making it suitable for usage with a stereo setup.
Controls
The center group of faders provides a +/- 12dB range for adjusting individual frequencies up or down. This degree of precision is useful in many contexts. For example, a bassist can reduce the highs and increase the lows to achieve a more rumbling, basic bass tone.
If you're playing acoustic guitar and want some more warmth, you may crank up the mids, and if you're playing electric, crank up the highs for a soaring solo. You can use the 10-Band EQ as a replacement for your amp's EQ or to make drastic changes to your sound in the middle of a song with the push of a button, and these are just a few instances of what it can do.
Circuitry
It is equipped with noise-reducing circuitry to ensure a peaceful and discreet experience. Having a longer chain with many pedals and cables will benefit greatly from this. To add insult to injury, this bad boy features a second output that you can use to link it to two separate amplifiers or two distinct effects chains. You'll have more flexibility and creative control over your sound with either of these two options.
Character & Sound:
This effect pedal can accommodate electric and bass guitars thanks to its wide frequency response. You can put as much effort into honing the low end as the high end since it starts so low and reaches so high. Incredibly, your adjustments to the sliders won't destroy your sound so you may experiment freely with this one.
The M108S Ten Band EQ is already great, but its clarity is a big plus. It functions great in the effects loop and the main chain, giving you a lot of flexibility. It can boost your signal before distortion or smooth out your overdriven tones. In either case, it retains its distinct form in whatever environment.
Pros:
Simple indeed if you frequently adjust the volume on your device. The treble knob is mounted first, followed by the refinement of the bass knob. Further, it is a true bypass; thus, it will not alter the sound. The sound will adapt to whatever you do when you adjust the equalizer settings. It's like having more EQ knobs on your amp, but these are frequency-specific.
Cons:
Some customers have mentioned that the LEDs are so intense that they distract in dim situations. This is bad, as their brightness can block the visibility of the pedalboard and sometimes give you misses. An LED brightness adjuster may have been useful. In addition, some pedals appear to be badly made at the factory, and after only a couple of months of use, several consumers report that the sliders have already broken.
2. Joyo R-12 Band Controller EQ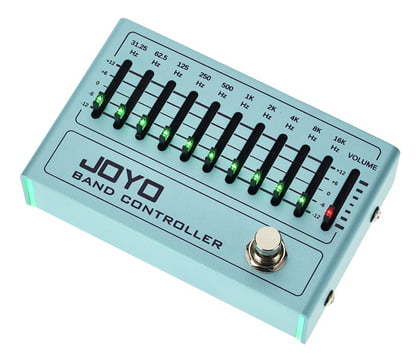 The JOYO R-12 Band Controller Eq Pedal is a great choice if you play bass. Since it has such a broad range, it is an ideal buy for a six- or seven-string guitar or a four- or five-string bass.
The ten bands on this pedal's sliders give you a lot of leeway when shaping your instrument's sound. With the LED lighting on each slider, you can easily adjust during a performance in the dark or on stage. You can adjust the pedal's volume independently and toggle its LED ring light on and off. Some people like the little bit of extra illumination it provides.
Key Features:
EQ
With a frequency range of 31.25Hz to 16kHz, the Joyo R-12 10-band EQ effect pedal is compatible with instruments as diverse as 5-string Basses and 7-string Guitars. LED lights and a separate volume slider are included. It's easy to forget about the modest graphic equalizer. However, you won't find a more versatile or melodious pedal. Just plug it into your favorite distortion or fuzz pedal to isolate or amplify specific frequencies. Furthermore, you may utilize them in your delay's effects loop to filter out overpowering tones and modulate the length of your repeats in real-time. This will prevent your live mix from becoming too bass-heavy and murky, making it simpler for your listeners to pick out the repeating delayed guitar tones.
Joyo R-Series Pedal
JOYO's fourth generation of guitar effects, the Revolution Series, offers some innovative design choices. An innovative addition to the pedal world is the bottom and top ambient lighting that makes the pedal casing glow in the dark. Pedals like this are made to withstand rough treatment.
Ambient Lighting
The Revolution Series includes a front and rear ambiance LED light, which will come in handy on dimly lit stages. When the footswitch is depressed, the pedal's LED effect indicator on top of the pedal lights up, and the pedal's front and back LED ambient lights brighten.
Although the LED effect indication is on at all times, the pedal is only engaged when the footswitch is pressed. When the pedal is not depressed, the lights remain off, but the LED effect indicator lights up.
Character & Sound:
There are no time-wasting or extraneous features, and each fader is quite potent, allowing you to cut or boost exact frequencies easily. This is especially useful for enhancing the high end, adding bass, or doing intricate, noise-free filtering.
If you're running this in parallel with a clean signal path—say, by using a stereo splitter to send your clean guitar to one channel and your isolated high frequencies to the other—you can lower the volume of your altered equalization by adjusting this knob. 
Pros:
This pedal is remarkably cheap, considering the quality it provides. Generally, pedals with more than ten bands are expensive, while those with 6 or 7 bands are equivalent in price. The music it makes is fantastic, too. While you adjust the signal for optimal highs, mids, and lows free of muddiness, the clarity and authenticity provided by true bypass will remain intact.
Cons:
If you want to use this pedal, you'll need to plug it into a pedalboard, as it doesn't have a battery. Powder-coated aluminum in an infinitely cool shade of blue is used for the housing, which is both strong and long-lasting. The LED accent lighting brings a modern twist to the otherwise vintage vibe. 
3. MXR KFK1 Kerry King Signature 10-Band Graphic EQ
Kerry King of Slayer collaborated with MXR to create this new version of their M108 equalizer pedal.
This pedal builds on the original 108's design and feature set. This pedal has a 10-band equalizer and all the features it offers, plus it can be used with two amps at once through its dual outputs. In practice, you'll be able to run multiple configurations simultaneously.
Key Features:
Controls
It would be best if you played about with the boost and tone controls for maximum thrash distortion. This is the more obnoxious sibling of the 108, who represents the friendly neighbor who is always willing to provide a hand. Even if the interface is identical, these games have very different goals. Everything about this pedal screams "metal" because of its aggressive tone,  the 108's functionality is retained, but real dirt is added to the mix.
Housing
The case is made of metal and has a wavy, wrinkled black surface. Each band's LED lights up separately, so you can quickly and easily see where everything is. The sliders operate smoothly, and there is only a moderate amount of noise; however, the device is difficult to power without the included converter, one of those 18v adapters.
Dual Outputs
The King's dual outputs simultaneously punish two amplifiers with great volume. You can use it to amplify solos or craft scooped-mid rhythm tones familiar in thrash music. You can also produce savage sustain and feedback and extract more rumbling bottom end from your setup than you ever imagined possible.
Character & Sound:
It's a big plus that the pedal is rather silent. In general, Boss pedals have a noticeable amount of noise that can seriously deplete your tone. However, it's simple to use and doesn't degrade the quality of the sound. This pedal's primary applications are either upfront or in the loop.
Using it in the front position mimics the effect of a gain pedal. The "power" of your pickups can be increased by increasing your input. In that respect, it resembles a tube screamer. Put it in the feedback loop, and you may modify the amp's output signal. It's like having an extra equalizer to get the sound just right. This is useful but can only function in a serial loop or a 100% mix.
Pros:
This pedal gives you a wide range of high-quality tones to choose from. It's an improvement over the 108 in that it captures that classic Kerry King tone while also providing comprehensive EQ controls.
Cons:
If you're not into breaking your amp in, this is probably not for you. In addition, the pedal has some minor issues at the slides, which become very noisy with time but may be rectified with a contact spray.
4. Boss GE-7 Equalizer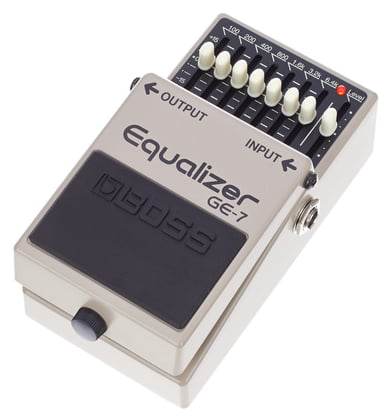 The Boss GE-7 represents the pinnacle of productivity. With a boost/cut of 15 dB per band, this pedal is tailor-made for guitar tones.
Boss has long been the brand of choice when searching for reliable guitar effects. It might be considered the universal symbol of the guitar player. Whether or not it can hold its own against more sophisticated boutique models depends on how picky you are and how well you hear tonal nuances.
That doesn't make it a rudimentary resource but a powerful one for those on a shoestring. The Boss GE-7 quickly rose to prominence as a top-tier equalization pedal.
Key Features:
Housing
To a large extent, if you have seen one Boss pedal, you have seen them all. The GE-7 would fit this description; however, including the graphic EQ up top detracts from the story. In other words, this Boss design isn't worth considering if you're searching for a model with plenty of extra features.
The GE-7 is a real working man's EQ because it has only the features necessary to get the job done, without any extraneous features that are rarely used and more of a nuisance than anything else. Many of the most effective guitar effects pedals are also deceptively straightforward in design.
Controls
The 7-band graphic EQ has already been discussed. The equivalent sliders are located on the pedal's top. You can adjust the overall volume in addition to the seven individual bands. The dynamic range of the boost and cut functionality is -15dB to 15 dB.
That boost may not be the strongest available, but it is sufficient for most uses. You can feel the precision and quality of the sliders. You can quickly make the necessary adjustments even in poor light.
Power
In keeping with established brand conventions, it may be powered by a 9V battery or an AC adaptor. The standard check indicator tells you when the battery needs to be replaced and whether or not the device is active. Under the footswitch is where the battery lives, and you can get at it by loosening a thumbscrew. Standard procedures simplify matters considerably at times.
Character & Sound:
This somewhat sturdy layout has been tried and true for quite some time and provides great performance. The available bands are functional when shaping the tone of an acoustic-electric guitar and can be used effectively in various musical contexts, including more aggressive styles.
When connected to a signal chain leading to a tube amplifier, you can do amazing things with the tubes by manipulating the frequencies. You will greatly enhance the built-in EQ of your amplifier with this pedal, and the natural overdrive you get from pushing the tubes to their limits will be greatly appreciated.
Pros:
Many different types of performers use Boss stompboxes, even if their tones tend to be more niche. John Mayer is one such artist who springs to mind. Not all cheap equalizer pedals are indeed created equal. The Boss GE-7 isn't ridiculously expensive, but it more than holds its own against products in a similar price range. Those on the market for a basic graphic equalizer will find their dream device in this sleek white box.
Cons:
If you don't take good care of this pedal, it will deteriorate quickly. It gets rather noisy after a time. Also, it only has an equalizer, which may need more for some people. You can use extra pedals to compensate for this, though, so it's not a huge issue.
5. EarthQuaker Devices Tone Job V2 EQ & Booster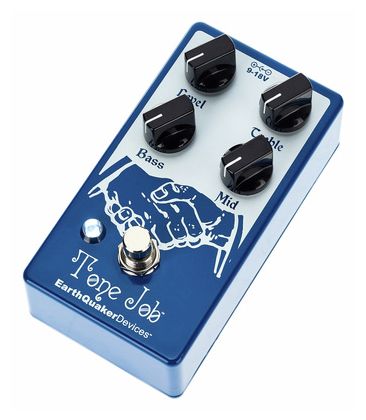 Whether you need more volume or a more even frequency response, the EarthQuaker Devices Tone Job V2 EQ/booster pedal has you covered.
Akron, Ohio, is the home of EarthQuaker Devices, a small but mighty pedal manufacturer. They devoted themselves entirely to devising means by which musicians may discover their sound. As a result, they have created pedals that improve upon established standards and ones that have never been heard of before.
Jamie Stillman, the firm's creator, was helping the Black Keys rock band when he came up with the idea for the product to make the company successful. To help you find your tone, EarthQuaker Devices offers great items at affordable costs.
Key Features:
Controls
The first of four knobs, the Level control sets the overall volume. You can adjust the output's loudness to keep it in time with the rest of your chain. It is everyone's worst nightmare for their affected voice to sound like a catastrophe has occurred. The following section, "Treble," modifies the higher-frequency response, letting you add shimmer or remove spikes from the signal.
Similar to what the treble does, the bass emphasizes the low frequencies. Mid works similarly and can be used to either reduce the prominence of the midrange or increase the depth of the sound. You can use each of the three in its special way to provide a wide range of tonal colors and effects. As a final touch, we've installed a footswitch at the pedal's base to activate the unit and deactivate it after use.
Housing
To provide a more trimming interface, EarthQuaker Devices abandoned graphic equalizers. Instead, they outfitted the control panel with dials that let you fine-tune various sonic aspects. As a result, the settings for Tone Job are simple and can be modified in a flash. When you use such a straightforward approach, a lot of time is freed up for composing new and interesting riffs and pieces.

Power


You can use any 9-volt DC power supply with a 2.1 mm negative center barrel to power your Earthquaker pedal. Always utilize transformer-isolated wall-wart power supplies designed for pedals or multiple isolated-output power supplies. When a power disturbance, such as a ripple, the pedals will generate more noise than usual. Poor filtration of unclean power and the transmission of undesired noise are problems with switching-type power supplies, daisy chains, and generic power supplies for pedals.
Character & Sound:
Tone Job's tone has as many facets as the pedal itself. That's right; the buttons do something when you click them. Because of this, adjusting the parameters of one will affect the other in some way. This allows you to fine-tune your audio to perfection and establish a consistent mood. Additionally, a 20dB attenuation or enhancement is available for each frequency band with this bad boy.
Any musician may become the ultimate master of their sound with this. As a result, you can subtly or wildly mold the hue of your tone, depending on your preference, and still get great results. Finally, there are magical abilities inherent to volume control. It can boost your signal strength by a factor of 5. This implies that it can significantly improve your sound by pushing your amplifier to its limits.
Pros:
Tone Job, made by EarthQuaker Devices, is a potent tone shaper. The great sound it can produce results from its housing and rising components. In addition, it's straightforward and won't have you spend hours learning the ropes. Not to mention, due to its design, you can expect it to become an indispensable part of your pedalboard. 
Cons: 
There is no way to swivel the middle range. The range sounds ideal for guitar and is adequate for bass. However, it's already on the pricier end of the spectrum for a boost/EQ pedal, and this addition would push the price even higher. You may need to study how it works, too.
6. Boss EQ-200 Graphic Equalizer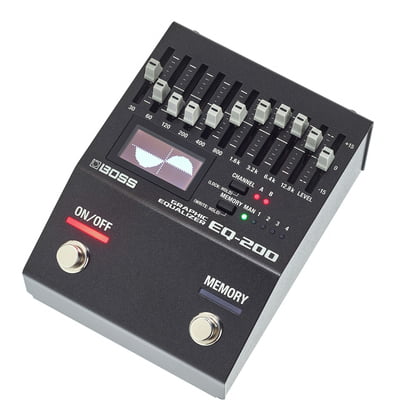 The BOSS EQ-200 is the most flexible graphic equalizer for instruments, thanks to its great sound and three configurable frequency range settings.
The EQ-200 has two independent equalizers that may be used in stereo, series, or parallel. The insert feature allows for adding additional effects pedals that you can use before or after the equalization process. In addition, the BOSS graphic EQ pedal may be used as a boost pedal thanks to its global level control and 15dB of boost/cut per band.
Key Features:
Memory Slots
Most musicians think a graphic equalizer is a great tool for fixing acoustic problems specific to a venue, amplifier, or instrument. So whether you're lowering the mid-range of your Tele, cleaning up the low end of your bass, or tweaking the gain of your go-to amp for your monthly gig at the dive bar down the street, the BOSS EQ-200's four memory slots make it easy to save your preferred sound settings.
Dual EQ
The EQ-200 footswitch has two separate 10-band equalizers that can be used in series, parallel, or stereo. The ability to tune your signal separately for each amplifier is a huge benefit of the stereo capabilities, which is especially handy for artists who utilize two amplifiers in their setups.
Adjustable Frequency
Instead of being limited to just one frequency range, this pedal gives you three to pick from. Choose a range between 30Hz and 12kHz, 32Hz and 16kHz, or 27Hz and 15kHz, depending on the instrument you're using and the frequencies you must hear clearly. Guitarists who play acoustic, electric, bass, or keyboard instruments in the same performance will find this graphic EQ pedal particularly useful.
Push Buttons
There are two tiny push buttons on the unit, one for changing channels and the other for storing settings in the unit's memory; each has an accompanying light to indicate its intended use. Both bypass and preset selection are accessible via the two footswitches.
Using the memory footswitch, you may quickly and easily access any of the four saved positions without pushing the memory button and holding it down. When you get there, press and hold the memory button again, and the red light will blink to verify your selection.
Character & Sound:
To maximize an instrument's output over a wide range of amplified sources, whether on stage or in the studio, the Boss EQ-200 may be used to adjust the levels of individual frequencies, widen the stereo field, and shape the tonal tapestry of a mono or stereo signal.
It guarantees the same quality of sound across different configurations. After adjusting the sliders for a few seconds, the voice was suddenly much clearer, with more depth, warmth, and sparkle. Your acoustic horizons can be widened and narrowed as you see fit, and you can save your preferences as one of several presets.
Pros:
The EQ-200's programmability, routing choices, and user-friendliness make it a great addition to any setup, no matter how complex or basic. This pedal allows you to shape sounds from the most subtle to the most intense. In addition, it's a handy instrument for tidying up because you can remove some unnecessary overdrives and boosts from your board.
Cons:
The ability to save your settings within the pedal itself is a great feature that will help you save time and mental energy. However, the fact that there are only four memory slots is the "most significant disadvantage"; it would be cool to have more banks, and perhaps they will add additional memory slots in the future.
7. MXR 6 Band Equalizer Silver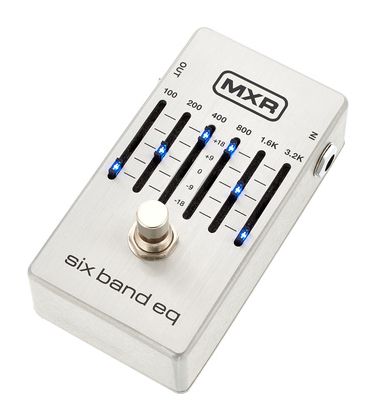 Noise-canceling circuitry, true bypass switching, brighter LEDs for better visibility, and a lightweight aluminum chassis are some ways the MXR Six Band EQ has been improved.
They say that you typically get what you pay for when it comes to guitar effects pedals. There's a lot of truth to this claim, but there are also some holes in the story. That would be the MXR 6 Band EQ in terms of EQ pedals. This reasonably priced powerhouse is in a small but select group of equalizer pedals that truly deliver.
It's not fancy and doesn't have many bells and whistles, but its work is of the highest quality, which is all you can ask for. This article aims to familiarize you with this fantastic instrument and demonstrate how to get a wide range of tonal manipulation effects without breaking the bank.
Key Features:
Housing
MXR didn't haphazardly throw this pedal together, using whatever parts they had on hand, and sticking them in a case. However, they didn't stop there; they also ensured the body was aesthetically pleasing.
The top panel immediately reveals that this is a graphic equalizer, which is common in the affordable price range but still challenging to implement properly. A total of 18 dB of attenuation or enhancement is offered; this is no wimpy device.
Controls
There are six frequency-band-specific sliders in the control cluster. Although the markings next to them aren't particularly accurate, you can still set the right pitch and keep track of the values. In addition, having the option to switch between multiple setups within a single performance is fantastic. In general, it's one of the most sought-after pedals due to its simple yet effective equalization controls.
Good Amount Of Gain
Boosting your tone with an EQ pedal, such as the MXR Six Band EQ Pedal, gives you more control than a standard boost pedal. Each slider provides 18dB of cut/boost, allowing you to focus on the frequencies you care about. In some cases, you may want a full-range tone as a foundation, while in others, you may want to emphasize the mids. You can make your amp's boost sound just right in any song using the MXR Six Band EQ Pedal.
Character & Sound:
The MXR Six Band EQ Pedal can be used to shape the boost for leads and solos or to fine-tune the tone of your guitar or bass for any occasion. The low-noise circuitry preserves your basic tone regardless of application, and the six EQ sliders let you boost or cut by up to 18 dB.
Modify acoustic-electric guitars by adding warmth and eliminating quack, adjusting the mid-range to create rhythm tones, or creating mid-scooped rhythm tones. The MXR Six Band EQ Pedal is a solid investment for any collection since it is constructed from durable aluminum and includes true bypass switching.
Pros:
MXR is well-known for its quality, low-cost effects pedals. This has been a widely accepted truth for several decades. However, there is more to their 6 Band EQ case than that. The fact that many players choose this relatively simple model over MXR's 10 Band EQ speaks volumes about its capabilities.
Everything you need to know may be gleaned from it. While the best EQ pedal is always the best option, the MXR 6 Band EQ is a great alternative for guitarists who can't afford to drop a couple of hundred dollars on an effects pedal.
Cons:
There are a lot of reports that the MXR model is defective right out of the box, with excessive noise in the signal chain, which is a common complaint from buyers. But for sure, the store you bought it from can replace the broken pedal and fix the problem. There is only a tiny price difference between this model and one with 10-band equalization, but the difference in sound quality is noticeable.
8. Source Audio SA 270 – One Series EQ2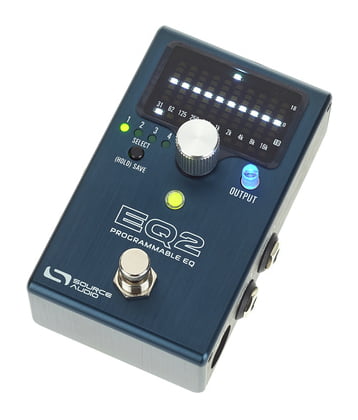 Using all of Source Audio's digital technology, the Neuro app provides extensive editing capabilities, and the pedal's 10-band EQ can store and recall your most-used settings.
The Source Audio EQ2 Programmable EQ is a great option if you need a good EQ solution in a portable stompbox format. The EQ2 is a Source Audio product, so naturally, it relies on its digital architecture to handle various EQ duties.
It's a graphic and parametric equalizer with a whopping 18dB of boost/cut potential overall ten bands, and it works with frequencies from 20Hz up to 20kHz. You may use it in stereo or mono; a guitar tuner and 128 presets are built right in.
Key Features:
Neuro Software Compatible
The EQ2 Programmable Equalizer is only as good as the free Neuro software editor you may download on your computer or mobile device to unlock its full potential. In addition to the standard equalization controls, a noise gate and dynamic limiter are at your disposal. You'll have the option of using a different signal routing method or giving each stereo channel its EQ.
Preset libraries are available to users, and users can even download additional presets from the user community to use with the pedal. You may access the patches and tweak the settings with an external MIDI controller. Connecting a Source Audio Dual Expression Pedal to the unit's top-mounted control input enables you to touch to change numerous parameters simultaneously.
Ten Frequency Bands
An impressive amount of sound manipulation is at your fingertips with the EQ2 Programmable Equalizer's ten frequency bands and 18dB of boost/cut in each. This equalizer pedal is an effective tool for fine-tuning the sound of your guitar rig, whether you're looking to hone your high-gain tones or get rid of annoying feedback.
12dB Clean Boost
The EQ2 Programmable Equalizer provides first-rate sound modification and up to 12 dB of clean boost. Use this transparent volume boost to crank up the front end of your amp for some natural breakdown, or crank up the volume for your solo.
Character & Sound:
The EQ2 goes above and beyond the call of duty. However, the amount of EQ, power, and features could overwhelm some users. While the encoder knob makes it easy to zero in on specific frequencies and fine-tune the band to your liking, you'll get the most out of the Neuro editor if you can access it online.
This may sound like a hassle, but with the Neuro app, the simplicity and control are part of the fun. Remember that this device contains presets, so your customized sounds will be available whenever you need them without needing further adjustment.
Pros:
It has a crisp, clean tone. Simple adjustments and presets can be made with little effort. However, the list of extras available for deep dives is dizzying. The EQ2 is a game-changer for guitarists who want to hear what their amps, guitars, and effects pedals can produce.
Cons:
The app is necessary if you want to use the pedal to its full potential, which can be a significant limitation. Most players only want a pedal with basic EQ controls that are as easy to use as possible, and the integrated tuner in this one is a bit of a pain to use live. This pedal is still an excellent option, though.
9. Wampler EQuator Advanced Guitar Equalization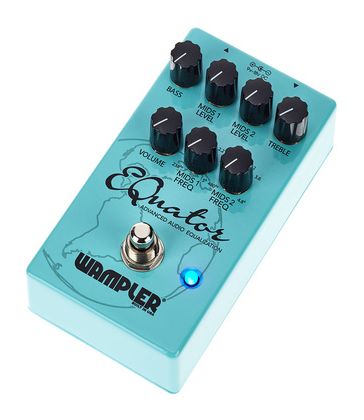 The Wampler EQuator is an analog equalizer with a clean boost and sweepable midrange controls.
With its fully sweepable 2-band semi-parametric midrange and fixed Bass and Treble controls, the Wampler EQuator EQ pedal provides control where it's needed while letting go of the reins in other areas. Because of its discrete analog circuitry, the EQuator gives your sound a light, airy quality and a sense of depth and dimension.
Its 25 dB of boost or reduction quickly makes up for flaws in setup or gear. The EQuator can also be used as a clean boost to increase the volume of your amplifier. Whether you plug it into your amp's front panel or your effects loop, the Wampler EQuator EQ pedal will give you the effortless tone control you've been searching for.
Key Features:
Simple Controls
To better shape guitar signals than conventional graphic EQs and with more user-friendly controls, Brian Wampler set out to develop a new kind of equalization pedal. With its completely sweepable midrange that eliminates mud, scoops mids, and emphasizes bite and harmonics, the EQuator achieves both of these aims.
Bass and Treble
The EQuator's bass and treble graphic EQs use recognizable pots in place of sliders, allowing you to quickly and easily balance the signal's low and high frequencies. To provide fullness and depth and drive speakers without stomping on your bass player, the Bass control is set at roughly 120Hz. The treble knob is particularly enjoyable since it enhances the sound's airiness and prominence without adding harshness.
Semi-Parametric Mids
The EQuator's Mids 1 and 2 controls are where the bulk of the instrument's tonal shaping action takes place. Their frequency centers can be swept to find resonance and peaks. With its 25 dB of gain or reduction, the EQ's tonal palette is practically unlimited.
For convenient reference, the EQuator has visual sweet spots marked with names of typical instruments and pedal resonances. In addition, you can now adjust the volume of your honk or pick attack even when performing in a loud setting.
Clean Boost
You can adjust the Volume slider on the EQuator to make up for the difference in volume when you increase or decrease the levels. However, Brian is the first to admit that it also provides a clean boost. So stay confident in increasing the volume to achieve the desired tone and drive.
Although it was created with guitarists in mind, the EQuator is a great equalizer for bassists, keyboardists, and any electronic musician. Thanks to its musical, studio-quality tone shaping, it has enough control to fix flaws in the stage and mix.
Character & Sound:
Even with only two bands of quasi-parametric EQ, you'll have an easier time getting the sounds you want because of the shelving Treble and Bass settings. The Bass knob provides 19dB of cut or boost at 130Hz, a frequency that characterizes the low-end thud of a 4×12 cab, demonstrating that Wampler has voiced this pedal with the ideal frequency settings for guitar.
If your amp has fewer speakers and you desire the sound of a larger cabinet, a boost can be dialed in, while you can use a cut to tighten up the cabinet's response.
Pros:
The EQuator's attractive features include its compact size and parametric midrange EQs. It's beautiful since it features simple bypass switching with a soft switch. In addition, when turned off does not affect your sound because of the true bypass switching.
Finally, when the pedal is engaged and set to neutral, the tone is as discreet as it gets. However, potentiometer tolerances mean that noon is not always impartial, as Brian Wampler pointed out in his video overview of the pedal.
Cons:
When you pushed up the volume to more than a quarter, it produced a tremendous amount of hiss. This is glaring when contrasting it with another pedal, such as the JHS Clover or Earthquaker Tone Job. The weird frequency selection came from the treble lever as well.
10. JHS Pedals Haunting Mids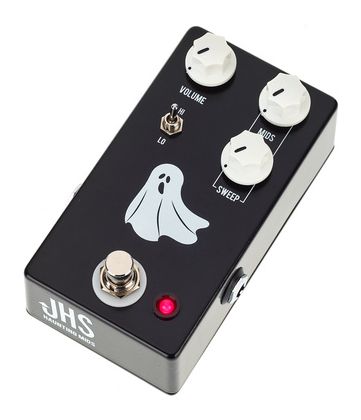 The JHS Haunting Mids is an excellent tool for adjusting the pedal's midrange tone.
The continually sweeping midrange center, the broad/narrow Q toggle, and the 15dB of boost/cut will do the trick whether you need to make room for other instruments in the mix or ensure your solos are heard. Try it out once in a while for a wah sound, or leave it on to front-load your amp with clean gain. There are plenty more up Haunting Mids' sleeve.
Key Features:
Boost Or Scoop
When using the Haunting Mids, the Mids and Sweep dials interact closely to shape the sound. Moving the mids knob to the left of noon will reduce the EQ's emphasis on the midrange, while moving it to the right will increase it. This is the way to go if you're a modern guitarist trying to add some oomph to your sound. The frequency range that the sweep knob affects might range from the low- to the high mids.
Lo/Hi Switch
The Lo/Hi switch is a second frequency control that is more global than the sweep. As a result, the impact of the mids is reduced and expanded on Lo. When set to Hi, the effect of the pedal is more pronounced. It sharpens and takes on more definition. Use the volume knob to get a clean boost when the mids knob is set to noon. It works great with a close-to-breaking amp setting to push it over the edge.
Volume
The volume knob initiates playback and, if desired, can be set to replicate the volume of the source sound. Boosting your volume by up to 16 decibels, this pedal will help you stand out in any ensemble. Since the Mids and Sweep have such a substantial mutual influence, they leave a lot of freedom for maneuver. Mids can scoop or increase the midrange frequencies, whereas Sweep affects the low- or high-mids.
Character & Sound:
Without an overdrive or distortion pedal in front or behind it, this pedal does an excellent job driving your preferred amp, filling in any missing and delectable midrange tones to balance out and add sparkle to your style.
Pros:
It's a very stimulating pedal that provides a wide variety of options for amp-pushing. You can use this whenever you need to revise a tone or give it extra oomph. You're guaranteed to be able to find the right setting to find the specific sound you're searching for, whether you want to increase mids or make a subtle reduction, thanks to the EQ's ability to be set to such acceptable frequencies.
Cons:
The Haunting Mids is an unusual pedal since it produces an uncolored, neutral tone that may offend certain listeners. In addition, with only 10 dB of available boost, it is restricted in its application. It would be preferable if this pedal had 15-20 dB of gain on tap to be utilized as a potent boost in conjunction with the EQ for deeper middle cuts.
Conclusion
You'd want to use an equalizer to cut out any frequencies that don't contribute to your overall tone. It has a tremendous impact on how others hear you. Of course, the sound engineer in the mixer can solve some of these problems, but if you can present your sound as cleanly as possible, it will be easier for him to work with and will sound more like you want it to.
Both a digital EQ, with all the controls you could need, and a more advanced, 21st-century EQ, with a slew of extra functions and connections, are included in this top.
In the digital realm, we have the MXR KFK1 Kerry King Signature 10-Band Graphic EQ, MXR 10 Band Equalizer, and MXR 6-Band Equalizer Silver, which are all vast improvements over their forerunners. They provide a circuit free of background noise and light-emitting diodes to improve visibility in dim conditions.
Over the years, these pedals have provided customers with the most precise answers to problems related to the tonal spectrum. However, due to the low quality of the components, they could have been a better investment. Pay close attention to every element, especially the noise they are likely to offer, as they tend to break down rather soon, but remember that this is not a rule; just a few production lines have these difficulties.
Even though we're talking about the conventional method, we'll also show you some current pedals with some cool extras. Regarding aesthetics, the Source Audio SA 270 – One Series EQ2 stands out as the most up-to-date option among the best in this group. The equalizer in Neuro Software is quite typical, and it also has a noise gate and a dynamic limiter. Unfortunately, the app is required to access all of its features.
The Boss EQ-200 Graphic Equalizer is undoubtedly the best because of its dual independent eq capabilities and its versatility in stereo, series, or parallel. In addition, having access to four memory slots is fantastic, as it allows you to save various settings for later use. Moreover, the Dual EQ feature adds an unprecedented degree of customization.
Hopefully, this article has shed some light on the necessity of an EQ pedal for those who wish to shape their sound.
Metal Related Topics:
Top 20 Metal Drums VST Plugins 2023 (VST, Kontakt, AU, AAX)
Top 7 Metal & Rock Kontakt Libraries 2023 (Best Guitars & Drums)
Can You Play Metal on Stratocaster? Answered
Is Ableton Live Good for Rock and Metal Bands? Answered
Is FL Studio Good For Making Rock & Metal?
Top 11 Plugins For Making Metal 2023 (Guitars, Drums & Effects)
Mixing Metal & Rock Drums: Tips For Room, Kick, Snare & More
Is Metallica considered Thrash, Death or Heavy Metal?
Top 17 Metal Electric Guitars 2023 (Black, Death, Stoner & Thrash)
Top 7 Bass Guitars For Stoner, Doom & Sludge Metal 2023
Top 12 Pedals For Metallica Tone 2023
12 Best Wah Pedals For Metal 2023 Update
13 Best Distortion Pedals For Metal 2023 (All Budgets)
Top 12 Delay Pedals For Metal 2023 (Any Budget)
12 Best Fuzz Pedals For Metal (Doom, Sludge, Stoner & Death)
Top 12 Reverb Pedals For Metal 2023 (Any Budget)
12 Best Combo Amps For Metal 2023
Top 6 Guitar Amplifiers For Prog Metal 2023
Top 8 Boost Pedals For Metal 2023 (For All Subgenres)
Top 8 Bass Guitar Strings For Metal 2023
Other Relevant Readings:
The 12 Best Tuner Pedals For Bass & Guitar 2023
Top 7 Ring Modulator Pedals For Bass & Guitar 2023
The 13 Best Fuzz Pedals For Bass 2023 (All Budgets)
13 Best Overdrive Pedals For Bass 2023 (All Budgets)
The 11 Best Wah Pedals For Bass 2023
The 13 Chorus Pedals For Bass 2023 For All Budgets
11 Best Autotune & Pitch Correction Pedals 2023
The 13 Best Phaser Pedals for Bass 2023
13 Best Distortion Pedals For Metal 2023 (All Budgets)
Top 6 Overdrive Pedals For Worship Guitar 2023
Can I Use Guitar Pedals For Bass? Is it okay?
Top 12 Pedals For Metallica Tone 2023
Top 12 Mini/Small Guitar Volume Pedals 2023
Top 11 Reverb Pedals For Synths 2023 From Top Brands
Top 12 Harmonizer Pedals For Vocals 2023
Top 9 Best Glitch & Stutter Pedals 2023
Top 13 Vibrato Pedals For Bass 2023 (On All Budgets)
Top 7 Available Arpeggiator Guitar Pedals 2023
13 Best Compressor Pedals For Bass 2023
Top 12 Pedals for Princeton Reverb 2023
20 Best VST Pedal Plugins 2023 (Chorus, Distortion,Reverb,Delay)
12 Best Mini/Small Compressor Pedals 2023 (All Budgets)
Top 12 Guitar Pedals Great For Telecaster 2023
11 Best Effect Pedals For Jazzmaster Guitar 2023
Top 12 Delay Pedals For Vocals 2023 From Top Brands
Top 12 Effect Pedals Great For Les Paul Guitar 2023
20 Best Pedals for Guitar Solos 2023 (Boost, Delay & More)
Top 12 Reverb Pedals For Vocals 2023 From Top Brands
8 Best Pedals For Rickenbacker Bass 2023
Top 12 Guitar Pedals Great For Stratocaster 2023
Top 12 Multi FX Pedals For Acoustic Guitar 2022
6 Best Noise Reduction Pedals Available in 2023
Top 12 Plate Reverb Guitar Pedals 2023
Top 14 Rotary Pedals & Leslie Sims 2023 (Best Rated)
Top 10 Pedals For Techno, House, DnB & EDM Music
Top 11 Pitch Shifter Pedals 2023 For All Budgets
How To Use Guitar Pedals In Logic? Answered
Top 7 BitCrusher Guitar Pedals Available 2023
Top 12 Delay Pedals For Metal 2023 (Any Budget)
Top 12 Reverb Pedals For Metal 2023 (Any Budget)
Cheap VS Expensive Guitar Pedals: Main Difference, Pros & Cons
The 11 Best Ambient Guitar Pedals 2023
Top 8 Boost Pedals For Metal 2023 (For All Subgenres)
12 Best Wah Pedals For Metal 2023 Update
Top 12 Spring Reverb Guitar Pedals Available in 2023
Top 20 Guitar Preamp Pedals 2022 (Best Rated)
Top 11 Hardware Vocoders 2023 (Best Synths & Pedals)
12 Best Fuzz Pedals For Metal (Doom, Sludge, Stoner & Death)
Best Lo-Fi Guitar Effect Pedals 2023 For Unique Tone
Can I Run Vocals Through The Guitar Pedals? Answered
4 Best Analog Saturation Pedals 2023 (Tone Shapers & Tape Saturators)
Top 4 Limiter Pedals 2023 You Can Get (Best Guitar Limiter Pedals)
Top 2 Best Guitar Sidechain Compression Effect Pedals 2023
Top 6 Modulation Plugins 2023 (Flanger, Phaser, Chorus…)
Top 6 Chorus VST Plugins 2023 For Musicians (And 3 FREE Plugins)
Top 7 Phaser Plugins 2023 (And 3 Best FREE Phasers)
Best Flanger Plugins: 6 Picks To Emulate Your Sound 2023
The 7 Best Tremolo VST Plugins 2023 | Eventide, SoundToys..
The 7 Best Vibrato VST Plugins
Top 9 Leslie & Rotary Speaker Plugins 2023
Integration is a music website focused on audio advice, how-to, tips & tricks and best plugins (free & paid). Read More…