In this article, let's look at the best options for strings for playing metal, and how they compare when it comes to performance and maintenance.
The type of strings you use matters greatly, especially with the genres you play. Especially when playing metal, you'd want a more pronounced low end while still having some mid and high frequencies to play some melodic lines.
Now, there are quite a lot of strings to choose from. Again, this can cause option-paralysis, making you pressed to decide which strings to buy. Of course, budget plays a key role, too, especially for those starting, as bass strings aren't cheap compared to guitar strings.
To help you get started, you should consider using bass strings that at least have a gauge of 45 – 100. Gauge refers to the thickness of a string, which affects how the bass frequencies will respond to your playing. You also can't just use any bass to get that optimal sound, as you need to take advantage of longer scale lengths to get a full and baritone sound. That Squier Bronco bass won't cut it easily, so you better look for longer scales of at least 32 inches.
Should I go for nickel-plated or stainless steel strings?
Nickel-plated strings tend to have more body and are easier to lay with. They're good for vintage tones and tend to sound hotter. Stainless steel strings are good for metal and slap playing and have more brilliance to them.
Now, nickel-plated strings should be distinct from pure nickel strings, as the latter has a more pronounced low end and doesn't damage fret wires easily.
Choosing which one is for you depends on your preferences. While stainless steel is recommended for metal, you can still cop good metal bass tones when using nickel-plated strings, as other factors shape your tone, including the pickups and your bass amp or rig.
What are Coated Strings?
Many guitar and bass strings now have coatings to add a layer of protection to prevent corrosion and extend the lifespan of the strings. However, as body chemistry differs from each player, the sweat and oils secreted from the hands can affect the lifespan of your strings.
Adding coatings protects your strings from sweat and oils from your body when playing your instrument. They also improve the feel of an instrument, making them easier to play. Coated strings also help in a humid environment, as humidity can corrode your strings.
Does tuning matter?
At some point, how your instrument is tuned affects your overall bass tone. Granted that your instrument is intonated properly, choosing the right tuning for your bass plays a big role.
While you can play metal in standard tuning, some songs may sound better when tuned down. If you play in a tribute band, it pays to tune to the same tuning used in the songs so that you can accurately recreate those tones. Playing in standard tuning while covering Pantera or Metallica can be a little off, especially when you hit an open string that needs to be tuned to the song.
If you're playing original songs, stick to tunings that allow your singer to reach the notes while delivering thick guitar and bass tones. You can explore drop tunings, half or whole step-down tunings to get your sound. You may even combine a drop with half or whole step-down tunings.
Top 8 Bass Guitar Strings For Metal 2023
1. Elixir Nanoweb Long Scale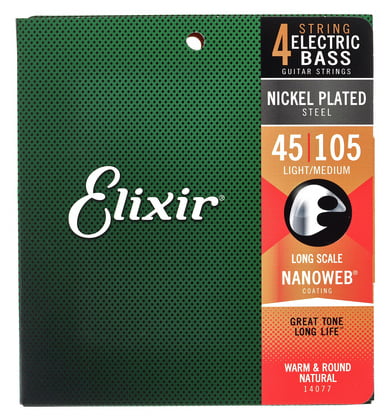 The Elixir Nanoweb Long Scale bass strings are one of the most popular guitar and bass strings. They're known for having a longer lifespan than other strings in the market due to their Nanoweb coating that reduces degradation in quality, saving you money in the long run.
This four-string bass set features a gauge of 45 – 105, making it ideal for lower tunings.
Key Features:
The Nanoweb Long Scale bass strings are known to withstand abuse when playing metal and its subgenres.
Nanoweb Coating
Elixir's trademark coating makes this bass string set last longer than other strings in the market.
Long Scale Length
With instruments being downtuned to sound heavier, the Nanoweb Long Scale bass strings have enough string length to work with long-scale basses, which work best for metal, as they won't sound wobbly or tight.
Nickel Plated Steel
The Nanoweb Long Scale bass strings use nickel-plated steel to provide a fuller and warmer sound.
Character & Sound:
First, these bass strings are more than ideal for long-scale bass. You get enough string tension that won't rip your guitar's neck while also not sounding too wobbly.
These strings also provide a warmer and more rounded tone. In addition, they have more mids, which can help if you're playing melodic lines on the upper registers of the bass.
Pros:
The Nanoweb Long Scale is made to last. When Elixir said Nanoweb coatings would make your string last longer and maintain its character, they meant it. Many players have sworn by Elixir, and its longevity has been corroborated by many.
Another plus point for these strings is their warmer sound and rounded sound. With these strings, you won't take too much treble frequency, and your bass will stay within the low to mid-frequency spectrum.
Cons:
When it comes to scale length, these strings work best for longer scales. Medium and short-scale basses would have too much slack on them. In addition, you may have to trim the string to use these strings on shorter scale lengths.
Another thing to note about these strings is that they are one of the most expensive bass strings in the market because of their Nanoweb coating. As one of the pioneers in coated string technology, Elixir has earned its spot for providing this feature.
2. DR Strings Drop-Down Tuning DDT-45
The DR String Drop Down Tunings (DDT) bass strings are the company's entry to anyone who needs a good set of strings to down-tune. According to DR, these strings easily go in tune and provide stable tuning even when tuned lower. In addition, intonation is maintained, so setting up using these strings won't be a problem.
The DDT-45 features gauge measurements of 45 – 105 and is also available for five strings for those who want that extra low B.
Key Features:
If you're considering getting the DDT-45 bass strings, you can expect good quality, evident by its features.
Hexagonal Core Wire
These bass strings are known for having tuning stability, thanks to the hexagonal core wire. In addition, the stainless steel wrapping clings better on the string, resulting in less movement and wobbliness.
Stainless Steel
The DDT-45 is wound with stainless steel, making it more corrosion-resistant and ideal for modern tones.
Coated Core Technology
Adding to the tuning stability is the Coated Core Technology used by these strings. Wrapping around the hexagonal core, the stainless steel wrapping clings better with the help of this layer.
Character & Sound:
The DDT-45 is known for its clarity. While stiff compared to other strings, these strings still provide enough clarity. These strings also handle down tunings up to a whole step, making them good for metal. If you need to tune lower, you may have to use a thicker gauge to compensate.
Many have also observed that the five-string variant plays quite well, with the low-B string tuning stability when played up the neck.
Pros:
If anything makes these strings notable, it's the tuning stability. You won't have to worry about intonation, nor will you have to tune in after every song. That also means intonation will also be spot-on with a proper setup.
These strings also handle down-tuning quite well. However, many have recommended that these strings be tuned up to a whole step down, which is the tuning of many metal bands.
Cons:
The DDT-45 is stiffer than other bass strings of the same gauge. So if you fret hard enough, you might be able to maximize these stings' potential.
Another disadvantage of these strings is that they are not coated. Considering that bass strings cost more than guitar strings, having a layer of outer coating maximizes the lifespan of these strings.
3. DR Strings Black Beauties BKB-45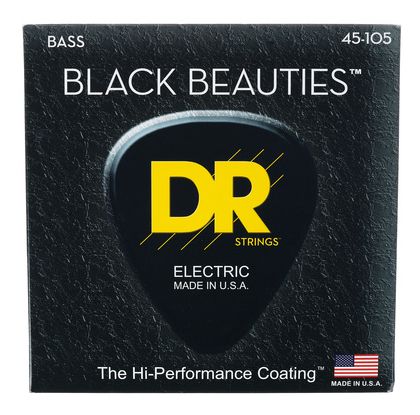 Many associate blacks with the metal genre, and the DR Strings Black Beauties BKB-45 is no exception. One of the most notable bassists who use these strings is the legendary Geezer Butler of Black Sabbath, who remains one of the biggest influences of many metal bassists.
The BKB-45 is part of DR Strings' series of color-coated strings, of which this set comes with black coating on each string. In addition, this string set features a gauge of 45 – 105.
Key Features:
The BKB-45 features a round core design and ensures playability. These strings are also guaranteed to last longer than non-coated strings.
Round core
The round core of these strings makes the bass easier to play as they have less tension.
Black Coating
The black coating of these strings ensures a longer lifespan while improving clarity and eliminating excess overtones.
Premium Look
Black is all about elegance, and the black coating on these strings makes your instrument more elegant-looking, even when playing metal.
Character & Sound:
The BKB-45 sounds much fuller compared to other bass strings in the market. The harmonic response is balanced, and you don't have to worry about overtones when playing with these strings.
Because the BKB-45 uses round cores, these strings are much easier to play with. They won't cause blisters, nor will they hurt your fingers. If you're a first-time bass player, the tension of these strings is good for beginners.
Pros:
The coating on these strings adds a layer of protection to ensure the longevity of your strings. You won't see yourself changing strings after a quarter of a year, although they will be less brilliant after six months, depending on your usage.
Playability is another strong point of these strings. Bass strings, in general, are harder to fret due to their thickness, but these strings are easier to play with, as they have less tension even when tuned to standard.
Cons:
These strings need regular maintenance to use. That means wiping it before and after use to protect the black coating. Some people have noted that the black coating flakes off, but other players have said that the flaking results from the lack of proper maintenance.
4. Ernie Ball 2832 Regular Slinky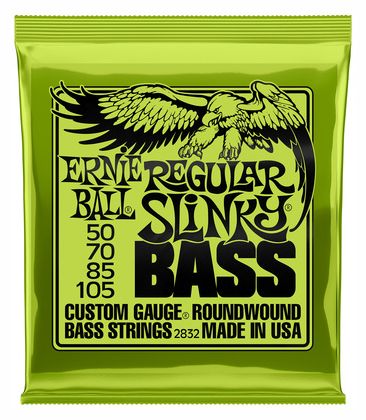 Ernie Ball is one of the most popular string brands today, which many artists swear by for their instruments. The brand produces different gauge string sets, including the Regular Slinky for bass.
These strings feature a gauge of 50 – 105, which deviates slightly from the standard 45 string sets, making these Regular Slinky sets a little top-heavy.
Key Features:
Denoted by its 2832 code, the Regular Slinky is a popular choice for anyone looking for a thicker gauge set for the higher strings.
Hex Core Wire
These strings provide tuning stability with their hex core wire.
Nickel Plated
The Regular Slinky strings use nickel plating to deliver brighter bass tones.
Character & Sound:
Despite having a hex core, these strings are quite soft and flexible to use. They're easy to play, despite the tension applied to the strings, and don't have much string noise.
Another thing worth noting about the Regular Slinky for bass is that they are not as bright. With a thicker gauge on the first and second strings, these strings have a more rounded tone.
Pros:
The playability offered by these strings is quite surprising, considering the hex core on these strings. These strings are a good choice if you do fast runs on your bass or even play chords.
Another thing worth noting is that these strings are quite cheap. For the price of one Elixir Nanoweb Long Scale, you can get two packs of the Ernie Ball Regular Slinky and still have some change after.
Cons:
The biggest disadvantage of these strings is the lack of an outer coating to make the Regular Slinky last longer. But for the price you pay for these strings, you can't complain.
5. Rotosound RS66LD Swing Bass
For those looking for that classic bass tone, the Rotosound RS66LD Swing Bass string set is a good option to capture those classic heavy tones from the 70s to the 90s. Made popular by many veteran bassists, these bass strings can deliver that round low end found on many rock and metal records.
While a good choice for metal, these strings have also made their way to other genres, including blues and British rock records.
Key Features:
The RS66LD is part of the Swing Bass series of strings with different tonal characteristics. These strings are known for their bright tone and moderate output for this set.
Long Scale
The RS66LD features a gauge of 45 – 105 and works best for basses with a 32 – 34 inch scale.
Stainless Steel
Despite not having any coating, these strings can last longer and maintain their tone.
Character & Sound:
The RS66LD tends to be bright towards the mid to treble side, which can be ideal for playing on higher registers, especially when doing chord-like harmonies. It might take some time to get it on the rounded bass side, but with use, it will lose its luster that can cop that rounded tone.
On the other hand, these strings tend to be rough and coarse. As a result, you're likely to develop blisters if you're not careful enough. Nonetheless, they make a good set to practice on, especially when trying to hone your skills in adapting to different basses.
Pros:
These bass strings are quite cheap, making them a good option for a backup set in case you need something to get you by when you're away from your usual music store. The brightness that comes with these strings also has a purpose, especially when trying to cut through a mix.
Cons:
The rough feeling of these strings can be a problem for some, especially when you're used to smoother strings. A setup may help ensure comfort, but it can only do so much to eliminate the coarse feeling.
6. Dean Markley 2674 Blue Steel Bass ML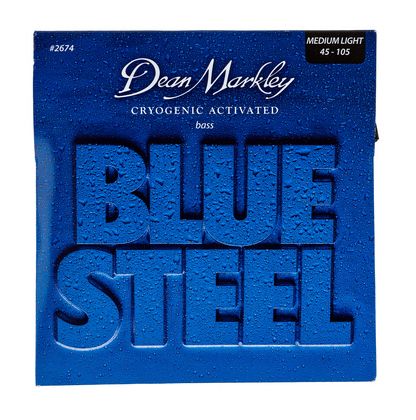 Dean Markley is one of those brands known for making strings as its main product line. One of its innovations is the Blue Steel bass strings, which lean towards the more affordable side. According to Dean Markley, these strings are cryogenically frozen using liquid nitrogen to improve durability and tone.
The Blue Steel Bass strings are known for their versatility. If you're a session bassist, you can have these strings for a metal gig and then shift to funk gigs without changing strings.
Key Features:
These Medium Light strings feature a gauge of 45 – 105. As a result, they deliver warm and punchy tones that help your bass stand out.
Cryogenically-frozen
These strings are cryogenically frozen using liquid nitrogen to improve durability, tone, and resonance.
Nickel Plated Steel
The nickel-plated steel winding on these strings is more than ideal for nailing classic rock and metal tones.
Character & Sound:
Using these strings live provides a good balance between the different frequencies. Tones tend to be warm, and with proper maintenance, they can last as long as bigger name brands.
However, these strings tend to have a tighter tension. So while it won't pull off your neck, these strings can be hard to fret on.
Pros:
These strings are quite affordable, considering the durability it offers. While not as cheap as Ernie Ball or Roto, these strings are good for anyone on a budget who doesn't want to spend so much on bass strings.
They're versatile, too, as they can serve as your all-around bass string for sessions or live gigs.
Cons:
7. Dunlop DBN45105
Dunlop also joins the metal bass strings fest, as many of its roster of artists include metal bass players, including Robert Trujillo of Metallica. For those looking for a four-string set that's good for bass, the DBN45105 is a good starting point. Designed for various playing styles, these strings can be used for different genres.
The DBN45105 delivers a well-rounded sound with huge low ends and an overall fat tone. It's a good choice for anyone who only needs one bass to play different sessions.
Key Features:
The DBN45105 is rather straight to the point regarding its features. It leans towards the more affordable side of bass strings, which equates to not having certain features.
Hex Core Wire
You can expect better tuning stability with these strings, thanks to the hex core that is the backbone of the tone behind these strings.

Nickel Plated


Comfort is never compromised on these strings as they have low tension and warm tones, thanks to the nickel plating.
Character & Sound:
Using the DBN45105 will give you fat tones and aggressive bass frequencies. Whether you play with a pick, slap, or use your fingers, these strings can easily adapt to your style and what the song calls for.
These strings also offer low tension, making them great to play all day long. You can expect comfort with these strings and can get you through a day of recording with little to no discomfort.
Pros:
The strongest point on these strings is the comfort it offers without compromising your tone. Low ends are well-defined, and the low tension makes it easy to fret. Thanks to the hex core, you don't have to worry about intonation.
Another nice thing about these strings is the price. It's a budget-friendly choice, yet the sound quality doesn't sound cheap. Low-ends are clear, and the tones are usable, not just for metal but even for blue and pop playing.
Cons:
The only complaint with these strings is that they tend to sound too bright. Some recommend getting a bass amp that can compensate for it or use an EQ to help sculpt excess frequencies.
8. Daddario EPS160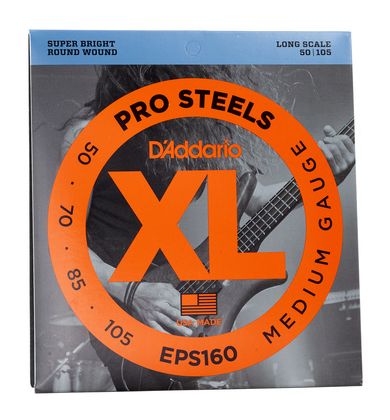 Last on this list is the D'Addario XL ProSteels EPS160. D'Addario, one of the biggest names in string technology, ensured that this medium gauge string set would provide sufficient brightness and punchy tone, making your bass stand out during a gig or recording session.
The EPS160 is considered a medium gauge string set featuring string gauges from 50 – 105.
Key Features:
The EPS160 uses a magnetic material to deliver bright bass tones.
High Carbon Steel Core
At the center of these strings are a hex core high carbon steel core that ensures tuning stability and brightness.
Stainless Steel Windings
These round wound strings feature a stainless steel wrap to ensure a longer lifespan.
Medium gauge, long scale
The EPS160 uses a gauge from 50 – 105 to provide better tension even when tuned below standard.
Character & Sound:
Like many XL ProSteel bass strings, the EPS160 is known for having a higher low-end output and more prominent high frequencies. This combination of prominent frequencies is good for making melodic lines or arrangements on the bass.
While these strings sound good, many players have also observed that these strings tend to dull quickly. While mileage may vary per player, it has been noted that these strings tend to lose their luster after a few weeks of regular use. Now, that's okay, especially if you're after a particular tone, but quick dullness can be an issue for some players.
Pros:
Since D'Addario is one of the benchmarks in guitar and bass strings, these strings are affordable. Additionally, if you regularly change strings because of heavy usage, these strings are good, as they won't burn a hole in your pocket when you buy replacements.
Playability is also quite decent. It's not as slick as Elixirs or the Regular Slinky, but you won't have a problem using these strings.
Cons:
The only issue with these strings is how fast they dull. If you need that dull tone for a recording, then that won't be a problem. But if your session is for different bands, you'll need a regular supply of these strings to get a consistent tone.
Bonus:
Stringjoy Rangers
At less than ten years in the market, Stringjoy has gone beyond being beginners in the game by giving musicians a choice with their strings. And it's because of this choice, Stringjoy was able to create optimized string sets, which include the Rangers bass strings.
The Rangers are like a set of customized strings meant for each player. They resulted from research and experiments, which allowed Stringjoy to create an optimized set to cover different genres.
Key Features:
The nice thing about the Rangers, or any Stringjoy string set in general, is the variants you get. For example, the Rangers are considered a medium gauge to many players, but they have varying thicknesses starting at 45.
Hex Core
Like many strings in the market, the Rangers have hex core wires contributing to the added presence.
Stainless Steel
The stainless steel wrapping around the core delivers a more modern sound that many players also prefer.
Gauge variants available
The Rangers come in three gauge sizes: 45 – 100, 45 – 105, and 50 – 105.
Character & Sound:
These strings are known for dominant mids and bass, which create a balanced bass tone. Treble frequencies also have that brilliance that makes them shine. You can make your bass more than just bass, and let it work in other frequencies to open tonal possibilities.
The Rangers are also comfortable to use. They're not tight to fret and are great for different playing styles. You can have these strings as your go-to for sessions that range from different genres.
Pros:
One of the strong points with the Rangers is the gauge variations. You're not limited to 45 – 105, as you can opt for something thicker for the higher registers, or a little thinner for the lower registers.
Playability is another good point with these strings. They're great for studio and gigs, and the frequencies on these strings are exceptional, as they can cover the whole spectrum.
Cons:
While these strings sound good, the Rangers could be improved by coating them for added protection. Considering what you pay for each set, a few dollars more, and you can already have a set of coated strings from Elixir. Stringjoy should consider adding this feature in the future.
Conclusion
Considering the options available here, you can't go wrong with Elixirs. They're money well-spent and guaranteed to last longer, even if you use your instruments daily. A good runner-up would be the Ernie Ball Regular Slinky for its playability and the DR DDT-45 for its tuning stability.
While the string matters a lot, having a good setup is just as important. You could spend on boxes of Elixir sets, but you won't sound good if the instrument's intonation is off or the frets buzz excessively. That's why you should put an equal premium on having your instrument set up.
Metal Related Topics:
Top 20 Metal Drums VST Plugins 2023 (VST, Kontakt, AU, AAX)
Top 7 Metal & Rock Kontakt Libraries 2023 (Best Guitars & Drums)
Can You Play Metal on Stratocaster? Answered
Is Ableton Live Good for Rock and Metal Bands? Answered
Is FL Studio Good For Making Rock & Metal?
Top 11 Plugins For Making Metal 2023 (Guitars, Drums & Effects)
Mixing Metal & Rock Drums: Tips For Room, Kick, Snare & More
Is Metallica considered Thrash, Death or Heavy Metal?
Top 17 Metal Electric Guitars 2023 (Black, Death, Stoner & Thrash)
Top 7 Bass Guitars For Stoner, Doom & Sludge Metal 2023
Top 12 Pedals For Metallica Tone 2023
Top 10 EQ Pedals For Metal 2023 (Any Budget)
12 Best Wah Pedals For Metal 2023 Update
13 Best Distortion Pedals For Metal 2023 (All Budgets)
Top 12 Delay Pedals For Metal 2023 (Any Budget)
12 Best Fuzz Pedals For Metal (Doom, Sludge, Stoner & Death)
Top 12 Reverb Pedals For Metal 2023 (Any Budget)
12 Best Combo Amps For Metal 2023
Top 6 Guitar Amplifiers For Prog Metal 2023
Top 8 Boost Pedals For Metal 2023 (For All Subgenres)
John Narciso is a guitar player and music technology hobbyist. He loves exploring guitar effects processors in pedal and plugin format and free music applications. His music preferences tend to be diverse, listening to genres spanning from metal to alternative rock and a little hip-hop.