Today we talk about the best hardware modular synths in 2023. But before we get into the details, we should first find out what Modular Synths are all about and why they'd be a good addition to your setup.
A modular synthesizer is a device that does not need a keyboard attached to it to produce sounds. Instead, as the name suggests, a mod-synth is put together by combining several separate modules, each of which has its own unique abilities and features.
The sky is the limit when it comes to the modules a mod-synthesizer may have. You can choose voltage-controlled oscillators, filters, noise generators, envelope modules, amplifiers, effect controls, and mixers.
It all depends on your goal and the sound you're after, as creating a modular synthesizer can only be limited by your imagination. So let's deep dive into some of the best mod synths in the market and see what each one brings to the table.
Top 7 Hardware Modular Synths Available 2023
1. Roland SYSTEM-500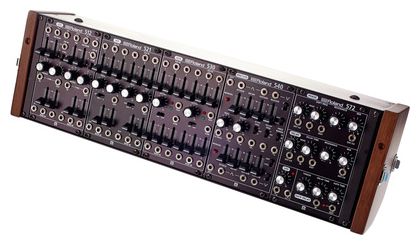 The System-500 unit by Roland is an all-in-one unit that gives you the utmost control for experimentation.
Takings inspiration from the globally renowned System-100M and System-700 modules, the System-500 comes in a Eurorack format with solid controls and a rugged exterior. As a result, the unit is very versatile and could be the ideal addition to your current setup.
The folks at Roland have packed the System-500 with voltage-controlled oscillators, filters, envelop generators, and effects to fulfill your every need. If you're willing to spend, this particular offering from Roland offers the most value at the price point.
Key Features:
Voltage Controlled Oscillator (VCO)
The Voltage Controlled Oscillator section is labeled "512" and has dual VCOs that use identical controls and parameters. Starting from the base of the 512, the module has a strip of inputs, including two sets of KEY/2/3 jacks. Voltage is fed through these inputs to control the VCO. Above the input strip are a couple of faders for each of the 2 and 3 input jacks that help attenuate the input voltage. Above the faders is a sync section that allows you to sync two VCOs to produce waveforms that can be delivered individually by a VCO. Next, you get "Range" and "Pitch Control" knobs for both VCOs. The Range knobs depicting octaves labeled 32 – 2 can help change the pitch range, whereas the Pitch control knob can fine-tune the pitch to get it right. Next, you find the PW and PW Mod faders for each VCO. The PW fader can set the ratio between the upper and lower parts of the wave, while the PW Mod determines the modulation intensity on the pulse width. You can also set how hard or soft the sync accuracy will be through the "Sync" switch. Finally, the top strip on the 512 includes a pulse wave, triangle wave, and sawtooth wave output jack for each VCO.
Voltage Controlled Filter
The Voltage Controlled Filter module labeled "521" offers 2 VCF sections. The top strip has three input jacks labeled 1, 2, and 3 for each of the two VCFs. Each of these inputs gets a separate fader ranging from 0 to 10 for adjusting the level of each input. Next, you find "Freq" and "Res" knobs also available for each VCF. The Freq knob ranging from 0 – 10 can help set the frequency value for low pass filtering (LPF). Setting the knob at 10 will allow all waveforms to pass without changing. The Res control works in combination with the LPF control and boosts the frequencies set by the Freq knob. You also get a couple of high pass filter buttons in the section with three settings, including Off and two different intensities of HPF. Two output jacks here exit the signal from the VCF. Finally, just like in the VCO module, you'll find a strip of Key/2/3 inputs that take in the voltage to control the VCF coloration and two adjustable faders to attenuate this voltage as needed.
Voltage Controlled Amplifier
Labeled "530", next is the Voltage Control Amplifier. Here you get access to a mixer of sorts with 6 channels. Starting from the bottom, the input strip has two sets of three Mod inputs marked 1, 2, and 3. Each of the three inputs gets a dedicated fader marked 0 to 10 to attenuate the voltage received through the Mod inputs. Above the faders are a pair of knobs, buttons, and outputs. The "Initial" knob sets the initial gain of the VCA, which is the instant where there is no control voltage. Next to the knob are a couple of LEDs that indicate the nature of the output signal, with red depicting an overload. Here you also get a separate output for both VCAs. The Lin/Exp button can decide how the initial gain setting affects the audio signal. The two available options are linear and exponential. Two "Sum" ports combine the outputs of both the VCAs. Finally, the audio signal can be input through the strip of input jacks at the top, which has 3 ports for each VCA and dedicated faders to adjust the signal level.
Envelop Generator/Voltage Controlled Oscillator
The 540 is a dual module that offers two Envelop Generators (EG) and a Low-Frequency Oscillator (LFO). The "Ext" port can be used for inputting a gate signal from an external device, which can, in turn, toggle the EG on or off. Next, you'll find a row of output jacks, two of which offer positive waveforms, while a third outputs a negative one. By pressing the "Manual" button, the envelope cycle can be turned on and off. Here you'll also find separated faders for the "Attack," "Decay," "Sustain," and "Release." Each fader is marked between 0 and 10. The envelope speed can be set to fast or slow with the F/S switch. The Gate has two settings. The "Ext" setting allows the user to trigger it manually or through an external device, while the "Cycl" setting selects the self-cycling mode. The frequency of the LFO can be set through the "Freq" knob, while the "Delay" knob controls how soon/late the LFO reacts when an audio signal is fed through. Here you can also set the frequency range of the LFO out of the low, medium, and high options. In addition, the LFO waveform can be reset through the "KYBD Trig" switch, and a similar "Delay Trig" button resets the LFO's delay. Finally, you get output jacks to select different waveforms.
Effects
Finally, the last module, labeled "570," is divided into four sections. The "Gate Delay" section has knobs to control the "Threshold," "Delay Time," and "Gate Time." The threshold control sets the voltage level, while the gate time determines the release time or length of the Gate. The section has its input and output jacks. The LFO section has the main knob to adjust the frequency and a pair of outputs where one offers a triangle waveform while the other inverts it. The delay section is very comprehensive and offers knobs to control the modulation of the delay, the delay time, the resonance, and the mix or the ratio between the delayed and original signal. The phase section is also laid out like the previous section and has controls for modulation, shift frequency, resonance, and mix.
Modular Monthly: Exploring the Roland System 500
Pros:
The Roland SYSTEM-500 is a unit packed with five comprehensive modules with dual capabilities. The features in each section give you total control of your sound as you get a barrage of buttons, knobs, and switches to get to where you need to be. The build quality is sturdy, and the wooden sides and handle lid give it a premium feel and add to the unit's ease of use.
Cons: 
The controls are so jampacked and close to each other that the interface may initially seem confusing. Unfortunately, the clutter also eliminates any extra room for helpful/descriptive text, and you're sure to inadvertently cause a change in the nearby parameters when you make adjustments.
2. Moog Model 10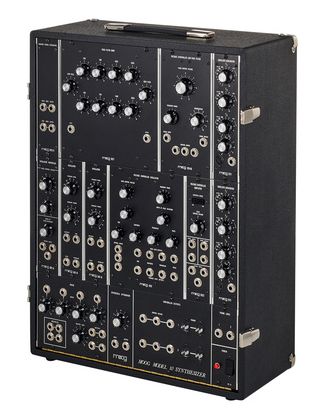 Introduced by Dr. Robert Moog in the 1970s, the Moog Model 10 is built to impress.
Packed with more than ten analog modules, the Moog Model is built like a tank thanks to its rugged wooden exterior and easy-grip handle that makes it easy to carry and take with you while touring around the world.
The ancestor of the Moog Model 15, the Model 10 is equipped with the perfect blend of vintage-style modules, classic sounds, and modern ingenuity. Known for its depth, detail, innovative circuitry, and timbral capabilities, the Mood Model 10 will not let you down.
Key Features:
Fixed Filter Bank
The Moog Model 10 features a Fixed Filter Bank similar to the one found on the Behringer System 55. In addition, the interface has 8 frequency knobs starting from 250Hz to 2800Hz, each of which offers a range of 0 to 10. You'll also find dedicated knobs for "Low Pass" and "High Pass" filtering and a single input and output.
Random Signal Generator & Voltage Controlled Low Pass Filter
Next to the Filter Bank is the Random Signal Generator, capable of producing white and pink noise through paired outputs. The Voltage Controlled Low Pass Filter has a "Fixed Control Voltage" knob which is used in combination with the three-way "Frequency Range" switch. Here you can set the cutoff frequency from low, mid, and high-frequency ranges. Finally, the "Regeneration" knob is used for resonance adjustments and ranges from 0 to 10. controls the resonance. The section has a "Sig" input/output and three summed output ports.
Envelope Generator
The Moog Model 10 has two Envelope Generators on board. The layout is user-friendly, as there are dedicated knobs for attack, decay, release, and sustain. While the sustain knob has values ranging from 0 to 10, the other three attenuators are time-based and offer a range of 2 milliseconds to 10 seconds.
Voltage Controlled Amplifier
The Voltage Controlled Amplifier offers two modes, including linear and exponential. The only other control you find on the interface is a "Fixed Control Voltage" knob ranging from 0 – 6, which controls values based on the selected mode. The module has three controlled inputs, two signal inputs, and a pair of signal outputs.
Voltage Controlled Oscillator
The Voltage Controlled Oscillator section has attenuators and corresponding outputs to shape sine, sawtooth, pulse, and triangular waveforms. However, interestingly you'll find four fixed and four variable level outputs for each wave shape. You can also control parameters like the pulse wave's width, frequency range, and fixed voltage through dedicated controls on the interface.
Oscillators & Oscillator Controller
The Moog Model 10 also has a pair of Oscillators with identical controls. The layout includes 4 waveform shape options in the form of pulse, triangular, sawtooth, and sine. On the control side, the module has a knob to set the frequency range and a similar knob to select the corner frequencies. Next to the Oscillators is the Oscillator Controller with a fixed control voltage section to manually control the voltage and a dedicated pulse to adjust the width of the pulse waveform. The module also has 3 controlled inputs that can be used simultaneously.
Mixer
The Moog Model 10 has a four-channel mixer with 4 input jacks and 4 attenuators. Also on the module is a master gain knob and a pair of negative and positive outputs. Furthermore, you'll also find a cluster of 4 output ports in the "Multiples" section.
Moog Model 10 Modular Synth Deep Dive — Daniel Fisher
Pros:
The Moog Model 10 combines several very useful modules to tickle the fancy of many a Modular Synth junkie. The modular synth seems a bit daunting to understand and may take some time to get used to, but once you're familiar with the controls, you'll come up with patterns, drones, and beats in no time.
Cons: 
The Moog Model 10 comes with a jaw-droppingly hefty price tag which will make you want to look around for other options that seem to offer similar features without denting those savings. Perhaps something like the Behringer System 55 could be worth checking out, as it has a similar layout and comes at a fraction of the price.
3. Doepfer A-100BS2-P9 PSU3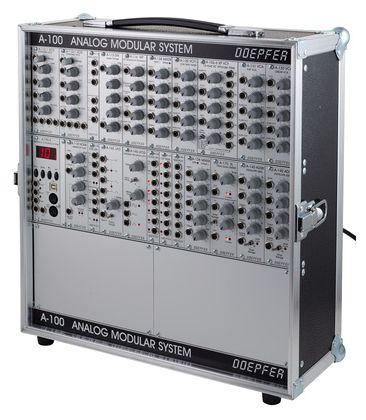 The Doepfer A-100BS2-P9 PSU3 is inspired by the larger modular systems found in the 1970s.
The A-100 series from Doepfer offers a multitude of modules that can't be put together in the A-100BS2-P9 PSU3 unit's spacious chassis. So you can get creative to build the perfect modular synth for your setup.
The unit measures 18.3 x 19.1 x 9.2 inches and has a lid with a convenient handle that adds to its portability. The base has 4 rubber feet and comes with 30 patch cables differently colored for ease of use.
Key Features:
Voltage Controlled Oscillators (VCO)
The Doepfer A-100BS2 has 2 identical VCOs on board, offering several waveforms to choose from, including triangle, sine, sawtooth, and an adjustable rectangle wave pattern. The VCO also has control knobs to adjust the frequency range, a tune knob, a CV2 control knob, and two pulse width controls for the PW CV1 and PW CV2 inputs.
Dual Ring Modulator (RM) & Audio Divider (AD)
The RM is split into two identical halves, allowing separate X and Y inputs to output a multiplied X*Y signal. In essence, the output signal combines the sum and difference of the input signals. Next to the modulator is the audio divider. The AD is typically used with the rectangle waveform coming from a VCO and has a simple layout with knobs for controlling the original signal and 4-octave knobs (F/2, F/4, F/8, F/16) ranging from 1 to 10kHz.
VC Waveform Processor (WP) & Mixer
The Waveform Processor has an "Audio In" jack with a dedicated level knob. You can also control the intensity of clipping by adjusting the "Clipping Level." The Clipping and Symmetry jacks are also paired with dedicated knob controls. The WP amplifies the unclipped and clipped signals in an asymmetrical arrangement. Finally, the layout has a knob to control this symmetry and an "Audio Out" port. The Doepfer A-100BS2 has two 4-channel mixers on board. The A-138 "a" variation handles CV signals and has linear adjustment controls, whereas the A-138 "b" version is more suited for audio signals and uses logarithmic knobs. Both come with an easy-to-use control layout with 4 input jacks, a single output jack, and level controls ranging from 1 to 10kHz.
Voltage Control Filter (VCF) & XP VCF/Filter Pool
The voltage control filter offers three CV inputs for frequency filtering along with "Audio In" and "Audio Out" jacks. On the control side of things, there are dedicated adjustment knobs for frequency, level, and resonance. The layout also includes separate knobs to control the levels of the CV2 and CV3 inputs. The XP VCF/Filter Pool section is modeled after the Oberheim Xpander circuitry. The Xpander filter has 4 inputs (Audio in, FCV1, FCV2, CVQ) and 8 outputs, each of which has different filtering options. While there are 8 filters available for use at a time, a toggle switch can enable 8 more so you can further experiment with your sound. The CVQ and FCV2 both have separate attenuators. Other knobs help control the master level, frequency adjustment, and Q value.
A-131 & A-130 VCAs
The Doepfer A-100BS2 also includes a couple of Voltage Control Amplifiers with similar layouts. However, the A-130 is a linear VCA, while the A-131 has a logarithmic approach. Both VCAs have a couple of CV inputs, 2 audio inputs, and an audio output. Here you can control the gain with the master knob ranging from 1 to 10kHz. With the exception of the CV1 input, all other inputs and output jacks get their attenuators.
A190-4 USB/Midi-CV/Gate/Sync Interface
The A190-4 interface has 2 12-bit CV outputs, Midi in and Midi Thru ports, and a USB port. In addition, the section also has Gate, Reset and Clock outputs. All parameters related to the ports are controlled through the 4 LED buttons present on the interface.
A-118 Random Noise Generator & A148
As evident by the name, this module helps generate random noise. The interface has an input for "White" noise and one for "Colored," which can be controlled further with the "Blue" and "Red" adjustment knobs. The section also has a "Random Output" with "Rate" and "Level" controls. In addition, the A148 has sample + hold and track + hold capabilities which can be combined with other modulation effects to create staircase-type voltage impressions. Split into two identical sections, the A148 unit has a couple of "Trigger" and "Sample" inputs and a "Sample & Hold output."
A-145 LFO
The Doepfer A-100BS2 has an oscillator that offers 5 different waveform patterns, including triangle, sine, rectangle, and a rise/fall sawtooth variation that has twice the frequency compared to the other outputs. Other controls include a "Frequency" adjustment control and a "Frequency Range" switch to select low, medium, and high settings.
Clock Divider/Clock Sequencer & Multiples
The A160 clock divider divides the Gate, clock, and trigger signal frequencies. The interface includes a trigger input, a reset input that brings all the outputs down to zero, and 6 outputs that divide the frequencies by multiples of 2. The clock sequencer looks exactly like the clock divider section but has 8 single-step outputs. The sequencer is ideally used with an ADSR A140 or AR generator A170. Next to it is the A180-1 multiples section with 8 3.5mm jacks.
A170 Slew Limiter & A140 ADSR
The A170 represents two separate slew limiters. The first one has a single "Time" knob ranging from 1 to 10 seconds to control time values, while the second limiter has separate knobs for the rise and fall of time. You'll also find a switch that can select the time range between high, medium, and low settings. Both limiters come with an input and output jack. The Doepfer A-100BS2 also features two comprehensive ADSR Envelop Generators with dedicated knobs for Attack, Delay, Sustain, and Release. Like the limiter, the A140 ADSR has a time range switch to toggle between different intensities. In addition, the section has a "Gate" input, a "Retrigger" input, and three outputs, one of which is an "Inverse" output.
Pros:
The Doepfer A-100BS2-P9 PSU3 is a modular synth full of endless possibilities thanks to all the different modules in this multitasking unit. The subsections are easy to use, with user-friendly controls and plenty of input/output options at your disposal to unleash your creativity.
Cons: 
Some of the modules may behave unexpectedly, especially when they are reset. Also, you may notice a drift in frequency regarding the ribbon controller module. The Doepfer A-100BS2-P9 PSU3's build quality is not the best, and their helpline is not very responsive, so you're on your own if you face any malfunctioning issues.
4. Erica Synths Black System III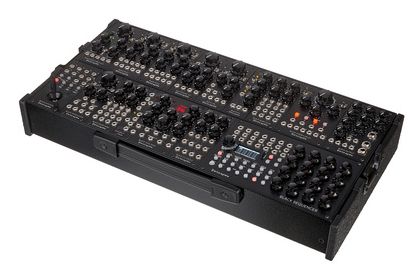 The Black System III is a desktop-friendly module with some undeniably versatile features.
The modular synth not only offers variations of oscillators, filters, and amplifiers, but the Black System III also has several intricately designed modules that enable you to create detailed delay effects and modulations.
Each module is cleverly designed to have multiple input/output options as well as buttons, switches, and knob controls so that you can dial in the perfect sound for the situation. Surely, the Erica Synths Black System III can be a great addition to your current setup.
Key Features:
Black Wavetable VCO
The Wavetable Voltage Controlled Oscillator offers 16 banks with 16 manipulatable wavelengths. Pairing the module with ROM chips can further enhance its capabilities. Furthermore, on the input side of things, the interface includes a "1V/Octave input", a "Wavesurf CV" input, and a configurable CV input. The available outputs include the sub-oscillator output and a VCO output. Wavesurf and CV inputs have dedicated knob controls, and further "Wave" and "Bitcrush" levels can be adjusted through the aptly labeled attenuators. Finally, the master knob can be used to select the frequency range.
Black VCO 2
The Black System III has 2 VCO 2 modules. The interface includes a master tune knob, a pulse width knob, and an octave shift control to move the VCO 3 octaves down or up. A dedicated "Sawshape" knob allows the user to manipulate and change the shapes of the saw waveforms. Finally, the FM/PWMCV knob can simultaneously change CV inputs. The VCO can be reset using the "Sync" port, next to which you'll find the "IV/OCT" jack and an "FM IN" port for adding a vibrato effect. The bottom strip includes Sine, Tri, Saw, Pulse, and Sub ports, all of which can be used to shape waveforms collectively.
Multimode VCF
The Black System III includes a Voltage Controlled Filter with audio input and three outputs (LP, BP, and HP outs) which are available simultaneously. In addition, the interface has two small knobs that control parameters like resonance and audio input level. Further down, you'll find two knobs for cutoff CV and resonance CV attenuation. Finally, the master cutoff knob can be manually set to adjust the cutoff frequency.
Black LPG
The Black Low Pass Gate has a detailed layout. A mode switch can select the VCA, VCA+VCF, and VCF modes, while the bigger "Offset" knob can control the cutoff frequency or offset value depending on the selected mode. Another switch labeled "Reso Drive" can help toggle between regular resonance or overdriven resonance. The Black LPG has an audio Input, a Mode CV input, and a CV IN jack. The CV level, resonance, and decay can be controlled manually by the aptly named knobs.
Black EG
Next to the LPG is the Black Envelop Gate. The module has a "Gate" input and two inverted direct outputs labeled "Inv Out" and "Out." Setting the envelope length is easily done through the Short/Long switch. Another switch on the interface can help choose between loop and single mode. Finally, you can get creative by manipulating the attack (A), decay (D), sustain (S) & release (R) knobs.
Black Modulator
The Black Modulator has three outputs for White, Pink, and Crushed noise. In addition, the "Noise Crush" can be adjusted to experience different variations and intensities of noise. Apart from these, the modulator also offers three LFO outputs, i.e., "Sine," "Tri," and "Pulse," and finally, an "S&H" (sample and hold) output. Also on the interface are the "CV In" and "Clock In" inputs alongside the "CV Level" knob. Finally, the larger "Rate" knob can be used to set the frequency of the LFO or S&H clock.
Black Quad VCA 2
The Black System III has 2 Quad Voltage Controlled Amplifiers on board. Named the "Quad" VCA, everything on this module is found in a combination of 4. 4 inputs, 4 outputs, 4 CV jacks, 4 switches to toggle between linear and logarithmic mode, and 4 level/gain knobs.
Black CV Tools
The CV Tools module has mixing, scaling, offsetting, and wave-shaping capabilities. When it comes to mixing, the module has three inputs and "Scale" and "Offset" knobs to manipulate the input signal. If you're looking to shape waveforms, the CV Tools module also has outputs for the min/max curves of both available mixers.
Black Joystick 2
The Black Joystick 2 has a lot to offer. The interface includes 8 CV outputs along with 2 gate outputs as well. In addition, the module features a joystick that can be moved around per preference to trigger several unique and untraditional modulations. The Joystick 2 module also features four modes to choose from to truly uncage a spectrum of varying modulation sounds.
Black Stereo Delay
This Stereo Delay module features three delay modes: ping pong, digital, and tape delay. The module amazingly offers a delay range between 3ms and 3000ms while giving you a lot of room to experiment and get things sounding just right. You'll also find one-touch buttons for sampling a 40-second sound which can be easily layered over each other and even reversed. You'll also be able to set the behavior of the delay by tapping the tap tempo button.
Black Hole DSP2
The Black Hole DSP2 offers as many as 24 different customizable effects, each of which has three parameters that can be controlled manually or through CV inputs and allow several frequency manipulations. You can choose a sampling frequency between lo-fi, dry, and wet mixing. Whatever effects you conjure up can be saved and recalled easily in a live setting.
Black Sequencer
The Black Sequencer is a behemoth that allows the user to sequence as many as 64 patterns in a song with 64 steps in each pattern. The sequencer can also quantize your patterns, change scales, generate random patterns, repeat notes, allow microtonal tuning, and much more.
Mix/Split & Black Output
The Mix/Split module has two sections. The Mixer layout has 4 buffered inputs and a single output. In the Split section, you'll find 4 buffered outputs and a single input. The Black Output module has three mono inputs with dedicated knobs for panning the sound. You'll also find a master volume and a headphone with a dedicated volume knob here. All outputs on the Black Output have stereo capabilities.
Erica Synths Black System III sound demo
Pros:
The Erica Synths Black System III is a well-built, rugged, and yet very portable device with several applications in your home studio or live stage. The device allows you to create amazing leads, bass patterns, and drones and add delay and several other effects to your heart's content. In addition, the sequencer on board is a great tool for writing music on the fly with 4 different step patterns.
Cons: 
While the Erica Synths Black System III is quite compact and manages to offer a ton of different modules, perhaps one of the few downsides could be the price tag it comes with. As a result, you may consider letting go of a few features and buying something more economical.
5. Behringer SYSTEM 55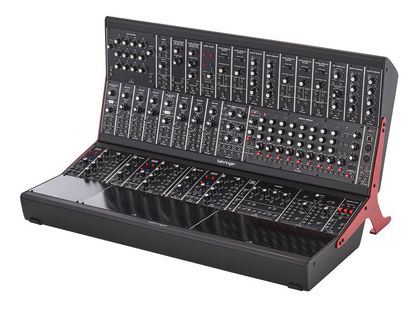 Behringer has tried to capture the essence of some of the classic modular synths from the 1970s through their System 55 modular synth.
Not only does the unit have the ability to accommodate some top-of-the-line modules from the Behringer range, but it boasts exceptional adaptability when it comes to third-party offerings. Add to that the easy-to-navigate interfaces that avoid clutter but provide just enough controls to get the job done, and you have yourself a winner.
The noise generators, oscillators, and filters are all there, apart from a few other goodies, including a versatile step sequencer and plenty of room for expansion thanks to the powerful circuitry under the hood.
Key Features:
914 Fixed Filter Bank
The Behringer SYSTEM 55 has a comprehensive EQ with three rows of 4 knobs, each acting as a bandpass filter. Starting from 125Hz to 5.6kHz, the attenuators give you total control over the frequency spectrum. You'll also find 24dB/octave "Low Pass" and "High Pass" knobs on the Fixed Filter Bank. Finally, the section has a pair of inputs and outputs as well.
923 Analog Dual Filter
The 923 offers dual filters, which means it has separate controls for High Pass and Low Pass filtering. Both knobs range from 10Hz to 10kHz and are flanked by an independent input and output. Not only that but the 923 also features a "Noise Source" section capable of producing white and pink noise through the pair of outputs available for both variations.
904B Voltage Controlled High Pass Filter
The 904B will surprise you with its smooth delivery of low-end warmth as well as some splashy highs. Designed ever so simply, the module has a "Filter Voltage Knob" that helps set the cutoff frequency and a switch to choose between low and high bands. By default, the highs range from 10Hz to 50kHz, while the lows fall between 4Hz – 20kHz. In addition, the 904B has signal I/Os and three summed ports that can feed audio signals simultaneously.
904A Voltage Controlled Low Pass Filter
The Low Pass Filter is divided into two sections. The first section has the "Fixed Control Voltage" knob paired with a three-way "Frequency Range" switch. Here you can set the cutoff frequency from three frequency ranges, including 1Hz – 5kHz, 4Hz – 20kHz, and 16Hz – 80kHz. Finally, the "Regeneration" knob ranges from 0 – 10 and controls the resonance. The unit has a "Sig" I/Os and three summed output jacks.
992 Control Voltages & 902 Voltage Controlled Amplifier
The Control Voltages module has three summed controlled inputs and three "Frequency Control to LPF" outputs. The module also has 4 channel switches so that you can easily select the preferred CV signal. In addition, an attenuverter knob can help scale or invert the CV input signal. The 902 module has a couple of "Signal Inputs" and "Signal Outputs." You also get three controlled input jacks on this Voltage Controlled Amplifier and a "Fixed Control Voltage" knob ranging from 0 – 6. Finally, the VCA has a "Control Mode" switch to choose between linear and exponential modes.
911 Envelope Generator & 911S Dual Trigger Delay
The 911 EG delivers tight transient sounds, crisp percussions, and lengthy drones. The layout has four knobs representing attack, decay, sustain and release. The attack, decay, and release knobs range from 2 milliseconds to 10 seconds, while the sustain knob is labeled 0 to 10. As the name suggests, the 911S has two identical Delay sections. Each one has a "Delay Time" knob ranging from 2 milliseconds to 10 seconds flanked by an "S-Trig" input and output. The great thing about the Dual Trigger Delay is the mode switch with "Off," "Parallel," and "Series" settings. This means that the two available delays can be set to work independently, in parallel, or in series, in which case one delay feeds into the other to produce some inspiring results.
921A Oscillator Driver & 921B Voltage-Controlled Oscillator
Both Oscillators work together to produce some fascinating outcomes. The Oscillator Driver has a multipurpose "Frequency" knob that alters octaves or semitones depending on the mode selected by the Semitone/Octave switch. A separate knob labeled 10 – 90 can alter the width of the rectangular wave. The module has a pair of controlled inputs for frequency and width and a couple of controlled outputs. The 921B has several waveform modes, including sine, triangle, sawtooth and square waves. A "Frequency" knob ranging from -12 to 12 helps adjust the semitones. The module also has a "Range" knob that can be used in combination with the semitone adjuster.
921 Voltage-Controlled Oscillator
The 921 Voltage Controlled Oscillator has a range knob next to a frequency adjustment knob to set the cutoff frequency from the selected range. The module also has separate controls for setting the width of the rectangular waveform. The 921 unit can also produce 6 different waveforms, including sine, triangle, saw, square, and inverted saw/square. The module also has a couple of auxiliary outputs with a dedicated level control knob.
960 Sequencer Controller
On the 960 Sequencer Controller, you'll find 3 rows of 8 knobs, meaning that the sequencer has three 8-step rows. Each step has a CV adjustment knob and a gate input and output. The steps can be triggered manually for auditioning different tones and sounds. Furthermore, each channel has its voltage range selector.
C3PA-O Oscillator Controller & CP3A-M Mixer
The Oscillator Controller looks the same as the 992 module discussed previously. The only difference is that while the 992 unit has an attenuverter, the C3PA-O has an attenuator. Other than that, the interface and the functionality are identical. The CP3A-M unit is a mixer with 4 channels, each of which has a level knob. The mixer also has a "Master Gain" knob and a couple of 4 output clusters. Finally, you'll find a pair of negative and positive polarity outputs.
995 Attenuators & 903A Random Signal Generator
The 995 has a simple design with three attenuators ranging from 0 – 10 and an input/output jack for each. The unit can work in series and parallel modes for different applications and tonal results. If you're looking for a decent module for the generation of white and pink noise, the 903A is a good option to have. The layout has a couple of outputs for both types of noise generation.
CP35 Attenuators
The CP35 unit has 4 control knobs with dedicated input/output ports. Furthermore, the module also offers two banks of multiples which have a single input and three outputs. Also on board are a couple of +6/-6 volt reference outputs. So if you're looking to create detailed patches and patterns through your Eurorack, the CP35 can go a long way.
961 Interface, 962 Sequential Switch & CM1A Midi to CV Converter
The 961 Interface's sole purpose is to convert V-trigs to S-trigs for enhanced compatibility with external Eurorack modules or other Behringer devices. On the panel, there are two sets of 12 V-trig inputs with "Switch-On Time" knobs that help set the duration of triggering. The Sequential Switch can convert 8-step sequences to 16 or even 24 steps through its simple operation. The unit has three inputs to enter feed audio signals and two output ports that can be linked to a filter, oscillator, etc. The device has three of its sequence patterns. If you're looking for a module to connect your DAW or midi controller to a module, the CM1A is just what you need. The converter has a USB-Midi port, a Midi in, and a Midi Thru port. A switch on board can combine the V-trig and S-trig options or isolate them for a different selection.
Pros:
The Behringer System 55 Complete Eurorack Modular Synthesizer offers many different modules to cater to the needs of Modular Synth users worldwide. While the device is complex, it is equally exciting to decipher and experiment with. In addition, the System 55's ability to expand adds to its flexibility and ease of usage.
Cons: 
Contrary to most devices with the Behringer logo on them, the System 55 Complete Eurorack Modular Synthesizer is on the expensive side. As a result, you'll think twice before investing so heavily in a unit that has cheaper alternatives in the market.
6. Teenage Engineering Pocket Operator Modular 400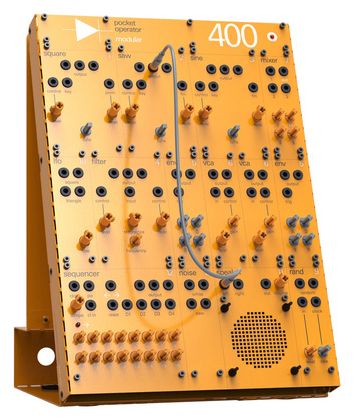 The Teenage Engineering Pocket Operator Modular 400 is perhaps the most unique-looking device on the list.
The Modular 400 is a breath of fresh air compared to the more complicated-looking modular synths. Everything seems easy to comprehend, and its unique design and build will make it somewhat of a conversation piece.
Judging by its diminutive appearance, you may mistake it for a device that isn't capable of doing too much. However, diving deep into the features of the Modular 400 will surprise you quite a bit. The modular synth can deliver some interesting sounds thanks to its components.
Key Features:
Square, Saw & Sine
All three oscillators have the same layout. Firstly, the interface has three outputs that can all be used at the same time. The waveform's pitch can be controlled through the control and key inputs. The left "Level" knob can help control the amount of modulation on the waveform. The "PWM" of pulse width modulation input can change the shape of a waveform by altering the ratio between different voltages. The right "Level" and "Tune" knobs can control the waveform's frequency to make it fall within the audible range.
Mixer & Rand
The Teenage Engineering Pocket Operator Modular 400 also possesses a 3-channel mixer. The interface is rather simple, with three inputs that have dedicated level knobs and a single output with a master level knob. The "Rand" section creates a random output based on the input signal fed through. The unit has two identical outputs that can be used at the same time. You'll also find a clock input with a rate control and level knob dedicated to a separate input.
LFO & ENV
The Low-Frequency Oscillator (LFO) has a simple look with a couple of "Square" and "Triangle" outputs. You'll also find a knob to control the rate of the LFO. The Envelope section has the typical attack, decay, sustain and release knob controls. The unit also has a couple of identical outputs and a trig input on which the enveloping will be applied.
VCA & Noise
The Voltage Controlled Amplifier (VCA) has a couple of outputs for simultaneous use and main and control inputs. The depth of the control input can be adjusted using the "Gain" knob. Finally, the "Level" knob sets the level of the input signal. The Noise module has a couple of "White" and "Saw" outputs. The saw outputs create noise using saw-shaped waveforms.
Filter
The Filter section is designed to do what its name suggests. On the layout, you'll find three similar outputs, left and right control inputs for setting the cutoff frequencies and the main input. In addition, a couple of level knobs are paired with the control inputs to set the modulation on the cutoff frequencies. Finally, you can adjust parameters like resonance and main frequency cutoff by the aptly named knob controls.
Sequencer & Speaker
The Teenage Engineering Pocket Operator is equipped with a 16-step sequencer. In addition, the module has a tempo adjustment knob for setting the tempo and a clock input to plug in an external device for tempo adjustments. The section also has 4 binary inputs and 3 identical outputs next to the reset jack. The signal direction can also be reversed based on the input patched through the left/right port. Finally, the Teenage Engineering Pocket Operator Modular 400 has a built-in speaker with mono left and right inputs and a stereo input. You'll also find a master volume control in this section.
Teenage Engineering Pocket Operator Modular 400 - "plant" jam
Pros:
The Modular 400 unit is very versatile, even though it may look simple in its appearance. You'll find all the necessary modules like a mixer, a filter, oscillators, envelop section, a VCA, and more. In addition, the 16-step sequencer is nicely laid out, and the overall presentation of the Modular 400 is esthetically pleasing.
Cons: 
The Modular 400 does have its downsides. The angle of the frame is a bit annoying to work with. Also, the build quality of the knobs feels very cheap, especially when using the sequencer. Some sections have knobs very close to each other, so you may change the setting around them by mistake. Finally, the Modular 400 is battery-powered only.
7. Endorphin.es Shuttle System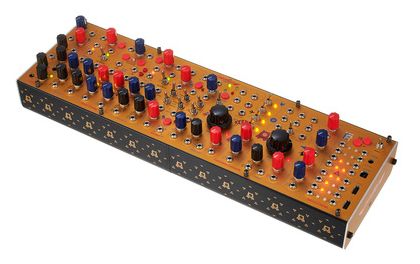 The Endorphin.es Shuttle System is a fun-looking mini modular synth with 5 unique modules built in.
Each module is named after space terminology as the same theme is reflected in its funky interface. Having 5 detailed modules in a single 84hp faceplate unit, the Shuttle System features filters, oscillators, effects controls, auto-tuners, envelopes, and much more.
No wonder this modular synth has grown in popularity ever since its release. The Shuttle System comes in a bright yellow chassis with multicolored knobs/buttons and a more subtle black colored variant with grey and white controls.
Key Features:
Shuttle Control
Shuttle Control is the section that powers the unit and offers a MID/USB/CV converter. The layout has 16 CV outputs, two regular USB ports to connect to midi devices, and a USB B-type port for connecting directly to a DAW. There are also a couple of rubber buttons that can navigate between different presets. You can customize this section by hooking the device to a computer and using the Endorphin web editor.
Furthrrrr Generator (sound source)
The Furthrrrr Generator is the heart of the Shuttle System. The section has a pair of Oscillators where one modulates the other. The oscillator can dish out some interesting waveforms combined with the wave shaping section. Two master dials can set the frequency of each oscillator. Depending on the frequency set, both oscillators will output different waveforms. Wave shapes include sine, square, saw, white noise, and modulation-based options. In addition, the aforementioned waveshaper section can change the signal's harmonic content.
Grand Terminal (filter, envelop, effects)
The Grand Terminal has two identical sections that generate different functions, like low-frequency oscillation. Between the two sections are two filter channels, both of which have 8 different modes. You'll also find controls for different effects like reverbs and delays here.
Gateway (utilities & auto-tuners)
The Gateway section acts as an expander for the Grand Terminal. You'll find several switches here to toggle different utilities, while there also a couple of auto tuners on board that can automatically and intelligently bring external oscillators in tune with each other. These two sections can also be used as mixers to bring together CV or audio channels.
Cockpit (mixer)
The last module of the Endorphin.es Shuttle System is the Cockpit which is actually a four-channel mixer with four inputs and four level knobs. The knobs are multifunctional and can be pressed to mute each channel. In addition, the LEDs next to each knob brighten as the level is raised and vice versa. Finally, you'll also find a headphone output with a dedicated volume knob and a sidechain port that can be handy in booting up the system in different modes.
Endorphin.es Shuttle Modular Synth System Overview
Pros:
The Endorphin.es Shuttle System is very compact and can be easily carried around in your backpack. The devices have exciting modules that offer effective filtering, enveloping capabilities, and detailed reverbs and delays. In addition, there are several wave shapes to play around with, and the Furthrrrr Generator lets you unleash the capabilities of the built-in dual oscillators.
Cons: 
Although you may get a kick out of how the device is designed and decorated on a space theme, the folks at the Endorphin.es company haven't done first-time users any favors. You may have to read the user manual cover to cover to decipher what each control actually does, as there are no helpful texts to explain the features. The Endorphin.es Shuttle System is also very steeply-priced.
Conclusion
A modular synth is as good as the modules used to create it. You now have ample knowledge of top-of-the-line offerings from brands like Roland, Behringer, Moog, Doepfer, Endorphine.es, Teenager Engineer, and Erica Synths. Surely you also know what modules each of these mod-synths offers and the features and capabilities of each component. Another great option to look into is the Nord Modular G2, which isn't readily available but can be found in the secondhand market online.
You can now step into the world of mod-synths with confidence to explore and experience the different options from today's post and see which is the right choice to fulfill your requirements. A good approach would be to list all the modules you prefer so you can customize them according to your preference. Good luck.
Readings that you may like: 
Other Recommended Gear:
Top 12 NearField Studio Monitors On Any Budget
Top 10 Midfield Studio Monitors For Home Recording
Best Biggest Studio Monitors (FarField Monitors)
Top 10 Guitar Pickups for Low Tunings 
Top 10 Analog Compressors For Mixing & Mastering (On Any Budget)
Top 12 USB Audio Interfaces Under 150$, 200$, 300$ 400$ (Any Budget)
Top 12 Hardware Equalizers (Analog EQs For Mixing & Mastering)
Top 6 Analog Hardware Limiters 
Top 6 Solid State Bass Amps (On Any Budget)
Top 6 Ribbon Mics On Any Budget (For Vocals, Drums & Guitars)
Top 6 Cheap Dynamic Mics For Vocals Under 50$, 100$, 200$ & 300$
Top 6 Chorus Guitar Pedals (On Any Budget)
6 Best 61-Key MIDI Keyboards (On Any Budget)
9 Best 49-Key MIDI Keyboards Under 100$ & 200$
Top 5 Best 25 Key MIDI Keyboards (On Any Budget)
Top 12 Acoustic Drums (Best Kits/Sets On Any Budget)
Plugin Roundups:
Genre Focused:
Top 10 EDM Plugins  (And 10 Best FREE Plugins For EDM)
Top 10 Plugins For TRAP Beats (And 5 Best FREE Trap Plugins)
20 Best Plugins For Rock Musicians (+ 6 FREE Plugins)
Top 14 Trance Plugins (Uplifting, Tech, Progressive, Vocal, Dream, Hard)
Top 10 GOA & PsyTrance Plugins (Best Psychedelic Trance Tools)
Top 7 Plugins For Dubstep (With 10 Best FREE Effects & Synths)
Top 20 Synthwave Plugins (+ 11 Best FREE Plugins)
Top 15 Plugins For Techno, House, Electro, Tech House, UK Garage
Top 6 Plugins For Latin Music  (And 4 FREE Tools)
Top 12 Plugins For Hip-Hop (+ Best Kontakt Libraries)
Top 7 Plugins For Game & Film Scoring  (+ 6 Best Kontakt Libraries)
Top 10 R&B And Pop Music Plugins & KONTAKT Libraries 
30 Best Free Plugins For DnB, EDM, IDM & Experimental Music 
EQ Plugins
Top 12 Free EQ Plugins For Precise Mixing & Mastering
Top 9 Mid/Side EQ Plugins  For Mixing & Mastering (+ 2 Free Tools)
Top 7 Graphic EQ Plugins  (With 3 Best Free EQs)
Top 7 EQ Plugins For Mastering In | And Best FREE Mastering EQs
Top 6 Passive EQ Plugins (Klevgrand, SPL, UAD, Waves, IK Multimedia)
Top 11 Plugins For Making Metal (Best Guitars, Drums & Effects)
Metering:
Top 5 Audio Metering Plugins (LUFS, RMS, LRA, True Peak)
Top 6 Spectrum Analyzer Plugins  – Spectral Analysis Tools
Top 6 Oscilloscope Plugins To See The Waveforms
Top 5 Key Detection Plugins & Software  (+ Best FREE App)
Kontakt Libraries
20 Best Kontakt Libraries For All Categories (Synths, Drums, Vocals)
Top 7 Drum Libraries For KONTAKT (And 4 Freebies)
Top 7 Trap Music Kontakt Libraries (And Best Lo-Fi Kontakt Library)
Top 7 Metal & Rock Kontakt Libraries (Best Guitars & Drums)
Top 10 Guitar Libraries For Kontakt (Acoustic, Electric, Bass & Freebies)
Top 7 Trailer Scoring Plugins & Kontakt Libraries 
20 Best Free KONTAKT Libraries For Various Instruments
Top 9 Piano Kontakt Sample Libraries  (And 5 Best Free Pianos)
Top 10 Percussion KONTAKT Libraries  (And 3 Freebies)
Top 7 Kontakt Libraries For Horror & Thriller Scoring (No VSTs)
Audio Restoration, Calibration & Utility:
Top 6 Noise Reduction Plugins (And 3 Best Free Tools)
6 Best Audio Restoration Plugins & Software 
Top 7 Phase Alignment Plugins To Fix Your Bass & Drums
Top 10 Room Calibration & Headphones/Speakers Correction Plugins 
Instrument Plugins: 
Top 6 Vocoder Plugins (Effects & Synths + FREE Vocoder)
11 Best Rhodes VST Plugins (AND 5 Free Rhodes Plugins)
Top 12 Randomizer Plugins Including FREE Plugins
Top 6 Kick Drum Plugins (Best Kick Designer Tools)
Top 12 Woodwind Plugins (And KONTAKT Libraries)
Top 10 Double Bass Plugins (Best Upright Basses)
Top 5 Strings VST Plugins (AND 4 Best Free Instruments)
Top 6 Sampler Plugins (And 3 Best FREE Plugins)
Top 6 Classical Guitar Plugins & Kontakt Libraries (And FREE Guitars)
Top 12 Sub Plugins (Best 808 & Bass Tools For Massive Low End)
Top 10 Plugins On PluginBoutique (And 7 Best Free Plugins)
Top 11 Plugins On Plugin Alliance 
Top 7 Acoustic Guitar Plugins (And 4 Best Kontakt Libraries)
9 Best Bass Guitar Plugins (And 2 Best Freebies)
Top 6 Electric Guitar Plugins (Best PAID & FREE Picks)
Top 10 Arpeggiator VST Plugins (Best Synths, MIDI Effects & Tools)
Top 10 Modular Synth Plugins (And 3 Best FREE Plugins)
Top 6 Choir Plugins & Sample Libraries (And 3 Best Free Plugins)
11 Best Percussion & Drum VST Plugins (And FREE Plugins)
Top 8 Piano Plugins (Best Sounding Pianos & 5 FREE Piano Plugins)
Top 6 Organ Plugins Ever Made  (And 3 Best Free Organs)
Top 14 VST Plugins For Beginners (And 9 FREE Plugins)
Top 9 Drum Machine Plugins (And Groovebox Plugins)
4 Best Banjo Plugins (Best Banjo Instruments)
The 5 Best Ukulele Plugins & Kontakt Libraries 
Top 13 Synth Plugins (And 5 Best FREE Synths Plugins)
Top 13 Sequencer Plugins  (Synth, MIDI & Step Sequencers)
The 10 Best Multi-Effect Plugins (And 3 Best Free Plugins)
Top 12 Plugin Bundles For Musicians (Synths, Mixing & Mastering)
Processing & Sound Design:
8 Best Lo-Fi Plugins (PAID & FREE)
Top 11 Plugins For Mixing Vocals  (For Home Studio)
Top 12 Saturation Plugins (Best Mixing & Mastering Tools)
Top 6 Pitch Shifter Plugins (And 3 Best FREE Pitch Shifters)
Top 6 Chorus VST Plugins For Musicians (And 3 FREE Plugins)
Top 6 Limiter Plugins For Precise Mastering & Mixing
The 8 Best Filter Plugins For Precise Cuts & Boosts (+ 5 Free Filters)
6 Best Autotune Plugins To Improve & Enhance Your Vocals
Top 10 Transient Shaper Plugins (VST, AU, AAX)
Top 7 Enhancer Plugins (For Bass, Drums, Vocals & Harmonics)
Top 6 Flanger Plugins (And 5 Best FREE Flanger Emulators)
Top 7 Phaser Plugins (And 3 Best FREE Phasers)
Top 10 Plugins For Mixing Drums (And 3 Best Free Plugins)
Top 7 Bitcrusher Plugins (And 4 Best FREE Bitcrushers + 3 Bonuses)
Top 6 Plugins For Voice-Over & Dialogue Cleaning (Post Production)
Top 10 Stereo Imaging Plugins (Best Old & Modern Picks)
Top 5 Multiband Limiter Plugins 
Top 7 De-Esser Plugins For Better Vocals (And 4 FREE Plugins)
Top 7 Clipper Plugins (Best Limiter Alternatives)
Top 6 Chord Generator Plugins That Inspire Melodies (+ FREE Tools)
7 Best Exciter Plugins For Mixing & Mastering
Top 7 Channel Strip Plugins (And 2 Best Free Plugins)
Top 11 Distortion Plugins (And 4 Top Free Plugins)
Top 5 Comb Filter & Resonator Plugins | Melda, Kilohearts, Tritik
The 7 Best Vibrato VST Plugins | Audec, Audiority, Melda
The 7 Best Tremolo Plugins | Eventide, Melda, SoundToys, Kuassa…
The 7 Best Harmonizer Plugins | Eventide, Melda, Aegean Music
7 Best Sidechain Plugins (VST, AU, AAX) | Xfer, Cableguys..
Top 10 Noise Gate Plugins (And 6 FREE Free Gate Tools)
The 6 Best Ring Modulator VST Plugins | KiloHearts, Melda
7 Best Autopan VST Plugins | CableGuys, Melda, Waves, Soundtoys
The 6 Best Frequency Shifter VST Plugins
Top 11 Granulizer Plugins For Future Sound Design
29 Best Sound Design VST Plugins
Compressor Plugins
Top 11 Free Compressor Plugins (VCA, Vari-Mu, FET, Digital)
Top 7 Multiband Compressor Plugins (And 4 FREE Plugins)
Top 5 Diode-Bridge Compressor Plugins 
Top 6 Mastering Chain Plugins: Complete VST Solutions 
The 7 Best VCA Compressor Plugins (VST, AU, AAX)
Top 11 Mastering Compressor Plugins (And 2 FREE Plugins)
Top 10 Opto Compressor Plugins For Transparent Sound
The 7 Best Vari-Mu Compressor Plugins (And 2 Best FREE Tools)
Reverb & Delay Plugins:
Top 12 Reverb Plugins (And 5 FREE Reverb Plugins)
The 6 Best Spring Reverb VST Plugins | AudioThing, GSi, u-he, Eventide
Top 12 Delay Plugins For Music Production In (VST, AU, AAX)
Top 10 FREE Delay Plugins (VST, AU, AAX)
The 10 Best Convolution Reverb Plugins 
Amps & Preamps:
Top 10 Guitar Amp Plugins (And 5 Best FREE Simulators)
Top 10 Bass Amp Plugins (And 5 Best Free Simulators)
Top 9 Preamp Plugins (For Vocals, Guitars & More!) + Free Preamps
Guitar/Amp Focused:
Can I Put Nylon Strings on a Steel-string Guitar?
Do Electric Guitars Sound Good Unplugged?
Buying Your First Guitar: 2 Things To Know
Are Tube Amps Worth It? (Tube vs Solid-State Amps)
How Often Does A Guitar Need a Setup?
Can I Play Classical Guitar On A Steel-String Guitar?
How often guitar necks need reset?
Can You Play Two Guitars Through One Amp?
Can a 6 String Bass Be Tuned Like A Guitar?
Can I leave My Guitar Tuned Down a Step? Yes, But Is It Safe?
Should I Learn 4, 5 Or 6 String Bass Guitar & Why?
How To Know If your Guitar Amp Is Broken?
How To Fix Distorted Bass Guitar Sound?
Do Fender Guitars Appreciate In Value?
Should You Put Stickers On A Bass Guitar?
How Acoustic And Electric Guitars Are Made?
Is Electric Guitar Too Loud for an Apartment?
Does a Preamp Improve Sound Quality?
If I Learn Acoustic Guitar Can I Play Electric Guitar?
How Many Hours A Day Should You Practice Bass Guitar?
Do I need an AMP/DAC To Run Bookshelf Speakers?
How to Record Electric Guitar Into Logic Pro X?
Do headphones get worse with age?
DAW Related:
Best DAWs For Musicians Available (With FREE DAWs)
What's The Most CPU Efficient DAW? – 5 DAWs Compared
How To Make Music Without Using A DAW?
Pro Tools Guide: How To Use AutoTune & Pitch Correction?
Ableton Review: Is It Worth The Money? (Cons & Pros)
Logic Pro X Review: Is It Worth It? (Cons & Pros)
How To Use Auto-tune & Pitch Correction In Cubase?
How To Fix Ableton Crackling, Crashing & Freezing? Step By Step
Plugin Related:
What Are Audio Plugins? Different Types of Plugins Explained
What Are The Best Tools To Develop VST Plugins & How Are They Made?
Cost of Developing Audio VST Plugin: Several Factors (With Table)
VST, VST, AU and AAX – What's The Difference? Plugin Formats Explained
Complete Guide To Noise Gate – What It Is, What It Does & How To Use It?
How To Clip My Drums? Here Is How & Audio Teasers (Before/After)
Complete Guide To Limiter: How To Use It (+ Best Plugins & Analog Limiters)
Mixing With Reverb: How To Add Life To Your Mixes
Linear Phase vs Minimum Phase EQ – Full Guide
Difference Between LUFS, RMS & True Peak Loudness Meters
How And When To Use Algorithmic And Convolution Reverb In Your Mix?
Difference Between Active EQ, Passive EQ and Dynamic EQ
Headphones & Studio Monitors:
Do headphones get worse with age?
Monitors vs Studio Headphones For Mixing & Mastering
Top 10 Room Calibration & Headphones/Speakers Correction Plugins 
Are Noise-Canceling Headphones Good For Music Production?
Can Headphones Break in Cold Weather?
Why do headphones & cables get sticky?
Can Wearing Headphones Cause Hair Loss?
How Do I know If My Studio Monitor Is Blown?
Side Effects Of Sleeping With Your Headphones On
Do You Need Music Amplifier For Studio Monitors or Studio Headphones?
Do Headphones or Earphones Damage Your Brain?
Can Headphones or Earphones cause Deafness or Toothache?
FarField, MidField & NearField Monitors – Their Uses, Pros & Cons
MIDI & Synths:
Should I Buy A MIDI Keyboard Or Synth? (Are Synths Worth It Anymore?)
Why Is Audio Gear So Expensive? (Especially Synths)
Top 12 Synth Brands – Analog, Digital & Modular Synth Manufacturers
11 Tips How To Choose MIDI Keyboard 
Should I Buy MIDI Controller Or Keyboard? Cons, Pros & Tips
Sultan Zafar is a guitar player from Islamabad, Pakistan. He has been playing music with various mainstream musicians for over 20 years. He is a song writer and music producer. These days he spends his time exploring different music genres and collaborating with fellow musicians on various projects. Read more..