The 6 Best 49-Key Synthesizers 2023 (Analog & Digital)
Arturia Matrixbrute 
The matrix brute by Arturia is a monophonic analog synthesizer with a powerful and interactive synth engine.
It features three brute oscillators, a Steiner-Parker filter and a ladder filter, five analog effects, and a comprehensive modulation matrix. You can set customized routings in the matrix and select any preset from its 256 presets with just a click of a button, without any menu diving.
Key Features:
100% analog
The signal flow of the matrix brute is completely analog and has a great sonic quality, advanced sequencing and arpeggiation options, and great flexibility with the sound.
Sound sources
The instrument features two analog exponential VCOs of saw, ultra-saw, triangle, metalizer , and sub-combinations. It also features one analog linear VCO/LFO with waveform options ranging from saw, square, triangle, and sine. Then there's a noise generator with pink, white, blue, and red noise.
Filters & modulators
The synth features Steiner Parker and Ladder filter with 12+24 dB per octave modes, with Drive, Brute factor; Low Pass, High Pass, Band Pass, and Notch editing options. On top of that, there are two LFOs (Sine, Tri, Square, Ramp, Saw, Random, S&H waveforms), three envelope generators, and a 16 x 16 modulation matrix panel.
Other features
It includes time-based analog effects like delay, reverb, flanger, chorus, etc., and 12 CV/Gate I/Os, MIDI, USB I/o, and pedal inputs for more expressive playing.
Character & Sound:
It has presets created by some great sound designers & music producers, to suit different genres and styles. The feature richness combined with the navigatable interface lets you explore your artistry to create out-of-the-box sounds. You can create anything from fat & bright dance-based bass line to dirty 8o8s for your underground bangers.
Pros
It's a feature-rich and highly expansive analog beast that can do way more than creating & programming bass. It's a comprehensive sound design machine that is modern, sounds great, connects with almost every device, and is highly versatile.
Cons:
Its filter is not completely accurate as it lets the oscillator bleed through it, which is a huge bummer. Secondly, there are no modulations like frequency and ring modulations available, which makes it difficult to create dubstep-style bass, wobbly bass, and FM bass sounds. Lastly, the sequencer lacks a metronome.
Roland SYSTEM-8
Roland SYSTEM-8 is an ABC-based polyphonic digital synthesizer that combines the best of worlds: classic and modern, together to produce a sonically diverse universe of vintage and futuristic sounds, owing to Roland's tried and tested analog circuit behavior is at the core of its engine. which has proven itself over decades.
Historically, this derives from the digital synths revolution of the 1980s, which evolved from the multi-oscillator modulator synthesizers revolution in the 1970s, a golden period for analog music machines. After forty years of technological development at Roland, they have released the Roland System-8.
They have tried to capture the essence of the famous JUNO-6, JUPITER-8, and JX-3P, with their down-to-circuit recreations. This extension of the Roland S-1 uses an 8-voice polyphony, split & layered synths, an integrated vocoder, and three PLUG-OUT slots.
Key Features:
PLUG-OUT Expansion
You get three expansion slots for connecting and controlling plug-out synths, by which you can load up a different sound engine, by which the Roland S-8 can be transformed into a different instrument. We can connect with many synthesizers and create interesting fused sounds using layered voices and custom splits.
Easy Connectivity
In terms of connectivity, we can connect our rig using MIDI/USB and CV/Gate, can input and output audios using 2 1/4″ I/O slots, and can monitor the audio using the 1/4″ headphones slot. This makes it a great instrument for both LIVE and Music Studios.
Advanced Sound Engine & Digital FX
Based on the architecture of S-1, this digital instrument is packed with the ABC Sound Engine by Roland, 3-variable oscillators with eight notes of polyphony, 25 & 49 keys, an arpeggiator to enhance your musical performance, a step-sequencer, an SD Card Slot, and effects like Delay, Chorus, Phaser, Overdrive, Flanger, Reverb, etc., by which you could extensively morph your sonic palette.
Great sound-shaping capabilities
Apart from that, dozens of knobs, buttons, and sliders are available, giving us good intuitive real-time control over the sound design process. There are lots of modulation & filter options also available to shape the sound as per your taste. You can change between 6 unique waveforms (saw, square, triangle, super saw, super square, super triangle) using the WAVE knob and blend these waveforms using the modulations.
System-8 Sound Design Mega Tutorial
Character & Sound:
Versatility is a huge plus for this synth, with a good variety of waveforms, a NOISE SAW, modulations like Frequency Modulation, SYNC, Vowel, Cowbell, Ring Modulation, Pulse Width Modulation, Cross Modulation, Detuning option, and a lot of other programming options like AMP Envelopes (Strings, Organ, Mallet, etc.), LFO of 6 different wave shapes, an arpeggiator, and a sequencer.
You can also add interesting effects like delay, reverb, chorus, flanger, etc., to improve your sounds. All the options mentioned above allow you to shape and enhance your sounds per your taste and create a wide range of sonics, letting you create sounds that are both vintage and modern.
Pros:
Regarding connectivity, we can connect our rig using MIDI/USB and CV/Gate. That makes it easy to work with, carrying it around while traveling, and the plug-out option helps you expand your instrument further. That is a great plus for both touring and studio musicians. Using the MIDI connectivity, you can work with it on a computer or laptop too, and program & record music on your DAWs.
Small size, with only 13 lbs of weight, makes the Roland S-8 a portable tool. Moreover, it does a remarkable job sonically emulating classic synths: the Juno-6, Jupiter-8 & JX-3P. Hence, you need not spend a tonne of money on buying analog synths when you can buy a digital synthesizer with such capabilities and functionalities.
Cons: 
The biggest drawback of the S-8 is that it has very few patches, which are uneditable during the performance, and that it does not have much performance memory. Along with that, the performance mode does not save edits. In addition, its documentation is below average, and the hardware is made of plastic and has an external power supply.
There's no option to connect an XLR mic input, and it is not great for keyboard players as it has few octaves. Lastly, the arpeggiator doesn't have a gate or swing mode, only one global LFO, and the sequencer doesn't have a metronome track.
Sequential Prophet-6
The Sequential Prophet 6, a successor of the much renowned Prophet 5, is a 6-voice analog synthesizer that comes with two voltage-controlled oscillators (VCOs) per voice, giving us an option to use up to twelve oscillators at a time. Known for its authentic and warm vintage tone, we can smoothly transition the oscillators of this synth from triangle to pulse.
It also has a slop knob that emulates the inconsistencies between oscillators in old analog synthesizers, outputting a fat synth sound from detuning and dephasing the voices. Created by Dave Smith, the creator of the Prophet 5, this machine exceeds all expectations with its classic sequential circuit, which gives it its analog characteristics.
This synth has its fan base and a great reputation in the market for its trademark sound, which is loved by almost anyone who uses it, and its legacy. It has four octaves of piano keys and a button to shift octaves.
Key Features:
Studio Quality Effects
The Prophet 6 packs a dual effects section with studio-grade digital effects like reverb, phase shifter, chorus, delay., etc., which are bypassable to maintain the analog nature of the synth. There's also a stereo distortion effect which is completely analog.
Poly Modulation & Step Sequencer
A filter envelope and the second oscillator act like modulation sources, targeting various parameters of oscillator one that could be used for modulation purposes. It has a polyphonic step sequencer with up to steps and up to 6 notes on each step, which allows polyphonic sequencing. There are two filters per voice and a multimode arpeggiator available as well.
Ease of use
Five hundred factory and 500 user programs are available as patches, which can be easily manipulated and played around to create interesting sounds. Apart from that, there's a MIDI output, a USB slot, two audio outputs of 1/4″ each, and a headphones output.
Character & Sound:
You can expect to create sounds with a lot of movement, depth, punch, and fullness when you work with this synth, giving you a great analog-natured vintage palette. The factory presets have a huge variety of sounds ranging from plucks to percussions to spread-out ambient sounds, proving the versatility and capabilities of the Prophet 6. In addition, things like the Slop dial and effects range are created for us to shape the sounds as per our taste.
My sound design workflow with the Prophet 6
Pros:
The semi-weighted keyboard of this synth feels very smooth to play, with an accurate velocity-sensitive and aftertouch response to the finger pressure. The VCOs, VCFs, and VCAs are perfect for the aesthetic vintage sound. The user interface is simplified and easily usable, and the performance is more ear-dependent than giving you fancy visual cues about what you're doing.
Cons: 
Since the Prophet 5 and the Prophet 600 had a five-octave keyboard, many fans were disappointed when the Prophet 6 was announced as a four-octave keyboard synth. This makes it portable & compact, but it's not the best fit for performing musicians & sound designers who play with both hands. It's also expensive and not easily affordable. Finally, it uses digitally sourced LFOs and ADSR contours that technically make this machine a bit digital, which may put off analog purists and old Prophet fans.
Behringer Deepmind 12
The Deepmind 12 by Behringer is an analog synth with digital effects section that comes in keyboard and desktop versions, with either six or twelve voices, an extensive modulation matrix, arpeggiators, sequencers, VCOs, and a variety of effects.
Audiophiles compare it with the Juno-106. However, it's like an upgraded version, as it has way more new features and a polyphony of up to 12 unison voices. It has a strong build and is packed as a wooden box with a metallic covering. Built on Behringer's classic analog synth engine, it has a characteristic sound that hugely impacted the music of a wide range of genres in the 70s and 80s.
It contains two analog oscillators, which are digitally controlled, an effective 8-bus modulation matrix, four digital FX engines, a 32-steps step sequencer, and many more features that we will look into further in this article.
Key Features:
Absolute Control
The Deepmind 12 has built-in Wi-fi by which you can command it remotely using an iPad or a computer. Apart from that, it has a USB slot and can also connect as a MIDI device. In addition, it has an interactive LCD screen on which you can navigate all buttons and sliders, giving you full control over the sound design process.
Lexicon FX and EMT Plate
Onboard effects like vintage reverb are based on the EMT250 plate, and other reverb algorithms like Hall, Chamber, Ambient, etc., are modeled by the famous Lexicon 480L, a high-quality industry-standard digital reverb unit. Apart from that, there are TC Electronic Reverbs also present.
Extensive sound design features
With two oscillators per voice and a noise generator, more than a thousand patch memory locations arranged in 8 banks, three analog envelopes, an independent LFO for every voice, detune future on unison voices, and an arpeggiator with gate time control, there's an immense scope to create and innovate new sounds.
Character & Sound:
There are some high-resolution patches of sounds present in the machine with a huge range and variety of tones and textures, from granular & glassy characteristics to wonderful lush pads, huge sounding ensembles, orchestral sounds, electric pianos, etc. Using the arpeggiator and control sequencer; one can design sounds for the EDM category. In addition, the detune option, unison voices, LFOs, etc., give you a huge range of options to explore your sounds.
BEHRINGER DEEPMIND 12 ELECTRIC PIANO SOUND DESIGN TUTORIAL ~ Synthesize This! Ep.14
Pros: 
There are a lot of under-the-hood features and possibilities that the Deepmind 12 offers, which may not be apparent. It has a comfortably playable velocity-sensitive keyboard, an internal power supply, and an in-built WiFi, which accounts for a well-thought design. Lastly, it looks attractive, is priced under $1000, and is more affordable than other machines on this list.
Cons: 
There is a problem with the design of this instrument, as there isn't much space for a lot of knobs, sliders, and other physical controls, so many basic features are available only via the screen. In addition, it has a 49 keys keyboard and hence is not the best option for pianists & keyboardists for live performances.
ASM Hydrasynth Keyboard
The Hydrasynth is a digital instrument with 8-voice polyphony that comes in two different versions. One comes with a velocity-sensitive 49-keys keyboard with polyphonic aftertouch, and another comes in a desktop version. Both are fully digital synths with virtual analog FM and wavetable oscillators, five envelopes and five LFOs per voice, and an extensive effects section.
The Hydrasynth is the debut synthesizer of Ashun Sound Machines, a Chinese company. They priced it at about $1299, which is pretty affordable, given its advanced features and innovative design. 
Key Features:
Next Level Virtual Analog sound design capabilities
The ASM Hydrasynth packs a 32-slot modulation matrix, three Wavescan oscillators with 219 waveforms, and four waveshaping mutators. Each of the five envelopes can sweep through exponential and logarithmic curves, which creates scope for long evolving modulations. Further, the LFOs have 11 different assignable waveforms.
High-performance Parameters
For live sound designing and performances, the ribbon controller gives you accessibility to control pitch bend or modulation amount. PolyTouch gives you more command over the aftertouch curves, offsets, and release times, shaping your sounds in more controlled and creative ways. Lastly, it also gives you macro controls, that is, ways by which you could control multiple parameters by just a single knob.
Hands-on control of the interface
The intuitive interface makes your sound design process simpler and easier, with plenty of knobs and buttons to tweak what you're looking for. In addition, we can easily access each section and functionality of this synth with just a press of a button.
Character & Sound:
ASM places a lot of importance on recording the expression of the performance by packing the Hydrasynth keyboard with aftertouch, connectivity for sustain peddles, and velocity sensitivity. Hence, what you play on this instrument will truly be recorded. Moreover, sonically, it sounds fairly analog and warm for a digital synthesizer.
You can create anything from a pad to a pluck sound to percussions to fat and gritty synth bass sounds to strings with varying ADSRs to punchy and bright 80s stabs, etc., hence making it a good sound design tool for modern music producers.
ASM Hydrasynth: Experimental Sound Design Tutorial (ft. Hydrasynth Explorer)
Pros:
Hydrasynth combines several sound design methods, like wavetable synthesis, subtractive synthesis, linear FM, Pulse Width Modulation, and more which gives it limitless functionality. Further, eight macro control presents make the sound design workflow easier, combined with a solid build and a high-quality effects section. Lastly, the Polyphonic aftertouch and Ribbon Controller are its topmost USP after its attractive price point. 
Cons: 
The keyboard is 49 keys long, and some sound designers may have a preference for longer keyboards to be able to record their performances easily. Secondly, it has an external power supply, and the complex & overwhelming sound design workflow may take time to get used to.
Hence, Hydrasynth is not the most beginner-friendly sound design instrument. Lastly, lacking sequencers could be a huge dealbreaker for many sound designers, making its versatility questionable.
Waldorf STVC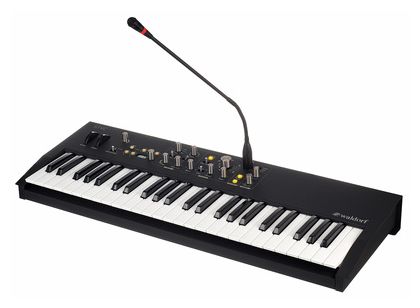 STVC by Waldorf is a string synthesizer integrated with a vocoder. 
It is based on the famous Streichfett String Synthesizer with 49-keys aftertouch enabled keyboard, coupled with pitch bend and mod wheels, and an OLED screen, packaged in a well-built metal box with 126 programmable patches in three banks. In addition, the Vocoder comes with a polyphonic carrier and a gender modification option.  
Key Features:
Unique sound
The synth string sound is the signature sound of many incredible 70s and 80s songs, is also used in much modern retro pop, and has a nostalgic & feel-good vibe. It sounds huge, lush, and smooth, and when combined with a vocoder, it sounds even more unique.
Sonic shaping
You get a tremolo effect that adds energy to your sounds and makes them more stereo. In addition, the envelope controls let you control the ADSR of the sounds, allowing you to shape the transient nature of the sound, shaping the percussive and melodic sounds differently. Further, the solo section lets you split the keys by which high or low cutoff is set to the solo tone.

Effects and modulations


You can add effects like Animate, Phaser, and Reverb and control their mixes, such that the Animate option modulates the strings using LFO. All three effects are of great quality and resolution.
Focus on Waldorf STVC Synthesizer & Vocoder – Tutorial Part 1
Character & Sound:
You get string sounds from Violin, Viola, Cello, Brass, Organ, Choir, and more for creating rich and creamy sounds with unique vintage-flavored strings. In addition, you can morph between five classic synth sounds, by which you can create anything from bass, lead, pluck, etc. 
The Vocoder lets you edit speed, intelligibility, polyphony, and gender modification. You can also separate or split sounds using the solos section. 
Pros:
There are twelve memory slots you get to save your sounds. On top of that, there are MIDI, XLR mic input, 2 x 1/4 inch outputs, and USB connectivity open to expanding the device and using it in combination with other instruments. On top of that, it's built like a tank and blends & layers different sounds well. 
Cons: 
The solo section doesn't have a filter, and the synth overall lacks an arpeggiator. Another huge con is that the reverb effect acts globally and applies parallel to the entire output. 
Readings that you may like: 
Other Recommended Gear:
Top 12 NearField Studio Monitors On Any Budget
Top 10 Midfield Studio Monitors For Home Recording
Best Biggest Studio Monitors (FarField Monitors)
Top 10 Guitar Pickups for Low Tunings 
Top 10 Analog Compressors For Mixing & Mastering (On Any Budget)
Top 12 USB Audio Interfaces Under 150$, 200$, 300$ 400$ (Any Budget)
Top 12 Hardware Equalizers (Analog EQs For Mixing & Mastering)
Top 6 Analog Hardware Limiters 
Top 6 Solid State Bass Amps (On Any Budget)
Top 6 Ribbon Mics On Any Budget (For Vocals, Drums & Guitars)
Top 6 Cheap Dynamic Mics For Vocals Under 50$, 100$, 200$ & 300$
Top 6 Chorus Guitar Pedals (On Any Budget)
6 Best 61-Key MIDI Keyboards (On Any Budget)
9 Best 49-Key MIDI Keyboards Under 100$ & 200$
Top 5 Best 25 Key MIDI Keyboards (On Any Budget)
Top 12 Acoustic Drums (Best Kits/Sets On Any Budget)
Plugin Roundups:
Genre Focused:
Top 10 EDM Plugins  (And 10 Best FREE Plugins For EDM)
Top 10 Plugins For TRAP Beats (And 5 Best FREE Trap Plugins)
20 Best Plugins For Rock Musicians (+ 6 FREE Plugins)
Top 14 Trance Plugins (Uplifting, Tech, Progressive, Vocal, Dream, Hard)
Top 10 GOA & PsyTrance Plugins (Best Psychedelic Trance Tools)
Top 7 Plugins For Dubstep (With 10 Best FREE Effects & Synths)
Top 20 Synthwave Plugins (+ 11 Best FREE Plugins)
Top 15 Plugins For Techno, House, Electro, Tech House, UK Garage
Top 6 Plugins For Latin Music  (And 4 FREE Tools)
Top 12 Plugins For Hip-Hop (+ Best Kontakt Libraries)
Top 7 Plugins For Game & Film Scoring  (+ 6 Best Kontakt Libraries)
Top 10 R&B And Pop Music Plugins & KONTAKT Libraries 
30 Best Free Plugins For DnB, EDM, IDM & Experimental Music 
EQ Plugins
Top 12 Free EQ Plugins For Precise Mixing & Mastering
Top 9 Mid/Side EQ Plugins  For Mixing & Mastering (+ 2 Free Tools)
Top 7 Graphic EQ Plugins  (With 3 Best Free EQs)
Top 7 EQ Plugins For Mastering In | And Best FREE Mastering EQs
Top 6 Passive EQ Plugins (Klevgrand, SPL, UAD, Waves, IK Multimedia)
Top 11 Plugins For Making Metal (Best Guitars, Drums & Effects)
Metering:
Top 5 Audio Metering Plugins (LUFS, RMS, LRA, True Peak)
Top 6 Spectrum Analyzer Plugins  – Spectral Analysis Tools
Top 6 Oscilloscope Plugins To See The Waveforms
Top 5 Key Detection Plugins & Software  (+ Best FREE App)
Kontakt Libraries
20 Best Kontakt Libraries For All Categories (Synths, Drums, Vocals)
Top 7 Drum Libraries For KONTAKT (And 4 Freebies)
Top 7 Trap Music Kontakt Libraries (And Best Lo-Fi Kontakt Library)
Top 7 Metal & Rock Kontakt Libraries (Best Guitars & Drums)
Top 10 Guitar Libraries For Kontakt (Acoustic, Electric, Bass & Freebies)
Top 7 Trailer Scoring Plugins & Kontakt Libraries 
20 Best Free KONTAKT Libraries For Various Instruments
Top 9 Piano Kontakt Sample Libraries  (And 5 Best Free Pianos)
Top 10 Percussion KONTAKT Libraries  (And 3 Freebies)
Top 7 Kontakt Libraries For Horror & Thriller Scoring (No VSTs)
Audio Restoration, Calibration & Utility:
Top 6 Noise Reduction Plugins (And 3 Best Free Tools)
6 Best Audio Restoration Plugins & Software 
Top 7 Phase Alignment Plugins To Fix Your Bass & Drums
Top 10 Room Calibration & Headphones/Speakers Correction Plugins 
Instrument Plugins: 
Top 6 Vocoder Plugins (Effects & Synths + FREE Vocoder)
11 Best Rhodes VST Plugins (AND 5 Free Rhodes Plugins)
Top 12 Randomizer Plugins Including FREE Plugins
Top 6 Kick Drum Plugins (Best Kick Designer Tools)
Top 12 Woodwind Plugins (And KONTAKT Libraries)
Top 10 Double Bass Plugins (Best Upright Basses)
Top 5 Strings VST Plugins (AND 4 Best Free Instruments)
Top 6 Sampler Plugins (And 3 Best FREE Plugins)
Top 6 Classical Guitar Plugins & Kontakt Libraries (And FREE Guitars)
Top 12 Sub Plugins (Best 808 & Bass Tools For Massive Low End)
Top 10 Plugins On PluginBoutique (And 7 Best Free Plugins)
Top 11 Plugins On Plugin Alliance 
Top 7 Acoustic Guitar Plugins (And 4 Best Kontakt Libraries)
9 Best Bass Guitar Plugins (And 2 Best Freebies)
Top 6 Electric Guitar Plugins (Best PAID & FREE Picks)
Top 10 Arpeggiator VST Plugins (Best Synths, MIDI Effects & Tools)
Top 10 Modular Synth Plugins (And 3 Best FREE Plugins)
Top 6 Choir Plugins & Sample Libraries (And 3 Best Free Plugins)
11 Best Percussion & Drum VST Plugins (And FREE Plugins)
Top 8 Piano Plugins (Best Sounding Pianos & 5 FREE Piano Plugins)
Top 6 Organ Plugins Ever Made  (And 3 Best Free Organs)
Top 14 VST Plugins For Beginners (And 9 FREE Plugins)
Top 9 Drum Machine Plugins (And Groovebox Plugins)
4 Best Banjo Plugins (Best Banjo Instruments)
The 5 Best Ukulele Plugins & Kontakt Libraries 
Top 13 Synth Plugins (And 5 Best FREE Synths Plugins)
Top 13 Sequencer Plugins  (Synth, MIDI & Step Sequencers)
The 10 Best Multi-Effect Plugins (And 3 Best Free Plugins)
Top 12 Plugin Bundles For Musicians (Synths, Mixing & Mastering)
Processing & Sound Design:
8 Best Lo-Fi Plugins (PAID & FREE)
Top 11 Plugins For Mixing Vocals  (For Home Studio)
Top 12 Saturation Plugins (Best Mixing & Mastering Tools)
Top 6 Pitch Shifter Plugins (And 3 Best FREE Pitch Shifters)
Top 6 Chorus VST Plugins For Musicians (And 3 FREE Plugins)
Top 6 Limiter Plugins For Precise Mastering & Mixing
The 8 Best Filter Plugins For Precise Cuts & Boosts (+ 5 Free Filters)
6 Best Autotune Plugins To Improve & Enhance Your Vocals
Top 10 Transient Shaper Plugins (VST, AU, AAX)
Top 7 Enhancer Plugins (For Bass, Drums, Vocals & Harmonics)
Top 6 Flanger Plugins (And 5 Best FREE Flanger Emulators)
Top 7 Phaser Plugins (And 3 Best FREE Phasers)
Top 10 Plugins For Mixing Drums (And 3 Best Free Plugins)
Top 7 Bitcrusher Plugins (And 4 Best FREE Bitcrushers + 3 Bonuses)
Top 6 Plugins For Voice-Over & Dialogue Cleaning (Post Production)
Top 10 Stereo Imaging Plugins (Best Old & Modern Picks)
Top 5 Multiband Limiter Plugins 
Top 7 De-Esser Plugins For Better Vocals (And 4 FREE Plugins)
Top 7 Clipper Plugins (Best Limiter Alternatives)
Top 6 Chord Generator Plugins That Inspire Melodies (+ FREE Tools)
7 Best Exciter Plugins For Mixing & Mastering
Top 7 Channel Strip Plugins (And 2 Best Free Plugins)
Top 11 Distortion Plugins (And 4 Top Free Plugins)
Top 5 Comb Filter & Resonator Plugins | Melda, Kilohearts, Tritik
The 7 Best Vibrato VST Plugins | Audec, Audiority, Melda
The 7 Best Tremolo Plugins | Eventide, Melda, SoundToys, Kuassa…
The 7 Best Harmonizer Plugins | Eventide, Melda, Aegean Music
7 Best Sidechain Plugins (VST, AU, AAX) | Xfer, Cableguys..
Top 10 Noise Gate Plugins (And 6 FREE Free Gate Tools)
The 6 Best Ring Modulator VST Plugins | KiloHearts, Melda
7 Best Autopan VST Plugins | CableGuys, Melda, Waves, Soundtoys
The 6 Best Frequency Shifter VST Plugins
Top 11 Granulizer Plugins For Future Sound Design
29 Best Sound Design VST Plugins
Compressor Plugins
Top 11 Free Compressor Plugins (VCA, Vari-Mu, FET, Digital)
Top 7 Multiband Compressor Plugins (And 4 FREE Plugins)
Top 5 Diode-Bridge Compressor Plugins 
Top 6 Mastering Chain Plugins: Complete VST Solutions 
The 7 Best VCA Compressor Plugins (VST, AU, AAX)
Top 11 Mastering Compressor Plugins (And 2 FREE Plugins)
Top 10 Opto Compressor Plugins For Transparent Sound
The 7 Best Vari-Mu Compressor Plugins (And 2 Best FREE Tools)
Reverb & Delay Plugins:
Top 12 Reverb Plugins (And 5 FREE Reverb Plugins)
The 6 Best Spring Reverb VST Plugins | AudioThing, GSi, u-he, Eventide
Top 12 Delay Plugins For Music Production In (VST, AU, AAX)
Top 10 FREE Delay Plugins (VST, AU, AAX)
The 10 Best Convolution Reverb Plugins 
Amps & Preamps:
Top 10 Guitar Amp Plugins (And 5 Best FREE Simulators)
Top 10 Bass Amp Plugins (And 5 Best Free Simulators)
Top 9 Preamp Plugins (For Vocals, Guitars & More!) + Free Preamps
Guitar/Amp Focused:
Can I Put Nylon Strings on a Steel-string Guitar?
Do Electric Guitars Sound Good Unplugged?
Buying Your First Guitar: 2 Things To Know
Are Tube Amps Worth It? (Tube vs Solid-State Amps)
How Often Does A Guitar Need a Setup?
Can I Play Classical Guitar On A Steel-String Guitar?
How often guitar necks need reset?
Can You Play Two Guitars Through One Amp?
Can a 6 String Bass Be Tuned Like A Guitar?
Can I leave My Guitar Tuned Down a Step? Yes, But Is It Safe?
Should I Learn 4, 5 Or 6 String Bass Guitar & Why?
How To Know If your Guitar Amp Is Broken?
How To Fix Distorted Bass Guitar Sound?
Do Fender Guitars Appreciate In Value?
Should You Put Stickers On A Bass Guitar?
How Acoustic And Electric Guitars Are Made?
Is Electric Guitar Too Loud for an Apartment?
Does a Preamp Improve Sound Quality?
If I Learn Acoustic Guitar Can I Play Electric Guitar?
How Many Hours A Day Should You Practice Bass Guitar?
Do I need an AMP/DAC To Run Bookshelf Speakers?
How to Record Electric Guitar Into Logic Pro X?
Do headphones get worse with age?
DAW Related:
Best DAWs For Musicians Available (With FREE DAWs)
What's The Most CPU Efficient DAW? – 5 DAWs Compared
How To Make Music Without Using A DAW?
Pro Tools Guide: How To Use AutoTune & Pitch Correction?
Ableton Review: Is It Worth The Money? (Cons & Pros)
Logic Pro X Review: Is It Worth It? (Cons & Pros)
How To Use Auto-tune & Pitch Correction In Cubase?
How To Fix Ableton Crackling, Crashing & Freezing? Step By Step
Plugin Related:
What Are Audio Plugins? Different Types of Plugins Explained
What Are The Best Tools To Develop VST Plugins & How Are They Made?
Cost of Developing Audio VST Plugin: Several Factors (With Table)
VST, VST, AU and AAX – What's The Difference? Plugin Formats Explained
Complete Guide To Noise Gate – What It Is, What It Does & How To Use It?
How To Clip My Drums? Here Is How & Audio Teasers (Before/After)
Complete Guide To Limiter: How To Use It (+ Best Plugins & Analog Limiters)
Mixing With Reverb: How To Add Life To Your Mixes
Linear Phase vs Minimum Phase EQ – Full Guide
Difference Between LUFS, RMS & True Peak Loudness Meters
How And When To Use Algorithmic And Convolution Reverb In Your Mix?
Difference Between Active EQ, Passive EQ and Dynamic EQ
Headphones & Studio Monitors:
Do headphones get worse with age?
Monitors vs Studio Headphones For Mixing & Mastering
Top 10 Room Calibration & Headphones/Speakers Correction Plugins 
Are Noise-Canceling Headphones Good For Music Production?
Can Headphones Break in Cold Weather?
Why do headphones & cables get sticky?
Can Wearing Headphones Cause Hair Loss?
How Do I know If My Studio Monitor Is Blown?
Side Effects Of Sleeping With Your Headphones On
Do You Need Music Amplifier For Studio Monitors or Studio Headphones?
Do Headphones or Earphones Damage Your Brain?
Can Headphones or Earphones cause Deafness or Toothache?
FarField, MidField & NearField Monitors – Their Uses, Pros & Cons
MIDI & Synths:
Should I Buy A MIDI Keyboard Or Synth? (Are Synths Worth It Anymore?)
Why Is Audio Gear So Expensive? (Especially Synths)
Top 12 Synth Brands – Analog, Digital & Modular Synth Manufacturers
11 Tips How To Choose MIDI Keyboard 
Should I Buy MIDI Controller Or Keyboard? Cons, Pros & Tips
Shaurya Bhatia, is an Indian Music Producer, Composer, Rapper & Performer, who goes by the stage name MC SNUB, and is also 1/2 of the Indian pop music duo, called "babyface". A certified Audio Engineer & Music Producer, and a practicing musician & rapper for more than 6 years, Shaurya has worked on projects of various genres and has also been a teaching faculty at Spin Gurus DJ Academy.