Today, we will discuss the 12 Best Pedals For Psychedelic Rock 2023.
The Psychedelic Rock genre was introduced to the market in the 1960s by aspiring psychedelic culture and focused on perception altered by hallucinogenic drugs. This genre contributed greatly to the sound engineering sphere by introducing new electronic sound effects, more experimental solos, and different recording techniques but also focused on improvisation.
Not surprisingly, this genre benefits from using many guitar effects; artists use these pedals to enrich their tone and discover new sounds to compose music or use them in trippy improvisations.
To get these sounds, you mostly need a distortion pedal that gives that powerful feel, modulation effects like reverb and delay that are meant to add space and repetition, a chorus that enriches the improvisations and pedals like vibrato that add that iconic psychedelic touch, flanger, and wah.
In a nutshell, here are the 12 Best Pedals For Psychedelic Rock 2023:
These effects have come a long way; they now come individually or in a complete package with all possible types of effects. In this 12 Best Pedals For Psychedelic Rock 2023 article, we've included a complete pedalboard through which you can get these tones and good multi-fx pedal solutions.
Let's follow the 12 Best Pedals For Psychedelic Rock 2023.
12 Best Pedals For Psychedelic Rock 2023
1. TC Electronic Flashback 2 (Delay/Modulation)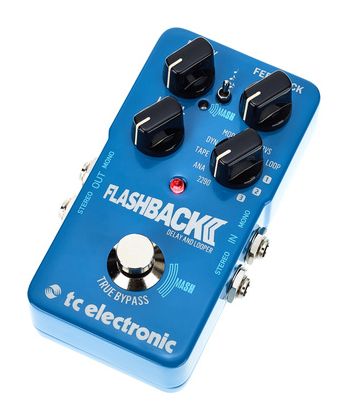 The TC Electronic Flashback 2 offers plenty of delay effects, has modern features, and is easy to integrate into your pedalboard.
TC Electronic is one of those companies that aims to push the industry towards aspiring to more modern device capabilities. They don't offer a simple pedal that knows how to do just one thing; they offer a solution bundled with a highly integrated ecosystem that works well.
The TC Electronic Flashback 2 is versatile; it has eight delay styles, a 40-second looper, and a new crystal delay. The controls are quite common; it has a selector for the eight delay styles, a Feedback, Delay, Level, and a switch that selects note subdivisions. Below these is a true bypass switch with two functions: a basic one that turns the pedal on and off, or you can also use the Mash technology.
The coolest part of this pedal is the Mash Technology and the TonePrin library, which is meant to give you new possibilities and sounds:
The Mash pedal technology aims to provide extra functionality; specifically, the footswitch acts as a pressure-sensitive expression pedal. When you use it, you can morph between the different types of delay intensities you use, adding an extra flavor to your performance in a more organic way.
It has a Crystal Delay, which is a very important feature to have in your audio spectrum. It offers the magic of pitch-shifting algorithms to generate harmonized echoes, providing a dreamy, ethereal tone. It's often used in progressive genres with an endless ambiance so that psychedelic musicians can add much deeper charisma and depth.
There lies a lot of delay history in this pedal. Specifically, it has emulations of tape and analog delays, allowing musicians to add organic and warm tones of times gone by. These emulations recreate the colorations and imperfections of classic analog and tape delays, giving a timeless character to your music.
Flashback 2 has dynamic and reverse delay settings, which aim to enhance the creative process further. Reverse delay helps you emulate a backward echo often used in psychedelic genres. But Dynamic responds to the intensity with which you play the instrument; it is either present when you apply a high amount of energy or when you play softly, retaining the lush ambiance.
It also has a TonePrint Editor and Library like the other pedals in this series; you can save, and edit presets much more easily, digitally, and if you want to search for presets already created by established artists, you can easily add them to the pedal, experimenting with even more options.
The TC Electronic Flashback 2 is a pedal that will give you plenty of ways to apply a delay to your signal chain in a way that is as modern and lively as the analog. It is important to mention that the pedal can work as a looper, and if you have opted to use TonePrint, it gives you three extra slots, and you can add your custom effects.
If you're looking for a pedal that can cope with the modern day, integrates easily into your pedalboard, and needs more detailed and easy-to-use control, then the TC Electronic Flashback 2 is a great option.
But if you're looking for an old-school pedal that does one thing and does it well and doesn't combine modern functionality, you may look elsewhere, as this one focuses heavily on modern technology.
We recommend you use TonePrint Editor because besides having more fine-tuned settings in the application, you'll also have a library that provides new effects.
You can set the Mash feature to control the level parameters, feedback, or whatever you set.
If you need the pedal to have stereo output, it will also work fine in that mode. If you use the pedal in mono, one of the stereo inputs will act as a tempo input so that you can add an external footswitch.
2. Boss GT-100 (Multi-FX)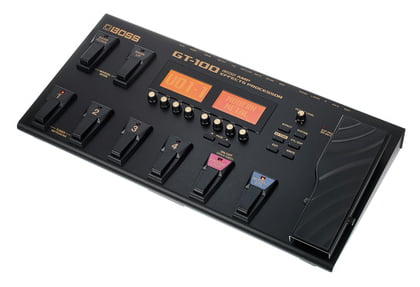 The Boss GT-100 is what many say would be "oldie but goldie".
Boss has an extensive history in the world of guitar effects. They have managed over the years to offer good quality, durable solutions, and many of them represent what we today call the 'classic iconic sound.' The BOSS GT-100 is one of those devices that combines all the knowledge they have, but in a complete package, without the need for 100 pedals.
The BOSS GT-100 features next-gen amp modeling to emulate vintage amps, COSM tones, and effects that aim to break barriers. It has a simple interface, two LCDs, eight footswitches that let you toggle through presets, change the bank, an expression pedal, and several knobs that alter the effect or amp you select.
The best part of the BOSS GT-100 is the way it mimics effects and amps and also the fact that it can be connected to your computer via USB:
Over 100 effects, spread across various categories, are available on the Boss GT-100. These effects range include everything from traditional analog stompboxes to digital processors. With the help of this extensive library, musicians can create unique sounds, ensuring that their creativity knows no bounds.
The amp's modeling capabilities are one of its most notable features. It faithfully replicates the subtleties and features of renowned amplifiers, giving you the impression that you control several legendary amps. It is possible to precisely shape the sound by adjusting variables like gain, EQ, and cabinet simulation.
The Boss GT-100 has an easy-to-use interface that makes navigation quick and simple. Effects and settings are accessible immediately thanks to a large LCD screen and logically arranged controls. This simplicity allows musicians to spend more time playing and less tinkering.
The ability to easily construct complex signal chains is an important component. You can experiment with parallel processing, arrange your effects in any order, and even incorporate external pedals into your setup. This adaptability is essential for creating complex and distinctive tones.
During live performances, the global presets switch between various guitar setups or styles simply and quickly. This function lets you switch between multiple guitars or clean and distorted tones without skipping a beat.
For solo performers and songwriters, the built-in looper feature is a godsend. This tool offers various creative options thanks to its long recording time, undo/redo features, and ability to save loops as phrases.
The Boss GT-100 can deliver high-quality sounds, offering clear sound in signal processing. Whatever genre you play, from psychedelic to metal shredder, it delivers anything. In terms of editing capabilities, it offers a high level of customization, so you'll be able to create tones that are uniquely yours, which is nice.
If you need an all-in-one solution with lots of effects, good-quality amp modeling, and a clear interface, the Boss GT-100 is great.
But if you're looking for a solution that's lighter and smaller, doesn't cost a lot, and doesn't give you a headache when you want to set something up, you might want to look elsewhere because the Boss GT-100 offers a lot of complex parameters that beginners might find hard to alter at first.
If you want to play live and hear the Boss GT-100 through an amp, you can take a cabless output processing out of the pedal and insert it into the amp's preamp section.
For musicians who need a looper in the effects section, the Boss GT-100 offers that option, too, and on top of that, it lets you layer and record loops on the fly.
3. MXR Phase 90 (Phaser)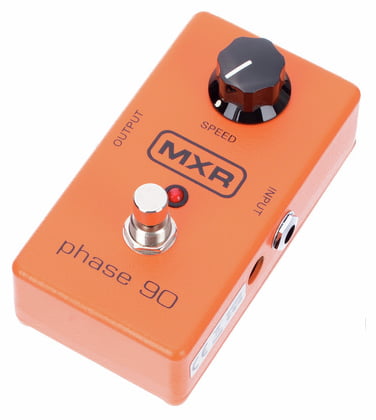 The MXR Phase 90 can deliver iconic phase tones by using one knob.
MXR is a company that has always known how to break down the barriers between professional and beginner musicians. They've managed over the years to provide people with quality solutions, used even by established musicians like Eddie Van Halen, Josh Homme, Dave Grohl, Nancy Wilson, and many other musicians who want a shimmer in their solos.
With just one knob at your disposal that controls the speed of the effect and one switch, Phase 90 delivers everything you need. It delivers a watery tone whether you're playing muted strumming or chords. What's nice about this one is that it's not just designed for guitars; it can be used on and off keyboards, bass, or vocals.
The best part about it is the simplicity it offers and the classic tone befitting the psychedelic rock genre:
The speed control is the only control the pedal gives you. With it, you can adjust how fast the phase shifts happen. When you set the amount to subtle, it gives you a warm tone; if you set the amount to high, it gives you fast, psychedelic-like pulsations.
It has a true bypass circuit that makes the signal going through the pedal unaffected and the sound going through the input and output as directly as possible. It also keeps the signal clean even when not using the pedal. It's a very useful feature, especially when you have a pedalboard full of effects and don't want your pedals to offer coloration and degradation like pedals without this feature do.
This pedal is ideal for those who want a small pedal that fits easily into the pedalboard but is also durable. It has a small footprint and durable housing, so you don't have to worry about it not fitting into your setup.
Phase 90s can be used with a 9V battery or an AC adapter. This flexibility allows you to play it anywhere, either in a rehearsal room or live.
The Phase 90 offers the best of both worlds. It can quickly give you a great tone (especially for the psychedelic genre). It allows users to access a great effect by operating a single knob. On top of that, the pedal offers a sound that has been used in many records throughout history, so it's a good investment for the future.
This pedal is a good solution if you want a simple pedal with good sound, durable construction, and small size.
But if you want a wider choice of controls, an LED indicator, and a power supply included, you may not be thrilled with this one. Phase 90 is a good solution for collector musicians who prefer the vintage sound with simple controls.
You can put the pedal in before the amp if you have clean sections, as the effect goes straight into the amp, and the sound is very cool.
When you set the pedal to maximum, you'll have a timeless, rich tone that comes out very easily.
If you want to increase its compatibility with the pedalboard, we recommend putting a Velcro on the back because it's very small, and you might move it from its place easily when you're on stage.
4. Proco Rat 2 (Distortion)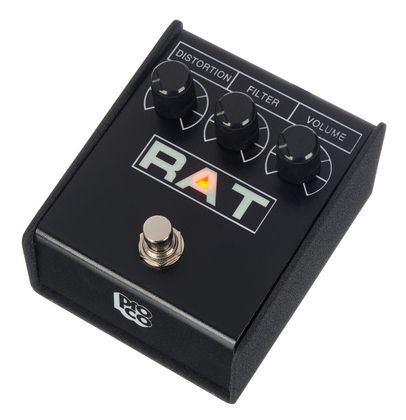 Proco Rat 2 is an iteration of the old-school version offering three distortion types.
The Proco's have made their mark on the rock and blues scene over the years with a sound that would become one of the most popular later. At the heart of this pedal lies a raw, gritty distortion that can be controlled super easily yet creatively.
The second version of the Rat benefits from 3 types of saturation (overdrive, fuzz, and distortion), which act differently depending on how you intend to pair it. Mainly, the pedal is very easy to manipulate; it has an LED that indicates if you are using the pedal, a Switch, and three knobs (Distortion, Filter, and Volume.)
The best part of this pedal, besides the sound, is the way the Filter knob works and the way it induces distortion in the amp:
When using the Distortion knob, you can alter the overall gain level of the pedal, meaning you set the distortion level. When you set this knob to a low setting, you'll be able to create an effect called "creamy distortion" which is very suitable for blues, rock, country, but also psychedelic genres; it adds the right amount of grit and sustain, without introducing too many inappropriate nuances.
The fun starts when you set it to a high setting, and it gives a very aggressive, full-bodied, but also staccato tone, suitable for psychedelic genres.
The Filter knob works like a tone control, only with reverse functionality. When you turn it clockwise, instead of giving highs to the tone, it cuts out the high frequencies, giving a darker tone. With it, you'll get a variety of tones, from brighter ones for lead parts to darker ones for rhythm parts.
When you want to increase the pedal's overall volume to boost your solos or add a clearer presence to your cleans, the volume knob is the solution. It's designed to maintain a consistent pedal output across the full spectrum of distortion, whether you want a wall of distortion or a bright, clean clean.
This pedal has a true bypass circuit, meaning your signal remains unaffected when the pedal is either on or off. While many pedals on the market tend to color or degrade the signal when you install the pedal in your setup, it keeps the signal clean, and when you don't use it, it's as if you don't have it installed in your setup.
The pedal gives you a wide range of distortion, from the most subtle to the most ferocious; it allows you to set the precise amount of grit you want to introduce into the signal chain. The controls are responsive to your settings, and the Filter control gives you a good range of tones. Durability is also good; this one is robust and ready for any context.
If you want a pedal that's easy to use, robust, with a distortion that suits the psychedelic genre, and doesn't alter the tone when you're not using it, this is a good solution.
However, if you're looking for a pedal that matches the amp's clean tone well and doesn't have such a brutal distortion, there might be better choices for you.
It can be overwhelming initially because some users don't understand the power of the Distor control and the Filter. We recommend studying the pedal architecture and understanding what the Filter control does, especially as it can initially confuse.
It has a large amount of distortion and might produce quite a lot of noise in the signal. This is why using a noise gate pedal before the pedal is preferable.
5.

Wampler Terraform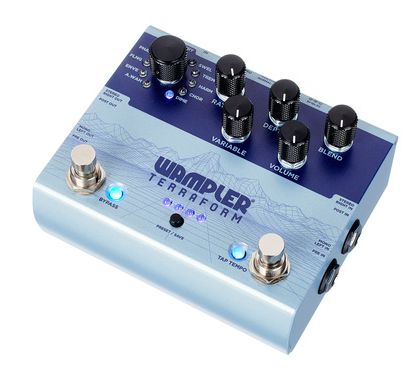 Wampler Terraform is ideal for those who want more effects in one package.
Wampler is one of those companies that has offered the market a lot of effects covering the whole range of styles and types. It is among the most sought-after companies, especially by musicians who want to integrate slightly more distinctive effects into their pedalboards.
Well, the Wampler Terraform is their answer to the market. They have invested all their knowledge in the field of modulation effects and put them into a single pedal that delivers great tones in the psychedelic genre.
The controls are not very hard to use; you have a knob that selects the effect types, a Rate, Depth, Blend, Variable, and Volume knobs, a Bypass and Tap Tempo switch, a button that saves and selects presets, and 2 In/Out.
The best part of this pedal lies in its connectivity and also the 11 modulation effects:
The Terraform conceals a clandestine arsenal of eleven distinct modulation effects within its circuits. From the evocative shimmer of a harmonizing chorus to the enigmatic wobbles of a harmonic tremolo, this pedal whispers secrets of sound manipulation.
It allows independent adjustments with six parameters for each effect. Shape the arcane depths of your audio with precision, dialing in the ethereal subtleties that elude less sophisticated devices.
With eight encrypted preset slots, the Terraform safeguards your sonic secrets. Guard your meticulously crafted tonal spells and summon them easily in the heat of performance, leaving your audience mystified.
This pedal conceals a tap tempo, enabling you to synchronize your modulations with the cadence of your playing. An essential tool for summoning rhythmic enchantments, it ensures your spellbinding grooves ensnare your audience.
The Terraform offers a great input for an expression pedal, empowering you with real-time control over your audio enchantments. With a twist of your foot, morph and morph your sounds, casting a spell of dynamic intensity.
In the dimly lit stages or secret recording chambers, the Terraform's backlit guide your hands, ensuring you remain in control of your sonic enchantments, even in the darkest venues.
When deactivated, the Terraform employs a true bypass circuitry, ensuring your dry signal remains untainted and pure, ready to be transformed at your command.
The pedal offers many effects options, while the controls are relatively easy to use. The diversity of the effects collection offers a wide range of options, from vintage to avant-garde, which means psychedelic musicians can use either a modern or vintage sound in no time.
It offers six parameter controls on each effect, which means that you will only need a little knowledge of the effects arts in addition to offering a large amount of control. Also, the efficiency of the preset slots is a great addition.
If you're looking for a pedal that offers deep editability, tap tempo, expression functions, and plenty of effects and presets, this may be the one for you.
But if you're looking for a solution that's not too expensive, you may want the option of battery operation, not too big and not too complex; this might not be the right solution for you.
Suppose you like to record in stereo and have a stereo setup. In that case, Terraform offers this option to give listeners lush sound and swirling modulation by routing them separately into different amps or channels.
You can sync your Terraform's tap tempo with the drummer's rhythm or coordinate modulation effects with the keyboardist's textures for a cohesive and immersive live experience.
It's a pedal that can be placed anywhere in the pedal chain; if you put it before dirt pedals, it can provide a distinctive overdrive modulation, and if you put it after, it adds depth to your distortion tone.
6. TC Electronic Hall of Fame 2 (Reverb)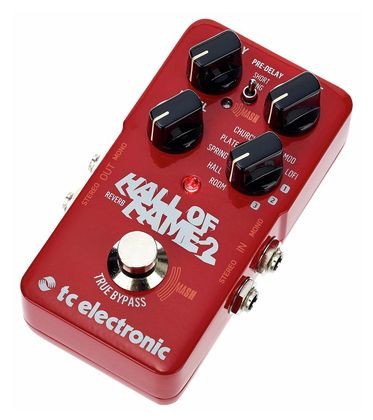 TC Electronic Hall of Fame 2 offers new reverb algorithms and nous Mash Footswitch technology for more detailed expressiveness.
TC Electronic knows how to translate their knowledge of modern technology into their products. Hall Of Fame 2 is one of their products that most consistently takes advantage of this Mash technology, and TonePrint, in this case, offers plenty of reverb modes, which is welcome, especially since most of them are from established artists.
The pedal doesn't differ much from the first version in design, but in this case, it has four knobs, one to select reverb types directly from the pedal, a Tone knob, a Decay knob, and a Level knob. On top of these, there is a Mash switch and a true bypass circuit. The pedal can also run in stereo but not on battery power.
The best part of this pedal is the integrated modern technology and the ecosystem that comes with the purchase:
Your standard footswitch becomes a responsive, pressure-sensitive device, similar to an expression pedal, thanks to MASH technology. You can quickly adjust various aspects of your reverb effect by varying the pressure you apply to the footswitch.
This means that by varying how firmly you press with your foot, you can modulate the reverb tail, change the size of your reverb space, or change the intensity of the effect.
Various reverb types are available in The Hall of Fame 2 to accommodate various musical contexts. Each type mimics a particular acoustical setting, from intimate, reflective rooms to enormous, resonant halls.
Shimmer, a reverb that adds a harmonically rich, ethereal layer that shimmers on top of your original signal, is one of the lineup's standout effects. Blending a pitch-shifted version of your input signal into the reverb tail accomplishes this and creates a lush, sparkling ambiance.
Due to its availability of both mono and stereo input/output options, the Hall of Fame 2 is incredibly flexible. You'll connect one guitar cable to the pedal and one to your amp when using a mono setup. This is especially useful if your signal chain includes stereo effects like specific delays, choruses, or tremolos before the reverb. It produces a wider, more expansive sound and aids in maintaining stereo imaging.
To fine-tune your reverb sound, turn the knobs for Decay, Tone, and Level. Level harmonizes the dry and wet signals; Decay regulates the reverb tail length, and Tone controls the warmth or brightness of the tone.
This pedal gives you plenty of reverb options, from the most ethereal to the shortest and most complex. Also, the Shimmer effect offers a very cool addition to your sound, especially the clean one.
The controls are easy to use, especially the Mash technology, which adds extra functionality and sets it apart from anything else on the market. These features are blended harmoniously and add a higher level of dynamic expression.
If you need a pedal with everything, from vintage to crazy reverbs, it doesn't cost a lot and can easily integrate into any setup; the Hall Of Fame 2 is a good choice.
However, if you're looking for a slightly simpler pedal with a single reverb mode and not too complicated controls, this one might differ from your taste.
It's possible to accidentally change some of the pedal's parameters in live contexts. Place it at the bottom of the pedalboard and create your custom settings so you can easily return to them if you accidentally set something.
We recommend you put a Velcro on the back of the pedal if you want to use the Mash Technology because it can move easily in the pedalboard, and the smoothness of the effect can be altered because of this. Putting Velcro on the pedal will not move around in the pedalboard.
7. Eventide H9 Max Harmonizer (Multi-FX)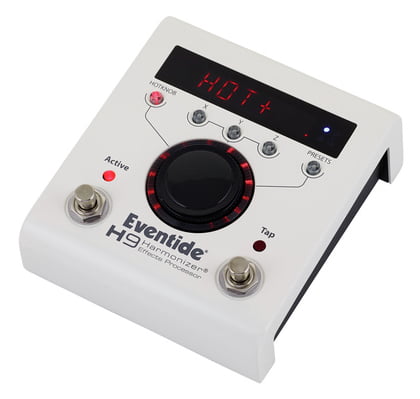 The Eventide H9 Max can give you all their effects in one pedal.
Eventide has proven over time that pedals should be taken to another level, and they should be able to offer all the features and controls needed, even for the nerdiest, to get that sound with personality. The H9 is a pedal that knows how to do it all; it has every parameter you want, and every effect you could need, and the physical and wireless connectivity is well-designed.
Being a pedal with several effects integrated into one, it focuses more on the control part separately from the pedal. Still, it gives you everything you need to work analog. It has controls like HotKnob, X, Y, Z, and Presets, a Tap switch, and an On/Off switch. Besides that, the pedal has 2 In/Out, an expression pedal input, and a USB.
The best part of this pedal is the fact that every aspect/parameter you could want from an effect is integrated here, and the effects algorithms are complex:
The pedal doesn't take up a lot of space, even though it looks quite large when you look at it on the internet. On top of that, that glossy white chassis doesn't get dirty at all when you use and carry it. The pedal is meticulously built and very durable, doesn't sing a lot, and the knobs are high-grade plastic.
It has a large LED that helps you easily see what's happening on the pedal, and this clever contrast tint that makes the red alphanumeric characters on a black background gives good visibility.
The titles of each preset are abbreviated, either by digits or numbers, which saves a ton of time if you set them to your preference (since giving strange and long names can be extremely hard to distinguish in live contexts).
The Diatonic algorithm tracks any notes you play and places them in the scale and key you select. This mode also offers several pitch shifters that adjust the key you play.
The

Harmodulator

can go up to 3 octaves (+/-) on each side and be set to either subtle for light ambient effects or full-on harmonies.
Seamlessly connect the H9 Max to your smartphone or tablet via Bluetooth, opening up a world of possibilities through the Eventide Control app. This interface allows for real-time tweaking, preset management, and even firmware updates, all from the convenience of your mobile device.
It can be used with either an AC adapter or a 9V battery with a battery that can consistently supply 500mA. However, the pedal works best with an AC adapter, so opting for that is best.
Eventide's options remain some of the best on the market; they have very good audio quality, and if you use every parameter they offer and know very well what you want from it, they deliver. It has a very easy design to integrate into the setup; its size is a blessing for those with limited space on stage or in the studio.
On top of that, as you choose to use their products, Eventide keeps releasing firmware updates and new algorithms, which means the pedal gets more and more powerful with time.
If you're looking for a pedal that has a lot of effects, lets you change its parameters easily and accurately, has modern connectivity, and an app that works in the right parameters, the H9 meets all these requirements.
On the other hand, if you're looking for a pedal that doesn't cost a lot, doesn't need external power, gives you multiple effects simultaneously, and doesn't give you too much hassle when using it, you might want to look elsewhere.
You can use the H9 Max's MIDI capabilities with a MIDI controller or sequencer. Control parameters and switch presets remotely, adding a new dimension to your live performances.
Keep an eye on Eventide's website for firmware updates and new algorithms. Regular updates can expand the H9 Max's capabilities and introduce exciting new effects.
Many time-based effects (like delays and tremolos) can be synchronized to your music's tempo. Use the tap tempo feature or MIDI syncing to ensure your effects stay in time with your performance.
8. Boss CH-1 (Chorus)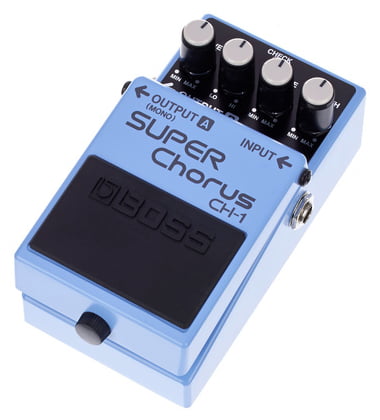 The Boss CH-1 offers classic clean tones and shimmering chorus ones.
Nowadays, it's super beneficial to invest in Boss products. The point is that they do their job very well, as analogously as possible, and their sound can offer plenty of tones and nuances. The CH-1 chorus can easily alter this effect, offering an authentic sound.
At its base, you can find the four knobs (E. Level, EQ, Rate, and Depth), which are as easy to alter and understand. Regarding connectivity, it has two Outputs, which means that the pedal can run in stereo, one Input, and the possibility to use the pedal with a 9V battery.
The most important part of this pedal is the way you interact with it, but more than that is the fact that once you've invested in a Boss pedal, you know you'll have a buddy for life:
Turning the EQ knob on the chorus effect clockwise will boost high frequencies, giving your guitar tone more sparkle and vibrance. The chorus will become softer, less intense, and have less treble as you turn it anticlockwise.
The BOSS CH-1 Super Chorus pedal enhances your soundstage for a more immersive experience, especially in studio recordings, and features stereo output with two jacks.
By maintaining a constant volume as you switch between chorused and unchorused passages, the Level Control knob ensures a smooth transition from your original signal to the chorus effect.
You can create a variety of tones, from soft undulations to lively modulations, by adjusting the chorus effect's modulation speed using the Rate knob.
The buffered bypass circuitry prevents your guitar signal from deteriorating when the pedal is not in use, ensuring your tone is loud and clear.
By using the Depth knob, you can precisely control the modulation's intensity; turning it up gives you a fuller, more enveloping sound while turning it down gives you a subtle chorus that enhances your tone.
The Boss CH-1 is one of those pedals you can see on any pedalboard. It can add a lush, swirling modulation quality to your tone. It offers a great chorus range (which is more than necessary to the psychedelic genre because the chorus offers that trippy tone), has a durable construction, very simple controls, a circuit that doesn't alter the tone very much, but on top of that, it comes at a great price.
If you're looking for a pedal that delivers a classic chorus tone, you want it to be simple but effective, last for years, and not spend that much, the Boss CH-1 is a great solution.
But if you're looking for a pedal with stereo output, more tone-shaping tools to work on batteries, and a more 'extreme' effect, you might need something else.
The CH-1 can be placed anywhere in your pedalboard signal chain, but it's commonly positioned after distortion or overdrive pedals. However, try it in different positions to see how it interacts with other effects in your setup.
Chorus can be a powerful effect, but less is often more. Sometimes, using a subtle chorus can add depth and dimension to your tone without overpowering it.
It pairs well with other effects like delay and reverb. Experiment with different combinations to create atmospheric sounds.
9. Dunlop GCB95 Cry Baby (Wah)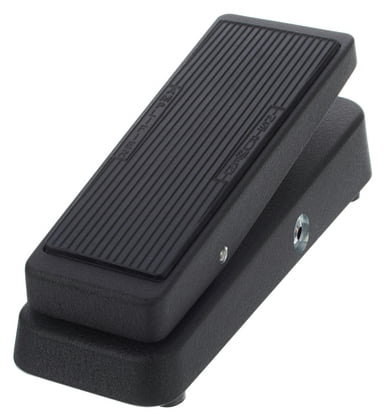 The Dunlop GCB95 Cry Baby Standard offers that classic Wah Wah tone you've heard on many hits.
Whether you're in the blues, rock, or metal scene, you can't help but have heard this kind of effect once. It's meant to shape the frequencies in such a way as to provide a wah-wah sound that can give the guitar a much more nuanced expressiveness. The Dunlop GCB95 Cry Baby Standard is a pedal widely used by many musicians such as Hendrix, Clapton, Zakk Wylde, and others.
The Dunlop GCB95 Cry Baby Standard is as plain as possible but effective. It doesn't take up a lot of space in the pedalboard; it has a durable construction, a black color that is very hard to scratch, and a custom rubber grip that gives a nice feel to the foot. This pedal also has an S-curve potentiometer that lets you adjust the pedal according to the feel you want to give the sound.
The best part of this pedal is that Q control that lets you add your favorite type of wah:
The Dunlop GCB95 Cry Baby can be used with an AC power adapter or a 9V battery. Also, when you want to turn it off, it has a bypass switch, which significantly improves compared to other pedals Dunlop offers.
A single little potentiometer is responsible for adjusting the filter frequency. This mechanical arrangement offers a very fast response, and there will be no weakness. It also doesn't use a linear potentiometer; in contrast, it uses an S-curve potentiometer, which means that adjusting the value less towards the extremes and more towards the middle gives the pedal a much more natural feel.
In terms of size, the pedal is easy to integrate into the center of the pedalboard, which means that musicians who want this effect without taking up a colossal amount of space in the pedalboard will appreciate this solution. Also, its design offers a pleasant visual feel but also offers durability and compatibility with any modern pedals and pedalboards.
The pedal has a custom

rubber grip

on the treadle to improve the user experience even more. No matter what footwear you wear, this ensures a secure and comfortable foothold that enables fluid and accurate control during performances.
Dunlop GCB95 Cry Baby offers a highly expressive wah-wah effect. You can seamlessly modulate the tonal characteristics of your guitar just by gently rocking the pedal back and forth with your foot for a dramatic and expressive sweep.
The fact that you can fine-tune the sweep range to achieve a broader or tighter tone gives you an amount of control suitable for the psychedelic genre, from those who want a subtle to a huge effect. Also, the transparent tone remains unaltered thanks to the circuit, it has a rugged construction, and the custom rubber grip shows Dunlop's dedication to investing in the quality of pedal interaction, not just the result it delivers.
If you're looking for a wah pedal with a classic tone that is easy to use and tweak but also versatile, the Dunlop GCB95 offers exactly those qualities.
Also, if you're looking for a slightly smaller wah that doesn't cost as much, this version might not be the right fit. But they offer a smaller version of the pedal, a bonus.
The core of using a wah pedal like the Cry Baby lies in your foot control. Practice rocking the pedal back and forth smoothly to create various wah sounds. Experiment with different foot angles and pressures to achieve the desired wah effect and tonal nuances.
When incorporating wah into your playing, begin with subtle movements. Gradually increase the sweep range as you become more comfortable. This gradual approach allows you to finesse your wah technique and create more controlled and expressive sounds.
The Q control on the Cry Baby allows you to alter the width of the frequency peak affected by the pedal. Experiment with this control to achieve a broader or narrower wah sound. A wider Q setting can produce a more dramatic and pronounced effect, while a narrower setting offers a subtler, focused wah.
10. Harley Benton DNAfx GiT (Budget Multi-FX)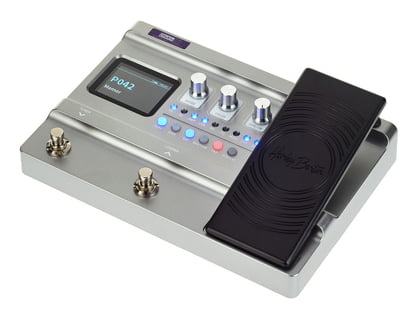 Harley Benton DNAfx GiT is a good solution for those who want not to spend much and have a complete rig in one package.
Thomann entered the musical instrument market when they decided to buy the Harley Benton brand to offer musicians cheap but good quality solutions. They decided to carry the story forward and continue offering more complex solutions that help musicians who like to experiment without spending too much money.
Such is the case with the Harley Benton DNAfx GiT; this multi-fx pedal can give you a complete rig for the guitar. It has 55 classic and modern guitar amps, technology that mimics the sound of real tubes and feels response, 26 cabinet impulse response, 151 effects, a looper that can record up to 80 seconds, and a drum machine that offers 40 patterns with 10 metronome styles.
The best part of the Harley Benton DNAfx GiT is the ecosystem it creates, giving musicians the ability to have the tool that offers everything they need at a great price:
Many effects, including traditional distortion, dynamic modulation, immersive delay, and sumptuous reverb, are available on the DNAfx GiT. You can precisely control your guitar tone with this flexible array, adapt to various musical genres, and push the boundaries of your creativity.
Utilize the parameter control knobs on the DNAfx GiT to explore the subtleties of your sound. With these, you can precisely control your tone by adjusting the gain levels, tone characteristics, modulation depth, and other parameters. Also, the guitar's voice will perfectly match your playing style thanks to this granular control.
The pedal has a drum machine that summons various rhythm patterns. Also, the integrated metronome and backing track provider ensures you're never alone on your musical journey, whether practicing your scales or giving a live performance.
It has an enchantingly simple interface; inexperienced and seasoned spellcasters are drawn to it. You can easily express your creativity or set out on a grand sonic adventure with great options.
The DNAfx GiT offers preset storage and recall capabilities to speed up your creative process. You can switch between sounds seamlessly during live performances or studio sessions by saving your preferred tones and effect settings.
Batteries and conventional AC adapters are just two power options for the DNAfx GiT. Thanks to its versatility, you can use it wherever inspiration strikes, whether at home or on the go.
The DNAfx GiT offers a wide range of effects and is easy to access regarding functions and budget. It has a compact, space-saving design (it even fits in a guitar case). The sound it offers and the parameters allow you to discover new tones in a cool way, and the fact that it becomes a handy companion (it has a built-in drum machine) saves a ton of time and improves creativity.
If you're looking for a good, inexpensive solution with an easy-to-use interface while the build quality promises durability, this is a great solution.
However, if you want something with more effects and not necessarily require a learning curve, you might want to look elsewhere. Maybe the effects part would be a small drawback, but the learning curve isn't that big.
Utilize the USB connectivity to connect the DNAfx GiT to your computer. This opens up opportunities for recording, editing, and accessing additional effects and features through software applications.
We recommend you take advantage of the integrated drum machine. Experiment with different rhythm patterns to enhance your practice sessions and create groovy backing tracks for your playing.
Periodically check for firmware updates for your unit. Manufacturers often release updates to improve functionality and add new features.
11. TC Electronic MojoMojo (Overdrive)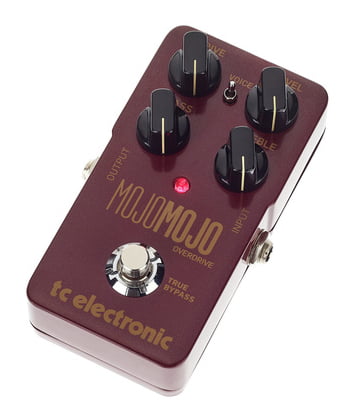 TC Electronic MojoMojo can offer a classic tube-amp-style tone.
TC Electronic's solutions cover just about every aspect, not only when it comes to guitar effects. Well, in this situation, MojoMojo is the right ticket for you to have a dynamic tube bliss. It can provide the necessary bite to achieve screaming solos, that vibrant crunch many musicians seek from overdrive.
At its core, it has the controls that any overdrive has: a Drive, Level, Bass, and Treble knobs, a switch that changes Voice types, and a footswitch that is true bypass. Connectivity-wise, it has an input and an output and can only operate with a 9V power supply.
The best part of the TC Electronic MojoMojo is the bite of overdrive it can inject into the signal chain and also how it affects the frequencies of the amp:
You can control your guitar signal's overdrive level with the Drive knob; turning it down provides a clean boost, adding warmth or grit to your tone. Crank it up for a heavier, crunchier sound, ranging from light bluesy overdrive to saturated rock tones.
The

Level knob

adjusts the pedal's output volume; in bypass mode, it controls your clean tone's volume, and when engaged, it boosts your sound for guitar solos and standing out in the band.
The Bass and Treble controls let you easily shape your sound; bass adds depth or compactness by tweaking low-end frequencies, while Treble adjusts high frequencies for definition or a more even tone.
The one position of the voicing switch offers a tight, focused bass ideal for cutting through mixes, while the other provides a fuller, warmer tone with a looser bass response, catering to your guitar, amp, and musical preferences.
The True Bypass design ensures your guitar signal remains unaltered when the MojoMojo Overdrive Pedal is unused. It's suitable for studio or stage use with its sturdy build and small footprint on your pedalboard. It requires a 9V power source, as it lacks a battery compartment.
The TC Electronic MojoMojo is a very good overdrive pedal that doesn't take up much space and is suitable for those who want a warm and dynamic overdrive.
It can deliver a wide range of distortion, has a dynamic response that puts the pedal on its pedestal as it responds to the dynamics you give the guitar, and makes it feel like an extension of your playing style. Also, the controls, build quality, and price make the pedal a good choice.
If you're looking for an honest overdrive pedal that doesn't cost a lot and has modern technology built-in, the TC Electronic MojoMojo may be for you.
If you want a pedal with more tone-shaping tools, have the option to use the pedal on batteries, or have a little more extreme distortion and a smaller size, you might want to look elsewhere.
The MojoMojo is known for its dynamic response. Play around with your picking intensity and guitar's volume knob to take advantage of this feature. Lighter playing can yield cleaner tones, while harder playing can push it into more overdrive.
The position of the MojoMojo on your pedalboard matters; placing it before or after other gain pedals (such as distortion or fuzz) can yield different results. Try different pedal orders to see which arrangement complements your setup best.
If you plan to use the MojoMojo for recording, test it in your recording chain to ensure it fits well with your overall sound. Likewise, if you're using it live, take some time to adjust settings to suit the venue and your band's sound.
12. Electro Harmonix Big Muff PI (Fuzz)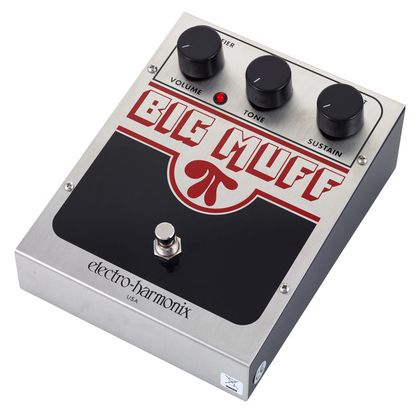 The Electro-Harmonix Big Muff Pi is the ideal solution for those who want to get that established wall of distortion sound.
The Electro-Harmonics knew how to give musicians what they needed regarding distortion. Over the years, they have offered a lot of pedals that provide a creamy, rich, endless sustain that has been used countless times in the rock/metal scene, especially in the psychedelic genre.
With this pedal, you'll get the same effect. Many musicians like Hendrix and Santana have used it, and has shaped rock tones for 30 years. It's a pedal that doesn't require much fuss; you get three controls: Volume, Tone, and Sustain; an Input and an Output, and an On/Off switch.
The best part of this pedal is the iconic kind of Fuzz you get with the pedal:
The Volume knob is essential for regulating the output level of your signal. You can control how strongly your amplifier reacts to the pedal's output. When you need to balance your affected signal with your dry guitar tone, this helps you achieve the ideal level of distortion.
A variety of sound textures are available through the Tone knob. It is a tool for sculpting your tone by balancing high and low frequencies, and it is more than just a straightforward treble adjustment. For deep, bass-heavy sounds or for cutting treble frequencies, turn the knob anticlockwise. The Big Muff Pi is adaptable to different music styles and player preferences thanks to its flexible tone control.
The Sustain control is responsible for creating the renowned fuzz tone of the Big Muff Pi. Your guitar notes will become rich, harmonically saturated sustain as you increase the sustain because it lengthens and adds more saturation to the fuzz.
Higher settings can even produce controlled, slick feedback. It transforms chords and one-note riffs into potent tonal statements, making it ideal for musicians exploring intricate tonal possibilities.
Also included in the Big Muff Pi is true bypass circuitry, which ensures that even when the pedal is off, your signal is unaffected. Maintaining your guitar's original tone is essential to avoid any coloration or loss of high-end frequencies that some non-true bypass pedals might bring. Your guitar tone will still be clean even with the pedal in your signal chain but not engaged.
It's pretty clear why the Big Muff Pi is among the most used fuzz pedals; you get an iconic classic tone characterized by its saturated distortion that can range from smooth and creamy to aggressive, matching those 70s and 90s vibes.
The palette of genres is endless when you want to include it in your setup, from blues to psychedelic rock to stoner metal. It has a 3-knob design is very easy to alter, and its construction ensures unbeatable durability.
If you're looking for a good quality, affordable fuzz that doesn't have a lot of unnecessary features, the Big Muff Pi is an ideal solution, especially for psychedelic rock.
However, if you're looking for a smaller solution with slightly more detailed controls, perhaps with extra features in terms of power options, you may look elsewhere.
The Big Muff Pi is known for its thick, saturated fuzz, so it's best to start with a clean amp setting. This allows the pedal to shape and color your guitar's tone effectively.
Rolling back your guitar's volume knob can help you achieve cleaner tones with the Big Muff Pi engaged. This can be particularly useful for transitioning between clean and distorted tones during a performance.
Fuzz pedals like the Big Muff Pi can be noisy, especially when the Sustain knob is cranked up. Consider using a noise gate pedal after the Big Muff Pi to reduce unwanted noise and feedback.
Bonuses:
1. Strymon Big Sky (High-End Reverb)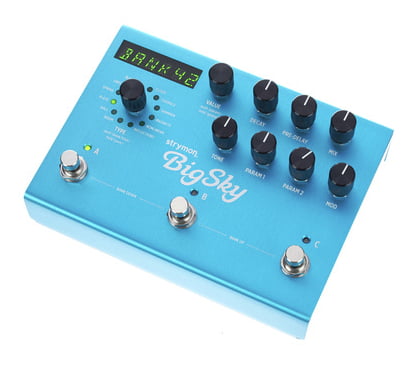 Strymon BigSky Multidimensional Reverb can deliver the most detailed and complex reverb assortments on the market.
Strymon has a very complex history in the effects world. This company has succeeded in creating new ways and visions for musicians to create sounds. The Strymon BigSky Multidimensional Reverb is a pedal with which you can create some of the most beautiful, creamy, rich, ethereal reverbs around today, and the amount of control and interactivity is as nerdy yet simple as possible.
The moment you open it up, it can seem intimidating initially, but it focuses heavily on remote interactivity (that doesn't mean you can't twist a knob and get to the right tone). It has a knob that selects reverb types, three switches to select banks (and the B switch can activate the pedal), and knobs like Tone, Value, Decay, Param 1 and 2, Mod, Pre-Delay, Mix, and Mod.
The best part of this pedal is the amount of control you have over the pedal and also the sound that takes your music to another level:
Various built-in reverb effects are available with the BigSky, ranging from spring reverb to the ethereal washes of the Strymon pedal. These simulations produce excellent audio quality and are based on classic reverbs. Strymon now offers more customization choices, enabling you to create distinctive textures and tones. To quickly access your preferred reverb effects, you can store up to 300 presets.
But the BigSky does more than recreate old favorites; it offers many tone-shaping options, including

two "parameters" knobs

for modifying various settings. Thanks to the abundance of inputs and outputs on the rear, you can enjoy stereo operation, MIDI control, and instant setting manipulation with an expression pedal.
You have access to several parameter controls through The Big Sky. You can alter parameters such as decay time, pre-delay, mix, modulation, and EQ. You can produce any atmosphere with this level of control, from a gentle background texture to a hollow reverberation.
Wide soundstages created by the pedal's

stereo inputs and outputs

can give your music a three-dimensional sound. You can produce immersive spatial effects that envelop your listeners and improve their overall listening experience by providing them with a sense of depth and width through stereo capabilities.
The Big Sky has it all: the best reverb algorithm on the market, it gives you in-depth controls that give you control over all possible parameters, it's compatible with an expression pedal, but above all, it has stereo capability.
It deserves its place on the market; its studio-grade reverb sound gives another dimension and perception of this effect. No wonder this algorithm pretty much kicked off what we call today "modern days".
If you're looking for a high-quality reverb with nerdy controls, an algorithm that sets the market's direction, and all the connectivity options possible, Big Sky is the winner.
Yet, if you want a cheaper solution, maybe not so great, that doesn't set out to make you a reverb savant, and you might want to operate on batteries too, you might want to look elsewhere.
Consider using an expression pedal with the BigSky for real-time control over various parameters. This can be especially useful for creating dynamic swells and transitions.
If you have the option, try running the BigSky in stereo. It can create a more immersive and spacious sound with two amplifiers or in a stereo effects loop.
Strymon provides a dedicated editor software (Strymon Nixie) that lets you dive deeper into tweaking your presets on a computer or mobile device. This can be more intuitive and efficient than using the pedal's controls alone.
2. Behringer UV300 (Vibrato)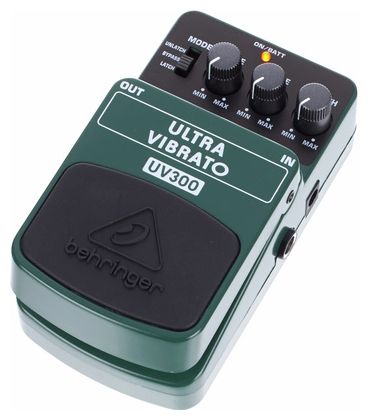 The Behringer UV300 gives you that groovy vibrato sound, befitting the phisedelic rock genre.
Behringer is renowned for their straightforward effects solutions. They offer inexpensive, good-quality solutions that do the job well and are suitable for backup and main use. The Behringer UV300 vibrato pedal helps you get that analog, classic sound you hear in many psychedelic rock tracks.
This pedal is easy to use, offering the parameters to control the effect. So, here you can find a Mode switch with (Latch, Bypass, and Unlatch), a Rise knob, a Rate knob, and a Depth knob. The pedal's housing is rather cheap plastic, often making musicians question this solution.
However, many still choose to buy them because the effects are good, and they choose to use them as a backup, but many beginners also choose to use them because they don't cost much and they can experiment with sounds without spending too much money.
The best part of this pedal is the Mode switch that helps you alter the way the footswitch works and the sound it provides:
The Mode switch offers three options to tweak the footswitch's behavior. When you select Latch, a press activates the vibrato effect. In "Unlatch" mode, vibrato only kicks in while the footswitch is held down. This feature shines when you want vibrato on select notes. The "Bypass" setting is in the middle, leaving your sound untouched even when you step on the pedal.
The UV300 features analog modeling technology that imitates vintage vibrato pedals' sound. Therefore, you don't need to spend a fortune on vintage equipment to get those tones.
The Rise knob handles modulation. It controls how quickly the vibrato effect reaches maximum depth. Turning it clockwise speeds things up, shortening the modulation.
Rate dictates the vibrato's tempo; think of it like a tremolo arm in your hand. Turn it left for slow, arm-like movements and clockwise for faster, arm-like vibrato.
The Depth control sets the intensity of the modulation effect. It's like fluttering the tremolo arm to shift a note's pitch. Turn it right for more pitch shifts and left for less.
It features True Bypass switching, ensuring your guitar sounds natural when the pedal is off. With the help of this feature, your sound remains unadulterated and pure.
It's a pedal that covers just about every vibrato parameter you'd need, and the sound you'll get using this pedal is good, especially since it uses technology that mimics vintage vibrato pedals. It's affordable, has a warm organic vibrato, won't give you a headache when using the controls, and true bypass works well.
If you want a budget pedal, whether you're going to use it main or backup, with basic controls and not altering the tone too much when you're not using it, the UV300 is a good solution.
However, if you're looking for a pedal with slightly better build quality to capture the exact sound of vibrato and have a few more parameters for vibrato, you should look elsewhere.
If you're playing live, you can tap your foot to the song's beat to sync the modulation speed with the music. This can create a more rhythmic and musical modulation effect.
Like any pedal, keeping your UV300 clean and in good condition is essential. Use a soft, damp cloth to wipe away dirt and dust and protect it from extreme temperatures and humidity.
The UV300 can be used in various musical genres, from rock and blues to psychedelic and ambient. Don't be afraid to experiment and discover how it can enhance your unique style.
Conclusion
They were the 12 Best Pedals For Psychedelic Rock 2023. Over the years, the brownness of these has conceived and marked what we have heard over the last 50 years of this scene, and psychedelic rock musicians have used them.
We have provided you with a complete pedalboard, all the effects you would need to design the most complex and full sound suitable for this genre. On the other hand, we've also included options representing a package with all possible effects and amp and cabinet emulations to increase convenience and utility (some even fit in guitar cases.)
Speaking of multi-fx pedals, the Boss GT-100 is an option that was and is widely used by old-school musicians; it is a good, complex option. It has next-gen amp modeling that handles modern amps and vintage effects that serve only well in the psychedelic rock genre.
However, if you don't want to invest that much, the folks at Thomann, with their Harley Benton DNAfx GiT, want to help you find your sound quickly without spending too much money.
In the psychedelic genre, you can't miss a wah pedal; that's why the classic Dunlop GCB95 Cry Baby is also present. This pedal has been used for a very long time by musicians of all genres, and it's capable of delivering just about among the most complex and easy to achieve wah effects.
Next in the signal chain is the distortion pedal. There are several types of distortion (fuzz, overdrive, distortion), each with its characteristics and purpose. TC Electronic MojoMojo (Overdrive) is that pedal you want when you want to stand out with a boost in the mid/high range for those solos with really good sustain and that necessary bite that we are all looking for.
However, if you've decided to go the powerful fuzz route, we've also included the legendary Electro Harmonix Big Muff PI (Fuzz), which can't go unmentioned when discussing fuzz. It has been used on almost every stoner, psychedelic track in the rock/metal scene, producing great sustain, all in a very easy-to-use package.
After that, if you want modulation effects, you can choose a multi-fx like the Eventide H9 Max Harmonizer or the Wampler Terraform, which offers all the pedal options you need in the psychedelic genre but in one package. They work well, are easy to use (even for beginners), and the tones you can produce will complement your tone nicely.
We hope this article has helped you find the right solution for your needs, and if you want to answer the questions we ask every day, or maybe you want some more inspiration about guitar tools, we invite you to follow this section.