We have good news for those who want an authentic country tone. Today we will discuss the top 14 guitar pedals for country music 2023.
Country music has long been a genre that sings the stories of life's challenges and victories with an undertone that resonates with the human spirit. Therefore, the pedal under your foot needs to be more than just a tool; it needs to be an extension of your voice, capable of injecting the emotion and character your story demands.
This list aims to equip you with a roundup of the latest devices and pedals to influence your sound, drive your music forward, and help you tell your story. It features an array of pedals ranging from overdrives, compressors, delay, and reverb units to less common yet highly effective modulation and specialty pedals.
These handpicked selections stood out for their impeccable tone-shaping abilities, robust construction, reliability, and innovative features. Whether you are a professional musician seeking to refine your sound or a beginner yearning to explore the vibrant palette of country music tones, there's something here for you.
In a nutshell, here are the Top 14 Guitar Pedals For Country Music 2023:
We have meticulously picked each pedal, ensuring that each recommendation can meet the demands of live performance, studio recording, or even a jam session at home. In our evaluations, we sought great sound – though essential – but also versatility, user-friendly design, and value for money.
What Effects Do Country Guitar Players Use?
The most important effect pedals that country guitar players use are overdrive, compressor, reverb, and analog delay. They also often use special effects such as phaser, tremolo, chorus, volume pedal, etc., but these depend very much on each player's style.
There is not necessarily a rule in choosing pedals to achieve that famous country tone; the most important part is to keep the signal chain as clean as possible, highlight its strengths (like in the compressor, which will highlight all your country techniques), and on top of that build the signal chain with effects that complement that clean sound.
Compression
Compression regulates your guitar's dynamic signal range, balancing the loud and soft parts to create an even tone. This effect is particularly advantageous in country music, where precision techniques such as "chicken pickin'" demand a uniform sound. Some compressors even enhance the sustain, letting the notes extend their resonance.
Reverb
The reverb effect mimics the natural resonance found in various physical environments. With adjustable settings, reverb can give the impression of playing in diverse spaces ranging from a compact room to a grand cathedral.
Country guitarists often achieve depth and spatial sense in their music through reverb, and it's regularly employed to replicate a nostalgic or "classic" tone reminiscent of traditional country music.
Delay
In the essence of an echo, the delay effect reproduces the guitar's signal after a determined time interval. Variables like delay time, repeat count, and mix level can typically be customized. Delay is commonly used by country guitarists to enhance their solos with added dimensions or to infuse a trace of ambiance, generally applied subtly to avoid dominating the musical arrangement.
Distortion And Overdrive
Overdrive and distortion augment the gain in your guitar's signal, contributing to a "gritty" or "rough" tone. Overdrive tends to be mellow and nuanced, while distortion introduces a harsher, more potent effect. While these effects find common ground in rock and metal genres, certain country guitarists hint at overdrive or distortion to incorporate an edgy element into their performance.
Chorus
The chorus effect generates a shimmering resonance by duplicating your guitar's signal and slightly detuning and delaying the duplicates, resulting in an aural illusion of multiple guitars playing simultaneously.
Tremolo
The tremolo effect introduces rapid volume oscillations to your guitar's signal, producing a pulsating tone. The modulation speed and depth are typically adjustable. In country music, tremolo can infuse substantial personality into a guitar's tone, particularly in vibrant or atmospheric compositions.
Phaser And Flanger
Phaser and flanger are comparable effects that generate a sweeping, "swooshing" sound. They function by bifurcating the guitar's signal and shifting one part out of phase with the other. Although not a mainstay in country music, some guitarists occasionally utilize these effects for unique creative outcomes or to introduce a psychedelic flavor to their sound.
How To Achieve The Country Twang Guitar Sound?
The most important part of the twang of the guitar sound is the guitar itself, which must necessarily have a single coil pickup. Besides that, you should also consider some compression and reverb pedals because even if the guitar can deliver that tone, it needs considerable attack to achieve that sound.
Most country guitarists use Telecasters to get that sound, but any guitar with a split or single coil could do it with the help of some pedals. For example, your playing will have more sustain and twang if you use a compressor.
It highlights all the notes you play and will help you achieve that traditional tone, and if you also use a reverb, you can give an open-room feel to your playing, as this kind of tone is often used in the country.
Let's follow the Top 14 Guitar Pedals For Country Music 2023.
Related Readings:
Top 12 Delay Pedals For Metal 2023 (Any Budget)
Top 12 Plate Reverb Guitar Pedals 2023
Top 12 Reverb Pedals For Metal 2023 (Any Budget)
Top 10 EQ Pedals For Metal 2023 (Any Budget)
Top 8 Boost Pedals For Metal 2023 (For All Subgenres)
Top 20 Guitar Preamp Pedals 2022 (Best Rated)
Top 14 Guitar Pedals For Country Music 2023
1. TC Electronic Hall of Fame 2 (Classic Reverb)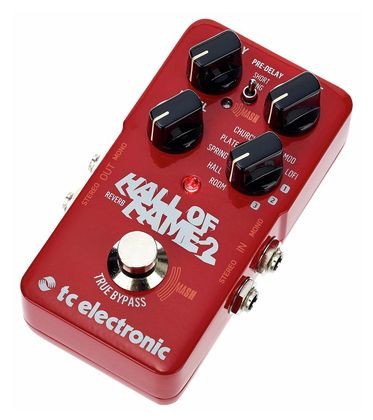 TC Electronic Hall of Fame 2 has new shimmer reverb algorithms and Mash footswitch technology for achieving more expressive effects.
The Hall of Fame 2 encapsulates the amazing subtleties of diverse reverb landscapes within a compact, pedalboard-friendly footprint, carefully engineered by a company known for its sterling contributions to the world of music effects. Musicians can add an almost infinite palette of ambient colours to their performances thanks to innovative technology and numerous features.
Key Features:
MASH Technology
MASH technology represents a significant leap forward in expression control within a stompbox format. It transforms the standard footswitch into a responsive, pressure-sensitive controller like an expression pedal. Applying different amounts of pressure on the footswitch allows you to manipulate various parameters of your reverb effect in real time.
For instance, you could morph the size of your reverb space, modulate the reverb tail, or control the effect's intensity by exerting more or less pressure with your foot. This capability introduces a whole new level of dynamic expression, essentially allowing your reverb to "breathe" in response to your playing intensity.
Tone Print
TonePrint is a feature that grants you access to an extensive library of professionally designed reverb presets. These presets are crafted by some of the most accomplished artists in the industry, allowing you to borrow their sounds at the tap of a button.
Furthermore, the TonePrint Editor allows you to tweak and customize these presets or build your own from scratch. You can modify numerous parameters, like decay, tone, pre-delay, etc. Once satisfied with your tailored sound, you can store it on the pedal or upload it to the TonePrint Cloud for others to enjoy.
Reverb Types
The Hall of Fame 2 offers various reverb types to suit musical contexts. Each type models a different acoustic environment, from small, reflective rooms to large, resonant halls. The variety of reverb options ensures you can achieve the right ambiance, whether for a subtle, natural-sounding reverb or a more dramatic, atmospheric effect.
Among these reverb types, the Shimmer effect deserves special attention. The Shimmer reverb generates a harmonically rich and ethereal overlay that "shimmers" on top of your original signal. It's achieved by adding a pitch-shifted version of your input signal into the reverb tail, creating a lush, sparkling ambiance.
Stereo Connectivity
The Hall of Fame 2 allows for mono and stereo input/output, making it a versatile tool for various rig setups. In a mono setup, you'd run a single guitar cable into the pedal and one out to your amp.
This is especially useful for those using stereo effects (like certain delays, choruses, or tremolos) before the reverb in the signal chain, as it maintains the stereo imaging and creates a wider, more spacious sound.
Controls
The Decay, Tone, and Level knobs control the reverb's main parameters; the Decay knob controls how long the reverb tail lasts, the Tone knob can brighten or darken the reverb's color, giving you control over the warmth or brightness of your sound, and the Level knob adjusts the balance between the dry (unaffected) signal and the wet (affected) signal.
Pros:
This pedal effortlessly transcends boundaries, whether seeking the tight reflections of a room reverb, the sprawling expanse of a cathedral setting, or the supernatural aura of the Shimmer effect.
Equally noteworthy is its enhanced user control, from the MASH technology to the depth of customization provided by the TonePrint functionality. These features, blended harmoniously, foster an elevated level of dynamic expression and encourage a more intimate bond between the musician and their instrument.
Cons:
Some users may find the level of complexity daunting, especially those who are relatively new to effects pedals. The MASH technology, while innovative, may require a period of adjustment as it veers away from the traditional footswitch operation.
Consequently, there could be inadvertent parameter changes during live performances due to unexpected pressure on the footswitch, leading to unpredictable sound changes.
2. Universal Audio UAFX Golden Reverberator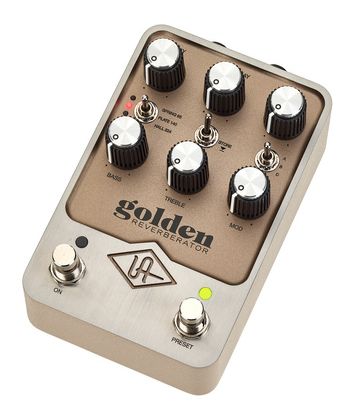 With Universal Audio UAFX Golden Reverberator, you get studio reverbs in a much smaller package.
Stepping into the world of audio effects units, the Universal Audio UAFX Golden Reverberator is a distinct and prestigious offering, showcasing UA's decades-long expertise in audio processing. This pedal draws on the company's rich legacy to deliver an experience steeped in the essence of vintage audio units yet combined with great technology and a user-friendly interface.
Key Features:
Spring Reverb
The Spring Reverb setting on the Universal Audio UAFX Golden Reverberator is modeled after the physical spring reverbs found in vintage guitar amplifiers. A spring reverb sends an audio signal into a spring or a set of springs, causing them to vibrate; these vibrations are then transformed into audio signals, creating a bouncy, unique reverberation effect.
The sound character of a spring reverb is often described as twangy and boingy, and it can give your audio a distinct, retro vibe that's perfect for surf rock, country, blues, or any genre where a touch of vintage color is desired. In this unit, you can adjust parameters such as dwell, mix, and tone, allowing you to tailor the spring reverb to fit your tone.
Hall Reverb
The Hall Reverb setting emulates the natural acoustics of large, spacious environments like concert halls or cathedrals. In such settings, sound waves bounce off multiple surfaces at different distances and angles, leading to a complex mix of direct and reflected sound, which you perceive as reverb.
It creates a spacious, immersive sound with a slower build-up and a longer decay time than other reverb types. You can customize the decay time, diffusion, and tone color on the Golden Reverberator.
Plate Reverb
Plate reverb was traditionally created using a large, thin metal plate excited by an audio signal, causing it to vibrate. A contact microphone picked up these vibrations and mixed them into the audio signal, creating a lush, smooth reverberation. The Plate setting on the Golden Reverberator replicates this reverb type and allows you to control the reverb time, pre-delay, and tone.
Dual-Processing
This feature allows users to activate two distinct reverb types in unison, effectively amalgamating them into a hybrid reverb environment. The outcome is a spectrum of rich, intricate reverb textures that yield a depth and complexity that breathe new life into your sound, expanding the breadth of your sonic palette.
Live/Preset Modes
The Live mode allows the user to adjust real-time parameters, governing elements like the reverb type, decay span, pre-delay intervals, and more, right on the spot.
On the flip side, the Preset mode permits the user to store and promptly retrieve favored settings. This function simplifies transitions between divergent reverb environments during live performances or while laying down tracks, making it an invaluable asset during these sessions.
Interface
Designed with user interaction at its core, the Golden Reverberator boasts an intuitive and unambiguous interface. With a well-organized layout and indicated controls, it offers immediate access to all fundamental parameters, facilitating the process of sculpting your sound with precision.
An additional feature of note is the high-definition LED display, enhancing visibility even under less than optimal lighting conditions, thus ensuring seamless operation at all times.
Pros:
It excels in its mission to replicate the sound and feel of vintage reverb units, offering users an authentic tonal experience. The level of detail in the sound modeling is extraordinary, revealing a sonic richness that adds a unique color to your audio.
The pedal's dual-processing power allows for unparalleled creative possibilities, letting users explore a range of tones and sonic textures. Moreover, the rugged build and user-friendly design make it an excellent choice for studio and stage use.
Cons:
The price tag might be steep for hobbyists or those on a budget. Also, the device's intense focus on emulating vintage soundscapes may limit its versatility for those seeking more modern or experimental reverb textures.
3. Boss DD-500 (Versatile Delay)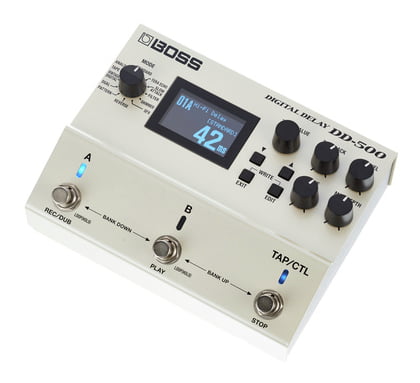 Boss DD-500 Digital Delay Pedal helps you unleash sonic creativity with precision.
The DD-500's 12 carefully crafted delay modes give musicians a wide range of options for creating great echoes and atmospheric effects. Its processing engine is 32 bits wide and 96 kHz wide, guaranteeing perfect audio reproduction that catches even the subtlest of your performances.
The pedal's large LCD screen and user-friendly interface make navigating the device a breeze. This pedal is ideal for live and studio use thanks to its preset memory, compatibility with expression pedals, and external footswitches.
Key Features:
High-Resolution Processing
The heart of the DD-500 is its extremely powerful audio processing system. Its sound quality and adaptability are practically unparalleled in the world of delay pedals. Even when using elaborate delay configurations, the high-resolution processing will keep your signal as close to its original form as possible. Also, the digital delay layers enhance sound without distorting or muddying your guitar's tone.
Delay Modes
Its delay modes include digital delay, tape echo, vintage analog delay, shimmer effects, and even SFX and Filter for wackier tones. You'll have access to various musical styles and sounds by toggling between the various modes.
Using an analog delay from the '70s is a surefire way to give your music a vintage rock vibe, and, at the same time, the shimmer effect is great for creating a mystical mood in ambient music.

Controls


The DD-500 gives you extensive control over your delay, letting you program individual functions for each footswitch for easy access to your go-to delays during live performances. Additional real-time manipulation of the pedal's parameters is possible with the help of an external expression pedal or MIDI controller.
Looper
The Phrase Loop feature can turn your DD-500 into a looper pedal with a maximum recording time of 120 seconds. You can use this function to create intricate musical textures for solo performances or songwriting by layering multiple guitar parts on top of one another. Also, you could use it to record a rhythm section, play a solo over it, or create complex, multi-tracked pieces.
Patches
The DD-500 emulates hundreds of pedals thanks to its ability to store up to 297 patches. You can save your preferred delay times and load them up quickly whenever needed during your set. If your music uses a variety of delay sounds, this feature will save you the trouble of adjusting the parameters each time.
Pros:
The DD-500's wide variety of delay modes and tweakable settings is one of its greatest strengths. This pedal gives you many tonal options, from traditional analog and tape delays to modern shimmer and reverse effects. Users can get extremely specific with their delay sound thanks to in-depth editing options and 32-bit AD/DA processing.
Its dual outputs and stereo capabilities make it perfect for wide, enveloping soundscapes, and the MIDI connectivity and extensive control options permit simple integration with other devices, giving musicians unrestricted access to various sonic possibilities.
Cons:
Due to the pedal's depth and complexity, the learning curve may be steep for those unfamiliar with high-end delay pedals. The menu system is easy to use but requires some practice. While the pedal is well-made, its heavy reliance on digital controls and screen readouts may turn off some users, especially those more comfortable with analog pedals.
Finally, the cost is something to consider; the pedal isn't the cheapest option, but many musicians would agree that the DD-500's extensive feature set is well worth the price.
4. Strymon El Capistan (Classic Tape Delay)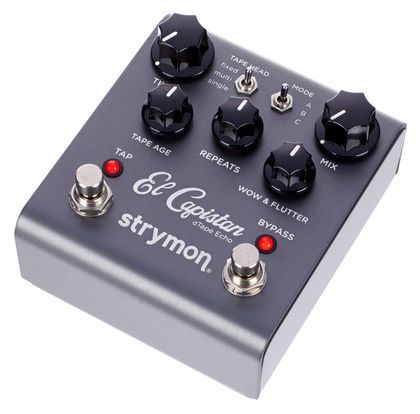 The Strymon El Capistan is a powerhouse, embodying the vintage charm of magnetic tape echoes with a modern twist.
Its unrivaled digital engine produces analog-style echoes that sound remarkably like the originals. More than just an echo machine, the El Capitan gives you complete creative control over your acoustic environment.
You can experiment with a wide range of sounds using the three tape head modes and ten adjustable parameters. Usability is also present; its user-friendly design and sturdy construction make it a favorite among guitarists everywhere.
Key Features:
3 Tape Machine Emulations
The El Capistan emulates the operation of three different types of vintage tape recorders, each with advantages and disadvantages. This range of options allows for many emulations, from delicate tape flutters to expansive soundscapes common in early tape echo units.
In the absence of multiple expensive vintage tape echo machines, this can be especially helpful for musicians looking to add depth and warmth to their sound.
3 Modes
Each machine model offers three delay time ranges, tape head selection, and sound-on-sound looping modes. It opens the door to various delay effects, from quick slapback echoes to the lingering ambiance; these modes allow you to tailor the delay effect to your playing preference and the needs of the song you're playing.
Tape Crinkle
Using Tape Crinkle, you can add personality to your echo by simulating the modulation effect of an old or damaged tape. This is helpful when trying to achieve a genuine retro or lo-fi effect. You can tweak the 'crinkle' setting to add or subtract grit and randomness to your repeats.
Tape Bias
Tape bias refers to the level of the input signal that was used to record onto the tape. When the bias is turned up, the echoes sound cleaner, while turning it down can cause harmonic distortion.
Using it, you can adjust the delay's tonal coloration—from crystal clear and precise to warm and slightly distorted. The sound can be adjusted to fit various musical situations, from a clean, spacious soundscape to a distorted rock and roll reverb.
Low-End Contour and Boost/Cut
The Low-End Contour knob lets you fine-tune the bass presence of your repeats. A higher value will produce echoes with more bass and fullness, while a lower value will produce echoes with less bass and clear up the mix. Also, you can adjust the delay's volume by up to three decibels using the +/- 3dB Boost/Cut feature.
Adjusting this knob will allow you to set the relative volume of your dry guitar signal and the delayed signal. When using the delay as a textural effect, a cut can make the echoes more subtle, while a boost can help them stand out in the mix for solos or other prominent parts.
Main Controls
Time, Mix, Tape Age, Repeats, and Wow & Flutter are just some of the many controls available on the El Capistan. You can adjust the character of the echo using the various parameters at your disposal; for example, you can adjust the Tape Age setting for a lo-fi effect, while a newer setting will produce a cleaner echo.
By fine-tuning the echo parameters, you can create the ideal delay effect for any musical style, from country, and hard rock to ambient.
Pros:
With three different tape machine simulations, the Strymon El Capitan dTape Echo Pedal gives musicians many tonal options. It's great for making distinctive echo effects due to its ten-parameter tone-shaping flexibility.
It can be appealing to country musicians in the way it faithfully recreates the warmth and character of vintage country recordings; the built-in spring reverb is ideal for achieving the depth and ambiance characteristic of country music, while expression pedal compatibility adds an expressive layer to performances.
Cons:
If you're looking for a simple pedal or are just starting out, El Capistan's complexity may put you off. Users may not immediately recognize the significance of simultaneously pressing both footswitches to access the 'hidden' layer of parameters.
Also, due to its advanced features and high-quality components, this delay pedal may be more costly than simpler models. In addition, despite the high quality of the sound, purists may still favor the unpredictable sound of an authentic analog tape delay system.
5. Nux Atlantic Delay & Reverb (Best Value)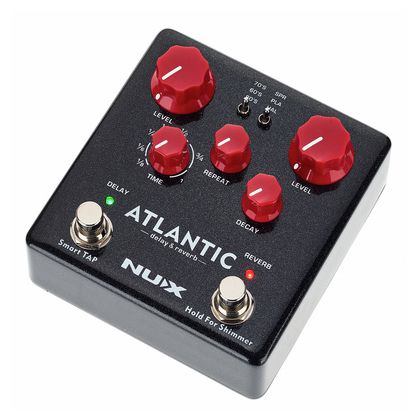 Nux Atlantic Delay & Reverb provides three distinctive delay and reverb effects each.
It offers a wide sonic range for various music genres with delay options capturing the essence of the 60s to 80s and reverb types that emulate Spring, Plate, and Hall atmospheres.
Features like inside routing control and the shimmer effect grant unprecedented customization, enabling musicians to craft soundscapes. Whether you're seeking vintage tape echo tones or grand hall-like reverberations, this pedal is essential for every guitarist's kit.
Key Features:
Delays
The Nux Atlantic offers three delay settings, each reflecting a distinct era of delay units; the 70s setting is inspired by magnetic drum echo machines, offering a warm and modulated echo effect. The 60s echo simulates the vintage tape echo machines, known for their warm and smooth delay repeats with a touch of natural decay. The 80s delay models digital delay units with clean, crystal-clear repeat sounds.
Reverbs
This pedal provides three different reverb modes; the Spring mode emulates the reverb effect produced by a spring reverb unit, typically found in vintage amplifiers, which offers a unique "twangy" sound.
The Plate setting simulates the reverb effect produced by a plate reverb unit, known for its bright, crisp sound, often used in studio recordings. The Hall reverb simulates the natural reverb effect in a large hall or cathedral, providing a vast, open space feel, great for creating an atmospheric sound.
Tap-Tempo And Shimmer Functions
The tap-tempo function allows you to control the delay time manually by tapping the footswitch at your desired tempo. This feature is particularly handy during live performances, enabling you to adapt the delay time to the song's tempo on the fly without adjusting the knobs.
When activated, the Shimmer function enriches the reverb effect with a layer of harmony, adding an octave-up pitch-shifting to the reverb tail. This is excellent for creating an ethereal, angelic ambiance and adds a rich, textural quality to your sound.
Trail Switch
This switch determines whether the delay or reverb effect will continue to sound (trail off) after the pedal has been switched off. This feature is particularly useful when switching off the effect without abruptly cutting off the reverb or delay.
Inside Routing
This mode lets you change the pedal's internal signal routing; in serial mode, the signal is routed through the delay and reverb. In parallel mode, the signal is split, with one part going through the delay and the other through the reverb, and then the two are mixed back together, giving you a wide range of options regarding how the two effects interact.
Pros:
The range of delays and reverbs offered are akin to the vintage and modern classics, providing an expansive palette for musicians to explore. The tap tempo function is an invaluable tool for live performances, enabling precise control over real-time delay timings. The shimmer effect adds a unique textural quality to the reverb, delivering an ethereal ambiance that transcends the conventional boundaries of tone shaping.
Cons:
It might take some time for beginners to navigate the range of features and settings, posing a steep learning curve. Also, the lack of presets or memory banks to save individual settings can be limiting for users who frequently switch between different sounds during performances. Finally, the absence of a dedicated expression pedal input for real-time parameter manipulation may also deter some players.
6. TC Electronic The Dreamscape (Best Value Modulation)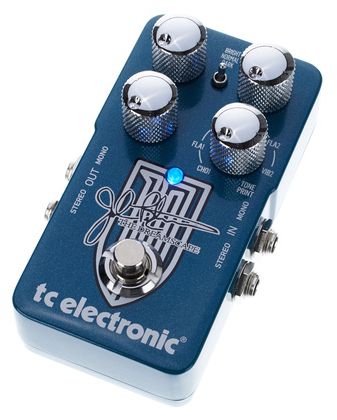 This is the right tool if you are looking for Dream Theater tones.
The TC Electronic The Dreamscape pedal, in collaboration with guitar virtuoso John Petrucci, presents a diverse soundscape with its six signature tones – three modulation effects (Chorus, Flanger, and Vibrato) and two variations for each.
The TonePrint feature enhances customization, allowing you to download Petrucci's presets or create your own, ensuring flexibility and adaptability for various musical styles, and its True Bypass feature guarantees signal integrity, making The Dreamscape an invaluable addition to any musician's gear repertoire, encapsulating many modulation options within one compact device.
Key Features:
Effects
The Dreamscape houses six distinct modulation effects, two different types each of Chorus, Flanger, and Vibrato. This diversity of effects can create an expansive palette of sounds. From the lush, spatial expanse of the chorus, the swirling psychedelic tones of the flanger, to the subtle pitch-shifting undulations of the vibrato, this pedal can bring a significant tonal upgrade to your setup.
Controls
Three main knobs – Speed, Depth, and FX Level – dictate the nuance of the chosen effect. The Speed knob adjusts the effect rate, Depth modifies the intensity, and FX Level controls the overall volume of the effect, giving you the power to shape and refine your sound with precision.
TonePrint Technology
This is where The Dreamscape goes above and beyond typical modulation pedals. TonePrint technology allows you to access an expansive library of artist-created presets or even design your signature sounds using the TonePrint Editor. This feature brings virtually unlimited tonal possibilities and the ability to add personalized nuance to the pedal's already diverse sounds.
Beam Functionality
The Dreamscape's unique feature is the Beam function, which allows users to upload TonePrint presets directly to the pedal from a smartphone. Simply play preset from your phone's speaker into your guitar pickup, and the pedal receives and decodes the audio signal, allowing for quick and easy preset changes without the need for any wired connection.
True Bypass Circuitry
Ensuring that your unaffected signal remains clean and untouched, The Dreamscape is equipped with true bypass circuitry. This means that when the pedal is disengaged, your guitar's signal passes through the pedal without any alteration or degradation, preserving the natural tone of your instrument.
Pros:
Its integration with TonePrint technology elevates it from a regular modulation pedal and adds layers of depth and flexibility to your sound.
The six base effects have been meticulously tuned, and each carries the signature John Petrucci tone, capturing his broad spectrum of musical expression. Its compact form makes it an unobtrusive addition to any pedalboard, and the rugged, road-ready construction ensures longevity.
Cons:
On the flip side, The Dreamscape's versatility may overwhelm newcomers. Its intricate features demand a steep learning curve, and its dependence on TonePrint technology for maximized usability can be daunting for those less tech-savvy.
Moreover, the absence of an onboard preset storage system means that users cannot easily recall their settings without accessing TonePrint, which may not always be convenient during live performances.
7. Boss CH-1 (Chorus)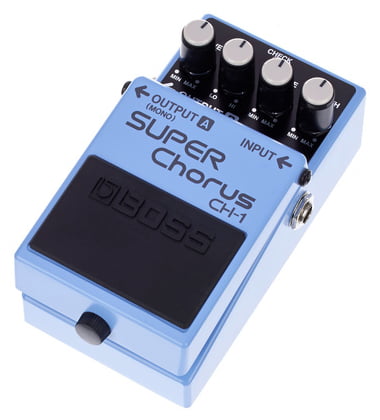 The BOSS CH-1 Super Chorus offers shimmering and clean chorus tones suitable for either guitarists or keyboardists.
Beloved by musicians from rock to jazz, funk to country, this pedal garners praise for its ability to skillfully mirror the great chorus sounds that have resonated through many timeless tracks. The Boss CH-1 generates a distinct stereo effect using stereo outputs that alternate between left and right speakers, rendering crystal-clear, heavenly highs.
Its output is authentic and enduring, respecting the original timbre of your instrument. The convenience of the Effect Level, EQ, Rate, and Depth knobs allows for meticulous sound tweaking, making the Boss CH-1 a great effect pedal that renews vigor into your musical interpretations, whether an experienced maestro or a budding music enthusiast.
Key Features:
EQ Control
If you turn the EQ knob for the chorus effect clockwise, you can boost the high frequencies, making the effect sparkle and shine; your guitar tone can benefit from this, becoming livelier and brighter. Alternately, you can get a softer, less forceful chorus by turning the EQ knob anticlockwise to reduce the treble.
Stereo Output
The pedal has two jacks connecting to two amplifiers or recording in stereo. By connecting two amplifiers to the stereo output, you can expand the soundstage and improve the listening experience. Studio recordings can benefit from this stereo capability by sounding more realistic and immersive.
Variable Level Control
The Level Control on the BOSS CH-1 Super Chorus pedal is an adjustable volume knob useful for various musical applications. It guarantees a smooth transition from the original signal to the chorus without jarring or overpowering jumps. Also, it maintains a steady volume when switching between chorused and unchorused passages.
Rate Control
The CH-1's Rate knob allows you to set the pace at which the chorus modulates. You can change the tempo and tone of the chorus effect, as well as the rate at which the pitch of your guitar signal shifts, creating chorus sounds that range from soft undulations to quick, lively modulations.
Buffered Bypass
When not used, the CH-1's buffered bypass circuitry protects your guitar signal from degradation. This buffer bypass protects against the loss of tone and frequency due to a tangled pedalboard or an excessively long cable.
With this function, you can rest assured that the pedal's inactivity won't negatively affect your guitar's tone, giving you peace of mind that your signal will always be strong and clear, preserving your sound as much as possible.
Depth Knob
The Depth knob allows musicians to adjust the modulation intensity to their liking. By reducing the Depth, you can get a subtle chorus effect that complements your tone without overpowering it. However, increasing the knob produces a more noticeable, broader modulation, leading to a more full and enveloping sound.
Pros:
Its ability to produce a variety of layered tones reminiscent of the classic chorus effect is its defining characteristic, and it does so while offering a high degree of customization to suit the musician's preferences. The CH-1 is a solid and worthwhile long-term investment for any musician because of its durability, which reflects Boss's well-deserved reputation for quality construction.
The CH-1's stereo output capabilities are also worth mentioning because they improve sound quality by increasing the number of channels. Finally, its ability to work with synths and bass guitars expands its usefulness, turning it into a flexible instrument with a wide range of potential contributions to different musical genres and arrangements.
Cons:
Apparently, the pedal is quite breakable as some units seem to come with some small factory defects, as the on/off switch seems to break after a few uses. This is specific to certain batches; they are not part of the pedal's character, and these problems can certainly be solved under warranty.
8. MXR Phase 90 (Phaser)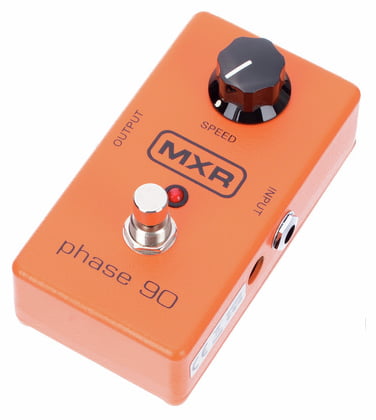 The MXR Phase 90 is classic, offering warm analog phasing to add rich movement and depth to your tone.
Its singular 'Speed' knob provides seamless control over the rate of the phase effect, ranging from slow, lush sweeps to rapid, pulsating warbles. It is ideal for creating space and adding texture; its simplicity, functionality, and compact size make it a favorite among guitarists across genres.
Key Features:
One-Knob Control
The "Speed" knob is the primary control on Phase 90; with this dial, you can adjust how quickly the phase shifts. The phase shift is more subtle at a lower volume, giving your tone a warm, undulating quality.
The effect produces a rapid pulsing at higher volumes, giving the music a psychedelic edge, and because of its straightforward design, even novices will have no trouble operating the pedal. The "Speed" knob is the only direct control you have over the phase effect; depth and resonance are both fixed parameters.
Versatile Phasing
The MXR Phase 90 is a flexible addition to any effects chain due to its wide variety of phaser effects. You can add depth and motion to your tone without overpowering it by using slower speeds to create soft, sweeping soundscapes. Phase 90's fast, warbling effect at higher speeds is dramatic and great for solos or more experimental sounds.
True Bypass
When a true bypass effect pedal is engaged, the audio signal completely avoids the pedal's effect circuitry and goes directly from the input to the output. This will prevent the effect pedal from tainting your clean signal when disengaged. This is a must-have feature for guitarists concerned about signal coloration and degradation caused by non-true bypass pedals.
Compact and Durable Design
The MXR Phase 90's portability and durability are ideal for frequent fliers. Thanks to its small footprint and durable housing, it's great to fit in pedalboards of any size, and the bright orange design isn't there just for looks; it also helps you locate the pedal quickly in a jam on a pedalboard.
Battery or AC Powered
The adaptability of Phase 90's power supply—it can run off of either a 9V battery or an AC adapter—is a great asset. This adaptability extends the pedal's usefulness to various musical settings and rehearsal environments.
Pros:
Its simplicity and adaptability have earned the MXR M101 Phase 90 Phaser Pedal high praise. Because of its easy, one-knob operation, musicians of all skill levels can generate various phasing effects that complement a wide range of musical genres.
The combination of its legendary status and the iconic sound it produces makes it a great addition to any pedalboard. Its rugged construction and the option to run on a 9V battery or an AC adapter make it attractive to gigging musicians who place a premium on dependability and convenience.
Cons:
The MXR M101 Phase 90 Phaser Pedal has many positive features and very few negative ones. Its ease of use may be limiting for musicians who want more agency over the phasing effect's depth and resonance.
In low-light conditions, the lack of an LED rate indicator could make it difficult to determine the phasing effect's current speed quickly. Finally, the mono output works with most standard guitar rigs, but it may be restrictive for those using more elaborate rigs and wanting stereo output.
9. Wampler Ego (Compressor)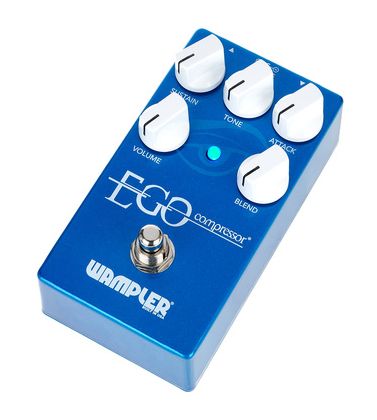 With the Wampler Ego Compressor, you can tame the dynamics without compromising tone.
The Wampler Ego Compressor is a pedal with an OTA circuit similar to the Ross Compressor and MXR Dyna Comp, meaning it takes the sound and delivers it as clean and deep as possible. It's a hand-built pedal with good materials, constituting a durable pedal, and you'll have it for a lifetime. The sound is as expressive and transparent as possible, offering plenty of headroom without too much noise floor.
Key Features:
Volume and Sustain
With the volume control, you can make the effect louder, softer, or even with the rest of the chain. It changes the signal level of the output from the unit. And sustain helps you extend the lifespan of your notes while you can keep them as long as you need.
Attack and Tone
Attack modifies the speed at which the compressor starts. Using high settings, it will immediately compress the signal and give you completely different tones. Tone control adds brightness and sparkle to your sound when you increase the amount.
Blend
Using the Blend knob, you can mix uncompressed sound with compressed sound, enabling you to maintain the guitar's natural qualities. If you are searching for a setting that will provide you with a less muddy signal and is more well-balanced, the position that matches 11 o'clock is a good option.
Power and Housing
It can be powered by a single battery or a power supply, making its use practical. It uses a normal adaptor, so powering it up will never be an issue. Like other Wampler pedals, Ego Compressor has a great aesthetic with metallic blue chassis, lettering, and white knob, while the construction is durable and the footswitch is of good quality.
Pros:
The Wampler Ego Compressor is perfect if you want a reliable pedal that will crack your sound in any situation. It's a clean, noiseless pedal can easily sweeten your sound while unifying it.
The most interesting part is that it doesn't color anything; it simply takes and improves what it gets. Indeed, it's a pedal that can be expensive, but an investment like this gives you the most authentic tones possible and won't require any repairs, so its lifespan will be many years.
Cons:
Being a pedal suitable for quiet, jazz, or pop genres, it may not have a more aggressive tone, which can be a drawback for musicians who play multiple genres.
And for novice users, it can be a very difficult option because unless you have extensive knowledge in the compressor world, they won't realize how the pedal alters the sound (because it's subtle) and will feel like it's not for them. Still, the Wampler Ego Compressor will change the game once they understand everything.
10. TC Electronic Forcefield (Budget Compressor)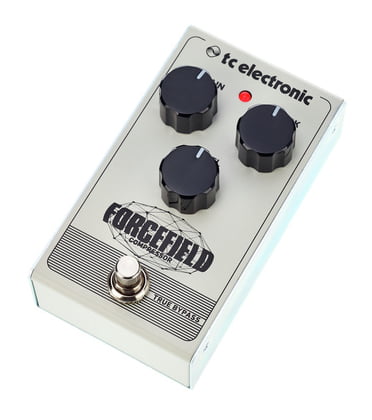 The TC Electronic Forcefield Compressor offers many classic analog compression effects.
The Forcefield provides subtlety and intensity in controlling dynamics by delivering vintage and modern compression effects. Its easy-to-use controls, including Sustain, Level, and Attack, permit customization to suit various playing styles.
The true bypass feature ensures a clean signal when the pedal is disengaged, preserving your original tone, and because enclosed in a sturdy, compact chassis, it's a practical and durable choice for live performance and studio use.
Key Features:
True Bypass
The true bypass feature of the Forcefield Compressor ensures that the pedal will not color or alter your tone when it is not in use by passing the signal from your guitar straight through the pedal without any interference. This is especially important if you're using a guitar or amp with a unique sound you want to keep intact.
Attack and Sustain Controls
With the attack knob, you can set how quickly the compression effect will begin after a note is played. An instantaneous attack will reduce the volume, which can help to normalize and uniformly distribute your sound.
On the other hand, a more dynamic, punchy sound can be achieved by setting the attack time to be longer than the note's duration before the compression kicks in.
The sustain knob adjusts how much of a squeeze is applied. Increasing the compression level can make your sound bigger and more powerful while increasing the sustain of your notes.
Level Control
You can modify the pedal's output volume using the level knob; using a compressor can sometimes result in a quieter overall sound because it lowers the volume of loud notes. Using the level control, you can compensate for this apparent volume loss by increasing the pedal's overall output. This guarantees that your voice will remain undistorted even at maximum compression.
Housing and Connectivity
The pedal's sturdy metal chassis ensures it will last through countless gigs and tours. The indicator lights up on the Forcefield Compressor's pedal to tell you when it's on and working. On a dim stage or with a crowded pedalboard, this visual cue will help you keep track of your settings.
The input and output jacks are located on the pedal's top, saving valuable real estate on your pedalboard. By arranging them this way, you can better use the space on your pedalboard and fit more pedals in the same area.
Pros:
The customizable compression settings on the Forcefield Compressor cater to many musical styles, such as jazz, country, rock, blues, and metal, making it a versatile choice. This pedal can enhance your guitar's tone for delivering country rhythms, indie rock strums, or intense blues solos.
Cons:
The Forcefield Compressor lacks a blend or mix feature that could facilitate merging compressed and uncompressed signals for more subtle effects. Furthermore, while beginners may find the device's straightforward nature beneficial, more experienced musicians might desire a wider range of sophisticated features and control options.
11. Proco Rat 2 (Distortion)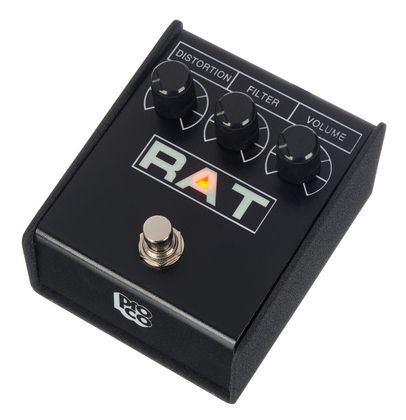 Proco Rat 2 is the right tool to add a sweet overdrive, a grungy fuzz, or a clean headroom to your signal.
The Proco Rat 2, a glorious descendant of the original Proco Rat pedal that famously stamped its assertive tone across the records of rock history, presents a combination of sublime characteristics that cement its place in the pantheon of overdrive-distortion guitar pedals.
It's ability to transcend genre boundaries, from searing blues licks or country to crushing metal riffs, solidifies it as an ideal choice for enthusiasts and professional musicians.
Key Features:
Distortion


By manipulating this control, you are effectively altering the gain level of the pedal, which directly influences the intensity of the distorted tone. You'll find a soft, somewhat creamy overdrive at lower settings, perfect for country, blues, and classic rock genres. It adds a touch of grit and sustains your tone without overwhelming it.
As you incrementally increase the distortion control, the Rat 2 transitions from overdrive into distortion, with the gain level increasing and the tone becoming more aggressive and saturated. At the highest settings, the Rat 2 produces a massive, full-bodied distortion suitable for heavier genres such as metal and hard rock.
Filter
The Filter control on the Rat 2 is essentially a tone control, albeit one with reverse functionality. Instead of brightening the tone as you turn it clockwise, it reduces high frequencies, thereby darkening your sound. This allows for an incredibly versatile range of tones, from bright and cutting for lead work or subdued and mellow for rhythm and blues.
It's important to note that this control does not simply act as an on/off switch for your high-end but provides a smooth, continuous sweep that can dramatically shape the character of your distortion. It's an essential tool for taming the harshness that sometimes accompanies high distortion levels.
Volume
It allows you to match the pedal's volume to your clean signal or boost it for solos. A thoughtful feature here is that the volume control is designed to maintain a consistent output across the entire range of the distortion control. This means that whether you're using a touch of overdrive or a wall of distortion, you can maintain a consistent volume level with your clean signal.
True Bypass
This feature ensures your clean signal remains unaffected when switched off the pedal. Some pedals can color or degrade your signal even when not used. True bypass switching sidesteps this issue by removing the pedal's circuitry from your signal path when it's not engaged.
Pros:
Being capable of providing everything from a gentle growl to a ferocious roar, it empowers the player to dial in precisely the right amount of grit required for their musical context. This versatility is further enhanced by the responsive Filter control, offering a broad range of tones.
It's also a robust, tour-ready pedal, designed with longevity in mind, standing up to the rigors of the road. Its compact design facilitates easy integration into a pedalboard setup, and the true bypass circuitry ensures your original tone is preserved when the pedal is disengaged.
Cons:
It may be overwhelming for those new to distortion pedals due to the potency of its Distortion control. Additionally, while its Filter control provides extensive tonal manipulation, its counterintuitive operation could confuse some users.
Lastly, its power source options could be more flexible; an included power supply or battery accessibility would be useful additions for those playing in diverse settings.
12. TC Electronic MojoMojo (Overdrive)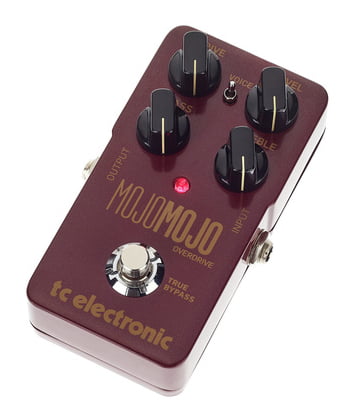 The TC Electronic MojoMojo Overdrive provides robust and warm overdrive tones, mirroring the organic saturation of a tube amplifier.
As a veritable powerhouse of tone-shaping capabilities, it exudes a tube-like overdrive versatile enough to handle subtle, bluesy warmth or assertive rock crunch. With its dedicated Drive, Level, Bass, and Treble controls, musicians can meticulously shape their sound, and an additional Voice switch enables further sound customization, expanding the palette for tonal exploration.
Whether delving into bluesy licks, classic rock rhythms, or experimental soundscapes, the MojoMojo Overdrive is essential for enhancing and elevating your guitar performance, making it a valuable asset in any musician's gear collection.
Key Features:
Drive
You can alter the level of overdrive applied to your guitar signal by turning the Drive knob. Turning it down gives you a clean boost that gives your tone extra warmth or grit. By adding more gain to the signal, turning the knob up produces a heavier, crunchier tone. You can get everything from a light bluesy overdrive to a thick, saturated rock tone by adjusting this knob.
Level
With the Level knob, you can fine-tune the pedal's output volume. When bypassed, this controls the volume of your clean tone; when engaged, it provides a boost useful for guitar solos and other situations where you want to be heard above the rest of the band.
Bass And Treble
You can adjust the overdrive sound's tone with these two knobs. Using the Bass knob, you can add depth and body to your sound by increasing the number of low-end frequencies or making your sound more compact by decreasing them. The Treble knob modifies the high-frequency range, allowing you to boost the highs for more definition and presence or dial them back for a more even sound.
Voicing Switch
The overdrive pedal's voicing switch is a novel feature that lets you alter the effect's tone. The tight, focused bass response it provides in one position is ideal for cutting through a crowded mix.
If you're looking for a full, warm tone, try switching to the other position, which offers a looser, more open bass response. This control allows you to tailor the overdrive pedal's sound to your guitar and amp combination and musical preferences.
True Bypass
Because of its True Bypass design, the MojoMojo Overdrive Pedal allows your guitar signal to pass unaltered and unchecked through the pedal when unused. Using a signal chain with multiple pedals is essential for maintaining the purity of your guitar's tone.
Housing and Power
The MojoMojo's sturdy build suits it for frequent studio or stage use. Its small footprint makes it a convenient addition to any rig because of how little room it needs on a pedalboard. However, the pedal in this design requires a 9V power source because there is no battery compartment.
Pros:
This pedal offers an overdrive tone that seamlessly complements the characteristics of country guitars and amplifiers, delivering an organic, transparent, and dynamic sound. Whether you desire a nuanced bluesy breakup or a saturated warmth to enrich your country licks and chords, the MojoMojo meets your needs.
With its versatile controls, including Gain, Level, Bass, and Treble, this pedal proves adaptable to a range of country music genres, and the true bypass configuration safeguards your signal integrity when the pedal is disengaged, resulting in an unadulterated and pristine sound.
Cons:
While the pedal boasts impressive features, addressing a few potential drawbacks is important. Some users have expressed occasional concerns about the pedal's build quality, particularly its long-term durability' it's worth considering that some issues might arise over time.
Additionally, a few musicians have mentioned that the pedal's response might not be the perfect fit for certain specific applications or playing styles within their music.
13. Boss FV-500-H (Volume/Expression)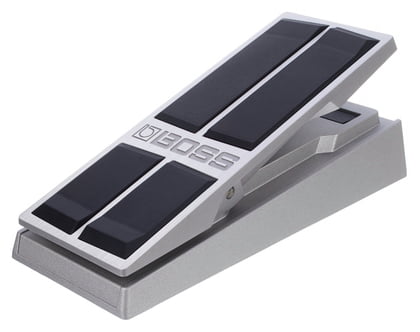 Boss FV-500-H is great for guitarists who want to control the volume of their guitar and amp.
The Boss FV-500-H is an exceptional high-impedance volume pedal featuring smooth action, a roadworthy aluminum die-cast body, and a rubber pedal for a comfortable foot grip. Its adjustable pedal feel caters to individual playing styles, while the built-in expression output allows creative sound manipulation, an asset for live performances.
The conveniently placed tuner output also ensures impeccable sound fidelity and on-stage tuning accuracy. Combining all these features, the FV-500-H provides enhanced control over volume dynamics and contributes to a musician's overall expressive capability.
Key Features:
High-Impedance Design
The high-impedance design is optimized for the signal levels produced by electric guitars, keyboards, and other electronic instruments. Impedance is essential to the audio signal chain; a mismatch can cause signal loss or degradation, distorting your music. Its high-impedance design guarantees pure signal transmission, protecting your instrument's natural tone.
Housing And Connectivity
This pedal is built to last through years of hard travel and heavy use thanks to its aluminum die-cast body. This sturdy build ensures the pedal lasts years and is easy to use in any environment. Also, the mono inputs and outputs of the FV-500H allow it to function with a wide range of instruments and audio devices. This seemingly simplistic function protects your signal chain and produces high-quality audio.
Torque Adjustment
The Boss FV-500H stands out from the crowd thanks to its adjustable resistance, or "feel." You can customize the pedal's resistance to your playing style by turning the torque adjustment screw on its side. You can adjust the pedal to your desired level of force, allowing for a light, quick action or a heavy, deliberate one.
Expression Pedal
The FV-500H is an expression pedal in addition to a volume pedal. The pedal can connect to other expression-controlled effects processors or synthesizers via its expression output. You can adjust delay time, modulation rate, and even a filter sweep, all from the same footswitch. Such fine-grained control over your sound allows for a vastly expanded range of dynamic performance options.
Tuner Output
Its dedicated tuner output jack is also a nice touch. Connecting a tuner to the pedal allows for discreet tuning in performance. During a live performance, you can quickly and easily check and adjust your tuning without affecting the rest of the mix.
Pros:
The Boss FV-500-H pedal is an excellent tool for country musicians due to its wide array of features, and since it also serves as an expression pedal, guitarists can fine-tune the volume for rhythm strumming or soaring solos. The pedal allows for seamless dynamics, allowing the player to go from playing a subtle accompaniment to playing an expressive lead easily.
Pedal steel swells, rapid volume changes for chicken pickin' runs, and other playing styles are all possible thanks to the pedal's adaptable feel and torque. Also, guitarists who use stereo effects or run their signals through multiple amplifiers can benefit from the pedal's stereo inputs and outputs.
Cons:
For some users, it may be a slight drawback that the pedal is very large, resulting in a much smaller space in their pedalboard. Also, this pedal has a few issues in terms of durability, as it has a lot of plastic in it, and these, along with the pivot mechanism, can degrade over time. But it is important to understand that this depends greatly on how you use the pedal and where you store it.
14. Boss VB-2W (Vibrato)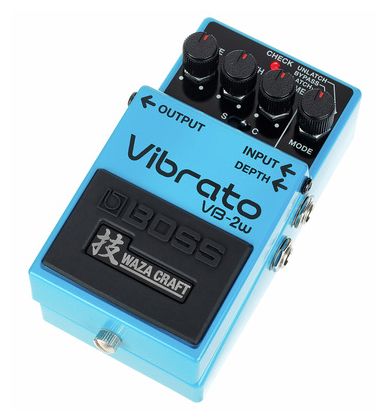 The Boss VB-2W Vibrato offers rich, expressive, and fully analog vibrato effects.
Its custom mode boosts vibrato depth and rate while preserving the celebrated VB-2 Vibrato sound for those drawn to classic tonalities. Real-time modulation control is at your fingertips through an external footswitch or expression pedal, allowing dynamic on-stage adjustments, and the incorporated bypass mode ensures the original clarity of your signal remains untouched when the pedal is deactivated.
Key Features:
BBD Circuit
The analog BBD circuit, also called a "Bucket Brigade," is a signal-processing tool that stores and transmits an analog signal using a series of capacitors; it's responsible for the warm, vintage vibrato effect that the original Boss VB-2 was known for. The VB-2W can produce a more organic and robust sound than is typically achievable with digital technology.
Switch
The Boss VB-2W Waza Craft Vibrato Pedal has a two-way mode switch that lets players choose between two distinct modes: Standard and Custom. In Standard mode, a faithful recreation of the analog BBD (Bucket Brigade Device) circuit produces a warm and classic vibrato effect, recreating the sound of a vintage VB-2.
The Custom mode, on the other hand, is an unusual addition that provides a more profound and dramatic vibrato effect, with both greater clarity and depth. This setting allows for greater sonic expression, making it suitable for more contemporary musical idioms.
Latch Modes
The three-position toggle switch on the pedal allows you to choose between Latch, Unlatch, and Bypass modes of operation. In Latch mode, the pedal operates like a standard stompbox, allowing you to toggle the vibrato effect on and off with a foot switch.
In Unlatch mode, also called "momentary mode," the vibrato effect is active only while the pedal switch is depressed and stops after the switch is released. This setting is great for spicing up specific parts of your performance with quick and precise vibrato enhancements.
Bypassing the pedal completely turns off its effect, letting the unaltered signal from your instrument through. This setting is helpful when you need pure tone without vibrato effects.
Controls
The VB-2W has a real-time control feature that lets you adjust important settings like rate, depth, and rise time on-the-fly with an expression pedal. By adjusting the "rate" knob, the vibrato effect can range from slow, undulating waves to rapid oscillations, making it suitable for various musical styles.
Adjusting the "depth" knob can add a shimmering sheen or a throbbing modulation to your sound, expanding its expressive potential. Finally, the "rise time" control determines how soon after activating the pedal, the vibrato effect peaks. With a longer rise time, you can add dramatic tension and resolution to your performance through swelling vibrato effects.
Pros:
The distinctive, rich, and deep tones produced by the Boss VB-2W Waza Craft Vibrato Pedal set it apart from more standard modulation effects. This is a great option if you're a musician looking for something different than the standard chorus or flanger effects.
One of its many adaptable features is its compatibility with an expression pedal, which allows the performer to adjust vital settings in real-time. Also, unlike most analog vibrato pedals, this one runs quietly, guaranteeing a clean, noise-free signal.
Cons:
The pedal tends to be a bit expensive for what it offers (not because it doesn't deliver good quality tones) but simply because you can usually buy more complex pedals at this price.
Also, for some users, a slower down rate might be more appropriate, and the fact that the pedal chooses to be controlled by an expression pedal for depth and not rate is part of what makes the pedal lack the power it has.
Bonus
1. Behringer TO800 (Budget Overdrive)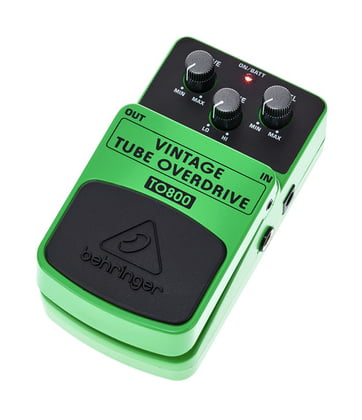 You can experience the essence of vintage tube sounds with the Behringer TO800, an affordable yet feature-rich overdrive pedal.
It provides dual-stage drive control, facilitating soft harmonic distortion and the unique sound coloration that guitarists like. The powerful tone-shaping capabilities of this unit, comprised of effective Level control, Tone control, and Drive control, give you the tools needed for crafting personalized soundscapes.
Also, it has included a status LED for effect and battery check, and a first-class electronic on/off switch ensures maximum signal integrity and long-lasting operation.
Key Features:
Vintage Tube Overdrive
The TO800 boasts an authentic Vintage Tube Overdrive modeled after the acclaimed Tube Screamer. This feature enables the pedal to reproduce vintage tube amplifiers' warmth, character, and subtle harmonic distortion.
Distortion Diodes
These two integral components are crucial to the pedal's sound replication accuracy. The 4558 op amps are celebrated for their quality and character and are crucial in shaping the sound, contributing significantly to the overall tonality of the pedal. They are known for their smooth, musical overdrive characteristics.
Drive
This knob adjusts the overdrive signal's gain or saturation. If you play around with the drive, you can alter the degree to which the overdrive kicks in. This pedal is great for the blues or any style that calls for a little bit of edge because, at lower settings, it provides a subtle, warm grit that subtly colors your tone.
Turning the Drive knob up adds saturation, transforming your tone from a smooth overdrive into a harder, crunchier distortion well suited to rock music or more aggressive playing.
Tone
The Tone knob modifies the overdriven signal's frequency spectrum; it determines how light or dark your voice sounds. Turn it towards the lower end to achieve a warm, bass-heavy tone that works well with jazz, blues, and some rock forms.
In contrast, turning it up will increase the treble frequencies, giving you a brighter, more cutting tone that will make you stand out in a band mix or allow you to create jangly, indie rock tones.
Level
The Level knob on the TO800 controls the pedal's output volume when the effect is engaged; it does not affect the tone or amount of overdrive but merely how loud the signal is when it leaves the pedal.
It is particularly useful when you're looking to match the volume of your clean tone with your overdriven tone – you wouldn't want a sudden leap in volume when you kick the pedal on or for your scorching solo to get lost because the pedal's output was set too low.
LED and Power
An onboard LED status indicator is another feature that the TO800 boasts. This indicator is helpful in live situations or darker environments, clearly showing whether the effect is on or off, thus allowing you to keep track of your settings at a glance. Also, it can be powered via a 9V battery or a PSU-SB DC power supply, making it adaptable to different setups and requirements.
Pros:
The genuine Vintage Tube Overdrive and the 4558 op-amps and MA150 distortion diodes offer a distinctive, rich, and tube-like overdrive, reproducing the sought-after vintage tones with precision.
In terms of functionality, the dedicated Drive, Tone, and Level controls provide vast tonal versatility, enabling guitarists to dial in the exact sound they envision. Furthermore, it offers great value for its cost, bringing a truly professional sound to the table without the price tag of boutique pedals.
Cons:
Certain users might express the sentiment that the overdrive produced by the pedal veers towards excessive warmth, often termed as 'muddiness,' which may not align with their taste, especially when they seek a clearer or brighter sound that is frequently associated with more contemporary overdrive effects.
Additionally, although its sturdy construction guarantees resilience, the longevity of elements like the switch and potentiometers might not measure the sustained durability of more high-end models.
2. Boss RC-5 (Looper)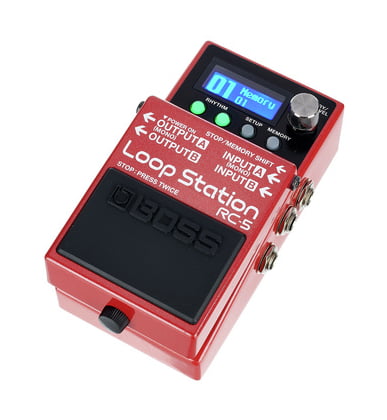 Boss RC-5 gives you 13 hours of stereo record time and 99 phrase memories.
This compact powerhouse has class-leading 32-bit AD/DA and 32-bit floating-point processing, delivering good sound quality. Additionally, the device offers a versatile 13 hours of stereo recording, a backlit LCD, multi-function controls, and MIDI compatibility.
From your first loop to intricate layering, the onboard storage for 99 memories and reverse function pave the way for limitless creativity. Furthermore, the RC-5's rhythm machine, with seven genres and 57 patterns, offers precise timing, creating an all-encompassing musical experience.
Key Features:
AD/DA Conversion


This is where the Boss RC-5 shines when it comes to producing high-quality sound. From the analog output of your instrument to a digital format for looping and then back to an analog signal for output to your amplifier, the 32-bit Analog-to-Digital and Digital-to-Analog conversions keep the audio signal pure and free from degradation at every stage.
Furthermore, the 32-bit floating-point processing allows you to work with intricate sound manipulations without worrying about clipping or distortion.
LCD
In addition to displaying useful data like the currently used memory phrase, this feature also displays the loop's current recording, overdubbing, and playback states for easy visual reference. During live performances, where quick and accurate decision-making is essential, this straightforward visual interface is invaluable for keeping track of where you are in the looping process.
Memory
There are several advantages to having so much memory (roughly 13 hours) and storing up to 99 loop phrases. For instance, you can create intricate musical passages with multiple instruments and effects without worrying about memory constraints when building complex, layered compositions.
It is especially helpful for loop-based music styles that heavily use complex layering and varying loop lengths, such as ambient, experimental, and electronic.
Also, with 99 memory slots, you can store and recall rhythmic ideas and chord progressions during a jam session or songwriting process or prepare entire setlists of backing tracks for solo live performances.
Reverse Function
The RC-5 Loop Station's reversal feature allows for a new dimension in your sound. Using this instrument is more than just hearing your loops backward; it's about making new sounds and textures. The reversed performance of a melody or rhythm flips the normal order of the notes, attacks, and decays, leading to novel and exciting outcomes.
You can make interesting percussive textures that wouldn't occur naturally, such as a haunting reversed guitar solo. Reverse can drastically alter the musical landscape when used in a live setting, adding an element of surprise to your performance.
Drum Patterns
It includes a big collection of drum patterns (about 114). These drum patterns are a useful rhythmic tool for experimenting with new genres, time signatures, and musical styles; Country, Rock, pop, jazz, funk, reggae, and more are all within your reach with this extensive library of drum patterns.
The authentic and realistic drum sounds in each pattern will elevate your looping experience because of how well they capture the spirit of the featured style. This function helps to keep your loops in time and provides new and interesting ways to express creativity.
Pros:
Its 32-bit AD/DA and 32-bit floating-point processing ensures that the rich acoustic and clean electric tones, characteristic of country music, are captured and reproduced faithfully.
The pedal's 99 phrase memories and 13 hours of stereo recording capacity offer abundant room for layered guitar riffs, fiddle lines, and banjo licks, typical in country music, creating complex arrangements in a live solo or band setting. Also, with its easily readable LCD backlight color coding, musicians can seamlessly transition between loops, even in dimly lit venues.
Cons:
Despite its high-quality sound processing, the lack of dedicated mic input could be a limitation for artists who use vocals as part of their loops, as they'll need to rely on a separate preamp or mixer.
While the 99-phrase memories offer ample storage, managing these saved loops could be more intuitive, potentially causing difficulty when accessing a specific phrase in the heat of a performance. Also, the pedal's MIDI I/O is a powerful feature, but it might present a steep learning curve for less tech-savvy musicians.
Conclusion
They were Top 14 Guitar Pedals For Country Music 2023. You can find all the pedals you need for an authentic country tone in this list. Whether you add traditional effects to your pedalboard or some creative effects that will make your job easier, this top has them all.
The Wampler Ego is a compressor with the cleanest and deepest circuit possible. It's a hand-built pedal that features components that will last a lifetime. This pedal offers plenty of headroom and doesn't inject too much noise-floor into your signal (which is more than necessary when you want to use it for country).
But if you want a solution that combines vintage with modern, the TC Electronic Forcefield is a great option. It has basic settings that will help you get whatever kind of tone you need.
The Universal Audio UAFX Golden Reverberator is the key to achieving that perfect analog country tone. It has plenty of studio-grade reverb effects and emulates their feel. It has dual-processing power to help you achieve any tone you want, from spring and hall to plate reverbs.
TC Electronic Hall of Fame 2 is a more modern solution in the world of reverbs, incorporating creative technologies that help you find the right tone efficiently. Still, it does not apply to all guitarists, as some of its parameters can be controlled from the app. But this pedal is still a very good solution.
The TC Electronic MojoMojo comes bundled with plenty of tone-shaping capabilities; it has basic controls and emulates a tube-like overdrive with a large overdrive range. It works great to add a distinct growl to your tone.
And the Proco Rat 2 is as straightforward a solution as possible. This is a descendant of the Proco Rat that you can hear in many rock history records; it combines features of overdrive, fuzz, or even a boost in the headroom of your signal.
We hope this Top 14 Guitar Pedals For Country Music 2023 has helped you find the right pedal, whether it's one you need to achieve a traditional country tone or a creative one that either adds a personal touch to your final tone or comes to your aid with effective solutions.