Today we will talk about the top 12 pedals for djent metal 2023.
The musical landscape of 2023 reveals that Djent Metal continues to reverberate across the globe; more than merely a niche subdivision of progressive metal, Djent has established itself as a potent force of musical expression, characterized by its distinct low, mid-pitched, palm-muted guitar sounds, syncopated rhythms, and high-gain distortions.
This genre, an intriguing matrix of polyrhythmic elements, harmonic complexity, and extended chord structures, demands skills and a specific arsenal of gear. Among these are guitar pedals, pivotal in sculpting and amplifying the distinctive Djent tonality.
This article, therefore, charts a course through the top 12 pedals for Djent Metal in 2023, illuminating both industry stalwarts and emerging challenges that contribute to the rich, rhythmic tapestry of this contemporary genre. These tools are indispensable for enthusiasts and professionals, offering a unique palette to shape the complex harmonic structure and the signature "djent" tone.
In a nutshell, here are the Top 12 Pedals For Djent Metal 2023 (All Types & Budgets):
We'll venture into the labyrinthine domain of Djent pedals, delving into overdrives, distortions, equalizers, and noise gates. Each pedal harbors the potential to unlock the quintessential Djent texture: the chunky palm-muted riffs, the cutting leads, the ambient clean tones, and those all-essential 'djenty' breakdowns.
Let's see the Top 12 Pedals For Djent Metal 2023 (All Types & Budgets)
Top 12 Pedals For Djent Metal 2023 (All Types & Budgets)
1. Behringer Heavy Metal HM300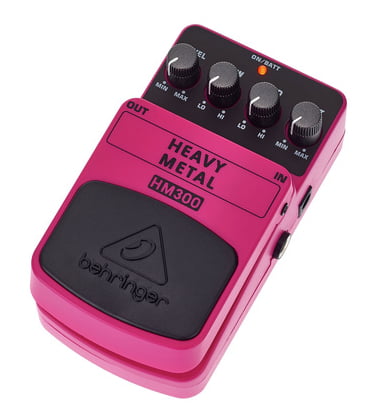 The Behringer Heavy Metal HM300 stompbox pedal offers a veritable feast of full-bodied, distortion-rich tones.
Crafted with a finesse that lends itself to neophyte strummers and adroit shredders, the Behringer Heavy Metal HM300 is a repository of massive distortion tones, evoking the quintessence of 80's metal and more.
Endowed with a high-definition, two-band EQ, its extensive range permits meticulous sculpting of sound that channels your inner virtuoso, and with its Level, Dist, Low, and High dials, the HM300 conjures an awe-inspiring cacophony or a purring melody with equal elan.
Key Features:
Distortion Knob
At the heart of the pedal, the Distortion knob is your gateway to unleashing the monstrous roar of high-gain heavy metal tones. With this control, you can command the degree of distortion, from a modest growl to an all-consuming, full-bodied roar.
This feature lets you shape your sound's intensity, lending flexibility to your playing, whether exploring a softer, melodic side of metal or diving into the unforgiving terrain of thrash and speed metal.
2-Band EQ
Moving beyond the standard distortion pedal, the Behringer HM300 offers a 2-band EQ encompassing bass and treble controls. This EQ affords you detailed command over your tone's frequency response, making it possible to sculpt your sound's brightness and depth.
For instance, you could reduce the bass frequencies for a sharper, edgier sound or boost the treble for aggressive, cutting lead tones. This functionality caters to the need of diverse metal sub-genres, enabling you to customize your sound to the unique character of your music.
Level Control
The Level control is the linchpin that controls the pedal's overall output. It lets you adjust how prominently the distorted sound features in your overall mix. Dial it back for a subtler presence, or crank it up to ensure your heavy metal tones take center stage. This feature is especially valuable in live settings, where careful control over your output level can ensure a balanced, powerful sound.
Gain Knob
The Gain dial intensifies the potency of your distortion, adding bite and aggression to your tone. It enables a range of sonic manipulation, from a raw, overdriven crunch to a saturated, high-gain wail. Such dynamic control lets you adapt your sound according to the musical context, giving you the power to adjust the fury of your distortion in real-time.
Pros:
The Behringer HM300 is a testament to the idea that good sound doesn't necessarily have to be expensive. It delivers a wide array of brutal and punchy djenty/heavy metal tones, making it an attractive choice for guitarists on a budget.
The device's simplified control layout ensures intuitive to use, inviting seasoned musicians and beginners alike to explore the depths of distortion without intimidation. The flexibility offered by the 2-band EQ further heightens its appeal, allowing for intricate tone shaping, thereby giving a personalized touch to your music.
Cons:
For some, the build quality might raise concerns, as the pedal's plastic construction could compromise its long-term durability, especially in demanding, high-energy stage environments. Furthermore, the HM300, being a single-purpose pedal, might not satisfy those who prefer a wider range of sonic possibilities beyond the heavy metal genre.
2. Boss NS-2 Noise Suppressor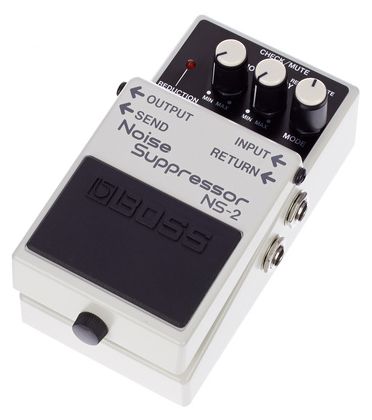 The Boss NS-2 Noise Suppressor is a sublime ally for any musician seeking an immaculate signal chain.
With its dual-stage noise suppression capabilities, the NS-2 deftly separates the audio input into two distinct zones, letting your desired signals pass through untarnished while simultaneously isolating and quashing unwanted noise. The versatile control knobs, offering sound-crafting control over the threshold and decay parameters, ensure an impressively wide scope for meticulous sound refinement.
Key Features:
Noise Detection Circuit
Diving into the heart of the Boss NS-2 Noise Suppressor, one encounters the innovative Noise Detection Circuit. This is not your run-of-the-mill noise filter that uniformly suppresses sound above a certain threshold. Rather, this intelligent system dynamically differentiates between the genuine guitar tone and unwanted noise interference.
The Noise Detection Circuit contributes significantly to preserving the guitar's natural sound while combating the noise that may arise from various sources, such as ambient electrical interference or other pedals in your signal chain.
Connection Configuration
The Boss NS-2 stands out with its ability to form an effects loop by incorporating "send" and "return" jacks. By incorporating the other pedals in your chain within this loop, the NS-2 can effectively apply noise suppression across the entire signal path rather than just at one point.
This increases noise cancellation efficiency and reduces the potential for tonal degradation when noise suppression is applied at multiple points in a signal chain.
Dual Threshold Setting
The NS-2's user-friendly interface boasts a dual threshold setting featuring 'Decay' and 'Threshold' knobs. The 'Threshold' knob allows users to set the level at which the noise suppression kicks in, granting the flexibility to adjust based on the noise level in your particular environment or setup.
Meanwhile, the 'Decay' knob controls how quickly the sound is muted once it drops below the threshold, thus controlling how natural the sound cut-off feels. This level of customization ensures a more natural playing experience and helps users attain the most suitable settings for their individual preferences and needs.
Mute and Reduction Modes
The Boss NS-2 Noise Suppressor also provides two different modes for operation: Mute and Reduction. In Reduction mode, the pedal functions as a traditional noise suppressor, reducing the noise level according to your settings.In Mute mode, however, the NS-2 completely cuts the sound, making it extremely useful for changing guitars on stage without unplugging and avoiding unwanted noise.
Pros:
The Boss NS-2 Noise Suppressor indisputably boasts an array of benefits. Its unique noise detection circuitry identifies and neutralizes noise without intruding on your instrument's sound. The pedal's capacity to establish an effects loop ensures a near-flawless operation devoid of the frequent disruptions experienced with other noise suppression solutions.
Furthermore, the flexibility provided by the dual threshold setting empowers users to fine-tune the noise cancellation, ensuring an optimal performance that's tailored to their specific needs.
Cons:
The pedal may require some time and tweaking to dial the settings perfectly; this may be daunting for novices or musicians seeking a plug-and-play solution. Furthermore, the NS-2, in some rare instances, may slightly color the guitar's tone, especially when used with multiple effects pedals in a chain.
Finally, the pedal's power consumption, at 20 mA, is slightly higher than other pedals, which might be a minor inconvenience for some users relying on battery power.
3. ISP Technologies Decimator II Pedal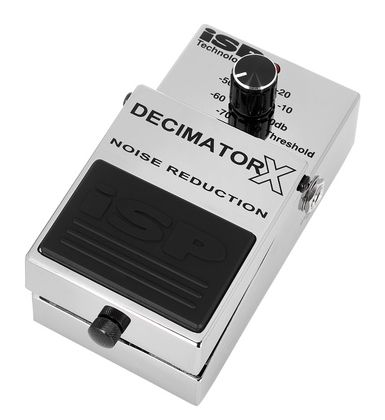 The ISP Technologies Decimator II Pedal alleviates undesirable noise interference in your signal chain.
This innovative unit, employing linearized Time Vector Processing for utmost precision, grants users the privilege of sonic purity without compromising tonal integrity. Important features like the Decimator X Technology present an effective noise reduction system, eradicating background hums, hisses, and buzzes.
Combining this with the transparent operation enhances the musician's performance with a cleaner, clearer sound, thus proving instrumental in creating a more immersive auditory experience.
Key Features:
DECIMATOR X Technology
This proprietary technology from ISP Technologies is the powerhouse behind Decimator II's extraordinary noise reduction capabilities. It operates on the principles of dynamically continuous amplitude measurement and real-time noise level response.
In simpler terms, DECIMATOR X constantly measures the amplitude of your input signal and instantaneously responds to variations, ensuring the noise gate's accurate activation and deactivation. This real-time response prevents your musical notes from being cut off abruptly, preserving your guitar's original tone and sustain.
Linear Release Time-Vector
Another innovative feature of the Decimator II is the Linear Release Time-Vector system. It allows the pedal to distinguish between the lingering sustain of a guitar note and unwanted background noise.
This intelligent distinction ensures that the musical notes can decay naturally while the noise is swiftly eliminated. Therefore, this feature helps maintain the integrity and nuance of your music, even when the noise gate is in action.
Single-Threshold Knob
In design simplicity, the Decimator II scores high with its single-threshold knob feature; this is the only adjustment control on the pedal used to set the level of noise reduction.
By eliminating multiple dials and buttons, ISP Technologies has simplified the user interface to a significant extent. This makes it easier for beginners to use the pedal and allows more seasoned musicians to focus on their performance without being distracted by complicated settings.
Build Quality
The robust construction of Decimator II is worth highlighting. The pedal's exterior is made of sturdy metal designed to endure heavy use, and the internal circuitry is equally well-crafted. This level of build quality ensures a long lifespan for the pedal, making it a reliable tool in a guitarist's arsenal, regardless of the intensity and frequency of use.
True Bypass
Last but certainly not least, the Decimator II features true bypass switching. This means that when the pedal is disengaged, your signal passes directly from the input to the output without any alteration. This prevents any potential coloration or degradation of your guitar's tone when the noise gate isn't required, ensuring your signal's purity remains intact.
Pros:
This pedal masterfully eliminates undesired noise while preserving your instrument's natural tonality, thereby maintaining your music's authenticity. Such an achievement is made possible through the creative implementation of DECIMATOR X technology and the Linear Release Time-Vector system within the pedal's structure.
Additionally, with its straightforward design, the Decimator II is an ideal choice for guitar players across the proficiency spectrum. The pedal's interface is devoid of extraneous buttons or switches, offering instead a single threshold knob that smoothly alters the degree of noise suppression, exemplifying the very essence of simplicity.
Cons:
Contrarily, the simplicity that stands as a remarkable asset for many could be seen as a restriction by users who yearn for more comprehensive control over the noise reduction parameters. The sole threshold knob may fall short of providing the accurate adjustment some guitarists seek.
Furthermore, while the pedal is significantly adept at silencing noise, it may subtly influence your guitar's sustain when cranking the threshold settings. Also, few users have noted that the fade-out of notes, especially with a clean tone, can feel unnatural when the noise reduction level is maximized.
4. MXR Ten Band EQ M108S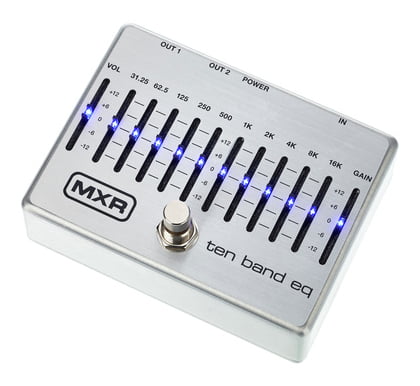 The MXR Ten Band EQ M108S is a versatile, feature-rich pedal built for musicians desiring nuanced control over their audio output.
Gracing the soundscapes of discerning musicians with its meticulously designed architecture endows artists with an expansive range of ten distinct equalizer bands, which, in their exquisite finesse, prove indispensable in tweaking frequencies and carving out sonic spaces.
Enhanced with features such as dual outputs for simultaneous processing, illuminated sliders for efficacious performance under dimly lit environs, and a noise-reduction circuit that reduces the audio cacophony, this piece of auditory alchemy is a quintessential companion for those who seek to harmonize their symphonies to sublime perfection.
Key Features:
Ten Band Equalization
The M108S offers ten distinct frequency bands that extend from the low end at 31.25 Hz to the high end at 16 kHz. This comprehensive range allows for exceptional tonal control, catering to the needs of electric and bass guitarists and studio engineers. This wide span improves the pedal's versatility in adjusting tone and ensures that you can shape your sound precisely in various musical situations.
Dedicated Gain and Volume Sliders
Adding separate sliders for gain and volume is a thoughtful inclusion by MXR. The gain slider gives you full control over how much overdrive or distortion you want to apply to your sound. Meanwhile, the volume slider can manage the overall output, a critical feature in live performances or when balancing the mix in a recording session.
Dual Outputs
The M108S comes with dual outputs, a feature that might be overlooked but holds immense potential for sonic exploration. It lets you connect to two amplifiers simultaneously, creating a stereo effect. This functionality can broaden your soundstage, especially beneficial in studio environments or live situations where a fuller, more immersive sound is desirable.
Illuminated Sliders
Each of the frequency sliders comes with a bright LED indicator. This design enhances visibility, especially in darker environments like stages or dimly lit studios. It makes adjusting frequencies easier and quicker, saving valuable time during performances or recording sessions.
18V Power Supply
Operating on an 18V power supply, the M108S can deliver high headroom, which can be crucial in achieving clear, distortion-free tones, even when pushing the pedal hard. It ensures a cleaner and more potent signal, making it an important feature for users who demand uncompromised audio quality.
Noise-Reduction Circuitry
To combat unwanted noise or hum that can often plague high-gain tones, the M108S includes noise-reduction circuitry. This helps to maintain a clean and focused sound, essential for ensuring your performance or recording remains free from distracting audio artifacts.
Pros:
One of the greatest advantages of the MXR Ten Band EQ M108S is its broad range of equalization. The span of frequency bands allows users to sculpt their sound to a fine level of detail, making it an ideal tool for both live performances and studio recordings.
The dedicated sliders for Volume and Gain enable perfect signal strength adjustment, and the true bypass feature is particularly beneficial for preserving the instrument's original tone when the pedal is switched off.
Cons:
The pedal operates on an 18V power supply, which may not be compatible with some pedalboard power supplies, thus potentially necessitating an additional purchase. Moreover, while the bright LEDs offer great visibility in dark environments, they might be overly bright for some users, causing slight discomfort.
Finally, due to its intricate features, beginners might find the learning curve steep, requiring time and practice to harness the pedal's capabilities fully.
5. TC Electronic Eyemaster Metal Distortion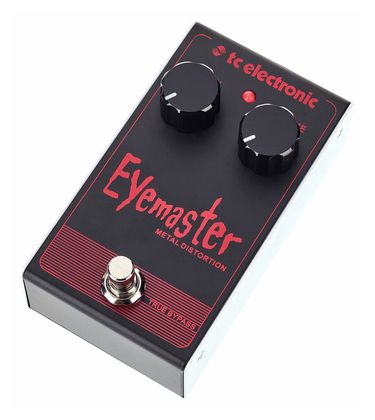 Eyemaster faithfully captures the raw intensity of classic Swedish death metal.
Its streamlined two-knob interface, consisting of Gain and Level controls, deftly simplifies your tone-shaping process, freeing you to concentrate on your performance.
This true bypass pedal ensures your core tone remains unaffected when disengaged, preserving every nuance of your guitar's character. A versatile companion, the Eyemaster brings monstrous metal distortion to the feet of discerning guitarists everywhere.
Key Features:
Bass Control
Whether you aim to craft a booming, earth-shaking sound or thin out the bottom end for a sharper, more defined tone, the Bass control is your tool for achieving this. It might appear simple, yet the sonic possibilities it unleashes are vast. This allows guitarists to quickly dial in the amount of low-end grit they want, making it a crucial feature for those who wish to mold their distortion tones efficiently.
Treble Control
This knob allows guitarists to shape the high-end bite of their distorted sound. Crank it up for a sizzling, cutting tone that pierces through the mix, or dial it back for a warmer, smoother sound that melds into the ensemble. It's a feature that gives you the power to control the presence and clarity of your guitar in the context of a band mix or a solo performance.
True Bypass
The True Bypass feature is one of the significant technical aspects of the Eyemaster pedal. This feature means that when the pedal is switched off, the audio signal entirely bypasses the pedal's circuitry.
This prevents coloration or alteration of your original guitar tone, ensuring the sound remains pure and unaffected. This is a key feature for purists seeking to maintain their intrinsic guitar tone when the pedal is disengaged.
Durability and Compactness
The robustness of the Eyemaster is one of its defining physical attributes. Crafted with a tough metal casing, this pedal is equipped to survive the most demanding performance environments, offering longevity and reliability.
Additionally, the compact form factor of the Eyemaster is a boon for players with crowded pedalboards; despite its small size, it delivers a powerful punch, demonstrating that good things often come in small packages.
Tonal Characteristics
The Eyemaster Metal Distortion pedal is a master of delivering a specific type of tone – the classic Swedish death metal sound. This characteristic gives it a unique place in the realm of distortion pedals.
While it might not be as wide-ranging as some other pedals, if you're seeking a pedal that captures that particular brand of intense, aggressive distortion, the Eyemaster is designed specifically for this purpose.
Pros:
The most striking advantage of the TC Electronic Eyemaster Metal Distortion lies in its tonal versatility. Despite the simplicity of the controls, the depth and breadth of tones that can be achieved are vast, catering to everything from searing lead lines to thunderous rhythm parts.
Finally, the durability is another major pro of this pedal, and the rugged metal chassis is designed to withstand even the most aggressive foot-stomping, ensuring that the Eyemaster will stand the test of time.
Cons:
The simplicity of its design, while largely a positive, can be seen as a drawback for those looking for greater control over their tone. With only two tone-shaping knobs, some users may crave more nuanced control. Furthermore, the pedal's focus on emulating the classic Swedish death metal sound may not cater to all tastes.
Those seeking a softer, less aggressive distortion might find the Eyemaster overly heavy-handed. Finally, although the pedal is compact, those with smaller pedalboards or larger effects collections might need help finding room for it.
6. Behringer Graphic Equalizer EQ700
The Behringer EQ700 Graphic Equalizer is an efficient, compact tool to shape your sonic landscape.
The Behringer Graphic Equalizer EQ700, meticulously engineered for the discerning audiophile, offers a seven-band equalization spectrum to cater to the entire audio range. Through this device, one can effortlessly sculpt sounds, enhancing specific frequencies while attenuating others, thus optimizing acoustic nuances to one's preferences.
With its effective noise-reduction functionality and an impressive ±15 dB boost/cut per band, the EQ700 emerges as an indispensable tool for musicians seeking precision in tonal manipulation.
Key Features:
Seven Bands of Equalization


Unleashing the power of sonic manipulation, the Behringer EQ700 provides seven distinct frequency bands, spanning from the low rumble of 100 Hz to the shimmering highs at 6.4 kHz. Each band is designed to hone in on specific aspects of your sound, allowing for precise adjustments in the bass, midrange, and treble sections.
Whether adding some extra punch to your bass guitar or smoothing out the treble on an overly bright mix, this range of equalization enables you to shape your tone to meet any musical requirement surgically.
Boost/Cut Range of 15 dB
The EQ700 offers a generous 15 dB of boost or cut for each of its seven frequency bands. You can enhance specific sound elements or attenuate unwanted frequencies with considerable control. This flexibility is vital for tasks like removing problematic frequencies that cause feedback or enriching certain harmonics to bring out the nuances of your instrument.
Noise Reduction Circuitry
One of the prime features of the EQ700 is its sophisticated noise-reduction technology. Suppressing extraneous noise, it provides a cleaner, more focused sound. This feature is particularly beneficial in live situations where noise from various sources can infiltrate your signal or in studio conditions where pristine sound quality is paramount.
LED-Illuminated Sliders
The EQ700 features sliders with built-in LEDs, which serve both practical and aesthetic purposes. The illumination allows you to see your settings, which can be immensely helpful in darker environments such as dimly lit studios or on stage during a performance. Additionally, they add a certain visual flair to your gear, reinforcing the professional image of your setup.
Battery and Power Adapter
Offering flexibility in terms of power options, the EQ700 can operate on a 9V battery or a PSU-SB DC power supply, making it adaptable to various performance and rehearsal settings. This feature ensures you have a backup power option, reducing the risk of unexpected power interruptions during critical moments.
Pros:
The wide-ranging equalization bands cater to various musical instruments, making the EQ700 an inclusive gadget in your sound gear arsenal. Its noise reduction capability further enhances sound clarity, allowing your music to shine without background noise interference.
Besides being aesthetically pleasing, the LED illumination is a practical addition that allows for effortless configuration of settings even in low light. Lastly, the robust build quality lends durability, ensuring that the equalizer withstands the rigors of frequent travel and use, thus offering excellent value for money.
Cons:
The equalizer does not feature a bypass switch, which means users cannot instantly switch between their processed and original sounds—an aspect that some performers might miss. Furthermore, while its 15 dB adjustment range is generally sufficient for most applications, some users might desire a wider range for more radical tonal sculpting.
Lastly, although the noise reduction feature is commendable, it might slightly compromise the authenticity of your instrument's tone, particularly when used excessively. Therefore, a careful balance is needed to ensure optimal use of this feature.
7. Dunlop Cry Baby EVH Wah EVH95
The Dunlop Cry Baby EVH Wah EVH95 mirrors Eddie Van Halen's distinctive "wah-wah" tone.
Featuring a high Q inductor and potent halo components, it churns out robust, lush tones that catapult your music to unprecedented heights. Its true bypass keeps your signal path clean when disengaged, enhancing tonal integrity.
The robust construction ensures enduring performance, and its unique EVH graphics are an ode to Van Halen's iconic "Frankenstein" guitar, presenting aesthetics that mirror its auditory prowess.
Key Features:
Signature 'Holy Grail' Tone
At the heart of the Dunlop Cry Baby EVH Wah EVH95 is the accurate reproduction of Eddie Van Halen's unique "Holy Grail" wah-wah tone. This feature is designed to grant musicians the ability to harness and express the legendary musician's distinct sound.
This is more than just an imitation; it's a faithful recreation that gives an authentic taste of one of the most iconic tones in rock history, opening up many creative opportunities.
High Q Inductor
The EVH95 is embedded with a High Q inductor. This feature primarily accentuates the resonant peak of your guitar's tone, enhancing the "Q factor" or the selectivity of the frequency response.
The result is a heightened emphasis on the wah effect, producing a more pronounced, expressive, and powerful tone to help your solos or riffs cut through the mix with clarity and authority.
Wider Frequency Sweep
This wah pedal has been designed with a wider frequency sweep. This aspect enables a more expansive tonal range, thus providing a richer, more versatile sound palette for your creative exploration. By controlling the pedal's sweep, you can accentuate lower, deeper tones or higher, sharper ones.
True Bypass Circuitry
The true bypass feature in the EVH95 ensures your guitar's signal remains unaffected when the wah effect is disengaged. Your original tone remains uncolored, with no loss of signal integrity or introduction of unwanted interference—this feature especially benefits musicians who value their instrument's pure, unadulterated sound.
Pros:
The pedal recreates the mythical 'Holy Grail' tone, embodying the soulful, resonating feel of Van Halen's distinctive style. Its wider frequency sweep and High Q inductor allow players to express a broad spectrum of tonal nuances, catering to subtle and bold sonic explorations.
The true bypass feature is a major plus point as it keeps the core tone intact, even when the pedal isn't used. Lastly, the unit's robust construction and striking design bear testament to its durability and the unique personality it will add to your setup.
Cons:
Although the pedal perfectly emulates Van Halen's signature sound, it might only cater to some musical tastes and styles. Therefore, its tonal specialization could limit its versatility for some players. Furthermore, while strikingly attractive, the pedal's exterior may not appeal to everyone's aesthetic sensibilities, particularly those who prefer a more understated look.
Lastly, compared to standard wah pedals, the EVH95 may have a higher price tag, which might only fit some people's budget.
8. Boss HW-2W Heavy Metal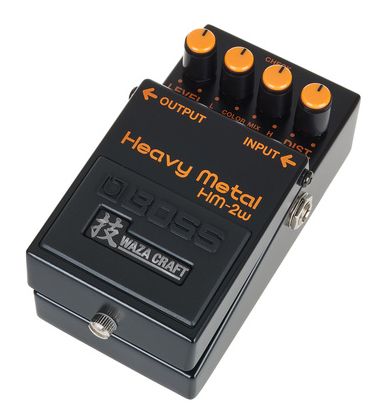 The Boss's HW-2W Heavy Metal is crafted to usher you into extreme tones.
Famed for its sculpted high gain and low-frequency range, this dynamic pedal flawlessly integrates into any setup, pushing the boundaries of sonic capabilities. Its robust design houses cutting-edge features like highly adjustable tone controls for customized tonal shaping, ensuring each chord resonates with intensity and clarity.
A real game-changer, the HW-2W redefines heavy metal guitar playing, combining robust technology with practical functionality to deliver an unparalleled, electrifying musical experience.
Key Features:
Dual Concentric Knob


The dual concentric knob is a nifty innovation that merges the functions of distortion and sound level control. This saves space and simplifies the interface, leading to more seamless and intuitive adjustments. On the outer part of the knob, you can dictate the intensity of your distortion, allowing you to fine-tune the raw power of your guitar.
Embedded within, the inner knob allows you to manipulate the output sound's level. This dual functionality provides a two-in-one solution, allowing musicians to create dynamic soundscapes easily.
Standard/Custom Mode
The standard mode evokes the raw, intense tonality reminiscent of classic heavy metal. It delivers a crunchy, high-gain distortion perfect for those who love the older, grittier tones. On the other hand, the custom mode allows for a more modern, refined sound.
It's like a tonal chameleon, providing an expanded range of distortion characteristics that can be adjusted according to personal preference. It's a feature that opens up new frontiers of exploration for musicians, whether they're searching for something traditional or something a bit more experimental.
Waza Craft Components
Waza Craft is Boss's high-end series, which signifies a commitment to superior audio quality. The HW-2W pedal is packed with these carefully crafted components, elevating its performance to the next level.
The Waza Craft components ensure greater durability and enhance tonal quality, creating a deep, rich, and evocative metal tone. Whether in the studio or onstage, these components offer an uncompromised musical experience, breathing life into your performances.
Buffered Bypass
The HW-2W also incorporates a high-quality buffered bypass, an essential feature that maintains signal integrity even when the pedal is disengaged. This means your guitar's tone stays consistent and unaffected by cable capacitance or additional pedals in your signal chain. The buffered bypass is a subtle yet crucial element that reflects the HW-2W's dedication to preserving the purity of your sound.
Pros:
The main strength of the Boss HW-2W lies in its incomparable sound versatility. Its dual-mode functionality caters to various musical preferences and styles, enabling musicians to adapt to diverse soundscapes seamlessly. The dual concentric knob is an ideal blend of functionality and convenience, allowing for the simultaneous control of two parameters, thereby maximizing efficiency.
Another laudable aspect is the unit's robust construction, typical of Boss products, promising longevity and resilience. Furthermore, the Waza Craft technology ensures impeccable sound fidelity, resonating with a superior tonal quality that any guitar enthusiast would treasure.
Cons:
One of the potential drawbacks is its relatively high price point, which might dissuade budget-conscious musicians. Furthermore, although the pedal's versatility is generally considered an advantage, the wide range of tone options can overwhelm beginners or those who prefer simplicity. Lastly, the pedal lacks a mid-range control, which could limit tonal shaping possibilities for some users.
9. Mooer Graphic G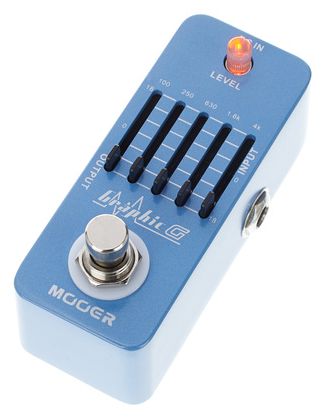 Mooer Graphic G is a dynamic and meticulously designed EQ that magnifies your musical expression.
Equipped with 5-band Graphic EQ with a master level control, it enables intricate tone sculpting, facilitating a personalized sonic landscape. The compact, robust design and true bypass switching enhance signal integrity, ensuring optimal performance.
The Mooer Graphic G, seamlessly merging artistry with technology, proffers musicians an unmatched platform to amplify their creativity without overpowering their original sound, making it an indispensable tool in any guitarist's arsenal.
Key Features:
Seven-Band Graphic EQ


The most prominent feature of Graphic G is undoubtedly its seven-band graphic equalizer. Covering a frequency range from 63 Hz to 4 kHz, this comprehensive scope caters to every crucial aspect of the guitar's sonic spectrum. Each band can be adjusted ±15 dB, providing extensive control over your guitar's tone.
By customizing the bass, mid, and treble frequencies with such granularity, musicians can tune their sound to match various styles, play techniques, and acoustic environments, thus delivering optimized performance.
True Bypass Functionality
With the true bypass feature, your signal passes directly through the pedal when switched off, ensuring that the integrity and purity of your original tone are preserved. This is a critical feature for those who cherish the raw sound of their instrument and only want the equalization effect when it is explicitly needed, therefore maintaining the authenticity of the sonic output.
LED Indicator
This feature significantly enhances user experience, especially in low-light environments. Each slider on the Graphic G has a corresponding LED, allowing instant visual feedback of your settings. This allows musicians to make fast and accurate adjustments on the fly, whether during a live performance or in the middle of a recording session.
Wide Power Supply Compatibility
While the pedal does not offer battery operation, it makes up for this by being compatible with a wide range of power supply voltages. From as low as 9V DC up to 12V, the Graphic G can be powered in different setups, providing flexibility and reliability.
Pros:
One of the prime advantages of Graphic G is its flexibility. The seven-band EQ offers a vast playground for sonic experimentation, enabling players of all genres to find their sweet spot. The pedal's small footprint is another significant boon. It takes up minimal space on your pedalboard, making it an excellent choice for traveling musicians or those with a crowded setup.
Furthermore, the Graphic G's solid build quality ensures it will endure the rigors of regular use, providing reliable performance gig after gig. Also, its true bypass feature adds value by safeguarding your tone when the pedal is disengaged, and the bright LED display enhances usability in various lighting conditions.
Cons:
The compact size, while beneficial for portability and space conservation, might prove challenging for those with larger fingers or when making mid-performance adjustments. Moreover, the absence of onboard memory or presets may be off-putting for those who frequently switch between different EQ settings during a performance.
Additionally, the sliders might offer different tactile feedback than larger, more robust EQ pedals, which could take some time to get used to. Lastly, while the pedal operates impressively with a 9V power supply, the absence of battery operation limits its versatility in situations where a power outlet might not be readily available.
10. MXR Fullbore Metal Distortion M116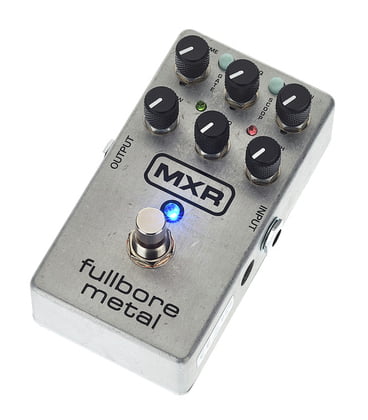 The MXR Fullbore Metal Distortion M116 is perfect for those who crave brutal, heart-pounding distortion.
Housing high-gain distortion, a responsive 3-band EQ, and a noise gate pack, everything needed for a thick, full-bodied metal tone. The distortion provides crushing saturation, while the EQ sculpts your tone precisely. The Mid-Range scoop lets you tailor your mid frequencies for enhanced clarity, and the built-in noise gate eliminates unwanted hum, maintaining your music's purity.
Key Features:
High Gain Distortion Circuit
It's designed to provide a hefty saturation and attack that is sought-after for aggressive styles of music, particularly within the metal genre. This allows musicians to create a broad spectrum of distorted tones, from a growling crunch to a screeching lead. With just the twist of the gain knob, the M116 lets you summon monstrous sounds to meet the demands of your heaviest riffs and solos.
Three-Band EQ and Mid-Frequency Sweep
This pedal goes beyond a typical "Tone" knob on many distortion units. The three-band EQ (Low, Mid, and High) lets you adjust specific frequency bands, offering precise control over your tone.
The Mid-Frequency Sweep feature is a substantial addition, enabling you to target and adjust the specific mid frequencies that define your guitar's character in the mix. This allows you to cut through or blend in with the rest of the band as necessary, providing invaluable flexibility on stage and in the studio.
Built-In Noise Gate
High gain distortion can often result in noise and feedback, which can be a nuisance, particularly at higher volumes. The M116's built-in noise gate effectively keeps these unwanted sounds in check, ensuring your performance remains tight and clean, even with the gain turned 11.
Scoop Switch
The Scoop switch on the M116 lets you instantaneously drop the midrange, delivering that iconic 'scooped' metal sound that emphasizes thunderous lows and piercing highs. This is ideal for certain sub-genres of metal where a scooped tone is preferred, and it provides another layer of versatility to your tonal palette.
True Bypass
The M116 features a true bypass, ensuring your signal passes through the unit without coloration when the pedal is off. This maintains the integrity of your original guitar tone, preventing any loss of signal quality when the pedal is disengaged.
Pros:
Among the standout positives of the MXR Fullbore Metal Distortion M116 is its super-saturated, high-gain tone, which can range from a light crunch to a searing lead tone with the twist of a knob.
The comprehensive EQ and mid-frequency sweep make this pedal versatile enough to suit various styles within the metal genre. Whether you want to create thrash, djent, doom, death, or traditional heavy metal tones, this pedal delivers.
Cons:
Those seeking a subtler, warmer overdrive might find the pedal's output overly harsh and intense. Furthermore, while the noise gate is an excellent feature, its lack of adjustability can be an issue for some players; it is either on or off without any intermediate settings.
This could lead to an unwanted cut-off of sustained notes if handled incorrectly. Finally, the "scoop" switch, while delivering a specific metal tone, may leave the good feeling somewhat hollow or lacking in some contexts.
11. Electro-Harmonix Nano Metal Muff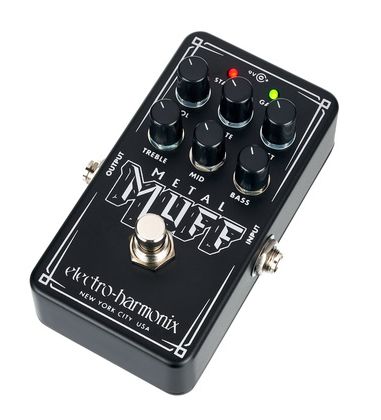 The Electro-Harmonix Nano Metal Muff has powerful, dynamic distortion.
Equipped with a 3-band EQ for nuanced tonal shaping, this compact pedal packs a big punch, and the Noise Gate feature helps tame unwanted feedback, ensuring only your desired tones cut through. The broad control range gives metal guitarists an expansive palette for heavy, saturated solos or aggressive rhythm sections.
In this compact, robust housing is a hard-hitting distortion machine, catering to practicality and artistic expressiveness, making it an essential part of any metal guitarist's rig.
Key Features:
Three-Band EQ


Beyond superficial adjustments, the three-band EQ feature of the Nano Metal Muff presents bass, mid, and treble knobs. The significance of this lies in its ability to shape the sound according to the player's preferences and its capacity to adapt to varying performance environments.
For example, in a live setting, certain frequencies might be absorbed or amplified by the venue's acoustics. These EQ controls allow the guitarist to adjust on the fly, ensuring their tonal integrity remains uncompromised.
Top Boost
The 'Top Boost' feature is a testament to the pedal's versatility, and it does more than add an extra dose of gain. Activated by a dedicated footswitch, it pushes your sound over the edge, making it perfect for solos or highlighting specific sections of a song.
This elevates the expressiveness of the pedal, allowing guitarists to move between rhythm and lead playing without having to swap out pedals or drastically adjust settings. It's a key feature that can aid in creating contrast within a performance and maintaining listener interest.
Gain Control
The gain control on the Nano Metal Muff is finely tuned to provide a wide spectrum of distortion levels. This pedal can deliver everything from a slight crunch to the extreme realms of heavy metal distortion.
The wide range of gain controls makes it a versatile choice for various musical styles, and this flexibility means that the pedal can evolve with your playing style and musical interests over time.
Volume Control
In addition to the extensive shaping options provided by the EQ and gain controls, the Nano Metal Muff also offers a volume knob. This lets you control the pedal's output level, ensuring it fits seamlessly within your mix. Whether you want your distorted tones to sit back subtly or dominate your sound, the control is in your hands.
Pros:
The real charm of the Nano Metal Muff is found in its ability to deliver an expansive range of high-gain sounds without compromising on quality or clarity. The full-bodied and dynamic tone, enabled by its three-band EQ and Top Boost feature, gives the musician the much-desired control to shape their sound.
In addition, the pedal exhibits enviable strength thanks to its durable construction, and its space-efficient design adds value to its portability, making it a reliable choice for gigging guitarists.
Cons:
Although the Nano Metal Muff has many noteworthy qualities, it has minor drawbacks. Some users may find the Top Boost feature a touch too aggressive for certain applications, making it a potentially underused feature for those seeking a more balanced or classic tone.
Furthermore, as with any high-gain pedal, it necessitates careful adjustment to avoid excessive noise when pushed to extreme settings. While its compact design has many benefits, some players might struggle with the small knobs, especially during live performances when swift and precise adjustments are necessary.
12. Revv G8 Pedal Noise Gate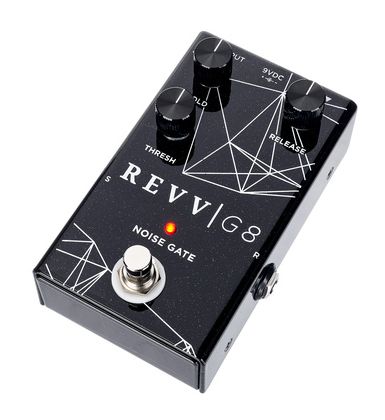 The Revv G8 Pedal Noise Gate transforms guitarists' experiences by curtailing unwanted signal noise.
It offers comprehensive controls like threshold, Decay, and mode for personalized sound sculpting, each contributing to an unblemished sound output. The Threshold control regulates noise suppression intensity, while Decay extends natural sustain, providing an exceptional playing experience.
Mode controls amplify functionality, offering mute for silent tuning or hard stops and reduction for eliminating signal noise during play. Its practicality is proven as it bolsters sonic purity while facilitating an enhanced, uninterrupted musical flow.
Key Features:
Innovative Gating Mechanism
The Revv G8 Noise Gate's central attraction is its advanced gating mechanism. This state-of-the-art system is the fruit of extensive research and engineering prowess. It's meticulously designed to isolate and discard unwanted noise while preserving the authenticity of your guitar signal. With a nuanced understanding of how different playing styles generate varying noise profiles, this feature caters to a vast spectrum of guitarists.
The associated threshold control offers a broad sensitivity range, allowing you to adjust the noise gate operation according to your instrument's output. This flexibility caters to any playing situation, from aggressive high-gain distortion to subtle clean tones, making it an all-in-one noise solution.
Decay Control
Supplementing the sophisticated gating mechanism is the pedal's Decay control. The precise adjustment it offers over the gate's closing speed is not a mere add-on but an instrumental feature that provides an organic, non-abrupt transition when the gate comes into effect.
By fine-tuning this parameter, you can match the gate's response to your playing style, achieving a natural decay that complements rather than interferes with your sound. Including this control opens a world of tonal possibilities, affording an impressive balance between noise suppression and musicality.
Three-Mode Switch
One of the G8's most versatile features is its three-mode switch, offering 'Off,' 'Full,' and 'Cut' settings. 'Off' bypasses the pedal's gating mechanism completely, 'Full' employs the gating function based on the threshold set, and 'Cut' provides a hard gating effect for maximum noise reduction.
Input and Send/Return Loop
Including a key input and send/return loop extends the versatility of the G8. The key input allows for the pedal's triggering based on an external source, providing additional flexibility, especially in complex rig setups.
Similarly, the send/return loop allows for selective gating of specific pedals, ensuring that your noise gate operates precisely where and how you need it within your signal chain.
Pros:
Its refined gating mechanism presents unparalleled noise reduction capabilities, creating a pristine audio environment devoid of intrusive noise or hum. The fine-tuning facilitated by the Threshold and Decay controls eliminates unwanted noise without hampering your guitar's tone or sustain, making the pedal an invaluable tool for any genre.
The true bypass feature further ensures your tone remains unaltered, enabling seamless integration with your existing signal chain. Moreover, the pedal's sturdy construction and compact size ensure its longevity and ease of accommodation, providing you with a reliable noise gate solution for years.
Cons:
For those unfamiliar with noise gates, the controls might be initially perplexing, necessitating a period of experimentation before achieving optimal settings. While the pedal's compact size is generally advantageous, it may also mean smaller, more tightly spaced controls, potentially posing a challenge for live adjustments during performances.
Lastly, the Revv G8 Noise Gate might be pricey compared to some entry-level noise gate pedals, potentially deterring those on a tight budget.
Bonus:
Earth Quaker Devices Sunn O))) Life Pedal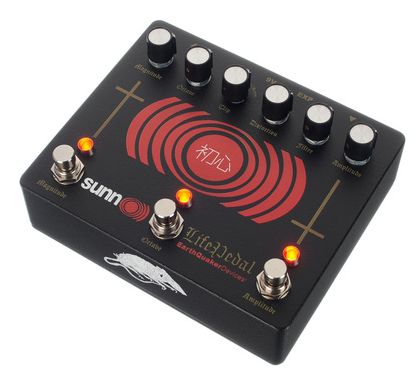 The EarthQuaker Devices Sunn O))) Life Pedal is a bold combination of an octave fuzz and distortion pedal.
Boasting an analog octave-up circuit, a sumptuous op-amp distortion, and a sag-adjustable LM308 chip-based distortion, the Life Pedal is an indispensable tool for experimentalists and noise artisans, allowing immersive soundscapes through harmonic saturation and rich, dynamic textures.
Its design caters to adventurous musicians, pushing boundaries to unearth unique tonal possibilities, ideal for carving an individual sonic identity and transcending conventional sound. The quality, versatility, and design transform the Life Pedal into a masterpiece, facilitating groundbreaking performances.
Key Features:
Octave Fuzz
This feature is fundamentally a full-wave rectifier circuit that doubles the frequency of your guitar signal, producing an additional octave that elevates the harmonic complexity of your tone.
What this means for you as a musician is that, by flipping the Octave switch, your playing can leap to another dimension, endowed with an ethereal, synth-like quality that can expand the sonic capabilities of your instrument, hence pushing the boundaries of your music.
Distortion
Borrowing heavily from the legendary ProCo Rat design, this feature infuses the pedal with deep, potent saturation. The gain knob in this section is more than a mere distortion control. It shapes and morphs your tone from a growling beast into a monstrous, annihilating wall of sound. This makes the pedal versatile for various genres, from doom and drone metal to ambient and experimental music.
Clipping Options
This is where the Life Pedal lets you further shape your distortion tone. Three selectable options are silicon, none (LED), and Germanium. Silicon gives a bright, aggressive, modern clip, whereas Germanium provides a softer, warmer, and more vintage sound.
The option with no diodes (LED) allows the raw and pure op-amp drive. These choices make your tone-shaping experience expansive, permitting an intimate connection with your pedal and sound.
Boost Section
This is the final piece of the Life Pedal puzzle. It's a MOSFET booster designed to function post-gain, interacting with the distorted signal rather than driving the distortion itself. The boost can make the signal more prominent in the mix or add a sparkle to your tone, maintaining the nuances of your guitar and amp characteristics.
It's like having an extra set of hands, allowing you to lift your sound above the band mix or brighten your tone when needed.
Expression Pedal Input
The Life Pedal also offers an expression pedal input. This input is for an external foot controller to manipulate the octave blend on the fly. An expression pedal can become an integral part of your live performances, letting you dynamically change your sound without needing to adjust the knobs manually.
Pros:
There's a palpable sense of the meticulous design approach that went into the Life Pedal. This is evident in its striking aesthetic and profound sonic versatility, allowing for a spectrum of sound ranging from mild break-up to absolute sonic annihilation.
The octave fuzz is remarkably musical, perfect for creating soaring leads and generating pulsating drone sounds and harmonic overtones that enrich and enhance the musical narrative. The pedal's distortion component yields a huge wall of sound, with the clipping options facilitating tone shaping to suit a variety of musical contexts.
Cons:
Its extensive capabilities may prove overwhelming for novice players, necessitating a thoughtful and patient approach to dial the desired tone. Moreover, its inherent tendency to create extreme gain scenarios might not suit those seeking subtler, more traditional overdrive tones.
Additionally, given its collaborative nature and limited production run, the pedal carries a hefty price tag that may be a barrier for some, particularly those on a tighter budget. Lastly, its distinct voicing may not be as versatile in a broader musical context as standard overdrive or distortion pedals.
Conclusion
Those were the Top 12 Pedals For Djent Metal 2023 (All Types & Budgets). The pedals in this article represent what you can normally use to achieve that specific Djent sound. Being a modern sound, you must understand that it requires some alterations to the basic signal chain (amp+cab), as it takes a lot of work to get those articulate genre-specific sounds.
You need to use at least three types of pedals to achieve this. First, the most important part is that you will need a noise gate. It will be able to clean up the signal, but more than that, it can provide that genre-specific triplet attack.
After that, you will need an overdrive/distortion pedal to alter the amp's gain to give more highs, and then, the EQ pedal is more than necessary, as you'll be able to amplify the pedal either pre-amp or post-amp, providing even more highs, which gives a more articulate tone.
In the noise gate department, the Revv G8 Pedal is the most modern solution at the top, which fits perfectly into the Djent style thanks to the gating mechanism that cleans the signal to the finest level. It has basic controls, is very easy to use, and the result is ideal.
The Boss NS-2 is also a similarly good but not so modern solution. It has dual-stage noise suppression that helps you separate the audio input into two different zones while simultaneously cleaning up the tone.
The Boss HW-2W Heavy Metal is an ideal pedal as far as the Djent tone is concerned. It's famous for its ability to sculpt high gain and low-req range; it has two modes that let you change the distortion type in either standard or Waza custom mode, so surely the amp's gain will be altered in the ideal way possible. But if you want to spend less on a pedal, the Behringer Heavy Metal HM300 is also a good option.
The Behringer Graphic Equalizer EQ700 will come in handy when you want to change the tone of your amp or even your guitar. The benefit that an EQ pedal gives you is when you want to add it pre-amp, meaning you alter the tone of the guitar. To produce a more modern Djent sound, cut the lows and boost the mids to around 4k; at this point, you'll have the most articulate tone possible.
We hope this top has helped you to build a complete signal chain suitable for the Djent Metal genre, and if you want to follow other pedals that go well with the ones presented here, we invite you to follow the next articles.
Related Readings:
Top 12 Delay Pedals For Metal 2023 (Any Budget)
Top 12 Plate Reverb Guitar Pedals 2023
Top 12 Reverb Pedals For Metal 2023 (Any Budget)
Top 10 EQ Pedals For Metal 2023 (Any Budget)
Top 8 Boost Pedals For Metal 2023 (For All Subgenres)